If it's your first time traveling to Disney World, it might feel a little overwhelming! There seems to be so much that you have to do, pack, plan, reserve….the list goes on and on. However, your first time at Disney doesn't have to be stressful! We have 20 Insanely Useful Tips For Your First Time At Disney World.
This is a list of tips that we think first time Disney goers should know! It goes over what you should bring, how you could be making money by declining housekeeping, freebies, magic bands, and much, much more! Read on to learn all the tips every Disney vacationer should be aware of!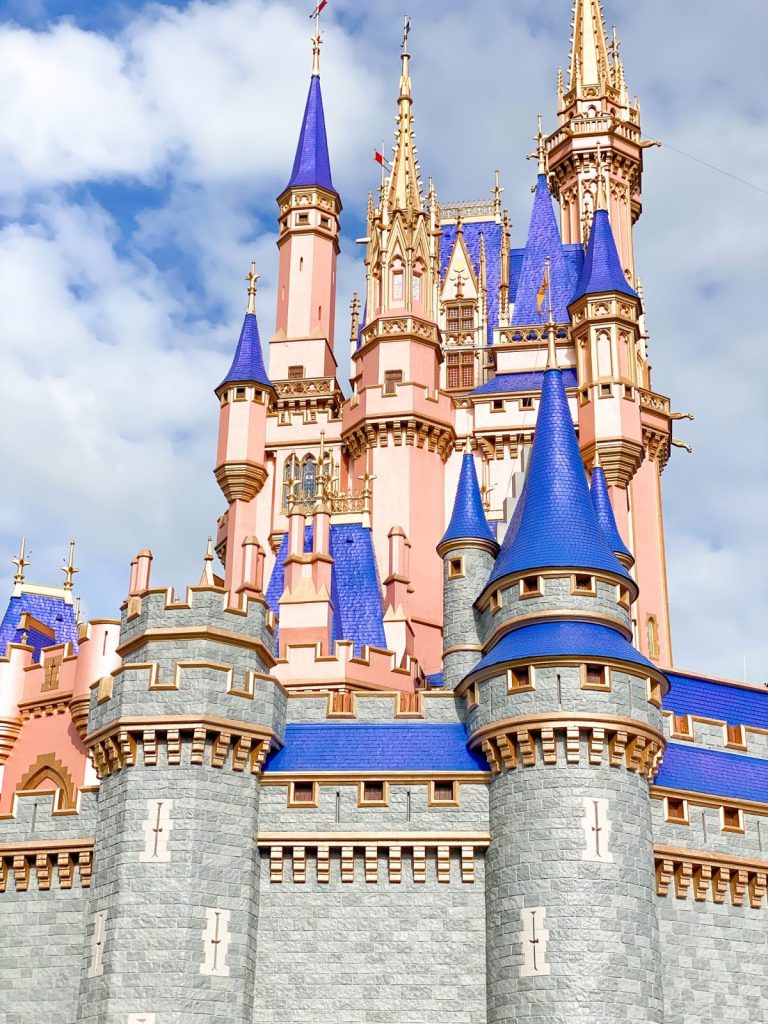 Get Familiar with My Disney Experience
The My Disney Experience app is the best free tool Disney has to offer! You will definitely want to download and take a look at this app before your first time at Disney. It's helpful to get familiar with it before you even leave for vacation.
This app allows you to hold your Disney vacation plans at your fingertips. You are able to do so many things on this app such as make park and dining reservations, check wait times, look up park hours, see digital maps, look at PhotoPass photos, and so much more! 
The first thing you will want to do when you download the My Disney Experience app is to link your tickets, your resort room, and all of the friends and family you will be traveling with. Linking up with the people you are traveling with will make it easier to book dining reservations. You will also need to be linked if you want to all ride Rise of the Resistance together! 
This app is a MUST for your first time at Disney. Check out our 16 Best Disney Apps to Download Before Your Vacation for even more helpful apps!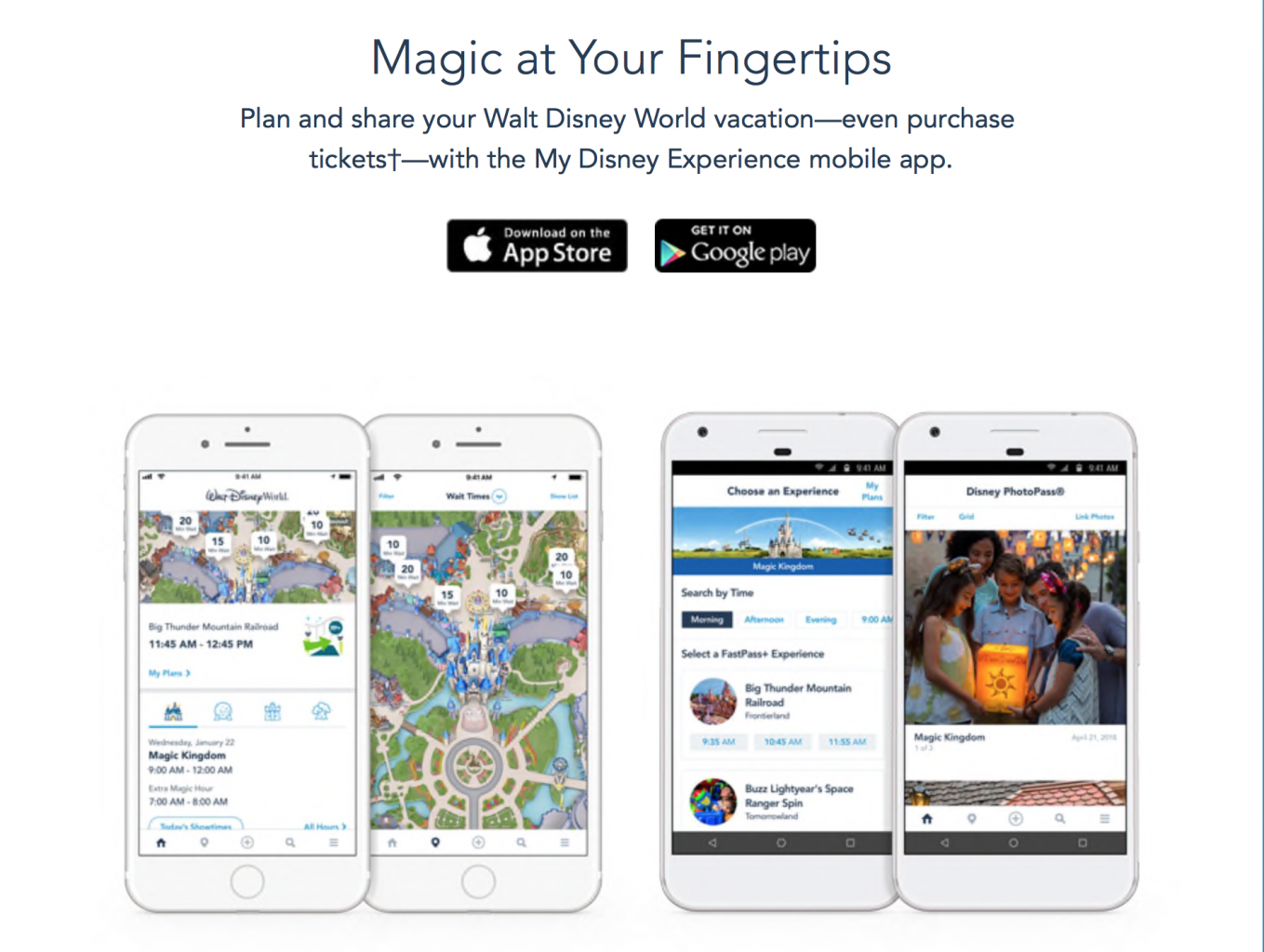 Consider Renting DVC Points
Disney resorts can get expensive, so we want to help you find the best ways to stay at Disney for cheap! DVC is the acronym for the Disney Vacation Club. This is Disney's timeshare system that operates by using points to stay at Deluxe resorts. People pay a premium to be a part of the Disney Vacation Club, and they are able to buy points to use.
Sometimes Disney Vacation Club members aren't able to use up all of their points, so they rent them out to others. That's where you come in! Renting DVC points is a great option if you were planning on staying at a Deluxe Resort. These resorts can get very pricey, but renting points can make staying at a Deluxe Resort more cost effective!
Our favorite place to rent DVC points is David's DVC Rental! You'll be able to see how much you'd be paying by renting out points. Compare these prices to Disney's Deluxe Resort prices, and you will realize what a steal this is! 
Staying at a Deluxe Resort is super special because these are the best resorts Disney has to offer. Make your first Disney vacation extra special by staying at one of these resorts!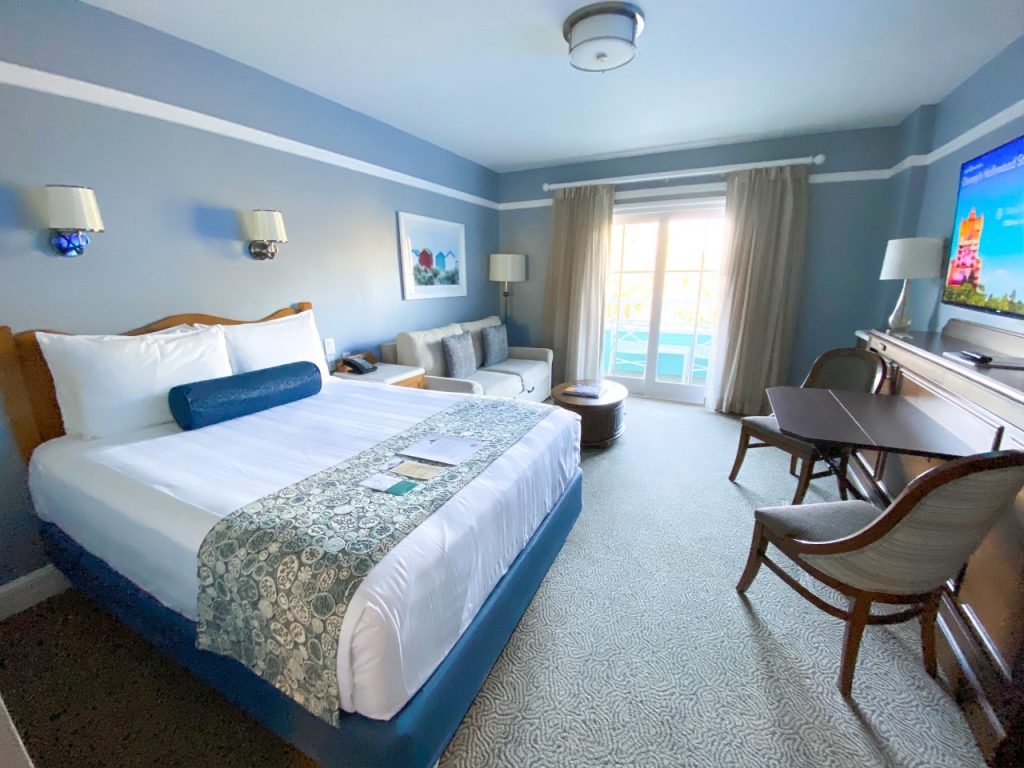 Don't Forget to Make Park and Dining Reservations in Advance
Some people don't realize that a Disney vacation involves lots and lots of planning beforehand! You have to buy your tickets and book a room, but you can't forget to make advance park and dining reservations! 
Disney now operates on a park pass reservation system. This means you have to book a park pass for the park you want to visit on a specific day. For example, if you are vacationing at Disney for 4 days, but you are only going to the parks for 3 of those days, you will need to choose what dates you want to go to the parks and which park for that certain date. 
I know it may seem confusing, but it is super simple to do! Just go on My Disney Experience and go to the "Make Theme Park Reservations" section. From here you can select your dates and parks, and then you're done! 
After you have your park days booked, now it's time to think about where you want to eat! There are lots of Quick Service locations to choose from, but if you want to eat at a Table Service restaurant, you will need to book those reservations in advance. Sometimes you are able to walk up to a restaurant and get a table, but it's safer to book a reservation, especially for those more popular restaurants.
You can also book your dining reservations in the My Disney Experience app. Click the "+" button at the bottom of the screen and then click "Check Dining Availability". Make sure that you are booking restaurants for the dates and locations of the park you are visiting that day!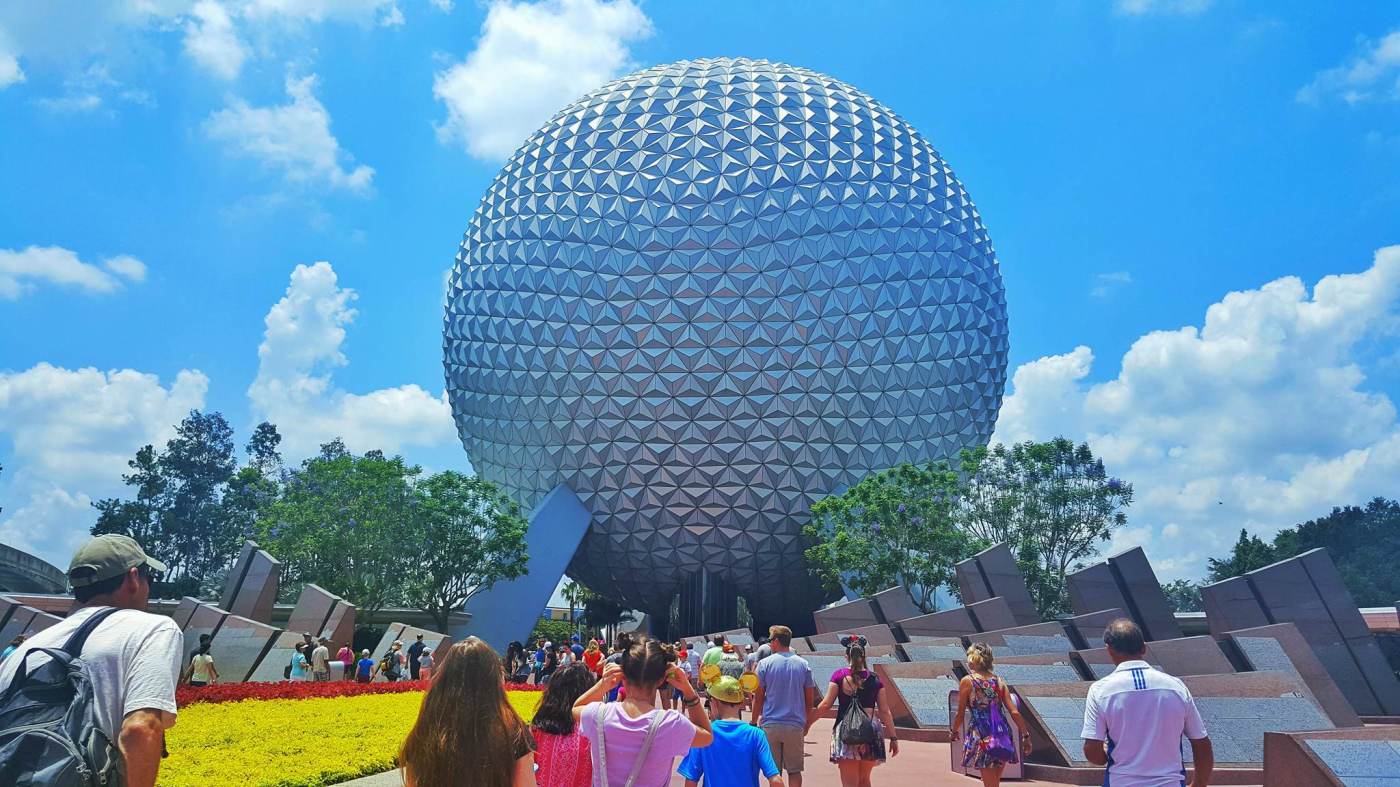 There Are Fun Things to do on Arrival Day
Some people choose to hit the parks as soon as they check into their resort, but there are also other fun things to do on your arrival day! Even if your room isn't ready when you get there, you can still explore the resort! You can leave your bags with bell services, and they will hold onto your bags until your room is ready. This way you can go do fun things without worrying about lugging your bags around! 
Arrival day is a great day for swimming! Change into those swimsuits and hit the resort pool while you wait for your room to be ready. If you don't feel like swimming, you can also travel to other neighboring resorts and explore them as well. 
One of my favorite things to do on arrival day is visit Disney Springs! It's super relaxing and fun to walk around and shop without worrying about which ride to run to next. There are so many tasty restaurants and fun shops to explore. It's a great way to start off the trip, and you can find some great souvenirs to use throughout your vacation! 
It can also be fun to book a dining reservation the night of your arrival. Disney resorts and Disney Springs have lots of great restaurants, you can't go wrong with whichever you choose!
Check out our 12 Things To Do On Your Disney Arrival Day for even more fun ideas!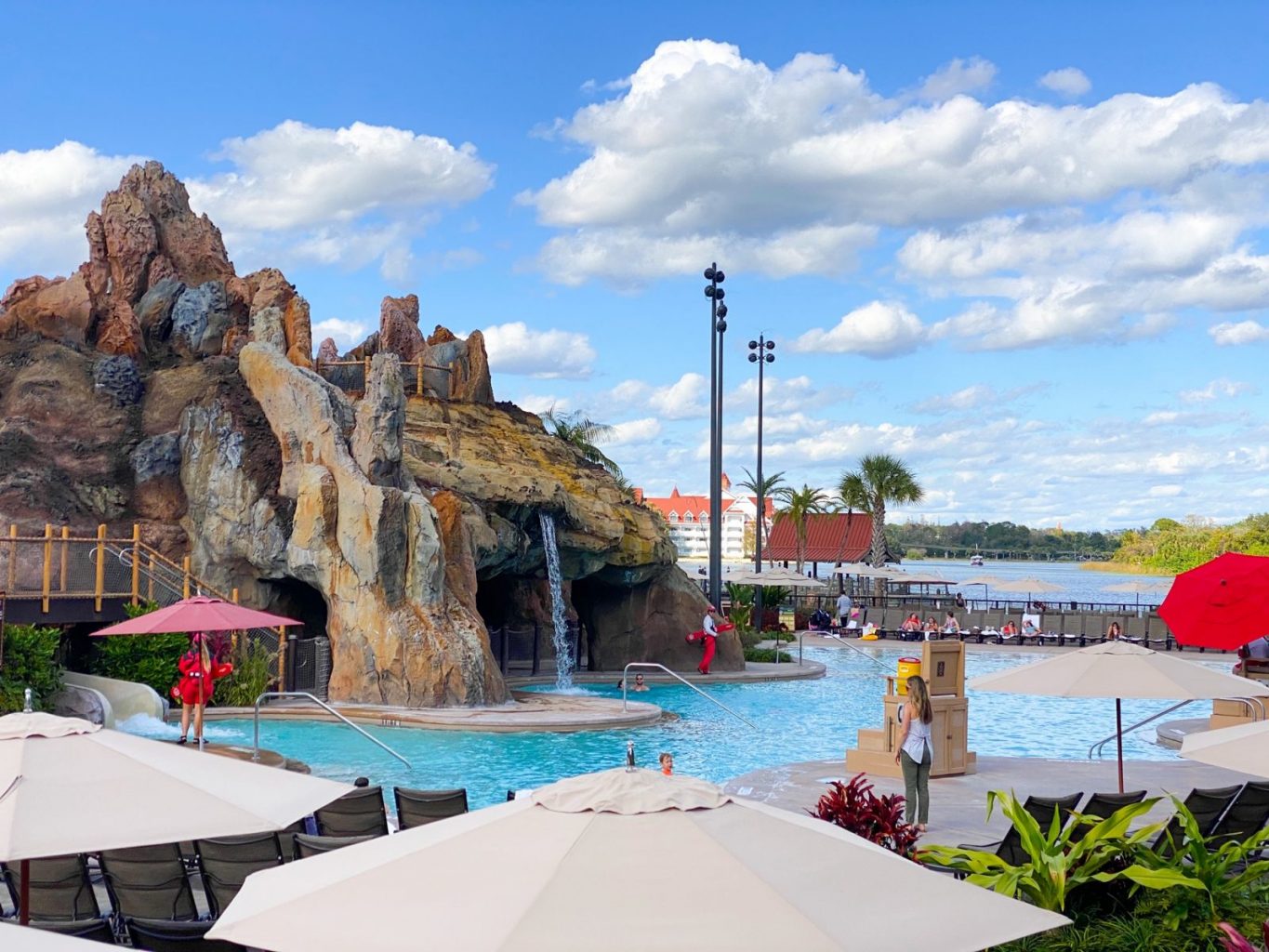 Make Money by Declining Housekeeping
Did you know you can make money by saying "no" to housekeeping? Crazy, right?! This is a great perk some people don't know about, but we definitely want you to know before your first time at Disney! 
Service Your Way is part of Disney's green initiative to cut back on electricity, laundry, and waste. They reward guests who opt out of housekeeping with a gift card! The gift card amount varies depending on how many nights you are staying. You get $10 per night minus one night. So if you are staying 5 nights, you will get a $40 gift card.
Now you can use this extra money for souvenirs and snacks! If you don't plan on being in your room a lot and don't make much of a mess, opting out of housekeeping is a great idea. You can feel good about helping Disney with their green initiative and you get money at the same time! It's a win-win!
Resorts Charge for Parking But Theme Park Parking is Free for Resort Guests
There are pros and cons to staying at a Disney resort. One of the cons is that Disney resorts charge for parking per night. The cost varies depending on which category of resort you stay at. Value resort parking costs $15 per night. Moderate resort parking costs $20 per night. Deluxe resort parking is $25 per night. These nights can add up to a significant amount if you're planning on staying for a while.
The pro for staying at a Disney resort in regards to parking is that parking at the theme parks is free. Guests staying off property have to pay $25 per day for standard parking and $45-50 per day for preferred parking. 
Overall, if you drive to Disney, you're going to pay for parking whether or not you are staying at a Disney resort. Do be aware though that Disney offers free transportation from your resort to the parks, Disney Springs, and the water parks, so you don't need to rely on a car to get around.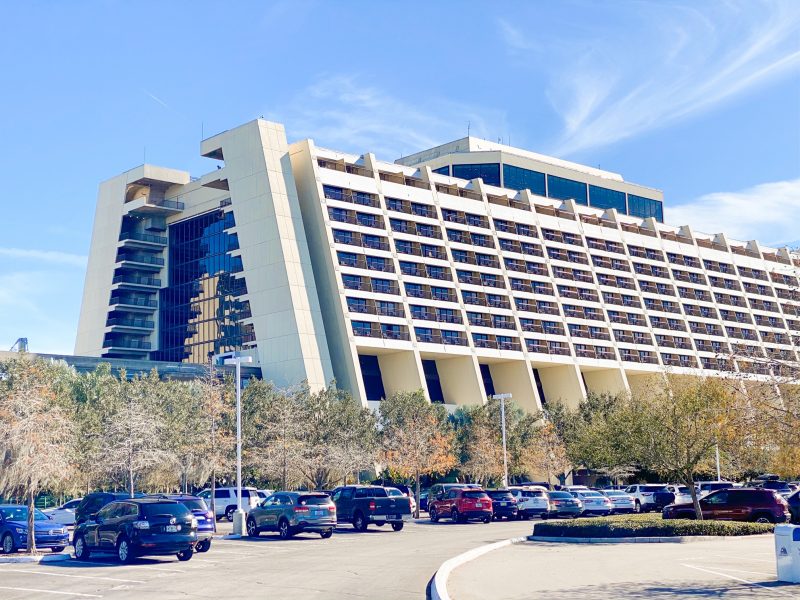 Prepare to Walk A LOT and Bring Comfy Shoes
Going to Disney is no joke. You will be walking around A LOT (seriously a lot)! It can get pretty exhausting, so it's a good idea to be prepared. Know how much walking you can handle before you go to Disney. This way you can plan out your day to minimize the amount of walking you will have to do.
When we go to Magic Kingdom, we like to plan any reservations in the order we'll be walking through the park. We'll start in one land and work our way to the opposite side through all the other lands. This way we don't miss out on anything while decreasing the amount of walking we will have to do. 
Another great way to be prepared for all that walking is to bring comfy shoes! We can't stress enough how important it is to wear shoes you are comfortable walking around in at the parks. This will save your feet so much unnecessary pain or blisters! Make sure to break in any new shoes before you wear them during your first time at Disney. We have a list of the Best Shoes for Disney to help you find the perfect pair! 
It's also important to give yourself plenty of time to get from place to place. Disney is huge, so it can take a while to get from your resort to a park or to another resort. If you have a reservation planned, make sure to schedule extra time for any mishaps. Sometimes a bus can be running late or there will be crowds. Don't stress yourself out by waiting until the last minute to get somewhere!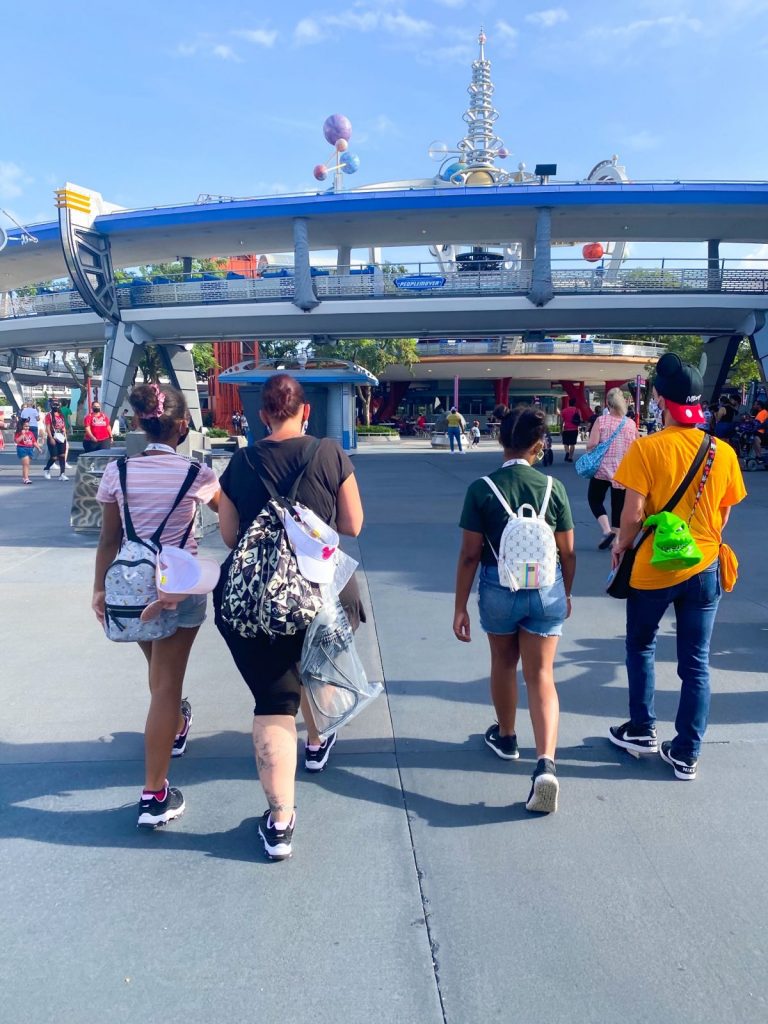 Check the Weather Before Your Trip and Be Prepared for it to Change
Florida is super unpredictable when it comes to weather. It could be raining at one moment and then the sun could be shining in the next. It can be helpful to check the weather all the way up until you leave for your trip, but you should still be prepared for it to change. 
The summer months are the worst when it comes to rain in Florida. Even though Florida is in the south, it can still get a little chilly at night during the winter months. Depending on when you are vacationing to Disney, it's important to have a few essentials for any unpredictable weather.
The most important item you will need in the summer months is a poncho or rain jacket! Always be carrying one in your bag for any unexpected rain. It literally comes out of nowhere in some instances. No one wants to walk around in the parks soaking wet! But we also know you don't want to spend lots of money on Disney brand ponchos.
Prepare before your trip by purchasing cheap ponchos. These can easily be reused during your whole vacation and discarded at the end. They are definitely a life saver! 
During the winter months, it's a great idea to bring a jacket. The day time outside will feel nice, but those nights can get cold. Having a light jacket on hand will ensure you're never uncomfortable!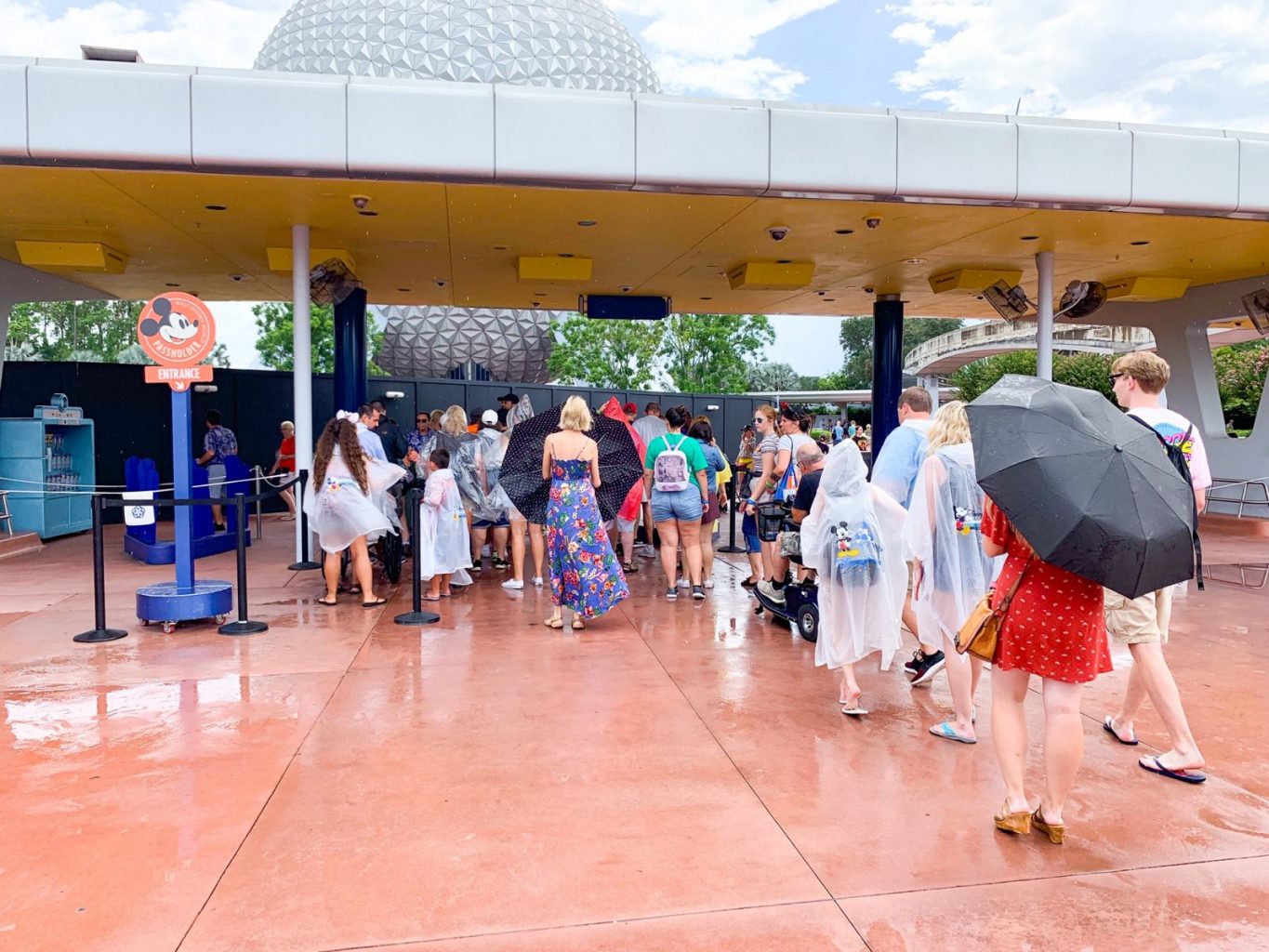 Don't Miss Out On Freebies!
Before your first trip to Disney World, you'll want to know about all of the freebies you can score! One of the best freebies, especially for your first Disney vacation, is a "First Visit" button. Ask any retail or resort cast member for a free button. They have different buttons for different occasions! You're going to want that "First Visit" button for sure. When cast members see you wearing this button, they make sure to make your first Disney visit extra special! 
Another freebie most people don't know about is that you can get free ice water. At any quick service location with a soda fountain, you can ask the cast members for a cup of water. No one at Disney wants you getting dehydrated! 
The Play Dinsey app is a free app that makes your Disney vacation even more immersive. The app tracks your location and gives you access to fun games themed to the ride or area you are located in. There is also trivia and you can earn achievements. The app turns into a data pad as soon as you enter Galaxy's Edge! Once here, you can complete missions, translate languages, hack into droids, and more! 
If apps aren't your thing, trying going on a Hidden Mickey scavenger hunt! There are tons of hidden Mickeys all around the parks and resorts. You could spend a whole day just looking for them! 
Another fun free thing to do at Disney is to watch free movies! Most Disney resorts have "Movie Under the Stars", where you are able to watch a Disney movie outside on a big screen at night. Check with your resort to find out when and what movie will be playing while you are there! 
There are so many other awesome free things to do at Disney World, we made our own article for them! Check out our 17 Totally Free Things To Do At Disney World! (Some things might be temporarily unavailable due to the current pandemic.)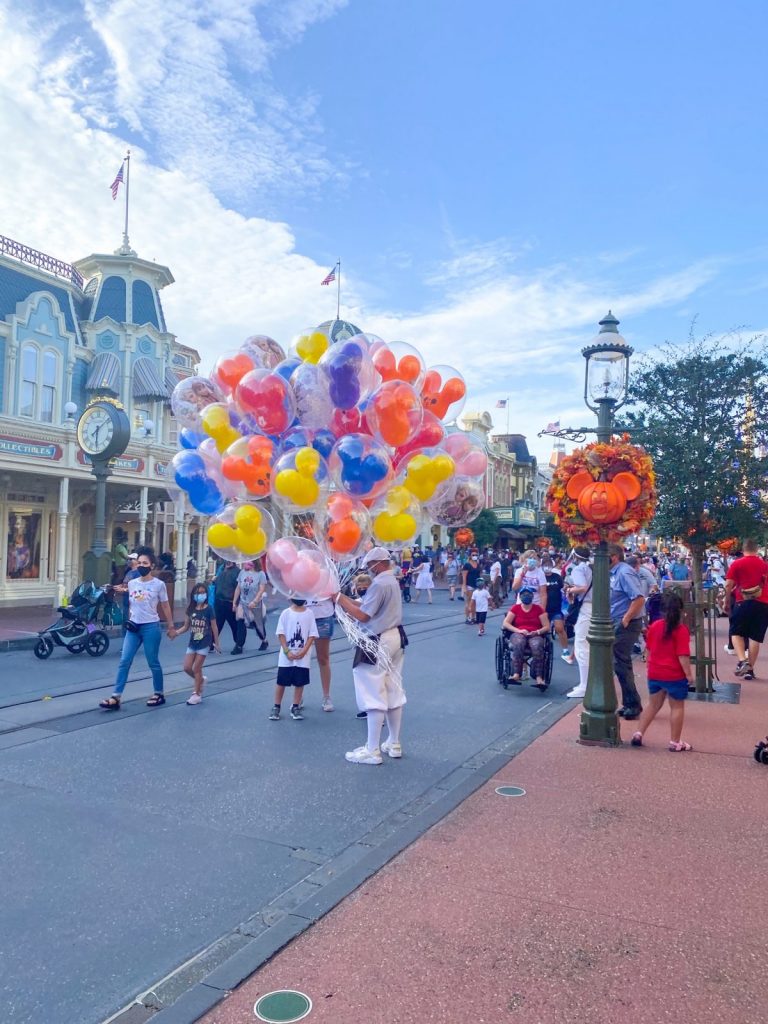 Magic Bands Aren't Required, But They Are Helpful
Back in 2020, Disney used to provide Magic Bands to every resort guest for free. Starting at the beginning of January 2021, Disney now charges $5 for the basic magic bands when you order them before your trip. If you wait to buy them in the parks, it costs $15 for the basic bands. They also have a lot of specialty designed bands for a higher price.
Magic Bands are insanely useful! They are your park tickets, your room key, and your credit card (if you choose to link it)! These can make traveling around super convenient because everything is right on your wrist. 
Disney started charging for Magic Bands because they are planning on enabling a digital version of the bands on My Disney Experience. This would allow you to do everything from your phone instead. Fun fact: You can actually unlock your resort room with your My Disney Experience app! 
If the Magic Bands aren't for you, that's okay! Disney has other options. They also have the Key to the World card which can do the same things a Magic Band can, but in card form. You can get these for free at your front desk. You can also just use a standard ticket to get into the parks and use your own credit card to purchase things. 
Deciding on which route you choose depends on what you're comfortable with! Magic Bands are super useful because you don't have to worry about carrying anything around. You can also reuse your Magic Bands for future vacations!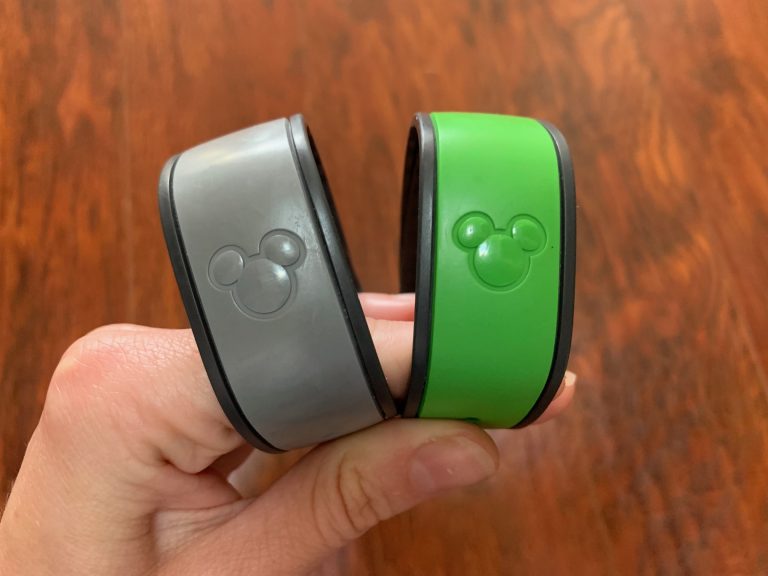 Make Sure to Have a Break and Don't Worry About Doing Everything!
Contrary to what you might believe, Disney vacations can be exhausting! You're getting up early every day to run around the parks from morning to night and trying to fit everything in! But please don't push yourself too hard, especially during your first time at Disney! That's the worst way to turn your dream vacation into a nightmare.
Make sure to schedule breaks either during the middle of the day or have a full break day in between your park days. This will ensure you and your family don't get burnt out during your trip. Use these breaks to take a nap or relax at the pool. It will feel good to get off your feet for a little bit and not be constantly moving. You'll thank us later! 
Also, don't worry about doing absolutely everything at Disney World. Disney really has so much to offer, it would be impossible to fit it all into one trip. Instead, plan your must-do attractions and food ahead of time. Figure out what rides you have to do and the ones you could live with missing. This way you get to do everything you want to do, and then you might have some extra time for the other things! 
I have been going to Disney for years, and I still haven't even done everything! Don't sweat it and just enjoy your time at the most magical place on earth!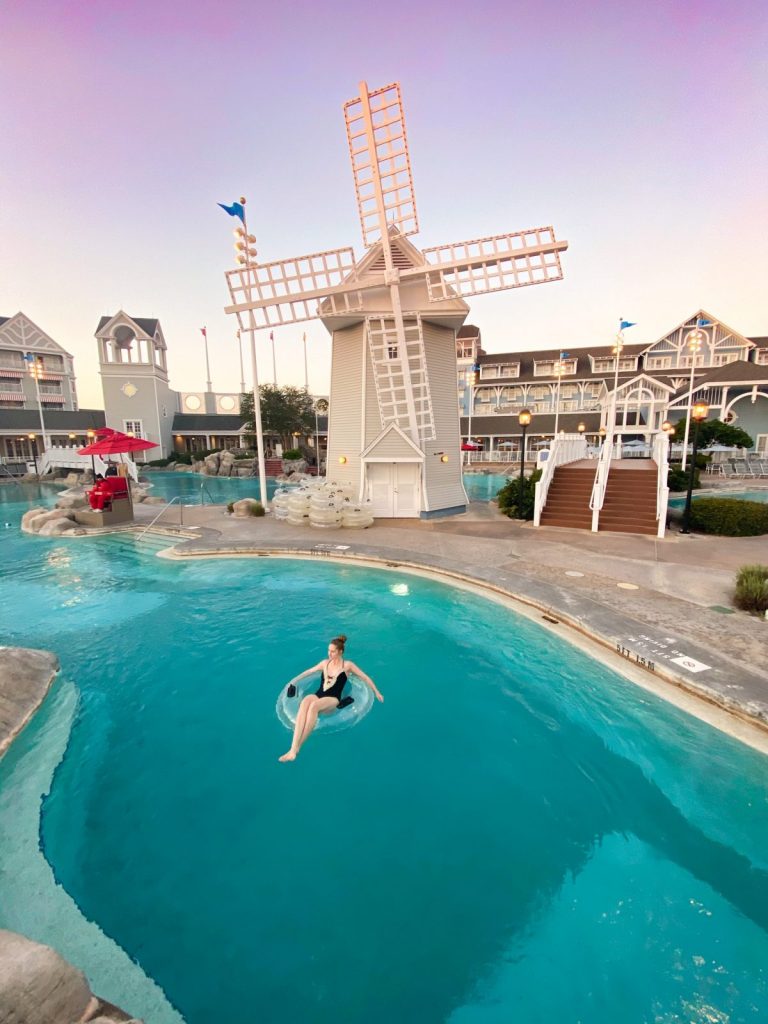 You Don't Need to Go to the Parks to Have Fun
Some people think that Disney is only about the parks, but this is not true! There are so many wonderful things to experience away from Disney's theme parks. 
Disney has water parks, resorts, mini golf, excursions, dining, shopping, and more! You could spend a whole day (or multiple) doing things outside of the parks.
There are lots of different resorts that Disney has to offer, and you can go visit them all! Even if you're staying at a Value resort doesn't mean you can't go explore a Deluxe resort! Each resort has its own unique theming, shopping, and dining. You can even go see live animals at Disney's Animal Kingdom Lodge! 
A lot of the resorts also have their own excursions or activities you can do! Fort Wilderness has horseback riding, you can rent a boat at the Grand Floridian, you can go fishing at the Yacht and Beach Club, etc. Each resort is unique in the kinds of activities they offer, but you don't have to be staying at that specific resort to do them! 
Disney Springs is another great place to find fun things to do! You can go bowling at Splitsville, catch a movie at AMC Theaters, build a dinosaur at T-Rex Cafe, and much more. There are also a ton of fun shops, dining, and snacks to try! You don't want to miss out on Disney Springs during your first time at Disney! 
The list goes on and on for what you can do for fun away from the parks! Use your break day to try some new adventures!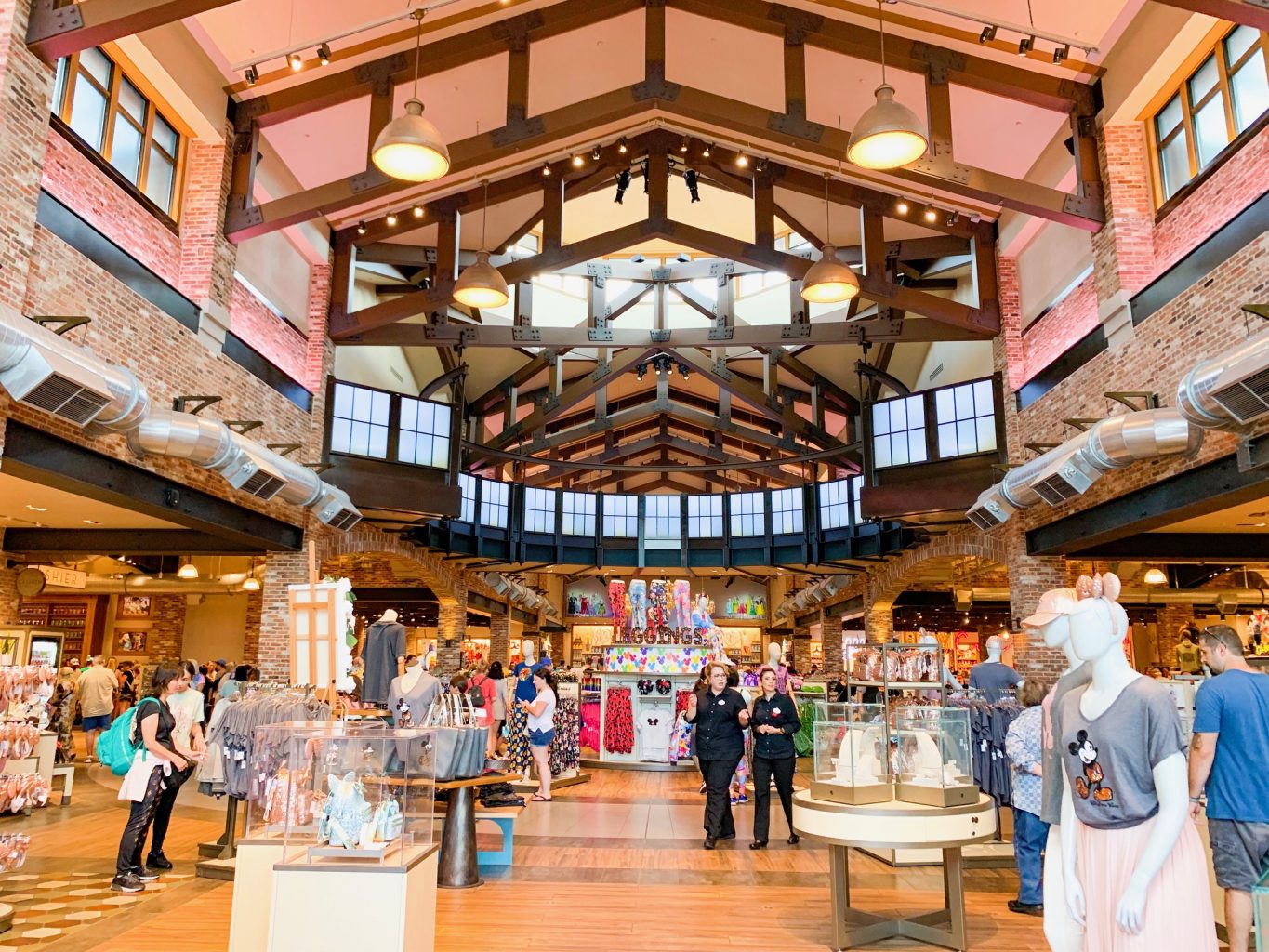 Some Splurges Are Worth It!
We know, we know, Disney is already expensive enough! But we are here to tell you that there are some splurgers at Disney World that are actually worth it! Like we had mentioned earlier, you can rent DVC points to stay at Deluxe Resorts, and this is a splurge that is worth it! 
Deluxe Resorts have nicer and bigger pools, immersive theming, more restaurant and lounge options, better rooms, and are just overall nicer. This isn't to say that Value or Moderate Resorts aren't nice! Deluxe Resorts are just a fun splurge that will let you enjoy the full Disney package! 
Another fun splurge is the Memory Maker. Memory Maker gives you access to all of the photos taken of you by the Photopass photographers at the parks. It even gives you access to your ride photos! Memory Maker costs $199 if you buy it at Disney or $169 if you buy it before your vacation. Memory Maker helps you capture all of your memories without you even having to pull out your camera! 
It's some people's dream to make their very own lightsaber, and now you can actually do that! At Savi's Workshop in Galaxy's Edge, you can build your very own lightsaber! It costs $200 per person, but it is well worth it. This is an experience you and your family won't forget! 
If you're looking for a cheaper splurge, buying a popcorn bucket is a great option! A regular popcorn at Disney costs $5 while a Disney popcorn bucket costs $12. Now you might think it's crazy to spend an extra $7 on a bucket, but we'll tell you why it's worth it! Disney's popcorn buckets are refillable for only $2 per refill! If you plan on eating a lot of popcorn during your vacation, buying a popcorn bucket will actually save you money! 
Check out our 16 Best Splurges At Disney Worth The Spend for even more ideas! (Some things might be temporarily unavailable due to the current pandemic.)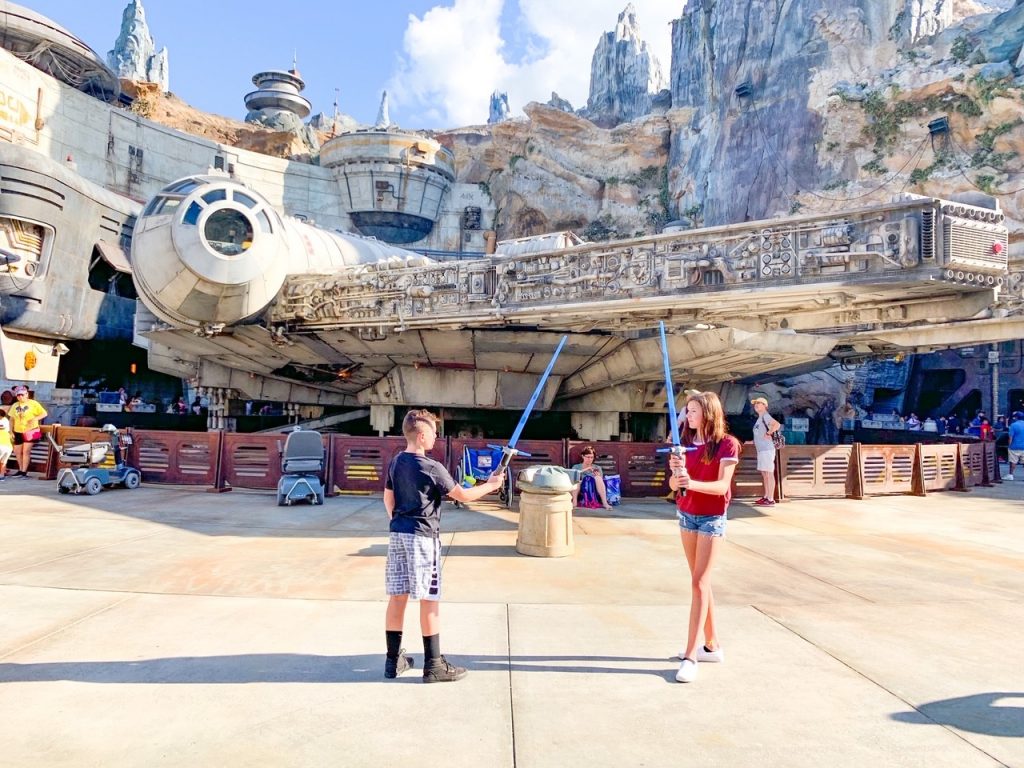 A Guaranteed Way to See Characters is to Book Character Dining
Currently, the only way to see characters around the parks is during a character cavalcade parade or spotting a character just standing about at a safe distance. The only thing is there is no way to know when these small parades might be happening or when characters might be out. If you want to guarantee a way to see characters, we recommend booking a character dining reservation.
Here is a list of the current character dining locations that are open with modified character experiences and the characters you might see:
Toppolino's Terrace Breakfast:
Mickey

Minnie

Donald

Daisy
Hollywood and Vine Breakfast:
Doc Mcstuffins

Sofia the First

Jake from the Neverland Pirates

Vampirina

Goofy
Hollywood and Vine Lunch/Dinner:
Mickey

Minnie

Donald

Daisy

Goofy
Chef Mickey's :
Mickey

Minnie

Donald

Pluto

Goofy
You won't be able to get any autographs or hugs from your favorite characters, but you will be able to take socially distanced photos when they pass by your table!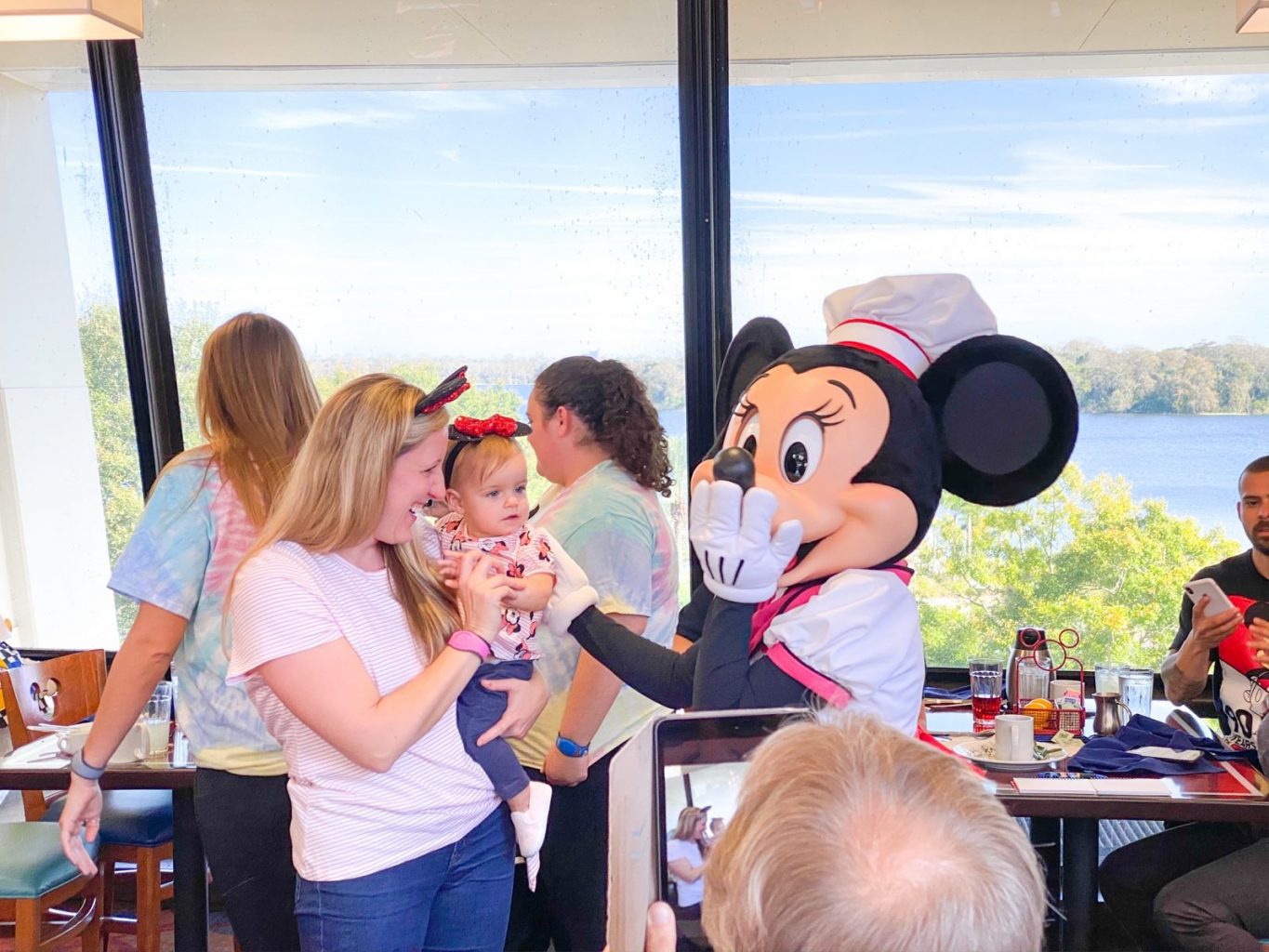 Disney Offers Lots of Dietary and Vegan Options
You might be surprised to find out that Disney World isn't all just hamburgers and chicken nuggets. They actually have some really tasty and unique options at both table service and quick service restaurants!
Just because you're going to Disney doesn't mean you need to forgo any of your special dietary needs. Disney is very accommodating to any allergies or dietary restrictions guests might have. If you have any dietary restrictions, just let the cast member or server know, and they will be able to help you modify your meal! 
If you have an allergy, ask the cast member for an allergy friendly menu! It will let you know what is and isn't safe to eat. 
Disney even offers Halal meals at select restaurants. You have to make a request for a Halal meal 24 hours in advance or when you book your dining reservation. 
If you are vegan, you can still find delicious meals at Disney! Most restaurants have some sort of vegan option, but if they don't for some reason, you can request to make them vegan! Disney wants everyone to be able to enjoy their food! 
Fun fact: Disney's popcorn is actually vegan! Snack away! 
If you're vegan or have dietary restrictions, check out our 20+ Best Places to Eat Vegan at Disney World for our favorites!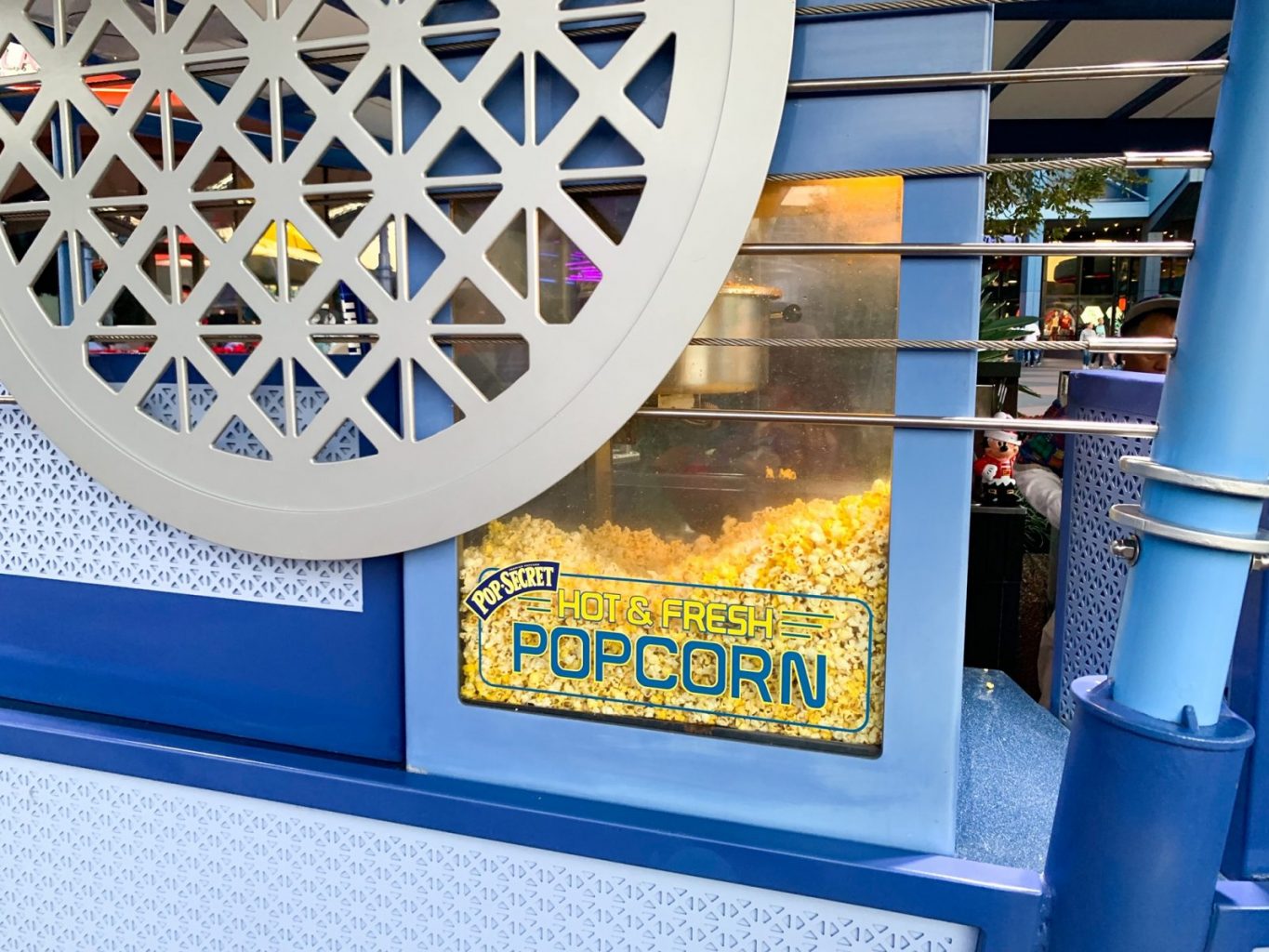 You Can Have Groceries Delivered to Your Resort
It might surprise you to know that you can actually get groceries delivered right to your resort! That way you don't have to try to fit a bunch of snacks and food in your luggage! 
There are lots of different ways you can get groceries delivered to your resort. You can use Instacart, Walmart Grocery Delivery, Garden Grocer, Amazon Prime Now, or whatever you prefer. This makes it super convenient for you to get all of the snacks/food you need without having to leave your resort.
Disney resorts have small convenience sections in the gift shops. Don't waste all your money on those snacks though! They are overpriced, and you can get your food for much cheaper with a grocery delivery service.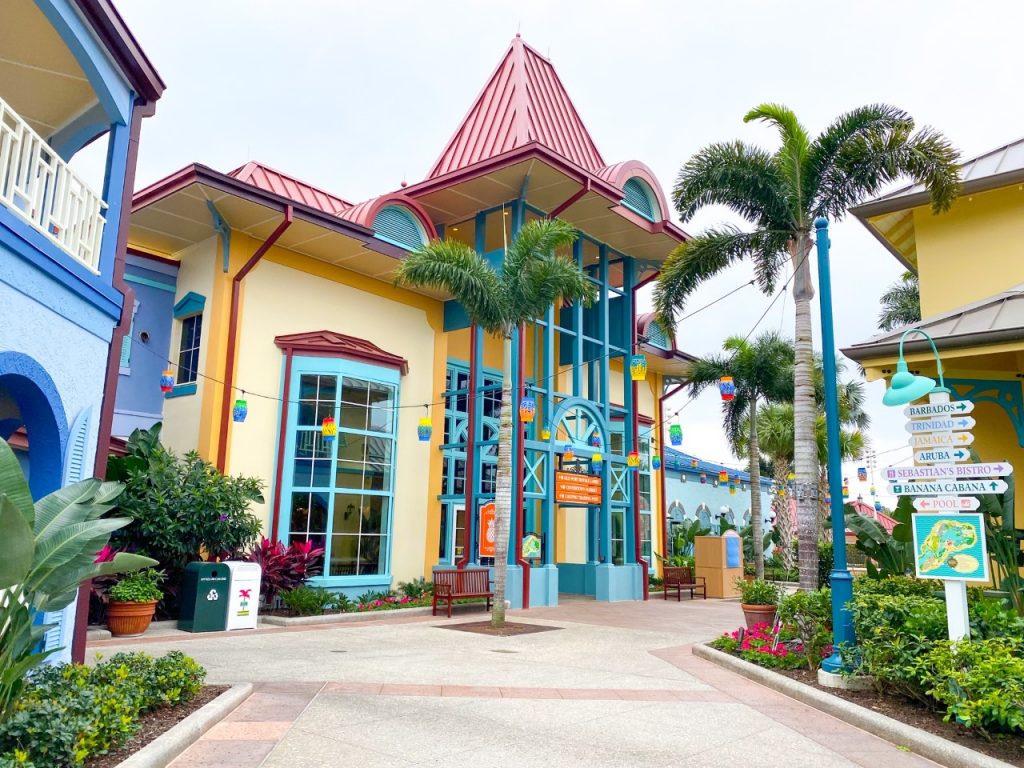 You Are Able to Bring Your Own Food Into the Parks
After ordering all of those groceries, you don't have to leave them at the resort! You can actually bring your own snacks and meals into the parks! This is actually a really great way to save money during your first time at Disney. Especially if you have hungry kids that are constantly asking for snacks.
The only restrictions are:
No glass, except for small baby food jars

No alcohol

Loose ice must be in a sealed bag
Besides these restrictions, you can bring whatever food you'd like into the parks! I like to bring little ziploc bags full of snacks such as pretzels, goldfish, fruit snacks, and protein bars. This will help you avoid spending lots of money on Disney's overpriced snacks. However, some are actually worth it! 
Tip: Gum is not sold anywhere on Disney property. Make sure to buy some before your vacation if you need it!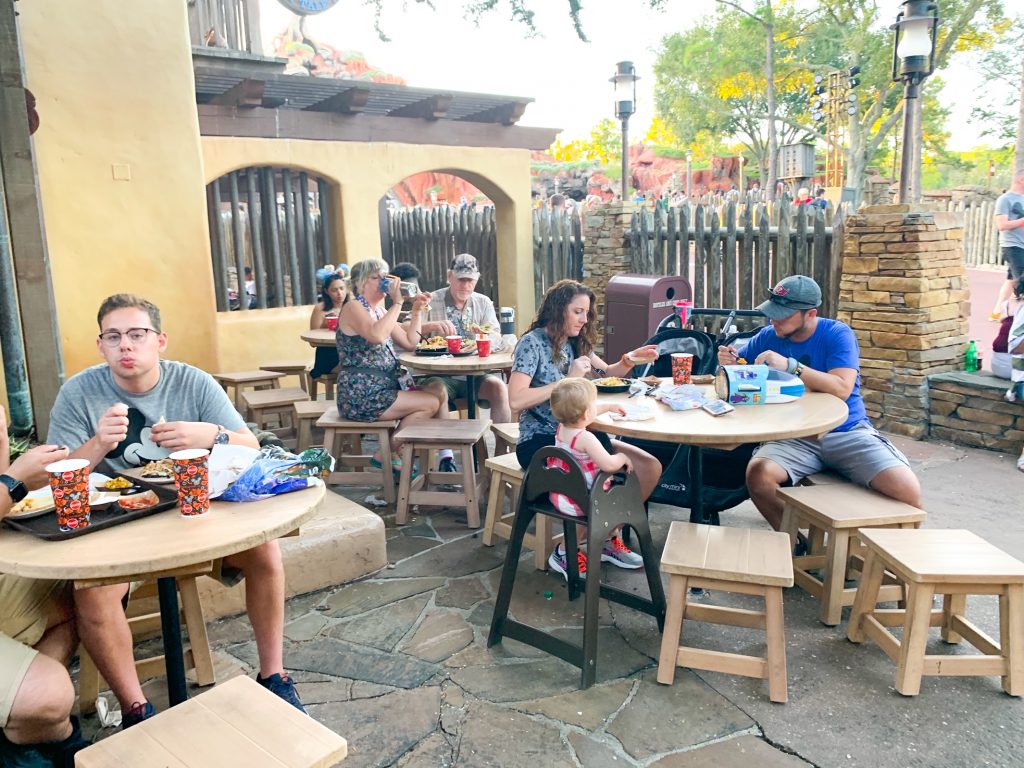 Prepare a Park Bag With All of the Necessities
It can be helpful to prepare what you will be bringing in your park bag before you get to Disney World! There are several things you might not have thought of to bring. It'll be much cheaper to buy these items at home from places like Amazon or the Dollar Tree rather than when you get to Disney World. 
As mentioned above, you are able to bring snacks into the parks with you! Snacks are a great addition to any park bag to curb hunger while you wait for your next meal. 
An external battery charger and phone charging cord are another must for your bag. You'll be using My Disney Experience a lot to keep up with your plans, so it's important to have something to keep that phone charged!
Bringing your own water bottle is a great way to stay hydrated in the Florida heat. Cast Members do not want you passing out during your vacation! 
A poncho or umbrella is another great addition to your park bag. You will definitely need one of these if you are traveling to Disney in the summer! 
It's also a great idea to bring some form of entertainment for long lines! Either download some fun apps on your phone or bring toys for your children to keep them occupied. 
There are lots of other things that might be necessary for you to bring to the parks. Read our What To Bring In Your Disney Park Bag for a full list of what we think you might need!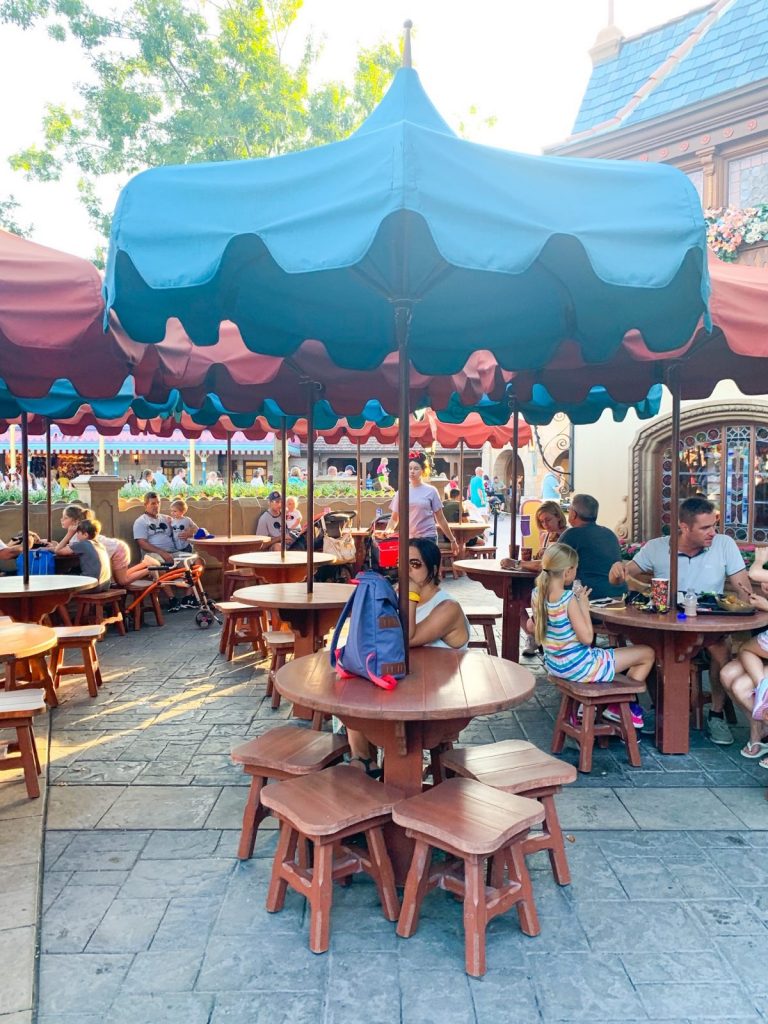 Utilize Rider Switch
If for your first time at Disney you are traveling with small children, you should know what rider switch is! If you're bringing a child that doesn't meet the height requirement of certain rides, don't worry! Everyone in your family (minus the child that doesn't meet the requirement) will still be able to ride.
Rider switch (also known as rider swap or child swap) is Disney's service for rides with height requirements that will help you ride those rides without having to wait in line twice. You go up to the cast member of the attraction you want to ride and let them know you want to use rider switch. They will scan everyone's magic bands to get you set up. 
Then, one part of the family can get in the normal line to ride the attraction while an adult stays with the child who can't ride. After that part of the family is done riding, the adult waiting with the child can use the FastPass line to skip the regular line and bring two others to ride with them. This means that some people could ride the attraction twice! 
Now no one has to miss out on any attractions, and you don't have to wait in the regular line two times for everyone to ride! Make sure to use rider switch if you have small children with you to save time. 
There are some rides at Disney that have no height requirements. This means anyone, even babies, can ride! It is possible to visit Disney with toddlers and still have fun!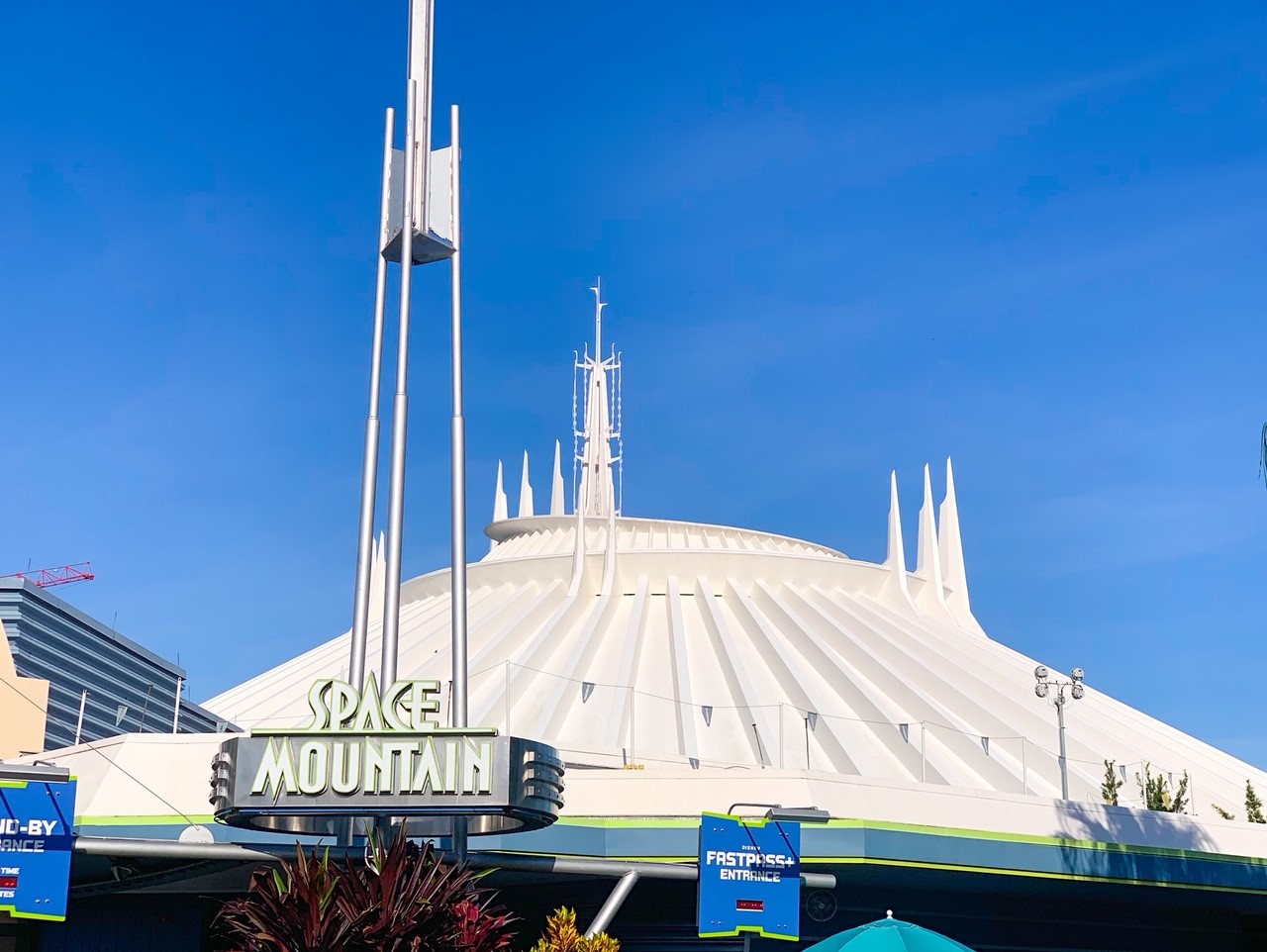 Know Your Stroller Options
Another thing to consider when bringing children to Disney World is what kind of stroller to use. You can bring your own stroller or you can rent one, either from Disney or from a third party service. 
The only rules against strollers are that you can't bring in wagons and the strollers cannot exceed 31" (79cm) wide x 52" (132cm) long. Keep these restrictions in mind if you are bringing your own stroller or renting any place else that isn't Disney. 
If you bring your own stroller or rent from around Florida, you will be able to bring that stroller with you to resorts, Disney Springs, the parks, and pretty much anywhere you go. If you rent a stroller from the Disney parks, those strollers are not able to leave the parks! 
All in all, it really depends on what you need for your children. If you just need strollers in the parks, it might be easier to rent from Disney. If you need a stroller all the time, bring your own or rent from around Florida.
For more information on finding the right stroller, read our How To Choose the Best Disney Stroller Option For You!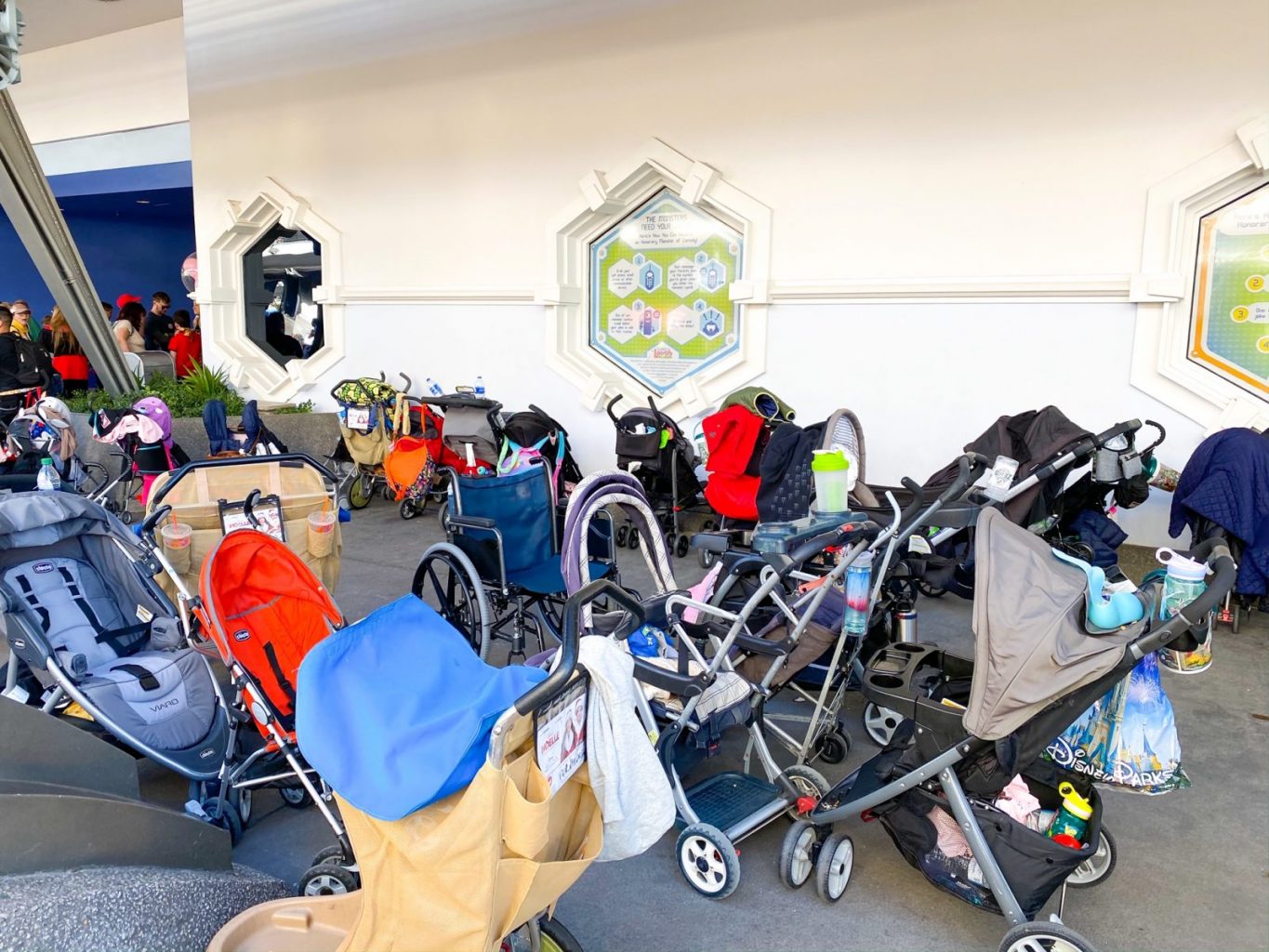 We hope you have found these tips as useful as we did! Our goal here at Disney Trippers is for you to have the best Disney trip possible! What was your favorite tip? What was something new that you learned? Let us know and have fun at your first time at Disney!