It had been my dream to eat at the Garden Grill Epcot restaurant for pretty much my entire life. There was just something delightful about the thought of eating at a slowly rotating restaurant that was perched high above the Living With The Land ride which is one of my favorite rides at Disney World!
Finally, after decades [literally] of walking past this Epcot restaurant, I finally tried it for dinner. I am here to tell you that the Garden Grill Chip 'N' Dale's Harvest Feast is well worth every single penny. Whether you are a full-on carnivore or you are vegan, have allergies, whatever, Garden Grill is for you!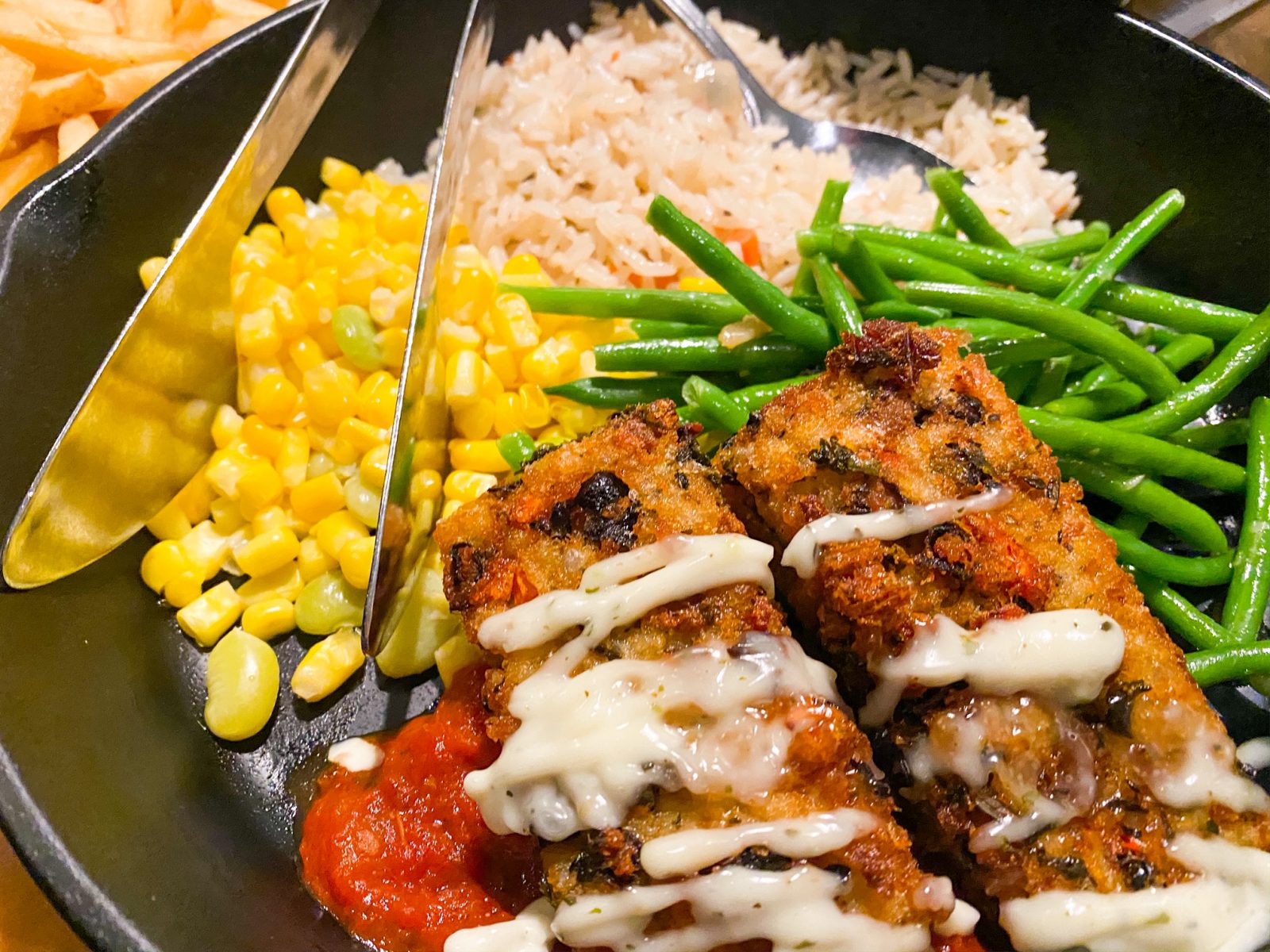 I WISH I had gone sooner. Although the price is steep as it is character dining, this all-you-can-eat family-style restaurant at Disney shouldn't be passed up. I truly cannot overstate how fabulous Garden Grill at Epcot was!
I went to Garden Grill as a vegetarian with garlic, onion, and bean allergies and my mom went to Garden Grill as a vegan. If you don't have any dietary restrictions, just go! You will NOT regret it!
PLEASE NOTE: The Garden Grill rotates SO SLOWLY you won't feel it and you won't "get sick" or even feel the motion. It moves at a glacial pace and makes one full revolution during your entire dinner, which for us took over an hour and a half. If we had a bigger group, it would have taken longer! Please don't let the fact that it is a very slow-moving restaurant impede you from dining here!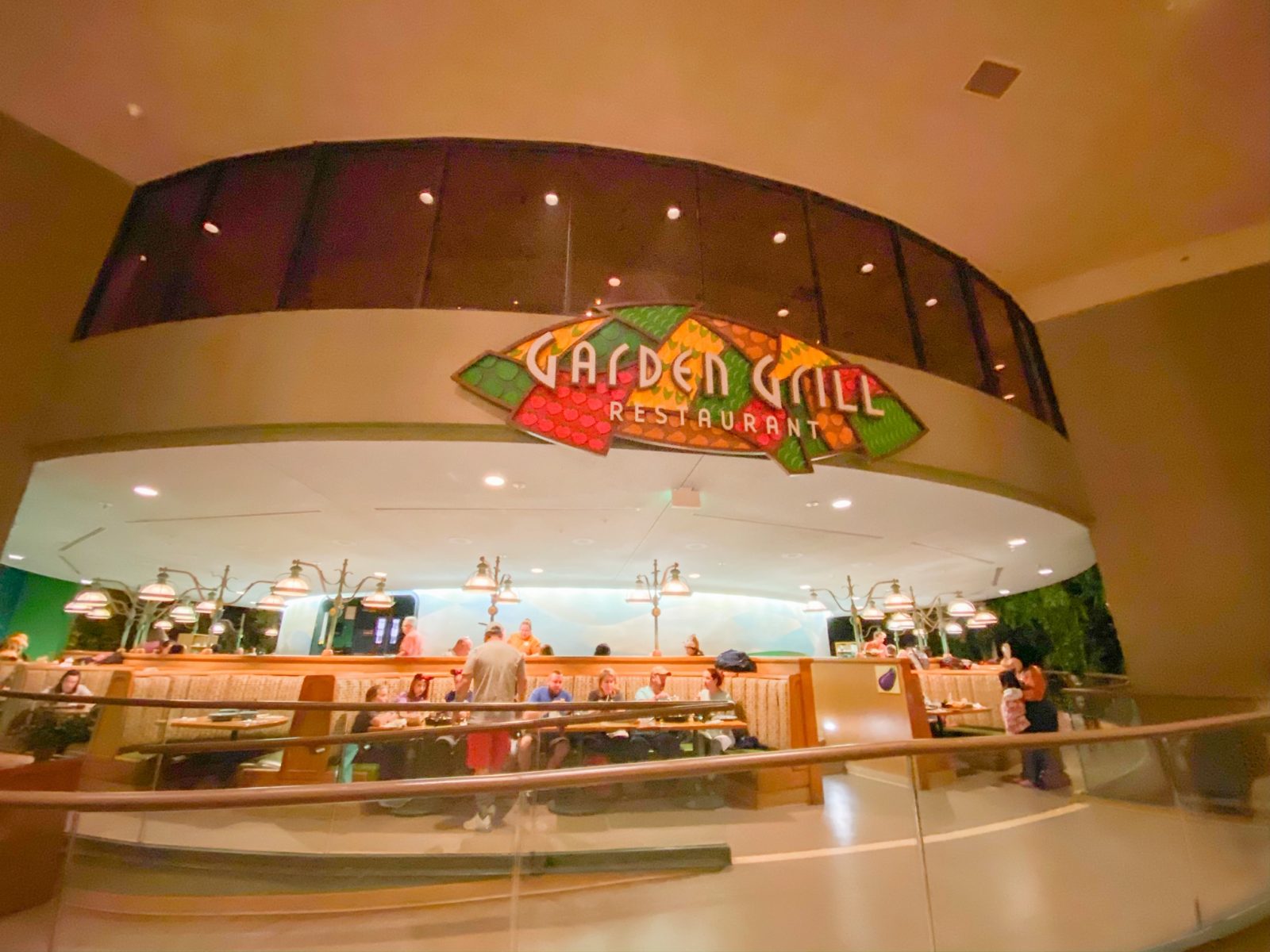 The Ultimate Garden Grill Epcot Review
Making Reservations for Epcot's Garden Grill
For my dining at Garden Grill, I did NOT have a reservation. I walked up at about 6:30pm and asked if there were openings for walk-ups and also requested a table on the bottom portion of the restaurant in one of the booths.
My wait was less than 5 minutes. Unlike many character dining restaurants at Disney World, Garden Grill always appears to have reservations, even up to one day in advance or same-day. Of course, this varies by season, but I am an annual pass holder who loves Epcot and I always am on the My Disney Experience app checking out where I want to eat for dinner at Epcot.
Garden Grill always has reservations open, and they aren't at "bad' times like 9 pm either! They are around dinner hour from 5:30-7:30 pm. If you want to try to walk-up to Garden Grill in Epcot, try earlier in the evening, but there is a good chance it won't be fabulously packed, despite being a truly amazing dining experience!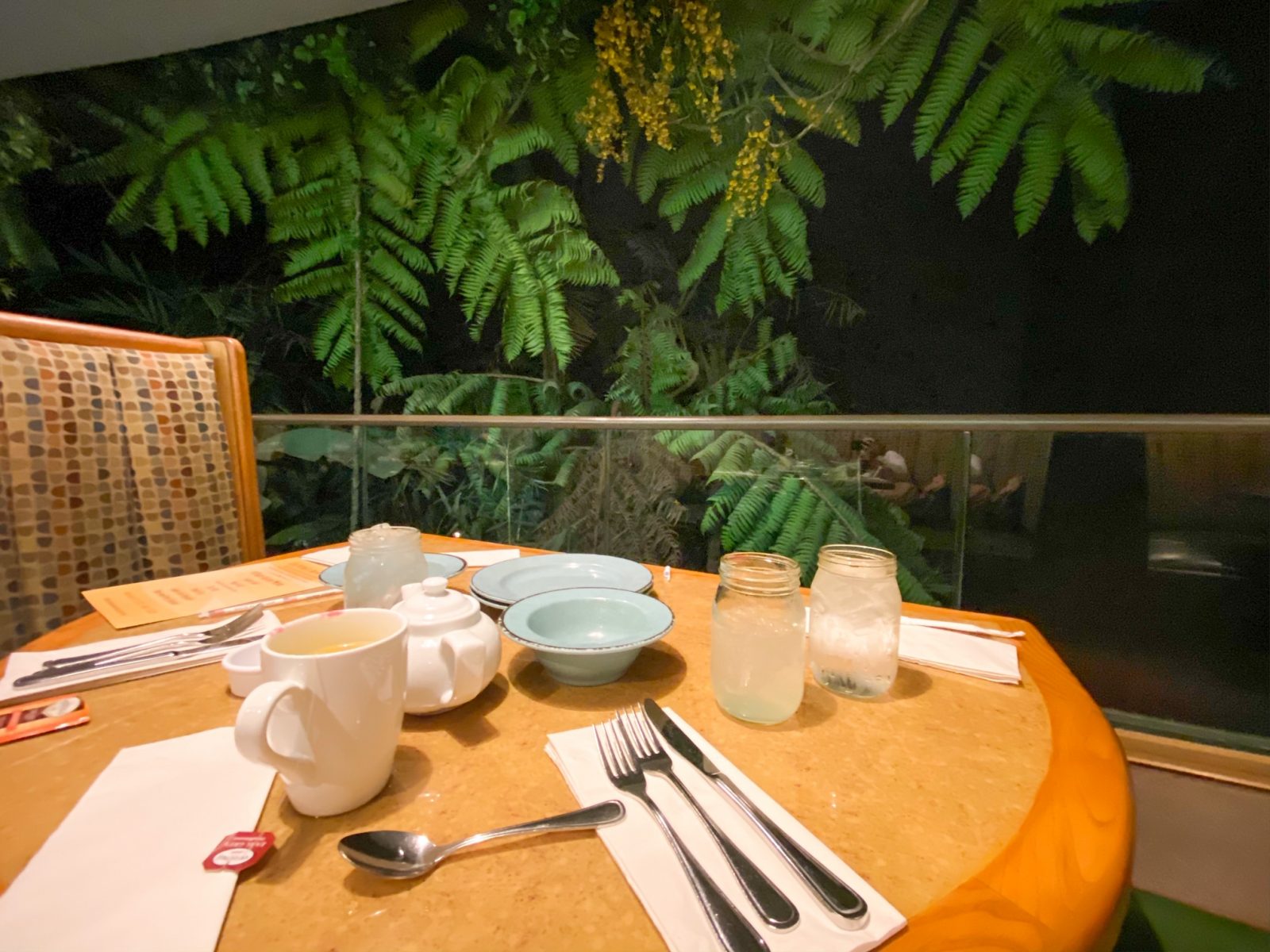 Pricing For Garden Grill Chip 'N' Dale's Harvest Feast
As of Jan 2020, the price for adults for dinner at Garden Grill is $54 for adults and $32 for children aged 3-9 years old. This is also one of the best values if you are on the Disney Dining Plan as it only one table service credit.
We were not on the dining plan so we paid the full price, less 10% discount that we get on some dining as annual pass holders.
While the price is quite steep, this is the perfect place to eat out on a special occasion such as a birthday or anniversary. If you are at Disney for your vacation, mark this down as one of the character dining dinners that you must do! Save your pennies and spend them here.
Garden Grill Epcot Menu
The Garden Grill Epcot Menu is quite extensive and unique! This is a family-style dining experience, but you get to order as much food as you want. Think about it as a buffet where you don't have to leave your table and walk to get more food!
Everything on the Garden Grill menu is included in the price that you pay for your dinner. The same applies to going to the Garden Grill for breakfast, and it is one of the best and most popular places for breakfast at Disney.
You can see the Garden Grill Menu on Disney's website, or you can see it below as I forgot to get a photo of the "normal" menu in my rush and excitement to sit down!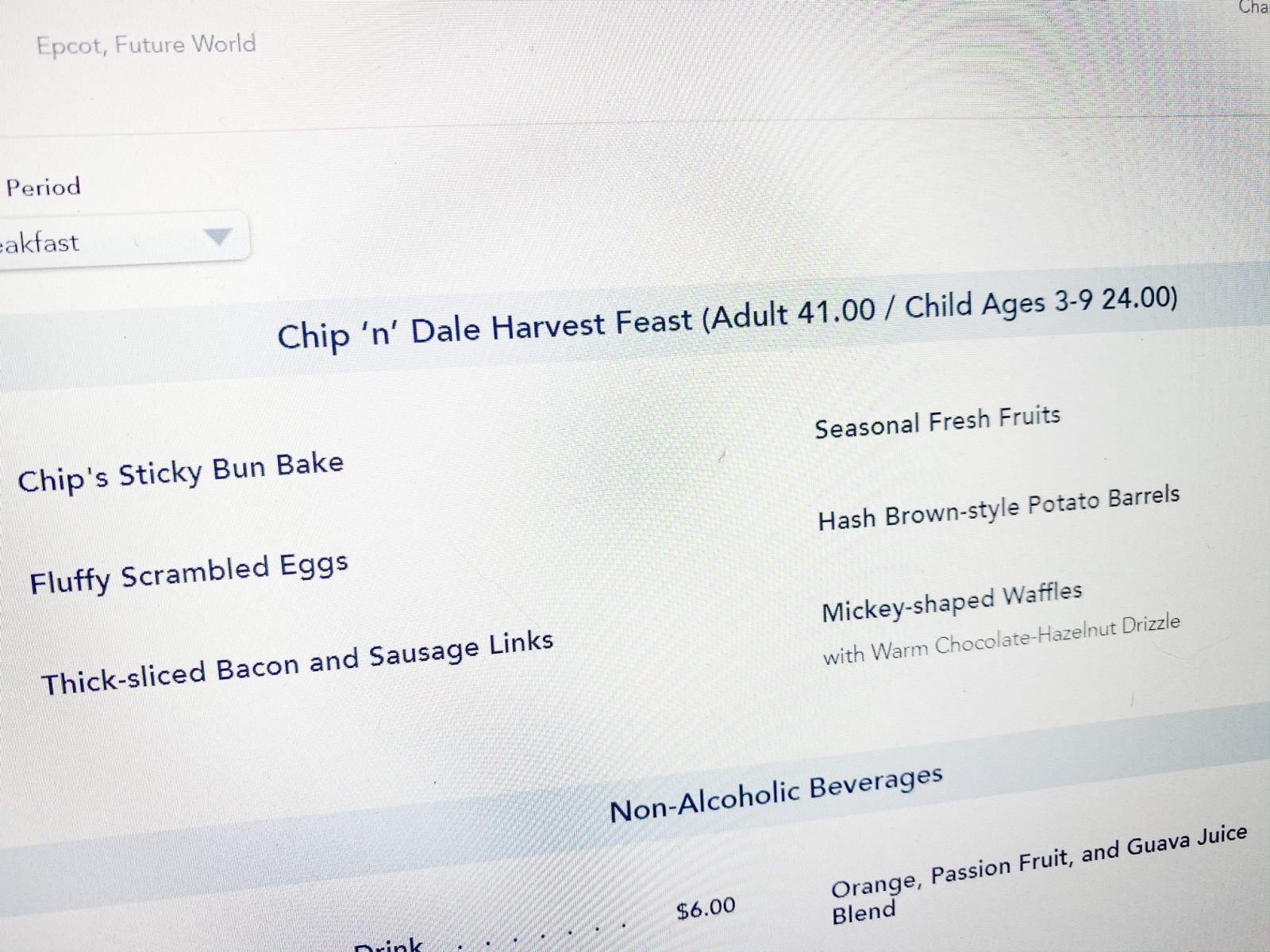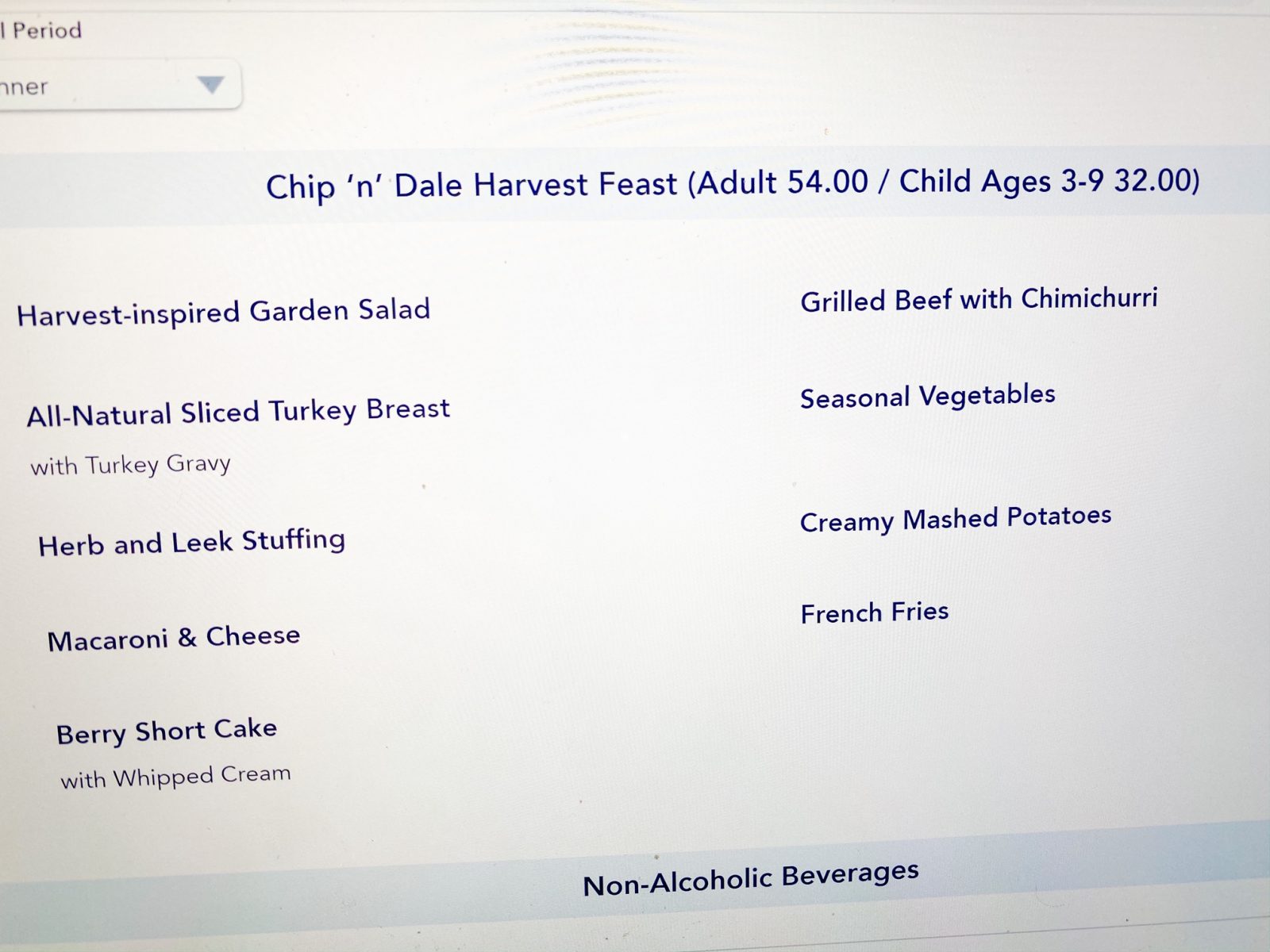 Garden Grill Epcot Plant-Based Menu For Vegans And Vegetarians
The Garden Grill menu for vegans and vegetarians is extensive! It used to be separated into a section for vegetarians and a section for vegans, but Disney has since combined the Garden Grill menu into one for "plant-based" diners.
If you are a vegetarian, you can ALSO have the mac and cheese, mashed potatoes, herb and leek stuffing, and berry shortcake off the "regular" menu. Verify with your server in the event the ingredients for the stuffing changed, but the mashed potatoes and mac and cheese are good for vegetarians.
If you have allergies of any kind, notate when you check-in and the chef will be brought out to you. I have a garlic/onion/bean allergy so I was unable to eat the herb and leek stuffing, veggie loaf [sad!] and dressing on the salad. Instead, I was provided with a Gardein "chicken" cutlet and oil and vinegar dressing.
For vegans, you are good to go with the plant-based menu as everything is Verified Vegan by my mom! If talking to the chef makes you more comfortable, go ahead, but everything on the menu was 100% vegan, not just plant-based. Everything is fabulously delicious and you won't regret it or feel like you are missing out just because you are vegan or vegetarian at Garden Grill!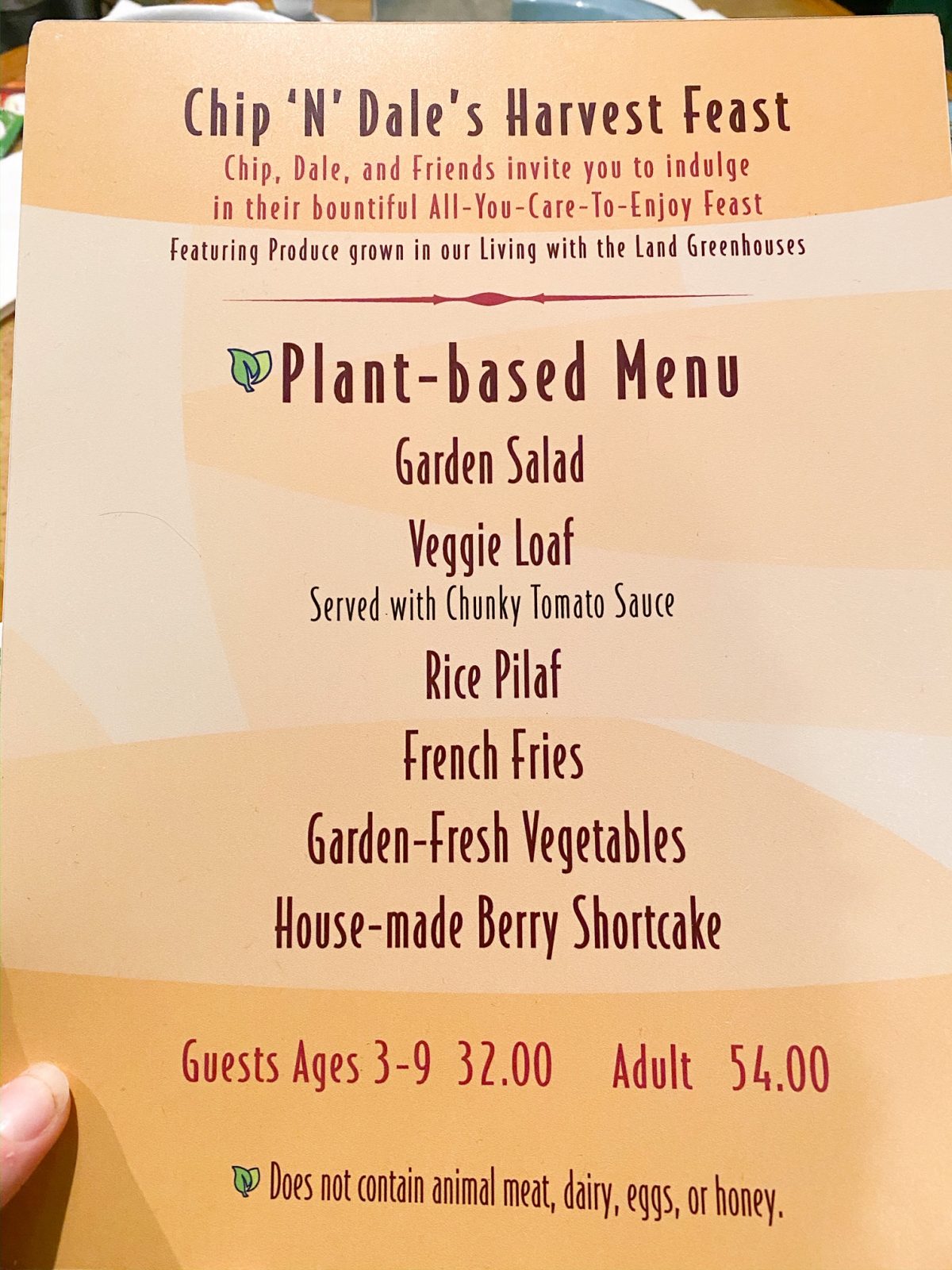 The Garden Grill Disney Dining Experience
When you arrive at Garden Grill in Epcot's Land Pavilion, you will see a small desk with Cast Members waiting to seat you. I recommend requesting to sit at the "bottom" level of the restaurant so that you can see and enjoy the rotating views around you.
We were taken to our booth on the bottom level and it was right at the front. This was exciting so we could slowly rotate and see all the views. The top level of Disney's Garden Grill offers tables and chairs, as opposed to booths, and the view isn't quite as good, although you are higher up and look "down" on the lower level diners.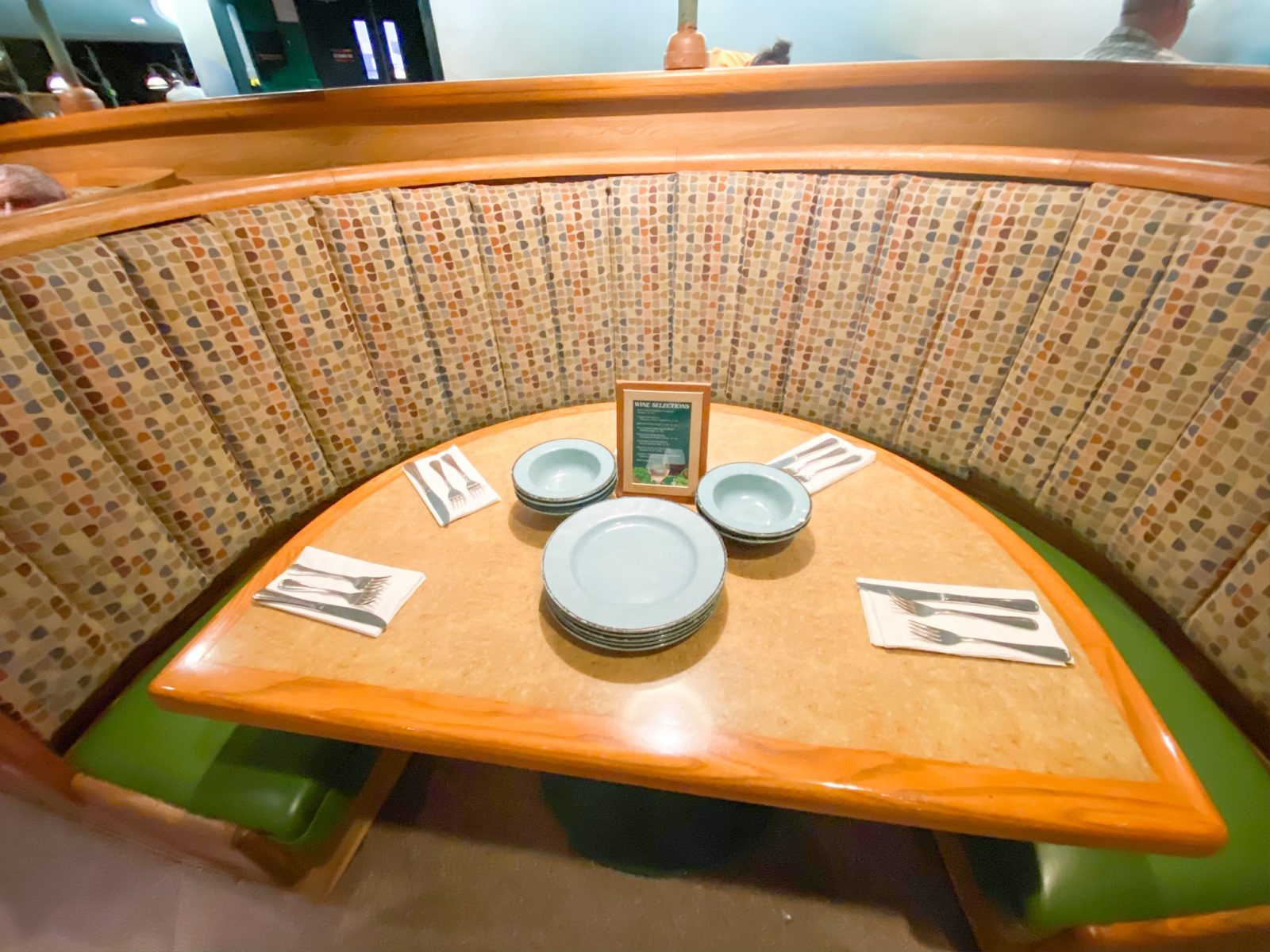 Since it was family-style dining, we assumed that we were going to be sitting with other people since there were only two of us, but we were pleasantly surprised that we got a booth all to ourselves! This is the norm so you don't have to worry about making forced small talk with other guests.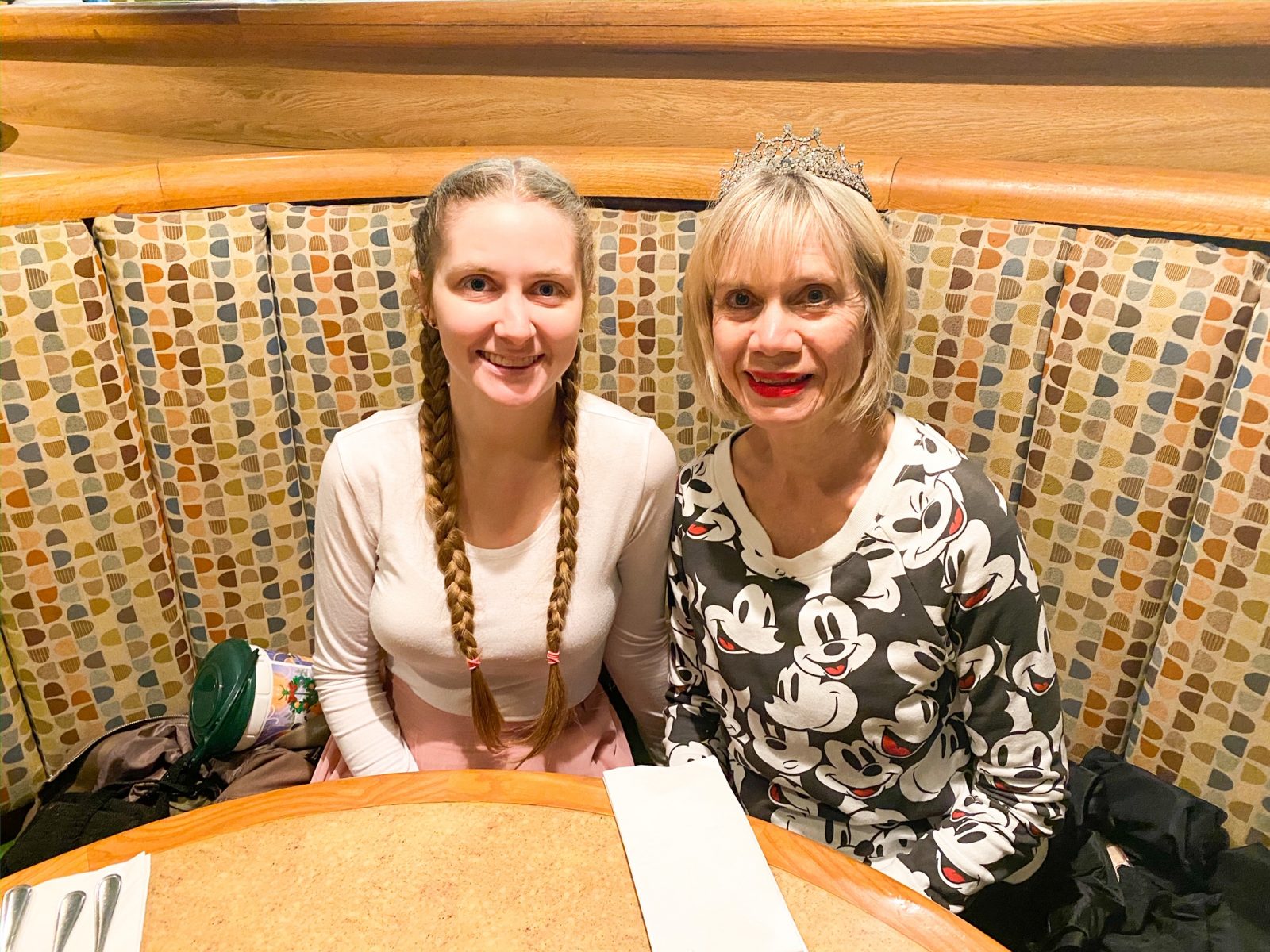 As soon as you are seated, your waiter will ask you what you want to drink. Drinks such as lemonade and soft drinks are included. I went with the lemonade and it was served in a mason jar which was a nice touch to the "country" feel of Garden Grill.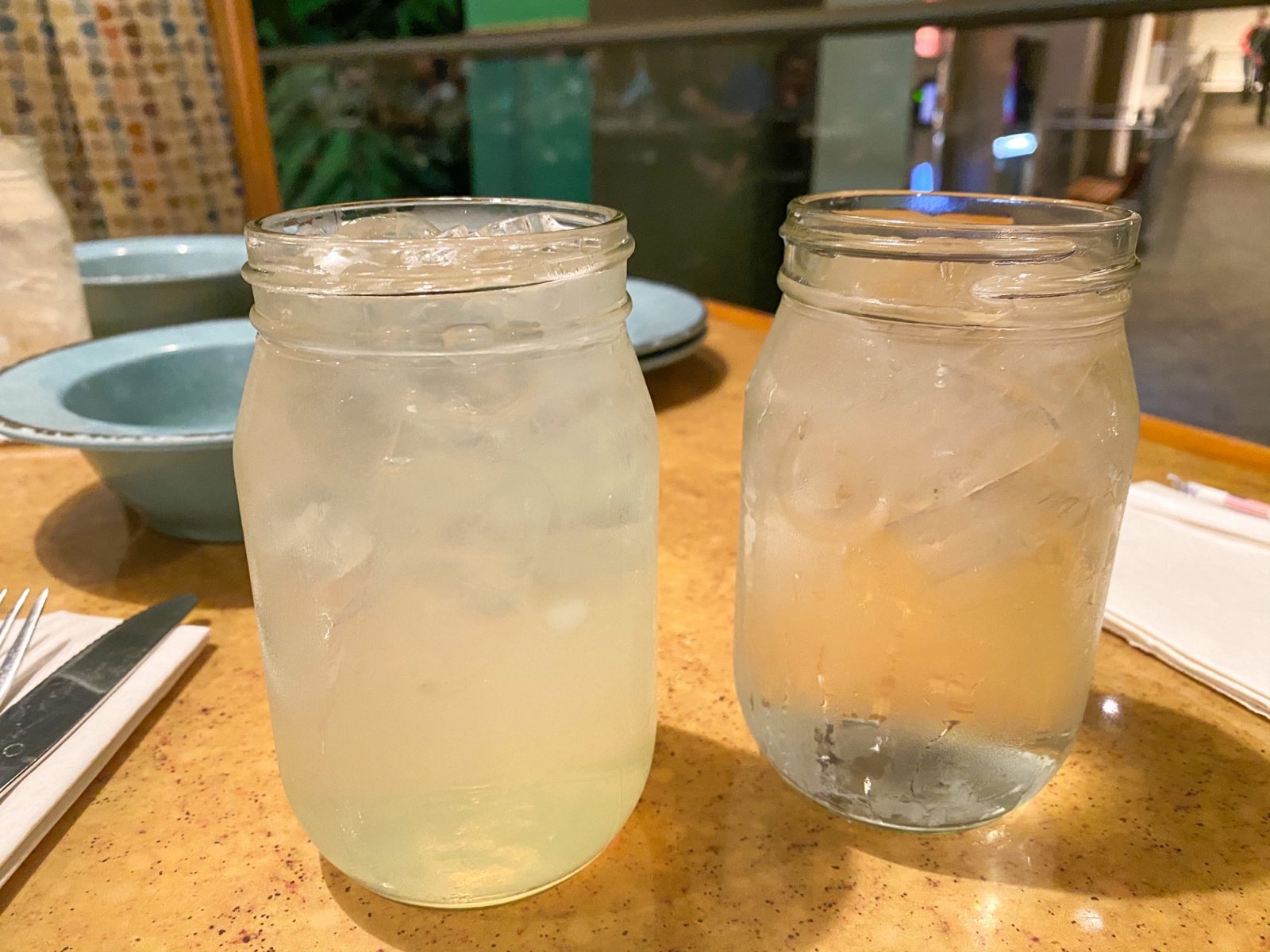 Next, we were provided with dinner rolls and I ate them with normal butter and my mom was provided with vegan/allergy butter. They were SO GOOD and I had two. DO NOT fill up on the bread or else you won't be hungry enough later! I wish I only ate one but I was so hungry when we were seated.
Then comes the harvest-inspired garden salad. It was HUGE and had a ton of toppings on it, including kalamata olives, cucumbers, and tomatoes. This combination tasted like a greek flair to me and we loved it. The salads are HUGE and if you are dining as a duo, you still get family-sharing size portions. I hated to waste and tried to eat as much as I could. It was quite delicious!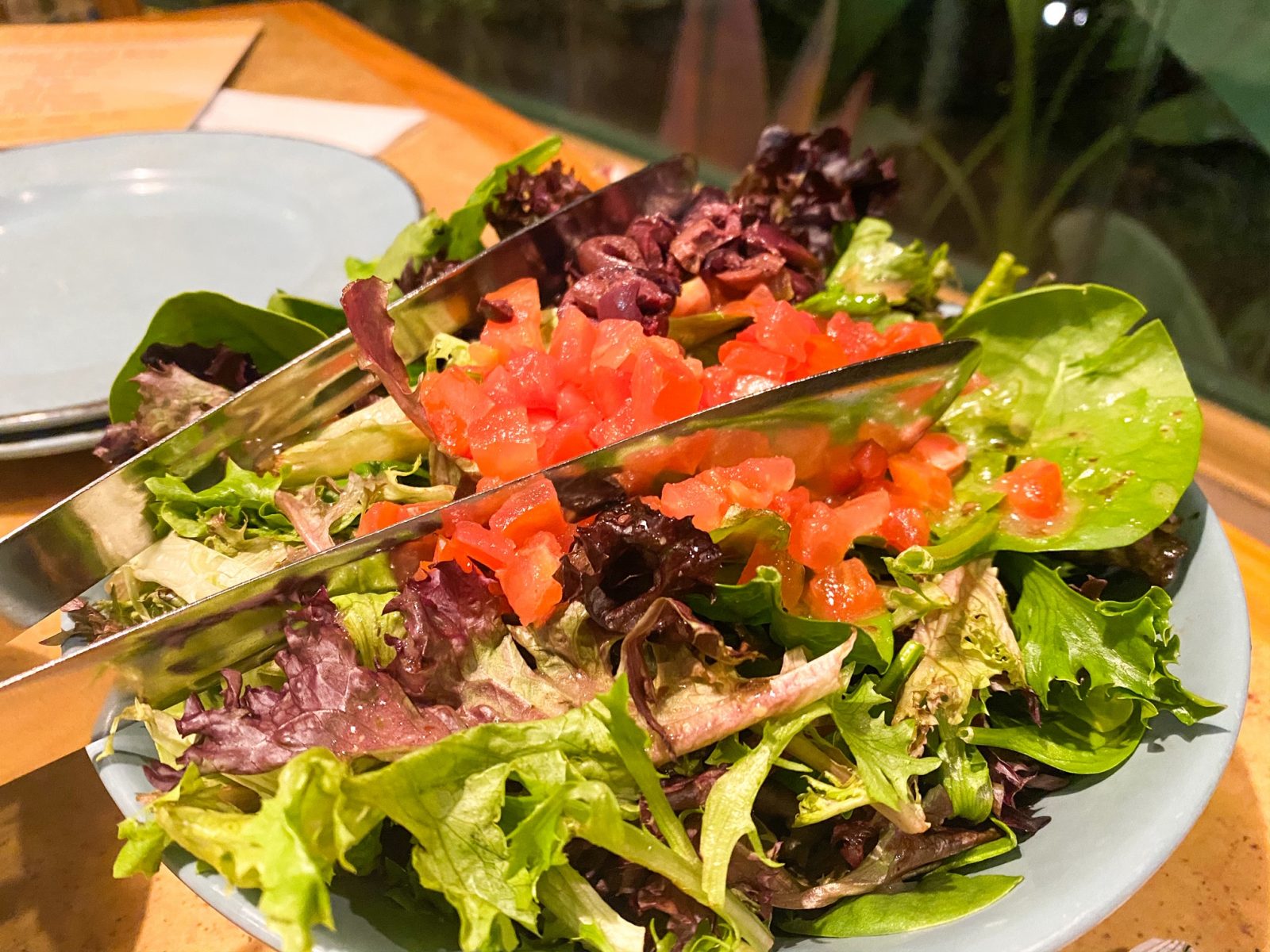 After a short wait, we were presented with our skillets. They were HUGE and so well staged and yummy. You are also provided with a heaping plate of French fries.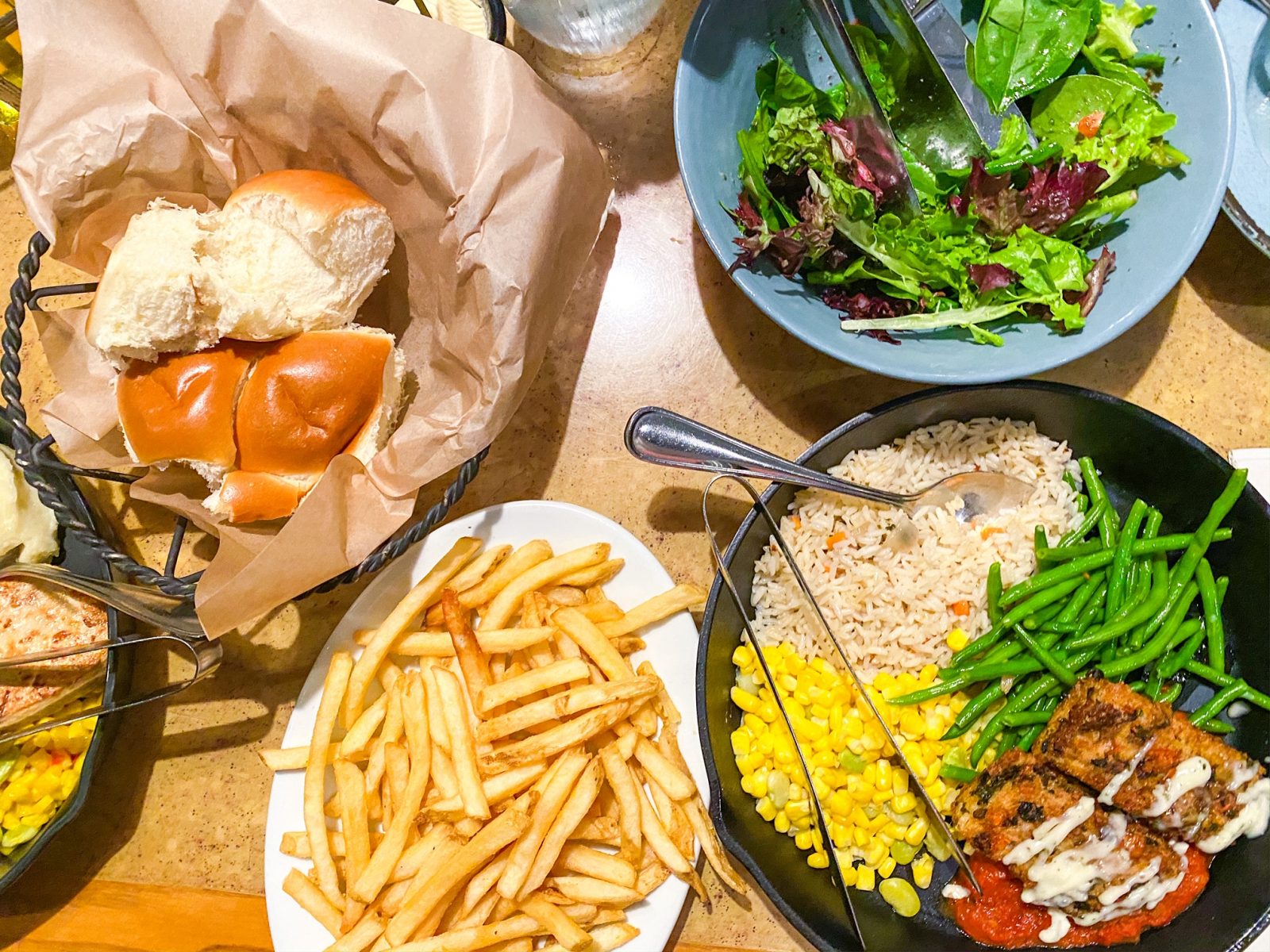 As someone who ordered an allergy-specific meal, my skillet at Garden Grill Epcot came with a Gardein "chicken" cutlet instead of the veggie loaf. The cutlet was very succulent and thick. I think that Disney users a type of Gardien that us regular folks can't buy at the grocery store because it was really great!
I also got mashed potatoes and mac and cheese off the regular menu too and had a double portion of mac and cheese. I was very tempted to get more french fries but we were already so full and didn't want to waste food!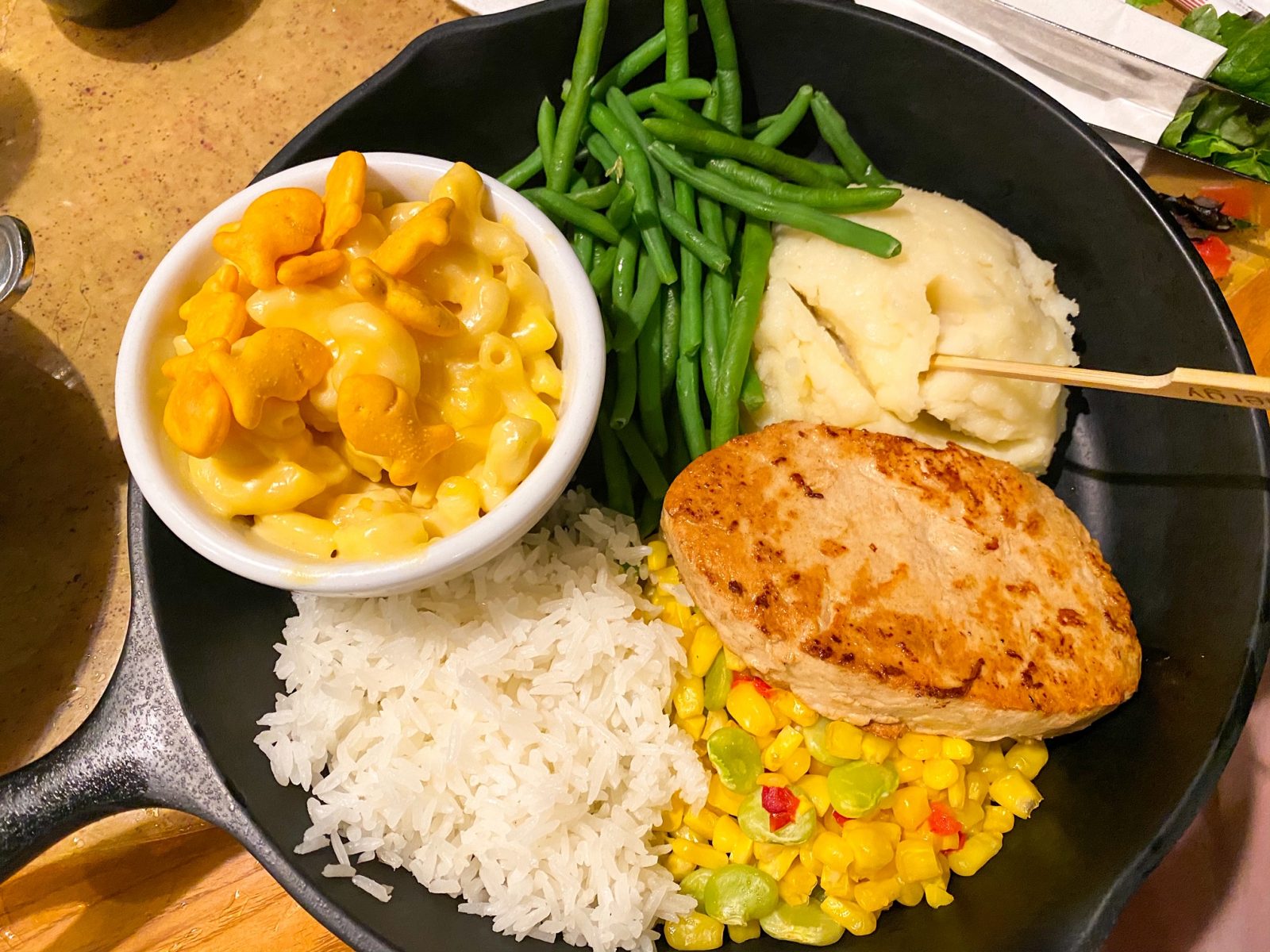 My mom said the veggie loaf was fantastic, and actually ordered more, which is what officially did her in! The vegan plate is massive and consists of a lot of different options and you WILL be full after this! The portions at Garden Grill Disney are enormous.
As a vegetarian with dietary restrictions, it is rare to be able to eat "like a normal person" but that is what the Garden Grill menu allowed me to do! It was well-thought-out and so good! I felt like I was eating a home-cooked meal that someone's grandma had made for a holiday, except it was vegetarian/vegan and to my specifications.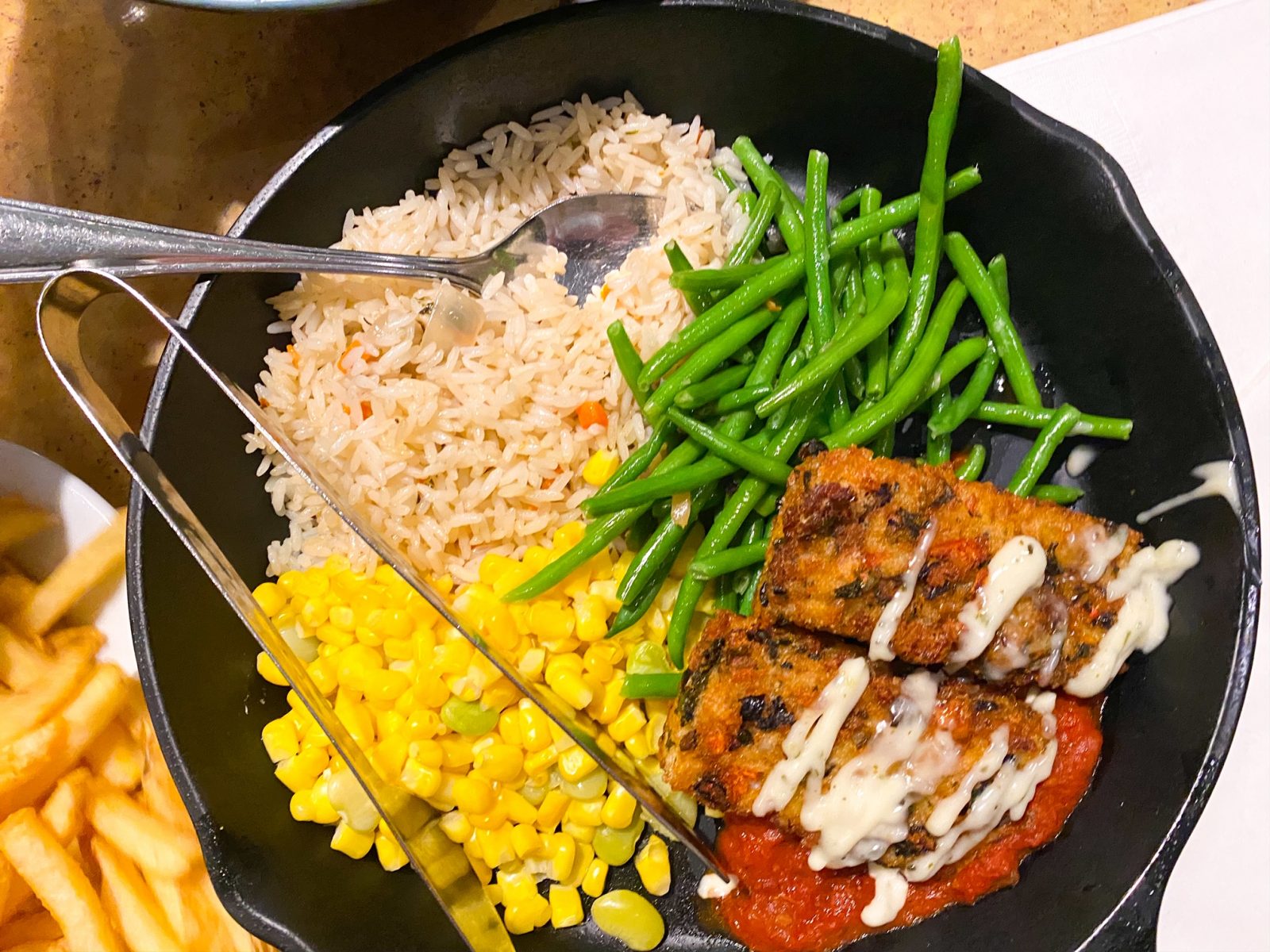 For dessert, I was provided with a MASSIVE berry shortcake with whipped cream. This was 100% a "sharing" size portion, and I don't think Garden Grill makes "small" portions for one person. I only ate about half and felt bad leaving the rest, but I had to remind myself that this was meant to be shared, not meant for one person!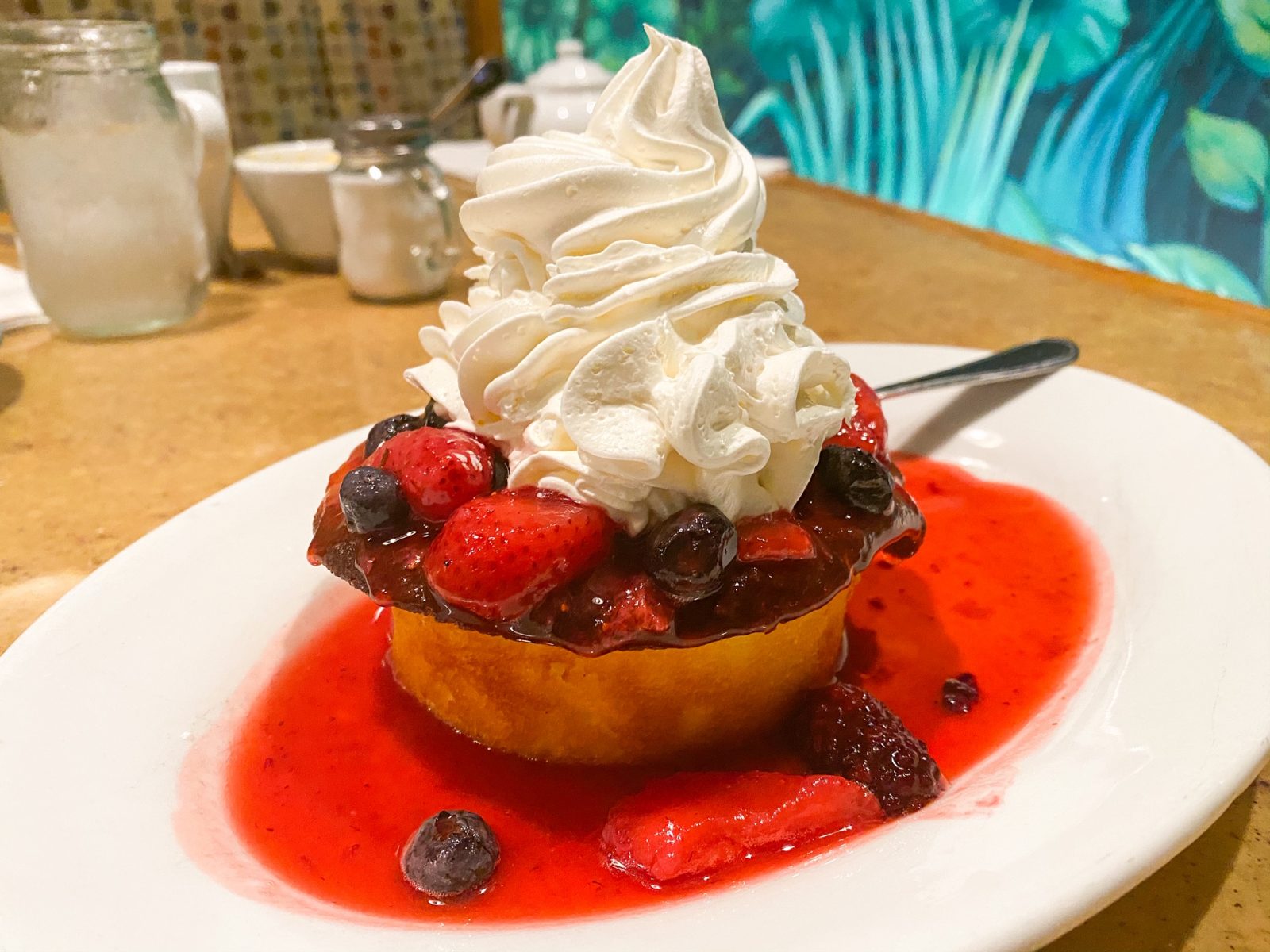 Finally, my mom was provided with a small vegan version of the berry shortcake, sans the whipped cream. Next time, I will 100% order the vegan cake as it is a personal-sized portion and just ask the kitchen to add whipped cream for me. I don't want to waste, but I love dessert.
Overall, the food at Garden Grill Disney was beyond fabulous and I still have dreams about it to this day! I can't tell you enough how much I loved it and how badly I want to go back.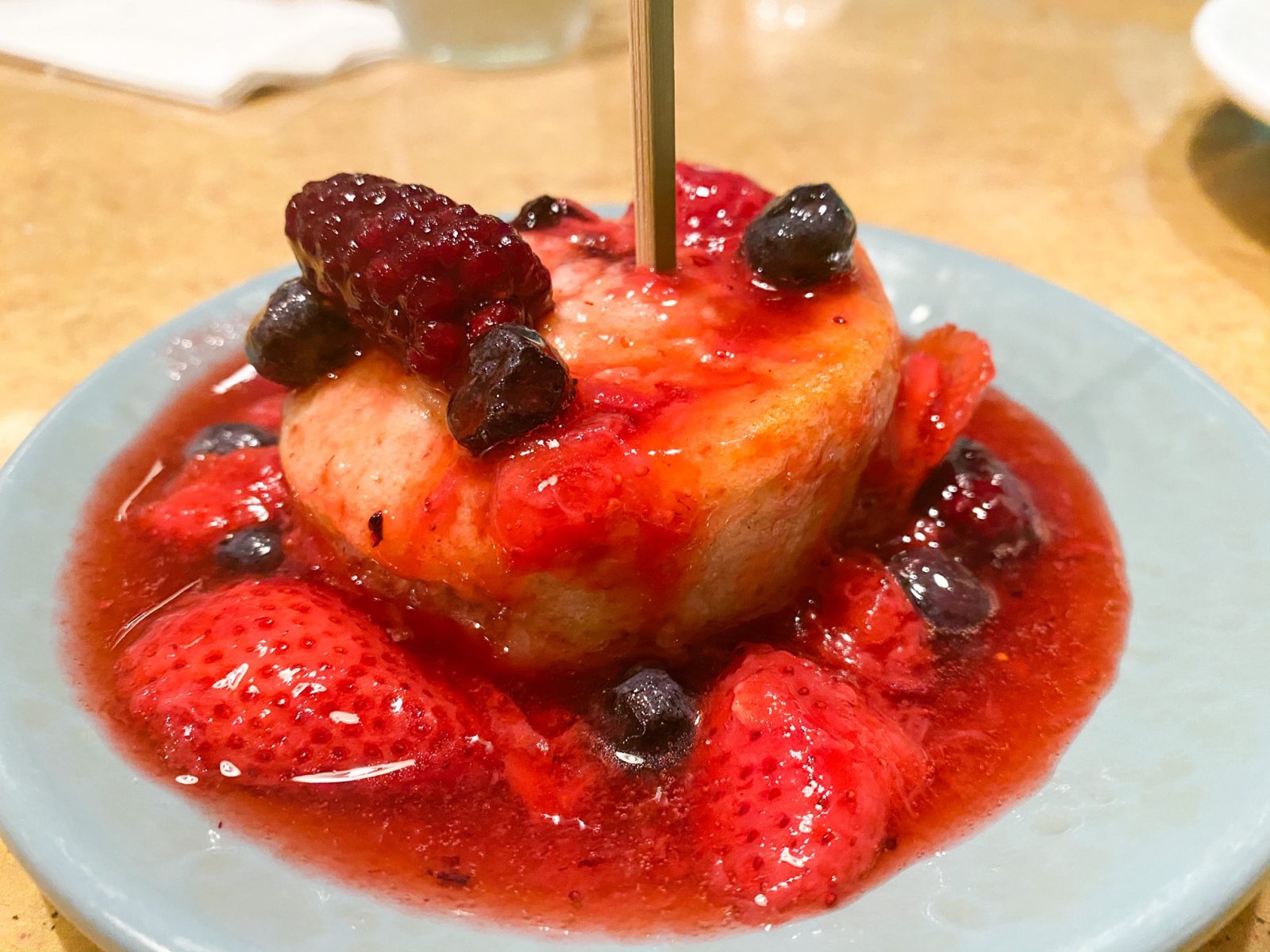 Characters At Garden Grill Disney
First up, we met Mickey Mouse himself! He was sweet and spent time with us taking photos! We only saw Mickey one time and he didn't come back around because, well, that is what happens when you are famous!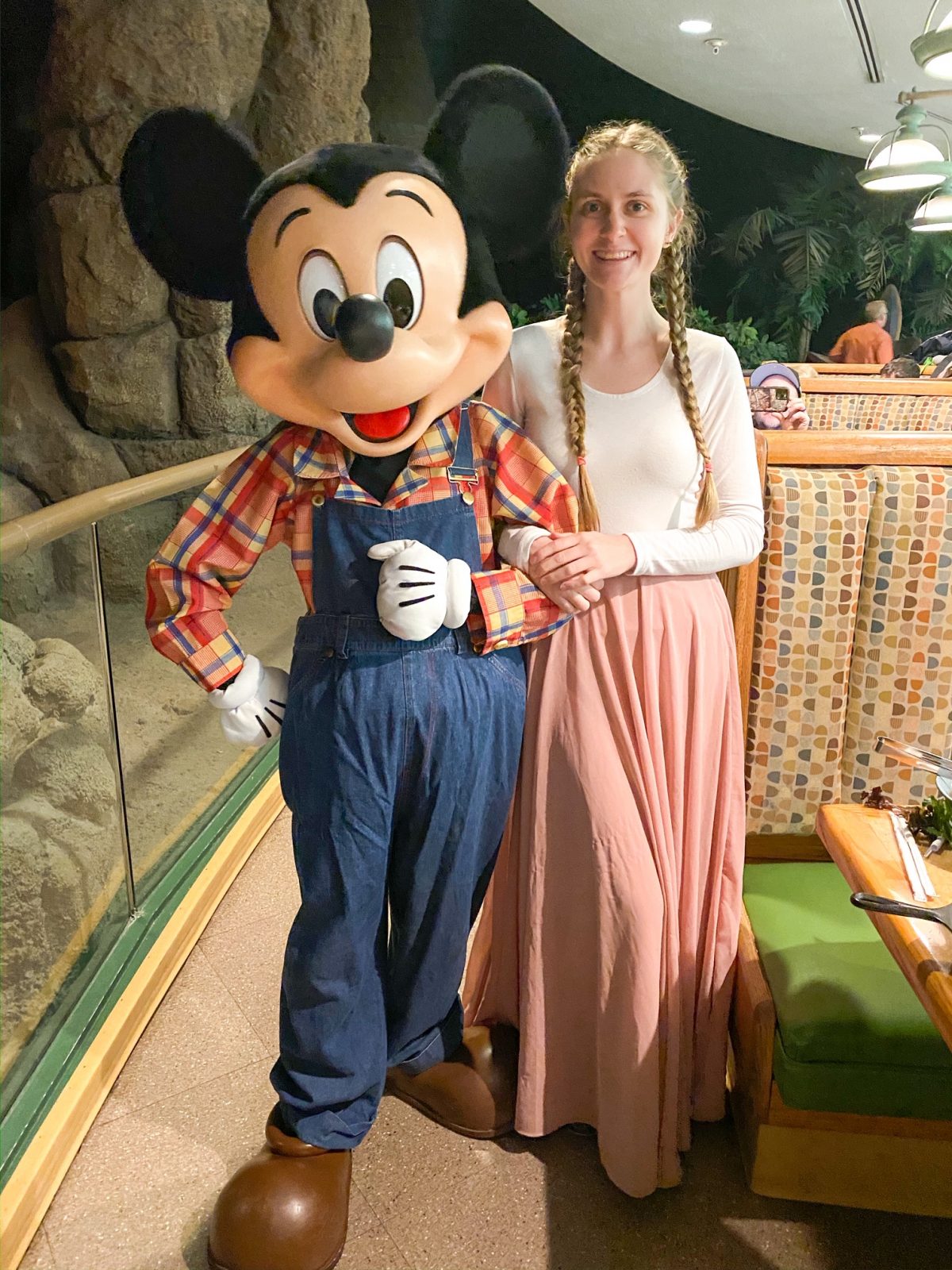 Next, we met with Chip. Chip was THE BEST character that we met at Garden Grill Epcot. He sat down next to us and took a LOT of time interacting with us and hanging out with us. He was sooo sweet and it really made the experience even better.
TIP: You can tell it is Chip because he has the darker nose "like a chocolate chip" and his teeth are close together.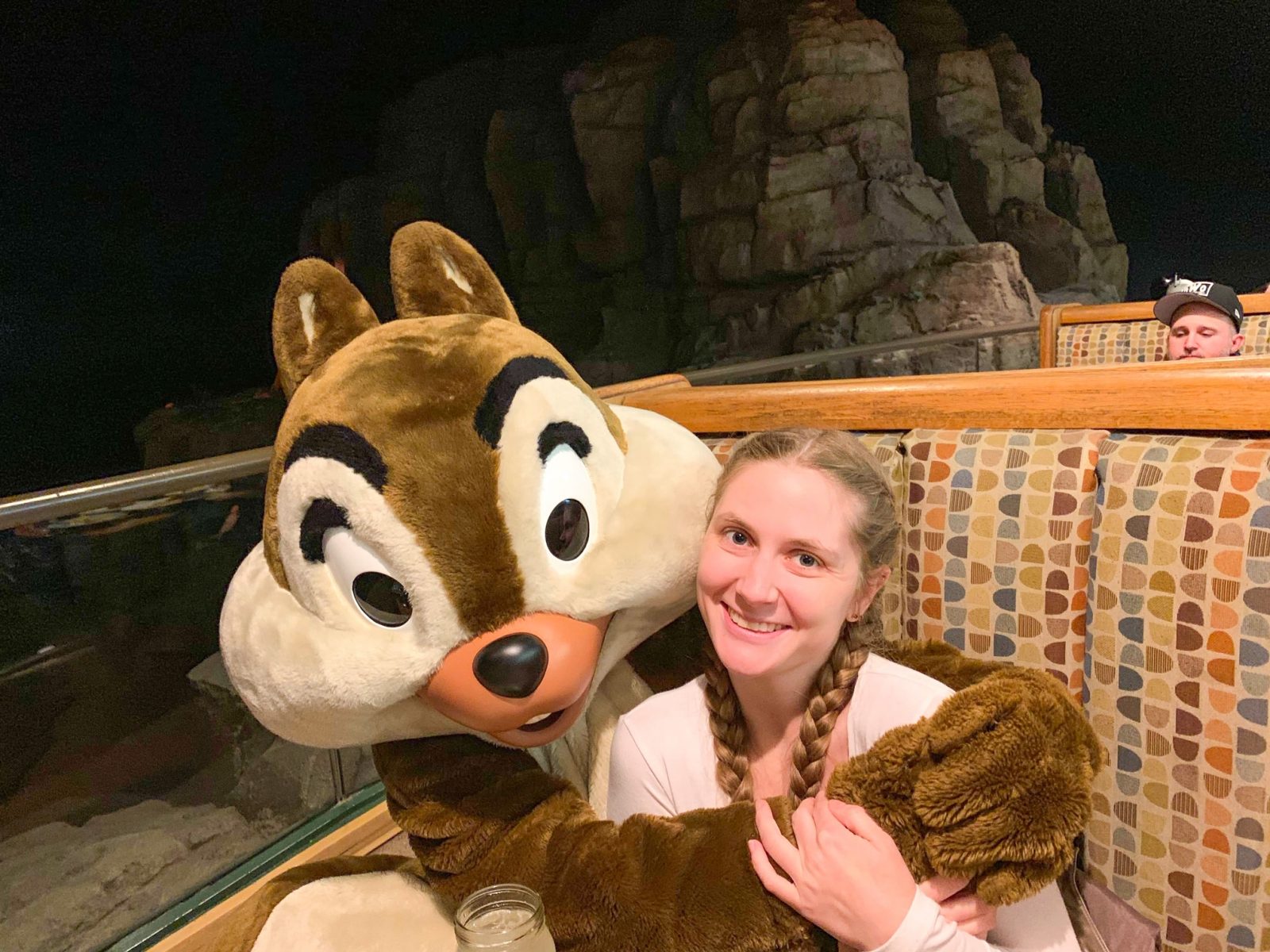 Pluto came by mid-meal which was a nice distraction as we were already getting full and we needed to get up and walk around a bit. Pluto was great fun and even took selfies with us!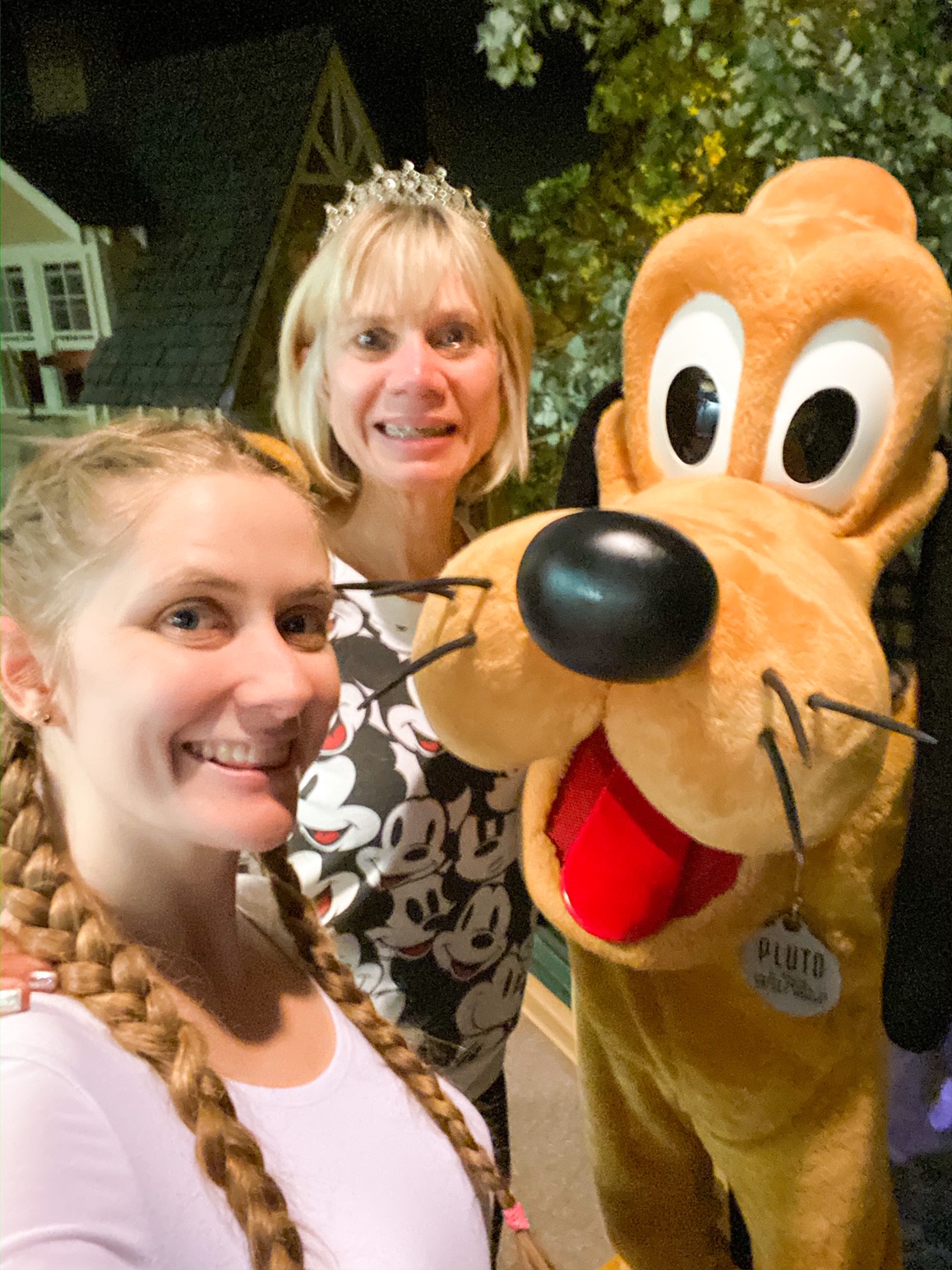 Finally, Dale visited while I ran to the bathroom so my mom took a selfie with him. At the end of our meal as we were eating dessert, Dale came back around again. Dale is the only character we saw twice at Garden Grill Disney and we appreciated it since I missed him earlier!
TIP: You can tell it is Dale by the big red nose, aka the nose that is NOT a chocolate chip!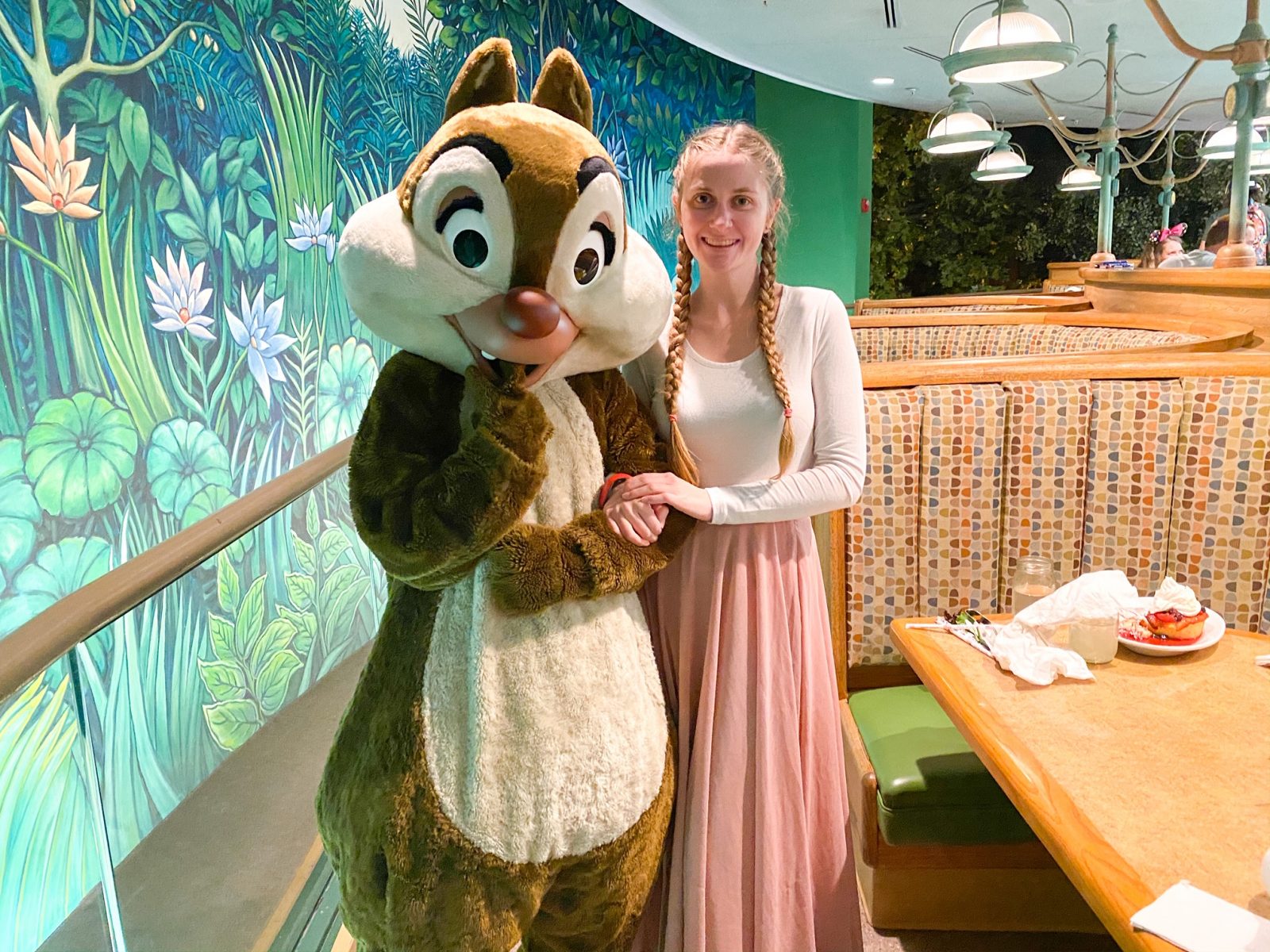 Closing Thoughts
Garden Grill is easily one of the best restaurants at Disney World and I literally dream about going back! If you are vegan, vegetarian, or with any dietary restrictions or allergies, you will be treated like royalty by the Garden Grill Staff! If you don't have any problems with the menu, you will love it all the same and your experience will be wonderful too.
Price: $$$
Would I go back? YES I WOULD!!! And I can't go back soon enough!!
If you go to the Garden Grill Disney and you love it [or hate it for whatever reason!] I would love to hear from you in the comments! I think that everyone should dine at this wonderful restaurant. If you are on the Disney Dining Plan, it is a great way to use up your credits!
Pin this post: