Searching for an amazing guide to Disney's Boardwalk Resort? We've got you covered. This guide to the Disney Boardwalk has all of the information you need to know, from maps to dining to activities.
There are so many things to do at Disney's Boardwalk and Disney's Boardwalk Resort. You can chomp on a sizzling hot funnel cake from the Funnel Cake Cart, do a little dancing at the Atlantic Dance Hall, or ride around the shores of Crescent Lake on a surrey bike. Which of these amazing dining options and activities will you choose to enjoy at Disney's Boardwalk?
Get a FREE printable 30/60/90 day Disney countdown by joining our private Disney Facebook Group and share your photos and ask for tips and tricks!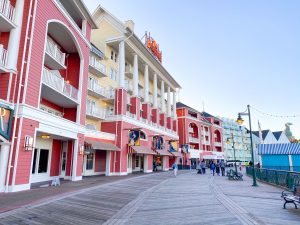 The Ultimate Guide To Visiting Disney's Boardwalk Resort
What Is Disney's Boardwalk?
Disney's Boardwalk is an entertainment, dining, and shopping area that's completely free to visit! Inspired by iconic boardwalks like those in Atlantic City and Coney Island, Disney's Boardwalk is truly a joy to experience. You can take in the views, gape in awe at piano duels, listen to some music, snack on funnel cakes, or enjoy a table service meal – all within this quarter-mile-long promenade area.
Disney's Boardwalk is also closely affiliated with Disney's Boardwalk Resort, one of the best Disney deluxe resorts. While there are tons of activities to do at Disney's Boardwalk, don't forget to pop into Disney's Boardwalk Resort and see what there is to do there as well!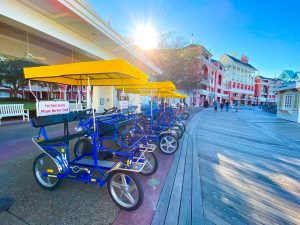 What Is The Price To Visit Disney's Boardwalk Resort?
It is completely free to visit Disney's Boardwalk Resort and walk around the Disney Boardwalk! Take in the views of Crescent Lake (it's spectacular during sunset), do a little dancing at Atlantic Dance Hall, stroll around the promenade, or just enjoy the sights and sounds of a traditional boardwalk. There is even a small free parking area at the resort – just ask the parking attendant!
While you of course staying at this Disney deluxe resort is quite pricey, you can still enjoy many aspects of the resort and the Boardwalk at Disney World without spending a night there.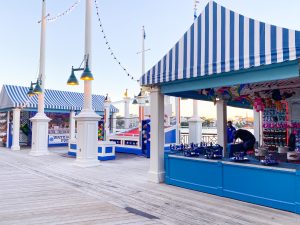 How To Get To The Boardwalk At Disney World
There are tons of ways to get to the Disney World Boardwalk. If you drive there is a very small free parking area, but, in order to find it, you have to ask the parking attendant. Typically, this parking area is full so your best bet if you're driving is to have a reservation at one of the restaurants, as that will also guarantee you parking. This is the easiest way to get to the Disney Boardwalk.
As an alternative, you can take the Disney Skyliner to Epcot and walk over to Disney's Boardwalk. It's a rather short walk, because it takes less than five minutes to get to the Boardwalk and about ten minutes to get the Disney's Boardwalk Resort from Epcot.
If you prefer a water-based mode of transportation, you can take the boats from Hollywood Studios or Epcot. The process is pretty self-explanatory, as you'll simply disembark at the Boardwalk stop.
Finally, you can also take a Disney bus. This is a good option for guests staying at Disney hotels that don't have easy access to the Skyliner. However, the process may be a bit long, as you'll have to take a Disney bus to a theme park, and then take a Boardwalk bus from the theme park to Disney's Boardwalk.

Map Of Disney's Boardwalk
Having an official Disney Boardwalk map is extremely helpful for your visit. Without a map, you may end up passing many of the gems of the area without even knowing. However, with one, you'll be able to enjoy all of the amazing things that Disney's Boardwalk has to offer.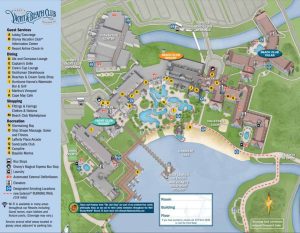 Disney Boardwalk Restaurants
AbracadaBar
AbracadaBar is one of the coolest bars on the Disney Boardwalk. It was once home to the greatest magicians and illusionists, and elements of this magical past still remain. Sit back, relax, and sip on an illusion-inspired handcrafted cocktail, like magic mirror, the conjurita, and elixir. And if cocktails aren't your style, there is also a selection of wines and beers.
Price: $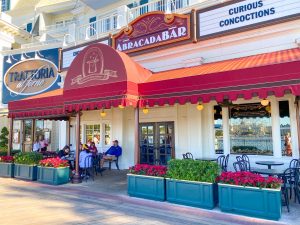 Ample Hills Creamery
One of the greatest boardwalk treats (second only to a funnel cake) is an ice cream cone. On a hot summer Florida day, a scoop or two from Ample Hills Creamery is the perfect way to cool down. But the real question is which of the funky flavors will you choose to try? Will you try "Sweet as Honey," which is sweet cream ice cream with honeycomb candy? Or perhaps you'll be even more adventurous and try "The Munchies," packed with pretzels, crackers, potato chips and chocolate. Or you always have the option to go classic and get vanilla, chocolate, or strawberry.
Price: $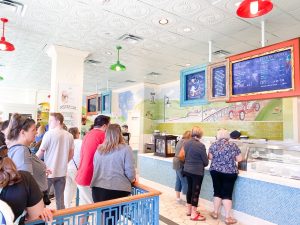 Big River Grille & Brewing Works
If you're looking for a place to have a delicious plate of food and a solid beer, Big River Grille & Brewing Works may be the Disney Boardwalk restaurant that you're searching for. Pair a Rocket Red Ale or Sweet Magnolia Brown Ale with many of their amazing lunch or dinner dishes. Try their tasty blackened fish tacos, Kobe burger, or habanero chicken.
Price: $$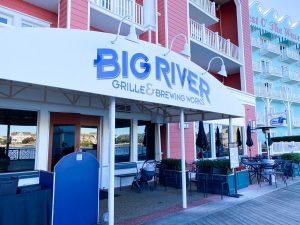 BoardWalk Bakery
When guests stay at the many Disney resorts around Disney's Boardwalk, they often look for a quick service restaurant to grab a cup of coffee and a snack. The BoardWalk Bakery is the place to go. With cups of coffee starting at $3 and breakfast pastries hovering around $4, the BoardWalk Bakery is one of the most budget-friendly Disney Boardwalk restaurants. If you do plan on heading to the BoardWalk Bakery in the morning, give yourself a little bit of buffer time, as the lines can often get pretty long.
And the deals don't stop at breakfast! Pop by again for a quick service lunch or dinner for just $10 to $17 (depending on your order). Will you opt for the amazing "The Veggie" sandwich with chips? Or will you choose a heftier option, like the big and beefy sandwich, instead?
Price: $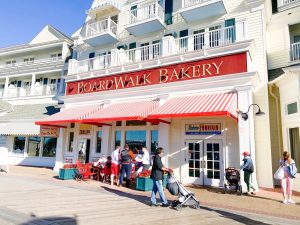 BoardWalk Joe's Marvelous Margaritas
Quite a few of the dining and entertainment options on Disney's Boardwalk are more adult-oriented in comparison to the rest of the Walt Disney World Resort. BoardWalk Joe's Marvelous Margaritas definitely qualifies as part of the "adult-oriented" category. This little margarita cart serves up tasty concoctions, such as marvelous watermelon margarita and the Patrón Disney select añejo margarita.
Price: $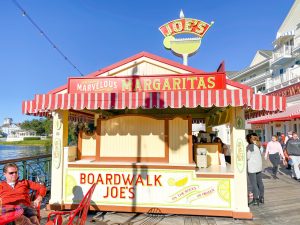 ESPN Club
Sport fans, this Disney Boardwalk restaurant is the one for you! This adrenaline-filled dining establishment is home to almost 100 TV monitors, which means, if there's a game playing, you'll be able to watch it – while dining on some awesome food, no less. Order yourself a plate of loaded nachos, Guinness beer-battered fish and chips, or a classic all-American burger to enjoy as you watch the points rack up!
Price: $$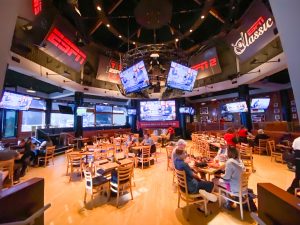 Flying Fish
Flying Fish is one of the best Disney Boardwalk restaurants – and one of the classiest. With an open kitchen, an elegant interior, and a sophisticated menu, Flying Fish is the perfect place to splurge. Dine on potato-wrapped red snapper, angus filet mignon, or Sardinian seafood pasta. And you certainly can't forget the Cocoa Breach for dessert, as previous guests rave about it!
Price: $$$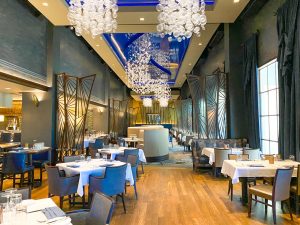 Funnel Cake Cart
Ask yourself, "what is the most iconic boardwalk food?" Odds are, you'll say a funnel cake. Luckily for you, you can get one of these hot, fried, sugary pieces of goodness at the Funnel Cake Cart. And if you want to add toppings to your funnel cake, this little cart is loaded with lots of options. Chocolate? Check. Ice cream? Check. Fried ice cream? Check.
Price: $
Pizza Window
I'll be honest. The Pizza Window isn't the best Disney Boardwalk restaurant. But if you're looking to grab a slice of pizza, it's a decent place to go. Choose between all the usual pizza toppings, like cheese, pepperoni, veggie, sausage and mushroom, and more.
Price: $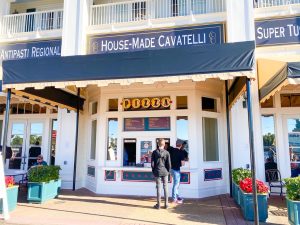 The To-Go Cart
The To-Go Cart is where you go to get your all-American favorites. Hot dogs, mozzarella sticks, French fries, classic American cheeseburgers, and so much more are available at this quick service Disney Boardwalk restaurant.
Price: $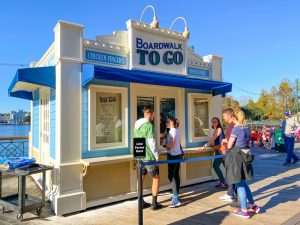 Trattoria Al Forno
Open for both breakfast and dinner, Trattoria al Forno has completely different vibes depending on when you visit. For breakfast, there is the Bon Voyage Adventure Breakfast at Trattoria al Forno, complete with fan favorite characters, like Ariel, Prince Eric, Rapunzel, and Flynn Rider. And we certainly can't forget about the scrumptious breakfast food at this amazing character dining restaurant! King Triton's Shipwreck al Forno, the Tangled Eggs, and the Tower of Pancakes have all proven to be crowd favorites. If you're over 21 years old, you can pair these delicious breakfast dishes with a mimosa, peach bellini, or caprese bloody Mary.
At dinner, Trattoria al Forno is taken up another notch. Dine on fantastic Italian dishes, such as lasagna al forno, pettini di mare (scallops), or parmigiana di pollo (chicken with parmesan). And you can even pair your meals with authentic Italian wines!
Price: $$$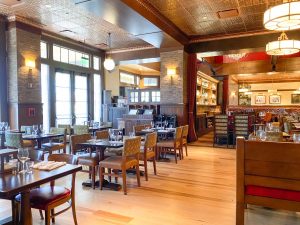 Best Things To Do Along The Boardwalk
Rent A Surrey Bike And Bike Up And Down The Boardwalk
One of the best things to do along Disney's Boardwalk is rent a surrey bike and bike up and down the boardwalk. Choose between a two-person or four-person surrey bike before pedaling all around Crescent Lake. It's the perfect way to explore the boardwalk at Disney World, take in the Florida sun, and enjoy a nice cooling breeze.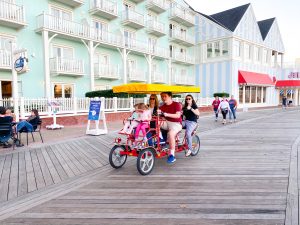 Get A Hair Wrap
After wandering around Walt Disney World for a while, you'll likely notice that many of the little girls have colorful string embellishments with beads around small sections of their hair. Those embellishments are known as hair wraps.
To get a hair wrap, it takes about twenty minutes. As for the cost, that depends on how long your hair is exactly. For shoulder-length hair, it costs around $25, depending on how elaborate the chosen beads are. While this might seem pricey at first, the hair wraps can stay in people's hair for three weeks if done properly!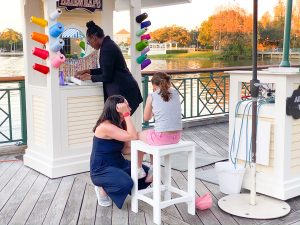 Enjoy Dueling Pianos At Jellyrolls
For guests 21 years and older, the dueling pianos at Jellyrolls are truly a sight to see! Each night, two piano maestros take the stage and play just about any requests the guests can think of! These two musical geniuses manage to fill the night with showmanship, fun, and even audience sing-alongs. Which song will you request that these two pianists play?
If you do plan on seeing the dueling pianos at Jellyrolls, be sure to get there early if you want a seat, because the tables fill up fast!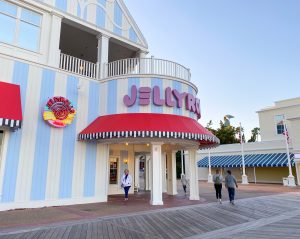 Get Your Groove On At Atlantic Dance Hall
Just like Jellyrolls, the Atlantic Dance Hall is another adults-only Disney attraction, but, if you are, you'll have such a fun time! As the only club left on the Disney property, the Atlantic Dance Hall is truly a special treat.
Rather than a packed club that only plays Top 40 hits, the Atlantic Dance Hall is much more enjoyable. It's pretty much never packed, so you can have your space if you want it. As for the music, you can expect a great mix of music from the 80s, 90s, and today. And as an added bonus, there is no cover fee to pay before entering!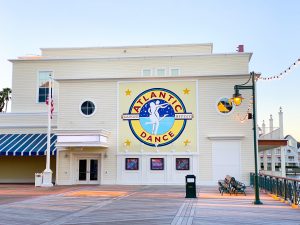 See A Live Radio Sports Show At The ESPN Club
Are you a huge sports fan? Well the ESPN Club on Disney's Boardwalk has the perfect activity for you! Many ESPN radio sports shows, including Sports Reporters, Baseball Tonight and Up Close, have been broadcast there. And even better, many famous athletes have been interviewed there! Who knows? Maybe you'll even be able to see your favorite athlete in person!
Enjoy The Vintage Interior Of The Hotel
The last thing on this list of things to do at Disney's Boardwalk has to do with Disney's Boardwalk Resort. The interior of Disney's Boardwalk Resort is absolutely stunning. The vintage theme and thoughtful touches make you feel as if you've been transported to a traditional, yet beautiful mansion.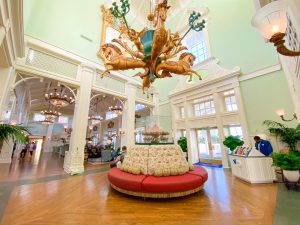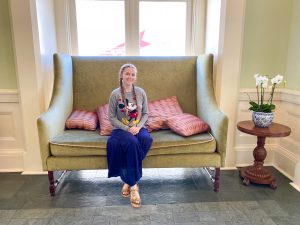 I hope this guide to Disney's Boardwalk has helped you plan your trip to this exciting part of Walt Disney World. As always, if you have any questions, I'll be happy to answer them in the comments!
Pin this post: