Disney Springs is Disney World's central dining and shopping location and is home to tons of non-Disney hotels! If you're planning a trip to Disney, staying at a Disney Springs hotel can save you a ton of money as compared to staying at a Disney resort. Plus, these hotels have a really great, easy location and usually come with theme park benefits just like the Disney hotels!
This is all great and wonderful, but picking a Disney Springs hotel is not that simple. Whether you want to stay at Disney Springs to save a few bucks or because you want a little less "kid" marketing in your hotel, you've got a lot of sifting through photos and reviews and rates ahead of you. Check out our favorite (and decidedly not favorite) Disney Springs hotels below to get a head start on booking your trip!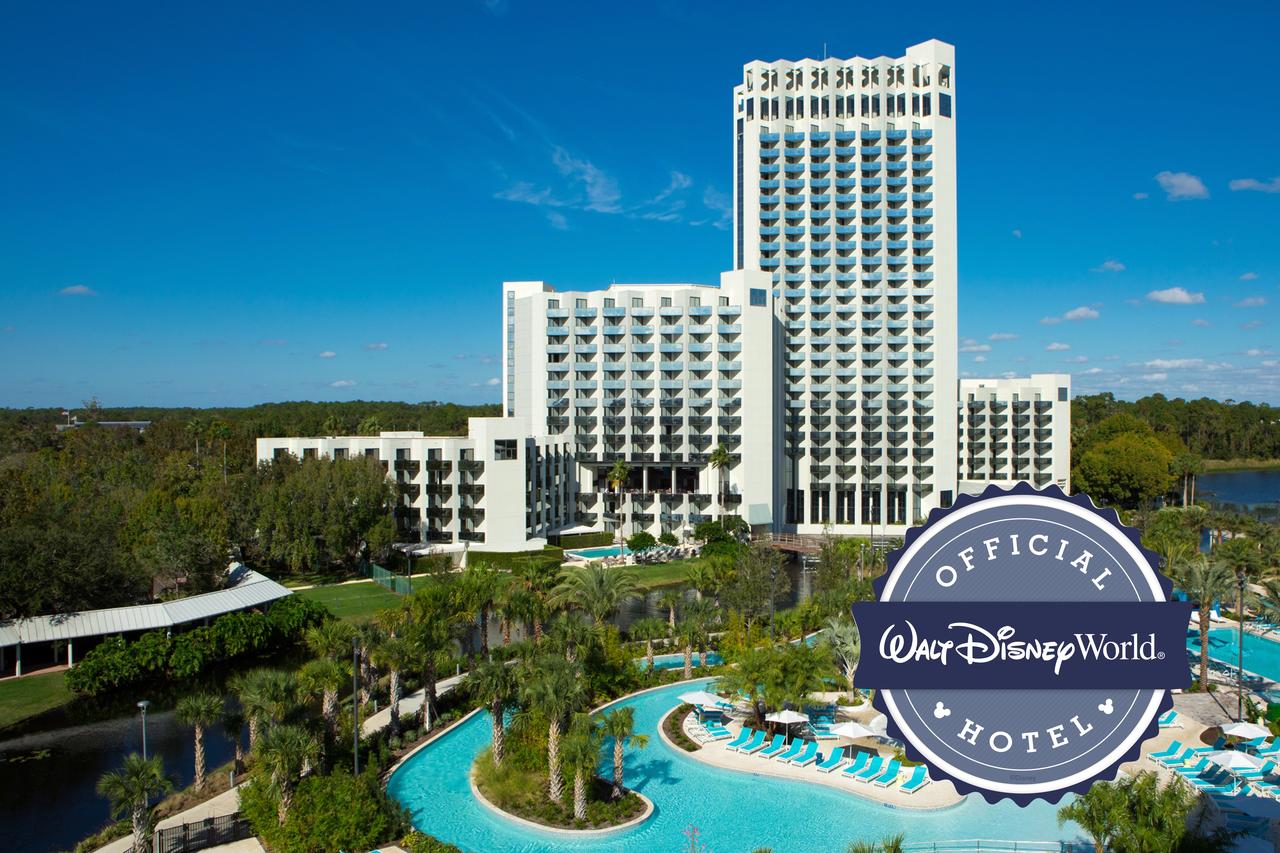 8 Best (And Worst!) Disney Springs Hotels
What are Disney Springs Hotels?
Disney Springs, formerly known as Downtown Disney, is the freshly renovated and gorgeous shopping, dining, and entertainment complex at Walt Disney World. It offers free parking and is free to enter, so it can be a great option for a non-theme park day at Disney! With things like Cirque du Soleil, an AMC movie theater, the new NBA Experience, and hundreds of shops and restaurants, Disney Springs has something for pretty much everyone!
This makes Disney Springs a really convenient location for hotels, and Hotel Plaza Blvd is the place to be! If you've decided that you don't want to stay at a Disney resort for whatever reason, I highly recommend moving your search to the Disney Springs area. This location puts you in walking distance to Disney Springs, has easy transportation access to get around Disney's massive 42 square mile property, and can include some really nice theme park benefits for your trip.
Disney Springs hotels also cater to different types of vacationers! If you're looking to save on the cost of lodging during your trip, these are generally much more affordable than Disney resorts while still offering the bonus perks that Disney entices people into their resorts with (Extra Magic Hours, free transportation, etc.). However, I also love Disney Springs hotels for a quieter, more high-end option if I'm looking for a more relaxing Disney trip or I just want to be away from the hustle and bustle of kids running around the lobby and the pool.

What Benefits Do You Get Staying at a Hotel Near Disney Springs?
The hotels at Disney Springs are considered Good Neighbor Hotels because they are on Disney property but are independently owned and operated. Being independent means each hotel will have its own unique style and target demographic, but also that they can charge whatever price they want to set, rather than stay in the Disney price range. Being on Disney property means that these hotels work with Disney to provide guests with awesome theme park perks.
Disney Springs hotels will offer guests different bonuses for staying with them, but they all generally offer the following: Extra Magic Hours and 60-day FastPass+ booking. These are the same benefits you'd get staying at a Disney hotel! Extra Magic Hours allow hotel guests to have an additional hour in the theme park each day. These Extra Magic Hours are scheduled and either occur before the park opens or after it closes. Be sure to check out the parks' hours and operations to know when they're happening!
The 60-day FastPass+ booking window may not sound like a big deal, but it's HUGE! That is, if you're into the rides and attractions in the parks. FastPasses are integral to a Disney vacation and can make your trip much more fun because they let you skip long wait-times and hop in the FastPass line to your chosen ride.
However, these FastPasses are wildly popular, and the best rides run out of passes really far in advance. Guests at non-Disney/Disney Springs hotels and day guests can book FastPasses 30 days in advance. This is great and helps you plan your days out and prioritize your favorite rides, but almost always, the top attractions run out of FastPasses 60 days in advance, rather than 30. So, hotel guests have a huge advantage in this! Check out our post on FastPasses to learn more about how to take advantage of this!
All Disney Springs hotels also offer free transportation to and from the four Disney theme parks (and the water parks!). This makes the hotels an easy option to give you access to the best of Disney without making more work for yourself!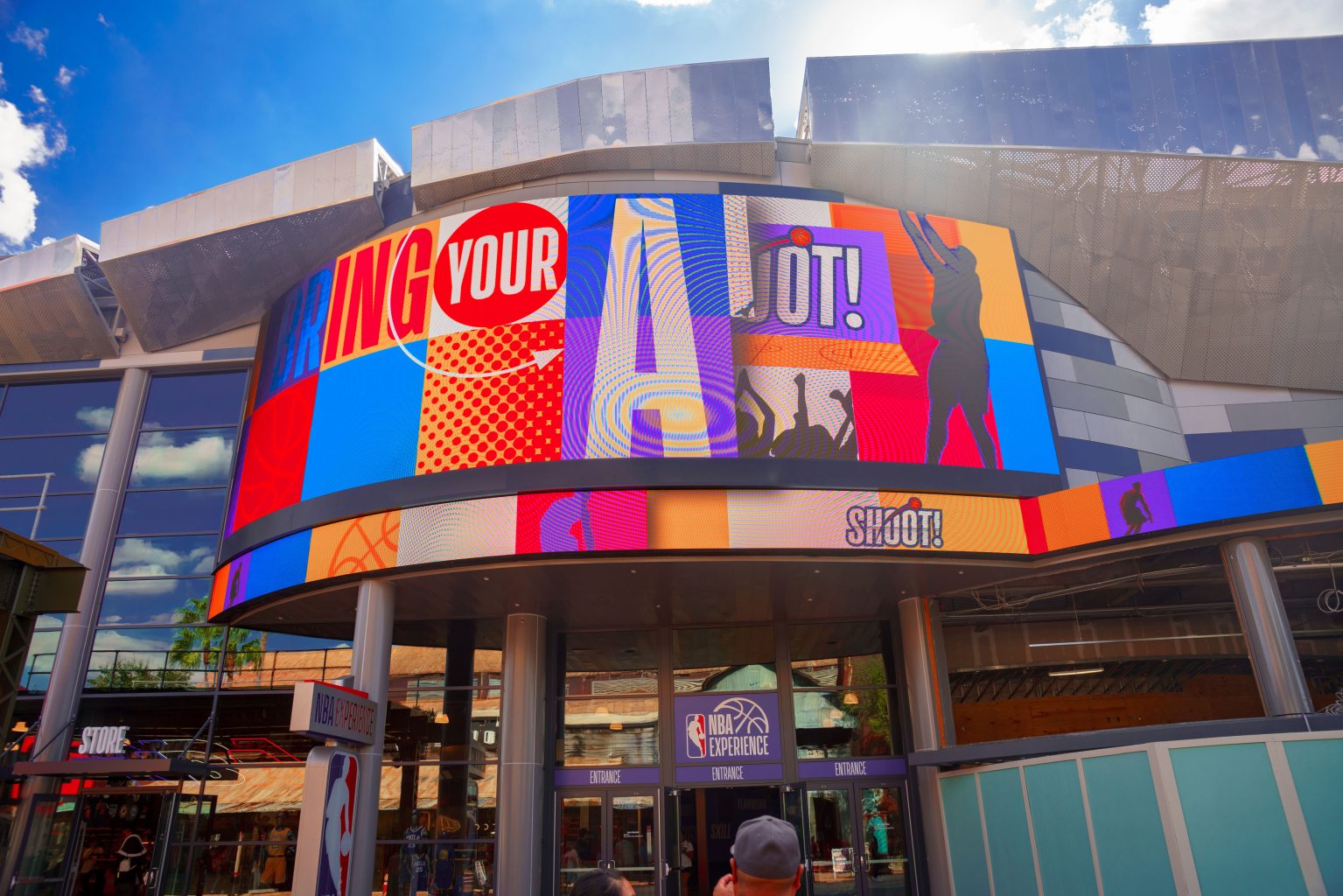 Best Disney Springs Hotels
Here are our favorite picks for Disney Springs hotels based on quality and value!
Hilton Buena Vista Palace
This bad boy is our Disney Trippers top pick for Disney Springs hotels! The Hilton Buena Vista Palace is also our very favorite non-Disney hotel in general! This hotel is walking distance from Disney Springs and is beautiful. If you can ask for a pool view room on the island-building- you won't' regret it! This is also one of the best Orlando Hotels With Shuttles To Disney World!
Why We Love It
The Hilton Buena Vista Palace is one of the very few non-Disney resorts that offer a Disney character breakfast (more about those here)! This is a really great way to add Disney magic to your vacation while still staying at a nicer, quieter resort geared a bit more to the adults than the children.
Speaking of adults, their adults-only pool and hot tub are the BEST way to relax after a day in the parks, or just because! This pool area is peaceful and stunning, and I'd definitely recommend planning to set aside at least one pool day for a stay at this hotel!
The Hilton Buena Vista Palace is ALSO one of a select few hotels that offers Disney In-Room Celebrations. These are an add-on for your booking that you can request for any day of your stay to celebrate a special occasion (or just because)! Disney offers a range of gift baskets and goodies for purchase to set up in your hotel room while you're out having fun, and it is SO nice to come back to your room to a fun surprise! They can be bit pricey, but they do make you feel special!
Okay, so I mentioned the adults-only pool area. But did I mention the lazy river? It's amazing! If a trip to the water parks isn't a part of your Disney vacation, this hotel's amazing lazy river (plus SUPER comfortable heated pool) will fill that spot perfectly. I could easily spend several days just floating through the lazy river here!
Check Rates on Booking.com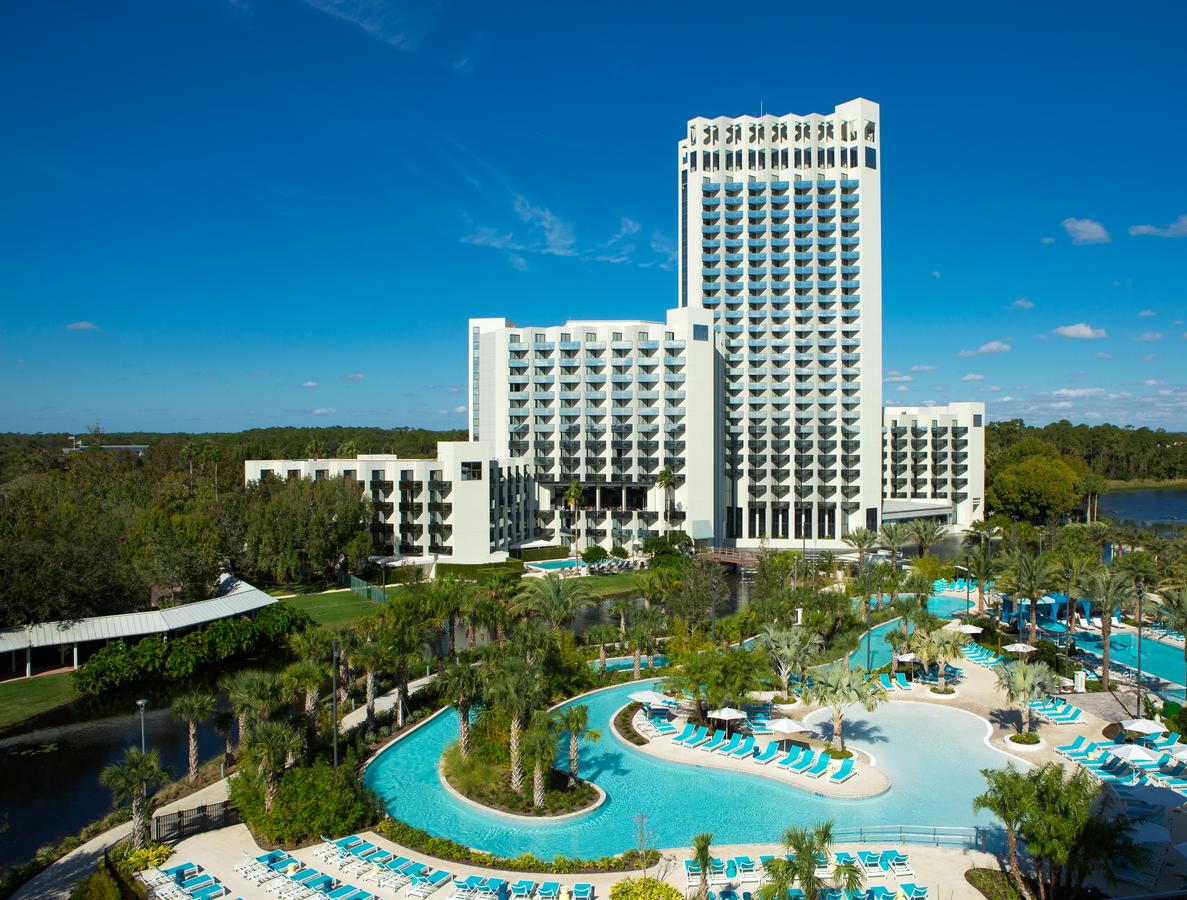 Hilton Orlando Lake Buena Vista
Another Hilton hotel, the Hilton Orlando Lake Buena Vista is a fabulous choice right in walking distance of Disney Springs. Honestly, this hotel is VERY similar to the Hilton Lake Buena Vista Palace, with a lot of the same great amenities. However, their pool is not as fun! So if you're looking to add some fun pool days to your vacation, Palace may be a better pick for you.
Why We Love It
When I say walking distance, I mean you could literally crawl from Hilton Orlando Lake Buena Vista to Disney Springs. It is RIGHT there. If you're looking for proximity this is a fabulous choice!
This Hilton also offers a Disney character breakfast! This is seriously such a great addition to any Disney vacation, whether or not you have kids.  If that's really not your thing though, it's okay! This hotel as a lot of other great dining options! If you want to just hunker down and enjoy some time at the hotel, you definitely need to pick one with good food!
Another great thing to note is that we've always experienced wonderful customer service at this (and the Hilton Palace) hotel! A Disney vacation is never complete without magic, and the staff really do work hard to deliver on that front.
Check Rates on Booking.com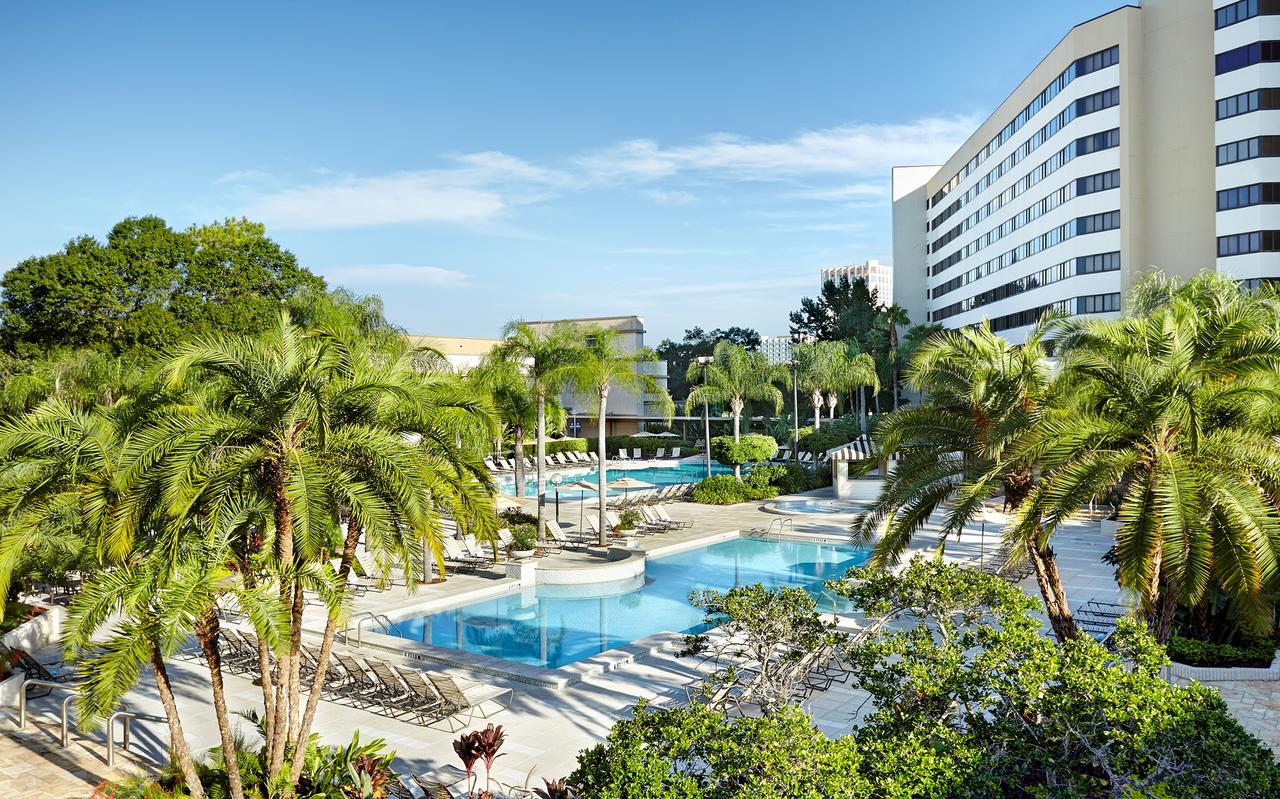 B Resort & Spa
The B Resort & Spa is a beautiful, ultra-contemporary Disney Springs hotel. Very different from the bright colors and characters of a Disney hotel, the B Resort is perfect for an adult trip to Disney. Just down the block from Disney Springs, you can go out for dinner and a movie or even Cirque du Soleil performance at night and be right at your hotel in moments. Plus, you can walk on over for a Starbucks in the morning!
Why We Love It
The B Resort & Spa may not have a lazy river, but their zero-entry pool is gorgeous! I'm a sucker for a nice pool because I think it's such a great way to balance the chaotic, high-energy fun of a Disney vacation! Can you imagine relaxing by a gorgeous pool on a hot Florida day after a whole day of characters and theme park rides?
Not going to lie, I LOVE the look and feel of this hotel. It makes me feel so fancy and luxurious with everything being so bright and crisp and clean. This style may not be for everyone but I think it's beautiful!
Transportation to the theme parks is convenient and very prompt at the B Resort! You won't be waiting long before you're whisked away to the parks, and to me, that's big-time important! When you spend so much time waiting in lines at the park, the last thing you want is more waiting just to get there.
Another big selling feature of the B Resort is its value. With how new and updated everything is here, it feels like you're getting a lot more for what you pay than at the Disney value resorts, or honestly most of the value resorts in the area. We all know that we get what we pay for, but here I feel like I'm getting a STEAL on a higher-end hotel.
Check Rates on Booking.com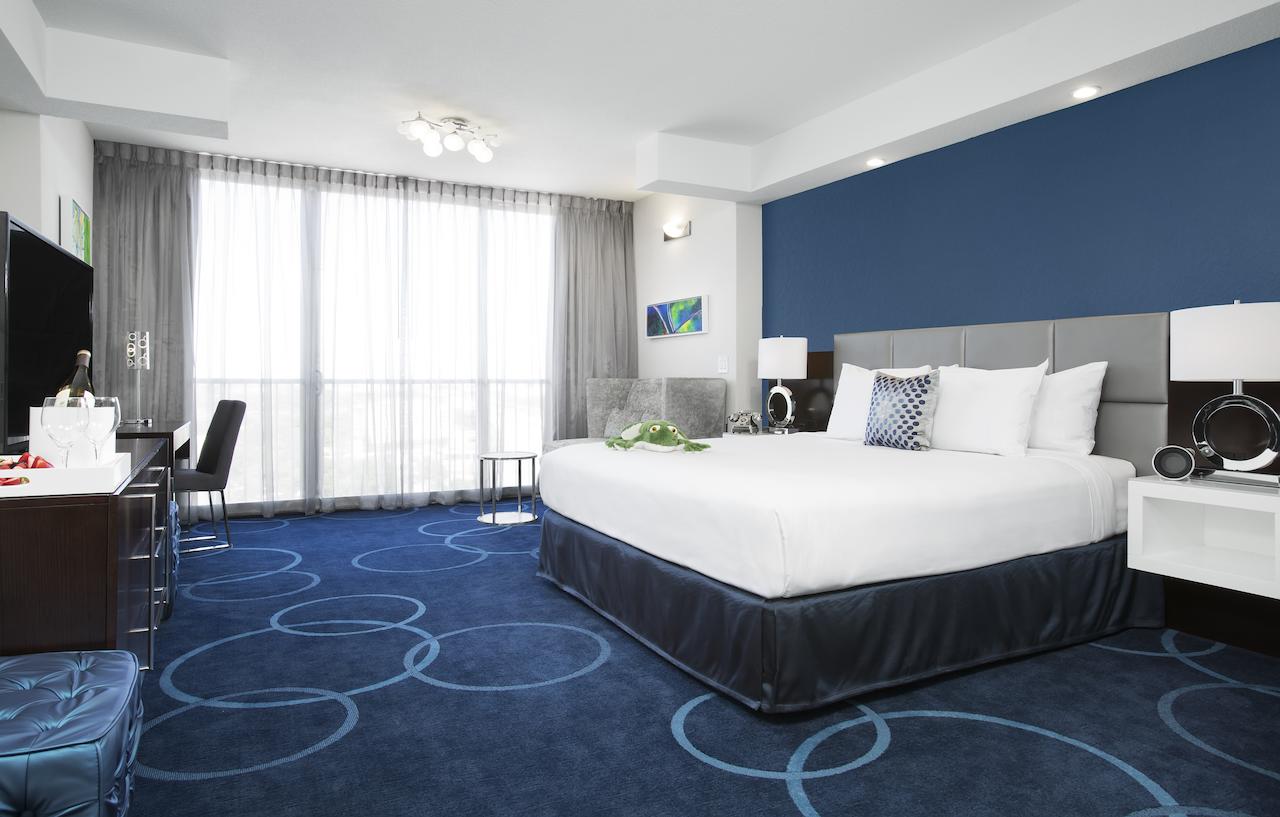 DoubleTree Suites
The DoubleTree Suites hotel is also owned by Hilton, but this hotel is much less deluxe than the other Hiltons in the Disney Springs area. The DoubleTree Suites doesn't have some of the higher end amenities, but it does boast a GREAT value for a Disney vacation. The suites are clean and lovely, the location is great, and, of course, there's free transportation to and from the Disney theme parks!
Why We Love It
I know I mentioned value already, but that is such a huge selling point for this hotel! The DoubleTree Suites offer different rates depending on season, but they are always significantly lower than probably any Disney resort and much nicer! If you're considering a value hotel for your Disney trip, this is a great option that doesn't make you feel like you're staying at a bargain hotel.
The DoubleTree Suites is also a fantastic option for larger travel groups because of the suite sizes! The DoubleTree Suites only offers suites (meaning a separate bedroom and living space). The last thing anyone wants to do on vacation is to cram too many people into those always-tiny hotel rooms, trust me. If you're traveling with a larger group, considering the size of the space is a hugely important factor! I love that even the least expensive option at this hotel provides a king bed in a separate bedroom, with a sleeper sofa in the living room.
Check Rates on Booking.com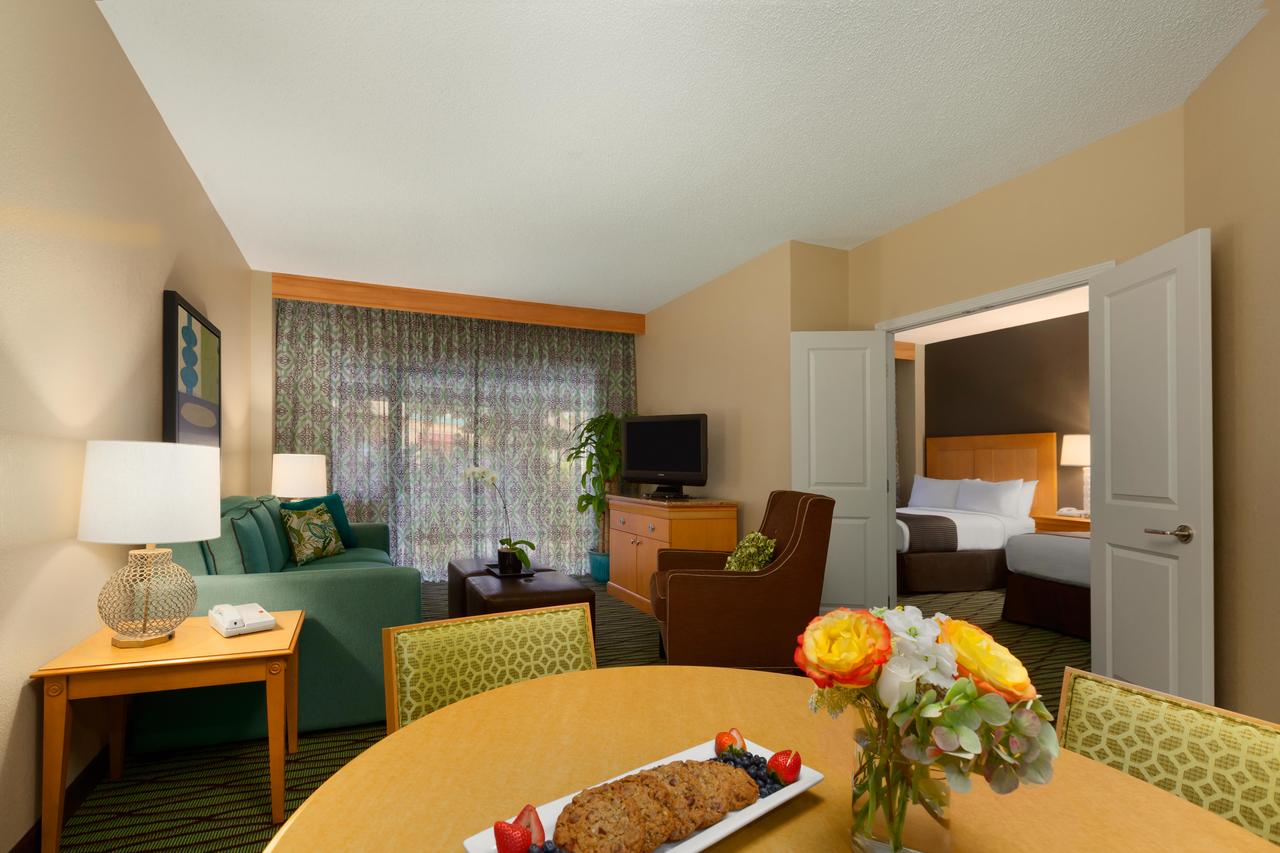 Holiday Inn Orlando
The Holiday Inn Orlando is another great value option for staying within walking distance to Disney Springs. I booked this hotel when I needed to add an extra night to my trip, and I had no idea what to expect. I was pleasantly surprised! The rooms are spacious and very bright (we didn't have a pool view but I would definitely recommend booking that if you can!). I was also really surprised at how quiet the hotel was! It was big and very open, but pleasantly quiet and peaceful.
Why We Love It
The heated pool is a delight! This is definitely a great pool for a value hotel and I would love to spend more time in it or even just lounging by it. Be sure to pack your sunscreen, though, as it gets TONS of sunlight! It makes the pool even more refreshing for a dip, but I wouldn't recommend going without some SPF and sunglasses.
So I don't have kids, but I will definitely be the first person to celebrate free dining for kids! Well, maybe not the first, but I do love it. The Holiday Inn Orlando offers free dining to kids under 11 at its restaurants, so I highly recommend taking advantage of this during your trip! Meals add up SO FAST.
Location! The Holiday Inn Orlando is another quick walk to Disney Springs, and I love being able to walk there first thing in the morning for some Starbucks (or Joffrey's!). If walking is a bit much for you, the hotel's shuttle service is great! You'll be able to use it to any Disney theme park or water park and it's so easy and fast.
Check Rates on Booking.com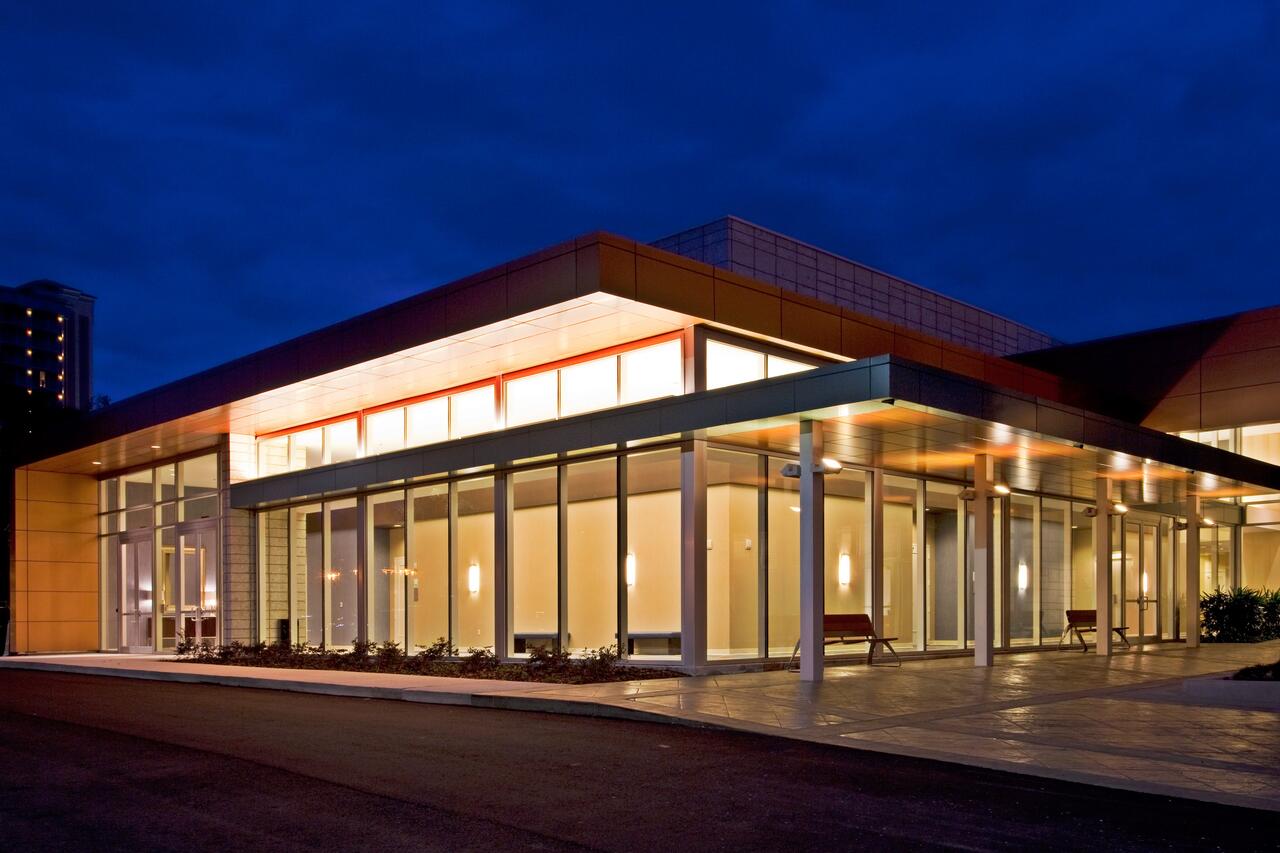 Wyndham Lake Buena Vista
The Wyndham Lake Buena Vista is one of several Wyndham locations at Disney, so it can be a bit confusing to differentiate them. This Wyndham location is categorized as a deluxe resort and it's amenities definitely deliver on this front! However, while the hotel rooms are lovely, I don't think they're as deluxe as some other options may be, though they are quite spacious!
Why We Love It
I know I keep saying "pool," but hear me out: the Wyndham Lake Buena Vista has the best pool of every option at Disney Springs! It's definitely geared more towards kids, so this is a fabulous option for families. Save a day of park admission and relax by the pool while your kids play! Parents also have wonderful things to say about the kids' activity director.
But don't worry, the pool isn't only set up for kids! The poolside bar and grill serve up amazing options to make the most out of your vacation while soaking up that HOT Florida sun. Stay hydrated!
The Wyndham Lake Buena Vista is another Disney Springs hotel that also features a Disney Character Breakfast. This one is a bit more limited than the others, only available on Tuesdays, Thursdays, and Saturdays, so if this is something you want to take advantage of, be sure to plan accordingly.
Check Rates on Booking.com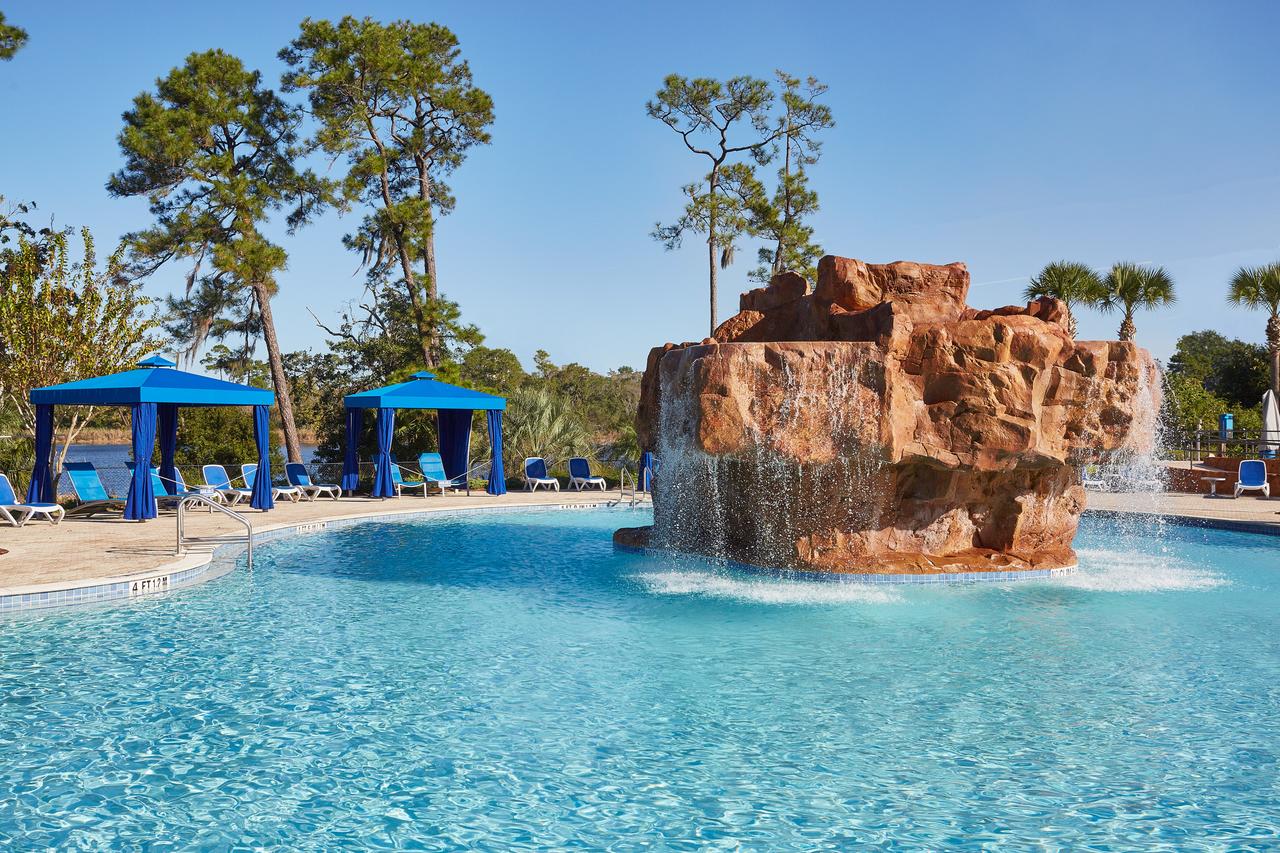 Worst Disney Springs Hotels
Like most other things with Disney, these hotels aren't *bad* choices, they just don't offer anything that sets them apart from the crowd. These value resorts are fine options for a quick trip, but the value options above will get you more for your dollar.
Best Western Lake Buena Vista
The Best Western offers its consistent quality and service at this Disney Springs hotel. This is a good option for its price point and continental breakfast, so it may be a suitable choice for those who are only using their hotel for sleeping and grabbing breakfast before hitting the parks.
So, as I said, there's nothing wrong with the Best Western Lake Buena Vista. It's a fine hotel option for a Disney trip, but at this price point, you could stay at a nicer value hotel and have higher quality amenities. Plus, this is one of the furthest hotels from Disney Springs, so its walkability is limited to only those who are okay walking over a mile to get there.
*THIS HOTEL IS CURRENTLY CLOSED FOR RENOVATIONS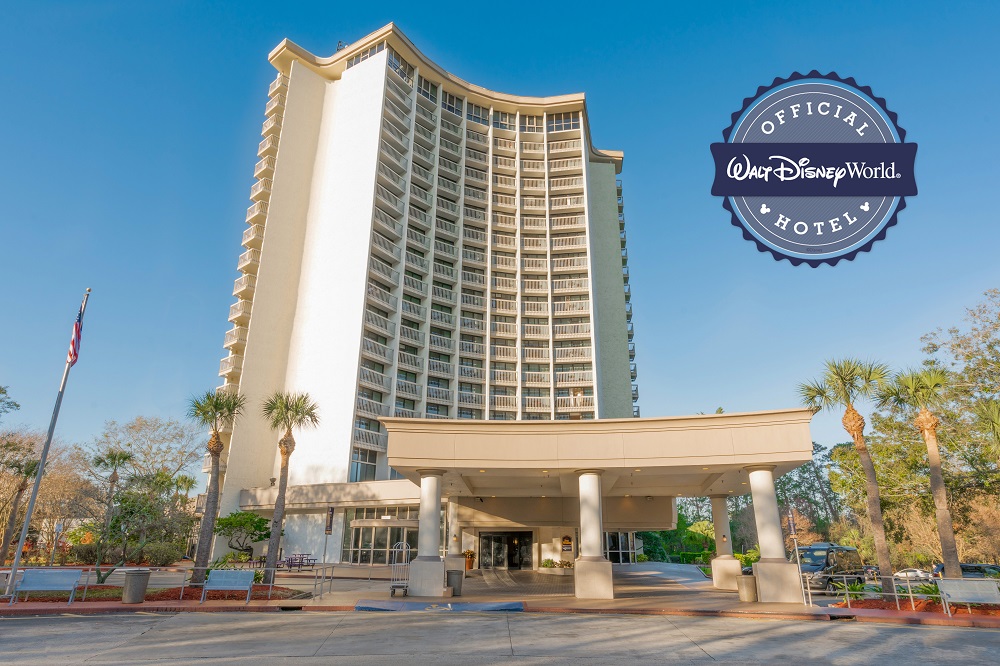 Wyndham Garden Lake Buena Vista
Not to be confused with the Wyndham Lake Buena Vista, the Wyndham Garden is the value hotel option neighboring its deluxe counterpart. This means it's poised with the perfect location immediately next to Disney Springs! Plus, the great thing about the Wyndham Garden is that staying here grants you access to the amazing amenities of the Wyndham deluxe resort (like that awesome pool I told you about!).
This can be a great opportunity for those travelers who want amenities more than they want a deluxe hotel room. The rooms are a bit older and definitely smaller than the deluxe Wyndham, and they can be a bit harder to find at first, so you may want to see if you can request a room near the main entrance, or even near the pool!
Again, this is definitely not a bad option for a Disney Springs hotel, but it's not one I would pick as my top choice. Personally, I think there are better value resort options that offer higher quality rooms, and if I really want those amenities I'd prefer to stay at the deluxe Wyndham next door.
Check Rates on Booking.com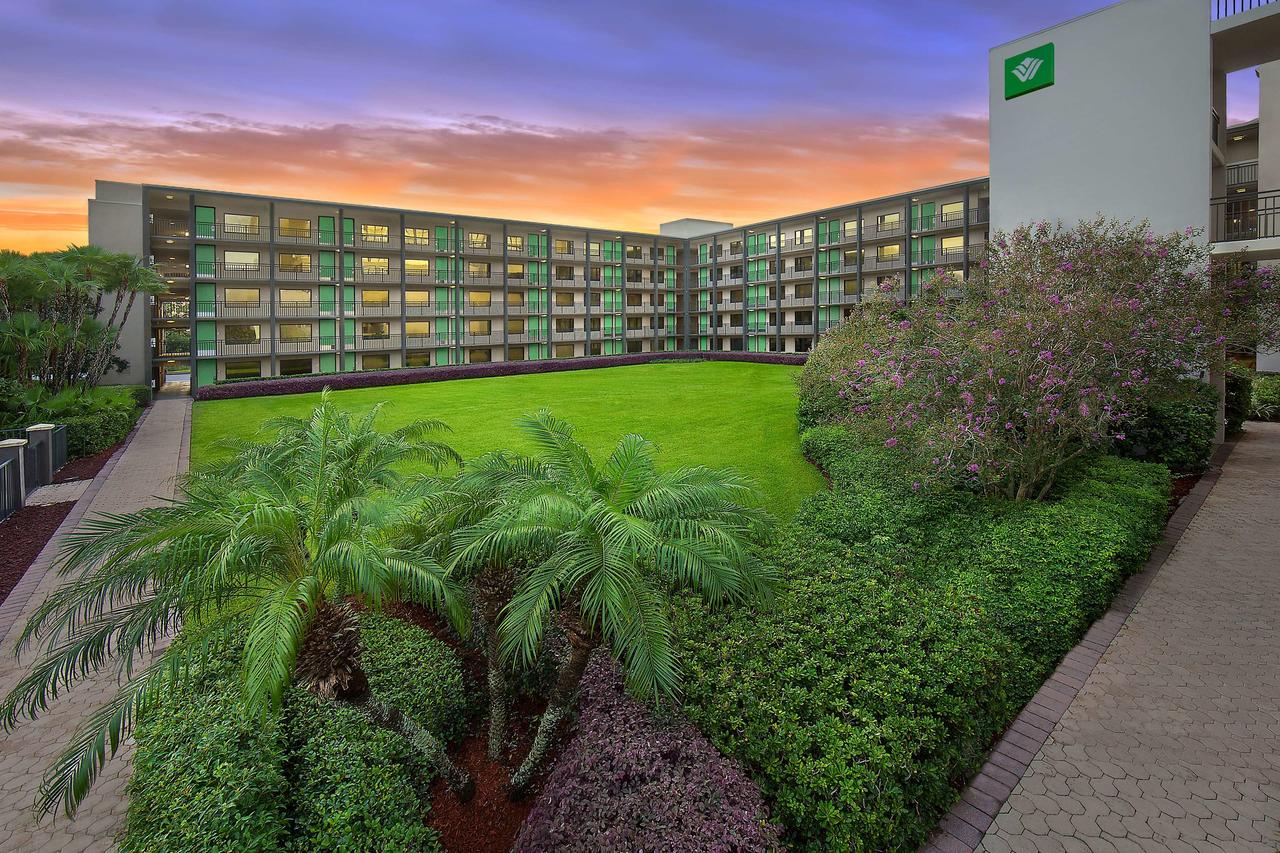 Whew, so there you have it! Disney Springs is honestly a fabulous place to stay for a family or an adults-only Disney trip, and staying at one of these hotels can save you so much money over a Disney resort. Take some time to consider what you're looking for in a hotel and what your budget is to see which one will be your lucky winner! And be sure to take advantage of all the perks the hotel has to offer!