Having a character breakfast in Disney is one of our favorite ways to get two birds with one stone: meet your favorite characters AND get a great meal.
This is because one of the reasons that Disney is the most magical place on earth is that you get to meet all of your favorite characters IN REAL LIFE.
This isn't everyone's cup of tea, but if it's yours (or your little one's!) then you don't want to miss out!
There are plenty of opportunities to meet characters at Disney, but at Disney World in Florida, a lot of them require waiting in line for the meet and greets.
This is why we are a huge supporter of getting a Disney character breakfast!
Start your day with a filling breakfast, meet all those great characters, and save the waiting-in-line time for some RIDES!
Get a FREE printable 30/60/90 day Disney countdown by joining our private Disney Facebook Group and share your photos and ask for tips and tricks!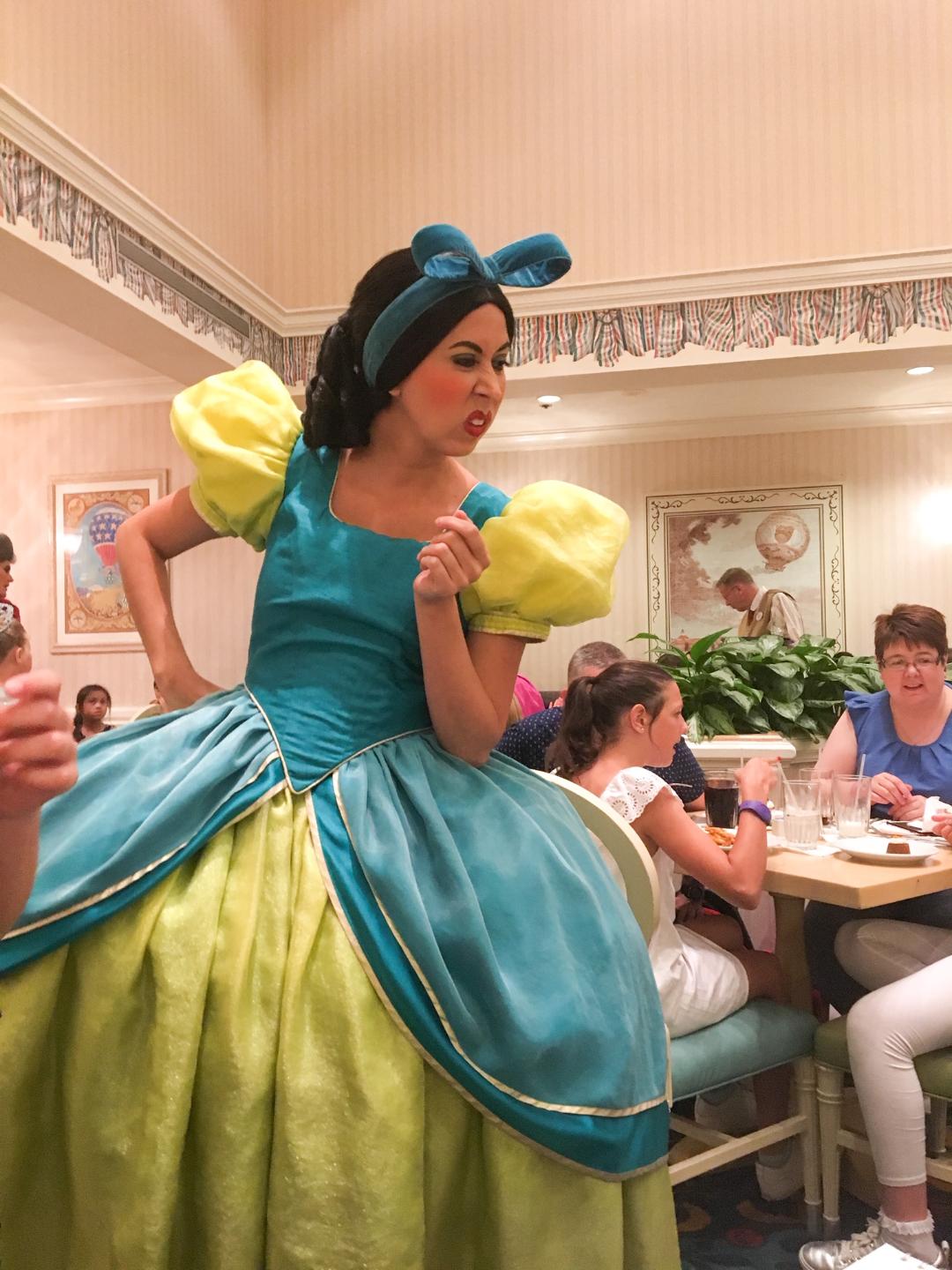 What is a Character Breakfast at Disney?
If you're not familiar with what a Disney character breakfast is, then let's catch you up.
At character dining restaurants, you'll be able to have breakfast (or other meals!) as select Disney characters make their way around the restaurant.
These characters will stop at each table and interact with you. They'll take pictures, sign autographs, and usually spend a good amount of time with your group.
The meals are often buffet style with a la carte options, but some restaurants have more traditional menus and dining and will serve you family style.
If you want to know more, then check out our in-depth list of places to have the best breakfast at Disney!
Pros and Cons to Disney Character Breakfasts
Not only do the Disney character breakfast options allow you to skip character meet and greet lines in the parks, but some characters are ONLY available to meet at specific restaurants.
Plus, some options for breakfast with characters at Disney are in Disney resorts instead of Disney parks, meaning you can meet your favorite characters without needing park admission OR paying for parking!
However, there are some downsides to a Disney character breakfast worth noting.
First, the meals fetch a pretty penny, with many options reaching or exceeding $50 per person. That's right; Per. Person.
Second, if you choose to have a Disney character breakfast in one of the theme parks, it'll take a large chunk of time out of your day.
Lastly, while the quality of food is good, it isn't spectacular, as it is at many of the best Disney restaurants.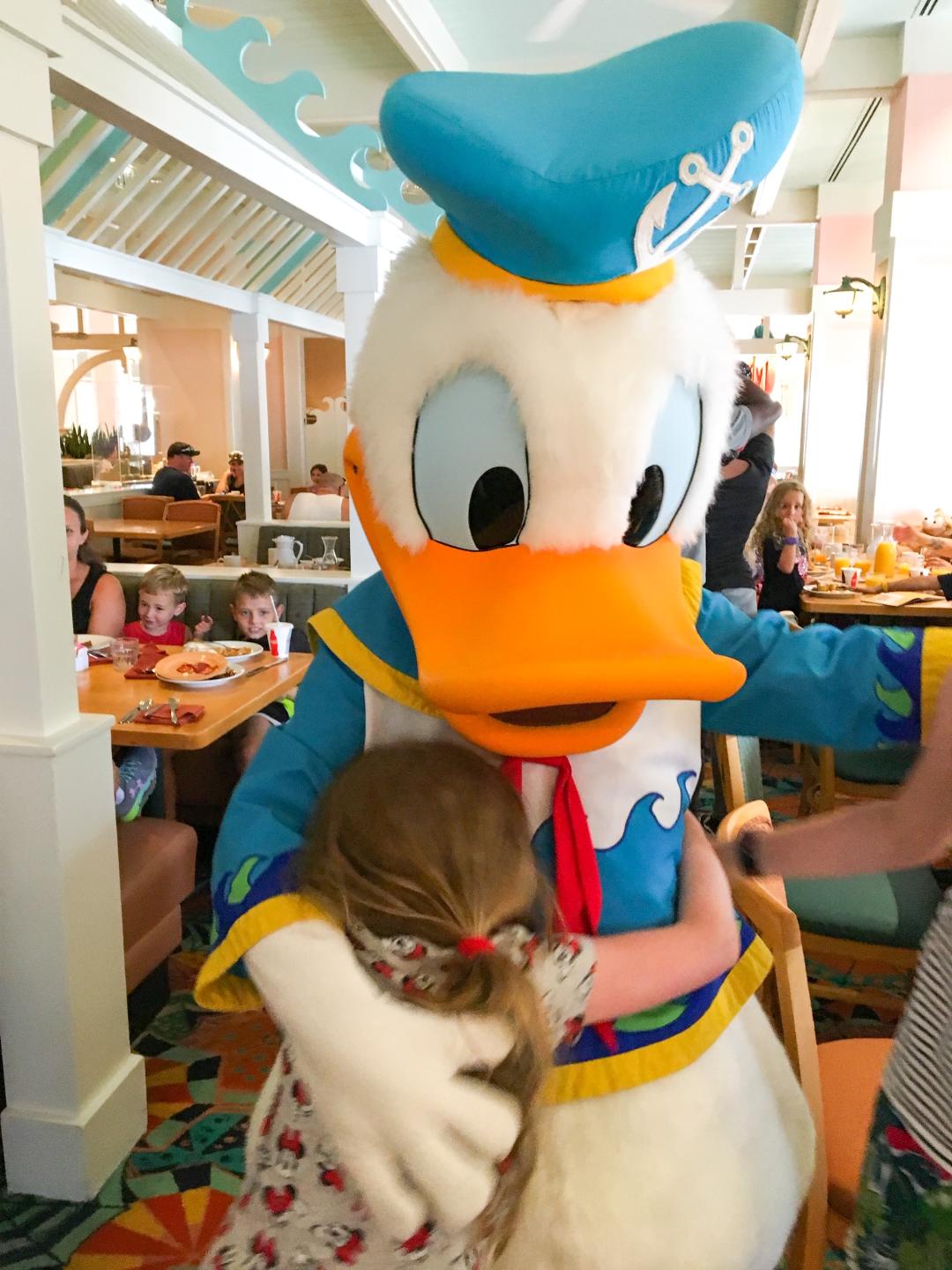 Best Character Breakfasts at Disney
Garden Grill
If you want to have a Disney character breakfast at Epcot, Chip 'n Dale's Harvest Feast at Garden Grill cannot be beaten!
Character breakfasts are often loud and busy with characters and families bustling to get their food, take photos, and prepare for a fun day at Disney.
However, Chip 'n Dale's Harvest Feast at Garden Grill is totally different!
This restaurant is much less crowded and busy than other Disney character breakfasts, and the food is sure to please everyone in your party.
Plus, you also get to have breakfast with Mickey at Disney here!
While Chip 'n Dale's Harvest Feast at Garden Grill serves breakfast, lunch, and dinner, we love it as one of the best places to eat breakfast in EPCOT.
Located in the Land Pavilion of World Nature, you can have a great character meal and then hop on Soarin' and finish out the rest of the attractions in Future World before making your way to the World Showcase just in time for it to open at 11 am.
This is a great pick for an Epcot day that won't have you wanting to snack around the world before the showcase even opens!
Chip 'n Dale's Harvest Feast at Garden Grill is also one of the best Disney character breakfast restaurants for people with dietary restrictions.
Because all of the food is served family-style, you don't have to get up and go serve yourself from the buffet like at many other character breakfast restaurants, which limits the likelihood of food contamination for those with allergies or other sensitivities.
If you want more tips about how to handle allergies or food sensitivities while in the parks? Then check out our tips for managing food allergies at Disney!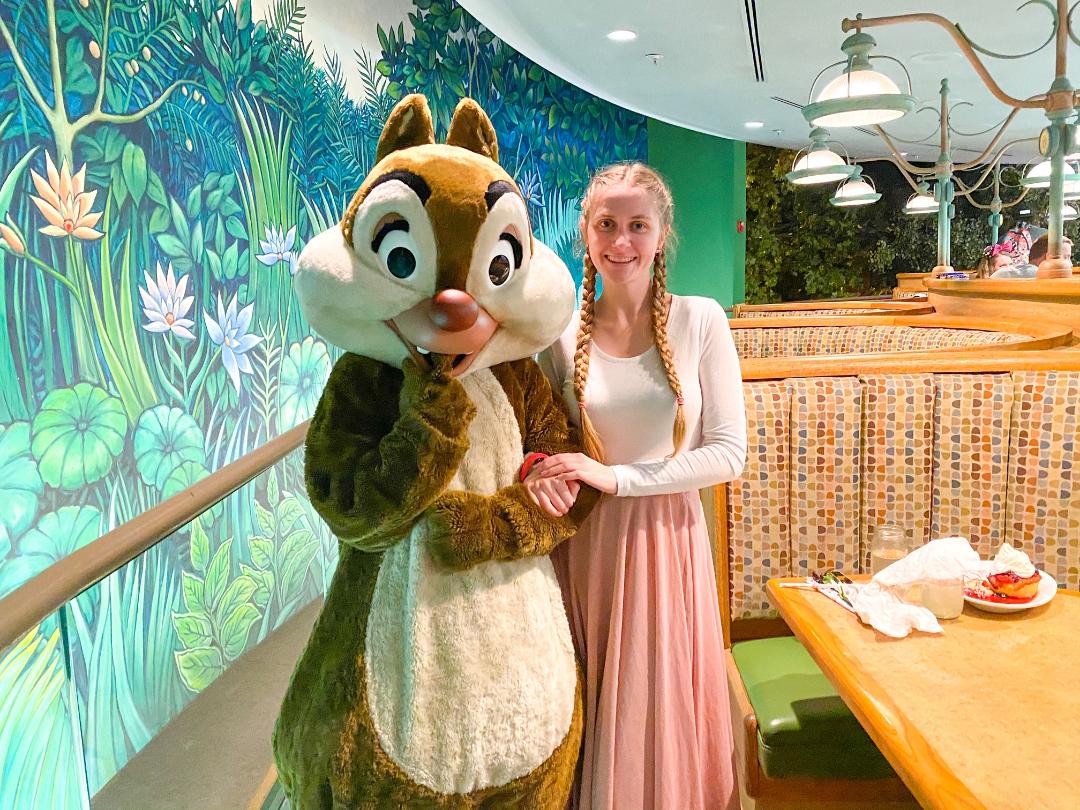 Tusker House
Not only is Donald's Dining Safari at Tusker House the only Disney character breakfast at Animal Kingdom, it is also one of the best Animal Kingdom restaurants.
Even more, Tusker House is often hailed as the best breakfast character dining at Disney World!
Mickey and his safari-ready gang love spending time meeting guests at Tusker House.
This is a great restaurant to see some favorite characters in really fun outfits.
We love that several members of the Fab Five don different attire based on the setting you can meet them in, and Tusker House is one of the most unique!
Tusker House is a fan favorite, not just because of the characters, but also because of the food!
Animal Kingdom is known for having more flavorful and exotic food options than Magic Kingdom and Hollywood Studios, as well as many of the resorts, and Tusker House is no exception.
While they do offer more standard American food for those who prefer to stay close to home, Tusker House also offers more exciting options, like beef bobotie.
They also swap out the classic Mickey waffle for Simba and Nala waffles!
If you want to know about other breakfast options in this park, then check out our list of best places for breakfast in Animal Kingdom!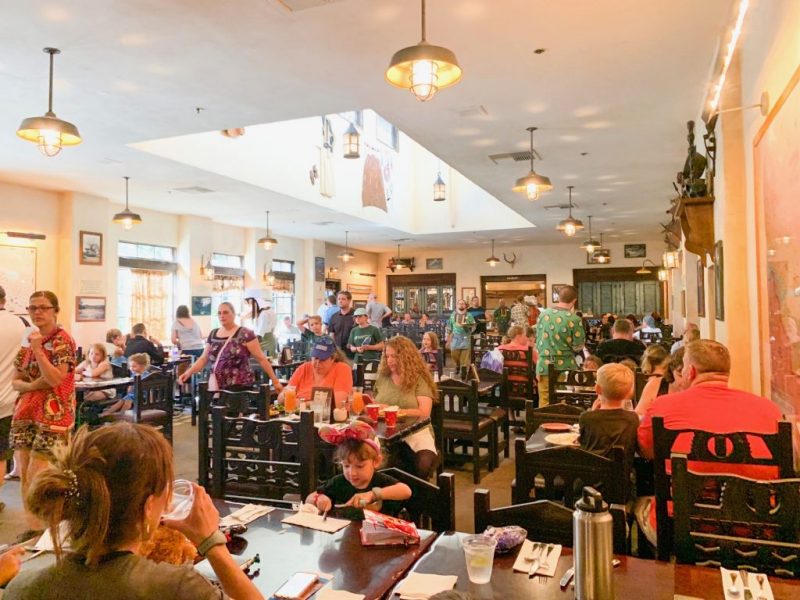 Akershus Royal Banquet Hall
If you or your kids love princesses, Akershus Royal Banquet Hall should probably be your top Disney character breakfast choice.
And, as one of the best restaurants in Epcot, Akershus has the something for everyone in your party!
Here you can meet original princesses, including Cinderella, Snow White, Belle, Aurora, and Ariel during your meal, or even get an autograph.
Sometimes, you may even get to meet a few of the other princesses, like Jasmine, Mulan, and Rapunzel!
We have to say this is one of the best Disney World princess breakfast options you are going to get.
Akershus Royal Banquet Hall is in the Norway Pavilion at Epcot, so it offers some unique and delightful Norwegian food as well.
Peppered mackerel, Norwegian meatballs, and Scandinavian potato dumplings can all be found in the buffet selection – so be prepared for a bit of culinary exploration!
However, if you are looking for something quick while you are in a hurry, then you may want to check out the best EPCOT Quick Service restaurants.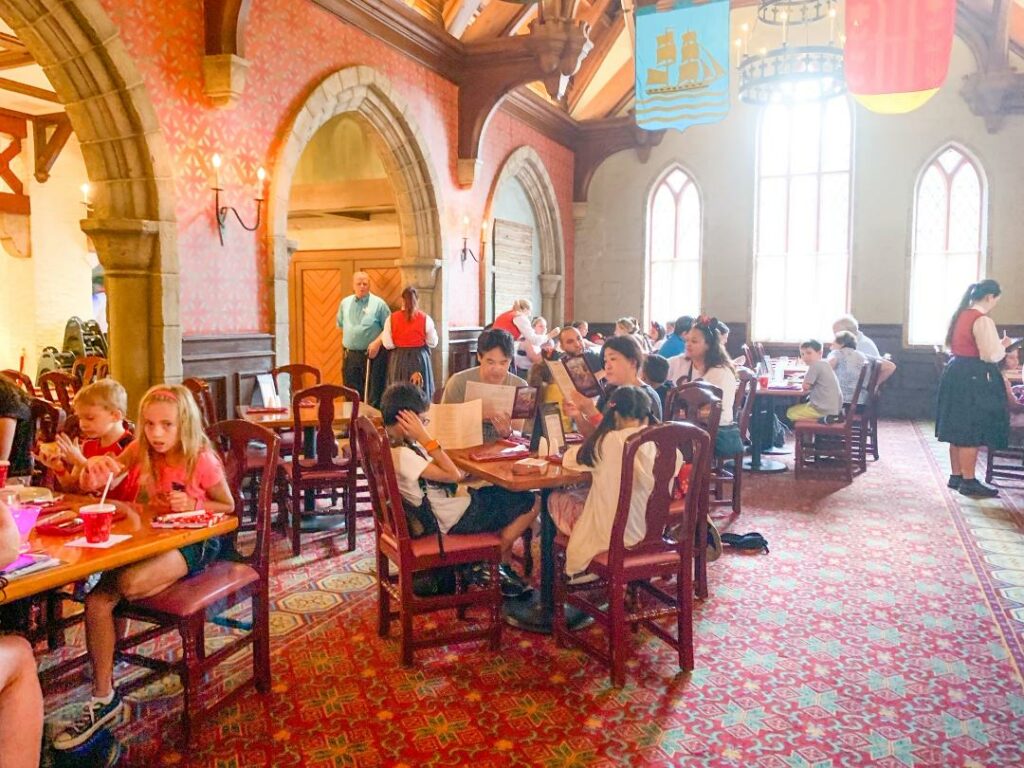 Cinderella's Royal Table
Speaking of princesses, Cinderella's Royal Table is also on our list of the best character dining at Magic Kingdom for good reason.
Many people even consider it to be the best Disney character breakfast at Disney World.
Cinderella's Royal Table is a fully immersive dining experience, where you'll explore Cinderella's Castle (keep your eyes peeled to see her little mice friends!), be greeted as lords and ladies, and spend quality time with your favorite princesses, including Cinderella.
Cinderella's Royal Table is open for breakfast, lunch, and dinner, but breakfast is typically the preferred meal.
With options like royal avocado toast, a baked quiche, and stuffed French toast, you can't go wrong!
Plus, Cinderella's Royal Table is one of only two locations at Magic Kingdom that serve alcohol, and we think a mimosa or Bellini is the perfect drink to pair with this regal setting.
Because so many people want to dine at the best character dining at Disney World, it is crucial to make a reservation FAR in advance if you would like to dine here.
In fact, that is one of the huge dining mistakes at Disney we recommend you avoid: not making a reservation in advance!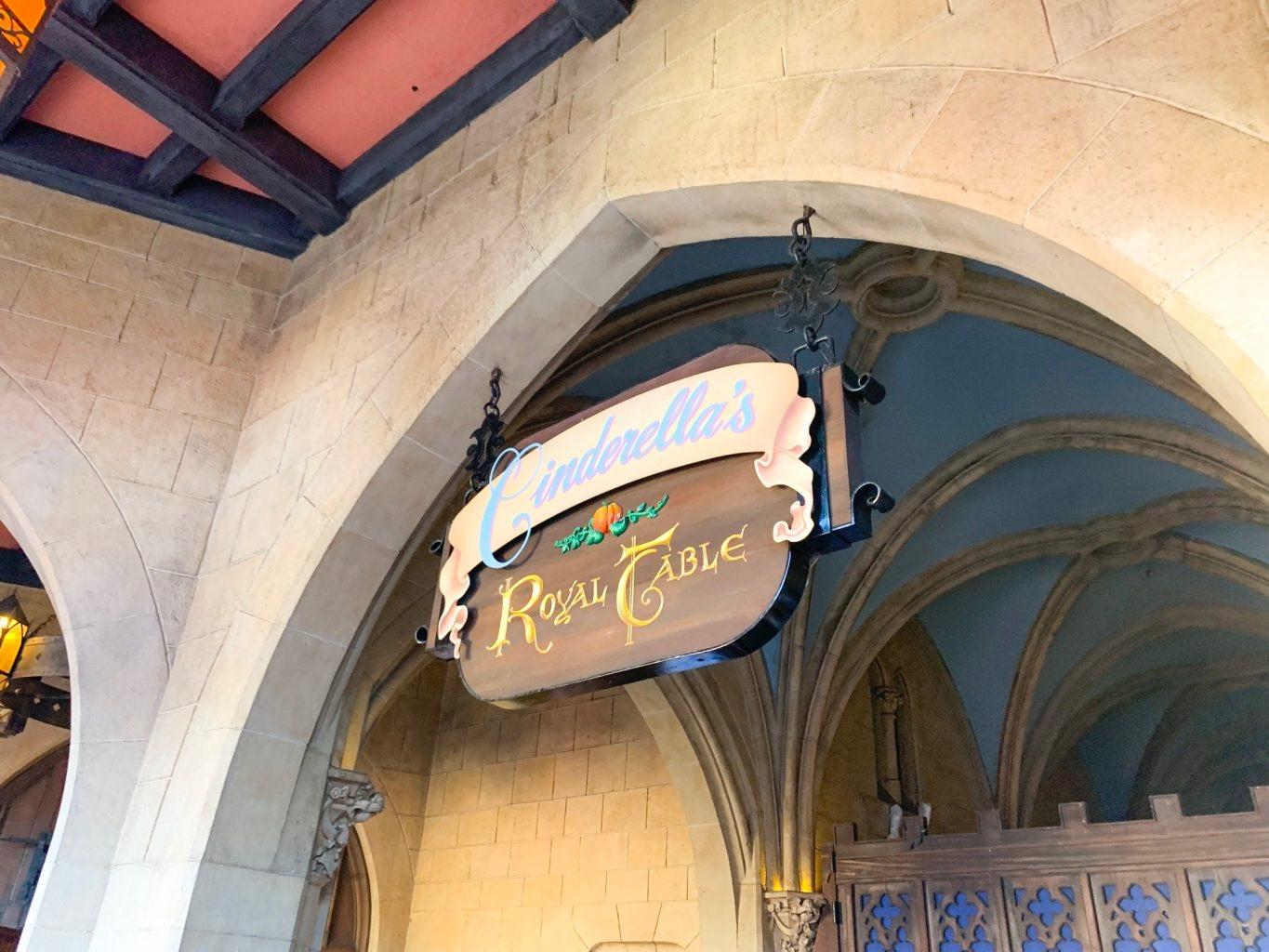 Be Our Guest
If you want to go inside Beast's Castle from Beauty and the Beast, you have to dine at Be Our Guest.
Unlike other Disney character breakfast locations, Be Our Guest offers a quick service breakfast (and lunch), as opposed to table service, which they only offer at dinner time.
However, Be Our Guest is still a very unique and exciting place to have a meal.
Located in Fantasyland at Magic Kingdom, Be Our Guest is famed for its theming and detail.
This is undoubtedly the most popular restaurant in Magic Kingdom, and it's not hard to see why.
There are three dining rooms, the Ballroom, the East Wing, and the Library, and all three have extraordinary details brought to life from the film.
When eating here, be sure to take time to explore the restaurant.
As an added bonus, going to Be Our Guest for a Disney character breakfast means you can pick a table in whichever dining room you like!
And, of course, the Beast himself will be there to greet his guests.
The Be Our Guest Restaurant is one of the best restaurants in Magic Kingdom (and one of the best restaurants in all of Disney World), so you'll want to make reservations as soon as possible.
You can book reservations for this Disney character breakfast before Magic Kingdom opens for the day, allowing you in ahead of the crowds for some great peaceful time strolling down an empty Main Street or crowd-free photo ops.
Speaking of photos, if you are on the fence about the Disney photo pass, then check out our review of Disney Memory Maker and Photo Pass to help you decide if it is worth getting for your trip.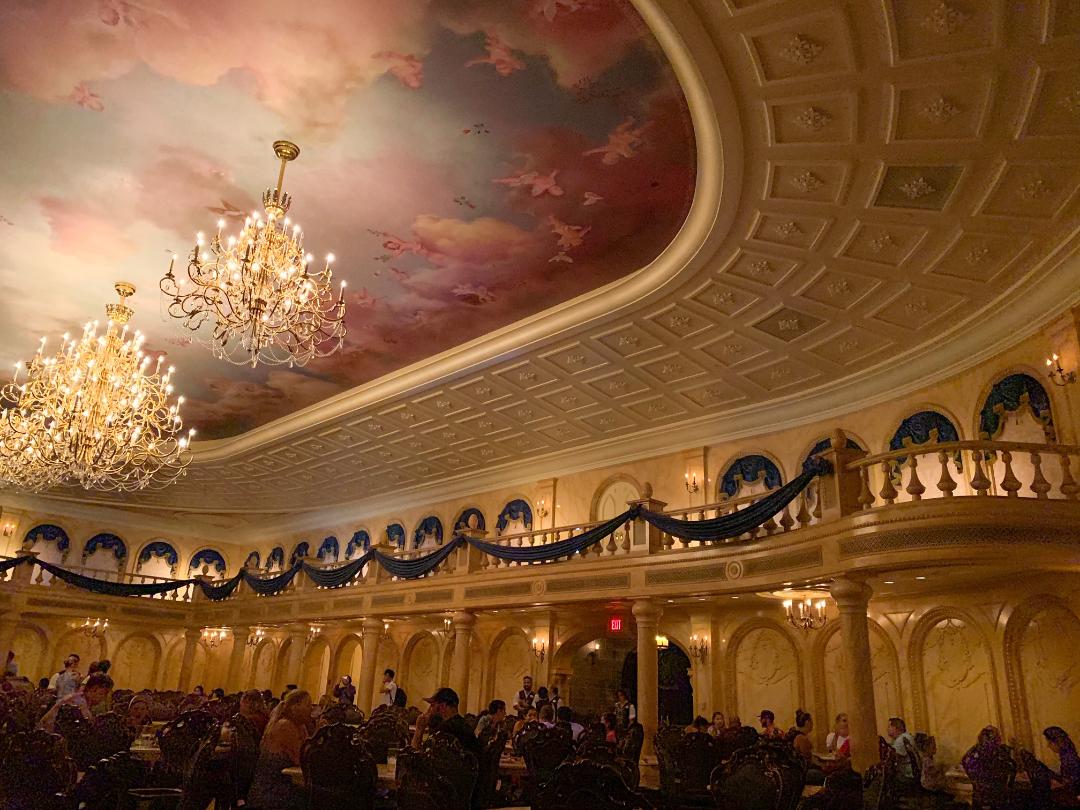 Topolino's Terrace
Topolino's Terrace, the brand new restaurant featured at the top of the stunning Riviera Resort, is my ultimate pick for Disney character breakfasts.
This restaurant, named for Mickey Mouse (Topolino is Mickey's name in Italian), has gorgeous theme park views from its floor-to-ceiling windows, and an ambiance in keeping with the European elegance of this resort.
Topolino's Terrace breakfast menu is raved about by guests of all ages.
As you can assume by the name, Mickey and Friends are the stars of the show here, and of course, they're dressed in appropriately-themed European attire, made brand new for the restaurant.
Their interactions are great, and I love that this restaurant is a bit less rowdy and noisy than places like Chef Mickey's, which gives you a better chance to enjoy your time with the characters.
They've got views, ambiance, and characters, but that's not all!
Topolino's Terrace wouldn't be my favorite Disney character breakfast without having an AMAZING breakfast menu.
With delicious pastries for the table, and a la carte options like quiche gruyere and sour cream waffles (which may sound weird but are totally scrumptious), you cannot go wrong with this menu.
But remember, Topolino's Terrace is super popular, which means it is crucial to book reservations in advance if you want to eat here.
This restaurant only offers breakfast and dinner, but breakfast is the true star of the show, so be sure to book this one as early as you can.
If you are thinking of staying at the Riveria resort, then you should check out our ultimate Riviera Resort Review with insider tips about planning your next trip.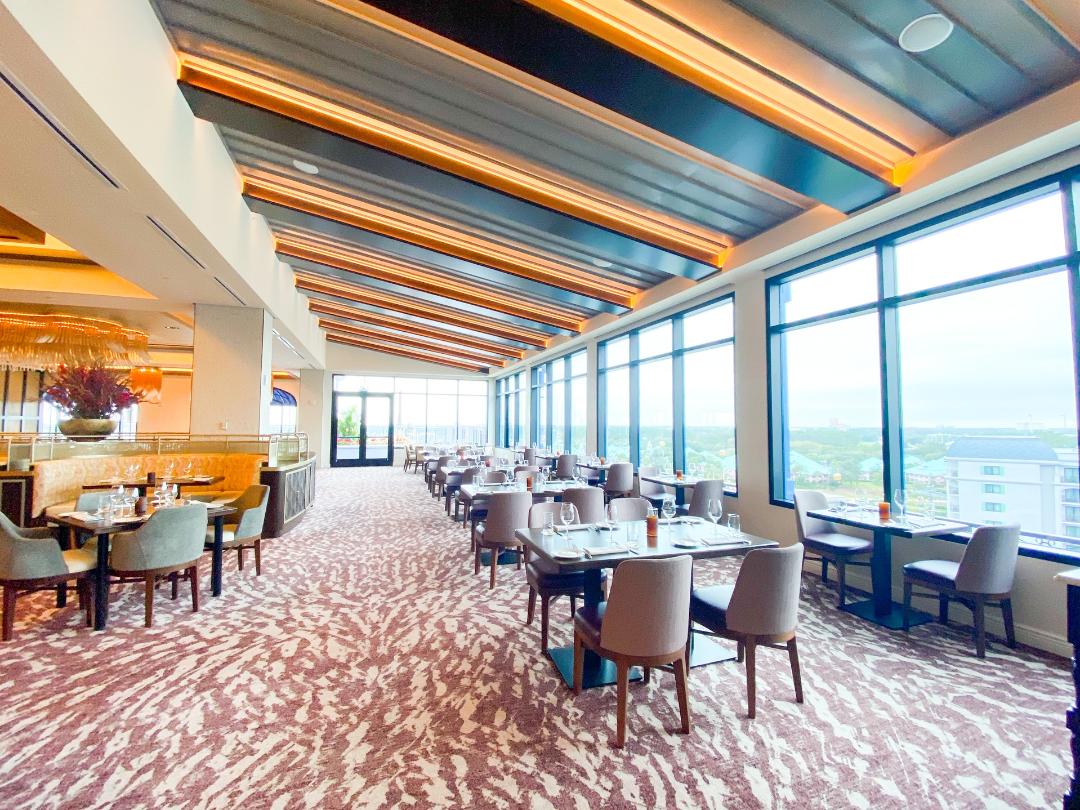 Chef Mickey's
Chef Mickey's is a classic character breakfast where you get to have breakfast with Mickey at Disney!
While the food at breakfast may not be life-changing, the characters and the atmosphere are the real highlight.
With the classic squad of Mickey, Minnie, Donald, Pluto, and Goofy, everyone will be able to see at least one of their favorite characters.
And whenever those five characters are together, you know it's going to be a party!
This buffet-style Disney character breakfast definitely has something for everyone, but in all honesty, don't miss the Mickey waffles!
Chef Mickey's has a dedicated Mickey Waffle Bar that looks like a sundae bar, where you can deck out your waffles in almost every topping imaginable (except fruit, oddly enough) and even pose it for a Mickey Waffle setting with a dedicated backdrop.
If you're convinced that Chef Mickey's is the Disney character dining option for you and your family, be sure to make reservations far in advance!
Because it's such an iconic restaurant, this one books up fast!
As a bonus tip, to maximize your fun, ask to be seated in the main dining room.
If you end up in one of the other dining rooms, you'll end up missing out on a lot of the action and character interaction.
Did you know that this character breakfast in Disney is actually inside the Contemporary Resort?
If you want to know more about the Contemporary Resort or other Deluxe resorts, then check out our review of some of the best and worst Disney Deluxe Resorts!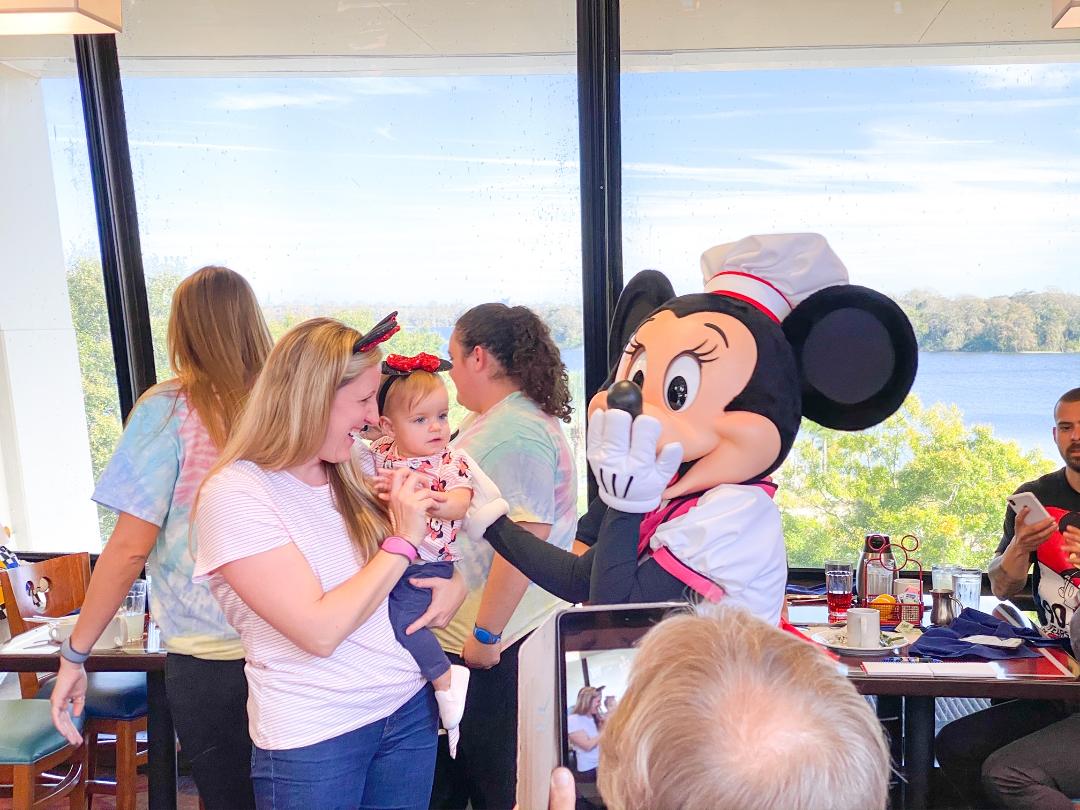 Worst Character Breakfasts at Disney
Disney Jr. Play n' Dine Breakfast
Hollywood & Vine isn't a bad experience Disney character breakfast.
As a matter of fact, it made it onto our list of the best Hollywood Studios restaurants!
However, it is aimed at a very specific crowd.
All of the characters at Hollywood & Vine are from Disney Jr., so you won't get to have breakfast with Mickey and Friends or even any princesses walking around and meeting guests.
But if you or your little ones are interested in dining with Disney characters like Doc McStuffins, Vampirina, and Sofia the First for breakfast, then this is definitely the place for your family.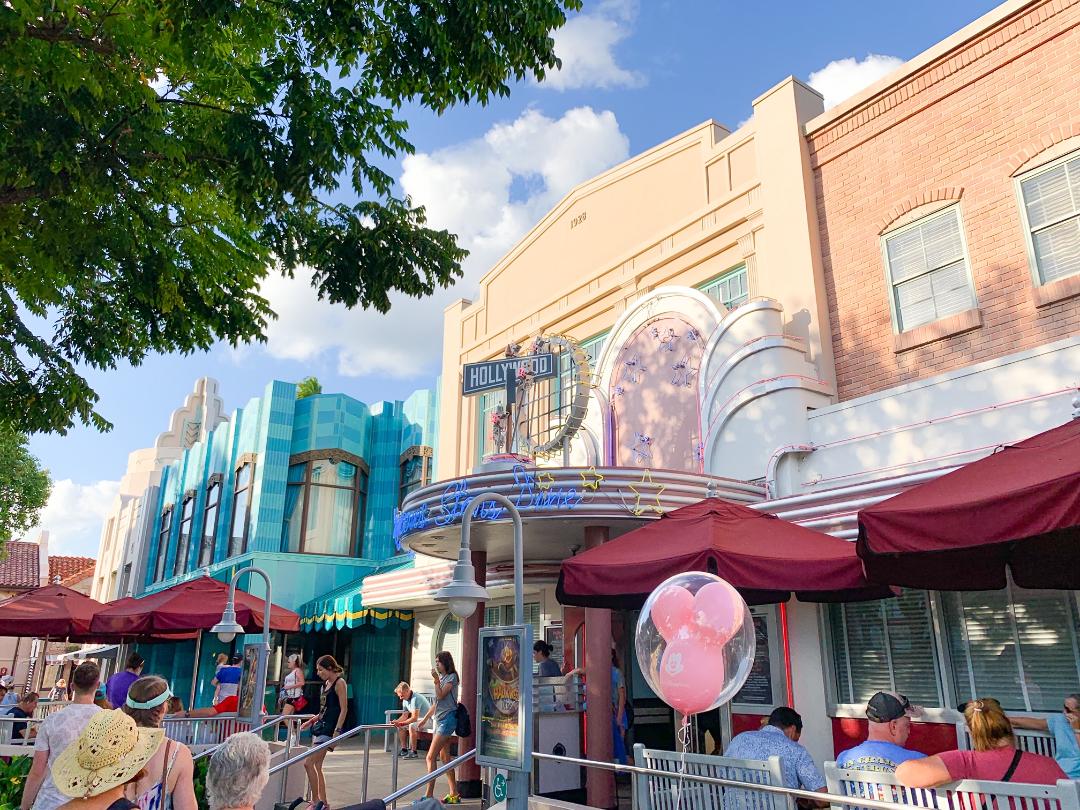 Cape May Cafe
Again, Cape May Cafe isn't a bad Disney character breakfast option.
However, when it's compared to options like Akershus and Topolino's Terrace, it just doesn't make the cut. 
Minnie's Beach Bash Breakfast is cute, and the food isn't bad, but you can get the same menu items at a lot of the other Disney character breakfast restaurants, as well as the chance to meet Minnie and her friends.
If you're staying at Beach Club, Cape May Café is a convenient location to go to, but it's not one we'd recommend going out of your way for.
Check out more about the Beach and Yacht club resorts with our review of Disney's Yacht Club!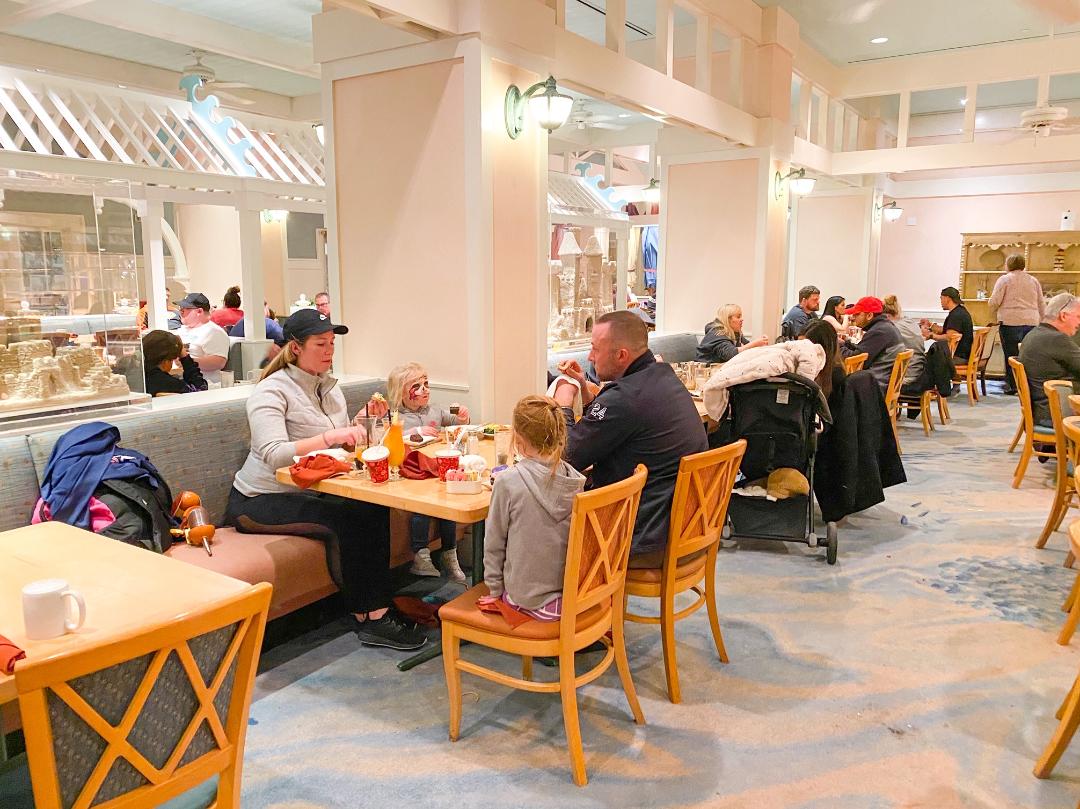 Ohana
Ohana is a great restaurant and often a big fan favorite!
So, then, why is it on this list?
Well, the problem with Ohana is that it splits its best qualities throughout different meals of the day.
So, while Lilo and Stitch are there for the Disney character breakfast, the best food from Ohana is actually served at dinner!
If Lilo and Stitch are must-haves for you, then Ohana may be a good choice for your breakfast with characters at Disney.
However, if your top priority is a tasty breakfast, we much prefer the nearby Kona Cafe (both are in the Polynesian Resort) where you can enjoy macadamia nut pancakes for breakfast.
If you are on the fence about this location, then you may want to look at our breakdown of all the Disney Monorail hotels so that you can decide were to stay (and enjoy a Disney character breakfast) during your next visit.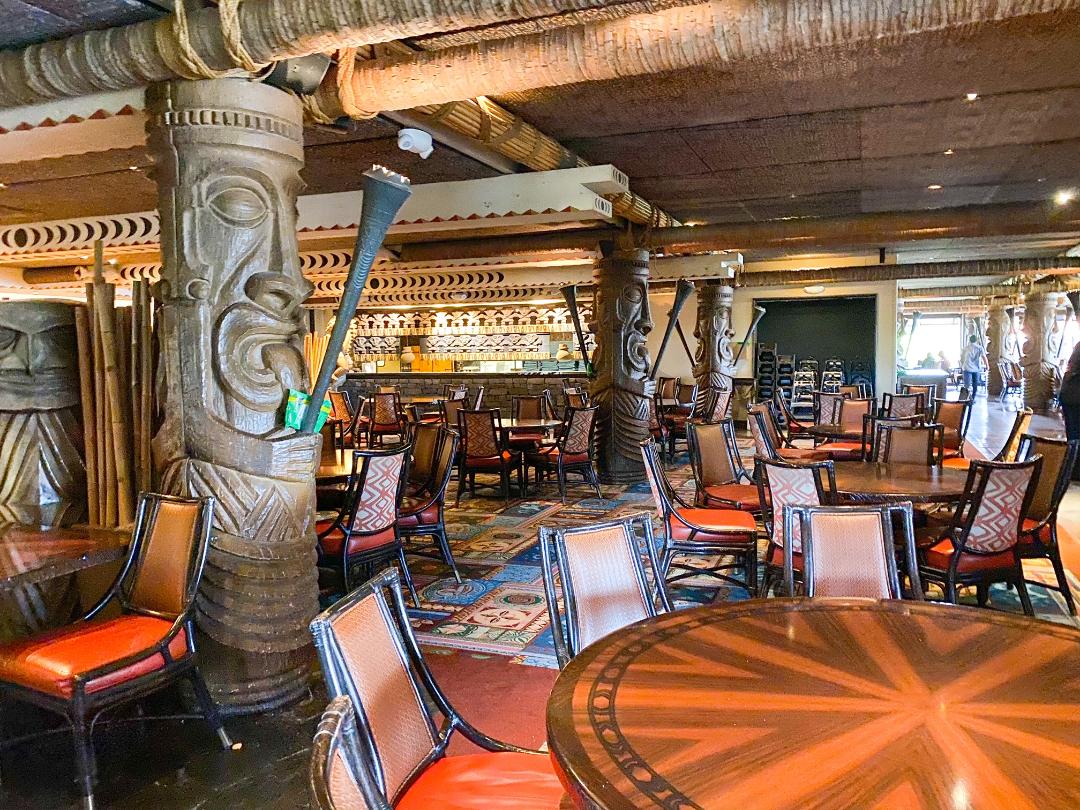 So, what Disney character breakfasts are making it onto your reservation list?
With so many amazing options to choose from, it may be hard to pick just one!
But, no matter what you choose, be sure to enjoy the food and the characters and have fun!