Are you on the hunt for the best Hollywood Studios restaurants? You've come to the right place. There are so many good eateries in Hollywood Studios, but sometimes it can be difficult to weed out the best ones from the worst. This guide to the best (and worst!) Hollywood studios restaurants is here to help!
The best restaurants in Hollywood Studios are the ones with a little bit of a unique twist in the food and atmosphere, not the typical theme park food. Dine in a car while watching old movie clips at the Sci-Fi Dine-In Theater Restaurant, meet your favorite characters from Disney Jr. at Hollywood & Vine, and munch on s'more French toast sandwiches at Woody's Lunch box. One of these Hollywood Studios dining options may prove to be the perfect option for your visit to this amazing Disney park.
14 Best (And Worst!) Hollywood Studios Restaurants
Best Hollywood Studios Table Service Restaurants
Sci-Fi Dine-In Theater Restaurant
If you're looking for one of the most unique Hollywood Studios dining experiences, the Sci-Fi Dine-In Theater Restaurant is a fantastic option. Heavily inspired by the famous drive-in movies of the 1940s and 50s, Sci-Fi Dine-In Theater Restaurant on Hollywood Studios' Commissary Lane allows its guests to sit in vintage car replicas, watch popular old movie clips, and enjoy a great meal. However, do note that not everyone is seated in a car, so be sure to ask to sit in a car before you are seated to get the full experience!
The food and drinks at the sci-fi dine-in theater restaurant are an experience in itself. If you're a meat-eater, the drive-in BBQ burger or the sci-fi barbecue platter are great choices. They also offer a couple of vegan and vegetarian options, including the vegan tofu lettuce wraps and the vegetarian falafel burger. The real highlight though is the drinks. Complete with glow-in-the-dark ice cubes, the habanero lime Martian margarita, orbiting Oreos, and the magical star cocktail add a little bit of extra flair to your experience.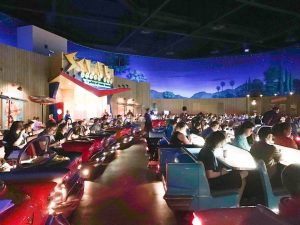 Mama Melrose's Ristorante Italiano
Everyone loves Italian food, and Disney serves up some of the best at Mama Melrose' Ristorante Italiano. Just like quite a few of the other restaurants on this list of Hollywood Studios restaurants, Mama Melrose's Ristorante Italiano has a historic, California-based backstory.
Many years ago, a girl from a small village in Sicily moved to Hollywood to become a star before finding out that her true passion was cooking. Instead of becoming a movie star herself, this girl began serving her Italian family recipes to insiders of the film industry, who nicknamed her Mama Melrose.
Tucked away behind Muppet Vision 3D, now you too can dine on these Italian dishes created by Mama Melrose. From seafood fra diavola, oven-baked chicken alla parmigiana, and saltimbocca, you really can't go wrong. And any Italian meal isn't quite complete without a glass of wine. Choose from an extensive list of Californian and Italian wines to pair with your delicious dinner.
If you are on the Disney Dining Plan, it is a great way to use up your credits!
As an added bonus, Mama Melrose's Ristorante Italiano offers the Fantasmic! Dining Package. Each Fantasmic! Dining Package comes with one entrée, one dessert, and one non-alcoholic beverage, as well as one voucher for guaranteed, reserved seating at Fantasmic! Out of the three Disney Hollywood Studios restaurants that offer this deal, Mama Melrose's Ristorante Italiano is the most reasonably priced.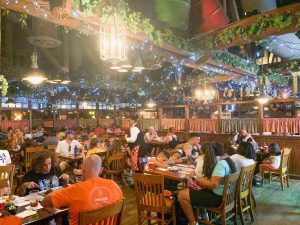 The Hollywood Brown Derby
Located in Animation Courtyard, The Hollywood Brown Derby at Hollywood Studios is a replica of the famous dining establishment in Los Angeles, California, Brown Derby. The original Brown Derby restaurant in Los Angeles was shaped like a man's derby hat, which came be an icon of the Golden Age of Hollywood. It is also on our list of best Disney restaurants overall so you will certainly want to visit!
The influence of this Los Angeles landmark is found throughout this Hollywood Studios replica. From caricatures of celebrities adorning the walls to signature, timeless dishes, the Hollywood Brown Derby can transport its diners back to 1920s Hollywood. As for what to eat, indulge in a dish of seafood-filled cioppino, splurge on a Wagyu beef burger, or munch on the famous Cobb salad, created by Bob Cobb, the owner of the original restaurant. And don't forget to top off your meal with the famous grapefruit cake, a staple at the original Brown Derby.
That said, The Hollywood Brown Derby is one of the priciest Hollywood Studios restaurants. The entrees alone cost anywhere from $18 to $49 per plate. All of the appetizers and desserts are within the $11 to $18 range. If you're looking at some of the pricier entrees, consider signing up for the Fantasmic! Dining package to get a little more bang for your buck.
Lastly, if you would like to dine at this fantastic Hollywood Studios restaurant, advanced reservations are highly recommended.
Hollywood & Vine
Between Echo Lake and Hollywood Boulevard lies Hollywood & Vine. As one of the only character dining options in Hollywood Studios, Hollywood & Vine tends to be more popular for families with small children. The highlight of Hollywood & Vine is the opportunity to meet some of the most popular Disney Jr. characters, including Sofia the First, Vampirina, and Doc McStuffins. As for the food, Hollywood & Vine is a buffet that is open for breakfast, lunch, and dinner. Do note that because Hollywood & Vine is a character restaurant, the prices are a bit more expensive. Depending on which meal you choose to eat at Hollywood & Vine, your visit will cost anywhere between $35 and $60 per person.
Hollywood & Vine also offers the Fantasmic! Dining Package.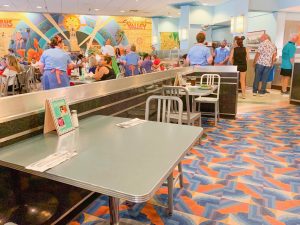 Worst Hollywood Studios Table Service Restaurants
50's Prime Time Café
Adjacent to Hollywood & Vine is the 50's Prime Time Café. To put it bluntly, the 50's Prime Time Café serves up boring, expensive diner food. If we're being honest, who wants to eat meatloaf at Disney World? Especially when that meatloaf $20 for two small pieces! The vegan and vegetarian options at the 50's Prime Time Café are also quite limited. If you're looking for table service restaurants at Hollywood Studios, opt for one of the four fantastic options listed above.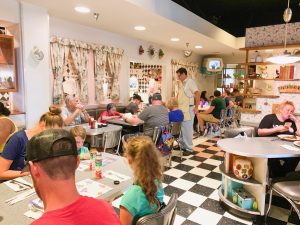 Best Hollywood Studios Counter Service Restaurants
ABC Commissary
Directly next to the Sci-Fi Dine-In Theater Restaurant is the ABC Commissary. Open for both lunch and dinner, ABC Commissary offers so much more than just your typical theme park food. Enjoy a southwest BBQ burger, BBQ rib platter, shrimp platter, or pot roast! There are also vegan and vegetarian options, such as the vegan burger and the teriyaki vegetable bowl. ABC Commissary is also one of the most reasonably-priced Hollywood Studios Quick Service options with no singular item costing more than $18.29.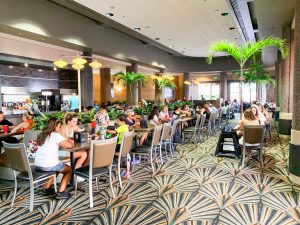 Catalina Eddie's
Serving up quick Italian-style fare, Catalina Eddie's is a great Hollywood Studios food option if you just want to grab a quite bit and get back to the park's fantastic rides and shows. With no singular item priced over $10.99, this Hollywood quick service restaurant is perfect for Disney lovers on a budget. The personal pizzas, Caesar salad with chicken, and the lemon cheesecake verrine from Catalina Eddie's are all delicious quick bites to grab before you pop into watch the Beauty and the Beast Live on Stage show just across the street.
If you'd like to speed up your eating experience even more, you can order your meal at Catalina Eddie's using your phone through the My Disney Experience app.
Docking Bay 7 Food and Cargo
Within Star Wars: Galaxy's Edge, there is another one of the best Hollywood Studios restaurants: Docking Bay 7 Food and Cargo. Housed in a working hangar bay, the atmosphere and food options are truly out of this world. The smoked kaadu ribs, fried endorian tip-yip, and the batuu-bon dessert have all proven to be crowd favorites. Docking Bay 7 Food and Cargo also offers vegan and vegetarian options.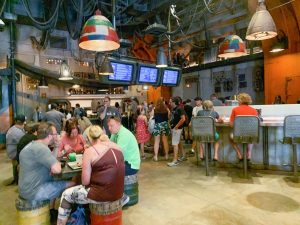 Woody's Lunch Box
Located in Toy Story Land, Woody's Lunch Box is just steps away from popular attractions, such as Toy Story Mania and Slinky Dog Dash. This Hollywood Studios restaurant serves up s'more French toast sandwiches, seasonal lemon-blueberry lunch box tarts, and the delicious tater tot-nacho combination called "totchos," which are some of the most unique Hollywood Studios food options. There are also a couple of vegetarian options available at Woody's Lunch Box. If you would like, you can even top off your meal with an old-fashioned root beer float!
The one downside of Woody's Lunch Box is the lack of shade, but rumor has it that Disney is going to fix that problem soon!

PizzeRizzo
Replacing Pizza Planet and just steps away from Mama Melrose's Ristorante Italiano, PizzeRizzo is one of the newest counter service options at Hollywood Studios. As the name implies, PizzeRizzo's menu is filled with fantastic pizza options, including meat lover's pizza, vegetable pizza, and the classic pepperoni pizza. There are also several options for guests with gluten, egg, shellfish, milk, nut, or soy allergies. PizzeRizzo also offers a couple of dessert options, including A Galaxy Far, Far Away Espresso Mousse Dome and cannoli.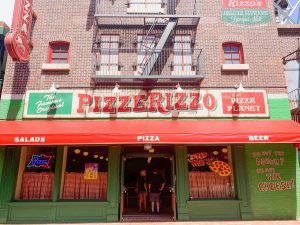 Hollywood Scoops
Situated on Sunset Boulevard, Hollywood Scoops is a fantastic place to stop on a warm day at Hollywood Studios. Every item on the menu comes with a frozen scoop of delicious ice cream! The apple crisp à la mode and brownie sundae are sure to put a smile on your face.
One con of Hollywood Scoops is that the seating is rather limited, as it is shared with Fairfax Fare.
Worst Hollywood Studios Counter Service Restaurants
Dockside Diner
On the shores of Echo Lake, Dockside Diner has subpar theme park food. As you can likely tell from some of the other options on this list, there are so many more fantastic Hollywood Studios restaurants that are worth your time and money. So skip the $13 chili cheese dogs and $11 nachos and opt for something else.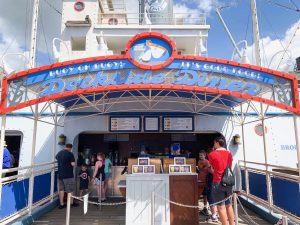 The Trolley Car Café
Across the street from Hollywood & Vine, The Trolley Car Café in Hollywood Studios is basically Starbucks. When you visit Disney World, you're looking for amazing unique experiences, not a quick $6 coffee drink that you can get on every block in the United States. That said, if you need a coffee pick-me-up during your time in the park, you know where to get it.
Where To Stay At Disney World
If you are reading this post, you are probably planning a trip to Disney World! Check out some of our favorite hotel recommendations in the Walt Disney World resort area. No matter your budget, there is something for you and somewhere to stay!
Walking Distance From The Parks. Walt Disney World Swan. Check Rates: Booking.com
Upscale. Four Seasons Walt Disney World. Check Rates: Booking.com
Family-Friendly. Wyndham Bonnet Creek. Check Rates: Booking.com
Our Favorite: Hilton Orlando Buena Vista Palace. Check Rates: Booking.com
Affordable: Comfort Inn Maingate. Check Rates: Booking.com
5 Things To Pack For Disney World
Check out these necessary things to pack for your trip to Disney World!! A trip to Disney can be a much smoother experience if you simply add a few items to your bag of things to pack!! Check out some of our favorites below.
#1. Good Quality Walking Shoes. Good quality walking shoes are a MUST for Disney! And I highly recommend my favorite Vionic Farra Sandal. I literally cannot tell you enough how much I LOVE this sandal! I originally bought them for a trip to India where I wore them every day for 2 weeks, but they quickly became my best shoe for Disney! I even went back an bought a second pair in the same color just in case Vionics ever stopped making them! Vionics are my favorite brand for Disney because they are supportive, affordable, and perfect for Disney in the Florida heat!
#2. A Sturdy Backpack. OutdoorMaster Sling Bagis our very favorite functional backpack for Disney! If you have never used a sling backpack, you haven't lived yet! [Just kidding but you are going to love it.] A sling backpack for Disney will change your life! It doesn't hurt your back the way traditional backpacks may and leaves one shoulder completely free.
#3. Multiple Memory Cards. If you have a camera on your Disney packing list, you need to add additional memory cards on your list of what to pack for Disney as well. Unless you are packing a computer for Disney, you will not be able to upload photos and clear your existing memory card. Purchasing additional memory cards cost under $20 and take up no space in your luggage when packing for Disney.
#4. A Reusable Water Bottle. If you don't want to pay for water every single time you go out to eat or are hot while at Disney, simply bring a reusable filtered water bottle and drink that while you dine. Water in the parks costs a lot of money so bring your own bottle and fill it around the parks! I love and recommend this Bobble Water Bottle!
#5. A Poncho Instead Of An Umbrella. Add a poncho to your Disney packing list instead of a travel umbrella! Unless you are outfitted in a waterproof jacket, pants, and shoes, you are going to need something to stay dry in the event of a squall. A poncho folds up teeny tiny in your suitcase and is easy to throw into a backpack when you're are sightseeing. It is quick to whip out and put on and keeps you more covered than an umbrella. When considering what to pack for Disney make sure you pick a poncho that is made of quality material so it doesn't rip when you put it on.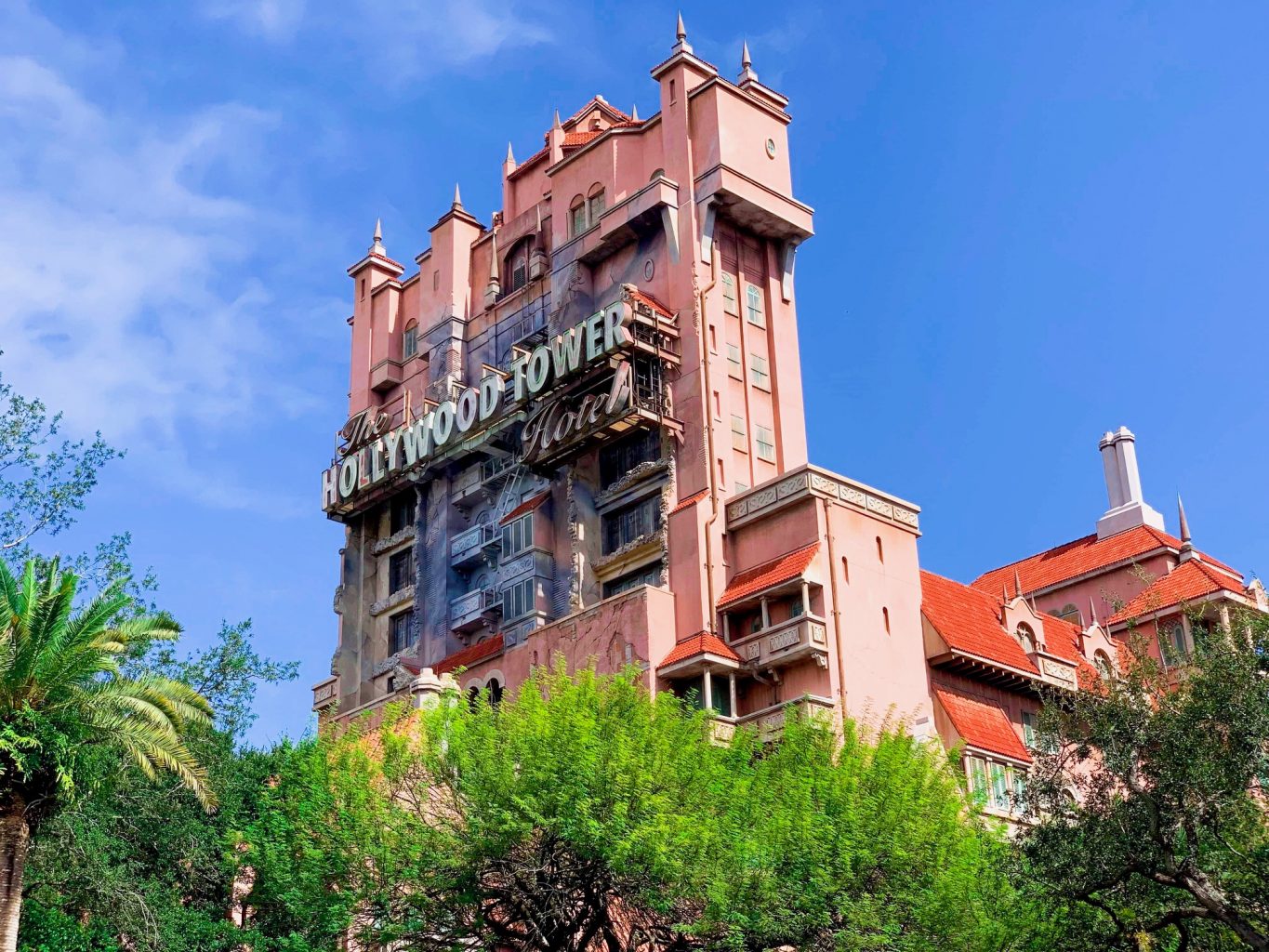 I hope you enjoyed reading about some of the best Hollywood Studios restaurants (and learning about the ones you should avoid too). What do you think? Do you agree or disagree? Let me know in the comments what you think the best Hollywood Studios food is! As always, if you have any questions, I am more than happy to answer them for you! Thank you for reading!