It's morning at the most magical place on earth, Walt Disney World! You wait with excited anticipation for the parks to open because you know, you KNOW you are in for a fantastic time! What could possibly be more divine than a visit to this wonderful place? Surely nothing can top it. But then you see it…Disney Starbucks. Yes! You leap for joy. Your two favorite things collide in glorious harmony before your very eyes. Starbucks meets Disney? This, this is THE BEST way to start the most perfect day, a scrumptious cup of coffee! Hot? Cold? Strong? Sweet? If you crave it, Disney Starbucks has got it.

Location Of Starbucks At Disney World
There are six locations of Disney Starbucks, one in each of the parks and two in Disney Springs (formerly known as Downtown Disney). Each of these locations blends in with the atmosphere and unique designs of the individual parks. The stores are not identified by blatant "Starbucks" signage at all rather they go by Disney approved names. Below we have all the details you need to know to visit any of the Disney Starbucks.
The Six Disney World Starbucks Locations:
Magic Kingdom — Main Street Bakery, on Main Street US
Disney's Hollywood Studios — Trolley Car Cafe, on Hollywood Boulevard
Epcot — Traveler's Cafe (temporary location as of December 2019), near Refreshment Port
Disney's Animal Kingdom — Creature Comforts, at Discovery Island by the bridge to Africa
Disney Springs Marketplace — Right by World of Disney
Disney Spring West Side — Near Characters in Flight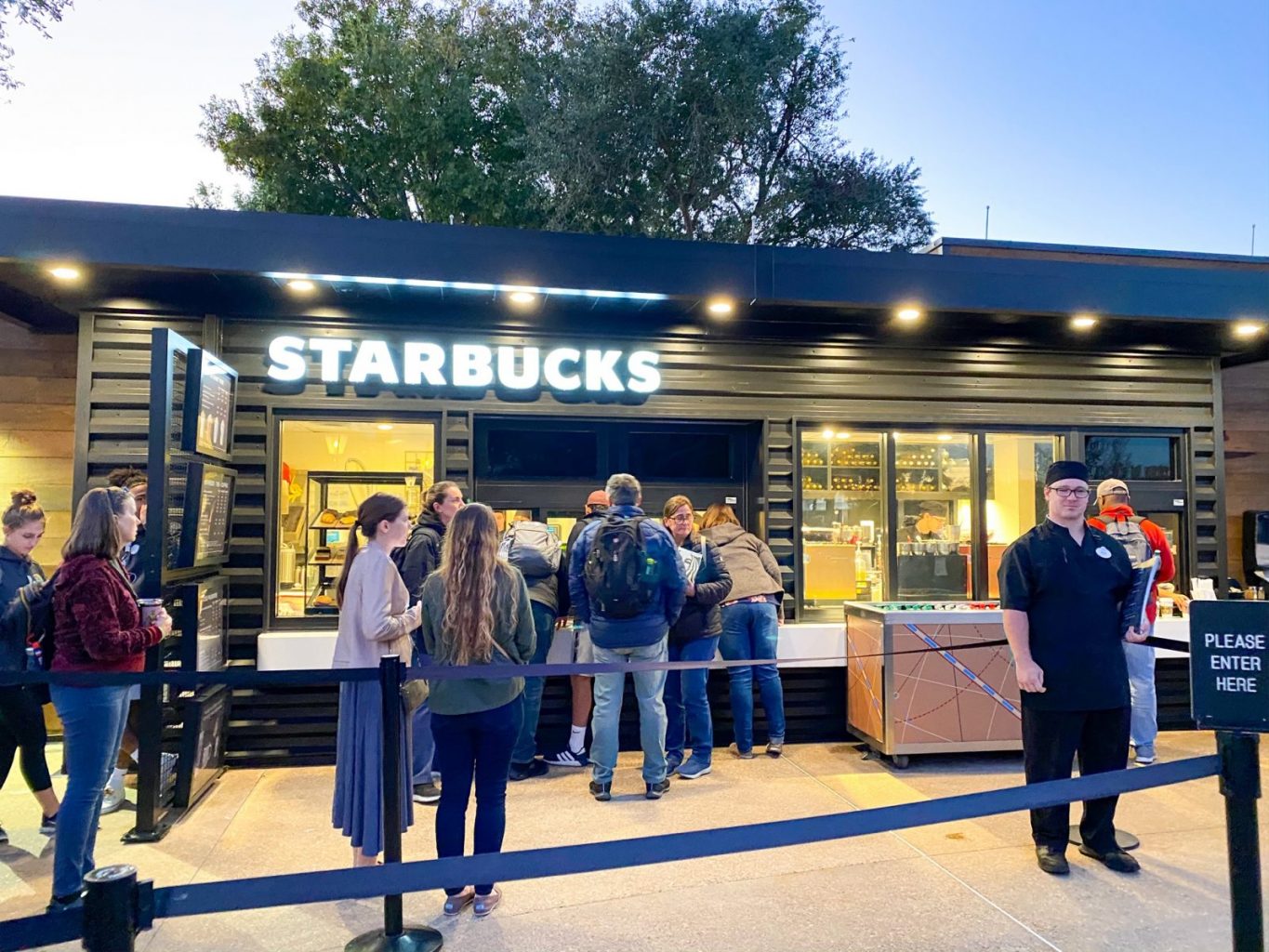 Starbucks At Magic Kingdom
For your next coffee fix in Magic Kingdom, keep a look out for Main Street Bakery. This Disney "Main Street" Starbucks location tends to be busy, so expect lines. We recommend hitting the queue either right at rope drop (when most park goers make a bee-line for their favorite rides) or just after the morning rush, when lunchtime sets in. Midday is likely your best bet at nabbing a tasty treat without waiting too long. You could also try visiting the store during a parade when more people will be likely be lining the street for a good view of the festivities.
Regardless, even if you do end up waiting a bit Disney and Starbucks cast members are efficient at keeping things moving along. Don't despair! You'll be in and out, ready to take on the park with coffee as your trusty companion! *Sigh* "Oh coffee, I can always count on you…"
Main Street Starbucks is designed to look like a turn of the century parlor, but don't be deceived. It has the usual "Grab-and- Go" options offered at any Starbucks plus some pastry items specializing in Disney flair. Mickey and Castles and Olaf, oh my! Chances are you'll go into the store with a smile, and leave with a grin so big it gives even the Cheshire Cat a run for his money! With coffee, anything is possible.
Read More: The 10 Best (And Worst!) Quick Service Magic Kingdom Restaurants

Starbucks At Hollywood Studios
All Aboard the Trolley Car Cafe! Unsurprisingly, due to its name, the inside of this Disney Starbucks looks like a Trolley station. The golden age inspired location offers the usual Starbucks menu options as well as a selection of Disney specific treats. There's an assortment of decadent desserts that are available such as tiramisu, apple tarts, coffee cake, and raspberry napoleons.
Starring Rolls Cafe, a former favorite, cupcakes are served now at the Trolley Car Cafe. The chocolate peanut butter crunch cupcake is particularly recommended!

Starbucks At Epcot
At Epcot you've got the whole world at your feet, and Starbucks too. Make your way to the Traveler's Cafe. This location is new with a modern design much like any classic Starbucks on the corner. It is a more compact store with a kiosk or pop-up type look and it is conveniently located near the Refreshment Port. With switchback lines and pick-up windows this Starbucks is all about the quick fix!
Fans of Epcot (that's us) are overjoyed to have this temporary location OPEN.
Further Reading: The 12 Best And Worst Quick Service Restaurants at Epcot

Starbucks At Animal Kingdom
Let's give a roar for the Animal Kingdom Disney Starbucks location, Creature Comforts! This is the only spot to get an Animal Kingdom favorite, the Cotton Top Tamarin cupcake. Something to note, the purchase of a flat white latte here goes towards the Disney Conservation fund to support animals such as the Tamarin monkey.
If you love animals and like your food in the shape of adorable creatures this is the place for you.

Starbucks At Disney Springs
Want to visit an authentic Starbucks? The two locations at Disney Springs will be the most familiar, they look just like your friendly neighborhood Starbucks! The Marketplace Starbucks is a walk-up with windows, but you can have the Starbucks delivered to you from here (available 8 am to 10 pm). Just download the app, link your credit or debit card, touch the "Order" tab and select "Disney Springs Marketplace" as your desired location. Then order from the menu and pay for your order. Call the store at 407-279-2794 to let them know where you are in Disney Springs…and they will bring it to you! Neat!
The West Side Starbucks is HUGE! It boasts plentiful seating and interactive screens to engage with while you enjoy your beverage or treat. Keep in mind that one of these fun features involves the occasional live recording of customers, so if being on camera doesn't appeal to you take your coffee to the patio. Outside you can catch a glimpse of the unique grass roof!
West Side is like the mecca of Starbucks. It's even complete with Starbucks Reserve if your interest leans towards more rare or exotic blends of coffee.
See More: Maps of Disney Starbucks Locations Can Be Found Here

Using The Disney Dining Plan At Starbucks
What is the Disney Dining Plan? It is a prepaid package, credit for your meals (plus two snacks) per day, available exclusively to Disney World Hotel guests and Disney Club vacationers. There are three different tiers of plans to choose from; pick the one that suits your family best! Then you simply use your credits however you wish until they are gone. These credits can be kept track of on your magic bands.
The Disney Dining plan includes categories of "Snacks," "Quick Service" meals and "Table Service" meals. Good news! Almost everything on the Disney Starbucks menu works for "Snack" credit on the Disney Dining Plan. All of the qualifying snack items are labelled as such in store. It can be a good value option for you, especially if you get an "expensive" or more flavorful drink using the credit because you would have easily paid more than 5.00 out of pocket for the same item.
Fore more information about Disney Dining Plans in general see here.

Disney Starbucks Payment Options
In addition to accepting payment in the form of the Disney Dining Plan, the parks locations take gift cards, both Disney and Starbucks alike. You can also use a magic band or the Starbucks App to pay for your purchases.
When it comes to reward points, you can earn stars towards your account but it should be noted that you cannot redeem points for a free drink while inside the parks. You can, however, redeem points at the Disney Springs locations.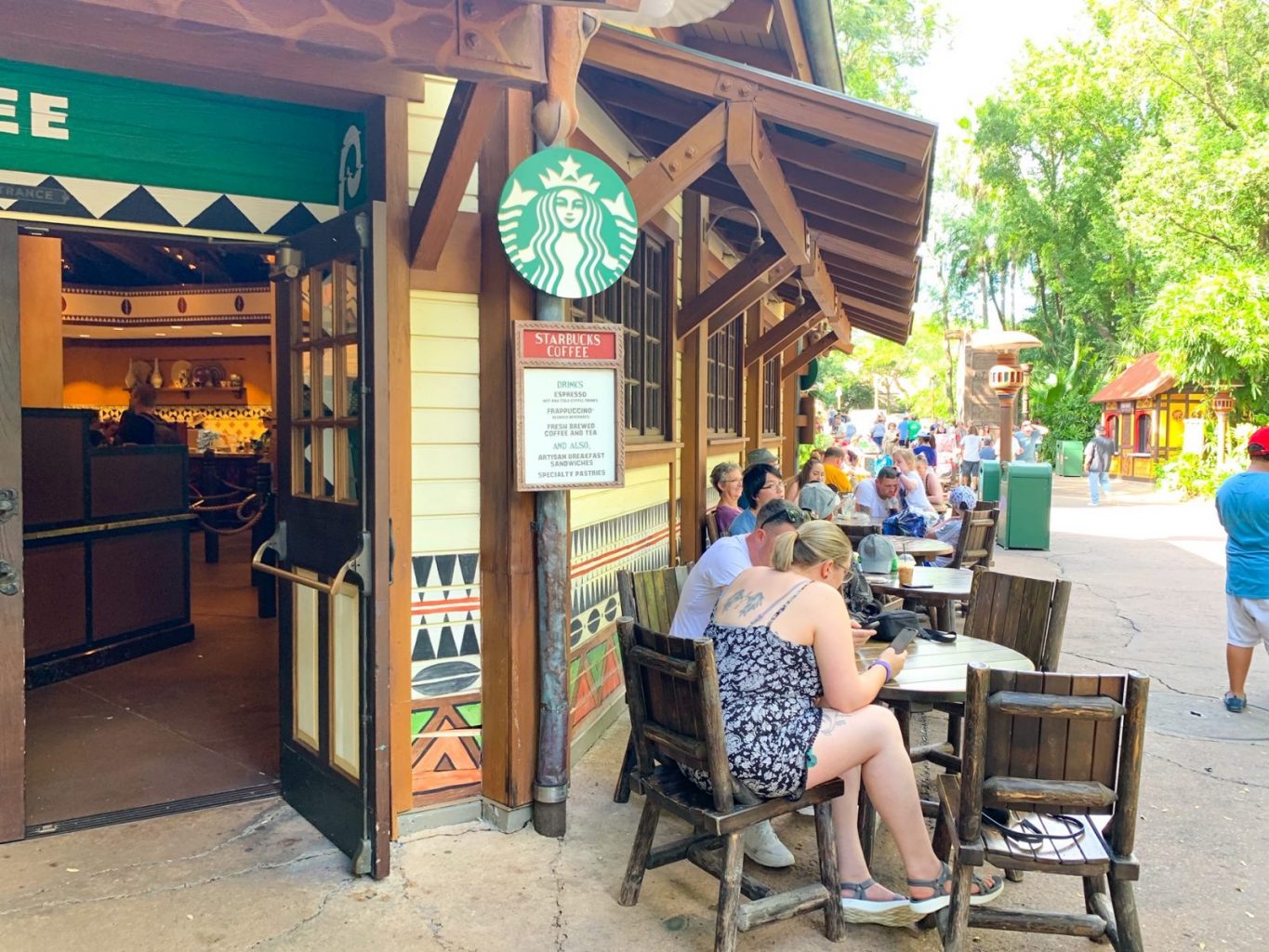 Exclusive Disney Starbucks Merchandise
The parks each have appropriately themed "You Are Here" or "Been There" mugs and tumblers for sale in their prospective Starbucks. These designs are specific to the locations you are visiting, and are quite fetching.
Annual Passholder and Disney Vacation Club discounts are available on the merchandise so be sure to take advantage of that. You can never have enough coffee mugs, right?!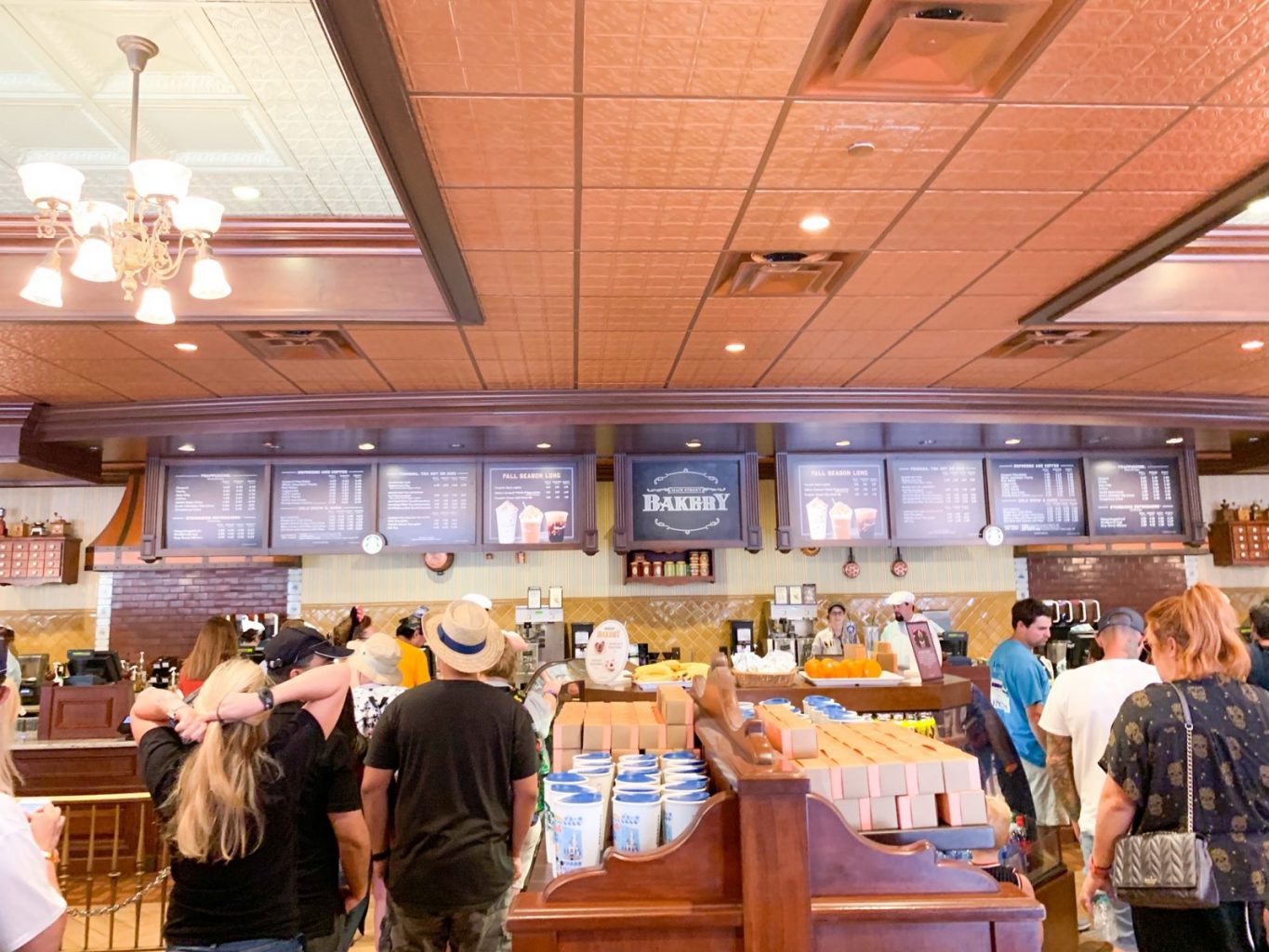 It's the end of your fantastical trip to Disney World. You're overjoyed that everything came together so well but you're exhausted. "How will I ever wake up tomorrow?!" you think. "Oh right, that's what coffee is for!" Disney Starbucks, you're the real MVP!