Tired of not knowing the perfect places to head for Epcot quick service meals? Here's the list for you! Without having to make a reservation or enduring long waits, I encourage you to check out these quick service Epcot spots sure to cure that hunger! Make sure to check out the Official Epcot Map so you know where everything is located around the park when choosing where to eat.
I'm here to help with tips and tricks to help you get your family fed with delicious treats that are no doubt the best food at Epcot, no matter what type of park day you're hoping to have! I'll share with you the best Epcot quick service, in my opinion, affordable options, as well as some highlights from around the world – Disney World that is!
Get a FREE printable 30/60/90 day Disney countdown by joining our private Disney Facebook Group and share your photos and ask for tips and trick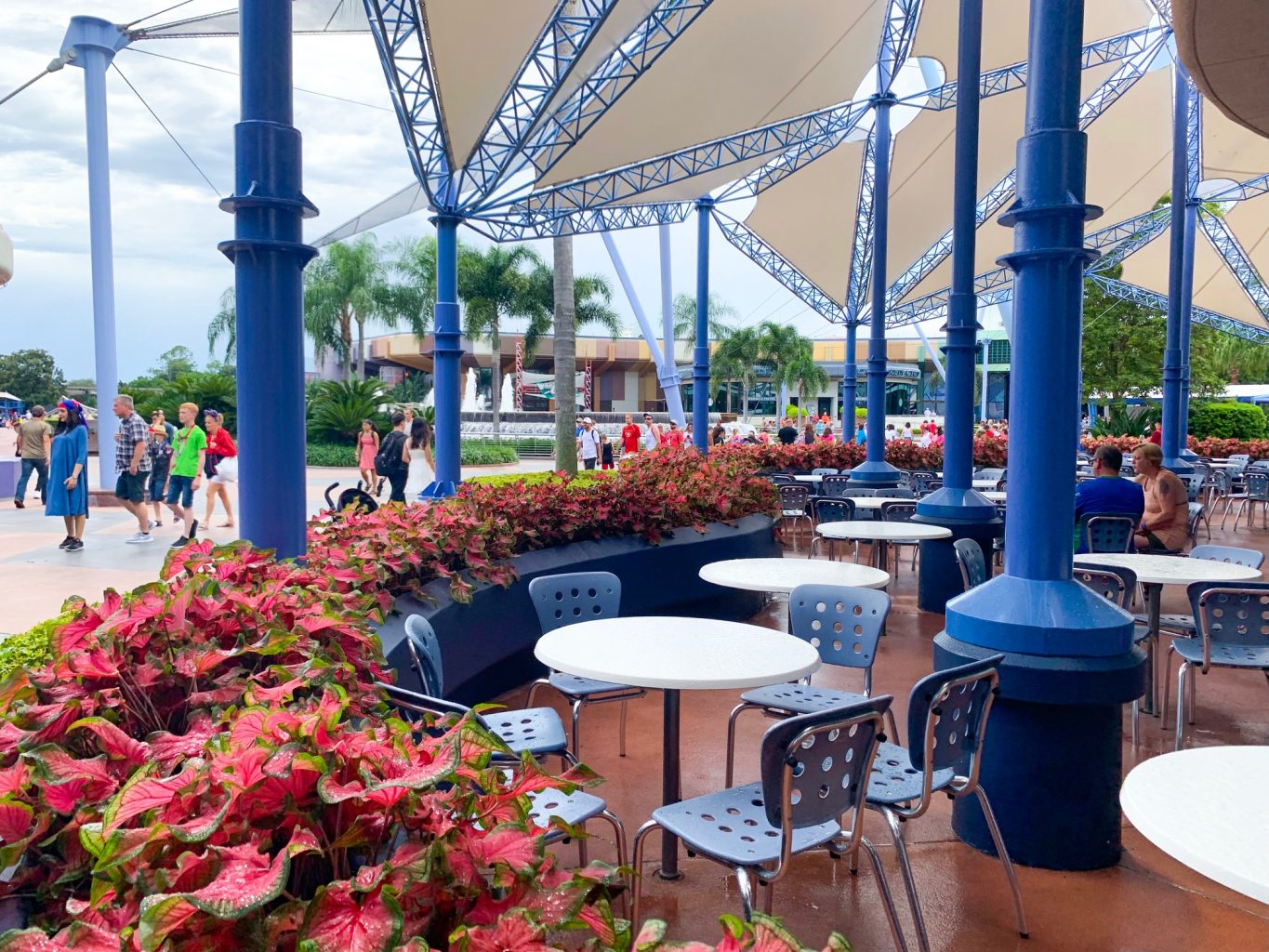 Best Epcot Quick Service Restaurants You Must Try
What is Quick Service?
Disney Dining options include table service, that includes typically making a reservation or waiting for an open table and quick service. Quick Service includes cafeteria-style restaurants and walk-up counters that are great for guests who want to make the most of their day without sitting down to a formal meal. Here you'll find tips and tricks for the must-eats and beautiful Epcot Quicks Service spots around the World Showcase!
Tangierine Cafe – Morocco
The world showcase is full of flavors for you to try, and this one is hands down our FAVE Epcot quick service! HUGE portions of some of the best food at Epcot make these Mediterranean dishes – Shawarma Chicken, Mediterranean Falafel a family favorite for those looking to try more exotic options at Disney. Vegetarian options and a wide variety of adult beverages are also available.
Affordable prices ($11-$15 for a plate) for the size of the dishes aren't the only reason to make eating here a priority. Tangierine Cafe in Morocco is one of the best Epcot quick service stops for the atmosphere, with authentic architecture that extends to the pavilion around it – grab a seat at the seating inside or a table outside in the shade as we recommend!
If you are on the Quick Service Disney Dining Plan, this is an amazing place where you can get good bang for your buck!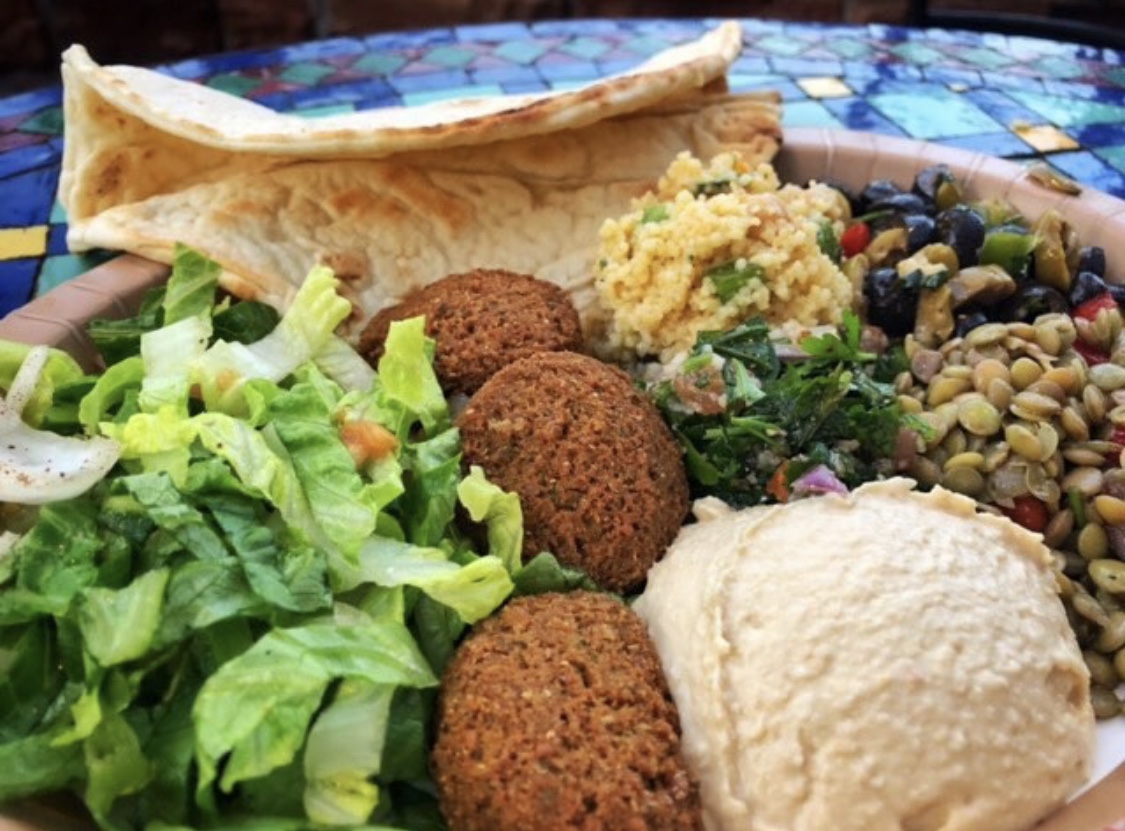 Sommerfest – Germany
Here you can find one of the most affordable places to eat in Epcot, with a great selection of filling snacks – many under $5, like the delicious Nudel Gratin which has to be considered some of the best food at Epcot! Traditional German eats – bratwursts, sausages, and sauerkrat are available, with delectable, mouth-watering desserts rounding out the menu. There is limited seating available here, but grab your snacks and head for the Pavilion's square to grab a seat at the fountain and enjoy the well-themed surroundings.
There are not any kids items at this counter service option, but if you're on the dining plan they can take advantage of the massive portion sizes and order the full-size adult entree here!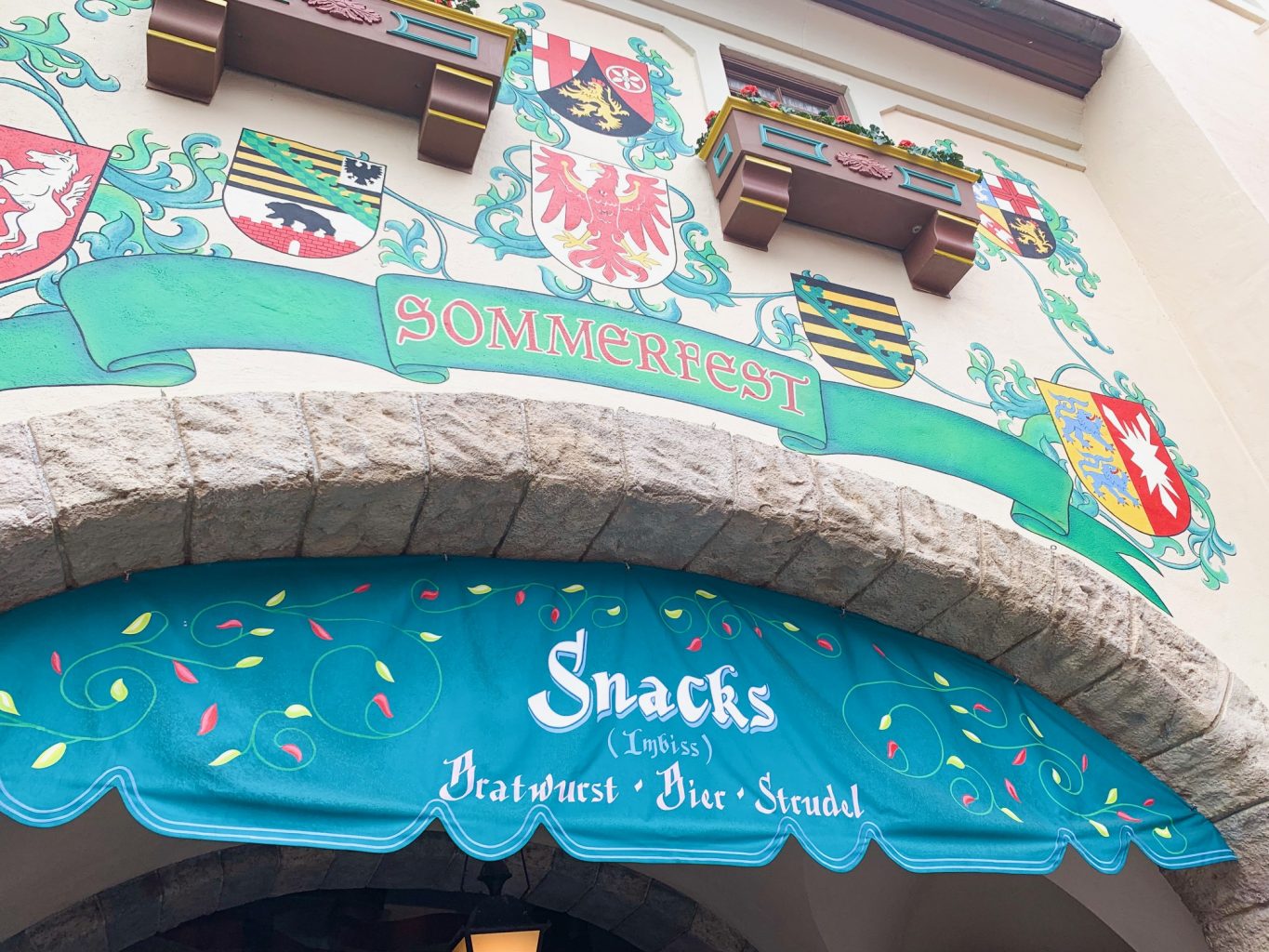 Les Halles Boulangerie Patisserie – France
Hidden in the back of the France pavilion lies our second favorite quick service Epcot dining spot. All the food selections are under $10, with a menu full of yummy and traditional french soups and sandwiches. made with perfectly baked french baguettes, and tons of cheeses! Having one of the earliest opening times in the World Showcase (9 AM) this Epcot Quick Service is a great option for breakfast or any meal during your time at this park! It is one of our favorite quick service options and even makes our list of the best restaurants at Disney World!
Here at this french bakery, you will also find the BEST desserts! SO many pastries to choose from, you just can't go wrong. Macaron, tartes, creme brule, eclairs – tasty and affordable, so grab different ones for your family to try out some of the best quick service Epcot food!
This is a great place to eat when you are on the Disney Dining Plan and looking for ways to maximize your Dining Plan Credits!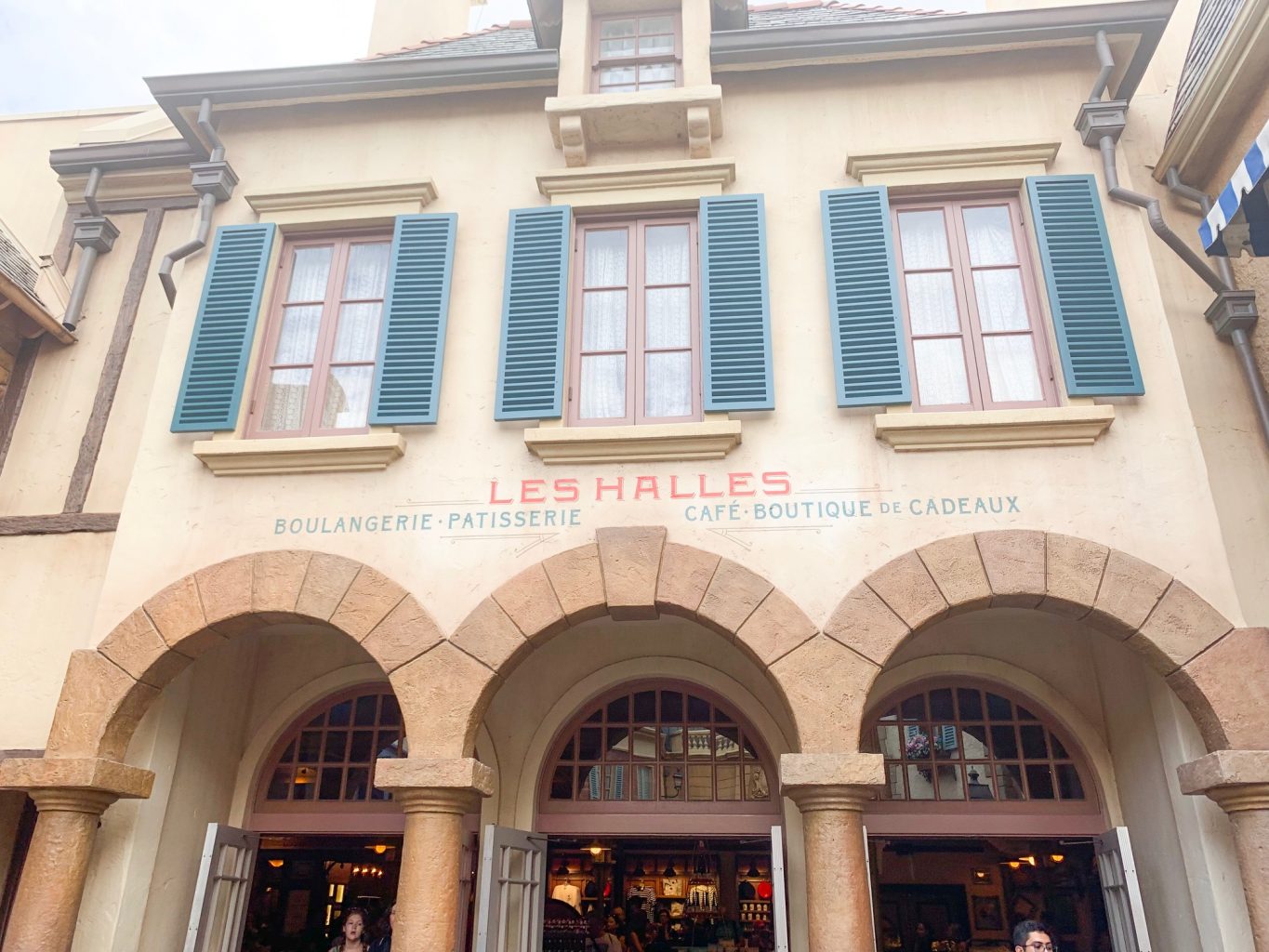 Sunshine Seasons – The Land
Sunshine Seasons has such a plethora of choices, there's an option for everyone, even those with dietary restrictions! Made from the Pavilion's own greenhouses, these fresh fares are sure to please. Slow Roasted Pork Loin with Mashed Potatoes, Corn on the Cob, and House-Made BBQ Sauce, Oak-Grilled Rotisserie Chicken with Black Beans and Rice are just a few of the popular meals available at this Epcot quick service location near Soarin'.
Set up like a food court, there are noodles, a grill shop, sandwiches, soup and salads and even desserts to mix and match to make your meal what you want at this Epcot Quick Service cafeteria!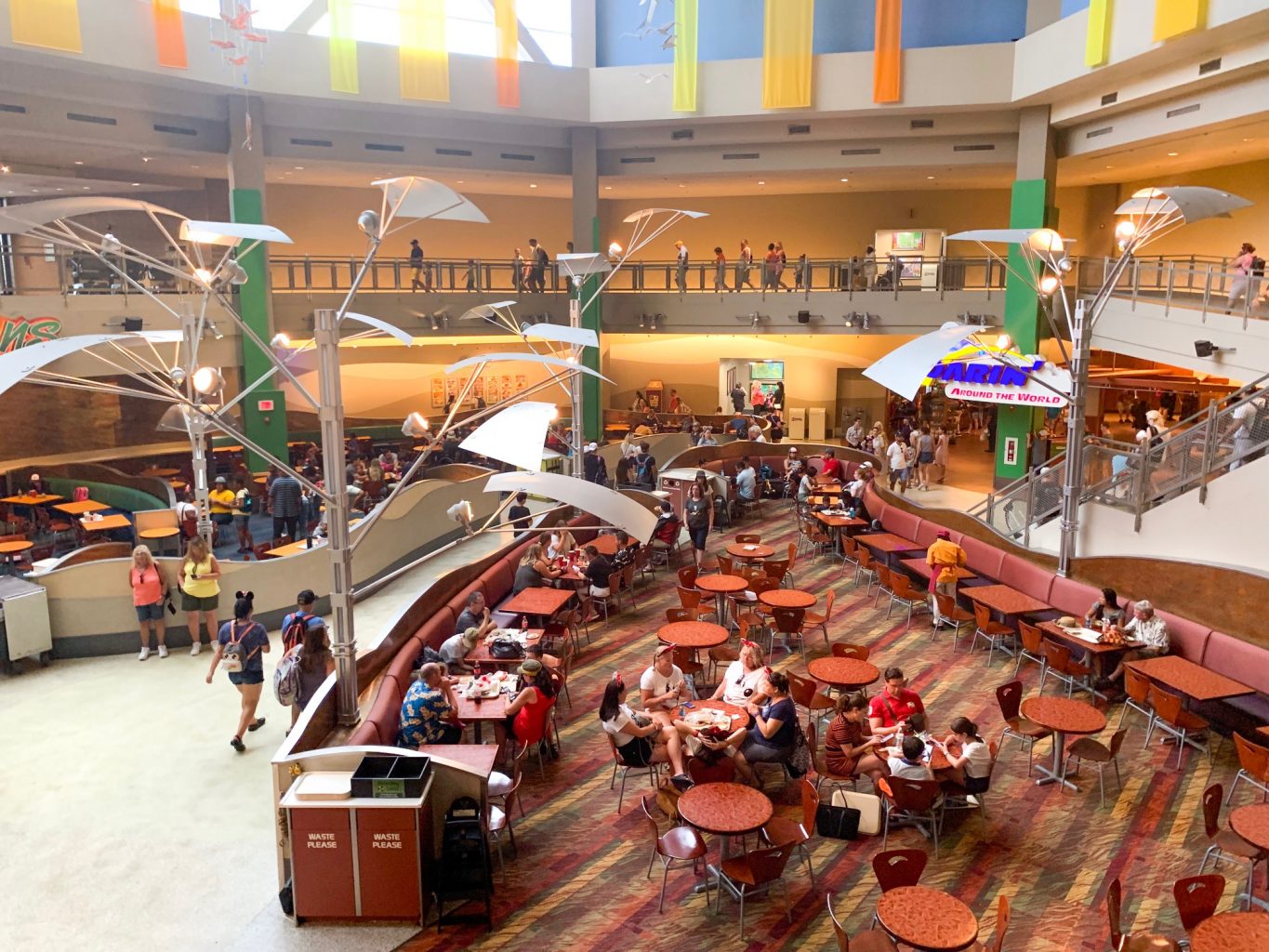 La Cantina de San Angel – Mexico
With a very pretty view overlooking the water, this is often a popular stop as guests stop around the world. Plenty of seating in the shade, with terrific views of the lagoon, make this a must-try Epcot quick service. Crowd levels tend to be high, but it's a definite must for a counter service meal!
Try the AMAZING guacamole and tacos, whether eating solo or sharing with family and friends. Before you head on to your next stop along the world showcase, make sure to try one of the paletas – the Mexican popsicles- or grab one of the tasty margaritas, both with many flavors to try!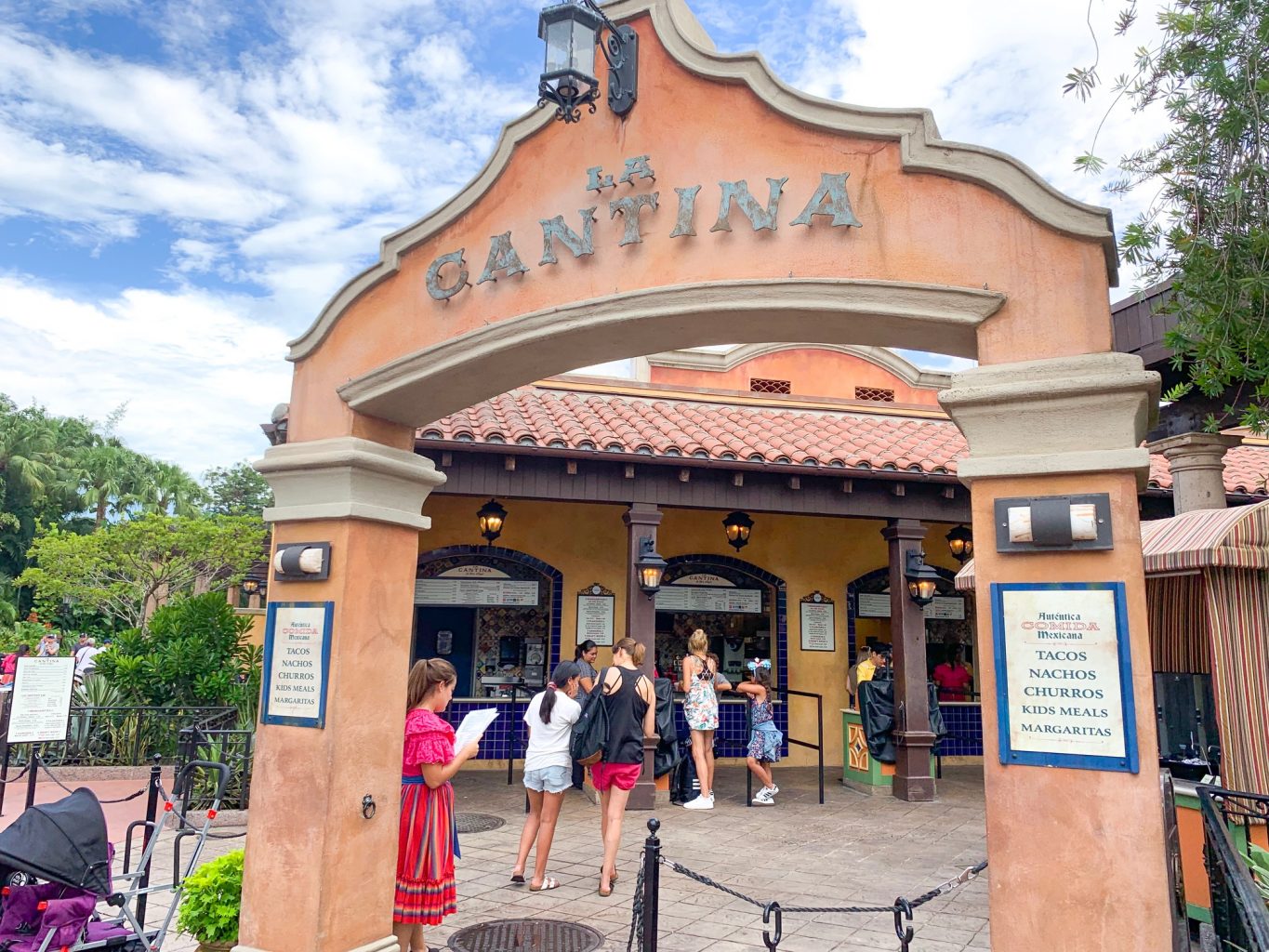 Yorkshire County Fish Shop – United Kingdom
This is a quick and easy place to grab a bite to eat in England, known for its fish and chips, watch for the green awnings that say "Fish Shop" to find these tasty British fares. While it may be the only entree offered, it's still a must-try during your time at Epcot! It's worth noting, there are no vegan fish and chips options here, you can only get those in the Pub.
This Epcot quick service only has outdoor seating and limited at that, but if you can snag a table there's a spectacular view right on the water for Illuminations!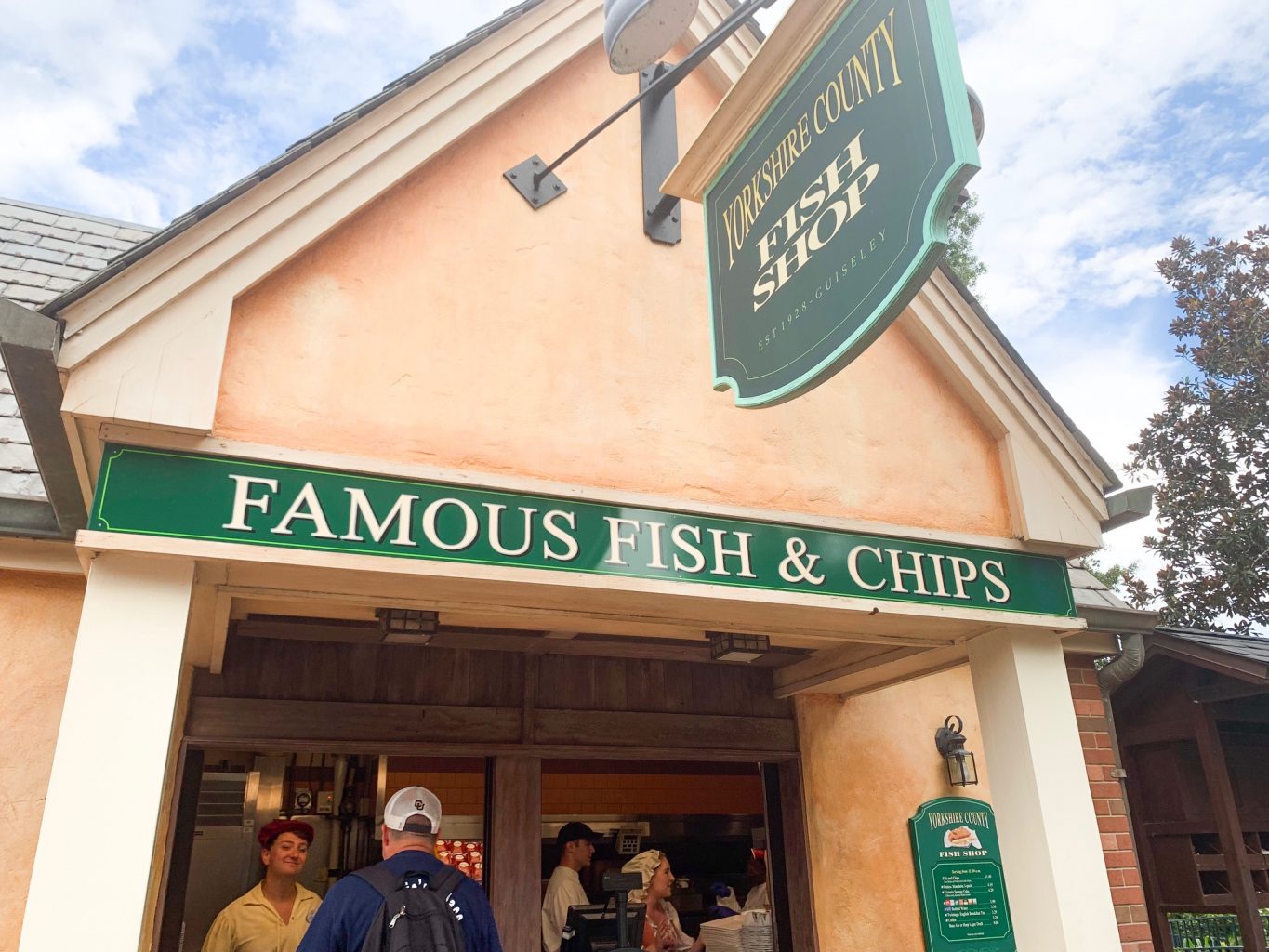 Kringla Bakeri Og Kafe – Norway
Let your nose lead the way to this Epcot quick service spot, the scent of the AMAZING desserts will make this a must-try! The school bread is an incredibly popular choice for Disney-goers, a bun with custard filling and coconut shavings on top considered to be among the best food at Epcot.
Located across from Askerhaus, this is one of the only counter service options for breakfast in Epcot with a 9 AM opening time. Grab traditional Norwegian pastries, sandwiches, and beers and enjoy the covered patio while you dine, in one of the cutest areas of Epcot!

Tutto Gusto Wine Cellar-Italy
Here we really enjoy the small plates in a more "adult" atmosphere – perfect for those drinking around the world who need to get a meal between stops! Traditional Italian dishes – fettuccine, ravioli, lasagne in appetizer styles sizes as well as some great panini sandwiches are among one of the largest Epcot quick service menus.
With over 200 wines available, this is a great place for the adults interested in trying new flavors to stop. It does have a rather intimate space for seating inside that offers a break from the heat in the air conditioning, but it fills up fast so grab a table when you can!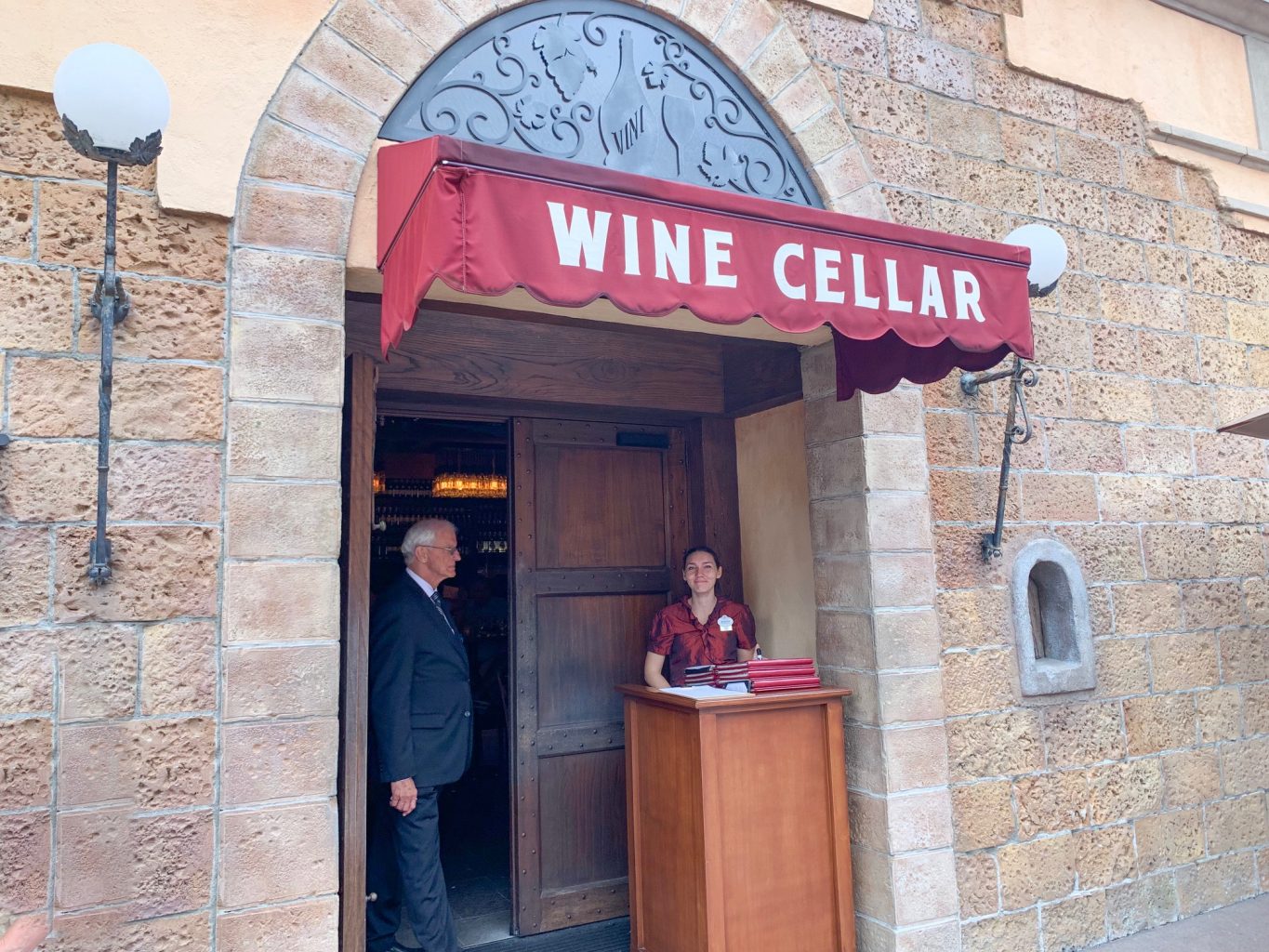 WORST Epcot Quick Service Restaurants
Electric Umbrella – Innoventions East
Located by the Innovention Fountains, this Epcot quick service restaurant is a good place to eat in the Futureworld part of the park. Here you can find the classics – hamburgers, chicken nuggets and even vegetarian options, perfect for those who might be a bit picky for the other fares of Epcot but we feel is a but unimaginative to be considered one of the best quick service epcot restaurants. Indoor and outdoor seating is available, but we recommend taking in the view of the water!
Please note, with the upcoming renovations and changes at Epcot announced at the recent D23, this location may be closed for the winter as soon as September 7th, 2019. We are excited to see what Disney comes up with in regards to the renovations!

Katsura Grill – Japan
Located a bit out of the way for some guests, this quick service Epcot restaurant is surrounded by lovely views. Make sure you grab a spot by the windows inside to really take advantage, or at one of the many umbrella-shaded tables outside.
With a more limited menu, this Epcot quick service may not be for everyone, it does not have as many options as other dining places nearby. A great choice for those looking for healthier options, we recommend eating here if you're in the mood for sushi or one of the teriyaki dishes!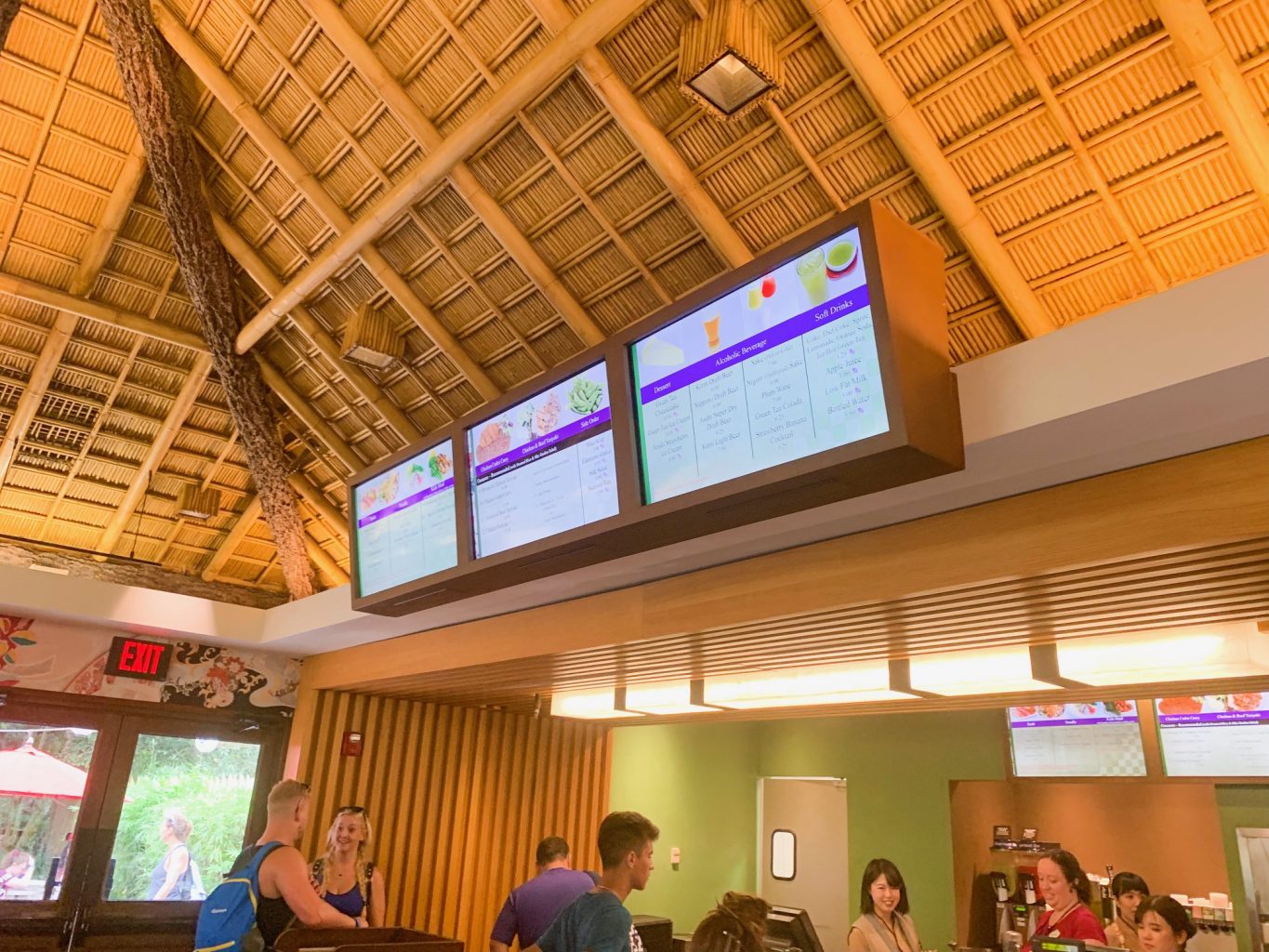 Lotus Blossom Cafe – China
The atmosphere and decor in this pavilion may make up for the wow factor of this Epcot quick service, but it's not one of our favorite counter service choices. Steady, familiar Chinese food does show up on this menu – egg rolls, orange chicken, pot stickers- but from our experiences, with so many options in the World Showcase, we would rather try out some of the more exotic, flavorful meal choices.
Although we aren't a huge fan, Lotus Blossom Cafe is home to the Plum Wine which makes our list of best drinks in Epcot!
At the end of the day, Lotus Blossom Cafe is okay if you are looking for something specific, but it isn't exactly what we would qualify as the "Best Food In Epcot" as there are many other choices! That being said, if you are drinking around the World at Epcot, we do recommend getting some Plum Wine from this spot. You won't regret it!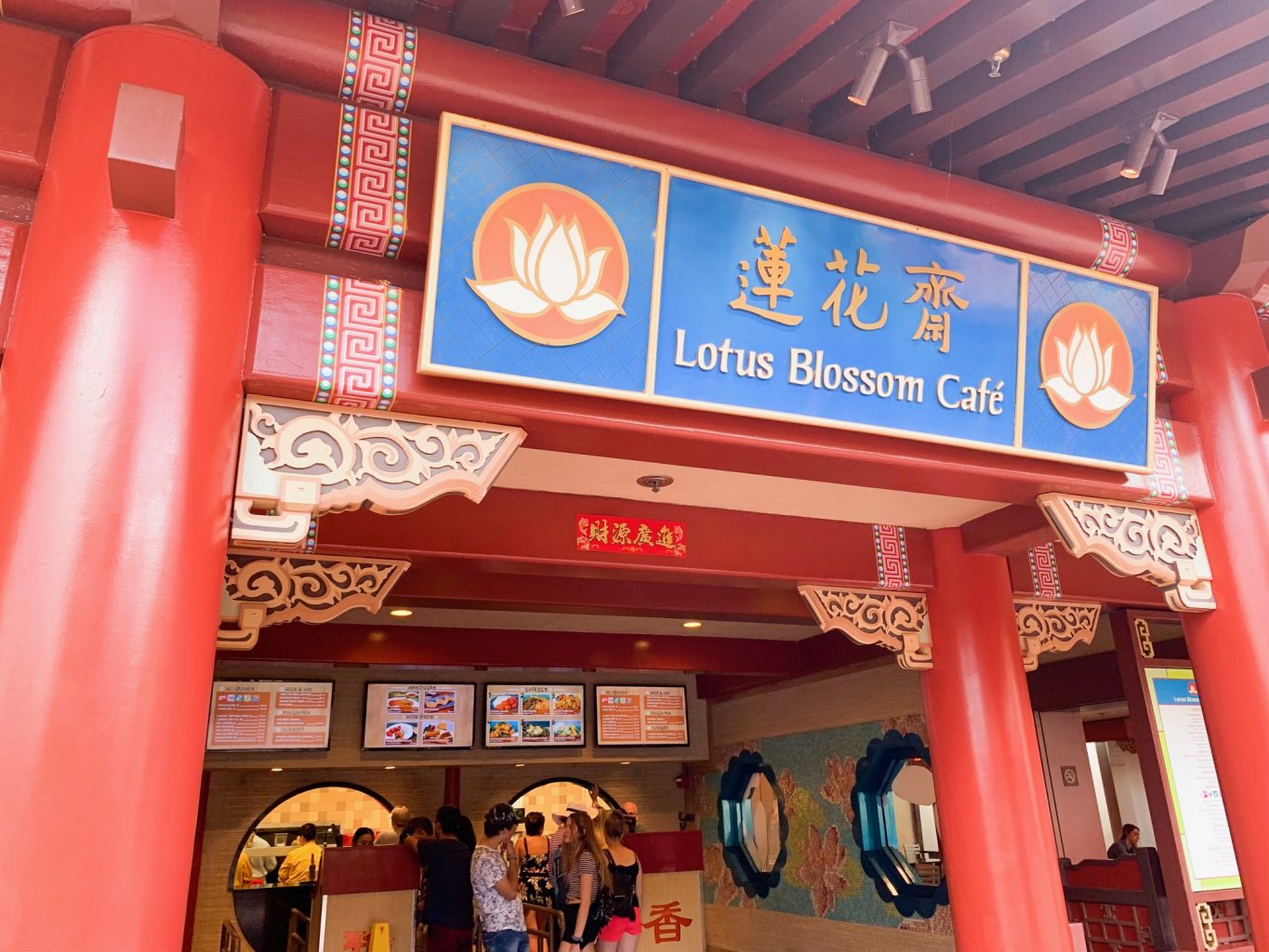 Where To Stay At Disney World
If you are reading this post, you are probably planning a trip to Disney World! Check out some of our favorite hotel recommendations in the Walt Disney World resort area. No matter your budget, there is something for you and somewhere to stay!
Walking Distance From The Parks. Walt Disney World Swan. Check Rates: Booking.com
Upscale. Four Seasons Walt Disney World. Check Rates: Booking.com
Family-Friendly. Wyndham Bonnet Creek. Check Rates: Booking.com
Our Favorite: Hilton Orlando Buena Vista Palace. Check Rates: Booking.com
Affordable: Comfort Inn Maingate. Check Rates: Booking.com
5 Things To Pack For Disney World
Check out these necessary things to pack for your trip to Disney World!! A trip to Disney can be a much smoother experience if you simply add a few items to your bag of things to pack!! Check out some of our favorites below.
#1. Good Quality Walking Shoes. Good quality walking shoes are a MUST for Disney! And I highly recommend my favorite Vionic Farra Sandal. I literally cannot tell you enough how much I LOVE this sandal! I originally bought them for a trip to India where I wore them every day for 2 weeks, but they quickly became my best shoe for Disney! I even went back an bought a second pair in the same color just in case Vionics ever stopped making them! Vionics are my favorite brand for Disney because they are supportive, affordable, and perfect for Disney in the Florida heat!
#2. A Sturdy Backpack. OutdoorMaster Sling Bagis our very favorite functional backpack for Disney! If you have never used a sling backpack, you haven't lived yet! [Just kidding but you are going to love it.] A sling backpack for Disney will change your life! It doesn't hurt your back the way traditional backpacks may and leaves one shoulder completely free.
#3. Multiple Memory Cards. If you have a camera on your Disney packing list, you need to add additional memory cards on your list of what to pack for Disney as well. Unless you are packing a computer for Disney, you will not be able to upload photos and clear your existing memory card. Purchasing additional memory cards cost under $20 and take up no space in your luggage when packing for Disney.
#4. A Reusable Water Bottle. If you don't want to pay for water every single time you go out to eat or are hot while at Disney, simply bring a reusable filtered water bottle and drink that while you dine. Water in the parks costs a lot of money so bring your own bottle and fill it around the parks! I love and recommend this Bobble Water Bottle!
#5. A Poncho Instead Of An Umbrella. Add a poncho to your Disney packing list instead of a travel umbrella! Unless you are outfitted in a waterproof jacket, pants, and shoes, you are going to need something to stay dry in the event of a squall. A poncho folds up teeny tiny in your suitcase and is easy to throw into a backpack when you're are sightseeing. It is quick to whip out and put on and keeps you more covered than an umbrella. When considering what to pack for Disney make sure you pick a poncho that is made of quality material so it doesn't rip when you put it on.