Do you ever feel like you're too spoilt for choice that you just don't know where to go to eat? Then let us help you! Sometimes all you want is a quick meal in a great Magic Kingdom counter service restaurant but there's so many options that you have no idea where to even start! We're here to help you make that choice. There are so many great places to eat inside Magic Kingdom that it can be quite a task to find the best choice for the whole family.
So, if you're looking for the best Magic Kingdom quick service restaurants, look no further. We've come up with this handy list with where it's best to eat, and where to avoid, so you can have a wonderful quick service meal that will leave you full and happy – just as it should be in the happiest place in the world! This list only covers Magic Kingdom quick service restaurants, if you are looking for the best Disney snacks or the best Disney World restaurants then we have posts for those as well!
Get a FREE printable 30/60/90 day Disney countdown by joining our private Disney Facebook Group and share your photos and ask for tips and tricks!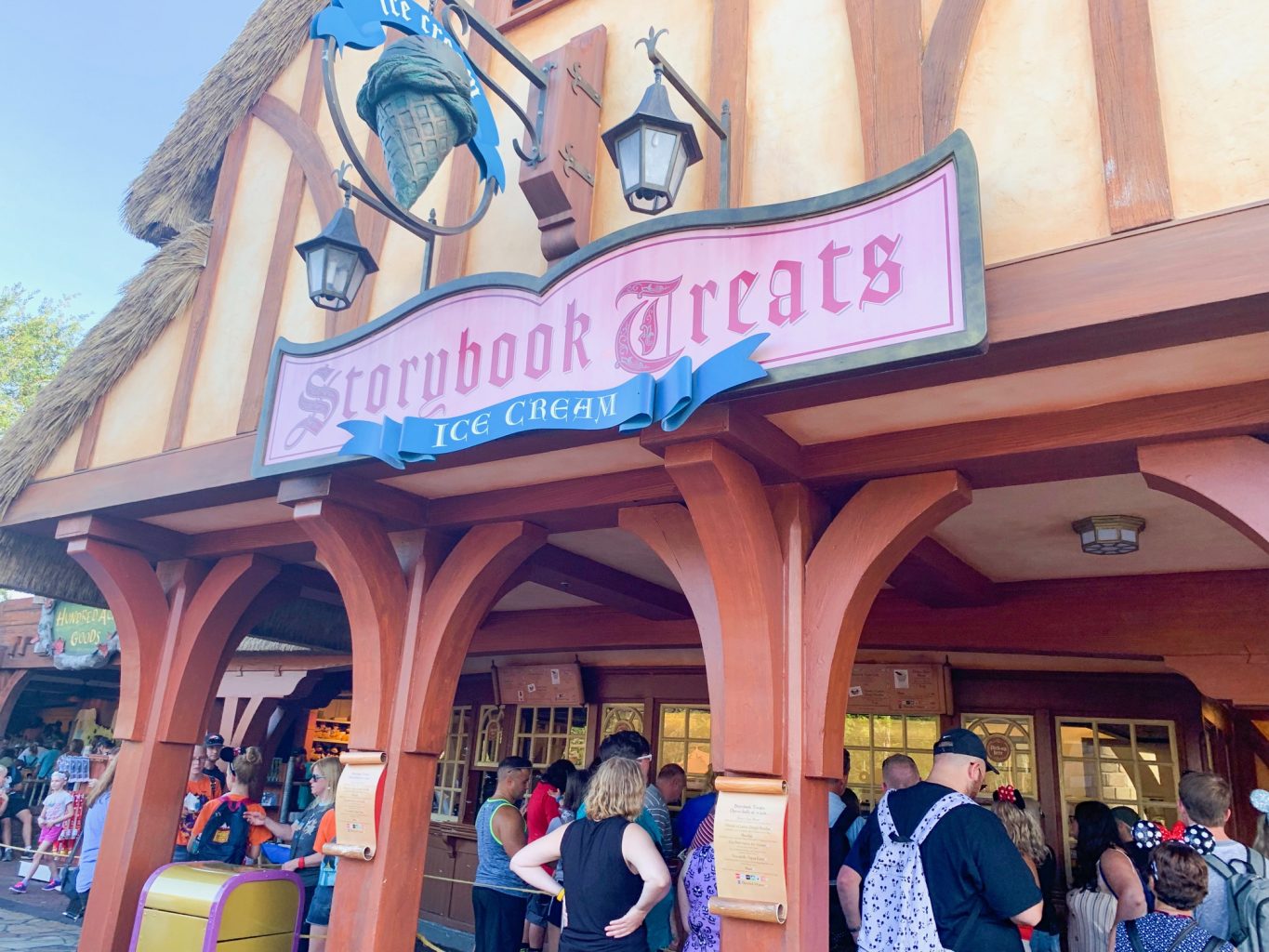 10 Best (And Worst!) Magic Kingdom Quick Service Restaurants
An Introduction to Magic Kingdom Quick Service
Quick service restaurants are mostly counter service or cafeteria style restaurants where you order the food you want, pay and then find a table, or take the food away with you. They are great for when you don't want to sit down for a full restaurant meal, if you're either looking for a smaller meal or one you can eat quick so you don't miss out any other fun activities.
Magic Kingdom has a lot of quick service restaurants and there are ones to suit every taste and appetite. They are also scattered all around the park so you don't have to make a huge trip to find some tasty quick service food! To make things even speedier, a lot of quick service restaurants have mobile ordering which means you can order and pay on your phone and skip the line when you get there! This makes Magic Kingdom quick service even quicker!
Full Magic Kingdom Quick Service Restaurant List
Adventureland
Aloha Isle
Sunshine Tree Terrace
Tortuga Tavern
Fantasyland
Be Our Guest
Cheshire Café
The Friar's Nook
Gaston's Tavern
Pinocchio Village Haus
Prince Eric's Village Market
Storybook Treats
Frontierland
Golden Oak Outpost
Pecos Bill Tall Tale Inn and Café
Westward Ho
Liberty Square
Columbia Harbour House
Liberty Square Market
Sleepy Hollow
Main Street U.S.A
Casey's Corner
Main Street Bakery
Plaza Ice Cream Parlor
Tomorrowland
Auntie Gravity's Galactic Goodies
Cool Ship
Cosmic Ray's Starlight Café
The Lunching Pad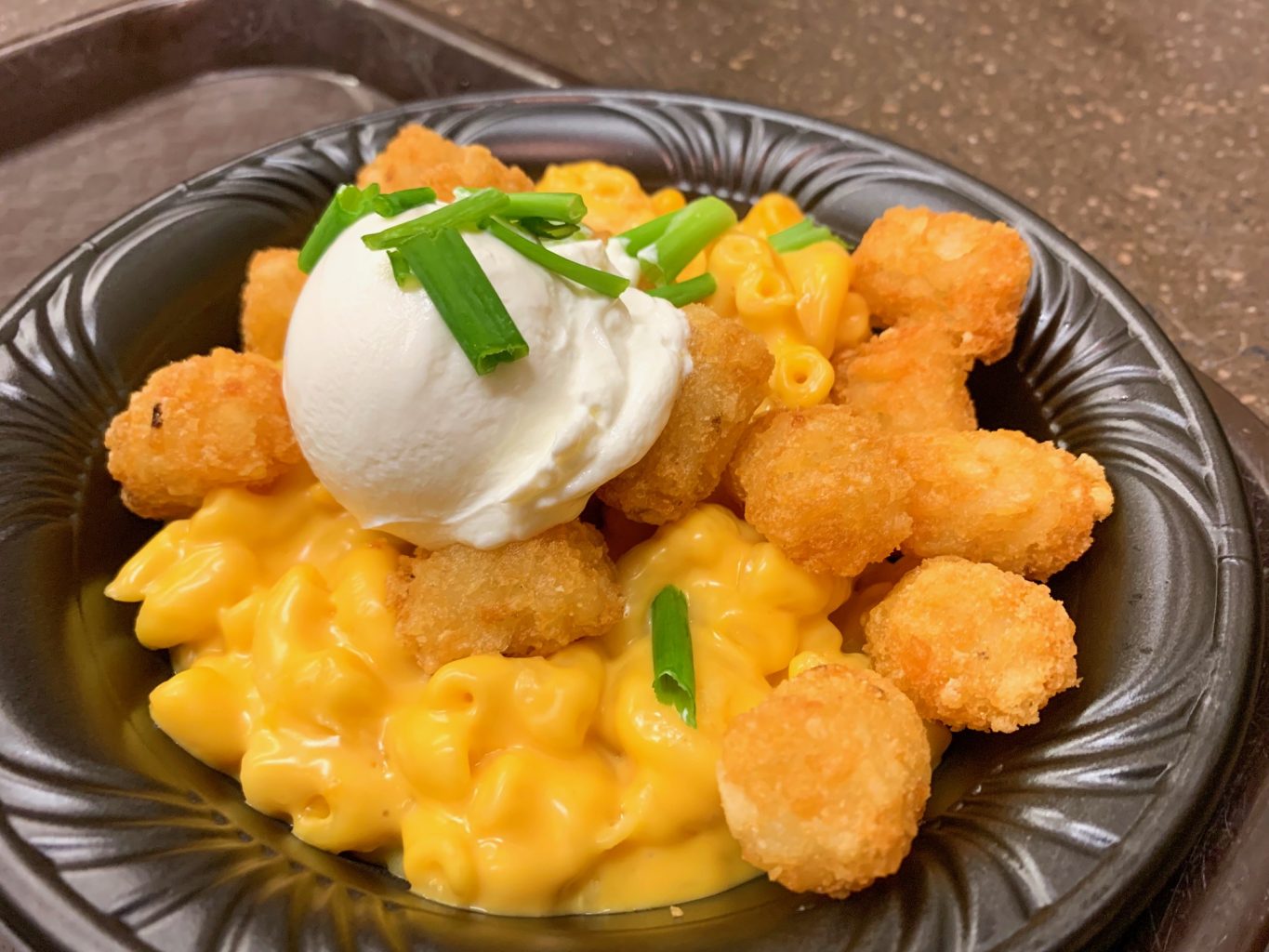 Best Magic Kingdom Quick Service Restaurants
Pecos Bill Tall Tale Inn and Cafe (Frontierland)
Pecos Bill is located in Frontierland right near Splash Mountain and is one of the absolute best Magic Kingdom quick service restaurants available. It serves up some incredible Mexican-style food in an Old West saloon, with the added bonus of the Fixin's Bar where you can add all kinds of wonderful toppings. It does accept mobile ordering so you can order your food before you even arrive, otherwise it's a good counter service restaurant.
There's a large selection of Mexican inspired foods to choose from on the menu – the Taco Trio and the Pork Carnitas Nachos are a firm favourite! Once you have your plate you can head over to the Fixin's Bar and pile on as many condiments as you like! Think all the sour cream, guacamole and cheese (among others) as you like! This means you can leave here feeling very full for a pretty cheap price and quick service time! It also gives everyone an opportunity to have exactly as much of exactly what they want so everyone leaves happy. A definite favorite.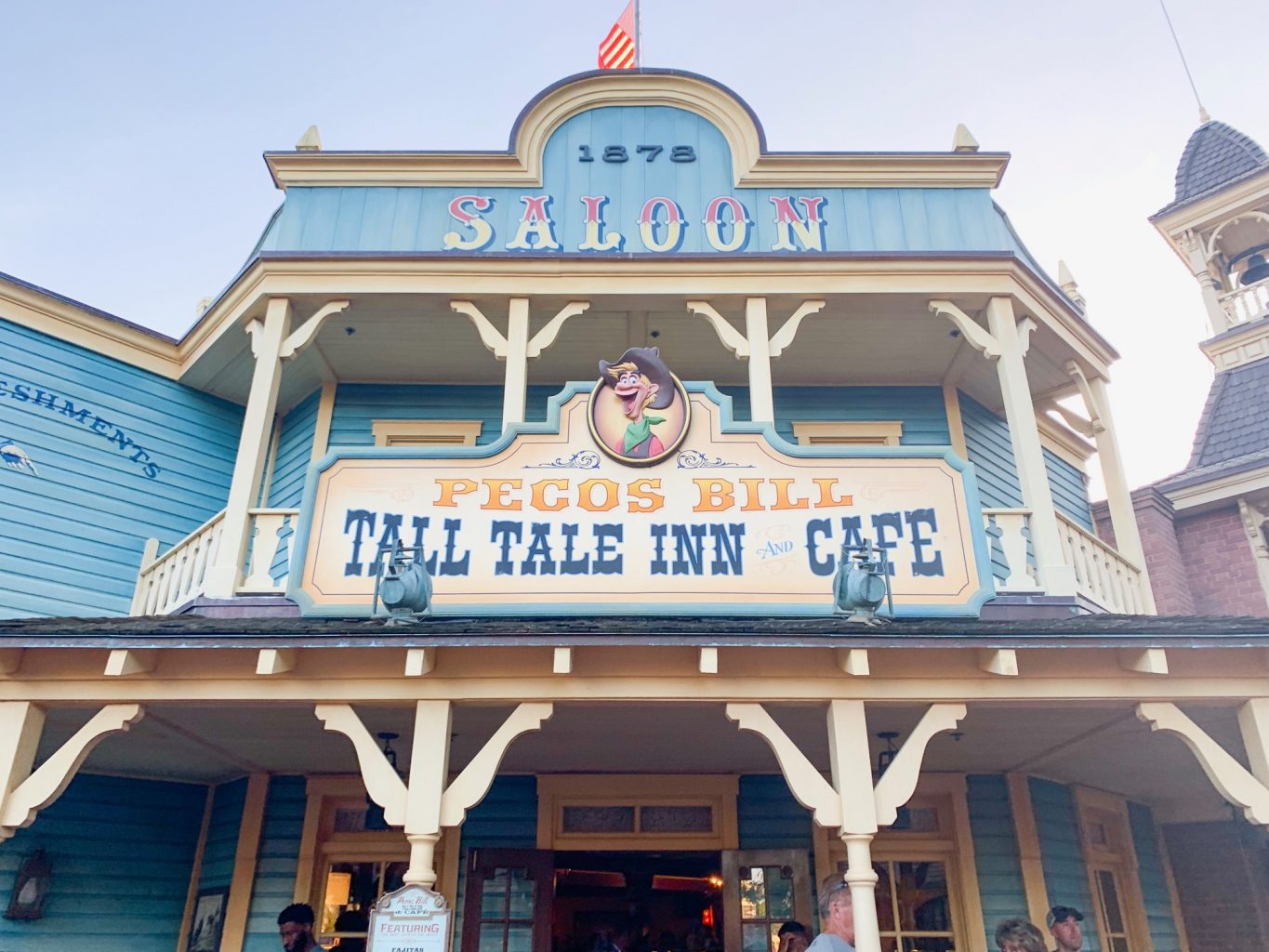 Cosmic Ray's Starlight Cafe (Tomorrowland)
Cosmic Ray's has a super cool futuristic interior – as you would expect from one of the best quick service restaurants in Tomorrowland. It's pretty centrally located at the entrance of Tomorrowland, just a short walk from the Castle. Another Magic Kingdom counter service restaurant that accepts mobile ordering, it serves up classic American theme park food – including a great vegan Sloppy Joe!
It doesn't have the largest selection on its menu, but the food they do serve is amazing! The Bacon Macaroni & Cheese All-Beef Foot-long Hot Dog is just incredible! There is also a fabulous toppings bar here where you can load up your food with tasty extras such as sautéed mushrooms and onions and other fresh toppings. Cosmic Ray's is a great place to sit and enjoy your meal as you get to experience the wonderful music of Cosmic Ray's resident performer Sonny Eclipse. He serenades you with completely original songs as well as cracking some great (dad) jokes while you eat your great quick service food.
Casey's Corner (Main Street U.S.A)
Casey's Corner is a staple quick service restaurant no matter which park you're in. An absolute classic located on Main Street U.S.A, Casey's Corner serves up classic baseball food in this themed Magic Kingdom counter service restaurant. As it is a classic stop-off for most people visiting the park, it does get incredibly busy in there so bear that in mind if you want to visit. It does accept mobile ordering though, which can reduce your wait time so you may want to consider doing that.
Casey's Corner serves the classic baseball hot dogs and fries, as well as corn dog nuggets which are the absolute best! There are lots of different versions of the hot dogs you can get on the menu, as well as great vegan options so you can still enjoy a classic 'hot dog' even if you're plant based. They also serve classic fountain sodas as well as a speciality Frozen Mint Julep lemonade which is a real treat. A trip to Casey's Corner is definitely recommended but pretty much everyone agrees with that so you may be in for a bit of a long wait!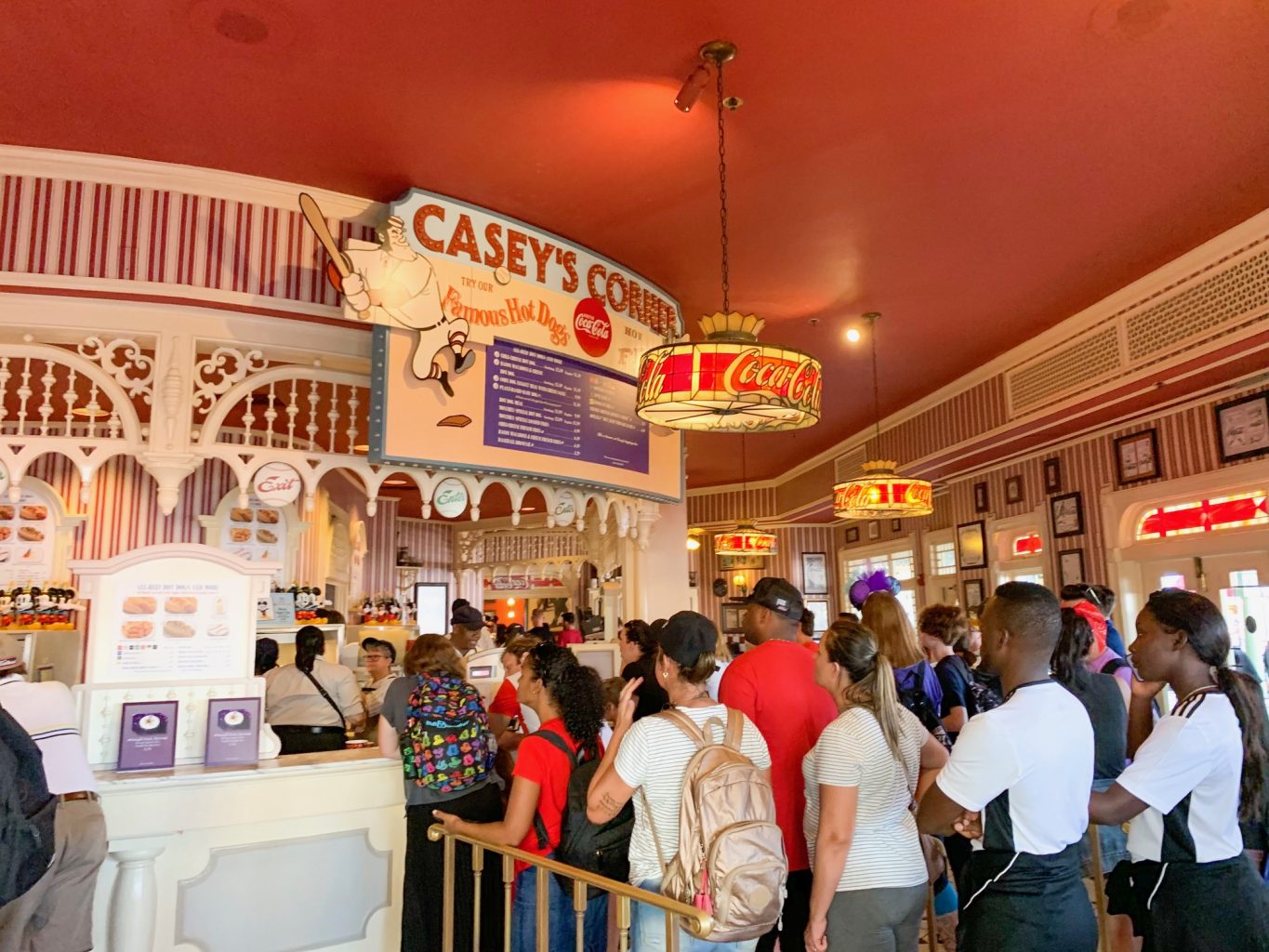 Sleepy Hollow (Liberty Square)
Sleep Hollow is located in a sweet little brick cottage right by Cinderella's castle in Liberty Square. It's a quirky little place, offering fantastic views of the castle, and is definitely worth a visit. It is by far one of the best Magic Kingdom quick service restaurants because it's so different from everywhere else in the park.
Sleepy Hollow has a great menu of sweet and savoury waffle sandwiches, unique to Sleepy Hollow. They also serve funnel cake and corn dogs but the Breakfast Egg and Cheese Waffle Sandwich is highly recommended. There's also an extraordinary Vanilla Ice Cream Churro Sandwich if you're after something for your sweet tooth. The portion sizes are also very generous so you get a lot for your money, which is always a good thing!
Gaston's Tavern (Fantasyland)
An absolutely adorable stop, where you will likely be able to spot its namesake lurking nearby, Gaston's Tavern is a great quick service restaurant in Magic Kingdom. Located in Fantasyland, just behind the Seven Dwarfs Mine Train, in the French corner with the Be Our Guest Restaurant. The interior is super cute and real fun, making it a great place to stop for a bit of food.
There is a bit of a limited menu, serving mostly French-inspired sandwiches and a few sweet snacks but it's worth the stop just for LeFou's Brew. This is their signature non-alcoholic drink and it's incredible, also brilliantly refreshing on a hot Floridian day. The warm cinnamon rolls here are also HUMUNGOUS and a definite must have for those with a sweet tooth.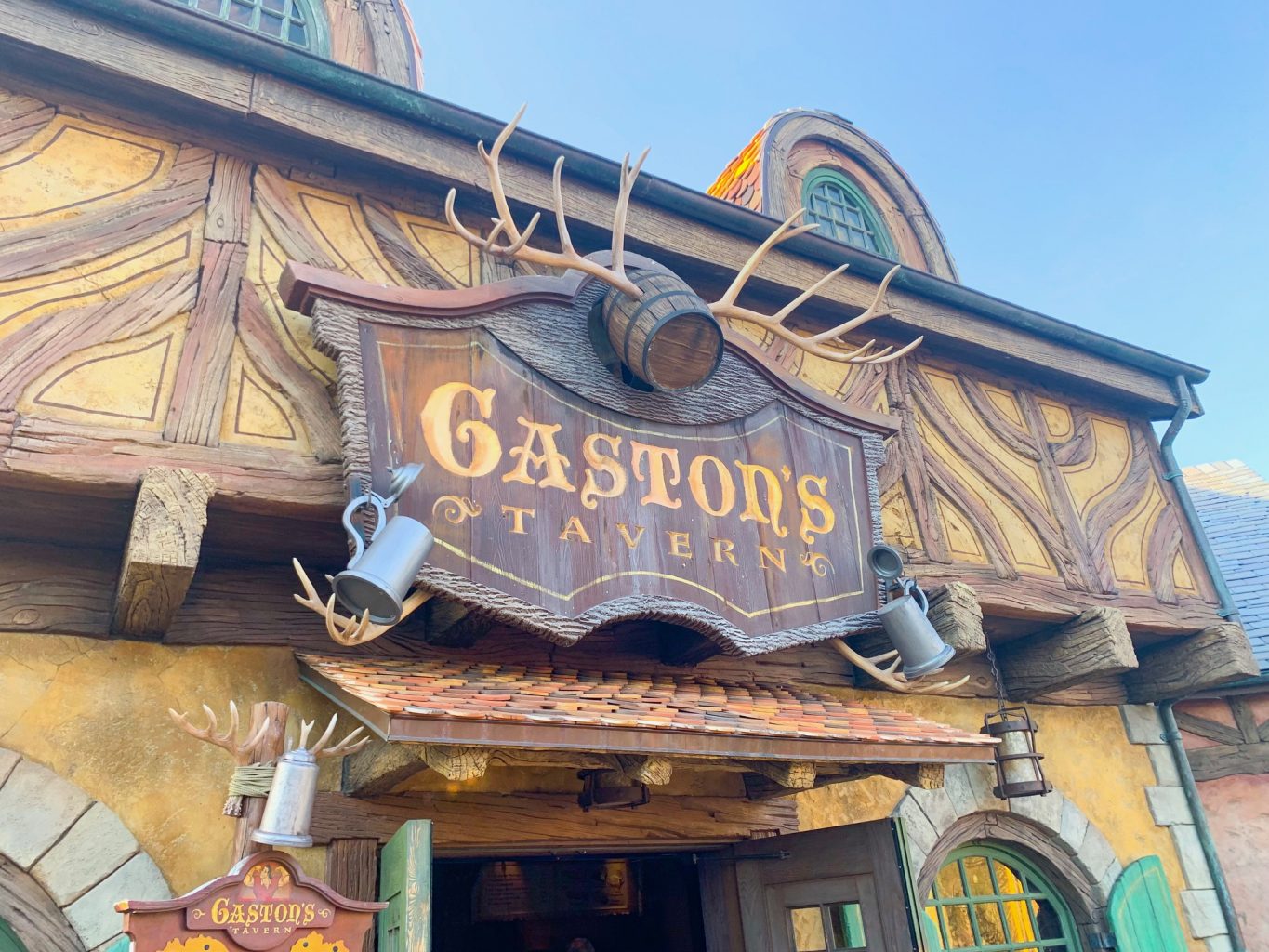 Be Our Guest (Fantasyland)
It may come as a surprise to some of you who have already been to the parks to find Be Our Guest on this list of the best quick service restaurants in Magic Kingdom. That's because it can be both quick service and a restaurant depending on what time of the day you go. For breakfast and lunch, Be Our Guest is a quick service restaurant serving exquisite French options. It then is transformed into sit down palace for dinner service.
The menu may be a little fancy but it is certainly worth it! The Braised Chicken is one of the best items on the menu and don't forget to try the "Grey Stuff" (on the Master's Cupcake) – it's delicious, don't believe us – ask the dishes! It is recommended to make a reservation for this though, even as quick service, as the queues can be very long if you decide to walk in.
Columbia Harbour House (Liberty Square)
Calling all seafood lovers! This is the place for you. Columbia Harbour House, located near Haunted Mansion in Liberty Square, has tons of amazing seafood dishes to offer you. This is a chance to have some really unique theme park food in a relaxed nautical counter service restaurant. You even have the option to skip the line by using mobile ordering at this restaurant.
Columbia Harbour House has one of the most extensive menus out of all the Magic Kingdom quick service restaurants, meaning there's plenty of choice for everyone. There are also a number of vegetarian and vegan options to choose from, making it a super inclusive place to eat. The Clam Chowder is one of the best things on the menu, as well as a classic Peach Cobbler for dessert! They also serve fantastic golden Hushpuppies which are a must try snack while you're in the park!
Worst Magic Kingdom Quick Service Restaurants
Main Street Bakery (Main Street U.S.A)
Don't be fooled by the name of this restaurant. This is a Starbucks. Plain and simple. Now, there's nothing wrong with a good Starbucks and this, as you would expect from Magic Kingdom, is a good Starbucks. However, you're in Disney World! If that doesn't give you permission to go all-out with all things Disney, then you're missing a trick!
The menu includes the usual Starbucks sandwiches and snacks as you would from any other Starbucks in any other country in the world, and this in no way is a bad thing, but whilst you're in Magic Kingdom you may as well make the most of it! Main Street Bakery has a pretty cool interior and it's huge, but there are much better options for Magic Kingdom counter service.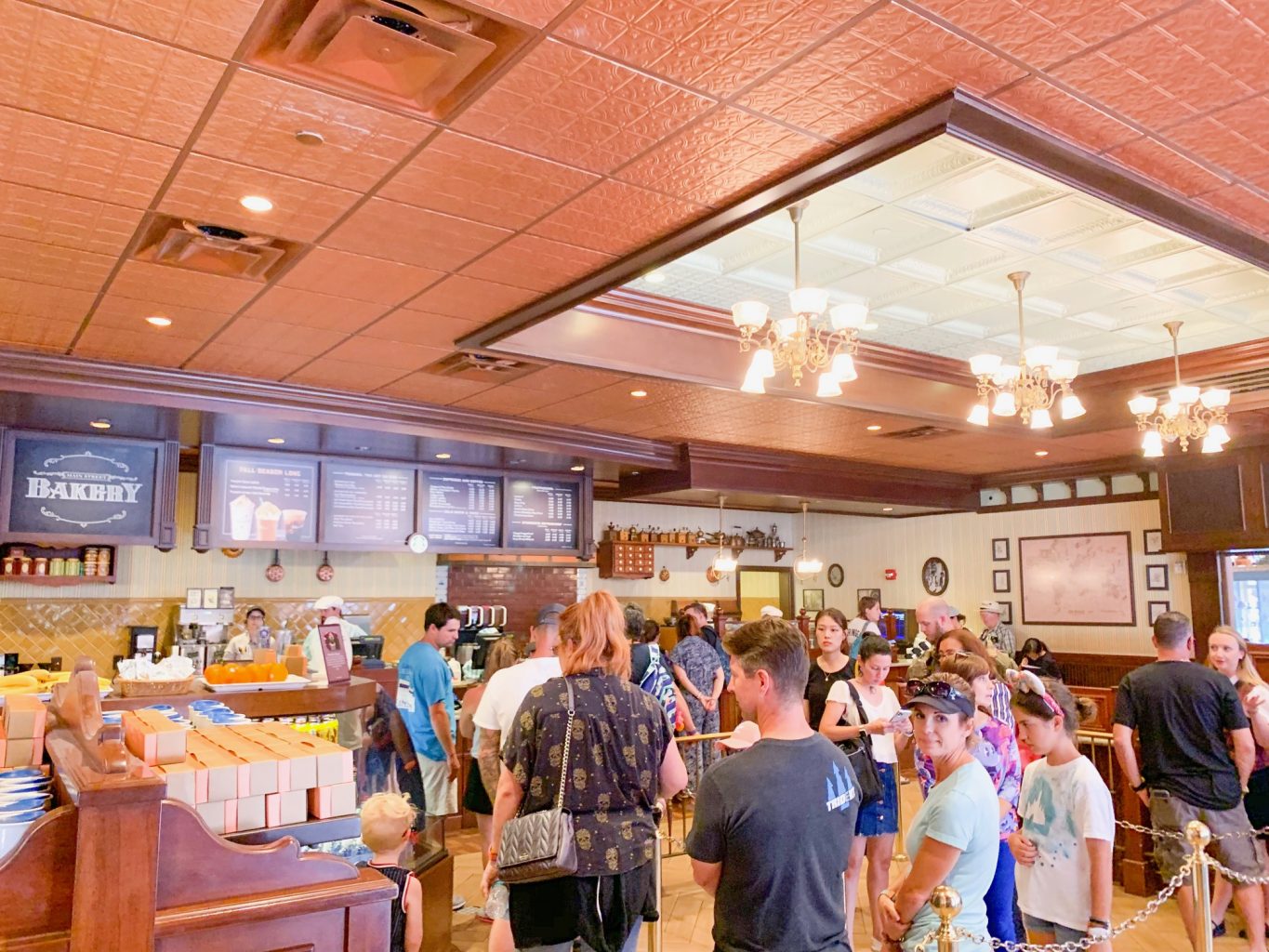 The Lunching Pad (Tomorrowland)
Right in the heart of Tomorrowland, you will find The Lunching Pad – a cross between a 1920s diner and a space café serving American snack food. It does take mobile ordering so it can be one of the quicker quick service restaurants, but we think it's worth the extra time to go somewhere else for food.
The Lunching Pad has a very limited menu and is really more of a snack bar than a quick service restaurant. It's also quite far out of the way so it's a bit of a trek for less options than most other quick service options. That being said, it does serve a good pretzel! But still, if you're looking for a filling counter service in Magic Kingdom then you're better off with some of the options we've listed above.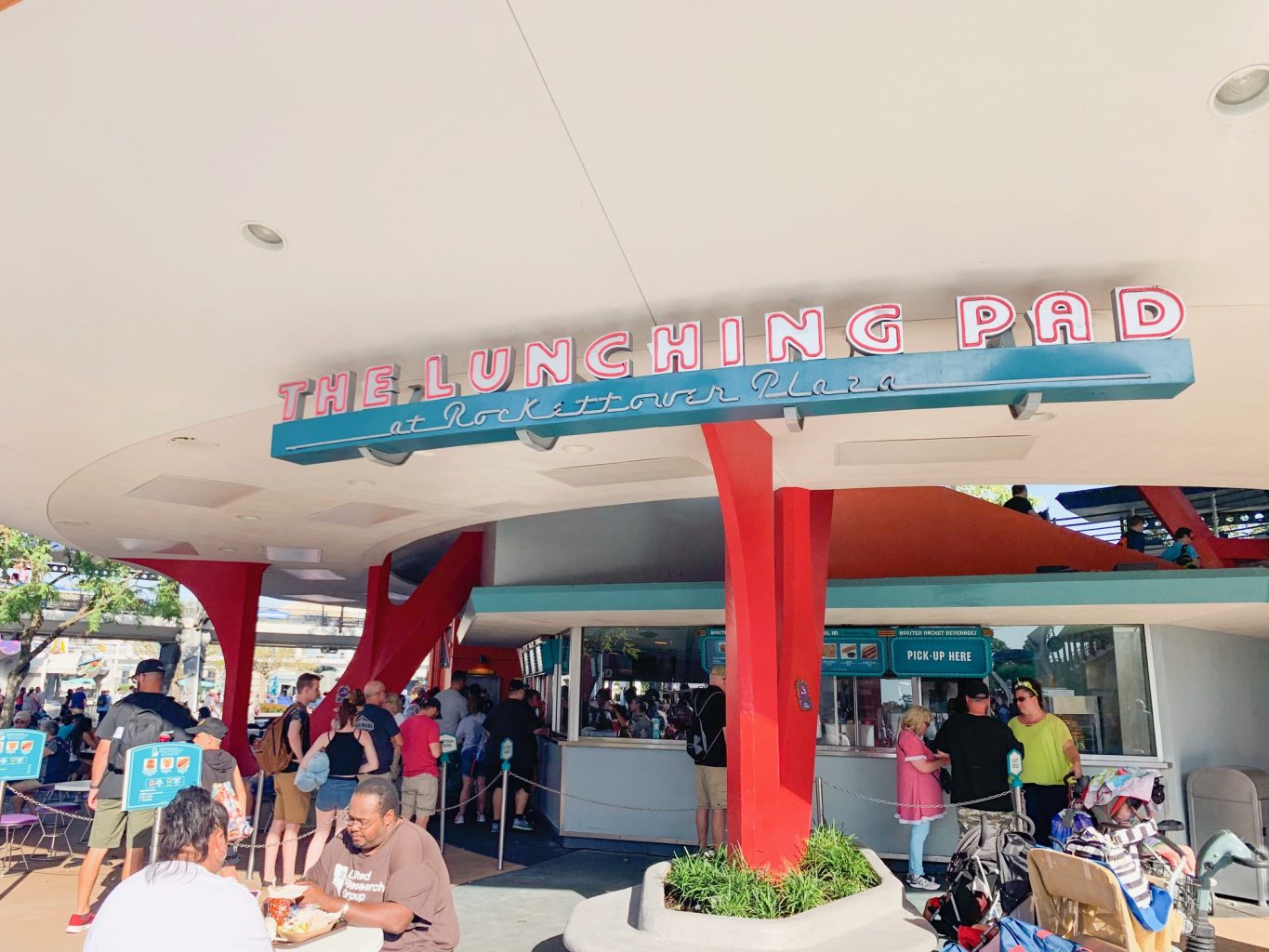 Pinocchio Village Haus (Fantasyland)
Pinocchio Village Haus can be found in Fantasyland, not far from the 'it's a small world' ride – some sections of the restaurant even offer an overlook of guests boarding the ride. It has a charming interior and plenty of space inside, however that's almost where the good points about this restaurant end.
There is quite a large selection of Italian-inspired dishes on the menu however most of these are pretty subpar when compared to other restaurants available in the park. We are yet to hear anything good from people who have eaten here, and food is often served luke-warm and pretty bland – not what you would expect from good Italian food at all. The flat bread is one of their main items but it doesn't live up to the expectations that come with a great Disney dining experience.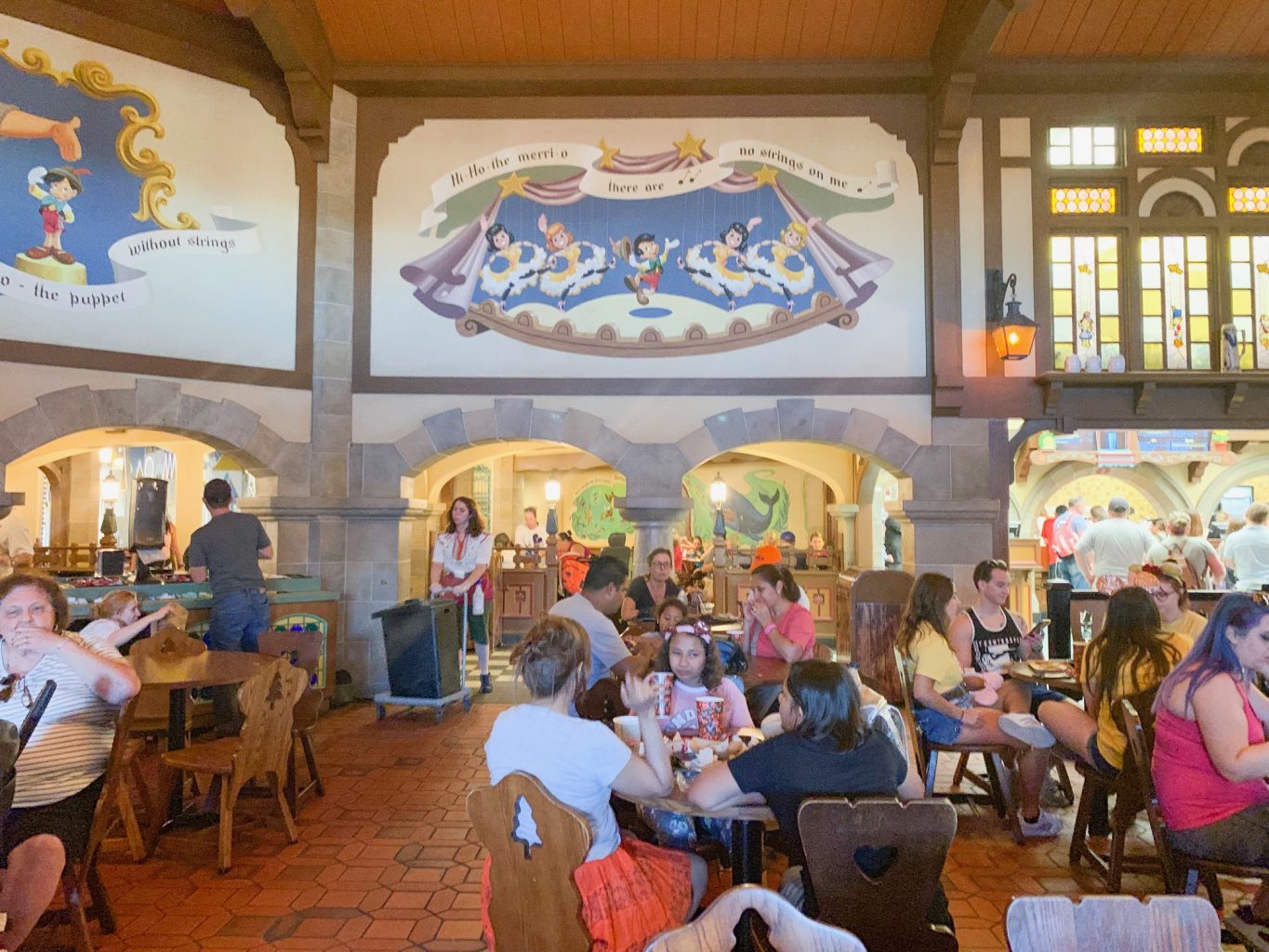 We hope this lists helps you find the most magical food you could dream of when you're visiting Magic Kingdom. Are there any other quick service restaurants you think we should have included – either worst or best?