Trying to go to Disney World on a budget can seem daunting, but it can be easy once you know what to do! There are several ways to cut costs when it comes to going to Disney, but you might not know how to cut costs in regards to food. We have made it easy for you and have found ways to eat at Disney for under $35 a day! We have found the best cheap food at Disney for you to enjoy!
Whether you like eating solely in the parks or if you like to bring some of your own food, we have saving tips for you! It really is possible to eat all day at Disney for under $35 or at a table service restaurant for $35. Read on to find out how!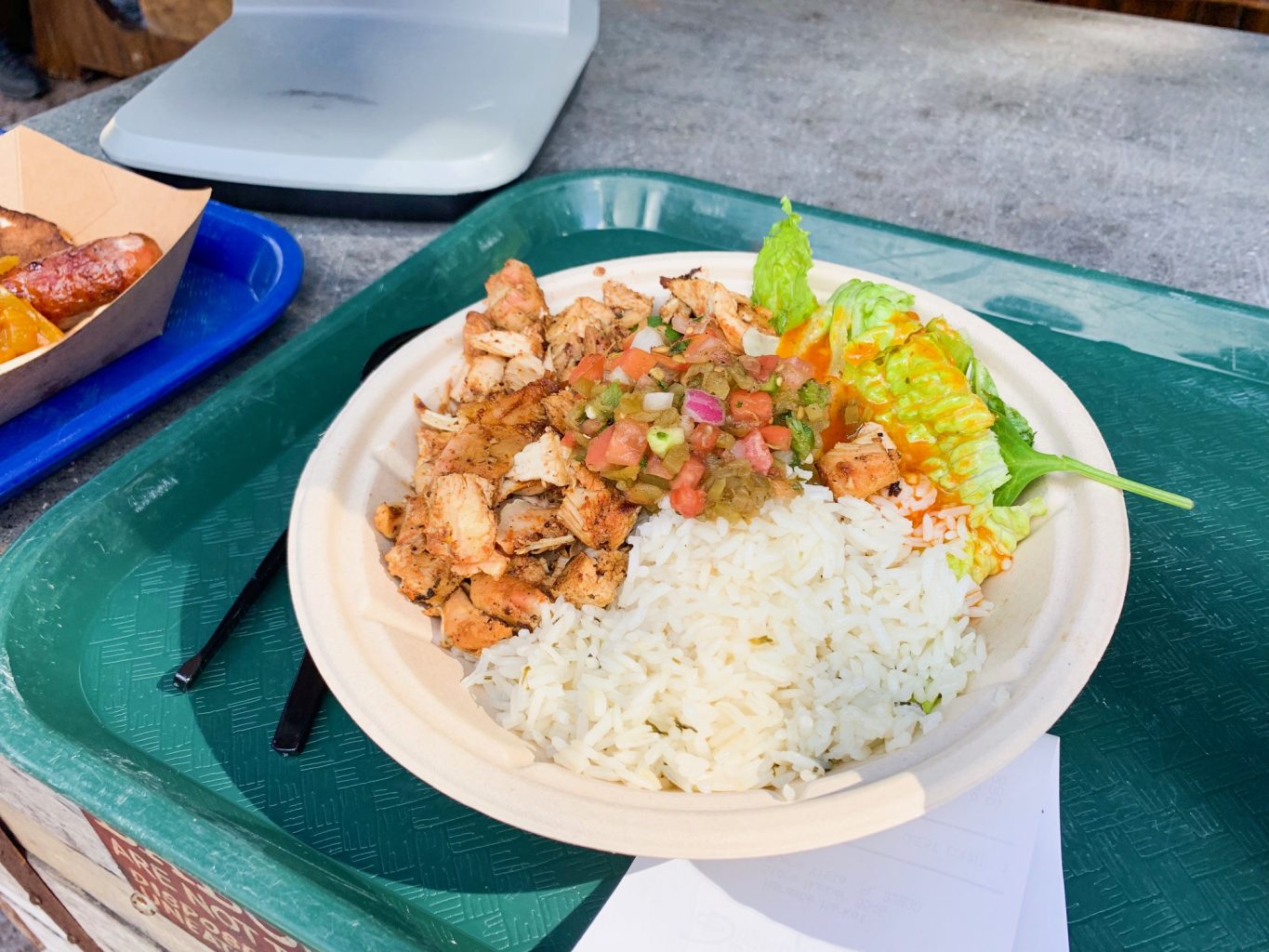 Getting The Popcorn Bucket At Disney
If you're a popcorn fan like me, getting popcorn as a snack at Disney World is essential! However, did you know there's a way that you can get more popcorn for cheaper? Disney sells all different kinds of popcorn buckets that can be refilled! Popcorn is a great snack that counts as cheap food at Disney!
The most basic popcorn bucket will cost around $12, but you can purchase specialty ones as well (they come out with some really cute ones)! Each popcorn bucket comes with popcorn on the first purchase. After that, if you want more popcorn it only costs $2 to refill! You can also refill these buckets up at any park, so make sure to bring them with you each day!
To figure out if the popcorn bucket is worth it to you and your family, just do the math! Let's say that there's a family of 4 that plans on going to the parks for 4 days. Then they get popcorn twice a day to share. If they just bought the regular popcorn size, it was cost them about $10 a day which would total to $40 over the 4 days. If they get the popcorn bucket, it would be $12 for the initial purchase and $2 for the refills. So their total over the 4 days would be $26! That's $14 in savings!
Even if you only got popcorn once a day, you'd still be saving money by buying the popcorn bucket. It can really come in handy when your hungry but don't want to purchase an expensive snack. Just fill up your bucket for 2 bucks and you'll be set!
It really can be a great deal if you plan on eating popcorn at each park. Just decide how many people in your party would want to eat popcorn and see if it's worth it for the number of days you'll be visiting.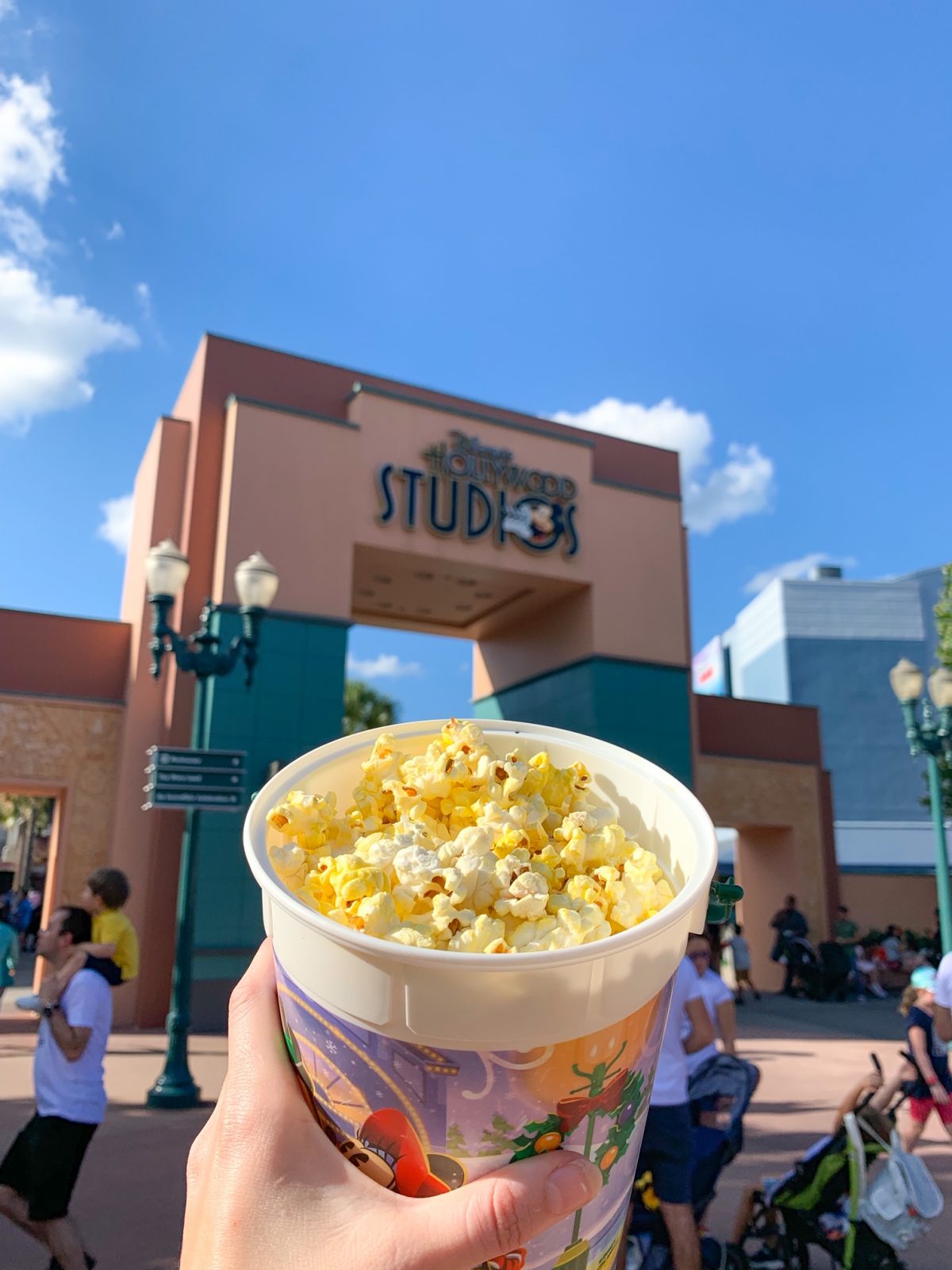 Bring Your Own Lunch And Snacks
Another way to save some big bucks is by bringing your own lunch and snacks into the parks. It is totally okay to bring food into the park. Our article on how to bring food into the park will give you all the information you need to know about bringing food in!
This is a great way to save money because instead of buying expensive meals and snacks, you get to choose how much you want to spend on food. If you drive to the parks, you can easily store your cold food in a cooler in the car. Then you can grab it when it's time for lunch! Or you can bring your food into the park and carry it around with you or rent a locker.
It's also great to always have snacks on hand. This way you won't ever be tempted to go buy an expensive snack when hunger strikes. You can just whip your snack out of your bag and enjoy!
There's different ways to get groceries so you can bring your own food into the parks. If you have a car, just visit any local grocery store and buy all of the stuff you need. If you don't have a car with you, you can always use a grocery delivery service and have the food delivered to your hotel!
I love to pack breakfast bars in my backpack when visiting the parks! This way I can eat one for breakfast and save one for if I get hungry later in the day! If you bring your own lunch and snacks into the parks, you can then splurge on dinner if you'd like! There's so many delicious restaurants to try that there's something for everyone!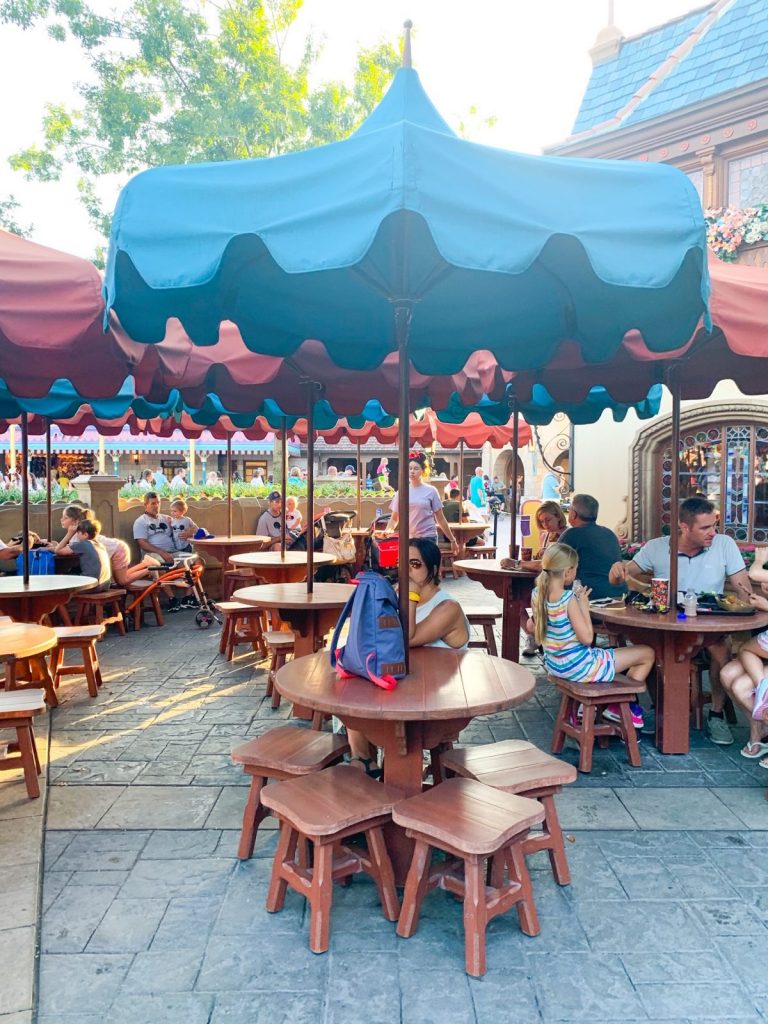 Eat At Quick Service Locations
Even though dining at a bunch of table service restaurants can be tempting, cutting back and eating at quick service locations instead can save you a lot of money. This way you are still enjoying cheap food at Disney without paying those restaurant prices. The best part is that there are a lot of quality and delicious meals that can be found at quick service locations!
Every park has some great quick service locations, it all just depends on the kind of food you are looking for! Some quick service places even serve food that is offered at adjacent restaurants like Yak and Yeti Local Foods Café. The quick service meals are significantly cheaper than table service meals, and you don't have to tip any servers.
If you're not very hungry but want a small meal for lunch, you can also order any kid's meals off quick service menus. This will save you even more money since kid's meals are much cheaper than the adult versions. Now don't go trying this at table service restaurants because they will still charge you the adult price.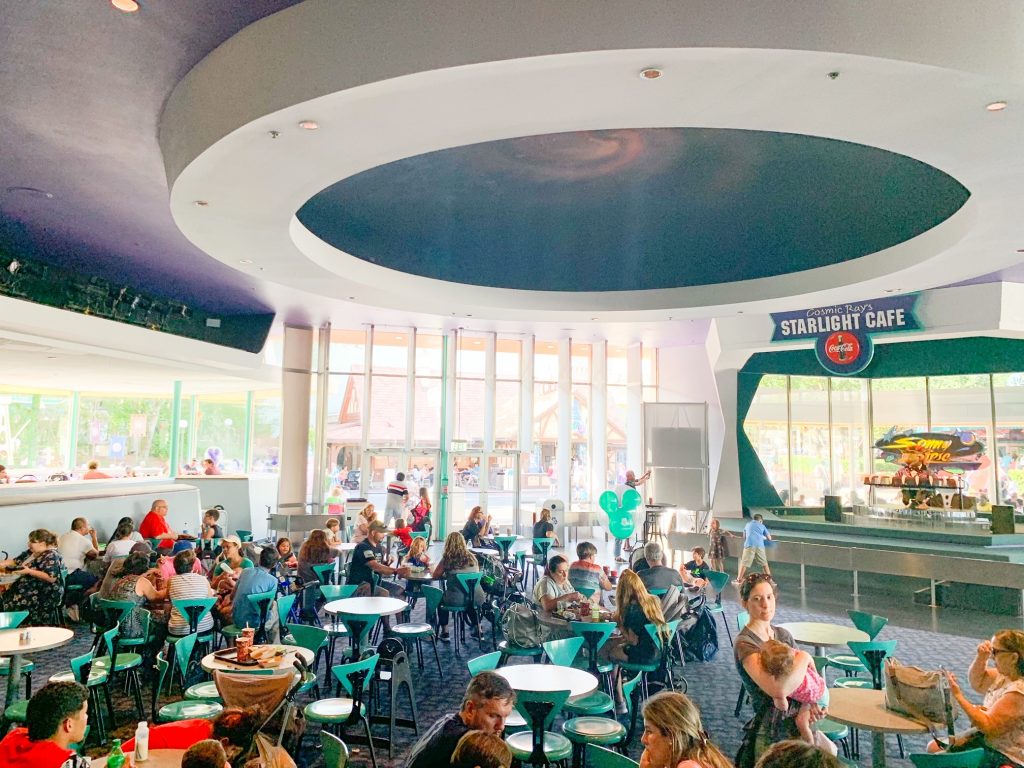 Avoid Buying Drinks
If you really want to save money at Disney, don't ever buy water there! There are free ways to stay hydrated! A water bottle at Disney World can cost $3.50 or more depending on the kind you buy. This is an insane price for water when you can get it for free.
One option you have is to bring your own refillable water bottle to the parks. If you want to make the water even fresher, buy a filtered water bottle. That way you can refill your bottle whenever you need at a water fountain or a water bottle fill station.
Another option you have is to go up to quick service locations and ask for a cup of ice water. These are completely free and completely refreshing! You can even ask for multiple if you want to fill up your water bottle with some ice cold water Just make sure to go to a quick service location with a soda fountain. Any small locations without a soda fountain won't be able to give you a cup of water because they don't have the fountain for it. But they will certainly point you in the direction to the nearest one!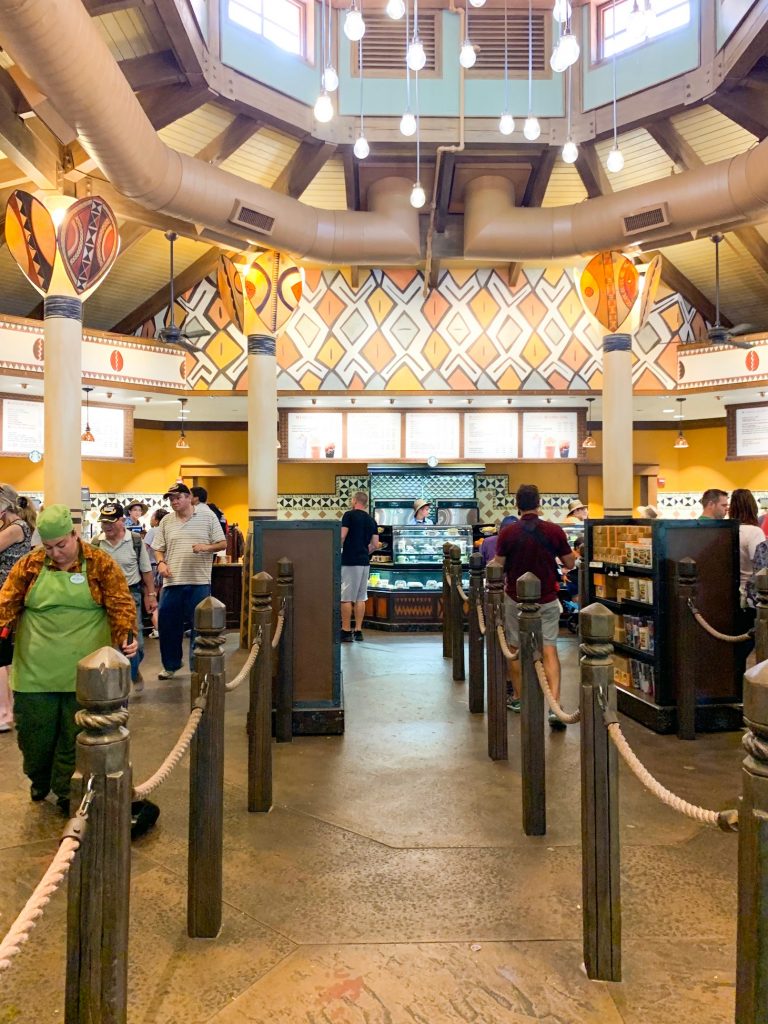 Share Meals If Possible
If you aren't normally very hungry, another way to save some money is by sharing meals with others. You could share meals with your partner or your kids, depending on how much you want to eat.
Some meals at Disney can be huge, so this can be a great option if you have no place to put leftovers. You can easily do this at quick service locations with no extra charge. However, some table service restaurants might charge a fee to split a meal. This fee will be a lot cheaper than another meal would cost though!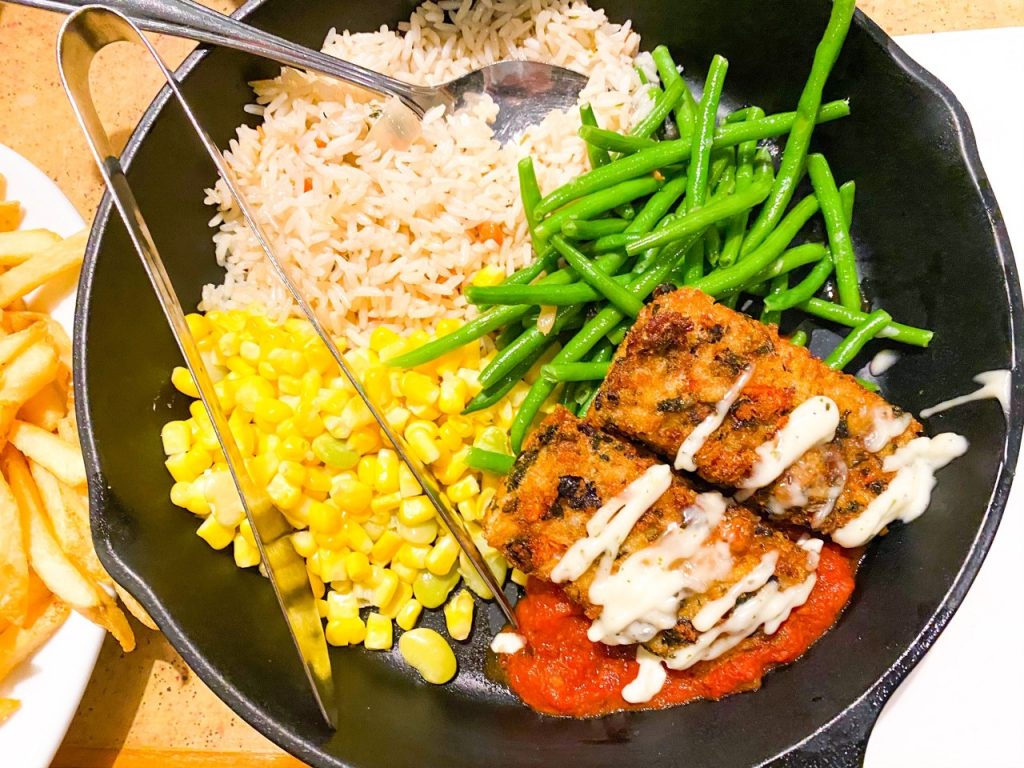 Eating At Magic Kingdom For Under $35
Magic Kingdom has a lot of tasty treats and meals all around the park! Whether you have a sweet or salty tooth, there's something for everyone. When it comes to cheap food at Disney, there are several quick service locations to choose from if you solely want to eat in the park. We have some examples from quick service locations for a full day worth of meals!
The Warm Cinnamon Roll at Gaston's Tavern is MASSIVE and can easily be shared. Pecos Bill Tall Tale Inn and Cafe is a great dinner location because they have a salad bar where you can add extra toppings to your meals!
If you'd rather eat at a table service restaurant, you could always bring meals and snacks for every meal but dinner. This way you'd be able to splurge at a restaurant for dinner! We also have a great cheap meal option at Skipper's Canteen, but feel free to pick any table service restaurant you'd like.
Eating 100% in park:
Breakfast – Warm Cinnamon Roll at Gaston's Tavern $5.99
Lunch – Sweet-and-Spicy Chicken Waffle Sandwich served with chips at Sleepy Hollow $10.49
Snack – Hot Fudge Sundae at Storybook Treats $5.49
Dinner – Chicken Rice Bowl at Pecos Bill Tall Tale Inn and Cafe $11.99
Total $33.96
Bringing A Lunch And Snack:
Breakfast – KIND Breakfast Bars
Lunch – Ham and Cheese Sandwiches
Snack – Goldfish Crackers
Dinner – Perkins Thai Noodles at Skipper's Canteen $25.00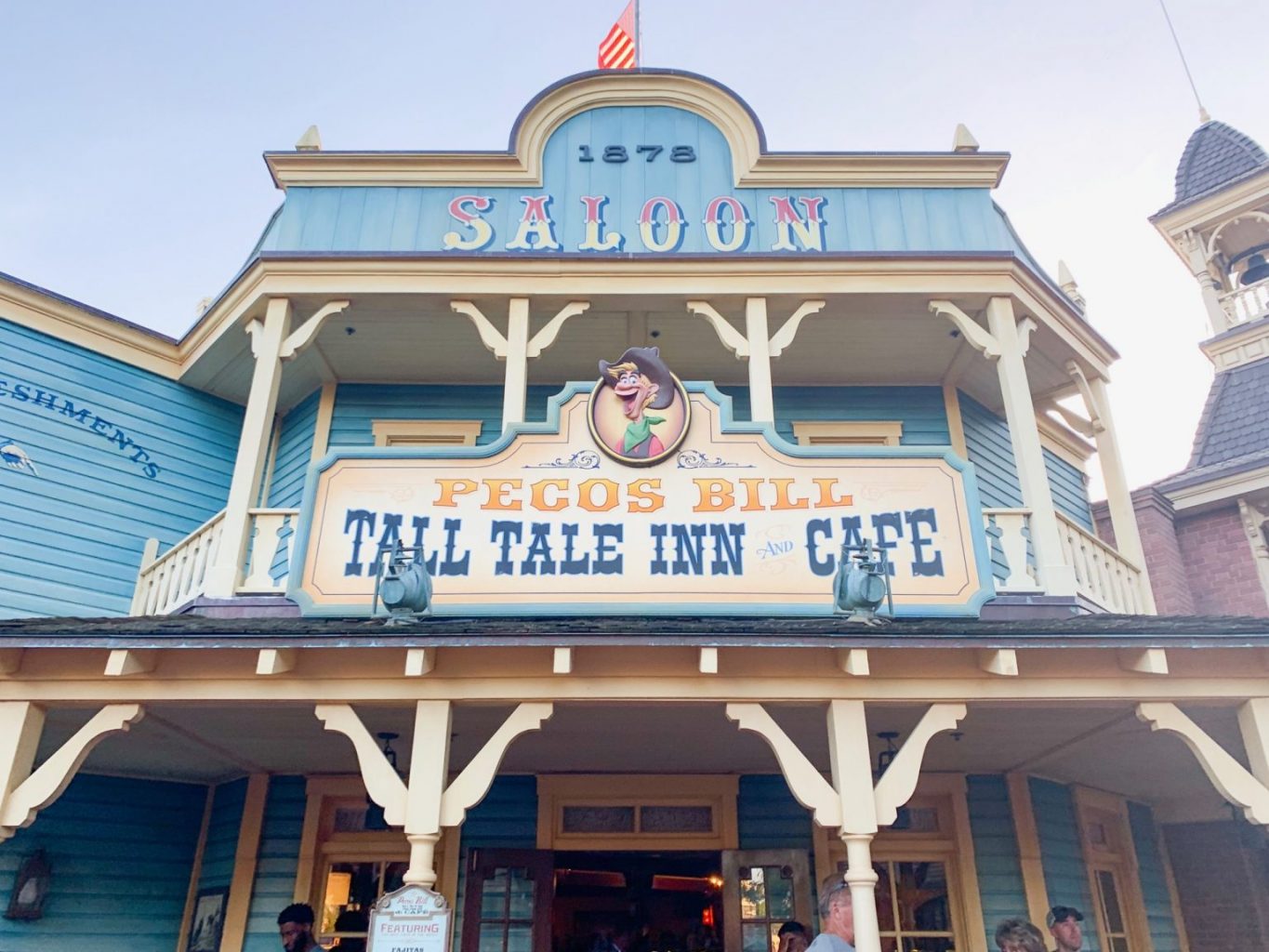 Eating AT Epcot For Under $35
Epcot definitely has the widest variety of food! You could eat breakfast in one country, lunch in another, and finish off with dinner in a completely different country! So many options! We have compiled a day of completely eating in the park at quick service locations with meals in different countries! You get some delicious eats while still spending under $35.
If you want to eat at a table service restaurant, Epcot has some really good ones! One of our favorites is the Rose & Crown in the England pavilion.
Eating 100% In-Park:
Breakfast – School Bread at Kringla Bakeri Og Kafe $4.49
Lunch – Croque Monsieur at Les Halles Boulangerie-Patisserie $9
Snack – Macaron Ice Cream Sandwich at L'Artisan des Glaces $4.69
Dinner – Oak Grilled Salmon at Sunshine Seasons $12.99
Total $31.17
Bringing a Lunch and Snack:
Breakfast – Pop Tarts
Lunch – Turkey Wraps
Snack – Pretzels
Dinner – Bangers and Mash at Rose & Crown $21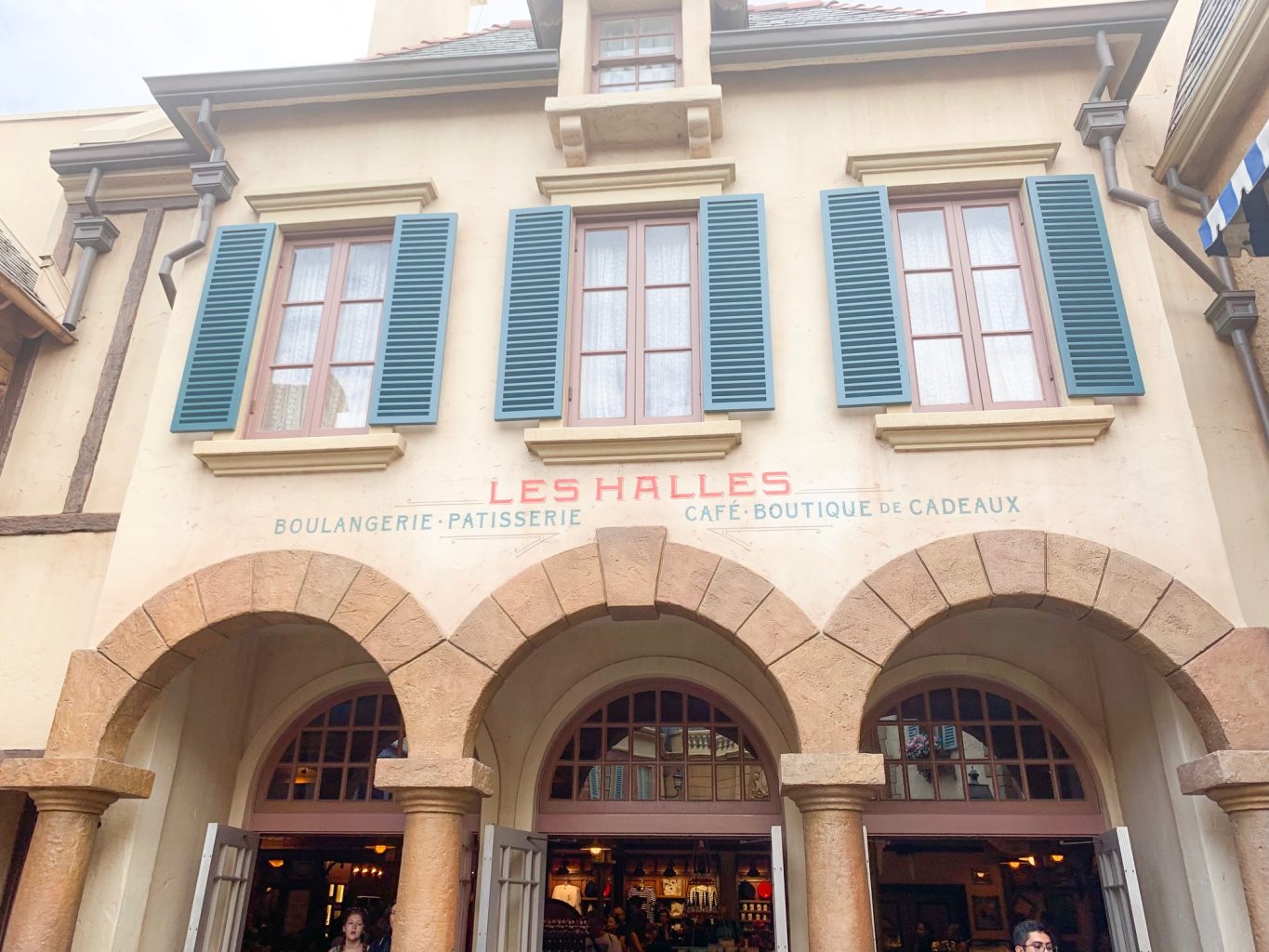 Eating At Hollywood Studios For Under $35
Hollywood Studios might not seem like it has a lot of options when it comes to food, but when you know where to look, you can find some great meals! The Trolley Car Café has some good options when it comes to breakfast and snacks. Then you have plenty of quick service locations to find cheap food at Disney.
If you want to eat at a table service restaurant, the Sci-Fi Dine-In Theater Restaurant is a unique experience! You travel back in time to a drive-in movie theater, and you get to eat in cars! The cars are all facing a large screen playing trailers and clips from old sci-fi movies. Of course there are other restaurants to try as well!
Eating 100% In-Park:
Breakfast – Rising Moons Overnight Oats at Ronto Roasters $6.99
Lunch – Buffalo Chicken Grilled Cheese Sandwich at ABC Commissary $10.99
Snack – Carrot Cake Cookie at Trolley Car Café $3.99
Dinner – Pepperoni Pizza at PizzeRizzo $10.49
Total $32.46
Bringing a Lunch and Snack:
Breakfast – Muffins
Lunch – Salad and Dressing
Snack – Almonds
Dinner – Oven-roasted Turkey Sandwich at Sci-Fi Dine-In Theater Restaurant $17.00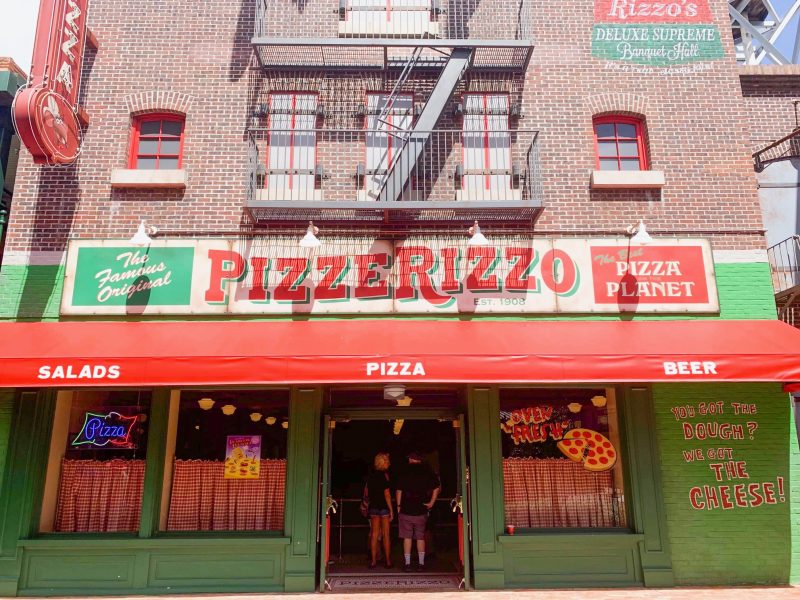 Eating At Animal Kingdom For Under $35
Animal Kingdom has some of the most unique and tasty foods! There are items for adventurous eaters and picky eaters. There are lots of quick service locations to choose from.
I absolutely love the Pongu Lumpia from Pongu Pongu as breakfast or a snack! It's a pineapple and cream cheese spring roll which sounds weird, but it's delicious! Satu'li Canteen has some really awesome meals that seem like they should be served at a table service restaurant. You're getting some quality cheap food at Disney!
There are several great table service restaurants at Animal Kingdom, but Yak & Yeti is one of our favorites and one of the most affordable. They have some fun and unique dishes to try!
Eating 100% In-Park:
Breakfast – Pongu Lumpia at Pongu Pongu $3.29
Lunch – Baked Macaroni & Cheese with Pulled Pork at Flame Tree Barbecue $11.99
Snack – Simba Sunset at Tamu Tamu Refreshments $5.49
Dinner – Slow-Roasted Sliced Grilled Beef Bowl at Satu'li Canteen $13.99
Total $34.76
Bringing a Lunch and Snack:
Breakfast – Banana
Lunch – Peanut Butter and Jelly Sandwiches
Snack – Fruit Snacks
Dinner – Honey Chicken at Yak & Yeti Restaurant $20.99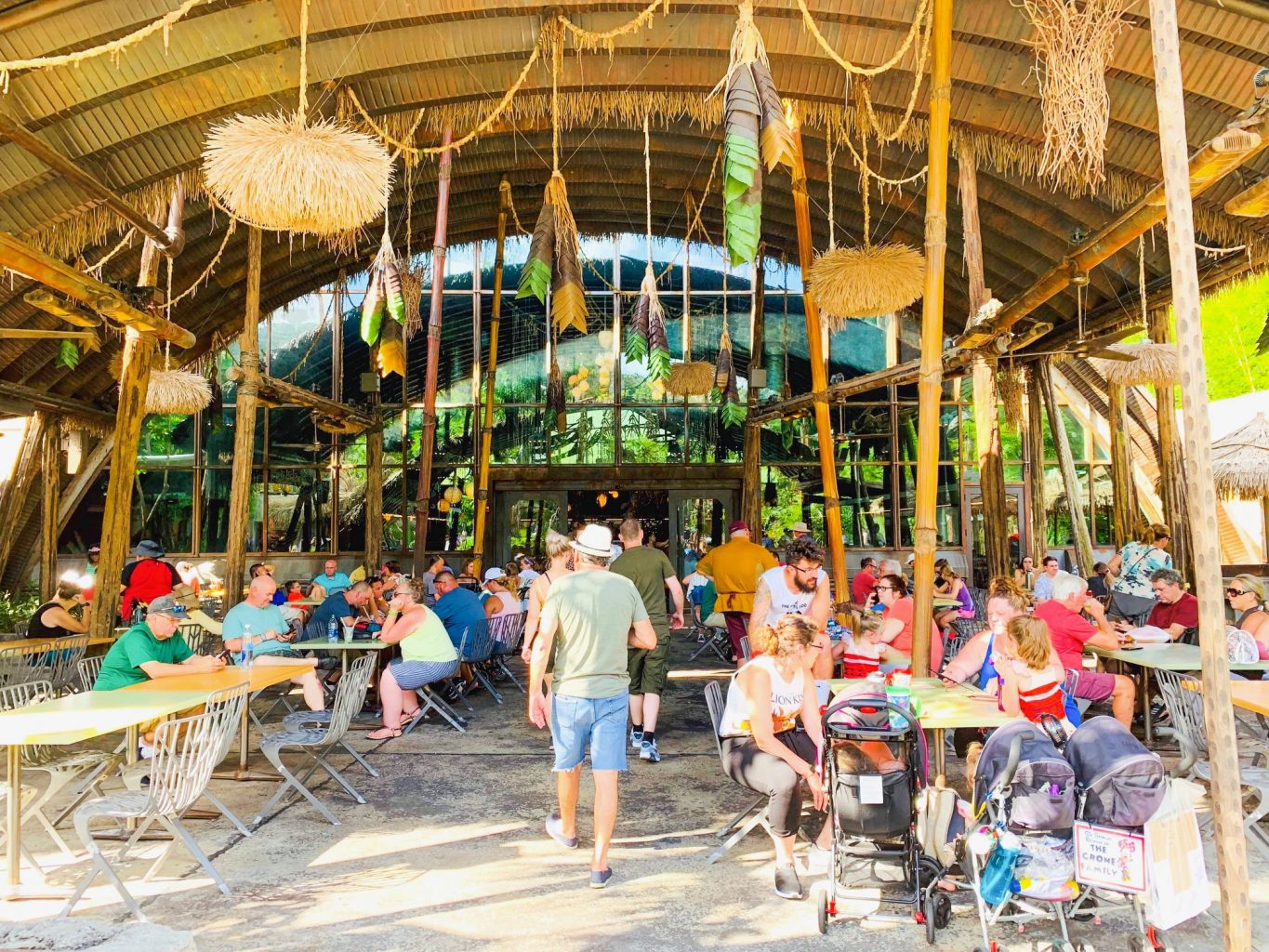 Thinking about money when going to Disney World can be stressful. Now you know there are some great ways to cut costs while still enjoying the things you love! Save that extra money by eating cheap food at Disney and us it for some fun souvenirs or splurge at a hotel. Let us know if you try any of these tasty foods and how you like them!