What could be better than having a Disney date night? Not much in our opinion! A Disney date night can be a lot of fun, and you get to incorporate your love of Disney with the love of your significant other. The ideas are endless when it comes to having Disney dates, whether it's dinner inspired by your favorite film, dressing up in a special way, or having a movie marathon.
And if you want to take your loved one on fun Disney inspired date, you can create one at home or you can have a great date the next time you're in a Disney parks! We have a list of the best Disney date nights for you to create when at home, and even a list of the best dates you can go on while in Disney World!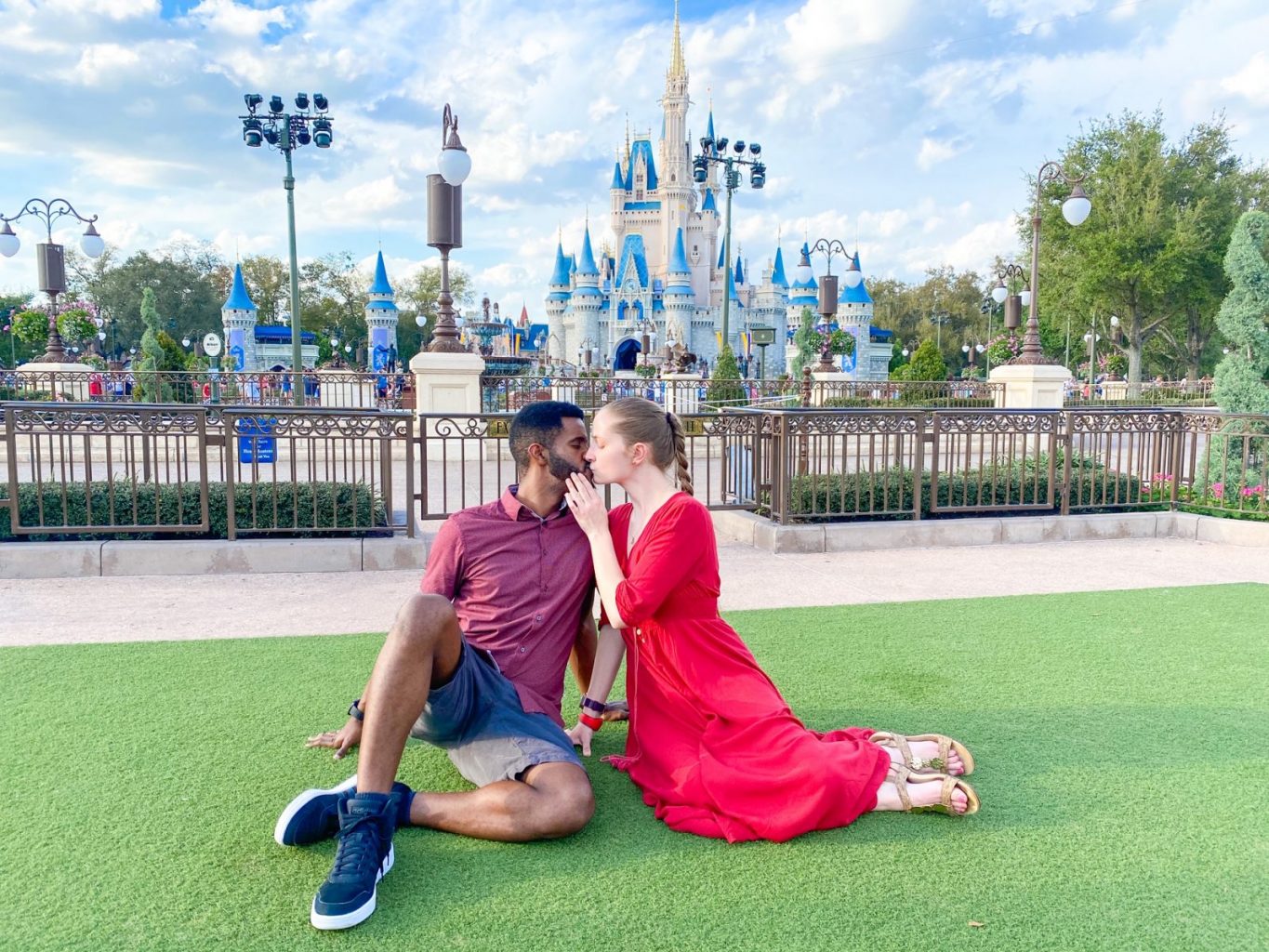 Best Disney-Inspired Date Ideas at Home
Even when you aren't able to get to a Disney park for a Disney date, you can still have a fun, Disney date night at home! Draw inspiration from your favorite Disney movies, parks, or even favorite characters. Whether you decide to make dinner, grab takeout, or recreate your most-loved park snacks, food and fun go hand-in-hand with these date nights too!
We've compiled a list of 7 fun Disney date nights to create at home, so pick your favorite and make some magic!
Lady and the Tramp Date
One of the most iconic romance scenes from a Disney movie doesn't even involve a princess – it involves dogs! Lady and the Tramp is such an adorable movie, and the spaghetti and meatballs scene is absolutely iconic.
For a great Disney date night at home, make spaghetti and meatballs with your loved one, and listen to soft classical music while you cook. Eat your pasta by candlelight, and it's up to you if you share a noodle or two! After dinner, watch some old black and white films and enjoy your date!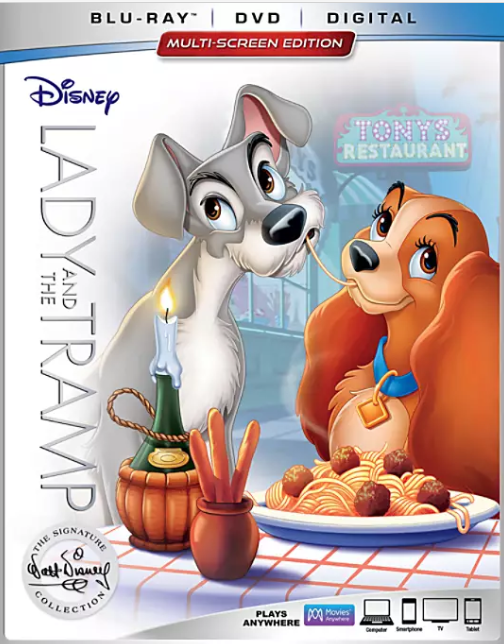 Recreate Park Snacks
For those of us that love the Disney parks, we all have favorite snacks that we can't miss on a trip. We all love churros, pretzels, Dole Whip, and all the ice cream imaginable. So why not create those favorite snacks at home? One of our favorites is Epcot's Violet Lemonade and we have a recipe right here on this site!
You and your significant other should put on your favorite Disney shirts, some Mickey ears, and recreate your favorite park snacks at home. There's tons of copycat recipes online, as well as Disney has released some at home recipes for park snacks as well on their blog.
You can even choose your snacks by your favorite park, or "visit" a different park on different dates. For a Magic Kingdom date, make Dole Whip and pretzels. For an EPCOT date, make a funnel cake or some fun flavored popcorn. Your Animal Kingdom date can have you making seasoned fries with spicy dipping sauce and buffalo chicken chip nachos. And lastly, you can make "totchos" (tater tot nachos!) or carrot cake cookies for a Hollywood Studios day.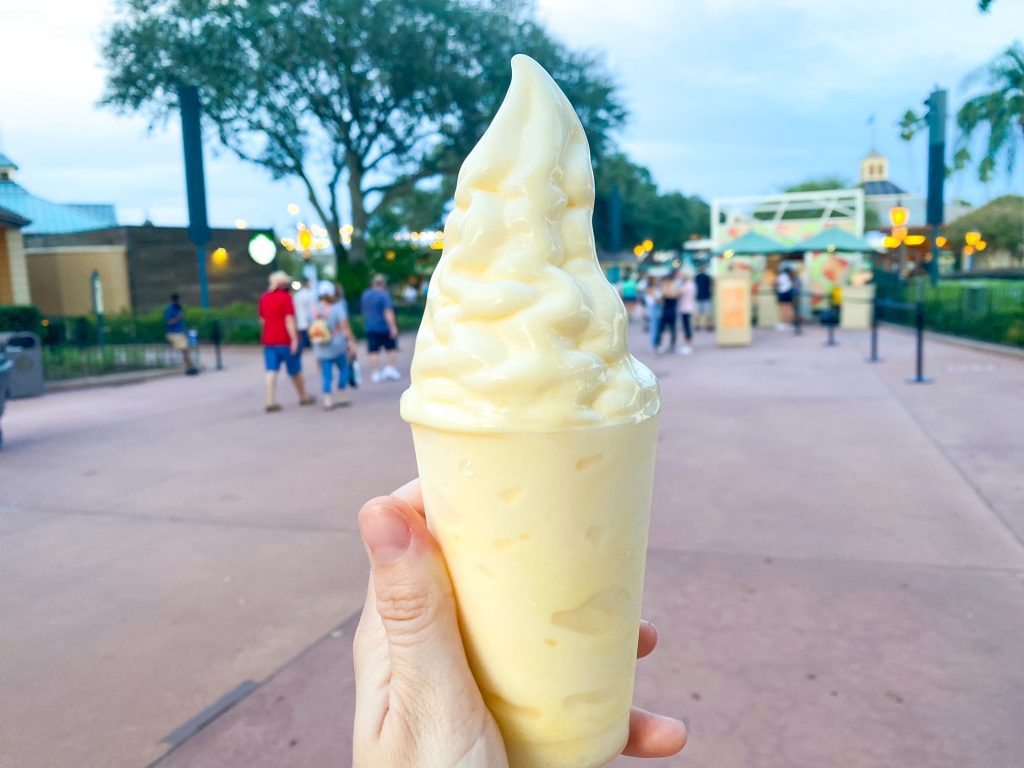 Workout like Mulan
For those who are exercise enthusiasts and love to be active, a workout date is a perfect way to have a fun Disney date at home. Mulan trains when she's trying to become a soldier, and she inadvertently trains with the guy that becomes her love interest. So, you and your significant other can do the same!
While you don't have to train hard enough to defeat the Huns, you can do some fun aerobic exercises, or have a calm yoga day. If it's a nice day outside, talk a jog around your neighborhood or a park. We think Mulan would be proud of any kind of fitness you and your date do in her honor!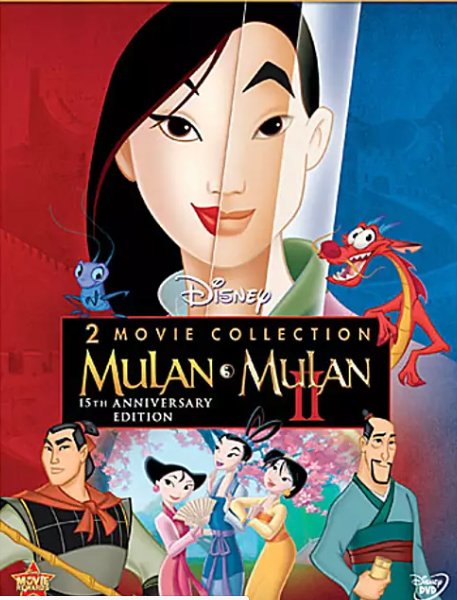 At Home Dessert Party
If you miss the parks like we do right now, and you especially miss the fireworks, this date idea is for you! Whip up a mini fireworks dessert party at home, and put out a little buffet of your favorite fruit, mini cupcakes and cheesecakes, and even some cheese and crackers. This is also a great way to recreate some of your favorite desserts you've had in the parks!
Snuggle up with your honey with your snacks, and watch some Disney fireworks on tv – Disney has released several of their fireworks shows on their YouTube, and they are so fun to watch. So, turn out the lights, enjoy your mini dessert party, and watch some of the best fireworks.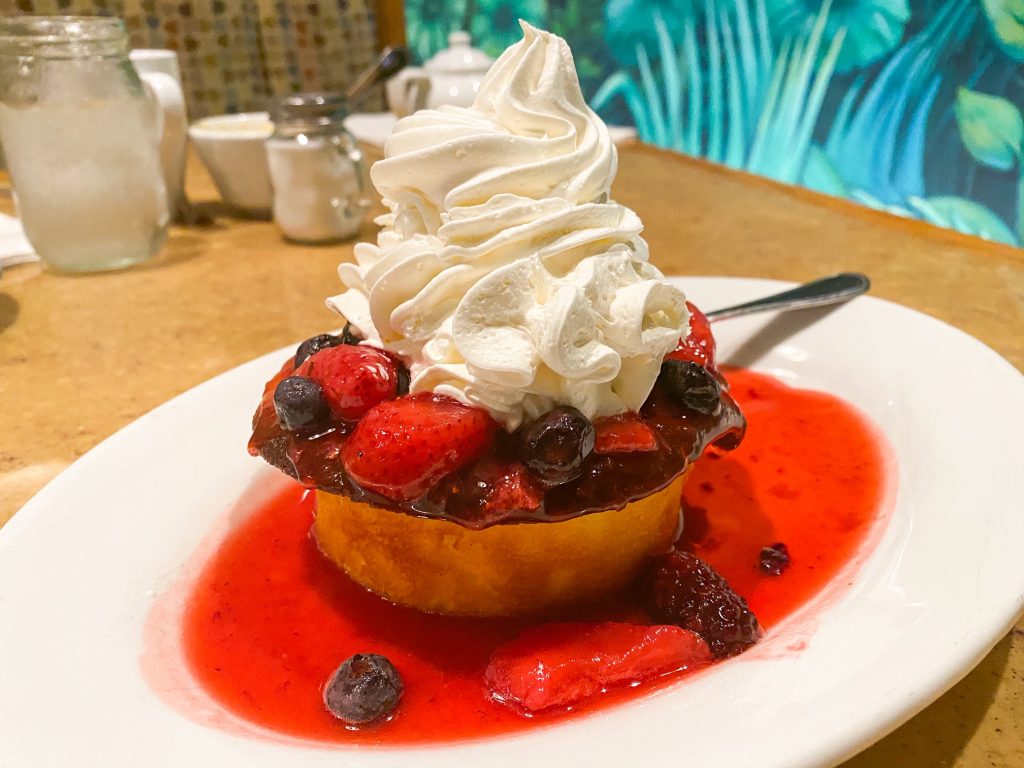 Dapper Day At Home
A fun Disney date night idea to have at home is to recreate Dapper Day. For those who don't know what it is, or who have never been to a Disney park during Dapper Day, Dapper Day is a celebration of vintage styling where people dress up in amazing outfits and visit the parks. They happen a couple of times a year, and people are so creative and adorable when it comes to making these vintage-inspired outfits.
You and your date can dress up in your nicest Sunday clothing – bonus points if they are 40's or 50's style! – and have a fun day taking photos and feeling fancy. You can have a picnic in your dapper clothes, whether you have a picnic outside or inside. It will be fun to get all dressed up and look nice for your Disney date night!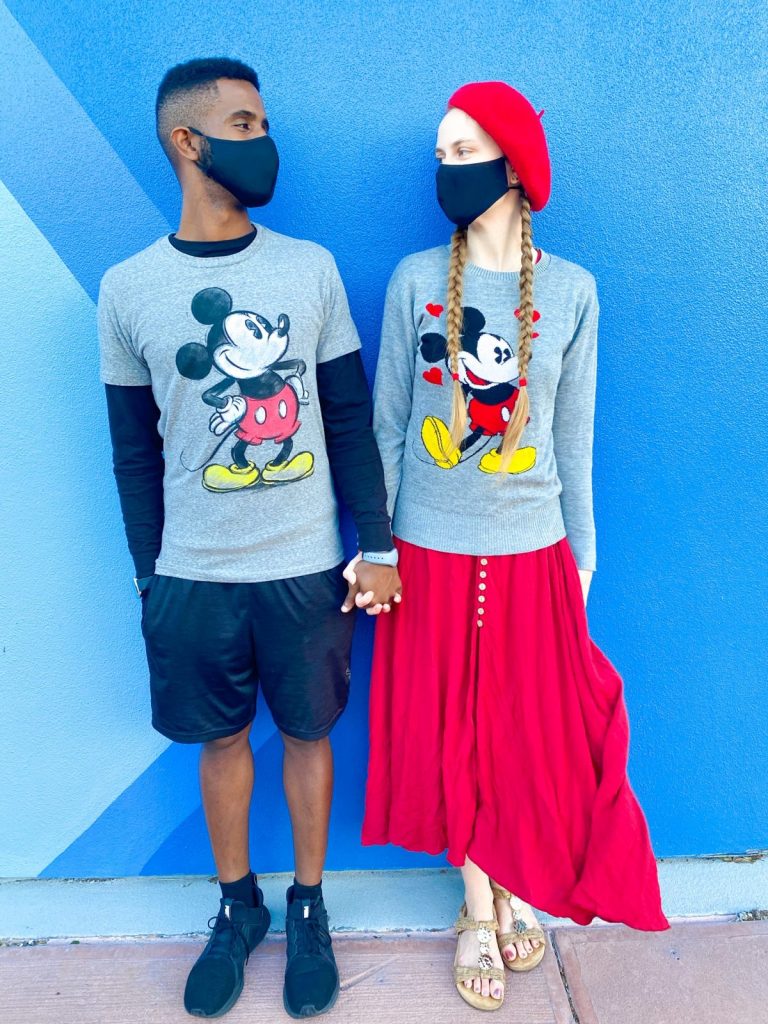 Wreck-It-Ralph Date
For those who want to have a fun, relaxed Disney date night, a Wreck-It-Ralph date night is right for you! Pick your favorite video games, whether they are classic or modern ones, and grab your favorite classic candies to munch on while you play.
Being a little competitive and keeping score of who's winning will be fun for this Disney date night! Playing some fun video games, especially if they are some of the classic ones like Ralph is used to, will be a fun way to spend time with your significant other. And Vanellope will be proud if you enjoy some sweet treats in between games!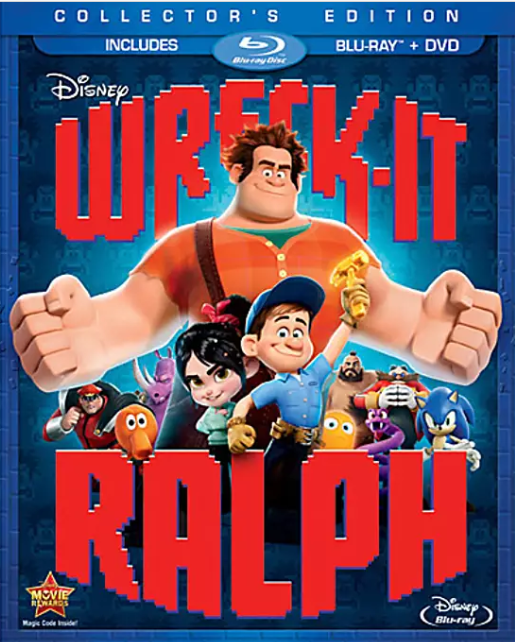 Star Wars Date Night
With the popularity of "The Mandalorian" and the newer Star Wars movies, having a Star Wars-inspired Disney date night at home will be fun for a lot of people! Grab your significant other and get some snacks inspired by the films, tv shows, and characters ready. You could make cinnamon rolls to look like Leia's hair, or eat pretzels dipped in colored chocolate melts – like lightsabers!
Curl up under your fuzziest Wookie blanket with your loved one, eat some fun Star Wars-inspired snacks, and catch up on the latest season of "The Mandalorian."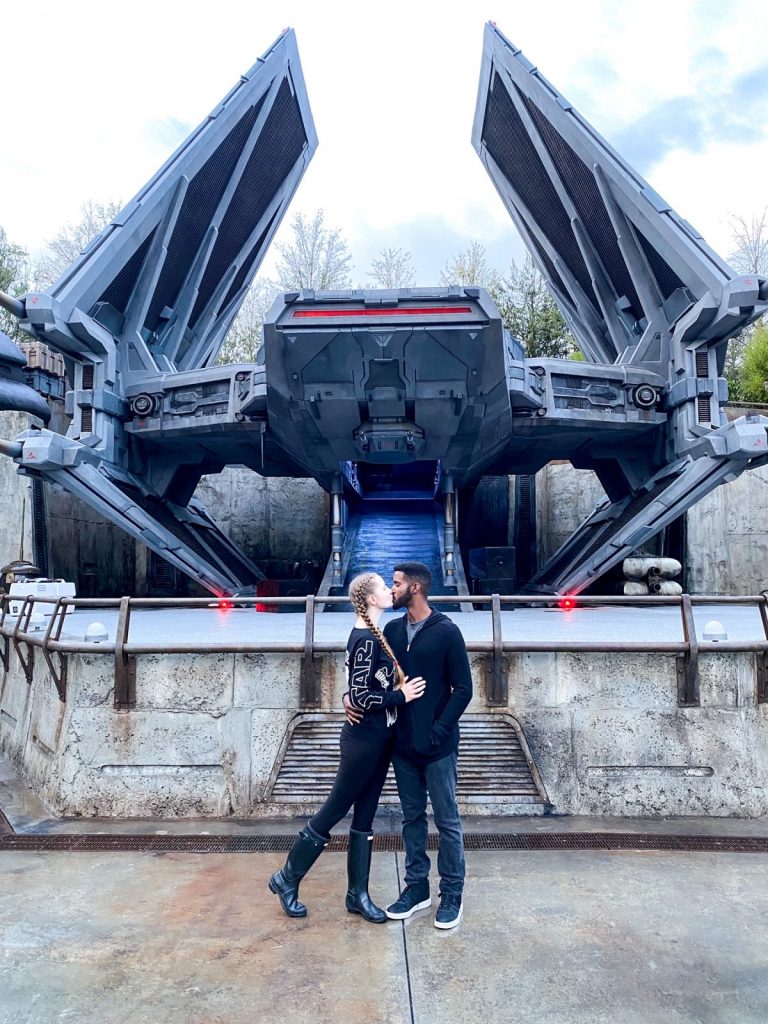 Best Disney Date Ideas for the Parks
For the times when you can visit a Disney park, having a Disney date night on property couldn't be any more magical. There are so many delicious and unique restaurants to eat at, and visiting Disney World with the one you love can make any Disney day amazing.
We've picked 7 of the most romantic and fun Disney date nights for when you are at Disney World, and hopefully you will try a few of these the next time you need a fun date!
Victoria & Albert's
The most obvious Disney date night in the parks may be a romantic dinner at Victoria & Albert's, the fine dining restaurant located at Disney's Grand Floridian Resort. This is the fanciest restaurant on Disney property, a Five Diamond Award winner, and is a signature dining experience. It's a great choice for celebration dinners and romantic nights.
While this will be a very pricey dining experience, it is a once-in-a-lifetime experience for most people. You and your loved one can enjoy an exquisite 10-course meal, and can even reserve a seat at the Chef's Table. Snagging a reservation for this restaurant, dressing up in your best, and then having a dinner of a lifetime can make for a date that your significant other will never forget.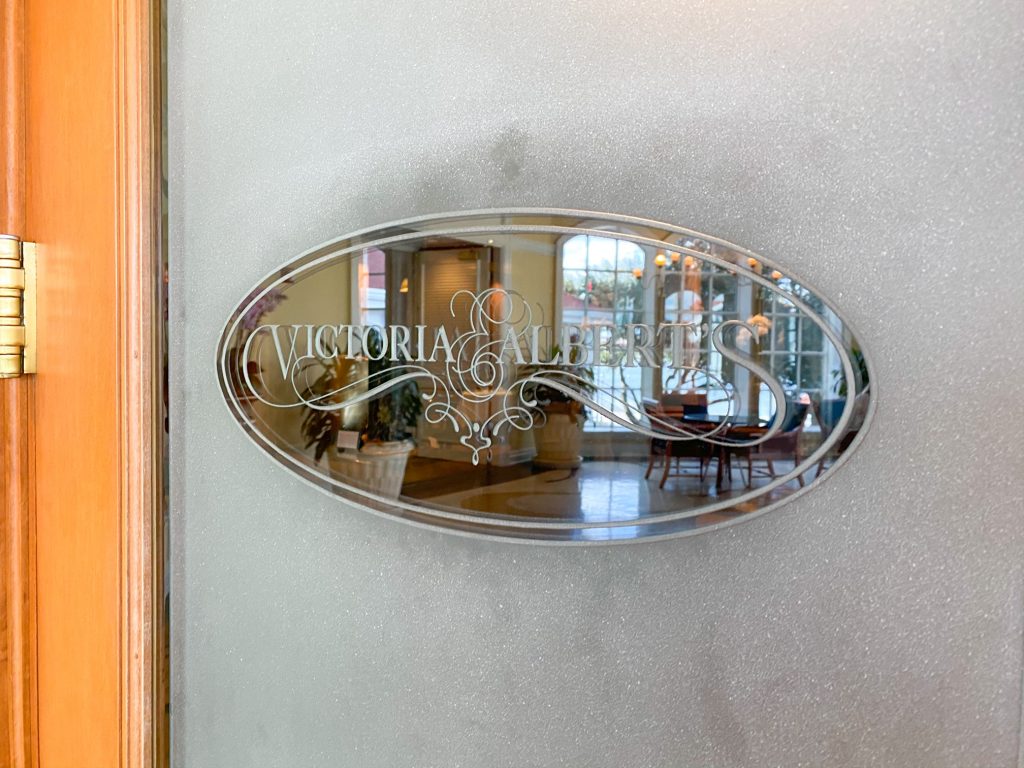 Fireworks Boat Cruise
For a unique and romantic way to see the fireworks at Disney World, rent a boat to watch the fireworks from the Seven Seas Lagoon or Bay Lake. These cruises sail you around during the fireworks, and the music is piped into the boat for the full experience. You even get soft drinks and snacks to enjoy while you watch the show.
While the smallest boat can seat up to 8 people, we suggest renting one out just for you and your loved one. This has to be the most romantic way to watch a fireworks show, and can be a night to remember at Disney World.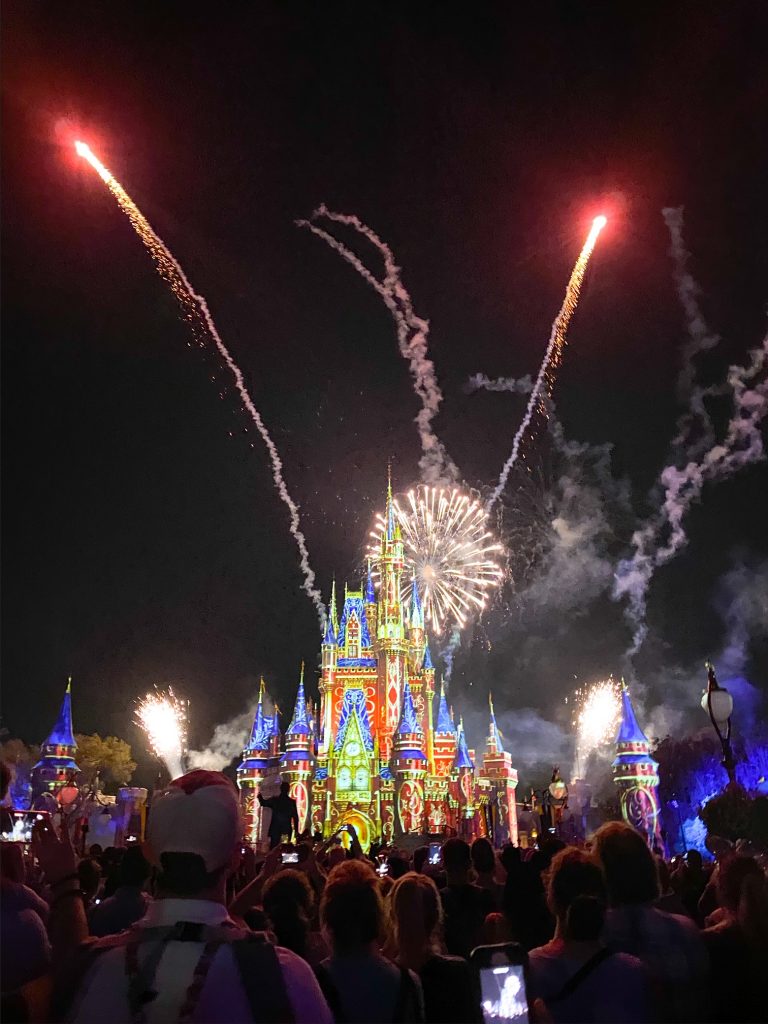 Highway in the Sky Dine Around
If you're looking for a truly unique Disney date night, and your date is a foodie and monorail lover, this is the perfect date! This four course dining experience is the Highway in the Sky Dine Around monorail restaurant tour, and it starts at the Contemporary, where you meet your guide and prepare for your evening. After each bite to eat, you'll hop back on the monorail and head to your next destination.
You will first have drinks and appetizers at the Polynesian, then head to the Grand Floridian via the monorail where you'll grab another bite to eat. You'll return to the Contemporary to to eat at The Wave…of American Flavors. And after finishing up there you'll be taken to a private patio where you'll enjoy dessert, coffee, and fireworks from the Magic Kingdom. This dinner experience is one you won't forget!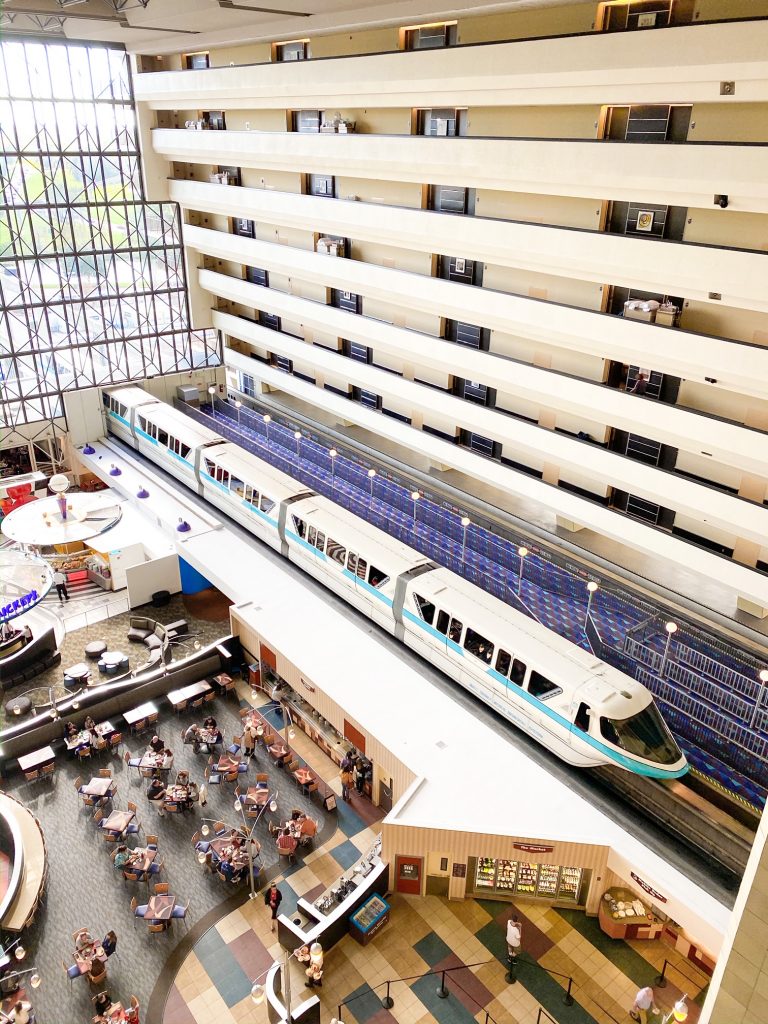 Dinner at Takumi-Tei
Takumi-Tei is one of the newest restaurants at EPCOT, and is a great choice for a Disney date night. This signature restaurant allows you and your date to become fully immersed into this Japanese dining experience. The restaurant has five different rooms inspired by the 5 natural elements, and the atmosphere cannot be beat.
While there are a la carte items available on the menu, we recommend doing the Omakase Tasting Menu. This is a pricier date night, coming in at $150 per person, but you will truly be able to capture the essence of this restaurant by choosing this menu. There's even a tea ceremony in between courses! We think this a great choice for a Disney date night, especially if you're celebrating something special.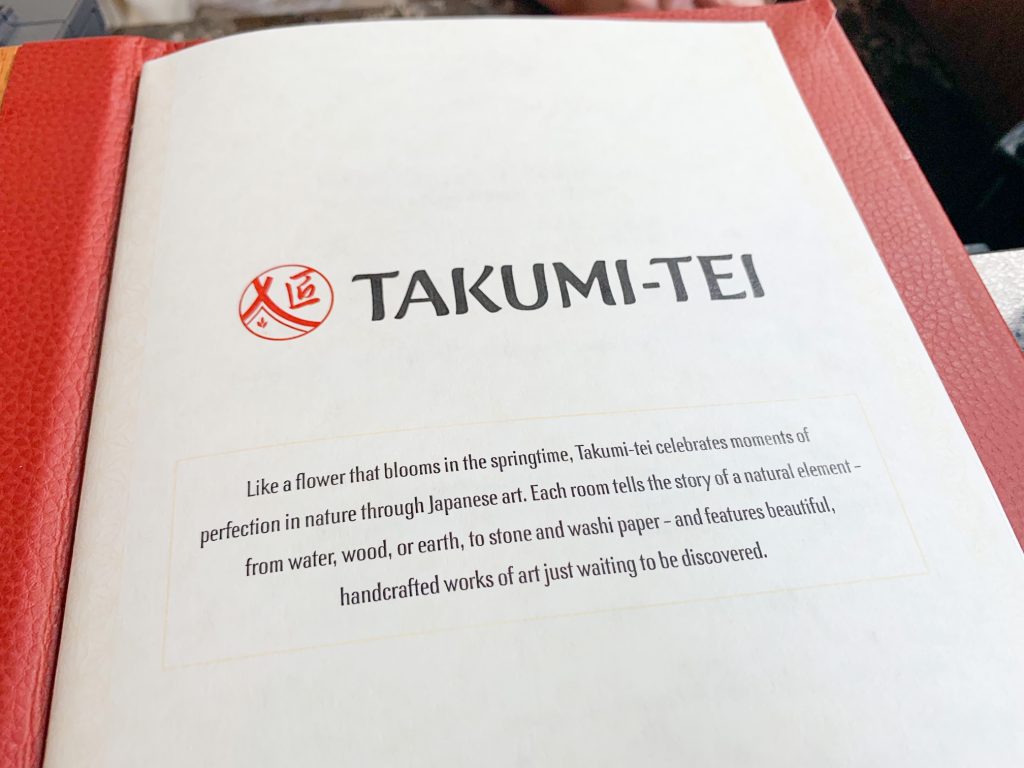 Movie Under the Stars
If you're staying at one of the Disney World resorts and looking for a fun Disney date night on your next trip, we have a free date idea. You read that right, FREE.
Many of the Disney resorts host Movies Under the Stars almost every night, and going to one of these can be a fun way to relax on a date night at Disney. Grab some snacks and drinks at the resort, pick a nice night to curl up under the stars, and watch a classic Disney movie. This can be a nice way to escape the hustle and bustle of the parks and just spend quality time with your loved one.
We suggest going to catch a movie under the stars after a long day in the parks, and after a nice dinner. It's the perfect way to relax and cuddle up!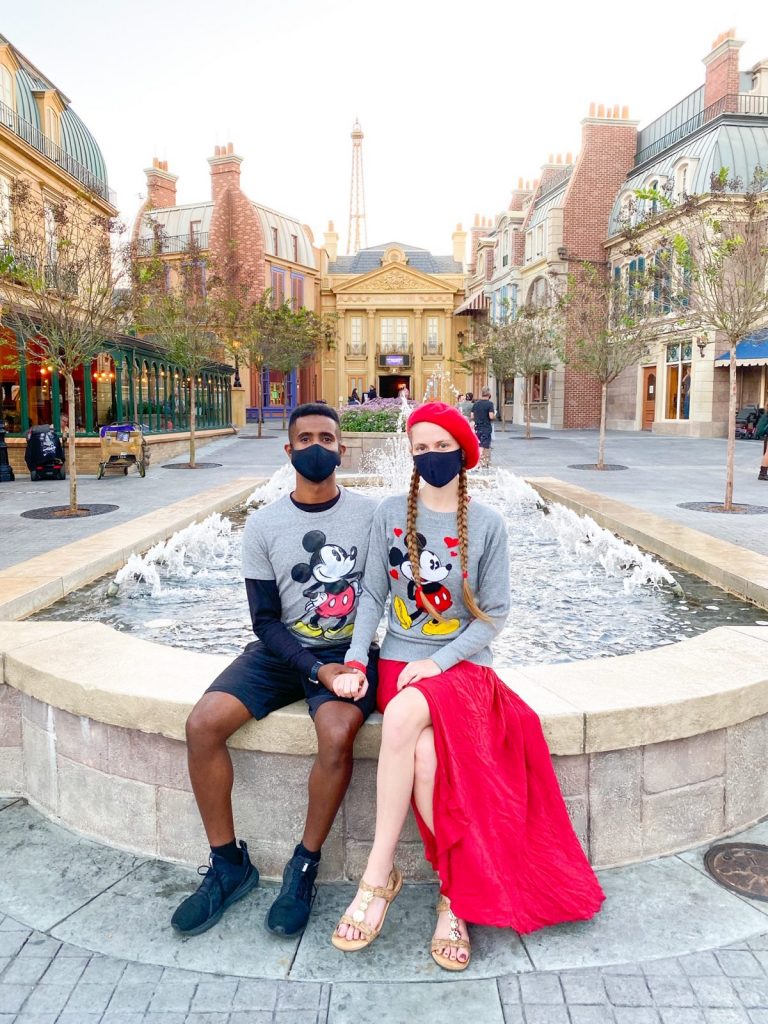 Disney Springs Date
There are some great places to eat at Disney Springs, and some of the best restaurants on Disney property are here. Dinner at Wine Bar George, The Boathouse, or The Edison will make for a delicious and memorable dining experience. After a filling dinner, walk around and enjoy the breeze off the water and pop into a few shops. Nights here are fun, lively, and it's fun to walk hand-in-hand with a loved one here.
For some fun, head over to the rooftop bar at the Coca-Cola store. You can choose from a whole menu of both alcoholic or non-alcoholic drinks, but we recommend doing the Tastes of the World Around the World tray. You get to sample 16 beverages from around the world, and you and your date will have fun picking your favorites – and some you may not enjoy either! And if you love a good ice cream and soda float, you can even get a whole tray of these as floats to try!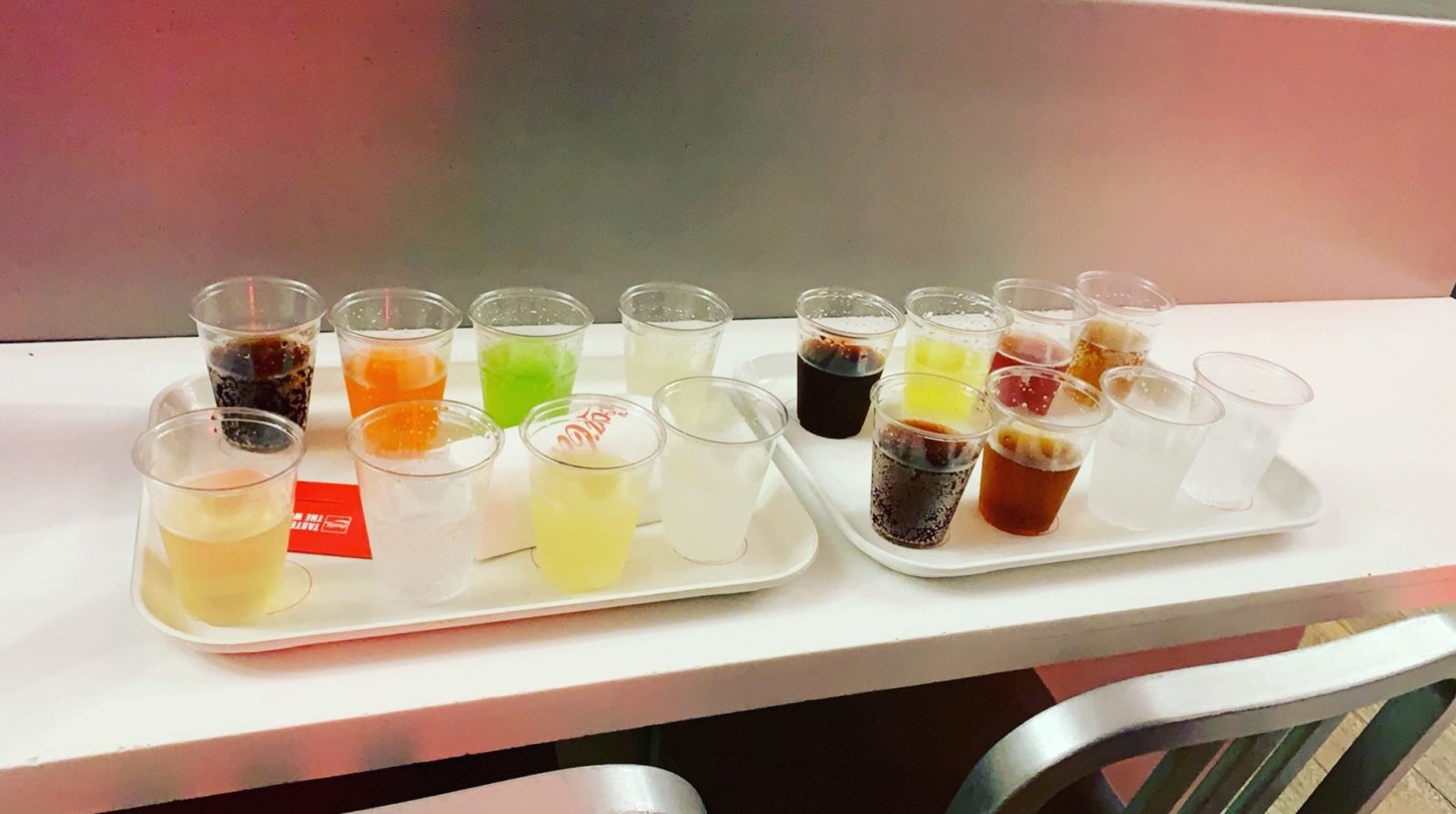 Mini Golf
Another fun Disney date night idea takes you and your date to one of Disney's mini golf courses to have a little fun. Disney has two mini golf courses, Fantasia Gardens and Winter Summerland. Fantasia Gardens is inspired by the Fantasia film and the music in it, and Winter Summerland showcases Santa and his elves on their Summer vacation.
Playing a round of mini golf at night can make for a great date, and both of these courses are a fun way to escape and have a little fun not at the parks. We think playing some mini golf can be fun, silly, and even a little romantic for your next Disney date night!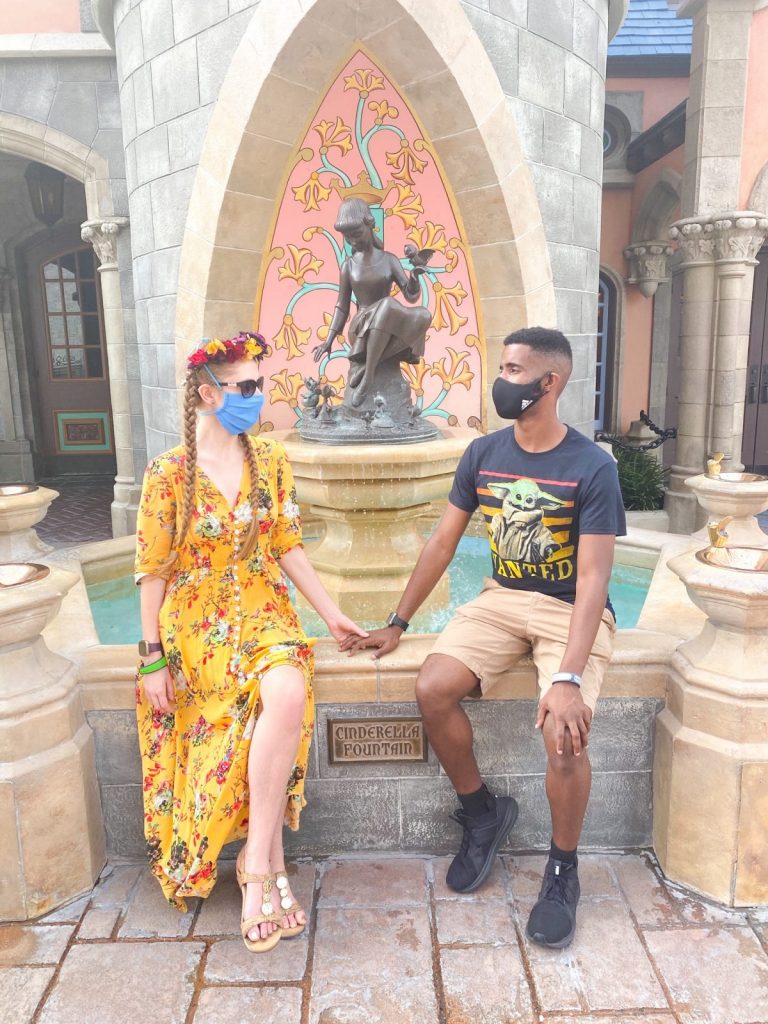 We hope that our list of Disney date nights have given you a lot of inspiration and ideas for your next date with your loved one! Disney dates are a lot of fun, especially when you create them at home or do something unique in the parks.
Have you ever done an amazing Disney date in the parks, or recreated some Disney fun at home? Let us know in the comments!