Treat Yo Self! You can easily spend weeks at Disney World running through the parks, exploring the resorts, and riding ALL the rides and have the most amazing and magical vacation, but if you are looking take it up a notch – here are my 16 Best Splurges totally worth the spend!
Disney World is full of not-so-secret secrets. Those secrets include awesome upgrades and extras that will make your Disney vacation even more unbelievable! Disney is not cheap and not all splurges are worth the spend. Here are the 16 best splurges that are definitely worth every penny!
Get a FREE printable 30/60/90 day Disney countdown by joining our private Disney Facebook Group and share your photos and ask for tips and tricks.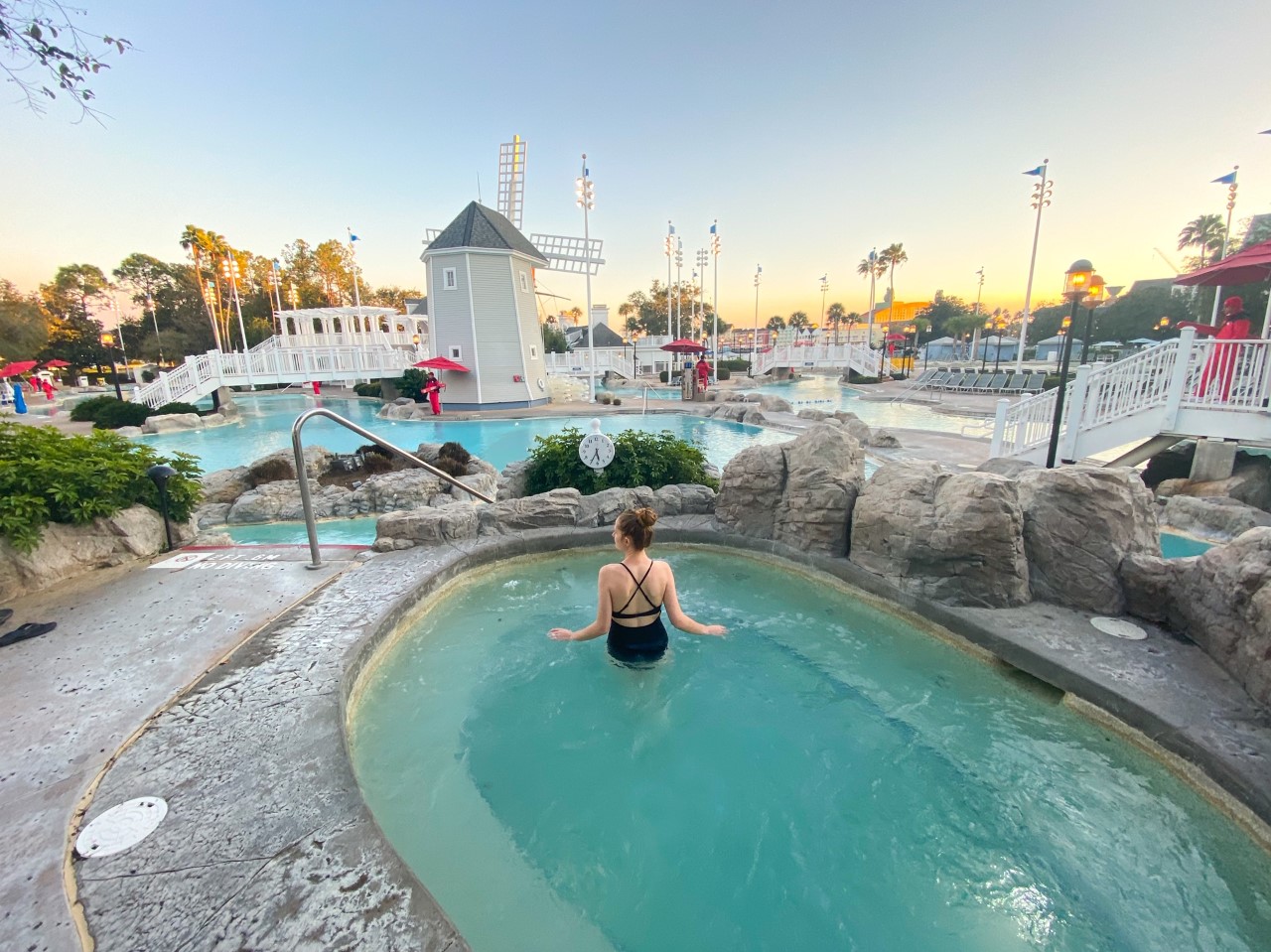 16 Best Splurges At Disney Worth the Spend
Dine At Victoria And Alberts
If your ideal splurge at Disney is laying out the cash to have an incredible, once-in-a-lifetime meal, you should absolutely dine at Victoria and Alberts. But, be aware, it is tough to get a table at this Five Diamond Award winning restaurant in Disney's Grand Floridian Resort & Spa.
Dining at Victoria And Alberts is the perfect splurge for a couple and of course, all foodies!
It will run you $250 a person, plus $150 per person if you add the wine pairing (and of course, add the wine pairing). It will also be a delicious eight course (or maybe more if you are willing to splurge on the upgrades) meal that you will not forget. Think langoustines, glazed quail, and Kobe beef!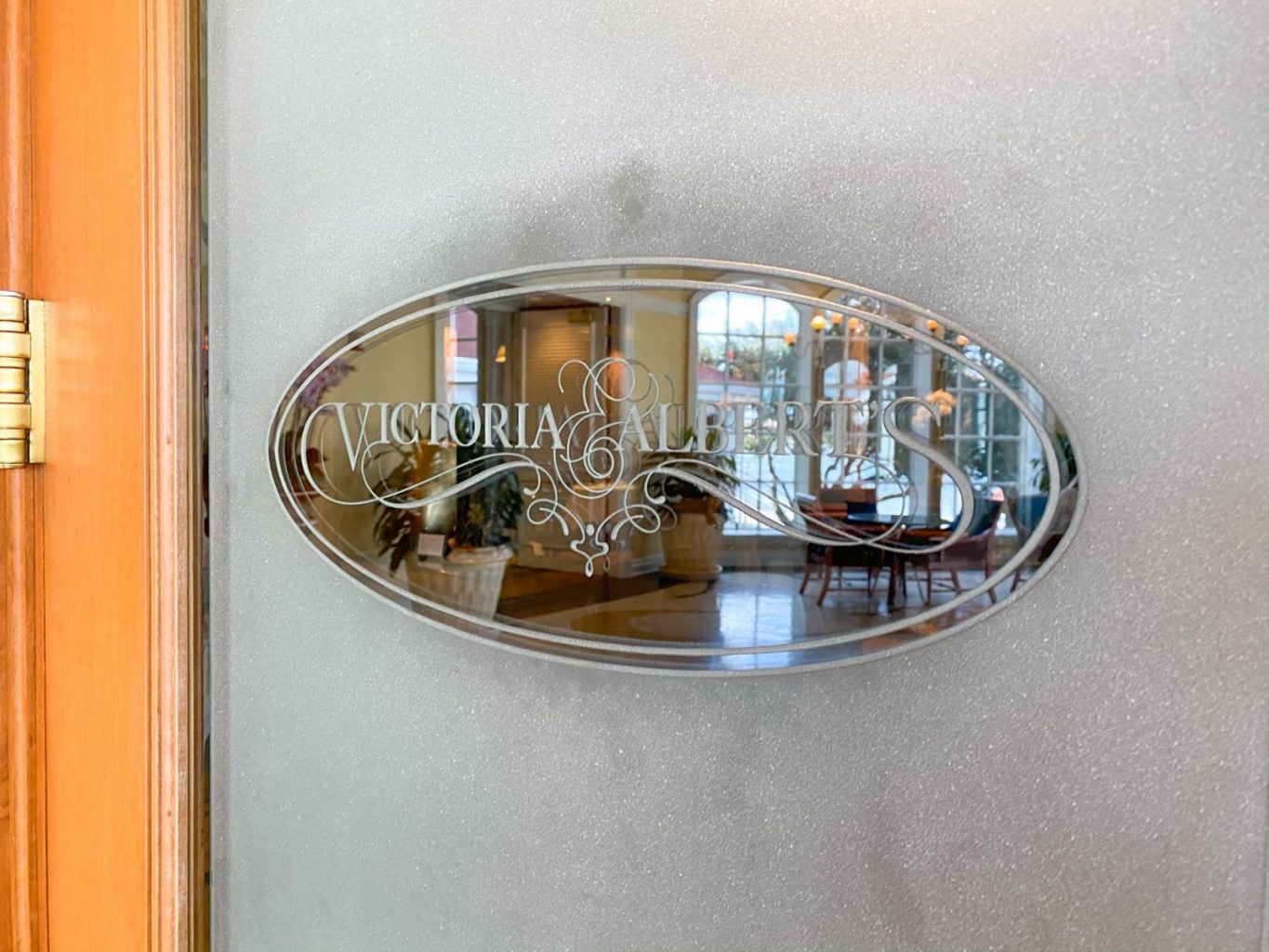 One of the coolest things about Victoria and Alberts is that they offer a full vegetarian menu! This is a rarity and something as a vegetarian, I am extremely grateful for. For my fellow vegetarians – I promise you will not be served a salad or a bland pasta!
Hungry yet? Check out the menus here.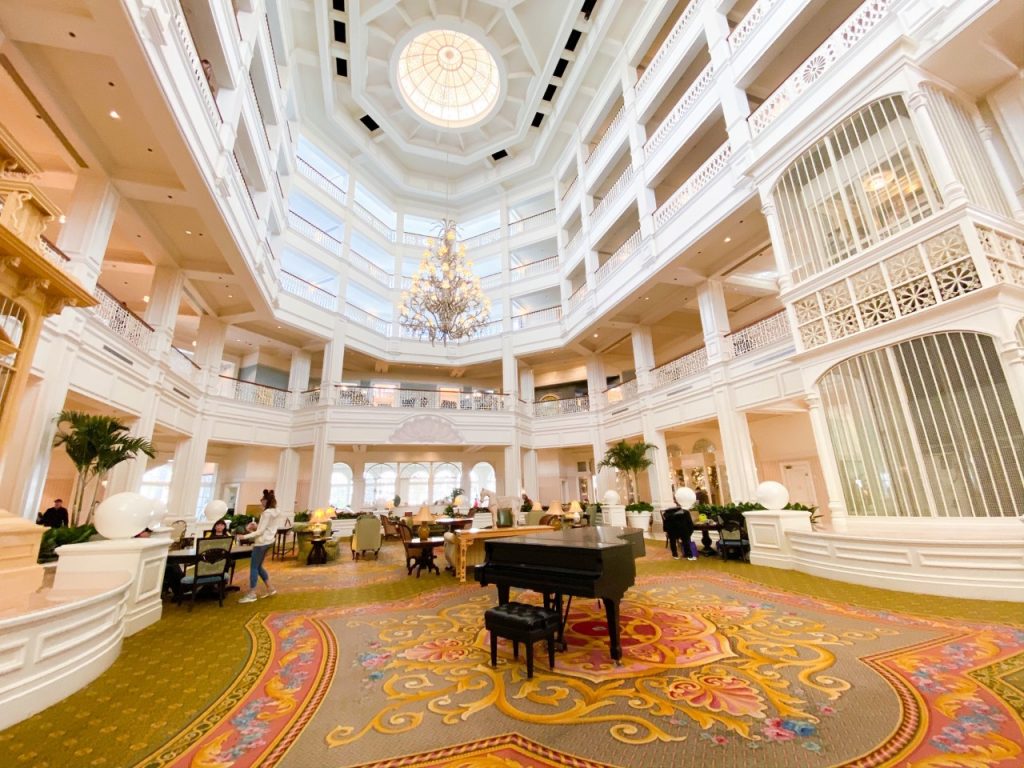 Staying At A Deluxe Resort
Disney World offers a lot of on-site hotel options. One of the best Disney World splurges is staying at a deluxe resort! Disney World puts all hotels into three main categories – the Deluxe Resorts are the most fancy, have the best locations, and are the most expensive.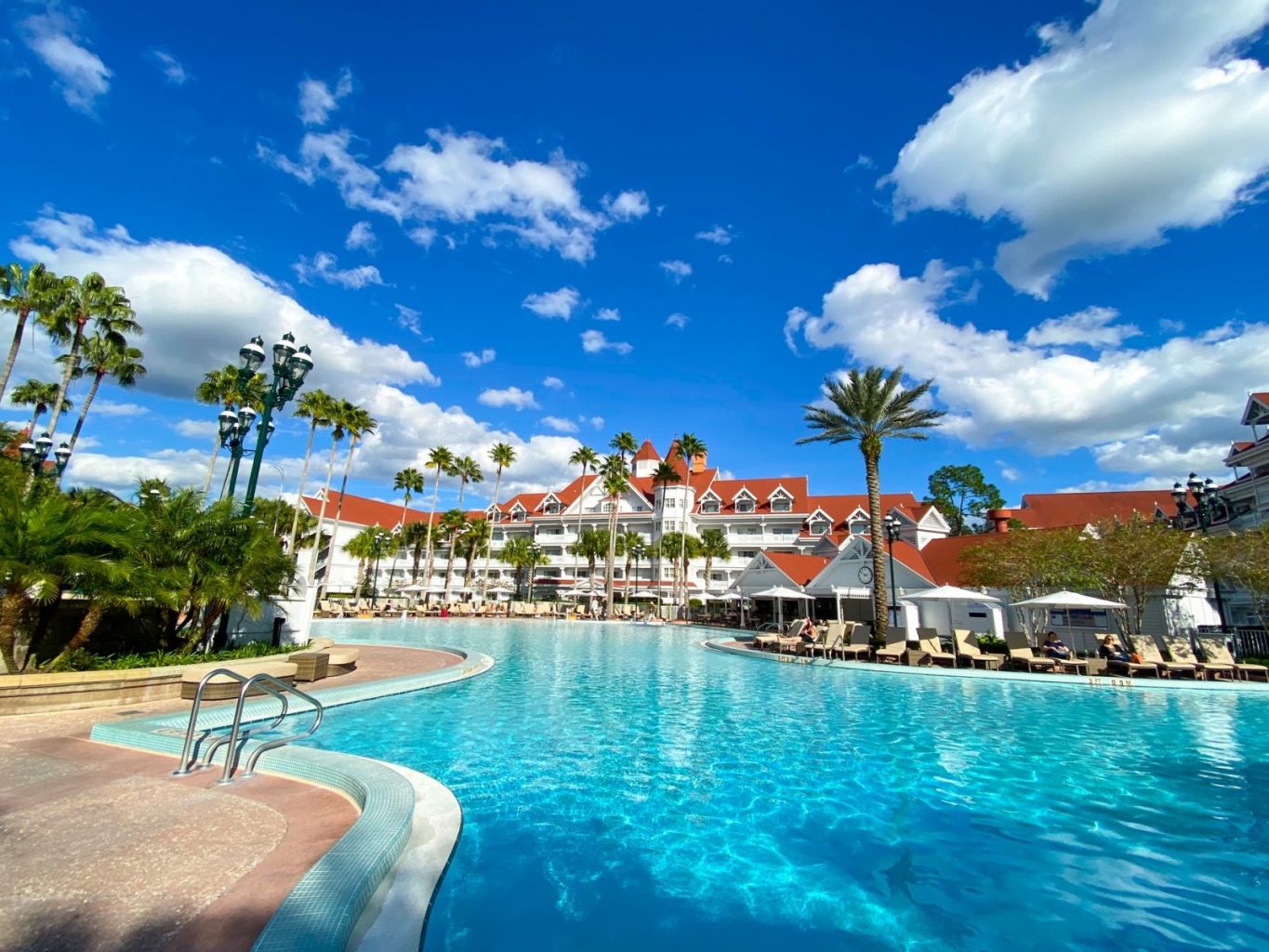 Disney World is home to 9 Deluxe Resorts and some are better than others. Be sure to check out my 9 Best (and Worst) Disney Deluxe Resorts article for my rankings and insider tips for each resort. Splurging on a Deluxe Resort is an ideal splurge for all Disney visitors – from families to couples to large groups!
Here is a list of all of the Deluxe Hotels (in alphabetical order!):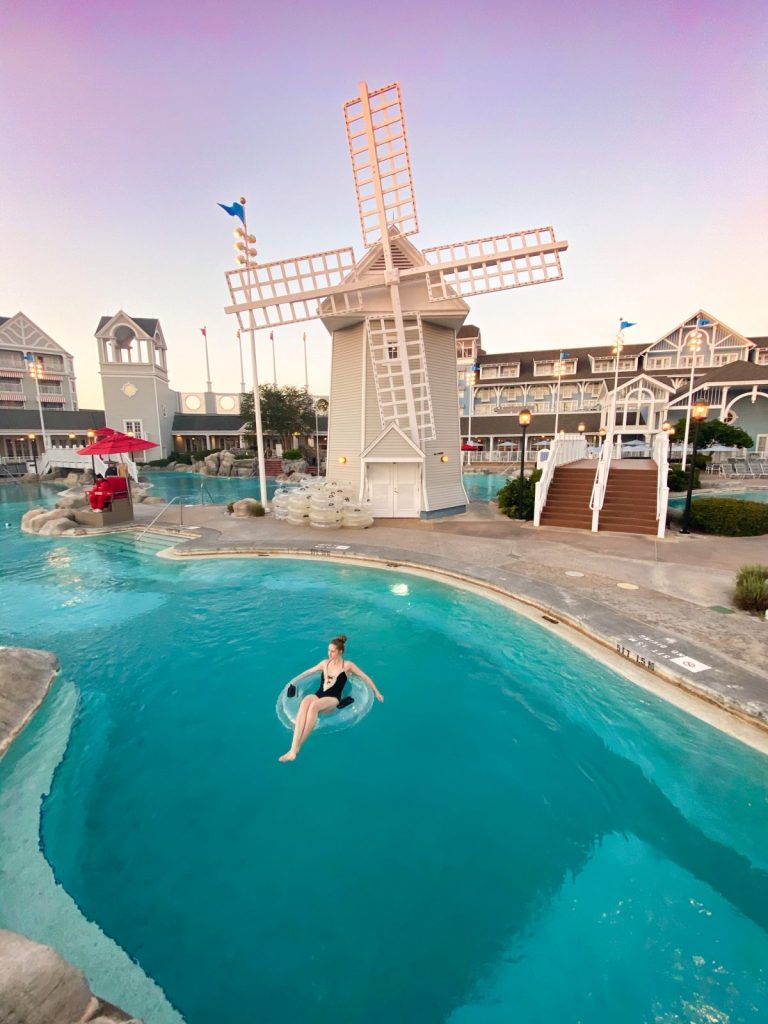 So why splurge on this Disney upgrade? First, the transportation from the Deluxe Resorts to the parks is the best on property. Even more importantly, the Deluxe Resorts have by far the best dining options, largest rooms, and coolest pools! One Deluxe Resort even has above-water bungalows to transport you to a magical version of Fiji while in Florida.
Interested?! Be sure to check out How to Rent Disney Vacation Club Points to Stay at Deluxe Resort for a great way to make this splurge potentially way more affordable!
If you are rolling in the dough, you can stay at a Deluxe Resort for all of your Disney World vacations, but for the rest of us, a special stay at Deluxe Resort is a great splurge at Disney World! This splurge also packs a lot – staying at Deluxe Resort will really change the whole feel of your Disney vacation and the amenities make it worth every penny.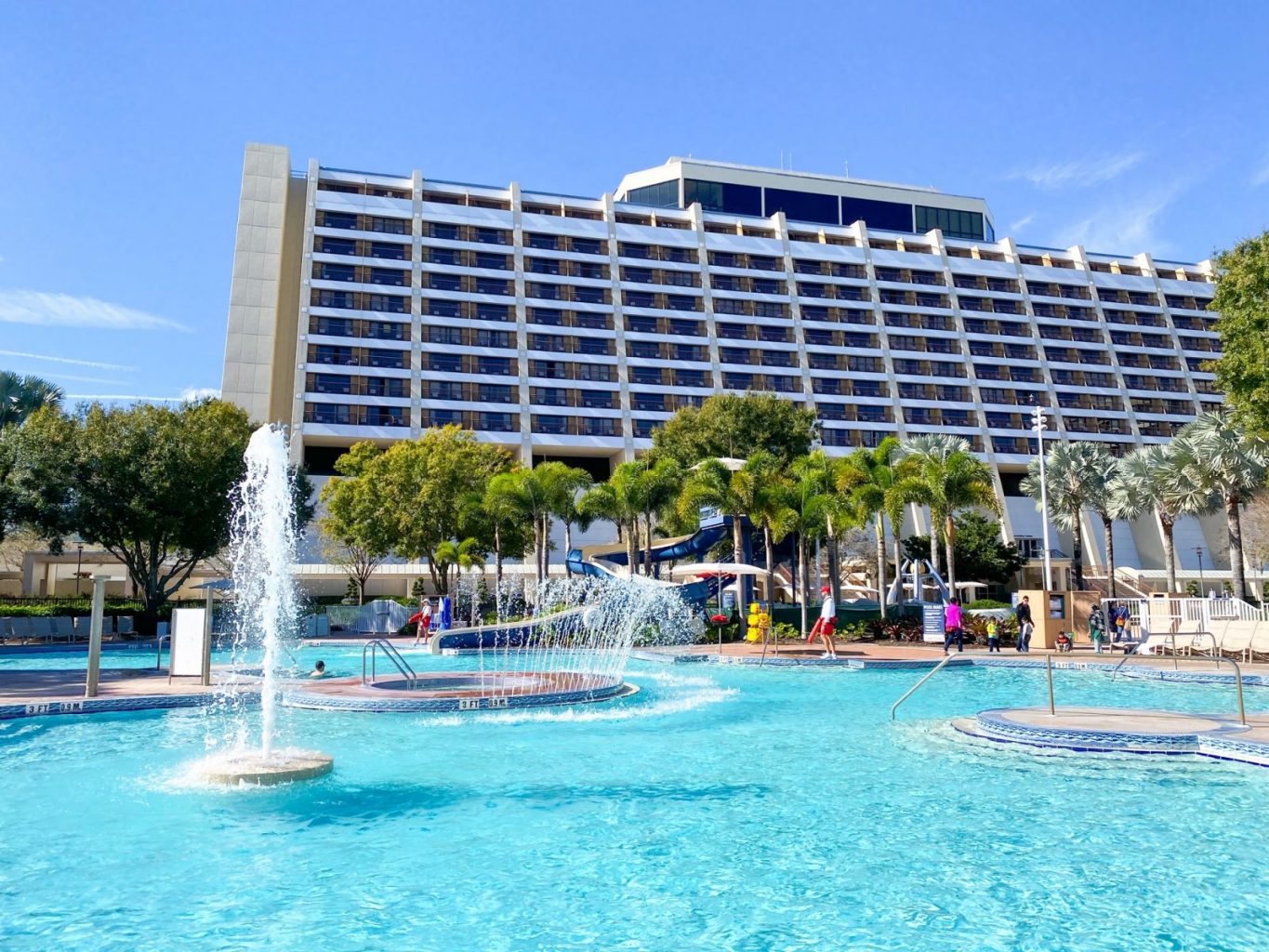 Get A Disney Popcorn Bucket
I love the Disney popcorn bucket. I love it in Walt Disney World and I love it at Tokyo Disney, my number 1 Disney Park in the World! Although the cost, benefits, and options vary worldwide, it is always worth the splurge at Disney to me.
Foodies, kids, and kids at heart – this splurge is a great one for you!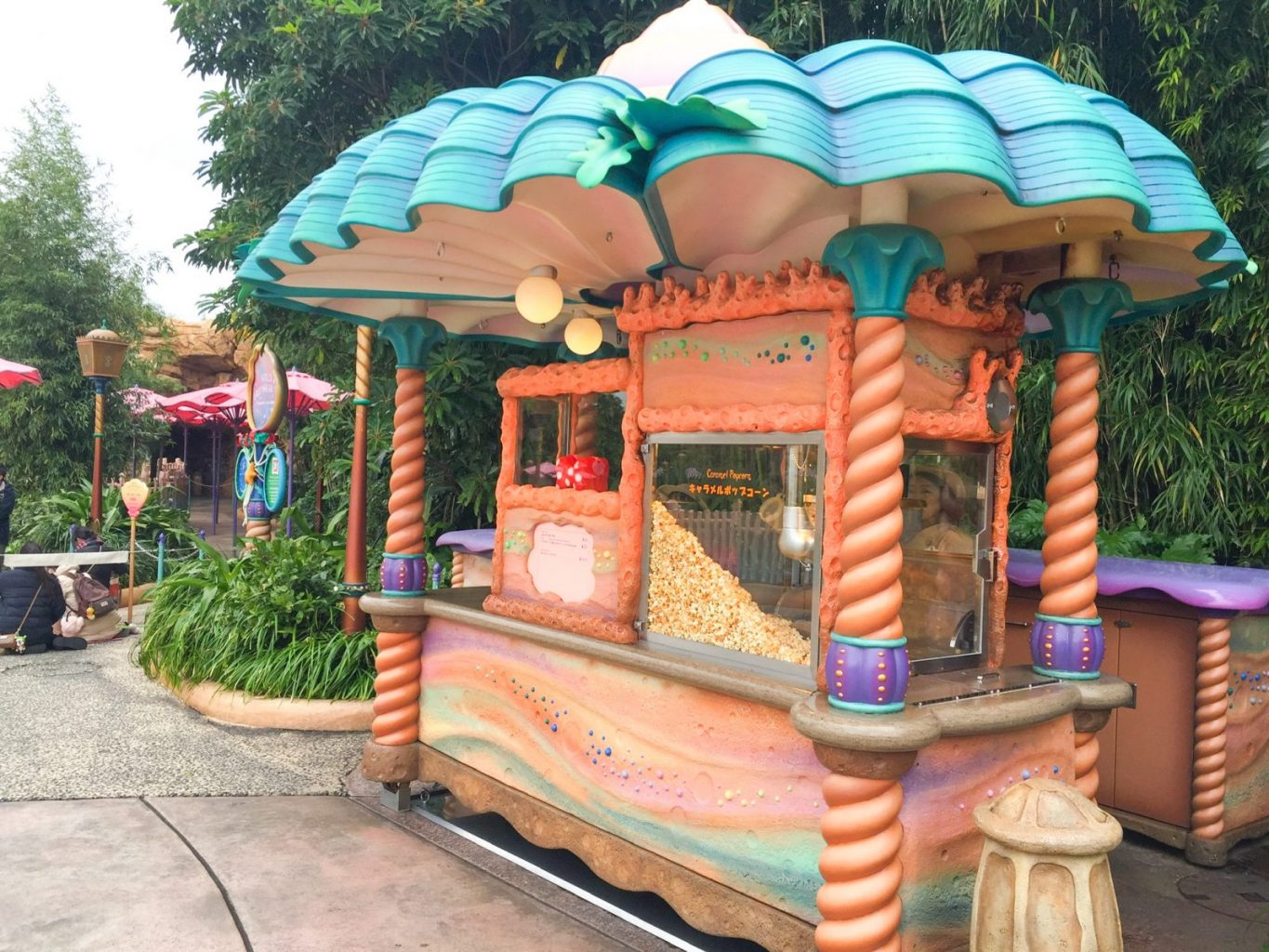 At Walt Disney World you can purchase a Disney refillable popcorn bucket inside all of the Disney World parks for anywhere from $12.00 to $30.00. They come in SO many fun options and, generally, the bucket choices at the stand correlate with the park, land, and attractions around it.
The best part of the Disney popcorn buckets? Not only does the bucket come with a fill, it comes with $2.00 refills for the entire length of your stay! That means you get a Disney snack any time, anywhere, for $2.00. This is so worth the splurge at Disney to me as you end up with lots of popcorn in your belly and a great souvenir!
One of my favorite things at Tokyo Disney Resort are the popcorn buckets! They have so many options and almost everyone in the park will have one around their neck. For all of the Disney Parks, be sure to research where to get a specific popcorn bucket if you have a very specific one in mind.
Purchase Memory Maker
Memory Maker is a digital photo "album" that allows you to keep, download, and print ALL of your Disney PhotoPass photos – making the splurge at Disney on the Memory Maker worth (maybe) a thousand photos.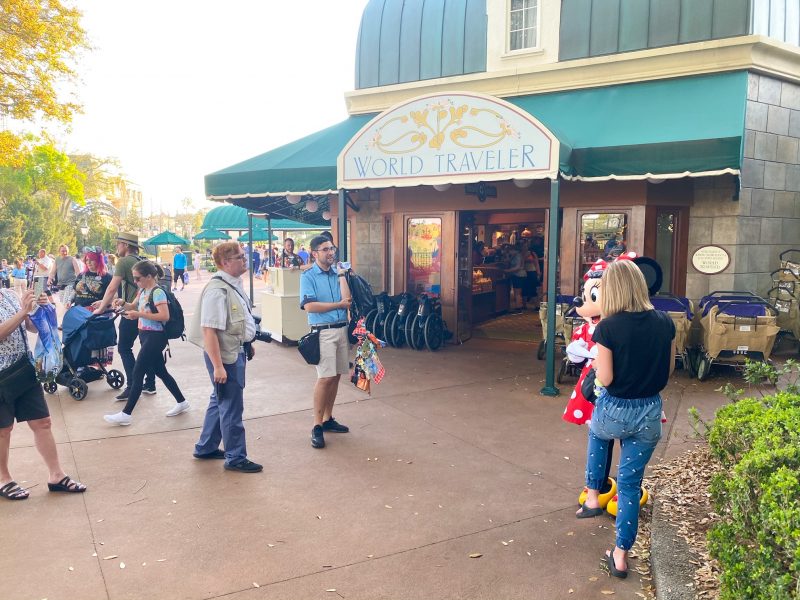 Memory Maker will cost you more if you purchase it in the Park ($199), but if you plan ahead, you can score this splurge for $169. The Memory Maker gives you access to all of the photos from your whole trip and yup, it includes ride photos. Not going to in the Disney Parks for too long? You can get a one day Memory Maker for $69.
This Disney splurge is great for everyone staying more than a day or two in the parks. It is also great for anyone who loves souvenirs, but does not want to end up with a bunch of "stuff" at the end of the trip.
Memory Maker allows you to have unlimited photos, rides and PhotoPass photographers, without having to do the work, drain your phone battery, or fill up your cloud. Memory Maker is totally worth the splurge at Disney!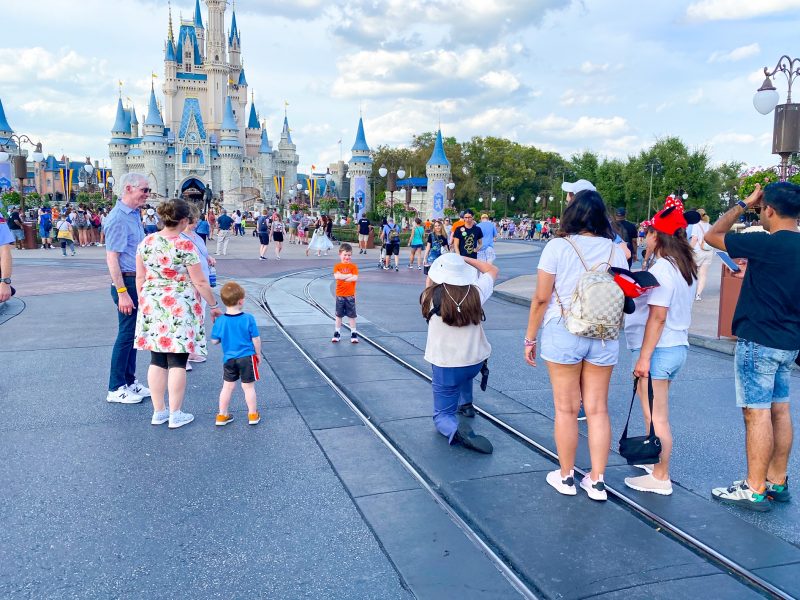 For all you need to know about the Memory Maker, check out my How to Guide for Memory Maker and PhotoPass!
Memory Maker is a great splurge at Disney for a group – you can all share the cost and so long as one of you has it, you can add your Family and Friends via the My Disney Experience App and they too can have ALL the photos!
Attend Early Morning Magic
Magic Kingdom is home to Walt Disney World's Early Morning Magic and is one of the best splurges at Disney for any park fanatic and especially any family or group with little ones! Early Morning Magic does come at an additional cost, meaning you need to pay even more after your park ticket purchase so it lands on my splurge list.
Early Morning Magic allows you entry into Magic Kingdom before it opens. This means cooler temps, no lines, and breakfast is included! Early Morning Magic is a great splurge at Disney because it allows guests to enter Fantasyland in Magic Kingdom at 7:45 am – one hour and fifteen minutes before the park opens!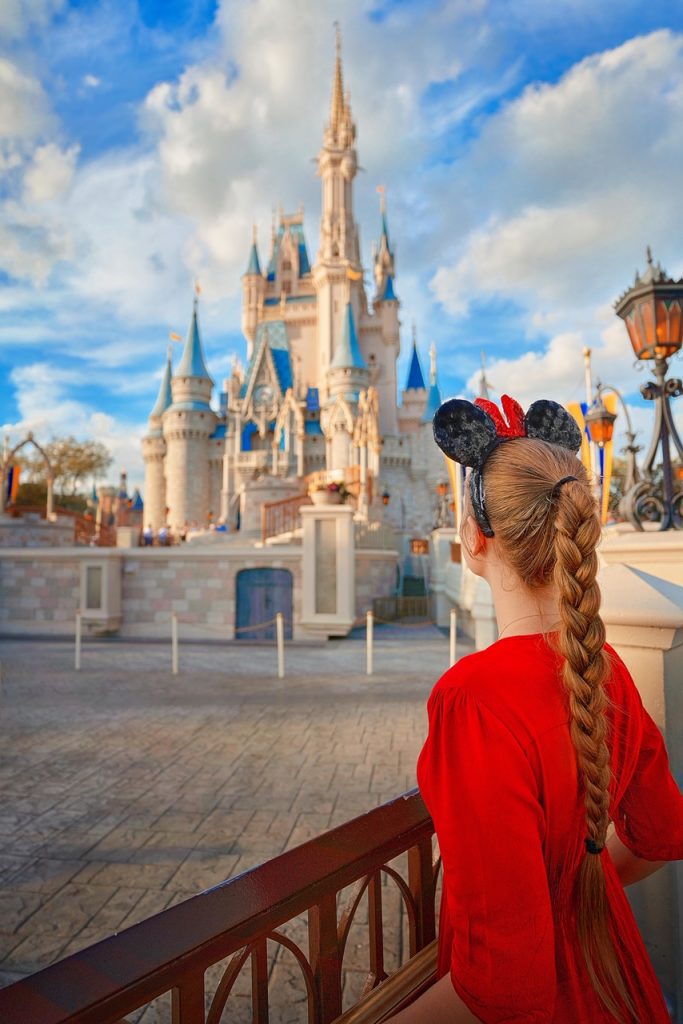 Reason this is one of the best Disney splurges – a ticket to Early Morning Magic will run you an additional $89.00 plus tax! Given that Early Morning Magic does in fact happen early in the morning, this might not be for everyone but it is still not the earliest spurge on my list (see runDisney)!
Thinking this Disney splurge is right up your alley? Check out my Ultimate Guide to Early Morning Magic at Disney for everything you need to know for this great Disney splurge:
Buy High Quality Shoes
While this is technically a Disney planning splurge, it really needs to be on the Disney splurge list – buy high quality shoes! Disney World requires a lot, and I mean a lot, of walking. Those flip flops, Chuck Taylors, or cute sandals are going to become small torture devices about 1.5 days in.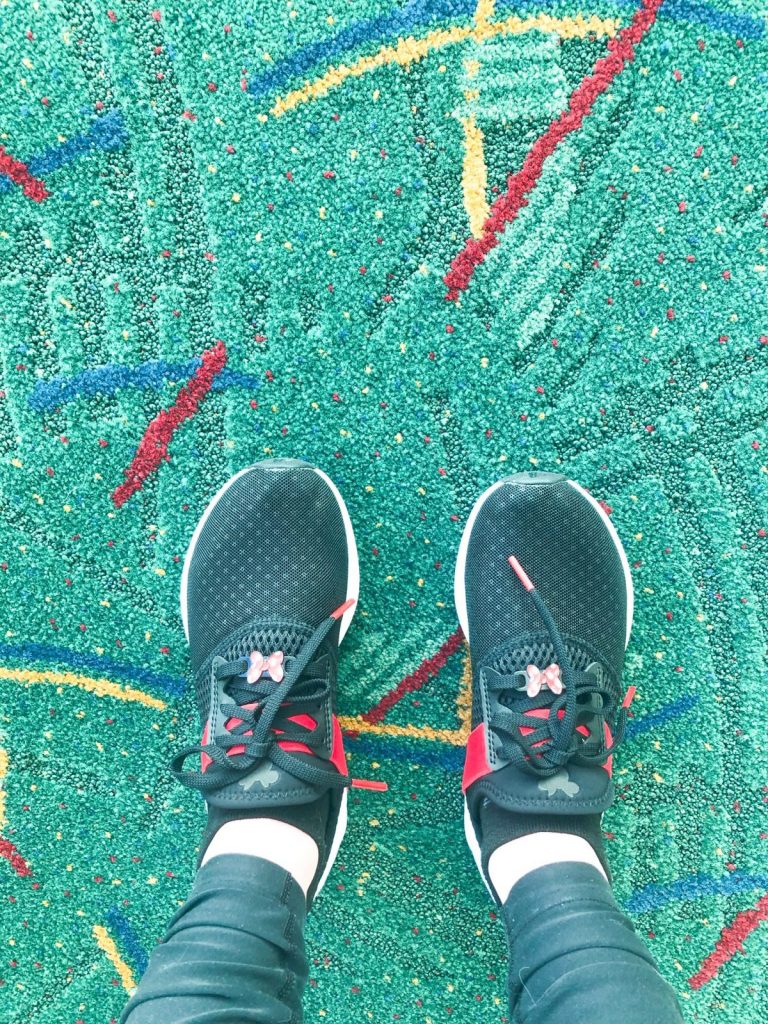 Buying high quality and comfortable shoes is critical to an enjoyable Disney World vacation. So why is this a splurge? High quality and comfortable shoes tend to come with a high price tag. Comfortable sneakers/tennis shoes are a minimum for a Disney trip and I recommend splurging on some good ones.
Orthopedic shoes can run over $100, making them an expensive little purchase in my opinion. But this pre-Disney splurge can save your back, knees, feet, and ankles because even four days walking 10+ miles a day is a lot on the body!
This Disney splurge is perfect for all guests who plan to walk around the parks.
I think high quality and comfortable shoes will be the best money you spend in preparing for Disney! If you are willing to take this splurge a step further, pick up two pairs of super comfy shoes because it can suddenly downpour in Florida and it takes a while for comfortable shoes to dry out.
Now that you have great shoes…be sure to bring all of the right gear into the parks in your Disney park bag!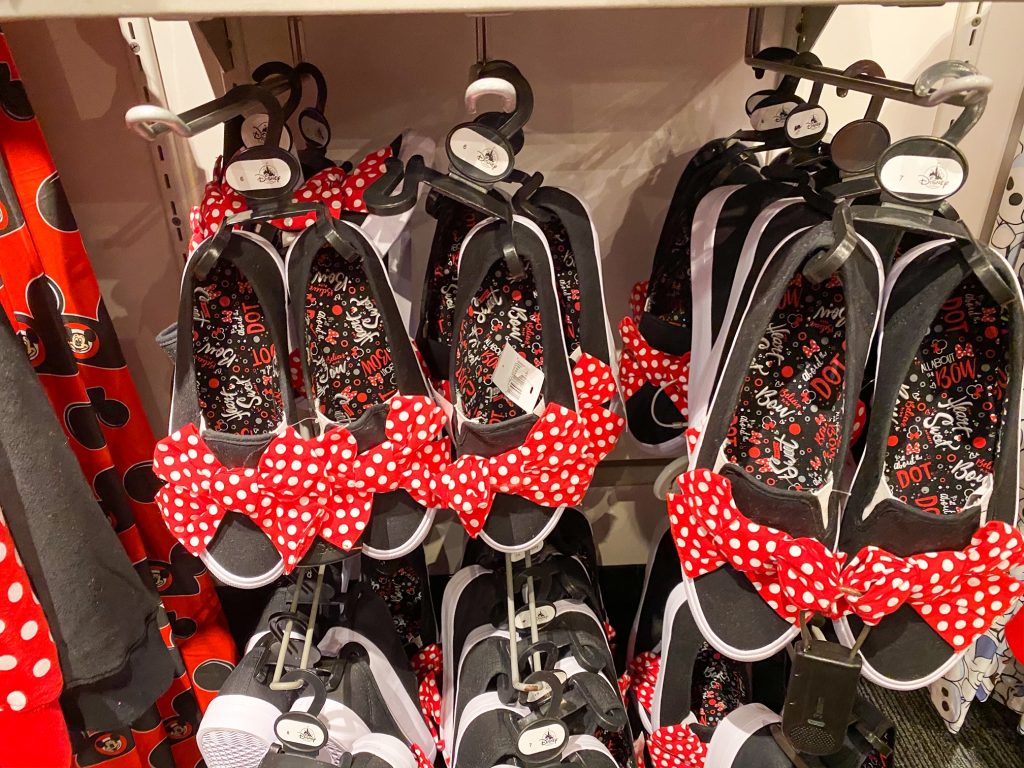 Attend A Dessert Party
On the complete other end of the Disney spectrum from attending Early Morning Magic is a great nighttime splurge at Disney – dessert parties! Disney World has quite a few dessert parties and I am here for them all.
Disney dessert parties are all about two things – desserts and nighttime shows! Every Disney World park has at least one dessert party for the nighttime show in that park.
One of the biggest selling points for dessert parties – Magic Kingdom, Hollywood Studios, and Epcot your dessert party experience comes with fireworks! This means this is the perfect Disney splurge for any fireworks fan.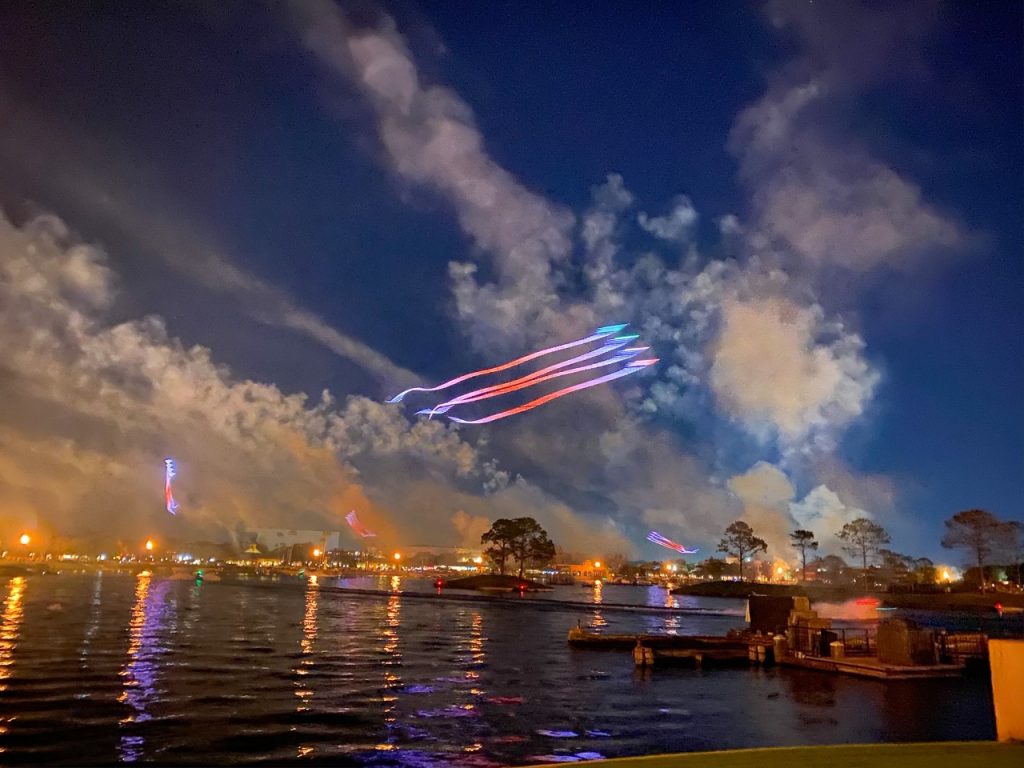 Disney dessert parties are definitely a splurge as you will need your park admission ticket and a special ticket for the dessert party. The prices range from $60 plus tax per adult to over $100 plus tax per adult so this is not a cheap dessert stop!
Not only do Disney dessert parties come with VIP show and fireworks views, but the desserts are so good! In true Disney fashion, the desserts are adorable, many are Disney themed, and are scrumptious. Just remember – you will need an advanced reservation for this Disney splurge!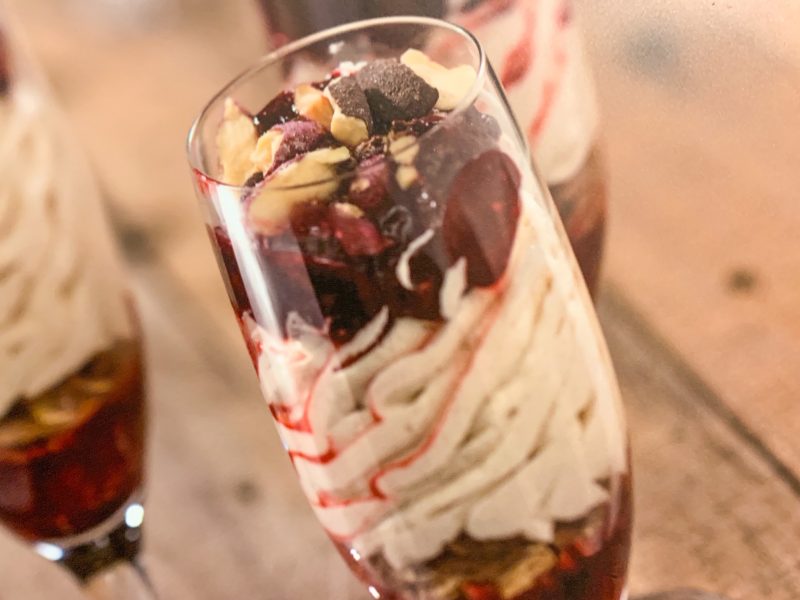 While this Disney splurge is great for honeymooners and couples, Disney dessert parties are great for everyone! Just watch the time as those who are early to bed and early to rise might struggle with the timing for this splurge.
While the Disney dessert parties can change; here is a list of all of the current dessert parties at Disney World parks (and transportation center):
Some of the hotels have dessert parties too so be sure to check out all of your options for your dates of travel!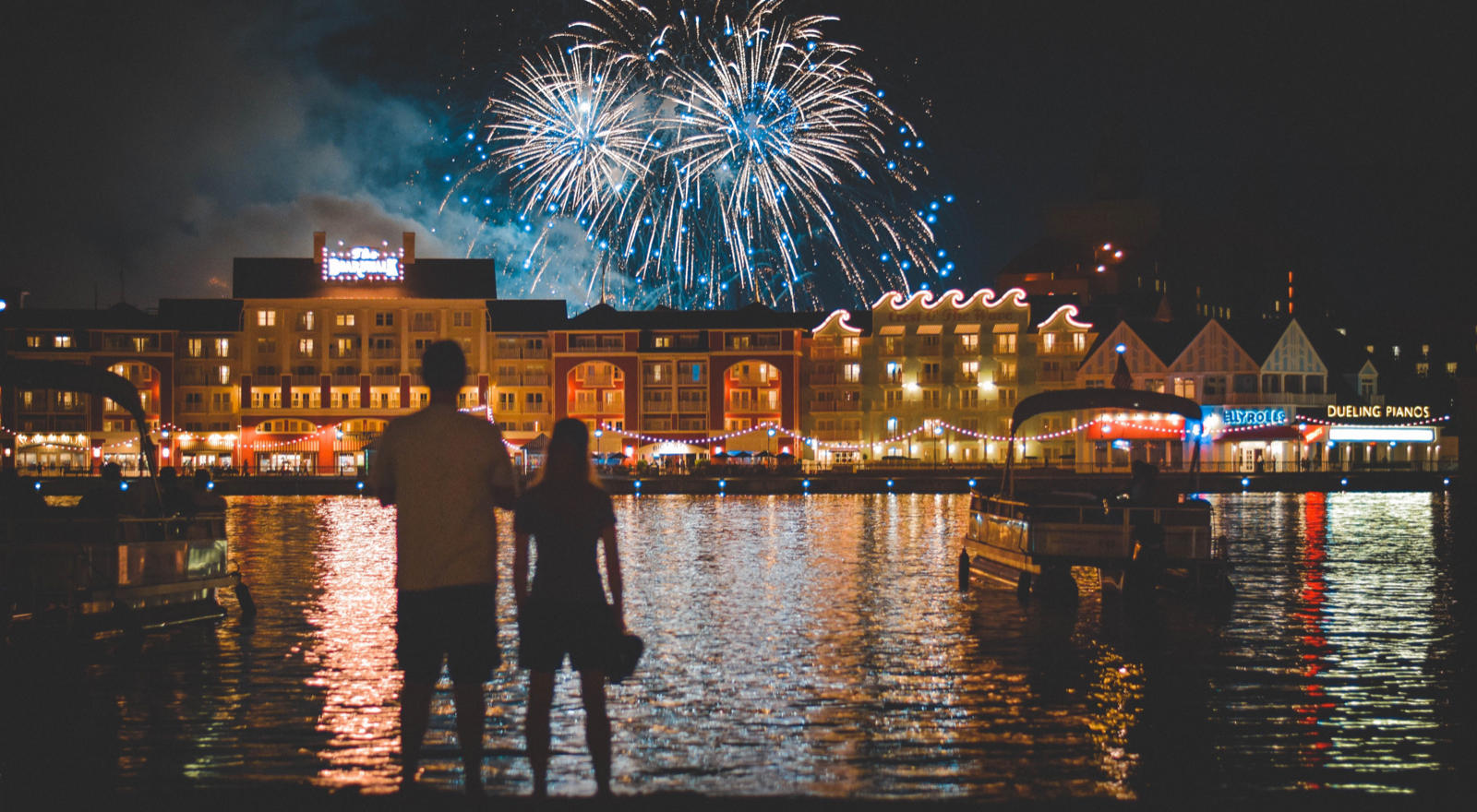 Dine Around The Highway In The Sky
Attention foodies and grown-ups! This is the Disney splurge for you that you have probably never heard of.
Disney World is home to the Highway in the Sky – aka, the Disney monorail! As you might know, the Disney Monorail connects three Disney Resorts – the Grand Floridian, Polynesian, and Contemporary.
What tends to be overlooked is that this means ALL of the restaurants and bars at these three Disney Resorts are connected by the highway in the sky creating the perfect dining experience!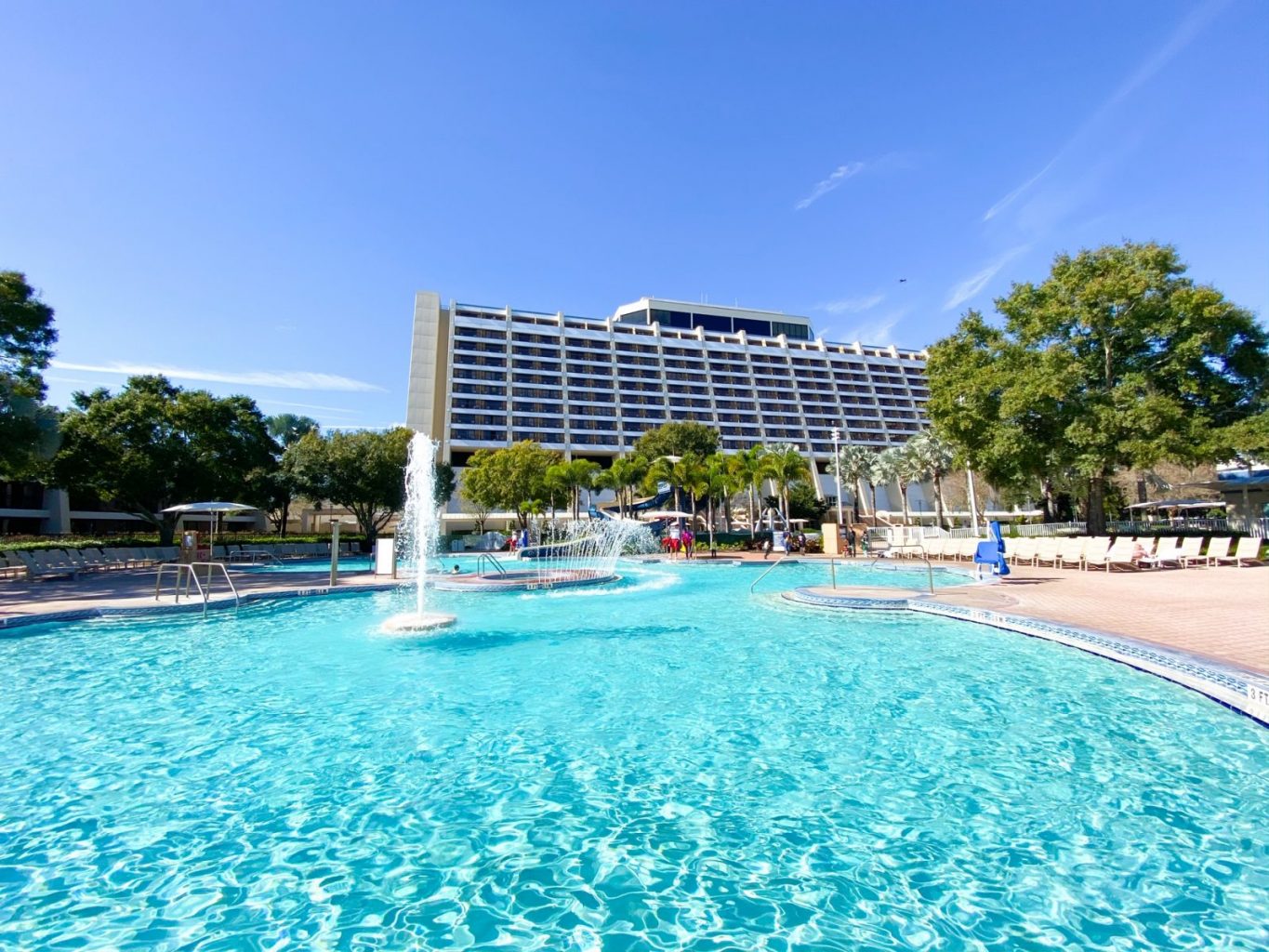 Disney World is home to an event called Highway in the Sky Dine Around, but you can also do this splurge as a self-guided tour as well! Either way, its a Disney splurge!
Highway in the Sky Dine Around is a four course progressive dinner that starts and ends at the Contemporary with stops at the Polynesian and the Grand Floridian. You start with cocktails at the Contemporary and eat your way around the Resorts. This event is not cheap as it will run you $170 per person.
The formal event also is 21+ only, had a dress code, and only takes place a few days per week. If you are down to splurge on some of the best food at Disney World and are over 21 years old, you cannot missing dining around the highway in the sky! Keep in mind advanced reservations are required.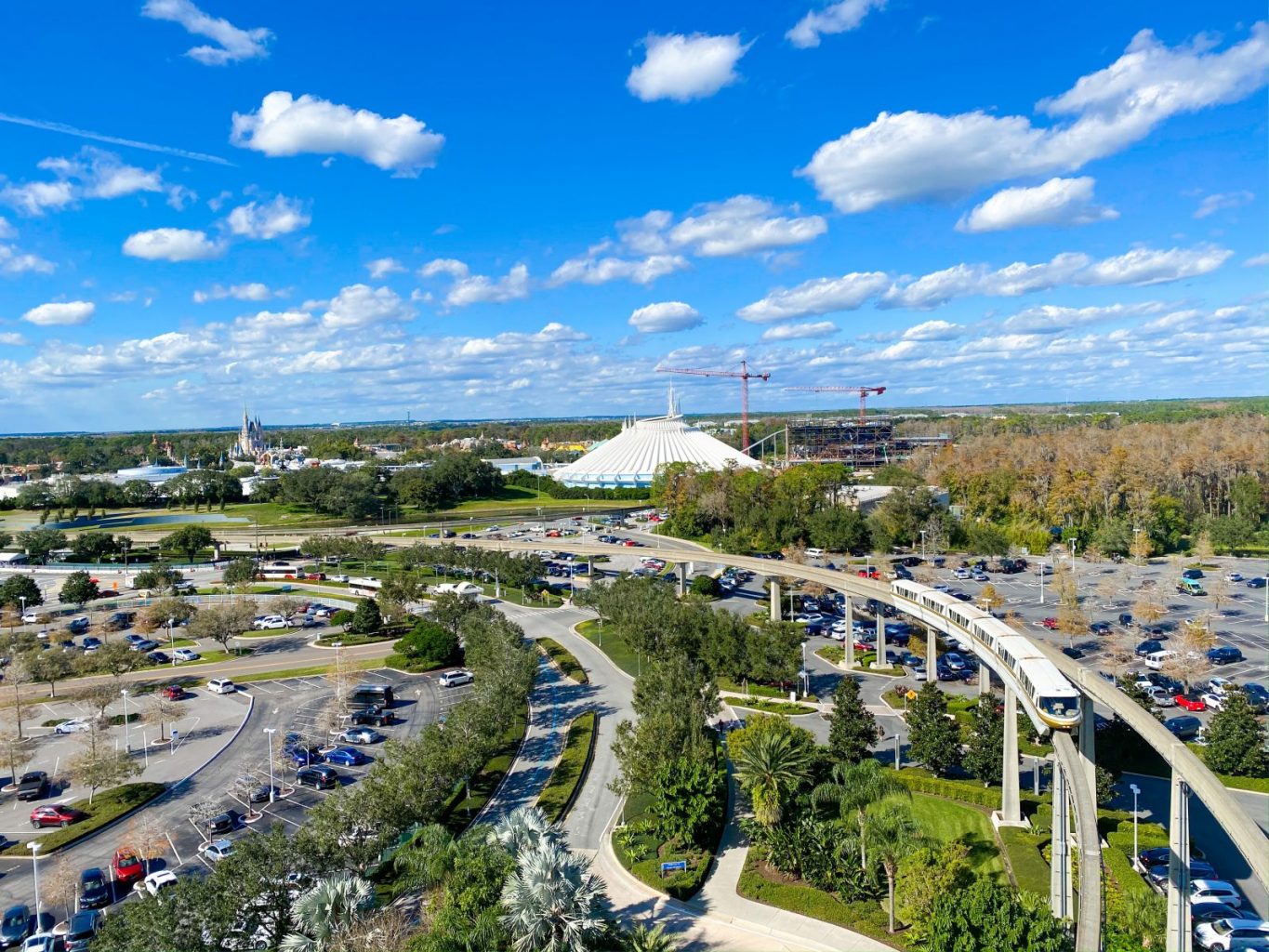 If you are interested in this splurge, but not thrilled by the restrictions or the schedule doesn't work for you – you can do this as a self-guided dine around experience. It will still cost a pretty penny as you will need to pay to enjoy the delectable food and drink at each stop, but you can do it your way!
Check out my recommendations for the best places to eat the Grand Floridian and be sure to book your stops with enough time to get back to the Contemporary for the fireworks – maybe even check out the Celebration in the Sky Dessert Party and check two splurges at Disney off the list!
Get A Make Over At Bibbidi Bobbidi Boutique Or Pirate's League
Getting a magical Disney make over is one of my coolest things to do at Disney World so it had to score a spot on my best splurges at Disney list given the price tag! While focused on kids, all guests can get a Disney make over at the Bibbidi Bobbidi Boutique and the Pirate's League.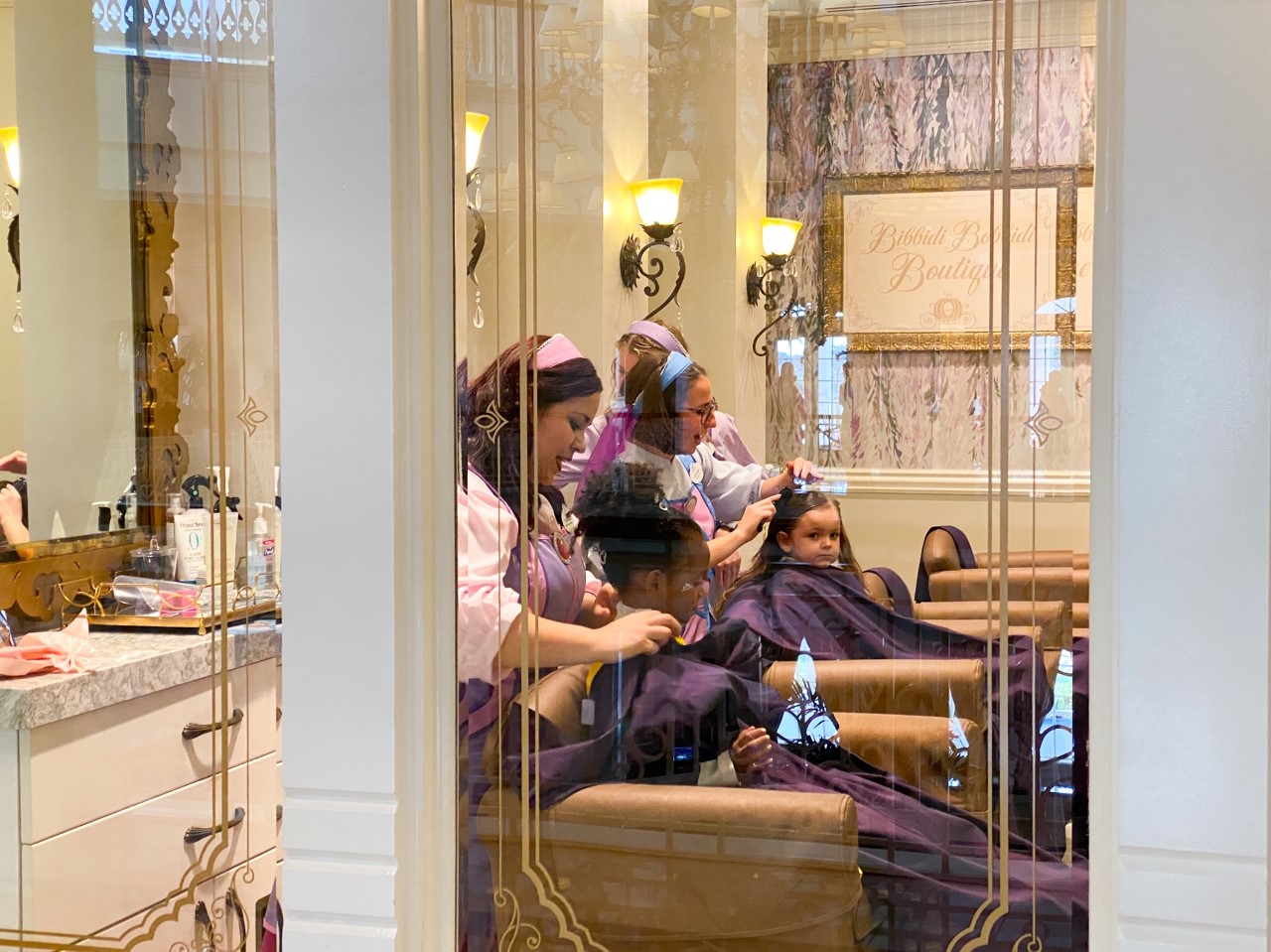 If you have an aspiring princess or knight with you, book an appointment for a princess make over at the Bibbidi Bobbidi Boutique and watch their eyes light up as they turn into a Disney princess or knight right before your eyes!
This Disney splurge will run you between $79.00 plus tax and over $450.00 plus tax, so for me this is definitely a Disney splurge and not an every-visit type of activity.
If you are interested in this Disney splurge, but not the $450.00 price tag, make a reservation for the more basic packages and bring along your own dress/outfit and accessories. If you are an adult interested in Disney make overs and costumes, please keep an eye on the Disney costume policy as there are restrictions for us grown ups!

Looking for a Disney make over but not feeling the princess and knight options, check out Pirate's League where you can become a pirate or a mermaid! You can get a pirate, empress, or mermaid make over at Pirates League in Magic Kingdom!
This make over spot is near Pirates of the Caribbean in Adventureland. Like the BBB, reservations are required and they go quickly! Also like BBB, it is not cheap. This is definitely a splurge but so fun and results in great memories and a great batch of photos!
Take A VIP Tour
Walt Disney World offers VIP tours and they are super VIP! The price tags might be a bit shocking, as they a for sure splurge, but by far one of the best splurges at Disney World! If you love Disney, and in my opinion have been to Disney World at least once before, for your next splurge – take a VIP tour!
Disney World offers specific VIP Tours with specific agendas or you can hire a VIP tour guide! With the private VIP tour you can hire a VIP tour guide and create your own agenda.
The service is above and beyond even the Disney usual high level service and for that exceptional service you will pay between $425 and $750 per hour for the guide, depending on the season. Of course, this does not include your park tickets – so this is most definitely a Disney splurge!
If you are not sure where to begin with a tour plan, or want to go with a set Disney experience, Disney also offers set VIP tours. Below is a quick run down of the Disney VIP tours available for your Disney splurge day dreaming.
Ultimate Day of Thrills VIP Tour – 7 hours of experiencing the best thrills rides and coasters at Disney World. This tour will cost you $349 per person (plus tax) and is only offered certain days of the week with one departure time. Great for thrill seekers and coaster lovers!
Ultimate Disney Classics VIP Tour – 4 hours of experiencing Disney Classics (think Fantasyland plus a few others). This tour will cost you $249 per person (plus tax) and is only offered three days per week with one departure time. Great for families with young kids! This entire tour is in Magic Kingdom.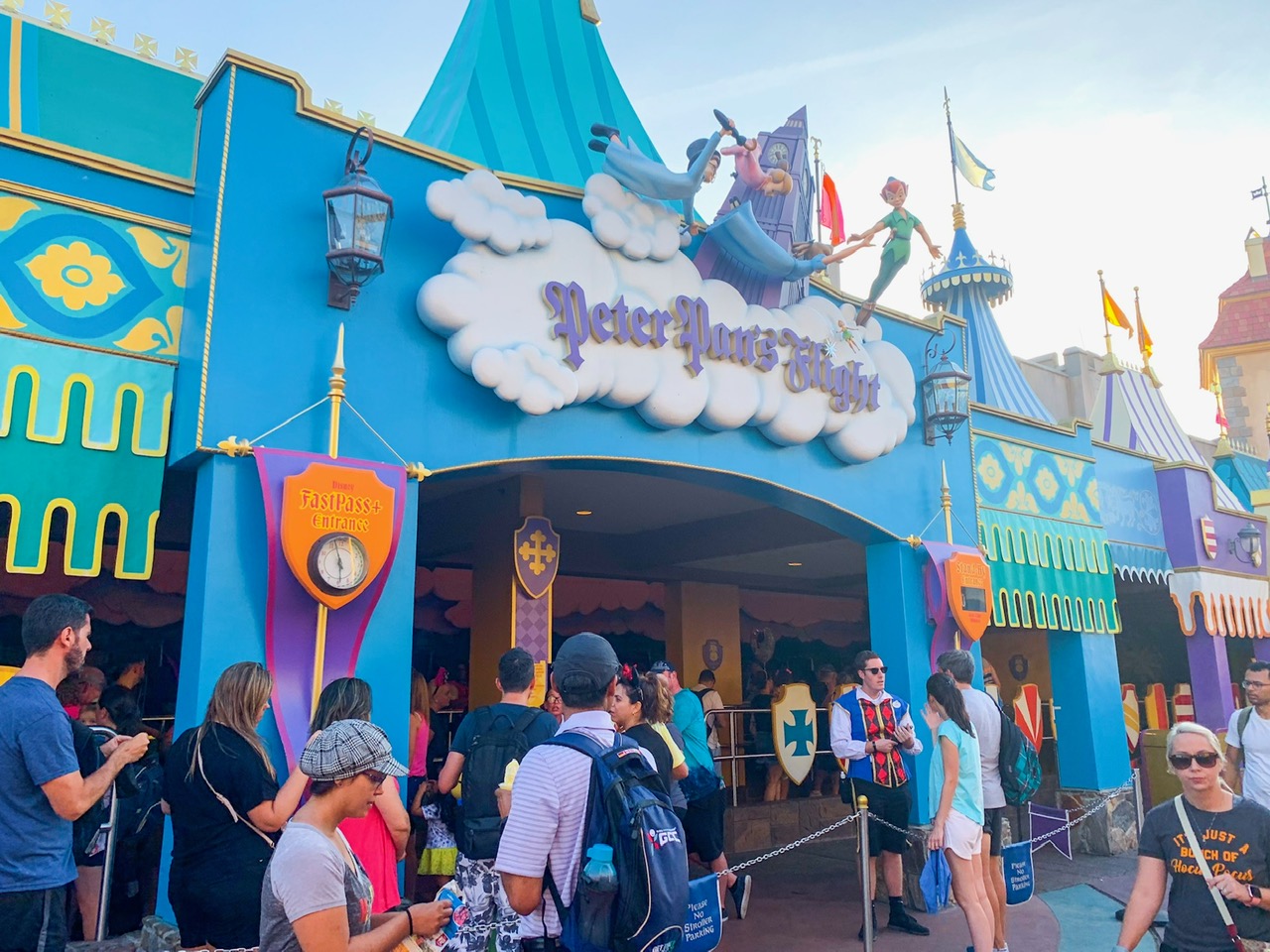 Ultimate Nights of Adventure VIP Tour – 4 hours of an Animal Kingdom specific VIP experience culminating with VIP seats at Rivers of Light! This tour will run you $249 per person (plus tax) and is offered every day of the week beginning 4 hours before show time.
Taste of Magic Kingdom VIP Tour – this is a brand new one! For $99 per person (plus tax) you will get a 3 hour experience eating your way through Magic Kingdom while hearing from the chefs and learning all about the iconic dishes – dole whip anyone? This is a great foodie and adult friendly tour, especially if you do not drink alcohol and drinking around the…does not interest you.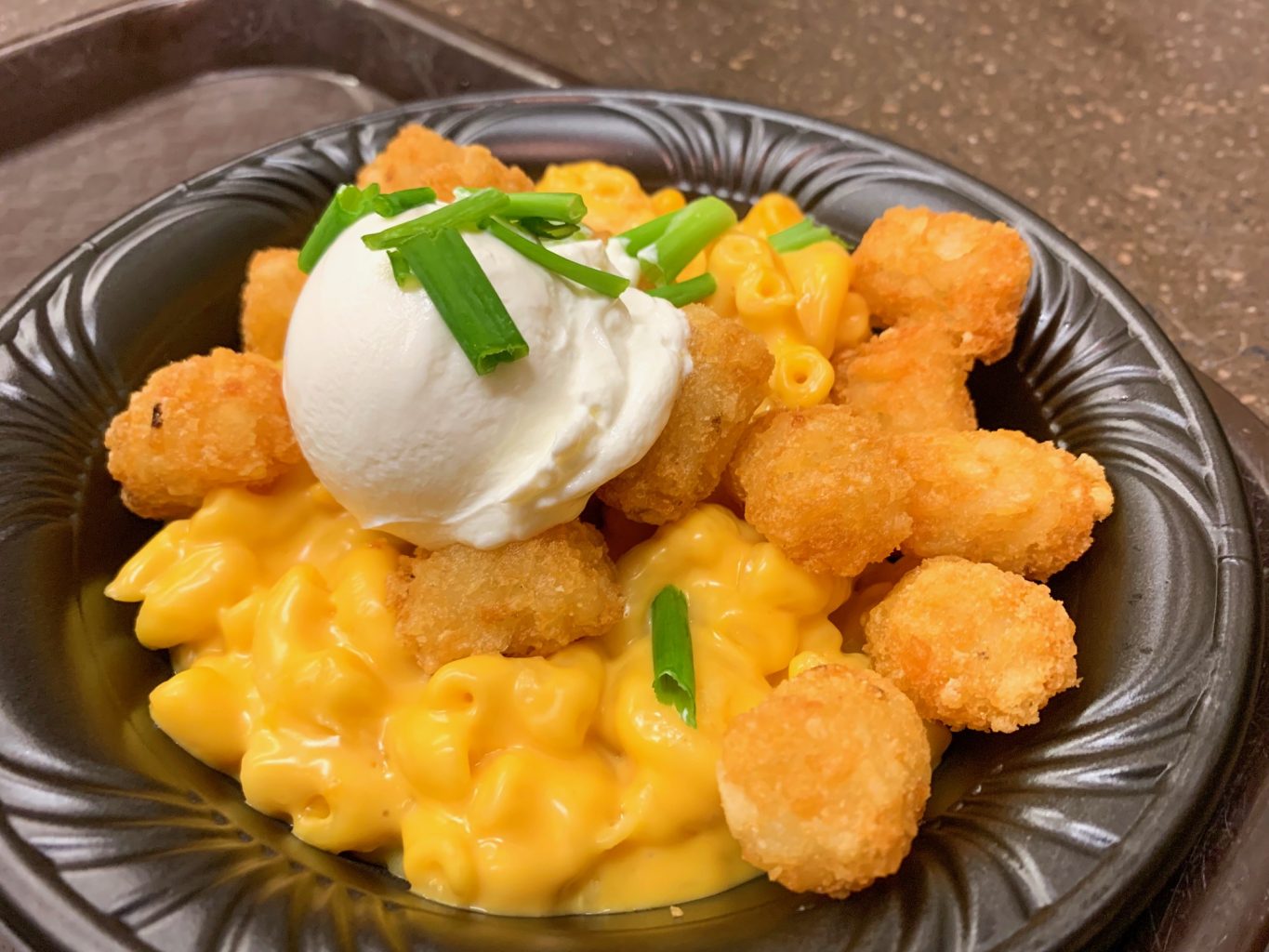 Keys to the Kingdom VIP Tour – for $99 per person (plus tax) you will get to experience the secret side of Magic Kingdom – including the underground tunnels! Unlike the VIP tours that focus on rides, this is a 7 hour walking tour that teaches you so much about Disney and Disney World. While great for true Disney aficionados, I would not recommend this for kids.
Keep in mind every one of these tour prices does NOT include your ticket – so this is definitely a splurge at Disney!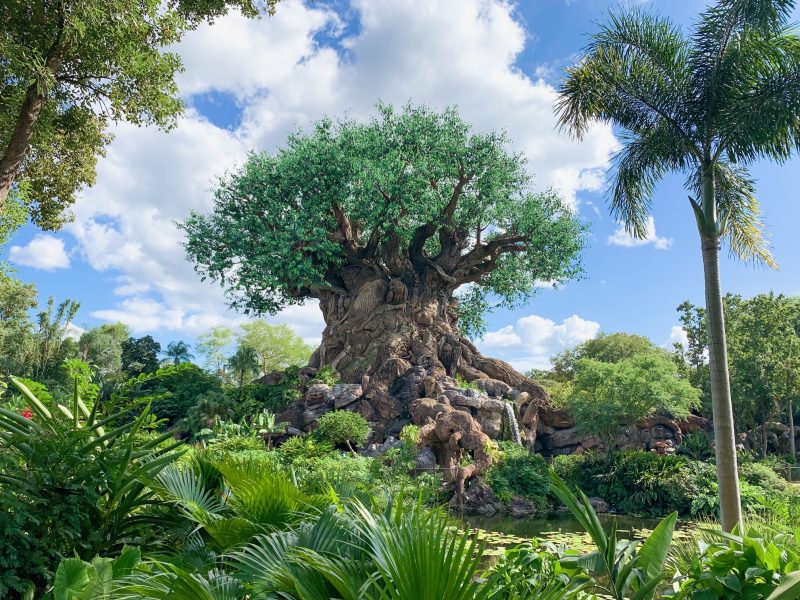 Stay Club Level At A Deluxe Resort
I know I just told you to splurge and stay at Disney Deluxe Resort, BUT…hear me out…if you want to take it a step further (or you already did that) – stay Club Level at a Deluxe Resort! Staying Club Level at a Deluxe Resort is the ultimate splurge for honeymooners, Dopey Challenge finishers, and anyone who wants to live a baller life at Disney for a few days!
So what is the difference between Club Level at a Disney Deluxe Resort and just staying at a Disney Deluxe Resort? The perks! Oh, and the price tag. Now each Disney Deluxe Resort has certain Club Level rooms, you will need a reservation in one of these rooms to stay Club Level at the Resort.

If you stay two nights or more (with 3-day park tickets) Club Level at a Deluxe Resort you can pay $50 for Club Level Fastpasses. Yes, there is a secret level of Fastpasses. This means each guest can book 3 extra Fastpasses for any park 90 days before check in and this bonus Fastpasses can be at any park.
When you add this all up – if you stay Club Level at the Deluxe Resorts as your Disney splurge and shell out the $50 per person, you get 3 normal Fastpasses per day and 3 VIP Fastpasses to make sure you get on the hottest rides.

Club Level stays also come with access to the Club Level Lounge which hosts free breakfast, endless snacks, happy hour with wine and beer, and desserts! So not only is a whole meal included every day, but so is alcohol – and that perk can easily pay for itself.
If you decide to jump on this splurge at Disney you will also get a dedicated Cast Member who will handle everything for you and assist throughout your vacation – which can be a great perk!
Enjoy A Spa Day
Everyone gets tired and sore at Disney World, whether a formal race or not you spend days running around the property, so this splurge at Disney is one to treat yourself – hit up a spa! Did you know Disney is home to several world class spas? Well now you do.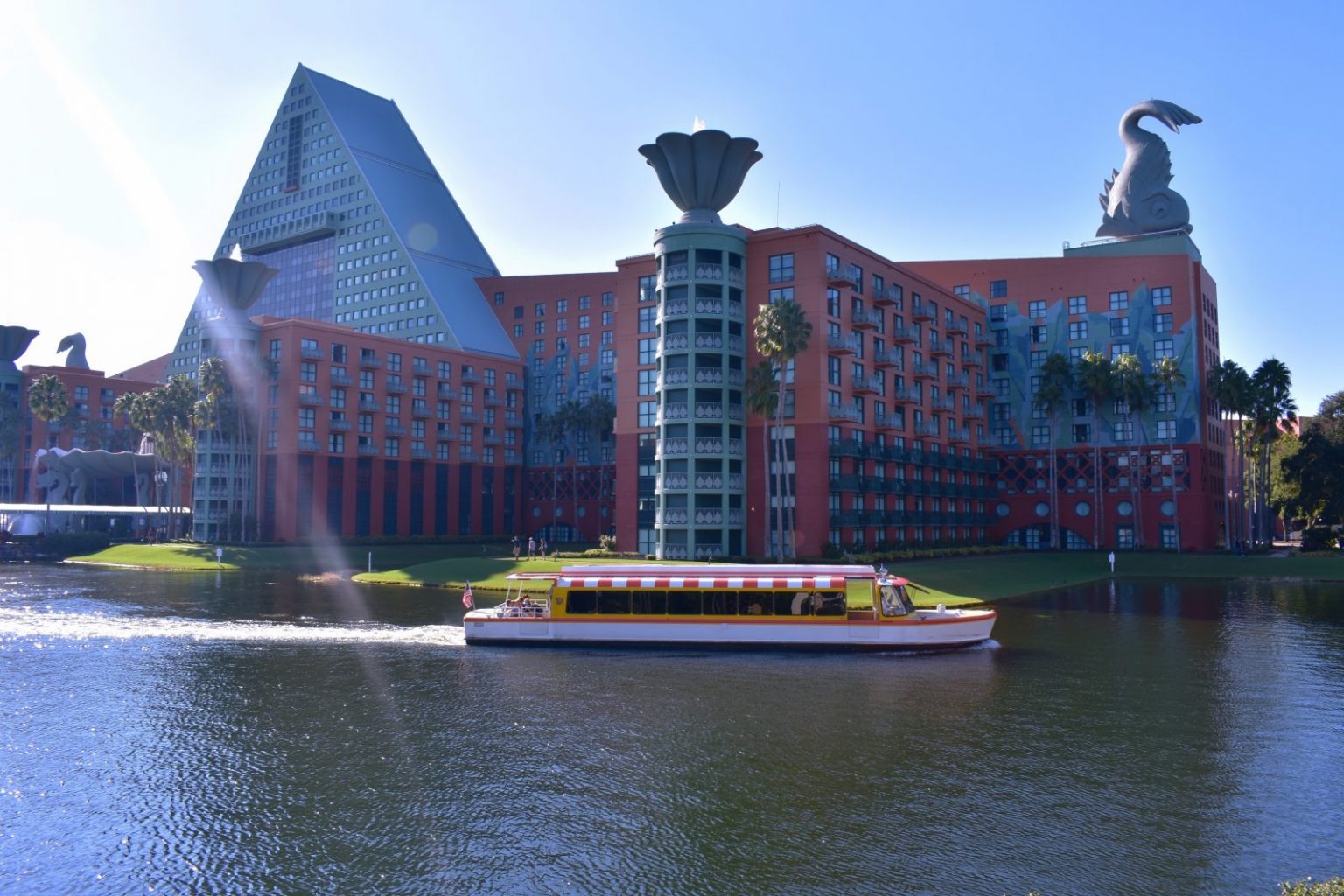 You cannot find a Disney spa at all hotels so here is the rundown of Disney Spa's:
Senses – A Disney Spa and Salon at Grand Floridian Resort and Spa
Senses – A Disney Spa and Salon at Saratoga Springs
Ship Shape Massage Salon Fitness at Yacht Club
La Vida Salon at Coronado Springs
Zahanati Massage & Fitness Center at Animal Kingdom Lodge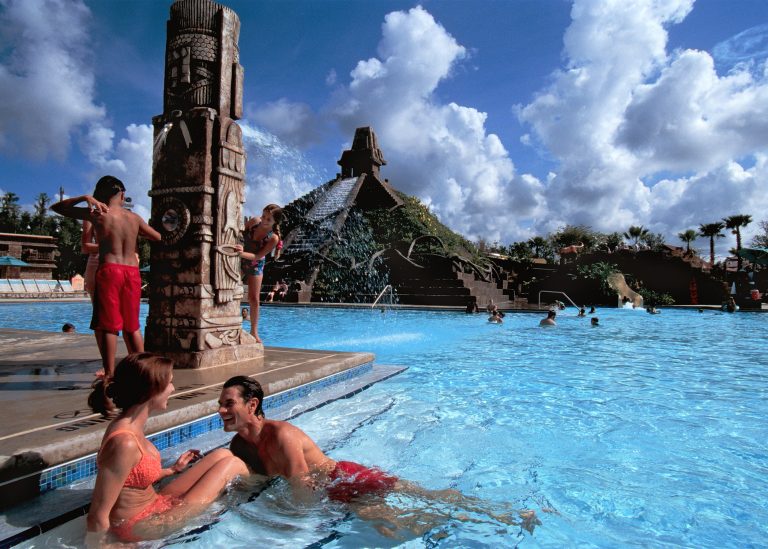 This is a great splurge for parents, grandparents, couples, and even older kids! A deep tissue massage might be exactly what you need after a long trip or maybe you want to get a luxurious manicure after arrival? Book a reservation at a Disney Spa and get the full experience!
The Disney Spa's are a great splurge at Disney, but enjoying one will require a bit of planning (you need a reservation) and it will cost more than the spa back home – even if home is London or San Francisco. In my opinion, totally worth the spend for anyone who has the time during their Disney visit and wants a bit of ME time!
Go To High Tea At The Grand Floridian
High Tea is one of my absolute favorite things about being in Hong Kong (best high tea I have had, but if you know better drop me the scoop in Comments!) – so I had to check out the High Tea at the Grand Floridian Resort and Spa. After full vetting I can promise that this is a great splurge at Disney!
The Grand Floridian Resort and Spa is home to the Garden View Tea Room – the perfect stop for afternoon tea and a fun splurge at Disney! You can have Afternoon Tea at the Grand Floridian Garden View Tea Room daily from 12 noon to 4 pm and be sure to make a reservation for this splurge.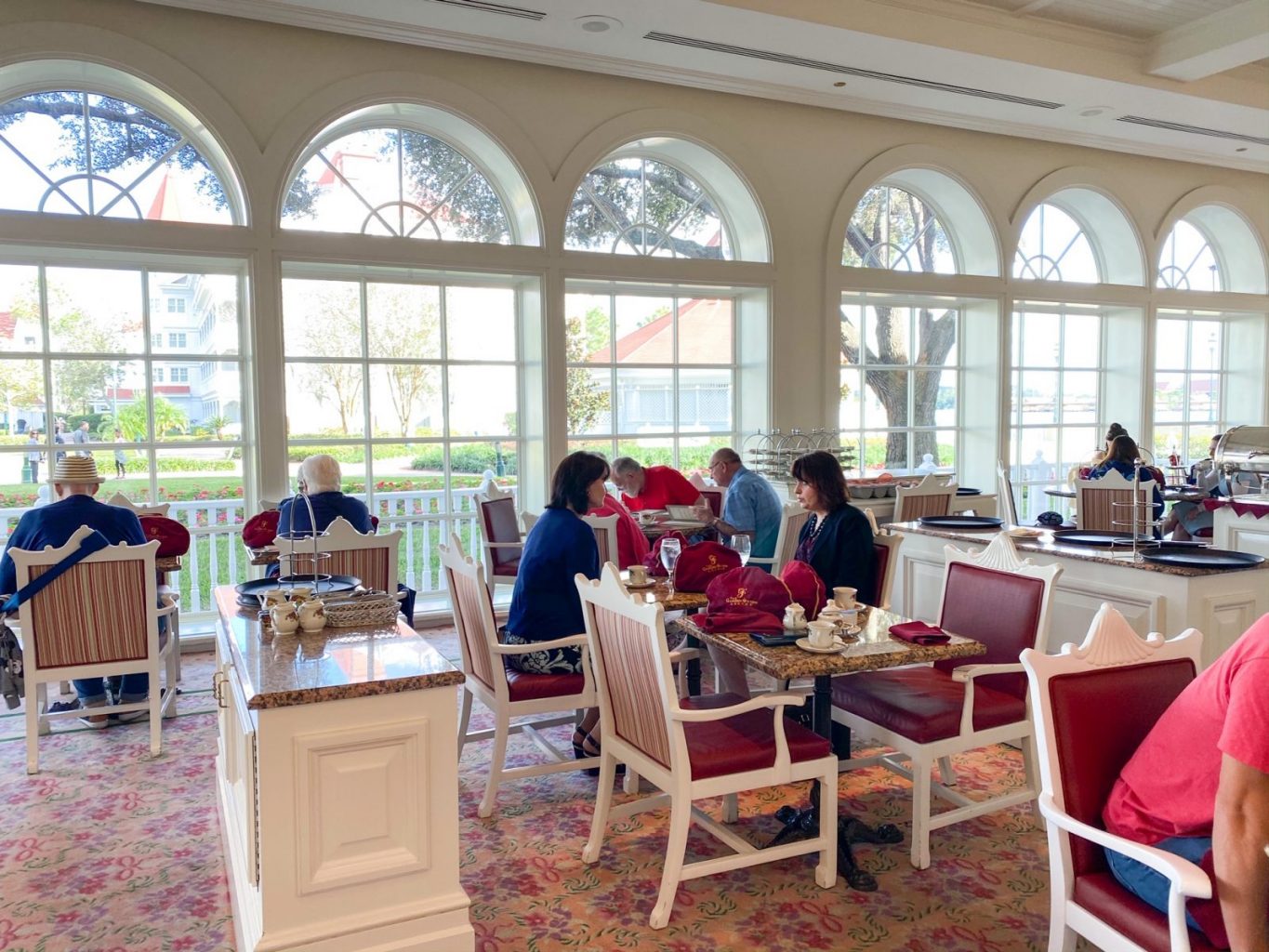 If you want to make Afternoon Tea a little more magical, go for the Disney Princess Tea Party! This Afternoon Tea comes with a Princess visit and goodies for young attendees. Perfect for the young princess in your group especially if you happen to visit for a birthday or special event!
Afternoon Tea at the Garden View Tea Room has a menu so the price will vary. On the other than, the Disney Princess Tea Party costs $333.64 for one guest and one child. If you want to add guests, each additional adult is $98.66 and each child is $234.08.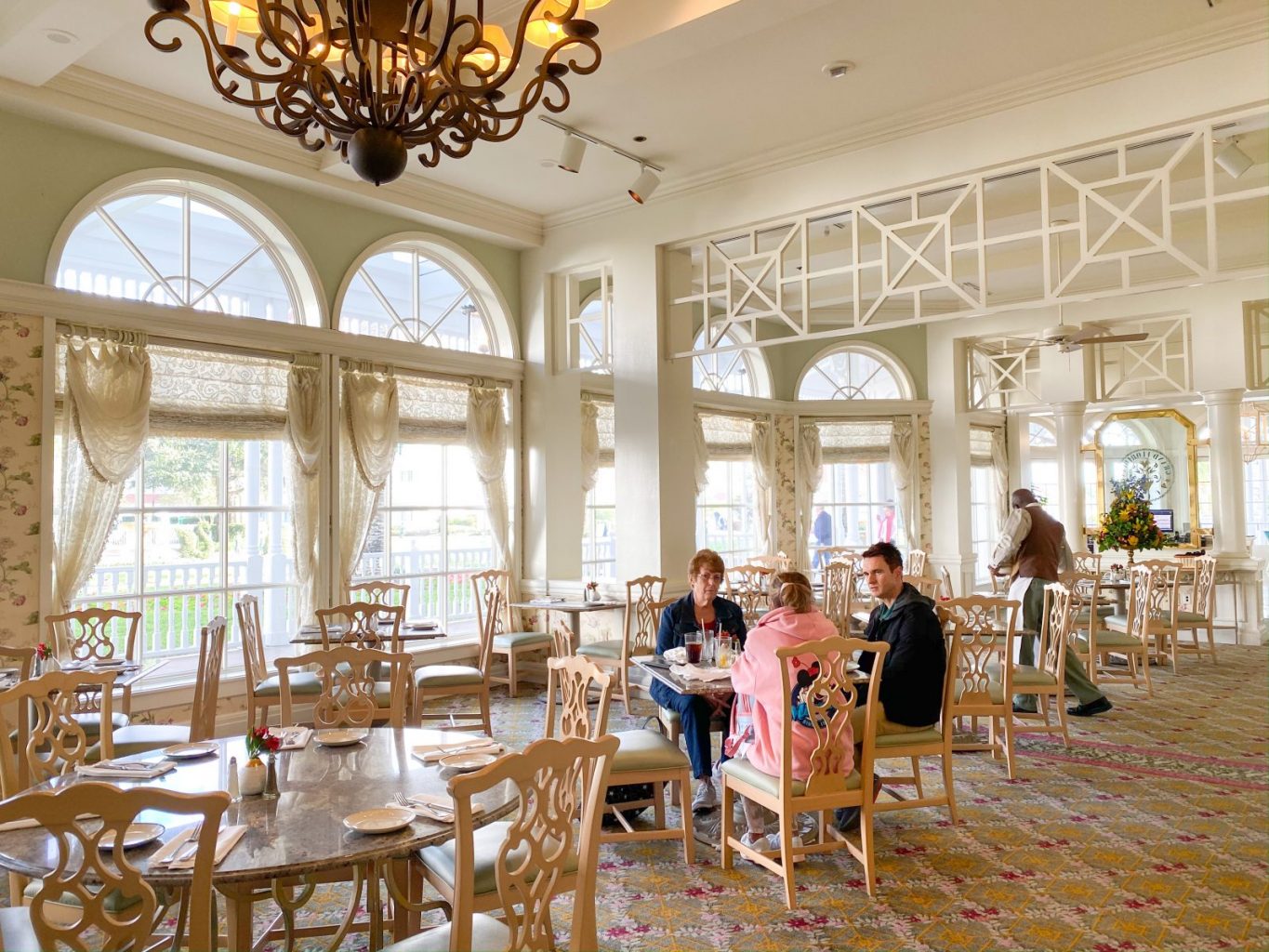 Attend a Magic Kingdom After Hours Party
You might think why pay for another Magic Kingdom ticket for one of these after hours events and while a good question – the ticket is worth every penny and this is one of my top splurges at Disney!
I hate crowds and waiting so the Magic Kingdom after hours parties are a no brainer for me. There are currently three Magic Kingdom after hour parties, but Disney tends to try new ones each year or so. Right now Magic Kingdom hosts Mickey's Not So Scary Halloween Party, Mickey's Very Merry Christmas Party, and Disney Villains After Hours!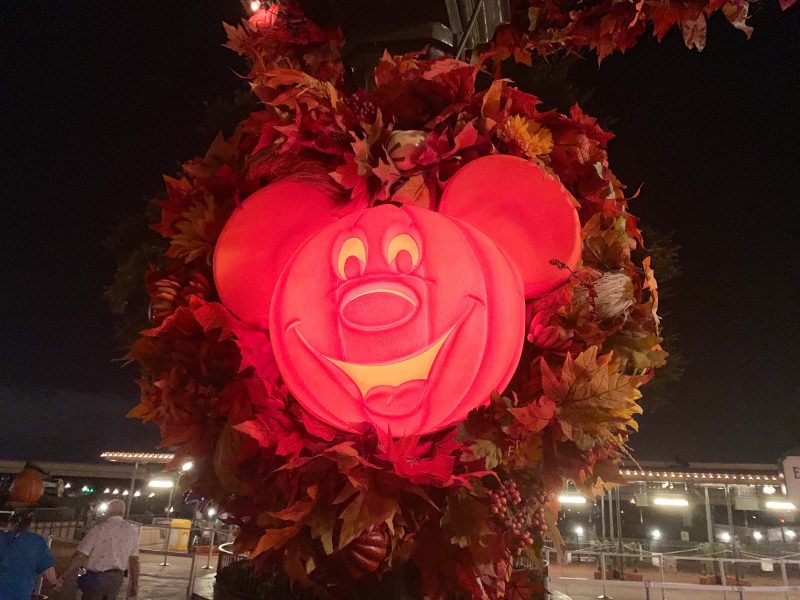 There is SO much to share about the Magic Kingdom after hours events so I have dedicated an entire post to guide you through all of these magical splurges! Check them out here:
My Ultimate Guide to Mickey's Not So Scary Halloween Party!
My Ultimate Guide to Mickey's Very Merry Christmas Party!
My Guide to Disney Villain's After Hours!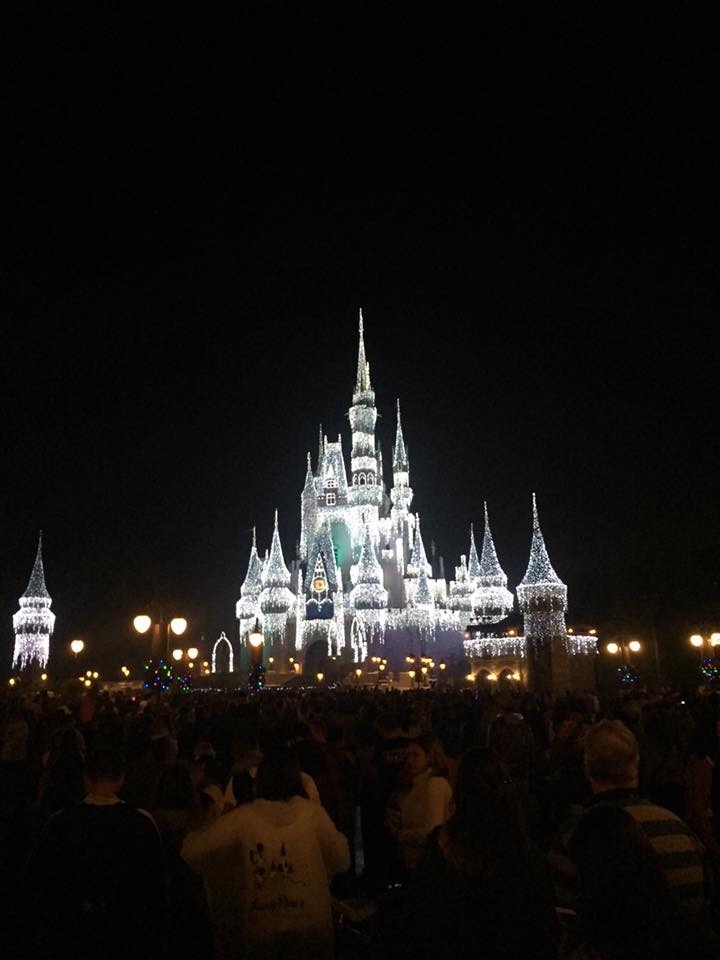 Disney is so amazing during the holidays, but these after hours events take it to another level! Since a ticket to these events must be purchased in addition to your park tickets, and will run you over $100 per adult, this is a splurge at Disney for sure.
I would rank this Disney splurge super high on my "dream must do" list as its great for every visitor and truly memorable!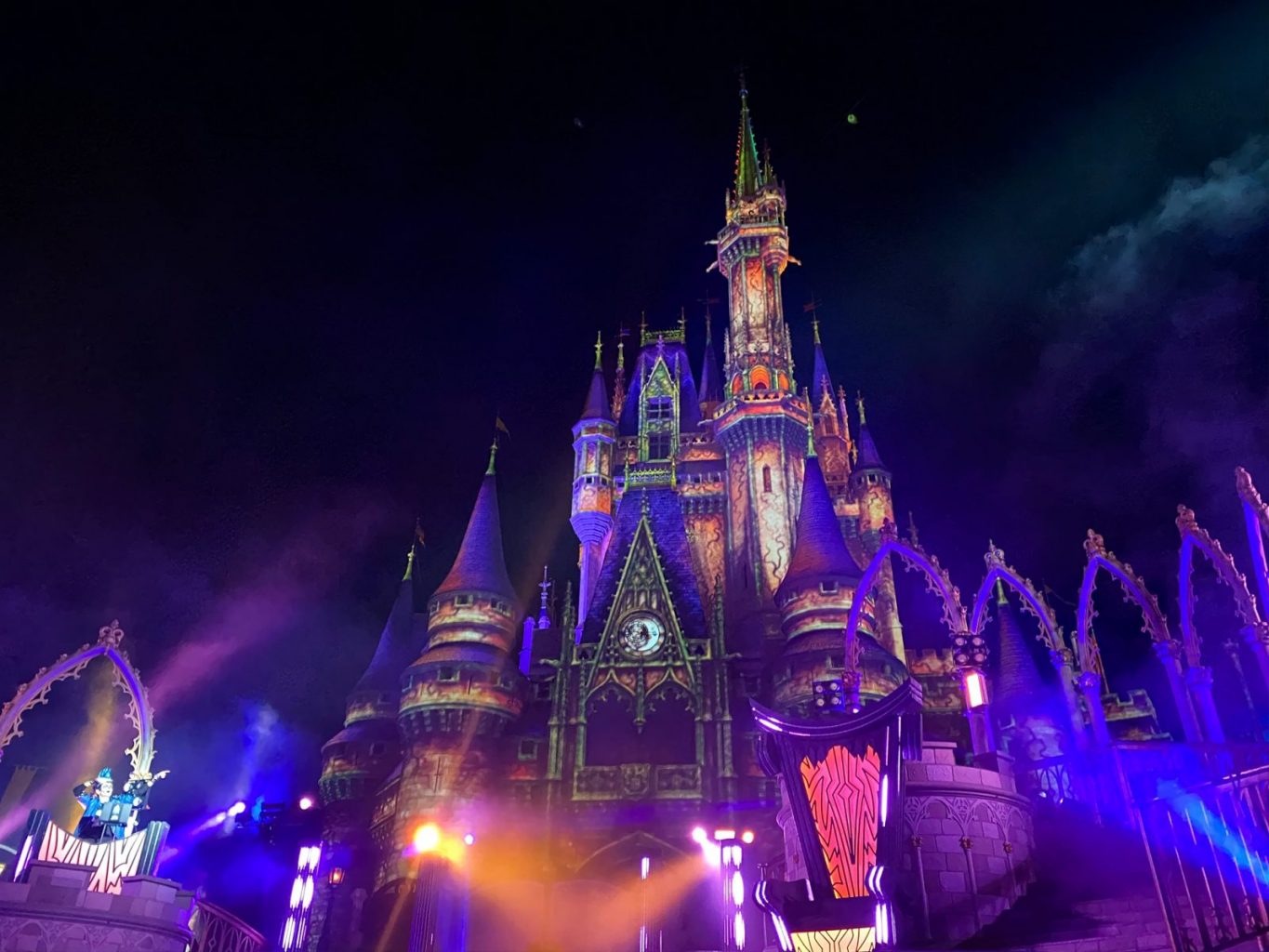 Shop At Savi's Workshop
If your favorite part of Disney is the acquisition of Star Wars – this is the best splurge at Disney for you! A must stop during your visit to Galaxy's Edge is Savi's Workshop where you can build your very own lightsaber!
All Star Wars fans should make an appointment for Savi's Workshop and build a once in a lifetime souvenir – a personalized lightsaber. This souvenir is not by any means cheap and will run you at least $200 per lightsaber (plus tax of course).
Now remember – Savi's Workshop is a secret so be stealth when you come and go!
Run a runDisney Race
Also if you really do not want to do the race, you can still participate as Cheer Squad member so everyone should put a runDisney event on their Disney World must do splurges! As a runDisney participant you get to run, or walk, through the Disney parks before they open – this is my favorite part!
RunDisney is not cheap – every race is at least $75 and when you start to add in challenges you could end up with a $500+ per person running bill! But let me promise you – it is worth every single penny.
Critical runDisney tip – these races sell out, sometimes in minutes, so plan as far ahead as you can to sign up once the races go live!
There is absolutely nothing like running a runDisney race. The entire course is full of characters you can stop and meet, Disney music the whole way, mini shows on the course, and you get to run through Disney parks before they open! Plus once you finish and get that Disney medal, that you should proudly rock for the rest of your visit, you will feel so proud!
Disney World is home to four runDisney events (for now). Here is the scoop on these events:
These are some of my favorite splurges at Disney worth the spend! Do you have any favorite splurges at Disney that I missed? Share with us in Comments!