If you are looking for the ultimate guide to Mickey's Not So Scary Halloween party, look no further! This family-friendly Halloween party can be a lot of fun, but there are definitely a lot of things you need to know before you go.  You have to be prepared for the lines, the crowds, and you may have questions on whether this spooky shindig is right for you and your family!
So how do you know where to start? You start here, of course! We have compiled all the need-to-know information about the biggest Halloween party at Disney just for you. We've been to the party, dressed up, done the trick-or-treating, and seen the shows so that we can let you know exactly how to plan your night. Follow along for our best tips and touring strategies to get the most out of your night!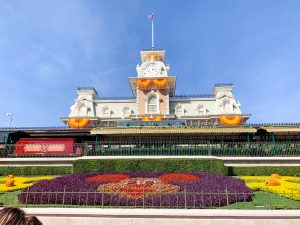 What is Mickey's Not So Scary Halloween Party?
Mickey's Not So Scary Halloween Party (MNSSHP) is hard ticket event that happens every Fall at the Magic Kingdom in Walt Disney World.
A hard ticket event is an event for which you buy a separate ticket, and your park admission ticket is not required and doesn't guarantee you access to the event.
This particular hard ticket event is aHalloween celebration with fun for the whole family, and has tons of special entertainment, treats, and even trick-or-treating at the Most Magical Place on Earth!
The event runs from August to November each year, on select nights. The party runs from 7 pm until 12 midnight on those nights.
What makes MNSSHP unique is that it's one of few events that happen at Disney World where adults can dress in costume! All ages are encouraged to dress in costume, whether it's of your favorite Disney character or something else.
This is such a fun aspect to the party, and it's great to see everyone dressed up, and some people really go all out with their costumes! There are some rules, of course, so just be mindful of costumes being family-friendly and Disney World appropriate, as well as Disney has a whole list on their site of costume requirements.
What are the 2020 Dates for Mickey's Not So Scary Halloween Party?
This year the party will run from August 13th to November 1st. It will run on select nights, and this year the party takes place on 36 nights! This is the most nights the party has ran, so you have a lot of time to enjoy it. The dates are:
August 13, 18, 21, 25, & 28
September 1, 4, 7, 11, 13, 15, 18, 20, 22, 25, 27, & 29
October 1, 2, 4, 6, 8, 9, 12, 13, 15, 16, 18, 20, 22, 23, 25, 27, 29, & 31
November 1
What are the Prices for the Disney Halloween Party?
Since there are so many dates available for the party, there are also a lot of different prices for the party nights as well. Disney tiers the prices based on when the party could be the busiest, so you will pay a lot more the closer you get to Halloween, as well as you may pay more on the weekend versus a weekday party.
The prices start at $80 for children (ages 3-9) and $85 for adults. October is a much more expensive month to go, with Halloween of course being the most expensive night at $144 for children and $149 for adults.
If you purchase tickets in advance online you can save $10 on admission, but know that Halloween is excluded from this deal. Also, Disney World Annual Passholders do get a $5 discount off of the base prices as well.
Not So Scary Halloween Party Dates that Often Sell Out
In the past, MNSSHP hasn't been a total sell out party, In fact, only 4 nights sold out in 2018. But in 2019 that all changed. A whopping 13 nights sold out last years! This could be because the parks are even busier now that both Toy Story Land and Galaxy's Edge are open, and Fall is a popular time to book already because the Halloween party dates coincide with the Food & Wine Festival at EPCOT.
Halloween, of course, historically sells out, as does November 1st since it's the last night of the party. Other dates that sold out were:
September 22, 27, & 29
October 1, 8, 10, 11, 14, 17, 24, & 25
The dates that sold out in September were Sundays and a Friday. The October sell out dates fell on weekends, a long holiday weekend, and the Tuesdays leading up to Halloween. August dates typically don't sell out so our recommendation would be to visit the party sometime in August or September. Those dates are less likely to sell out, as well as they are much cheaper. The earlier dates aren't as crowded either, and once you get closer to Halloween the crowds get larger!
Getting Your MNSSHP Wristband
Once you arrive at the Magic Kingdom you will need to pick up your party wristband from a Cast Member. The party wristband desginates that you can be in the park after it closes (park closes at 6 pm on party nights), and that you can take part in the festivities!
If you arrive early, either during the early entrance period of 4pm – 7pm or you are an Annual Passholder already in the park, you can get your wristband from multiple pickup locations.
In the past you've been able to pick it up right after scanning to get into the park, at Market Street (the alley near Tony's Town Square Restaurant), near Buzz Lightyear's Space Ranger Spin in Tomorrowland, near Mickey's Philharmagic in Fantasyland, and near Pirates of the Caribbean in Adventureland.
If you arrive right when the party starts or after it has started, you will get your wristband upon entry or at Market Street (which is also the first treat station, as well as it has some fun photo ops!).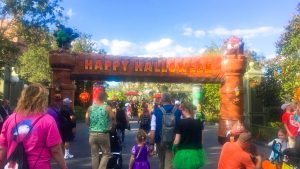 Special Entertainment at Mickey's Not So Scary Halloween Party
There are many reasons to go to Mickey's Halloween party, but the event exclusive entertainment may be the BEST reason! You can see special fireworks that feature some Disney favorites, a stage show hosted by the Sanderson Sisters, and one of the best Disney paraades. Not to mention, you can trick-or-treat!
Boo-to-You Parade
The Headless Horseman is the harbinger of this wickedly fun parade. His ride through the streets of the Magic Kingdom marks the beginning of the parade, and he's followed by some of your Disney favorites like Mickey and friends, but you'll also see some spooky specters!
The Hitchhiking Ghosts and Constance the Bride from the Haunted Mansion make appearances, as do the ghostly ballroom dancers from the ride. You will love the Gravediggers performing with their shovels, as well as the dancing Sugar Rush girls.
This is a don't miss! Make sure you get a good spot by lining up a little early. The parade does happen twice nightly during the party, and the second parade is never as crowded. Definitely try to catch the second parade!
It's only a 20 minute parade, so it isn't a huge time suck during a limited party. Just like the other Magic Kingdom parades it starts in Frontierland and heads down Main Street U.S.A.
Hocus Pocus Villain Spelltacular
The Hocus Pocus Villain Spelltacular is hosted by the Sanderson Sisters, and it is a blast from start to finish! They cast a spell on everyone at the party with a little help by Dr. Facilier, Oogie Boogie, and Maleficent.
This is a don't miss because of the great dancing, awesome projections, and special effects. Plus, you don't want to miss the Sanderson Sisters – they're here for a good time, not for a long time!
This fun show happens on the stage at Cinderella Castle, and happens three times a night during the party. Like the parade, the later show will be the least crowded – it typically starts at midnight and runs until after the party is over! You will get a better viewing spot if you wait for the last show.
Disney's Not So Spooky Spectacular
Even thought it's a special event and not a normal night in the Magic Kingdom, don't worry about missing out on the fireworks! These special MNSSHP fireworks are hosted by none other than the Pumpkin King himself, Jack Skellington. He hosts a display of projections and fireworks that includes Mickey and his friends getting trapped in a haunted house.
Last year the fireworks happened only once a night, so be sure to grab a spot for these! You don't want to miss this amazing display, and here's a pro tip: if you want to see the Jack Skellington "puppet" that hosts the fireworks, you will need to be closer to the stage. He can be hard to see from further down Main Street.
Also, please be warned: this fireworks show isn't full of creepy Disney songs or songs by the Villains. Don't let this throw you off! The fireworks show is awesome, but it's important to know so you don't get disappointed listening for recognizable songs.
Disney Junior Jam
Even though this is Mickey's Not So Scary Halloween Party, some littles may be too frightened of the Halloween festivities anyways. Don't worry though, Disney hasn't forgotten about them! Back in Storybook Circus there's a special dance party just for the littlest trick-or-treaters. Little ghosts and goblins can dance the night away at a party complete with a DJ, Doc McStuffins, Vampirina, and Timon from the Lion King.
Cadaver Dans
One of our favorite forms of entertainment at Mickey's Halloween Party is the Cadaver Dans! Everyone's favorite barbershop quartet has gotten a creepy cadaverous makeover, and perform periodically throughout the night on party nights over in Frontierland. They are dressed as dearly departed cowboys, tell jokes, and sing. Like the Dapper Dans, the Cadaver Dans tell some corny jokes, focus on the puns, and sing their silly songs.
These performances are a don't miss because it's the fun, interactive, amazing content we expect from the Dapper Dans. Don't leave early though! Stick around until the end of their performance to hear their haunting rendition of "Grim Grinning Ghosts" – it's sure to get you into the Halloween spirit!
Trick-or-Treating
This is without a doubt the reason we all go to MNSSHP – trick-or-treating at the Magic Kingdom! There are trick-or-treat trails all over the park, in or near some popular rides and restaurants. When you get your wristband earlier in the night you will also receive a trick-or-treat bag. You can also bring your own bag or bucket if you would like.
All ages are allowed, and encouraged, to trick-or-treat! And, yes, you will get tons of candy! You can go through the trails as many times as you like too. There are some non-candy treats as well, as we've seen those yummy little squeezy applesauces in the past too.
For those with food allergies or dietary restrictions, don't worry. You haven't been forgotten! You can get a teal treat bag from any Cast Member, and you can collect teal tokens from the trick-or-treat trails. These tokens can be turned in at Town Square Theater or Liberty Square Ticket Center for an array of allergy friendly treats.
Historically they've had lots of peanut-free, dairy-free, and gluten-free treats like: Enjoy Life cookies, Gogo Squeeze applesauce, Smarties, Rice Chocolate Sun Cups, and many others. Also, if you or someone in your group has an allergy and feel like you may not get as many treats as those trick-or-treating the regular trails – don't feel this way. You can still fill up bags of treats from the allergy friendly locations!
Pro tip: Trick-or-treat later during the night. If you plan on enjoying a lot that the party has to offer, you might want to wait a little bit later into the night. Most people trick-or-treat immediately upon receiving their bags and the lines can get long. If you wait until later, the lines will be shorter, and Cast Members will be much more generous with their handfuls of candy! Plus you don't have to carry around heavy candy bags the whole night.
The treat trails are scattered all around the park. Here's the locations they were last year as a guide to where they most likely will be this year as well:
Market Street near Main Street is the first treat trail (you'll get bag and wristband here)
Pinocchio Village Haus restaurant
Mickey's Philharmagic (they run Legend of Sleepy Hollow sometimes for you to sit and enjoy)
Carousel of Progress
Cosmic Ray's Starlight Cafe
Storybook Circus WDW Railroad Station
Ariel's Grotto
The Diamond Horseshoe
Miner's Cove near Big Thunder Mountain Railroad
Country Bear Jamboree
Tortuga Tavern
Jungle Cruise
Dining Options for Mickey's Not So Scary Halloween Party
Even though the focus may be on candy and treats during the Halloween party, you may decide you need a little something savory, you will most definitely get thirsty, or you may want to purchase some of the party exclusive treats. There are several table service and quick service locations open during the party, as well as some exclusive dining events.
Included Dining Options
Unlike the After Hours and Early Morning Magic events that Disney World offers, MNSSHP doesn't include snacks and drinks. The only included food with your ticket purchase is the treats from trick-or-treating, so candy and allergy-friendly treats. All other food, snacks, and drinks will need to be purchased separately.
Seasonal Snacks for Purchase
Every year the Disney chefs make several party-specific and seasonal items available only for purchase during MNSSHP. Some of these treats are available all day during the fall season, so we suggest only focusing on the party-specific treats at night during the Halloween party.
Main Street Bakery has historically had fun treats, including a Mickey cinnamon roll and a party-inspired cupcake.
Casey's Corner also offers a Halloween brownie – we've seen Donald and Minnie in the past – and sometimes a seasonal drink.
Both Peco's Bill Tall Tale Inn & Café and Cosmic Ray's Starlight Café are great places to grab savory party snacks like nachos and burgers.
Sleepy Hollow has don't miss treats all year long, and their Halloween treats are no different.
Storybook Treats has some of the best ice cream and Dole Whips in the parks, and here is where you can find the AMAZING Maleficent cone – it's a must-have snack!
Lots of the carts and kiosks around Magic Kingdom offer specialty items as well during the party. Check the carts near Cinderella Castle, Golden Oak Outpost, Liberty Square Popcorn Cart, Aloha Isle, and Cool Ship.
Magic Kingdom Restaurants that Remain Open
If you're looking for something a little more substantial to eat during the party, you have both some table service and quick service options open.
Table Service Restaurants:
Be Our Guest
Cinderella's Royal Table
Crystal Palace
The Plaza Restaurant
Quick Service Restaurants:
Main Street Bakery (Starbucks)
Casey's Corner
Plaza Ice Cream Parlor
Aloha Isle
Peco's Bill Tall Tale Inn & Cafe
Sleepy Hollow
Liberty Square Market
Columbia Harbor House
Gaston's Tavern
The Friar's Nook
Storybook Treats
Auntie Gravity's Galactic Goodies
Cosmic Ray's Starlight Cafe
The Lunching Pad
Special Dining Experiences
There are three special dining experiences that can be booked on party nights as well. They're all an extra price in addition to your hard ticket purchase, and not included in admission. These are all a little pricey. but may be a good addition for those looking to really max out their night.
Disney's Not So Spooky Spectacular Dessert Party with Plaza Garden Viewing
This event takes place at Tomorrowland Terrace Restaurant, and is a buffet of Halloween treats and specialty drinks. After enjoying all the snacks, you will be escorted to a prime standing location in Plaza Garden to view the fireworks. The event starts at 8:45pm and the fireworks take place at 10:15pm. Tickets are $79 for ages 10 and up, and $47 for those 3-9.
Disney's Not So Spooky Spectacular Dessert Party at Tomorrowland Terrace
This is a similar layout and spread to the other dessert party, but there are two major differences. One, alcohol is included for guests 21 and older. And two, the fireworks viewing takes place from the terrace at the restaurant. You'll be able to stay in one place and just stay seated at your table to watch the show. This party starts at 8:45pm as well. Tickets are $99 for ages 10 and up, and $59 for 3-9.
Cruella's Halloween Hide-a-way
This party takes place on MNSSHP nights at Tony's Town Square Restaurant, has a buffet of unlimited hors d'oeuvres, flatbreads, and sweets. Alcohol is included in the purchase price for guests 21 and older. And, of course, you will get to meet and greet with Cruella DeVil here!
This also guarantees you a special viewing spot for the Boo-to-You Parade. This event runs from 9:30pm to 12:30am, and is $99 per person.
Pro tip: this party is pretty pricey for what's included. The food at the dessert parties is much better, and if you're not an alcohol drinker than this party may not be worth the price. One of the dessert parties may be a better value.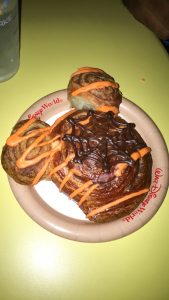 Characters You Can Meet at Mickey's Not So Scary Halloween Party
There are lots of characters to meet at the Halloween party. Many of them are hard to find characters or party exclusive characters. There are also a lot of usual characters to meet as well, so don't wait in long lines for those! Focus on the special characters or those that are the most important for you to meet.
Also, meeting the characters can take up a lot of time due to the lines for them getting very long. You want to plan accordingly, and for the more popular characters we give you some tips on how to meet those in a timely manner later in our Touring Strategy. The list of all the characters and their locations are as follows:
Mickey in Halloween attire at Town Square Theater
Jack and Sally at Town Square Theater *the most popular party exclusive*
Aladdin with Abu, Jasmine with Genie at Agrabah Bazaar
Tarzan, Jane, and Terk near Swiss Family Treehouse
Jafar near Magic Carpets of Aladdin
Moana near Enchanted Tiki Room *very popular party exclusive*
Captain Jack Sparrow near Pirates of the Caribbean
The Gravediggers at Liberty Square Gazebo (party exclusive)
Brer Fox & Rabbit roam Frontierland
Anastasia and Drizella roam Fantasyland
Cruella DeVil roams Fantasyland
Donald & Daisy in Halloween costumes at Storybook Circus near Splash 'n'  Soak Station
Minnie in Halloween attire at Storybook Circus near Splash 'n' Soak Station
Alice and Mad Hatter at Mad Tea Party
Queen of Hearts and the Tweedles at Mad Tea Party
Belle & Gaston near Gaston's Tavern
Ariel & Eric across from Ariel's Grotto
Pooh, Tigger, Eeyore, & Piglet in the CUTEST Halloween costumes at The Many Adventures of Winnie the Pooh
Cinderella at Fairytale Princess Hall (all the princesses here at Fairytale Princess Hall are always here, so don't waste your time in long lines!)
Princess Elena at Fairytale Princess Hall
Princess Tiana at Fairytale Princess Hall
Rapunzel at Fairytale Princess Hall
Seven Dwarfs inside Pete's Silly Sideshow at Storybook Circus *party exclusive and popular*
Lotso Bear near Carousel of Progress and Buzz Lightyear's Space Ranger Spin
Elvis Stitch at Stitch's Alien Encounter (this location may change due to demolition expected at this attraction)
PhotoPass Opportunities at the Disney Halloween Party
There are some great opportunites to make the most of Memory Maker and PhotoPass at MNSSHP. There are over 30 spots to get your photo taken, including character meet-and-greets and ride shots. Sir Mickey's does remain open for photos, and will be stocked with Halloween props.
There are also special Magic Shots just for the party, most of them at the Haunted Mansion. You can get a Magic Shot with the Hatbox Ghost and get photos with the Hitchhiking Ghosts in front of the carriage. To learn more about Memory Maker and PhotoPass, check out our article here to see if it's right for you.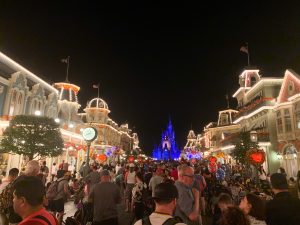 Rides That Will Be Open During Mickey's Halloween Party
There are several rides you will be able to enjoy during MNSSHP, and they're a great place to take a break from some of the Halloween madness. Plus, you will be able to ride a lot of your favorite rides with little or no wait due to short lines and smaller crowds. Important note: FastPass isn't available during party hours.
Adventureland:
Magic Carpets of Aladdin
Pirates of the Caribbean
Swiss Family Treehouse
Frontierland:
Big Thunder Mountain Railroad
Liberty Square:
Fantasyland:
"it's a small world"
Peter Pan's Flight
Prince Charming Regal Carousel
Under the Sea – Journey of the Little Mermaid
Made Tea Party
The Many Adventures of Winnie the Pooh
Seven Dwarfs Mine Train
Storybook Circus:
Barnstormer
Dumbo the Flying Elephant
Tomorrowland:
Buzz Lightyear's Space Ranger Spin
Monster's Inc. Laugh Floor
Space Mountain
Astro Orbiter
Tomorrowland Speedway
Tomorrowland Transit Authority Peoplemover
*Jungle Cruise, Carousel of Progress, Mickey's Philharmagic, and Country Bear Jamboree aren't open because they are treat trails.
Halloween Overlays
Four of the rides that are open during MNSSHP have special effects or overlays. Mad Tea Party gets special lights and music for an extra creepy feel. Space Mountain goes completely black, and is accompanied by a hard rock soundtrack to get your blood pumping. Pirates of the Caribbean adds in real pirates, those in search of treasure and Jack Sparrow. And finally, Monsters Inc. Laugh Floor becomes an interactive treat trail full of jokes, and it's a great place to relax.
Haunted Mansion
Even thought the Haunted Mansion isn't a ride with a party specific overlay, it's a don't miss during Mickey's Not So Scary Halloween party. Not only is it the perfect choice for a Halloween ride, but the Haunted Mansion has several ghostly visitors stationed outside to meet the guests, Madame Carlotta and Madame Rinotta are spectral sisters who heckle guests waiting in line. They are hilarious, and you can have some great interactions with them while waiting.
Like we mentioned earlier, there are great photo ops here too! There's a Magic Shot with the Hatbox Ghost, as well as a photo op holding a glowing lantern outside of the Haunted Mansion. You can also get a picture with the Hitchhiking Ghosts inserted in front of the carriage.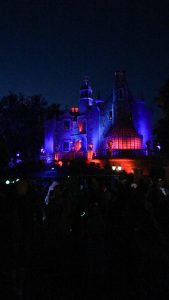 Mickey's Not So Scary Halloween Party Touring Strategy and Tips
So you've decided to go to MNSSHP. We have a touring strategy and some very important tips to help you make the most of your night.
First, even though the party doesn't start until 7pm, you can get in with your party ticket at 4pm. You don't need a park ticket for that day to get in between 4pm and 7pm. This means you have 3 hours to use for whatever you would like – which means you actually have 8 hours to enjoy! We think there are two ways to maximize those three hours prior to the party:
One: Get in line at 4 for the hard to meet special characters! If these characters are important to you, get to the party early and get in line. Jack and Sally have been known to come out by 4:30, Moana by 5:45, and the Seven Dwarfs by 6:15. You could actually get all three of them done by 7pm, and not have to be in line while the party is going on.
Two: If you don't care about meeting the characters, this is the time to enjoy rides you absolutely love and to grab something quick to eat. This is also the perfect time to get in line for party-exclusive merchandise.
Now once the party starts, make sure you've already gotten your wristband and trick-or-treat bag and start to enjoy! Find some of the specialty treats you want to enjoy, and get in line for some of the rides with overlays. This is a great time to start planning for the nighttime entertainment as well.
Trick-or-treat closer to 9 so you aren't lugging heavy candy bags around all night! The three hours between 7pm and the fireworks at 10:15pm should give you plenty of time to eat special treats, trick-or-treat, ride the overlaid rides, and meet some characters. The Gravediggers are really fun to meet and almost never have a long line, and Winnie the Pooh and his friends are a don't miss due to their adorable Halloween costumes!
Your entertainment schedule should be Not So Spooky Spectacular (fireworks), second Boo-to-You Parade, then the final midnight showing of the Hocus Pocus Villain Spelltacular. This will be from 10:15pm to about 12:20am. In between the entertainment, you'll be able to grab more snacks and drinks from carts all around the castle, as well as any of the places on Main Street U.S.A.
Ride Pro Tips! If you don't want to spend any of your party time riding rides, you can actually book FastPasses during the 4pm and 7pm window. This is a great way to get a few rides out of the way, especially if this is your only day in the Magic Kingdom. You can't book any FastPasses during party hours, but as long as you have tickets to MNSSHP, you can book those FastPasses starting at four!
Restaurant Pro Tips! Don't, we repeat, do not book a table service dinner during the party! You will waste so much time sitting at a restaurant when you should be out enjoying the party that you paid for. If you plan on eating dinner at the park, you should grab something to eat during the three hours between 4pm and 7pm, and focus on the quick service locations. You'll be able to get food much faster, waste less time and money, as well as most of those locations have mobile order to help speed up the process.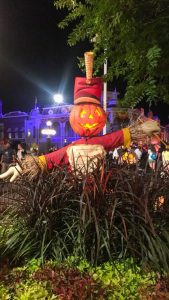 Who Should Attend the Disney Halloween Party?
The Disney Halloween party can be a whole lot of fiendish fun, and is a great event for those looking to do something a little different on their next trip to the Magic Kingdom.
We think this event is perfect for those with children who still want to trick-or-treat. What kid wouldn't want to trick-or-treat in the Magic Kingdom and get to see some of their favorite characters dresssed up for Halloween? This is a great opportunity for them to dress up, get some good candy, and enjoy the park in a totally different way. It's also great because the whole family can dress up and enjoy Halloween in a not so scary way.
This party is also great for the Halloween junkies! If you love Halloween, costumes, and all things Villains this is the event for you. Regardless of age you can throw on a costume and trick-or-treat, and you get to be a kid at Halloween again. The decorations around the park are absolutely gorgeous as well, and the photo ops can't be beat for Halloween lovers. This is a don't miss for those obsessed with this holiday.
We also think this is a great event for locals and Annual Passholders. You're able to use your discount, and if you are local, it's easier to go in costume and bring back all the candy you'll get while trick-or-treating. It's a great place to celebrate the season if Disney World is close for you.
Lastly, we think MNSSHP is a great event for those obsessed with characters. If you can't get enough character meet-and-greets in you life, this is the place to meet some hard to find ones, and many are exclusive to the party. It's a great way to check some characters off your must meet list.
Who Should Skip the Disney Halloween Party?
While Mickey's Not So Scary Halloween Party is a lot of fun, it may not be for everyone.
Those who don't love Halloween may want to skip this party. If costumes and pumpkins and trick-or-treating aren't for you, then this party probably isn't either.
The party may not be the best idea for those looking to do Disney on a budget as well. The tickets are expensive, and for larger families it can really add up. Not to mention the fact that no food and drink are included really makes this event a little more expensive than some other hard ticket events that Disney has. This may be an event to skip if you are budget conscious, and are trying to make the most of your time in the parks during your visit.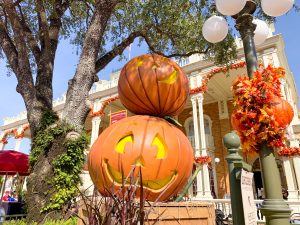 Mickey's Not So Scary Halloween Party is a fun, family-friendly way to enjoy Halloween at Disney World. We think it's a must-do event if you love Halloween, want to trick-or-treat, and can fit it into your schedule and budget. We hope that our tips have helped you make the decision about whether this event is right for you, and if you've decided yes, be sure to use our tips and touring strategy to save you a lot of time. Have fun planning your trip for Halloween!