There are many ways to commemorate your Disney World vacation, and Disney Memory Maker may be one of the best ways! It allows you to take professional photos all around the parks, capture moments with your favorite characters, and even share them with friends and family when you get home.
It can save you time, maybe some money, and can help you take home memories of your favorite moments from Disney World.
But how does Disney Memory Maker work? How do you use it? And is it worth the money? We have all those answers and more right here!
We plan on giving you all the details and our best tips to make sure you know whether Memory Maker is right for you and your family, as well as breaking down all you need to know to get the most out of it during your next trip!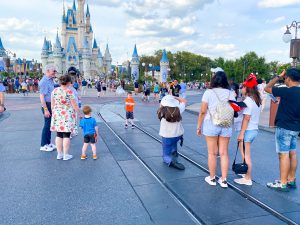 How Does Disney Memory Maker Work?
Before we dive into how Disney Memory Maker works, let's talk about PhotoPass. Disney's PhotoPass service employs professional photographers and puts them around the parks, as well as some hotels and at Disney Springs, to take fun and professional photos of you and your family. These photographers make sure to get everyone in the shot, and can capture some of the highlights of your trip.
Disney Memory Maker, on the other hand, is a digital product that allows you to download and keep all the PhotoPass photos you have taken on your trip. And instead of paying for each photo individually, your purchase of Memory Maker lets you take unlimited photos and keep them all.
Once you buy Disney Memory Maker, you link it to your MagicBand, park ticket, Annual Pass, and it links through the My Disney Experience app or the My Disney PhotoPass website. If you don't plan on using a MagicBand or don't have an Annual Pass, the PhotoPass photographer will give you a card that can then be linked in order to download your photos.
If you are doing a runDisney event you can also link your bib number in order to receive your race photos. And once you buy Memory Maker, you assign it to someone in your My Disney Experience profile, and then you can link to everyone in your group in order to have access to all the photos taken on your vacation.
Once you are home from your trip, you can download all your photos or just your favorites, and share them with friends and family. On the Disney PhotoPass site you can even buy personalized items with your favorite memories on them, or even a USB flash drive to save them all in a safe place.
What Does Disney Memory Maker Cost?
If you purchase Memory Maker once you are on your vacation and in the park it will cost you more than if you purchase it in advance! Prices change (usually up!) so make sure to check the Disney website for updated information for Memory Maker when planning your trip!
Whether you buy it prior to you trip or once you are there, Memory Maker gives you unlimited downloads and access to all the photos on your trip.
If you aren't going to be in Disney World very long, or aren't really into taking a lot of photos, you can do the Memory Maker One Day. It costs less and gives you a full day to take advantage of the PhotoPass photographers and get those unlimited downloads for that 24 hours. You will receive Memory Maker from 6 am the day you choose until 5:59 am the following morning.
A note for Annual Passholders or those considering getting one: having a Disney Platinum Plus Annual Pass or Platinum Annual Pass allows you unlimited downloads of all your PhotoPass photos. This means you are basically getting Memory Maker FOR FREE – they just don't word it that way.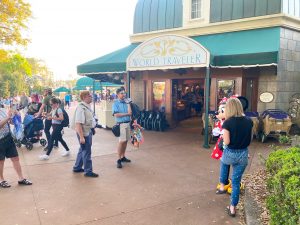 Upsides to Disney Memory Maker and PhotoPass
There are a lot of perks for using Disney Memory Maker on your next trip, and these upsides can definitely make up for the pricey cost of it. Here are some of our favorites:
You can get everyone in the photo! Mom doesn't have to hold the camera like usual, and you'll have photo evidence that everyone was there and having a good time.
You get professional photos in your favorite parks, with your favorite characters, and on some of the best rides.
Unlimited, let's say that again, unlimited photos
These photos don't take up storage space on your phone or cloud, and you don't have to try and carry around a nice camera in the parks
PhotoPass photographers will help you with posing and give great directions, as well as their job is literally to make you look good in your vacation photos
Also, PhotoPass photographers sometimes have fun props and they have Magic Shots that will insert characters and some extra Pixie Dust into your photos
You own all your photos with no extra cost
The locations where photographers are stationed are typically captivating and fun
PhotoPass photographers are very accommodating, and will take photos with your phone as well
Pro tip! They are often in the parks prior to park opening, so if you have an early breakfast reservation take advantage of the near empty parks to get some great shots!
Downsides to Disney Memory Maker and PhotoPass
Even though there are a lot of perks to getting Memory Maker, nothing is without its faults. There are some downsides to getting it as well:
The cost! Disney is already expensive and another $200 could break the bank, even the $30 discount doesn't make it "cheap."
Can be overwhelming on a short trip.
Not everyone in your group may be as excited as photos as you are.
PhotoPass may not be available for a specific area or character you would like.
It's possible that your photos could get lost, so you have to stay on top of the photos – using the app is great for this, and if you notice some missing you can submit a missing photo report within 30 days of the date of the photos.
Quality of photos can vary from photographer to photographer.
It can take time to stop and get in PhotoPass lines, as well as to take the photos. It could take up too much time in a busy day.
How to Pre-Purchase Memory Maker at Disney
If you've decided Disney Memory Maker is for you, then we suggest pre-purchasing it prior to your arrival in Disney World. Not only will you save money on the purchase, but it will guarantee you get all of your photos.
If you wait until your arrival or until you are actually in the parks, any photos you take within 3 days of the purchase won't count towards your Memory Maker – unless you want to pay an extra $20. Our tip would be to buy it 4-5 days prior to your arrival just to be sure you don't miss out on any of the photos and that you get the most use of your purchase.
How to Share Memory Maker Photos with Others
Once you purchase Disney Memory Maker, you have a lot of options for sharing these photos with your friends and family. The easiest way is to make sure that everyone in your vacation group is linked to one My Disney Experience account – and it's easier if that person is the one who bought Memory Maker. This way, everyone on the trip can see each others photos and they are all linked to one Memory Maker.
Another way to share them with friends and family is to add them as friends on your My Disney Experience app. These don't have to be people you went on your trip with, but others that also have the MDE app and accounts. If you go under the "Friends & Family" page, you are able to share with them by checking the "My Disney PhotoPass Photos" box. If they click this as well you can view each others trip photos!
Once you get home from your trip, you have 45 days to download your photos and use them however you would like. After you download them you own them, and you can then edit, make copies, and even order prints or products with your favorite photos on them.
If you do decide to buy the physical photos from the Disney PhotoPass site, you will receive a discount on each print. Pro Tip! Since you own these photos now, you would be much better of heading to your local FedEx or Walgreens and printing your photos for a much cheaper price!
Also, another note for Annual Passholders: You have a year from each photo you get taken by a PhotoPass photographer to download it before it disappears! You have a lot more time than the 45 days to pick your favorites and decide which ones to keep.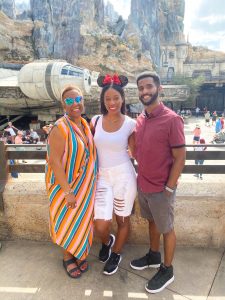 Rides that Offer PhotoPass Photos
As well as taking fun photos in the parks and with characters, having Disney Memory Maker allows you to get some pretty epic ride photos. Just a note: most of these rides do require you to have a MagicBand in order to receive these photos and that can be easier anyways with Memory Maker, so maybe consider getting one even if you aren't staying on property or hadn't wanted one. You can read more about some of these rides by checking out our list of the best Disney thrill rides, as well as our list of the best (and worst) Disney world rides!
EPCOT: Test Track, Frozen Ever After
Animal Kingdom: Expedition Everest, Dinosaur!
Hollywood Studios: Tower of Terror, Slinky Dog Dash, Rock'n'Roller Coaster
Magic Kingdom: Seven Dwarfs Mine Train, Splash Mountain, Space Mountain, Buzz Lightyear's Space Ranger Spin, Haunted Mansion, Pirates of the Caribbean
Rides that Offer PhotoPass Videos
Right now there are only two rides in Disney World that offer on-ride Disney Memory Maker videos. Tower of Terror in Hollywood Studios and Seven Dwarfs Mine Train in Magic Kingdom.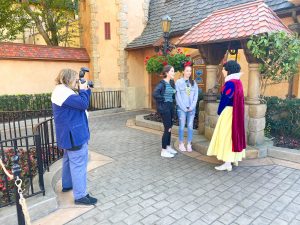 Disney Dining with PhotoPass Photographers
There are several dining locations within Disney World that offer the use of PhotoPass photographers and the ability to get some great photos of memorable meals. Just a note here as well, all of the restaurants that offer this are either character meals or dinner shows and sometimes the availability of the photographers does change without notice. The ones listed here are the ones that most consistently have PhotoPass photographers available. You can find our best tips for character breakfast and recommendations here!
Akershus Royal Banquet Hall in Norway Pavilion in EPCOT – Princess Storybook Dining, available for breakfast, lunch, and dinner
Be Our Guest in Magic Kingdom – Dinner ONLY when the Beast is available
Cinderella's Roya Table in Magic Kingdom – breakfast, lunch, and dinner
1900 Park Fare at Disney's Grand Floridian Resort & Spa – breakfast and dinner
Chef Mickey's at Disney's Contemporary Resort – breakfast, brunch, and dinner
'Ohana at Disney's Polynesian Village Resort – breakfast and dinner
Disney's Spirit of Aloha Dinner Show at Disney's Polynesian Village Resort – dinner, obviously
Hoop-Dee-Doo Musical Revue at Disney's Fort Wilderness Resort – dinner
Other Ways to Use Disney PhotoPass
Even though we've already told you plenty of ways to get the most out of Disney Memory Maker, there are even more! We want to be sure that if you decide to purchase Memory Maker that you are going to get the most bang for your buck. Here's a list of some other great uses for Disney PhotoPass and Memory Maker:
There are 3 PhotoPass Studios on property that allow you to walk right up and take free photos. There's one in the Marketplace in Disney Springs, one in Sir Mickey's in the Magic Kingdom, and one on the second floor of the Grand Floridian. All of these are conveniently located near or connected to Bibbidi Bobbidi Boutiques. Which leads us to…
Bibbidi Bobbidi Boutique will take tons of photos of your kiddos during their services!
Character meet-and-greets, some have live photographers and some have the new PhotoPass boxes
Enchanted Tales with Belle in the Magic Kingdom does take photos of those that volunteer/participate
NBA Experience in Disney Springs has the stationery PhotoPass boxes
Hard ticket and After Hours events often have special meet-and-greets or photo ops that are included in Disney Memory Maker
Use PhotoPass photographers to take photos commemorating special events happening during your trip: family reunions, anniversaries, birthdays, honeymoons, first time trips
Some Deluxe Resorts offer PhotoPass photographers during the Holiday season to take cute, Holiday-inspired photos in front of their trees and displays
Disney now offers the Capture the Moment service which allows you to book a 20 minute private session with a PhotoPass photographer to take stylized photos. This costs $50 per session, and you can book two back-to-back for $100 if you really want something special (think engagement or baby announcements!). These photos are only included as free downloads for those who bought Memory Maker or are Annual Passholders.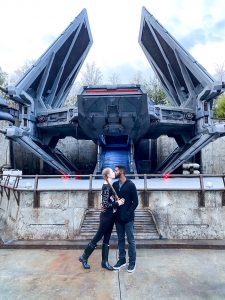 How to Download Memory Maker Photos
Once you have taken your Disney Memory Maker photos, you can view them using the My Disney Experience app or the Disney PhotoPass website. It's very easy to use the MDE app, and that's probably the quickest and easiest way to download your favorite photos.
Either way, you select the photos you want and they begin downloading to your device automatically. You have the option of waiting until you get home, or you can download them right away while still in the parks.
Pro Tip! If you didn't pre-purchase Memory Maker prior to your trip, don't forget to link it to your account using either your MagicBand or any cards you may have you used during your trip. Make sure everything is linked before you start downloading to make sure you don't miss out on any photos!
Is Memory Maker Worth It?
In a word, yes! But the longer answer is maybe. It may not be right for everyone and for every trip to Disney World, but if you decide to purchase it, make sure you get your money's worth out of it. It may only be worth the cost for your family if you are:
planning to take a lot of photos during your stay
staying for a longer time, at least 4 days or more
celebrating something special
going to do several character meals and/or meet-and-greets
doing special hard ticket events like After Hours, Mickey's Not So Scary Halloween Party, or Mickey's Very Merry Christmas Party
riding the rides that offer PhotoPass
someone who really enjoys having their photo taken, and your family enjoys it as well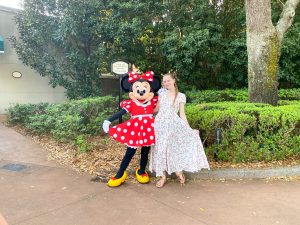 We hope this article answered some questions you may have had about Disney Memory Maker and the PhotoPass service. While buying Memory Maker can be a costly purchase, it can save you a lot of time during your trip and allow you to get some great photos out of it. Using our tips will make sure you get your money's worth from your Memory Maker purchase and make sure you have the most fun while doing so!
Pin this post: