Whenever you think of Disney World, you might think of magic, snacks, rides, happiness, etc. But we bet one thing doesn't immediately cross your mind. Disney thrill rides!
Disney is known for their family friendly rides and some of the best rides in the world, but did you know they can have some pretty amazing thrill rides as well?
These thrill rides can range from intense and immersive to suitable for children. There are different thrill rides for all types of people, including roller coasters, immersive experiences, water rides, and kid friendly rides.
You might not think of Disney as a big place for thrills, but if you know the right places to go, thrill seekers could have the time of their lives! The best part is most of these rides have the capability to book  for Genie+!
Read on to discover all the best and worst Disney thrill rides in each of the Disney World Parks! Also visit the 10 Best (And Worst!) Disney Roller Coasters You Need to Try to learn all the best coasters Disney has to offer!
(Not all of these rides are suitable for smaller children, so please click here for a list of the Disney height requirements!)

20 Best (And Worst!) Disney Thrill Rides
Best Thrill Rides At Magic Kingdom
Space Mountain
Space Mountain is a classic Disney thrill ride and one of the best rides in Magic Kingdom! The darkness, the music, and the speed all contribute to make Space Mountain one of the most thrilling rides of Magic Kingdom! This is why Space Mountain has such a notoriously long line most nights. Everyone wants to experience this amazing ride!
Located in Tomorrowland, Space Mountain is still one of the most popular thrill rides at Disney, and guests continually run to this amazing ride at rope drop. The ride takes you through a daring adventure in space, and gives you the feeling of taking off in a rocket ship at the beginning of the ride.
If your child is afraid of the dark, then this ride might not be for them. Nothing scary happens during the ride besides some unexpected twists and turns. Not knowing when the next drop or turn will occur makes the ride that more exciting!
If you happen to visit the Villains After Hours event, Space Mountain undergoes an amazing villains themed overlay that makes the ride even more epic than usual! Space Mountain is given a creepy vibe to really enhance the villainous night. The ride is transformed to be completely in the dark, and the music is changed to give it a more eerie feel. It is an experience you do not want to miss!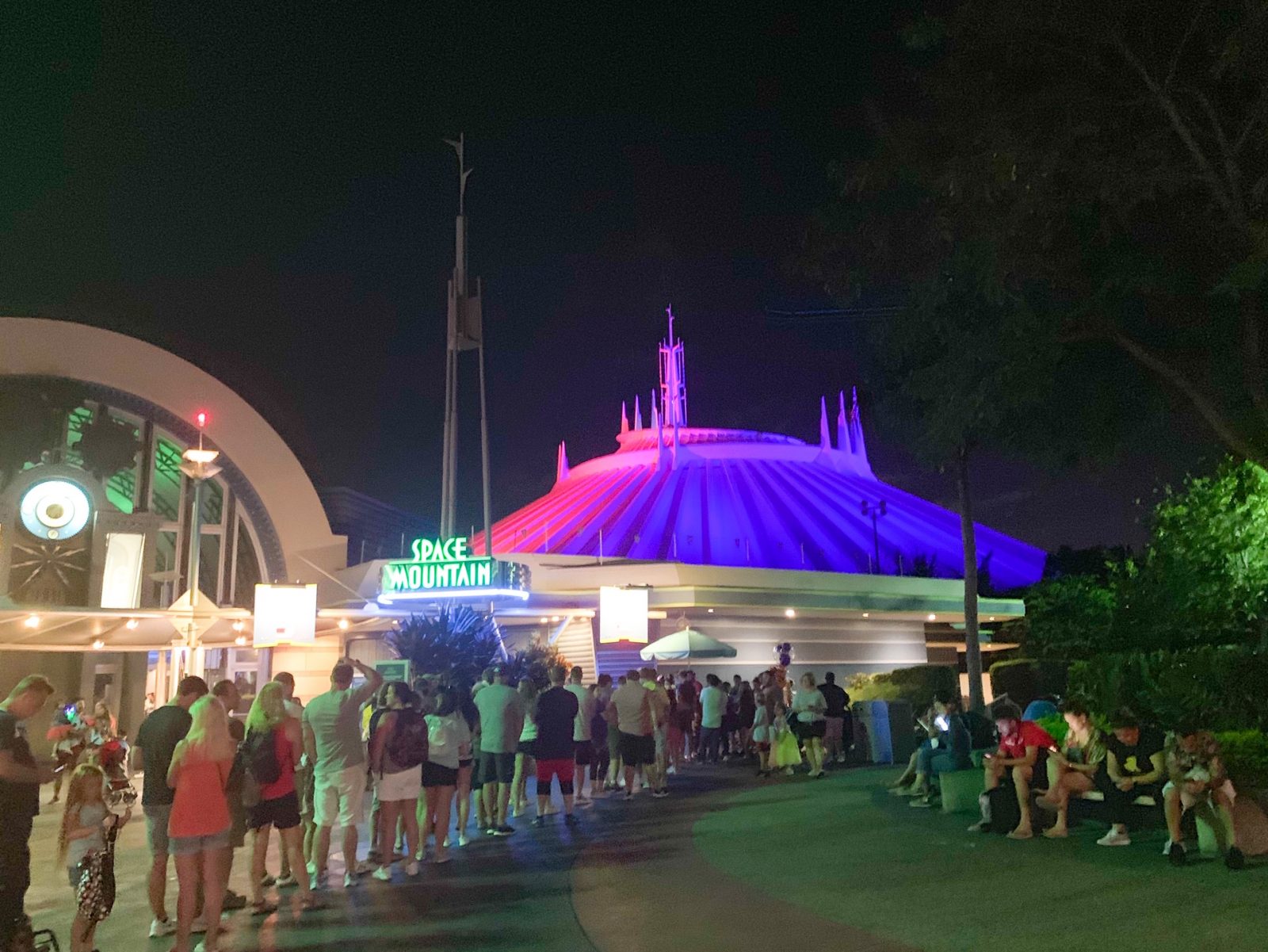 Splash Mountain
Disclaimer: Splash Mountain is down for refurbishment and will reopen as "Tiana's Bayou Adventure" in late 2024.
Especially on a hot, Florida day, Splash Mountain is one of the best Disney thrill rides to experience, and you also get a chance to cool off! Unlike Space Mountain, Splash Mountain gives more scenery for guests to look at.
Splash Mountain takes guests through an interesting, country tale of a rabbit and his need to find a place he feels truly at home. He learns his lesson after a dangerous encounter with a fox and a bear.
This log ride, located in Frontierland, takes guests through Br'er Rabbit's story and allows guests to experience what he is experiencing. The playful drops, interesting characters, catchy songs, and an intense ending drop make Splash Mountain one of the most fun thrill rides at Disney.
Lines don't usually get as long on colder days, but you can expect to be waiting in line for a while on those warmer days. Splash Mountain is the only water ride in Magic Kingdom that will splash you enough to get wet or even soaked.
If you want to stay on the drier side, we recommend asking to sit in the back. However, most guests love to sit in the front to get the full experience!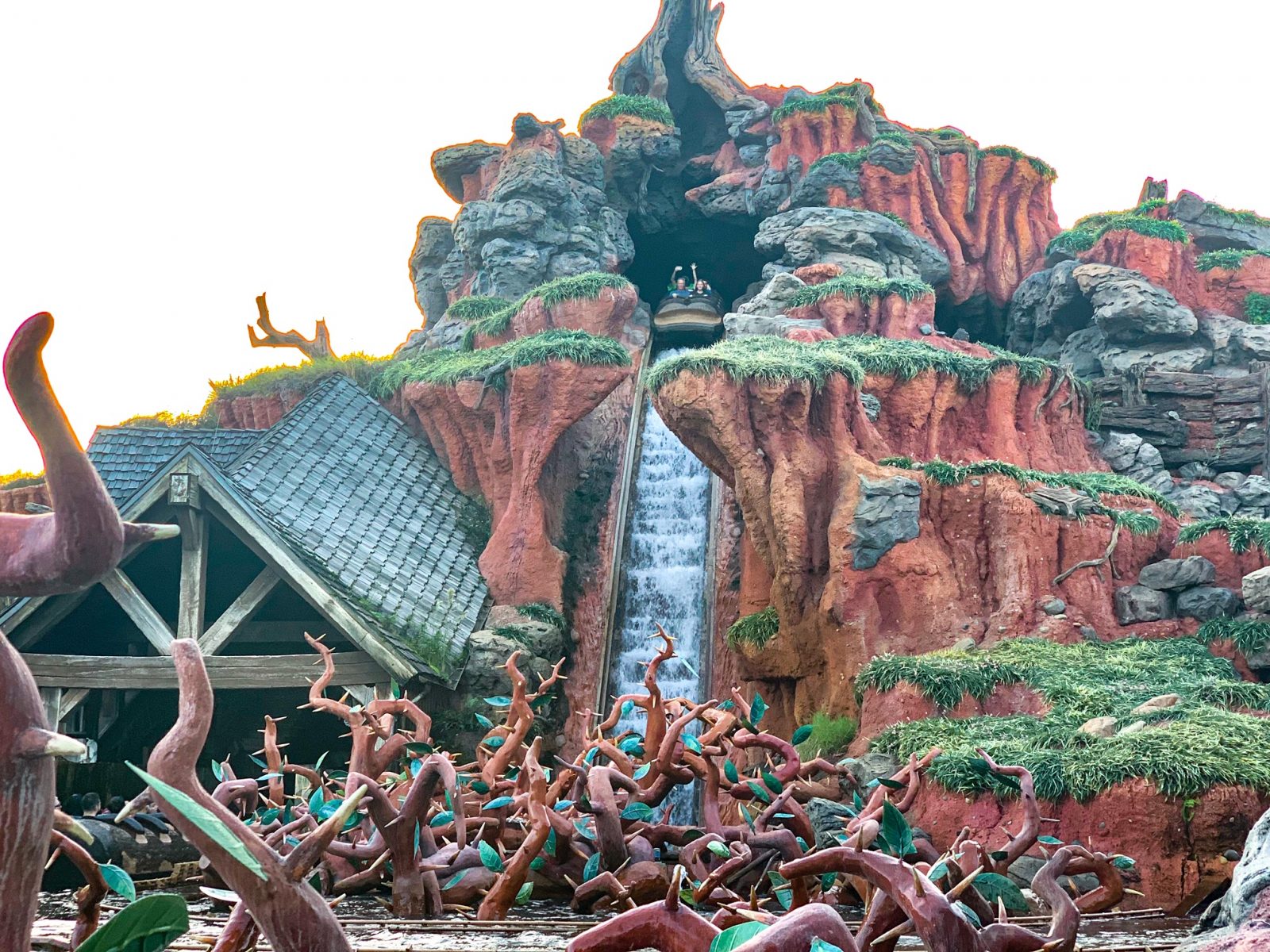 TRON Lightcycle Run
Magic Kingdoms newest ride is also one of the most thrilling at that park! Launch through the Grid, reaching speeds of 60 mph. You'll take a race through the computerized world of TRON, inspired by the two movies (and the original ride at Shanghai Disneyland).
After boarding your Lightcycle, you'll help Team Blue race though the Grid, and zip through a world of circuits, code, and units. Move through the immersive darkness in the indoor section, and then head out under the color-changing canopy to complete this thrilling ride.
There is a 48″ height requirement here, and the ride vehicle may not be the most comfortable – but that's what gives this ride a totally different thrilling experience than any other roller coaster at Disney. The Lightcycle makes you feel as if you are truly racing in the Grid.
The excitement, the launch, and the use of color and sound make this one of the best Disney thrill rides.
Worst Thrill Rides At Magic Kingdom
Seven Dwarfs Mine Train
Now we know what you are thinking. How could Seven Dwarfs Mine Train be put on one of the worst rides list! We definitely recommend the Seven Dwarfs Mine Train as a great ride and a great use of a Magic Kingdom fastpass, however, we do not recommend this ride as a thrill ride.
The Seven Dwarfs Mine Train in Fantasyland may feel like a rollercoaster at first, but the fact is, there are a lot of slower parts with stops, especially when you travel through the mines. The ride is also incredibly smooth, making it a hybrid of a regular Disney ride and a roller coaster.
The ride is super cute, and great for kids, but if you are looking for a thrill out of this ride, expect to be disappointed.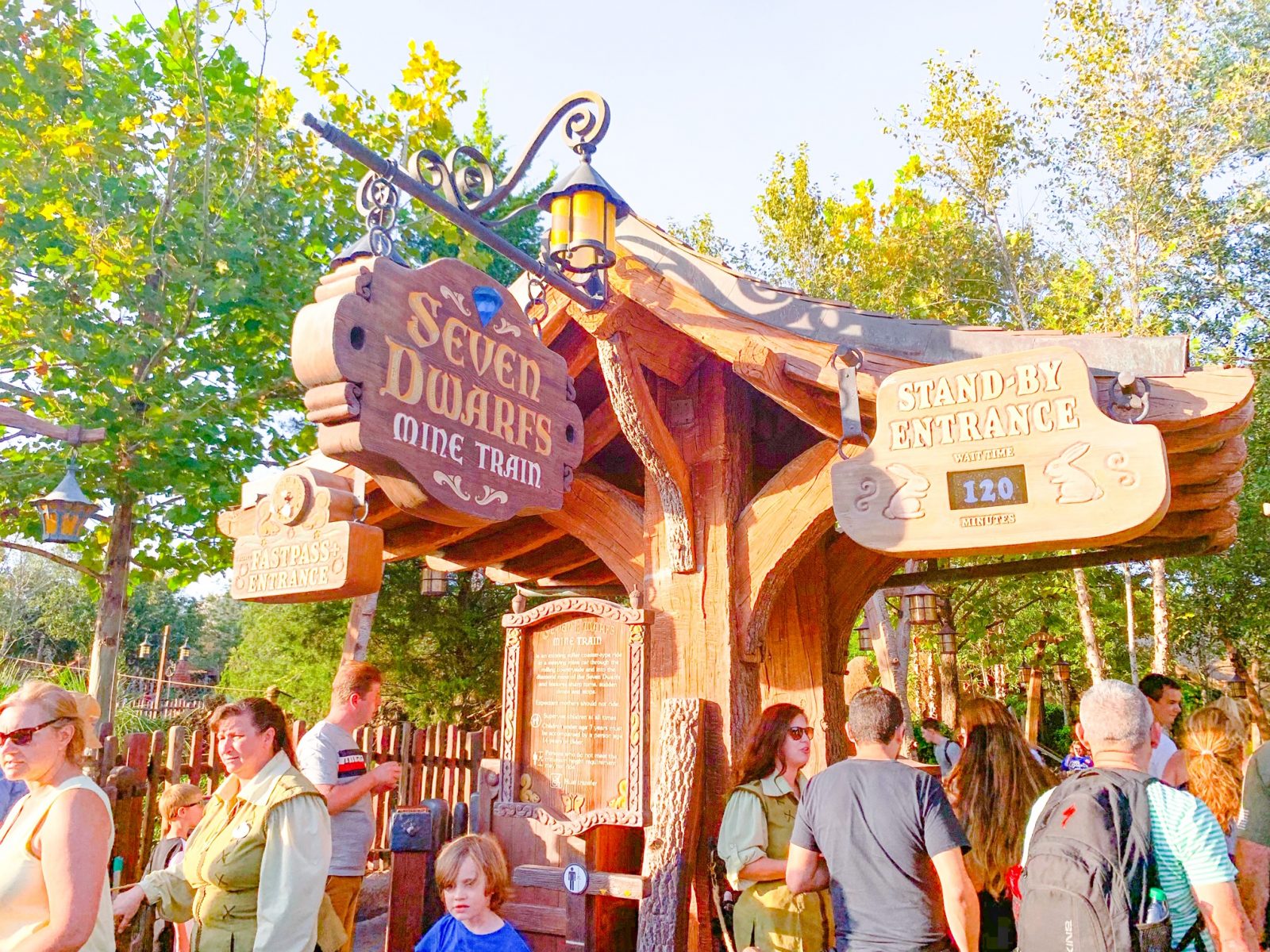 Barnstormer
Most of us can remember the first time riding the Barnstormer as a child and thinking how exciting it was to be riding a roller coaster! Riding as an adult does not feel the same as when you rode as a kid, making this ride one of the worst thrill rides.
Located in Storybook Circus, the Barnstormer takes guests on Goofy's stunt airplane as you fly around and "crash" into different objects. The ride is meant to be silly and entertaining for children.
For a kid's ride, this junior roller coaster is extremely short. The entire ride is over in about a minute.
This ride can be great for kids who are first time roller coaster riders, but if they are comfortable with riding the Barnstormer, we suggest they ride the Seven Dwarfs Mine Train in Magic Kingdom or Slinky Dog Dash in Hollywood Studios instead.
We do not recommend waiting over 10 minutes for this ride due to its short ride time. We definitely do not recommend wasting a fastpass on this ride.
Don't worry though! If your child is very adamant on experiencing this ride, the line rarely gets over 20 minutes, so it should not be difficult to give the ride a try without wasting too much of your day.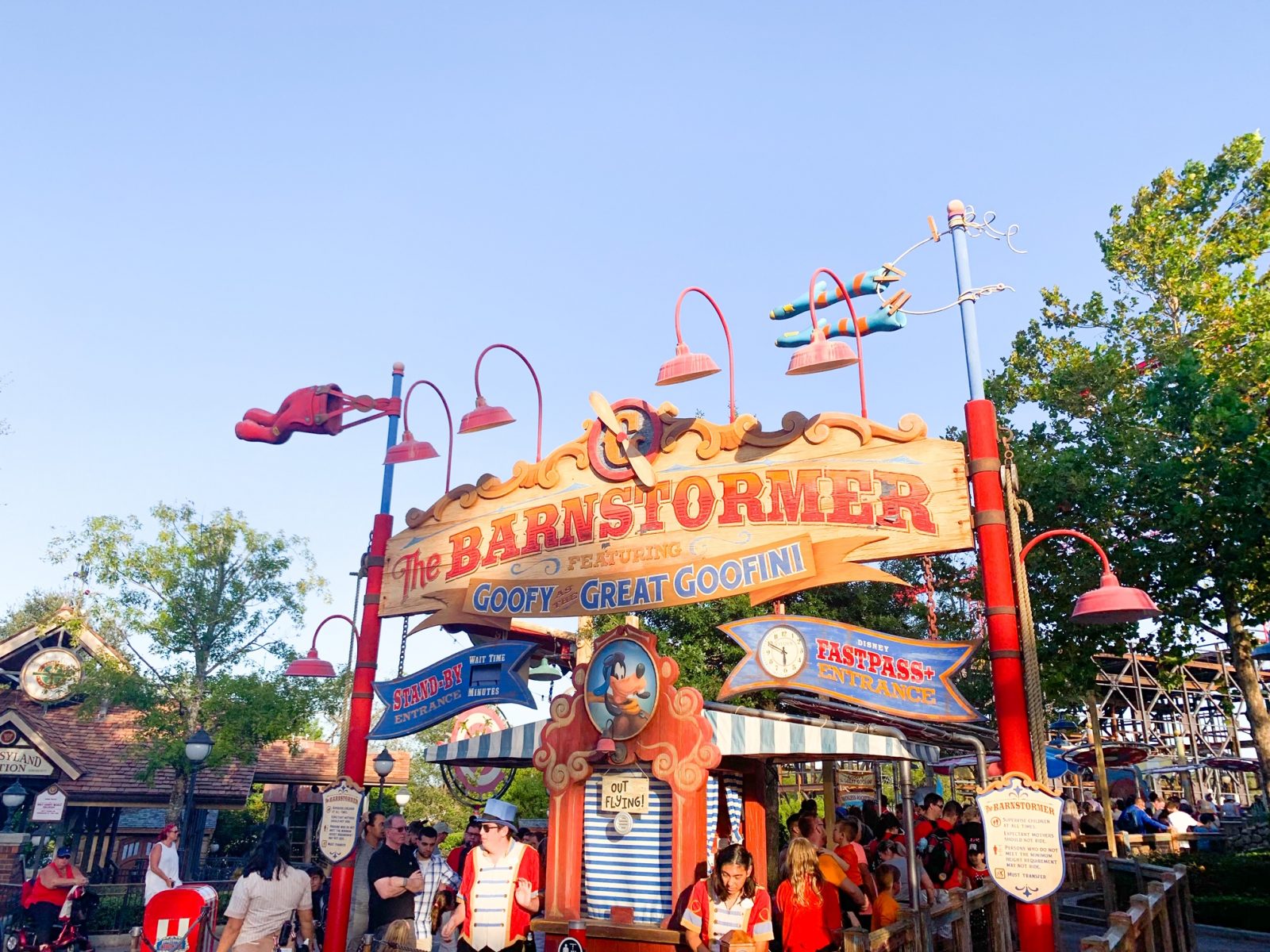 Big Thunder Mountain Railroad
For this ride, some of you might agree and others might not. We believe Big Thunder Mountain Railroad to be one of the worst thrill rides at Disney. This is because of the frequent stops and frequent, slow trips uphill. The ride gets broken up too much between going fast and going slow, making it hard to keep the thrill alive.
One of the worst parts about the ride is how intensely jerky the ride is. We definitely do not recommend riding this ride after a big lunch or one too many Mickey pretzels.
The story behind the Big Thunder Mountain Railroad located in Frontierland is interesting but not enough to make the ride thrilling. The story is about a mining town called Tumbleweed that was built near the mountain during the gold rush. Miners would go into the mountain to mine for precious gold, but the mountain was haunted in order to protect the gold. Strange things would happen to the miners and the equipment, and eventually the town of Tumbleweed was flooded.
We believe the Big Thunder Mountain Railroad has an interesting story and great scenery, but the ride and mechanics itself are not enough to make it a great Disney thrill ride.
We recommend riding the Seven Dwarfs Mine Train for a similar experience with a less bumpy adventure and better technology.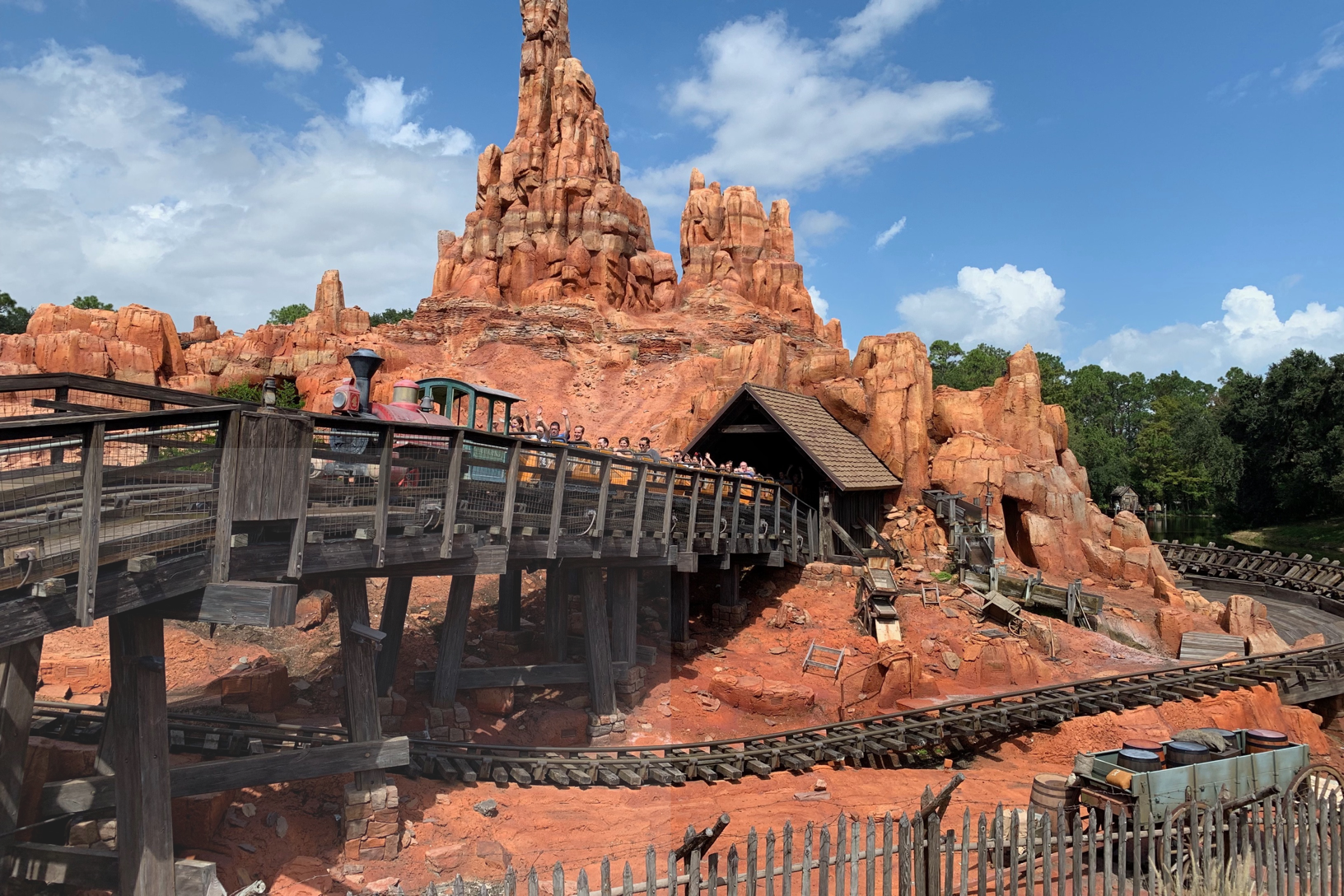 Best Thrill Rides At Epcot:
Mission: Space
Mission: Space is a classic Disney thrill ride in Epcot! It has been a fan favorite and one of the Epcot's best rides for a while! While the green version gives you a more relaxing tour around Earth, the orange version will give you an intense ride to Mars!
Thrill ride seekers love the intensity of this ride. The ride simulates the g-force feeling you get during take-off on a rocket ship, and then the feel of weightlessness in space. This is one of the closest experiences to space travel a normal everyday person can experience.
If the orange side is too intense for some children (or even adults), the green version will give you a very similar, but tamer experience. That way you don't have to miss out!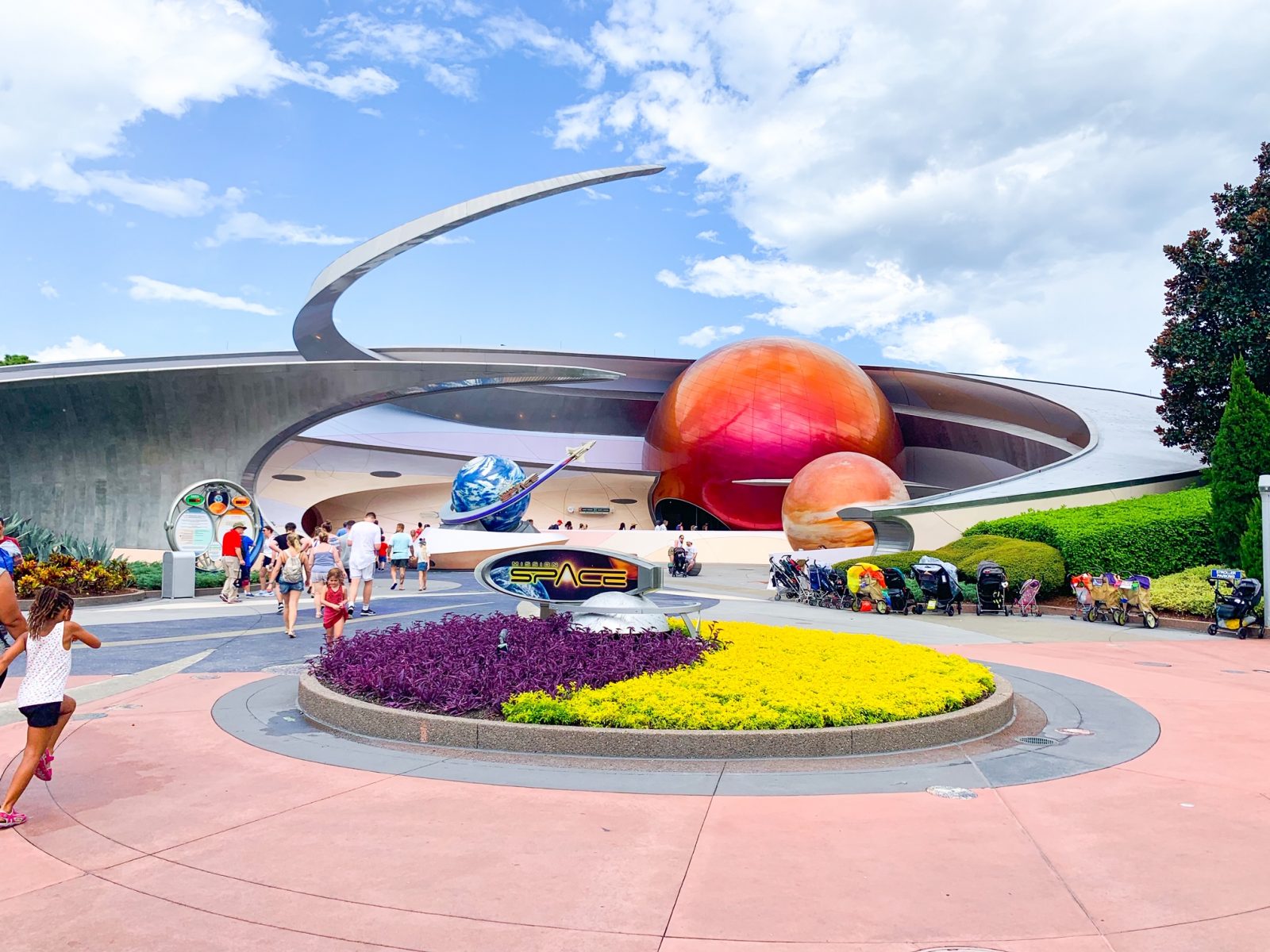 Test Track
Test Track has been a favorite among guests for years! It can definitely be classified as one of the best Disney thrill rides! It is also a great use of an Epcot fastpass!
At one point, it was known as the intense car ride where you put yourself in the place of a test dummy. It was a wonderful and thrilling experience!
In 2012, the amazing ride was changed and revamped into a more futuristic ride. Now instead of being the test track dummy, you are able to create your own car design and put it to the test! Your design is tested on how well it performs in Capability, Efficiency, Responsiveness, and Power.
With lots of twists, turns, and an ending with a speed that gets up to 65 miles per hour, Test Track is definitely one of the most thrilling rides in all of Disney World. It is the fastest ride in all of the parks, even faster than Rock 'n' Roller Coaster!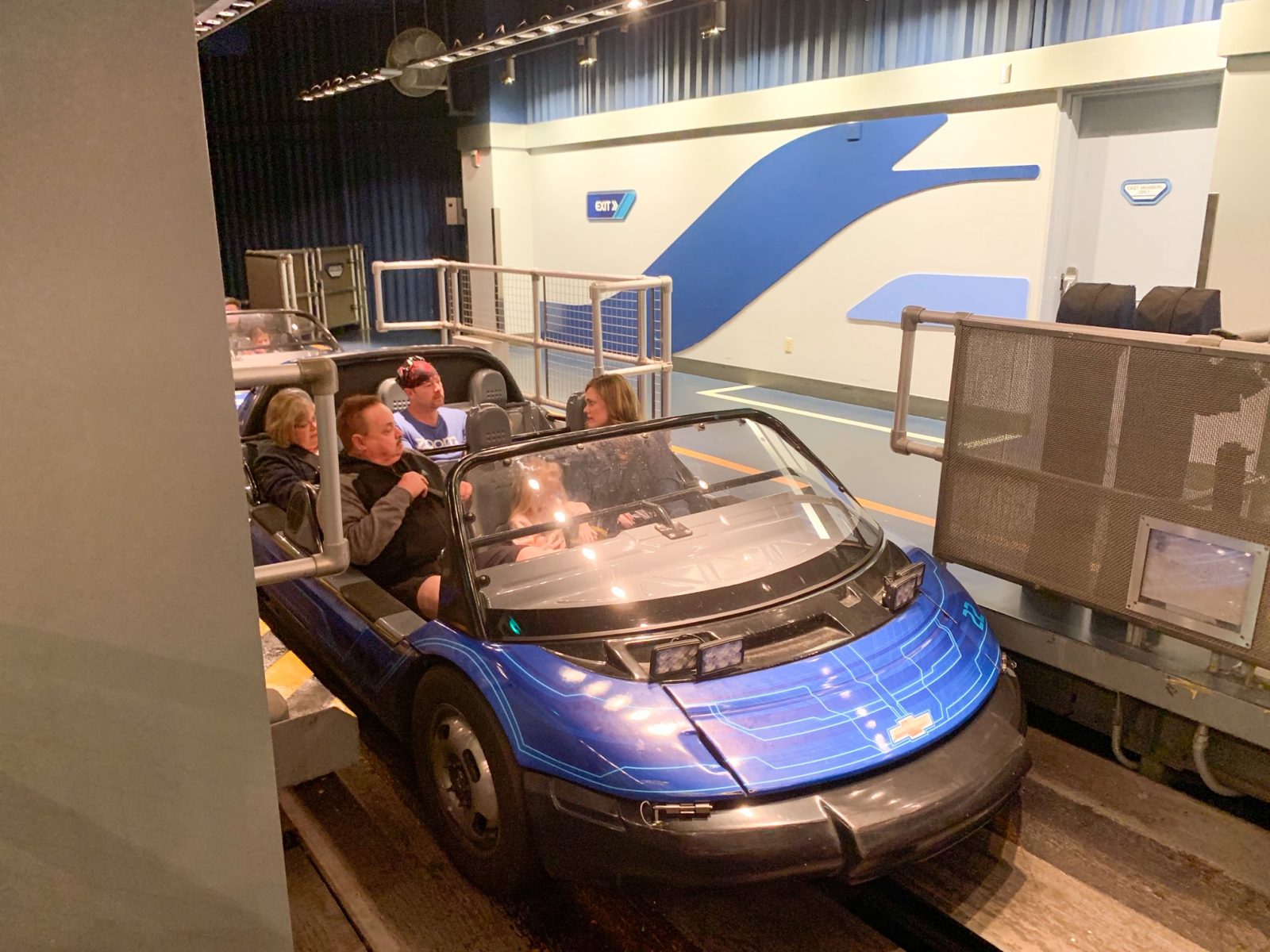 Guardians of the Galaxy: Cosmic Rewind
Guardians of the Galaxy: Cosmic Rewind is one of the best Disney thrill rides we've experienced!
When we were told this was better than Flights of Passage and Rise of the Resistance, we were doubtful.
However, this ride is worth has quickly climbed the ranks as one of our all-time favorite Disney thrill rides!
This indoor galactic rollercoaster has the Omni-mover feature, so think Haunted Mansion meets Space Mountain.
If you are motion-sensitive or are prone to motion sickness, you may want to consider skipping this ride. While the coaster does not go upside down, it does twist and turn in a way that may have riders feeling the movement of the ride.
One of the most thrilling parts of this new ride is that it launches guests backward at the beginning to start off the ride. Don't worry though! The whole Guardians of the Galaxy ride will not be backward! Just the beginning portion of it!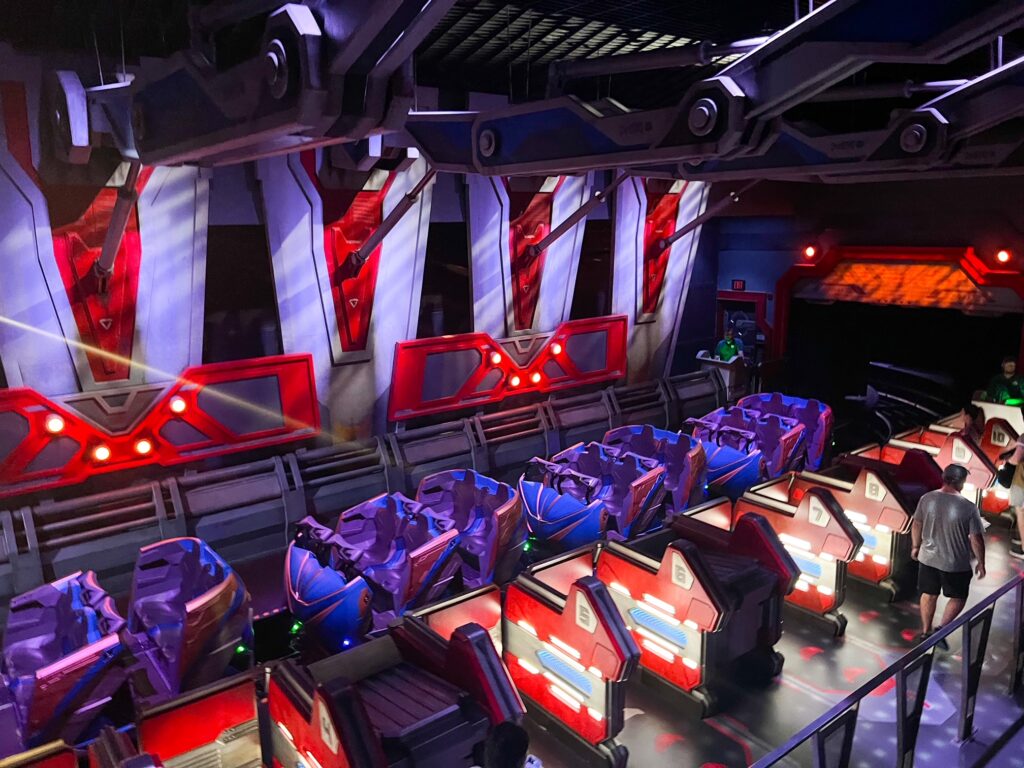 Best Thrill Rides At Hollywood Studios
Rock 'n' Roller Coaster
Rock 'n' Roller Coaster has been a fan favorite and one of Hollywood Studios' best rides ever since its opening in 1999. It is one of the fastest rides in Disney World making it one of the best thrill rides at Disney.
The most thrilling and terrifying part of the ride is at the very beginning! The coaster goes from 0 to 60 mph in a matter of 2.7 seconds! There is no other Disney World ride that is this intense!
The story behind the ride is the band Aerosmith is trying to get you to their concert as fast as possible. Therefore, they order you and your group a super stretch limo! The limo speeds off and races you to the concert, where you make it just on time!
The coaster has a few loops, turns, and a corkscrew loop. This is the only attraction at Disney World that will go upside down, making it a perfect candidate for one of Disney's most awesome thrill rides!
If you don't have a fastpass for this ride and you notice the wait time is long, we recommend using the single rider line! The single rider line will cut your party's wait time in half, and most times, you will be placed in the same limo as another person in your party, so you'll be exiting at the same time! This is the perfect option for groups that want to get a lot done in a short amount of time!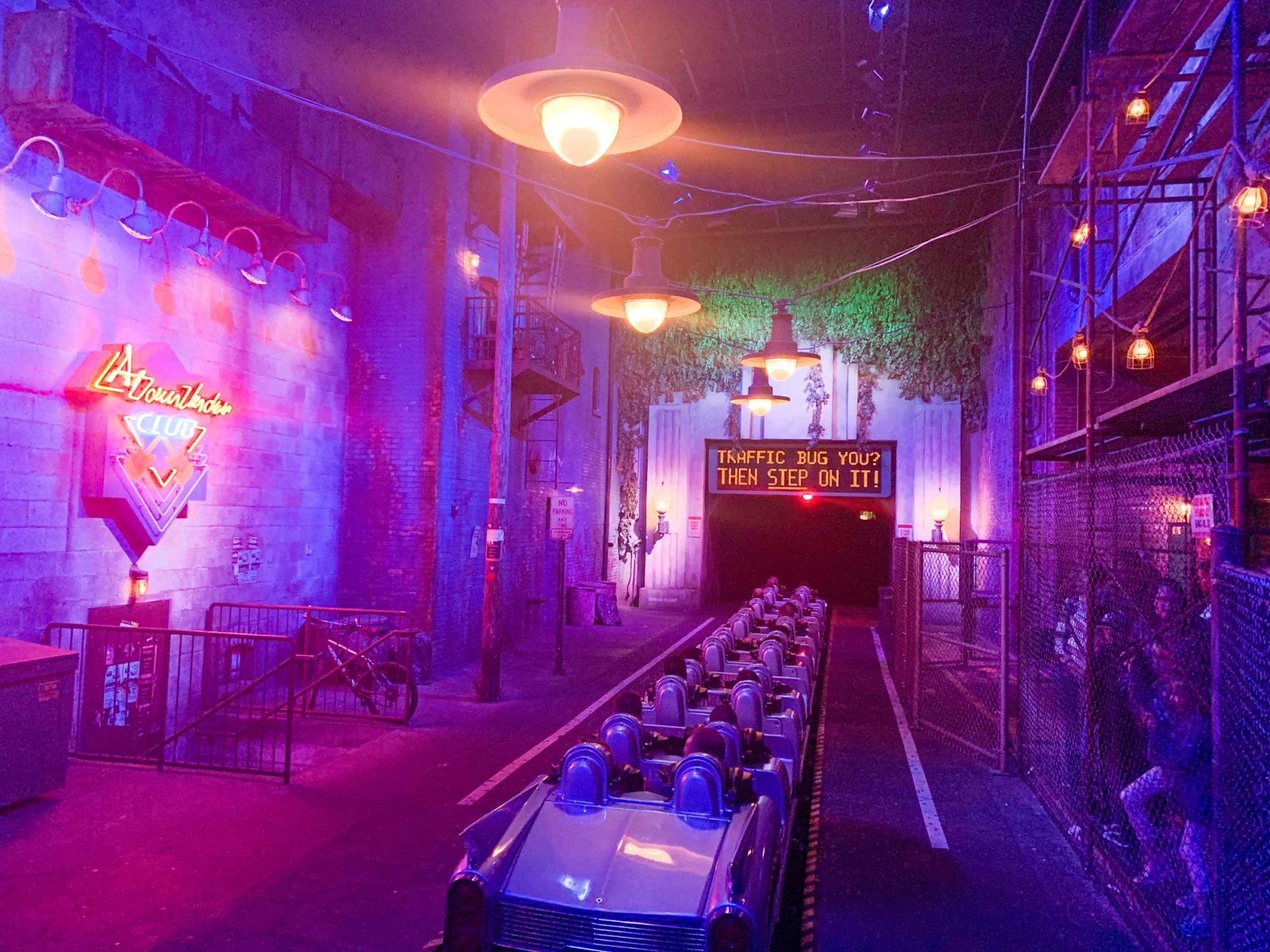 Slinky Dog Dash
Slinky Dog Dash is a great thrill ride, especially for kids! The coaster is very smooth with very little jerks or sudden movements. There is one stop during the ride so Slinky can coil back up and shoot of at a fast speed!
This ride can have a pretty long wait time so we recommend getting a Hollywood Studios fastpass or getting to the park at rope drop and making this your first stop. Guests love this ride, and so do their kids, making it so popular!
Pro tip: while riding the ride, once you reach the left most side of the ride, you'll travel over a hill that gives you a great view of Galaxy's Edge, so be on the lookout!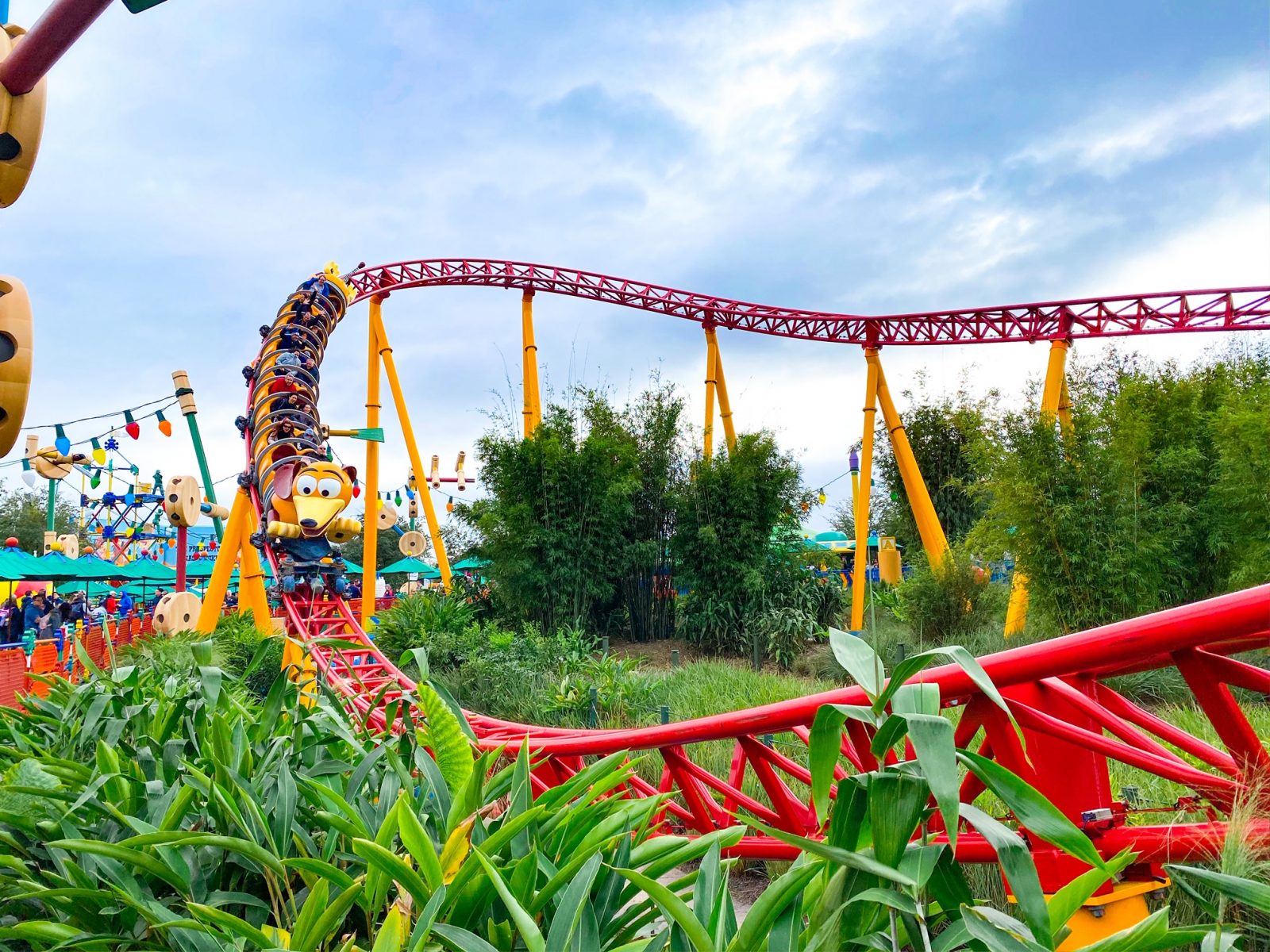 Tower of Terror
No one can deny that Tower of Terror is one of the best thrill rides at Disney World. Disney took a classic drop ride and gave it a wonderfully creepy story!
The theme of the ride is the old Twilight Zone t.v. series. They create their own "episode" where five people enter an elevator, the elevator gets struck by lightning, and all the people get shocked and fall to their deaths, leaving them to haunt the hotel. It is a very dark and creepy story for a Disney ride, making it all the more thrilling!
The best part of the ride is at the very beginning once your elevator cart has traveled all the way to the elevator shaft where you will drop. In this moment it is completely pitch black, and you have no clue when you are going to drop! This will really get your heart racing!
When you get to the top, where the windows open for guests to look out, make sure to keep your eyes open for a great view of Hollywood Studios! This classic ride is sure to give you a thrilling experience!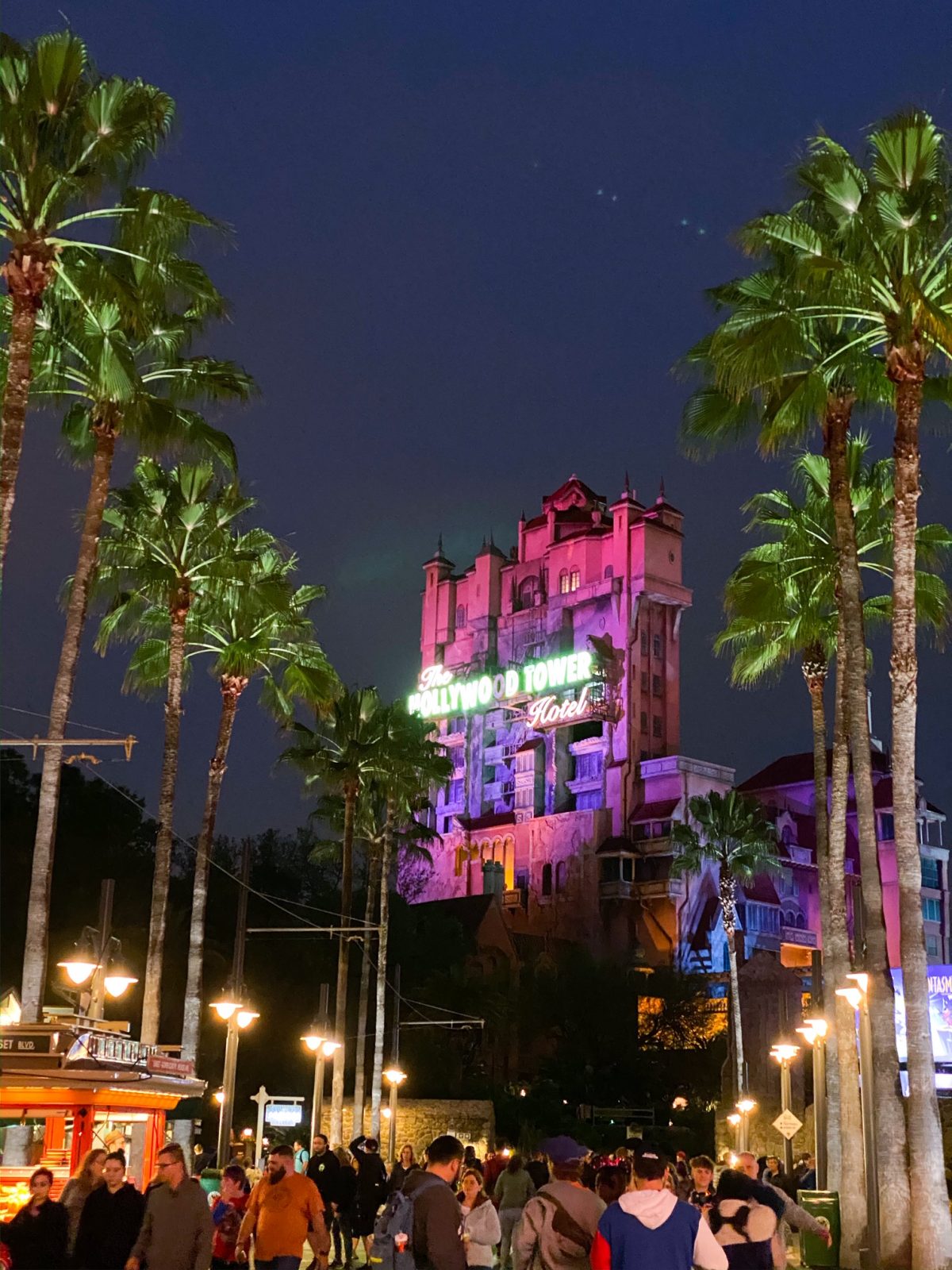 Rise of the Resistance
Not everyone may consider Rise of the Resistance as a true Disney thrill ride, but it is very action packed and provides a very exciting experience. It is also currently one of the most popular and best rides in Disney World.
Fans will get to Hollywood Studios way before opening for a chance to score a boarding group in order to experience this amazing ride. People have waited a long time for this to come out, and we have not been disappointed.
The whole experience, starting with the queue of the ride, is part of what makes this ride so thrilling. The moment you enter, you are not bored for a single moment. You will see some famous characters, ride on a transport ship, get captured by the First Order, meet storm troopers, and all of this happens before the ride itself!
Once onboard the ride vehicle, you are "rescued" and taken on a thrilling adventure of escape, and you might encounter some other great characters as well!
There is one small, short drop on the ride, but it is very tame! Pretty much anyone who wants to ride this ride can feel safe and comfortable doing so!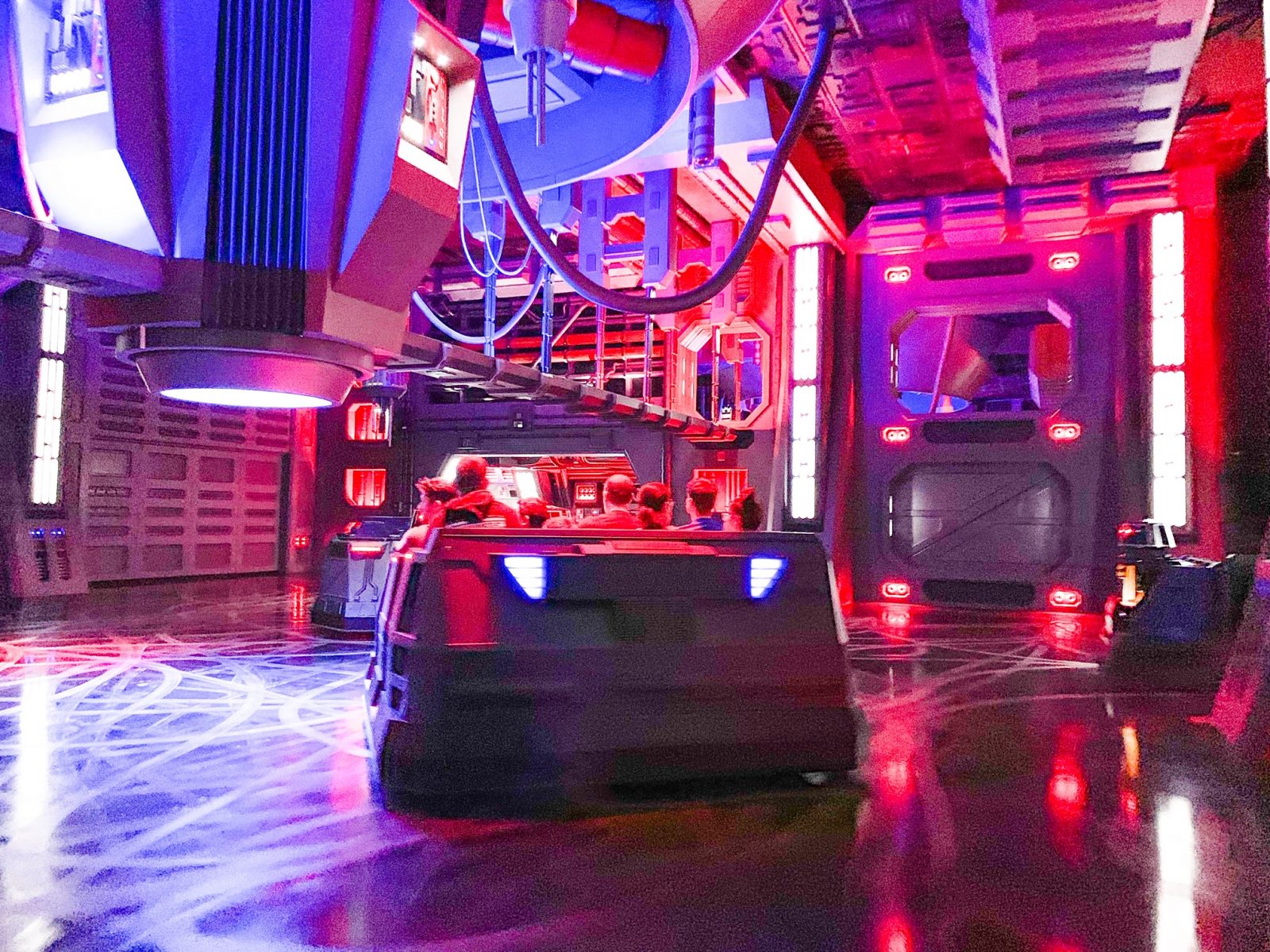 Worst Thrill Rides At Hollywood Studios
Smuggler's Run
Fans were highly anticipating the Smuggler's Run ride which opened with the opening of Galaxy's Edge. However, many of us were let down. The ride technology is interesting and the concept is great, however the ride lacks any thrill factor.
Maybe it would be more exciting if each time you rode there was a different story, but that isn't the case. The story is you are recruited to help a smuggler named Hondo Ohnaka steal some coaxium from the First Order. Guests are each given a position on the ship of either a pilot, gunner or engineer.
One of the hardest parts of riding the ride is trying to focus on your position's duties while also trying to enjoy the ride. There are many times where a flashing button will go unnoticed because guests are trying to focus on the ride itself.
The ride could possibly be thrilling, but it needs multiple stories like in Star Tours, and maybe less need for interaction from the guests. It is quite annoying that not doing a good job in your position can affect the outcome of the ride.
It is a good ride to experience if you love Star Wars and have never experienced the ride before, but we do not recommend this ride if you are looking for a thrill.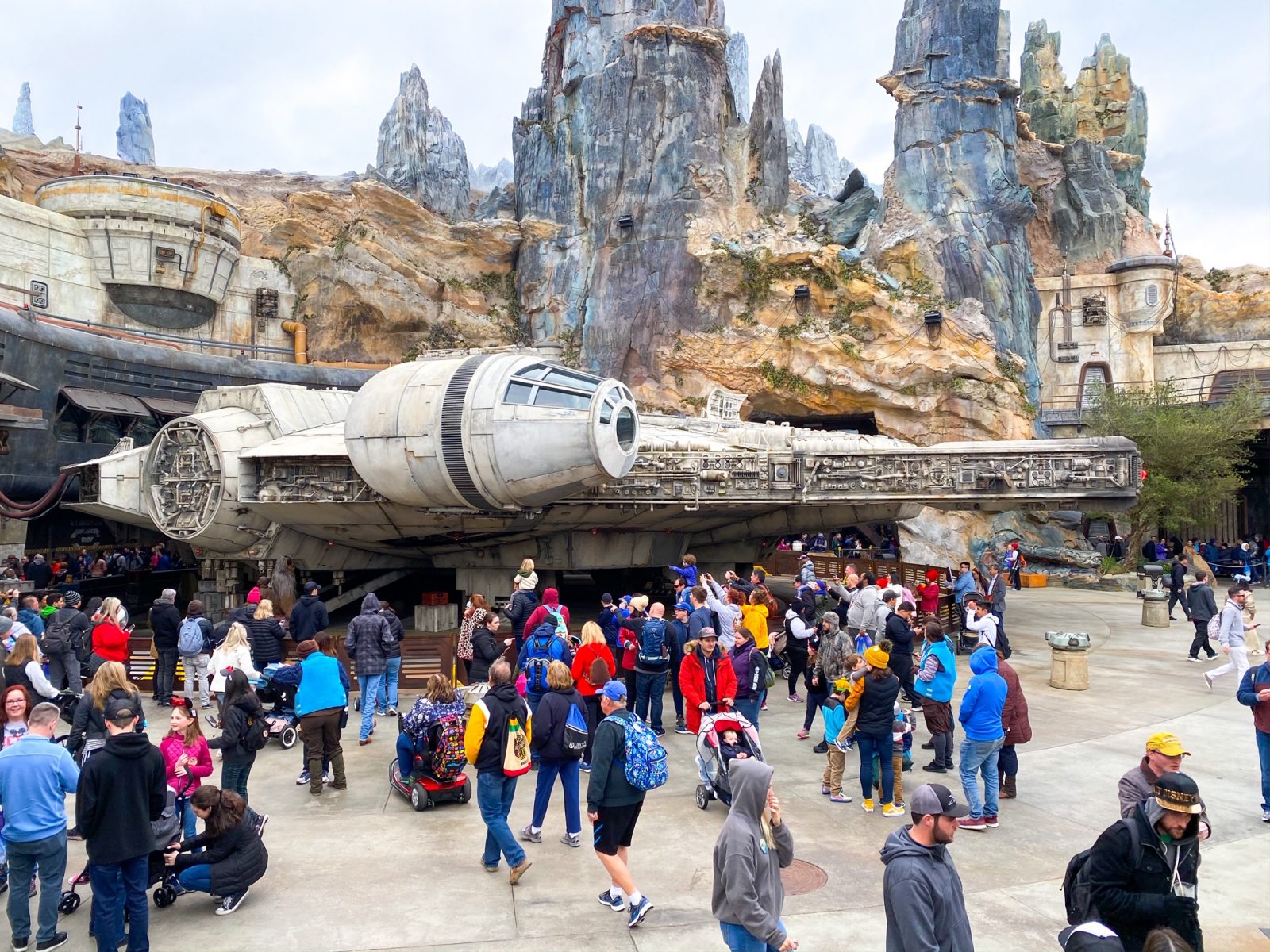 Best Thrill Rides At Animal Kingdom
Flight of Passage
The opening of Pandora in 2017 brought one of the best rides in all of Disney World! Flight of Passage had insanely high wait times when it first open, and the ride is so popular that the line can still get extremely long!
Not only is Flight of Passage one of the best rides, it is also one of the best Disney thrill rides. There is no other ride at Disney that is as surreal and lifelike as this ride is!
Flight of Passage takes you on amazing 3-D journey through the world of Avatar. You are linked up to an Avatar in Pandora, and you will get to experience what this Avatar is experiencing. Onboard a banshee, you will fly all over Pandora to explore its wonders.
This has to be one of the most absolutely thrilling rides, if not the most! With the technology Disney uses, it feels like you are really flying without leaving the ground! The immersion is insane, and it is understandable why the wait times get so high!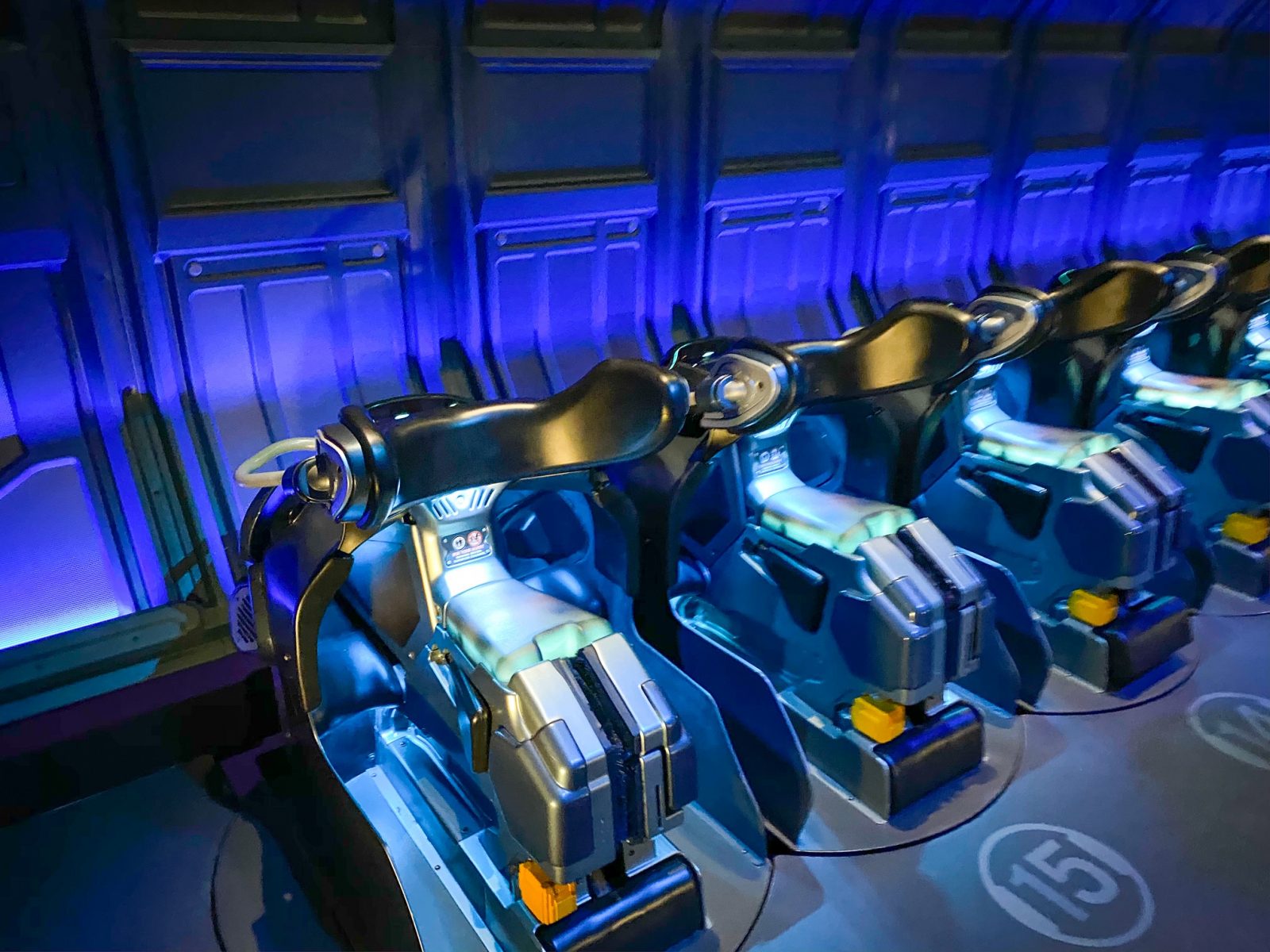 Expedition Everest
Expedition Everest is another great Disney thrill ride. It is definitely tamer than Rock 'n' Roller Coaster with no upside down loops or insane speeds, but thrilling none the less! It is also one of Animal Kingdom's best rides!
This ride starts off as a peaceful train ride through the Himalayan Mountains. The views of the Animal Kingdom and other parks in the distance are amazing. All of a sudden, the train encounters a track that has been ripped up from the mountain! The train starts to freak out and sends you barreling backwards!
With some awesome twists and turns, and maybe a Yeti encounter, this ride is insanely thrilling.
This is also another great use of the single rider line! If you aren't able to book a fastpass for this ride, the single rider entrance is located to the right of the main entrance. The single rider line is rarely long and will allow you to experience the ride again and again!
Pro tip: For an awesome view of Hollywood Studios and Epcot, request the first row of the train. When you reach the spot where the track has been pulled up, the train will stop for a moment and you can see the Epcot ball and Tower of Terror in the distance!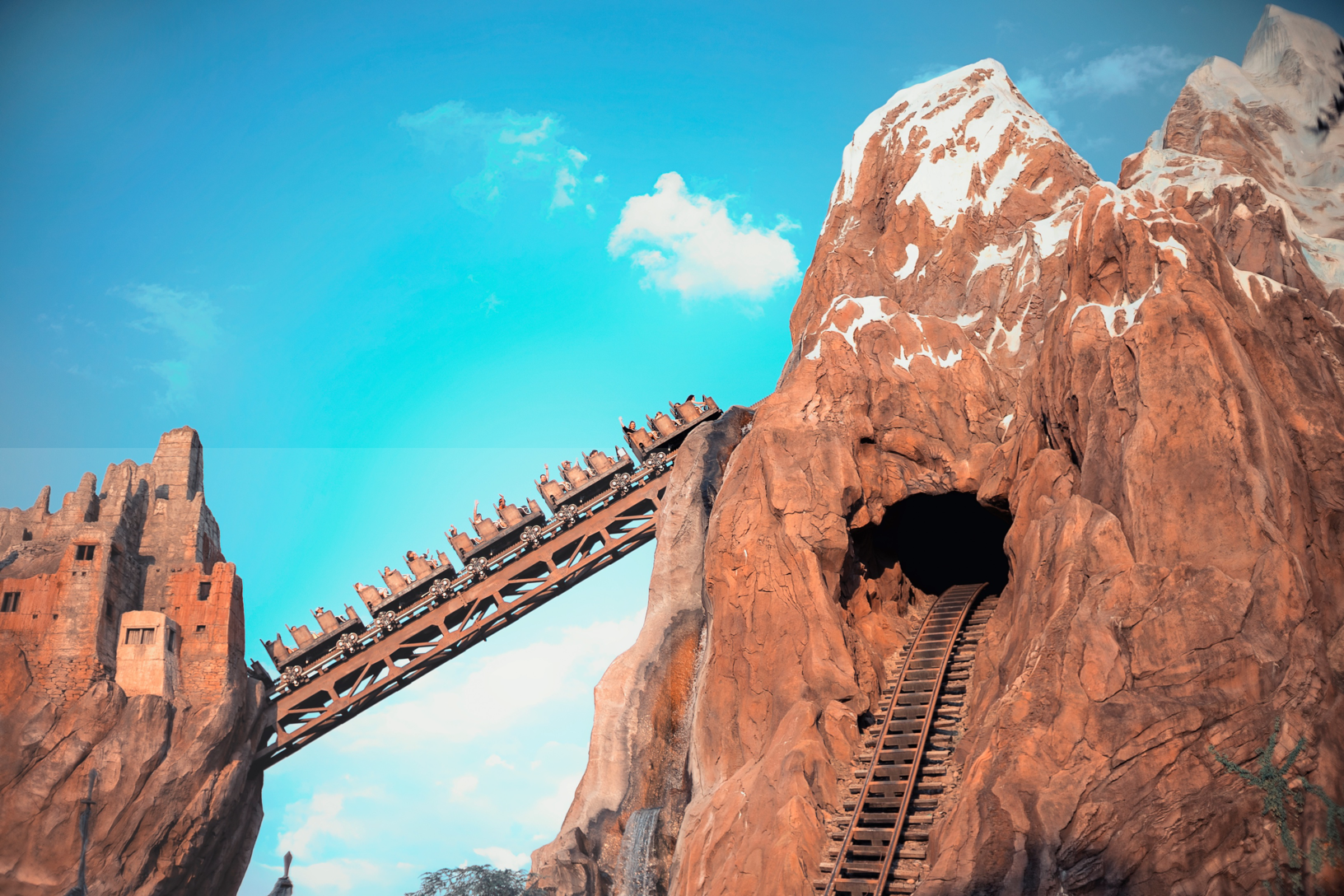 Dinosaur
Dinosaur is a classic Disney thrill ride. Who doesn't love the thrill of being chased by dinos?!
This ride takes you on an exciting journey back in time in order for you to help a scientist acquire a certain dinosaur. But what is a great thrill ride without some bumps along the way?!
The ride is very dark and jerky, so make sure to hold on tight! You will encounter many dinosaurs, but once the T-Rex finds you, you are in for a thrilling ride!
Because of its content, this ride can be extremely scary for young children, so use your best judgement when potentially riding this ride. However, this is a great ride for thrill seekers who love a little danger!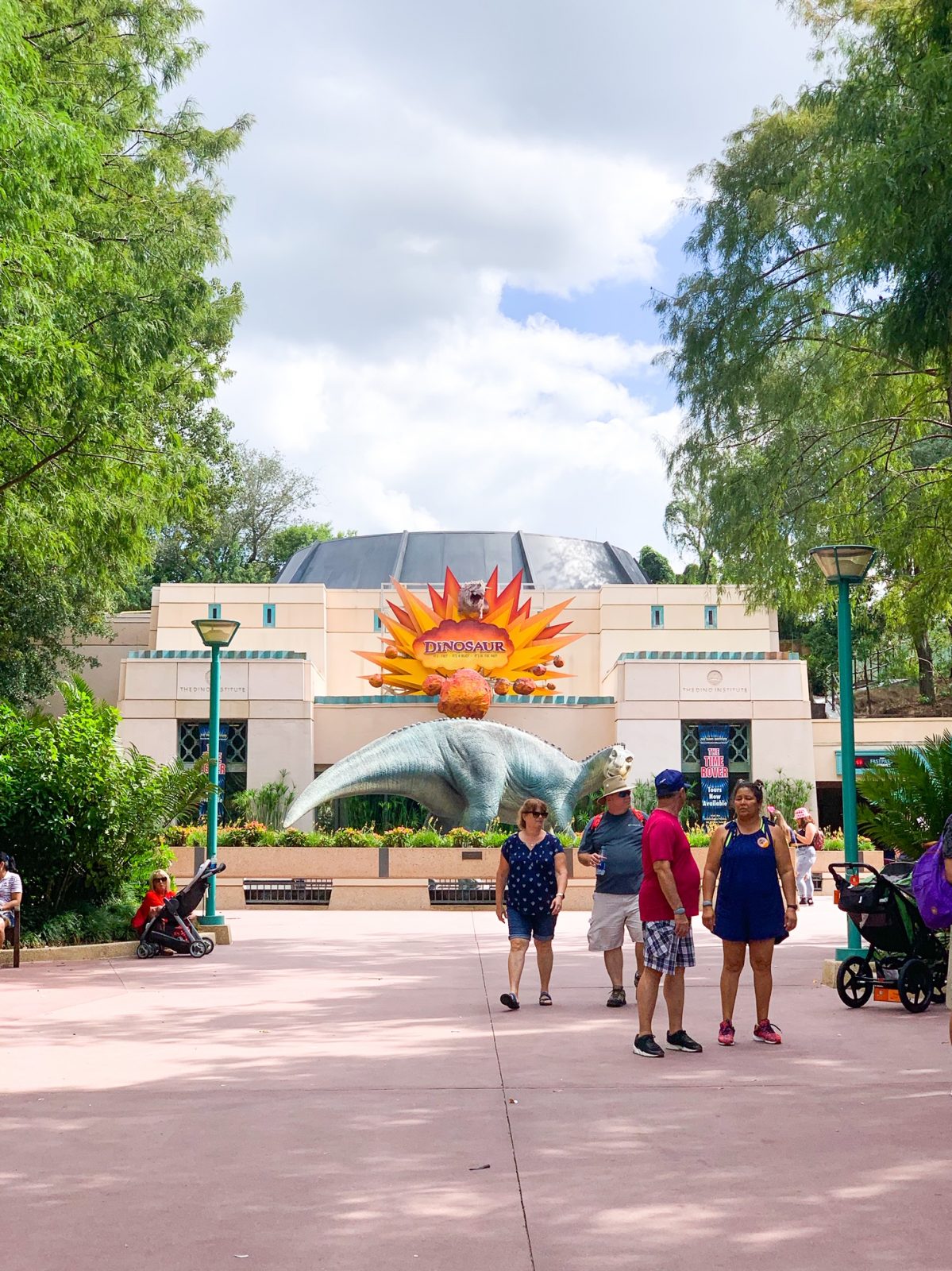 Primeval Whirl
Primeval Whirl can be a great Disney thrill ride for the right people! Not everyone loves it due to its extremely jerky nature, but if you love being flung around, this is a great ride!
This ride is located in the heart of Dinoland, which is set up like a carnival with carnival games and food. This ride sticks to that theme. It is an outdoor coaster, but the vehicle you get into is a half circle with four seats.
Once onboard, the ride takes you up a steep hill and once you hit the top, your vehicle will rotate at every turn you hit. Hold on tight because it will feel like the ride is jerking you around a lot!
The best part comes near the end when the vehicle doesn't just rotate at every turn, but it begins to free spin!
This ride is extremely fun and can be very thrilling! Do not waste an Animal Kingdom fastpass on this ride though! The lines rarely get longer than 20 minutes, and the vehicles are on constant rotation, so the line moves very fast!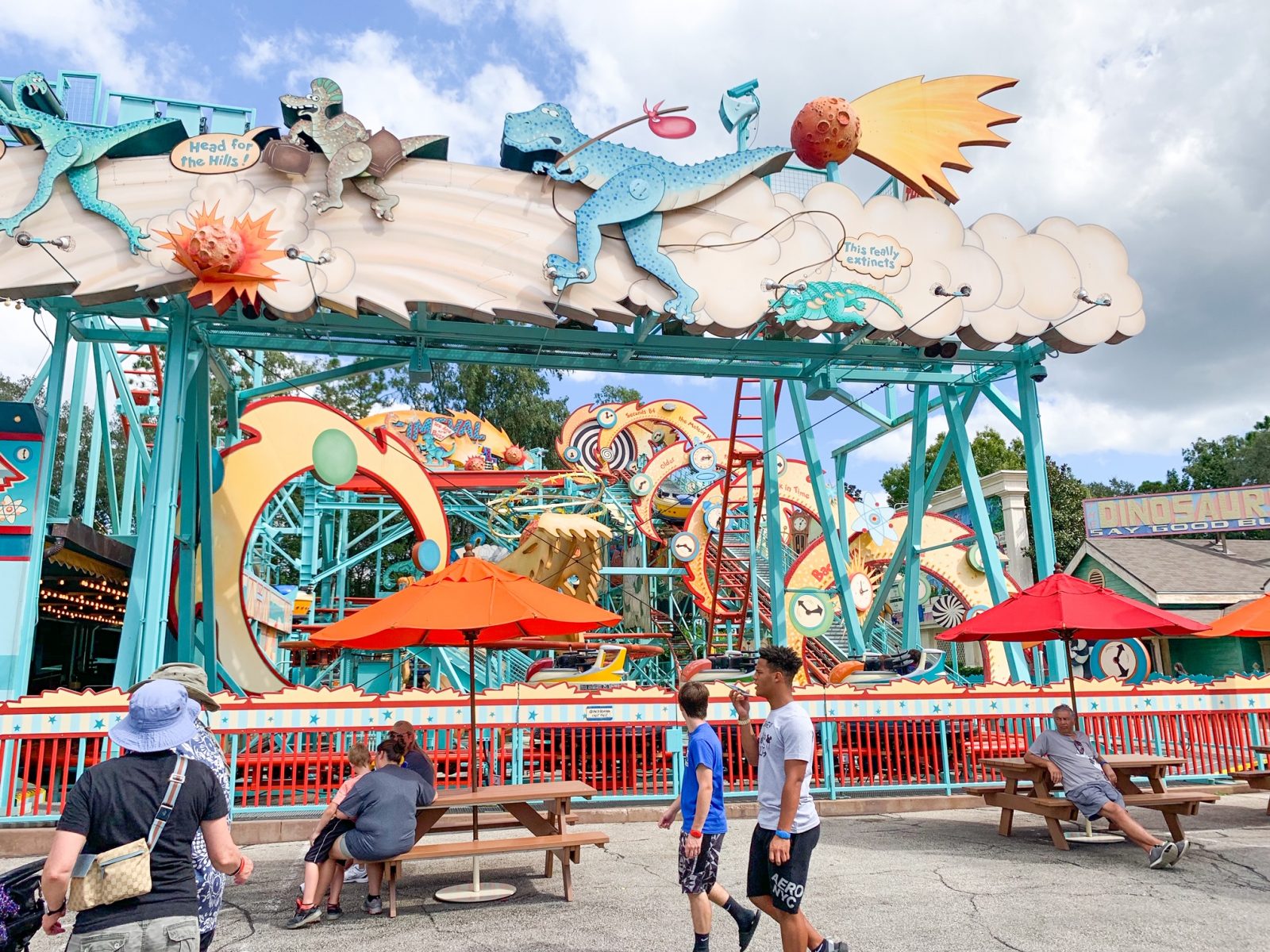 Worst Thrill Rides At Animal Kingdom
Kali River Rapids
Kali River Rapids is one of those rides that is perfect for a hot day and you need to cool off. You will definitely get soaked when riding this ride! There are some parts of this ride that could be considered thrilling, but overall it is not a thrill ride.
When it is hot out, the line for this ride will get extremely long. After all that waiting, the ride is very short, so you get very little pay off. When it is cold out, there is virtually no wait, which is great, but then once you get off you are both cold and wet!
The most thrilling part of the ride is a steep drop that happens near the end. This is the most likely place you will get soaked! Besides getting wet, there is really not much to look at during the ride. We recommend Splash Mountain if you want a water ride you can get wet on while having a story to follow along with!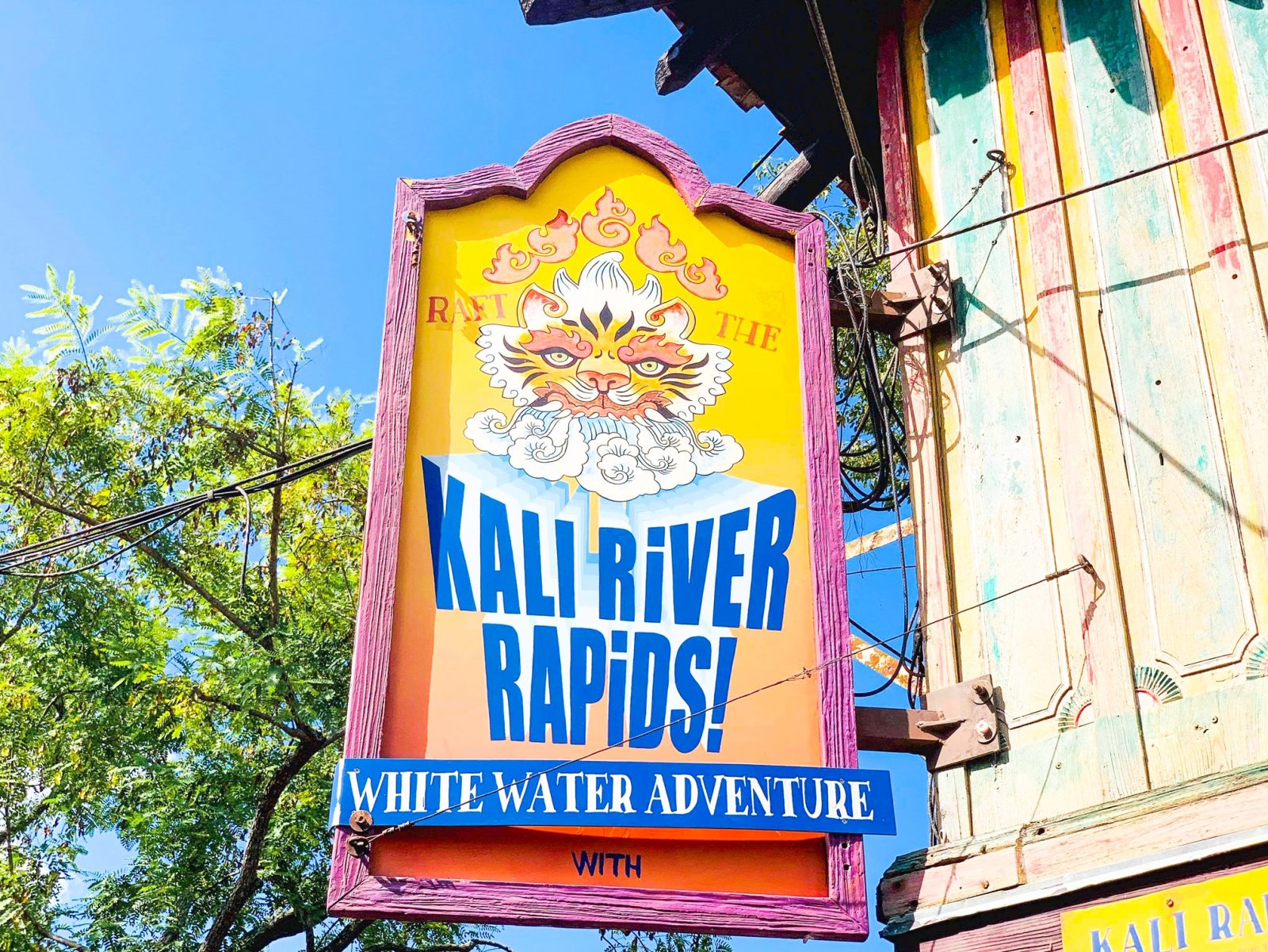 That's it! All of the best and worst thrill rides Disney has to offer! Disney has great rides for kids, but they have really stepped up their thrill ride game in recent years! Hopefully there will be more to come in the future! Happy thrill seeking!
Pin this post: