If you are looking for the best Epcot Fastpass options, you've come to the right place! Epcot is a huge park and it can very busy, especially during busy midday hours! There are lots of rides, and lots of walking, and we know it can be frustrating figuring out how not to waste those three precious Fastpasses.
There's no such thing as an off-season anymore and you're guaranteed to wait in line for something at some point. How do you decide what to ride and use your Epcot Fastpasses on – and when?
You use our Epcot Fastpass strategy of course! Use these Fastpass secrets to plan your trip to Epcot and with the right Epcot Fastpass strategy, you can ride and see everything on your must-do list. Make sure to check out the Official Epcot Map so you know where everything is located around the park!
And to make things even easier, we've compiled a list of the best Epcot Fastpass secrets to help you navigate the lines, hack your wait time, and make the most of your next Disney World trip!
Get a FREE printable 30/60/90 day Disney countdown by joining our private Disney Facebook Group and share your photos and ask for tips and trick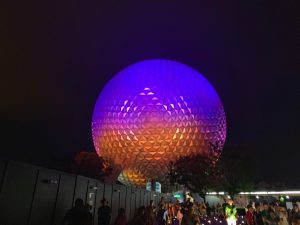 What is Fastpass at Epcot?
Using Fastpass at Epcot is a great way to get more done during your trip to Epcot, while only having to have to wait in minimal lines. These can be pre-booked before your trip, or booked once you are at the park. The rides at Epcot are in a tiered system, where attractions are separated into Tier 1 and Tier 2. Like at Hollywood Studios and Animal Kingdom, you can only choose one Epcot Fastpass from Tier 1, and choose two from Tier 2.
In case you didn't know, you get your first three Fastpasses at Disney entirely for free! If you want to read more, we have an entire post on Disney Fastpass Cost which includes the breakdown of the free options as well as the potential upgrades. YES, you can pay more and get more Fastpasses than come free.
You can book your Epcot Fastpasses via the My Disney Experience app, or you can use the Fastpass kiosks in the park to book as well. Make sure to check out the official Epcot map to find out where the Fastpass kiosks are! When staying on Disney property, you can book your Fastpasses 60 days before the day of your check-in, or you can book your Fastpasses 30 days prior to check-in if you aren't staying on Disney property.
The Ride Tiers at Epcot
Like we mentioned earlier, the rides at Epcot operate on a tiered system. Tier 1 rides are the hardest Fastpasses to get, and are typically the more popular rides, while the Tier 2 rides are less likely to get the lines and wait times that the super popular rides can get. When you pre-book your Epcot Fastpasses, you are able to choose one from the Tier 1 list and two from the Tier 2 list.
Tier 1 attractions (choose 1):
Test Track
Frozen Ever After
Soarin'
Epcot Forever
Epcot Character Meet and Greet
Tier 2 attractions (choose 2):
Turtle Talk with Crush
Living with the Land
Spaceship Earth
Mission: Space
Disney and Pixar Short Film Festival
The Seas with Nemo & Friends
Journey into Imagination with Figment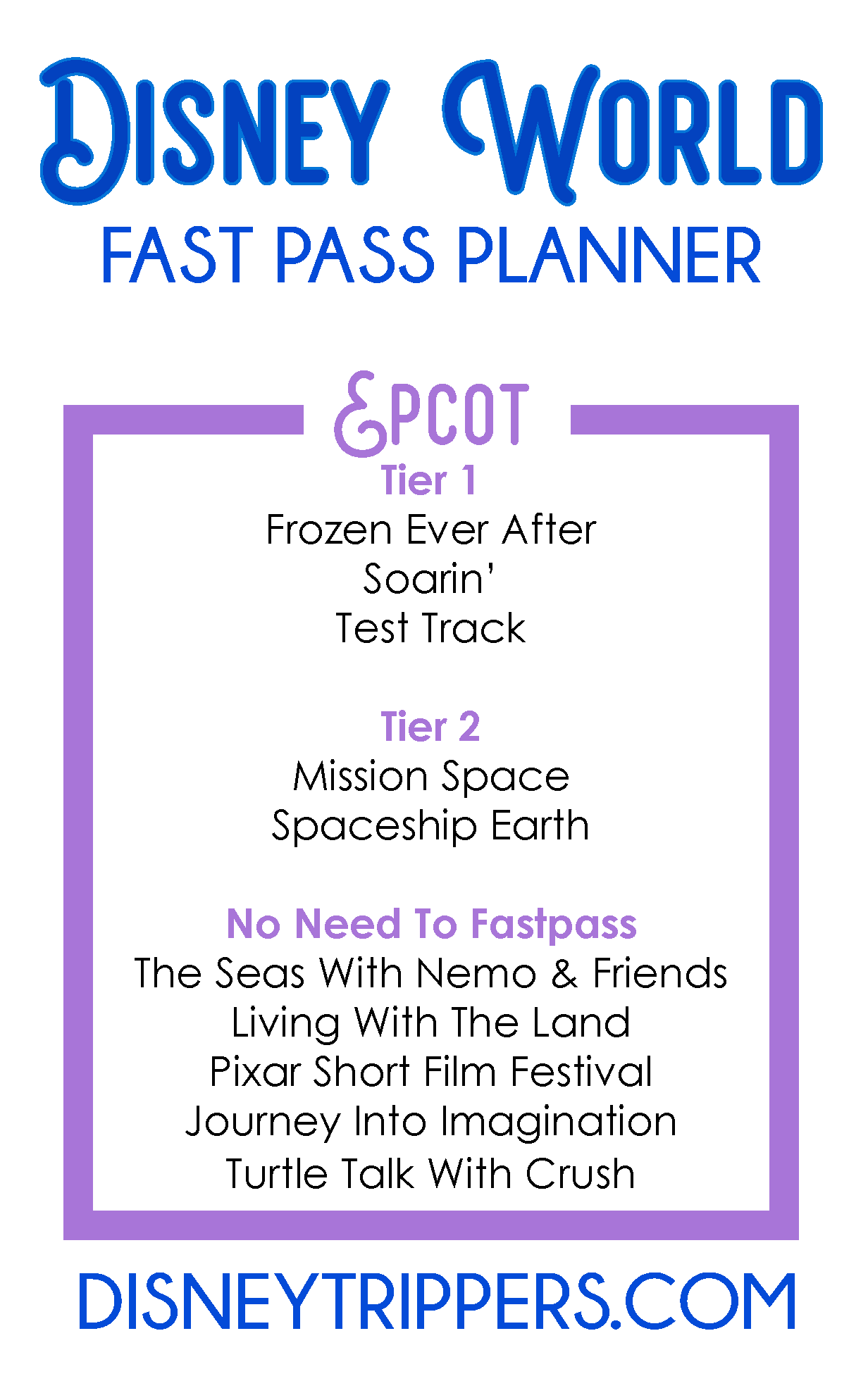 Utilize the Tap and Grab Technique
This may be the best Epcot Fastpass secret you will hear. It will save you a lot of time in line and you'll get to ride even more rides using this strategy. It does take a little bit of work and understanding on your half, but bear with us.
You can continuously modify your Fastpasses while in the park in order to maximize your time and ride the most rides. By using the My Disney Experience app while in line at your rides, you get a heads up of what other Fastpasses are out there and it negates the "overlapping" window problems you usually encounter when you book your 3 Fastpasses.
Here's an example: You're headed to Epcot for the day and you have pre-booked your 3 Epcot Fastpasses for 10 am, 11:15 am, and 12:45 pm. Once you get in line for your 10 o'clock at Soarin' and have tapped your MagicBand, check the app to modify your 11:15 am Fastpass. You see a 10:35 am for Spaceship Earth instead of the original 11:15 am and you snag that new time! And then once you scan your MagicBand for Spaceship Earth, check to see if there's an earlier Fastpass than your 12:45 pm for Mission: Space. If there is, modify again! Say you snag an 11:45 am for it, and you are done riding your first three Epcot Fastpasses before you were even supposed to be in line for your third!
This Disney Fastpass secret will save you tons of time and can make sure you can squeeze even more rides and attractions into your busy day. As long as you've tapped that MagicBand, you can start looking for more Fastpasses and modifying the ones you have. So tap that band, refresh your app, and get better times on your favorite rides!
12 Best (and Worst!) Epcot Fastpass Options
Best Tier 1 Epcot Fastpass Options
Frozen Ever After
Frozen Ever After is most likely your best Epcot Fastpass option when it comes to using your Tier 1 Fastpass. It's the most popular ride right now at Epcot, and the hardest Fastpass to get. It's a slow-moving dark water ride through the country of Arendelle where you will see all your favorite Frozen characters. It's perfect for lovers of Frozen and Disney music. If you have little ones obsessed with Frozen and princesses, this is the best way to start the day off!
It's a great Fastpass to snag as well because there isn't a height requirement. Since this is such a hot ticket ride right now, the Fastpasses for this ride do go very quickly! If you see one, grab it! The line can get very long, and we think that a Fastpass for this ride is required if you wish to ride it during your trip to Epcot. If Frozen Ever After sounds like the ride for you and your party, then make this your Tier 1 Epcot Fastpass!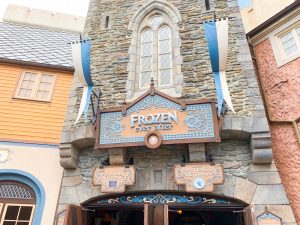 Soarin' Around the World
If ice queens and snowmen aren't your thing, then we suggest making Soarin' Around the World your Epcot Fastpass for that Tier 1 slot. This ride allows you to soar over the world and see famous landmarks – all without leaving the park! You'll see manmade marvels and natural wonders, all from your flight seat. The massive IMAX projection screen and gentle motion of the ride will make you think you truly are soaring above the world!
This ride is another great use of your Epcot Fastpass if your goal is trying to escape the elements as well since it's located inside the Land Pavilion. It's a good place to escape the heat or rain, and get a little air conditioning. The line can get really long for this ride as well, especially during the peak hours of 10am-3pm. If everyone in your party can ride – there is a 40″ height requirement – this is a great choice!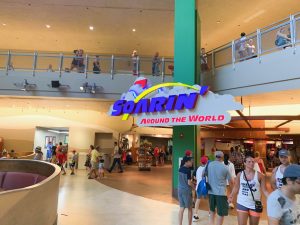 Worst Tier 1 Epcot Fastpass Options
Test Track
Test Track is a very popular Tier 1 ride at Epcot, and seems like a smart use of your Fastpass, but we actually don't recommend it! This ride allows you to build your dream car and take it for a spin, testing how well the car handles different driving conditions. Because this ride is so fun and exhilarating, the wait for the Fastpass line can be almost as long as the standby line, sometimes as long as a 45 minute wait. Skip Test Track as your Tier 1 Epcot Fastpass and everyone in your party can do the Single Rider line, as long as they meet the height requirement of 40″. Your party may get split up, but it's a much faster way to ride and you get to keep that Epcot Fastpass for something else!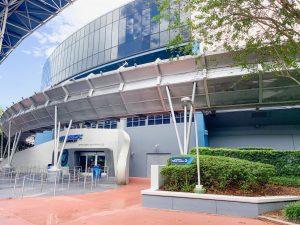 Epcot Forever
Epcot Forever is an amazing nighttime spectacular that focuses on the connection of music at Epcot from the past, present, and future. It has some amazing, unique elements and evokes a very emotional response from most who watch it – especially those that grew up with Disney and the Disney parks. That being said, we NEVER recommend using a Tier 1 Fastpass for fireworks or shows. Don't waste your precious Tier 1 Epcot Fastpass on something that can be seen in the sky from anywhere around the World Showcase.
Character Spot
The Character Spot in Epcot allows you to meet some of your Disney favorites including Mickey and his friends, and some rare characters like Joy, Sadness, and Baymax. While these are fun characters to meet and can make for great photos and interactions, we don't recommend using a Tier 1 Fastpass for character greetings in Epcot either. These lines are typically never longer than 30 minutes, and there are far more characters – including princesses! – in the World Showcase with much shorter wait times.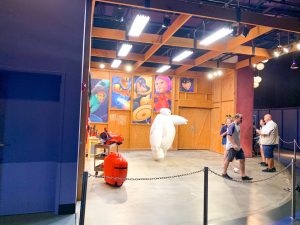 Best Tier 2 Epcot Fastpass Options
Spaceship Earth
Spaceship Earth is an iconic ride and the geodesic sphere the ride is housed in is the image we all associate with Epcot, but it can also be a very popular ride on busy days. The ride takes you through mankind's history and the history of technology, and is loved by all ages. This ride is an all ride, because it doesn't have a height requirement and is very slow-moving and relaxing. Plus, it's the first thing you see when you enter Epcot, so most people flock to it to ride first. The lines can get very long, and unfortunately most of the queue is uncovered and that can get pretty miserable in the Florida heat. If you can grab a Fastpass here during lunch time, then you have a great ride for the whole family, and a great way to beat the heat. And that's why we recommend it as one of your two Tier 2 Epcot Fastpasses.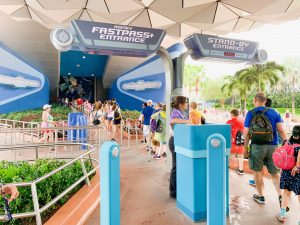 Mission: Space
Mission: Space is a thrilling ride simulator that takes you to space! It does spin, and has two separate paths to choose: Green and Orange. Green is the calmer ride that only orbits Earth, while Orange is the more intense, spinning trip to Mars. The Orange mission isn't for those who don't enjoy simulators, or are prone to motion sickness but Green is considered a more family-friendly ride.
Even though it is still a fun and popular ride, it isn't a ride that typically has a long line. This is a great Fastpass to have though if those in your party love simulators, thrill rides, and meet the height requirement of 40″ for the Green mission and 44″ for the Orange mission. Just make sure that if you choose this for one of your two Tier 2 Epcot Fastpasses that it's the right fit for everyone in your group!
Living with the Land
Living with the Land is a slow, quiet water ride that takes you through a greenhouse, and showcases the relationship humans have with the land. It's definitely an underrated ride and we love it! It's very educational, and it's a great ride to relax on. This ride can also be a great place to take little ones who need a slower pace or break from the busy park.
We never used to recommend needing a Fastpass for this cult classic ride, but recently it has had wait times up to 30 minutes! This could be because the entire ride and queue are in an air-conditioned building, or people are finally coming around to realizing what a great ride it is. Living with the Land is a great, quiet little piece of vintage Epcot, and it's a good use of your Epcot Fastpass, especially if your party isn't into the more thrilling rides.
Worst Tier 2 Epcot Fastpass Options
These are all fun and excellent attractions, and are great options to enjoy your day at Epcot. The Seas with Nemo & Friends is especially a don't miss because of the gorgeous aquarium that you ride through! But most of these rides and attractions have notoriously low wait times and short lines. These aren't the best uses of your Fastpasses unless you've used up your initial 3 Fastpasses on your must-do rides.
The Seas with Nemo & Friends is a super cute ride that combines Nemo and the huge aquarium at Epcot, but is typically a walk-on.
Turtle Talk with Crush is an interactive show, and the way in between shows is never very long.
Disney and Pixar Short Film Festival is a nice place to escape the heat, but the wait in between shows is less than 20 minutes.
Journey into Imagination with Figment is a classic ride at Epcot, and Figment is the unofficial mascot of Epcot, but there is never a long line and you can typically wait less than 5 minutes.
Now that you know which Epcot Fastpasses are the best to snag, you need to know how to get the most out of your time at Epcot! I recommend planning out the times to book your Fastpasses to maximize your time in the park. These are our recommended times, and we understand that sometimes these times aren't available and you'll have to grab whatever is out there!
Below is an example of ideal Epcot Fastpass times. Take advantage of the Tap and Grab technique once you've hit that first ride too!
Best Use Of Epcot Fastpass Times:
Frozen Ever After/Soarin = 9:00 AM
Mission: SPACE = 12:00 PM
Spaceship Earth = 2:00 PM
Using these Epcot Fastpass strategies should help you plan the perfect day of rides of Epcot, and should help you pick what rides your party should ride and when. These tips and tricks will help you time your Fastpasses appropriately, use them on the right things, and you won't regret using them on a ride you didn't need to use them on! We hope you are feeling much more prepared for your next Epcot trip, and for even more information on the
best rides you can't miss at Epcot!
Pin this post: