Epcot is filled with festivals, and, while it might not be the most well-known, the Epcot Flower and Garden Festival is one of the best.
While the Food and Wine Festival, the Festival of the Holidays, and the Festival of the Arts might get more hype, the Epcot Flower and Garden Festival is amazing in its own way. Surround yourself with nearly 1,000 butterflies at the Goodness Garden Butterfly House, gape in awe at the beautiful Disney character topiaries, and fill your bellies with some of these delicious plants at the amazing outdoor kitchens. Bottom line: the Epcot Flower and Garden Festival is not to be missed!
Get a FREE printable 30/60/90 day Disney countdown by joining our private Disney Facebook Group and share your photos and ask for tips and tricks!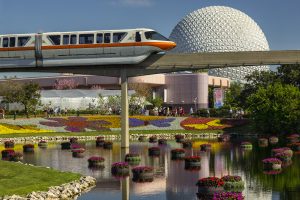 The Ultimate Guide To The 2020 Epcot Flower And Garden Festival
What Is The Epcot Flower and Garden Festival?
The Epcot Flower and Garden Festival is an annual event, during which the park is decked out in beautiful spring flowers and topiaries! There are special flower-themed exhibits, outdoor kitchen food booths, and even topiary sculptures modeled after Disney characters. It is one of the only Epcot events that doesn't come at an additional charge, as it's included in the park admission! (This excludes the food booths of course, but there's a good chance that you were planning to buy some fantastic food anyways.)
In 2020, the Epcot Flower and Garden Festival will run from March 4, 2020 to June 1, 2020.
Outdoor Kitchens
While there are tons of lovely plants to look at, the Epcot Flower and Garden Festival also has tasty plants for you to eat! There are a total of thirteen outdoor kitchens available during this bright and blooming Disney festival. Unfortunately, the 2020 Festival Menus are not out yet, but I will update this article immediately when they become available to the public.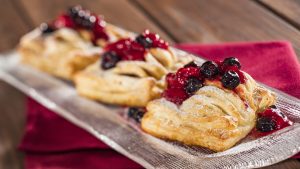 Epcot Flower and Garden Festival Concerts
While previously the Epcot Flower and Garden concerts were only held on weekends, in 2020, they will now be held every day of the week! There will be a short, 30-minute concert each evening at 5:30 p.m., 6:45 p.m., and 8 p.m. Again, unfortunately, the 2020 Concert Schedule is not out yet, but I'll update this article once that information becomes available to the public!
You can also get guaranteed seating at these concerts with the Garden Rocks Dining Package. Not only does this dinner package come with guaranteed concert seating, but it also comes with a meal at some of the best Epcot restaurants, including La Hacienda de San Angel, Rose & Crown Dining Room, and San Angel Inn Restaurante.
Goodness Garden Butterfly House
Can you even imagine being surrounded by nearly 1,000 butterflies? It seems like something out of Tarzan or The Jungle Book! But you don't have to travel across the world to go that. You can do it in Epcot's Goodness Garden Butterfly House! And the butterflies aren't all you can see in the Goodness Garden Butterfly House! Amongst all of the beautiful butterflies, there are also stunning fairy topiaries!
Because butterflies are such fascinating creatures, Disney has created a set-up for you and your little ones to learn about the life cycle of a butterfly. Learn how it starts as an egg, becomes a caterpillar, curls up on a chrysalis, and finally becomes one of the bright butterflies flying all around you!
Disney Character Topiaries
The first question that needs to be answered is simple: What is a topiary? A topiary is basically a tree, a shrub, or a plant that has been cut into a certain shape. In the case of the topiaries at the Epcot Flower and Garden Festival, the vast majority of the topiaries are cut to look like Disney characters!
Disney's horticulturists are hard at work throughout the year taking care of nearly 100 Disney character topiaries! While you'll of course be able to see topiaries of Mickey and Minnie Mouse, there are tons of other Disney characters that will make an appearance. Anna and Elsa from Frozen, Belle and the Beast from Beauty and the Beast, and even Miss Piggy and Kermit the Frog from The Muppets will all have huge topiaries modeled after them. At night, many of these topiaries even light up!
As a special added bonus for 2020, there will be a new topiary of Remy from Ratatouille! This little chef's topiary is going to be the new center piece of the brand new Ratatouille Garden (which will of course be located in the France Pavilion). Many Disney fans are even expecting the new Ratatouille-inspired ride, Remy's Ratatouille Adventure, to open towards the end of the Epcot Flower and Garden Festival. After all, the ride is supposed to open in summer 2020!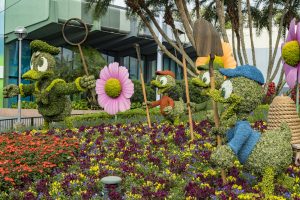 Quick Tips For The Epcot Flower and Garden Festival
Pick Up A Passport
Like many of the other Epcot festivals, the Epcot Flower and Garden Festival also has a passport. This passport can act as your guide, as it showcases the many topiaries, exhibits, and outdoor kitchens available during the festival. That way, you'll never miss something that you want to see, especially if you pair your passport with an official map of Epcot!
Make Use Of Your Dining Plan
One amazing thing about the outdoor kitchens at the Epcot Flower and Garden Festival is that they actually accept snack credits from the Disney Dining Plan! And, because the snacks at this festival cost a bit more than regular snacks, that means you'll definitely be getting your money's worth as you enjoy farm fresh treats! If you want to be extra sure that you're making use of your Disney Dining Plan, this easy-to-use Disney Dining Plan calculator will do the trick!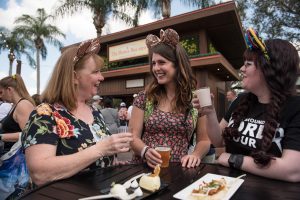 Know That Crowds May Vary
Some of the best days at Disney are the ones without the huge crowds. You waste less time waiting for rides, shows, food, and character meet-and-greets. And if you check out the Disney World crowd calendar, you'll know that between March and June (when the Epcot Flower and Garden Festival runs), there's a HUGE difference in the number of people in the park on any given day. For example, while most of April, Disney is packed, May has some of the tamest crowds of the year!
Purchase A Festival-Themed Souvenir
During the Epcot Flower and Garden Festival, Disney stocks up on a ton of festival-themed and Spring-themed souvenirs. Looking for Spring-inspired Minnie ears? They've got that! Or perhaps you'd want a Minnie watering can to start your new garden? (After all, you're going to want to start one after being surrounded by all of the beautiful flowers in the park all day!) They've got that too! Which festival-themed souvenir will you choose to take home with you?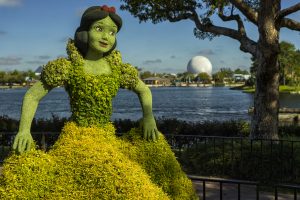 I hope you enjoy the Epcot Flower and Garden Festival! It is a spectacular event, and I know that you are going to enjoy it. So be sure to keep your eyes out for the bright, beautiful things to see, stop and smell the flowers, and dine on delicious dishes during the Epcot Flower and Garden Festival.