If you are looking for the ultimate guide for your Epcot Christmas experience, we have got you covered! The Epcot International Festival Of The Holidays, as it is officially called, is a fantastic experience and one of our favorite things to do! Each and every year, my mom, my sister, and I go to Disney for a few days around Christmas. The Festival Of The Holidays runs from Nov 29 to Dec 30, 2019!
Our favorite park is Epcot at Christmas! While Christmas at Disney is fantastic and we totally love it overall, an Epcot Christmas experience is by far our favorite. Epcot is decked out for the holidays more than any other park and there are no experiences that you have to pay above and beyond for entry like Mickey's Very Merry Christmas Party so it is for everyone to attend!
There is SO MUCH to unpack regarding this year's Epcot Festival Of The Holidays and we have got you covered right here! Make sure you are wearing some Festive And Hilarious Disney Christmas Shirts and prepare yourselves for good holiday cheer!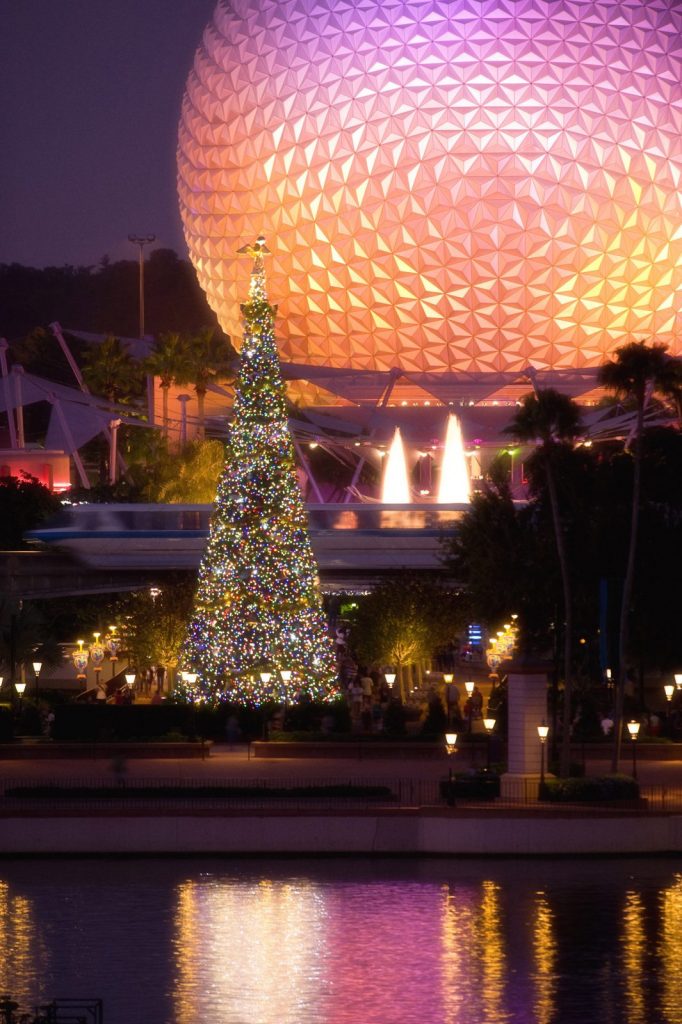 The
Ultimate
Guide
To
Epcot Festival
Of The
Holidays
Eat Around The World With Holiday Kitchens At Epcot
We all know that food is just better during the holidays! Disney understands that and as a result, we have Holiday Kitchens all around Epcot which feature dishes from various countries that are popular during the holiday season. Think of this as the Christmas version of the Food and Wine Festival. If you love good food, this is the Disney Christmas event for you!
There are SO MANY good dishes this year and you will not be disappointed with the offerings! The Epcot Holiday Kitchens are sprinkled around the World Showcase and you can choose anything that tickles your tastebuds! If you are looking to drink around the world, festivals are a great time to try out seasonal drinks!
One of the main differences between the Food And Wine Festival and the Holiday Kitchens is the portion sizing. Food and Wine Festival often provides notoriously small bites while Holiday Kitchens give you a healthy, even generous, portion size! This is fantastic as itis a great bang for your buck when buying things to taste during Christmas at Epcot.
CLICK HERE FOR EVERY EPCOT HOLIDAY KITCHEN MENU!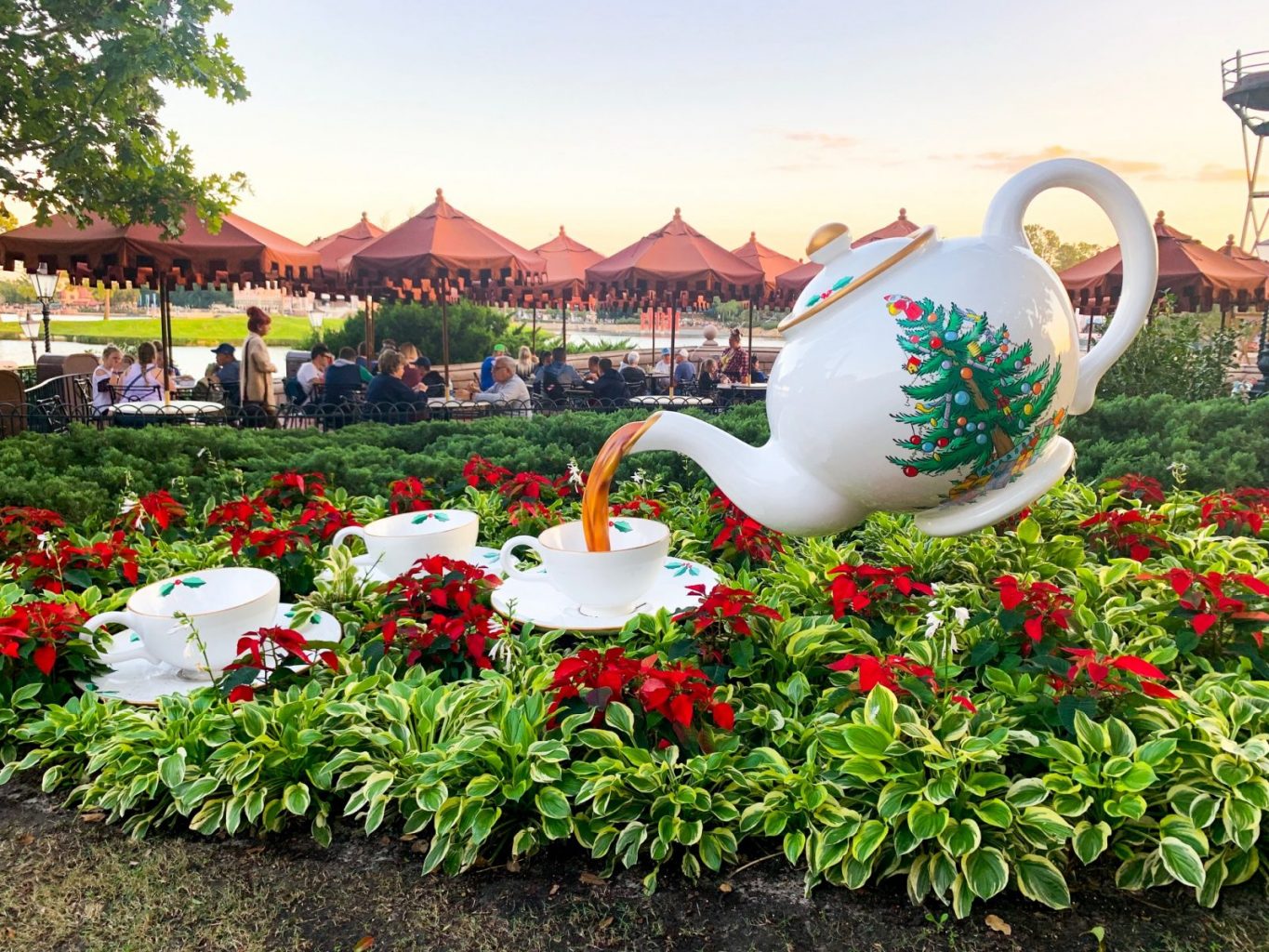 The Holiday Kitchens at this year's Epcot Festival Of The Holiday are featured below including their menu! The menu can be found on Disney's Website but we have copied it here below for your experience to be easier so the information can be found all in one place!
American Holiday Table
Food Items:
Slow-Roasted Turkey with Stuffing, Mashed Potatoes, Green Beans and Cranberry Sauce (kid-approved)
Hand-carved Smoked Ham with Green Beans and Sweet Potato Casserole (gluten-friendly and kid-approved)
Chocolate Pecan Tart with Whipped Cream and Whisky-caramel Sauce
Gingerbread Cookie
Beverages:
Hot Cocoa (non-alcoholic) (kid-approved)
81Bay Brewing Company Cinnamon Cranberry Orange Wheat Ale, Tampa, FL
Shipyard Eggnog White Porter, Clearwater, FL
Playalinda Brewing Co. Peppermint Chocolate Porter, Titusville, FL
Cocoa Candy Cane: Hot Cocoa with Peppermint Schnapps
Holiday Beer Flight also available
Bavaria Holiday Kitchen
Food Items:
Potato Dumpling with Mushroom Sauce (kid-approved)
Pork Schnitzel with Mushroom Sauce and Spaetzle
Cheese Fondue in a Bread Bowl with Fresh Steamed Baby Vegetables and Marble Potatoes (kid-approved)
Black Forest Roulade with Cherry Whipped Cream
Linzer Cookie
Beverages:
Possmann Pure Hard Apple Cider, Frankfurt, Germany
Possmann Pure Hard Black Currant Apple Cider, Frankfurt, Germany
Schöfferhofer Pomegranate Hefeweizen, Frankfurt, Germany
Regional Riesling
Glühwein: House-made Hot Spiced Wine
Cider Flight also available
Prost!
Beverages:
M.I.A. Beer Company White Christmas IPA, Doral, FL
3 Daughters Brewing 70 Degree Winter Weizen, St. Petersburg, FL
Shipyard Candy Cane Coffee Porter, Clearwater, FL
Anchor Brewing Christmas Ale, San Francisco, CA
Barrel of Monks Brewing Figgy Terno Boca Raton, FL
Castle Church Brewing Here I Stand Stout, Orlando, FL
Beer Flights also available
Feast of the Three Kings
Food Items:
Pastelón: Sofrito-marinated Beef with Sweet Plantains and Olives (gluten-friendly)
Queso Fresco-stuffed Arepa topped with Shrimp, Crushed Avocado Aji and Tomato Sauce (gluten-friendly)
Arepas topped with Melted Queso Fresco (gluten-friendly and kid-approved)
Tres Leches Rice Pudding with Pumpkin Seeds (gluten-friendly)
Chocolate Crinkle Cookie
Beverages:
Coquito: Tropical Eggnog (non-alcoholic) (kid-approved)
M.I.A. Beer Company Tres Reyes Mango Golden
Coquito: Tropical Eggnog with a Bacardi Gold Dark Rum Floater
Holiday Sweets and Treats
Food Items:
Peppermint Sundae: Chocolate Ice Cream, Whipped Cream and Peppermint Candy (gluten-friendly and kid-approved)
Beverages:
Hot Cocoa (non-alcoholic) (kid-approved)
Chocolate Peppermint Shake Featuring Twinings® Peppermint Cheer Tea (non-alcoholic)
Shipyard Eggnog White Porter, Clearwater, FL
Hot Cocoa with Assorted Cordials (Baileys Irish Cream, Frangelico Liqueur or Fireball Cinnamon Whisky)
Chocolate Peppermint Shake Featuring Twinings Peppermint Cheer Tea and Whipped Cream Vodka
L'Chaim!
Food Items:
Pastrami on Rye with House-made Pickles and Deli Mustard
Smoked Salmon Potato Latkes
Potato Latkes with Sour Cream (kid-approved)
Sufganiyot: Mini Jelly-filled Donuts
Black and White Cookie
Beverages:
Egg Cream: Milk, Chocolate Syrup and Seltzer (non-alcoholic)
Shmaltz Brewing Company Chanukah Hanukkah Pass the Beer, Clifton Park, NY
Blue Cosmo Cocktail
Le Marche De Noel Holiday Kitchen
Food Items:
Rillette de Saumon: Salmon Spread with House-made Bread
Bouchée à la Reine Traditionnelle: Turkey and Mushrooms in a Veloute Cream Sauce served in a Light Puff Pastry
Bûche de Noël au Chocolat: Christmas Log—Chocolate Cake with Dark Chocolate Caramel Ganache (kid-approved)
Beverage Items:
Sparkling Rose Veuve Dubarry Cuvée Prestige
Syrah, Grand Vallon, Charles Brotte
Kir Imperial: Sparkling Wine and Chambord Liqueur
Frozen Hot Chocolate Martini: Grey Goose Vanilla Vodka and Chocolate Milk
Las Posadas Holiday Kitchen
Food Items:
Giant Tostada de Puerco: Braised Pork served on a Giant Tostada with Chipotle Black Bean Spread, Guajillo Sauce, Queso Fresco, Crema Mexicana, Pickled Onion and topped with Chicharron Dust (gluten-friendly)
Tamal de Pollo: Braised Chipotle Chicken served in a Corn Masa with Yellow Mole and topped with Toasted Pumpkin Seeds, Queso Cotija and Crema Mexicana (gluten-friendly and kid-approved)
Horchata Cheesecake: Creamy Rice Cheesecake served with Cajeta Sauce
Beverages:
Holiday Cider: Hard Apple Cider with Cinnamon-infused Tequila
Mexican Fruit Punch: Mezcal, Red Wine and Blackcurrant Liqueur infused with Star Anise, Cinnamon, Clove, Ginger and Orange Peel (served warm)
Horchata Margarita: Tequila, Horchata Rum, Cinnamon Whisky and Agua de Horchata, served on the rocks
Sapphire Holiday Kitchen
Food Items:
Grilled Lamb Kefta Kebab and Grapes with Euro Cucumber, Red Pepper, Pickled Pearl Onions and Harissa-Cilantro Dressing
Confit of Chermoula Chicken Drum with Cinnamon Granny Smith Apple, Toasted Almonds, Brussels Sprouts and Pinot Noir Glaze
Sfenj: Warm Beignets with Cream, Cinnamon-Sugar and Chocolate Sauce
Beverage Items:
Casa Beer
Bonassia Red Wine
The Andalusian "Poinsettia" Cocktail: Sparkling Wine, Orange Liqueur and Cranberry Juice topped with Orange Blossom Water
Walnut Spiced Coffee with Walnut Liqueur and topped with Cinnamon and Whipped Cream
Shi Wasu Holiday Kitchen
Food Items:
New Year Celebration Soba: Buckwheat Soba Noodles in Hot Dashi Soup with Kakiage (Vegetable Tempura) and Chopped Green Onion
Chirashi Sushi Tree: Sashimi-grade Tuna, Salmon, Ikura and Yellowtail with Vegetables decorated on a bed of Rice
Matcha Crème Brûlée: Creamy Green Tea Custard with a Caramelized Sugar Crust topped with Mochi, Red Bean Jam and Strawberry
Beverages:
Ichigo Milk Boba: Strawberry Cream Drink with Japanese Calpico and popping Strawberry Boba Pearls (non-alcoholic)
Sapporo Draft Beer
Tsubaki Whiskey Sour: Plum Wine with Whiskey, Cranberry Juice, Sugar and Lemon
Shanghai Holiday Kitchen
Food Items:
Pork and Vegetable Egg Rolls (kid-approved)
Mongolian Beef Bao Bun and a Fortune Cookie
Celebration Barbecue Pork with Steamed Rice and a Fortune Cookie
Chengdu Street Fries
Beverage Items:
Tsingtao Beer
Firework: Jose Cuervo Tequila Gold, Vodka, Mango Syrup, Orange Juice and Soda Water
Marco Boba: Amaretto, Iced Coffee, Milk and Boba
The Lucky Mo: Peach Schnapps, Peach Syrup, Orange Juice, Pineapple Juice and Coconut Milk
Tuscany Holiday Kitchen
Food Items:
Bianca Neve: Italian Flatbread, Mozzarella and Parmesan (kid-approved)
La Genovese: Rustic Flatbread, Vidalia Onions, White Wine Braised Beef Tenderloin Tips and Mozzarella
Collezione Barilla: Pennette Pasta, Sweet Sausage, Caramelized Onions and Creamy Sauce (kid-approved)
Crespelle di Mele: Cinnamon Apple Fritters and a Vanilla Sauce Drizzle with Confectioners Sugar
Bacio al Cioccolato: Warm Hazelnut Chocolate Cake with Caramelized Berry Sauce
Panettone Mignon: Miniature Traditional Italian Christmas Fruitcake
Beverage Items
Peroni Nastro Azzurro Pilsner
Pinot Grigio, Santa Marina
Chianti, Gabbiano
Prosecco, Villa Sandi
Corbinello, Montegrande
Moscato Fior D'Arancio, Montegrande
Italian Margarita with Limoncello and Tequila
Yukon Holiday Kitchen
Food Items:
Seared Verlasso® Salmon with Crown Maple Whisky Glaze, Parsnip Silk, Apple Chutney and Hazelnut Croquant
Canadian Wild Rice and Ham Soup with Almonds served with a Pretzel Roll
Maple Bûche de Noël: Maple Mousse rolled in Gingerbread Chiffon Cake with Cranberry Sauce and Pecan Crumble (kid-approved)
Peppermint Pinwheel Cookies
Beverages:
Frozen Coffee (non-alcoholic)
Unibroue Éphémère Cassis
Inniskillin Riesling Icewine
Inniskillin Pearl Vidal Icewine
Inniskillin Gold Oak Icewine
Frozen Coffee with Tap 357 Whisky
Icewine Flight also available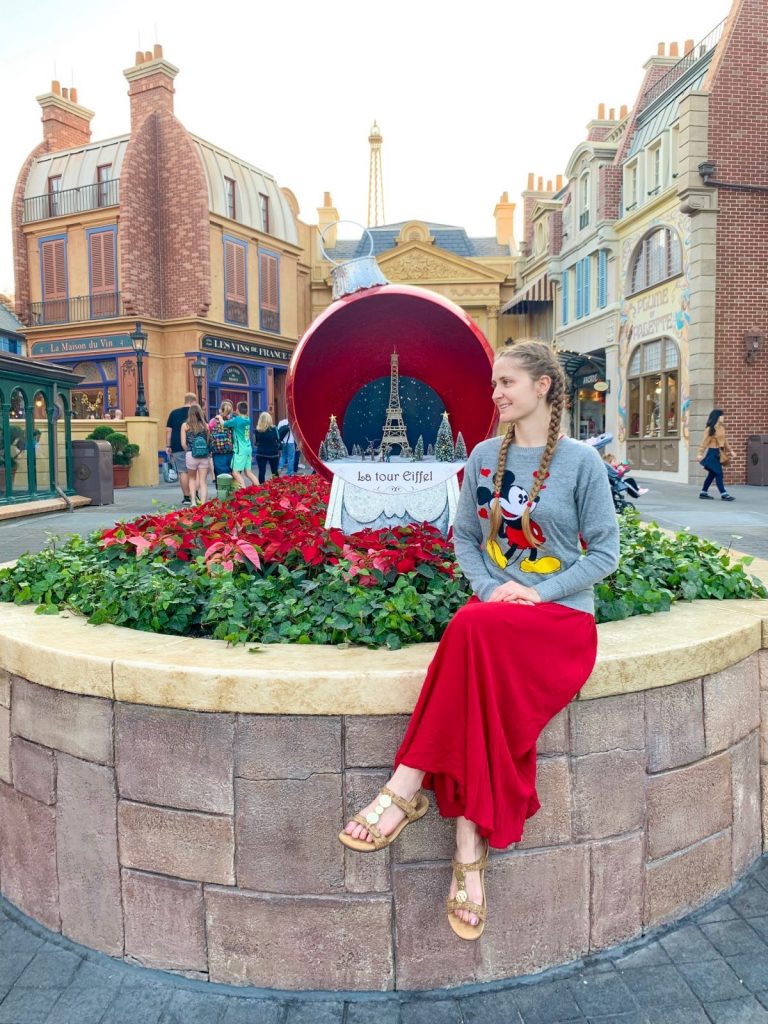 Epcot Christmas Holiday Cookie Stroll
If you love sweets, this is the place for you! Head to 5 kiosks with your cookie passport and try out delicious treats from all around the world. This one is so much fun and a unique way to eat some good food during your Disney Christmas vacation. This is good for all ages and everyone loves cookies!
Epcot International Festival Of The Holidays has a variety of unique cookies at locations around the park. There are 5 locations and once you have visited and tasted all five, bring your stamped Holiday Cookie Stroll passport to the Holidays Sweets And Treats booth for a free Santa Mickey Sugar Cookie. I love sweets so this is one of my favorites!
The best part? Cookies go around $2-$3 which is pretty affordable compared to the normal Epcot Christmas festival pricing! Keep in mind that if you are returning to Epcot during Christmas, you can keep your cookie passport and fill it out over time. You do not need to fill out the whole thing in one visit which makes it even more affordable!
Either way, even if you don't want to do the Holiday Cookie Stroll this Christmas at Epcot, make sure to taste out one or two cookies during your time at the Festival Of The Holidays! You really can't go wrong with delightful Christmas sweets!
The 2019 Holiday Cookie Stroll Cookies are:
Bavaria Holiday Kitchen: Linzer Cookie
American Holiday Table: Gingerbread Cookie
Yukon Holiday Kitchen: Peppermint Pinwheel Cookie
Feast of the Three Kings: Chocolate Crinkle Cookie
L'Chaim! Holiday Kitchen: Black and White Cookie (Vegan)
Entertainment During Christmas At Epcot
Holiday Storytellers Around The World Showcase
All around the 11 World Showcase Countries, you can find a special Epcot Christmas celebration! As you wander through the countries during the Festival Of The Holidays, you will see special appearances by characters inspired by local traditions and lore! Performers bring holiday tales alive in their respective countries and it really adds so much to the experience and you get to learn a little bit of culture as you make your way around Epcot at Christmas!
Unlike other events, the Holiday Storytellers are better enjoyed as you walk around the park, instead of planning a specific time around them. I think of them as an addition to your experience, not as the main attraction. So keep your eyes peeled but don't feel stressed to keep to a time schedule!
Presented Daily November 29 to December 30, 2019
Mexico: Las Posadas Celebration Feliz Navidad! Join the fun and pageantry of Las Posadas with dancers, piñatas and the music of Mariachi Cobre.
Norway: A Mischievous Magical Barn Santa Celebrate the season with laughter as a mischievous Barn Santa visits Sigrid, an unsuspecting Christmas storyteller.
China: Chinese Lion Dancer Catch a glimpse of this colorful performance that brings good fortune and happiness in the Lunar New Year.
Germany: Chilli Da Mur – NEW! Join as this accomplished German vocal group celebrates the season with folk music, pop and original songs.
Italy: La Befana Listen to the tale of La Befana, a kind-hearted witch who visits sleeping children on the eve of the Epiphany.
The American Adventure: Santa and Mrs. Claus Enjoy a visit with Santa and Mrs. Claus, who have slipped away from their workshop at the North Pole to bring good cheer to you this holiday season.
Japan: Daruma Storyteller Hear the fascinating story of the Daruma doll and the Japanese customs of the New Year!
Morocco: Festivity in Morocco Join in as a lively band recreates the fun of street festivals and the holiday season across Morocco.
Between France & Morocco: Hanukkah Storyteller Join the storyteller Zachary as he shares legends, tells tales and sings songs, highlighting Hanukkah celebrations throughout the world.
France: Père Noël Visit with Père Noël and rediscover the magic of Christmas through the letter of a delightful child.
United Kingdom: Father Christmas Join Father Christmas as he rings in the season, sharing the traditions of the United Kingdom and good cheer.
Canada: Canadian Holiday Voyageurs Explore holiday customs from across the vast regions of Canada on a musical tour of the Great White North.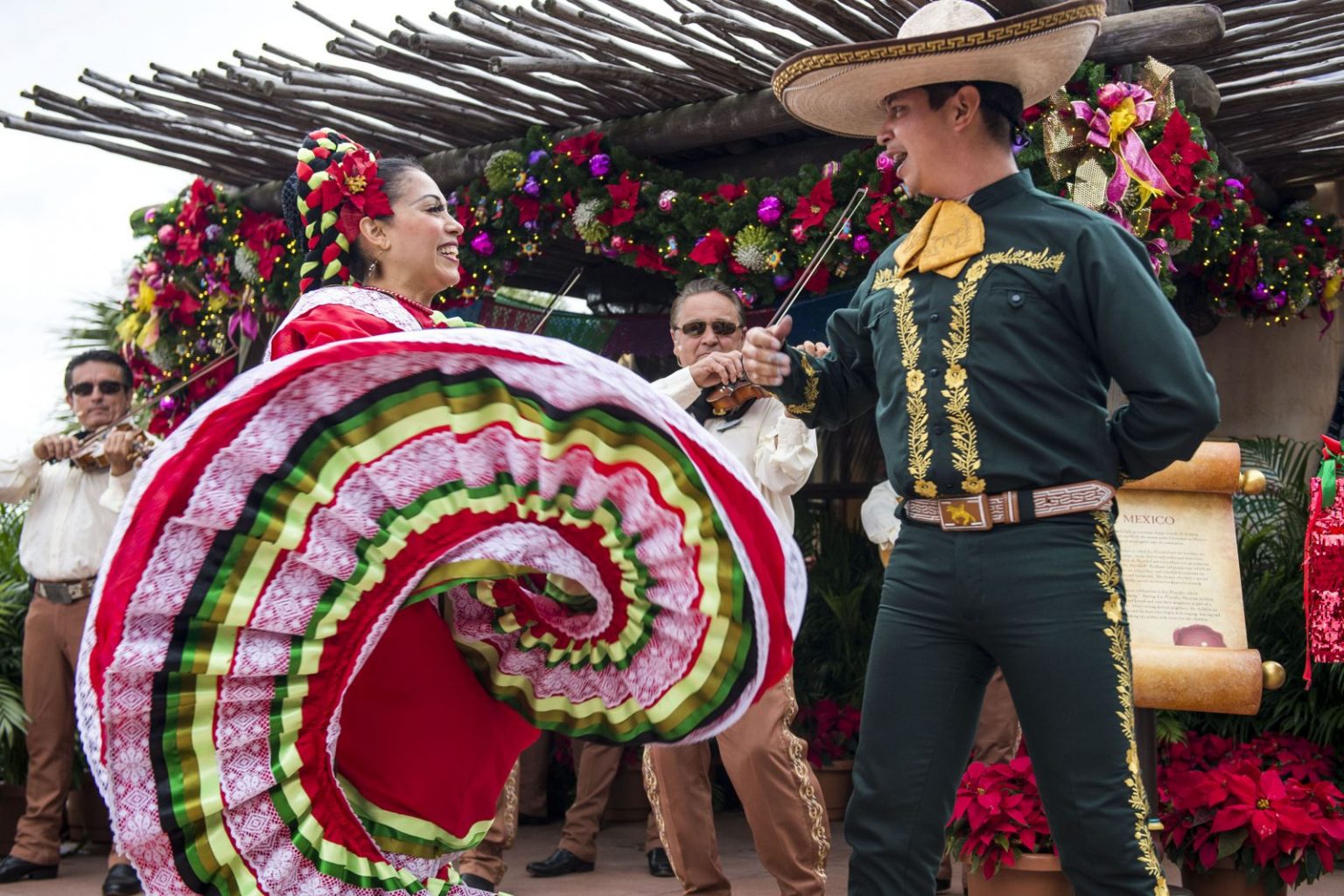 The 2019 Epcot Candlelight Processional
This is easily the most popular Epcot Christmas event. I remember being a small child and my mother dying to go and we would hate it and not want to sit through it. To this day, I do think that the Candlelight Processional at Epcot is more of an "adult" thing to do as you listen to a narrator and a choir and it isn't quite as interesting for kids. Your kids may love it but as a kid it wasn't my favorite thing and even as an adult I sometimes find it hard to keep focus. But people LOVE IT!
Performances of the Disney World Candlelight Processional are held every night at 5 PM, 6:45 PM, and 8:15 pm at the American Gardens Theatre. Every few nights, a different celebrity narrator comes in and reads the Christmas Story from the Bible. There are some big names that read like Neil Patrick Harris and this even is included with your Epcot admission!
This is one of the biggest and most anticipated events at the Epcot Festival Of The Holidays and is worth checking the schedule below and at least dropping by and watching from the back as you enjoy Epcot at Christmas. If there is a specific narrator your want to see, we do recommend getting there early to stand in line and get a seat. If you want to see that person but don't want to wait in line, that is okay and you can always stand at the back and watch at any time you want!
The 2019 Candelight Processional Narrators Are:
November 29 to December 1: Ming-Na Wen
December 2 to 5: Neil Patrick Harris
December 6 to 7: Whoopi Goldberg
December 8 to 10: Isabella Rossellini
December 11 to 12: Chita Rivera
December 13 to 15: Gary Sinise
December 16 to 18: Pat Sajak
December 19 to 21: Warwick Davis
December 22 to 24: Steven Curtis Chapman
December 25 to 26: Edward James Olmos
December 27 to 28: Marlee Matlin
December 29 to 30: Lisa Ling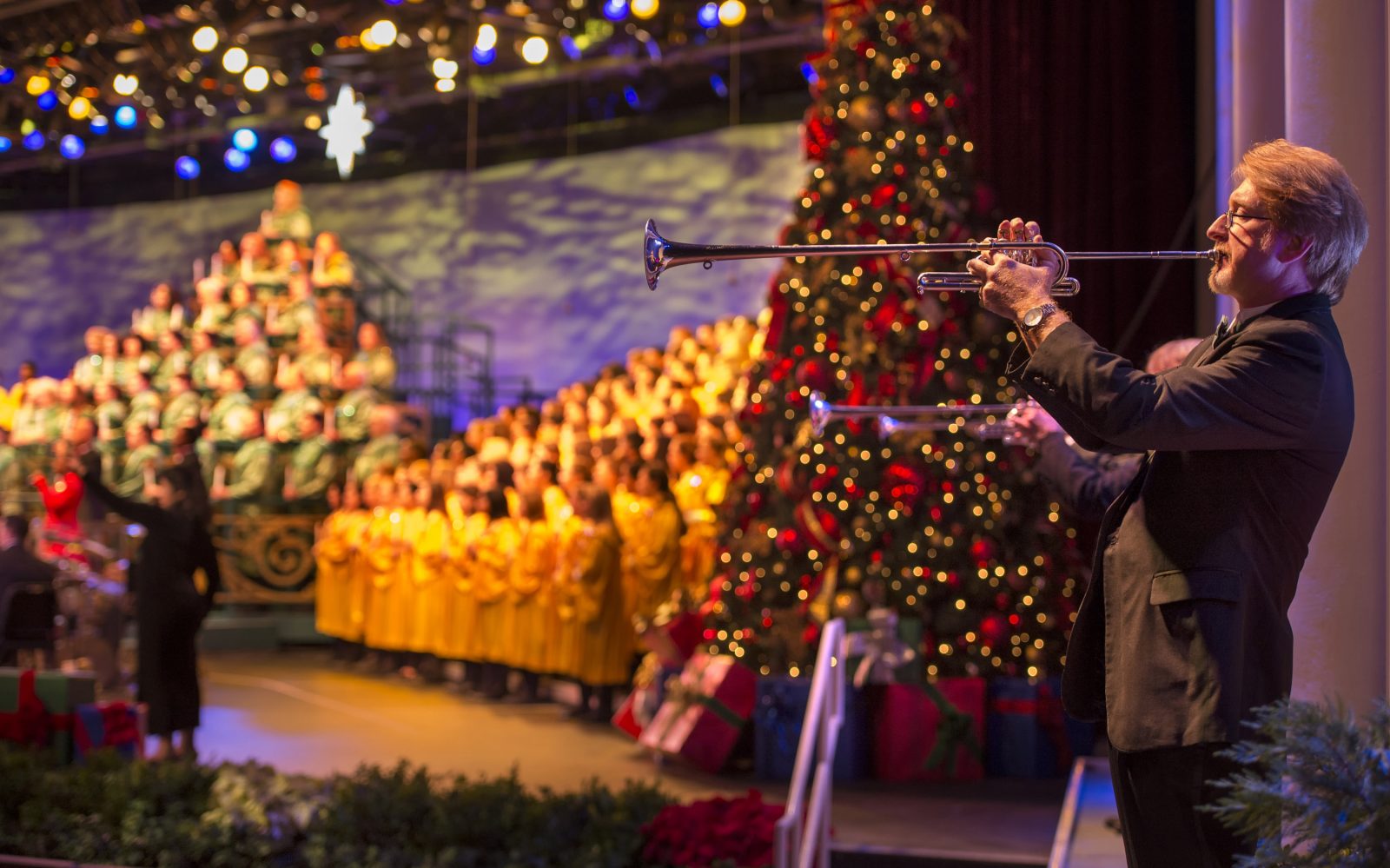 JOYFUL! A Celebration Of The Season
This FUN concert takes place every day in the middle of the Epcot Entrance right before the bridge to the World Showcase. It is totally fun and a fresh take on Christmas favorites! These Christmas songs are set to gospel music, jass music, R&B and more and are so much fun to groove to, even if you are just walking by.
This concert is standing only and there is plenty of room for everyone so there is no need to arrive early. Kids and adults alike love dancing to the music and it is a great thing to do during your time at the Epcot Festival Of The Holidays this Christmas!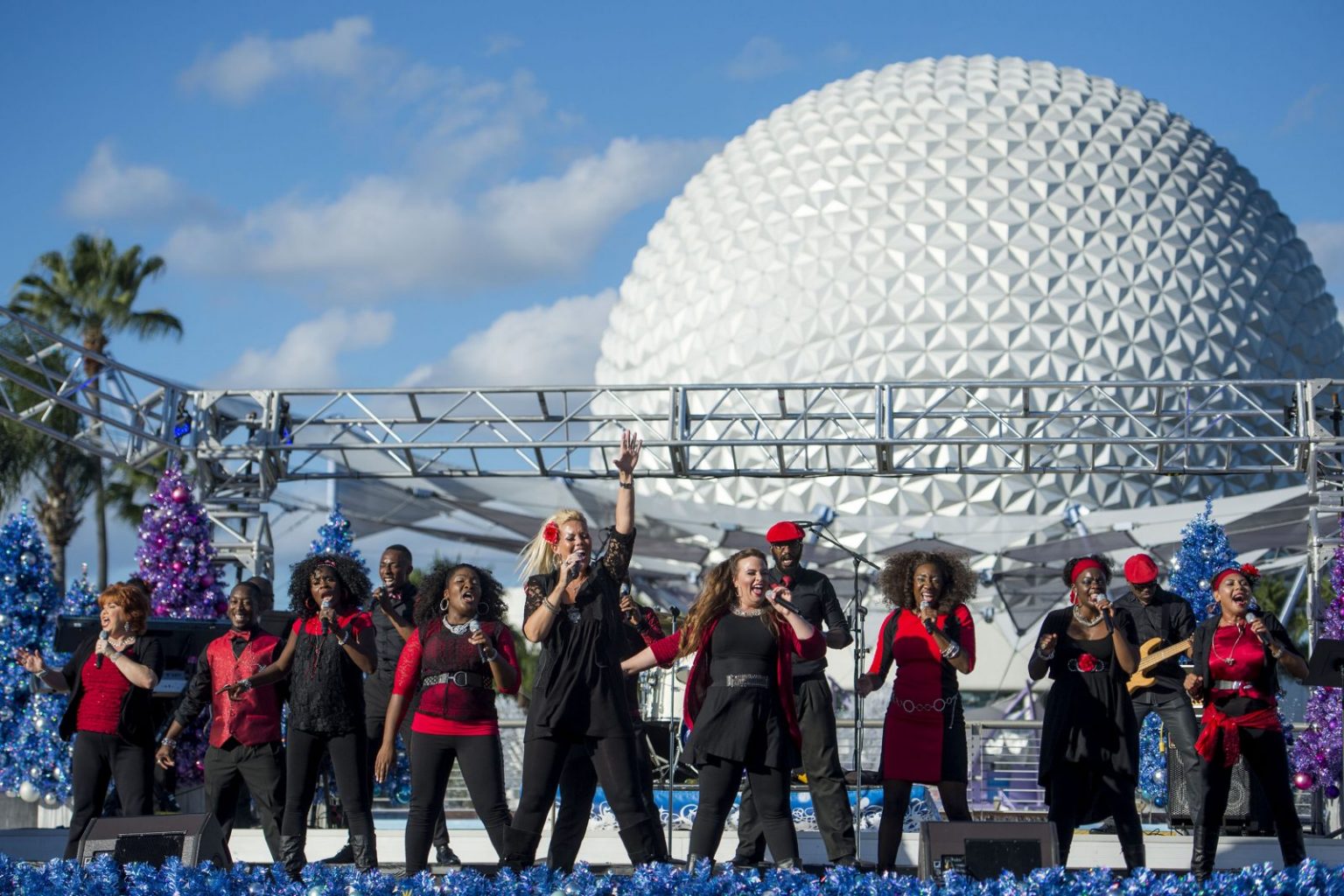 Chip & Dale's Christmas Tree Spree
This is one of the more unique and fun things to do with kids during Epcot at Christmas! Your family will join Chip & Dale on a scavenger hunt to collect ornaments for their Christmas tree. You will purchase a map and stickers when you arrive at Epcot. The places you can purchase these from include Pin Central, Disney Traders, and World Traveler at International Gateway. If you have trouble finding them, simply ask a Cast Member for help!
Maps are $6.99 plus tax and you can snag them while supplies last. Once you have your map, make your way around the Epcot World Showcase and look for Chip & Dale. Once you find them, put a sticker that looks like an ornament on your map.
Once you complete the task and fill in all the stickers from the Epcot World Showcase, head to Disney Traders or World Traveler and exchange it for a festive "Thank You" surprise from Chip & Dale. This is a cute and fun way to keep the younger kids busy or a great way for older guests to join in the fun when they have been to Epcot at Christmas many times and want to try something new!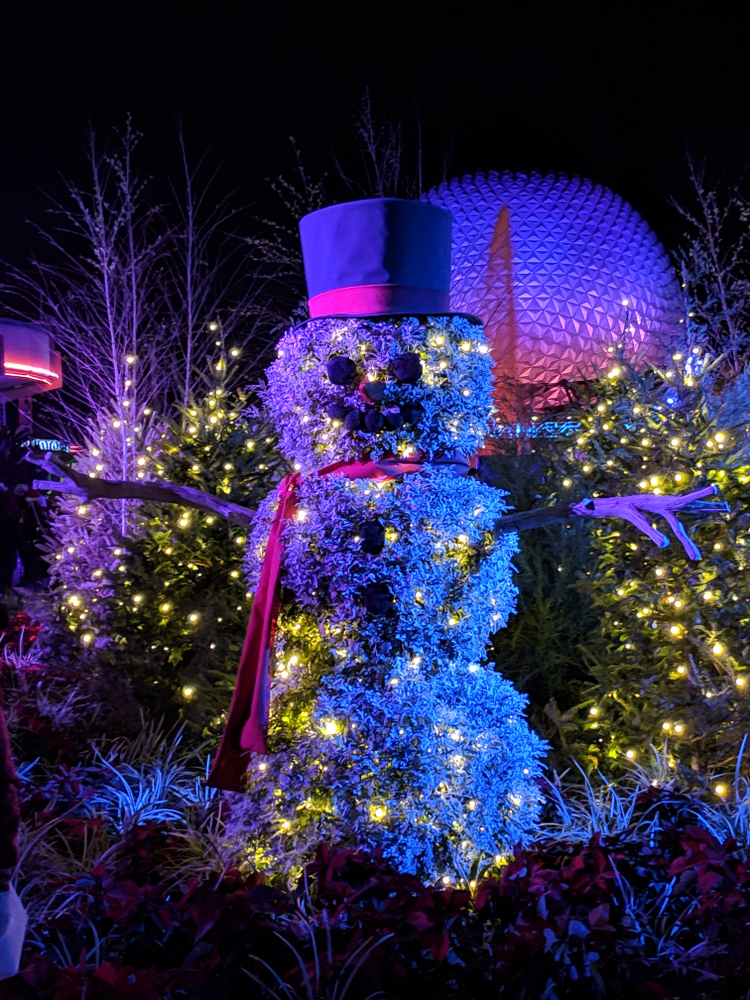 Quick Tips For Visiting Epcot At Christmas
There are a few things to know when planning your trip to Epcot at Christmas that will make your experience better. We break them down below so that you have a fun and fantastic trip during the Holidays!
The Epcot Festival Passport Is Your New BFF
When you arrive at Epcot during Christmas, make sure to pick up a copy of the Epcot Festival Of The Holidays booklet or passport. This is your guide to everything you need to know about Epcot at Christmas and includes a LOT of helpful information. It is totally FREE and includes everything! The best part? You can keep track of the menus at the Holiday Kitchens and the showtimes around the park at Christmas!
Buy Your Christmas Lights Necklace Online Or At A Drugstore
This is a huge hack for visiting Epcot at Christmas! Once you arrive at Epcot for the Festival Of The Holidays, you will see tons of people walking around in large flashing Christmas light necklaces. They costs a TON of money once you are already at Disney, so the best money-saving hack is to buy them in advance and bring them with you to wear at the parks!
We recommend this Christmas Lights Necklace from Amazon! You can buy it in different packs as well so that you can get a discount if you are buying for a family. The cost is a fraction of the price of the Disney Christmas lights necklace and you can put it on the moment you arrive in the parks!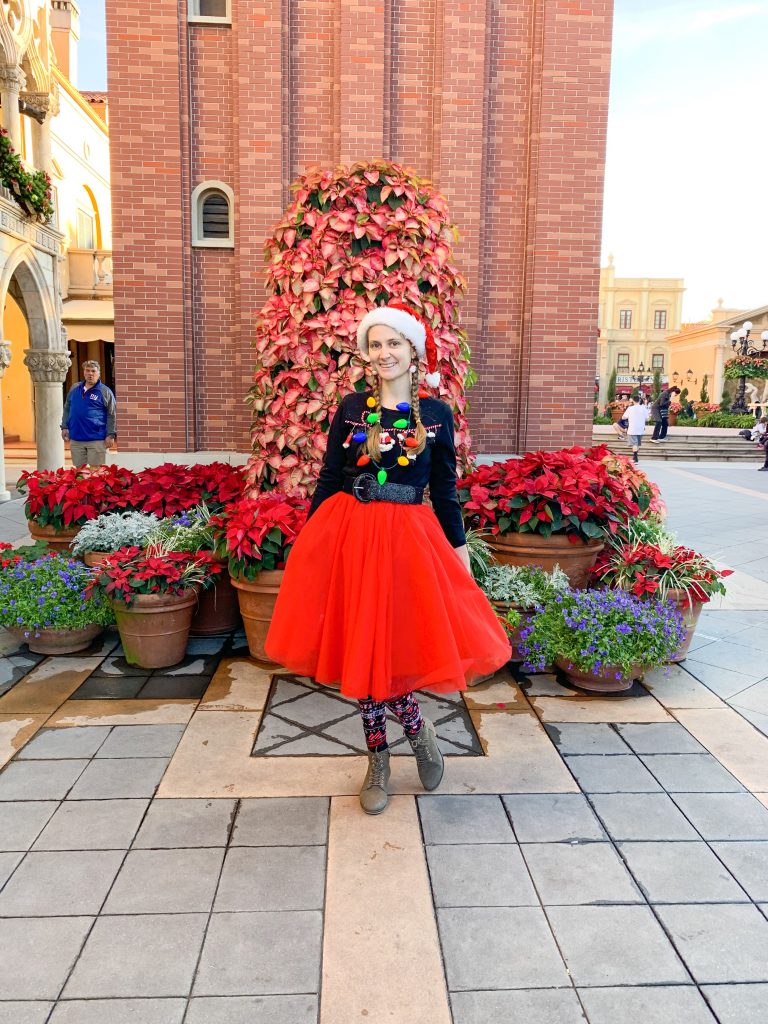 Choose Your Candlelight Processional Date Based On Narrator
The narrators at the Candelight Processional switch out every few days. This makes a HUGE difference on the number of people who attend. People like Neil Patrick Harris and Whoopi Goldberg draw massive crowds while others may draw fewer people. If you don't need to see a particular narrator, we recommend heading there on a day when there is not a famous person reading in the show.
This way, you can avoid the crowds but still see the show and experience all that it has to offer! If you do want to see a narrator that is famous, we recommend getting in line at least 2 hours early! If you want to still see a famous person without waiting in line, simply walk by the American Gardens Theatre during the Epcot Candlelight Processional to see and observe from the back of the theatre!
Understand That Crowds May Vary When Visiting Epcot At Christmas
As expected, the week of Thanksgiving and the last two weeks of the year [Christmas And New Years] are obviously the highest and most crowded time to visit the Epcot Festival Of The Holidays. Check out our Disney Crowd Calendar to get a feel of just how busy the days you are considering going are going to be.
I always try and plan my Christmas Disney trip the first week of December and it has usually worked out quite well. It isn't the same as visiting in January and there isn't much going on and it is the lowest and least busy ever, but it isn't as crowded as visiting during the last two weeks of the year.
Visit Santa For Shorter Lines
Most people are not visiting Epcot at Christmas to see Santa. Many people don't even know that Santa exists at Epcot! But he does! Head to the America Pavilion on the right side to see and get your Christmas picture with Santa Claus and Mrs. Claus! This is a huge tip because the lines are often much shorter than at Magic Kingdom, Hollywood Studios, or Disney Springs.
This is a great way to meet Santa Claus without waiting in a 2 hour line like some of the other locations command. You can get the best of both worlds with this fun and unique surprise at Epcot during Christmas time!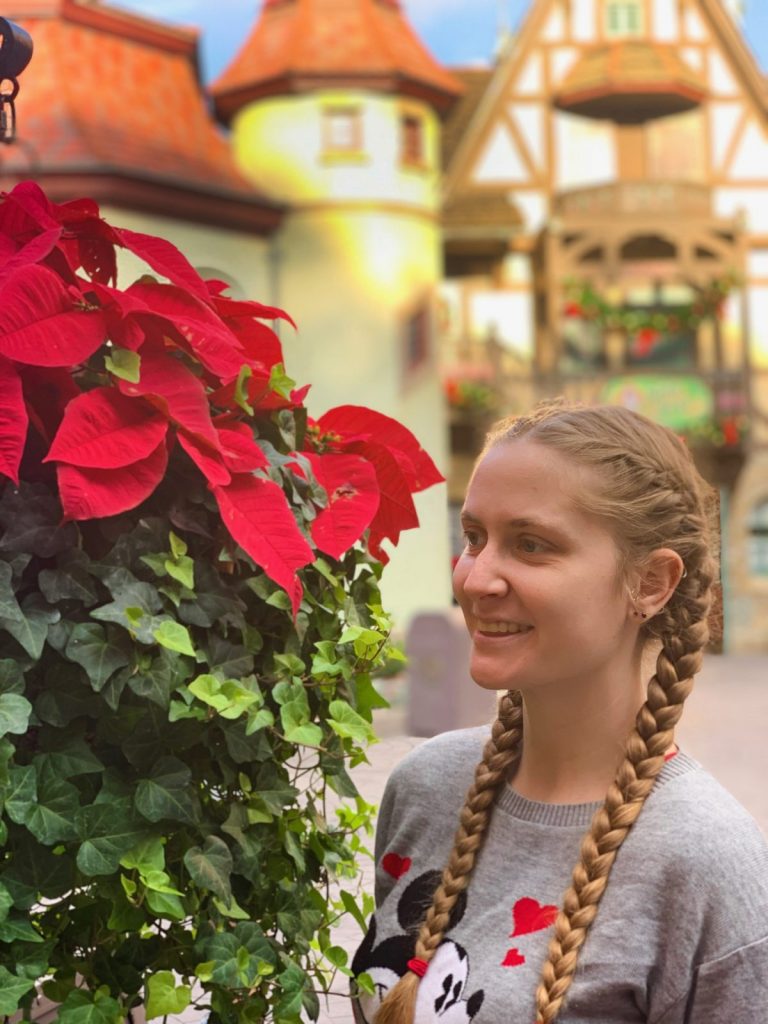 We hope you enjoy visiting the Epcot Festival Of The Holidays! Epcot at Christmas is truly our favorite time of the year and we love all the events, food, and activities that Disney offers here. Please let us know if you have any questions below and we are happy to answer them in the comments!