If you are having a hard time finding the most unique Disney Christmas shirts, I have got you covered! This article includes some of the best and cutest shirts on the internet. I have scoured the depths of the internet so that you and your family or friends can look super festive during your trip to Disney at Christmas!
Christmas at Disney is my favorite time of the year. If you want to go all-out with the matching Disney Christmas shirts, this is the time of year to do it! Everyone is already decked out in holiday clothing, so why not take matching family Disney shirts to the next level?
The one thing I love about these Disney Christmas shirts is that there is something for everyone! If you want Disney Christmas shirts for the family, we have that. Looking for feminine shirts? That is an option! You can browse for almost every character under the sun too.
Whether you are a local annual pass holder or are coming for your dream vacation, these shirts can add a dose of holiday spirit to any trip to see The Mouse!
Get a FREE printable 30/60/90 day Disney countdown by joining our private Disney Facebook Group and share your photos and ask for tips and trick
13 Festive And Hilarious Disney Christmas Shirts
Spoiled And Broke Disney Christmas Shirts
The Spoiled Vs Broke Disney Christmas Shirts are probably some of my favorite Disney Christmas shirts on the list! These are perfect for couples or for parents and kids! Mom could wear "broke" while son could wear "spoiled" and so on! These are all the rage in Disney groups on Facebook and for a good reason! They are so totally adorable and make a great family Christmas Disney shirt.
These are great matching Disney Christmas shirts if you want to match in theme, but not match every single part of the outfit.
I put them first on the list because I truly do think they are some of the cutest Christmas shirts for Disney World. And let's be realistic, we all know that Disney can be expensive as all get out but that we are really lucky to visit! This is my favorite one to put on your Disney packing list if you are heading here during the holidays.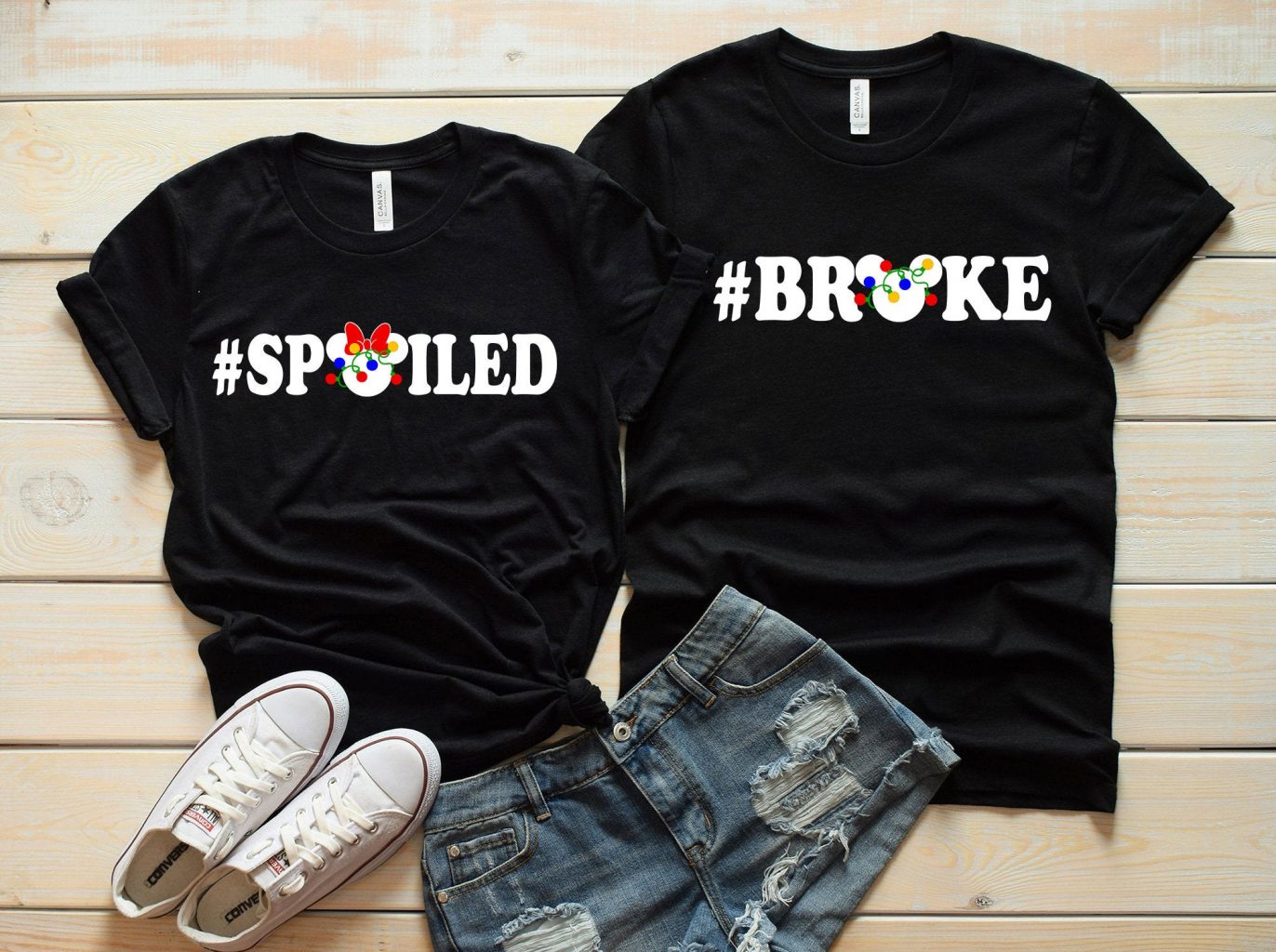 The Classic Disney Christmas Shirt
If you are a relaxed kind of person, this Classic Disney Christmas Shirt is for you. This is pure Disney Chrismas classic! There isn't anything too crazy about it and it is just cute Mickey ears and holiday lights to make the shirt stand out from normal to festive! This is for the person or family that loves matching shirts but doesn't want to get too crazy or out of the normal!
These are wonderful matching Disney Christmas shirts for families who want to match in a traditional style. I think they are really cute and the lights add a really nice touch.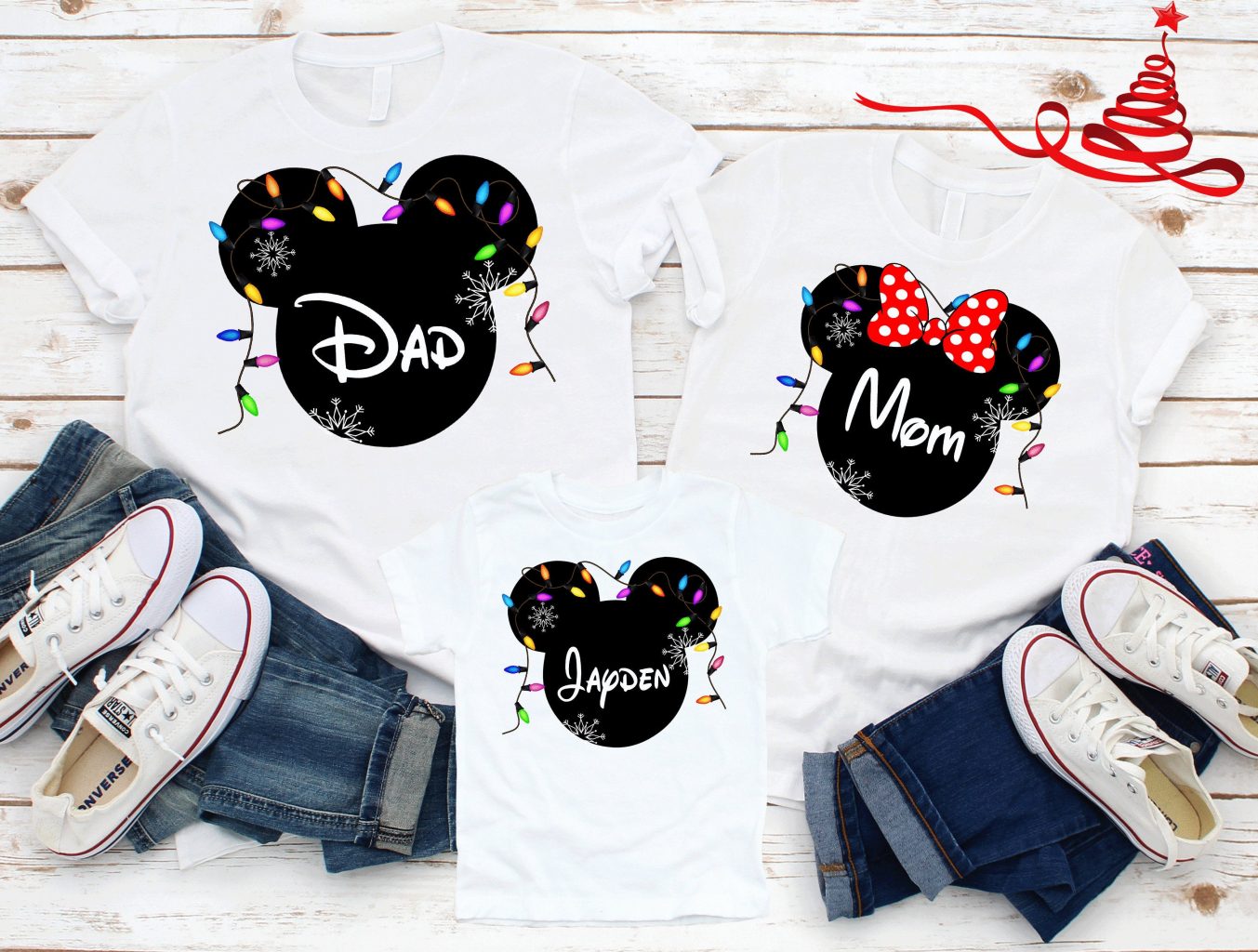 Home For Christmas Shirts
If you consider going to Disney going "home" then you will fall in love with the adorable Home For Christmas shirts! These Disney Christmas shirts are something different and more subtle than a traditional Mickey Mouse shirt. They are really festive and cute and are a play on the popular "Home For The Holidays" Christmas song that you will hear wafting through department stores and the parks during this time of year!
There are multiple options that say Home For Christmas and Home For The Holidays so you can choose based on which you prefer. These are such cute and unique matching Disney Christmas shirts that are affordable and perfect for a Christmas trip "home" to Magic Kingdom.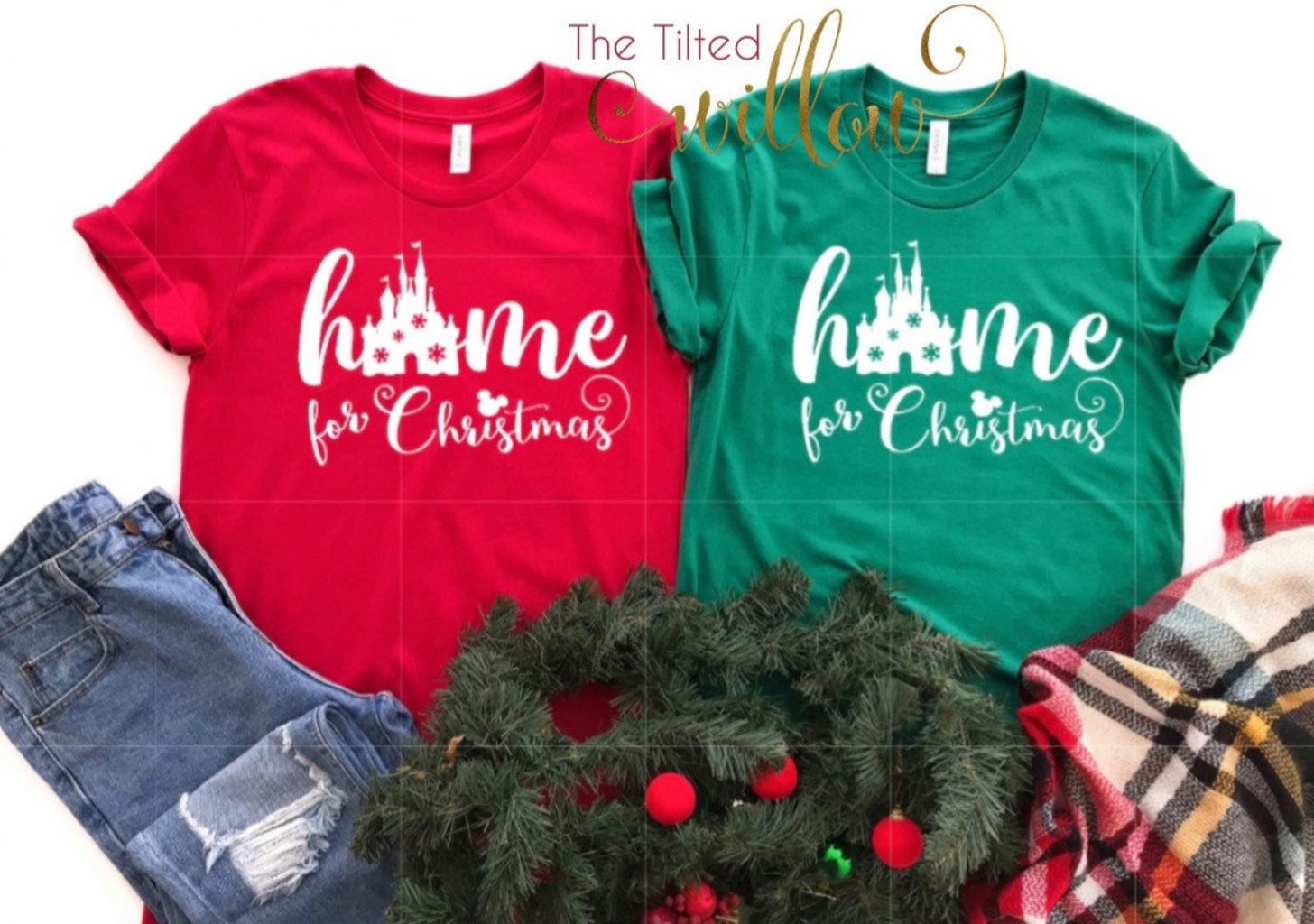 Plaid Disney Christmas Shirts
These Plaid Disney Christmas Shirts are way too cute! The best part is they are understated and don't scream DISNEY CHRISTMAS SHIRTS at all! It is perfect for the family or person who wants to wear boots and jeans and doesn't want to go ALL OUT when it comes to creating your look for the holidays. The best part is that these can double as a family Christmas look OR they also make a great women's Disney Christmas shirt because it is cute and comfy!
I would style this tucked in with a cute skirt, or with jeans and boots and a cute open cardigan. There are so many ways to style this Minnie Mouse Christmas shirt and you really can't go wrong. It is a classic.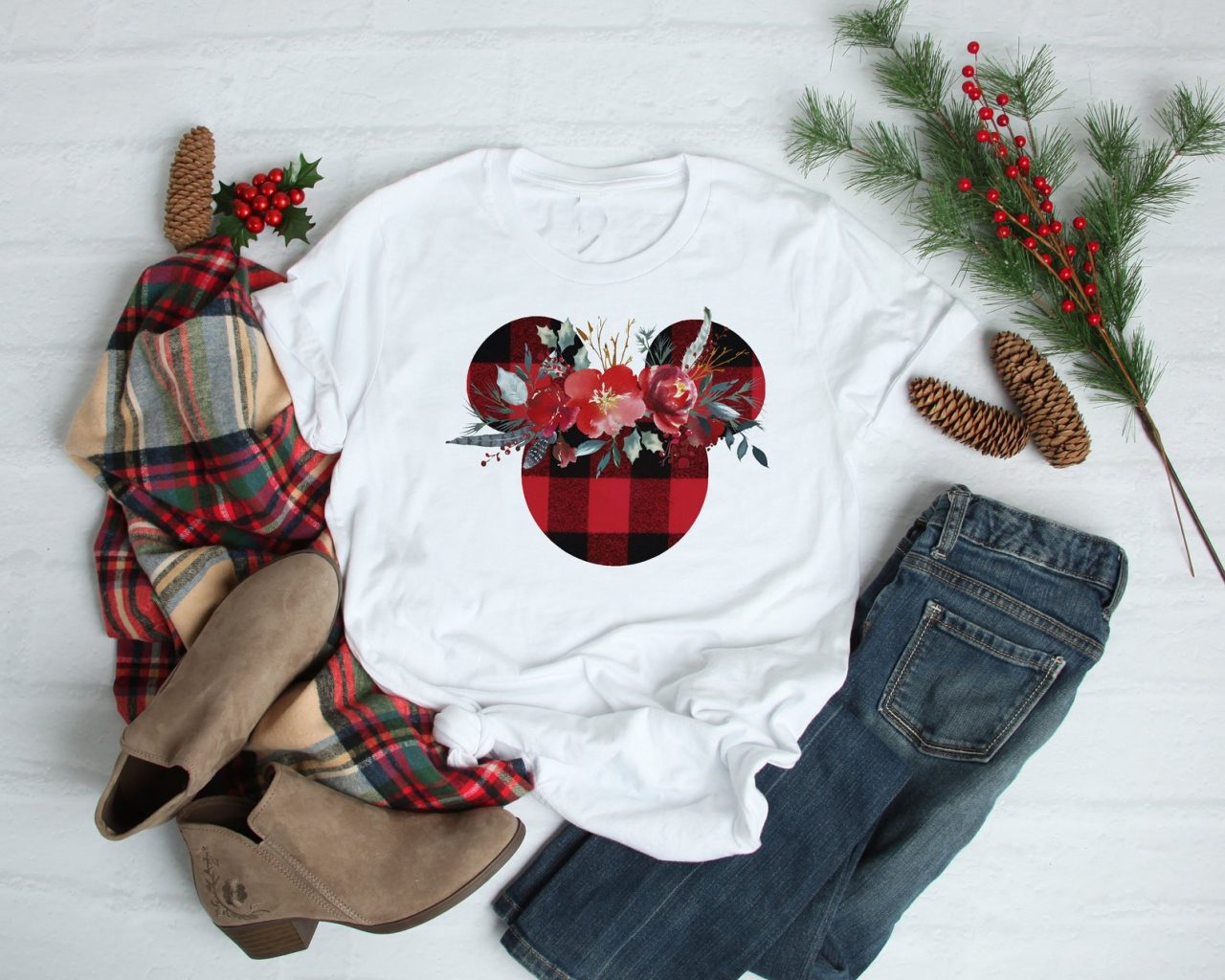 I Don't Do Matching Shirts
If some people in your group hate the idea of these shirts, you will want to buy the I Don't Do Matching Shirts for Christmas. Those in your group that love the idea of matching family Disney Christmas shirts can wear the "I Do" shirts and those who are getting dragged along and who really aren't into it can do the "I don't" shirts.
There are also shirts that say "I don't do matching" and others that say "me either" for a cute and classic twist. Of course, since these are Disney Christmas shirts, Mickey and Minnie are wearing their holiday best.
It is a fun way for them to express their displeasure all while matching the rest of the family at the same time! It is pretty hilarious and a fun Disney family Christmas shirt!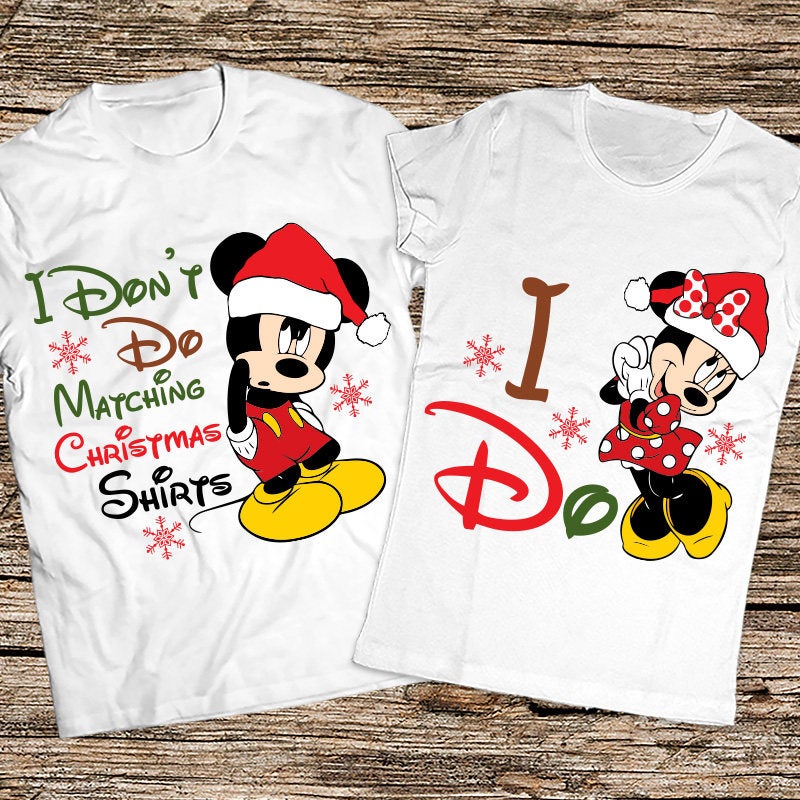 Most Expensive Christmas Ever Shirts
This is probably my second favorite Disney Christmas shirt for families or couples!! The Most Expensive Christmas Ever Shirts poke fun at those who get to enjoy vs those who get to pay!
As an annual pass holder who loves Disney but also pays, I totally feel BOTH SIDES of these shirts! It is expensive but it is also the best and fun and why I keep coming back!
Any time I see this shirt online, in Facebook groups, or in the parks, it makes me giggle because it is so true.
If you want a festive yet hilarious Christmas Disney shirt, this is a pretty funny one that you can't go wrong with.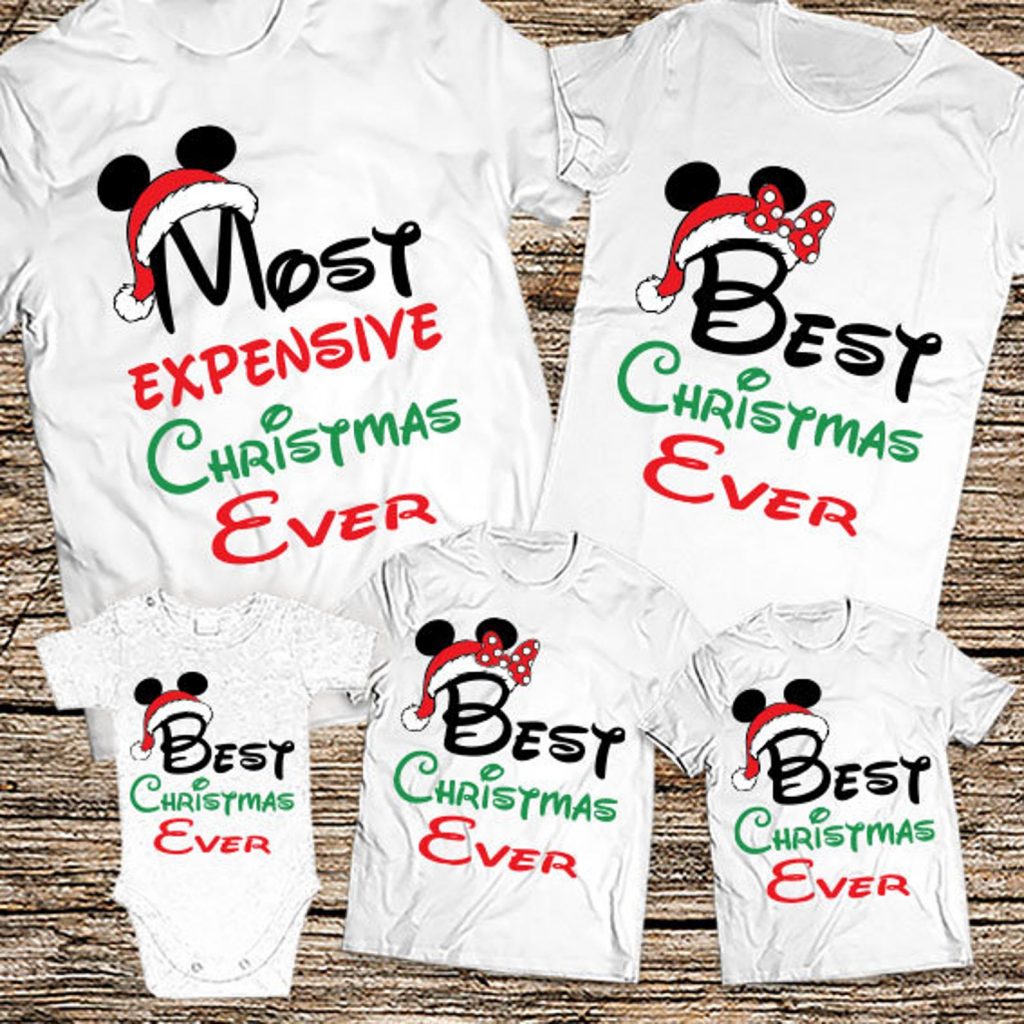 Sparkle Mickey Christmas Shirts
These Sparkle Mickey Disney Christmas Shirts are for the traditional family with a flair for sparkle. The Mickey or Minnie outline comes with a sparkle design to add a little pizzaz to your time at Disney during the holidays. These shirts say "we like matching shirts and love sparkles" and they come in a variety of shirt options for the whole family. This is also a cute women's Disney Christmas shirt for the girls!
Each year, this seller updates the shirts so they are year-specific. This is a great way if you are going in a group and you want Disney Christmas shirts to memorialize your group or family trip with the year on them. Each year, there is a slightly new design that you can choose from too!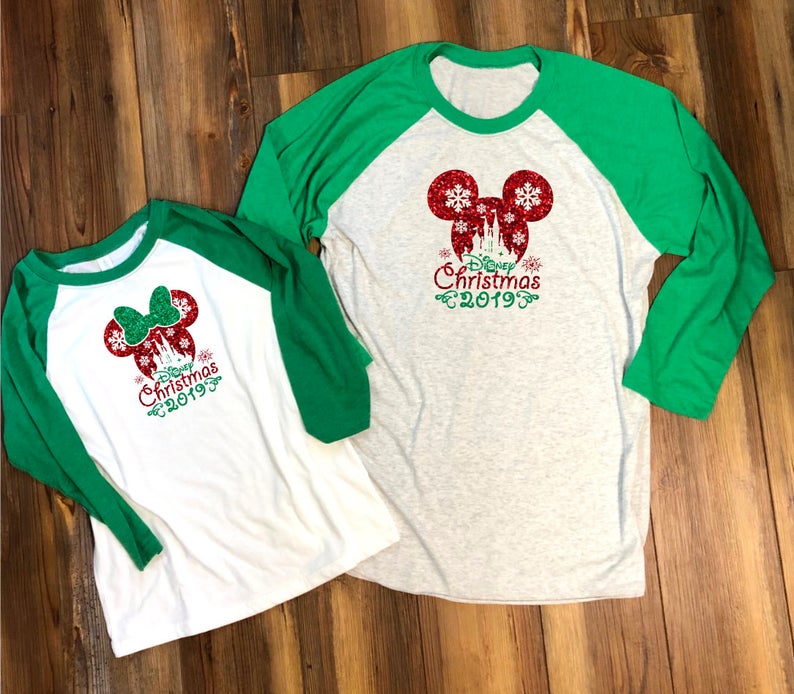 Swirly Tree Christmas Shirt
This Swirly Tree Christmas Shirt is perfect for those that want to scream Merry Christmas without seeming overly Disney branded. The coolest part is that the ornaments on the tree are little Mickey's ears.
At first glance, all you see is the Christmas tree, but when you look further, you can see the festive Mickeys floating throughout the cute swirly tree. The design is more on the feminine side so if you are looking for a great women's Disney Christmas shirt, this could be the perfect match for you!
This is truly one of my favorite Disney Christmas shirts on the list. I love that it comes in a variety of colors, so if you don't want white, no worries, I just chose this photo for this post as it is my personal favorite. Heck, get it in a few different colors and style it however you want instead!
Cars Christmas Shirts
If you want to go more specific into characters, check out the Disney Cars Christmas Shirt. Each Car from the movie is carrying a Christmas tree or holiday item! If you or your kids love cars and trucks, and the Disney movie Cars, then this shirt is sure to please!
It is also unique and you won't see others in the park wearing it as much! It is a festive Disney Christmas shirt that screams relaxed country holidays but with a Disney twist!
Click Here To Shop Cars Christmas Shirt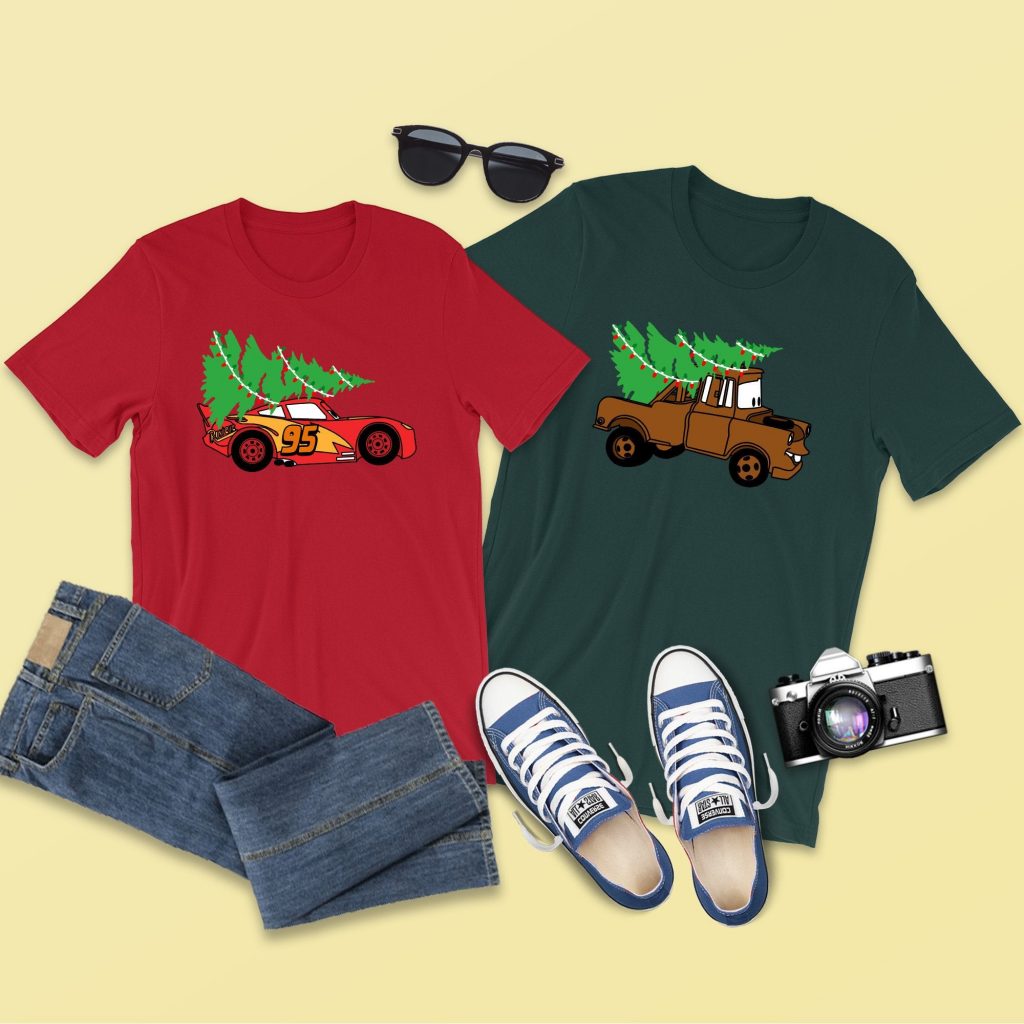 Custom Castle Christmas Shirt
The Custom Castle Christmas Shirt allows you to modify the shirt with names, dates, whatever you want to put on it! It also comes in different colors so you can match while showing individual personalities!
Consider adding your names so you can wear this Disney Christmas shirt from year to year, or add a date to commemorate a memorable trip that you are taking! I personally love the reindeer jumping over the castle and think it adds a nice festive touch!
I think this is the perfect example of a Disney Christmas T-shirt that blends classic Disney with a cute modern style. You can also choose the color you want this shirt to be in so you can customize to whatever you want.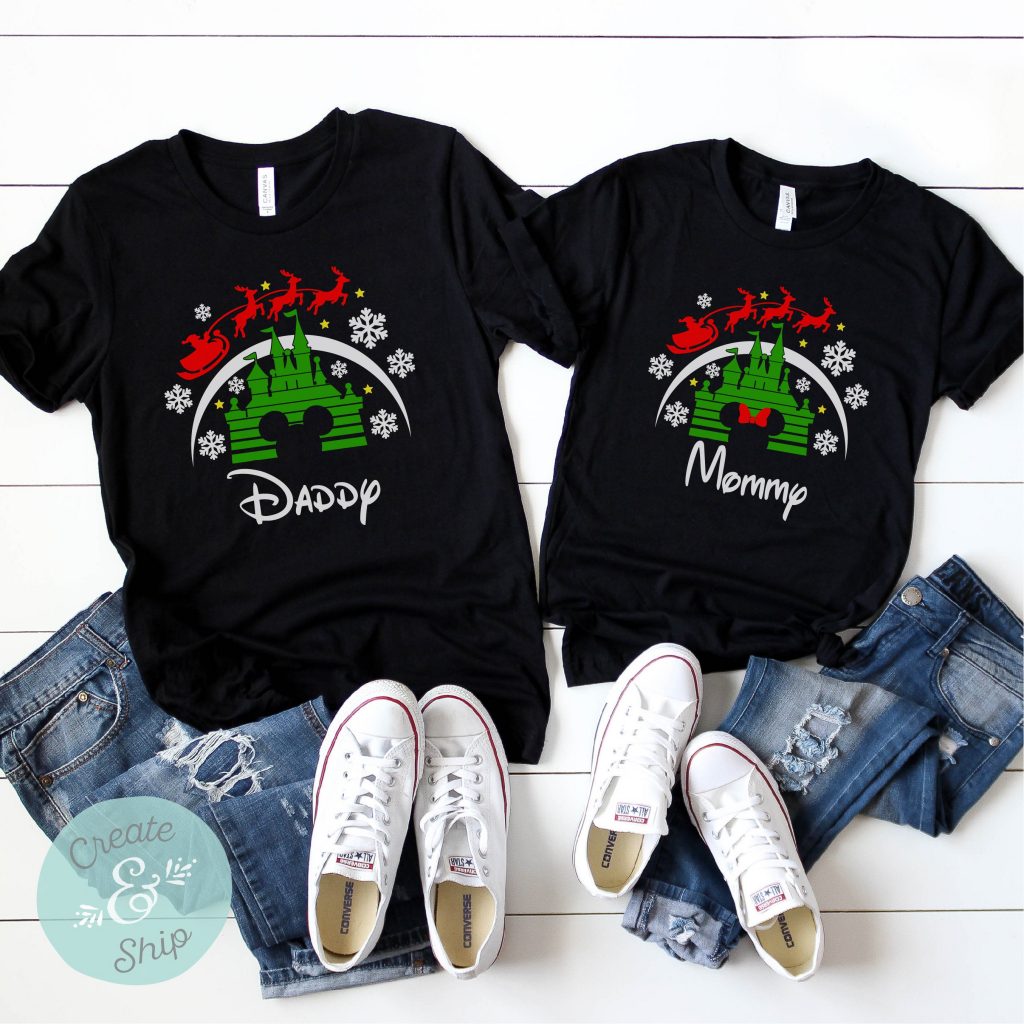 Cool Mickey Christmas Shirts
These Cool Mickey Christmas Shirts are for the folks who are too cool for school. Mickey and Minnie are wearing those glasses low like they are too cool for us regular folks and are the celebrities that they truly are.
But of course, since it is Christmas in the parks, "cool" Mickey and Minnie are also wearing their Santa hats. If you have a cool guy or girl in your family, or that cool person is you, this shirt may speak to you!
These are the perfect Mickey Mouse Christmas shirts that show off your personality to the whole park!
Click Here To Shop Cool Mickey Shirt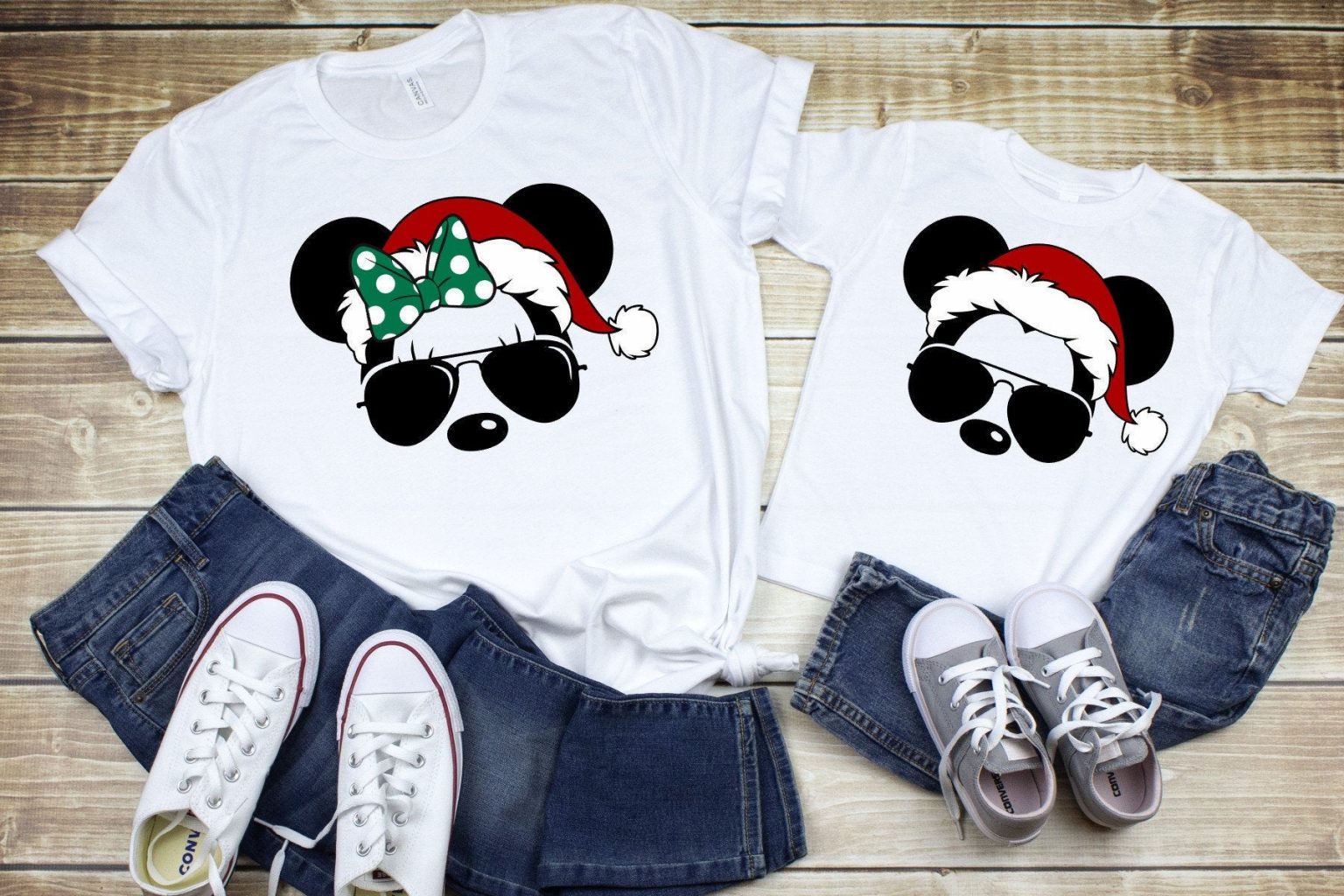 Dashing Through Main Street Shirts
The Dashing Through Main Street Christmas Shirts screams "I am here and I Love Disney at Christmas!"
If you are a direct person and you want everyone to know that you love your Disney shirts at Christmas, this cute and festive top is for you!
It comes in a variety of colors and styles so it is both great for women and the whole family! I love it in green because I think it shows off the Christmas lights oh so well. When you wear this one on Main Street, you better have your Christmas Mickey Ears or else the shirt won't make any sense!
This is a more unique Disney Christmas shirt as I really don't see this at the parks. If you are looking to stand out, this is a great choice.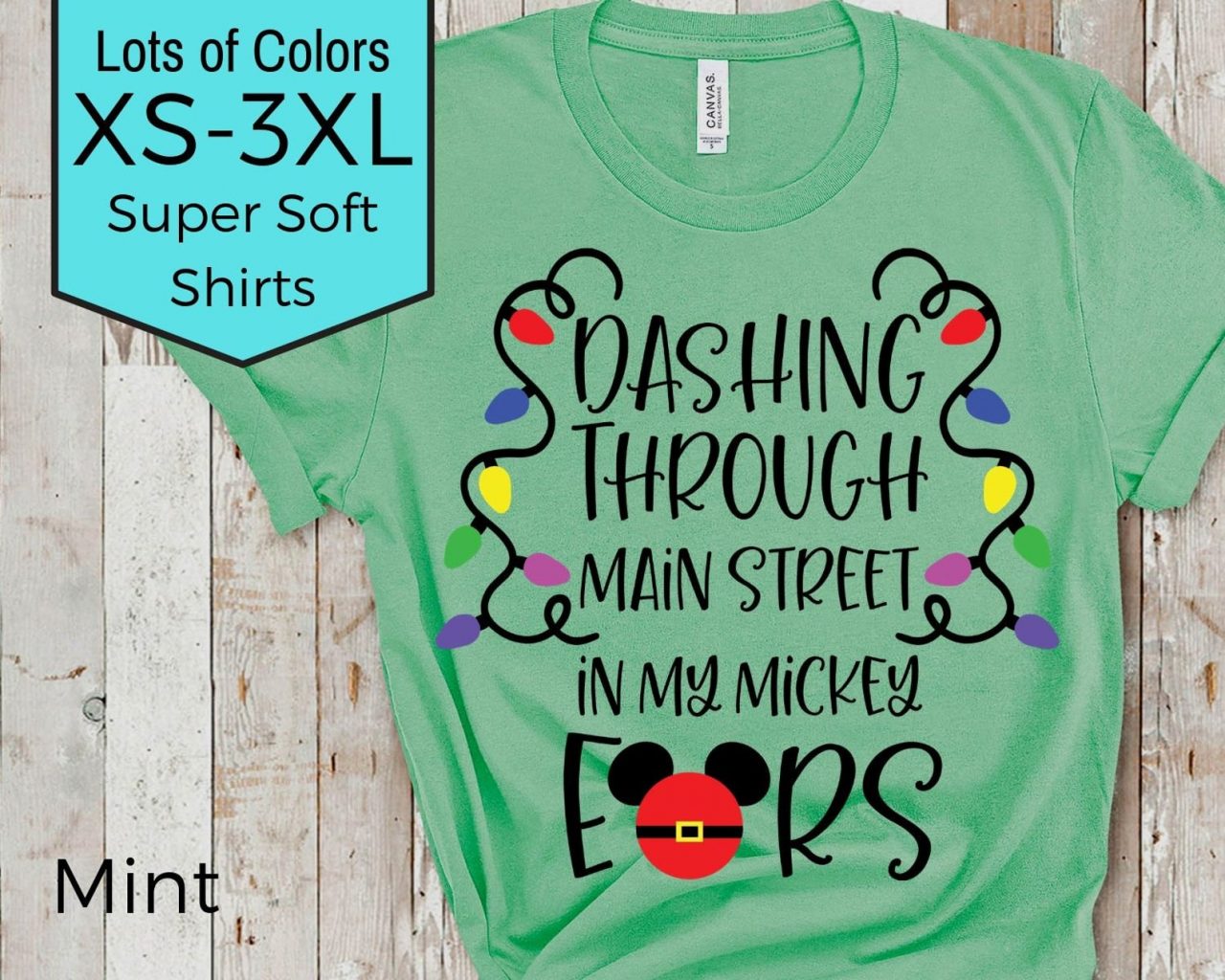 Vintage Mickey Christmas Shirt
The Vintage Mickey Christmas Shirt is perfect for the family or person who is casual and understated. This is the shirt you wear when you want to show that you aren't a scrooge but you don't want to go all-out insane with the holiday shirts.
These shirts are faded and go well with jeans or black leggings. You can also customize them which makes them great family Disney Christmas shirts if you want something relaxed! There are also a variety of styles that you can choose from online when looking for Vintage Disney Christmas shirts and even spirit jerseys!
Click Here To Shop Vintage Christmas Shirts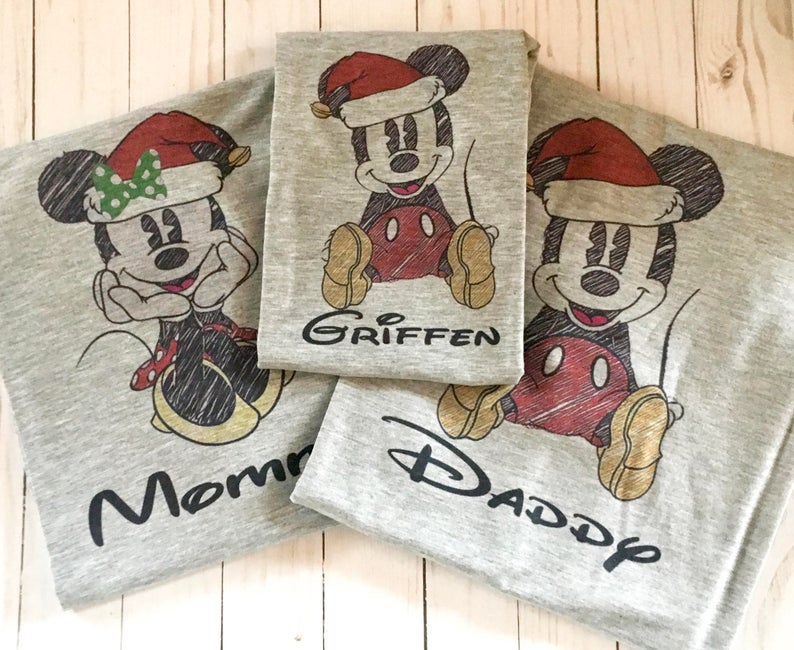 I hope you loved these adorable Disney Christmas shirts! You can find so many more on Etsy which is my favorite place to shop for custom Disney products. You get to help a small business owner and the variety is impressive! Just make sure to check reviews. I have included ones with great reviews on this list, but if you are buying anything else, make sure to read them in advance!
Pin this post: