Looking for the official Hollywood Studios map? We've got you covered! To many visitors, Hollywood Studios is considered the most difficult Disney park to navigate. Compared to Animal Kingdom, which is arranged in a nice circle, and Epcot, which only has two lands, Hollywood Studios is a lot to deal with. To help you navigate your way through the park, a Hollywood Studios map is a must!
It'd be a shame to go to Hollywood Studios and completely miss Toy Story Land or Star Wars: Galaxy's Edge, simply because you didn't have a map to guide you. There's just so much to see and do! Plus, odds are, if you're going to Hollywood Studios, you're likely visiting another Walt Disney World park or hotel. So, to help you navigate all Disney-related aspects of your trip, here's a list of every single Disney World map.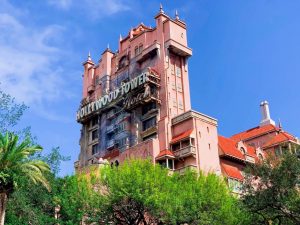 The Official Hollywood Studios Map + Tips For Your Visit
Understanding Hollywood Studios Lands
Out of all of the Walt Disney World parks, Hollywood Studios has the most individual lands with a total of nine. (Just another reason why a map of Hollywood Studios is so important!) The nine lands of Hollywood Studios are Sunset Boulevard, Hollywood Boulevard, Animation Courtyard, Echo Lake, Commissary Lane, Grand Avenue, Star Wars: Galaxy's Edge, Toy Story Land, and Pixar Place.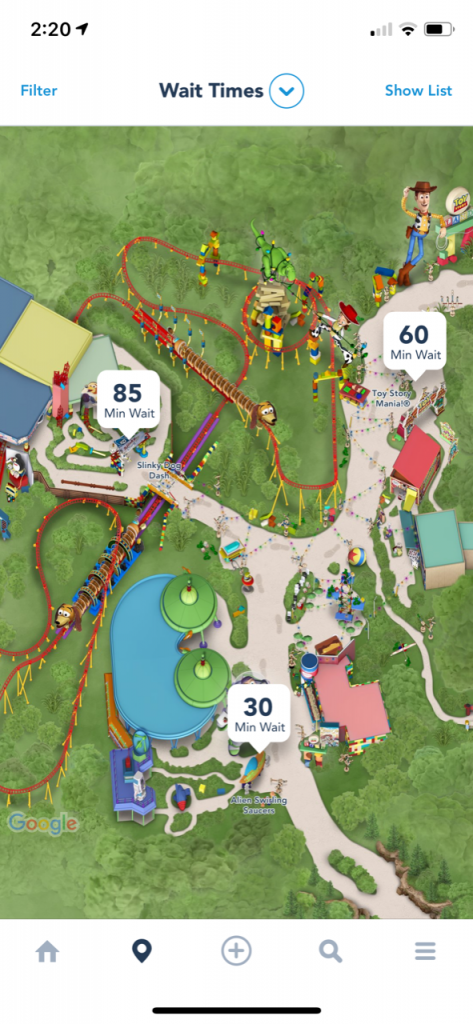 Sunset Boulevard is home to so many Hollywood Studios gems. First, there are the rides, including the iconic Twilight Zone Tower of Terror and Rock 'n' Roller Coaster Starring Aerosmith. Then there are some fabulous dining options, such as Catalina Eddie's and Hollywood Scoops. Finally, there are the shows. Throughout the day, there is Beauty and the Beast – Live on Stage, and, once nighttime rolls around, Fantasmic! plays at the Hollywood Hills Amphitheater.
Next up is Hollywood Boulevard. It's basically where all the necessities are, including lockers, stroller rentals, wheelchair rentals, and an ATM. It is also where Center Stage is located, so it's a great place to catch some shows filled with singing and dancing. On the border between Hollywood Boulevard and Animation Courtyard is one of the best restaurants in Hollywood Studios: The Hollywood Brown Derby.
As the name implies, Animation Courtyard focuses on the animation part of Disney. Entertainment and ride options include Disney Junior Dance Party, Star Wars Launch Bay, and the Voyage of the Little Mermaid. There is also the underrated gem of "Walt Disney Presents," an interactive, multimedia journey through Disney's extensive history.
Echo Lake is situated near both Hollywood Boulevard and Animation Courtyard. There isn't a ton to do at Echo Lake, other than the Indiana Jones Epic Stunt Spectacular. It's pretty much just home to a couple of subpar restaurants, and a couple of wonderful Hollywood Studios quick service restaurants, such as Epic Eats and Backlot Express.
Just steps away from Echo Lake is Commissary Lane. Between Echo Lake and Commissary Lane is a very popular Hollywood Studios ride: Star Tours – The Adventure Continues. Other than that, there aren't any rides at Commissary Lane. But there are great food options, like ABC Commissary and Sci-Fi Dine-In Theater Restaurants.
Grand Avenue is tucked away in a corner between Commissary Lane and Star Wars: Galaxy's Edge. Be sure not to miss this little nook, even though it may be a bit hard to find! In addition to being home to Muppet Vision 3D, it is also home to the delicious PizzeRizzo and the absolutely wonderful Mama Melrose's Ristorante Italiano.
If you're looking for a large dose of Star Wars, head over to Star Wars: Galaxy's Edge. First of all, it's home to the amazing ride, Rise of the Resistance. It's also home to half a dozen shops filled to the brim with everything Star Wars-related. And if you're looking for some fantastic, otherworldly quick service food, don't forget to stop by Docking Bay 7 Food and Cargo.
My personal favorite Hollywood Studios land is Toy Story Land. The popular Toy Story Mania and Slinky Dog Dash are both located in Toy Story Land. And, if you're looking for delicious treats like s'more French toast sandwiches and the tater tot-nacho combination called "totchos," head to Woody's Lunch Box. Oh, and you certainly can't forget to meet your favorite characters from Toy Story, including Woody, Jessie, Buzz, and even soldiers from the Green Army patrol.
The last and final Hollywood Studios land is Pixar Place. Pixar Place is entirely The Incredibles­-themed. Meet your favorite The Incredibles characters, like Mr. Incredible, Mrs. Incredible, and Frozone. And then perhaps stroll through Edna's super-suit gallery.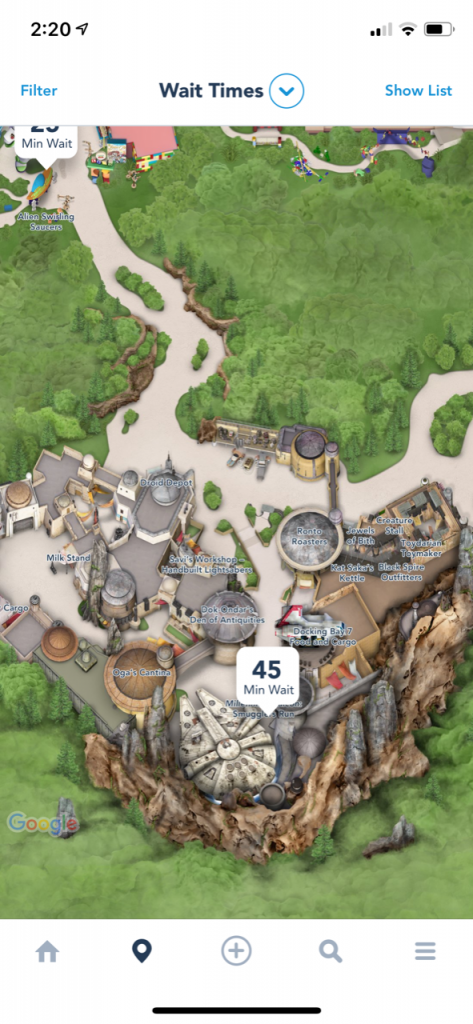 The Official Hollywood Studios Map
This is the official Hollywood Studios map from the Walt Disney World website, so you know that it's accurate. It's free to download and take with you on your Disney-filled trip! I recommend downloading it and saving it to the photos on your phone, so it'll always easy to access. If hard copies of maps are easier for you, that's not a problem! Simply print it out before you head to Hollywood Studios, and you'll be all set! This way, you can see it next to you and can even write over it and fill things in!
**CLICK HERE TO DOWNLOAD THE OFFICIAL HOLLYWOOD STUDIOS MAP**
If you want the most updated map of Hollywood Studios on the Walt Disney World Resort website, pick "Hollywood Studios" as the theme park under "Parks & Tickets." Then, on the left-hand side under the main picture, there will be the option to "Download Printable Map." This works if you want to see a specific map for a specific park event. Otherwise, the Hollywood Studios map linked here will be perfect for your use!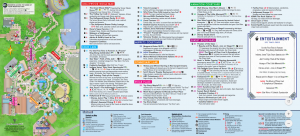 Interactive Map Of Hollywood Studios On My Disney Experience
My personal Disney map preference is to use the My Disney Experience App. Once you open it, the first thing that will pop up under the Walt Disney World is an interactive map of Walt Disney World. Tap on this map!
Then, use your hands to "zoom out" to see the entire Walt Disney World Resort property. Scroll around until you find "Hollywood Studios" and you will have a fantastic Hollywood Studios map right at your fingertips. This map is even better than the PDF above, because it is interactive and frequently updated!
You can "pinch" the map of Hollywood Studios to zoom in and see specific attractions in the park that you are searching for. At the top of this "map" section, there is even a drop down which is set to "wait times" but you can click it and change it to anything that you would like!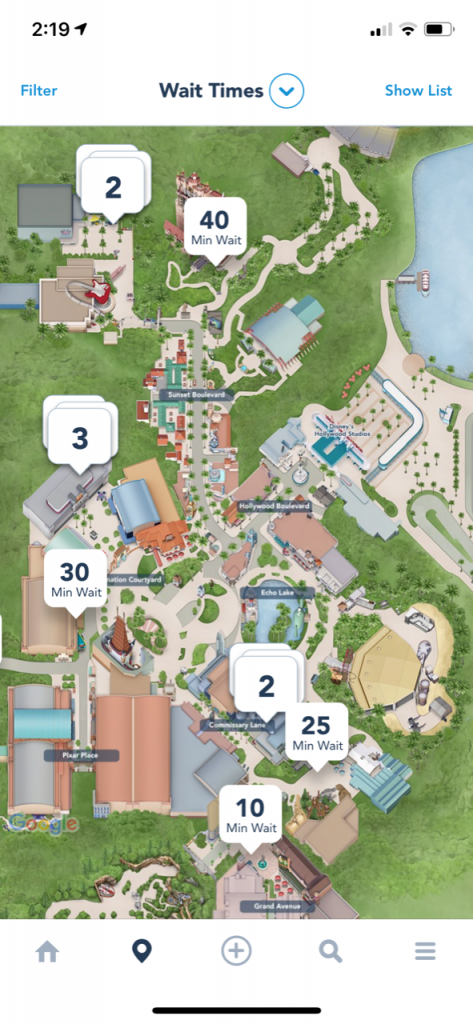 Quick Tips For Visiting Hollywood Studios
Try One Of The Table Service Restaurants
There are so many fantastic restaurants at Hollywood Studios. In particular, the table service restaurants, including Mama Melrose's Ristorante Italiano, Sci-Fi Dine-In Theater Restaurant, and The Hollywood Brown Derby, are all wonderful options. Plus, dining at a table service restaurant allows you to get off your feet and relax for an hour or two.
Book The Fantasmic! Dining Package
Speaking of table service restaurants at Hollywood Studios, I should also mention the Fantasmic! Dining Package. At Mama Melrose's Ristorante Italiano, The Hollywood Brown Derby, and Hollywood & Vine, you can combine your meal with a VIP spot at the Fantasmic! night show.
Each Fantasmic! Dining Package comes with one entrée, one dessert, and one alcoholic beverage (or one full buffet for Hollywood & Vine), as well as one voucher for guaranteed, reserved seating for Fantasmic! If you're looking to get the most bang for your buck, Mama Melrose's is the best option.
Take Advantage of the Single Rider Line at Rock 'n' Roller Coaster
Rock 'n' Roller Coaster usually has a very long line. To make the most of your time at Hollywood Studios, consider taking advantage of the single rider line! This will cut your wait time down to a fraction of the original line. Plus, that means that you'll be able to save your FastPass for another one of your favorite Hollywood Studios rides.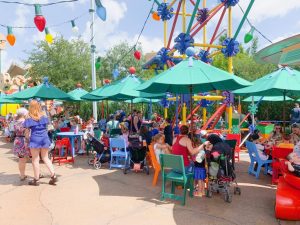 There's so much to do at this Disney park, which is why a map of Disney Hollywood Studios is so important. Be prepared with the official Hollywood Studios map both printed and on the My Disney Experience app. Study it and understand what you are getting into! You will have a fantastic time and the environment at Hollywood Studios really is a wonderful experience. Please let me know if you have any questions regarding this Hollywood Studios map and I will answer in the comments!