If you are on the hunt for the official Epcot map, you have come to the right place! Epcot is my all-time favorite park but it is quite spread out and can be confusing for your first-time visit. It is essential to understand where things are and the Epcot World Showcase map is very important to understand.
One time, someone that we knew went to Epcot and didn't even do half of the best things because they didn't know what they were or where they were located! Epcot is the best park at Disney World in my opinion so you won't want to miss a thing, at least on purpose!
Epcot hosts four festivals that you won't want to miss! They are the Festival of the Arts, Flower and Garden Festival, Food and Wine Festival, and Festival of the Holidays. It is important to understand where each is located and this is what the maps will help you understand!
I hope that you enjoy your time at Epcot as much as I do! If you are looking for a list of Every Single Disney World Map we have got you covered on that front too!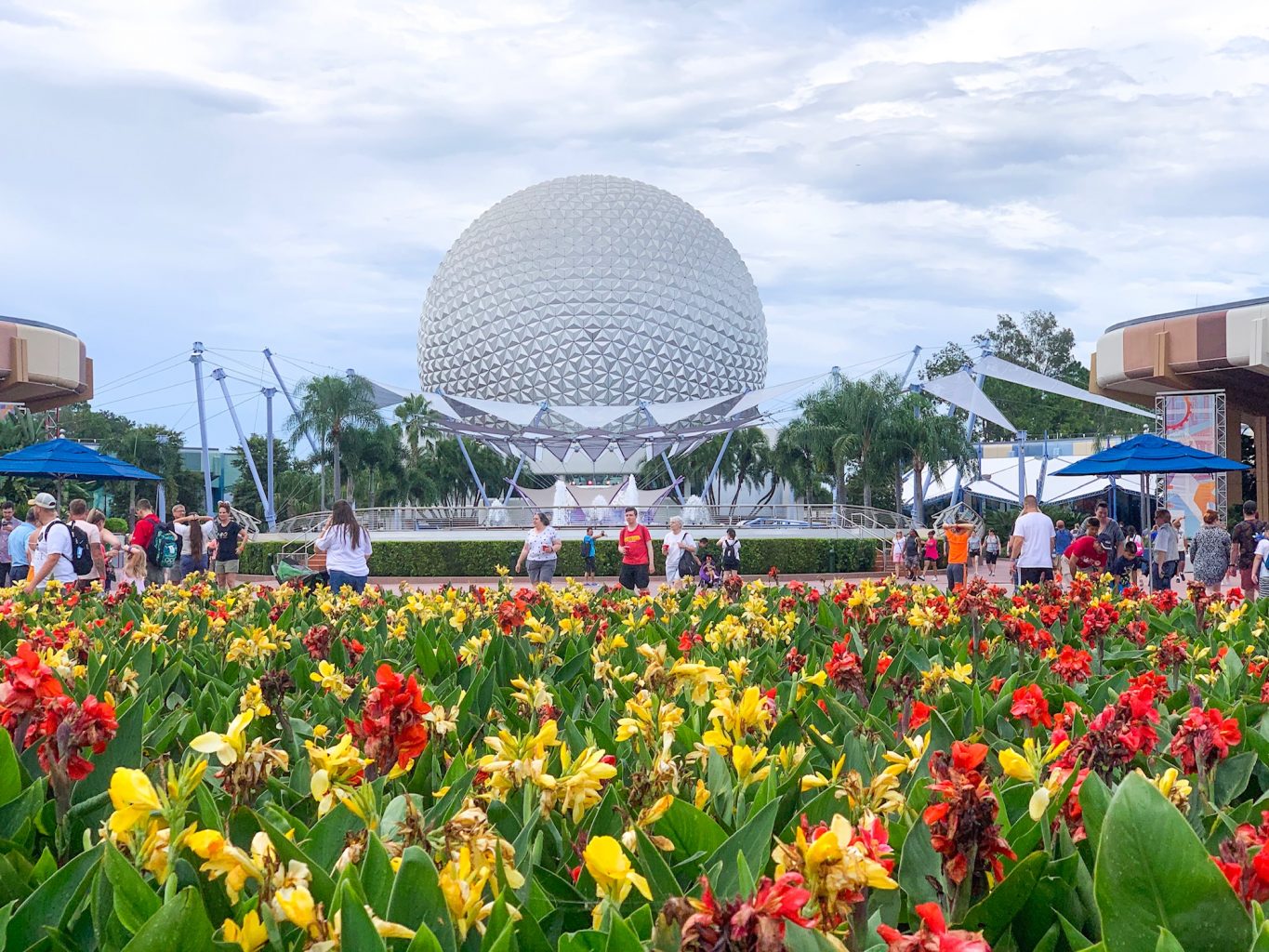 Understanding Epcot Lands
Epcot is comprised of two lands! One is Future World and one is The World Showcase. When you are looking at a map of Epcot, you will see these two words and these are important to understand! In Epcot, there are only two lands so luckily it doesn't get confusing [as opposed to Magic Kingdom or Animal Kingdom which have way more than two!]
Future World is where the main entrance to Epcot is located. It is set up in a futuristic manner and includes some of the best rides in the park. It is also home to the majority of the rides overall and a few dining options.
The World Showcase is home to eleven countries in Epcot and each offers a unique drinking and dining setting. There is shopping, movies, and a few rides that you can see in the World Showcase. This is a quick breakdown which will make understanding the Epcot map below easier as you plan your Disney vacation!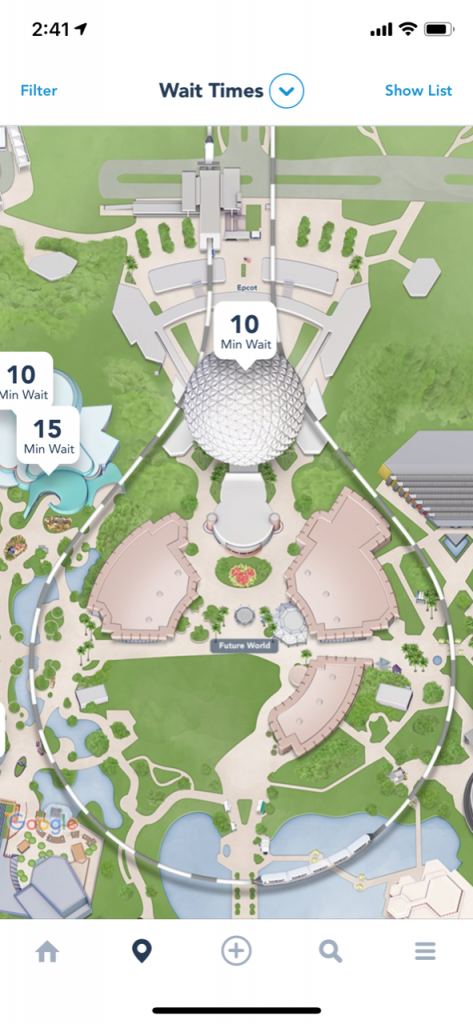 The Official Epcot Map
This is the official Epcot map from the Walt Disney World website so you know you are in good hands. It is free to download to take with you on your trip! I recommend downloading it to your phone or printing it out and having it handy next to you while you are planning your trip. This way, you can see it next to you and can even write over it and fill things in!
**CLICK HERE TO DOWNLOAD THE OFFICIAL EPCOT MAP**
If you want to find the most recent map of Epcot on the Walt Disney World Resort website, pick "Epcot" as your chosen theme park under "Parks & Tickets" and then on the left-hand side under the main picture there will be a link to "Download Printable Map." This works if you want to see a specific map for a specific event, otherwise, the Epcot Center map linked here will be perfect for your use!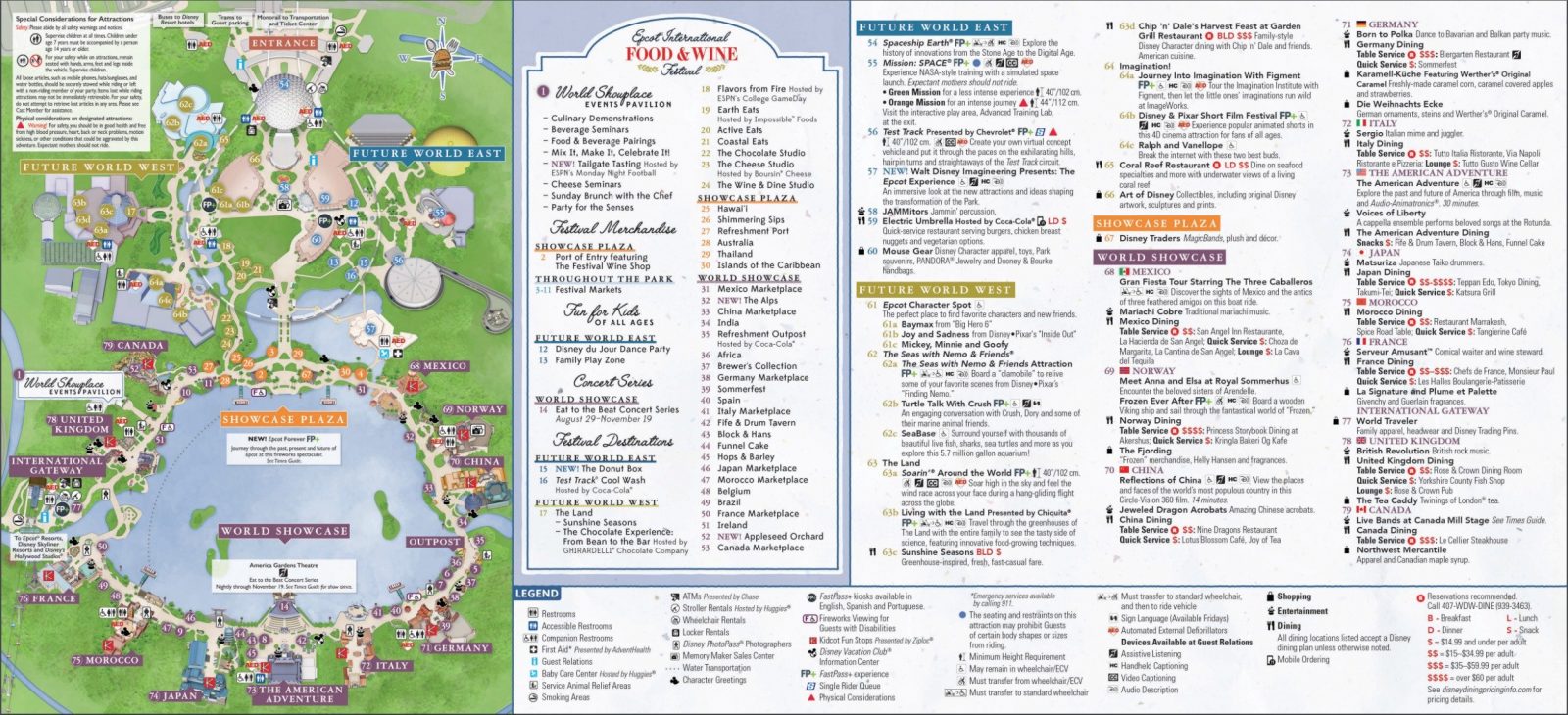 Interactive Map Of Epcot In My Disney Experience
If you head to your My Disney Experience App [highly recommend that you download it!] the first thing that will pop up at the time under the Walt Disney World logo is an interactive map of Walt Disney World. Click on this map!
Then, use your hands to "scroll out" to see the entire Walt Disney World Resort property. Then scroll over until you find "Epcot" and you will have a wonderful Epcot map at your fingertips. This map is even better than the PDF above as it is interactive and updates wait times as they change!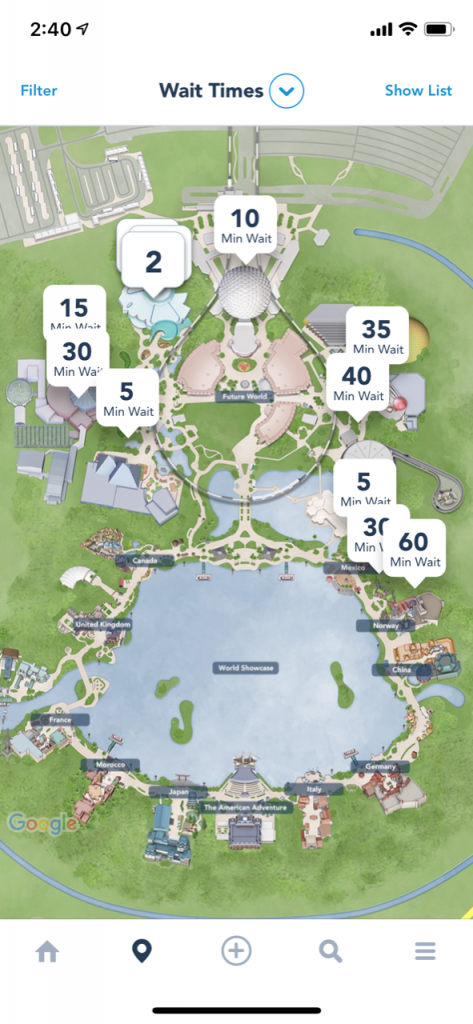 You can "pinch" the map of Epcot to zoom in and see specific things in the park that you are looking to find. At the top of this "map" section there is even a drop down which is set to "wait times" but you can click it and change it to anything you want to!
This fully interactive Epcot Center map will show you a variety of things, from attractions and wait times to dining locations and character spots all with the click of a button.
In my experience, using the My Disney Experience interactive Epcot map is the best way to figure out how to get around Epcot and is quite an easy way to see and understand the parks! Use the paper PDF that you print out while you are planning at home and then the app while you are in the parks for best success!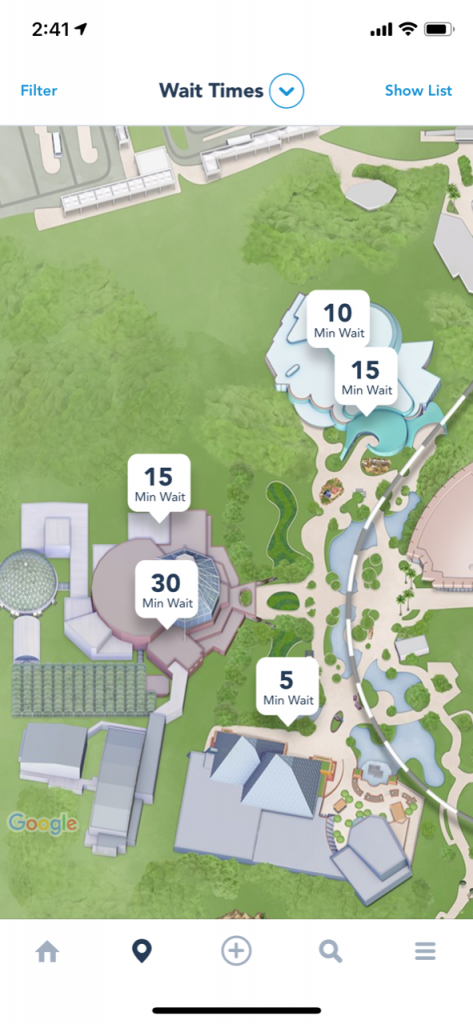 Epcot World Showcase Map
You can find the Epcot World Showcase map either on your My Disney Experience app or on the map linked on Disney's website above. The World Showcase map of Epcot is especially important during one of the many fun festivals that Epcot hosts around the year such as the Food And Wine Festival or the Flower And Garden Festival.
This way, you are easily able to discover where a specific booth is that you are wanting to see during your time at Epcot. The Epcot World Showcase Map updates regularly on My Disney Experience and the one on Disney's website will update when specific events are being held so that you always have the most up-to-date information!
If you are drinking around the world at Epcot, you will want to understand the map as it plays a huge part in the way you will drink!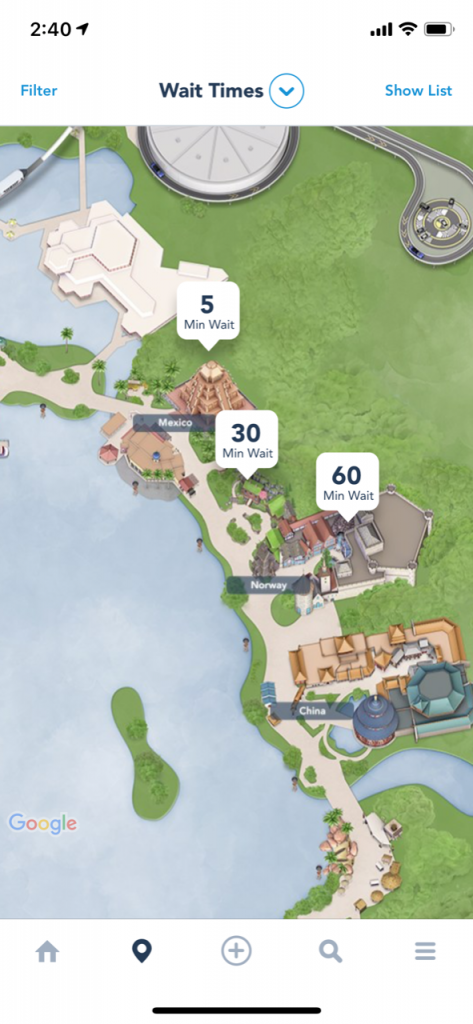 Quick Tips For Visiting Epcot
Below are some quick tips for planning your trip to Epcot! Once you have your Epcot map tucked in your pocket, consider these when planning your vacation!
Ride The Disney Skyliner And Enter The Park At The World Showcase
There are two entrances to Epcot, one is the main entrance in Future World with the big parking lot which you can see on the map above, and one is a smaller more hidden entrance in the World Showcase next to France! You can ride the Disney Skyliner or the Disney boat system and be dropped right off at this entrance!
This entrance is far less busy than the main entrance and you don't have to deal with parking. We recommend the Skyliner over the boats as the Skyliner is quite speedy and the boats stop at a ton of hotels which takes up a lot of time!
Wear Comfortable Shoes
Epcot is twice the size of Magic Kingdom!! Let's say this again, twice the size! This means that you will be doing a lot of walking. If your kids don't like to walk or are slower at walking, consider renting a stroller or bringing your own.
Either way, you are going to want to wear comfortable shoes! If you are looking for sandals, I highly recommend my favorite Vionic Farra Sandal. I literally cannot tell you enough how much I LOVE this sandal! I originally bought them for a trip to India where I wore them every day for 2 weeks, but they quickly became my best shoe for Disney!
I even went back an bought a second pair in the same color just in case Vionics ever stopped making them! Vionics are my favorite brand for Disney because they are supportive, affordable, and perfect for Disney in the Florida heat!
Eat Dinner In The World Showcase
Epcot is NOT the park you want to eat "theme park food" in! Study the Epcot World Showcase map on My Disney Experience and then choose where you want to eat. There are so many fantastic options that you really can't go wrong! Skip your traditional "theme park fare" of burgers and fries and try something unique and fun!
These are the 17 Best And Worse Resturants in Epcot to get you started! Whether you love French, Italian, or Japanese, there is something for everyone!
Sit In The First Row On Soarin'
On Soarin' Around The World, there are three levels where you can be seated on the ride. Make sure to request the first row! This is the highest view on the ride and the best spot in the entire ride to view. You won't see people's legs swinging above you which is distracting and ruins the moment.
I have never had a problem requesting this but somethings you have to wait 1-2 rounds for your chance to sit in the front row. Trust me, this wait is well worth it!
Use The Single Rider Line On Test Track
Test Track is NOT on our list of the best Epcot Fastpasses because of the single rider line. This used to be a well-kept secret, but now it is more popular. Either way, you can still get through the line pretty quickly and you won't use up a lucrative Fastpass!
Keep in mind that when using the single rider line, your party will be separated. You will each be sitting in a single seat that comes open so your rides will often be staggered. It is good to know this going in before you are surprised when you get to the boarding area! We still think this is one of the best ways to ride Test Track for speed purposes!
As I said above, Epcot is my favorite park! Arm yourself with the Epcot map both printed and on My Disney Experience. Study it and understand what you are getting into! You will have a fantastic time and the park really is a joy to walk around and experience. Please let me know if you have any questions regarding this map of Epcot and I will answer in the comments!
Pin this post: