Wondering how many countries are in Epcot? What about what countries are in the Epcot World Showcase? Look no further, your perfect guide to the Epcot World Showcase is here!
Let's start with the basics.  Epcot, which stands for Experimental Prototype Community of Tomorrow, is the home to the World Showcase.
Nestled behind Future World, and surrounding the World Showcase Lagoon, are 11 beautiful countries full of food, drinks, and attractions.
Epcot refers to each country as a Pavilion, making the World Showcase comprised of 11 Pavilions. Familiarize yourself with the official Epcot map before getting started on this post and if you are looking for Every Map At Disney World we have you covered there too!
The countries in Epcot include Canada, United Kingdom, France, Morocco, Japan, United States of America (called the American Adventure), Italy, Germany, China, Norway, and Mexico.
The Epcot World Showcase provides every visitor with the opportunity to travel through 11 countries in a day without a passport or a single flight delay.
The Epcot countries can be accessed by foot or by boat, which departs from the front of the World Showcase (just before you enter Canada or Mexico) and arrives in Morocco or Germany. With the new addition of the Disney Skyliner, guests arriving by Skyliner can also be dropped off at the International Gateway located between the United Kingdom and France.
If you plan to drink around the world at Epcot, this is a great post to bookmark so you can see what else there is to do between beverages!
Get a FREE printable 30/60/90 day Disney countdown by joining our private Disney Facebook Group and share your photos and ask for tips and tricks!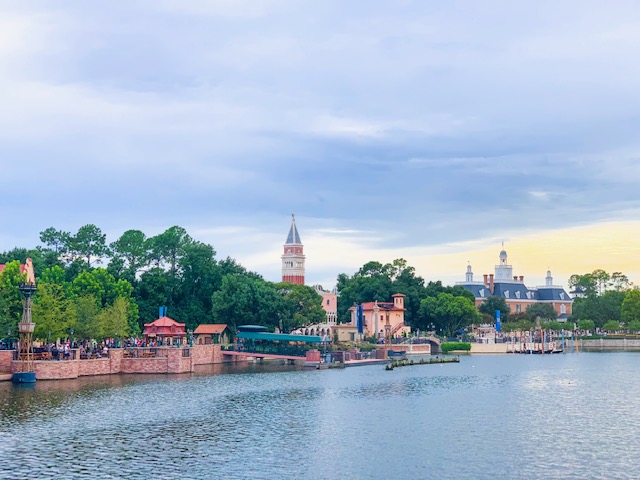 The countries of Epcot are not to be missed, or underestimated, and provide fun for the entire family, regardless of age or height.
Each country of Epcot is staffed by country natives, providing each visitor with the opportunity to meet someone from a foreign land (or maybe just another part of their home country), learn about the country, and learn a bit of the country's primary language.
The countries of Epcot, making up the World Showcase, also are full of each country's food, drinks, and even toys and gadgets.
You do not want to go through the Epcot World Showcase without plenty of room in your belly to snack!  While you may have heard of a little ride known as Frozen Ever After, many people don't know that hidden away in the other countries of Epcot are more rides, movies, and attractions!
One important note to early birds – the Epcot World Showcase opens at 11 am, this is after Future World opens!
Don't forget to check out our list of the Best Things To Do In Epcot for help planning your trip!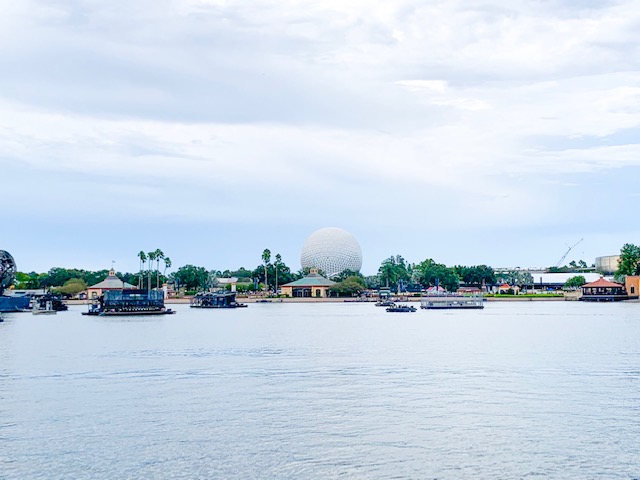 What Are The Countries In Epcot? See 11 Countries In A Day!
There are two ways to travel around the world in the Epcot World Showcase; you can start in Mexico and make your way clockwise around the Lagoon or you can start in Canada and make your way counterclockwise around the Lagoon. 
This article will start in Mexico, but just reverse the list if you decide to kick off your explorations of the Countries in Epcot in Canada.
One thing this article will touch on, as it is a not-to-miss Epcot World Showcase attraction, is Kidcot.  Kidcot Fun Stops can be found in all of the Countries in Epcot and provide fun for all ages. At your first Kidcot Fun Stop you will be given a small plastic bag that resembles a suitcase. 
In each of the Countries in Epcot, you can stop by the Kidcot Stop to meet a native of the country, learn a bit of the language, and receive your Traveler Card, which can be personalized by the cast members and colored by you. 
Don't forget to stop by a Kidcot after you have collected all 11 cards to receive your special postcard from the one and only Mickey Mouse!
Mexico
The Mexico Pavilion in the Epcot World Showcase is the only pavilion with a large part of its offerings inside, making this a great way to find some A/C or cover from the rain. 
The main event – The Mesoamerican Pyramid! Inside the pyramid, you will find shopping, dining, a bar, an art gallery, Kidcot, and a ride! But don't forget, Mexico also has some outdoor stops you won't want to miss.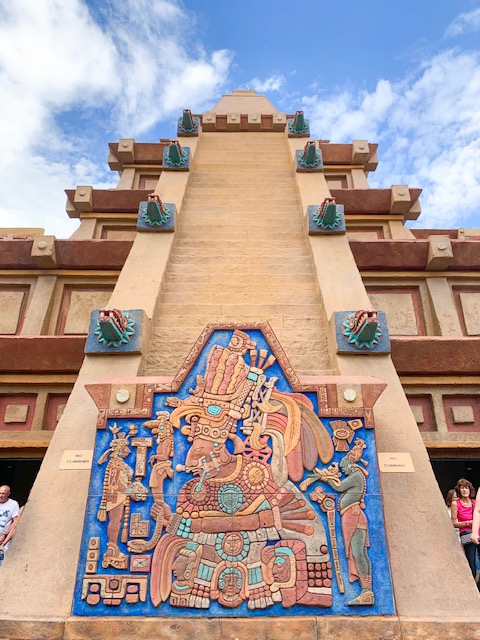 Eating and Drinking in Mexico:  
If you are looking for a beautiful atmosphere and a sit-down meal, San Angel Inn Restaurante is for you. Located inside the Pyramid, and usually requiring a reservation, you will sit under the Imagineer created stars dining on tasty Mexican dishes, including chile rellenos, tacos al pastor, and a combination platter with a little something for everyone.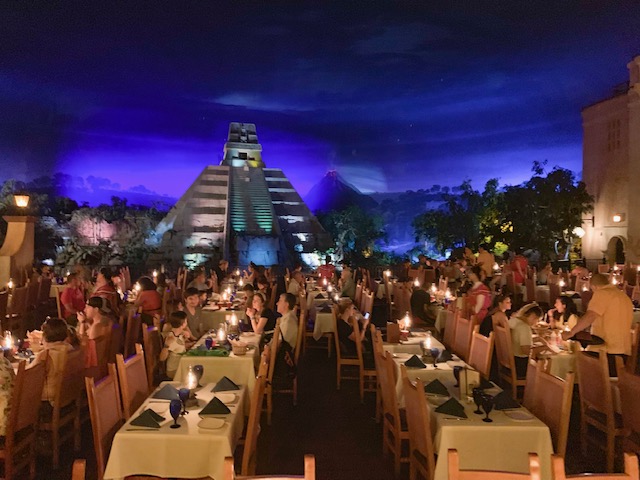 If sitting in everlasting twilight is not your thing, but you still want a sit-down Mexican meal in the Epcot Countries, check out Hacienda de San Angel, known for its large windows and a front-row view of the fireworks. 
Hacienda de San Angel is located outside of the Pyramid and recommendations are recommended.
If you want a quick bite to eat or a quick beverage, Mexico offers quite a few options.  Check out:
Choza de Margarita – serving, you guessed it, margaritas; located just at the entrance to Mexico and the World Showcase, if you enter from Future World.
La Cantina de San Angel – located just next door to Hacienda de San Angel and serving up quick-service tacos, empanadas, and beverages.
La Cava del Tequila – located inside the Pyramid and serving up some of the best queso with an impressive tequila menu. 
This location is quick service and has a queue to order at the bar and/or grab a small table, some of which are standing, inside.  This is Mexico's stop for tequila and top-shelf cocktails and mocktails.
If you can't decide between all of the delicious dining options in the Mexico Pavilion, dive into more information on the Epcot Mexican restaurant options.  
Attractions in Mexico:
In addition to the drinking, eating, and shopping, the Mexico Pavilion is also home to the Folk Art Gallery and the Gran Fiesta Tour Starring the Three Caballeros, what some may argue is the most underrated ride at Epcot!
The Folk Art Gallery is located just inside the Pyramid and has no wait, no lines, and no cost.  The exhibit changes from time-to-time with an impressive Coco Exhibit showing right now.
The Gran Fiesta Tour Starring the Three Caballeros is also located inside the Pyramid; once you enter the shopping area, go left.  Historically the Gran Fiesta Tour had a very minimal, if any, wait, but since its rise in popularity, you could be waiting a few minutes to get on.
  There is no FastPass option so just stand by and enjoy the A/C and stunning interior of the Pyramid and its endless starry skies.
This ride is family-friendly as you board a boat, think It's A Small World, and take a tour with the Three Caballeros.  This ride is home to quite a few Hidden Mickey's so keep your eyes peeled for them! In addition, this ride is wheelchair accessible and has no height requirement.
The Grand Fiesta Tour even scores a spot on my list of the 7 Best Rides and Attractions in Epcot.
As you wander around Mexico, you can also enjoy the live music of Mariachi Cobre, playing traditional folk music from Jalisco, Mexico.  The show is located outside of the Pyramid and just before you leave Mexico to cross into Norway. 
When Mariachi Cobre is taking a break, Marimba de las Americas, a trio, can be found performing in the same location.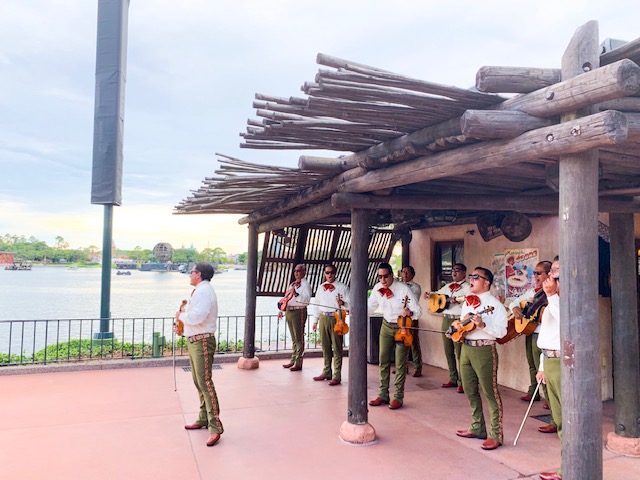 Lastly, don't miss a meeting with Donald Duck, who has an exclusive meeting spot just outside the Pyramid, usually with a surprisingly short line.  Check your App or guide for his times, as they vary, or just ask a friendly cast member!
Shopping in Mexico:
One thing the Countries in Epcot are great for is shopping!  And shopping for more than just Disney licensed products! Inside the Pyramid you will find the Plaza de los Amigos, an "open air" marketplace full of shops and carts selling everything from Mexican glassware and crystal, Mexican toys and treats, Mexican made accessories and jewelry, and of course, Mexico themed Disney gear and accessories. 
The bright colors of Plaza de los Amigos will hit you once you enter the Pyramid and you could find yourself wandering this market, maybe with a snack or drink in hand, for quite a while.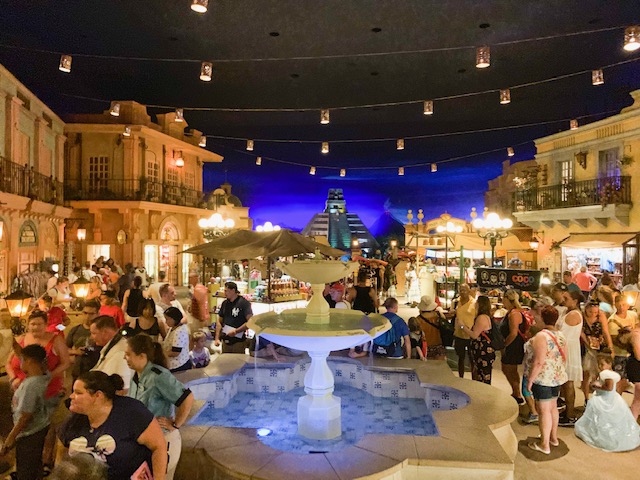 Kidcot Location:  
The Kidcot stop for Mexico is located inside the Pyramid near the Gallery.
Mexico Tips and Tricks:
Usually, Mexico ends up being the start or end of the day, based on it being at the edge of the Epcot World Showcase; if you want to ensure you have enough time to explore the Pyramid, especially if you want to have a meal in Mexico, take it out of order or visit more than once while you travel around the 11 Countries of Epcot.
If you decide to start your journey in Mexico and want to participate in the Kidcot Stops (and who doesn't!), be sure to get your bag in Mexico along with your first card.
Photo Tip – The Epcot World Showcase is home to an endless amount of amazing photo spots!  A great place to grab a photo in Mexico is in front of the Pyramid; but, be careful since the steps up to the pyramid are also the entrance and exit.  
Norway
The Norway Pavilion in the Epcot World Showcase, or as it may now be called, where the Frozen ride is, has a lot more to offer than the Frozen ride itself, including one of the best Princess meet and greet meals in all of Walt Disney World.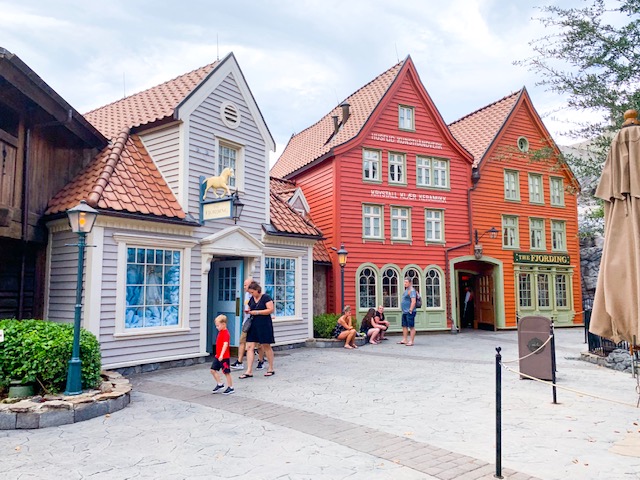 Eating and Drinking in Norway:
If you are looking for a character meet and greet meal at Walt Disney World, and/or want to spend a lot of time with a bunch of Disney princesses, and cannot seem to snag a reservation at Cinderella's Royal Table, or you have been there and done that, you must grab a reservation at Akershus Royal Banquet Hall. 
Nestled in the Countries in Epcot, Akershus is perfect for the entire family, with a large and expansive appetizer buffet (the cheese from Norway is not to be missed), delicious menu, and a meal with five princesses! 
Upon arrival, you will get photographs with a princess or two with your entire group and during your meal, you will be greeted by all five princesses.
Although it is a hot spot for dinner, many argue it is the best restaurant in all of Epcot for breakfast (one of the few stops in World Showcase open early) so think outside the dinner box.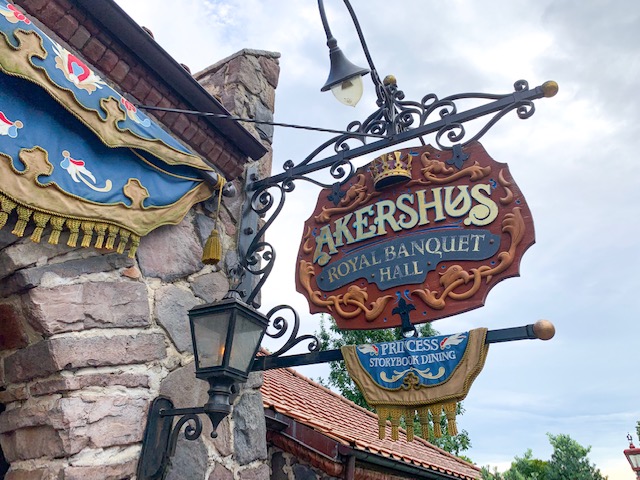 If you want to try to something sweet or have a tasty dessert, any time of the day, check out Kringle Bakeri Og Kafe.  Kringle is always serving up Norwegian favorites including, sweet pretzels, sweet lefse, troll horns, and other tasty sweets.
Don't worry, if sweet isn't your ideal snack or a quick meal, they also serve up delicious sandwiches. Kringle is also home to the famous Viking Coffee – coffee with Kimora Coffee Liqueur and Bailey's Irish Cream; and Nordic beers. 
If you are planning to perform the ultimate challenge of drinking around the world, i.e. having a drink in each of the Countries in Epcot, and plan to take the "with alcohol" option, the Viking Coffee is one of the most famous stops.
If you elect to take the non-alcohol option for your trip around the world, the coffee is good on its own.
Attractions in Norway:
This ride needs to introduction, and you probably already have your FastPass for it, but Norway is home to Frozen Ever After, i.e. the Frozen ride!
FastPasses are a strong recommendation for this one as it is the most popular attraction of the Countries in Epcot!  Frozen Ever After is a family-friendly boat ride with no height requirement, but it does contain small drops.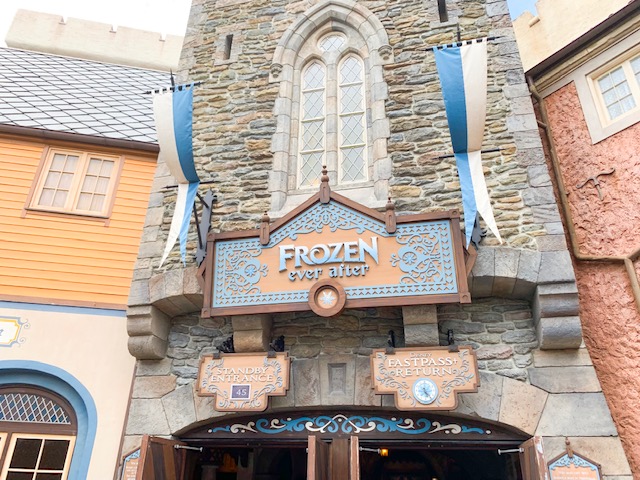 There is no better place in the world for Anna and Elsa to be but outside of their very own ride.  You can Meet Anna and Elsa in Norway, at the Royal Sommerhus, their summer home.  PhotoPass is available at this meet and greet, but unlike Donald over in Mexico, this character stop can have a bit of a wait.
Like many of the Countries in Epcot, Norway has a Gallery, which has no wait times, no lines, and no FastPasses, where you can discover art and knowledge about the country's history. 
The Stave Church Gallery focuses on the legendary gods and myths of Vikings!
Shopping in Norway:
If you are looking for Norwegian perfumes, skincare, and comfy and cozy sweaters, be sure to stop at Puffin's Roost. 
Want to put on a Viking Helmet and take a fun photograph, you must stop at The Fjording, also home to Disney gear, snacks, and toys.  
Kidcot Location:
The Kidcot stop for Norway is located inside Puffin's Roost.
Norway Tips and Tricks:
Like all of the Countries in Epcot, the Norway shops carry local candy, snacks, and treats from Norway. 
Grab one or two and have the family or group share them and see what everyone thinks of these foreign snacks, or better yet, have everyone guess what they are snacking on!
China
Regardless of how you enter the China Pavilion in the Epcot World Showcase, you will come through a large, ornate, and colorful Chinese gate.  What will lay ahead of you is nothing short of breathtaking as the courtyard's main focus comes into view, a replica of the Temple of Heaven.
It is impossible for you not to be excited to explore what is inside when you see the endless bright red beauty of this Pavilion and the gardens that sit just beyond the gate.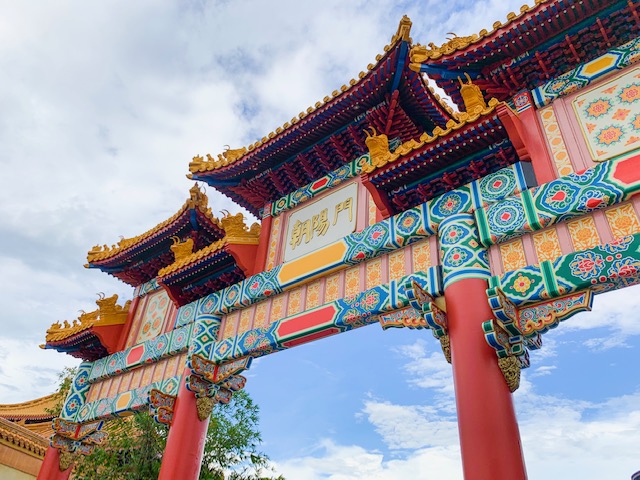 Eating and Drinking in China:
The China Pavilion is home to one of the most popular table service restaurants in the Epcot World Showcase, Nine Dragons Restaurant.
Nine Dragons Restaurant is open for lunch and dinner serving up all of your Chinese food favorites, including, spring rolls, General Tso's chicken, and dumplings.
Similar to the other table services in Countries in Epcot, reservations are recommended. This is one of the most underrated table service restaurants in the Epcot World Showcase, which helps out for those of us who may not have grabbed our dining reservation super early.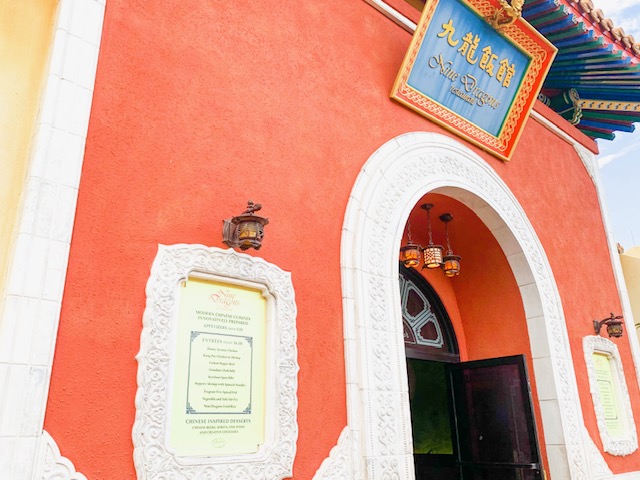 If a sit-down meal is not in your plan, you can still indulge on tasty Chinese favorites at the Lotus Blossom Cafe, a quick-service restaurant serving up egg rolls, orange chicken, and other favorites you usually get delivered to your house.
One quick-service stop in the Countries of Epcot that cannot be missed is the Joy of Tea located in China.  This quick service cart serves a variety of teas, including bubble tea and milk tea, which provide a refreshing break on hot Florida days.
Alongside their impressive tea options are Chinese inspired cocktails and savory curry chicken pockets and egg rolls.
Attractions in China:
The China Pavilion does not disappoint when it comes to beauty, just take one look at the replica Temple of Heaven.  Hidden inside the Temple of Heaven is Reflections of China, a 360-degree movie and a walk through the museum.
Reflections of China is a 14-minute film, so even the little ones should last during the show, especially once the beauty of the scenery comes into focus.
In front of the Temple of Heaven, and just beyond the China gate, you can catch the Jeweled Dragon Acrobats.
The Acrobats, dressed vibrantly, are from China and their show will amaze guests of all ages.  Check your App, guide, or ask a cast member for showtimes, but they generally perform throughout the evening.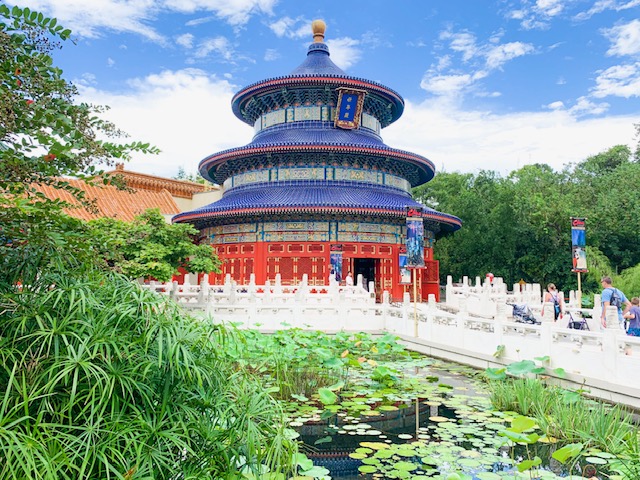 Interested in a character meet and greet?  Love Mulan?  Both?!  You are in the right Country in Epcot for that.  Mulan, and sometimes Mushu and Captain Li Shang, can be met in the China Pavilion.
Shopping in China:
For your shopping fix in China, check out Good Fortune Gifts, selling a variety of items including toys and puppets, and House of Good Fortune, selling housewares, Chinese tea sets, silk robes, and stunning Chinese porcelain goods.
Similar to the other Countries in Epcot, the shops are staffed with individuals from China who are very knowledgable about the items in the store, feel free to stop in and ask about the beautiful silk robes and why Chinese porcelain is so famous!
Kidcot Location:
The Kidcot stop for China is located inside the House of Good Fortune.
China Tips and Tricks:
Since China currently has only one table service restaurant, it makes a great stop for quick-service food. Trying to move through the countries quickly? Grab some egg rolls while you wander around the beautiful China Pavilion.
Photo Tip – Most of the China Pavilion is the ideal background for a photograph, but be sure to get a photograph under the China gate and in front of the Temple of Heaven.
The bridges and ponds in front of the Temple make an excellent place for a quick pic!
Similar to actual China, you will find cast members speaking both Mandarin and Cantonese in this Pavilion.
Germany
You will probably hear the Germany Pavilion before you reach it, between the generally excited crowd of guests having mini stein beers in the center of the village and the live music inside the Biergarten, is always a very lively Pavilion.
The Germany Pavilion is modeled after a German village and includes German architecture from several periods in Germany.
Like many Countries in Epcot, the Pavilion has a center point, in Germany the center point is The Platz (which means square in German) with the clock tower in the background.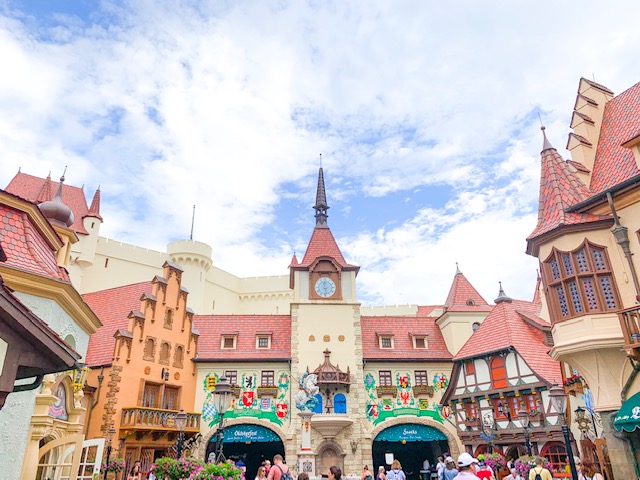 Eating and Drinking in Germany:
Like any good German-inspired village, the Germany Pavilion in the Epcot World Showcase has a large Biergarten as its main watering hole.
The Biergarten Restaurant, a full-service buffet restaurant, was designed to be a year-round Oktoberfest.  Schnitzel, strudel, and German sausages are the most sought after items on the menu.  The Biergarten also has live entertainment and once again, reservations are recommended.
The dining hall atmosphere and live music are worth a stop, but keep in mind, they only serve lunch and dinner.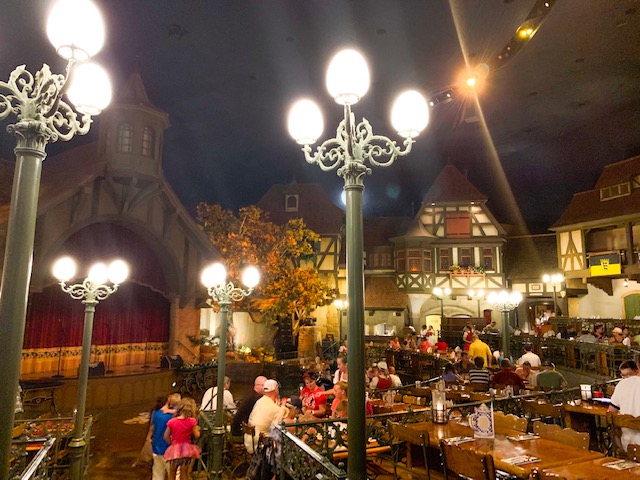 If you want to try to the famous pretzels or cheesy strudel, but do not want to sit down, or maybe do not want the full buffet, Sommerfest, located just outside the Biergarten is there to serve up a few delicious quick-service items and beverages.
Germany also has a beverage cart near the entrance selling several German beers, even in a plastic mini stein if that is your style.
Across the Platz is Weinkeller, a cellar stocked with over 250 German wines and a wide variety of German beers.
Sweet tooth anyone? At this point, you have ventured through several Countries in Epcot to reach Germany and you deserve a treat!  Karamell-Kuche has you covered.
Karamell-Kuche is a bakery, although it translates to caramel kitchen, offering one of the best smells in the Epcot World Showcase.
Serving up caramel popcorn, caramel apples, pretzels, brownies, cookies, and candies (are you drooling yet?), it is a must-hit stop for anyone who loves the sweet things in life!
Attractions in Germany:
While Germany has quite a few shops, it is a quieter Country in Epcot when it comes to attractions.
While making your way through Germany, and hopefully snacking on something with caramel and/or cheese, be sure to check out the Romantic Road Miniature Train Village, Glockenspiel (look up for the clock), and the large statue of St. George slaying a dragon.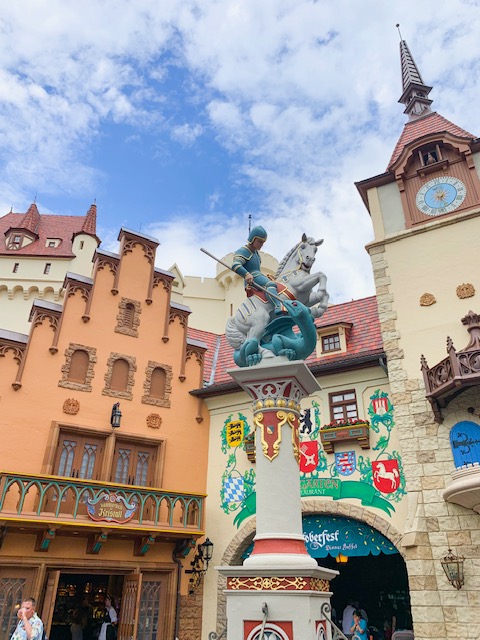 Need a character fix?  Snow White can be found in the Germany Pavilion.
Shopping in Germany:
The Germany Pavilion may have more limited attractions than other Countries in Epcot, but it sure makes up for it in the shops. The Germany Pavilion is the perfect Pavilion for the member of the group who loves to wander around a mall!
Need German apparel and accessories? Das Kaufhaus is the stop for you! Need a more kid-friendly stop, Der Teddybar is full of toys and attached to Volkskunst, where you can see and hear dozens of cuckoo clocks go off on the hour.
Die Weihnachts Ecke allows you to experience an Old World Christina market, full of nutcrackers, glass ornaments, and collectibles.
Stein Haus is the home to walls of Oktoberfest German beer steins.
Germany has not just one high-end art and collectibles stop as it is also home to Glaskunst, a kiosk where you can purchase a personally engraved stein and watch glassblowers at work.  Kunstarbeit in Kristall is glitter heaven!
Think Swarovski store but with both a German and Disney twist. It is best to watch small children, or curious adults, in this store as the glass figurines line the walls and everything is shiny!
Kidcot Location:
The Kidcot stop for Germany is located inside the Volkunst.
Germany Tips and Tricks:
Buy a pickle ornament at Die Weihnachtsecke, where it is always Christmas. The Pickle ornament is a tradition in Germany where a pickle ornament is hidden on the tree each year; the first child to find it receives an extra special gift.
If you want to grab the German snacks, especially the famous kugel, but do not have a reservation at Biergarten, or the ability to wait, you can grab these outside the restaurant at Sommerfest and sit on the fountain while you snack.
Italy
The Italy Pavilion in the Epcot World Showcase is one of the Countries in Epcot that is a blend of several famous cities piled into one place.  The central plaza contains buildings and landmarks from Venice, Rome, and Florence.
By exploring the Italy Pavilion you can walk from St. Marks Square, in Venice, to the Neptune Fountain, reminiscent to the Trevi Fountain in Rome, in just a few steps; this is quite a bit cheaper than a fast train around Italy.
Eating and Drinking in Italy:
If you want to do as the Italians do while you are exploring the Countries in Epcot, and enjoy a sit-down and multi-course meal, try Tutto Italia Ristorante.  Tutto Italia is a table service, reservation recommended restaurant offering up lunch and dinner.
The menu offers many Italian and Italian-American favorites, including hearty pasta dishes, meatballs, and antipasti.
If you want to sit down, but want pizza, Via Napoli Ristorante e Pizzeria is an excellent choice.  Although this may sound like a pizza place, reservations are recommended and the menu can be a bit pricey.
Due to the Ristorante portion of Via Napoli, they have a full menu of entrees in addition to the pizza options; just do not plan on grabbing a slice, as you will need to order a full pizza here.
This is the most affordable table service option if you want a sit-down meal in the Countries in Epcot.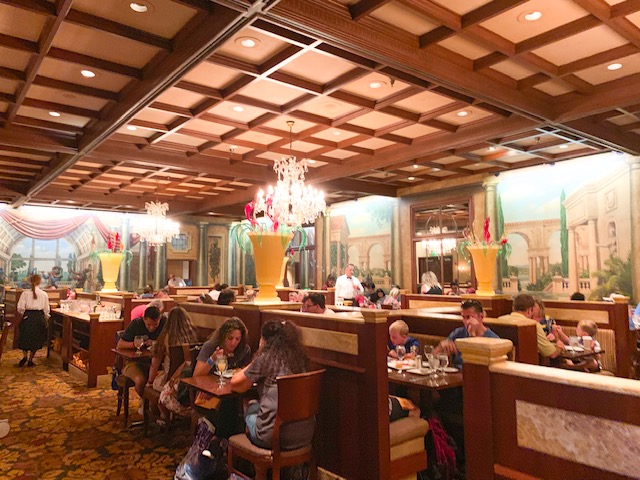 Between Tutto Italia Ristorante and Via Napoli Ristorante e Pizzeria is the Tutto Guto Wine Cellar.  The Wine Cellar offers not only 200 bottles of Italian wine, but also beer and small plates including paninis, pastas, and of course, cheese! This is a great cost-efficient option for consuming delicious Italian food in the Italy Pavilion as you make your way around the Epcot World Showcase.
It would not be a trip to Italy without gelato and you can find gelato at Gelati, a stand at the edge of Italy (between Italy and Germany), so be sure to leave room for dessert!
One shop that is actually also a drink stop is the front end of La Bottega Italiana, which is a wine bar serving up wine and prosecco.
They have some lovely outdoor seating where you can sit with your drink, or maybe gelato, or both, and see the Trevi Fountain, clock tower, and bustling streets of Italy.
Attractions in Italy:
Visit the Neptune Fountain, the Columns of San Marco, and St. Marks Campanile (bell tower), all of which are great photo stops.
After wandering around the landmarks of Italy, be sure to catch the Sbandieratori di Sansepolcro flag throwers, all of whom are artists from Sansepolcro, perform in the plaza.
Given that Italy is the home of Pinocchio, it only seems fitting you can meet him in the Italy Pavilion in the Epcot World Showcase.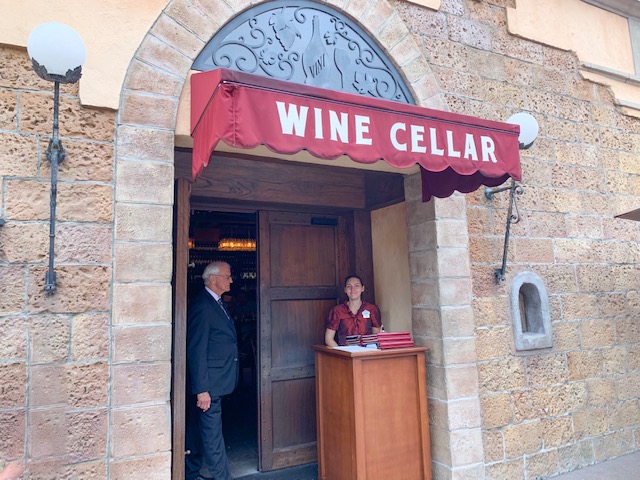 Shopping in Italy:
It would not be Italy, or the Italian Pavilion, if there was no shopping to be had. Similar to the other Countries in Epcot, Italy has several shops offering window shopping, or shopping, opportunities.
La Bottega Italiana offers Venetian masks, housewares, gifts, and Italian cooking supplies. If you are looking to please your more exquisite tastes, stroll over to El Bel Cristallo just across the plaza for Murano glass, porcelain, handbags, and apparel.
La Gemme Elegante brings it all together offering handmade Venetian masks and luxury goods.
Kidcot Location:
The Kidcot stop for Italy is located outside near La Bottega Italiana.
Italy Tips and Tricks:
Grab a gelato or beverage and stroll around Italy for your photographs, each angle will provide you with different photos given all of the Italian cities meshed together in this Pavilion.
American Adventure (United States of America)
While it may seem odd at first that the Epcot World Showcase, which is located in the United States, has an American Adventure, this Pavilion marks the middle point of the World Showcase and is the host pavilion of the World Showcase.
American Adventure is most known for the American Adventure Show; read on to learn more about this long-running attraction.

Eating and Drinking in American Adventure:
Unlike the other Countries in Epcot, American Adventure currently does not have a table service restaurant; however, stay tuned because a new Smokehouse is coming soon!
While we eagerly await the grand opening of the Smokehouse, as part of Epcot's update and transformation, you can still grab a few American snacks around the Pavilion. Block and Hans, a cart, offers American beer and cider; just a few steps from the Theatre this is a great place to stop on the way in for a show.
If you want to grab a coffee, espresso, or sweet treat, just across the Pavilion is Joffrey's Coffee, Espresso, and Pastries.
Want a giant turkey leg like you see in the photos, but find yourself outside of Magic Kingdom? Fife and Drum has you covered and also serves some Disney favorites, including Mickey pretzels and popcorn.
If you want to feel transported to a country fair, stop by Funnel Cakes and try an American classic. Just try not to wear black because the powdered sugar does not stay contained to the cake!
Attractions in American Adventure:
As promised, more on the American Adventure, which is located inside the American Adventure Pavilion, is a 30-minute show of film and music.
Guides Benjamin Franklin and Mark Twain take you through America's history in a theater auditorium and you never know who will rise up from the stage to show you different historical periods and a history of American life.
Beginning around lunchtime you can catch the Voices of Liberty, an a Capella group, singing patriotic music inside the American Heritage Gallery.
You can also wander around the American Heritage Gallery, a museum which houses a rotating exhibit.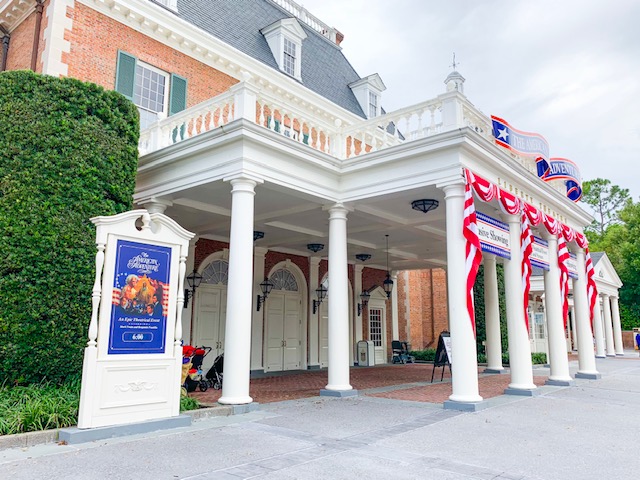 Overlooking the Lagoon, with a stage protruding into the water, you will find the American Gardens Theatre.
The schedule for this theatre is constantly changing with a variety of acts so be sure to check the App before your trip and see who you may be able to catch while you are in town!
Your phone is a critical part of your Disney vacation, including your trip around the world, so be sure to prepare your phone for Disney before you depart!
Shopping in American Adventure:
The American Adventure is currently home to Heritage Manor Gifts, where you can find Americana and Disney gear. Heritage Manor Gifts will be closing soon to be transformed into the new home for Art of Disney!
Kidcot Location:
The Kidcot stop for American Adventure is located outside near Heritage Manor Gifts.
American Adventure Tips and Tricks:
Although you may be inclined to skip over the American Adventure Pavilion if you are from the US, resist the urge and check out the American Adventure inside the Pavilion!
The show was updated in the mid-1990s and again in 2007. The music was updated as recently as 2018 and you never know when they will update it again.
In order to complete the Kidcot traveler cards, and receive your postcard, you will need to stop at the Kidcot in American Adventure and get your USA card.
Japan
The Japan Pavilion in the Epcot World Showcase was one of the original World Showcase Pavilions and it has continued to grow.
The Japan Pavilion is home to some of the best table dining in the Countries in Epcot and is also where you will find one of the most photographed World Showcase spots!
You can spot the beautiful Torii in the water and Japanese pagoda from almost every spot around the Lagoon and trust me, it gets even better when you enter the Japanese department store.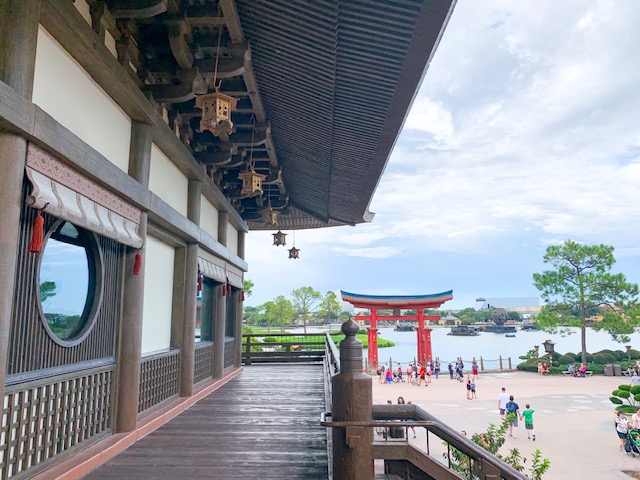 Eating and Drinking in Japan:
Let's start with the new addition! Takumi-Tei is now open in Japan! Takumi-Tei, which is considered fine dining, serves a multi-course tasting menu (omakase) and advance recommendations are highly recommended.
Although you can order a la carte, the omakase menu is what Takumi-Tei is quickly becoming known for, but it will run you about $130 USD per person.
Takumi-Tei's menu offers entrees ranging from sea bass to wagyu and sashimi entrees, as well as beautiful desserts such as the Cloud Cake and Water Lilly Valley.
If fine dining is not your cup of tea, you still have two table service options in Japan. Teppan Edo is a teppanyaki restaurant where chefs prepare stir-fried foods right in front of you and tableside cooking is always a hit for guests of all ages. Check out my review of Teppan Edo to find out why you MUST eat here!
On the other hand, you can check out Tokyo Dining, a traditional sushi restaurant with a more expansive menu including grilled items and tempura.
As the Countries in Epcot always have a quick service option, Japan is no different. Katsura Grill offers take away food and is located just up the hill adjacent to the pagoda. The scenery at Katsura Grills calls for a quick walk up, even if you eat elsewhere.
Kabuki Cafe, a cart closer to the Lagoon, offers Japanese treats including edamame, Japanese  beers and sodas, and sushi.
The best part of Kabuki Cafe – the kakigori – or Japanese shave ice – which is available in several flavors and even with sweet milk topping. These taste as good as they look on social media!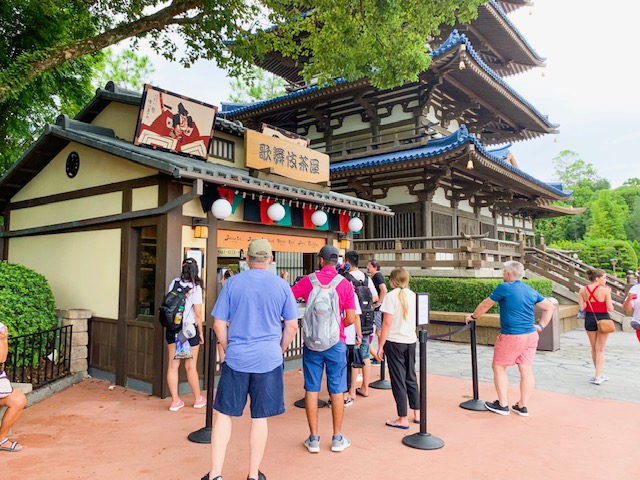 There is also a beverage shop just under Katsura Grill serving up Japanese beer and sake, which usually has a short line.
Attractions in Japan:
If you haven't guessed it yet, Japan, like many other Countries in Epcot, has a museum which provides guests with the ability to learn a bit more about the country. The Bijutsu Kan Gallery offers exhibits, currently the origin and evolution of kawaii ("cute culture"), which the entire family can explore.
Shopping in Japan:
Different from many of the other Countries in Epcot, Japan has one large store, and one small kiosk. This may make it sound like there is less to shop for, or see, in Japan, but that would be very wrong! Mitsukoshi Department Store is everything you could ever want, or need, in the Japanese Pavilion.
Similar to a department store found in Japan, it has goods ranging from swords and toys, to kimonos, to snacks, candy, and drinks, to high-end gifts.
It is a large, multi-room store open enough to wander and somehow end up with a full basket of milk tea, gummy candies, and Japanese toys.  There is also a kiosk just outside the store selling a small numbers of items you can find inside as well.
Kidcot Location:
The Kidcot stop for Japan is located at the entrance to Mitsukoshi Department Store.
Japan Tips and Tricks:
Photo Tip – A must take photo spot is in front of the Torii in the water with Spaceship Earth behind you! Another great photo spot is in front of the pagoda.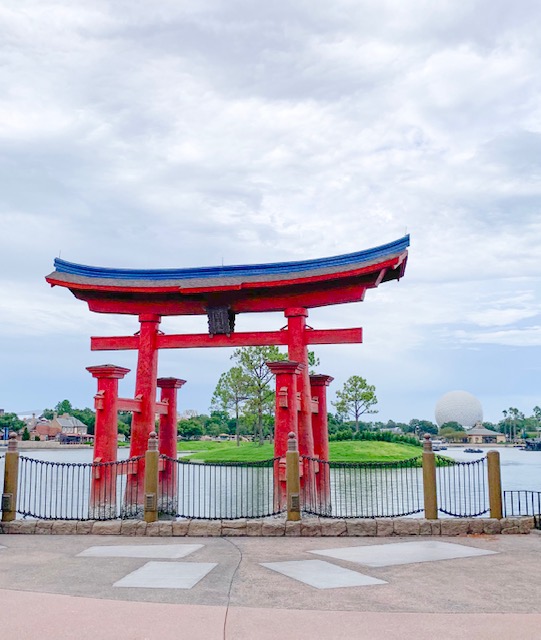 Since the cast members in each of the Countries in Epcot are from the country, the cast members in Japan are from Japan.
Use a few Japanese customs while in Japan to feel more immersed in the culture – hand everything with two hands and place money/credit cards in the little tray at registers. If you aren't sure how to do these things, or want to know more, just ask any cast member!
Morocco
Although Morocco was not an original Country in Epcot, it was the first expansion to Epcot's World Showcase and what an amazing choice that was!
The Morocco Pavilion does not have a ride or a movie, which seems to result in it being underestimated, do not make this mistake. Hidden in the Morocco Pavilion is not only some of the best food and shopping that the Epcot World Showcase has to offer but a stunning landscape nestled behind the shops.
The Morocco Pavilion is so special that King Hassan II, of Morocco, sent his artisans to Florida to oversee construction of the entire Pavilion!
The Morocco Pavilion is also the only Country in Epcot sponsored by a country, not a corporation.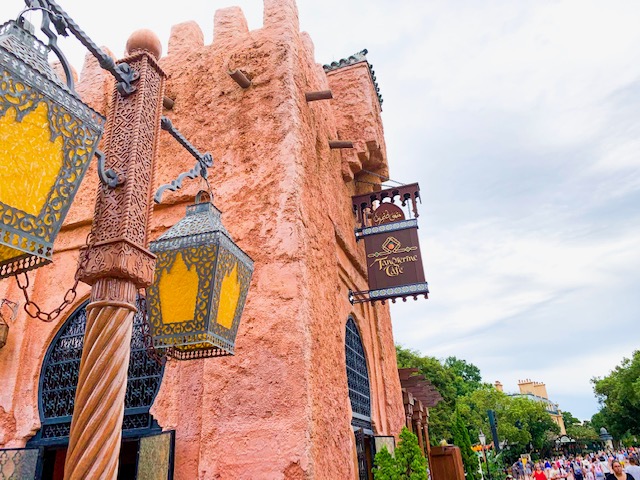 Eating and Drinking in Morocco:
The most well-known table service restaurant in Morocco is Restaurant Marrakesh, which offers not only delicious Moroccan and other Arabian dishes, but also live folk music and belly dancing during dinner!
The inside of Restaurant Marrakesh is adorned with tiling, brass chandeliers, and bukhara carpets. On the menu you will find tangine, kabobs, bastilla, and couscous dishes.
Similar to many table service restaurants in the Countries in Epcot, a reservation is recommended, especially during peak visitor times.
On the other side of the Morocco Pavilion, resting on the edge of the Lagoon is Spice Road Table, a table service restaurant serving up Mediterranean cuisine.
The picture-perfect waterfront view draws crowds to Spice Road Table, a perfect spot for any fireworks, but the lamb sliders, hummus fries, spicy garlic shrimp, and rice stuffed grape leaves keep visitors coming back every visit.
Reservations are accepted, and recommended, especially if you want a seat during a nighttime show!
Want Moroccan food but don't plan to have a sit-down meal? Or maybe just want to keep working your way around the world with a bite to eat in each of the Countries in Epcot? Morocco has you covered with Tangierine Cafe.
This quick-service stop serves up some of the best wraps and platters in the Epcot World Showcase and historically has served up the largest variety of vegetarian options (although Walt Disney World has announced the addition of hundreds of vegan items to all menus coming soon!).
Tangierine Cafe has top prize in my eyes for the Best Epcot Quick Service Restaurant. 
Attractions in Morocco:
While the Gallery of Arts and History is currently closed for refurbishment, you can still experience the beauty of Morocco by exploring the Fez House.
If you have seen any social media photos of stunning intricate tile work and what appears to be a Moroccan mansion, but with the hashtag Epcot, those beautiful photos came from the Fez House.
The Fez House, which is a representation of a typical Moroccan home, is hidden away in the back of the Pavilion, resulting in unprepared, and rushed, guests to miss out on it. Don't be that person!
Trust me, the tile work is breathtaking. To locate the Fez House, walk around and behind the Marketplace and look for the empty building, there is a sign on the main door with the name Fez House, but the open space, tile, and high ceilings will give it away.
Henna is a popular activity in the Morocco Pavilion and many guests have henna drawn on them while visiting the park.
The cost of the henna is not included in admission. You will also find Jasmine and Aladdin in the Morocco Pavilion throughout the day for meet and greets, located near Restaurant Marrakesh.
While you make your way through Morocco be sure to stop and check out Mo'Rockin, a live Moroccan band and belly dancers who play throughout the evening.
Shopping in Morocco:
Shopping in Morocco is a bit similar to Mexico as the main hub of shops is contained in the main Marketplace in the Medina.
Inside the Marketplace, you will find a traditional Moroccan market full of hand-woven baskets, wallets, and straw goods. Located under the same roof as the Marketplace in the Medina you will also find Tangier Traders, selling Moroccan jewelry and ceramics.
If you keep meandering through the rooms in the Pavilion, you will come upon the Brass Bazaar and Casablanca Carpets. The Brass Bazaar is the perfect stop for intricately detailed brass housewares while Casablanca Carpets sells the types of carpet that, unfortunately, do not fly.
Casablanca Carpets also sells lamps, none of which have turned out to be magic, but you never know when a guest will find one! These shops are mostly interconnected, allowing you to feel like you have slipped into an actual bazaar.
Morocco also has several kiosks and small shops lining the Pavilion selling goods and beverages.
Kidcot Location:
The Kidcot stop for Morocco is located inside the Marketplace in the Medina.
Morocco Tips and Tricks:
If you couldn't guess, the Fez House is an ideal photo stop, but so is most of Morocco. If you have the patience to wait just a few minutes in the Fez House, you can generally get quite a few photos with no one else in them, a Disney rarity.
France
The France Pavilion in Epcot's World Showcase themed to look like a Parisienne neighborhood, can be seen from over the bridges as the Eiffel Tower lays in the backdrop.
France is one of the Countries in Epcot known not only for the food offers but for an attraction, Impressions de France.
Recently France was a named as a key focus for Epcot's update with a new ride, restaurant, and movie being added!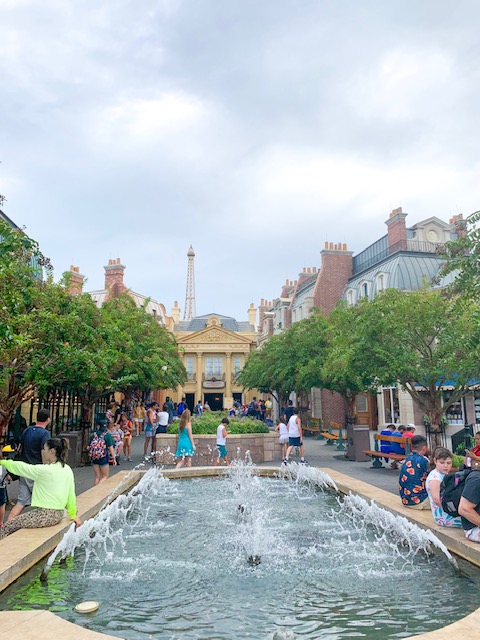 Eating and Drinking in France:
This Country in Epcot offers two table service restaurants. Les Chefs de France, which is open for lunch and dinner, is a family-friendly brasserie with excellent views of the World Showcase and Lagoon.
Serving up grilled tenderloin, salmon filet, and a variety of French appetizers, this is the more casual choice of the two table serve France restaurants.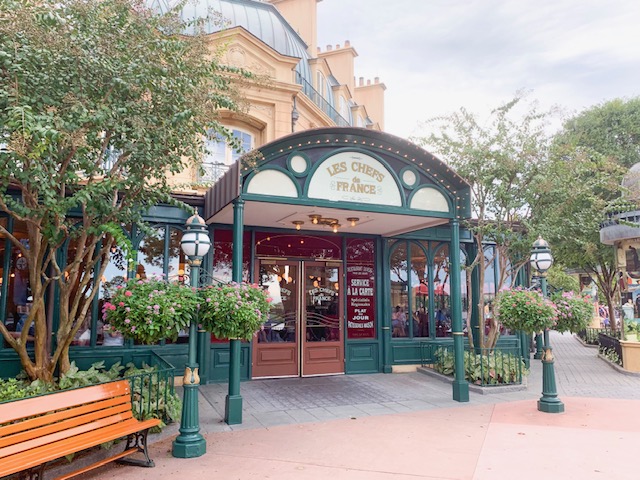 Monsieur Paul, which is only open for dinner, is the French Pavilions gourmet table restaurant. Serving up traditional French cuisine with a bit of a twist; the menu includes roasted duck, escargot tart, oxtail broth, and lamb loin. Monsieur Paul also offers a prix fixe menus.
The prix fixe prestige menu including a first course, choice of appetizer, choice of main, and choice of dessert. The prix fixe degustation includes seven courses, some of which most of which are set.
Monsieur Paul is not only a reservation recommended restaurant, but it also has a strict dress code. The dress code requires "appropriate attire," and prohibits guests from entry if they are wearing any of the following: tank tops, hats, swimwear, cut-offs, torn clothing, and graphic or offensive tee shirts.
Be sure to check out the official site for Monsieur Paul for more details on the prix fixe menus and dress code.
For a quick stop, check out Les Halles Boulangerie Pasterie for a scrumptious French pastry. Les Halles Boulangerie Pasterie is one of the few stops in the Epcot World Showcase open before 11 am, with an opening time of 9 am, and by mid-day the line can be quite long.
That said, the line is well deserved as they serve up arguably the best pastries in Walt Disney World.
Crepes des Chefs de France, located on the Lagoon side of the Pavilion, is the current stop for a delicious crepe, will you go savory or sweet?
If you are looking for something sweet, but also trying to beat the Florida heat and humidity, L'Artisan Des Glaces serves up French artisanal ice cream, but don't let the fancy name or description fool you, this is the stop for rich chocolate ice cream in a waffle cone or even a strawberry sorbet bowl, nothing too scary!
Given France's history of curating, and even inventing, award-winning wines, it would not be France without wine.
Check out Les Vins des Chefs de France, a kiosk, or better yet, stop at Les Vins de France for a wine tasting, or quick bottle purchase.
Not sure what type of wine you like, just ask the cast members at Les Vines de France to help you out and they can point you to the perfect glass or a few samples to test your palette.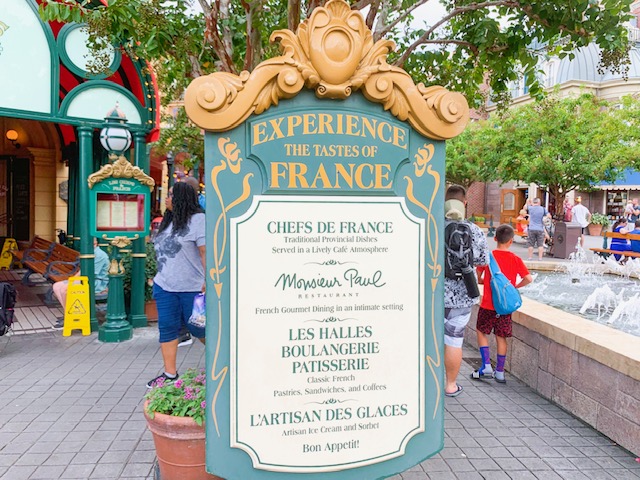 Attractions in France:
Impressions de France, which has been playing since this Country in Epcot opened, is a tour of the country set to a classical composure score.
The film was directed by a two-time Academy Award director and the tour takes guests on what can only be described as a stunning whirlwind through some of the most romantic landmarks in the world.
The movie runs 18 minutes and be sure you enter before it starts, as late arrivals are not accommodated and you will need to wait until the next showtime.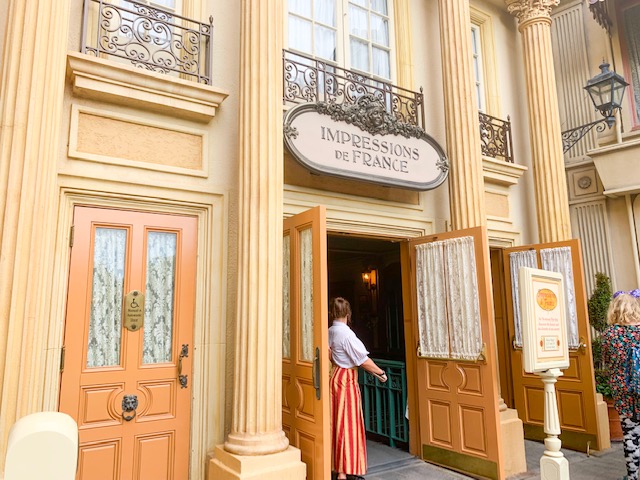 The Countries in Epcot always offer a meet and greet and there would be no one more appropriate for France than Belle.
Belle is not the only princess in France these days with Aurora also hosting her meet and greets in the France Pavilion. Similar to other characters, check your App for their location and schedule as this varies often.
While you are snacking on your French pastry, or maybe sipping on your French wine, you will likely see a crowd of guests towards the front of the Pavilion, if you head into the excitement you will find Serveuer Amusant, a climbing and balancing comedy act.
Or, you could travel along the side of the pavilion and jump in line for Ratatouille– a fun, family ride based on the popular animated film of the same name.
This trackless 4D adventure has guests joining Remy on an adventure through Gusteau's restaurant where you'll get to see, smell, and feel as if you are in the restaurant with the French Chefs preparing for the big dinner rush.
This ride does not have a height requirement, making it the perfect ride for everyone in your party to enjoy.
Shopping in France:
Shopping the France Pavilion feels a whole lot like shopping in France. In true Epcot World Showcase fashion, Souvenirs de France provides a stop for Parisian dreamers selling French-inspired gifts, including berets, mini Eiffel Towers, guidebooks, and travel posters.
Les Vins de France, as mentioned briefly above, sells wine by the glass and by the bottle, including wine tasting options.
Across the way at Plume et Palette, immerses guests in the high-end work of Paris, selling designer French bags and fragrances.
Next door to Plume et Palette is La Signature is basically a beautiful French Sephora! La Signature sells over 70 French cosmetics and fragrances and provides makeup consultations to guests!
Kidcot Location:
The Kidcot stop for France is located inside Souvenirs de France.
France Tips and Tricks:
Like many other Countries in Epcot, France is in line for an update. Disney announced that France will be receiving a new restaurant, La Creperie de Paris; a new movie, we hear a sing-along Beauty and the Beast movie; and, most importantly, an exact replica of Remy's Ratatouille Adventure, a ride currently found only in Disneyland Paris' Walt Disney Studios Park.
Can't wait for this attraction to jump across the Atlantic.
France provides many photo opportunities, whether it is under the Eiffel Tower, in front of the fountain, or next to the Morris Column, you will be able to take plenty of beautiful pics to tease your loved ones about "your trip to Paris."
United Kingdom
The United Kingdom Pavilion is one of the Countries in Epcot focusing on food, which is just fine by me! The United Kingdom Pavilion represents all of its countries – England, Scotland, Wales, and Northern Ireland and was designed to look like a British Village, including English gardens and a bandstand.
Similar to its neighbor Pavilion, France, the United Kingdom is expecting a big upgrade in the coming years!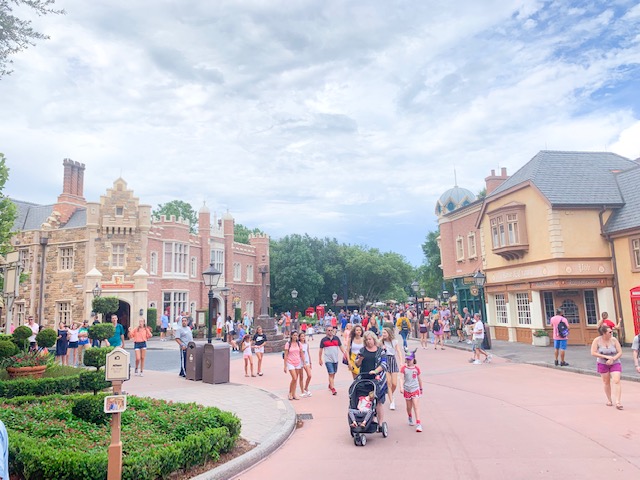 Eating and Drinking in the United Kingdom:
If you want to take advantage of the extra time you could have in the United Kingdom, since it does not have a ride or movie (yet), taking advantage of it at Rose & Crown Pub & Dining Room is the way to do it. With both indoor and outdoor seating, Rose & Crown serves up British cuisine including bangers and mash, fish and chips, and the secret vegan fish and chips (see my tips and tricks below!).
The pub portion of Rose & Crown is a lively bar serving up quality Scotch and Irish whiskeys and ales, stouts and ales, and a snakebite (half cider, half beer) if you just ask.
Check out the Attractions section below to learn about Rose & Crown's special experience for tea enthusiasts!
Rose & Crown Restaurant is my favorite table service restaurant in not just the Countries in Epcot but holds on to my number one dining spot as the Best Restaurant in Epcot.
If you decide to have a meal here, you will not be disappointed!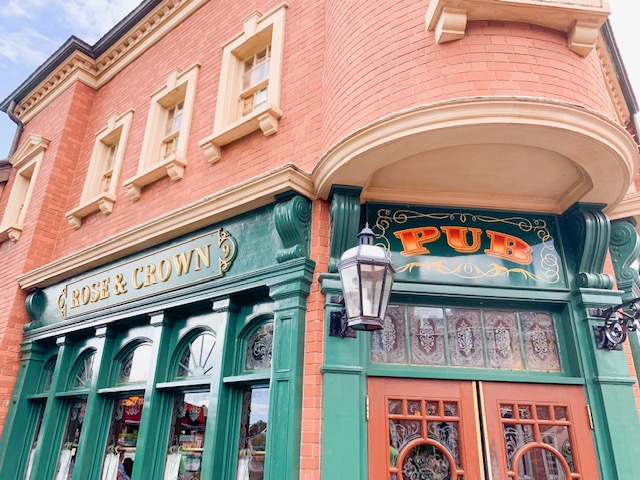 If you want British food on the go, Yorkshire Fish and Chips is a quick-service stop serving up what you probably already guessed, fish and chips!
Yorkshire Fish and Chips only serves three food items – fish and chips, fruit, and a dessert item, and only has limited outdoor seating.
If you are craving fish and chips, this should be your spot as you can grab your meal pretty quickly and head over to the bandstand to check out a show or sit street-side in the United Kingdom Pavilion and Disney people watch, you just never know when Mary Poppins may stroll by.
If you don't want to be inside on a beautiful sunny Florida day, or the pub is just too crowded (which happens), you can still grab a UK beer from the UK Beer Stand outside Rose & Crown.
Attractions in the United Kingdom:
If you love tea, Rose & Crown's Tea Experience is a great way to start your day. This attraction requires a reservation and comes with an additional cost of $35 per person. Rose & Crown is offering a chance to learn the secret to the perfect cup of tea with this experience, which includes tea tasting, sandwiches, and scones included in the price.
Book your experience through Disney Dining and note that this event is only running once a day, Thursday through Sunday, at this time. Be sure to check out Disney's official site for the Tea Experience if this sounds up your alley.
It would not be one of the Countries in Epcot if the United Kingdom was empty of Disney celebs – you can find Alice, of the one and only Alice in Wonderland; and Winnie the Pooh in this pavilion.
Alice usually hosts her meet and greets outside towards the bridge to France, while you can usually find Pooh in Christopher's Robin's Room.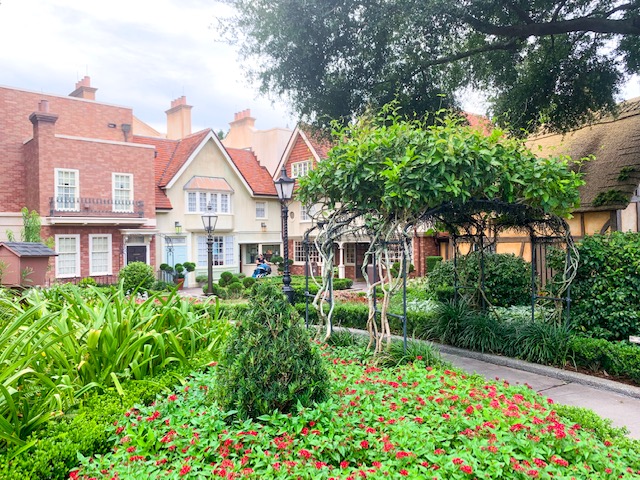 Shopping in the United Kingdom:
To immerse yourself further into the Kingdom, check out at least one of its many shops. Towards the front of the United Kingdom Pavilion, you will find The Tea Caddy, selling British tea, accessories, and British sweets and cookies.
Just across the way is Sportsman's Shoppe, full of soccer jerseys, soccer balls, and other UK sports apparel. Just remember, while us Americans may call it soccer, it is football in the rest of the world!
As you make your way back towards the bandstand, you will find The Queen's Table, home to royal china, including cups and saucers, teapots (for all the tea you scored next door at The Tea Caddy), and small porcelain gifts.
Across the way from The Queen's Table,  The Crown and Crest offers customized mugs with family coat of arms, Beatles merchandise, and more. For more British treats, but not the edible type, Lords and Ladies near the bandstand offers English perfumes, soaps, and accessories.
For the kids, or just the kid everyone should turn into when at Disney, head all the way back to The Toy Soldier. The Toy Soldier offers toys, plush toys, housewares, and Disney gear, but also offers keepsakes featuring UK legends, think Beatles, Led Zeppelin, and Doctor Who.
Located at the rear of the Toy Solder is Christopher Robin's Room, always a fun stop, even if not for the Kidcot stand.
Kidcot Location:
The Kidcot stop for the United Kingdom is located inside The Toy Soldier.
United Kingdom Tips and Tricks:
Secret Menu Tip – Rose & Crown serves up traditional fish and chips and bangers in mash, but if you ask, you can also score vegan options for these favorites.
Why? Because Rose & Crown has a secret vegan menu! Although Disney's new update of adding over 600 vegan options should be happening soon, this is only vegan menu currently offered in the Countries of Epcot. 
Similar to France, Disney announced the United Kingdom Pavilion would also be receiving a new attraction; themed after the one, the only, Mary Poppins!
Although Disney has not provided too much information about this new attraction, it has confirmed the attraction will include the Banks' home and a lot of music.
Canada
Being on the end of the World Showcase, Canada tends to be the first or last Country in Epcot stop when traveling around the world. Don't let the eagerness of moving on to another a country, or the burnout, deter you from spending some time in this lush pavilion.
Designed to make guests feel as if they are in the great outdoors of the Great White North, the Canada Pavilion offers a canyon, waterfall, gardens, and fountains.
This Country in Epcot also offers a music show and arguably one of the best restaurants in Walt Disney World.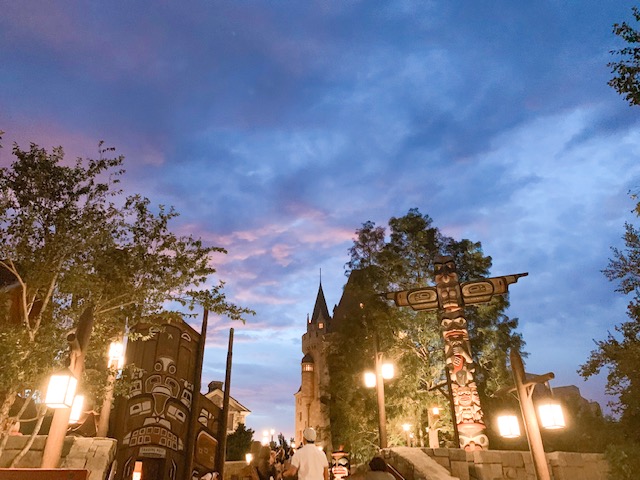 Eating and Drinking in Canada:
If you have read any blog or article on dining in the Countries of Epcot, or even Walt Disney World, you have likely seen Le Cellier Steakhouse. Le Cellier Steakhouse, designed to feel like a wine cellar, is a table service restaurant offering steaks and seafood.
It is housed in the Hotel du Canada, the main building in the Canada Pavilion. Reservations are generally necessary to eat at Le Cellier Steakhouse, so if this is high on your Must Do list, be sure to make a reservation early.
The Popcorn Cart also sells popcorn and beverages; a stop by the popcorn cart before exploring the rest of the Pavilion is highly encouraged. Also, you are in Canada so it only seems right to grab a Molson at the beer stand (if you drink and are over 21).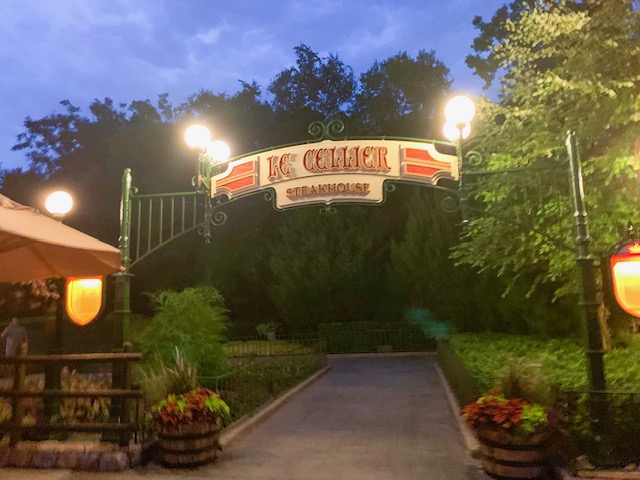 Attractions in Canada:
Just as many of the other Countries in Epcot offer live music, Canada is no different. Check out the Blueberry Grass Band, from Quebec, perform French and English Canadian hits.
Not only can the band members rock out, some of them came over from Cirque Du Soleil and bring some of their wow moves over to the band.
Using the same stage, Bodh'aktan, a rock band with Celtic, Quebec, punk, and maritime influences rocks out throughout the day.
With the dual-band system, you can usually find live music in Canada in the late afternoon and evening hours.
Check out Victoria Gardens! This is one of the prettiest spots in Epcot, some may even say Walt Disney World, and a lot of people just walk right by.
Victoria Gardens is inspired by Butchart Gardens in British Columbia. If you follow the walkway, you will see beautiful flowers all year round and perfectly manicured lawns.
You cannot miss the large waterfall on the walkway, but if you aren't sure which direction to take the path, just follow your ears as you can hear the water coming down as you approach.
Make sure to see the Totem Poles before you head out. Canada has three totem poles, carved by an Alaskan artists. One is made of fiberglass and two of wood and they are worth a detour and maybe even a quick photo.
Shopping in Canada:
All Countries in Epcot provide guests with an opportunity to shop. Canada offers guests two shops, Northwest Mercantile and Trading Post.
Northwest Mercantile which is located inside the Trading Post Building, sells wilderness themed ornaments, NHL jerseys, maple syrup, and Canadian wines. It is also home to two Hidden Mickeys, but you will need to look around to find them.
Located in the same building, the Trading Post, you can find hand-carved wood gifts and, of course, more maple syrup.
Kidcot Location:
The Kidcot stop for Canada is located outside near the exit of O'Canada.
Canada Tips and Tricks:
O Canada – a 14-minute circle vision 360-degree movie officially closed on August 1, 2019 for upgrades. An anticipated reopening is January 2020.
If you start your journey in Canada, don't forget the Kidcot bag if you plan to do the stops. If you are ending in Canada, and have all 11 cards once you get your Canada card, be sure to show a cast member at Kidcot so you can receive your special postcard.
Extra Epcot World Showcase Attraction:
The Epcot World Showcase has added one more game you can play around all of the Countries of Epcot – Phineas & Ferb: Agent P's World Showcase Adventure!
This game can be played on your smartphone, or you can pick up a FONE (Field Operative Notification Equipment). You will need to stop by the recruitment center at Odyssey Bridge to pick up the FONE, but then you are good to go!
If you have a mobile device, you can download and play on the Play Disney Parks App or sign up online while inside the park at www.agentpwsa.com.
Missions to help stop evil plots around the Countries in Epcot will send you to different Pavilions.  The active Pavilions for this game are Mexico, China, Germany, Japan, France, and the United Kingdom.
Now go on and save the world as you travel all the Countries of Epcot in a day! Keep in mind, your progress is only saved for one day, so if you don't finish by park closure, you will have to try again and restart the next day. Good Luck Phineas & Ferb Agents!
Update – Disney has officially announced that DuckTales will be taking over the World Showcase Adventure! The official date for the launch of this update has not yet been announced, but Disney reports guests will bypass the kiosks and play entirely on the Play Disney Parks mobile app.
I will keep you updated on when you can expect the adventure to switch over to Scrooge McDuck, Donald, Launchpad, Webby, and the nephews!
Extra Magic Hours:
Many attractions, shops, and dining options in the Epcot World Showcase will stay open for the evening extra magic hours, but not all do. In order to avoid disappointment, be sure to check the hours for each place/attraction before putting it on the end of day agenda.
While the Epcot World Showcase generally closes at 9 pm or 10 pm (later on Fridays and Saturdays), the extra magic hours may help you score a few more hours to explore the world!
Pin this post: