If you are on the hunt for the best EPCOT restaurants you have come to the right place! Dining at EPCOT is a real treat and has only gotten better over the years. Many people go into their Disney trip with the notion that the only type of food you can eat is "theme park food" a la burgers, fries, hot dogs etc. but that couldn't be further from the truth! Food at EPCOT is out of this world and truly the best of all the Disney parks as far as dining options go.
EPCOT is my favorite park and one of the main reasons why is because of all of the fantastic foodie options. There is truly something for everyone. Whether you are a vegan, a hardcore meat eater, someone who loves a certain cuisine such as Japanese, or someone who is a picky eater and just looking for some Disney food that actually IS "theme park food" EPCOT dining options have got you covered.
In this post I am going to take you through the best EPCOT restaurants ranked from best to worst so you can get a really great introduction to the best food at EPCOT. Although I have been to EPCOT hundreds of times as a lifelong annual passholder, don't trust me! I want you to see for yourself and taste something from all of the best restaurants in EPCOT. You won't regret it! Make sure to check out the Official Epcot Map so you know where everything is located around the park!
Get a FREE printable 30/60/90 day Disney countdown by joining our private Disney Facebook Group and share your photos and ask for tips and tricks!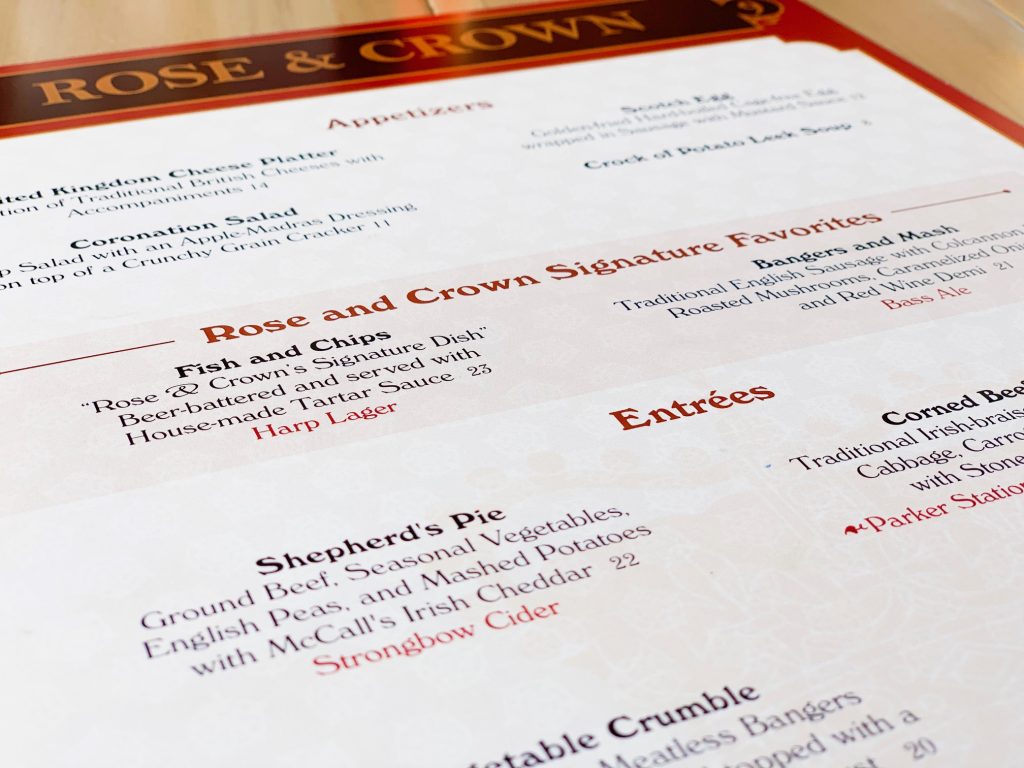 20 Best EPCOT Restaurants from Best to Worst
Best EPCOT Table Service Restaurants
Rose & Crown: Favorite EPCOT Restaurant
Rose & Crown is easily one of the best restaurants in EPCOT for a variety of reasons. First, the location is great. It is located in the United Kingdom Pavilion which is on the "lower" end of World Showcase Lagoon. If you are coming from Futureworld, you won't have a long way to go to visit the United Kingdom Pavilion as you must only pass Canada.
Second, you can almost always get a walk-up reservation. We all know that getting reservations for EPCOT dining can be like searching for a needle in a haystack, but don't fret if you don't snag one for Rose & Crown. Often enough, if you go between 5-6pm, you will only have a very short wait. This is a huge benefit if you weren't able to make your priority EPCOT dining reservation ahead of time or if you are planning a last-minute trip but still want a table service restaurant experience.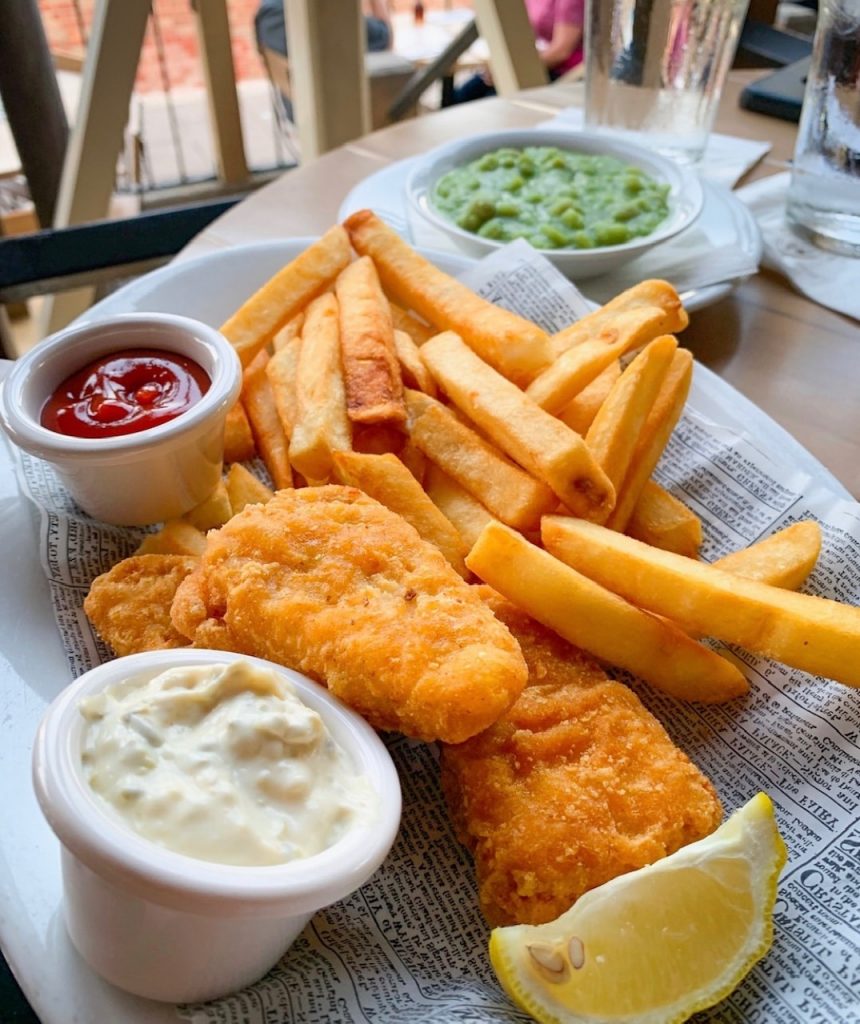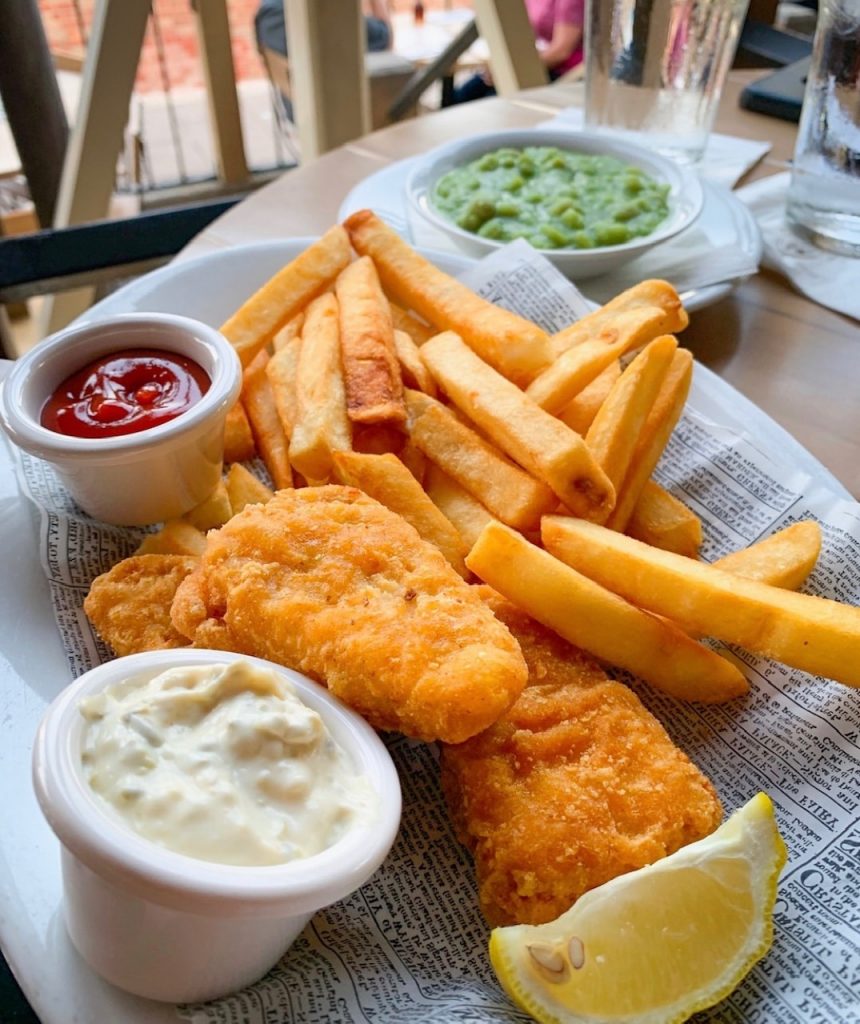 Of course, we can't forget the food! The food at Rose & Crown is fantastic. There is a "secret" vegan menu as well which offers MANY of the menu favorites as vegan options as well including Vegan Fish And Chips and Vegan Bangers And Mash.
Every time I visit Rose & Crown there are at least 3-4 people around me ordering from this secret vegan menu. If you aren't vegan or vegetarian, there are still TONS of options for you, including all the British favorites you have always dreamed of!
Finally, Rose & Crown is one of the best restaurants in EPCOT for viewing the fireworks and night show. The restaurant is located right on World Showcase Lagoon so you have a picture-perfect view of the show. Just make sure to snag a later reservation around 7:45 or later so that you can eat and enjoy the show without taking up space for anyone else!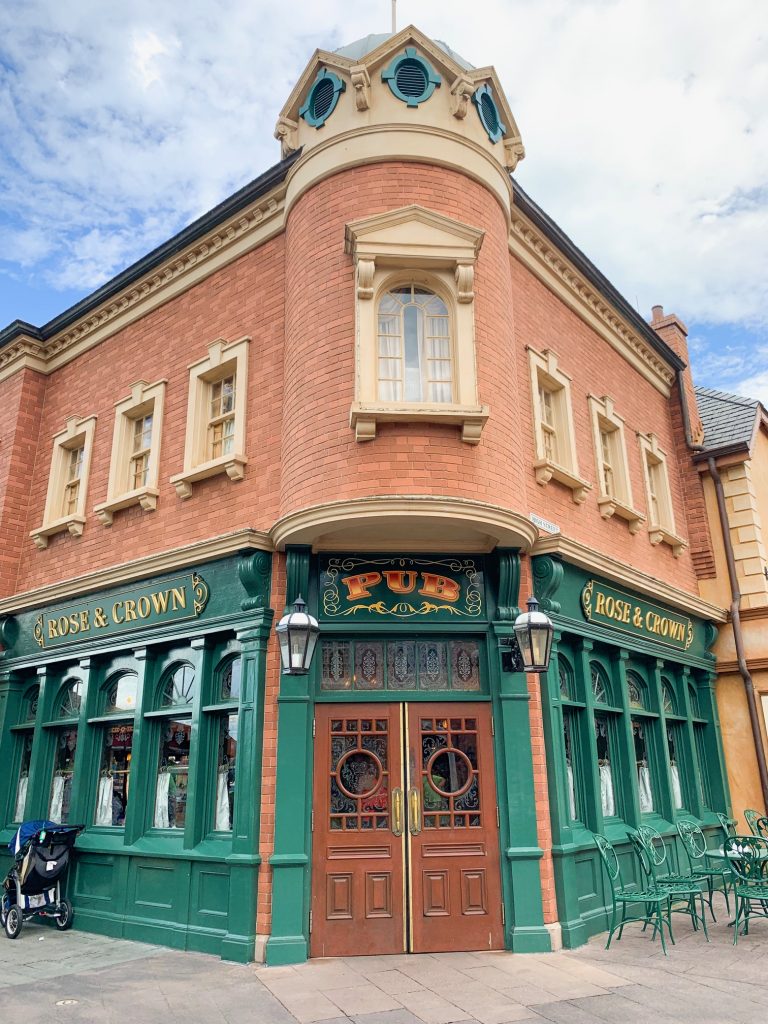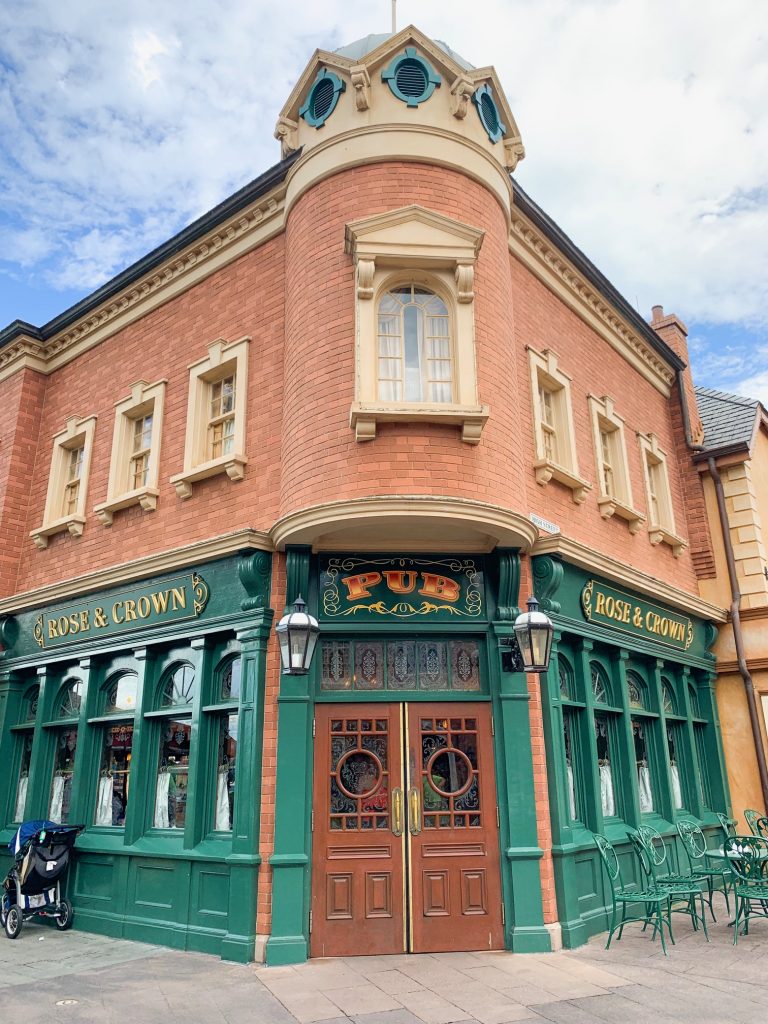 La Hacienda de San Angel: Great Views
La Hacienda de San Angel is easily one of the best EPCOT restaurants. It is located in the Mexico Pavilion and is suspended over the water on World Showcase Lagoon. There are 3 restaurants in Mexico in EPCOT and this one is the mid-level option. Unlike Rose & Crown which offers outdoor seating, La Hacienda de San Angel only offers indoor seating with floor-to-ceiling window views of World Showcase Lagoon. This makes it one of the best options for dining in EPCOT if you want to see the fireworks without sitting outside in the heat.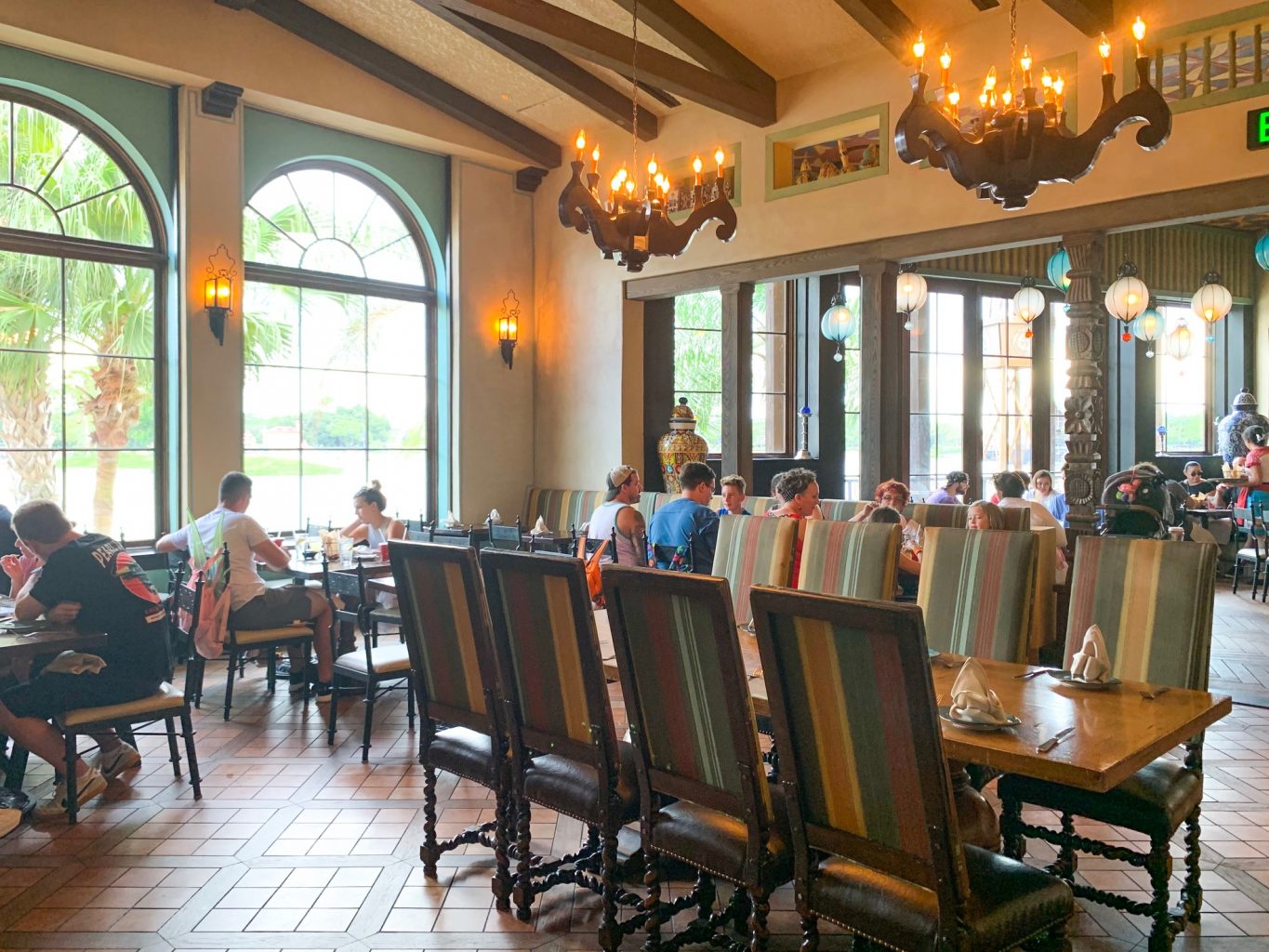 La Hacienda de San Angel has some of the best food at EPCOT because the portions are quite large. There are vegetarian and vegan menu options as well if anyone in your party has dietary restrictions. Some orders come with a HUGE side of beans and a HUGE side of rice. If you ask nicely, you can even get it replenished. Also, La Hacienda de San Angel reigns supreme as one of the best restaurants in EPCOT because it offers FREE chips and salsa to eat while you wait. The majority of EPCOT restaurants do not offer any sort of "free" starter with your meal, but La Hacienda de San Angel does and that is why it is an incredible dining choice during your trip.
Keep in mind that La Hacienda de San Angel is VERY POPULAR and reservations sell out quickly. You can't usually just walk up and have a table ready for you as it is usually always sold out. Make sure to reserve in advance if you are looking to eat here!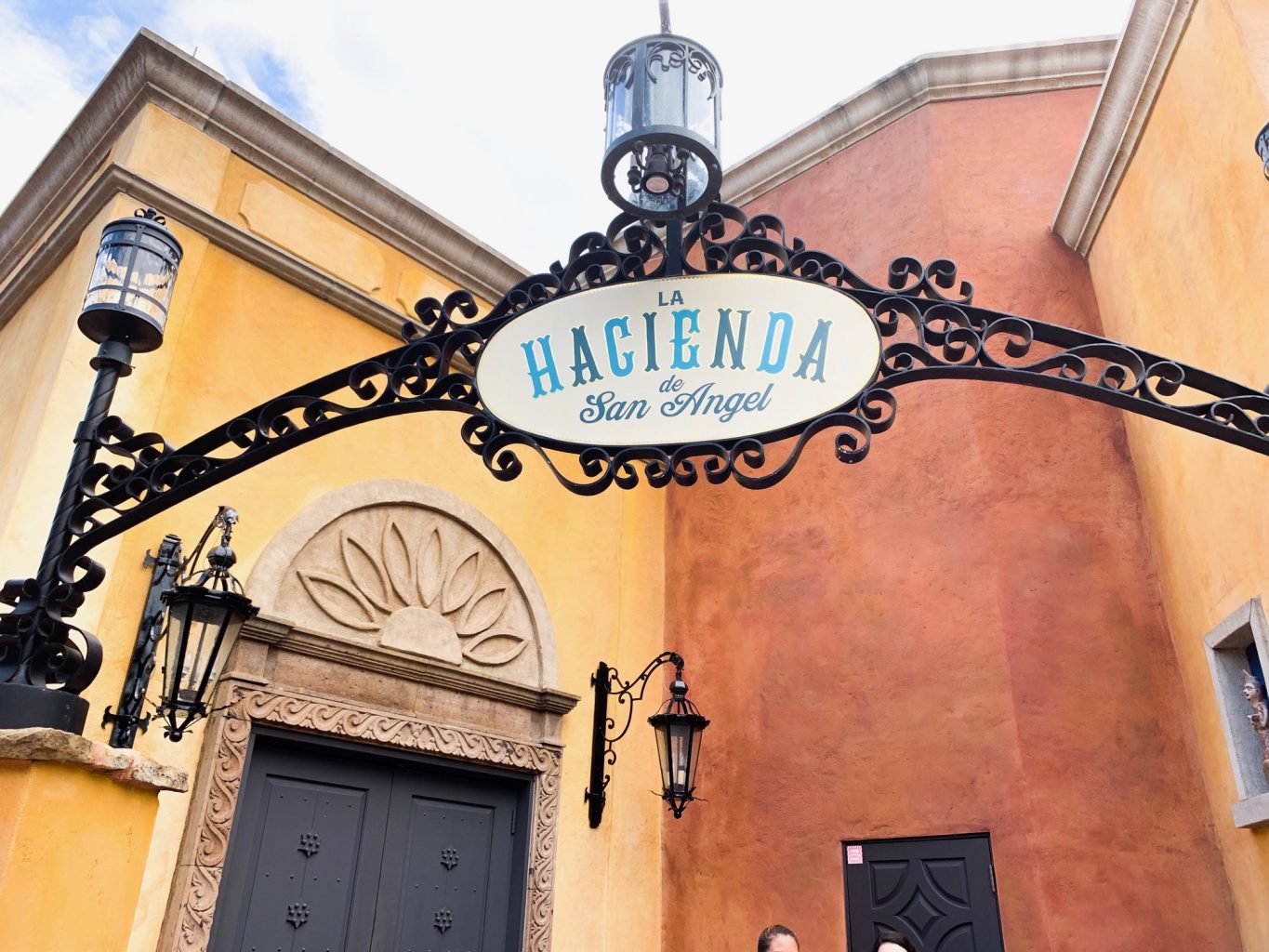 Biergarten Restaurant: Dinner And A Show
If you are looking for dinner and a show during your time dining at EPCOT, look no further than Biergarten Restaurant. Located in the Germany pavilion, Biergarten Restaurant is a family-style, all you can eat buffet. There is a traditional German-style show which is fun for the whole family. Biergarten Restaurant is designed to look like you are outside while you are really indoors.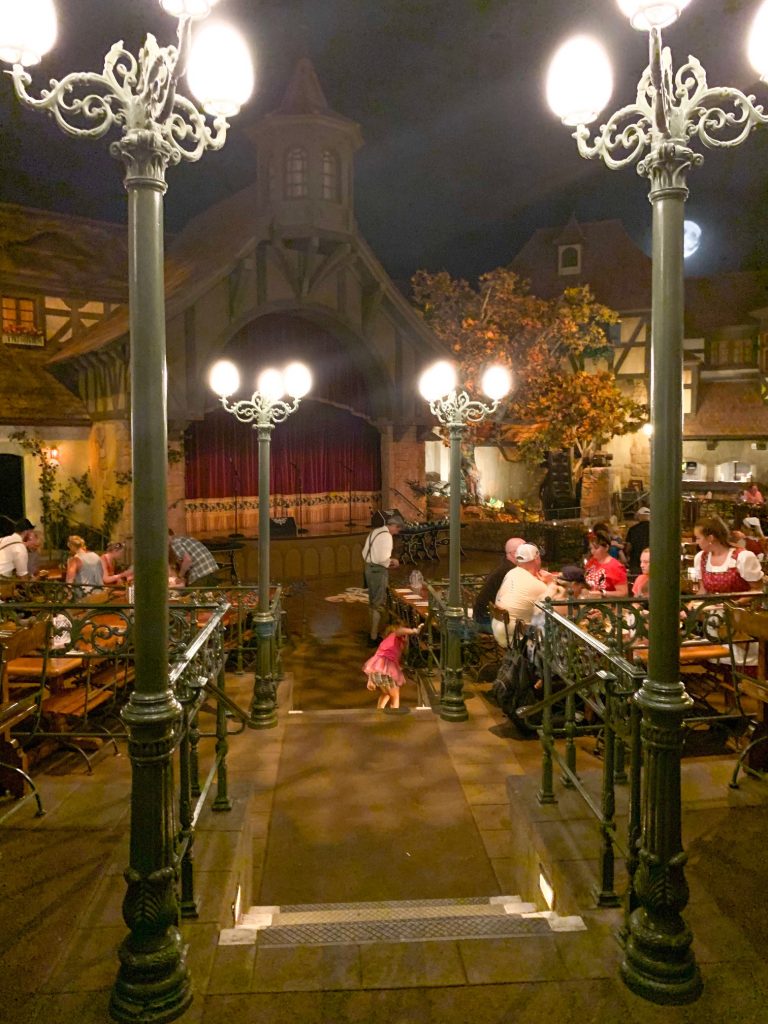 Keep in mind that you will NOT be sitting alone. Instead, you will be sitting at long tables with other people than just those in your group. If you are looking for a romantic dinner for two, this won't be the best EPCOT restaurant for you. Dinner runs about $60 for adults but the amount of food you can gorge on makes up for the hefty price.
Finally, the food at Biergarten Restaurant features all of the German favorites from bratwurst to sauerkraut. The best part? Adults will receive beer to drink during the show. Prost!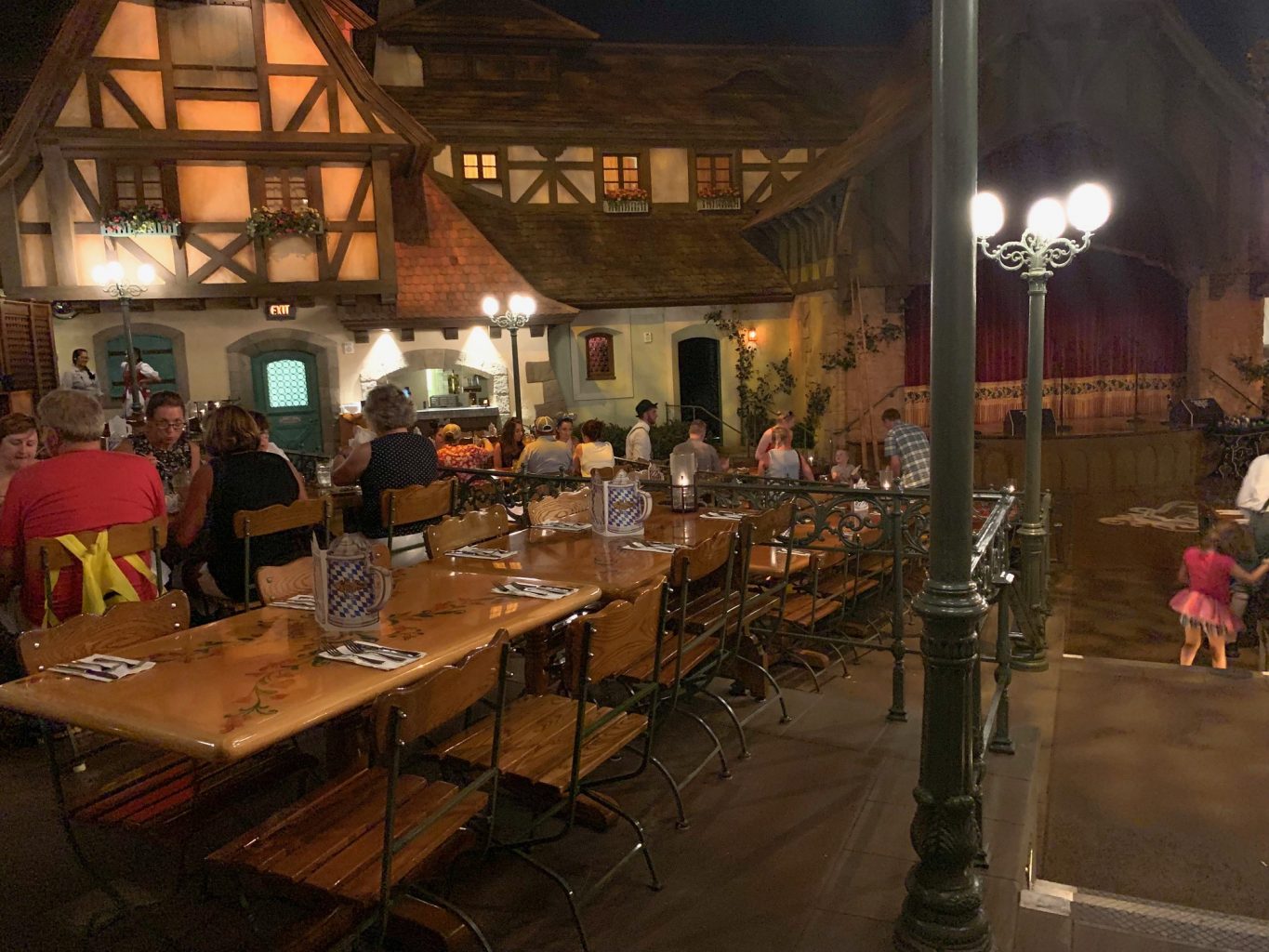 Nine Dragons Restaurant: Underrated EPCOT Dining
The powers that be will probably be mad at me for recommending Nine Dragons Restaurant, located in the China Pavilion, as one of the best restaurants in EPCOT, but I would never lie to you! This place is usually always marked as one of the WORST EPCOT dining options and I truly have no idea why! First off, there are usually ALWAYS reservations. This is probably because of the myth of it being a horrible place to eat at Epcot is always spread around. You can even find day-of reservations at Nine Dragons Restaurant.
Secondly, the prices are very affordable! A vegetarian meal costs $17 here when at other EPCOT restaurants it will ring in at around $24. They are very good with accommodating request such as if you would prefer noodles over rice in your dish. Simply ask! In addition, the portions are HUGE and if you want to "upgrade" to fried rice over plain white rice, the price isn't that expensive. You can certainly leave Nine Dragons Restaurant feeling full.
Finally, Nine Dragons Restaurant also features panoramic windows of World Showcase Lagoon. I have sat near the windows many times and it makes people watching so much fun. I truly don't understand the bashing of this place and truly think it has some of the best food at EPCOT.
Affordable, good views of World Showcase Lagoon, and always a reservation to be had? Isn't that all you can really ask for when dining at EPCOT? Give Nine Dragons Restaurant a try and let me know in the comments what your thoughts are!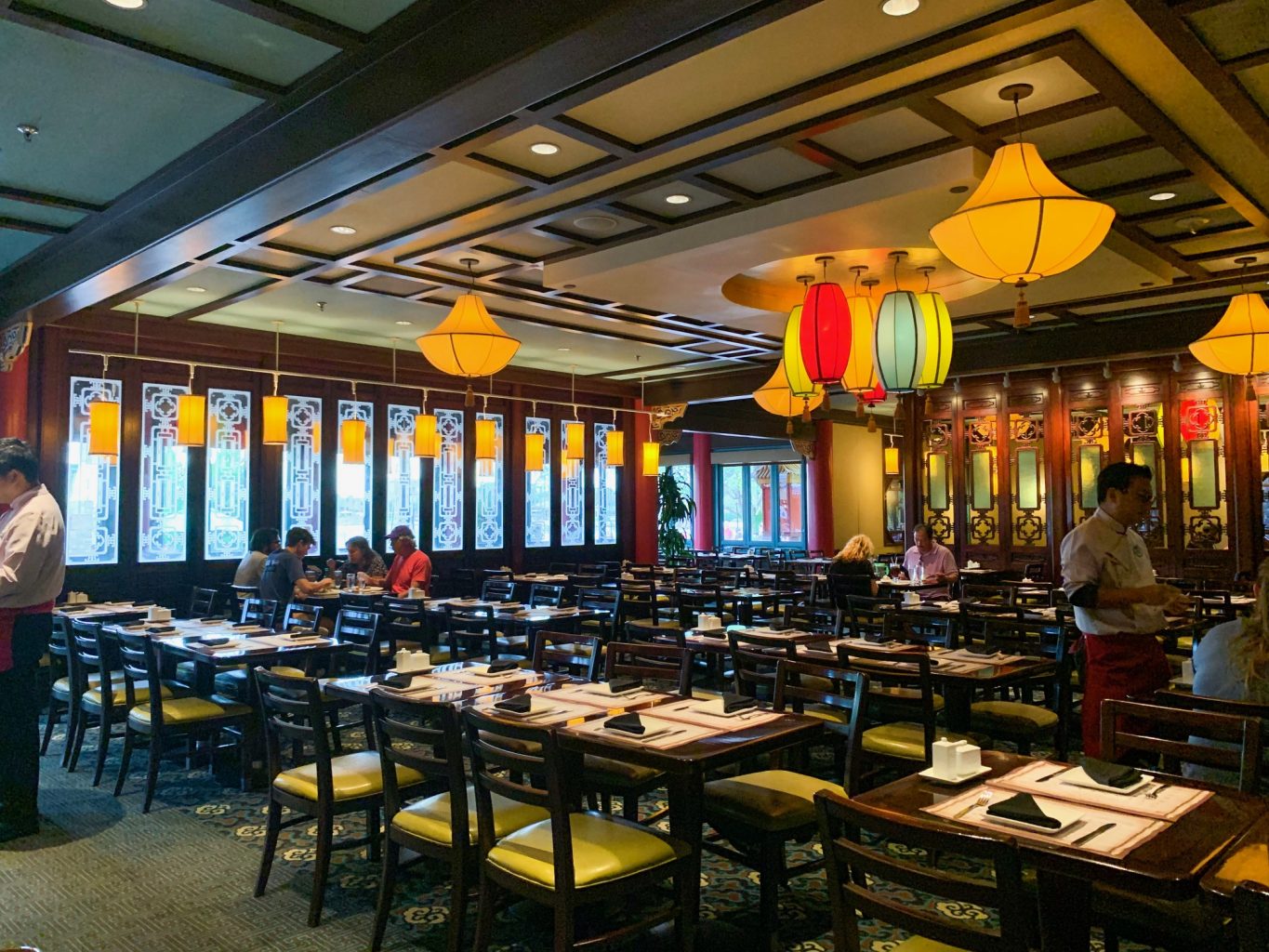 Via Napoli Ristorante e Pizzeria: Most Affordable
If you are taking the whole family to Via Napoli Ristorante e Pizzeria and ordering pizza, then boom, you have one of the most affordable restaurants in EPCOT. Although the prices may initially seem alarming for PIZZA, as soon as you divide up the price, it really isn't that bad at all, compared to other EPCOT dining options. Plus, it is easily the best place to eat in the Italy Pavilion for both price and fun atmosphere.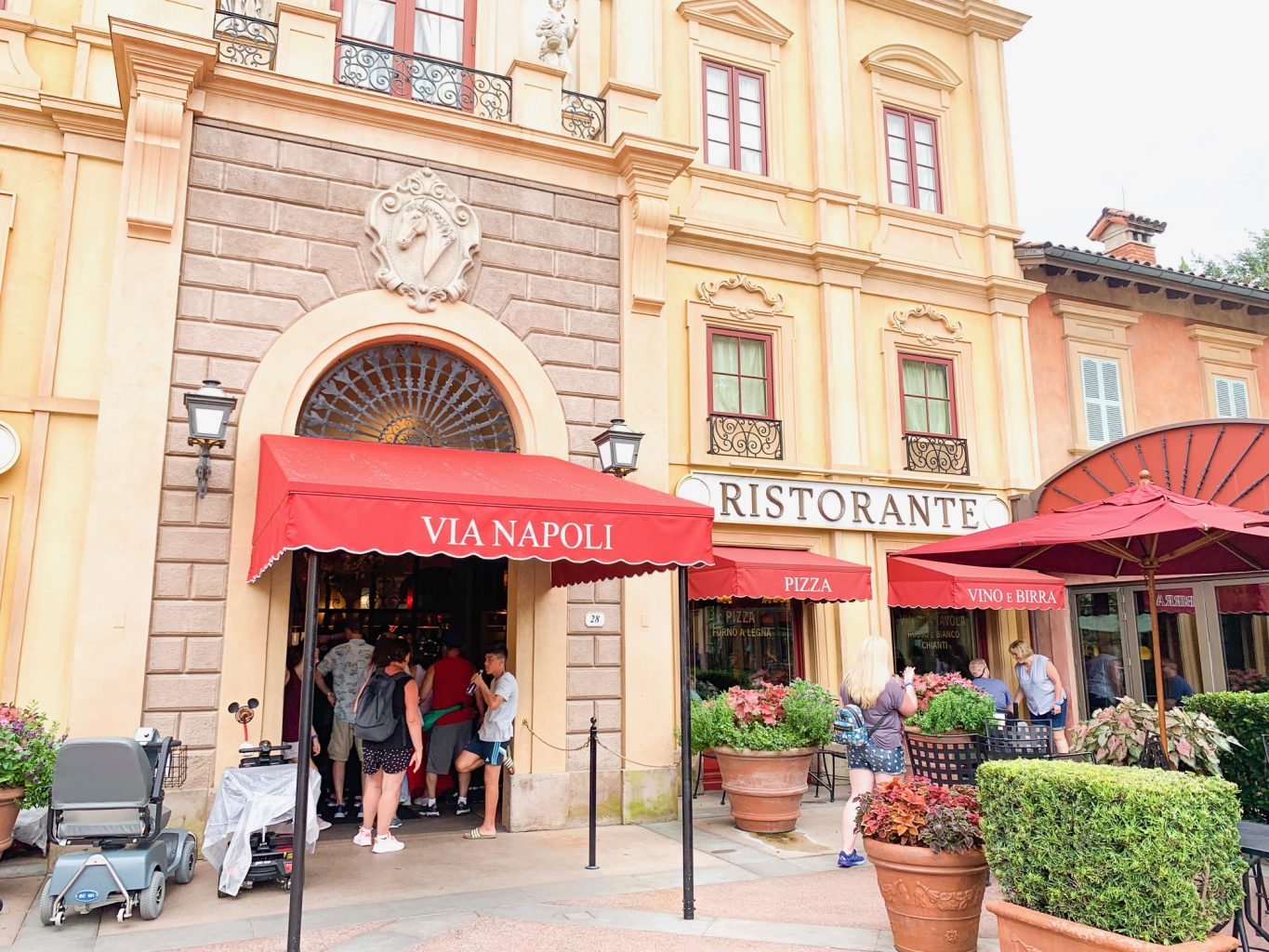 Let's break it down! You can get a pizza with toppings for around $41 [ouch!] that feeds 3-5 people. Once you do the math, you will see that $41/3 is $13.60 which is incredibly cheap for table service dining in Epcot. If you divide $41/5 you are now at just $8.20 per person. These prices are stellar, and the pizza is actually really fantastic. If you have a picky eater on your hands, this is one of the best EPCOT restaurants for the whole family. If you don't want pizza, there are also other dining options for you too so don't worry!
Make a reservation in advance here as the wait will be long for walk-up service. There are usually a few reservations left 1-2 days in advance so if you are booking last minute, you are truly in luck because Via Napoli Ristorante e Pizzeria is home to some of the best food at EPCOT for a really affordable price!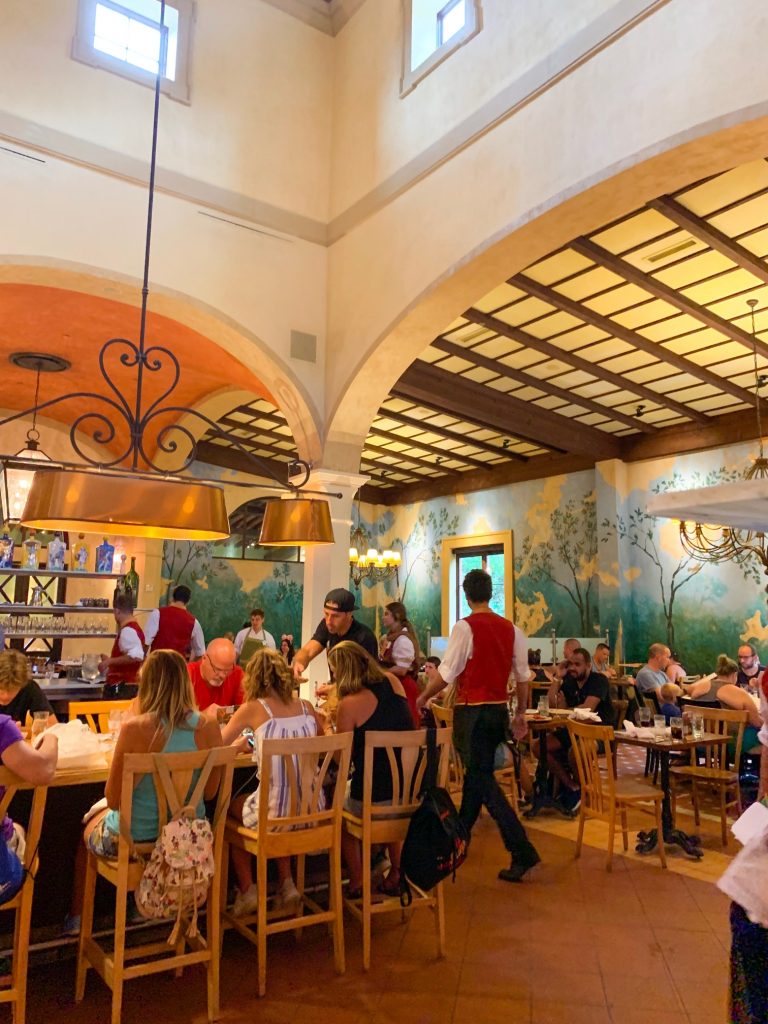 Chefs de France: Some of the Best Food in Epcot
If you are looking for the best EPCOT restaurants that offer huge portions for the price, Chefs de France is the place for you! It is one of three restaurants in the France pavilion, but the most easily accessible as it is right off the main walkway. You really can't go wrong when you eat at Chefs de France as it is home to some of the best food in EPCOT. You will want to make a reservation in advance as walk-up service is hard to come by unless you come very early like 5 PM or late like 8 PM.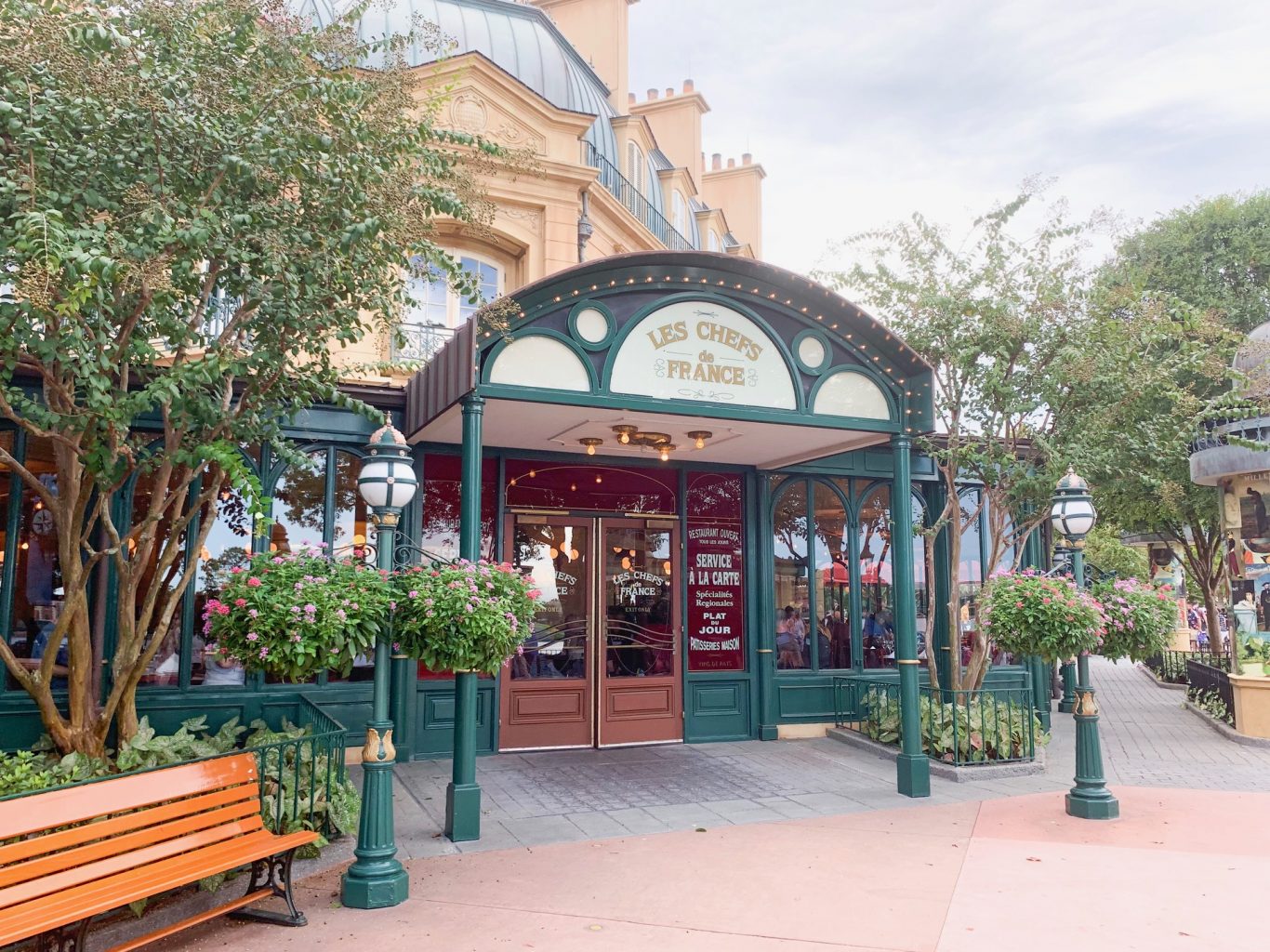 If you are looking for a fantastic starter, the cheese board at Chefs de France is MASSIVE and incredibly filling. If you need more crackers or bread, simply ask and you will be provided with more. It is great for sharing and is priced around $15 which isn't that expensive considering all the food you get. You can take home the cheese for a snack on another day or later that night if you want as well, just ask for a to-go box!
If you are looking for some of the best food at EPCOT for parents AND kids, the baked macaroni for $18.99 is your go-to. The portion is totally MASSIVE and it is so rich you will be full after only a few bites.
I really can't state enough how this baked pasta dish is easily one of the best things to eat at EPCOT and that it is so incredibly filling you won't have room for dessert! There are a variety of traditional dishes as well as steaks and fish options here making Chefs de France one of the best EPCOT restaurants by far.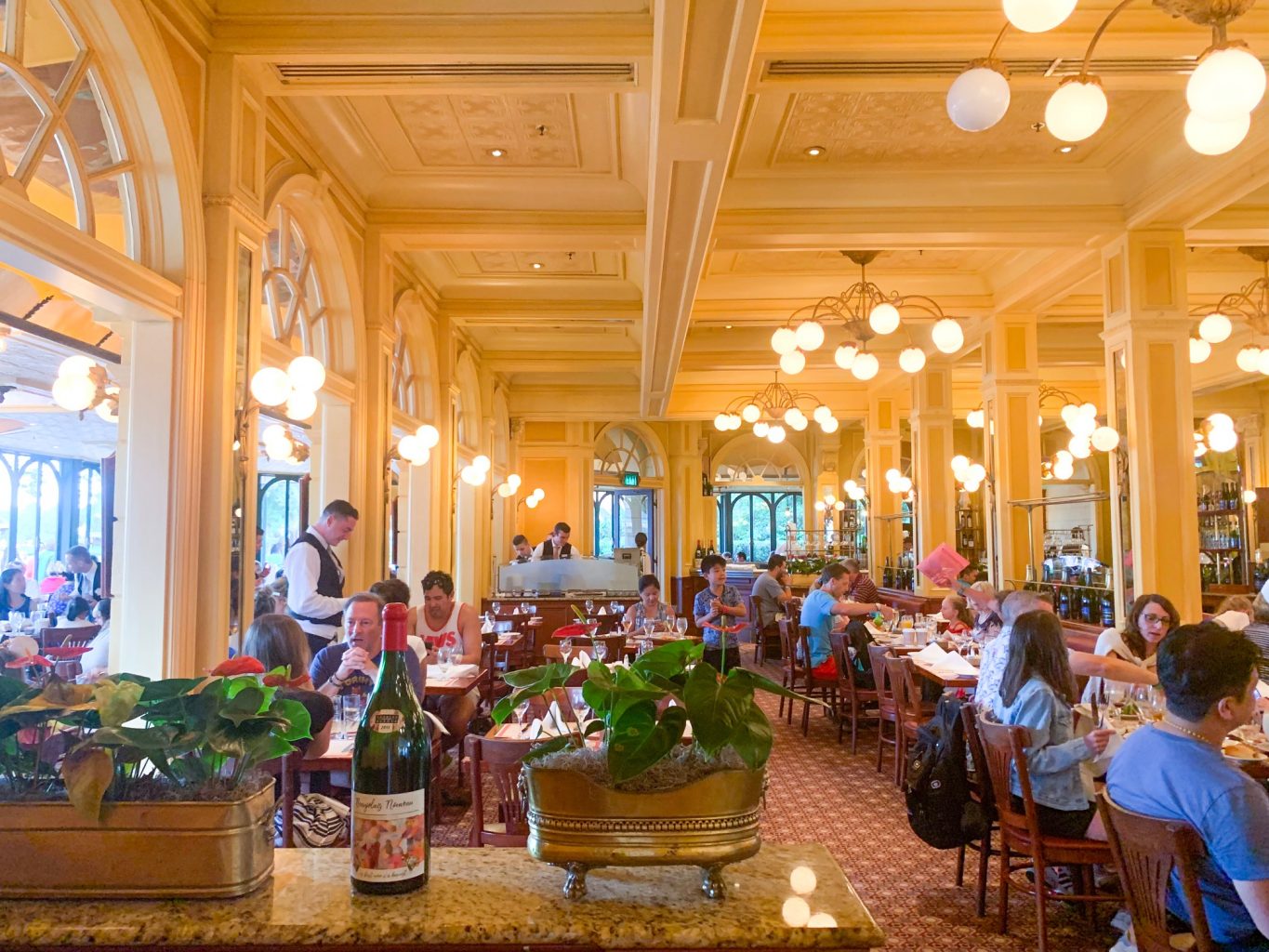 Garden Grill: Another Disney Trippers Favorite
Garden Grill is a character dining restaurant located in the Land Pavilion, above the Living with the Land ride. While you dine on the Harvest Feast family-style platter – which is turkey breast, grilled beef, and all the yummy sides you can imagine – Chip, Dale, and some of their Disney friends will stop by your table for photos and a chat.
What makes this restaurant so amazing is that entire restaurant is slowly revolving while you eat! You'll move at a slow pace and will be able to look over into Living with the Land as well, seeing it from a totally different perspective. The characters here are super cute and fun, and you can't beat the atmosphere here. Garden Grill is also one of the best EPCOT restaurants because it offers great options for those eating vegan or vegetarian.
Garden Grill is a character dining experience that even adults will enjoy, and we have a complete Garden Grill review for those wanting to know more!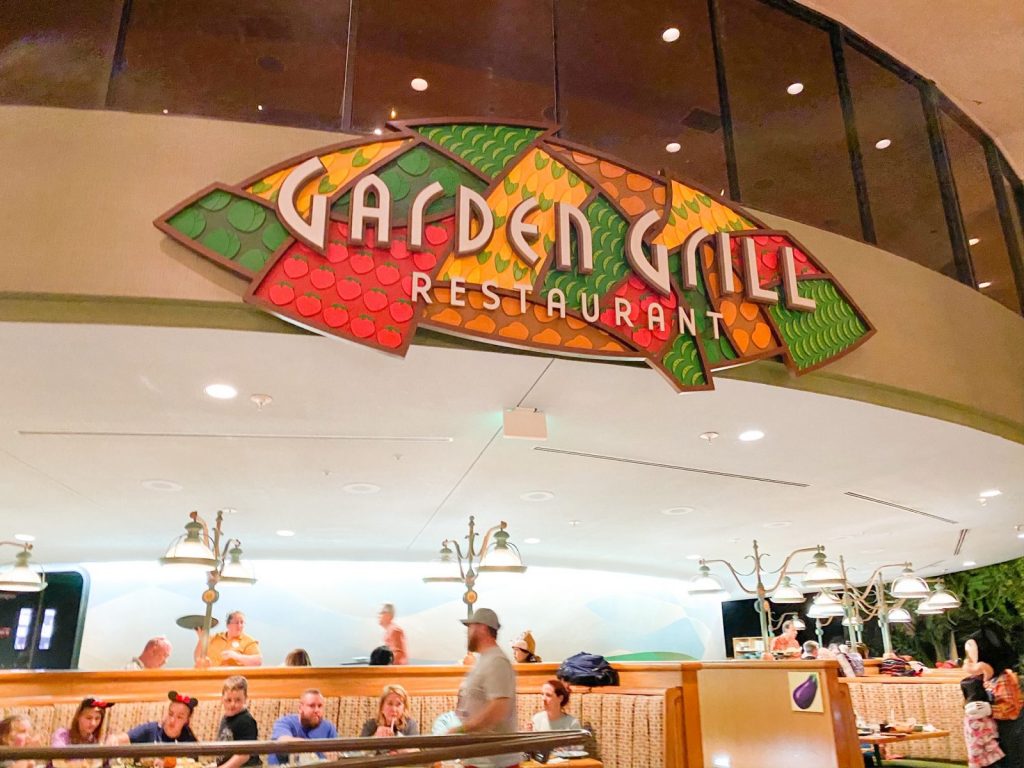 Teppan Edo: EPCOT Must-Do
Located above the Mitsukoshi Department Store in the Japan Pavilion, Teppan Edo is the hibachi-style restaurant connected to Tokyo Dining. Just like most hibachi restaurants, be ready for loud noises, smoke, and a very fun show from the chef! The table chefs make this experience so fun, and involve everyone at the table, insuring a great time.
Besides the fun atmosphere and great service, the food at Teppan Edo is AMAZING. They are able to accommodate those with allergies, as well as the menu is great for vegans, vegetarians, and meat-eaters. There are combos to choose from, seafood, chicken, beef, and even tofu. You can get lots of fresh veggies, plus noodles and rice to round out your meal.
We think this is a great choice for families, date nights, or even a special occasion! Teppan Edo is absolutely one of the best restaurants in EPCOT.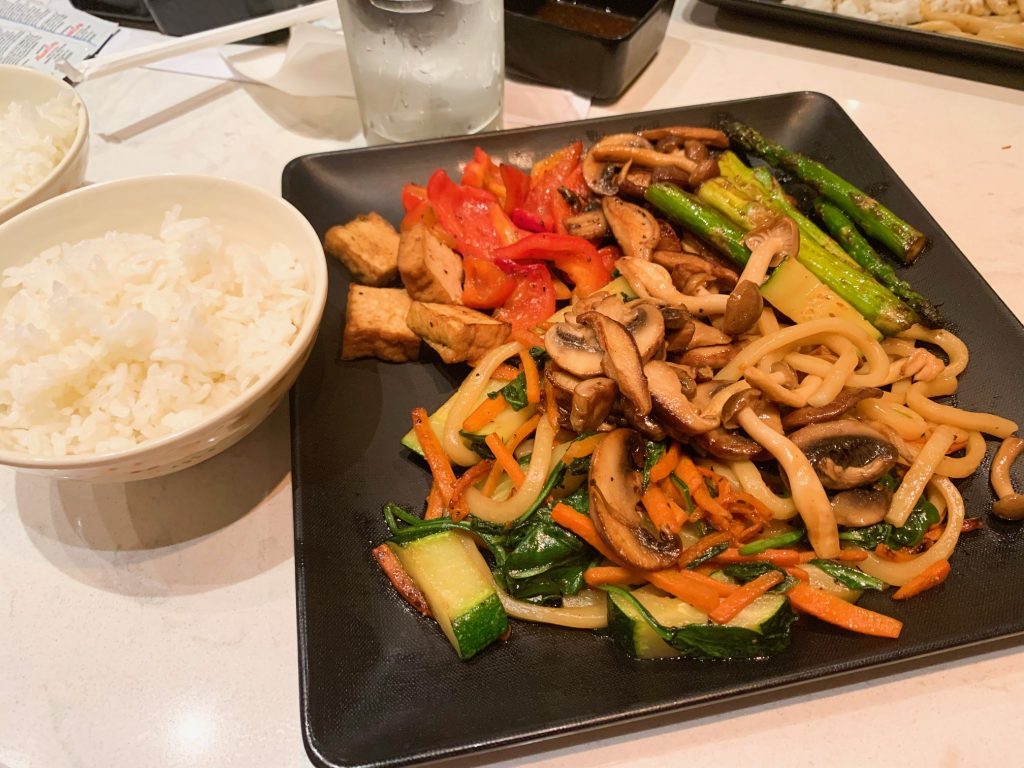 Space 220: Dinner in Space
EPCOT's newest restaurant offers a ride 220 miles up into space via an elevator and allows guests to dine in one of the best atmospheres in Disney. You'll be surrounded by breathtaking panoramic views of space, astronauts, and don't forget to keep your eyes peeled for some Disney Easter eggs as well.
Space 220 is tucked away and almost hidden beside the Misson: Space ride, and you could miss it if you're not looking for it. The food here is a prix fixe meal for adults, with a separate children's menu. And the food is EXPENSIVE.
Even though it is one of the most expensive places to eat at EPCOT, it is absolutely worth it. The food is delicious, creative, and unlike anything else offered at the park. Plus, you can't beat the ambiance and atmosphere here. We think it's worth the visit, and it's one of the best EPCOT restaurants.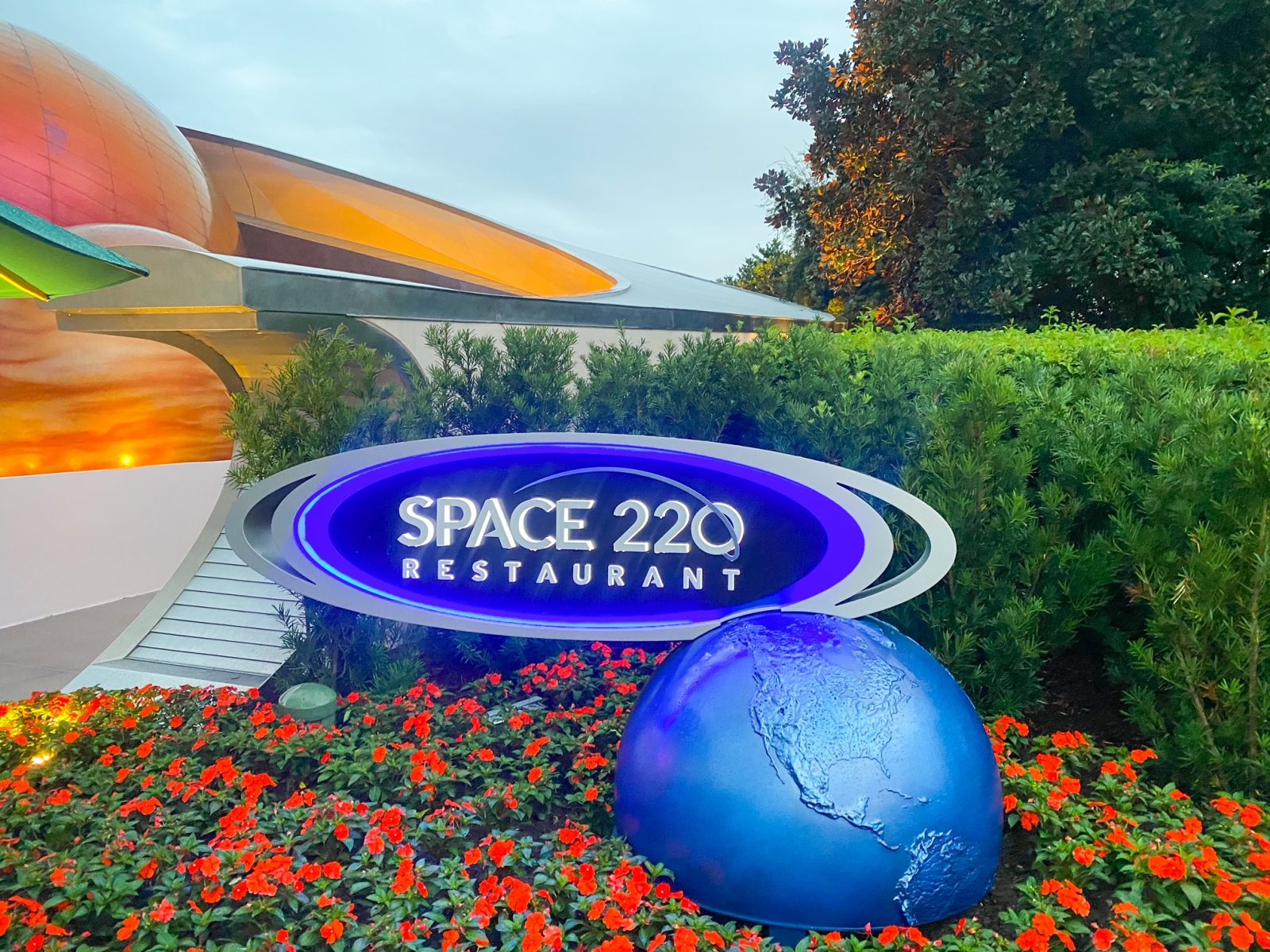 Worst Epcot Table Service Restaurants
Spice Road Table: Tiny Portions for a Huge Price
I can't think of a better restaurant in Epcot to start off our list of worst table service places than Spice Road Table. It is located right on World Showcase Lagoon and offers open-air dining with stunning views all around. It is the perfect place for viewing the fireworks, but the portions are absolutely minuscule for the hefty price tag.
I was so excited to visit here, but the price you pay isn't even remotely worth the atmosphere. We left Spice Road Table feeling hungry after paying $25 per person for our meal and $13 for a starter. Do NOT be convinced to eat at Spice Road Table simply based on the pretty view alone, unless you don't mind tiny portions for a huge price.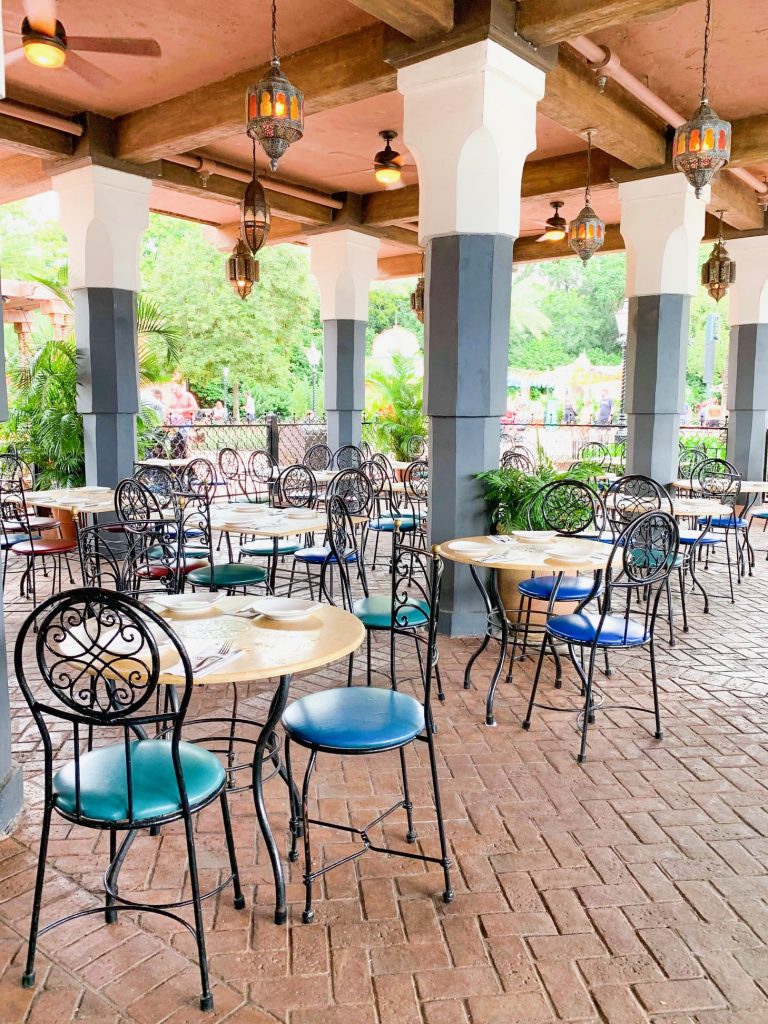 Tutto Italia Ristorante: Leaves A Lot to Be Desired
It had been my mom and my longtime dream to eat at Tutto Italia Ristorante but we couldn't justify the high prices until one day we decided to go as a special occasion and see what the hype is all about. We thought that Tutto Italia Ristorante would have some of the best food in EPCOT, but it truly left a lot to be desired. First, the dining room was cramped and loud and dimly lit. We even sat near a window but if you sat in the main dining room it would have been incredible "meh."
Second, the food was the tiniest portions you can imagine when you are paying $28 for a pasta dish. Unlike some of the best EPCOT restaurants listed above that provide large portions for the price, Tutto Italia Ristorante does not do this and we ordered multiple things on the menu. They were all small and no better than what you would get at Olive Garden or the little Italian place down the street.
There are FAR better EPCOT dining options if you are looking for a really nice experience and this really isn't it. If you are looking to eat Italian food in EPCOT, check out the Pizzaria instead, also located in the Italy Pavilion. It is a much better price and the pasta there is more affordable and better too.
Tokyo Dining: Do Teppan Edo Instead
Once again, we come across an EPCOT restaurant that has incredible views of the World Showcase Lagoon but mediocre food and small portions for a high price. Located on the second level of the Japan pavilion, Tokyo Dining leaves a lot to be desired. The prices are high and the portions are small. If you really love Japanese food, this really should be skipped as you will be left disappointed and annoyed.
While the views are incredible, once it gets dark, you won't be able to see anything outside because of the glare and reflection in the windows. If you are visiting Disney in winter, this means the sun sets at 5 pm so practically all dining will be done in the dark.
A better option is to skip Tokyo Dining and instead visit Teppan Edo. Teppan Edo is one of the best EPCOT restaurants because the portions are large and you get to eat hibachi style. It is pretty cramped and you have to sit with other people, but the food is good and the portions are much bigger than Tokyo Dining. You won't get the views [if you can even see them] but you will get great food for a reasonable price and you will leave feeling full. Plus, you will get a fun hibachi show!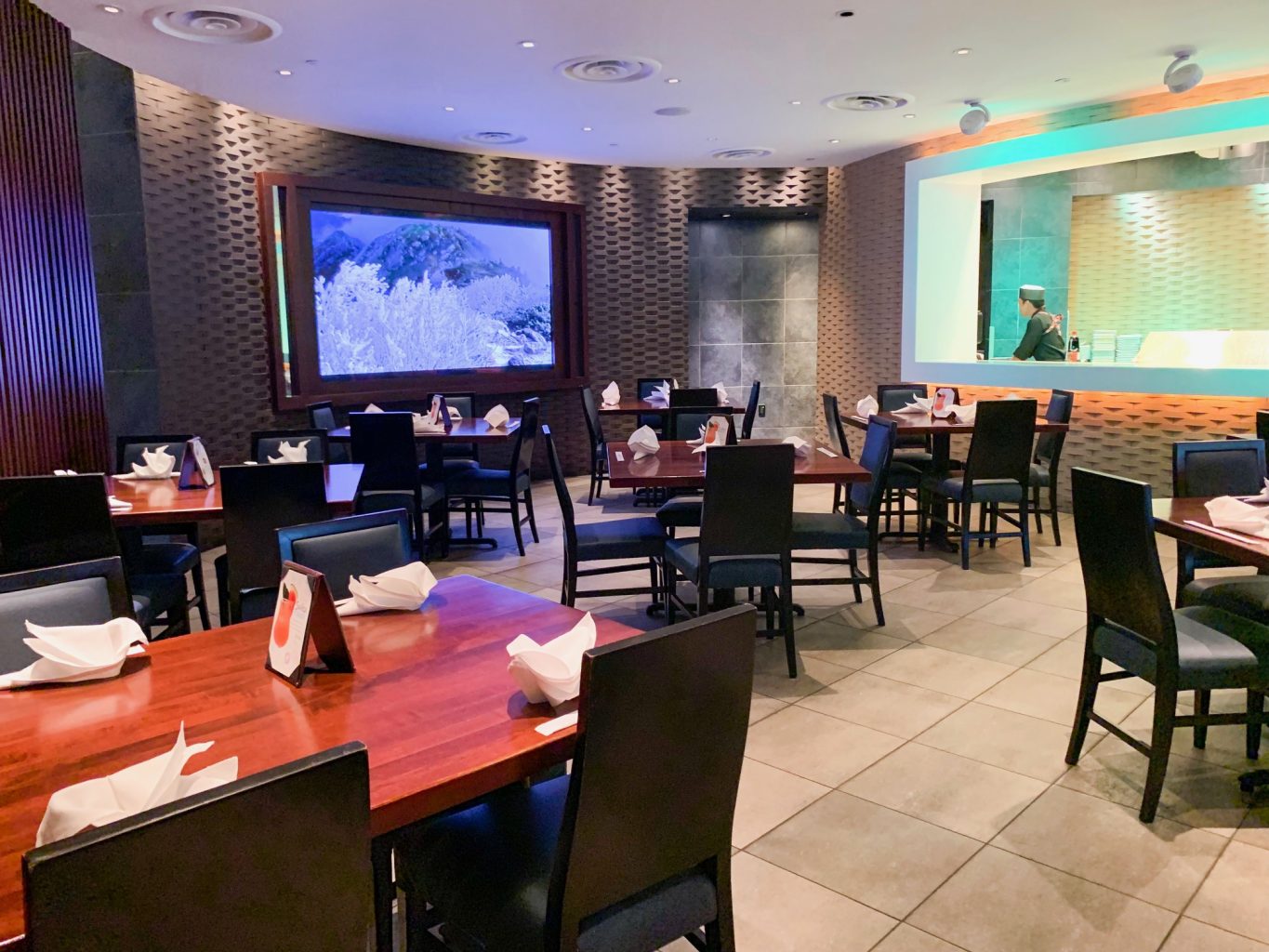 San Angel Inn: underwhelming
San Angel Inn is the table service restaurant located inside the pyramid in the Mexico Pavilion. While dining you get an amazing view of the Gran Fiesta Tour ride, and the boats floating by on the river. The restaurant is quite dark, so the ambiance and atmosphere are quite nice.
But don't be fooled by that. The food here is standard, underwhelming, and isn't anything special. A lot of the food is bland and doesn't have the spice or flavor you expect from Mexican food. The chips and salsa are always fresh and good, but that's not worth sitting down and paying Disney table service prices for a blah meal. You would do better to go across from the pyramid to La Hacienda de San Angel and eat here – plus get views of the fireworks if you time it right.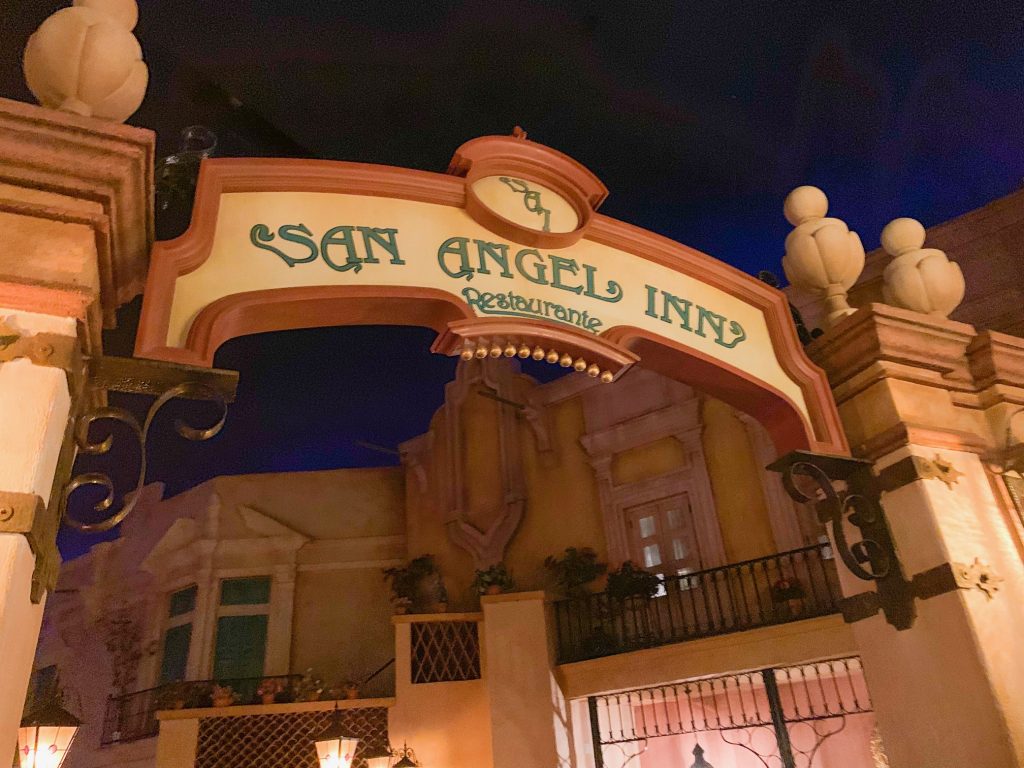 La Creperie de Paris: Not for Everyone
La Creperie de Paris opened along with Remy's Ratatouille Adventure and unlike the ride, the restaurant isn't as exciting. This table service restaurant offers savory and sweet crepes, and they do offer breakfast, lunch, and dinner.
The atmosphere of this restaurant is very stark, boring, and almost sterile. It really isn't warm or inviting. The food unfortunately isn't much better. Not everyone is going to be a fan of the buckwheat they use to make the crepes, and the flavor and texture won't be for everyone. The fillings are a toss-up, and it might only be worth getting dessert here. This definitely isn't one of our favorites, or one of the best restaurants at EPCOT.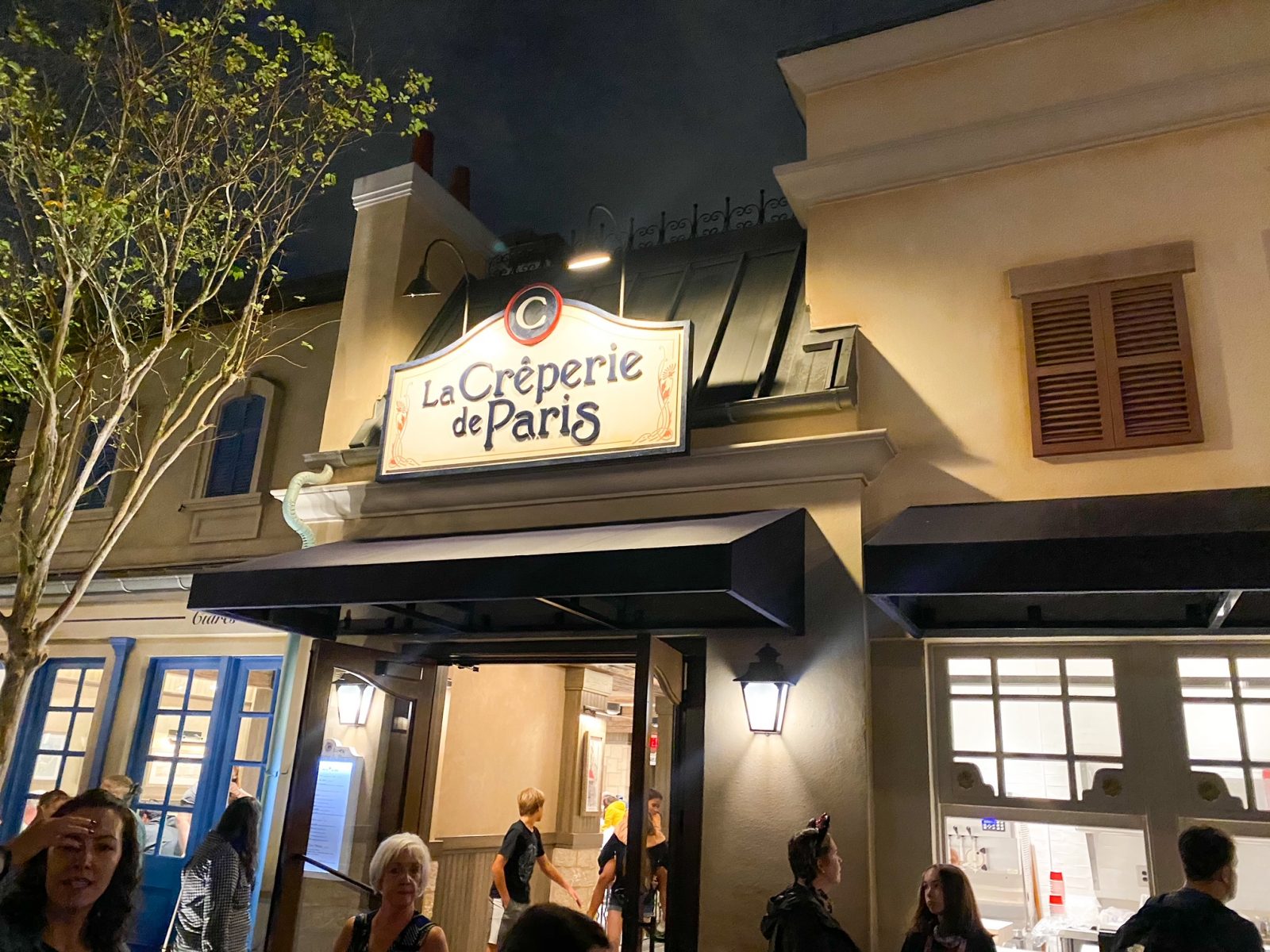 Best Epcot Counter Service Restaurants
Sunshine Seasons: Best Variety
Sunshine Seasons is located over in The Land Pavilion. Unlike other counter-service dining options at EPCOT, Sunshine Seasons is set up like a food court, meaning that there are a large variety of options to choose from. This is the best restaurants in EPCOT if you are looking to feed people with a variety of tastes and styles all in one place.
There is an Asian Noodles shop featuring Mongolian Beef and Stir-Fried Shrimp [and vegan options], there is a Grill Shop featuring chicken and Pork, there is a Sandwich shop for when you want something quick and easy to take on the go, there is a Soup and Salad shop for when you want something healthy, and of course, there is a Dessert Shop!
As you can see, Sunshine Seasons packs some of the best food in EPCOT all in one place. This is an exceptional choice if you just want to satisfy everyone in your group without any fussing. The best part is you can grab a sandwich from one shop and Asian noodles from another shop to mix and match your perfect meal. You really can't go wrong with a stop at Sunshine Seasons and it is easily one of the best EPCOT restaurants you won't want to miss.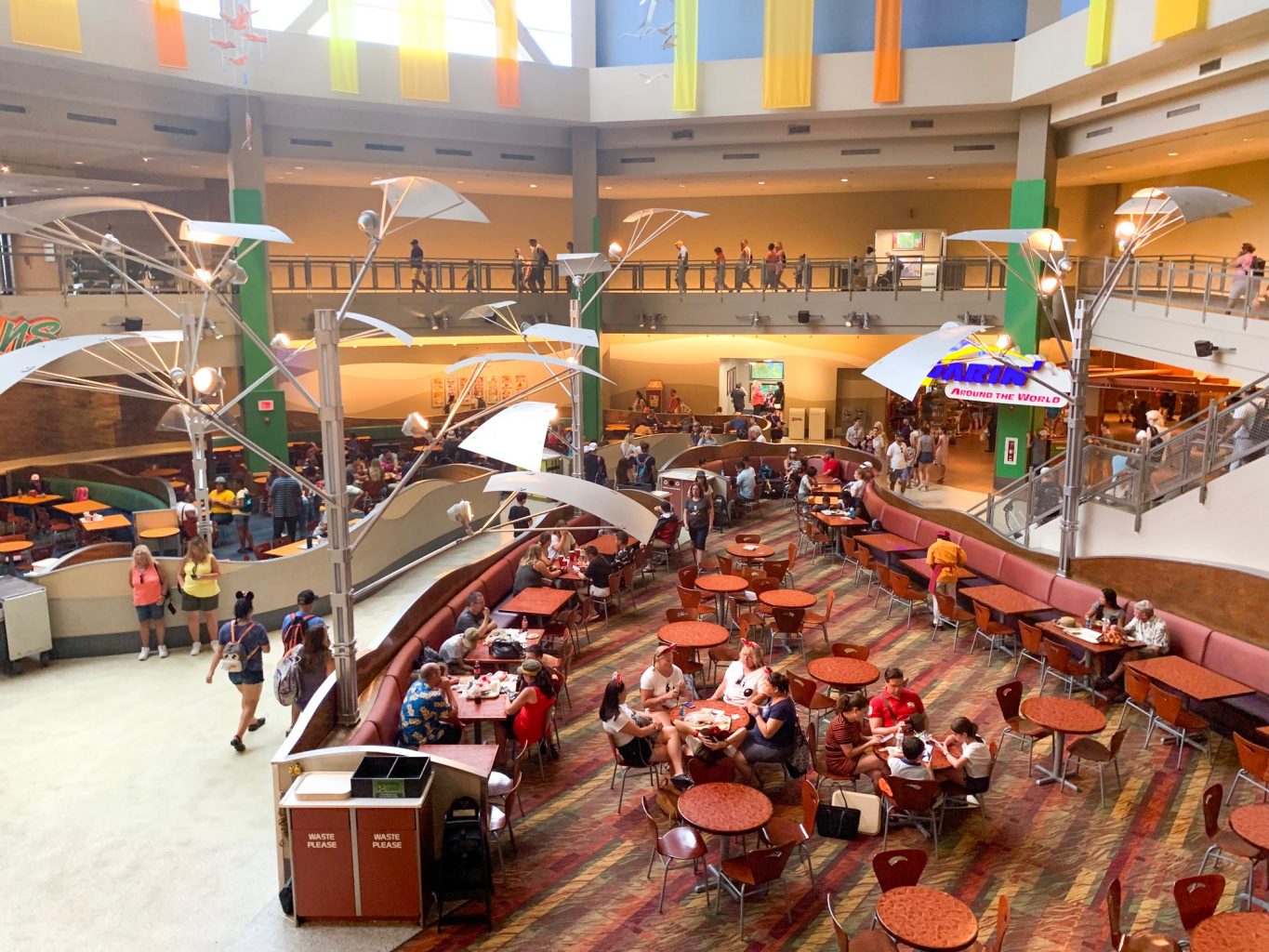 Les Halles Boulangerie-Patisserie: Favorite for Dessert
You can go through your entire trip to Disney without ever even knowing that Les Halles Boulangerie-Patisserie exists! It is one of the more hidden EPCOT restaurants and it is in the very back of the France Pavilion. You have to go THROUGH the store in order to get to it. If you want to eat at Les Halles Boulangerie-Patisserie [and you really should] simply ask a cast member if you can't find it! I must admit, I didn't stumble upon this little place for years and years. It is very easy to miss. You should seek it out as it does make my list of the best Disney restaurants throughout all of the parks and resorts!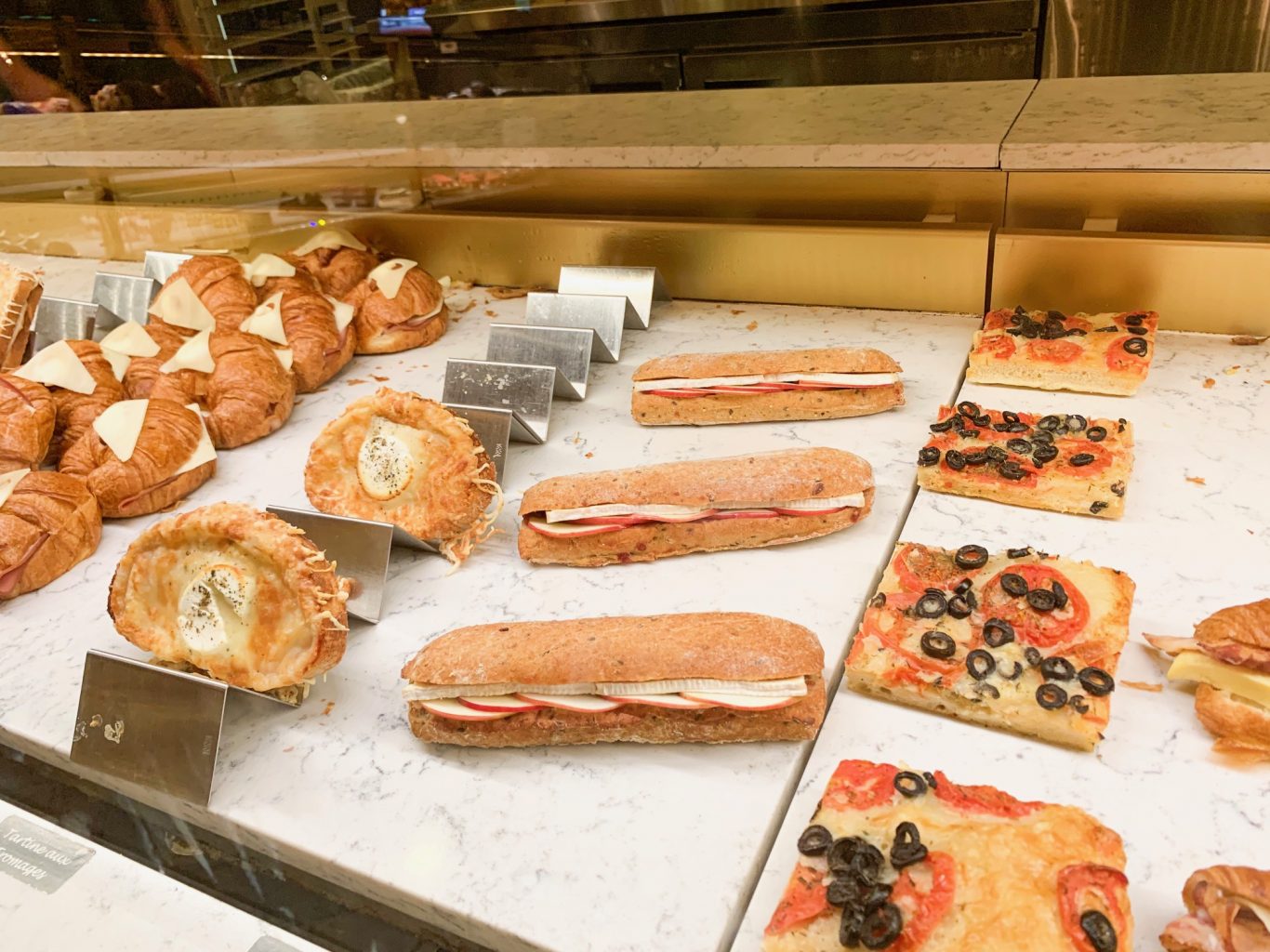 Les Halles Boulangerie-Patisserie has some of the best food in EPCOT and shouldn't be missed, especially for dessert! First, I am obsessed with Paris and go every year for my birthday. Every day of the trip I get a pastry from a local Parisian shop. I can tell you that Les Halles Boulangerie-Patisserie tastes exactly like authentic France. The desserts here are world-class and you really shouldn't miss it!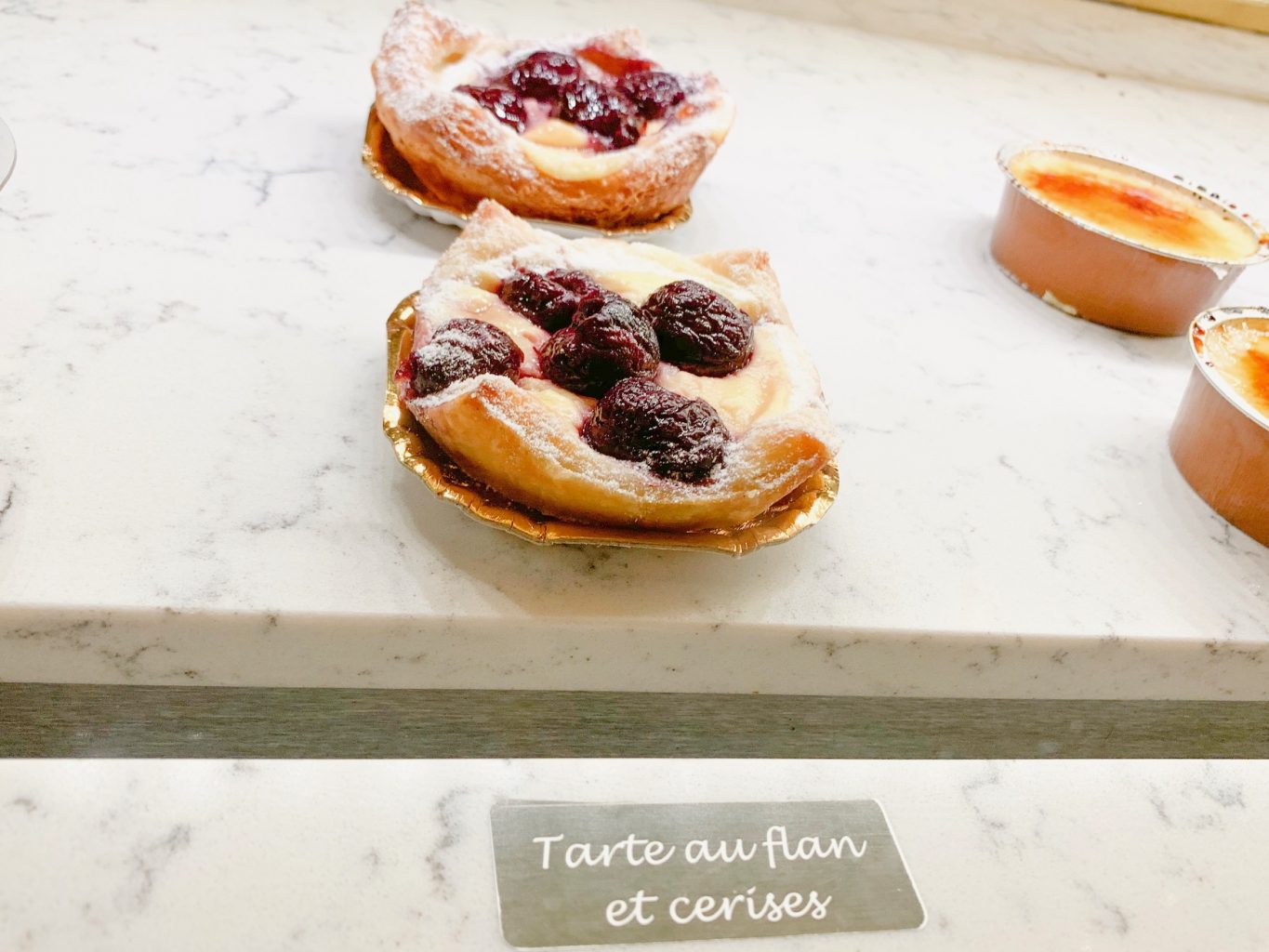 There are plenty of grab-and-go sandwiches and little pizzas as well as sides. The Cast Members can quickly heat anything up for you, so it is delightful and ready to go. There is also an indoor seating area making it easy to escape the Florida heat. Keep in mind that although it is hidden, there is always a line for Les Halles Boulangerie-Patisserie! That is because it is one of the best EPCOT restaurants and you shouldn't miss it, even for dessert!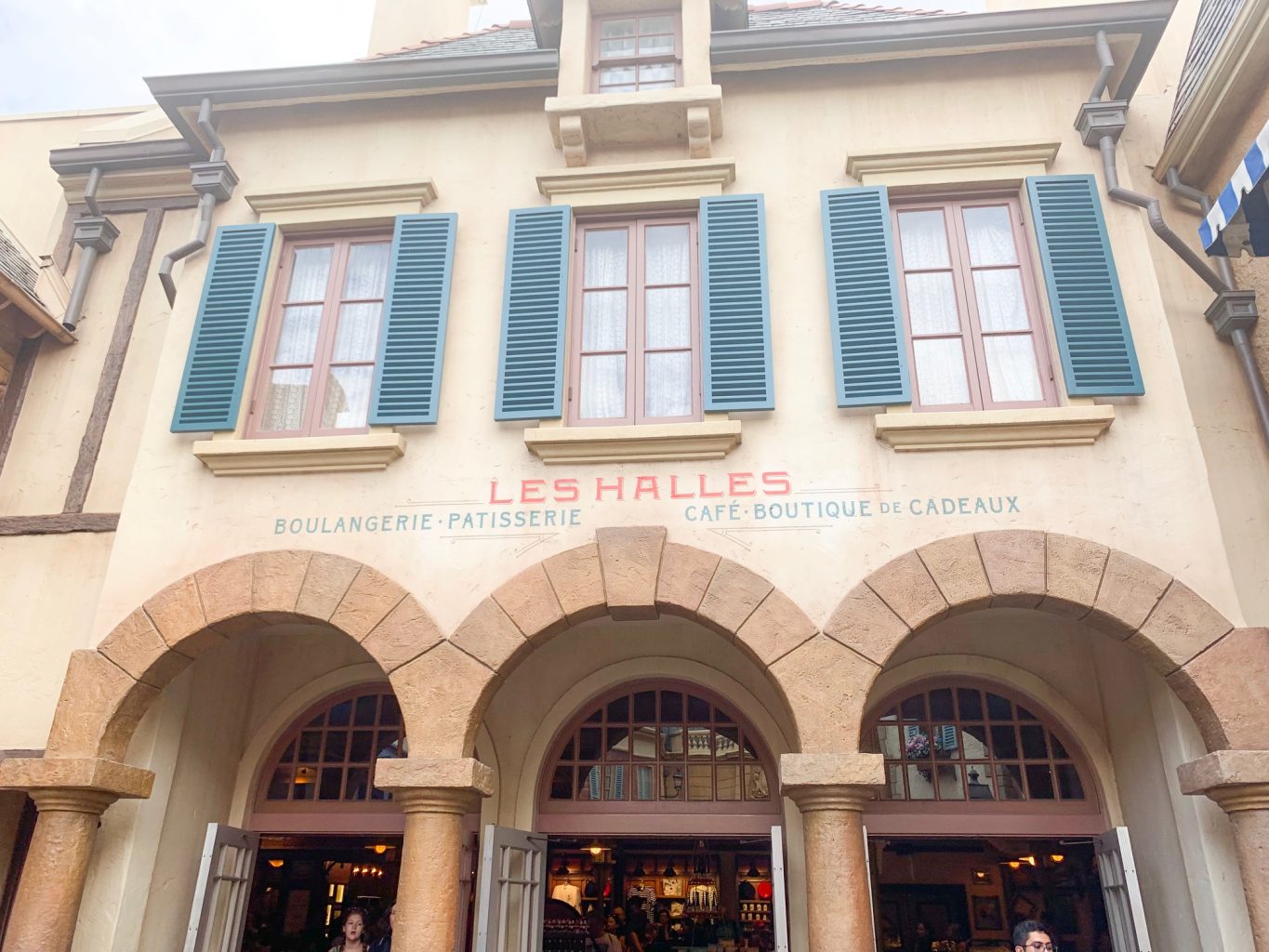 Sommerfest: Get the Nudel Gratin and Thank Me Later
Sommerfest is the walk-up service restaurant in the Germany Pavilion and it is often missed as people speed through grabbing a beer and leaving for the next country. How do I know? Because I have done it for YEARS before I finally went to Sommerfest. There are only a few things on the menu, but you really shouldn't miss it because it is some of the best food at EPCOT.
Even though the Nudel Gratin is marked as a 'side" you should make a trip to Sommerfest specifically for this dish. This 'side" is less than $5 yet the portion is SO MASSIVE you won't believe your eyes. The Nudel Gratin is essentially a baked German Mac and Cheese that is also like a Lasagna. It is warm and gooey but also sticks together nicely to form a shape. It is an entree on all its own or you can get a Bratwurst to go with it for $10.29.
If you are walking the World Showcase and find yourself getting hungry, Sommerfest and the Nudel Gratin will come to your rescue. Although it is a bit hidden, it is one of the best restaurants in EPCOT and totally underrated as far as quick-service dining options go!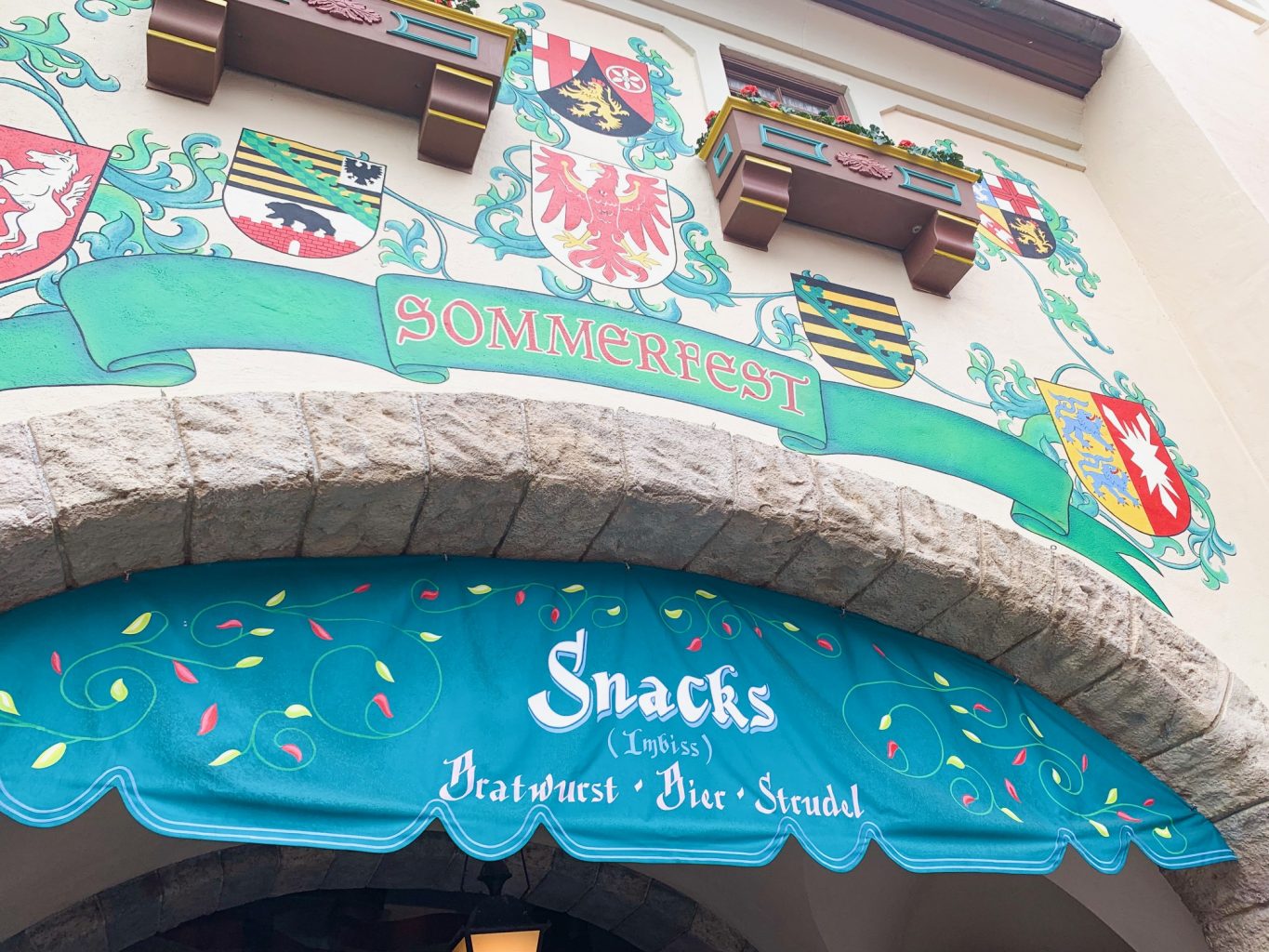 Katsura Grill: Hidden Gem
Located in the back of the Japan Pavilion, Katsura Grill is a little hidden gem when it comes to the quick service restaurants at EPCOT. They offer some delicious Japanese/Asian cuisine, with items the whole family will enjoy.
Standout dishes here are the teriyaki, sushi, curry chicken cutlet, and noodle bowls. You can also get fresh salads and even plum wine and sake here! The food is fresh, delicious, and will get a good meal for a great price here. Grab a quick bite to eat, and head outside – you'll want to sit outside and watch the koi fish as you eat.
We think this is a great place to grab a bite to eat while in the Japan Pavilion, as well as it's one of our favorite underrated restaurants.
Regal Eagle Smokehouse: Good Disney BBQ
Regal Eagle Smokehouse is a vast improvement over the quick service that used to be located in the same location, and this is a great stop if you're looking for somewhere to eat it in the American Pavilion.
Here you will find a variety of BBQ dishes, and you can definitely expect some of the usual suspects: ribs, pulled pork, brisket, and chicken. But they have some rather delicious and surprising items on the menu as well. The BBQ Burger is topped with pulled pork and an onion ring, and the plant-based Jackfruit sandwich is delicious whether you're vegan or not.
We also love that there are 4 specialty BBQ sauces you can try here, and you can mix and match, and get as much of your favorite as you want! That alone makes this one of the best EPCOT restaurants.
Worst EPCOT Quick Service Restaurants
Lotus Blossom Café: Leaves a Lot to Be Desired
I really wanted to like Lotus Blossom Café but it is just "meh" for the price. This boring walk-up restaurant in EPCOT is actually kind of expensive when you can go next door and sit down in the nice air conditioning of Nine Dragons and eat the same thing for only a few dollars more. The food is super uninspiring and there aren't many redeeming qualities. If you are looking to eat Chinese food at EPCOT, you really should just head to Nine Dragons as the food is much better.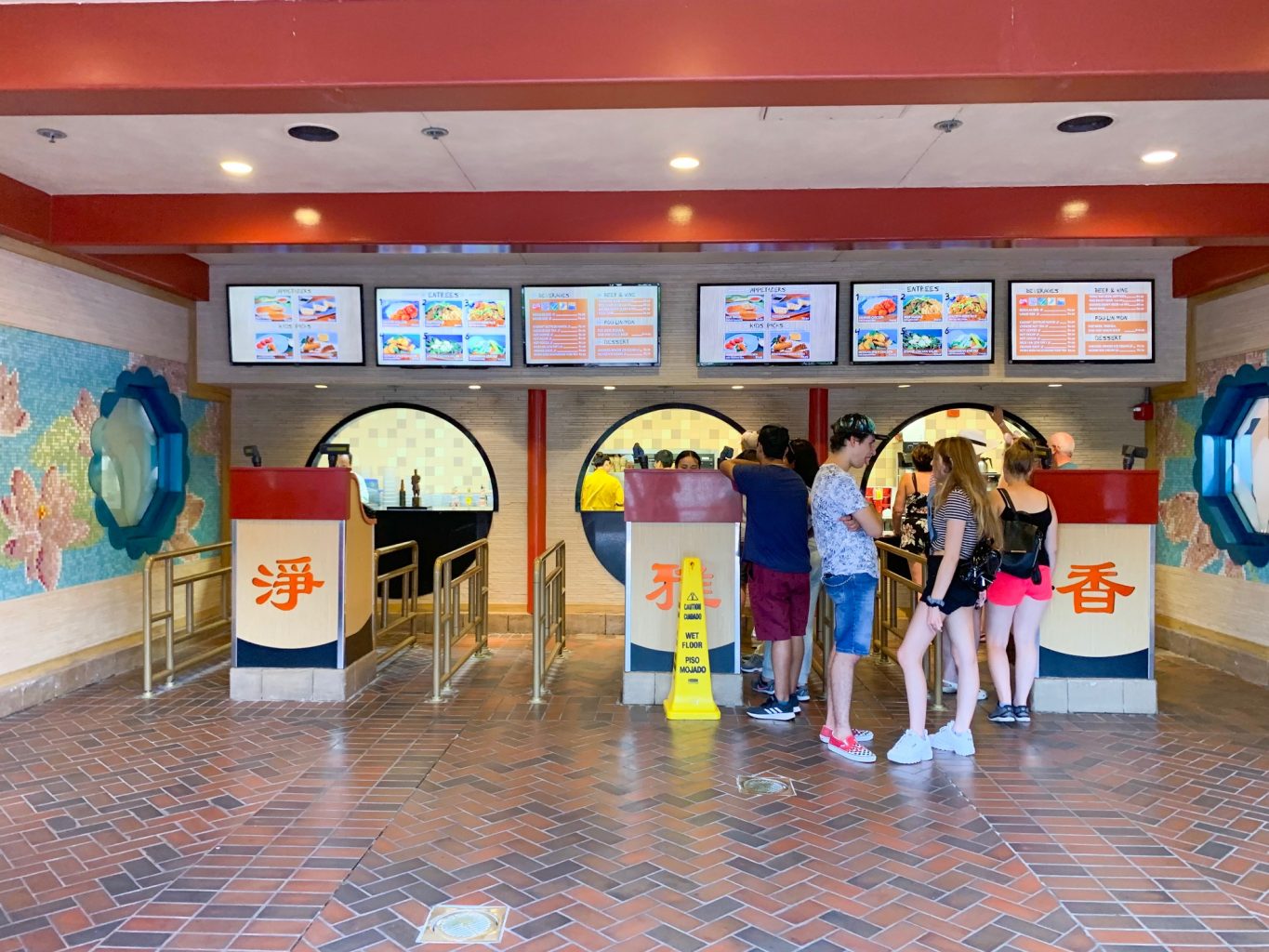 The only redeeming quality of Lotus Blossom Café is the Plum Wine. If you are drinking around the world and are looking for something unique, head for the Plum Wine. Otherwise, skip Lotus Blossom Café as it is far from one of the best restaurants at EPCOT.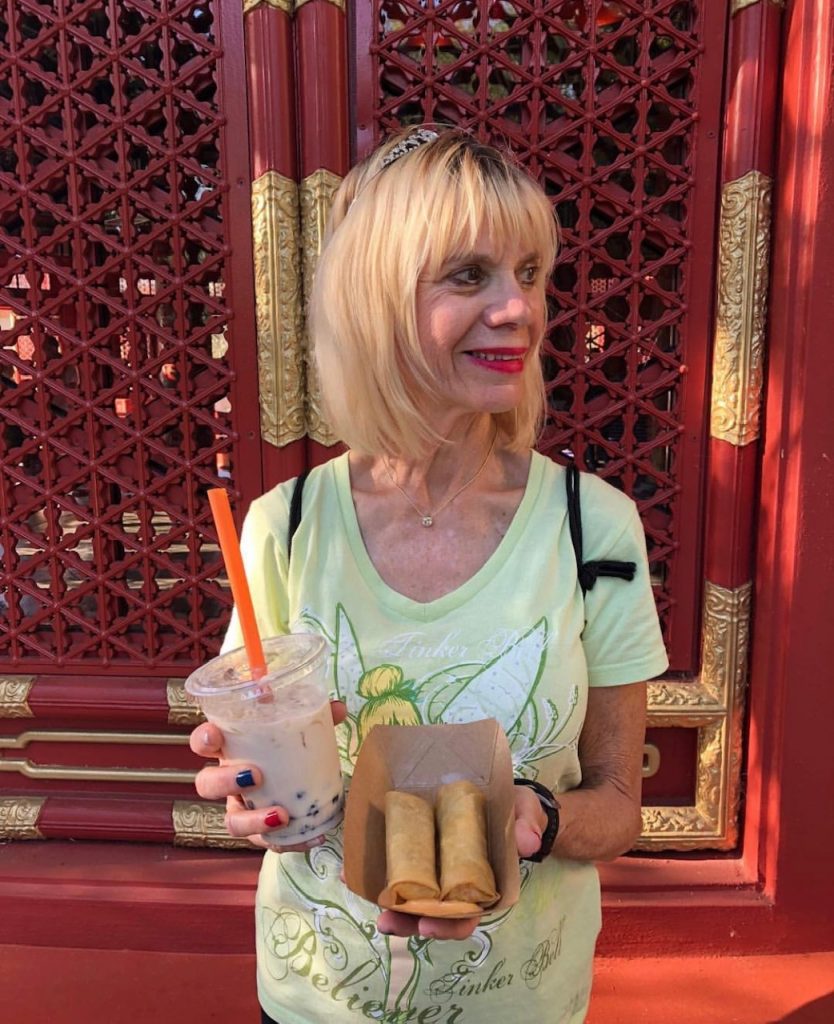 Where To Stay At Disney World
If you are reading this post, you are probably planning a trip to Disney World! Check out some of our favorite hotel recommendations in the Walt Disney World resort area. No matter your budget, there is something for you and somewhere to stay!
Walking Distance From The Parks. Walt Disney World Swan. Check Rates: Booking.com
Upscale. Four Seasons Walt Disney World. Check Rates: Booking.com
Family-Friendly. Wyndham Bonnet Creek. Check Rates: Booking.com
Our Favorite: Hilton Orlando Buena Vista Palace. Check Rates: Booking.com
Affordable: Comfort Inn Maingate. Check Rates: Booking.com
5 Things To Pack For Disney World
Check out these necessary things to pack for your trip to Disney World!! A trip to Disney can be a much smoother experience if you simply add a few items to your bag of things to pack!! Check out some of our favorites below.
#1. Good Quality Walking Shoes. Good quality walking shoes are a MUST for Disney! And I highly recommend my favorite Vionic Farra Sandal. I literally cannot tell you enough how much I LOVE this sandal! I originally bought them for a trip to India where I wore them every day for 2 weeks, but they quickly became my best shoe for Disney! I even went back an bought a second pair in the same color just in case Vionics ever stopped making them! Vionics are my favorite brand for Disney because they are supportive, affordable, and perfect for Disney in the Florida heat!
#2. A Sturdy Backpack. OutdoorMaster Sling Bagis our very favorite functional backpack for Disney! If you have never used a sling backpack, you haven't lived yet! [Just kidding but you are going to love it.] A sling backpack for Disney will change your life! It doesn't hurt your back the way traditional backpacks may and leaves one shoulder completely free.
#3. Multiple Memory Cards. If you have a camera on your Disney packing list, you need to add additional memory cards on your list of what to pack for Disney as well. Unless you are packing a computer for Disney, you will not be able to upload photos and clear your existing memory card. Purchasing additional memory cards cost under $20 and take up no space in your luggage when packing for Disney.
#4. A Reusable Water Bottle. If you don't want to pay for water every single time you go out to eat or are hot while at Disney, simply bring a reusable filtered water bottle and drink that while you dine. Water in the parks costs a lot of money so bring your own bottle and fill it around the parks! I love and recommend this Bobble Water Bottle!
#5. A Poncho Instead Of An Umbrella. Add a poncho to your Disney packing list instead of a travel umbrella! Unless you are outfitted in a waterproof jacket, pants, and shoes, you are going to need something to stay dry in the event of a squall. A poncho folds up teeny tiny in your suitcase and is easy to throw into a backpack when you're are sightseeing. It is quick to whip out and put on and keeps you more covered than an umbrella. When considering what to pack for Disney make sure you pick a poncho that is made of quality material so it doesn't rip when you put it on.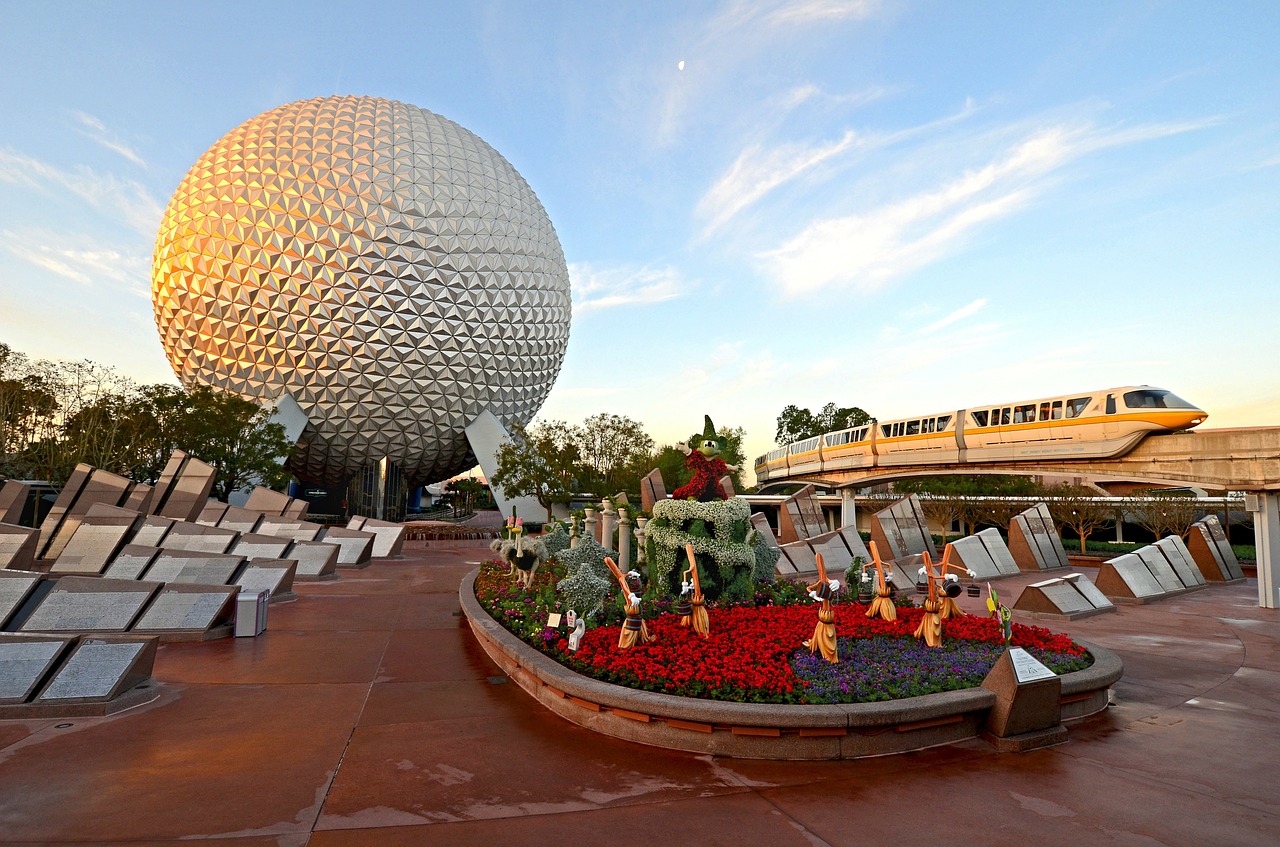 I hope you enjoyed reading about some of the best restaurants in Epcot as well as some dining options that should be avoided. What do you think? Do you agree or disagree? Let me know in the comments what you think the best food in Epcot is! As always, if you have any questions, I am more than happy to answer them for you! Thank you for reading!
Pin this post: