On the hunt for the best Animal Kingdom restaurants? This guide has everything you need to know about Animal Kingdom dining options. While the best Anima Kingdom restaurants will certainly highlighted, this guide will also mention a few of the worst Animal Kingdom restaurants so you can steer clear of those and choose a better option. Make sure to check out the Official Animal Kingdom Map so you know where to every dining option is located around the park. And if you are worried about planning your day, don't worry! We've got you covered with an Ultimate Animal Kingdom Itinerary as well as the break down of Animal Kingdom Genie+ for you too!
But back on focus! Animal Kingdom restaurants serve up some of the most unique food options of any of the Disney World parks. Meet Mickey and his friends, who are decked out in safari gear, at the Tusker House Restaurant if you'd like! Or discover the layered joy of Filipino halo-halo from Tiffins. Maybe even munch on The Lion King's signature bugs 'n grubs at Trilo-Bites. Now the only question is which of these best Animal Kingdom restaurants will you choose to dine at?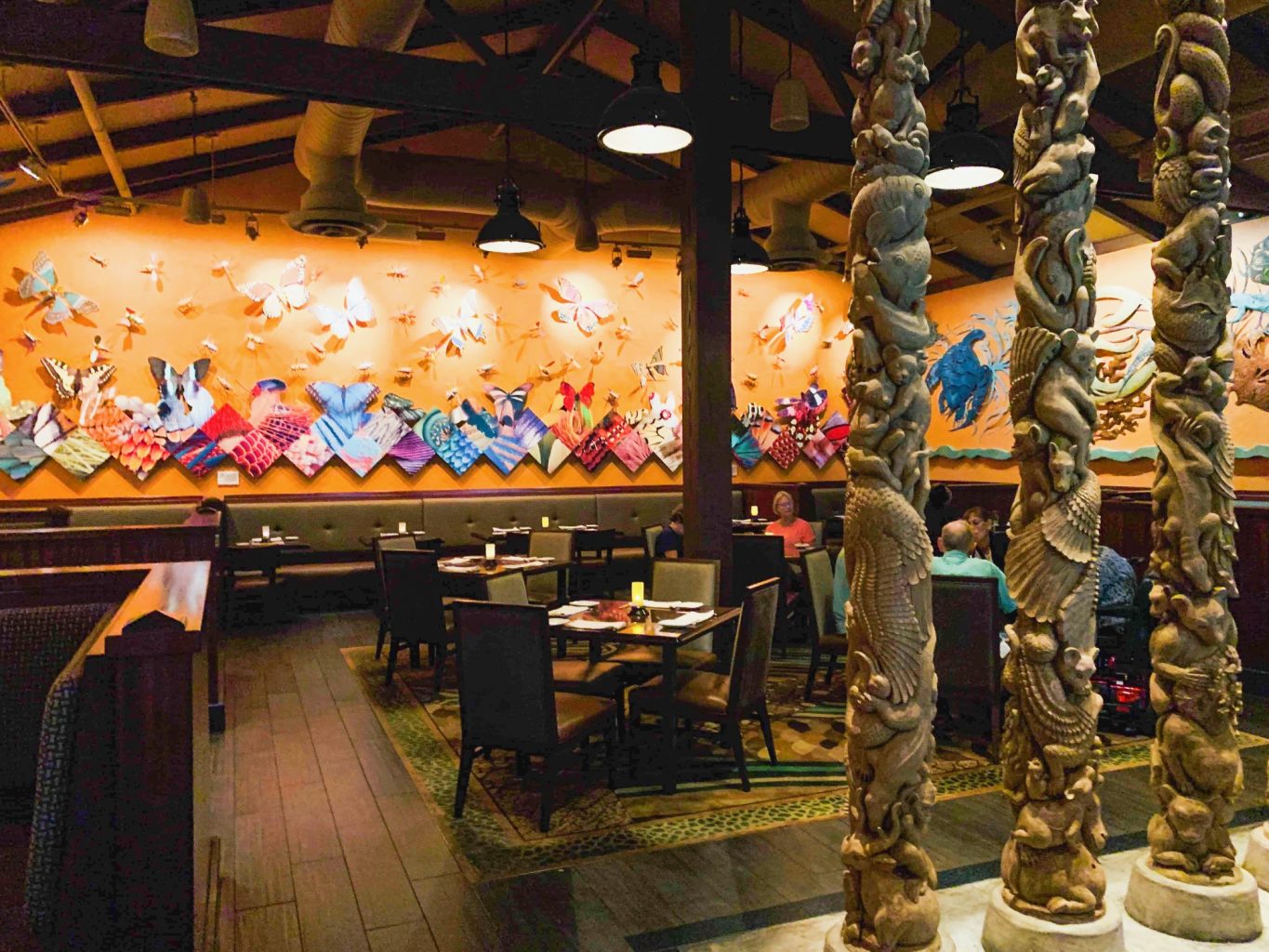 18 Best (And Worst!) Animal Kingdom Restaurants
Best Table Service Animal Kingdom Restaurants
Tiffins
Tiffins is easily one of the best Animal Kingdom restaurants around. Actually, it's one of the best restaurants in all of Disney World! That's why the most hardcore Disney fans RAVE about Tiffins:
Situated in the middle of the park on Discovery Island, Tiffins embraces flavor and décor from Africa and Asia. Dine in the midst of beautiful art pieces that depict animals from southeast Asia or the natural landscapes of the African Savanna. As for the food, for each course, you can order a dish from a completely different part of the world. Start with spiced chickpea falafel from the Middle East. Or maybe even try the crispy sadza from East Africa as your entree! Either ay you've got to finish off your meal with Filipino halo-halo.
Tiffins also provides a couple of special dining packages, such as the Festival of the Lion King Signature Dining Package (Tier I and II) and the Rivers of Light Dining Package. The Festival of the Lion King Signature Dining Package includes one appetizer, one entrée, one dessert, one glass of sparkling wine (for guests who are at least 21 years old), and VIP seating for the Festival of the Lion King show. Tier I also includes a special guided safari tour of the Savanna. Similarly, the Rivers of Light Dining Package includes one appetizer, one entrée, one dessert, and premium seating for the Rivers of Light show. Between the multiple options, location, and ambiance, there is no surprise this is one of the best Animal Kingdom Restaurants!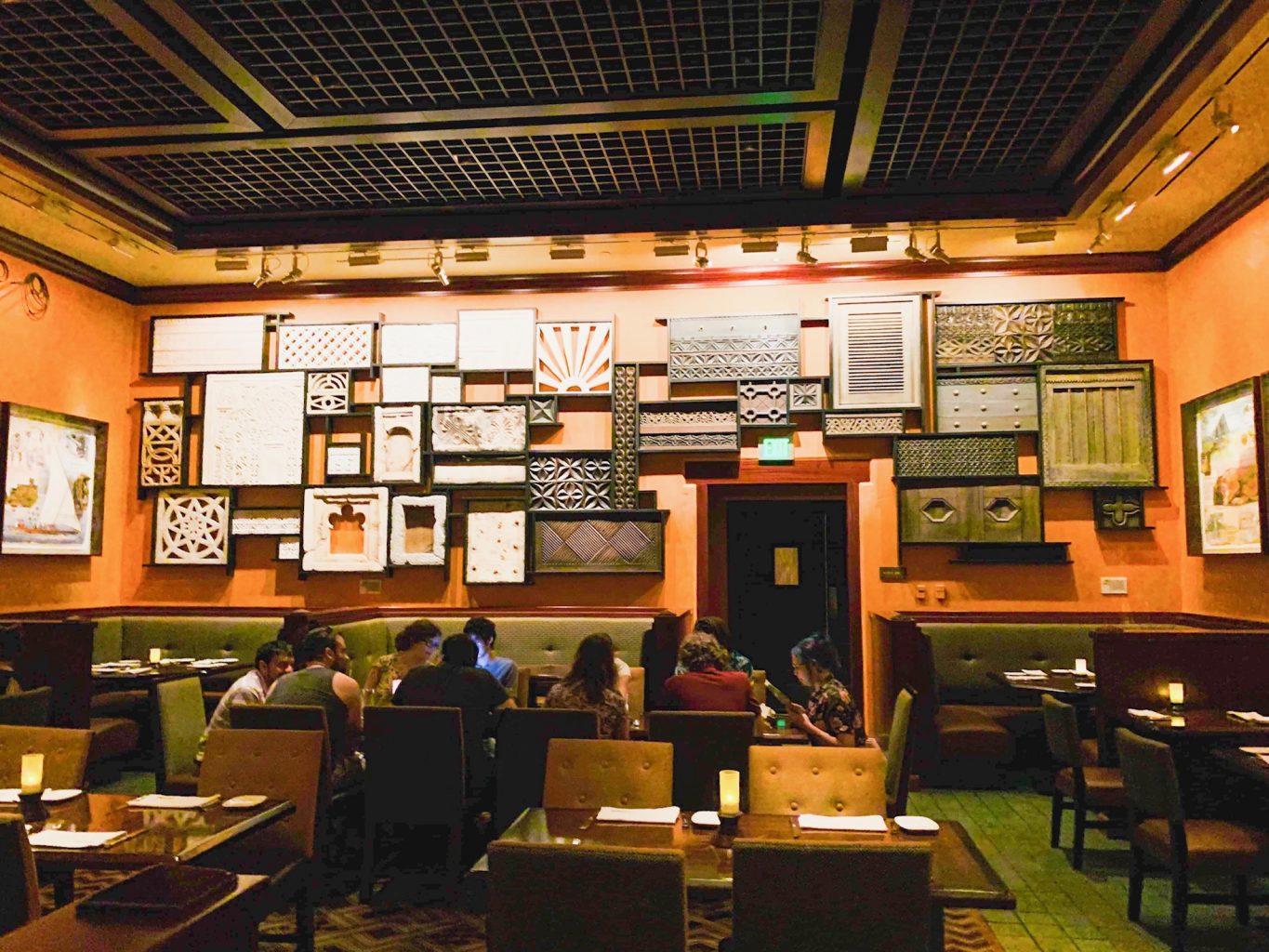 Tusker House Restaurant
If you're looking to grab breakfast at Animal Kingdom, Tusker House Restaurant is at the top of the list. Truly! Some of best breakfast at Animal Kingdom is served at Tusker House. Located in the Africa portion of the park, this Animal Kingdom breakfast buffet also happens to be the only character dining in the park. Munch on Simba and Nala waffles, a slice of warm morning frittata, and tasty cinnamon rolls while saying hi to your favorite characters. And if you're feeling a bit more adventurous, there is also beef bobotie from South Africa and an assortment of fruit chutneys available! Don't we can't forget about the jungle juice, too! (Don't worry, it's not spiked like it was in college. It's completely kid-friendly!)
If you happen to miss breakfast at the Tusker House Restaurant, Mickey, Minnie, and all of their friends decked out in safari gear will still be around for the lunch and dinner buffets as well! The menus for these two particular meals are quite similar, as they both include tasty dishes like peri peri salmon, black-eyed pea salad, and basmati rice and curry chicken. For the adults, there is also a variety of exciting alcoholic drinks, including the African margarita and the rum-based Lost on Safari.
Like Tiffins, the Tusker House Restaurant also offers the Rivers of Light Dining Package. But at the end of the day, we recommend this iconic buffet for breakfast. It is truly one of those restaurants at animlal kingdom with the best breakfast food. But if you can't secure a spot there, you can always get your much needed coffee and early treats at any Starbucks at the park too!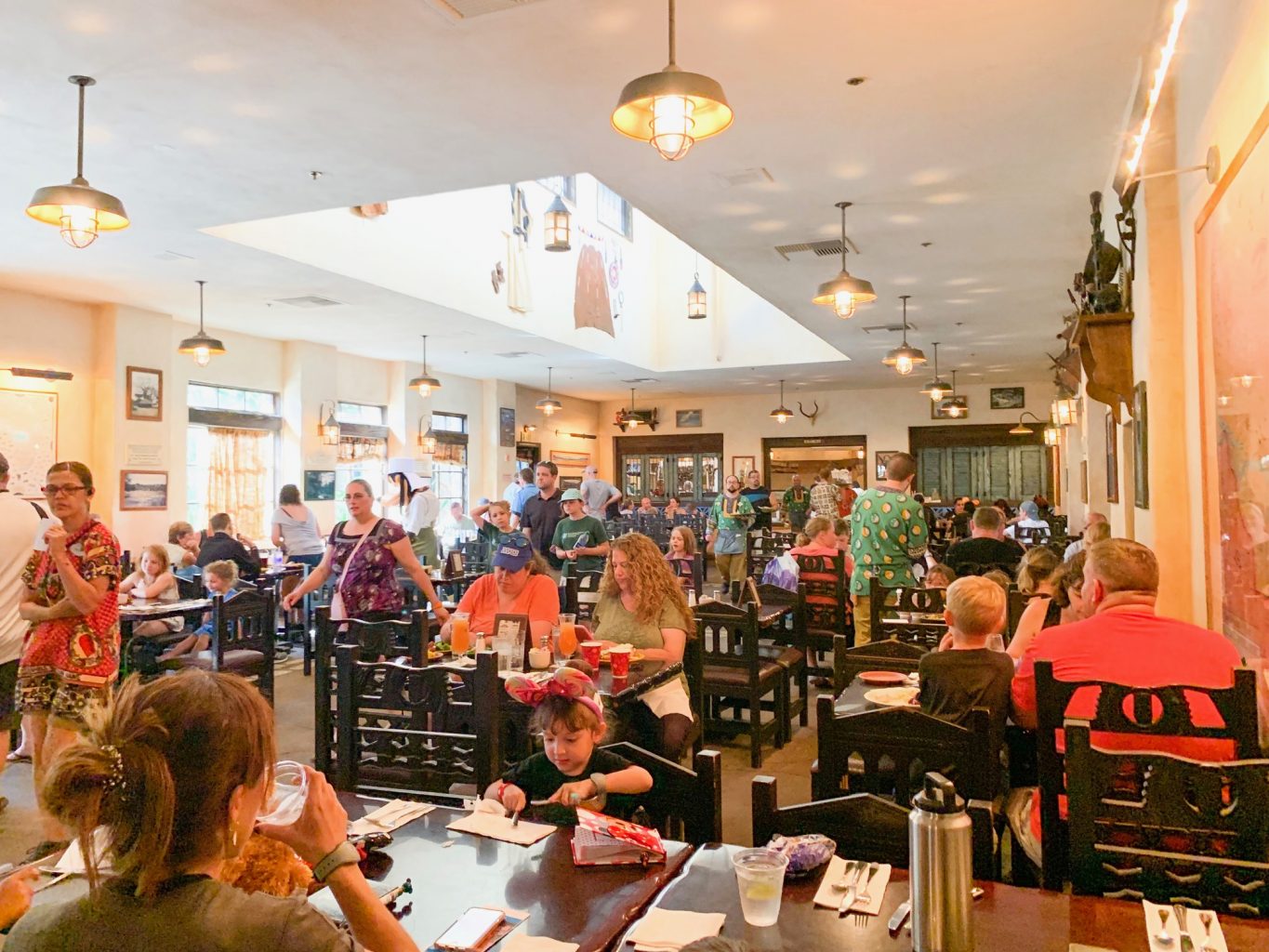 Yak and Yeti
Situated on the border between Asia and Africa, Yak and Yeti whips up some of the best Animal Kingdom food. With pan-Asian dishes that are far from traditional theme park food, you'll feel that your taste buds have been transported to the other side of the world. It truly is one of the best Animal Kingdom restaurants! And since we have been talking so much about breakfast, don't be afraid to check out some of our opinions on the rest of the best (and worst) breakfast places in Animal Kingdom!
Don't worry, we don't only talk about breakfast! The food at Yak and Yeti is also absolutely spectacular at both lunch and dinner too. Savor one of their specialties, such as miso salmon, chicken tikka masala, Thai crab cakes, or Bhaktapur duck. And you simply can't forget to save room for their desserts like fried wontons with a vanilla-honey drizzle and mango pie with a shortbread cookie crust. Honestly, the food at Yak and Yeti just keeps better with every visit. If you've never been to this fantastic Animal Kingdom restaurant, it should definitely be at the top of your list.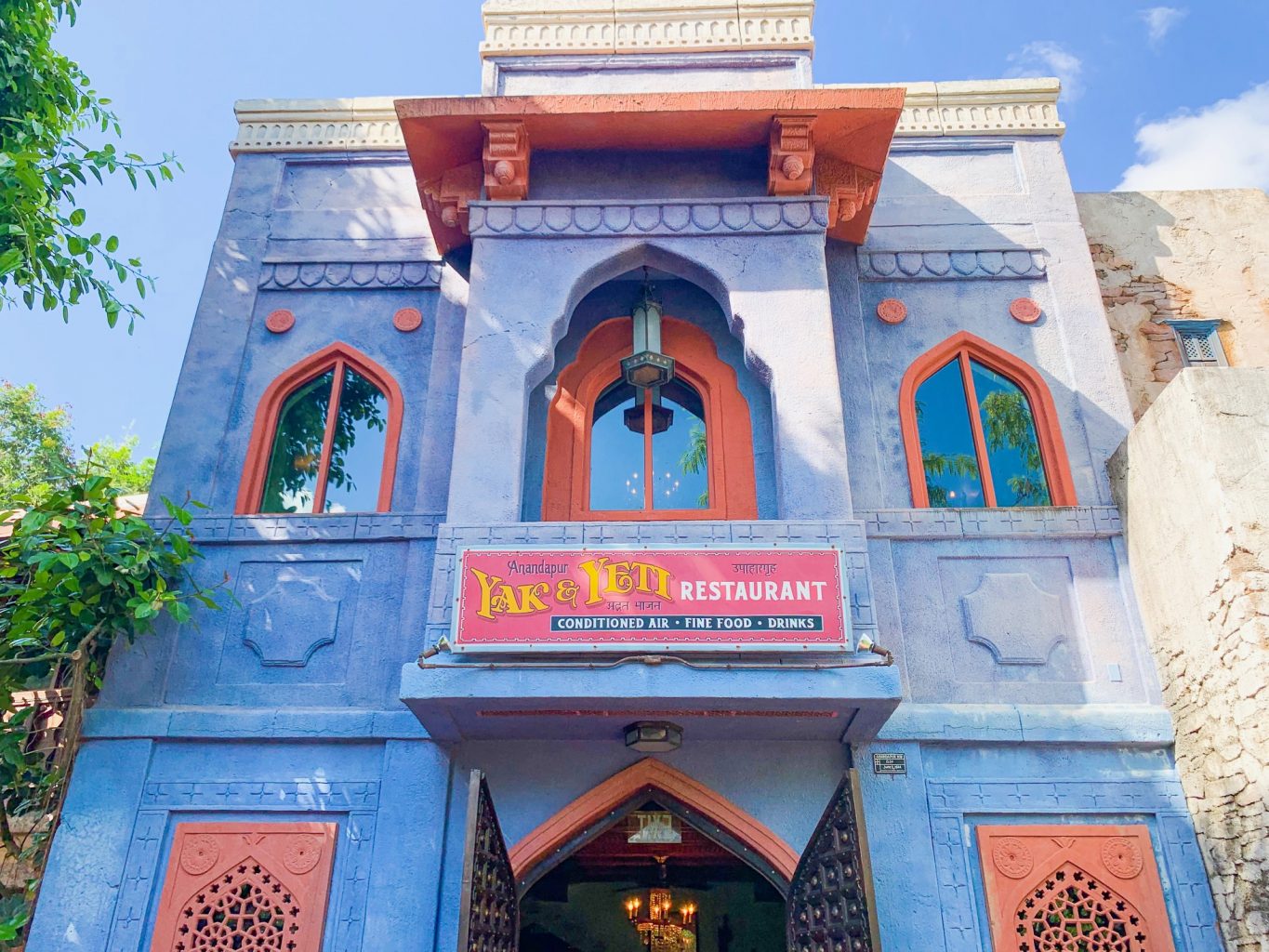 Worst Table Service Animal Kingdom Restaurants
Rainforest Café
With nineteen locations in the U.S. alone, there are tons of opportunities to eat at Rainforest Café. Why waste an opportunity to eat at one of the unique Animal Kingdom restaurants by eating at a restaurant that you can visit outside of the park? Plus, you can honestly do better by eating at Tiffins, Tusker House Restaurant, or Yak and Yeti. The food isn't fantastic for the price here, and you will probably wait forever for a table, even if the décor is super cool.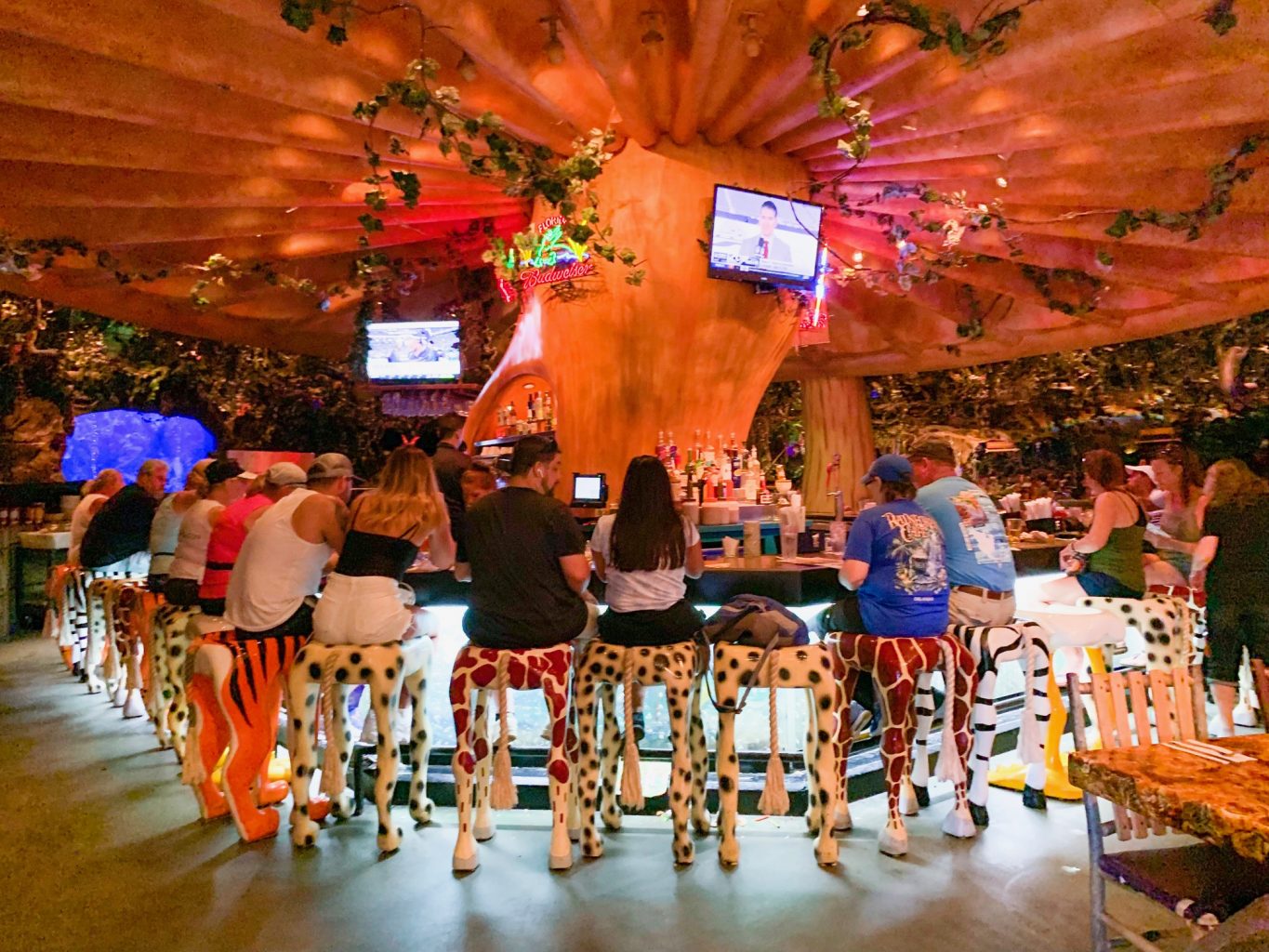 Best Counter Service Animal Kingdom Restaurants
Satu'li Canteen
Nestled within the popular region of Pandora – The World of Avatar– Satu'li Canteen may be one of the most highly-reviewed Animal Kingdom restaurants. With nearly 1,000 reviews on Yelp and TripAdvisor, Satu'li Canteen has maintained a 4.5-star average across both platforms. This is another way of saying this is one of the best Animal Kingdom restaurants around!
Serving up a variety of health-conscious bowls, Satu'li Canteen has become the Animal Kingdom restaurant that veggie lovers flock to. Try the chili-crisped fried tofu bowl, slow-roasted sliced grilled beef bowl, or the chopped wood-grilled chicken bowl. And we can't forget about the eye-catching blueberry cream cheese mousse dessert. That brightly colored sweet treat is definitely a must-try. Speaking of desserts, check out the other 20 decadent desserts you can munch on throughout the parks!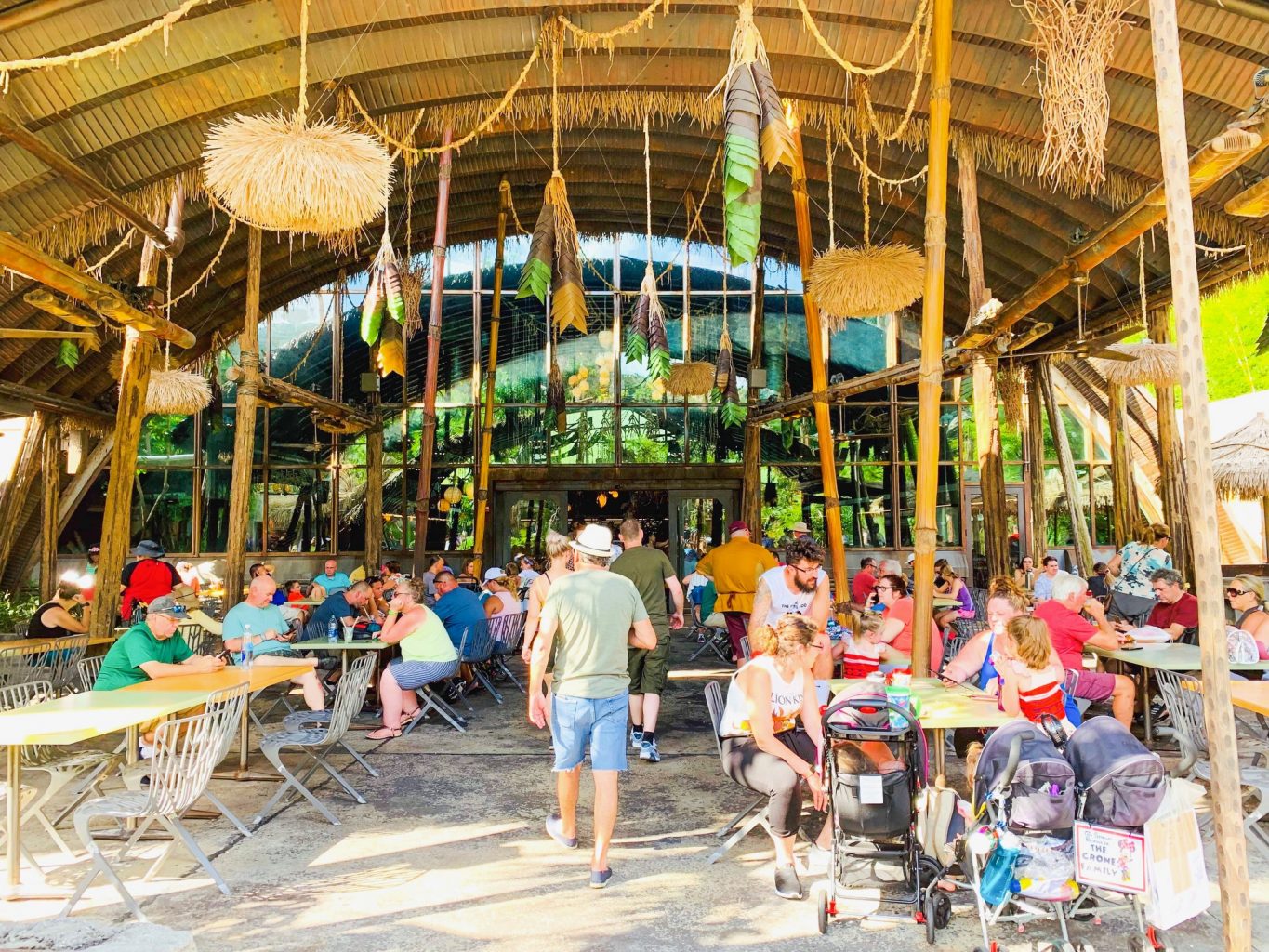 Yak and Yeti Local Foods Café
If you don't feel like doing the sit-down dining at Yak and Yeti, there is also a counter service option: Yak and Yeti Local Foods Café. Situated right next to its dine-in counterpart, Yak and Yeti Foods Café serves up Asian-American fusion food. Honey chicken, ginger chicken salad, and vegetable tikka masala are all solid options. And just because you've decided to take the quick service route, that doesn't mean you have to miss out on dessert! Try a little taste of the mango pie with shortbread crust. You won't be disappointed.
Unlike Yak and Yeti, Yak and Yeti Local Foods Café is also open for breakfast. Order a breakfast bowl or a sausage and egg English muffin for a quick breakfast at Animal Kingdom before heading off to enjoy the rest of the wonderful experiences in the park. So whether you eat breakfast here, grab a snack, or really do a quick-service, we promise you won't be disappointed. Quick service doesn't mean you have to reject quality: this is one of the best Animal Kingdom restaurants even with its fast speed!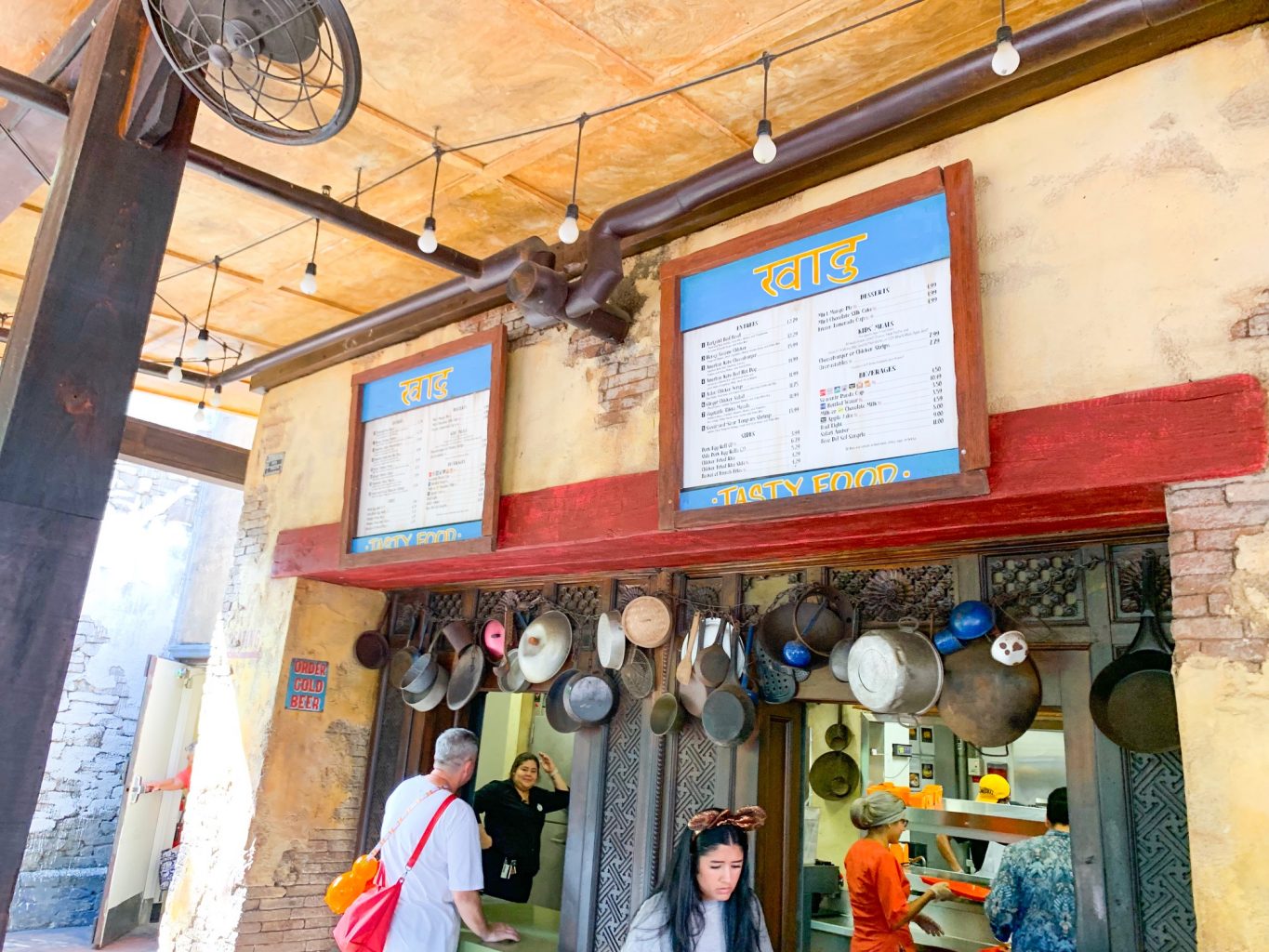 Flame Tree Barbecue
Open for both lunch and dinner, Flame Tree Barbecue is definitely one of the best quick service restaurants in all of Disney World, not just in Animal Kingdom. Get a little messy with the St. Louis rib dinner, stuff your belly to the brim with the slow-roasted half chicken, or delight in the cheesy goodness of baked macaroni & cheese with pulled pork. Even the kids' meals are quite protein-packed, with offerings like a baked chicken drumstick and an all-beef hot dog.
One downside of Flame Tree Barbecue is that it is a pretty meat-heavy Animal Kingdom dining option, so the choices for plant-based visitors are quite limited. That said, Flame Tree Barbecue does currently offer the plant-based hot link smokehouse sandwich. Do weigh your options though! And if you are a fan of meat, make sure to add this to your dinner itinerary. And remember, folks, always try to avoid those Disney Dining Mistakes if you can (i.e. being veggie at a non-veggie place!).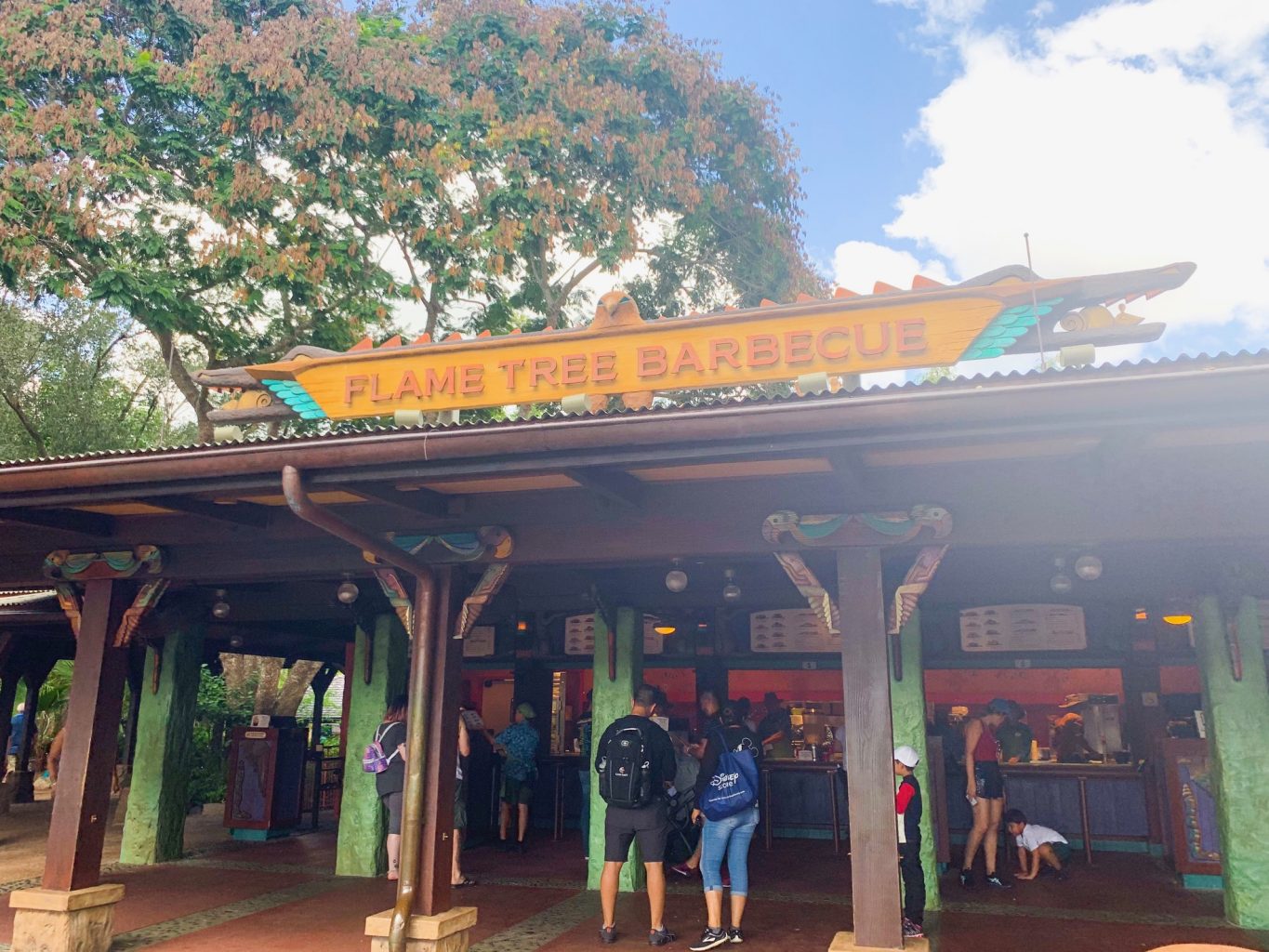 Harambe Market
Located in the Africa section of Animal Kingdom, Harambe Market is a collection of quick service restaurants all together. So take some time to wander around and decide which of these Animal Kingdom restaurants is best for you. Perhaps even make a little food tour of it and stop at all of these fun eateries! Below you can find some of the dining at Animal Kingdom options when exploring Harambe Market. Choose wisely!
Chef Mwanga's Specialty
While Chef Mwanga's Specialty only serves one entree option, it does so spectacularly well. The tangy, spicy ribs from Chef Mwanga's Specialty may be some of the best Animal Kingdom food to ever exist. Along with its singular entree, this Animal Kingdom restaurant also has one dessert: a delicious warm malva spice cake. Talk about a win win when eating at Animal Kingdom!
Tamu Tamu Refreshments
Out of all of the quick service restaurants in Harambe Village, Tamu Tamu Refreshments has proven to be a crowd favorite. Serving up refreshing treats like the Simba ice cream cookie sandwich, the Dole whip pineapple float, and the malva cake sundae with vanilla ice cream and caramel sauce, Tamu Tamu Refreshments is a fantastic place to cool down from the hot Florida sun. Honestly, can you think of a better way to avoid the heat? Me neither. It is one of the best Animal Kingdom restaurants around to help you cool off!
Boerewors Sausages
Boerewors Sausages, also known as Famous Sausages, offers the most food options out of any of the quick service stalls in Harambe Market. You are bound to find options within Harambe Market– it is features some of the best places at Animal Kingdom– but when you stop at Famous Sausages, you know exactly what you're getting based on the name! We suggest trying the sausages covered in fried curry corn batter. But if you don't like sausage, you can order chicken tikka masala to lamb gyro flatbread.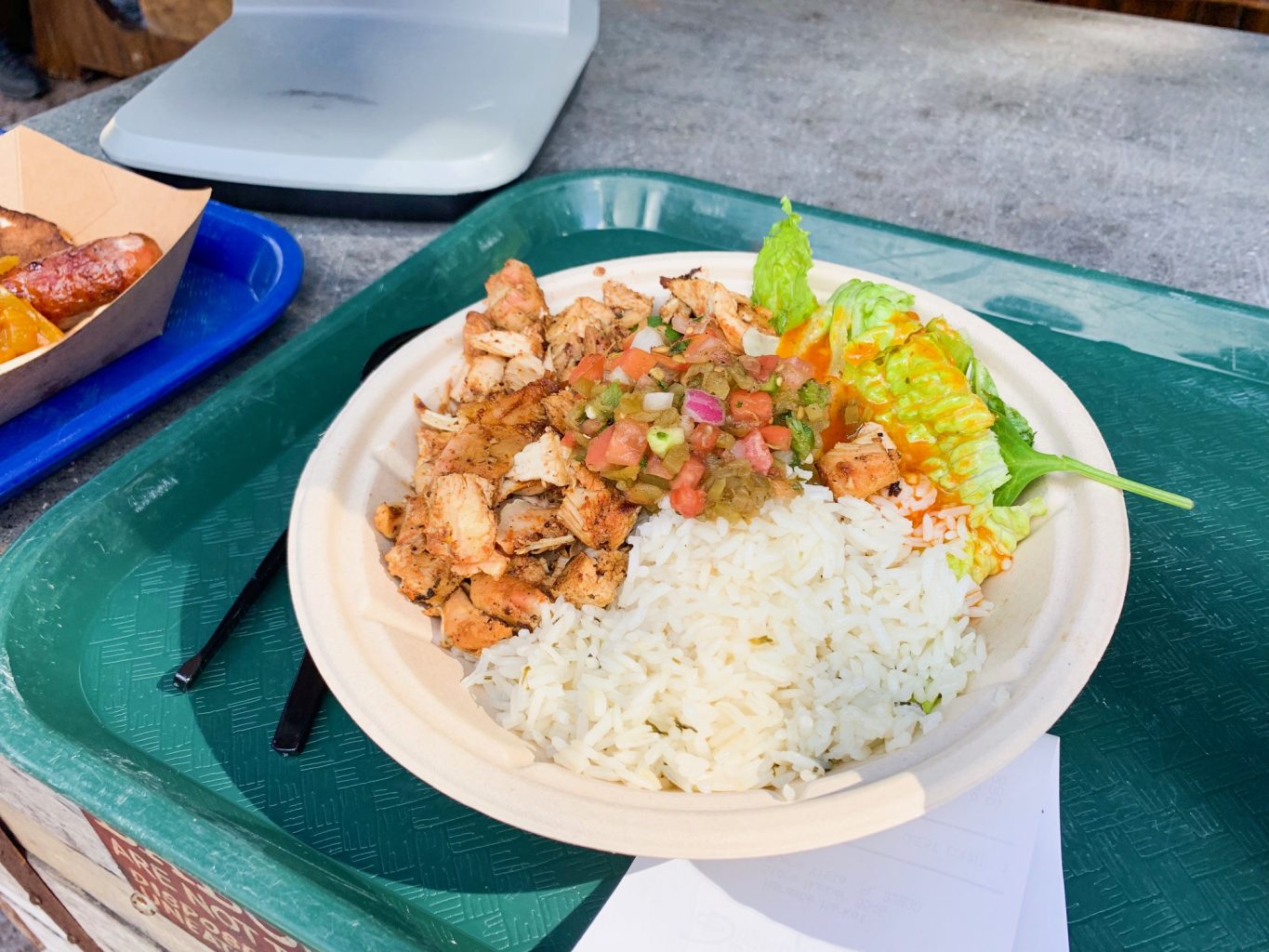 Kitamu Grill
The Kitamu Grill menu is exactly the same as the menu Boerewors Sausages. So if the line at Boerewors is too long, head over to Kitamu Grill instead! This way you can still get your curry corn battered sausage, chicken masala, or flatbreads! Having two stalls with the same location may limit your options, but this is some of the best Animal Kingdom food, and you won't have to wait long for it!
Dawa Bar
If you're looking for a place to take a break and sip on a nice cocktail, Dawa Bar is perfect. The African margarita, lost on safari, ngumu jungle juice, and tikiti punch are all on Dawa Bar's list of specialty cocktails. And if you're feeling more like a glass of wine or a bottle of bar, they've got a selection of both of those options as well. Remember, however, that this is a bar, so there aren't many snacks here! Escape the heat with a refreshment, or kick back and relax with a drink. You deserve it!
Wanjohi Refreshment
If you're looking to grab a drink while in Harambe Market, Wanjohi Refreshment is the place to go! While you can get the usual refreshments like bottled water here, you can also get some wild alcoholic concoctions, including the frozen flamingo or the leopard's eye. And I=if you're looking for an adventurous kid-friendly drink, opt for either the kiwi-and-mango-flavored Bibo from South Africa or the the tart and tangy Sparberry from Zimbabwe. Either way, these refreshments are wonderful– especially on a hot Florida day! And if you need more tips on combating the heat, check out the article that lays out 12 things to do at Disney to combat Florida Heat!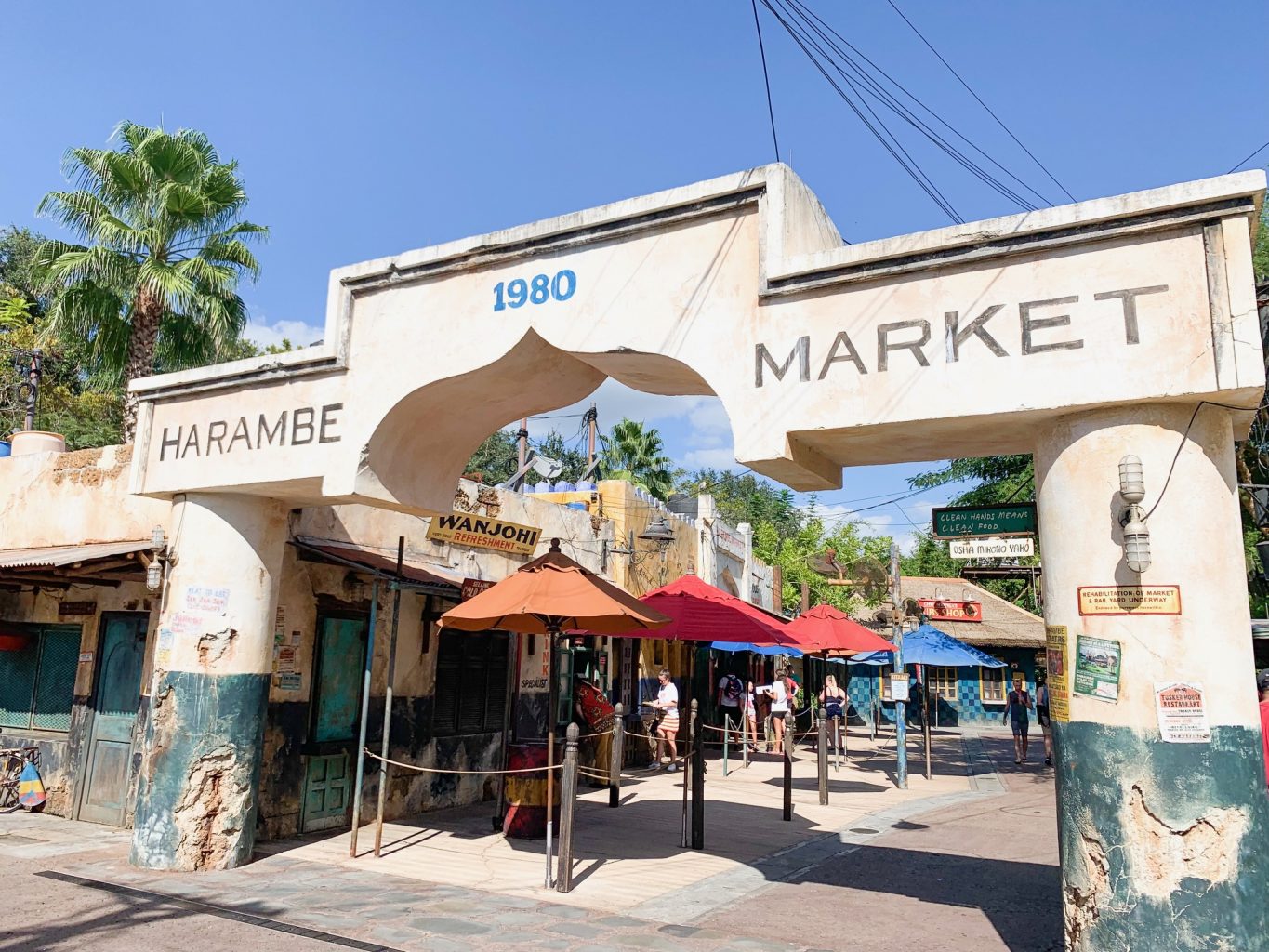 Trilo-Bites
Situated in DinoLand U.S.A. just before the bridge to Discovery Island, Trilo-Bites is a relaxed Animal Kingdom restaurant that guests love. Try their signature buffalo chicken chips, sip on a creamy Oreo cookie milkshake, or customize a tasty float with your choice of fountain beverage. You can even try a signature from The Lion King: bugs 'n grubs, which is to say chocolate soft-serve, Oreo cookie crumbs, and rainbow gummy worms. Talk about great creativity and staying true to the magic! This quick stop is a family-favorite, and features good seating room. Speaking of, if you want to have outdoor dining in Disney, try to plan for places that feature great options with outdoor dining!
Kusafiri Coffee Shop and Bakery
If you're looking for a small and quick breakfast at Animal Kingdom, Kusafiri Coffee Shop and Bakery is the Animal Kingdom dining option for you! Grab a quick cup of coffee along with a colossal cinnamon roll, a pistachio honey croissant, or an elephant ear pastry! With these sweets you'll be set for a jam-packed morning in the park! If you decide to visit Kusafiri Coffee Shop and Bakery later on in the day – perhaps right before hopping on Kilimanjaro Safaris next door (for more on the Safari check out our Best Animal Kingdom Attractions)– you can get similar offerings as snacks.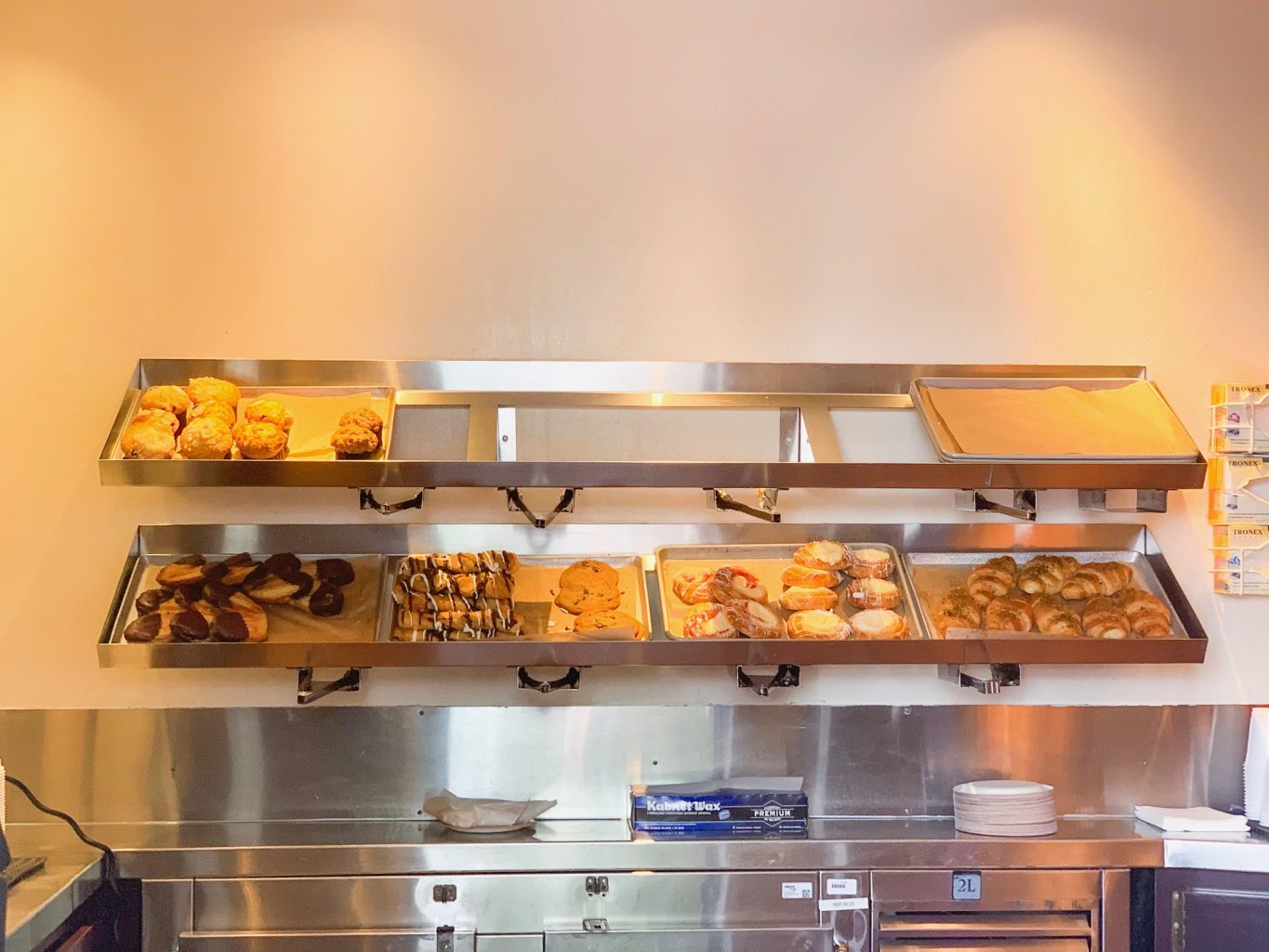 Pongu Pongu
This resort-based stand draws inspiration from the Pandoran culture that is featured in Avatar. It is located right in between Satu'li Canteen and Avatar Flight of Passage. This quick-service stand features beverages from beyond our world. Don't be afraid to try Nigh Blossom– this famous layers of Limeade is topped with Passion Fruit boa Balls! And to stay true to Pandoran culture, try some of the best food at Animal Kingdom with the Pongo Lumpia, which is a pineapple cream cheese spring roll! However, if you are not feeling adventurous, you can always stick to ordering a coca-cola and a sausage, egg and cheese biscuit.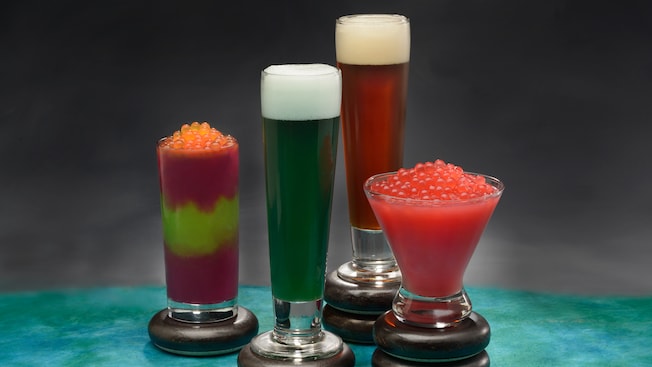 Worst Counter Service Animal Kingdom Restaurants
Creature Comforts
Like the Trolley Car Café of Hollywood Studios quick service restaurants, Creature Comforts is the Starbucks of Animal Kingdom. What's the point of getting a $6 cup of coffee that you can get pretty much anywhere in the world? Try to get something special while you're at Disney World! If you're simply looking for a good 'ole cup of coffee and a pastry, head over to Kusafiri Coffee Shop and Bakery instead. Truly! We want to help you avoid all Dining Mistakes at Disney. While some visitors decide to visit Creature Comforts for breakfast, there are also better Animal Kingdom restaurants for breakfast, such as the Tusker House Restaurant and Yak and Yeti Local Foods Café. Remember, we have a break down of the beset Breakfast places in Animal Kingdom! And Creature Comforts is NOT one of them.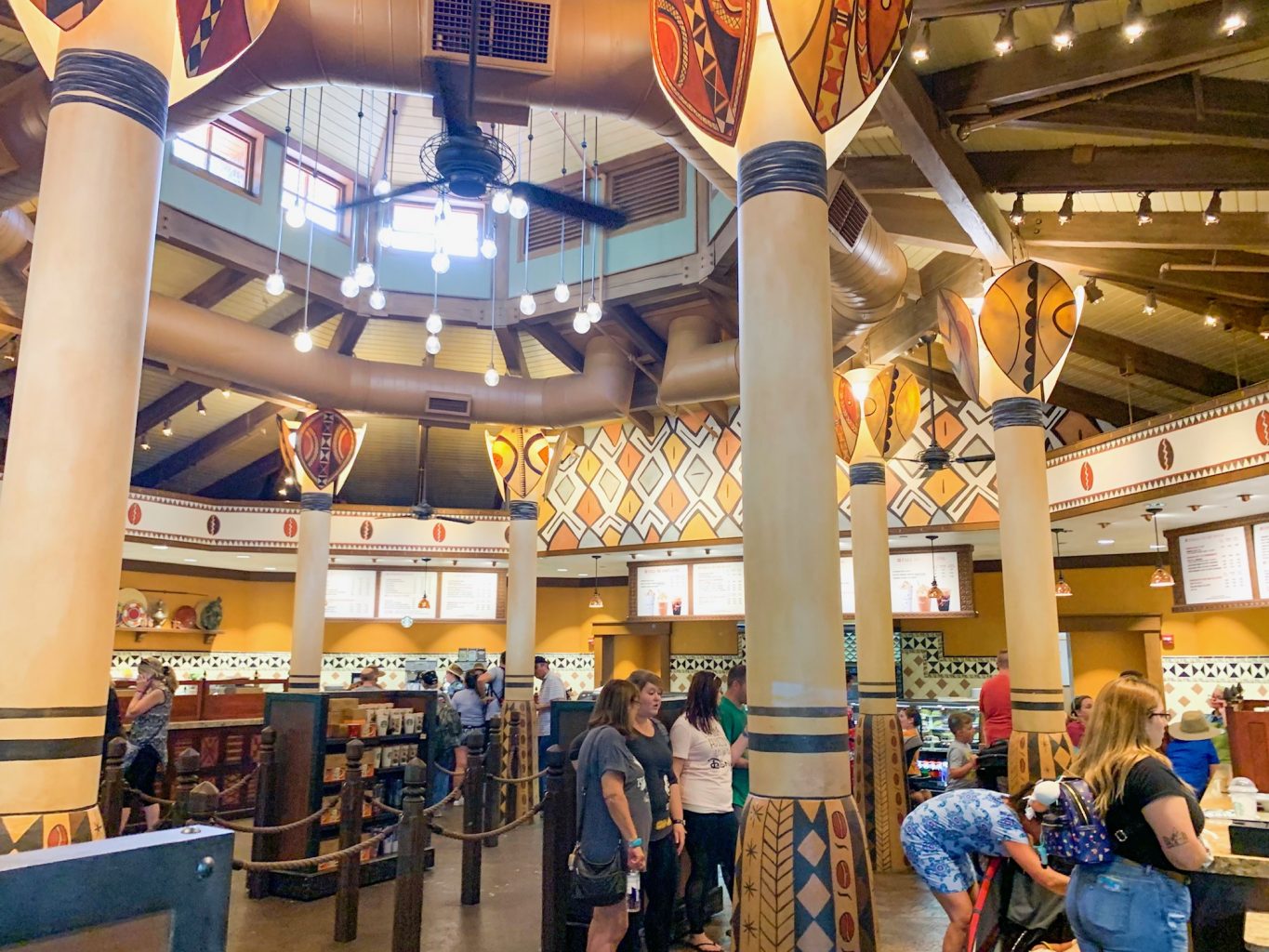 Restaurantosaurus
Restaurantosaurus is consistently ranked as one of the worst Animal Kingdom restaurants. It basically only serves up burgers and chicken nuggets, and, at Animal Kingdom, you can do so much better than subpar theme park food. It's not worth your time or your money. Bottom line: there are significantly better dining options within the park, including Tiffins, Tusker House, and Satu'li Canteen. And don't let this idea of Restaurantosaurus being "family friendly" sway you to dining here– there are plenty of family friendly places to eat! Enjoy the best Animal Kingdom restaurants, not the worst!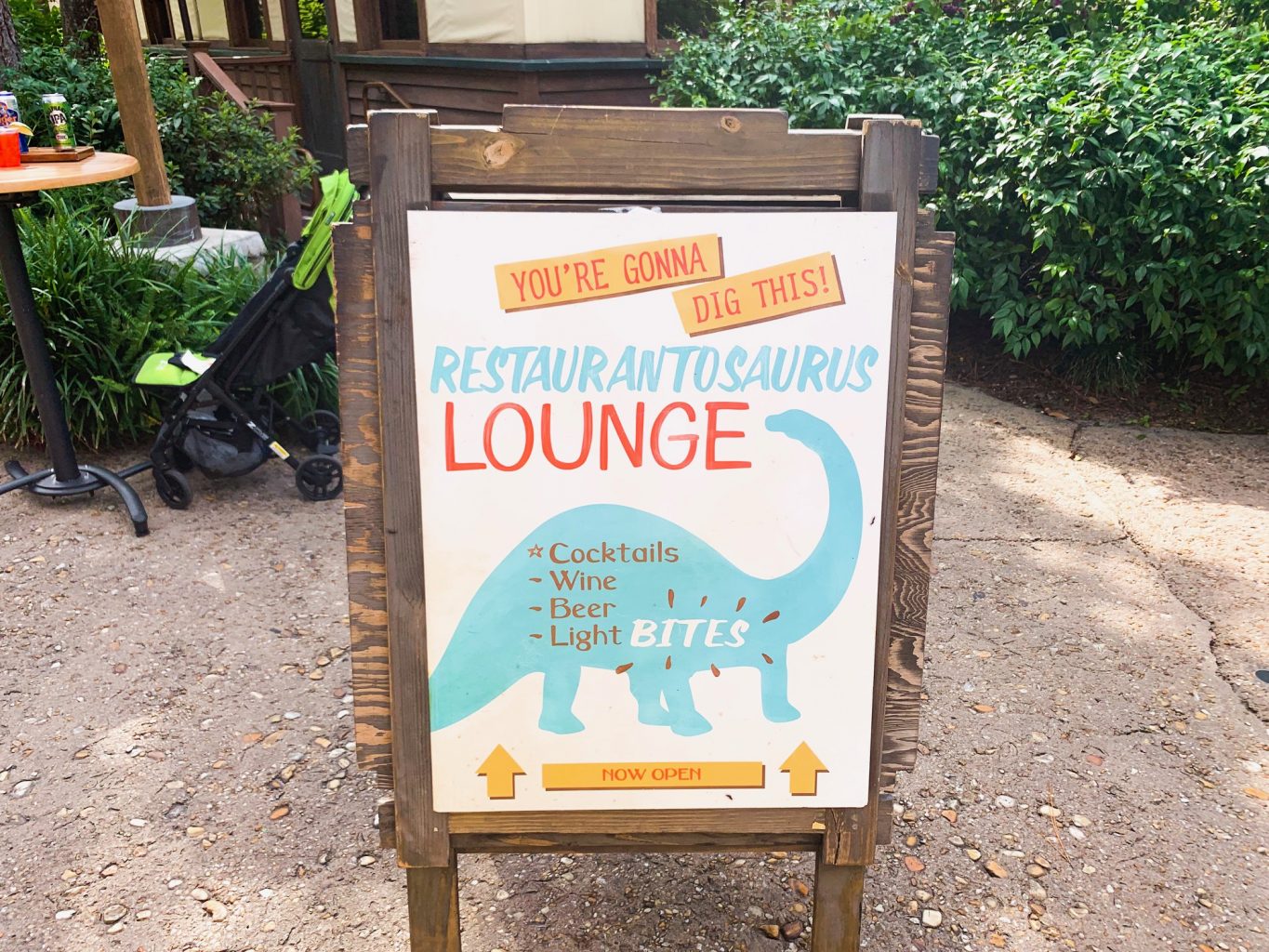 Pizzafari
Pizzafari has found its home on Discovery Island, alongside many of the other Animal Kingdom restaurants. However, unlike the vast majority of Animal Kingdom restaurants, it doesn't serve up anything special. You can get cheese pizzas, pepperoni pizzas, and Caesar salads with chicken practically anywhere. If you're looking for a slight upside to Pizzafari, I suppose it's a good place for picky eaters to grab some food while visiting Animal Kingdom, since most Animal Kingdom restaurants serve up some quite adventurous food options. But don't let this fool you. There are better places to grab a slice: check out our list of the best Pizza Places in Disney.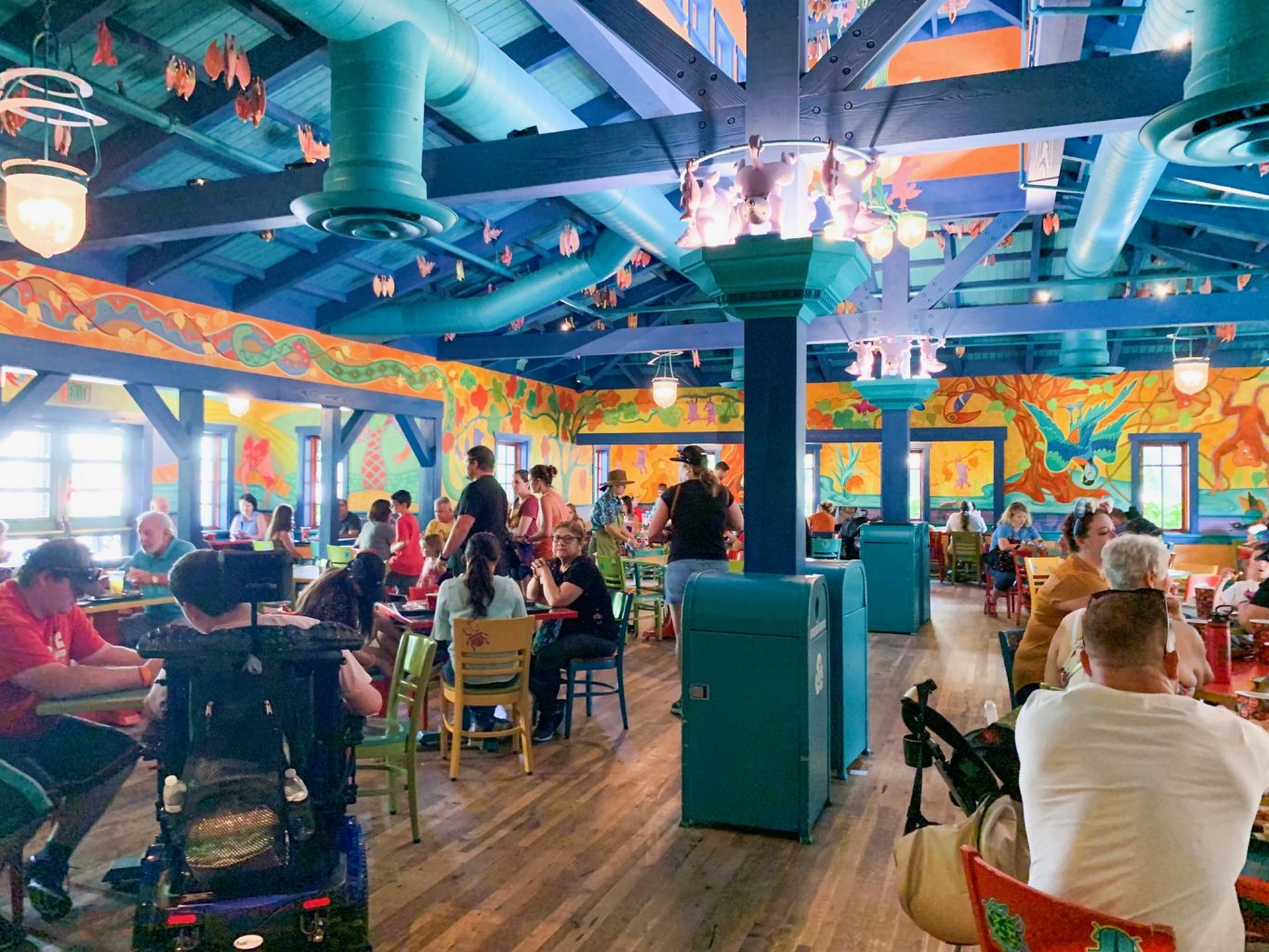 I hope you enjoyed reading about some of the best Animal Kingdom restaurants (and learning about the ones you should avoid too)! What do you think? Do you agree or disagree? Let me know in the comments what you think the best Animal Kingdom restaurants are! As always, if you have any questions, I am more than happy to answer them for you! Thank you for reading!
Pin this post: