If you're looking for the best ways to beat the heat at Disney World, look no further! We have been there, and we've tried just about everything ourselves to keep cool in the Florida heat. We know visiting Disney during the Summer can bring unbearable heat and humidity, but you don't have to be miserable.
You don't have to fear visiting during the Summer anymore, and you can absolutely handle those hot months. If you follow our list you will be ready to take on the Florida heat and humidity, and armed with ways to beat it. We've got the best rides and snacks to cool you down, and even some tips that you've never even thought of that will help keep you cool!
We promise that our tips and tricks will keep you and your family cool on your next Disney World trip!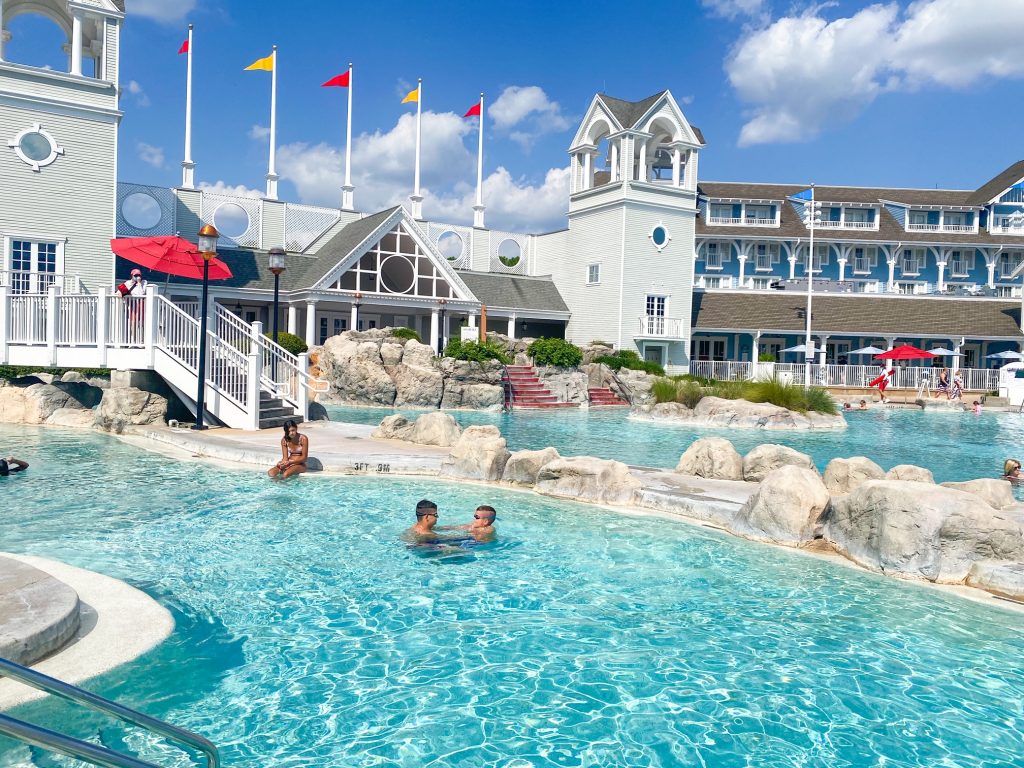 Bring a Neck Fan
Having your own personal cooling system like a neck fan is a great way to beat the heat at Disney World. These are completely portable, and since they hang around your neck, they keep your hands free as well. These are guaranteed to keep you cool with your own breeze as you walk around in the Florida heat.
These are fairly affordable, convenient, and you can even hang them on to your kid's stroller. Most are rechargeable by using a USB charger, and that makes it even easier to use while in the parks. You can check prices on some of the best rated ones on Amazon.
Get a Misting Fan
These misting fans are such a great way to keep cool at Disney, and supplies you with cool air and just enough mist. And while you can buy these in the parks, the ones we suggest are cheaper and less bulky – plus they come in cool colors! You can't beat having a little mister to spritz yourself while waiting in a long, outdoor line.
Since these are affordable and portable, everyone in your family could have their own. All you need is a pack of batteries to keep them going and to refill them when they get empty. You can check prices on Amazon to find one for your next trip!
Bring a Refillable Water Bottle
Buying water over and over at Disney can get expensive, but drinking water all day is the best way to keep cool and beat the heat at Disney. So, instead of paying whatever astronomical amount it is for a bottle of water, bring your own refillable water bottle to use on your trip! You can bring your own drinks and food to Disney as well, and you can find out all about it here!
You can fill up your water bottle at your resort to start the day, and water is free at all quick service restaurants as well as Starbucks, giving you lots of places to refill during the day. Disney has even installed a few water bottle refill stations, but they aren't everywhere yet.
We prefer the Bobble brand water bottle because these come with a built-in water filtration system that filters the water while you drink. Which, let's be honest, is great when it comes to the odd-tasting Florida water. You can check prices on Amazon, and pick your size and color!
Take a Pool Break
Nothing is more satisfying on a hot day than taking a dip in a cold pool – and that's the best place to escape on a hot Disney day as well! Head back to your resort and take advantage of the pool, especially if you're looking to avoid the hottest – and busiest – middle part of the day in the parks.
If you're staying on property, you must check out the pool at your resort. Disney World has some amazing pools, and they shouldn't be missed! You should definitely make the most of your pool day, and check out our favorite Disney pools!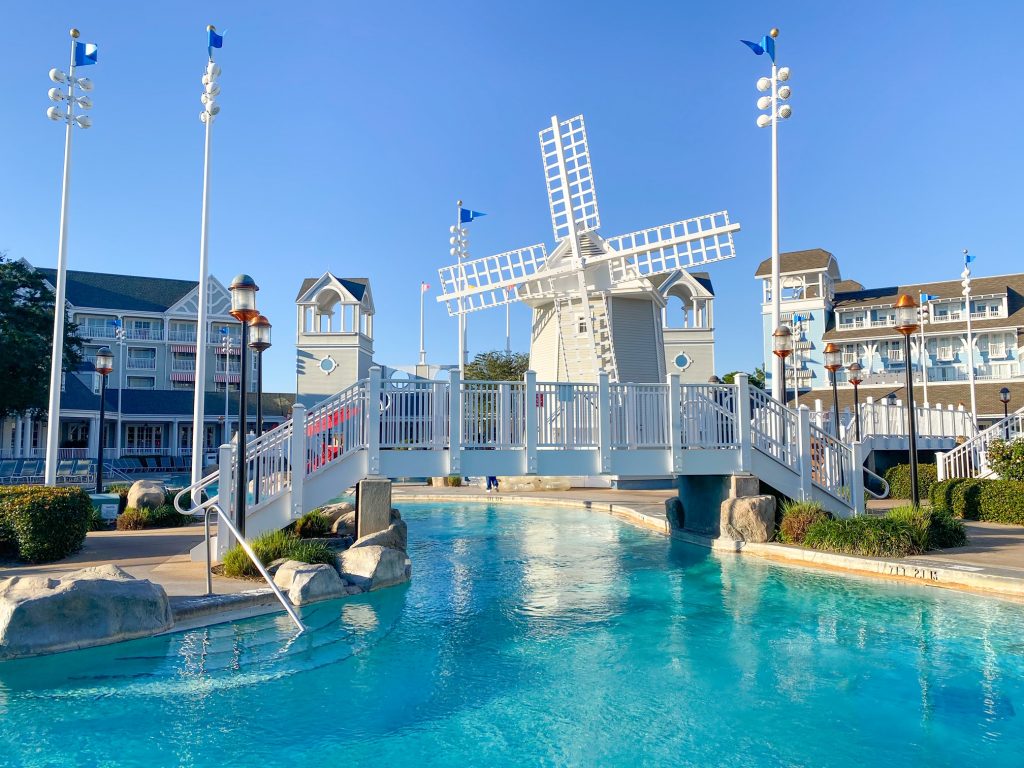 Prioritize Indoor Rides & Queues
While looking for a way to beat the heat in Disney World, you should search out indoor rides and attractions that are sure to have the AC going! Escape the sun and take a break to sit down and ride a ride or watch a show. Not all the parks are created equal when it comes to the amount of shade, and standing in the sun and heat to ride an attraction can be draining.
The list below is some of our favorite indoor rides and attractions, but be warned! Not all of them have indoor or covered queues – those are even better to find on a hot day.
Magic Kingdom:
Haunted Mansion (covered queue)
Pirates of the Caribbean (covered/indoor queue)
Carousel of Progress
Country Bear Jamboree
It's A Small World (covered/indoor queue)
Peter Pan's Flight (covered/indoor queue)
Under the Sea-Journey into the Little Mermaid (indoor queue)
The Many Adventures of Winnie the Pooh (some parts covered)
Space Mountain (indoor queue)
Buzz Lightyear's Space Ranger Spin (some indoor queue)
Mickey's Philharmagic
The Hall of Presidents
EPCOT:
Frozen Ever After (indoor queue)
Soarin' (indoor queue)
Living with the Land (indoor queue)
Test Tack (indoor queue)
Spaceship Earth (covered queue)
The American Adventure
Journey into Imagination with Figment (indoor queue)
The Seas with Nemo and Friends (indoor queue)
Beauty and the Beast Sing-Along
Canada Far and Wide in Circle-Vision 360
Disney and Pixar Short Film Festival
Gran Fiesta Tour feat. the Three Caballeros (indoor queue)
Impressions de France
Reflections of China
Hollywood Studios:
Lightning McQueen's Racing Academy
Tower of Terror (covered/indoor queue)
Mickey and Minnie's Runaway Railway (some indoor queue)
Muppet Vision 3D
Star Tours (indoor queue)
Rock'n' Roller Coaster (indoor queue)
Animal Kingdom:
Flight of Passage (indoor queue)
Na'vi River Journey (indoor queue)
It's Tough to Be a Bug
DINOSAUR (indoor queue)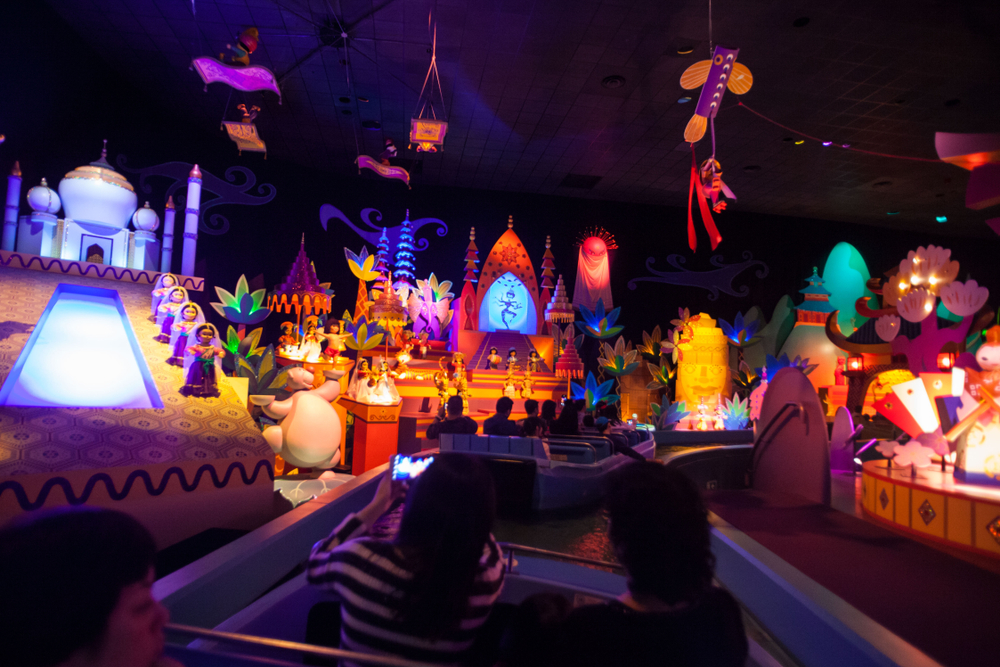 Go on Water Rides!
If it's unbearably hot and you don't want to leave the park to head to the pool, try getting on some water rides! These rides with either give you a little splash or a good soaking, and sometimes that's just what you need to beat the heat at Disney World!
Our favorite rides to get a little wet on are:
Kali River Rapids
Pirates of the Caribbean
Frozen Ever After
Or, you can plan a day at one of Disney's water parks! Water slides, wave pools, and water coasters are a great way to beat the heat and you still get to have a theme park experience.
Visit During the Morning or Evening
Avoiding the hottest part of the day, especially if you're visiting from June – August, is important to stay cool on your next Disney trip. Getting there in the morning at rope drop will help you not only avoid crowds, but also avoid the boiling midday heat. You'll be able to ride outdoor rides and stand in outdoor queues without overheating. By the time you've ridden several rides, it's time to take a break for lunch or even to head back to the hotel for a pool or nap break.
Going after sunset can help with avoiding the heat as well. If you time your trip to the park for nighttime you will miss out on some of the heat that the sun provides, and you'll be able to enjoy walking around and riding the outdoor rides. Plus, Disney World is so pretty at night with everything all lit up!
Pro tip: Don't leave the parks when a midday Summer storm happens! A lot of times this not only cools down the day but also clears out the parks. You might be able to get in an unusually short line for a popular ride and enjoy less crowded areas of the park. Just wear your poncho and you'll be fine!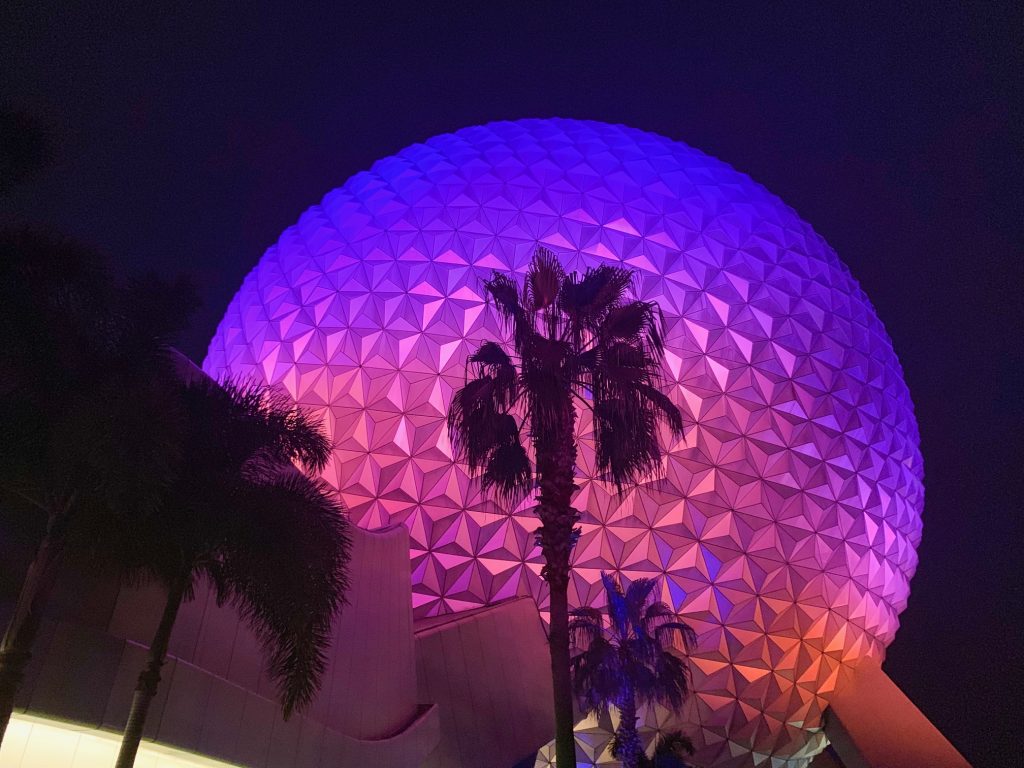 Wear Cooling and Loose Clothing
When packing for Disney, make sure you choose clothing that will help you beat the heat! Opt for cotton clothing or clothing that has built-in cooling and moisture-wicking properties. You want to make sure your clothing isn't too heavy or isn't going to stick to you when you get hot and sweaty in the parks. Also, try to pick light colors and patterns – black t-shirts can make a hot day more miserable.
Pro tip: Consider this when it comes to your underwear! No one wants to mention it, but what you wear underneath your clothing at Disney is just as important as the clothing you choose. Cotton, cooling, and moisture-wicking undergarments will help you out as well. Consider wearing shorts under skirts and dresses, or using anti-chafing products, to help with sweat and chafing too!
Choose a Ventilated Backpack
If you have a lot of things you can't leave home without, wearing a backpack to the park seems like an easy decision to make. But, if you're wearing a bag on your back, you also need to make sure that it's comfortable and isn't adding any extra heat. Pick a backpack or park bag that is lightweight, ventilated, and bonus for one that has water bottle holders!
It's nice to have a lightweight bag to carry all your necessities, and if you want a backpack over a purse or crossbody, there are some great ones available on Amazon.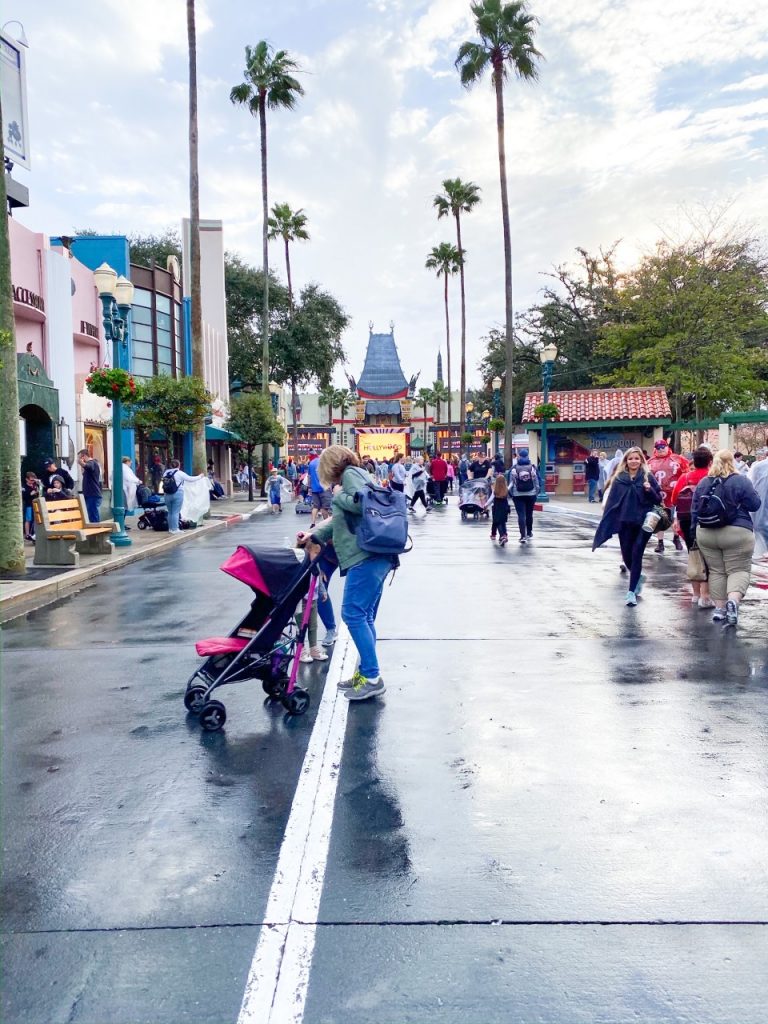 Take Frequent Breaks
When you're enjoying a day at the parks, it's easy to want to go go go from sun up to sundown. But, when it's super hot, this can ruin your day. Don't feel the need to push yourself – or your family – too hard when it's hot.
Take a break whenever you need it to have a snack or drink some water. Pop into a shop that has air conditioning blasting, or go see an indoor show. There's no shame in stopping when you need a break and need to cool down. This is your trip, and you don't need to worry about living up to some "perfect trip" idea, and instead, you end up with dehydration or heat stroke.
Remember Your Sunscreen
While wearing sunscreen doesn't keep you cool, having a sunburn is MISERABLE. And having a sunburn in the heat is even worse. It's not fun and can definitely affect how much you enjoy your trip.
Make sure to cover exposed parts of your body with good sunscreen, and reapply throughout the day. Also, wear a hat or sunglasses to help limit exposure on your face and head. Standing in a long, outdoor line is an easy place to get burnt so make sure you protect yourself!
Eat Cool Treats!
This could be the most fun – and yummiest! – way to beat the heat at Disney World. Choose a light, refreshing, or frozen snack if you're looking to cool down. Ice cream, Dole Whips, fresh fruit, and frozen drinks will help you cool down quickly, and they won't be as heavy as some fried options.
Ice Cream:
Plaza Ice Cream Parlor at Magic Kingdom
L'Artisan des Glaces in the France Pavilion at EPCOT
Hollywood Scoops at Hollywood Studios
Anandapur Ice Cream Truck at Animal Kingdom
Dole Whips: Thankfully, you can now get Dole Whips in a lot of places all over Disney World!
Fresh Fruit:
Harambe Fruit Market at Animal Kingdom
Anaheim Produce at Hollywood Studios
Liberty Square Market at Magic Kingdom
The Land Cart at EPCOT
Frozen Drinks:
literally anything refreshing or frozen at Starbucks
Night Blossom at Pongu Pongu in Animal Kingdom
LeFou's Brew at Gaston's Tavern in Magic Kingdom
The American Dream at Fife & Drum Tavern, American Pavilion at EPCOT
Blue and Green Milk in Galaxy's Edge at Hollywood Studios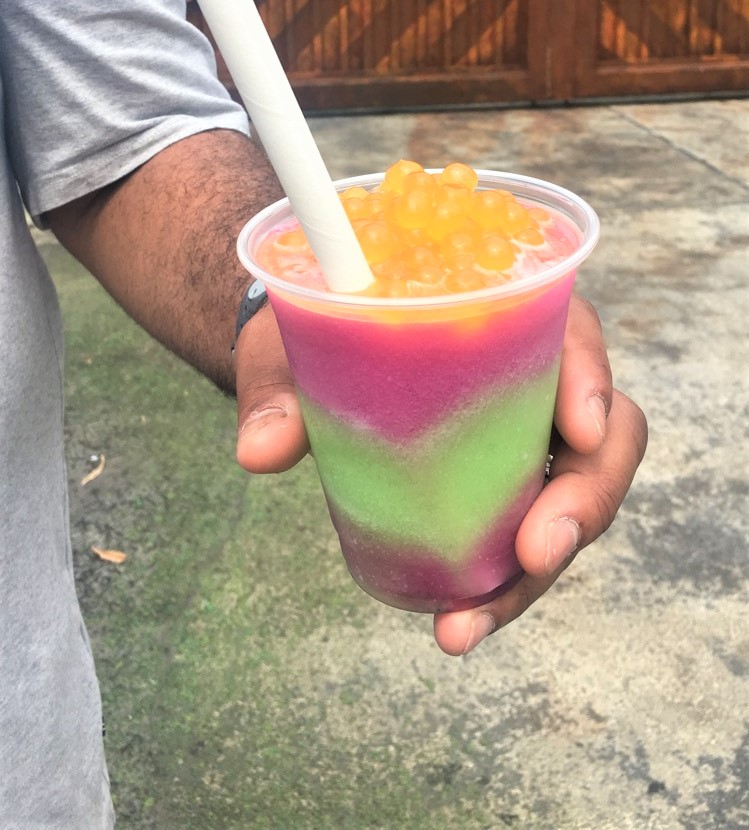 We hope that you will use these tips and tricks to keep cool the next time you visit Disney World. Ride indoor rides, get a good splash from a few, and eat those chilly treats to help beat the heat at Disney. Please don't forget your light-colored clothing, your comfortable undies, and sunscreen!
If you use these tips, you'll be sure to enjoy Summer at Disney World, and the heat won't even be a concern. Instead, you'll be focused on your next pool trip and trying to see if you get a boarding group for Rise of the Resistance!
What's your favorite way to beat the heat at Disney? Do you already do some of these that we mentioned? Let us know in the comments!