Wondering where to stay near Disneyland? Perhaps you're looking for something a little bigger or cheaper than a standard hotel room. Then a Disneyland Airbnb may be a good fit for you.
Choosing where to stay when you're planning your Disneyland trip can be a daunting task as a bad hotel can tarnish an otherwise amazing holiday. With so much else to think about when planning for Disneyland, a lot of people forget that an Airbnb near Disneyland could be a good option for them.
You might prefer to stay in one of the Best Hotels near Disneyland but read on if you want to find out more about Disneyland Airbnbs.
Get a FREE printable 30/60/90 day Disney countdown by joining our private Disney Facebook Group and share your photos and ask for tips and tricks!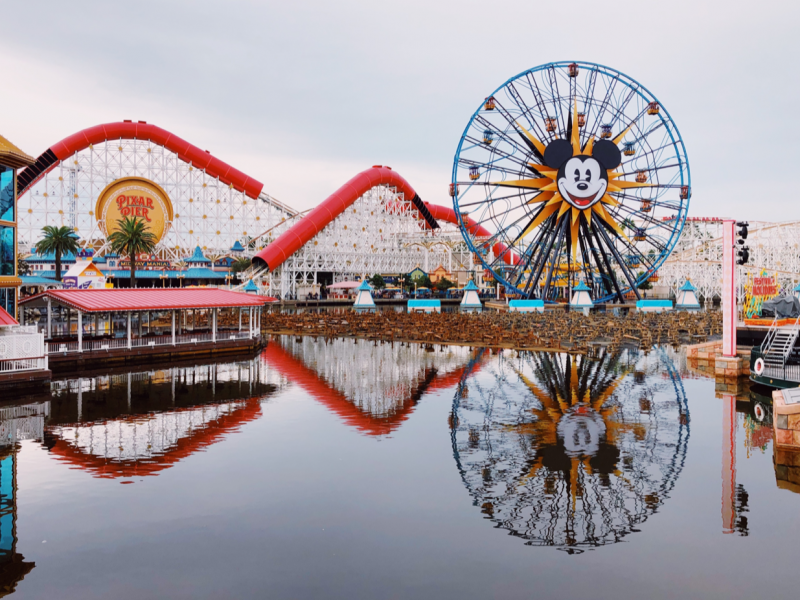 Why Stay In An Airbnb Near Disneyland?
There are lots of reasons to stay in an Airbnb near Disneyland, the main ones being cost and space. Through Airbnb, you can stay in an entire house with your entire family for less than it would cost to stay at a cheap hotel. Because most Airbnbs charge by the house, the more people you have, the cheaper it is! Rather than paying for additional rooms in a hotel, you can rent a large house without having to worry about any additional costs.
You can also save money on food as a lot of Disneyland Airbnbs have a kitchen where you can prepare simple meals and snacks to take to the parks so you can save money on dining in the parks. Disneyland does have a great range of dining choices to offer too so if you're looking for the best meals you can check out the Best Restaurants in Disneyland.
A lot of the Airbnbs near Disneyland also offer free parking for at least one car so you don't have to worry about paying Disney prices to park your car at the parks. This is another way that a Disneyland Airbnb could save you money.
11 Best Airbnbs Near Disneyland For All Budgets
Located just a 10-minute walk from the Disneyland parks entrance, this is one of the most premier Disneyland Airbnbs. Featuring over 2,200 square feet of living space, including a playroom for children as well as 4 bedrooms and 3 bathrooms, this Airbnb near Disneyland has everything you need for a fantastic stay. There's also a large kitchen and a lovely lawned back yard so spending time in the house will not be a problem.
As well as all this, there is parking for 3 cars on the driveway so a large group can easily travel together in this Disneyland Airbnb. You have access to the whole place while you're staying so you can have a truly relaxing stay in this 5-star house.
Click Here To Check Rates On Airbnb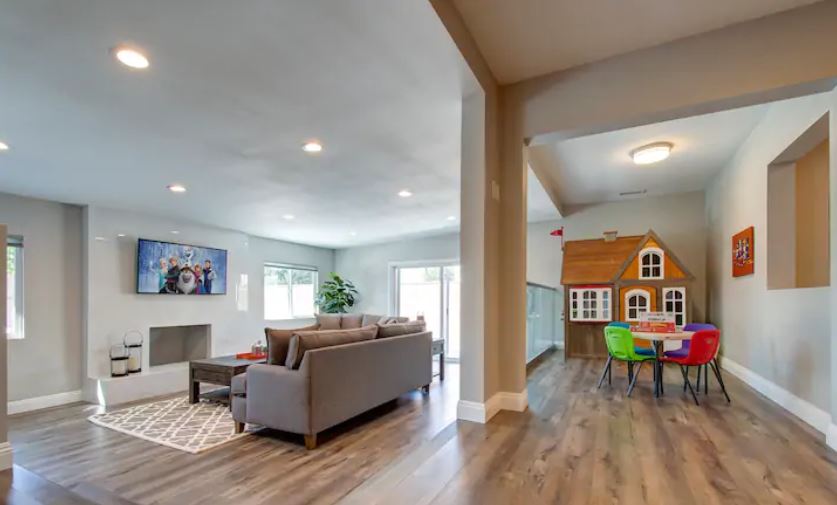 This four-bedroom vacation home is located just a 15-minute walk from the Disneyland parks so is a great choice for a big family wanting to be close to the parks. It has recently been remodeled to provide a clean, comfortable, and stylish home away from home for its guests. Featuring a large kitchen as well as a playroom and garden area, this house offers everything you could need for a comfortable stay near Disneyland.
There is fiber internet throughout the house and every room has a 4K TV with cable, Netflix, Disney+, and many other channels available. You can park a maximum of 3 cars on the driveway, although there are some exclusions about the type of vehicle you can park so check the listing and arrange suitable transport before you book. The whole place is yours with this Disneyland Airbnb and it even features a self-check-in so you really feel like it's your own place.
Click Here To Check Rates On Airbnb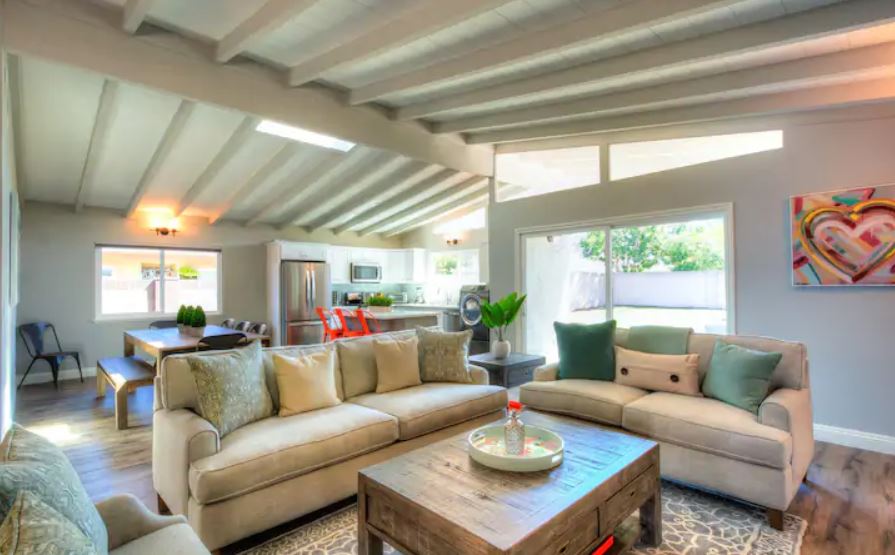 This 2 bedroom apartment is conveniently located just a few minutes' walk from Disneyland and is one of the cheaper options available for Airbnbs near Disneyland. The apartment is quite spacious but would likely be a bit of a squeeze for four adults. It is, however, tastefully decorated and offers a range of amenities, including a full kitchen.
The apartment complex also has a pool, jacuzzi, gym, and basketball court that guests are able to access so there are plenty of things to do around the building itself. Adding to this there is an incredible roof terrace with great views over the skyline. There is also free parking on the premises so you can park with no worries whilst you're enjoying the parks.
Click Here To Check Rates On Airbnb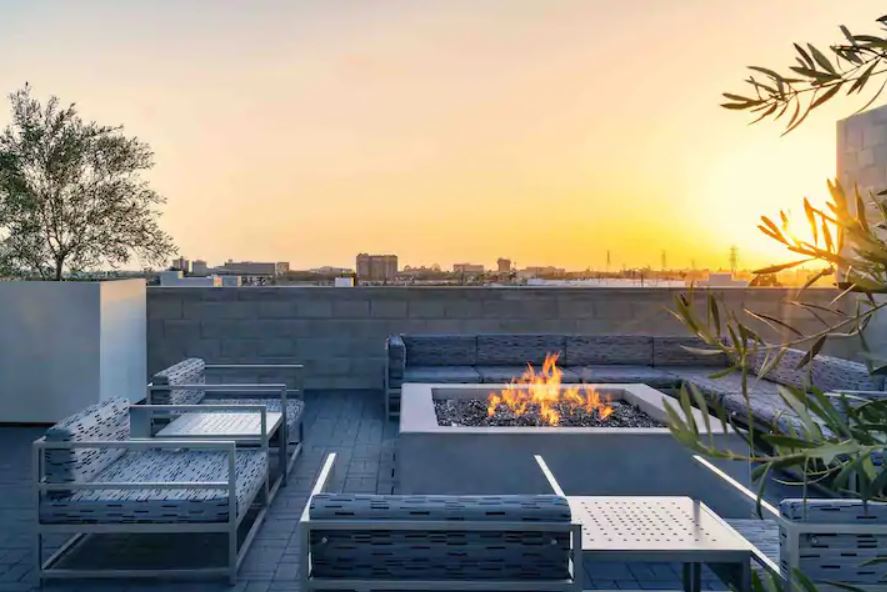 Just around the corner from the park entrances, this Disneyland Airbnb is a great choice if you're wanting to stay in your own place close to the parks. It has two bedrooms so is suitable for a family or a group of travelers and is one of the cheaper options (depending on when you go) so it's a good way to be close to the parks on a budget. The apartment is pretty big, but it's big selling feature is the communal patio terrace that offers outstanding views across the city and the Disneyland fireworks.
The complex also has a heated pool and hot tub along with a gym which guests have access to as part of their stay. The kitchen has all the essentials but is not as big as some of the other offerings – plenty big enough to make a few light meals and snacks to take to the parks but possibly not dinner party material. There's also free parking on site so you can park your car while you stay and enjoy the short walk to the parks.
Click Here To Check Rates On Airbnb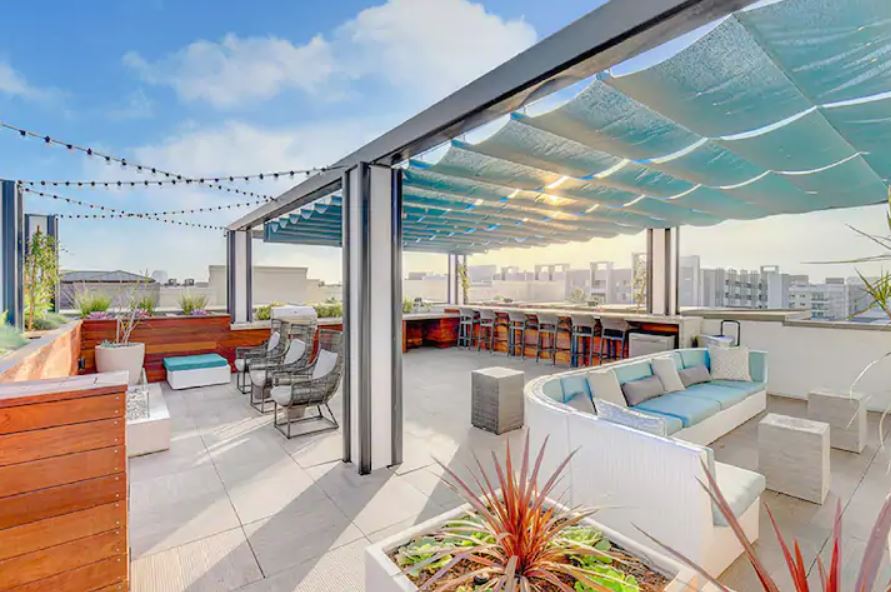 If you're looking for a fun place to stay within walking distance of the parks, this is a great place for you. This wonderful Disneyland Airbnb is tastefully and colorfully decorated including some Disney highlights so you can really enjoy being there, rather than the clinical feel that some hotels have.
You'll get the whole place to yourself and it sleeps up to 7 people so you can have a cool group trip to this Airbnb near Disneyland. The complex itself has 3 pools and a playground so it's a great place to visit with the kids too. It's also one of the closest available residential buildings to Disneyland so you can reach the parks in a matter of minutes.
Click Here To Check Rates On Airbnb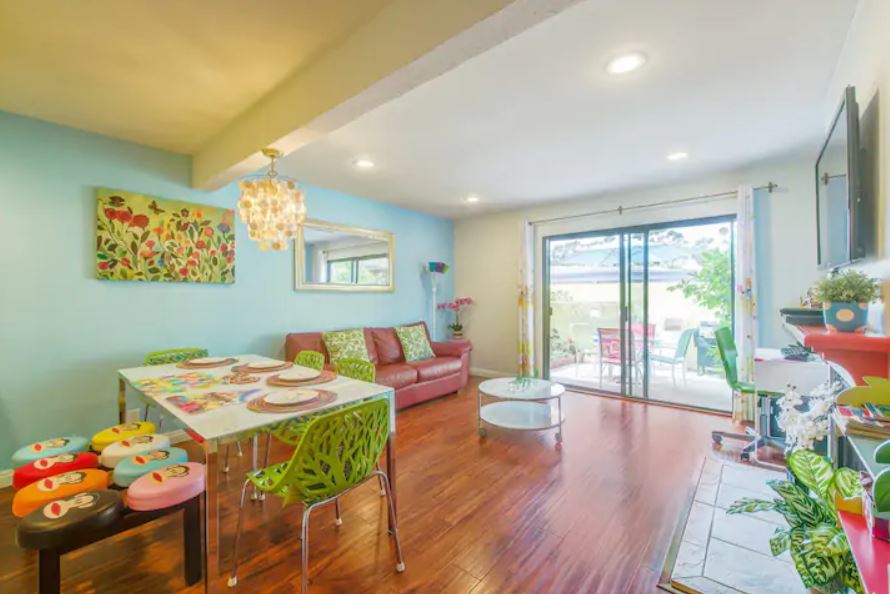 This Disneyland Airbnb is pretty much a hotel room but for much less money! It's a guest suite inside a house with two queen beds and a private bathroom, and a small sitting room. There's even a little station with a fridge, microwave, and coffee maker so you can store some simple food inside the room, ready for trips into the parks.
It's also very close to the parks, being roughly 3 miles away so can be easily walked. This Airbnb offers free street parking and keyless entry with self-check-in so it doesn't feel as though you're muscling in on someone else's house! However, despite the fact there are two queen beds, the max number of guests is 2 so it's only really good for a small group or couple.
Click Here To Check Rates On Airbnb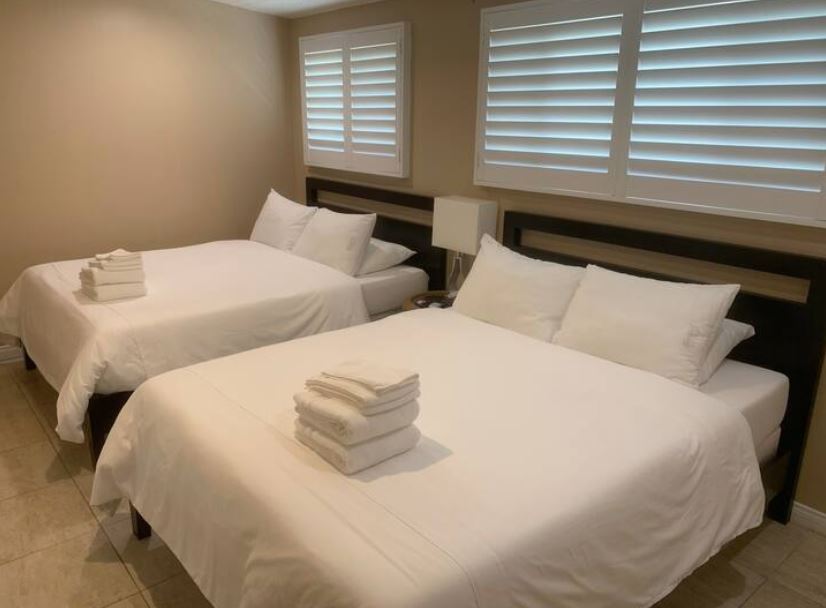 As the name suggests, this Disneyland Airbnb has a big backyard with a climbing frame and trampoline so it's a great option if you've got kids with lots of energy. You get the rest of the house to yourself too and it sleeps up to 8, so it can be a good choice for a big family.
However, the living space inside the house is quite small so 8 adults would definitely feel a bit cramped if they roomed there together. A lot of the beds are in the same rooms as well so it's tailored more towards families than friends. It's also a 10-minute drive to Disneyland which is a bit further away than some of the others but it's still a great offering of an Airbnb near Disneyland.
Click Here To Check Rates On Airbnb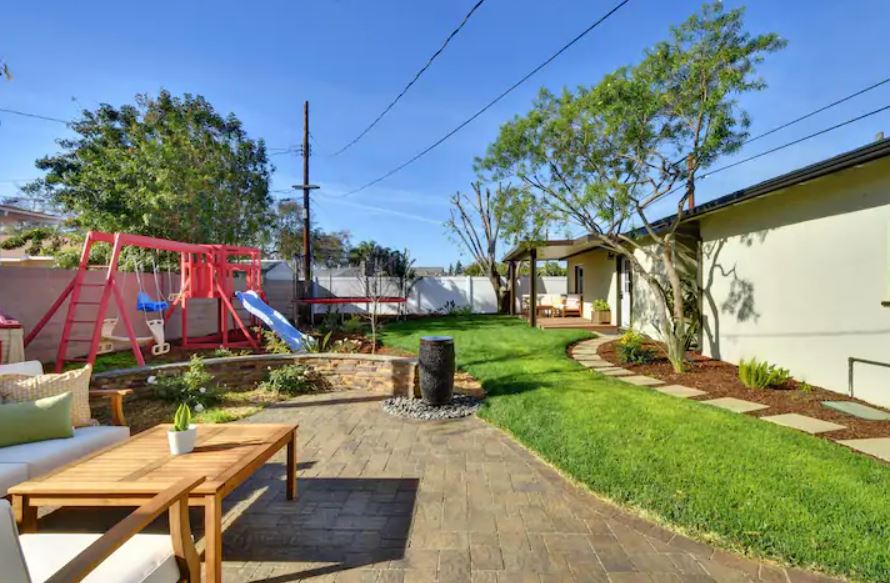 A clean and bright 2 bedroom apartment that is around a 5-minute walk from Disneyland, this Airbnb is a great choice for couples and small families. The apartment is spacious and has lots of windows so that California sun brightens up all the rooms. It's nicely decorated too with a clean and modern feel to it.
The apartment complex has a pool, leisure room, and gym but there are some restrictions to the usage of these amenities. The listing also has a strict noise policy so it might not be the best choice for families with lots of kids who may be quite loud and excitable at the end of the night.
Click Here To Check Rates On Airbnb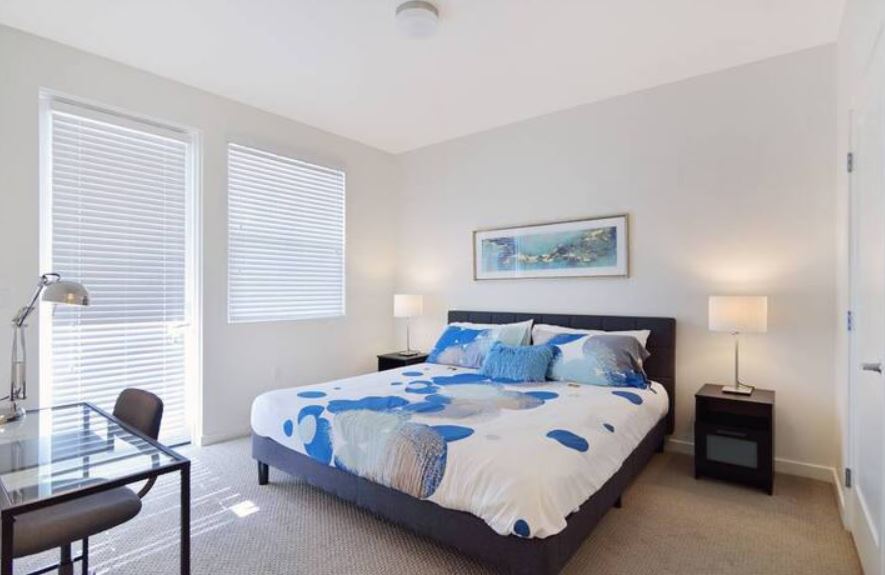 One of the closest residential blocks to Disneyland, this Airbnb offers a lot for a relatively cheap price. It's only a 1 bedroom so it's mostly aimed at couples but there are two sofa beds in the apartment so a group of up to 5 could stay here together, spreading the cost out even more.
There's a pool and large communal gardens on site so you can spend a bit of time relaxing in the sun away from the parks. The price also includes parking for one car and there is ample free street parking available as well.
Click Here To Check Rates On Airbnb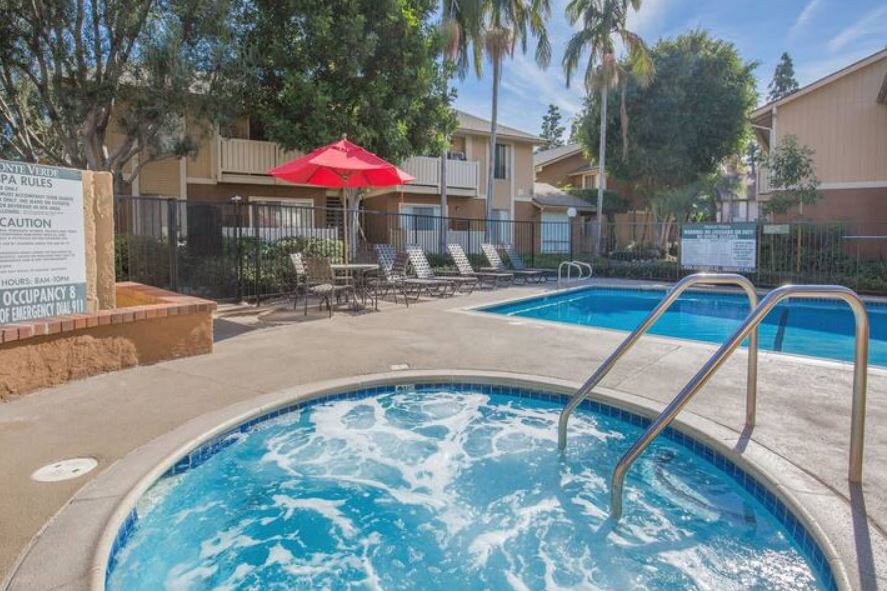 A cozy apartment not far from the parks, this Disneyland Airbnb offers a comfortable stay for up to 6 guests. The rooms are spacious and tastefully decorated with plenty of natural light so it's a real pleasure to spend time here. There's also a full kitchen so you can prepare some snacks for the parks too.
There is free parking on-site, but the host offers airport pickup for an extra cost if you aren't driving. The site also has a 24-hour fitness suite and pool so you can fit in a little exercise no matter what time it is. All close to the entrance to Disneyland too.
Click Here To Check Rates On Airbnb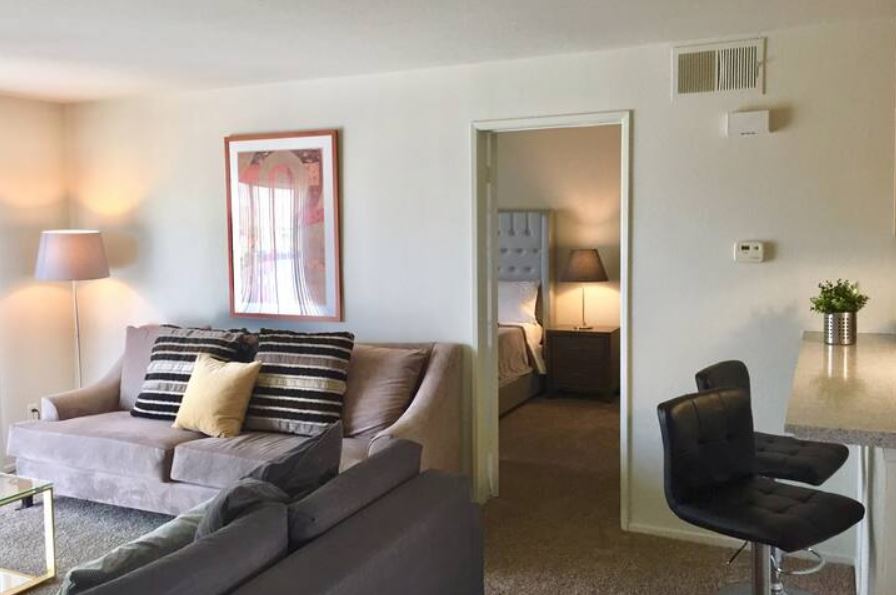 This is one of the most themed offerings on the list – you won't soon be able to forget that this is a Disney apartment. That being said, it's not garish or over the top, it's decorated to a nice standard. It's also incredibly spacious, being one of the only Disneyland Airbnbs spread over two floors.
As the name suggests though, the house is decorated in quite a girly fashion so it may not be in the best taste for some guests. The one free parking space is also limited to a small/medium car so SUV or larger car drivers will have to find alternative places to park. But it is less than a 10-minute walk to the parks so possibly you won't need a car.
Click Here To Check Rates On Airbnb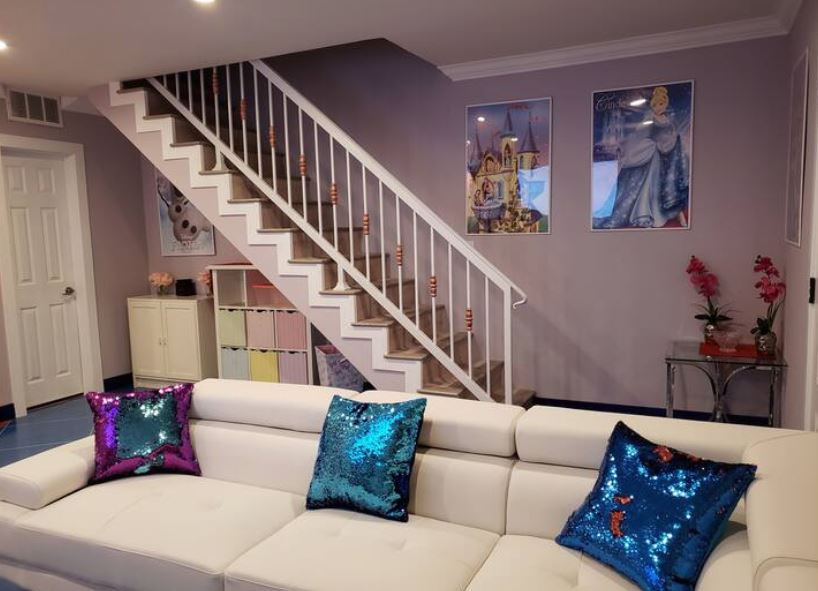 Finding somewhere to stay during your trip is a very important part of the planning process, and we want to help you find the best fit for your family or group. Hopefully, this list will give you an idea about what kind of things you can expect from a Disneyland Airbnb and will arm you with a bit more knowledge about choosing where to stay.