Wondering where to stay near Disneyland? Perhaps you're looking for something a little bigger or cheaper than a standard hotel room. Then a Disneyland vacation rental may be a good fit for you.
Choosing where to stay when you're planning your Disneyland trip can be a daunting task as a bad hotel can tarnish an otherwise amazing holiday. With so much else to think about when planning for Disneyland, a lot of people forget that a vacation rental near Disneyland could be a good option for them.
You might prefer to stay in one of the Best Hotels near Disneyland but read on if you want to find out more about Disneyland vacation rentals.
Get a FREE printable 30/60/90 day Disney countdown by joining our private Disney Facebook Group and share your photos and ask for tips and tricks!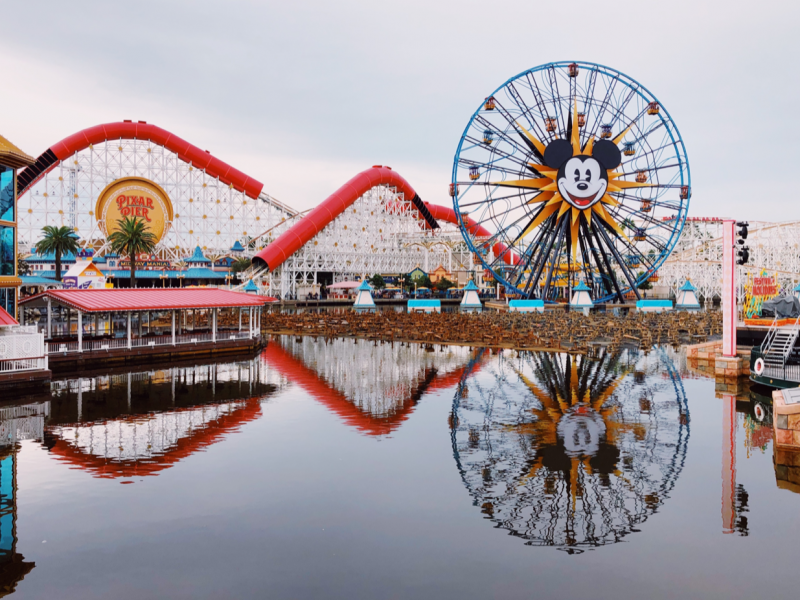 Why Stay In A Vacation Rental Near Disneyland?
There are lots of reasons to stay in a vacation rental near Disneyland, the main ones being cost and space. Through Airbnb or VRBO, you can stay in an entire house with your entire family for less than it would cost to stay at a cheap hotel. Because most vacation rentals charge by the house, the more people you have, the cheaper it is! Rather than paying for additional rooms in a hotel, you can rent a large house without having to worry about any additional costs.
You can also save money on food as a lot of Disneyland vacation rentals have a kitchen where you can prepare simple meals and snacks to take to the parks so you can save money on dining in the parks. Disneyland does have a great range of dining choices to offer too so if you're looking for the best meals you can check out the Best Restaurants in Disneyland.
A lot of the vacation rentals near Disneyland also offer free parking for at least one car so you don't have to worry about paying Disney prices to park your car at the parks. This is another way that a Disneyland vacation rental could save you money.
15 Best Vacation Rentals Near Disneyland For All Budgets
The Neverending Story Home
Enjoy your space while traveling in a large group by staying at the Neverending Story Home, a 2000 square foot vacation rental near Disneyland. Within walking distance of Disneyland, this house has 4 bedrooms, 2 bathrooms, and can accommodate up to 11 guests. Each bedroom has its own Disney theme to make your stay a little more magical.
The fun rooms aren't where the magic stops. This Disneyland vacation rental includes a pool and heated jacuzzi for your use. It's surrounded by luscious palm trees to give you some privacy. Inside you can find a roomy living room and kitchen. In the living room there is a karaoke stage with two wireless microphones! This vacation rental has everything you'd need for a fun vacation.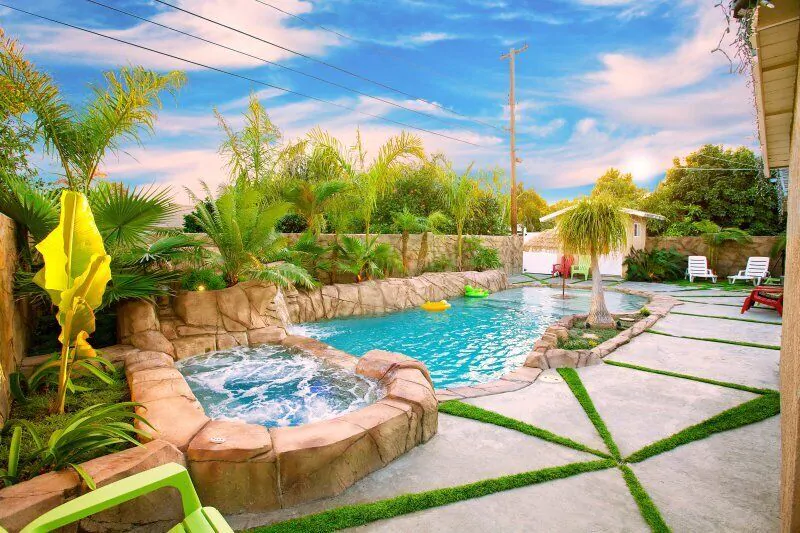 Premier Resort Home
Located just a 10-minute walk from the Disneyland parks entrance, the Premier Resort Home is one of the most 'premier' vacation rentals near Disneyland. Featuring over 2,200 square feet of living space, including a playroom for children as well as 4 bedrooms and 3 bathrooms, this vacation rental has everything you need for a fantastic stay. There's also a large kitchen and a lovely lawned back yard so spending time in the house will not be a problem.
As well as all this, there is parking for 3 cars on the driveway so a large group can easily travel together. You have access to the whole place while you're staying so you can have a truly relaxing stay in this 5-star house.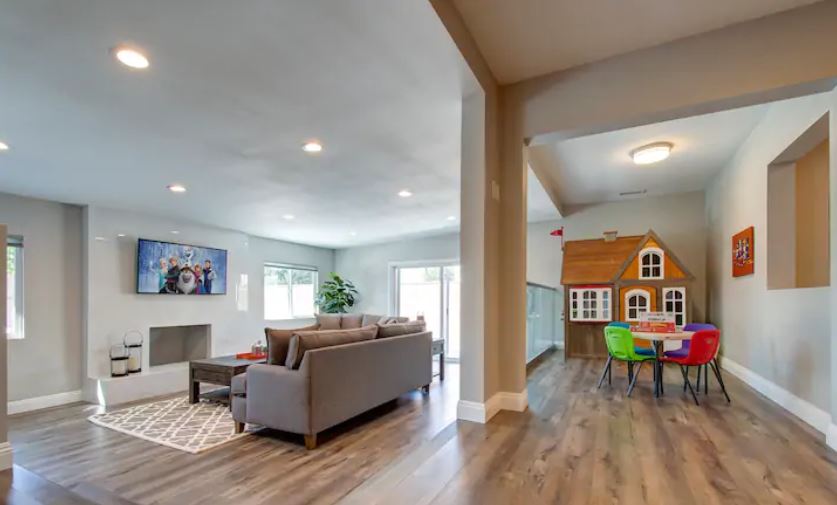 Flexcation House
This vacation rental near Disneyland puts you right next to all of the action! The Flexcation House is right across the street from the Mickey and Friends parking structure. You can easily walk 0.6 miles (about 10 minutes) from the house to the Disneyland tram station, or you can take the shuttle bus from the Holiday Inn right near the house.
The house has 4 bedrooms, 3 bathrooms, and can hold up to 11 guests. You can find plenty of fun things to do during your off day from the parks! There is a pool table, a swimming pool, a hot tub, and a patio with a grill. Instead of staying at a hotel right next to Disneyland, stay at this vacation rental instead!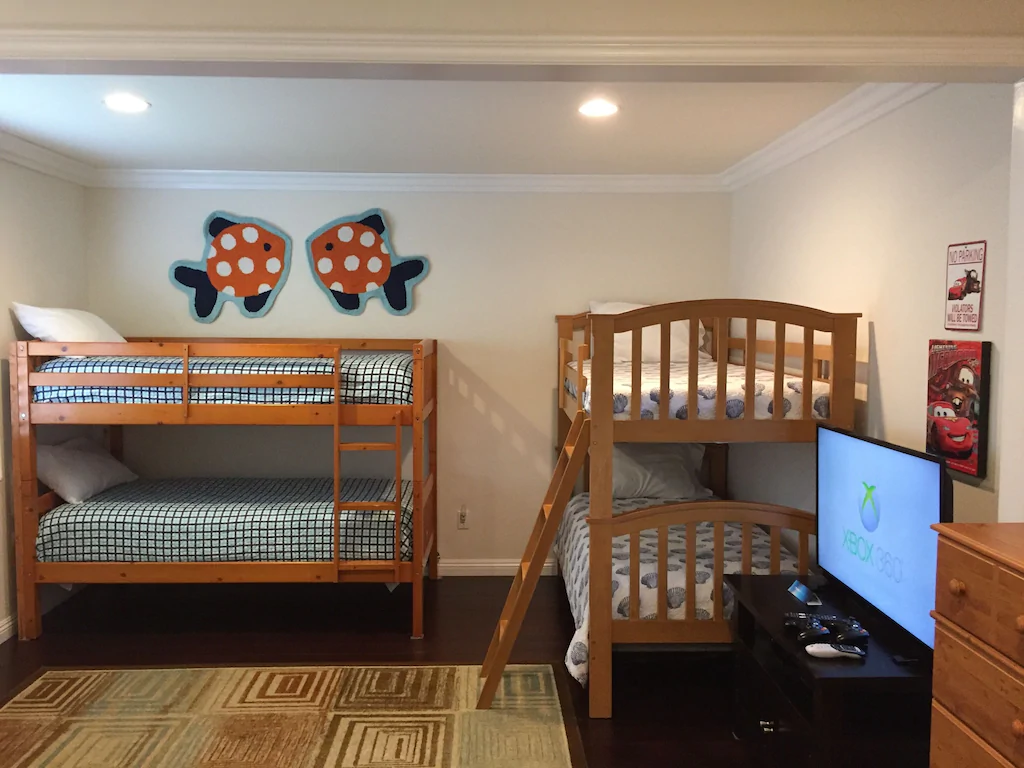 Marriott's Newport Coast Villas
Want a luxurious stay with all of the amenities? Try this vacation rental near Disneyland! Book Marriott's Newport Coast Villas through VRBO instead of through the resort, and you can save from 30-70%. You're basically just staying at a nice villa in a resort for a little cheaper! Marriott's Newport Coast Villas overlooks the Pacific Ocean.
At the resort you can enjoy swimming, playing tennis, shooting some hoops at the basketball court, playing ping pong, going to the spa, and much more. The villas have 2 bedrooms, 2 bathrooms, and can sleep up to 8 guests. This is the perfect Disneyland vacation rental for those who want to stay in luxury.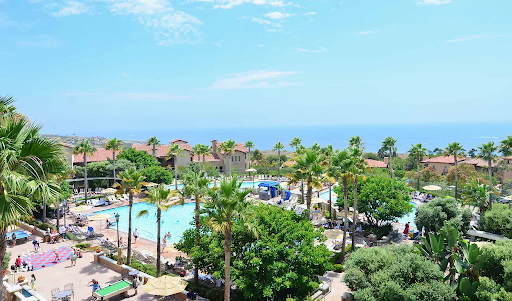 Luxury 2 Bedroom 2 Bath
The Luxury 2 Bedroom 2 Bath apartment is conveniently located just a few minutes walk from Disneyland and is one of the cheaper options available for vacation rentals near Disneyland. The apartment is quite spacious but would likely be a bit of a squeeze for four adults. It is, however, tastefully decorated and offers a range of amenities, including a full kitchen.
The apartment complex also has a pool, jacuzzi, gym, and basketball court that guests are able to access so there are plenty of things to do around the building itself. Adding to this there is an incredible roof terrace with great views over the skyline. There is also free parking on the premises so you can park with no worries whilst you're enjoying the parks.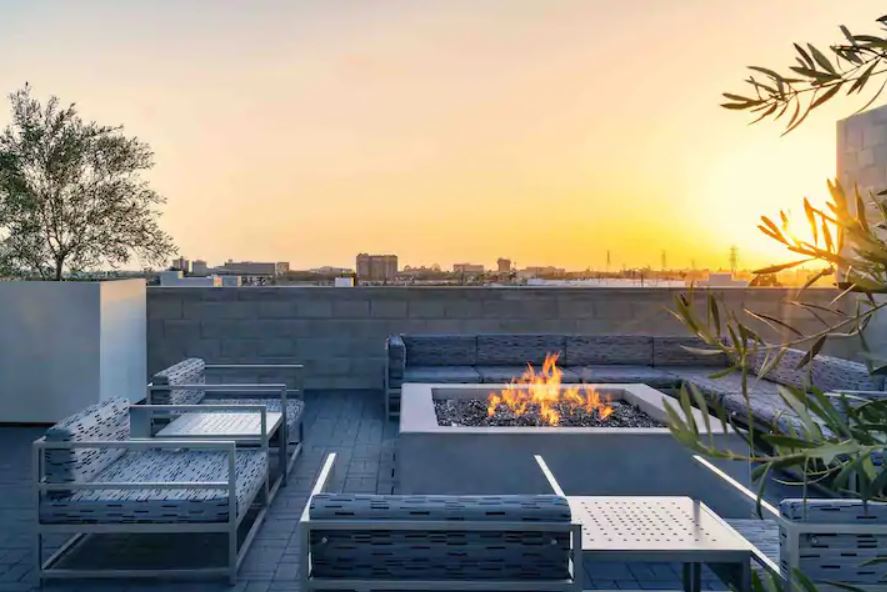 Magic Mouse Townhouse
The Magic Mouse Townhouse is a quick 5-7 minute walk to the Disneyland tram; you can't get better than that! This vacation rental near Disneyland is all about location, but there are some features that make it worth a stay!
There are 3 bedrooms, 2.5 bathrooms, and it can accommodate up to 8 guests. You are able to enjoy all of the amenities such as the pool, hot tub, and playground. There is a small back patio for you to unwind after a tiring day at the parks. Enjoy the simplicity of this vacation rental while staying near all of the action!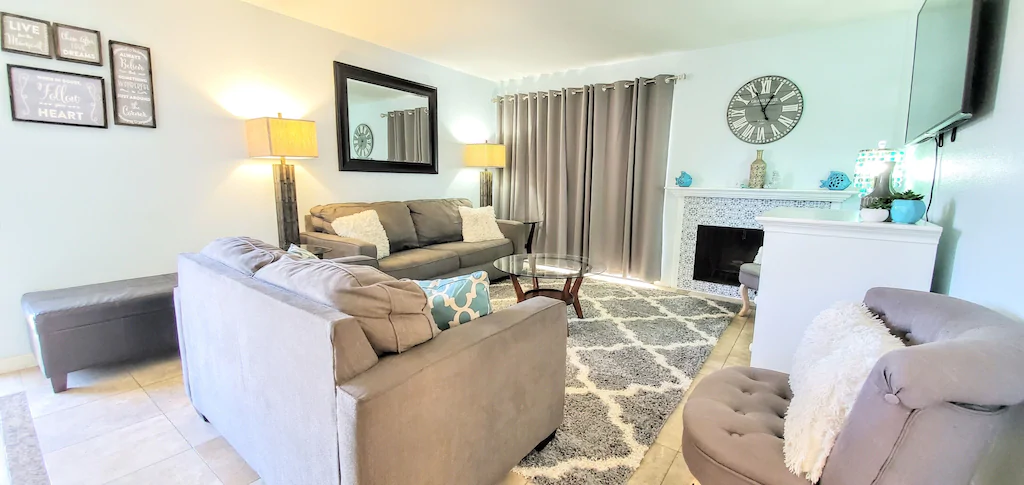 GVH2 Townhome
If you're looking for a fun place to stay within walking distance of the parks, try the GVH2 Townhome. This wonderful Disneyland vacation rental is tastefully and colorfully decorated including some Disney highlights so you can really enjoy being there, rather than the clinical feel that some hotels have.
You'll get the whole place to yourself and it sleeps up to 7 people so you can have a cool group trip to this vacation rental. The complex itself has 3 pools and a playground so it's a great place to visit with the kids too. It's also one of the closest available residential buildings to Disneyland so you can reach the parks in a matter of minutes.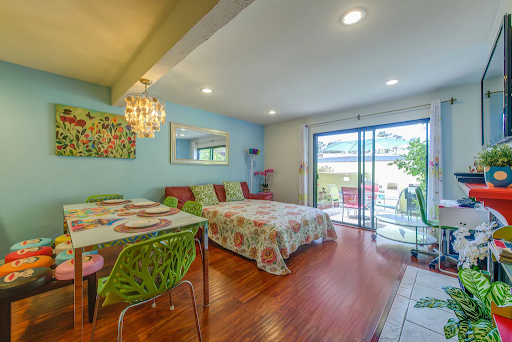 Stylish New 1Br Apt
Don't need a ton of space and just need a small place to stay during your vacation? Consider the Stylish New 1Br Apt Disneyland vacation rental! This airy and open apartment has all the basics you need for a great stay. There is 1 bedroom, 1 bathroom, and it can sleep up to 4 guests.
The apartment complex has a pool and fitness center for your use. The apartment comes with cards and games for the whole family to enjoy! It's located only 2 miles from Disneyland. This is the perfect vacation rental for a small family or a couple to stay at.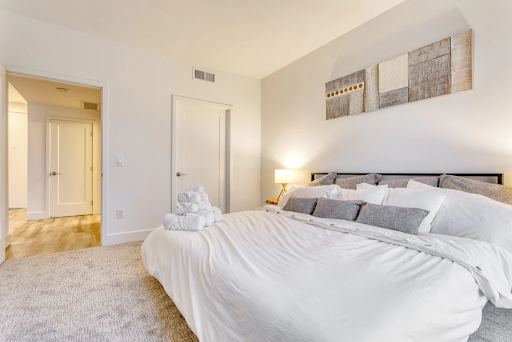 Back House with Awesome Playground
This vacation rental near Disneyland has a big backyard with a climbing frame and trampoline so it's a great option if you've got kids with lots of energy. You get the rest of the house to yourself too and it sleeps up to 8, so the Back House with Awesome Playground can be a good choice for a big family.
However, the living space inside the house is quite small so 8 adults would definitely feel a bit cramped if they roomed there together. A lot of the beds are in the same rooms as well so it's tailored more towards families than friends. It's also a 10-minute drive to Disneyland which is a bit further away than some of the others but it's still a great offering of a Disneyland vacation rental.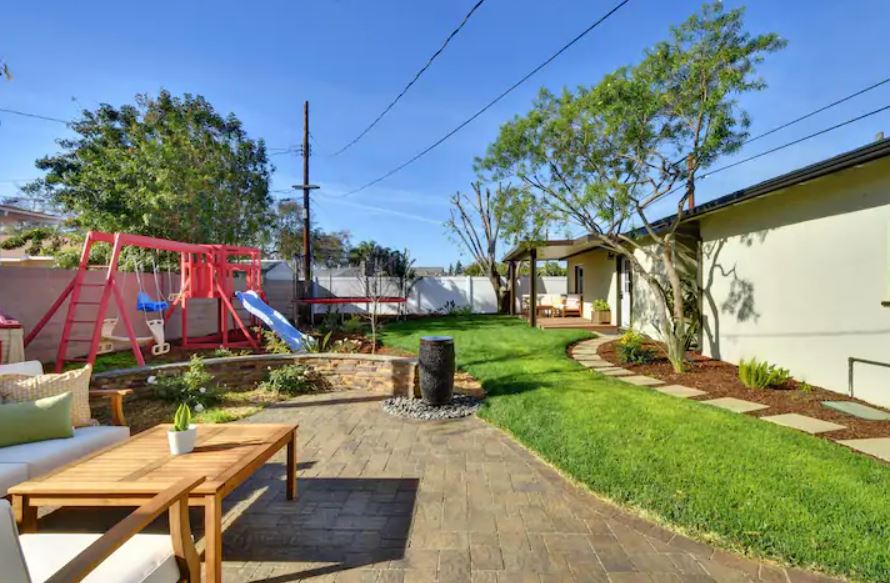 Anaheim House
The 2437 square foot Anaheim House has plenty of room for up to 10 people! Located in Anaheim, this vacation rental is 2 miles away from Disneyland (about a 5 minute drive). The spacious house has 4 bedrooms and 3 bathrooms.
Outside you can find a gated pool to keep your kids safe. Right next to the pool is a patio area with a table and a grill set up. Soak up that California sun while swimming in the pool and grilling some burgers!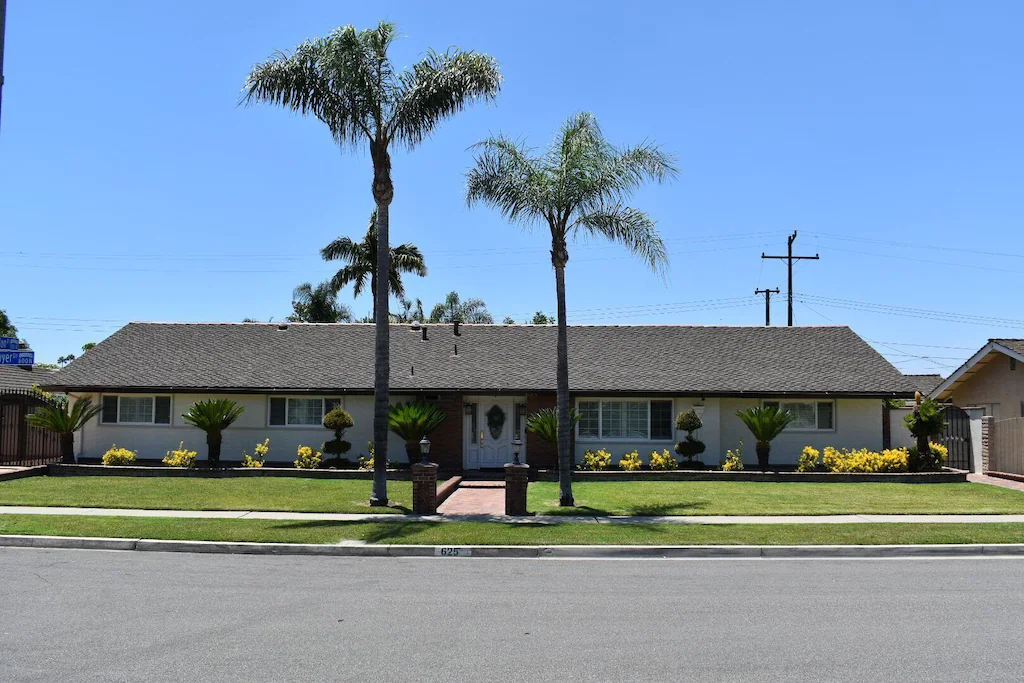 Private Room w Bathroom
If you are traveling by yourself or with just one other person, consider staying in a private room instead of a hotel. The Private Room w Bathroom vacation rental near Disneyland is part of an entire house, but the room is private with its own entrance and bathroom. The room is much cheaper than a hotel would be.
This Disneyland vacation rental has a mini-fridge and a microwave. We don't recommend staying here if you are planning on cooking during your vacation. However, if you just need a place to rest while you aren't at Disneyland, this is a great place to consider.
StorybookVilla #2
This warm and inviting vacation rental is only a short 5-minute walk from the Disneyland tram. Besides its premium location, StorybookVilla #2 has 2 bedrooms, 1.5 bathrooms, and can accommodate up to 7 guests.
There are fun Disney touches located all around the vacation rental such as a Disney-themed bathroom. The place even includes a bunch of games for you to play with your family. The complex has a refreshing pool and hot tub for guests to relax in. This is the perfect place for large families who don't want to have to pay for 2 separate hotel rooms!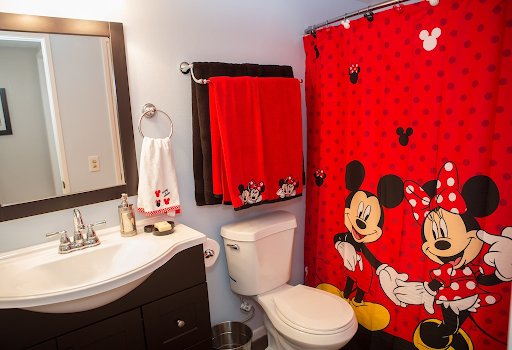 Hawaiian Paradise
Stay in paradise at this Hawaiian Paradise vacation rental! This property has 4 bedrooms, 2 bathrooms, and can sleep up to 10 guests. It's decorated to make you feel like you're in Hawaii enjoying the sun and sand. There is a pool and private backyard for you to enjoy.
Located in the garage of the house is the game room. Here you can find a billiard table and a foosball table. It's a great place to hang out and relax with your family. This Disneyland vacation rental is a short walk from Downtown Disney and the Disneyland tram.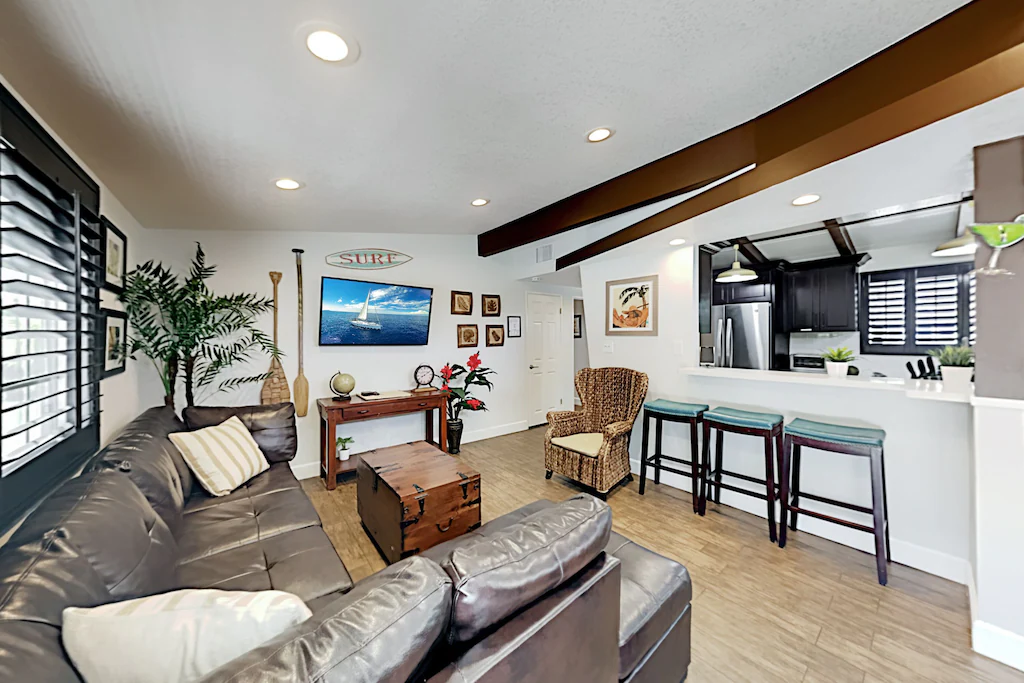 Walking Distance To Disneyland House
This is THE vacation rental near Disneyland to stay at if you have kids! The Walking Distance to Disneyland House has 3 bedrooms, 2 bathrooms, and can accommodate up to 8 guests. But let's get to the part about why it is so great for kids!
There are lots of amenities this place offers that children will enjoy. Outside, there is a pool and new hot tub. Inside, there is a game room with bubble hockey, shuffleboard, toys, and a Nintendo Wii. The place even has princess dresses for your kids to play dress up! This house really has it all and is a great place for families to stay.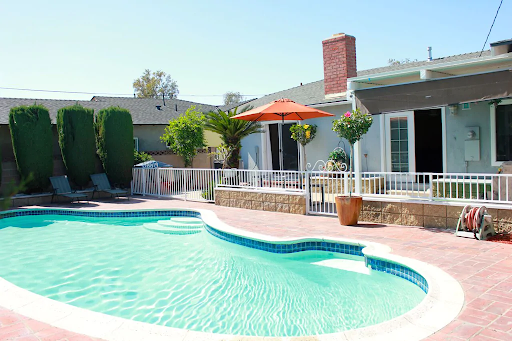 Finding somewhere to stay during your trip is a very important part of the planning process, and we want to help you find the best fit for your family or group. Hopefully, this list will give you an idea about what kind of things you can expect from a vacation rental near Disneyland and will arm you with a bit more knowledge about choosing where to stay.