It can be a challenge trying to pick where to stay out of all the hotels near Disneyland so we thought we would help by giving you a run down of some of the best hotels near Disneyland. There's also a brief overview about the pros and cons off choosing an off-site hotel over a Disney Hotel.
There are a range of off-site options to suit all kinds of budgets and groups and we've tried to highlight the best options from a range of these. We want you to find the best place to stay near Disneyland that will make your tip a truly magical one. Off-site hotels can be a great way to make the most of your time and your money whilst you're staying at Disneyland.
Get a FREE printable 30/60/90 day Disney countdown by joining our private Disney Facebook Group and share your photos and ask for tips and tricks!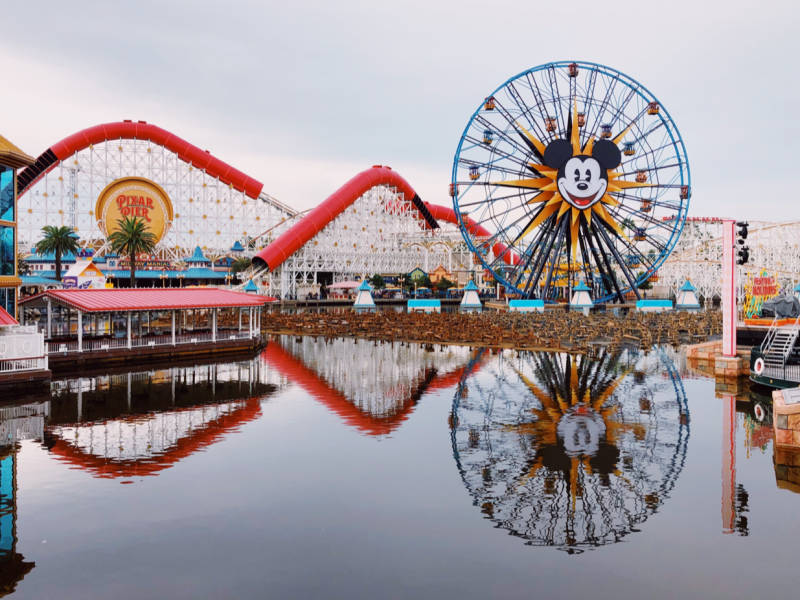 What Are Off-Site Disneyland Hotels?
Off-Site Disneyland Hotels are hotels that are mostly not owned or run by Disney but are near enough to Disneyland that a lot of their custom comes through it. These can be what are known as Good Neighbour Hotels, which are off-site hotels that Disney endorse as good hotels.
The area around Disneyland is saturated with hotels and motels and holiday apartments so that everyone going to Disneyland has somewhere to stay that fills their needs.
What Benefits Do You Get From Staying At Hotels Near Disneyland?
More often than not, hotels near Disneyland are cheaper than Disney Hotels and due to the size and layout of Disneyland can even sometimes be closer to the park than Disney's own hotels.
They also often offer more amenities such as large pools and restaurants that you wouldn't always get at an onsite Disney hotel. A lot of hotels near Disneyland also offer free parking so you can drive your own car there and not have to worry about paying to park it.
Are There Downsides To Staying At Hotels Near Disneyland?
Staying at off-site hotels near Disneyland can mean that you are further away from the parks but there are a large amount of off-site hotels that are within easy walking distance of the Disneyland entrance.
You would also miss out on the Extra Magic Hour that on-site hotel guests have access too, however depending on the type of ticket you buy you may still have access to the Magic Morning that Disneyland offers.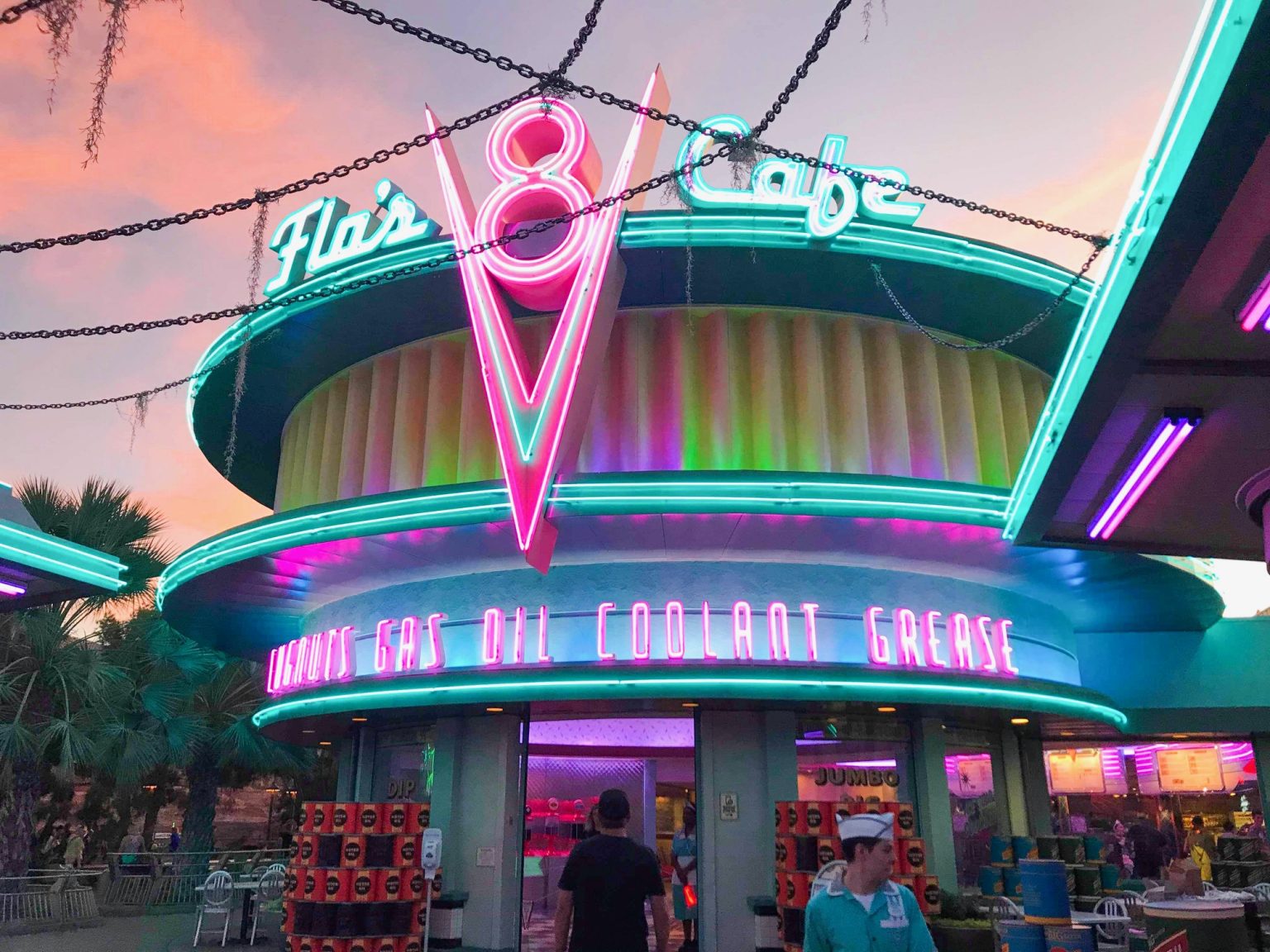 9 Best Hotels Near Disneyland
A large chain hotel, Courtyard by Marriott is a great option for where to stay near Disneyland for family groups. The rooms are spacious and come with two queen beds and bunk beds as standard which makes it a good value for money for a larger family group. There's also a large private water park featuring 6 slides so you can spend some fun time at the hotel, as well as at Disneyland.
To get to the parks, it's just a 10 minute walk from the hotel so you don't have to worry about shuttle bus schedules. You can come and go as you please without losing much time in the parks. The hotel also offers some rooms with a fireworks view which means you can still watch the fireworks even if you don't make it to the end of the night.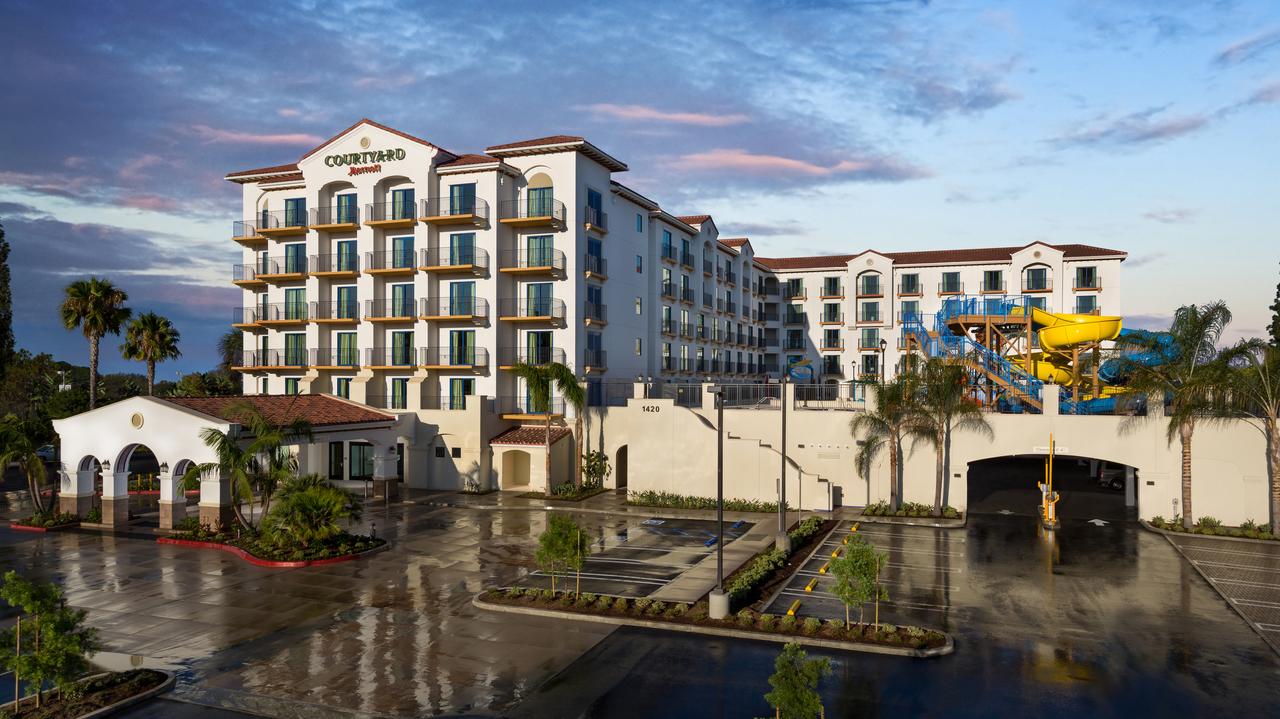 Offering a private, pirate-themed water park, Howard Johnson is one of the best off-site hotels near Disneyland for families. The onsite water park is huge and has a range of interactive activities for children of all ages to enjoy. There's also a poolside hot tub so the adults can relax after thrashing around with the kids in the park. The rooms themselves are cozy and offer tasteful Disney theming and there are different sizes of suite available, although all offer a sitting area.
The Disneyland Parks are less than a 10-minute walk away so you're not far from the action at this hotel. Guests at the hotel can also park their car for free during their stay so if you've driven to the resort you can relax about parking charges whilst you're enjoying Disneyland. The hotel doesn't have a kitchen on-site though so you will need to go elsewhere to eat. There is a small mini-mart for snacks, however.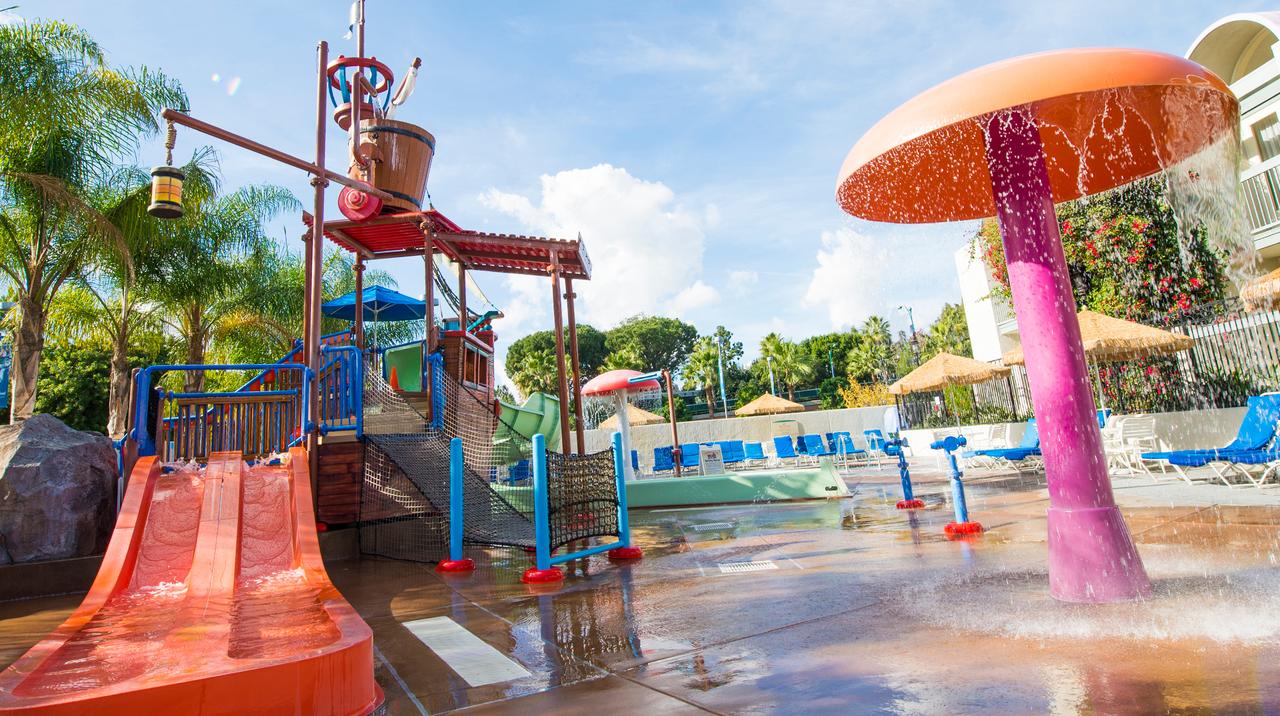 Park Place Inn is one of the closest hotels to Disneyland and the entrance takes you straight to the pedestrian entrance to the parks. Within a few minutes of leaving the hotel, you'll be inside the Disneyland parks. It's even closer than some of Disney's own hotels. So if you're looking for quick access to the parks, this hotel can't be beaten.
This hotel also offers a complimentary breakfast and the rooms are very spacious, offering great value for money. There's an outdoor pool and there is a range of room sizes available so Park Place Inn can cater to most groups' needs.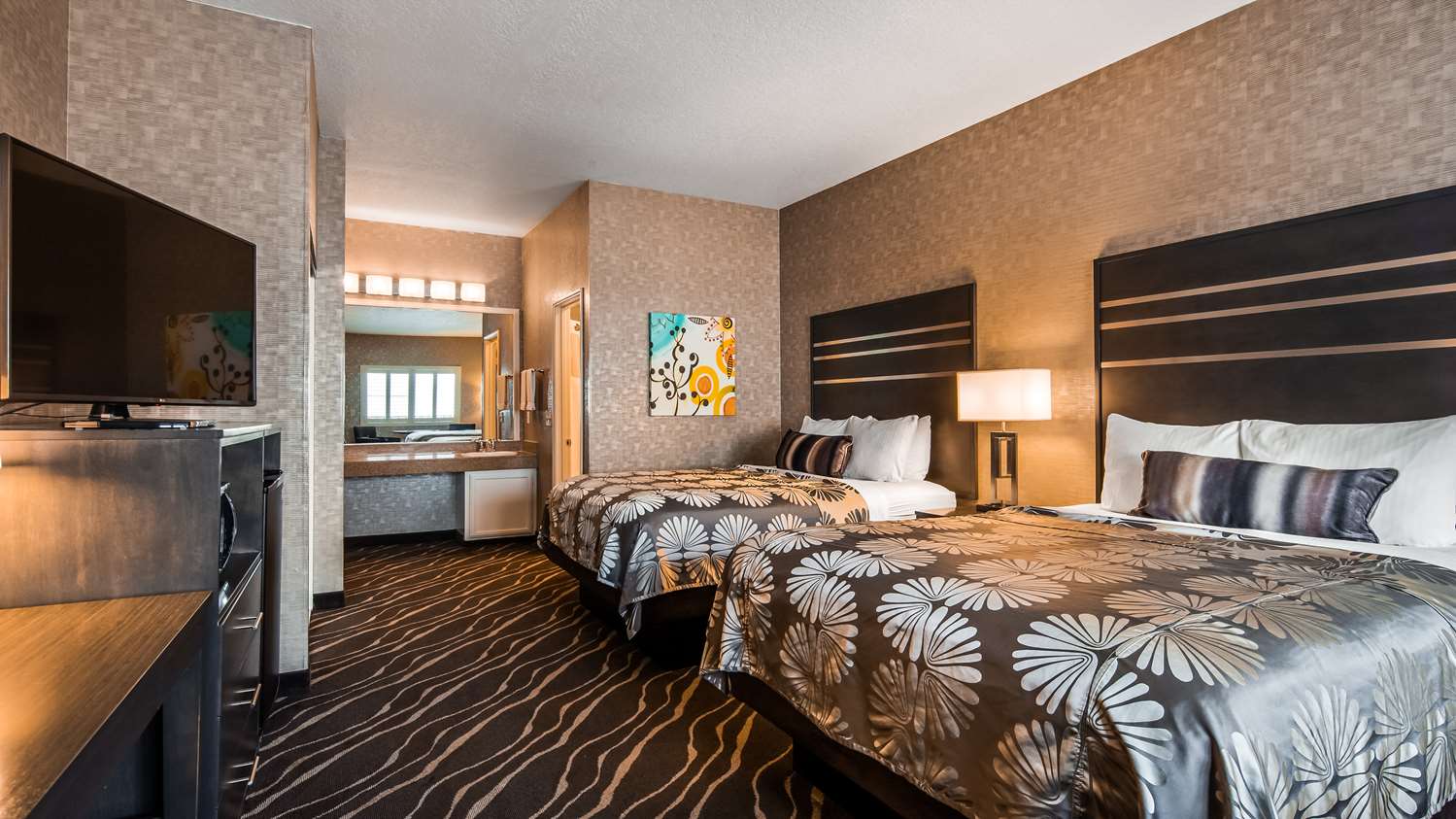 Located around half a mile from the Disneyland entrance, Hyatt House is within easy walking distance of the most Magical Place in the World. Hyatt House is tastefully decorated and is stylish and comfortable, all for a very affordable price, making it one of the best hotels near Disneyland. There is an outdoor pool and a large fitness center so you can burn off some of those turkey legs when you get back to the hotel.
A breakfast buffet is included in the room price and its location a little further from the parks means you are closer to more outside amenities, bars, and restaurants. One drawback is that you do need to pay for parking on-site if you have driven to the resort, and the large family suites are suitable for up to 4 people so larger groups would struggle to find a room here.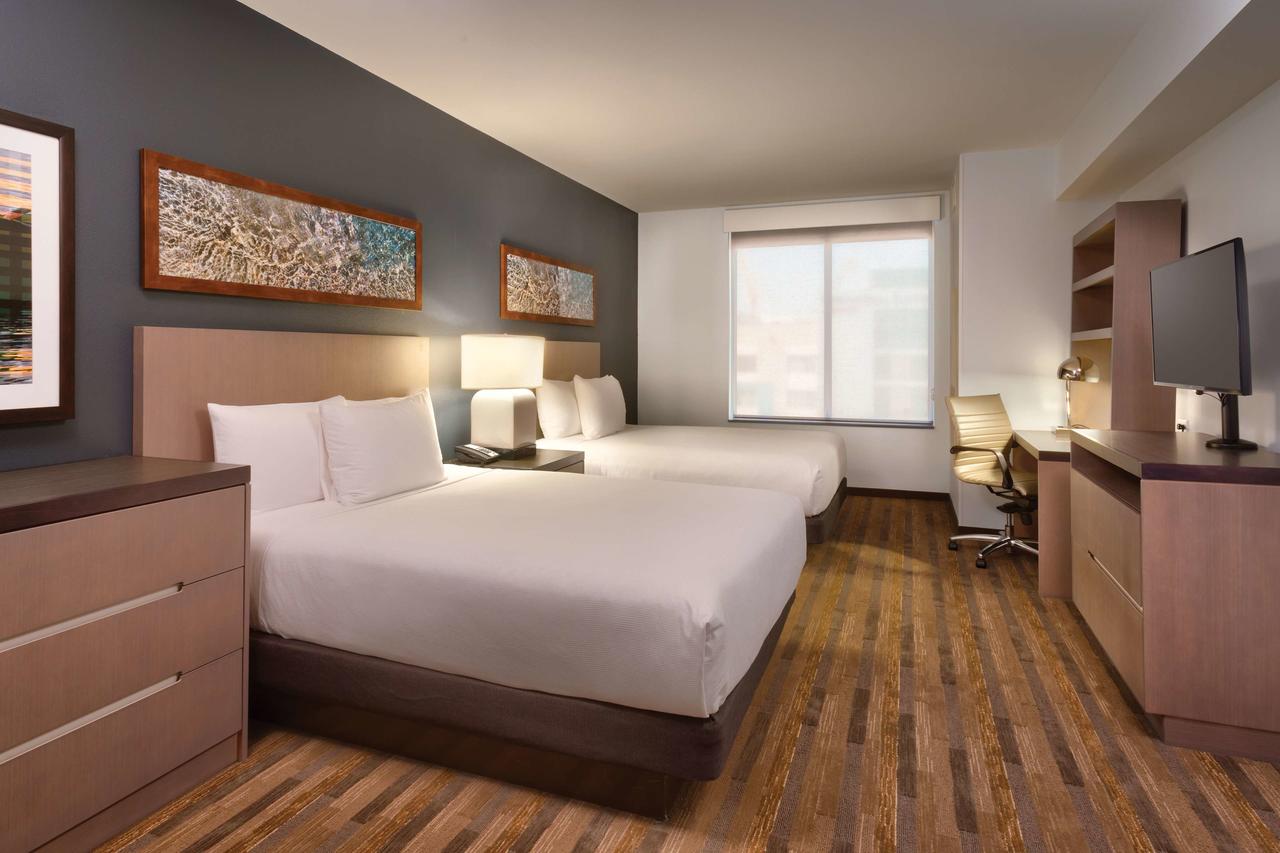 Holiday Inn's offer a good standard of care no matter which hotel you are at and this hotel near Disneyland is no different. There is a wide selection of rooms and suites to cater for every price and group size and all the rooms are very spacious. There is a pool and fitness center as well as laundry facilities and a mini-mart on-site so you don't have to worry about a thing.
Complimentary breakfast is served every morning and then it is just a 10-minute walk to the Disneyland parks. However, parking is only available offsite for a fee. Despite this, Holiday Inn still makes a good offering when you are looking for where to stay near Disneyland.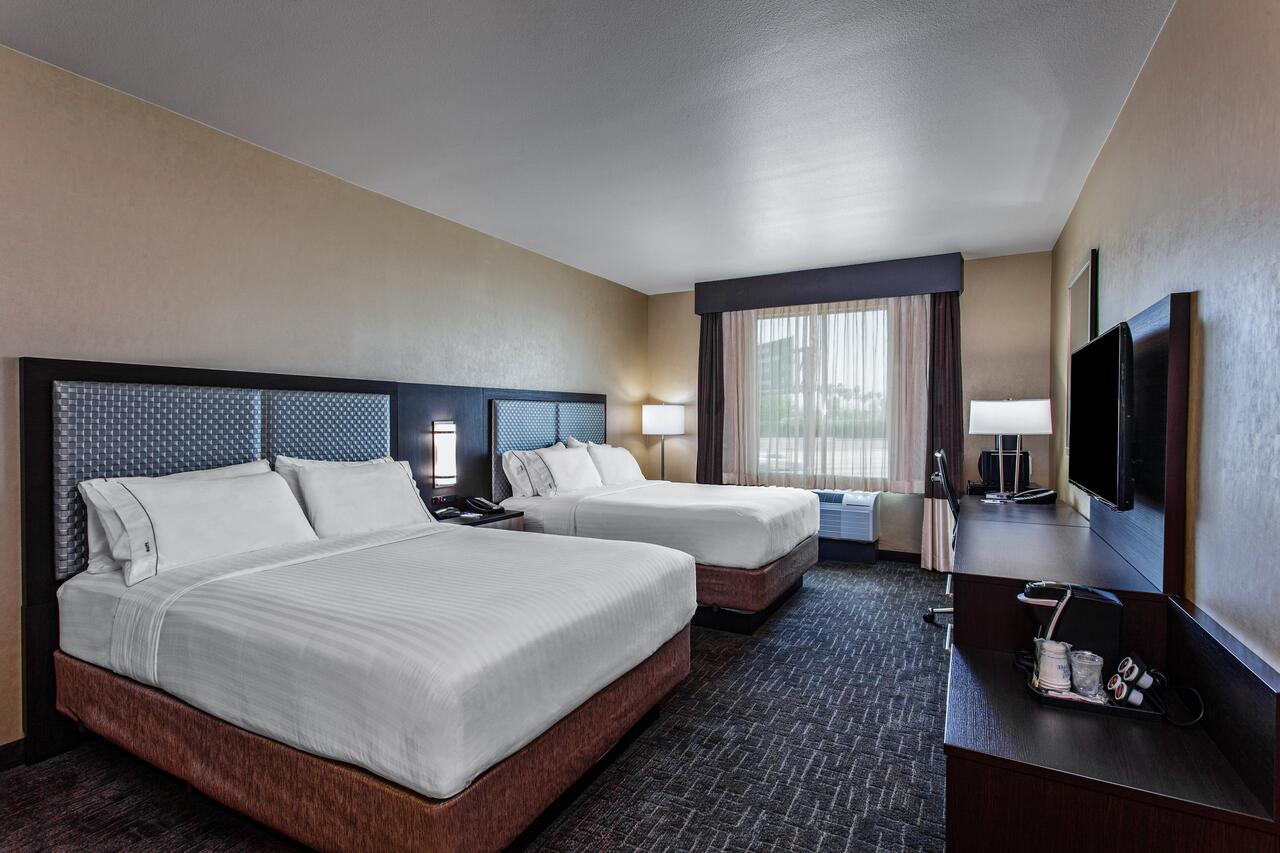 The Anaheim Hotel can be found just across from Disneyland and is within a 5-minute walk of the entrance to the parks. It advertises as being a family-friendly hotel and the large room sizes and onsite activities fit with that description. There is also a large lane pool and fitness suite so adults can get plenty of exercise too at this hotel. Onsite is a Pizza Press as well as a restaurant that provides room service if requested.
Unlike some of the other hotels on this list, you do need to pay for parking and at $18 a night that can add up. But the spacious rooms and its location near Disneyland make up for that.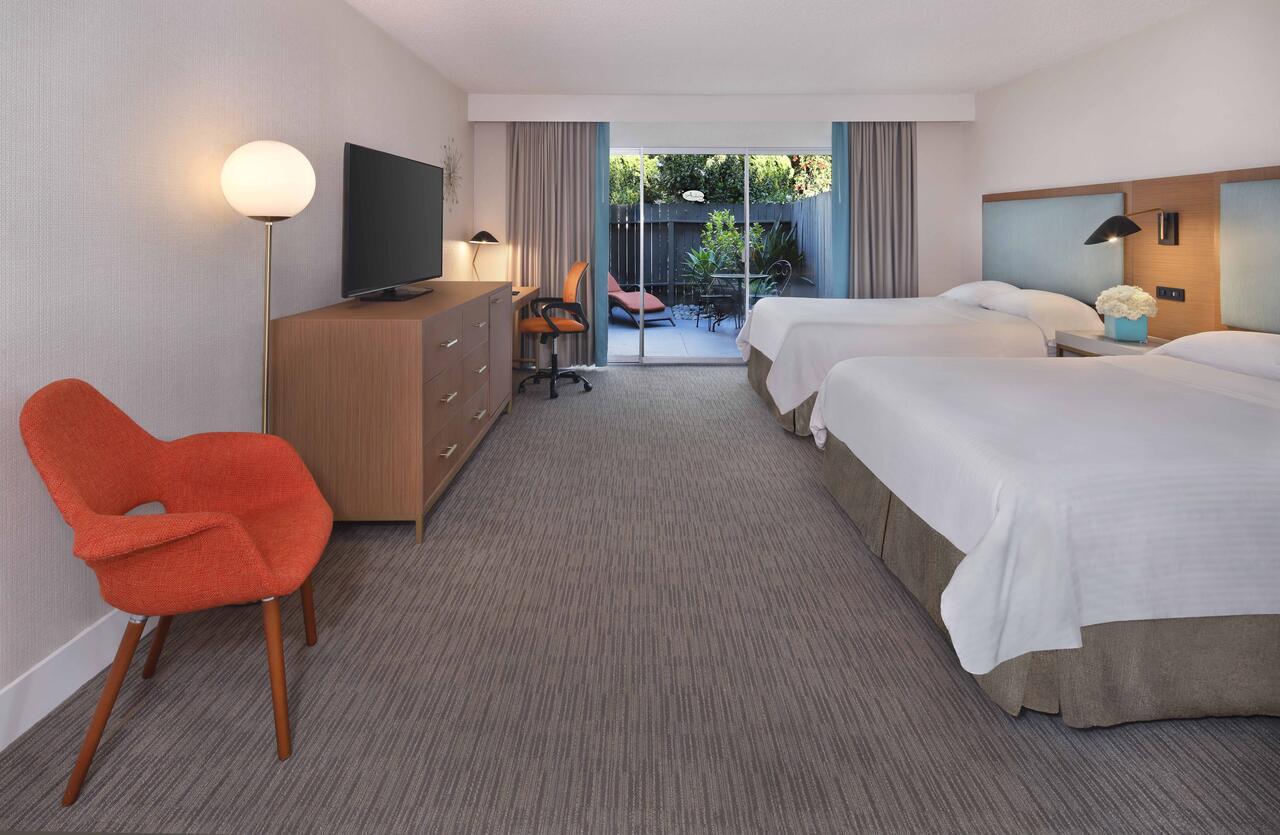 Fairfield by Marriott hotel is located 0.3miles from the entrance to Disneyland which makes it closer than some of the on-site Disney hotels. It's a good chain hotel so you are guaranteed comfort and good service and they up the appeal by offering Disney themed rooms as well as views across the park and even firework views.
There's an outdoor pool with whirlpool on-site as well as a Pizza Hut Express and Grab and Go Market so staying inside the hotel isn't a chore. It's not the cheapest option but the proximity to the park entrance and the style of the hotel make it worth it.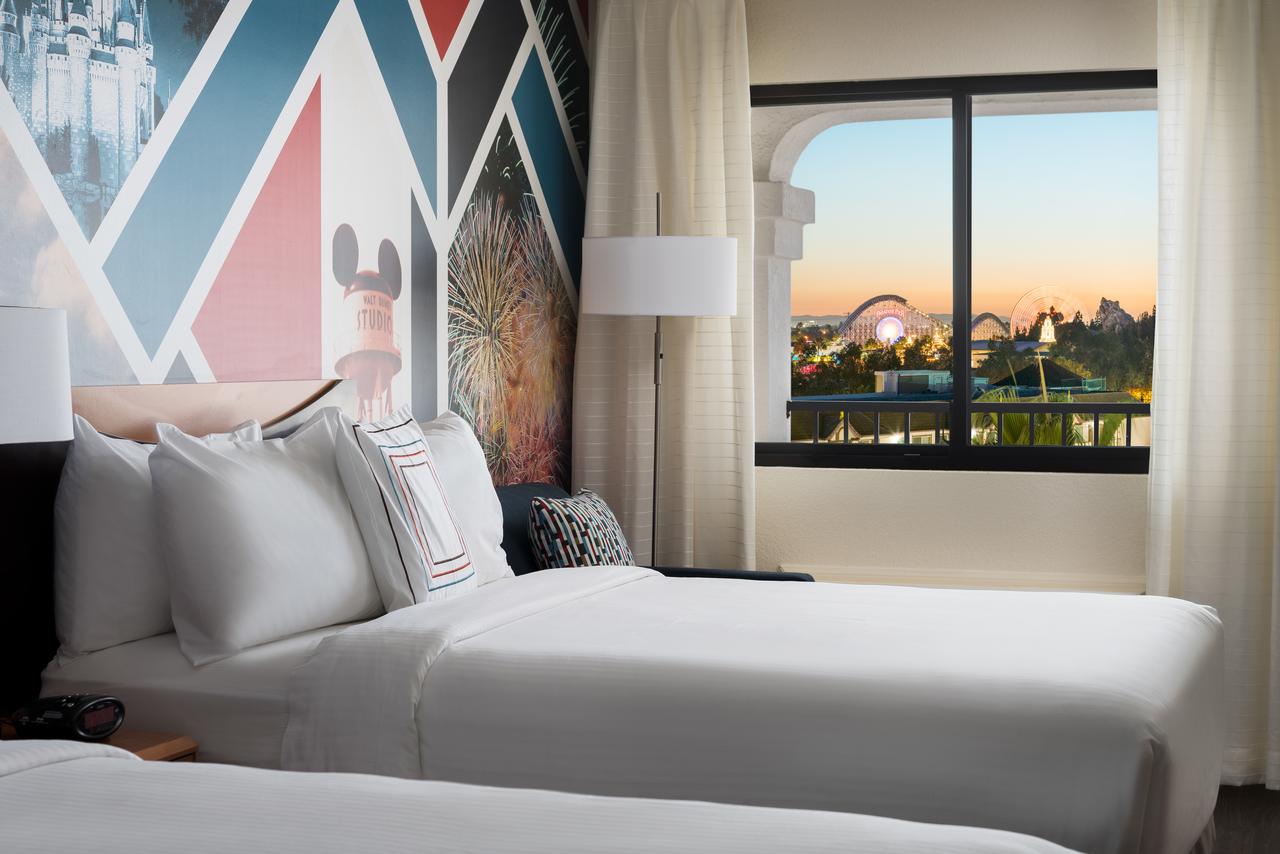 Hiltons everywhere are known for their high-class hotels and the Hilton Anaheim is no exception. Stunningly designed, the Hilton Anaheim is a great luxury hotel near Disneyland that won't break the bank. The amenities are super, including a dining court, a full gym and pool as well as basketball courts and a bar. There is also a Disney shop onsite so you are able to buy any last-minute souvenirs you may have forgotten.
Breakfast can be added to your stay for a small fee and they can be Disney themed, including having famous Mickey waffles. However, the Hilton Anaheim is designed to cater more to the Convention Centre than Disneyland which makes it a tad further away than other hotels near Disneyland. It's still only a 15-minute walk but that can be a little off-putting when there are closer options available.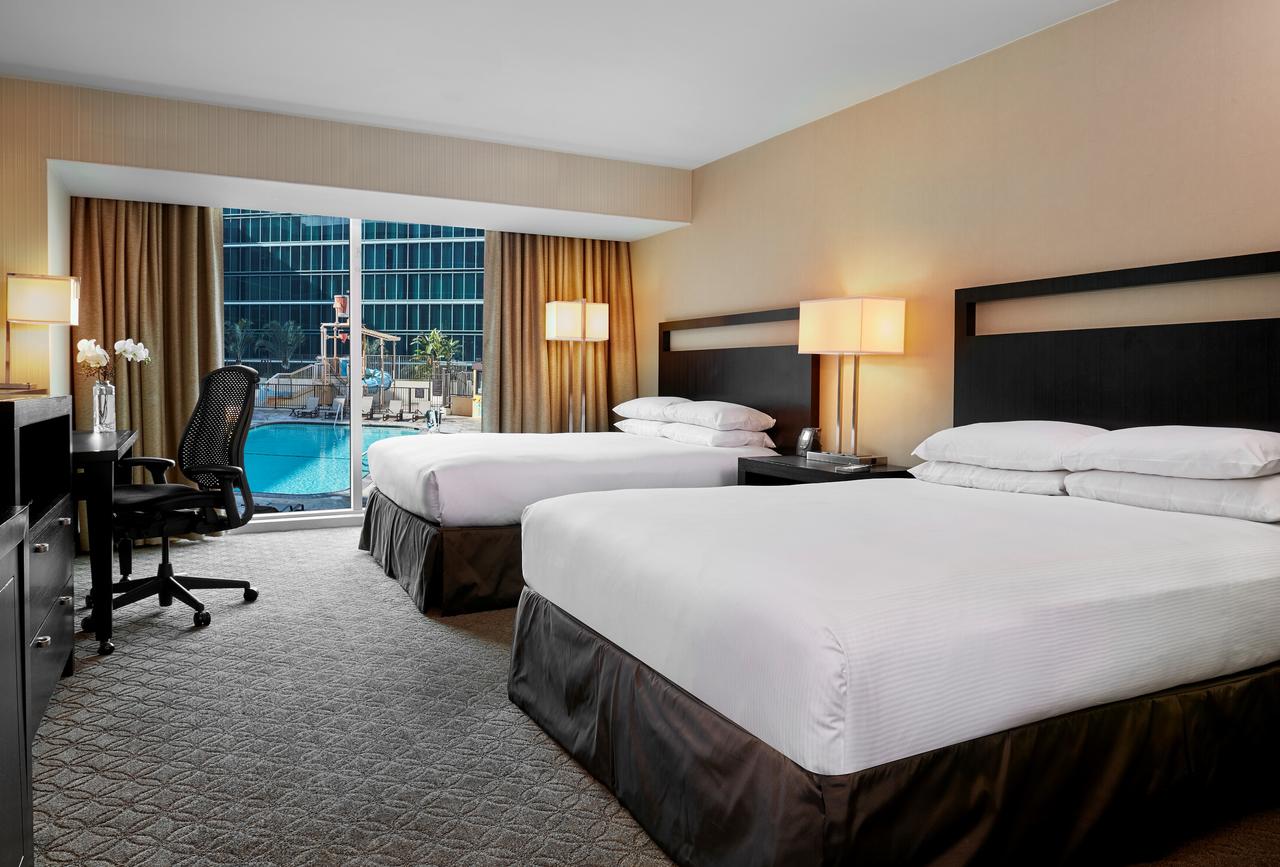 Park Vue Inn
Park Vue Inn is a 5-minute walk away from Disneyland, making it one of the closest off-site hotels you can stay at. It's also one of the cheaper options as the room prices are considerably less than Disney hotels as well as some of the other off-site hotels on this list. The price does reflect the amenities, however.
Park Vue Inn does have a small outdoor pool and a small gym onsite but the rooms are fairly standard for a cheaper hotel. It does, however, boast a gift shop where you can buy Disney souvenirs and there is a complimentary continental breakfast served every morning.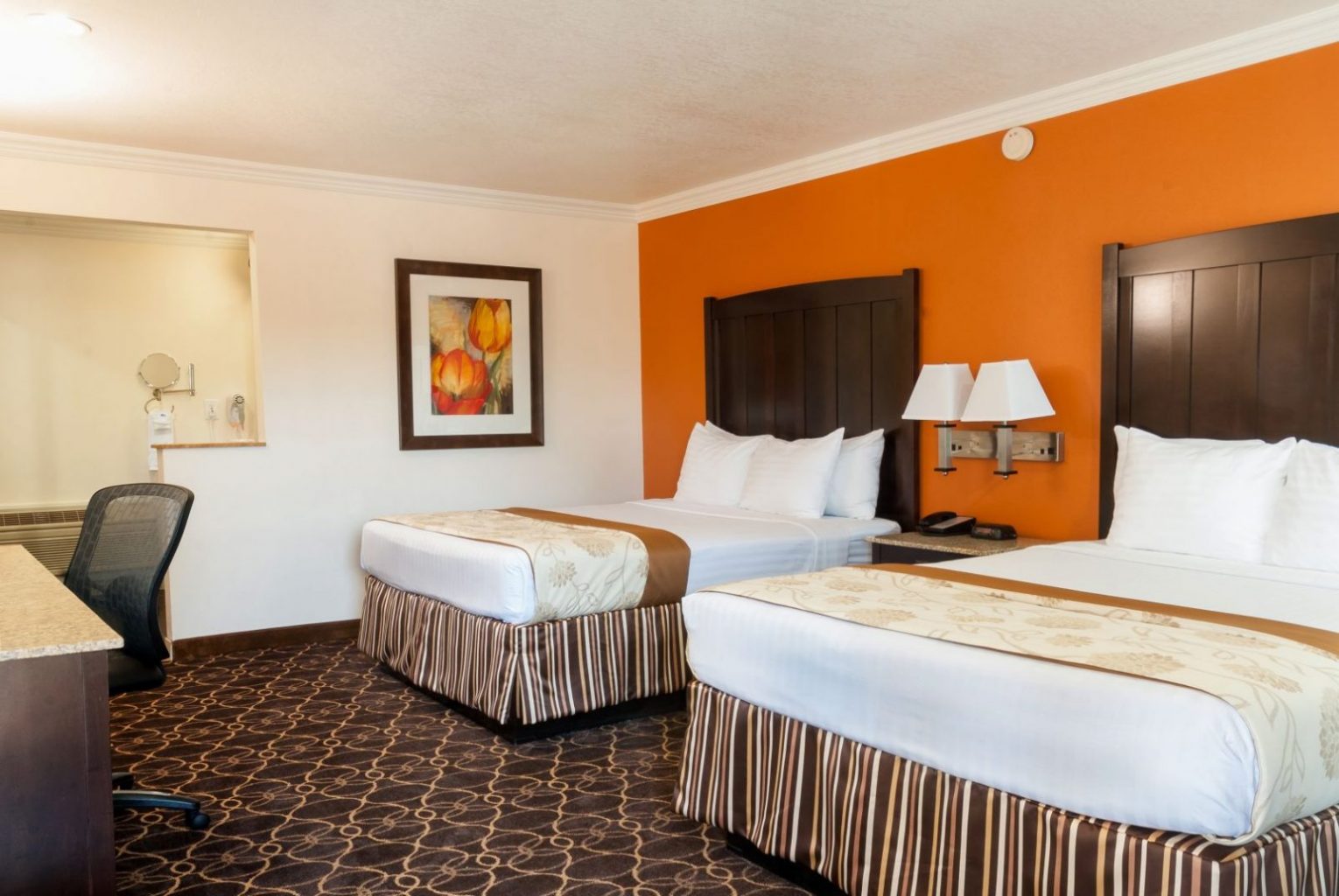 There are plenty of benefits from staying at an off-site hotel near Disneyland and with so many to choose from you'll be sure to find somewhere to suit your needs and your budget, so you can have a truly magical time at Disneyland.