Welcome to my ultimate Disney Coronado Springs review! If you've been looking for the answer to "should I stay at Coronado Springs?" then look no further – this review is for you! I'm going to tell you everything you need to know about both of my stays here, the entire resort and all of its amenities, and answer all of your burning questions about this hotel.
Disney Coronado Springs Resort is one of four moderate resorts at Walt Disney Resort. It's composed of two sections, the original Coronado Springs and the new Gran Destino Tower, and is a sprawling resort with over 2300 rooms. The entire resort is inspired by the American Southwest and Mexico. The resort and tower form a circle around the man-made lake, Lago Dorado. My Disney Coronado Springs review will help you navigate this massive resort, and plan the perfect trip here!
Download A Map Of Coronado Springs Resort for your stay right here! This way, you can easily understand where everything is located and how to get around.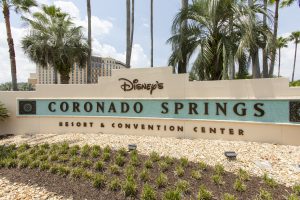 The Ultimate Disney Coronado Springs Review
Booking at Disney's Coronado Springs
Like I said, this resort has over 2300 rooms and two sections, the main hotel and the Gran Destino Tower. The main hotel is made up of three distinct sections as well: Casitas, Ranchos, and Cabanas. All of these have exterior doors and the walkways to reach all of these rooms are outdoors like the other moderate resorts. Unlike the main hotel, the rooms and walkways of the tower are completely interior – an option that isn't offered at any other moderate resort at Disney.
You can book both the main hotel or the tower by using the Disney World website or calling the Disney World travel line. I booked online, and it was very easy. After choosing your dates and hotel, the website will show you all rooms available, and the tower is even listed in its own section right underneath the main hotel rooms and Coronado Springs.
When I stayed at Coronado Springs in July I stayed in the Casitas section of the main hotel in building 5, but for my recent trip in October I stayed in Gran Destino Tower. One reason was because I had already stayed in the main hotel, and another was because since I was going for my wedding anniversary, I believed the tower would be more romantic and a little more luxurious. Later in this Disney Coronado Springs review, you'll learn the benefits of booking the tower over the other sections of the hotel as well.
Location Of Coronado Springs Resort
Coronado Springs Resort is located in what Disney considers the Animal Kingdom Resort Area. This being said, it is very close to Animal Kingdom of course, and also close to Blizzard Beach. Disney Springs is the farthest Disney destination from this resort, and the ride on the bus took about 20 minutes or so. Magic Kingdom and Epcot aren't as far of a trek, but aren't exactly right around the corner. Definitely take the travel time into consideration when trying to get to a reservation, especially since the only Disney transportation at the resort is the bus system.
This resort, like many of the other moderate resorts, also has an internal bus system. That means that you don't just get on the bus for your destination and go, instead, you have to pick up and let off others around your resort before heading out. When I stayed in July, the Casitas bus stop was considered bus stop 1, and the Gran Destino was number 4. I did notice that during my October trip, some bus drivers were picking Gran Destino up as 1 though, and some were still using it as 4. There didn't seem to be any rhyme or reason to it, but my guess is that Gran Destino will eventually shift to bus stop 1, and then Cabanas would become number 4. My pro tip for the internal bus system? Ask a cast member which bus stop is being used as number one during your stay, and if you are able, head to that stop to get a good seat!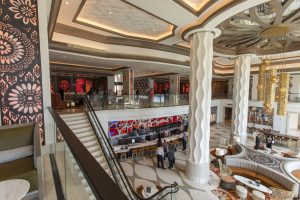 Check-In Process
Checking in for any Disney resort can be done online via the My Disney Experience section of the Disney World website, the My Disney Experience app, or in person at the hotel and Coronado Springs is no different. I chose to do the online check-in via the app because it's very convenient for those arriving at odd times and if you already have your MagicBand prior to your trip. I was thankful for online check-in when my flight arrived at 8:30 pm and Disney had already texted me my room number.
If you choose not to check in online, or need to visit the concierge desk for anything, the only desks being used are in the Gran Destino Tower on the upper lobby floor. The original lobby in the main hotel is no longer being utilized and currently serves as a walkway between the marketplace and the tower. Because this check-in desk is for both sections of the hotel, I noticed that the line stays pretty long all hours of the day.
My Disney Coronado Springs review wouldn't be complete without a pro tip here: visit the concierge desk to take part in the Service Your Way program. This program lets you deny housekeeping for the length of your stay, and in return you receive a gift card! If you need anything during your stay, you are still able to contact the front desk and ask for it without negating your gift card. It's a great program to get a little extra spending money for your trip, especially for those who don't feel the need to have housekeeping visit their room every day!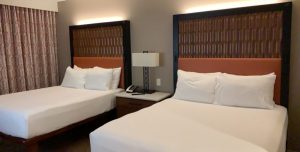 Rooms at Coronado Springs
Like I mentioned earlier in this Coronado Springs review, I stayed twice this year. And I'm going to be honest: the room in Casitas that I stayed in was very similar to the room in Gran Destino Tower that I stayed in recently. The amenities and comfort levels were about equal, only the theming separated the two. Like all the rooms in the Casitas section, my room was inspired by colonial cities in Mexico and had a picture of the Three Caballeros in it. My room in the tower did feel a little less "Disney" and was definitely themed very differently (more on this later). The rooms in the Ranchos section are supposed to be more like ranches in the Southwest, and the Cabanas are inspired by a Mexican coastal village. The prices of the rooms in the main hotel and the tower aren't much different, but the tower is a little more expensive. And all the prices are on par with the other 3 moderate resorts.
While on this review of the rooms, I will touch on the size of the resort and location of the rooms in relation to El Centro and Gran Destino, where all of the shopping and most of the restaurants are. Disney Coronado Springs Resort is huge, and if you want to be close to the marketplace and restaurants I recommend staying in Gran Destino, Casitas 1-3, and Cabanas 8C. Casitas 4-5, the Ranchos, and Cabanas 8A-B aren't really close to anything. There is a small pool bar near the Dig Site main pool, but that's only close to some of the Ranchos rooms. And the Three Bridges Bar & Grill is only accessible by bridges, and isn't close to any section of the hotel due to it sitting in the middle of Lago Dorado.
The rooms at Disney Coronado Springs are also unique because both Club Level and suites are available. This is the only moderate resort to offer suites, and Club Level was introduced with the addition of the tower. The suites are great for those travelling with larger families or in need of more space, and Club Level is a great add-on for the most luxurious of Disney trips.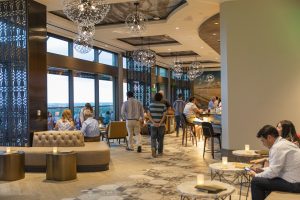 Dining at Coronado Springs
This resort offers many more places to grab a bite to eat than the other moderate resorts. And in this Disney Coronado Springs review I will talk about 10 places to get a drink or meal, and it's arguably the best food at a moderate resort! I'm going to start with the places to eat at the main hotel, and then discuss those at Gran Destino Tower.
There are two pool bars at Coronado Springs, Laguna Bar and Siestas Cantina. Laguna Bar is more like a lake bar since it isn't near any of the pools but is by Lago Dorado, and it doesn't offer anything but drinks. Siestas Cantina is by the Dig Site main pool, and offers breakfast, lunch, and dinner, as well as a drink station for the refillable resort mugs.
El Centro of the main hotel houses Café Rix, El Mercado, Rix Sports Bar & Grill, and Maya Grill. Café Rix is a great grab-and-go area with some unique items like a Joffrey's coffee bar, gelato, and a make your own trail mix station. I found this to be a great place to grab a quick snack or refill my resort mug, especially since it's open until midnight.
El Mercado is the quick-service cafeteria around the corner from Café Rix that sells many of the same bakery and grab-and-go items, but it also has 4 other stations that serve hot options for breakfast, lunch, and dinner. There are multiple soft drink stations, plus hot coffee and hot water for tea and cocoa. This was the easiest place to grab something to eat at, and the food was consistently good on both trips. El Mercado offers a great assortment of food from traditional burgers pizza to build your own Tex-Mex rice bowls and burritos – truly something for everyone.
I didn't get to eat at either Maya Grill or Rix Sports Bar, but I will say Rix stayed pretty busy at night. The menu has a lot of traditional bar food on it, but there were some interesting items on there like nachos made from waffle fries, and this sports bar even serves breakfast! Maya Grill, on the other hand, never looked to be busy. It's a table service restaurant with a traditional Tex-Mex menu, and honestly, it's not somewhere I wanted to try. The reviews for this restaurant are historically bad and there are far better options at Coronado Springs.
Now on to the two bars at Gran Destino, Barcelona Lounge and Dahlia Lounge. Dahlia Lounge is a rooftop bar with amazing views, with roots in Spanish surrealism. It offers both cocktails and some interesting tapas (savory churros!). Barcelona Lounge on the other hand was nowhere near as impressive. While it's absolutely gorgeous, the food options and non-alcoholic drinks were very disappointing. The choices weren't any different than those at Café Rix and El Mercado, even though the Disney description of Barcelona Lounge promised Spanish style pastries and snacks.
The two standouts at Disney's Coronado Springs Resort are definitely Three Bridges Bar & Grill and Toledo. Three Bridges is literally in the middle of Lago Dorado, and only accessible by the three bridges that surround it (see what they did there?). It's a completely open-air restaurant that offers many unique drinks and eats, and the view couldn't be better. It's a great place to unwind after a long day in the parks. Toledo is listed as casual dining on the Disney website, but menu, price point, and elegance of the restaurant say differently. It's a rooftop restaurant inspired by avant garde art, and the food is just as adventurous. This is a great place for a romantic dinner or special occasion – especially for those with braver palettes!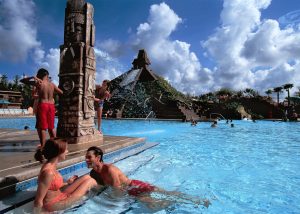 Photo Credit: Disney
Coronado Springs Amenities
My Disney Coronado Springs review wouldn't be complete without telling what makes this moderate resort stand out. I've already mentioned all the choices here to grab an adult beverage and a bite to eat, as well as the resort offers Panchitos, a recently remodeled shop where you can grab snacks and souvenirs. For fun, the resort has an arcade, 4 pools, and a playground. If working out is your thing, there's a fitness center or you can jog around Lago Dorado. But to me, there are two big things that set this resort apart.
The first is that Disney Coronado Springs is a convention hotel. Both the main hotel and the tower offer meeting rooms, boardrooms, and work stations. There are exhibit halls and ballrooms in El Centro as well. Most of the reviews I read prior to my stay here complained about the convention center, and about the fact that it made the resort feel less "Disney." But let me tell you: I. Loved. It. Both times I stayed here there were conventions going on, but the business people aren't a factor. They keep to themselves and honestly aren't any different from the large school groups that stay at the value resorts – except the business people are less rowdy.
The second is the tower. Hands down staying at Gran Destino Tower was the highlight of my stay at the resort, and this entire Disney Coronado Springs review could have just been about the tower. The tower and all the décor inside is inspired by the friendship between Walt Disney and Salvador Dali, and the short film they created called "Destino." Little Dali touches are all over the hotel, and the design elements are stunning. I found myself staring at carpet and chairs, and I even took pictures of light fixtures. So pretty y'all.
I stayed on the fifth floor of the tower with a water view, and from my window I could see almost every inch of the resort, including an epic view of Lago Dorado. I could even see Expedition Everest! Though my room was very similar to the one in the Casitas, there was so many little details that made it feel more luxurious. The black and white accent tile in the bathroom, the themed mirror in the bedroom, and the newness of the room just pushed it over the edge for me. I chose to stay at the tower for my recent trip not only because we stayed in the Casitas previously, but because I felt the tower might be a little fancier due to this being a wedding anniversary trip.
And real talk, I chose the tower because it's INSIDE. The Casitas room was so far from everything, and going to get a snack or drink refill was a journey. And in the unpredictable Florida weather, it wasn't always a pleasant walk. I was rained on, braved the summer sun and heat, and even had plans delayed because I was stuck in El Centro waiting for a storm to end. I didn't feel like going through that all over again, and the extra couple of dollars I spent a night to stay in Gran Destino was absolutely worth it.
Final Thoughts on Coronado Springs
After staying here twice this year, I can say that I would absolutely stay here again. The food options and quality are much better than I've experienced at other Disney resorts. The theming in every section of the resort is done so well, and I felt fully immersed in it. Sometimes I forgot I was on Disney property, and it felt more like an exotic resort. The Gran Destino Tower is breathtaking, and I felt like I got so much more than I paid for there.
I would recommend this hotel for families, couples, and, of course, convention goers. Do keep in mind the size of the resort and the amount of walking involved if you're not staying in the tower. Also, make sure you're prepared to walk outside in unpredictable and sometimes extreme conditions. If pop-up showers, heat, and extra walking could derail your resort experience, I suggest staying in the tower. Enjoy the beauty and convenience of Gran Destino, and I promise it's worth every penny. I hope my Disney Coronado Springs review helps you decide whether this resort is for you, and helps you plan your next visit to Walt Disney World!