Disney's Riviera Resort opened back in December of 2019, so it's still fairly new! If you haven't had a chance to visit or stay there, we will go over everything you need to know about this resort! We want to help you decide if this resort is worth a stay or not. In our Disney Riviera Resort Review, we will talk about transportation, the location, amenities, food, and more!
This resort has a lot of great features, but is it worth the hefty price tag? We break down every part of the resort so you can decide if it's a good fit for your family. It all depends on when you are traveling and who you are traveling with. Read on to find out more about this gorgeous, new resort!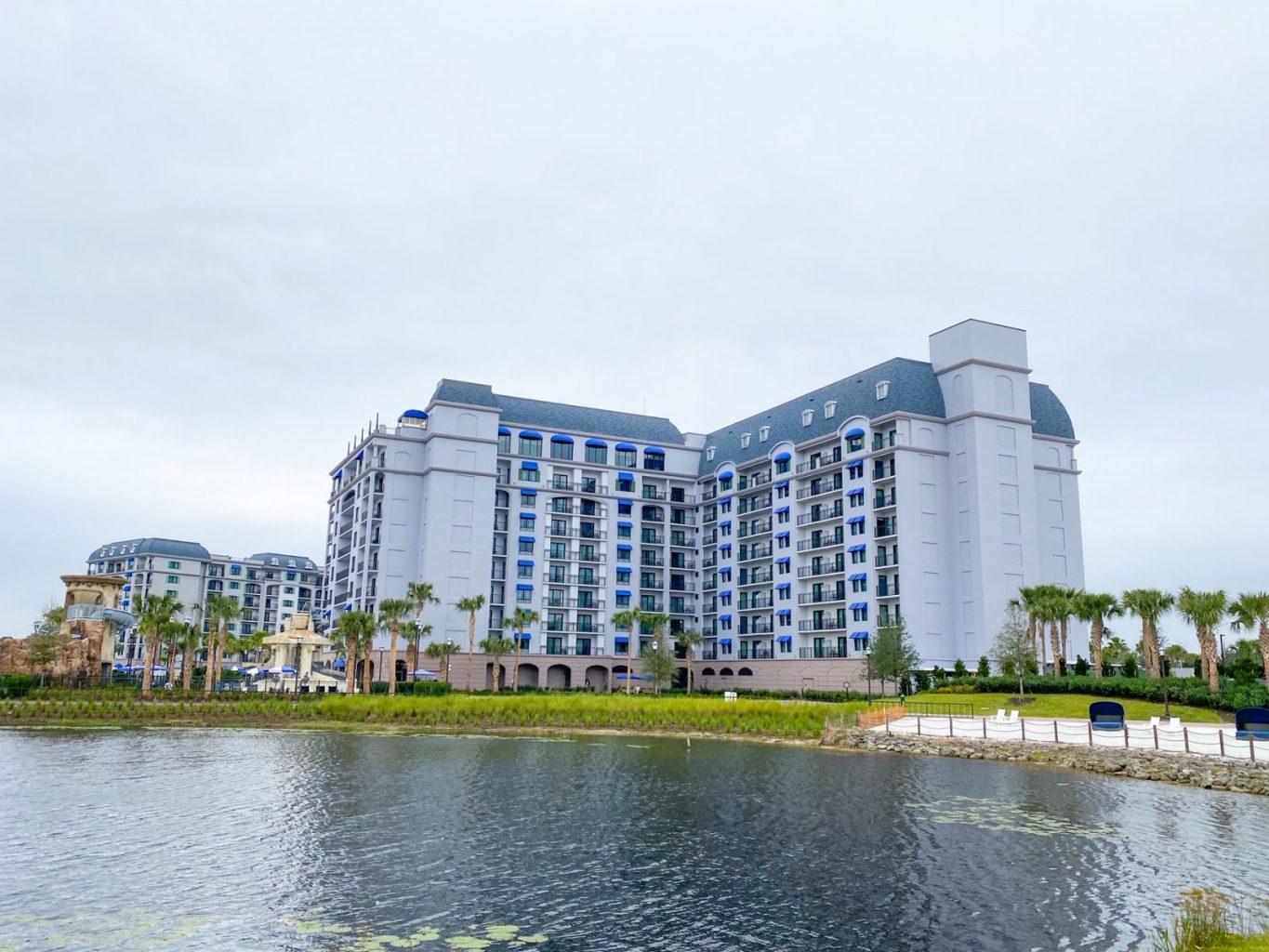 What Is Disney's Riviera Resort?
Disney's Riviera Resort is a Vacation Club Resort that is open to all guests! This place is inspired by Walt Disney and his love for the beauty of Europe. The Riviera radiates elegance with its clean and polished Mediterranean look.
I have to say, this resort is absolutely gorgeous. Guests can definitely spend a whole day just exploring and enjoying this entire place. From beautiful artwork and comfortable rooms, this resort has it all!
Outside, you can find gardens, fountains, pools, beautiful scenery, and a wonderful waterfront view. This resort is amazing, but all that beauty comes with a price! If you are not a Vacation Club Member, these resort rooms can be very pricey. Only stay here if you plan on enjoying the serene resort from time to time between park days.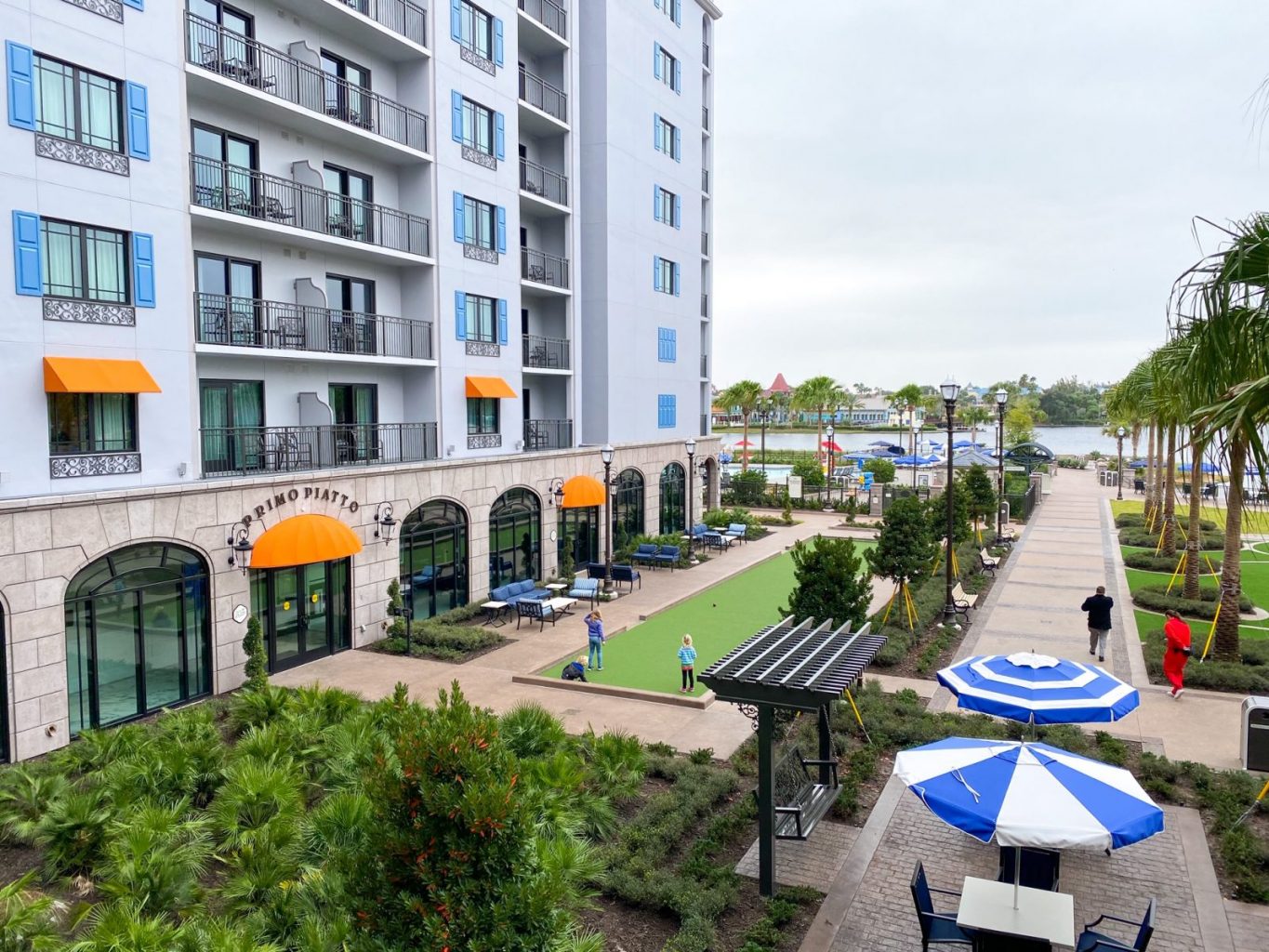 Location Of The Riviera Resort At Disney
This wouldn't be a great Disney Riviera Resort review if we didn't talk about its amazing location! If you aren't planning on staying at the Riviera Resort for its luxury and amenities, stay for its top tier location! The Riviera Resort is located right between Hollywood Studios and Epcot, with easy transportation to both.
It feels secluded, but it's also located near a bunch of other resorts that are easy to get to. The resorts near the Riviera are Caribbean Beach, the Boardwalk, the Yacht and Beach Club, the Swan and Dolphin, Art of Animation, and Pop Century.
As you can see, there are plenty of other resorts to visit and explore while staying at the Riviera! This resort has such a prime location with easy access to two Disney World parks and lots of other resorts. You can't beat that!
Transportation Options From Riviera Resort
The absolute best transportation option at Disney's Riviera is the Skyliner! This is Disney's newest form of transportation. It's a gondola system that will carry you from place to place. The Skyliner makes it so easy to get to two of Disney's theme parks. From the Riviera, you can take the Skyliner to Hollywood Studios and Epcot.
If you're traveling to Epcot, the Skyliner will take you right to International Gateway, so you can enter by the France pavilion! If you're traveling to Hollywood Studios, you will have to take the Skyliner to the main hub located at Caribbean Beach. From there you will get off and get back on a different Skyliner route. The lines move fairly quickly for the Skyliner since it's constantly moving, making it a quick and easy mode of transportation.
Want to visit Magic Kingdom, Animal Kingdom, Disney Springs, or the water parks? The Riviera Resort has buses that will take you to all of these locations! If you don't want to take the Skyliner to Epcot or Hollywood Studios, there are also buses that will take you to these parks. However, the Skyliner would definitely be faster!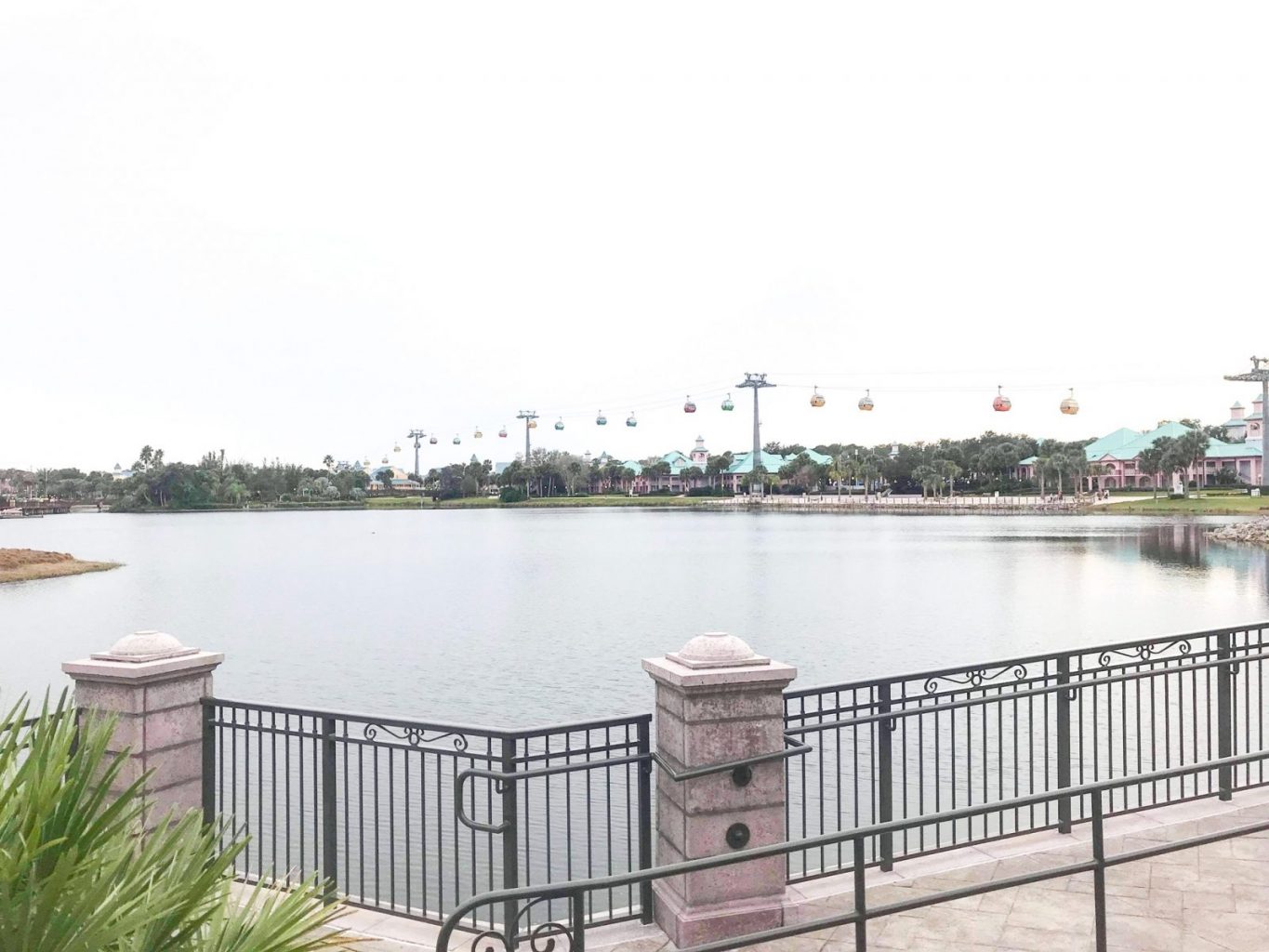 Check-In/Lobby At Riviera Resort
The lobby at Riviera Resort is spacious and beautiful without being too large. It definitely has a more grown up feel than other more child friendly resorts like Art of Animation or Pop Century. The whole lobby and check-in process was very peaceful and easy.
If you want to stay at a place that's nice and quiet without a bunch of kids running around, this is the perfect place to stay. A good thing to note is that the lobby is located on the second floor of the Riviera, not the first! There are stairs located at the base of the parking lots to take you up to the front entrance.
The lobby is where you can find the gift shop, La Boutique, and the coffee/pastry shop, Le Petite Café.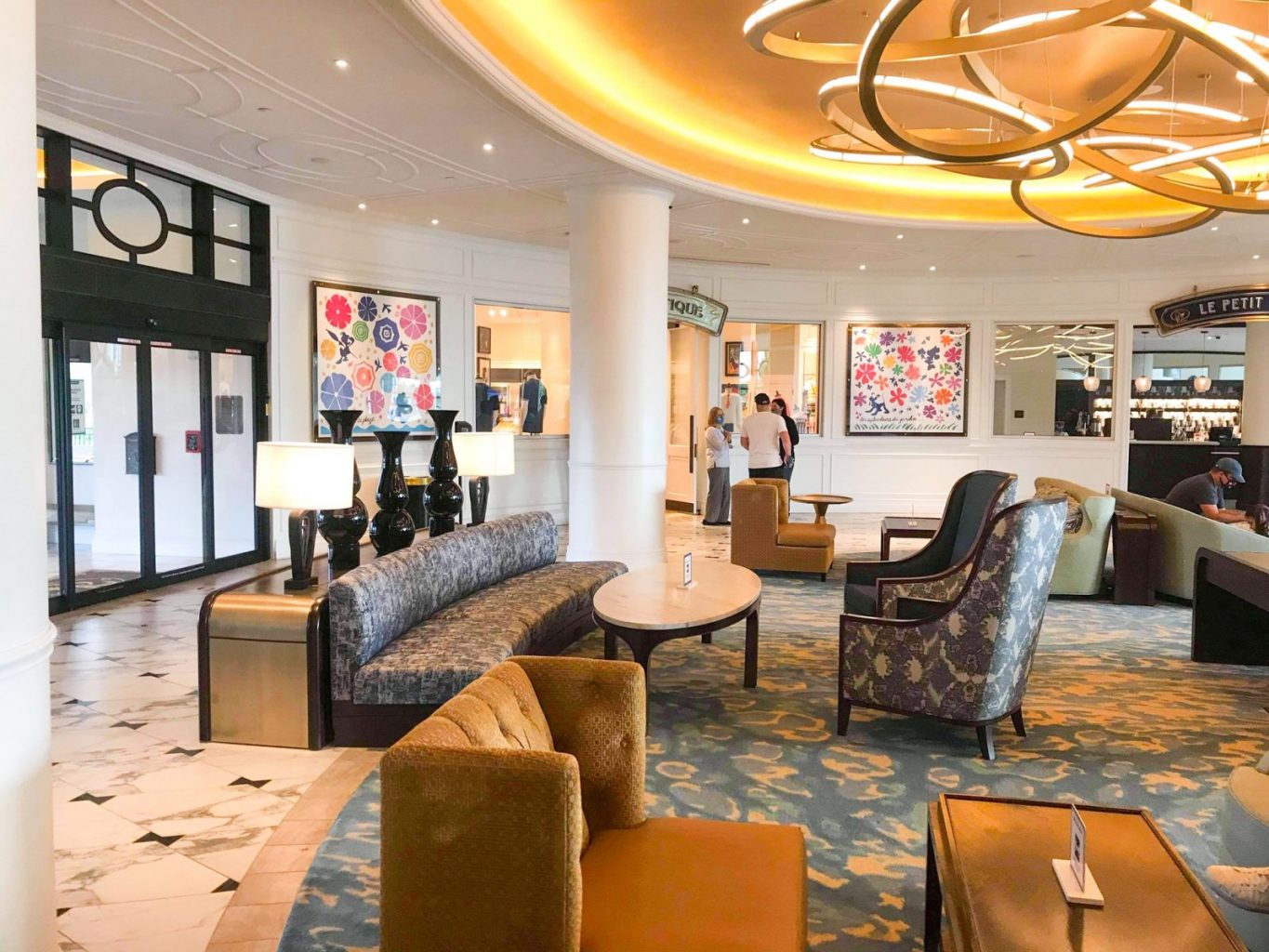 Disney Riviera Resort Room Review
This is where most of the Disney Riviera Resort review will happen because the most important part of your stay is the room! When it comes to room options at the Riviera, there are a variety of choices. You can book a Tower Studio, Deluxe Studio, and 1, 2, and 3 Bedroom Villas. The Villas all have full kitchens, the Deluxe Studios have kitchenettes, and the Tower Studios don't have a kitchen. Depending on when you visit and which room you choose, the Riviera Resort rooms cost between $400 and over $4500 per night.
I had the pleasure of staying in the Deluxe Studio, which was amazing! Disney's Riviera Deluxe Studios can sleep up to 5 guests. There is a Queen Bed, a Queen Pull Down Bed, and a Twin Pull down bed. A sofa is under the Queen Pull Down Bed when the bed is put away. The Twin Pull Down bed is hidden under the T.V. There is a beautiful Tangled mural right beside the twin bed.
One of the coolest features of the Riviera Resort room was the T.V.! All of the rooms are equipped with Smart T.V.s that can connect to your device. We were able to stream right from our iPhones. The T.V. also had streaming services such as Netflix and even Disney+! This was definitely one of the best features of the room.
The room also has a small kitchenette with a microwave, mini fridge, sink, and coffee maker. The Villas have full kitchens, so if you plan on cooking during your vacation, you'd want to stay in one of the Villas. However, if you don't plan on using the kitchenette or will only be using it to reheat items, this is a great room to do so.
I honestly really enjoyed the bathroom in this Deluxe Studio room! I can definitely say it is the nicest bathroom I have used at a Disney resort, and I have also stayed at the Grand Floridian. The bathroom has two sinks, a toilet, and two showers. That's right, two showers!
One is a walk in shower with a regular shower head and a waterfall shower head. The other shower is a bathtub and shower combo. This is definitely a great bathroom for multiple people because everyone won't have to take turns using one shower!
The room also had a nice, big balcony. I unfortunately had a view of the parking lot, but you can make a room request for a view of the pools and water on the back side of the resort! I really enjoyed the room's amenities and how it was set up. There were only two of us in the room, but I liked how spacious it was. However, it is pricey for what you get.
I don't think I would've enjoyed it as much if I had to stay in one of the small Tower Studio rooms. Those rooms only get one Queen Pull Down bed, and the rooms are a little small. For how much you're paying, I don't think the rooms should be that tiny.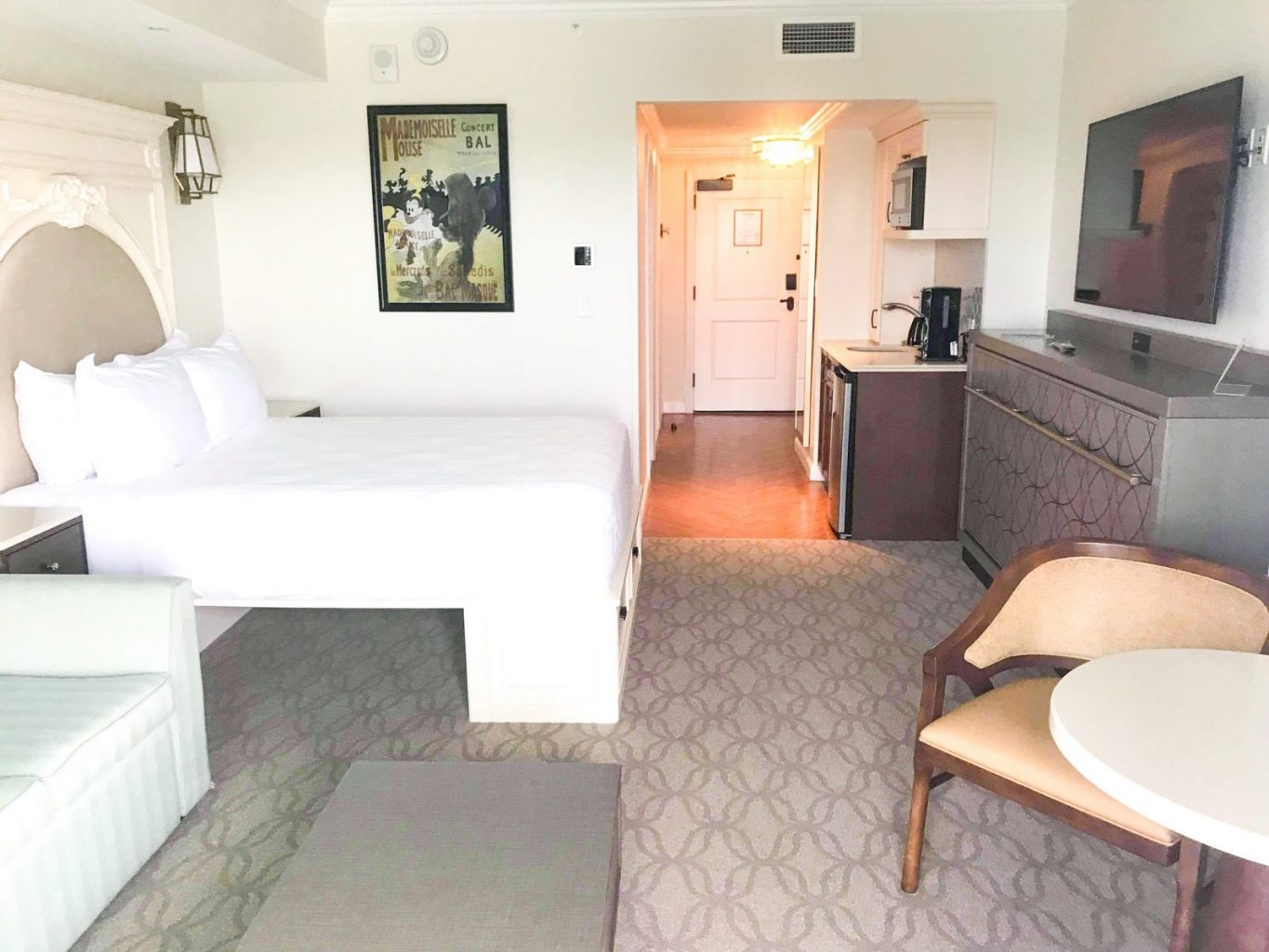 Dining Options At Disney's Riviera Resort
There are several dining options located at Disney's Riviera Resort! There is a café, quick service restaurant, table service restaurant, and a pool bar.
Located in the lobby is Le Petit Café. Here you can get your morning cup of coffee, pastries, desserts, and alcoholic beverages. They even have some small plates available after 4 p.m. There's not a lot of seating available in the café. You can always take your goodies into the lobby, outside by the pool, into your room, or even to the relaxing lounge located right next door!
The quick service restaurant, Primo Piatto, is located on the 1st floor. The restaurant is spacious and clean, and everyone is very nice! They serve breakfast, lunch, and dinner. They have some yummy sandwiches, salads, soup, and even some plant-based options! I highly recommend the Croque Monsieur sandwich; it is absolutely delicious!
Bar Riva is the pool bar located on the 1st floor near the main pool. Here you can find some tasty eats and flavorful drinks! Relax with a frozen cocktail and then take a dip in the pool!
The table service restaurant, Topolino's Terrace, is located on the top floor of the Riviera. They serve breakfast and dinner. Their meals are pretty pricey, but definitely worth it! I would say this restaurant is comparable to California Grill at the Contemporary Resort.
The restaurant is very beautiful with an open dining room and bar. Outside you can find a great view of Hollywood Studios and Epcot while enjoying some bar drinks. They serve Italian style food such as pastas, seafood and steaks.
Want to see some characters at the Riviera? Mickey and his friends join guests for breakfast at Topolino's Terrace. They will walk by your table for some socially distanced pictures! This restaurant is definitely worth the price!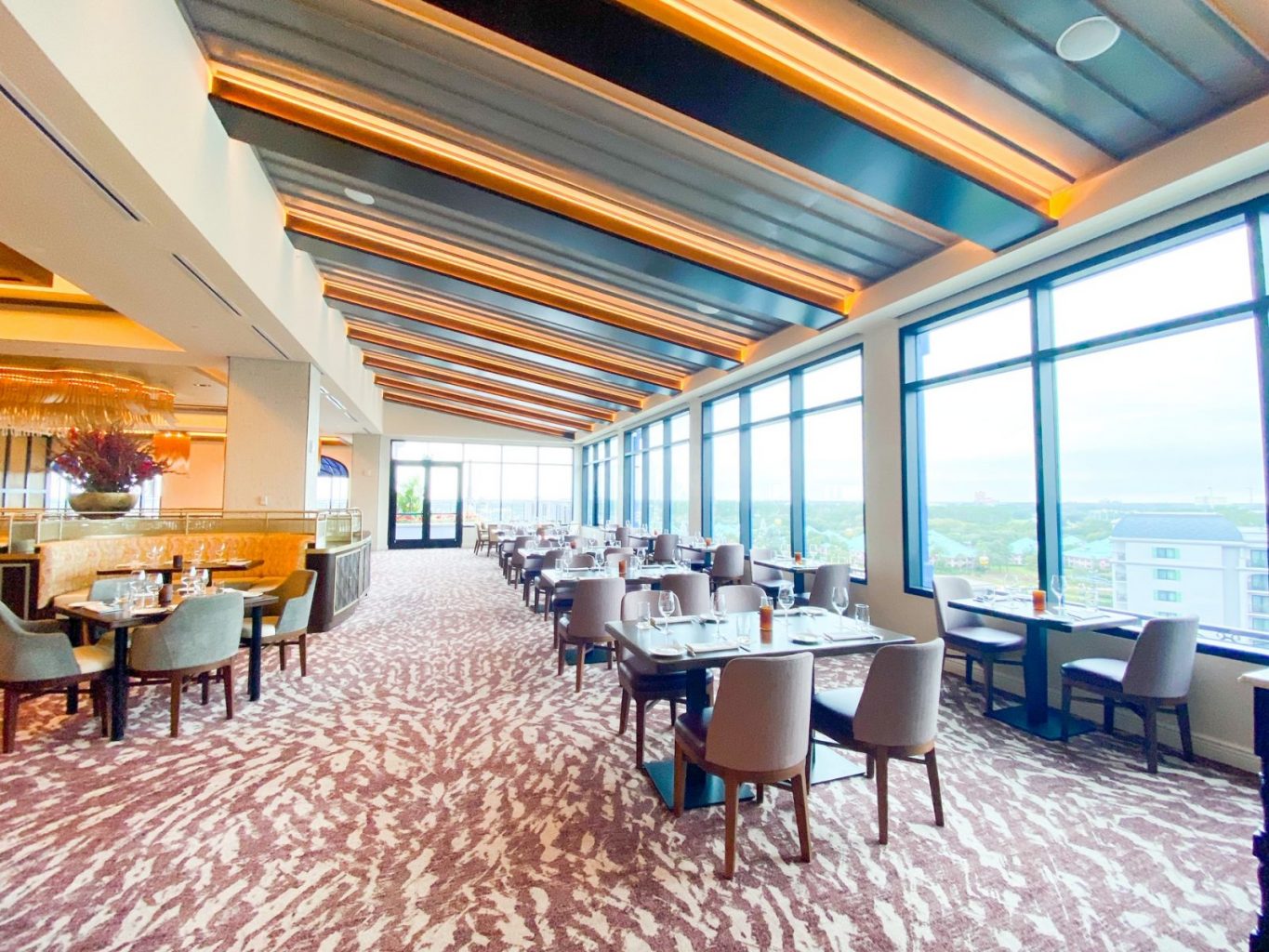 Resort Amenities
There are lots of ways to keep yourself occupied at Disney's Riviera Resort! The resort has two pools, a fitness center, and even a Bocce Ball court! All of these amenities can be found on the 1st floor.
Bocce Ball, also known as Italian lawn bowling, is a simple game where you play against an opponent to get your bocce balls closer to the pallino ball than your opponent. Just ask the front desk where you can borrow the bocce balls to play this fun game!
A huge perk to staying at the Riviera is being able to explore and look at all of the artwork! The resort boasts some very beautiful artwork made for the Riviera itself. Throughout the hallways and the resort, you can find paintings of different Disney characters. You can even buy some of this artwork at the gift shop in the lobby!
In a hallway on the first floor, you can find different movie posters in French. These were super fun to look at and see the different translations.
If you head to the Skyliner from the pool side of the resort, you're in for a real treat! Right under the passageway from the pool area to the Skyliner, there are two giant mosaics that start on one side of the passageway, go over top on the ceiling, and end on the other side of the passageway! They are absolutely magnificent!
One mosaic depicts the floating lantern scene from Tangled. The other mosaic depicts the flight scene from Peter Pan where they soar over London. You can really see the detail and time the artists put into creating these mosaics.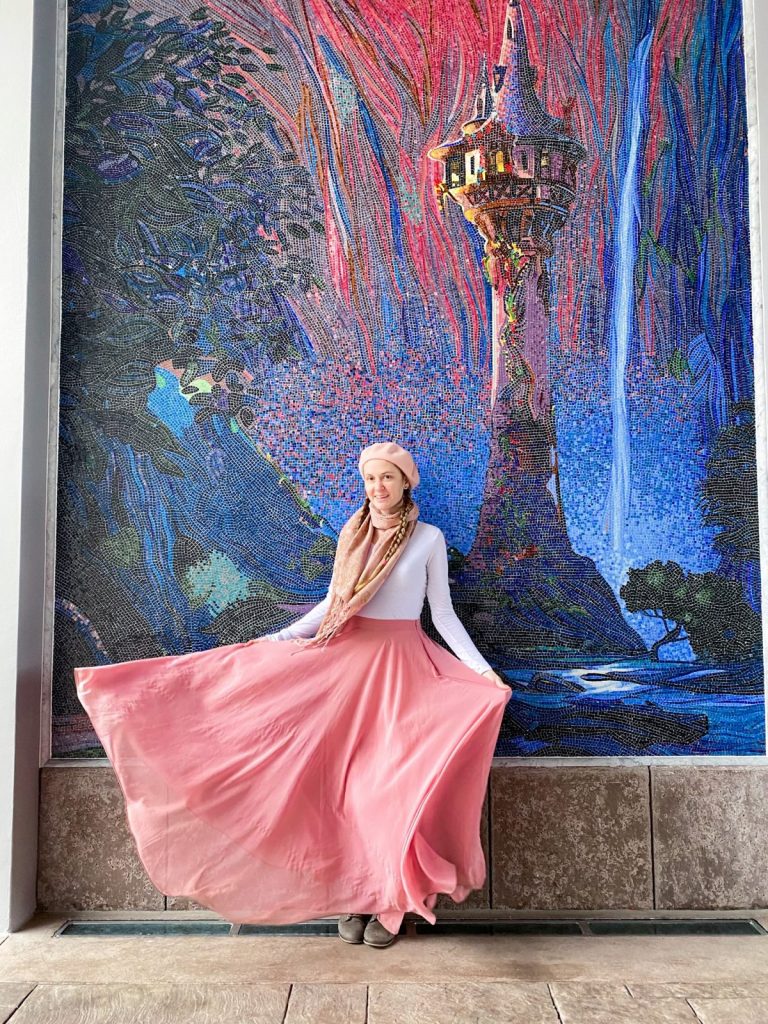 Pools at The Riviera Resort At Disney
There are two different pools at the Riviera Resort. They are located very close to one another, but one is considered the main pool.
The main pool is more family oriented with a fun and unique splash pad located near it. The splash pad is called S'il Vous Play and is designed after the fountains of Europe with some Disney Fantasia characters added for a touch of magic. This pool also has a slide that twists around a tower. The pool has a unique shape and includes a zero entry area.
The second pool doesn't have as much to do, but is more for relaxation. Cool off in the refreshing water, and then sit by the poolside for some much needed rest after a day at the parks.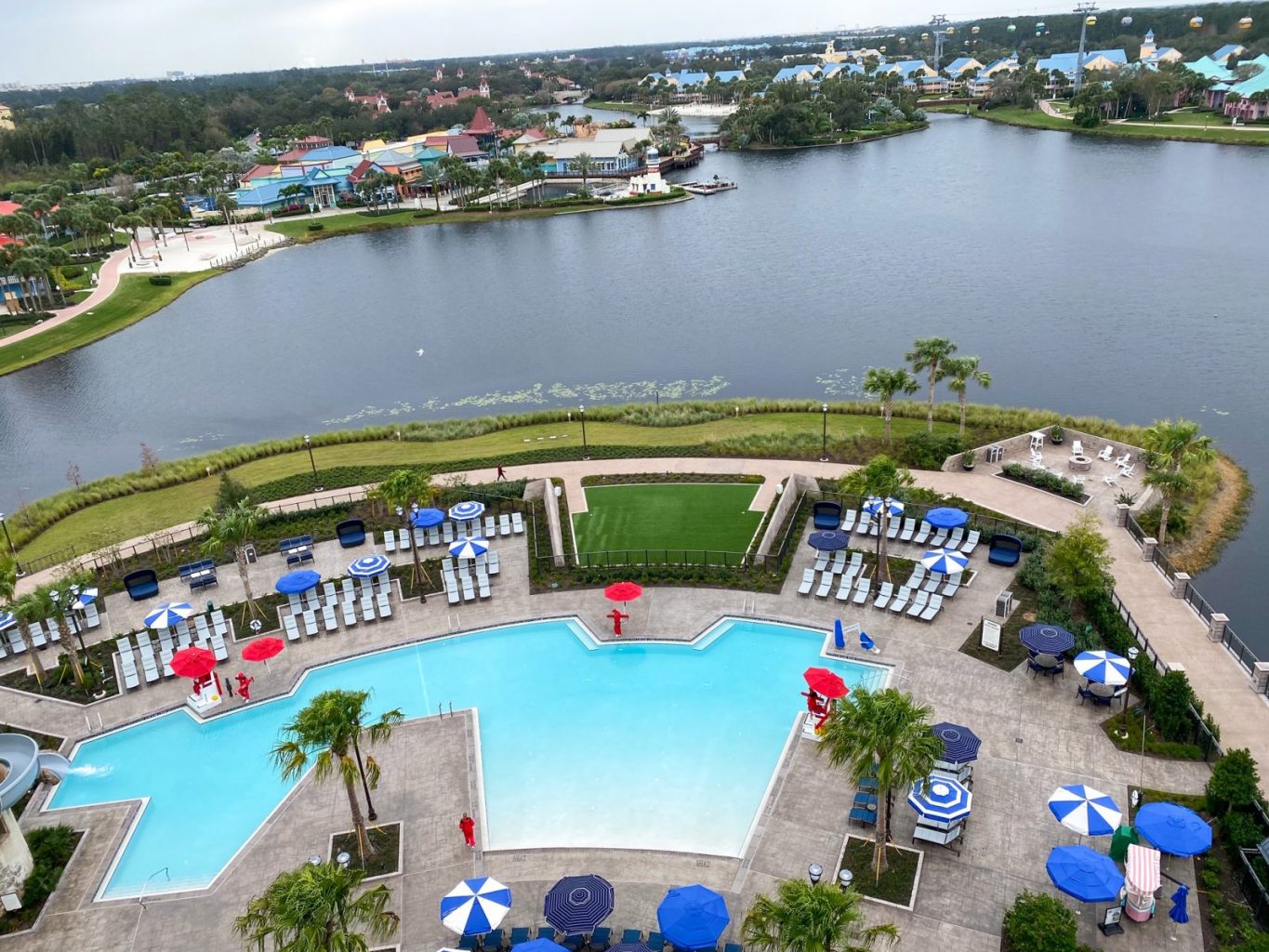 Final Disney Riviera Resort Review Thoughts
The biggest drawback to this resort is how much the rooms cost. Depending on how long you are staying, you could be paying a lot of money. Don't stay here if you just need a place to sleep while visiting the parks. This is a resort you will definitely want to at least have one resort day at to enjoy the amenities and scenery.
The Riviera Resort is a beautiful resort, and can be worth the money if you plan on enjoying it. It is a great resort to relax and decompress at. They have delicious food options and calming pools.
A perk I noticed if you aren't traveling with kids is that there weren't as many families here. This made the resort more quiet without kids running around. Not to say families can't stay here! It's definitely more of an adult friendly resort though. Check out our 16 Best (and Worst!) Disney Resorts for Kids for a list of the best resorts for children!
To sum up this Disney Riviera Resort review, I really enjoyed my stay here. It's one of the nicer resorts I have stayed at on Disney property, and I don't regret it one bit! If I could find a room for a good price, I would stay here again in a heartbeat!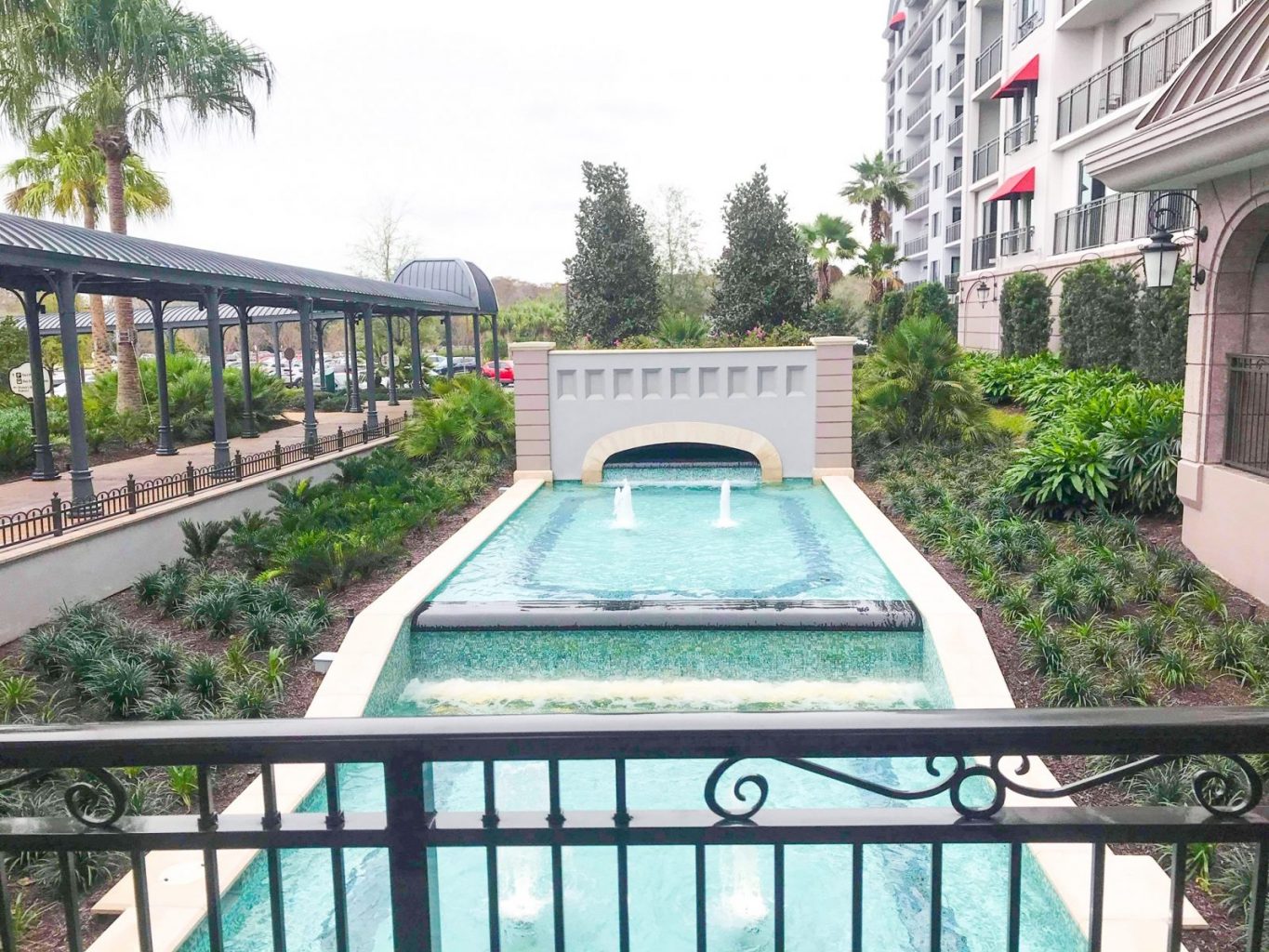 What are your thoughts on Disney's Riviera Resort? Have you stayed here before? If so, what was your experience like? We'd love to hear from you! We personally love the Riviera Resort, but let us know what you think in the comments!