One of the best things about Walt Disney World is that it encompasses hundreds of places to shop! With all of these options, it's hard to map out where to plan on visiting throughout your stay.
Though most Disney merchandise is universal throughout the parks, there are certain places you can find certain things, as well as places you may not have thought about stopping at! If this is your situation, we are here to help!
From the Disney Parks to Disney Springs to Disney Resorts, here are the best places for shopping at Disney!
Best stores for shopping in Magic Kingdom
As the most popular Disney park, encompassing Tomorrowland, Frontierland, Fantasyland, and Adventureland, as well as Liberty Square and Main Street USA, there are so many great places for shopping in Disney in the Magic Kingdom. We listed a few of our favorites below. We're sure there's one shop on this list for everyone in your group!
Emporium
The largest gift shop in Disney's Magic Kingdom, located on Main Street USA, was sure to make our list for places to shop at Disney. This is the place to find pins, apparel, plush toys, etc.
Inside the Emporium, it's easy to get lost as it is so huge and there is so much to see throughout the different rooms! This is a great place to look for character-themed outfits and, of course, matching Mickey ears!
Not to mention, they also have lanyards, magnets, Magic Bands, and so much more!
Disney Clothiers
Disney Clothiers is always the first place to stop when shopping at Disney World because it has so many awesome items! Located conveniently on Main Street USA, you more than likely walk right past it at least once during your vacation.
As far as merchandise goes, Disney Clothiers carries infant clothes, Disney hand bags, sweatshirts, Mickey ears, mugs, keychains, and more! This is the perfect place to shop for souvenirs to bring home.
This is truly one of the best places for Disney shopping because there's so much to see here! The store is HUGE and jam-packed with all of the latest and greatest Disney merchandise!
Main Street Confectionery
If your souvenir list entails Mickey Rice Krispie treats and character-themed cotton-candy, this is the place for you! The Confectionery, which is also located on Main Street, is the best place to stock up on your favorite sweets and treats exclusive only to Disney World.
The Confectionery offers only the best and most delicious character-themed baked goods, such as cupcakes, caramel apples, lollipops, chocolate covered pretzel rods, cake pops, and cookies.
A lot of their goodies are also sealed – so you can take them back to your hotel for a late-night snack – or enjoy them for some extra energy as you spend time browsing stores in Disney World all day!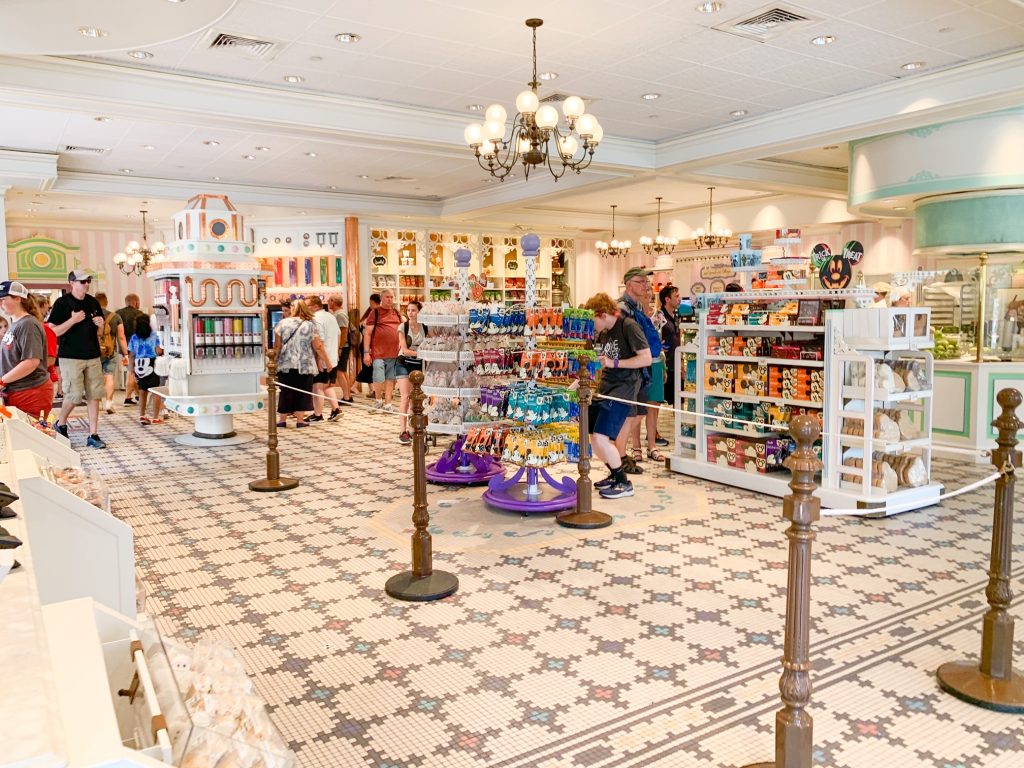 Fantasy Faire
Next on the list of Disney shops is Fantasy Faire, located in Fantasyland of Disney's Magic Kingdom. This shop is right next to Mickey's PhilharMagic as well!
Fantasy Faire specializes in gifts for the younger crowd, making its location perfect! They offer LOTS of candy, plush characters in multiple sizes, hats, and, of course, Mickey ears! Additionally, they offer trading pins and jewelry for little girls!
It is important to note they have very few clothing options as it is one of the newer and smaller shops at Disney! This is more of a place to stop when looking for trinkets, souvenirs or small treats during your visit!
Best places for shopping at Epcot
MouseGear
MouseGear is one of the best gift shops located in Epcot due to its large size! MouseGear is one of the prime locations for shopping at Disney as it has a plethora of apparel as well as many other neat and rare finds!
As far as other merchandise, MouseGear sells kitchen supplies, coffee mugs, blankets, the iconic Loungefly backpacks, and luxurious Dooney & Bourke handbags.
Note: The normal MouseGear location is currently under refurbishment. Luckily, there is a temporary location across the breezeway in Epcot by the Electric Umbrella. Here, you can still shop for the majority of these items until renovations are finished!!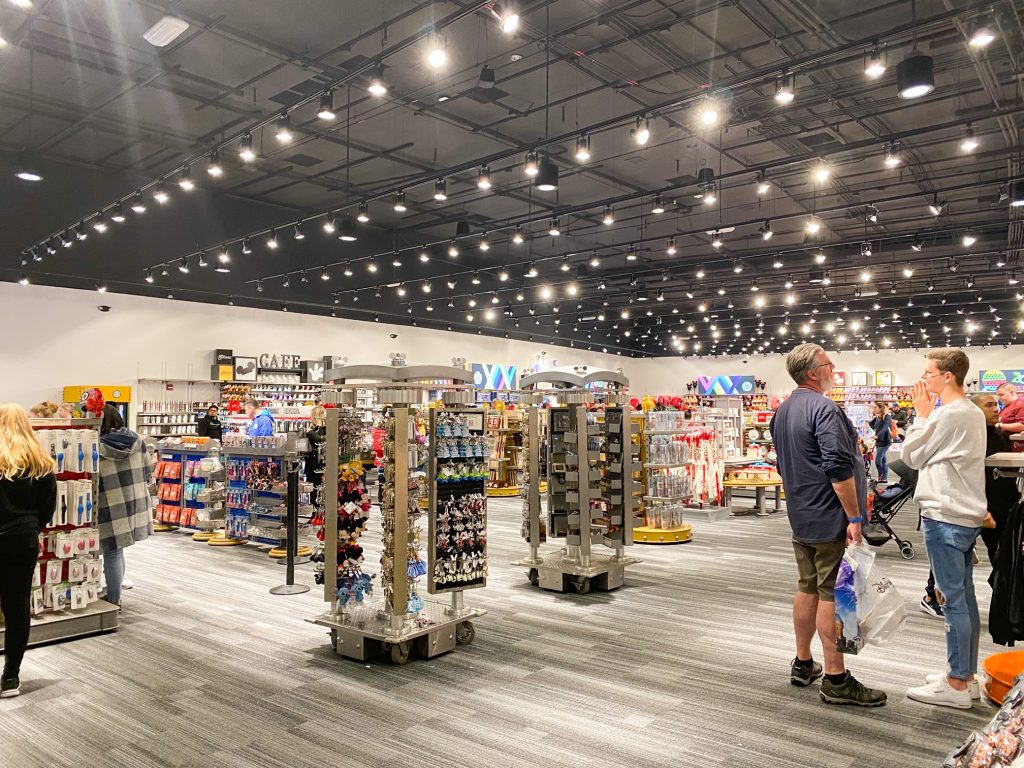 Gateway Gifts
Located in Epcot's Future World, Gateway Gifts is one of the best places to shop for your everyday essentials as you enter or exit the park. This is a great place to stop for the beloved spirit jerseys as well as, with any Disney store, Mickey ears.
After recent renovations, they now feature a wall dedicated to plush animals, as well! Similarly, with the renovations, the store was made to look even more futuristic, including refurbished flooring and a glamorous checkout area.
This shop is not as huge as others, but still carries all of the most essential Disney merchandise. Additionally, its theme makes it an experience within itself! This is a must-visit when shopping at Disney.
House of Good Fortune
As far as having an experience within itself at Disney, House of Good Fortune is another one in this category. In the China pavilion at Epcot, there is so much to see, and so much to shop for!
House of Good Fortune features many different treasures that aren't necessarily Disney-related, but focus more on culture! Some of the cool items that can be found here include home decorations, tea, sweets, candy, perfume, and character plushes.
Additionally, they offer apparel, mugs, personal fans, and Chinese cotton candy, which is almost too pretty to eat!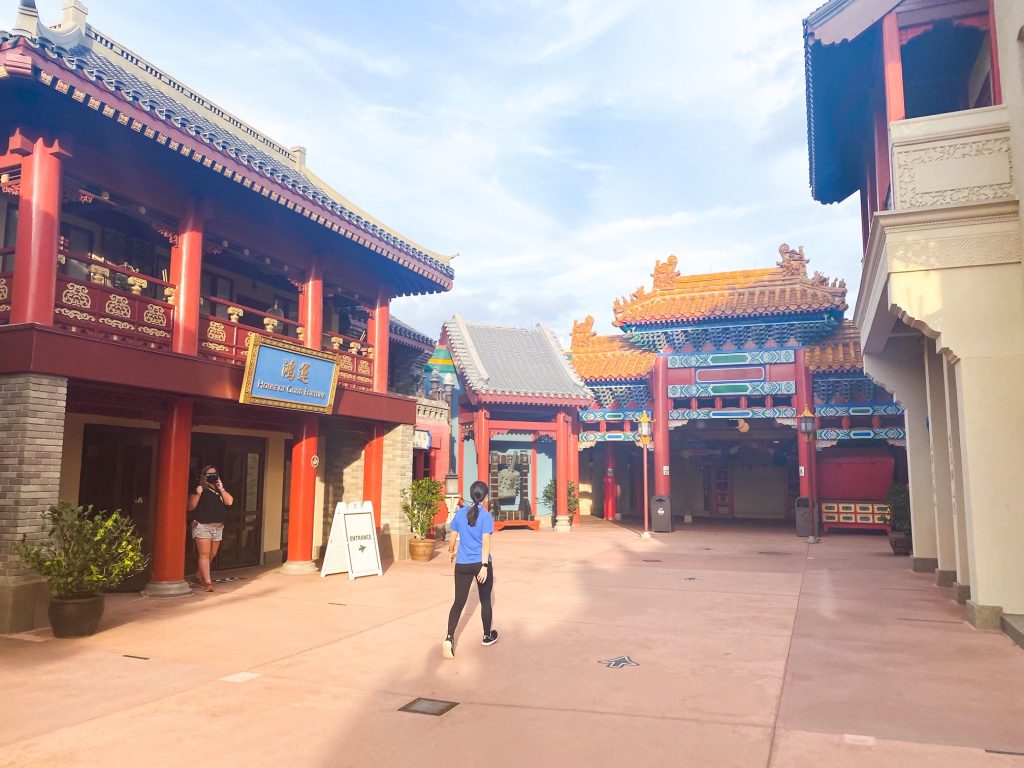 Disney Traders
During your travels around the world, one stop you should make is Dinsey Traders in the World Showcase Plaza in Epcot. One cool item they offer here is a World Showcase passport which you can take around the world with you and get stamped at every country! This is a genius way to track which countries you've visited, but which ones you were able to shop at!
Disney Traders offers almost everything you could ever need during your trip, down to luggage! This is also a great place to stop when it comes to looking for Disney pins, as well as Magic Bands.
Disney Traders is a good size shop and a great first stop during your shopping at Disney escapades.
Mitsukoshi
Mitsukoshi, located in Japan at Epcot, is another store where you can find so many neat and untraditional Disney souvenirs and gifts. The setup of the store alone truly looks so much like Japan, it is crazy! Paired with all of the bright colored items they sell, this shop is amazing!
Here, you can find anything from Pokemon stuffed animals, handbags, kimonos, hand-crafted kitchen items, and so much more! This store is truly beautiful from inside out.
One big reason to stop here during your Disney shopping trip, though, is the candy! Japan is known for its interesting and tasty candy choices. Here, you can find your favorite or even try a new kind to widen your horizon!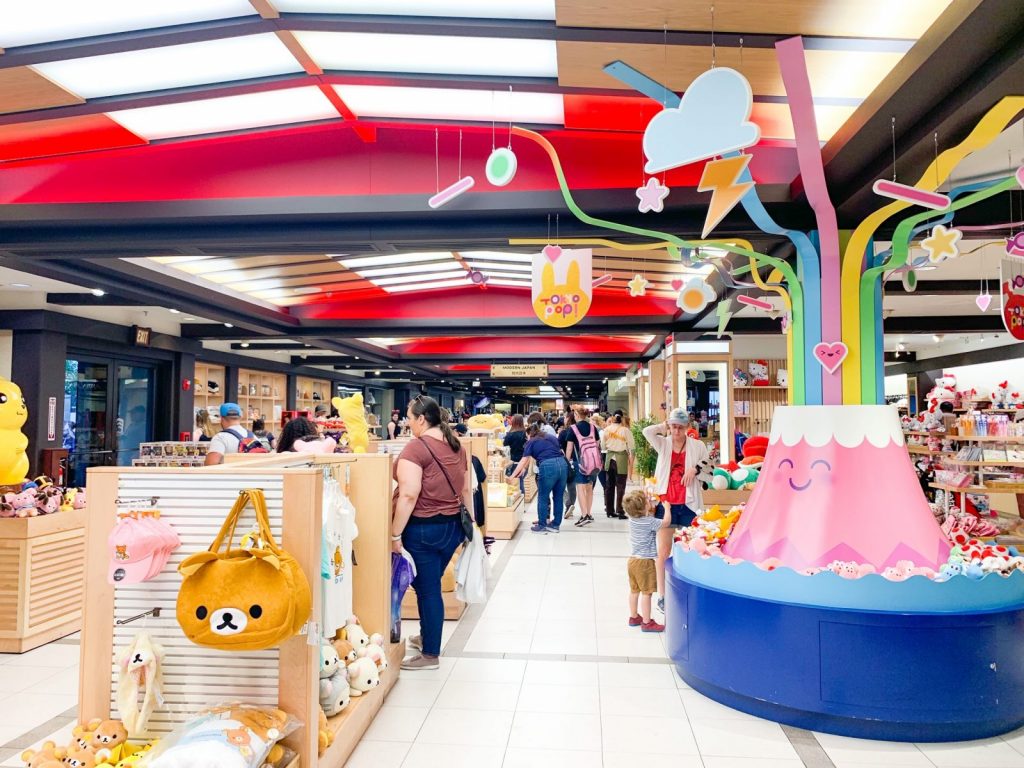 Best places for shopping at Hollywood Studios
Mickey's of Hollywood
Mickey's of Hollywood is one of the BEST Disney shops ever! This shop has the old-timey 1900s theme from inside to outside. It's located right on Hollywood Boulevard in Hollywood Studios and is one of our first stops when we visit this park!
Here, you can find an abundance of toys, to start! From Disney princess dolls to plush animals, to play sets, there is something for everyone here. You can also find the beloved Disney themed Crocs as well as spirit jerseys, Loungefly backpacks, and an entire wall of Disney t-shirts to shop from!
Needless to say, Mickey's of Hollywood is truly timeless, and we can't get enough of it!
Launch Bay Cargo
Launch Bay Cargo is located in Animation Courtyard at Hollywood Studios. This is one of the best places to find Star Wars merchandise as it is dedicated to the entirety of the saga. It's essentially a Star Wars museum with many things to purchase as well! From personalized Star Wars phone cases to replicated movie props, this is the place to go for any Star Wars fan to find their dream souvenir.
The dim lighting truly brings you to the era of Star Wars and the life-size sculptures and decorations certainly help. Why leave the galaxy far away when you could take a piece with you? At Launch Bay Cargo, they also sell hats, apparel, books, and keychains!
Be sure to stop in on your next visit to see all they have to offer!
Tatooine Traders
Shopping at Disney In Echo Lake at Hollywood Studios is ideal for kids and adults alike. Similar to Launch Bay Cargo, Tatooine Traders is another Star Wars themed spot for Disney shopping. What do most people stop here to get? Light sabers, of course!
In addition to light sabers, you can also find LEGO kits, action figures, and the beloved droids, as well as a plethora of other Star Wars merchandise.
Hollywood Studios is the place to be in terms of Star Wars shopping at Disney!
Best stores for shopping at Animal Kingdom
Island Mercantile
Island Mercantile, located in Discovery Island at Disney's Animal Kingdom is the apparel headquarters of the park. Due to its convenient location, this is the a great stop for Disney shopping.
Inside the Island Mercantile, besides the fun color theme, is everything you need for your adventurous Disney day. From animal printed apparel and accessories to practical park items like hats and handbags, you can't go wrong stopping in here for your Disney shopping day!
Mandala Gifts
In Asia of Animal Kingdom is a shop called Mandala Gifts. This small kiosk has so many goodies inside!
With the Florida heat always on the rise, it's no doubt the Animal Kingdom heats up pretty quickly, especially spending so much time outside walking from destination to destination.
Mandala Gifts has the cutest tees and tank tops, as well as sundresses, hats, visors, and umbrellas! They truly offer everything you need to beat the heat and get back to shopping in Disney!
Best Disney Springs Stores
World of Disney
Bet you saw this one coming! World of Disney is one of the most remarkable shops in all of Disney World, including Disney Springs where it's located! If you are on the hunt for one specific Disney item, this is the place to reach for it!
Offering the newest Disney arrivals, including jewelry, apparel, ears, backpacks, and everything in between. This is also great place for shopping at Disney due to the store's large size! Given the current global pandemic due to COVID-19, it is nice to feel safe while you're shopping, which is definitely achievable at World of Disney.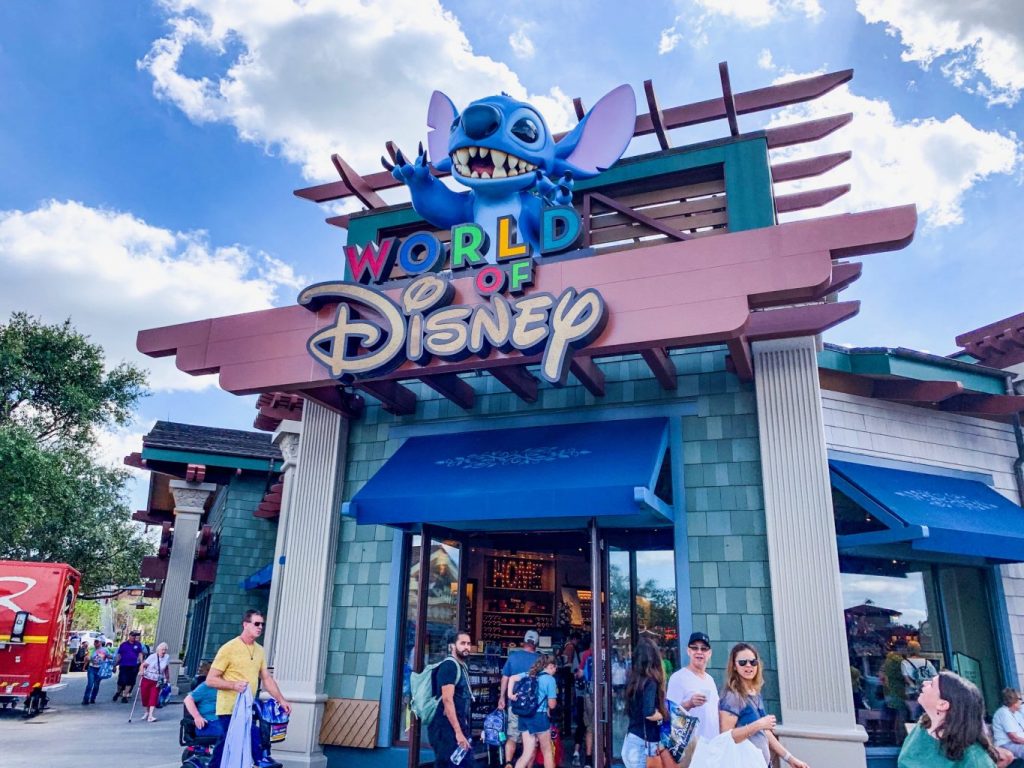 Days of Christmas
Disney's Days of Christmas is, of course, a store where Christmas is celebrated year-round! This is great because you can shop fr Christmas items in advance or just for the fun of it!
This is the best place to go when you're looking for any kind of Disney ornament. Truly, they have any and every kind, color, theme, and character imaginable here!
Disney's Days of Christmas is one of the most festive stores in Disney!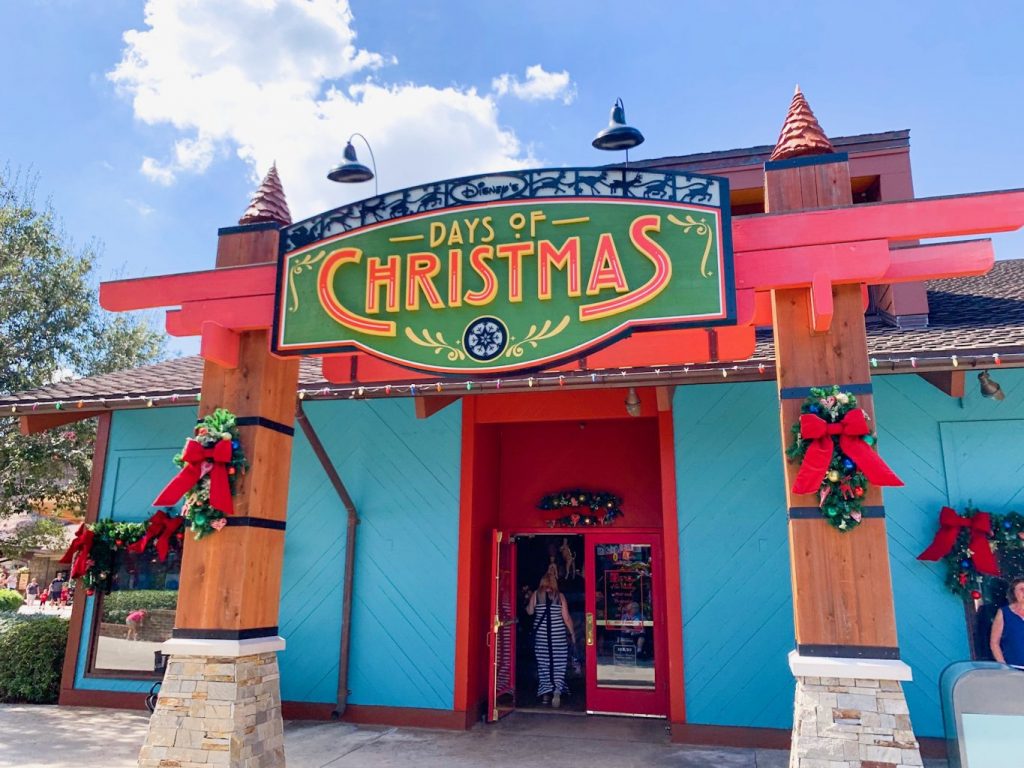 Ever After Jewelry Co.
Ever After Jewelry Co. in Disney Springs is the best store for jewelry shopping at Disney. As far as jewelry, they have it all. You can shop here for items from the Disney Enchanted Jewelry collection, as well as high-end handbags such as Dooney and Bourke.
You can also shop for Pandora items here! The patterns and designs plastered all over will truly make your jaw drop. It is any Disney-loving, jewelry-wearing-person's dream store!
Best Places to shop at the Disney Resorts
Bayview Gifts in Disney's Contemporary Resort
Bayview Gifts is a great place to shop in Disney's Contemporary Resort, especially if you like to visit other resorts, ride the monorail, or make dining reservations! This store is simple, yet jam-packed full of essentials you may need on your visit.
They offer candy, cameras, gifts, and housewares, essentially, anything you may need last-minute, located conveniently in this luxurious resort.
They even have sweets you can purchase here, similar to ones you'd see at The Confectionery! The convenience here is truly unmatched!
BouTiki in Disney's Polynesian Village Resort
BouTiki in Disney's Polynesian Resort is so chic and clean-looking! Everything about this shop is very organized and the wooden architecture certainly adds to the aesthetic of it.
BouTiki offers mainly apparel items throughout the store, including Hawaiian shirts and leis, very on brand with the resort. You can also purchase drink-ware, tote bags, decorations for your home, and picture frames!
When shopping at Disney, it is only right to stop into Disney's Polynesian Village Resort and check out BouTiki, where you feel like you're on an island and shop like it, too!
Donald's Double Feature at Disney's All Star Movie Resort
This Disney gift shop at Disney's All Star Movie Resort had to be included on our shopping list due to its ability to check everything off it! This store is absolutely HUGE and has so much apparel and accessories, as well as MANY more items!
Here, you can find bandaids, toothpaste, Neosporin, etc. in their entire rack dedicated just to items you may need during your stay. You can also find the bath items provided in the Disney Resorts from the H2O brand, in gift sets with the shampoo, conditioner, and amazing smelling body wash.
This is the place to find all of your favorite movie merchandise, as well as anything else you may need throughout the duration of your stay.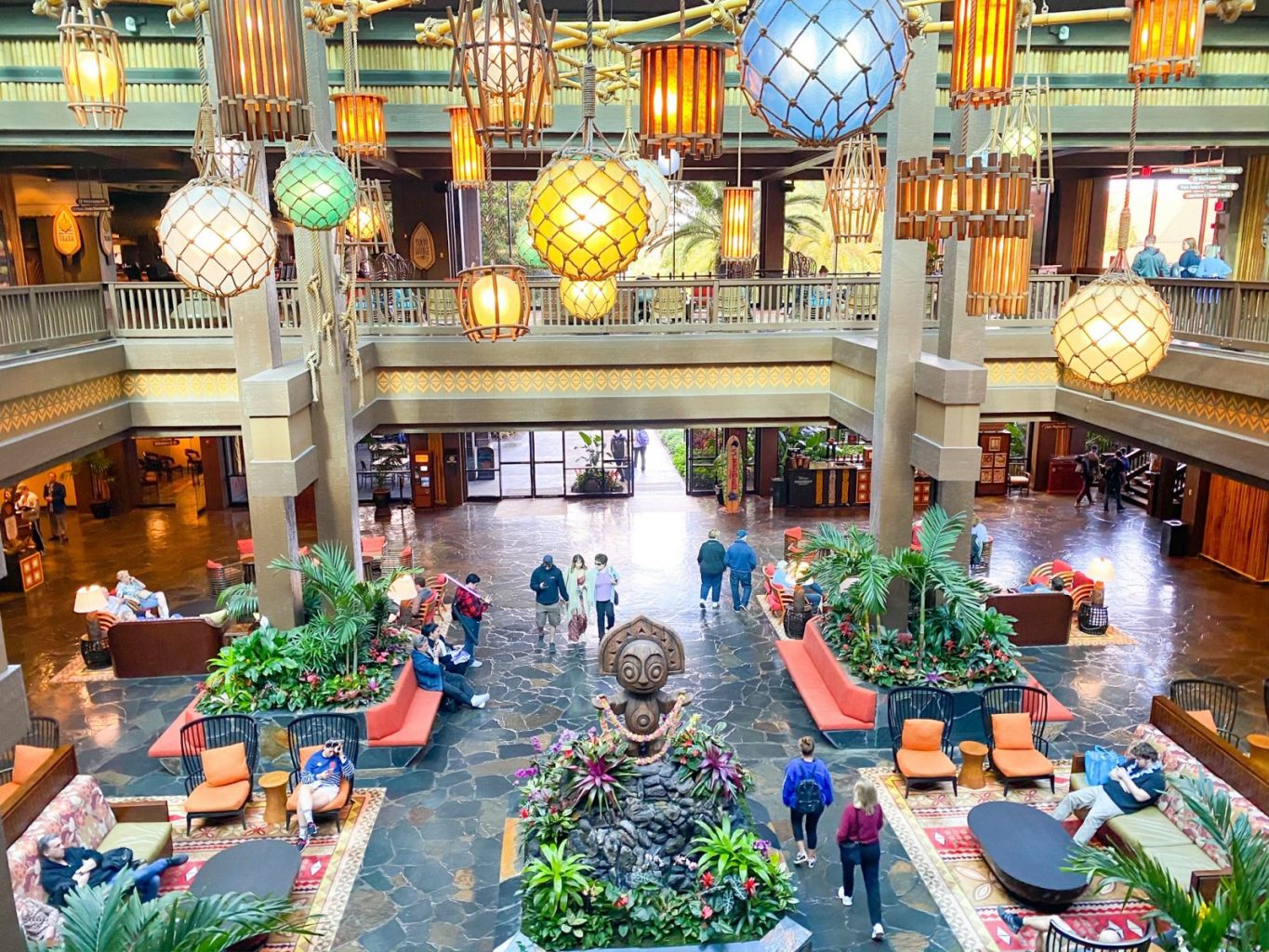 When it comes to shopping at Disney, we are sure you will find something you love on our list!