Are you looking for a fun and magical way to stay hydrated? Then look no further, as we here at Disney Trippers have you covered!
We've searched the internet for some of the cutest but more practical water bottles that will show off your Disney flair at home, at the gym, or even at the parks. These Disney Water Bottles make great gifts for your friends, your family, and yourself, and you deserve to treat yourself!
Staying hydrated while wandering around is essential for your health, and these Disney Water Bottles will bring a smile to your face every time you take a sip.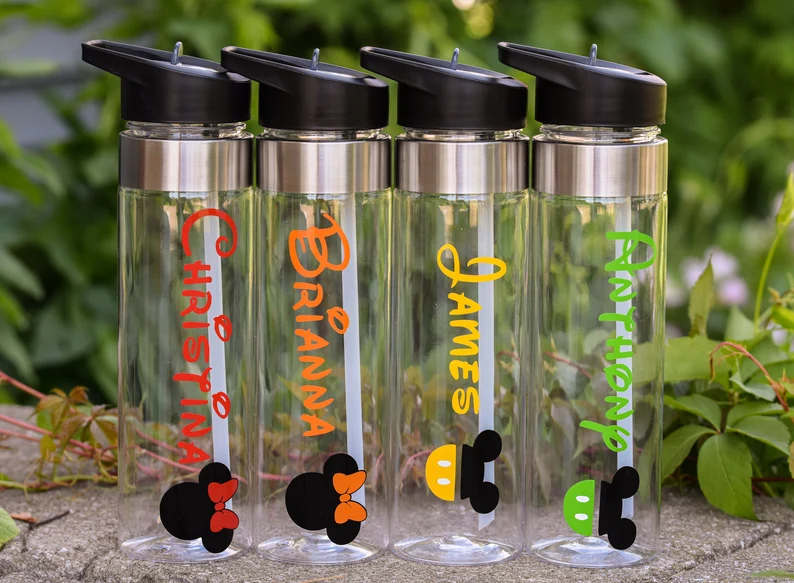 15 Cute Disney Waterbottles That You Will Love
Disney Castle Water Bottle
When many people think of Disney, they think of the castles in the theme parks. With this Disney Castle Water Bottle, you will be the princess of the ball!
We love the hand-painted look with watercolor which reminded us of how seeing the castle can brighten up anyone's day. Plus, a Disney water bottle this cute will have you feeling like you are back in the parks!
We also really like the fact that there is a handle, making it easy to carry, and the slim size makes it great to take with you on your next outing!
Do you know which Disney Castle is in each Disneyland park? See where your castle falls on our ranking of every Disney Castle around the world.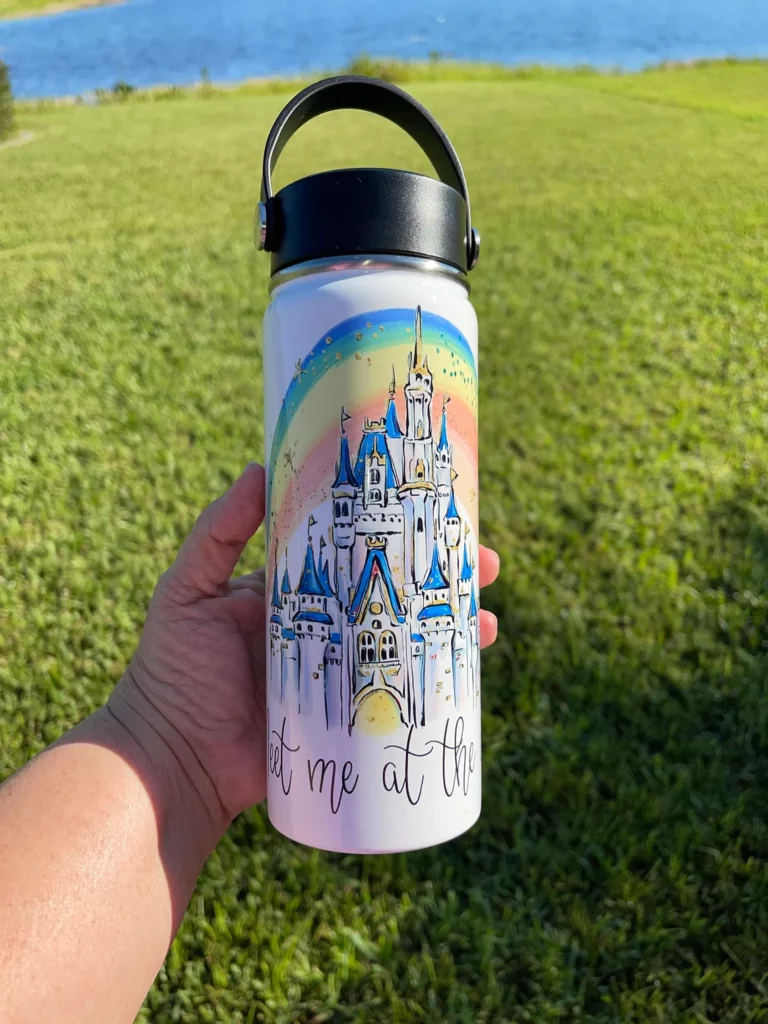 Disney Princess Water Bottles
When we saw this Disney Princess Water Bottle, we were floored! Talk about the royal treatment in a Disney water bottle!
Featuring several iconic princesses like Belle, Jasmine, and Cinderella, this stain glass style is gorgeous. It is around 12 fl.oz., making it a perfect fit for a small purse or bag.
The water bottle is flip-style, so in addition to being cute, this is one of the Disney water bottles that are great for a quick sip while on the move, and it locks to prevent accidental spills if it is knocked over.
Looking to add more princess merch to your collection? Then check out our best Disney bedding sets for adults and kids.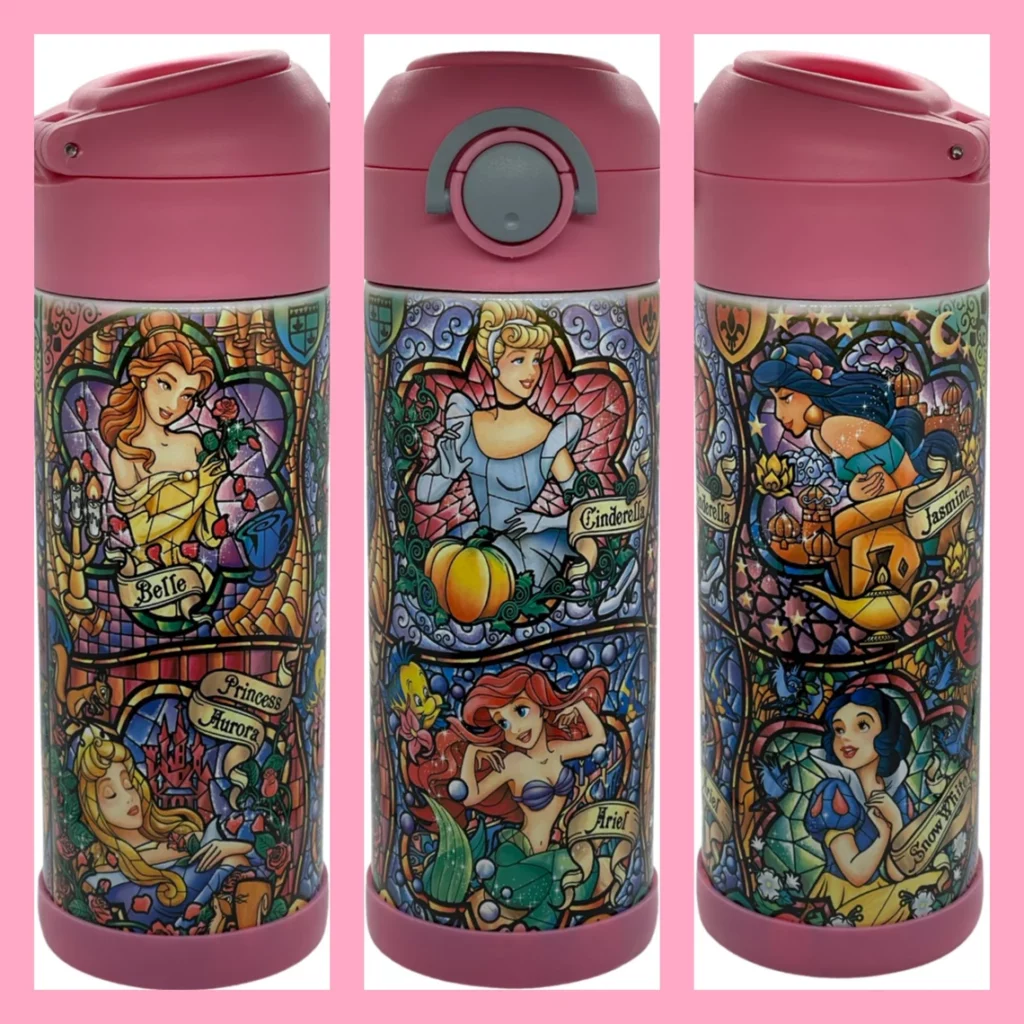 Disney 50th Autograph Water Bottle
As one of the coolest Disney water bottles we have come across, this Disney World 50th Autograph Water Bottle brings with it more than a little magic.
With a picture of the Walt Disney World's 50th Castle design and logo, this Disney water bottle would have looked great. However, what really makes this water bottle magical is the character signatures included!
Icons like Buzz Lightyear, Donald Duck, and even princesses like Snow White have signatures adorning this insulated water bottle. The extra sparkle on the outside will have you feeling like you are drinking liquid pixie dust rather than just water.
If you want to know more about what is happening in Magic Kingdom during the 50th celebration, or even when the celebration slows down, then check out of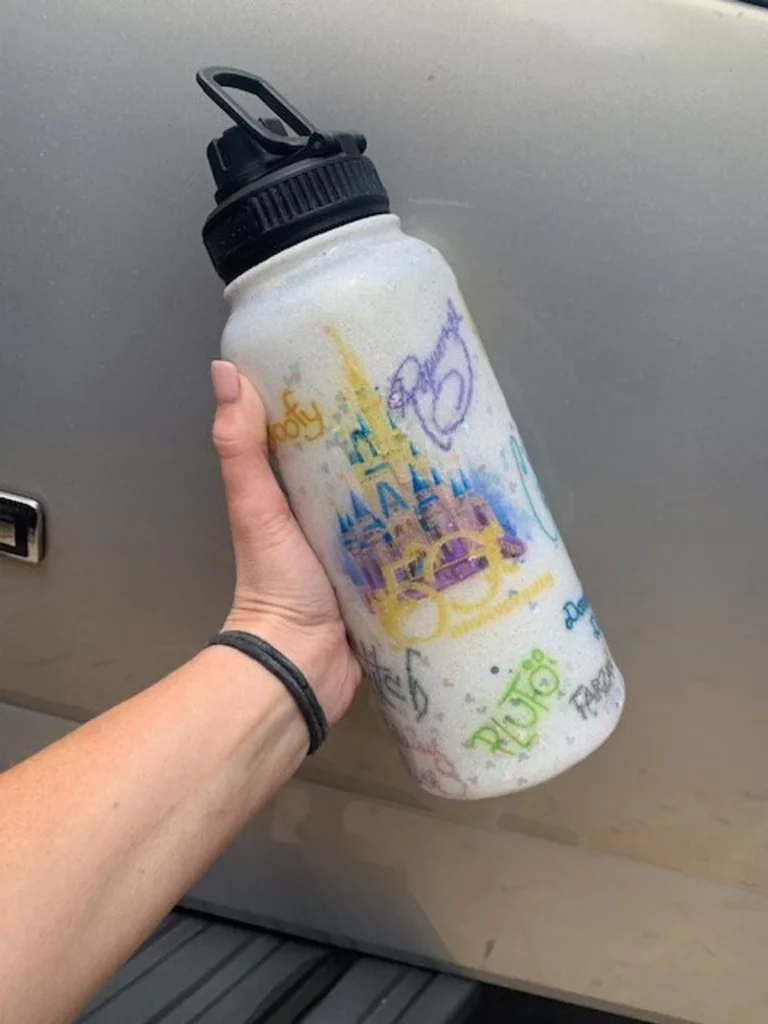 Frozen Water Bottles
You may not want to let go of this Frozen water bottle once you lay eyes on it. That's right; we couldn't resist a fun joke while talking about the Frozen franchise.
This is one of the stainless steel Disney water bottles you can get with a fun design engraved in the side. With this engraving, you won't have to worry about the design rubbing off over time.
The fun selection of Frozen design and characters brings this bottle together as some of the greatest moments in the Frozen cannon.
We also liked the fact that if you want to include your name (or someone else's name so you can give this as a gift0, you can do so directly through this seller.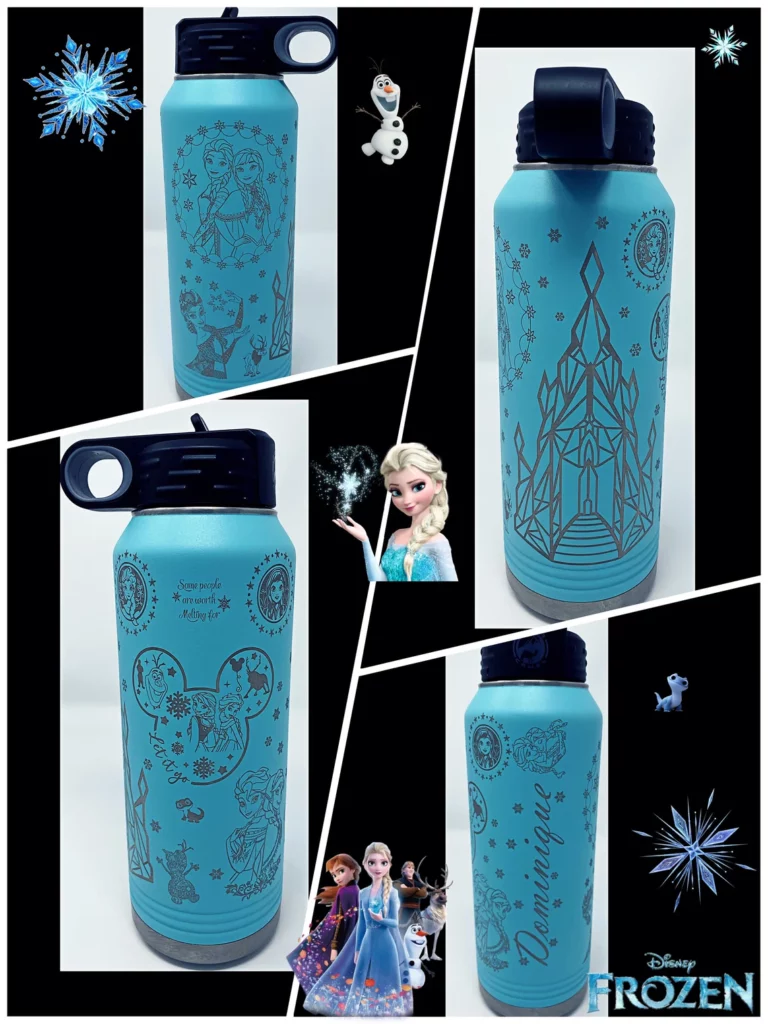 Mickey Mouse Water Bottle
Are you really a Disney fan if you don't have at least one Mickey Mouse water bottle somewhere in your house? We think not!
As far as Disney water bottles go, this one is a rare one. Many of the most popular Mickey Mouse water bottles only show one version of the primary mouse.
However, you get so many with this design, from Steamboat Willie Mickey to Wizard Mickey, and several Mickeys in-between!
We liked the fact that like the Frozen water bottle, you can this one customized as well in the classic cartoon Mickey Mouse font. This Disney water bottle will certainly make a great gift for a friend or loved one.
Did you know that you can ride Frozen Ever After at Disney's Epcot in Orlando? Check out our review of the best Epcot Genie+ and Lightning Lane rides, and see if you should book a lightning lane for the Frozen experience during your next visit.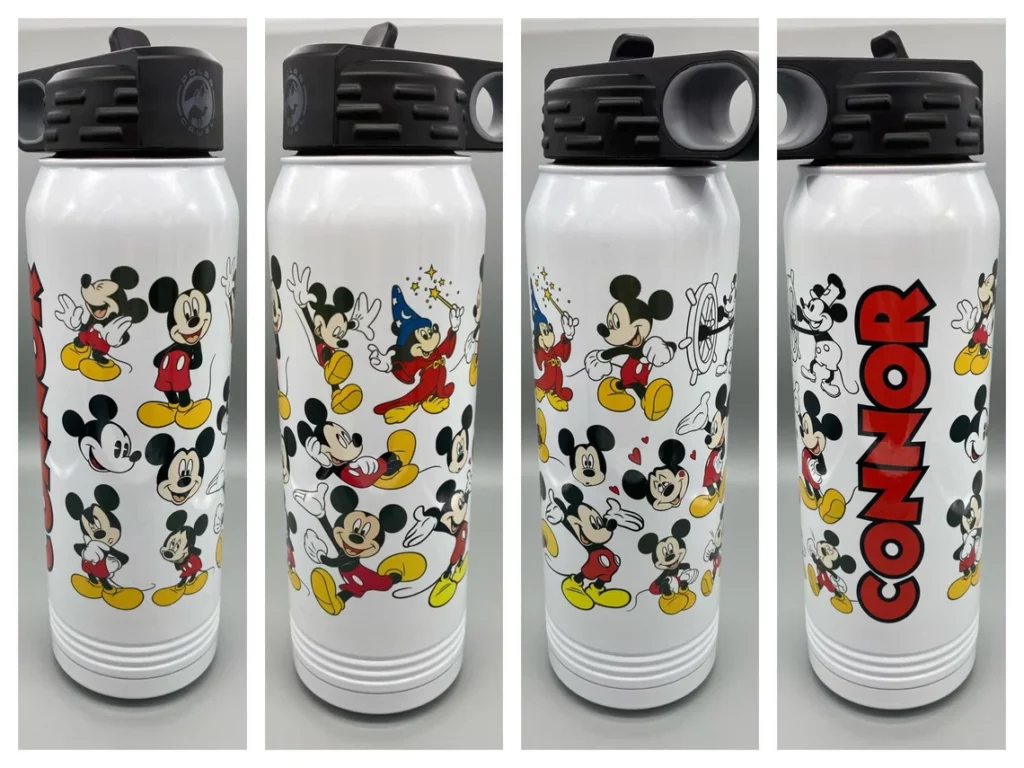 Minnie and Mickey Shaped Silhouette Water Bottle
Classic and straightforward, these Minnie and Mickey Shaped Silhouette Water Bottles come in every color of the rainbow!
These clear bottles have a water spout that is easy to open and close, a straw that is removable for easy cleaning, and are just the right size for sliding into the side pouch of your bag for a long day at the beach, or one of the parks.
You could customize these Disney water bottles with names and choices of Mickey or Minnie on your bottle, meaning that every member of your party could have a different color.
The swirling Disney font and customizable options had this Disney water bottle as one of our favorites.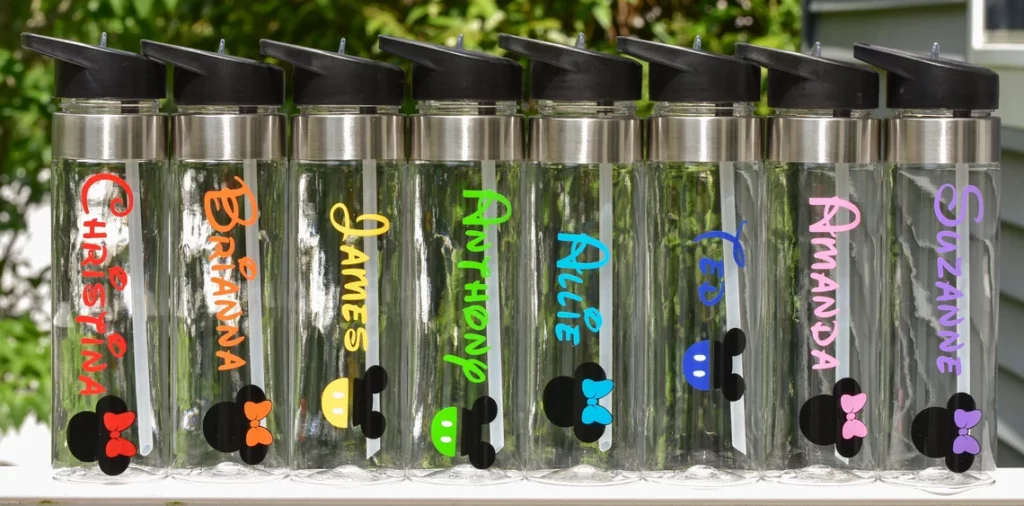 Minnie Mouse Water Bottle
This Minnie Mouse water bottle shows just how elegant this girl can be.
In comparison to other Disney water bottles where there can be a lot of sparkle and splash, this stainless steel water bottle is slim with a simple yet sophisticated Minnie Mouse silhouette.
It is vacuumed sealed 22 oz, and will keep your drink cold in the summer, and warm in the winter.
We love how simple but fun this Disney water bottle is!
With Minnie's sassy hip-pop and the classic red, this Disney water bottle is one several of us here at Disney Trippers want!
If red is not your color, then you can choose from several other colors to best fit your style.
Personally, we'd stick with the red as it matches Minnie's classic bow.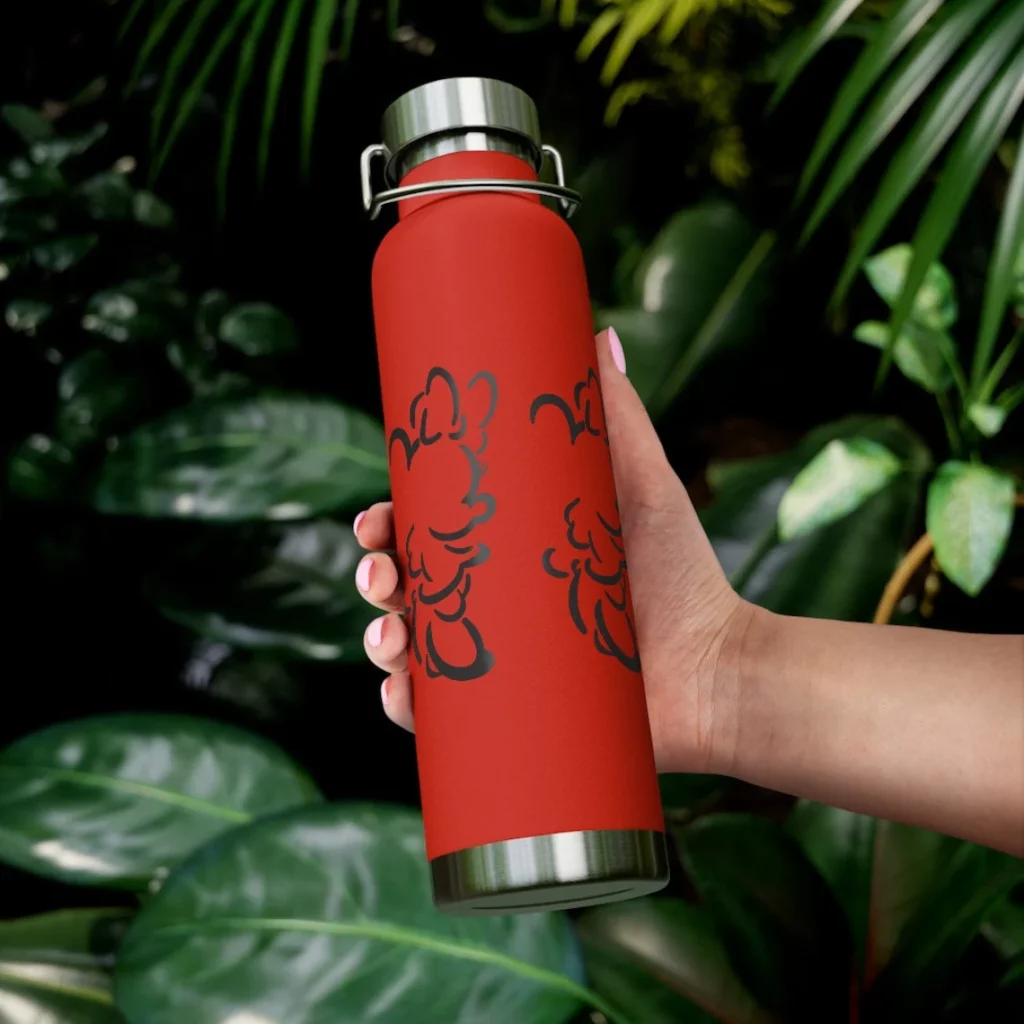 Elsa Water Bottle
Disney water bottles can sometimes be super flashy, covered with glitter, icons, quotes, or even song lyrics.
However, this stainless steel Elsa water bottle keeps the focus on the queen and her words of affirmation.
Not only does this Elsa water bottle come in powder blue, but it also comes in different colors and in different bottle styles from a 12oz wine glass to the full 32oz water bottle.
Sometimes simple is better, and for this Elsa water bottle, we couldn't agree more.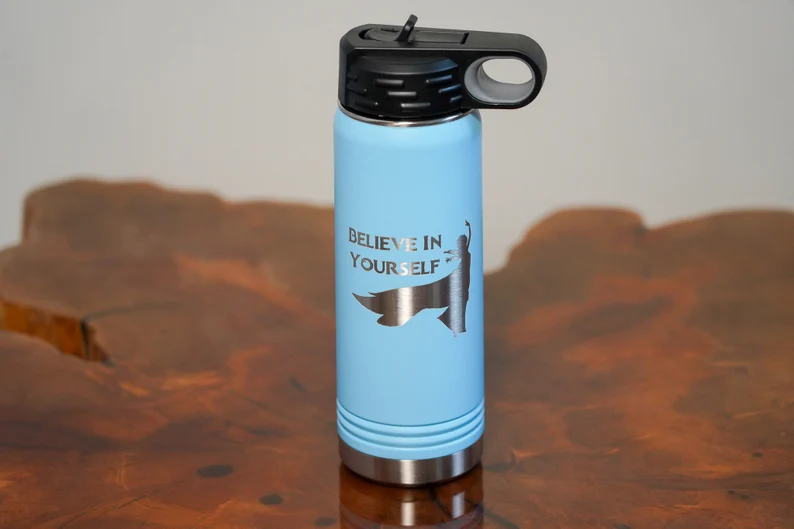 Toy Story Water Bottle
When you were a kid and watched Toy Story, did you ever have a craving for some Pizza Planet pizza? If so, you were not alone!
Although there is no longer a Pizza Planet pizza in the parks, you can have a little slice of merch with you when you use this Toy Story water bottle.
With that classic see-through red style that will remind you of the water cups they gave you at restaurants in the 90s, this twist-top water bottle is all about the nostalgia.
This bottle is the perfect size for sliding into a tote bag or into a side pouch while you are running your errands or wandering around town.
Be careful though as the bottle is plastic and will crack or break if you are not gentle with it.
But of all the Disney water bottles, you've got a friend in this one!
Curious where Pizza Planet used to be, and the new Pizza Restaurant it became in Hollywood Studios? Then check out the PizzeRizzo section of our best places for outdoor dining at Disney World.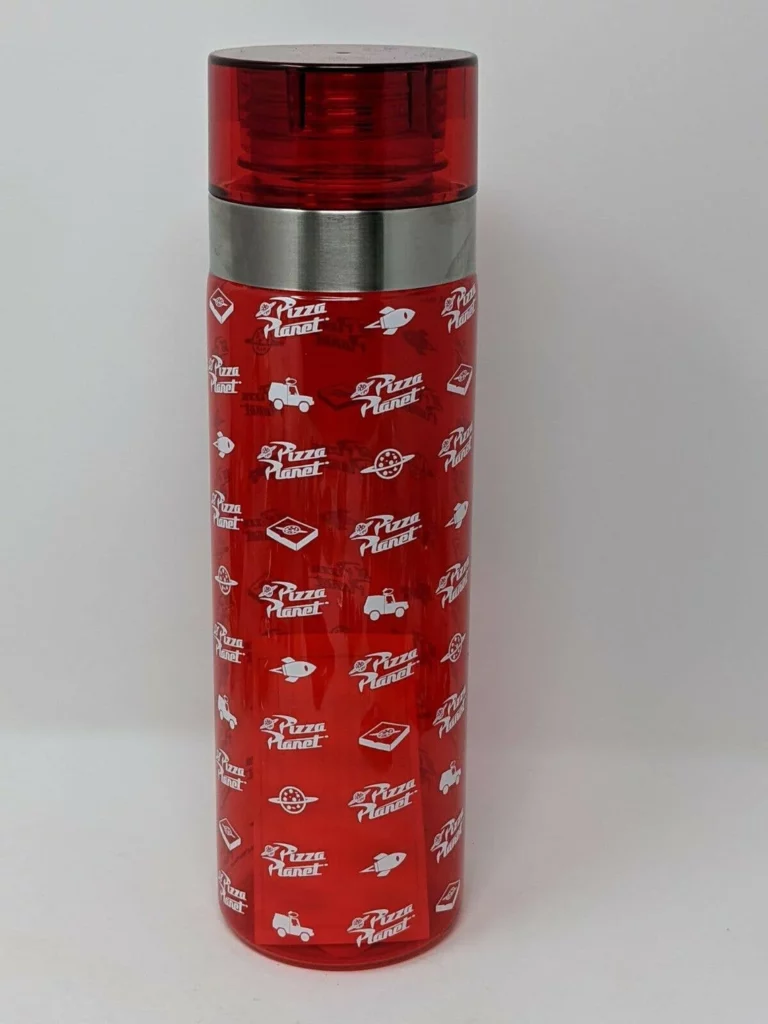 Lightning McQueen Water Bottle
This retro-looking Lightning McQueen Water Bottle is sleek, classic, and is a must for anyone who is a fan of the character.
The determined face of Lightning McQueen will have you reflecting the same face as you take gulps of water out of this easy-to-carry Disney water bottle.
The handle at the top is also the lid where you twist the top off.
Made of stainless steel, this Disney water bottle will keep your water cool, and is small enough to fit into just about any bag, making it easy for the children in your party to keep track of.
In terms of Disney water bottles, this one is a must-have if you love the Cars series.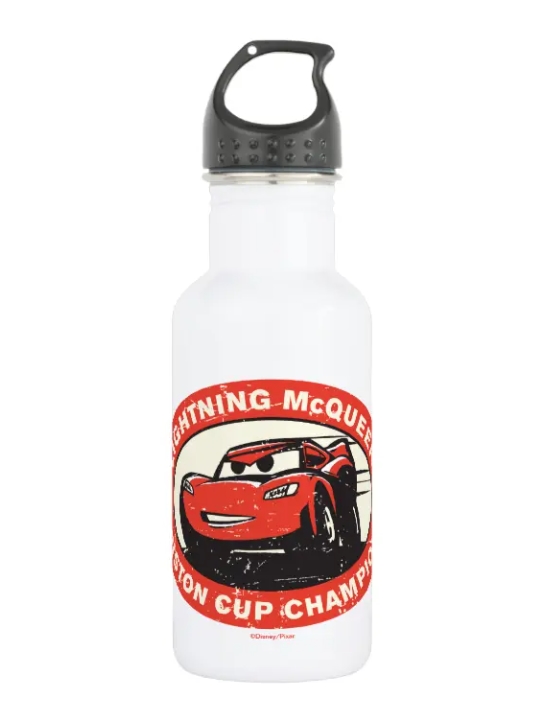 Disney Stainless Steel Water Bottle
Stainless steel water bottles are popular for a good reason. These Disney Stainless Steel water bottles in particular are sophisticated and great at keeping your drinks cold.
We really like how easy the twist-off top is, as well as the fact that these water bottles won't leak when tipped on their sides or upsidedown.
As they are made with stainless steel, keeping them clean is a breeze, and you don't have to worry about these bottles cracking if they get bumped around in your bag.
Plus, with various styles and the option to customize the name, these Disney water bottles are on our must-have list!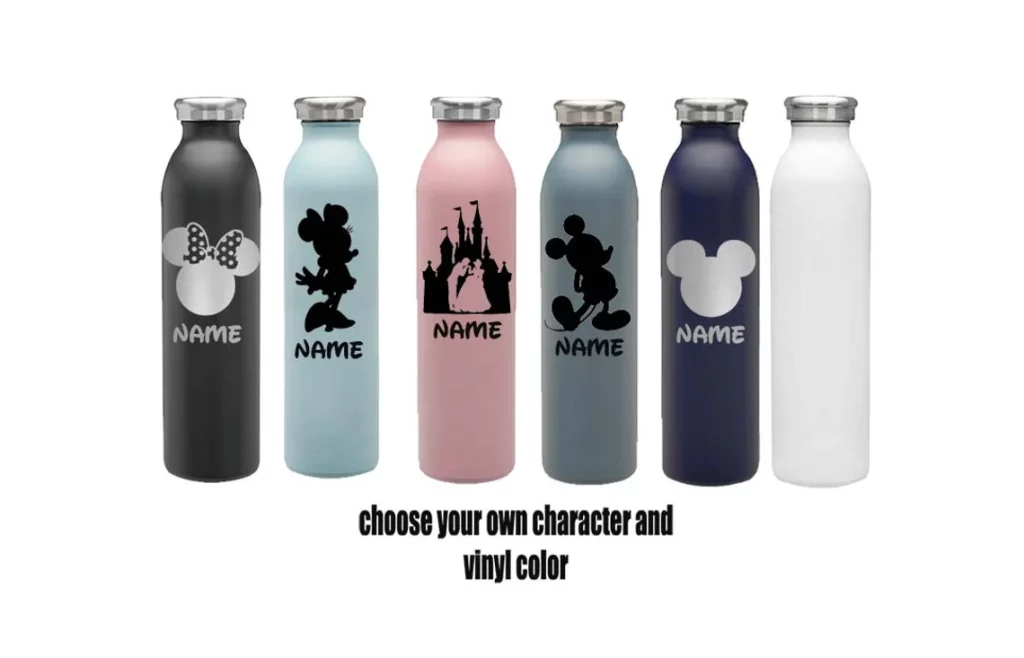 Lilo and Stitch Water Bottle
This Lilo and Stich water bottle is one of the cutest Disney water bottles we've come across!
Seeing Stitch cheer you on as you try to reach your water goals is a joy and a great motivation to make sure that you stay hydrated. Look at that face!
With the positive encouragement and fun poses, it is hard to not stare at this Disney water bottle all day long.
We liked the fact that this bottle had easy-to-read measurements and an estimated time block of where in the bottle you should be at with consuming water.
With a fabric handle and the lock top, it is hard to find a cuter Lilo and Stitch water bottle out there that is as delightful as this one.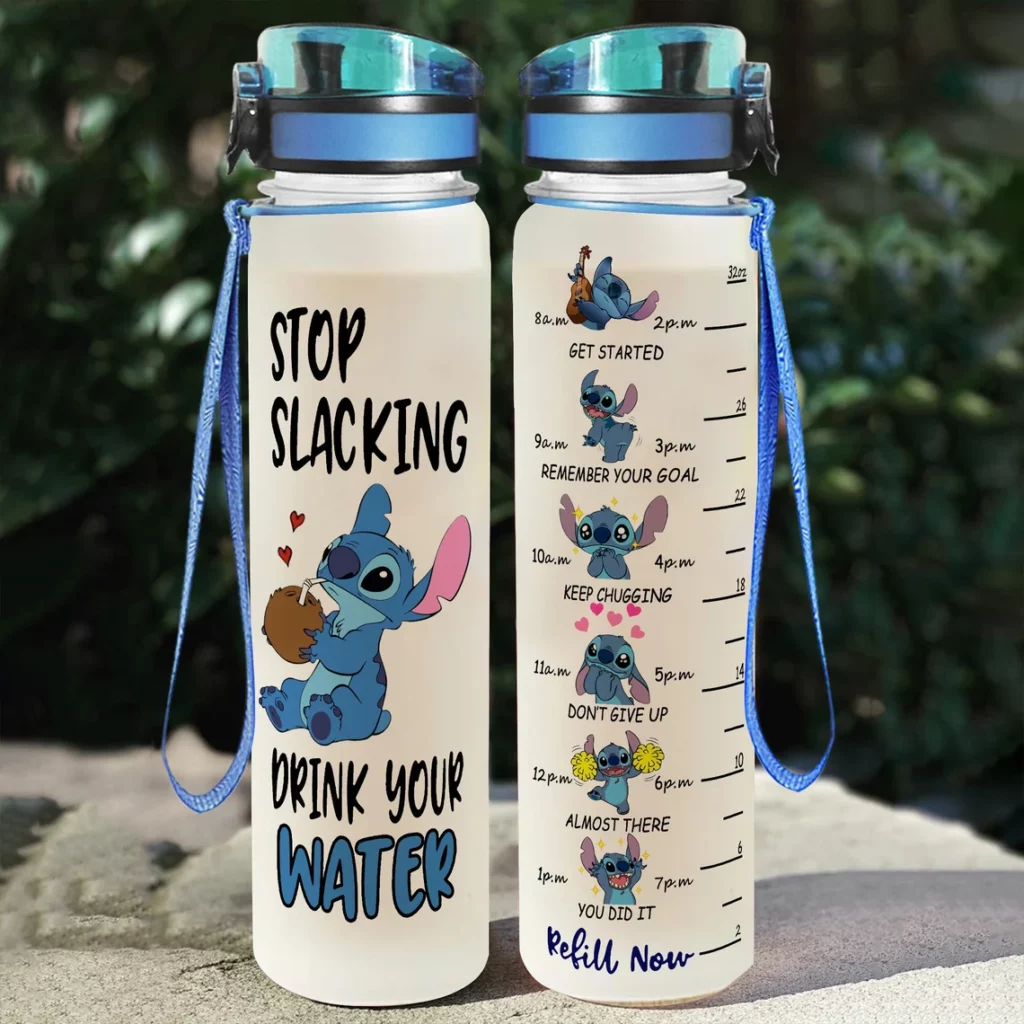 Lion King Water Bottle
There are hundreds of Disney water bottles out there, but finding a locked top Lion King water bottle is rare.
This Lion King water bottle is not one you want to pass up. While it is not as large as some of the other water bottles on this list, it is one that is easy to carry, either by the handle or hook onto your stroller with the clip, or attach the water bottle to your gym bag.
It is not super heavy which is a plus, and the stainless steel design means that it is relatively easy to clean out, even if you add a little flavor to that water.
We liked the fact that in this design the silhouettes were against a night sky, and that it quickly brought the song "Hakuna Matata" to mind while looking at it.
Did you know that Animal Kingdom has a big Lion King show that they put on every day? Check out our review for the best Disney World shows that you've got to see at least once.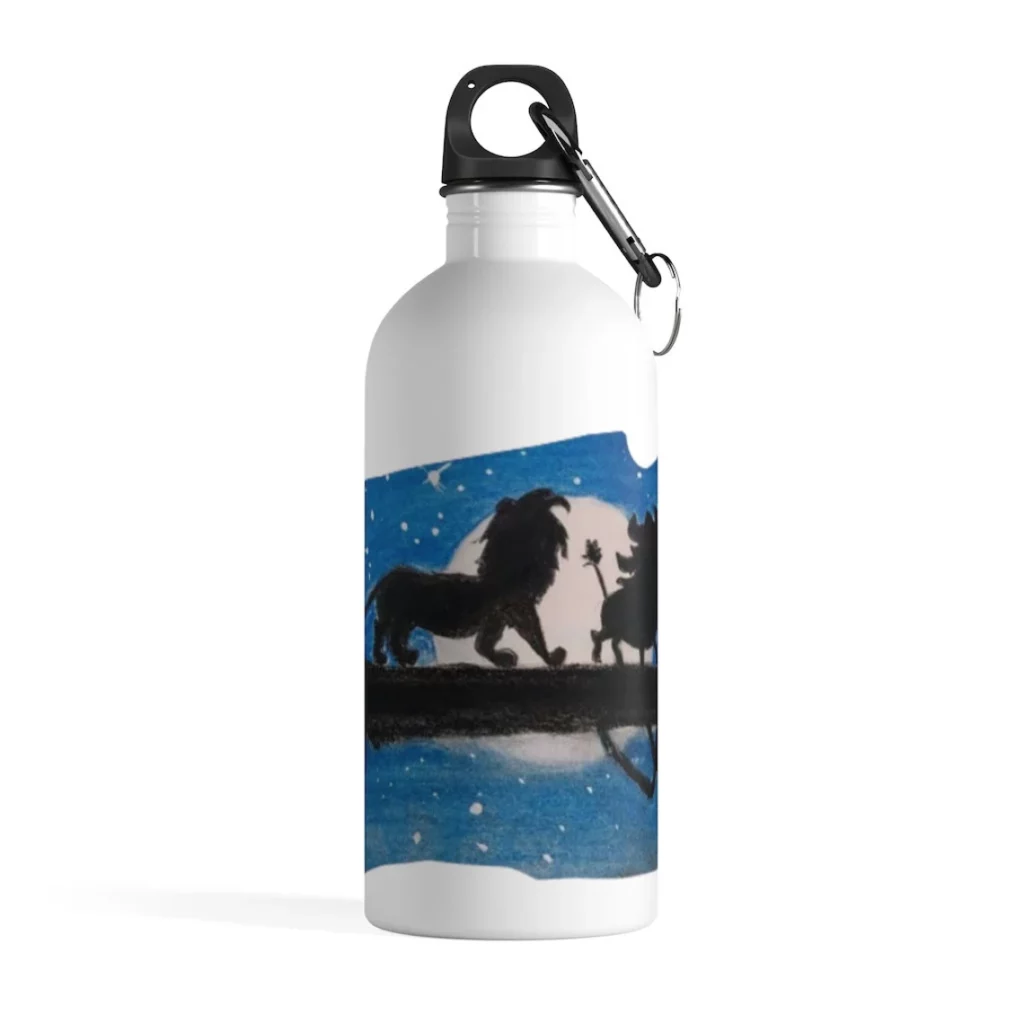 Disney Cars Water Bottle
If you have a kid that is a fan of the Cars movies, then this Disney water bottle is for them!
Complete with several race cars from the franchise, this almost-sippy cup-like Cars water bottle is easy to spot if your kiddo has a tendency to drop items they pick up or like to toss from their stroller.
While we don't recommend throwing this Cars water bottle, it is made of stainless steel and could handle a few drops and tumbles.
The spout makes it easy to get water without worrying about dumping the container when you want a quick sip on the way to your next adventure in the parks or at home.
The handle is not as flexible as some of the other Disney water bottles, but it has enough space that your hand won't cramp while holding it for a short period of time.
We liked this water bottle because of its bold colors and multiple Cars characters.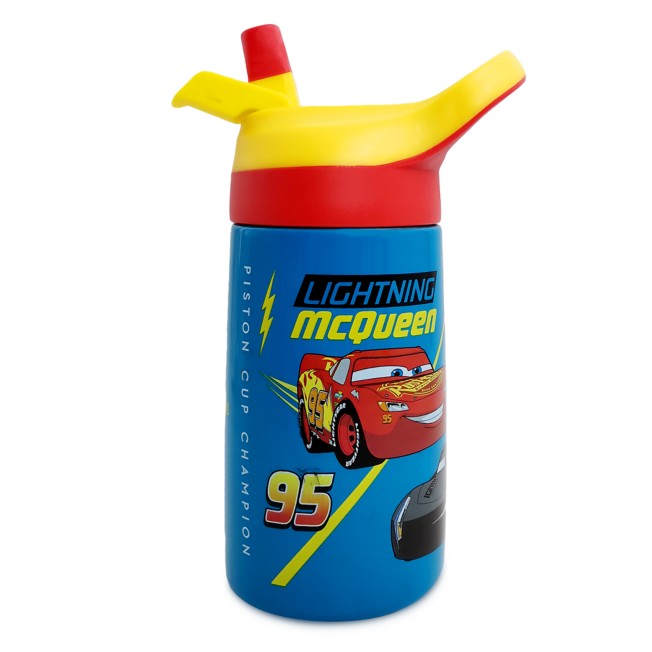 Park Hopper Water Bottle
One of the best things bout this Park Hopper Water Bottle is that it works for every park visit in Disney World. The cute time frame labels have this Disney Water bottle on our list of cute water bottles.
The water bottle is a pretty good size, and could definitely hold enough water that you won't be running to the nearest quick service for a refill after every ride.
The different icons are fitting for attractions located at each of the parks, and our favorite is the Epcot ball as the 'o' in 'drop' as something about it is just humorous to look at.
While this water bottle is not insulated, the attached twistable top makes for easy drink access without the worry of having a straw to keep track of or worry about touching again and again.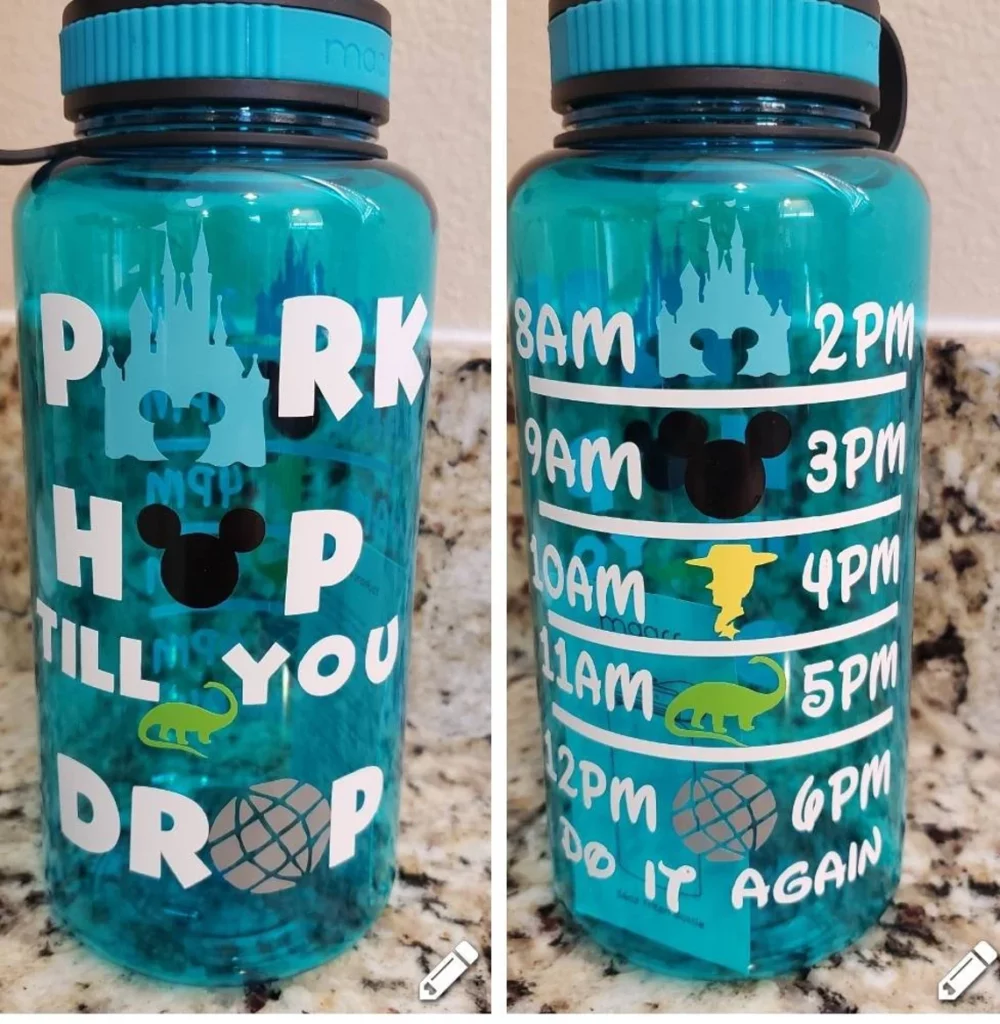 As far as Disney water bottles go, these are some of the cutest ones we have come across.
If you are planning your next trip to the parks and you are not sure what to pack other than a Disney water bottle, then check out our ultimate Disney packing list with a free checklist to get you started!