Lots of fans have begun collecting Disney ears, be it Mickey Mouse ears, Minnie Mouse ears, or even their favorite princesses transformed into stylish Disney ears!
Collecting these Disney ears has become a hobby for many, and they are one of the most popular souvenirs to get in the parks.
Having unique Disney Ears can show off your style, bring excitement about your favorite character to the forefront, and be a really fun conversation starter with fellow Disney fans.
The best ears for Disney are ultimately going to be the ones you choose for yourself, and we're here to help you find those perfect Disney Ears.
We've put together a list of some of our favorite Disney ears, from child Disney ears to adult Disney ears, from budget-friendly/ cheap Disney ears to more exotic and rare Disney ears; there is a lot to choose from!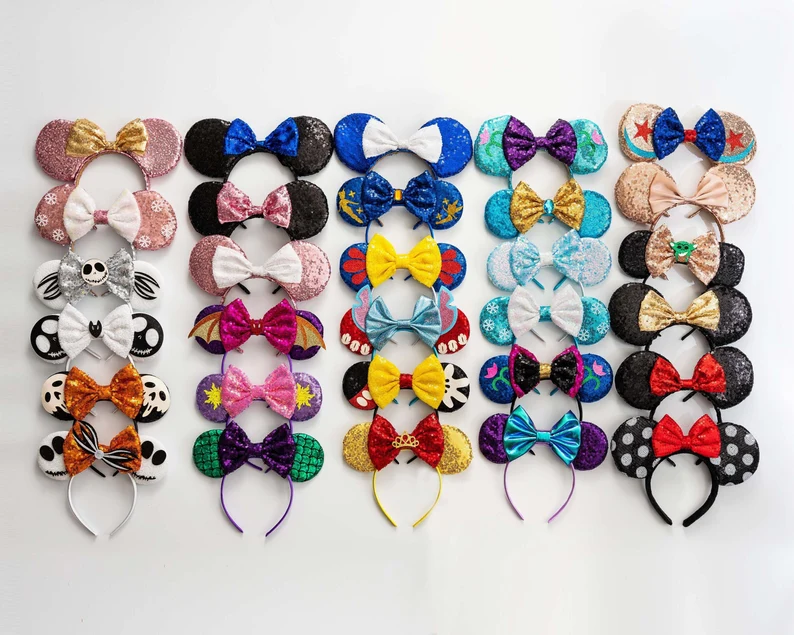 Why Buy Disney Ears Before the Park
Listen, we completely understand the excitement of getting a pair of Mickey Mouse ears in the parks, especially if they are your first pair. But more often than not, we would recommend getting your ears before you arrive and there are several reasons why.
One reason why is that it could save you save money. On average, a newer pair of ears in the park costs anywhere from $29.99 USD up to $225! Buying them online can save you several dollars, with some ears as low as $12.99!
Another reason to consider getting your ears before you go to the park is that there is a much larger selection of ears that you can choose from.
Many ears can be customized with names and colors, too! Some even let you choose parts of the design to incorporate into the final product so that the entire set is completely unique and unlike others, you will find in the parks.
If your family is anything like ours, then you'll have at least six different photos taken together before you hit the turn-stiles. Imagine the smiles your group will have if they get to open and wear their ears long before you get into the theme parks.
That little bit of selection, customization, and convenient pricing will make wearing those ears even more magical.
If you are feeling overwhelmed, don't worry. We here at Disney Trippers have scoured the internet to find and share with you some of the best Disney ears that you can get before you start your trip.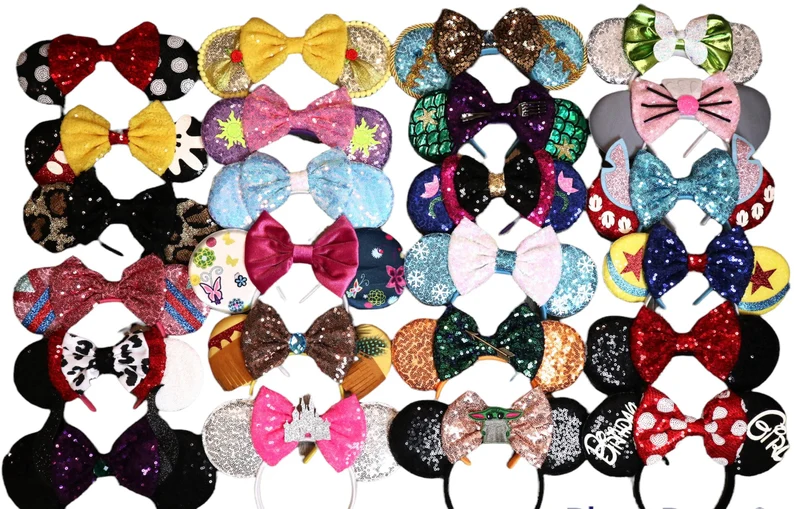 15 Best Disney Ears You Will Love
Mickey Ears
Nothing says Disney like a classic pair of Mickey Mouse ears. However, we liked this set because it was a twist on a classic.
These ears are super customizable, which is why these Disney ears are on our list.
You can choose from a classic matte black finish or a sparkle black finish for the years, and you can add on a bow if you want to convert them to Minnie ears.
The ears can be customized to commemorate whatever you are celebrating. Birthday, graduation, retirement, family reunion, engagement, wedding; just about anything!
You'll want to contact the seller directly if you want a lot of customizations done, but for the most part, the basic order form allows for most of the customization in one go.
These are both available in adult Disney ear and kid Disney ear sizes, and would be a great surprise for your entire group!
Check prices here.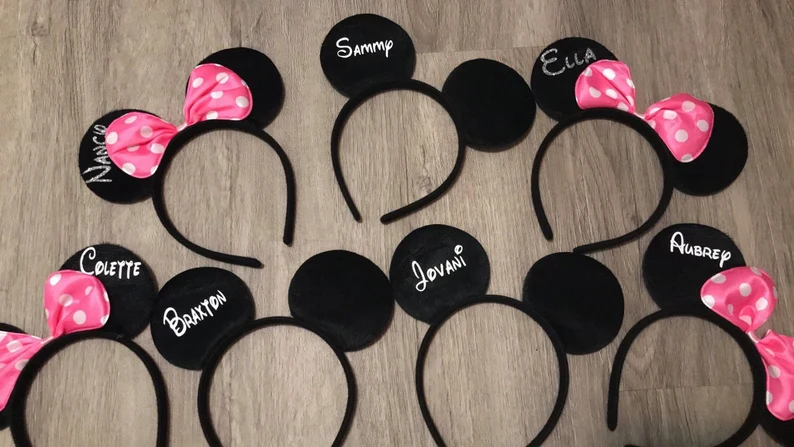 Minnie Ears
These adorable Minnie Ears are ones that you will have to admit are super cute! As far as Disney ears go, these ones will give you a feeling of elegance with the pearl details but feel that unmistakable joy of being Minnie with a classic color scheme.
The pearls are placed onto the ears for ears by hand in a beautiful pattern that gives a fact tone to the set. The red ribbon in the middle of the ears is made of quality red velvet, making it a great contrast to the shiny pearls on the ears.
These Disney ears are a must-have for fans of Minnie Mouse.
Check prices here.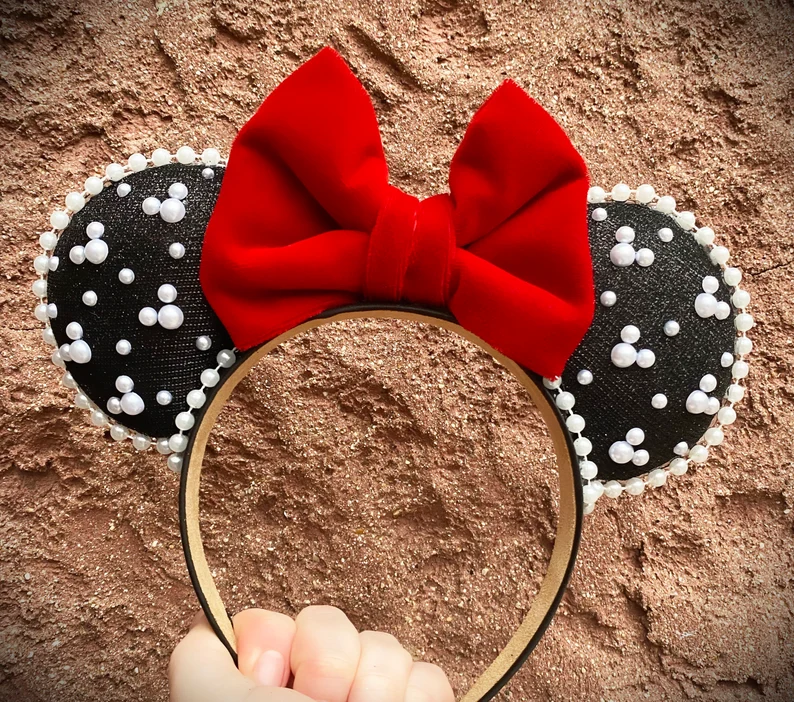 Rose Gold Minnie Ears
Rose Gold Minnie Ears are hard to come by in the parks. But don't worry, we have found a pair that you can get before you go, and definitely be the envy of many other guests.
These Disney ears depict the shimmer and shine of the color through a whimsical design. The rounded ears are 3D printed and attached to a sturdy headband, followed by your choice of sequined bow.
The best part? The castles on these ears are customizable to either Sleeping Beauty's castle at Disneyland in California or Cinderella's castle at Disney World in Florida! You can do both the same, or you can do one Disney castle in each ear.
This set of adult Disney ears is one you will want to add to your collection!
Check prices here.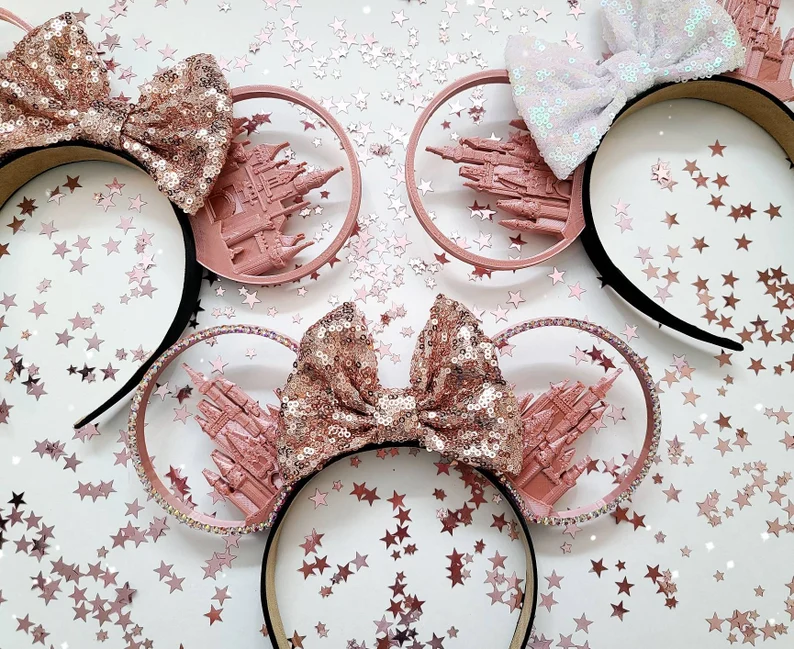 Cinderella Castle Minnie Ears
Nothing changes your trip to the parks like that first moment when you see the beautiful castle. These Disney ears will leave you with a strong reminder of that feeling.
These Cinderella Castle Minnie Ears will have you reliving the beauty and majesty of the castle every time you wear them.
Made of filament, these Disney ears for adults are attached to a one-inch thick headband with royal blue and golden hues. The bow is customizable from a list of preselected colors, all of which have sequins, adding to the sparkle of the gold.
These Disney ears are perfect for a picture in front of the Cinderella Castle, and would be a great set for your entire group!
Not sure about getting a photo pass while you and your party are in your matching Disney ears? Then you will want to check out our in-depth review of Disney Memory Maker and Photopass to determine if it is the right choice for you.
Check prices here.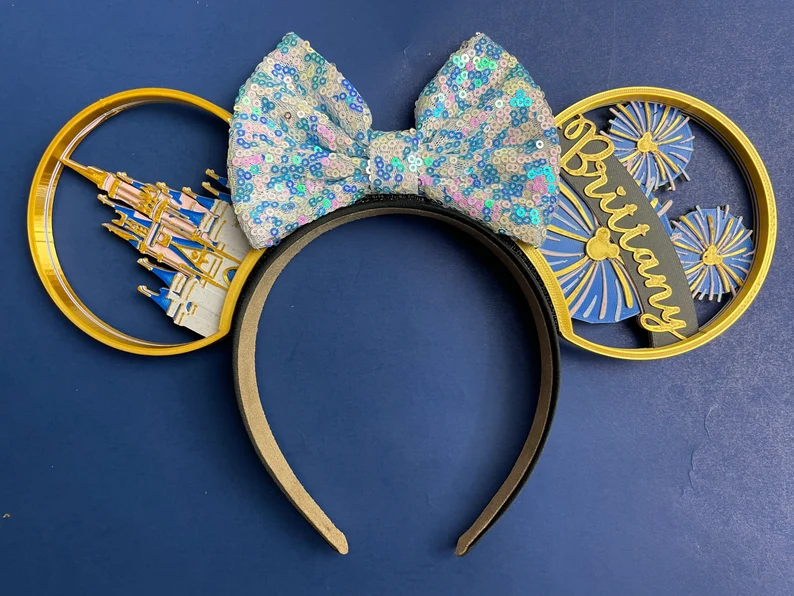 Encanto Ears
These Disney ears are absolutely enchanting!
Based on Disney's Encanto film, these colorful Encanto ears are some of the cutest Disney ears we've come across.
They are fun, playful, and will have you embracing who you are!
Matching the theme for Mirabel, the butterflies are matching of the color of her dress, the blue-green of her dress's fabric, and the gold for the shimmer of the enchantment.
These ears are super lightweight, and the band is durable for throwing the ears into your bag while you ride a roller coaster, or wander around the parks in the sun.
Check prices here.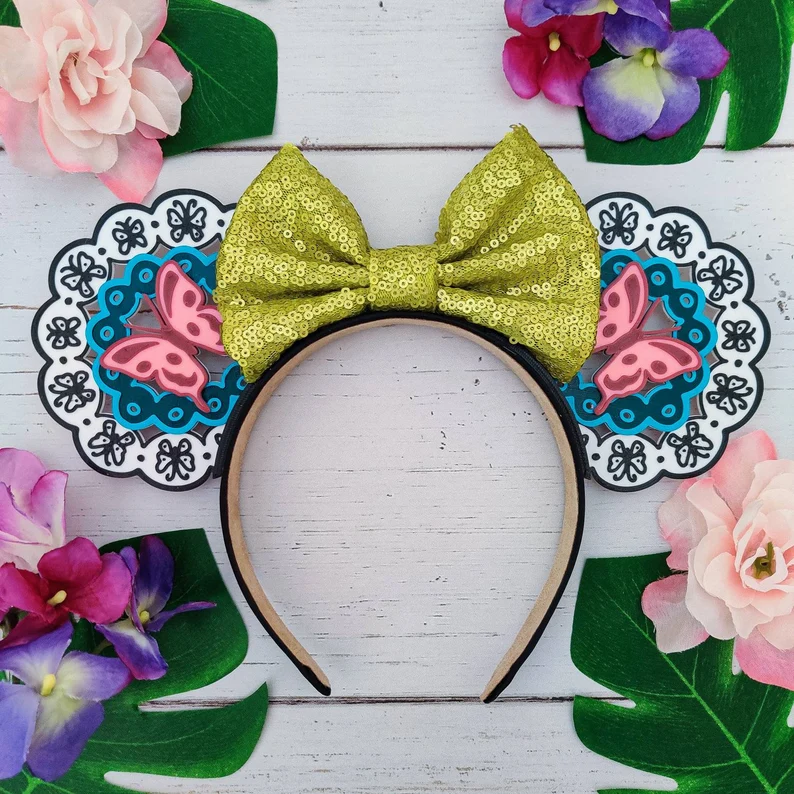 Winnie the Pooh Ears
There is something so charming about the tubby little cubby all stuffed with fluff, better known as Winnie the Pooh. These Disney ears are just as charming as the honey-loving bear himself!
With these adorable Winnie the Pooh ears being adorned with a fabric pattern, a shimmering red satin bow in the center of the headband, and sparkle accents, they are a must-have for any Winnie the Pooh fan.
Plus, the honey stick in the middle of the bow is absolutely adorable, and really represents Winnie the Pooh's love for his favorite snack of all time: honey.
Check prices here.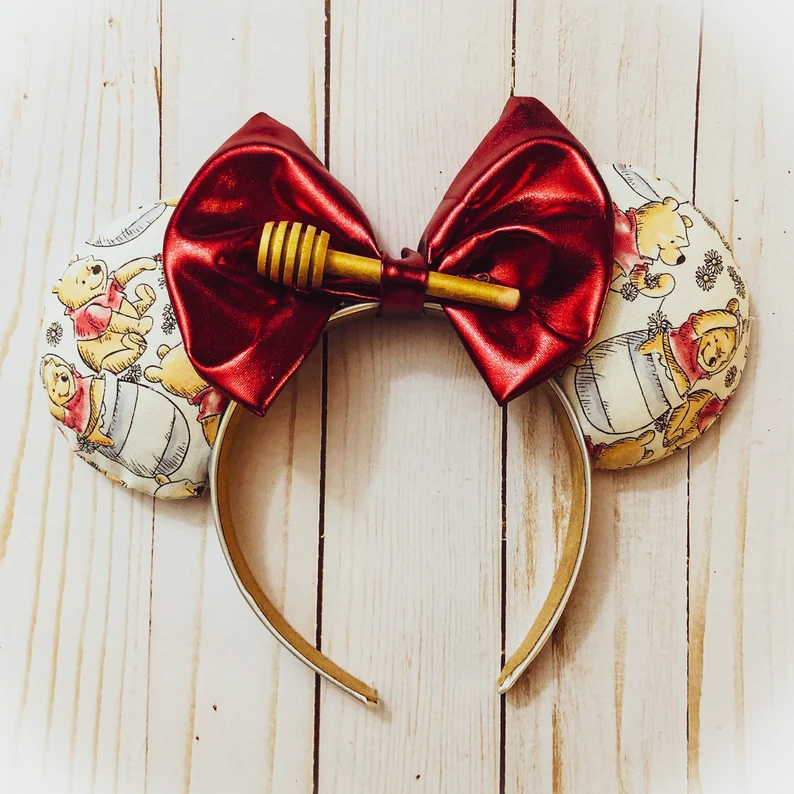 Piglet Ears
These Piglet ears are the best Disney ears for you if you love Piglet, and if you love pink.
The lightweight material of these ears will make them comfortable to wear for long periods of time, and they won't feel like a burden while you are waiting in line.
The ears and the bow are covered with sequins, making the ears feel fun and quintessential of childhood dreams. The Piglet icon in addition to the Piglet ears in the round ears are a great bonus to have.
Check prices here.
Ratatouille Ears
Anyone can cook, and anyone can get these adorable Disney ears. These Ratatouille ears will remind you that if you try and practice, you too can be as good as a French Chef.
Made with the softest and fuzziest Sherpa material, these ears feel like a comfy blanket on your head. The fun whiskers and chef hat do make this set of ears one of the more fragile ears out there, so just be careful with where you store them.
Seriously, we can't get over how soft these unique Disney ears are!
By the way, did you know that Remy has a ride in EPCOT? Check out where his adventure falls on our list of the Best (and Worst) Epcot Genie+ and Lightning Lane Rides.
Check prices here.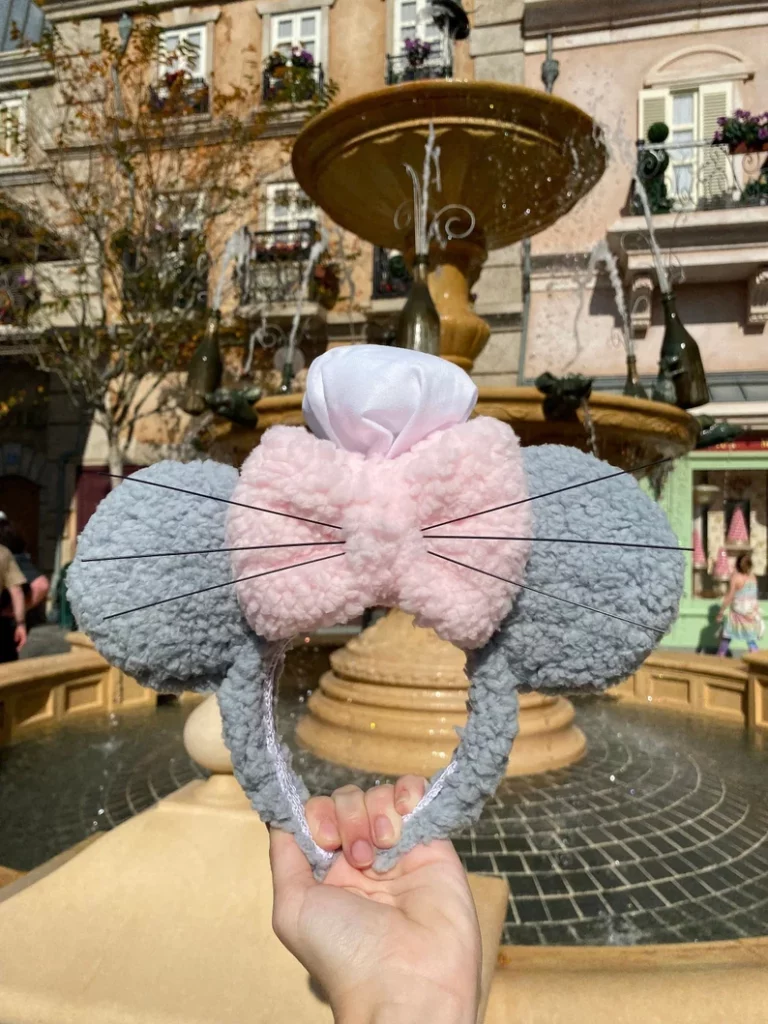 Loki Mickey Ears
If there is one thing we all know about the God of Mischief from the MCU, it is that he likes to be flashy. And with these Loki Mickey Ears, you'll feel the power flowing through you.
Designed in a style to mimic Loki's signature helmet and crown, the sparkle of gold is curved around the velvet green ears. A silhouette of the helmet is set in the center of the ears.
In the middle of the headband is a beautiful golden bow with horns curled up and back. The logo from the Loki Disney+ series is in the middle. The best part of this bow? It lights up in the dark!
Overall, without a doubt, these ears will have the mortal humans bowing before you in awe of this glorious pair of adult Disney ears.
Check prices here.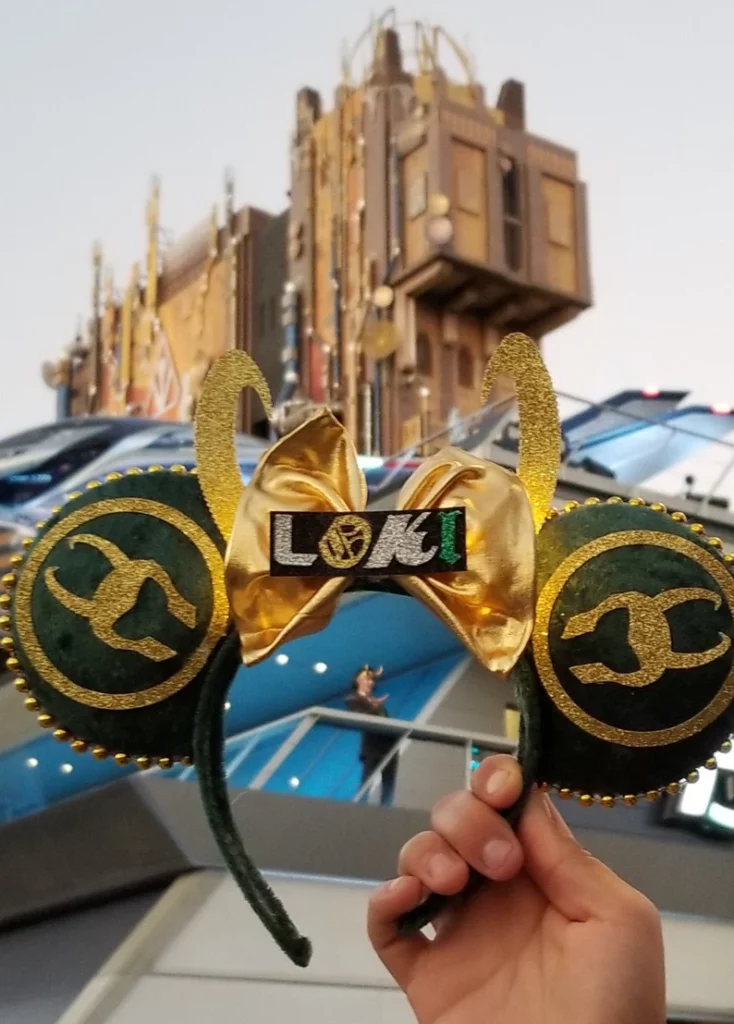 Toy Story Mickey Ears
These are the best Disney ears for your hard-core Pixar fan. Talk about having a friend in these Toy Story Mickey ears!
The headband is made of a comfy yet flexible material (not plastic), which will make wearing them for a long time a breeze.
The pattern on the ears are based on one of the leading characters from the franchise, Woody. The elements of his shirt and vest will have you feeling like the leaders of the other toys in your party.
You can choose to add on sequins, and you can choose one of 40 different bows to finish off this look.
Did you know that Hollywood Studios in Disney World has an entire area for Toy Story fans? Check out where the rides in Andy's Backyard rank in our Hollywood Studios Rides: ranking of the best attractions article.
Check prices here.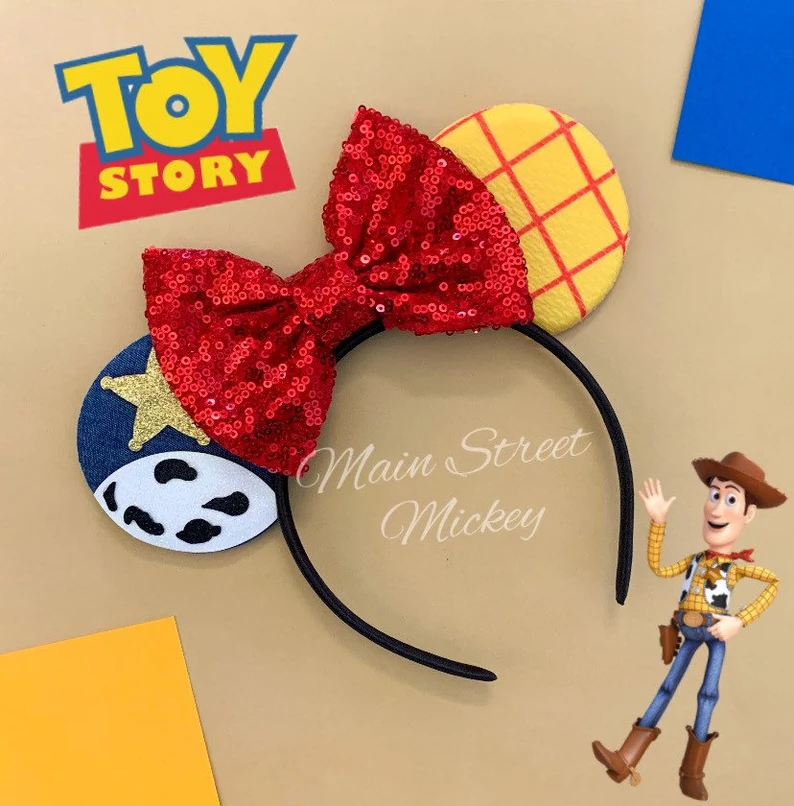 Star Wars Mickey Ears
When we saw these Disney ears, they were instantly added to our cart! These Star Wars Mickey ears (or Minnie ears if you decide to add the bow) are unlike any Star Wars ears you will find sold in the parks.
Featuring elements of the dark side, the black ears have two big icons. On the one ear, a 3D printing of the death star has its laser locked onto you. On the other side, is the infamous polycarbonate depiction of Darth Vader.
If you choose to add on a bow, there are two types of material you can choose from, but if you want to keep the ears plain for the fan at your party, you totally can!
Because these ears are 3D printed, they are super lightweight and many customer reviews have shared just how comfy the headband is. These ears will have you feeling good about going to the dark side!
Want to know the best ways to possibly score your party a Lightning Lane for Rise of Resistance and Millenium Falcon: Smuggler's Run? Then check out our Disney Genie+ Secrets to hack your wait times in line.
Check prices here.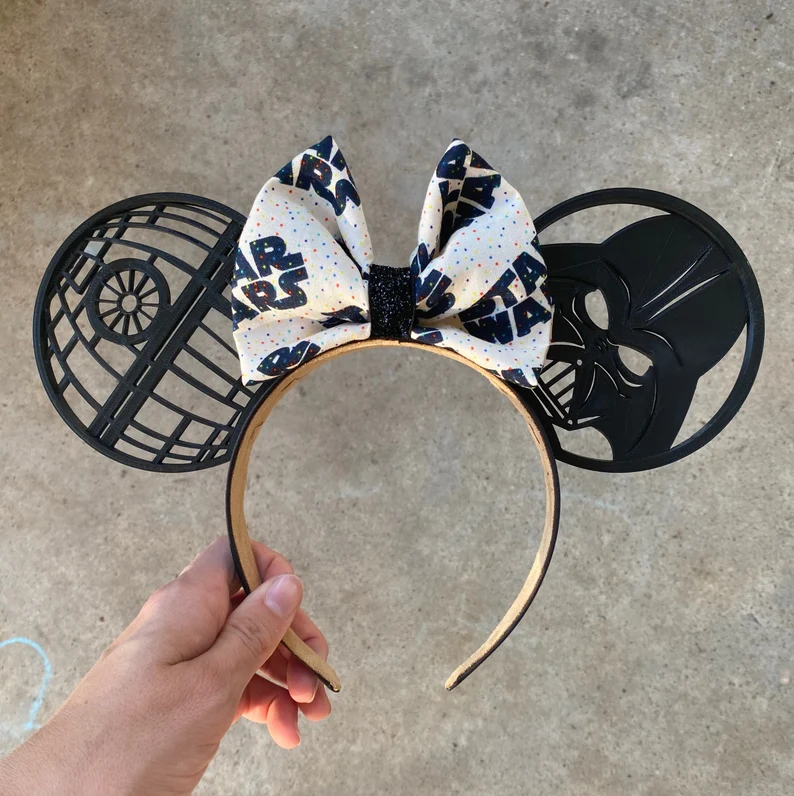 Disney Halloween Ears
Looking for a creepy, spooky set of ears to celebrate Halloween? Don't worry, we got you covered with these Disney Halloween Ears!
Following inspiration from The Nightmare Before Christmas film, these adult Disney ears focus on the big villain of the story.
The ears feature Oogie Boogie and his infamous wheel. In the center, the black sequined bow brings balance to the cute yet gruesome site of this dark villain. These ears are the perfect accent to your Halloween collection!
On the fence about going to Disney World during the holiday? Then check out our Disney Boo Bash review, which will give you a closer inside look at the Halloween party experience so you can decide if it is worth it for you.
Check prices here.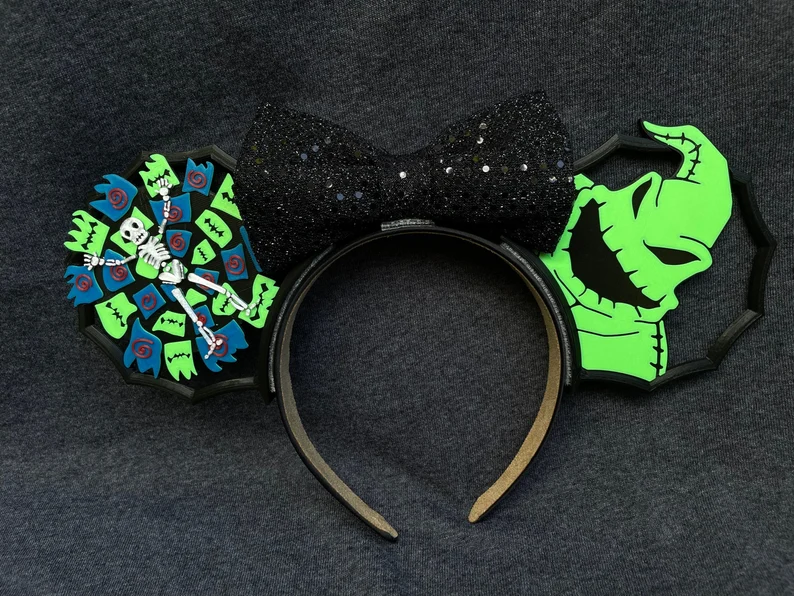 Tower of Terror Ears
Welcome to the Twilight Zone!
These Tower of Terror ears will make you feel like you have the keys to the grandest hotel on Sunset Blvd!
The red velvet ears are outlined with a thin gold rope, matching the golden embossing of the Hollywood Tower Hotel logos. The black sequined bow is perfectly positioned on the headband (which is also adorned with a thin gold rope).
In the center of the bow is a golden key that will remind you of the ornate lobby featured in the attraction. Everything about these Disney ears will have you smiling about your next visit to Hollywood Studios.
Check prices here.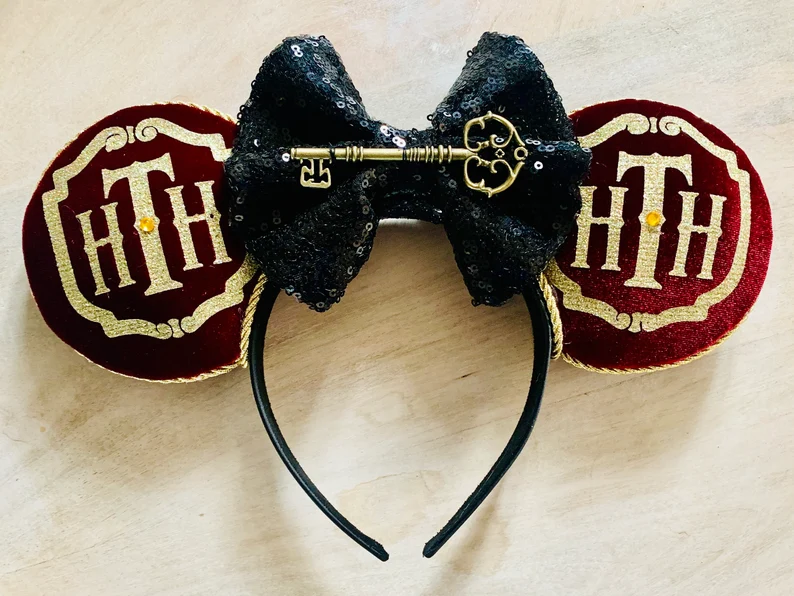 Haunted Mansion Ears
Are you a grim, grinning ghost coming out to the parks in order to socialize? Then these Haunted Mansion Ears are a must for you!
With the ears matching the green and black stripes of the cast member uniforms, the pearls around the outer edge accompanied by the satin and lace bow will have you flashing back to when you had to wait for your doom-buggy inside the ride.
Seriously, these ears are hauntingly cute, and if you don't get these ears for your collection, then a ghost will follow you home!
Check prices here.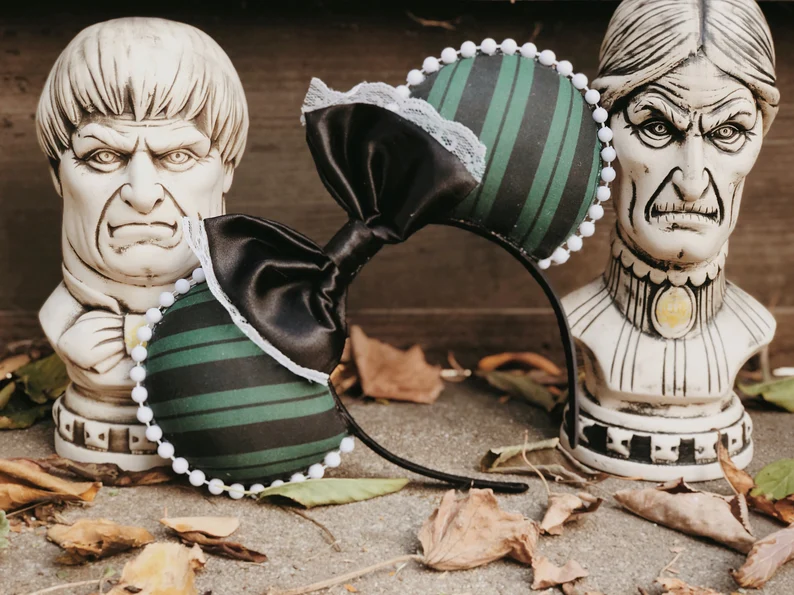 Disney Christmas Ears
Without a doubt, these Disney mouse ears will have you singing the songs of the holidays and baking cookies, or dinner with all the trimmings.
These Disney Christmas ears are vibrant, fun, and come in a variety of colors and layers! CaSales, the shop owner, uses the same template for all of the ears, making them a blast to customize, and allows you a lot of options for the holiday season!
You could choose from swirls of peppermint, or wintergreen snowflakes, or even some more tame red and green ears! These Disney ears are fun for the entire family, and will have you counting down the days until your next trip!
Looking for some shirts to match your ears? Or want something fun and Disney to wear at the office holiday party? Then check out Festive and Hilarious Disney Shirts that you may want to
Check prices here.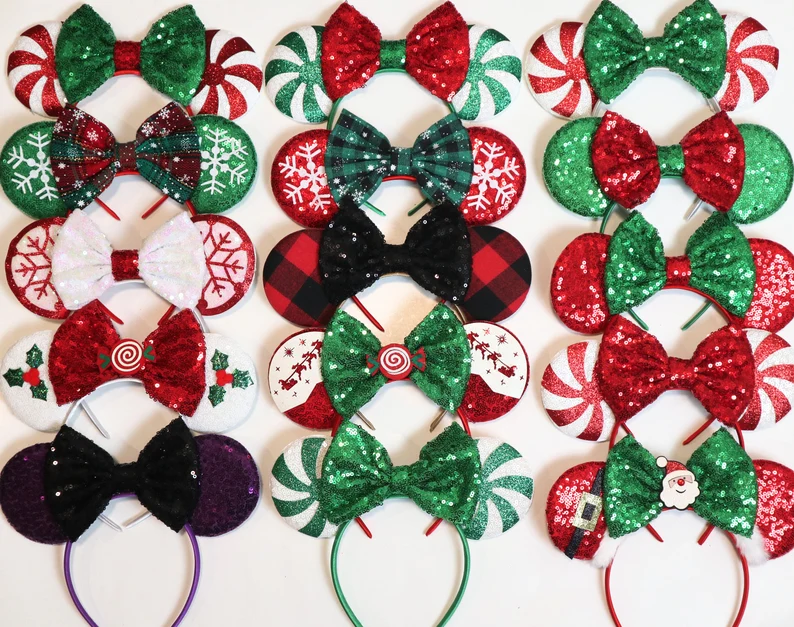 Finding the right set of Disney ears can be tough. With so many selections, customizations, and price options, there is a lot to consider.
We hope that looking over this list the decision is a little easier for you, and we hope you have a lot of fun choosing your next set of ears!
If you are planning your next trip, then check our Disney Planning page, where you will get all kinds of insider tips and tricks for how to get through the parks like our Ultimate Disney Packing List, letting you have the best day ever in the parks!