If you are looking for a cute Disney fanny pack, you have come to the right place! The 90's are back, baby! Since I was born in 1988, the 90's made up my entire childhood and I get so excited anytime something comes back into style that was around when I was a kid.
In this case, it is fanny packs. What is better than a fanny pack? A Disney Fanny Pack, of course! I have scoured Etsy and the Disney store to find the 15 absolute cutest ones for you.
Get a FREE printable 30/60/90 day Disney countdown by joining our private Disney Facebook Group and share your photos and ask for tips and tricks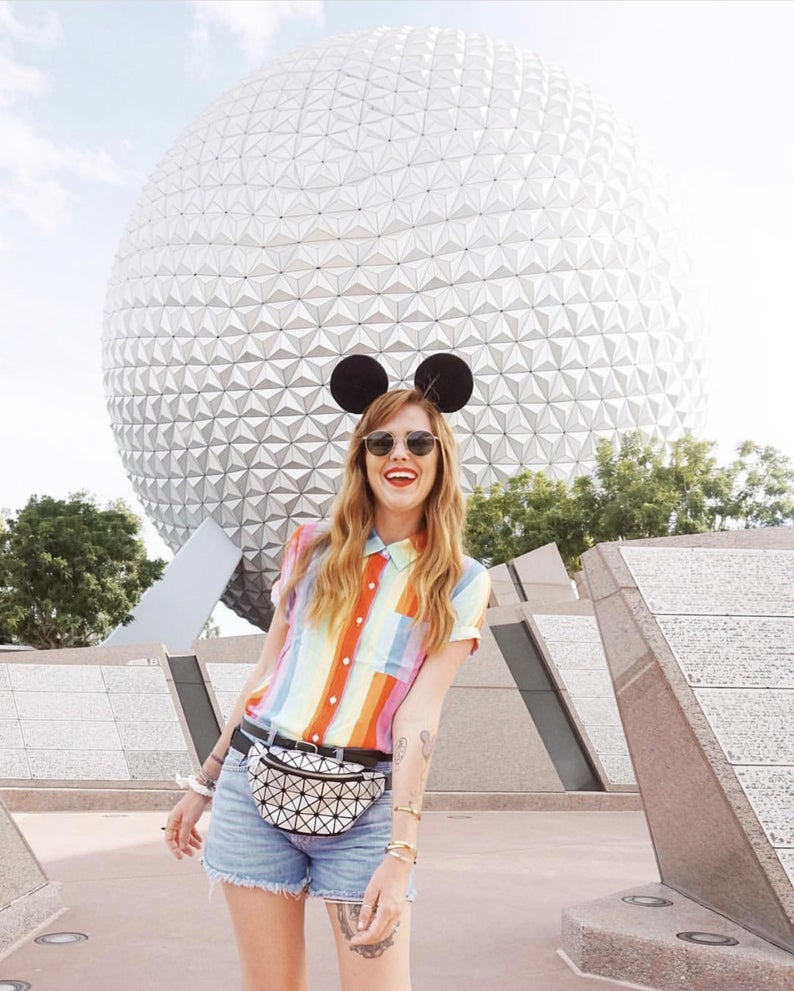 15 Cute Disney Fanny Packs To Wear In The Parks
Minnie Mouse Hip Pack by Loungefly
If you're like me and obsessed with anything sparkly, you need this Disney fanny pack in your life! The navy blue is so pretty and the sequins are the perfect amount of sparkle! This Minnie Mouse hip pack was made exclusively for Disney Cruise Lines.
It is designed with Minnie Mouse ears and a faux leather navy and white applique bow. The lining is made with a super cute patterned fabric with anchors, captain's wheels, and the Disney cruise line logo. At 5″ tall by 7.5″ wide and 2″ in-depth, you can fit all your necessities in this hip pack and catch the attention of everyone at the parks!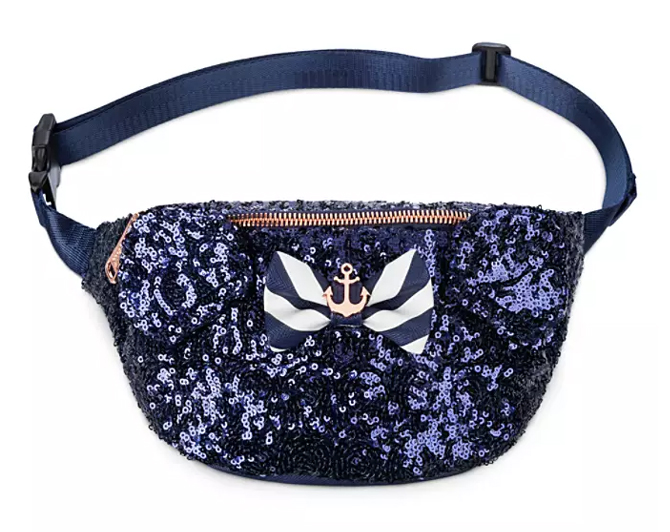 Mickey Mouse New York Hip Pack
Do you want a Disney fanny pack but are on a budget? This Mickey Mouse New York hip pack is a steal at $16.95 and is perfect for storing your phone and money in for a day (or two) at the park! The design was inspired by Mickey Mouse's shorts and is a perfect shade of bright red.
There are even Mickey Mouse ears at the top to add to the theme of this Disney fanny pack. Since this was created specifically for New York, you can only find it on the Shop Disney website and at the Times Square Disney store in Manhattan. At 4.25″ tall by 10.5″ wide and 3″ in-depth, it is large enough for all your important basics including enough money for some yummy park snacks!

The Mickey Mouse Club Mouseketeer Travel Pack
Whew, that name sure is a mouthful, isn't it?! If you were a kid in the 90's, you probably dreamed of being a part of the Mickey Mouse Club (I sure did!) This Mickey Mouse Club fanny pack is the epitome of the 90s with the denim fabric. The Mickey Mouse embroidered patch pulls the entire bag together.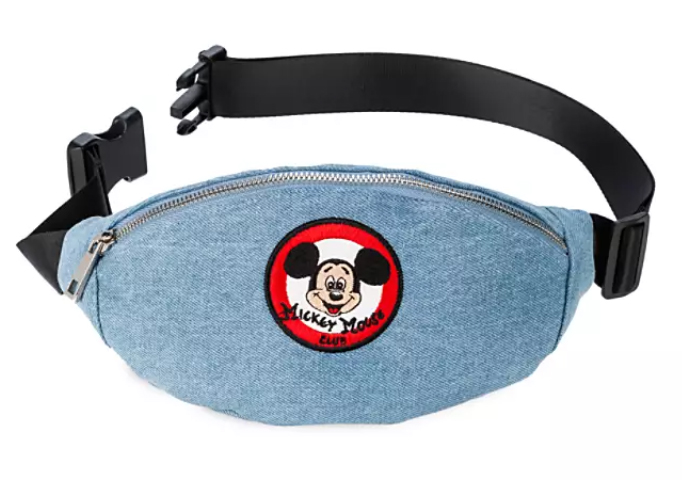 Mickey Mouse Hip Pack
If you're looking for a fanny pack, but also want it to look sleek and sophisticated (yes, it's possible) then look no further! This real leather bag has pop up Mickey ears and has a pair of his shorts as an adorable dangle hanging on the side. The gold-tone hardware on this Disney Fanny Pack is a great contrast to the solid black leather. It is also on the bigger size, definitely big enough to hold anything you have to carry with you to Disney at 6.5″ tall by 12.5″ wide and 1.5″ in depth.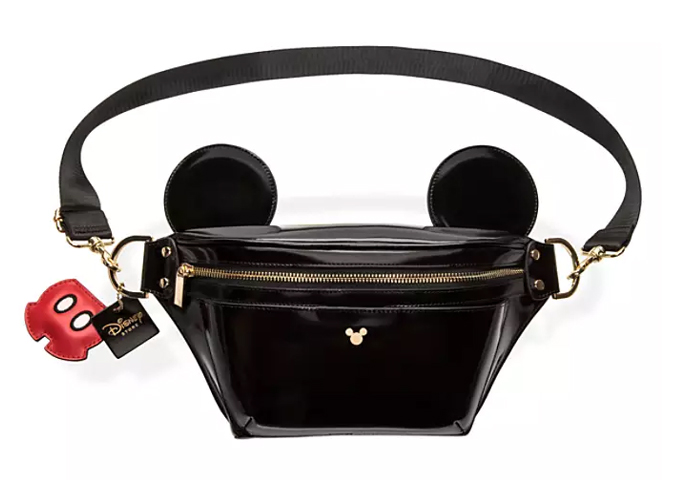 Minnie Mouse Fanny Pack
If you've made it this far, you already know I am obsessed with anything glitter so this sparkly Minnie Mouse fanny pack should come as no surprise! The best thing about this fanny pack is the amount of options you have to choose from, from the Minnie color to the color of her bow. For the color of Minnie, you can choose between silver, hot pink, mint, rose gold, gold, and so many more. You also have the same color choices for the color of her bow, but you don't have to choose the same color for both, so mix it up and have fun!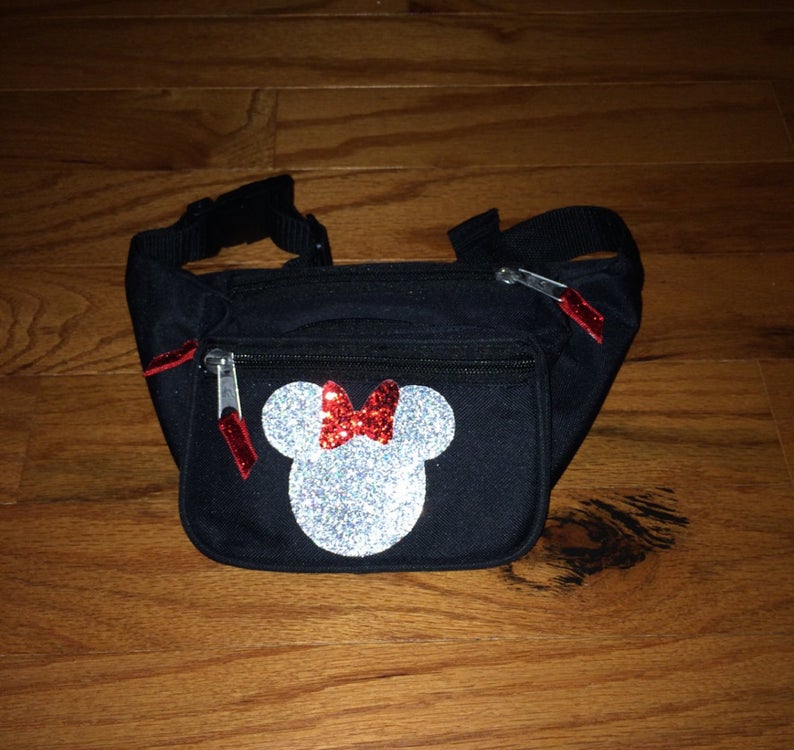 Personalized Disney Fanny Pack
Do you need a fanny pack for your entire family? This Personalized Disney fanny pack is a great addition to one of these 12 creative Disneybound outfits.
With six different design options, you are sure to find something that suits your personality. For the design, you can choose between Mickey Buttons, Mickey head, Minnie polka dot bow, Minnie head with bow, Tinkerbell and castle, or a custom design.
You can also between child or adult sizes and several different colors including black, red, white, or navy. Personalization is included so you will never have to figure out whose bag is whose.

Disney Minnie Mouse Fanny Pack
When I saw this adorable Disney Minnie Mouse Fanny Pack, I just had to include it in this list. The black background and white polka dots match the Minnie Mouse illustration so well. Plus, you can have your name personalized on top of the bag.
Whether you want to purchase this bag for an adult or a child, there will be something for you. There are so many sizes available from a 8″x3.5″ design to a 15″x6″ design. While the main part of the fanny pack is a cotton Minnie Mouse fabric, the personalized part is a solid color to make sure the name shows up well. If you choose not to have it personalized, the Minnie fabric is used all over.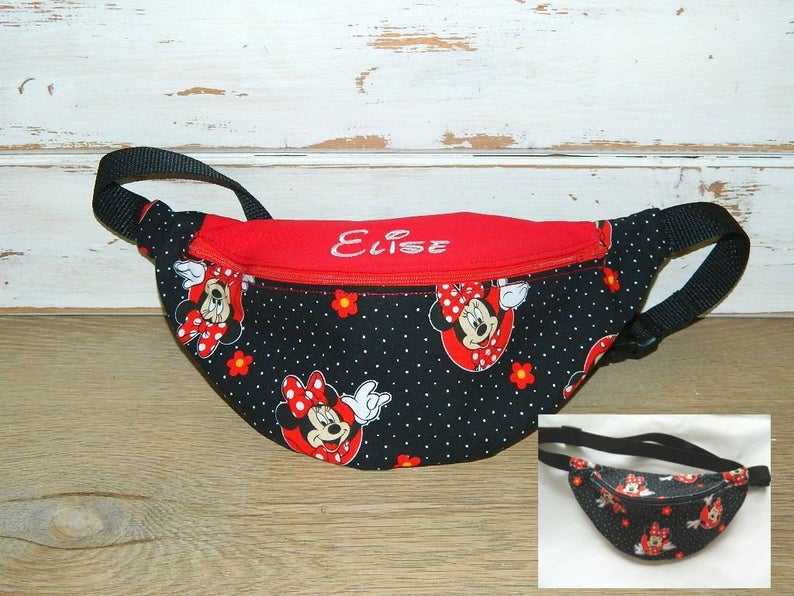 Disney Inspired Cute Fanny Pack
If you're looking for a super cute fanny pack that is also budget-friendly and has three zipper compartments, this is the perfect fanny pack for you! This Disney Inspired Cute Fanny Pack is made using high quality, durable canvas material. Plus, it has enough room to fit your keys, cell phone, wallet, and more! Also, the waist expands to 48″ making it great for virtually anyone. At dimension of 18″x12″x17″, this fanny pack for Disney is the largest on this list.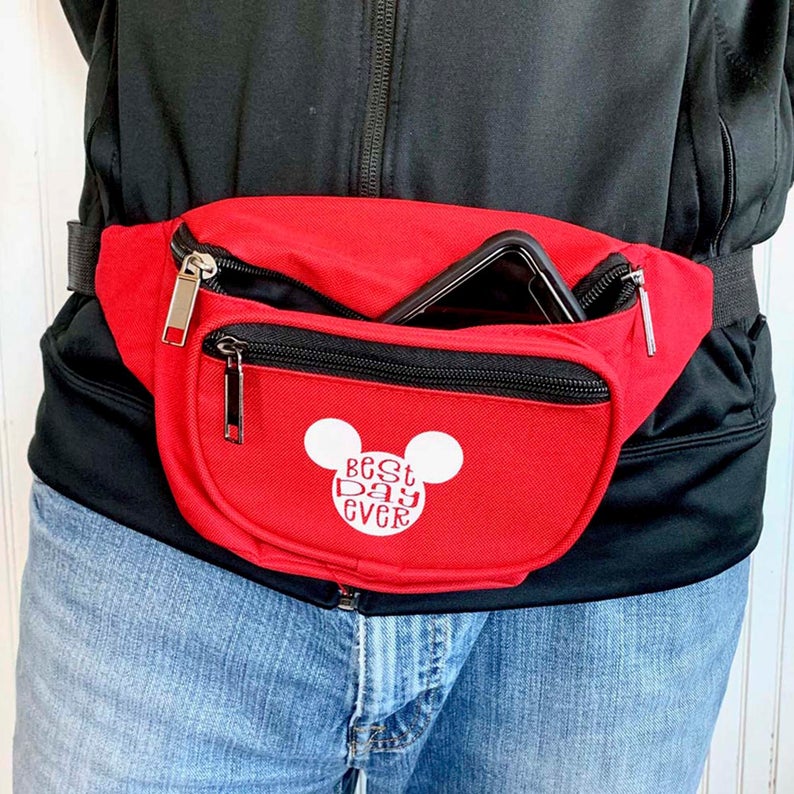 Disney Theme Bride Squad Fanny Pack
Are you or someone you know getting married? This Disney Theme Bride Squad Fanny Pack is a perfect addition to a bridal party. Select between your choice of black, white, pink, royal blue, and many others for your main bag color. You can also choose between having the fanny pack say Bride or Bride Squad, so everyone can have one!
There are also so many text color options that I could never list them all. A few of the many, many choices are: mint, rose gold, white glitter, matte black, and light blue. I personally like the idea of having the bride in white glitter and the bridesmaids pick their favorite color. Plus, at only $14, these fanny packs are budget-friendly!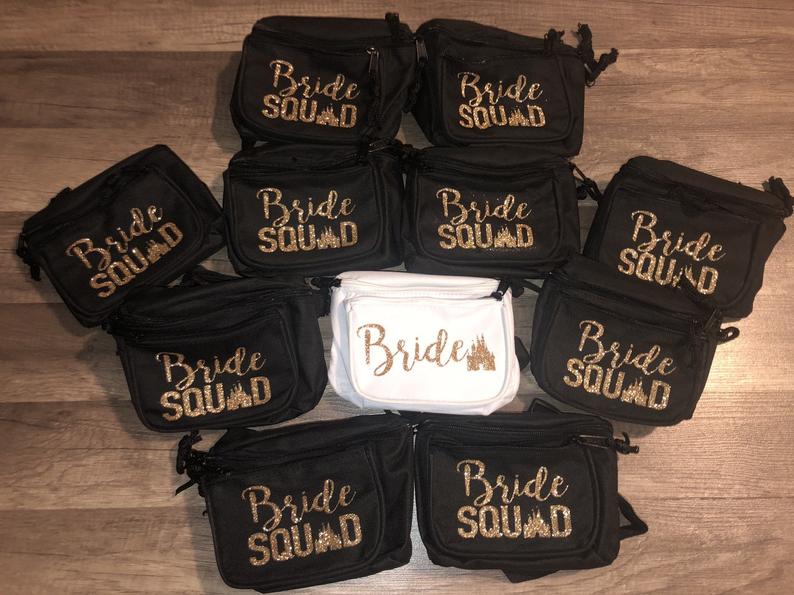 Love Minnie Mouse Fanny Pack
Show off your love for Disney with this Love Minnie Mouse Fanny Pack. There are so many color options including black, white, neon pink, teal, and more. These fanny packs are completely customizable, allowing you to choose the color of the bag, the font color, and the color of Minnie Mouse's bow.
This Minnie Mouse fanny pack has three zippered areas, giving you plenty of space to store everything you need for a day at Disney. The wait expands to 50″ making it the perfect fit for virtually anyone.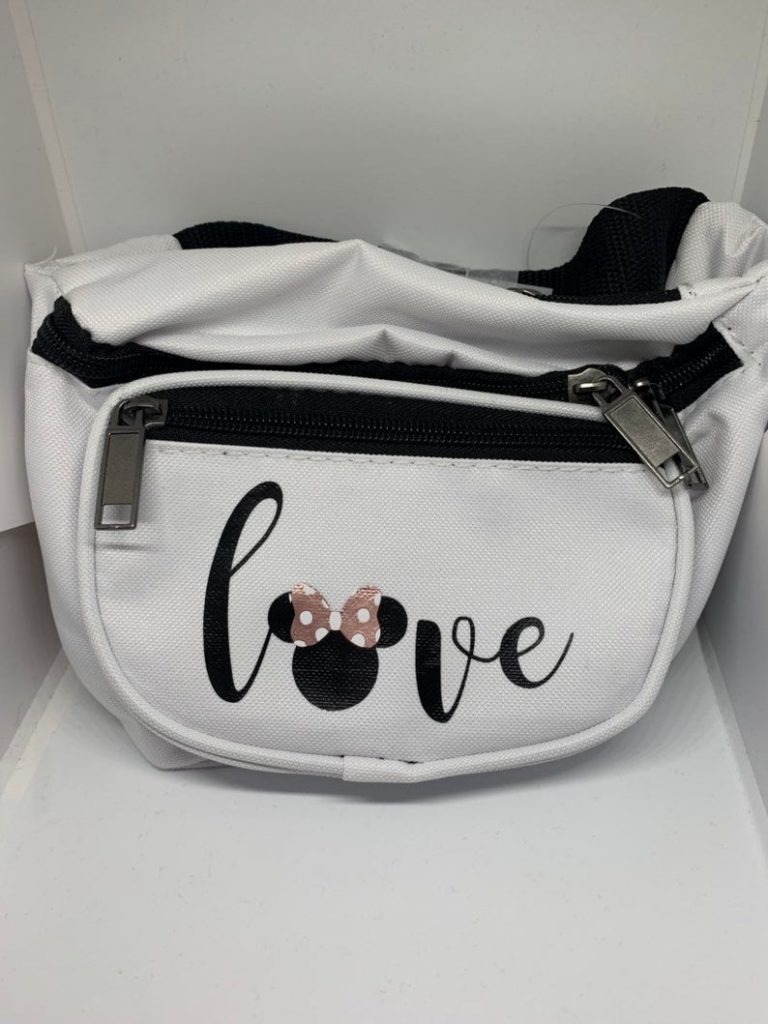 Fanny Pack Mommy Mouse
This Disney fanny pack is for all the moms out there! If you're one of those moms that loves watching Disney movies with your kids and are possibly more excited to go to Disney than they are, you need this bag!
The solid black bag creates a great contrast to the rose gold glitter "mommy" text and the silver glitter Minnie Mouse bow. If you would like a different combination, the shop owner, MonkeyToesHairBows, is extremely flexible and would love to create the perfect bag for you.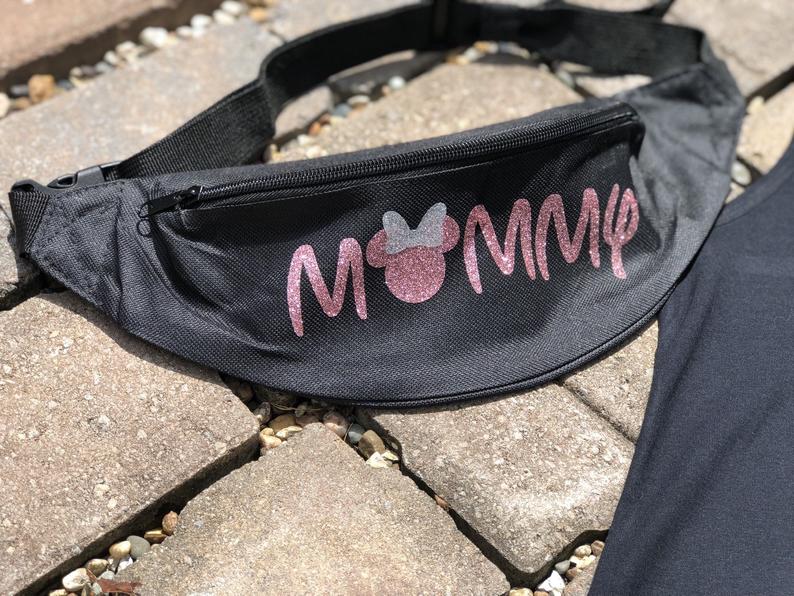 Disney Minnie Mouse Fanny Pack with flowers
This Minnie Mouse Fanny Pack is every flower lover's dream. When I first saw this fanny pack for Disney, I thought of the Minnie Mouse Epcot flower festival Disney Dooney and Bourke tote. The flowers are so colorful and spring-like, making now a perfect time to buy this super cute fanny pack.
This fanny pack comes in toddler, child, and adult sizes, so go ahead and buy one for you and your little girl for an adorable mommy and me look! You can also have it personalized with your names on the top to make it truly unique. With the number of options available for this fanny pack, you will be sure to find the perfect combination for you.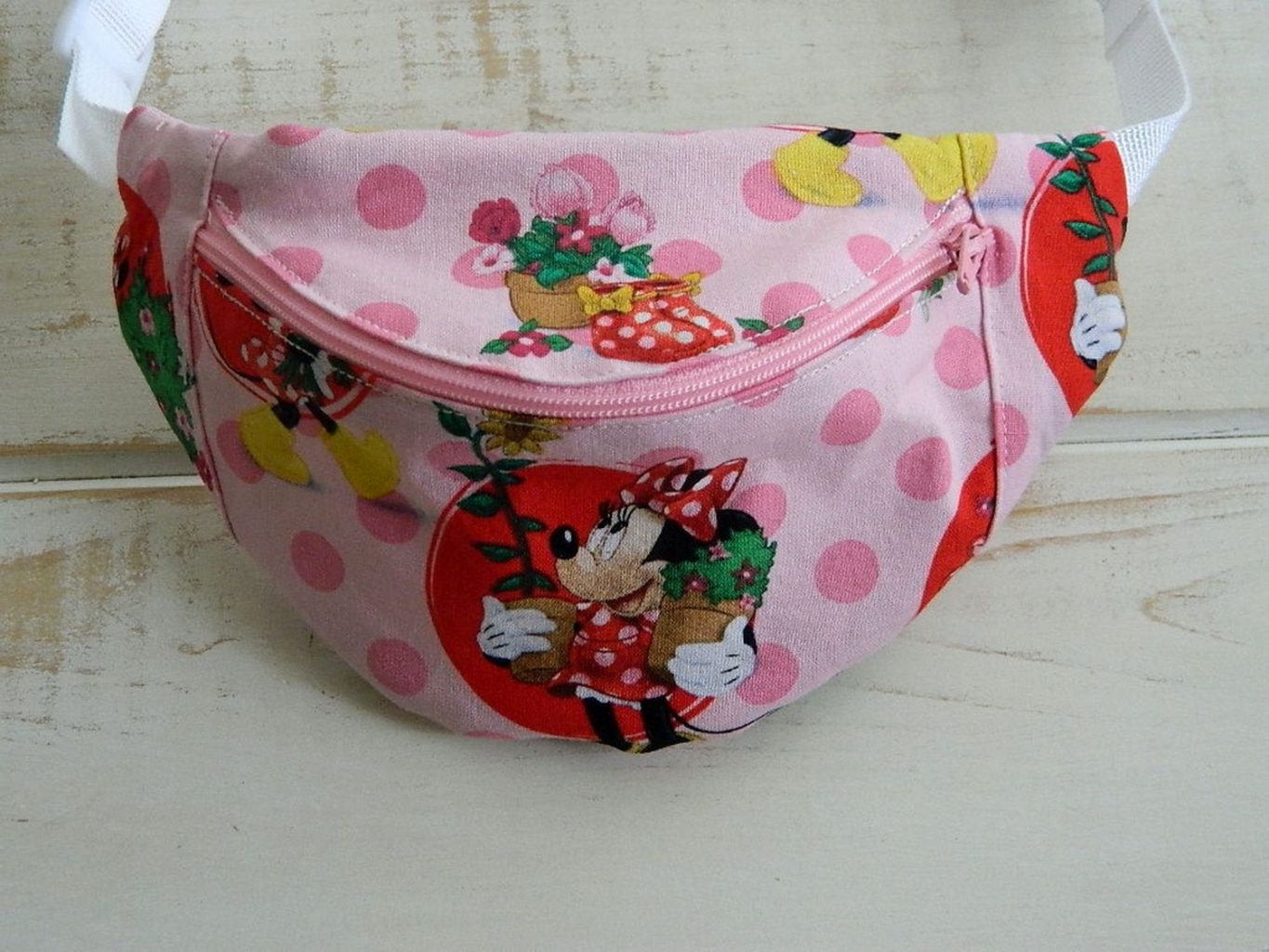 Pinocchio Inspired Hip Pack
Are you a fan of this classic story where a puppet became a real boy? This Pinocchio inspired hip pack looks like his outfit with the yellow top and red bottom.
There are two sizes so you can get the one that best fits you, whether that's S/M or M/L. In addition to the one large pocket, it has an interior pocket as well, making it easy to store your essentials.
The dimensions of this bag are 6″ tall by 13″ wide and 2.75″ in depth. Plus, if you're wearing this at the park and it starts to rain, no worries! This fanny pack for Disney is water-resistant!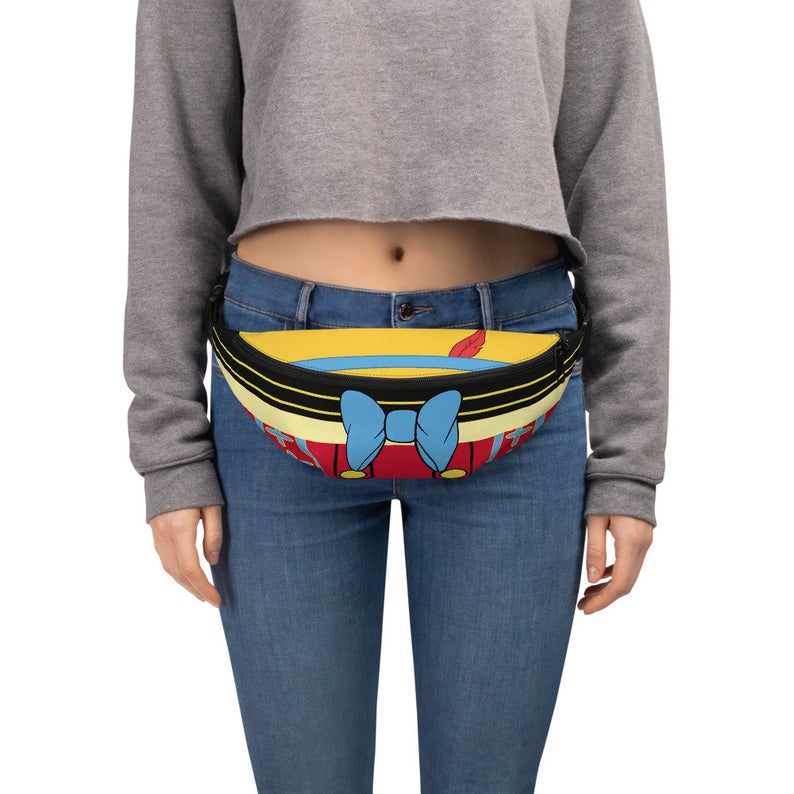 Adult Star Wars Rebel Fanny Pack
If you're a Star Wars fan, you need this Adult Star Wars Rebel Fanny Pack in your life. At 13″ wide and 5″ tall, it is big enough to hold your phone, money, and any Star Wars trinkets you may find while at Disney! You will also fit in perfectly at the Disney Star Wars Hotel! The solid white fabric is adorned with many Star Wars themed images.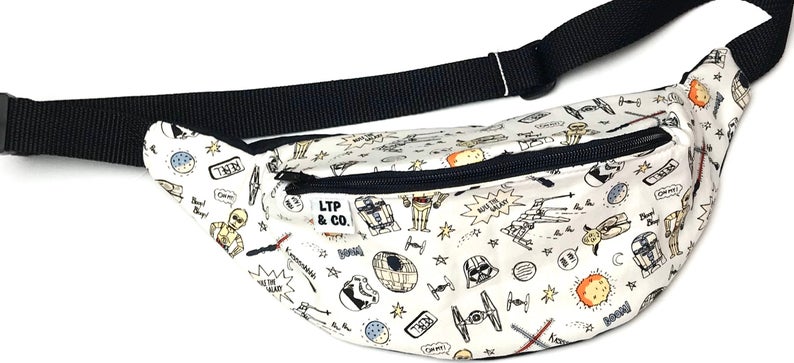 Cinderella Fanny Pack
My all time favorite Disney movie is Cinderella, so I just had to include this Cinderella Fanny Pack on this list. Besides being Cinderella, this fanny pack is also made of a holographic material- how awesome is that?! There are so many customization options with this Disney fanny pack that you can truly have something unique.
For the color choices, you can choose between black, rose gold, green, hot pink, and more. You can also add your name to this shiny bag to make it truly just for you. This fanny pack is also mostly waterproof, meaning you don't have to worry if it starts to rain while walking around the Disney parks!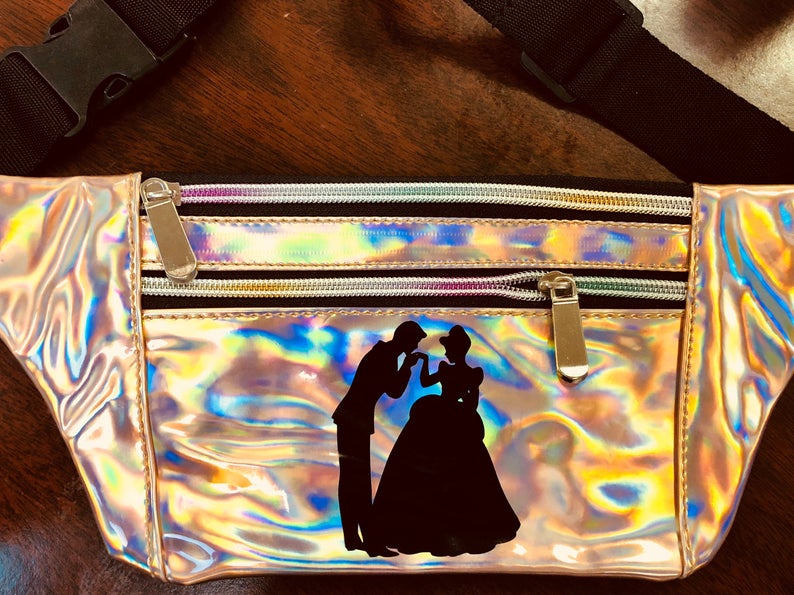 Is Cinderella not your thing? Or maybe you just want a variety of options in this silhouette look? Look no further! This fanny pack for Disney has options for several designs including Beauty and the Beast, Snow White, Lion King, Aladdin, Harry Potter, Dumbo, Tangled, and more!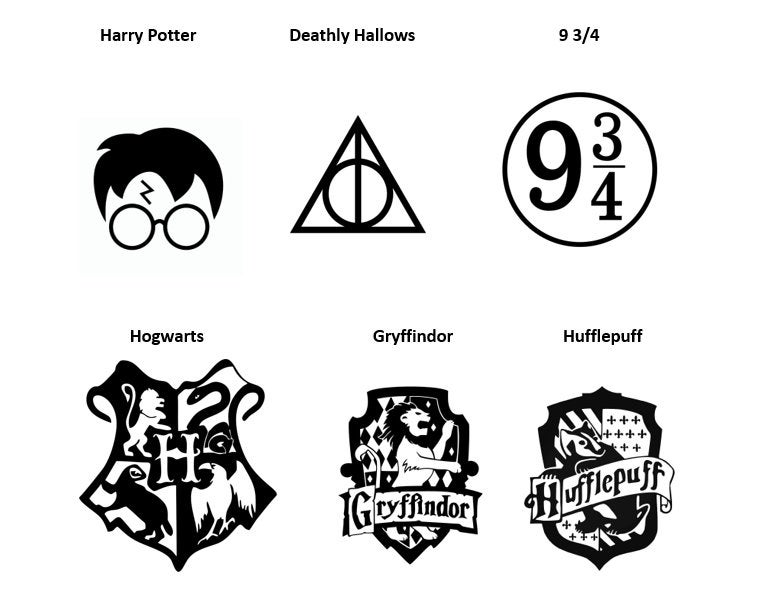 So, what did you think of these fanny packs? Are you hoping they stay in the '90s or are you happy they're making a comeback? Did this post change your mind about them at all? I haven't worn a fanny pack since I was a kid, but after this post, I think there's a few I want!
If you buy one of these super cute Disney fanny packs or already have one, post a photo to Instagram and tag @disney.trippers. We can't wait to see your super cute Disney outfits!