Are you looking for the best Disney virtual tour? Then look no further! This Disney virtual tour covers Magic Kingdom, Epcot, Hollywood Studios, and Animal Kingdom. So you can get your dose of Disney right from the comfort of your home!
The reality is, you can't go to Disney every single time you want to go to Disney. There are a variety of obstacles and factors at play. But, if you have some time on your hands, you can always take a Disney virtual tour! You can virtually ride your favorite rides and watch your favorite shows. You can even don your favorite Disney attire and snack on your favorite Disney treats. The Disney virtual tour is a great alternative for when you can't go to the Disney parks.
Get a FREE printable 30/60/90 day Disney countdown by joining our private Disney Facebook Group and share your photos and ask for tips and tricks!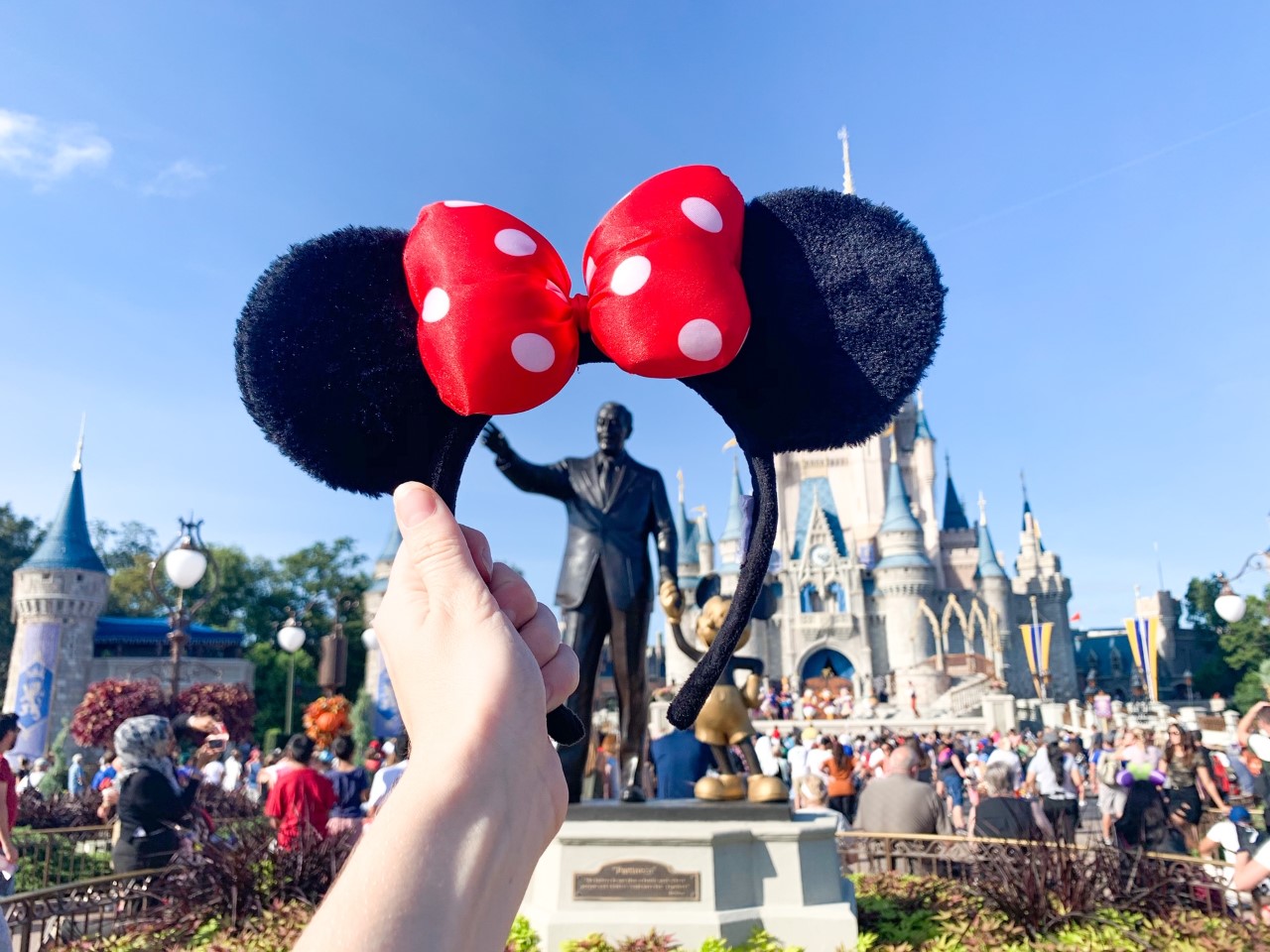 How To Take A Disney Virtual Tour
Taking a Disney Virtual Tour isn't just about watching videos of the rides. It's about bringing the magical Disney atmosphere to life in your own home.
Dress up in your favorite Disney attire, whether they are these creative Disneybound outfits, these adorable Disney family shirts, or even a pair of comfy Disney leggings. Cook up some of the best Disney treats, like Disney churros, totchos (tater tot nachos) from Woody's Lunch Box, or even just an easy batch of popcorn.
Then stream the videos on the largest screen you can find (probably your TV) to be fully immersed in the Disney World experience. With the sights, sounds, and smells reverberating throughout your home, you may not even notice that you're taking a Disney virtual tour!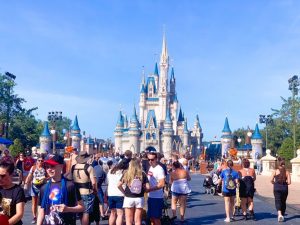 Disney's Magic Kingdom Virtual Tour
It's the morning of your day at Magic Kingdom, and you wake up bright and early to get the most out of your day. You put on your favorite Disney outfit and grab a bite to eat. Before you know it, you're out the door and ready to go!
But before you can reach the entrance of Magic Kingdom, you first have to ride the monorail or the ferry. Which one do you choose?
Start Your Magic Kingdom Virtual Tour On Main Street USA
It's time! You've made it to Magic Kingdom. You take in the warm sun and decide you want a snack from Main Street USA. There are so many fantastic treats from popcorn from the Main Street Popcorn cart to the corn dog nuggets from Casey's Corner – which one do you try?
While your snacking on your delicious treat of choice, you hear the Dapper Dans in the distance joyfully singing "Zip-A-Dee Doo Dah." Eventually this talented quartet makes its way into view, and you get a front row seat!
Just as you finish your snack, the Dapper Dans finish their set. You start off on your way towards Cinderella's Castle, but not before the citizens of Main Street burst out into song and dance for the Main Street Trolley Show! How lucky are you today!
After dancing along to the wonderful sounds of the Main Street Trolley Show, you then make your way towards the most iconic Disney structure: Cinderella's Castle.
Enjoy Cinderella's Castle Hub
Of course, the first thing you do at Cinderella's castle is take a bunch of pictures! When a balloon attendant walks by, you purchase one of them (for free of course! This is a virtual tour after all.) and it makes a great addition to your Instagram-worthy family photo.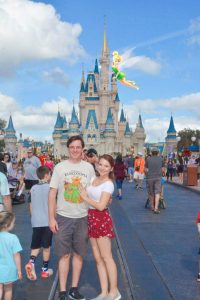 As you're taking all of your flawless photos, you hear the signature Disney twinkling sound signaling the start of an amazing show. You spin around and you see that Mickey's Royal Friendship Fare is about to begin with all of your favorite characters, including Mickey, Tiana, Rapunzel, and Olaf!
https://youtu.be/FOUFB8BAavQ
When the show comes to an end, you have a big smile on your face and you're clapping as fast as you can! You wish you could watch another amazing Disney production!
LUCKY YOU!! The Festival Of Fantasy Parade comes on right then!
More iconic Disney characters make an appearance – you see practically every Disney character that you could hope for during this Disney virtual tour!
Next Up, Tomorrowland!
You've already seen four amazing productions at Magic Kingdom, so you're ready for something a little different when you head into Tomorrowland. As you're on your way to Buzz Lightyear's Space Ranger Spin, you spot the perfect Instagram photo wall: the galactic purple wall. You stop to take a few photos before hopping in line for Buzz Lightyear's Space Ranger Spin.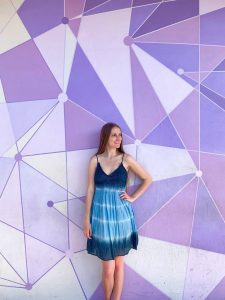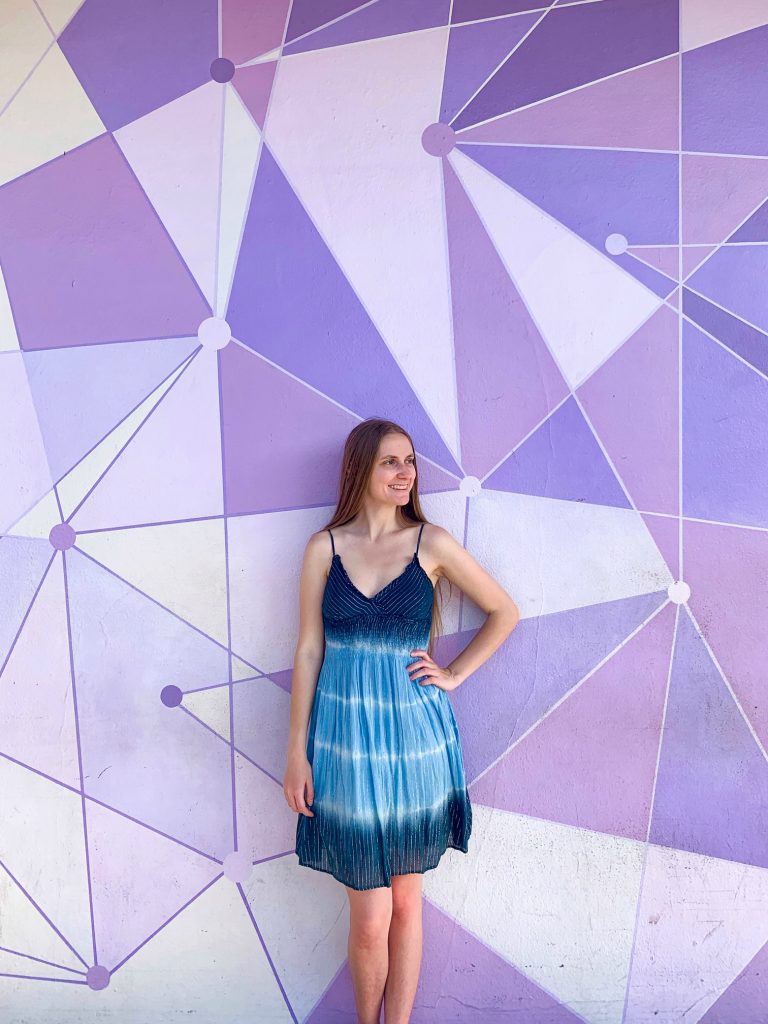 Oh, but look! There's no line at Buzz Lightyear's Space Ranger Spin! You hop on right away and, by following these Buzz Lightyear ride tips that you read beforehand, score the ultimate high score: 999,999 points!
You're at the top of the world when you spot the Buzz Lightyear blue wall. The lighting is on point in all of your photos. Your Instagram is going to blow up after all of these amazing Disney photos!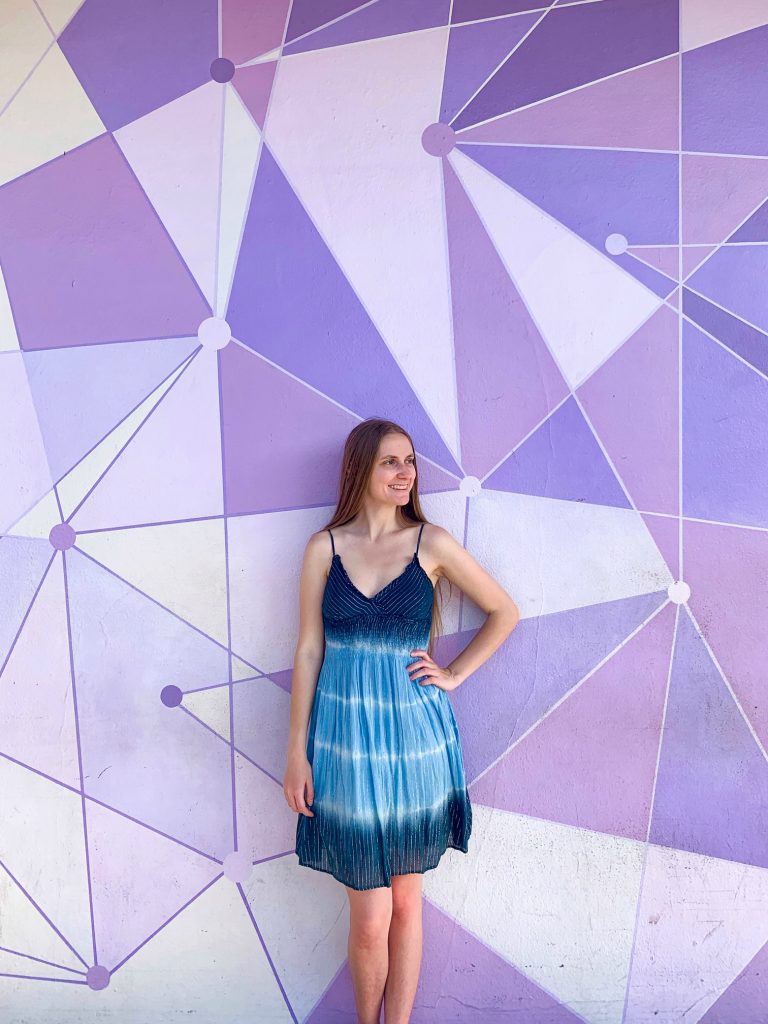 By this point in time, you've been out in the sun for a while. You need to cool down for a while, so you head to the air-conditioned Carousel of Progress. BUT WAIT!!! You are at home so you don't even need to escape the Florida heat! Luck you!
You exit the Carousel of Progress all cooled off, and you're ready for an adventure. You decide to conquer your fears and ride Space Mountain!
You step off the ride, and you feel exhilarated! You're so glad that you decided to experience Space Mountain.
Exploring Fantasyland On Your Disney Virtual Tour
All of that adrenaline flowing through your body on Space Mountain makes you super hungry. By some fairy godmother-like magic, you snag a last-minute reservation at Be Our Guest. You even try the grey stuff (it's delicious!).
When your belly is full and satisfied, your notice that the Seven Dwarfs Mine Train has NO LINE! You didn't have to fuss over a FastPass+ or anything. You rush over to the ride and get on without having to wait a single second.
Once you get off the ride, you're ready for another one, and The Many Adventures of Winnie the Pooh is right around the corner! Why not say hi to your friends from the Hundred Acre Woods?
Then, after wandering through the Hundred Acre Woods, you dive under the sea and pay a visit to Ariel and her gang at Under the Sea – Journey of The Little Mermaid. You swim around with Flounder, Sebastian, and the rest of the crew!
After three rides in a row, you consider taking a pause for a photo or a snack. And then you see it: Peter Pan's Flight without a wait! This is the one and only time that this miracle will happen, so you take advantage of this opportunity.
You wrap up your slew of rides in Fantasyland with one of the best rides in Magic Kingdom: It's a Small World! You sing along to the song as you relax on the air-conditioned boat ride.
The It's a Small World song continues to play in your head as you begin to make your way out of Fantasyland. But wait! You've spotted another colorful wall that's perfect for another photoshoot: the beautiful Tangled Bathroom wall. You snap a few more photos before heading off on your merry way.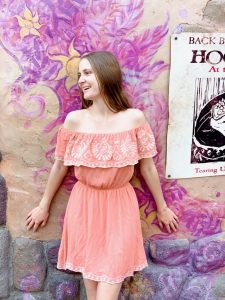 Continue Your Disney Virtual Tour To Liberty Square
Once you make it to Liberty Square, you head to the Haunted Mansion ride, simply because it's amazing.
When you're done with that ride, you skip the Hall of Presidents, because the only good part about that experience is the AC – and you're at home, so it doesn't matter! Off to Frontierland you go!
Take On Frontierland
To start of your time in Frontierland, you ride the wildest ride in the wilderness: Big Thunder Mountain.
And your exhilaration isn't over, because it's off to Splash Mountain! If you really want to recreate the experience, consider adding a little bit of water-filled fun to your experience. Water balloon fight anyone?
Disclaimer: Splash Mountain is down for refurbishment and will reopen as "Tiana's Bayou Adventure" in late 2024.
Since this is a Disney virtual tour, you decide to explore Tom Sawyer Island, even though you've never experienced it in person. After hopping on a log raft and travelling to the island, you realize how awesome the soaring trees and whirling mills are! You make a mental note to visit it in person the next time you visit Magic Kingdom.
Finish Your Day At Adventureland
The day is winding to an end, and you've made it to the last land in Magic Kingdom: Adventureland. You hop on the Jungle Cruise and sail through greenery-filled landscapes.
Once you hop off that boat, you hop on another on A Pirate's Adventure – Treasures of the Seven Seas. You see Captain Jack Sparrow and the rest of his pirate crew sailing the seven seas.
End Your Magic Kingdom Virtual Tour With Happily Ever After
You decide to finish off your wonderful virtual vacation with the Happily Ever After Show. Soak in the colorful visuals, listen to the magical music, and finish off your Disney virtual tour of Magic Kingdom.
Disney's Epcot Virtual Tour
Today's the day to visit Epcot! You hop on the monorail and the excitement builds and builds as you see the iconic silvery white Epcot ball come into view.
Head To Future World First
Once you enter into Epcot, you're greeted by the Epcot ball. You head into Spaceship Earth on the inside and go on a journey through the past, present, and future of human life.
After Spaceship Earth, your journeys into the future aren't over. You head over to Mission Space, where you opt for the more thrilling version of the flight. (After all, you don't have to worry about feeling the g-forces of space flight on this Disney virtual tour.)
When your spaceship returns back to earth, you hop right onto another speedy vehicle on Test Track, where you zoom around at speeds of up to 60 miles per hour!
Between the spaceship and the speedy car, all of the cylinders in your body are firing. Your adrenaline is pumping out at a ridiculous speed. You decide that you need to tone it down just a notch, so, as you round the circle of future land, you begin the Journey into Imagination with Figment, your favorite friendly dragon.
Now that you've calmed down a bit with your friend, Figment, you're ready to head back into the air again. You buckle into Soarin, which is arguably one of the best rides in Epcot, and enjoy the beautiful scenery all over the world. Soar over the Pyramids of Giza in Egypt, the Eiffel Tower in France, Mt. Fuji in Japan, and so many other amazing international landmarks.
Since you've already traveled into the Land Pavilion of Future World, Living with the Land is right around the corner. Calmly sail along this nature-filled ride while learning about wise agricultural practices. Can you spot the Mickey-shaped fruits and veggies?
Travel The Globe through The World Showcase
Now that you've travelled through the future, you're ready to head back into the present in the World Showcase.
Before you begin this journey around the world, you have to decide: to drink or not to drink. One of the most popular things to do in Epcot is drink around the world. And you can do this at home too! While you could go all out and whip up a few different Disney-inspired international drinks, you could also just grab your adult beverage of choice and sip as you travel through this Disney virtual tour.
The first country up: Canada! Visit the winter wonderland of North America through the wonderfully crafted O Canada! film.
After exploring the magical landscapes of Canada, you can explore the charming scenery of France in the film Impressions de France. Watch the hot air balloons float along the Loire Valley and feel the hustle and bustle of a Normandy marketplace.
As you make your way around Epcot's World Showcase, you'll walk through each country, taking in the atmosphere, architecture, and culture. You'll pass Morocco, Japan, the U.S., Italy, Germany, and China before you reach your next ride in Norway. Along the way, grab some international snacks, watch impromptu shows, and maybe take a few photos.
In Norway, you ride Frozen Ever After, a Frozen-inspired ride aboard a Viking ship filled with unexpected twists and turns.
You decide you want to hop on one more ride before you call it a night, and, lucky for you, the Gran Fiesta Tour Starring the Three Caballeros is just around the corner! You venture into the dark Mayan pyramid and hop aboard a boat.
Experience a Magical End to a Magical Day with Epcot Forever
You've explored the future and travelled around the world. To top off your magical day at Epcot, you watch the Epcot Forever fireworks show. Filled with uplifting music and colorful tidbits of culture, Epcot Forever is the perfect way to end the day.
Disney's Hollywood Studios Virtual Tour
Day three of this Disney World virtual tour, and you've opted to go to Disney's Hollywood Studios. Since you've already taken a couple of other modes of transportation to get to Magic Kingdom and Epcot on this Disney virtual tour, you opt to take a ride on the new Disney Skyliner this time around.
Walk The Palm-Tree Lined Hollywood Boulevard
You enter into the gates of Hollywood Studios and onto Hollywood Boulevard. You see the palm trees lining the walkway and feel the warm sun on your face. You think to yourself, am I in California? (And you very well might be since this is a Disney virtual tour.)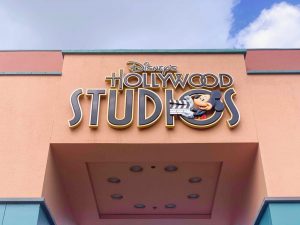 You already know what ride you want to hop on first: The Tower of Terror. There's nothing like starting your day off with a good rush of adrenaline. But on your way there, you catch a glimpse of the talented citizens of Hollywood, so you decide to stay and watch.
The performance comes to an end, and you're clapping as fast as your hands can go. It was just that good!
Get Your Adrenaline Pumping on Sunset Boulevard
You finally tear your attention away from the citizens of Hollywood as they go back to their daily routine and head towards The Tower of Terror. As you turn on Sunset Boulevard, you see it in the distance: the rusting, crumbling, lofty Tower of Terror. It seems more sinister than you remember, but there's no reason to be afraid – it is a Disney virtual tour, after all. You rush over and hop on in the ride in record time!
You hop off the Tower of Terror and feel like you barely managed to scrape by with your life! You think about taking a pause from the thrill rides, but then Rock 'N' Roller Coaster Starring Aerosmith has NO LINE AT ALL! Sounds like it's time for another thrilling ride!
After all the twists and turns and drops, your body is jittering like you've had six cups of espresso! You decide that it's really time to calm your body down, and, lucky for you, Beauty and the Beast ­– Live on Stage is just about to start. Your see that there is the perfect number of seats right in the front, and you slide in just as the music for the opening number begins to play.
After watching Belle and the Beast's fairytale story come to life, you've tackled pretty much everything you wanted to do on Sunset Boulevard in record time! As you make the rounds to Animation Courtyard, you see that a Disney Junior Dance Party is about to start, and you say why not! The little ones need some fun of their own.
After dancing around with Doc McStuffins, Vampirina, and Mickey Mouse, you and the little ones have huge smiles on your faces.
Return to Hollywood Boulevard For One More Ride
You decide to visit Mickey once again on Mickey & Minnie's Runaway Railway, because this ride is the perfect combination of kid-friendly yet thrilling.
You did it! You helped Mickey and Minnie save the runaway train!
Peek Into Pixar Place
 You're feeling like a superhero when you dash behind Mickey & Minnie's Runaway Railway and into Pixar Place. And guess what? You're not the only superhero there! Mr. Incredible, Mrs. Incredible, and Frozone are all there too! You even spot the renowned superhero costume designer: Edna Mode!
Feel Like A Child Again At Toy Story Land
 After your time in Pixar Place, you turn the corner and end up in Toy Story Land. By now, your stomach is growling at you like Jack-Jack when he doesn't get his cookie num nums (and the delicious smell of waffles wafting through the air definitely doesn't help), so you make a stop at Woody's Lunch Box for a snack.
Now that your tummy is nice and full, you're ready to get back to the excitement. Up next is one of the best rides at Hollywood Studios: Slinky Dog Dash!
After you finish up that exciting new ride, you decide that you're not quite done with Toy Story Land. Toy Story Mania is up next – and look at that! There's no line!
You play all of the games, and you end up beating the high score of the day! But that's not enough for you – you want to hold the highest score of the month. So you hop on again for another spin at it.
AND YOU DID IT!! Check out that amazing high score! No one's going to be able to knock your high score of the month off the leaderboard.
Pop Into Another Galaxy At Star Wars: Galaxy's Edge
In the short walk from Toy Story Land to Star Wars: Galaxy's Edge, you are transported to a galaxy far, far away. Of course, you plan to explore every inch of this otherworldly place, and first up is Millennium Falcon: Smugglers Run. Will you successfully pilot your mission? The future of your vehicle is in your hands.
Congratulations! The mission was a success! Oh, and look what ride is up next – Star Wars: Rise of the Resistance.
You decide the Star Wars: Rise of the Resistance might be the one of the best Disney rides you've ever been on – and you can't wait to experience it in person one day.
Between playing Toy Story Mania twice, piloting a mission in Millennium Falcon: Smugglers Run, and experiencing Star Wars: Rise of the Resistance, you're famished again! There are honestly so many delicious things to eat. Which one do you choose?
Finish Up Your Hollywood Studios Ride Bucket List At Echo Lake
There's one last land in Hollywood Studios that you need to make a stop at: Echo Lake. To continue the Star Wars theme, you head to Star Tours – The Adventure Continues.
By now, you're exhausted. How many amazing rides have you been on today? You start to tally but then lose count. You decide to spend the rest of your time in Hollywood Studios watching show after show. Lucky for you, the Indiana Jones Stunt Spectacular is just about to start!
Indiana Jones battles villains, traverses around traps, and escapes with just seconds to spare, just like in Raiders of the Lost Ark! But story time isn't over quite yet, because For the First Time in Forever: A Frozen Sing-Along Celebration is about to start! 
https://youtu.be/JFeuOvEiIXM
End The Night With Fantasmic
There's one last show at Hollywood Studios that you must see: Fantasmic. Watch Mickey's sorcery come to life with friends from all of your favorite Disney classics, and end it all with a dazzling burst of colorful fireworks.
Disney's Animal Kingdom Virtual Tour
Today's the day! You're going to take a Disney virtual tour of the last park: Animal Kingdom. This time, you simply drive up and park at Animal Kingdom. No fancy transportation.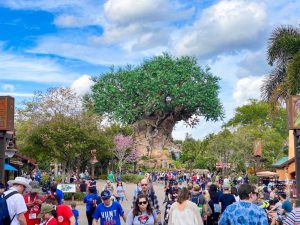 Cross The Bridge To Discovery Island
When you enter the park, you cross through the Oasis and straight to Discovery Island. You stop and watch a few different animals in their habitats, including otters, flamingos, and tamarins. After all, you have to enjoy the animals at Animal Kingdom.
From there, you move on to your next stop. You're determined to snap a few photos at the iconic Tree of Life. You even pop by the hidden theater just below the Tree of Life for It's Tough to Be a Bug!
Feel Transported To Pandora – The World of Avatar 
Then, you move on to Pandora – The World of Avatar, because you're ready for your first ride. You opt for Avatar Flight of Passage, on which you take to the skies on a winged mountain banshee! You're diving headfirst into the excitement of Animal Kingdom!
After exploring the skies in Avatar Flight of Passage, you then decide to take to the bioluminescent water-filled world of the Na'vi River Journey.
Wow, all this exploring in so little time has made you HUNGRY! Did you remember to eat breakfast today? You can't remember, so you decide to stop for a tasty snack.
Discover The Land Of Africa
Now that you've restocked your energy reserves, you're now prepared for the long walk over to the Land of Africa. One of the best Animal Kingdom rides is definitely Kilimanjaro Safaris. Why? Because it's a 20-minute ride filled with real animals! Zebras, lions, and giraffes – oh my!
After riding Kilimanjaro Safaris, you feel like you've been transported to the landscape of The Lion King, which is only appropriate considering that the Festival of the Lion King is just about to start! Singalong with your favorite songs from The Lion King, including "Hakuna Matata," "The Circle of Life," and "Can You Feel The Love Tonight?"
Cross Over To Asia
After spending some time in Africa, you decide to cross the continental border into Asia. First up on the list: the Maharajah Jungle Trek. There, you see Asian tigers, gibbons, Komodo dragons, lion-tailed macaques, and tons of other cool animals.
Right as you finish up the Mahrajah Jungle Trek, the UP! A Great Bird Adventure is just about to begin. You rush to get a seat and watch colorful birds from all around the world do flips and tricks.
You then decide that you want to ride a couple of thrilling rides, starting with Kali River Rapids. This water ride filled with thrills and drops is amazing, even virtually. (Water balloon fight round 2, anyone?)
The last thing you do in Asia is Expedition Everest, arguably the most thrilling ride at Animal Kingdom. You even catch a glimpse of the elusive Yeti!
Experience DinoLand U.S.A.
There's just one more land left in Animal Kingdom, and one more activity that you want to experience: the DINOSAUR ride. You are transported back into prehistoric times and get up close and personal with tyrannosaurus rexes, pterodactyls, and raptors.
Finish Off The Night With The Rivers of Light Show
You've interacted with animals, ridden thrill rides, and watched amazing shows. Now there's just one thing to do to finish of your Disney virtual tour at Animal Kingdom: watch the Rivers of Light show.
https://youtu.be/hqyqhIXaoWY
I hope that this Disney virtual tour brought a little bit of joy and Disney magic into your homes. While you can't always visit the parks for a dose of pixie dust, this Disney virtual tour might be able to do the trick!