It's time for the entire family to go on a trip to Disney, and there's one thing you need: Disney family shirts. There are so many fantastic Disney family shirts that you can find on the internet, and we've brought you the best of the best on this list! Which one will be your favorite?
On every trip to the Disney parks, I see parents and their kids wearing the best Disney family shirts. You can have the classic Mickey and Minnie shirts, or you can get a little creative, like I did in this list. The seven dwarfs? The Toy Story cast? The Star Wars characters? Even Captain Hook? They all have fantastic matching Disney shirt options. Oh, and we certainly can't forget the holiday-themed shirts. Halloween, Thanksgiving, Christmas, and the Fourth of July all have amazing Disney family shirts that have made it onto this list!
20 Unique And Hilarious Disney Family Shirts
Mickey and Minnie Mouse-Inspired Shirts
We have to start classic with Disney Family Shirts Inspired by Mickey and Minnie Mouse. The boys' shirts proudly flaunt a pair of Mickey ears, while the girls' shirts are decorated with Minnie's iconic polka-dotted bow! And the mini-est mouse of all gets a onesie or t-shirt with a fun play on words – "Mini Mouse," which sounds just Minnie Mouse! This is definitely the one I'd put on my Disney packing list!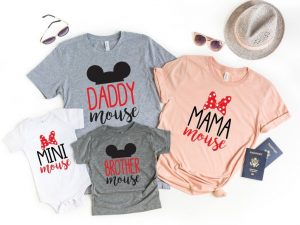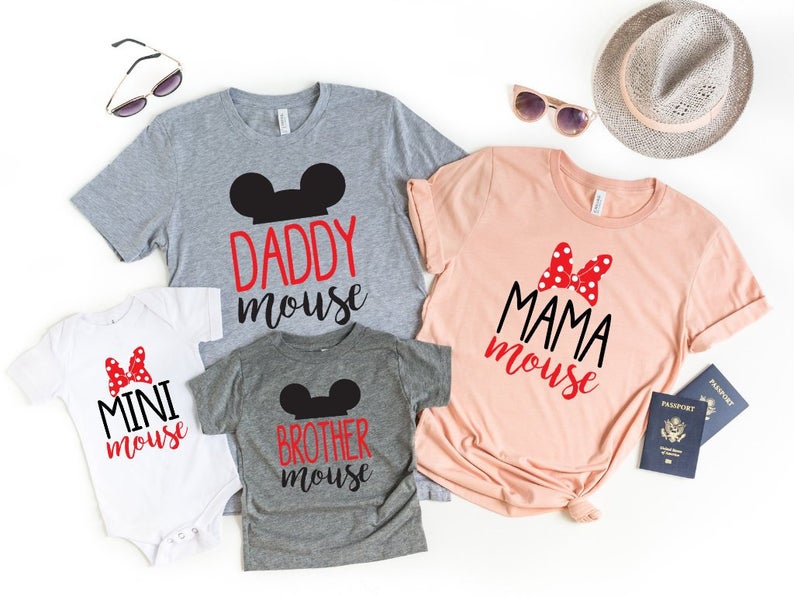 Sparkle Disney Family Shirts
Looking for matching Disney shirts with a bit more sparkle and shine? These Sparkle Disney Family Shirts may be the ones for you are your clan! This set of shirts is decked out in golden silhouettes of some of the world's favorite Disney characters, including Tinker Bell, Mary Poppins, Bambi, and the one and only Mickey Mouse. Plus, it is one of the only personalized Disney shirts on this list! Get your family members' names written in the iconic Disney font directly underneath the sparkling characters.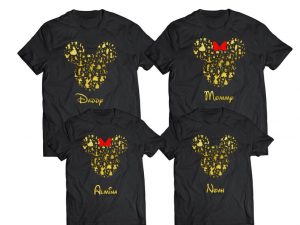 Captain Hook's Crew Shirts
One of the most beloved Disney villains of all time is Captain Hook. His continuous battle with Peter Pan gets viewers on the edge of their seats! So why don't you and your family get in on the action join his crew with these Captain Hook Crew Shirts! Because this particular shirt comes in everything from baby onesies to women's tank tops to toddler, youth, and adult t-shirts, everyone in your crew can don these amazing Disney shirts straight from the second star to the right!
Oh, and if you love the sparkle from the last shirt option, you can request to have the text on these Disney family shirts as well!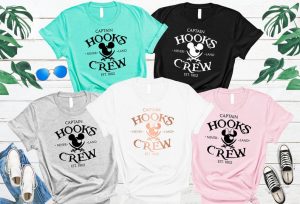 Seven Dwarfs Shirts
Do you ever watch a Disney movie and think, "I am that character!" And then do you ever continue the thought process and begin assigning characters to your other family members? Well, now you can make it official with these Seven Dwarfs Shirts! Think about it: Dad can be Doc, mom can be Happy, you can be Bashful, and perhaps your baby brother Jack can be Sleepy. (After all, babies always seem to be sleeping.) Switch the dwarfs around however you see fit for you and your family!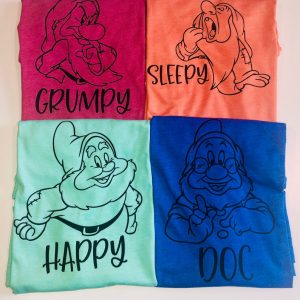 Hakuna Matata Disney Family Shirts
No one can deny that the most remembered Disney line of all time is, "Hakuna Matata." After all, it means no worries! Within these Hakuna Matata Disney Family Shirts, silhouettes of Timon, Pumbaa, and Simba neatly walk in a line within a Mickey ear-shaped outline. And you can even get a nice animal print bow on the top of those Mickey ears if you like. With all of these animal references, it's the perfect matching Disney shirts to wear while wandering around Animal Kingdom!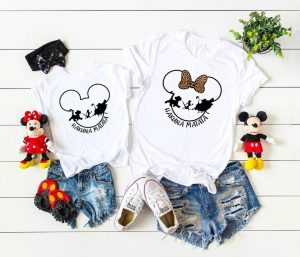 Home Disney Family Shirts
The happiest place on earth makes many Disney visitors feel that same comfort of home. They feel joyful, safe, and excited to see what exciting events the rest of the day holds. It's a place where family and friends come together and make wonderful long-lasting memories. That's what these Home Disney Family Shirts embody. With a Cinderella's Castle silhouette, a miniature pair of Mickey ears, a lot of sparkle, and the bold calligraphy of the word "home," what more could you ask for in a set of Disney family vacation shirts?
Star Wars Disney Family Shirts
If I had to be cynical and come up with one complaint for the Home Disney Family Shirts, it might be the fact that it doesn't showcase any Disney characters. These Star Wars Disney Family Shirts make up for that. These custom Disney shirts showcase Star Wars' iconic stormtroopers – with or without a Minnie bow. Will these be one of the Disney family shirt ideas that you pick for your trip?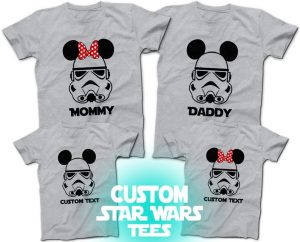 Disney World Family Shirts
If you're headed to Disney World in particular, these bestselling matching family Disney shirts may be the ones for you. These Disney World Family Shirts showcase four little icons to represent each of the four Disney World parks: Magic Kingdom, Hollywood Studios, Animal Kingdom, and Epcot. And, as an added bonus, they come in dozens of colors, so feel free to choose a color that's a little bit wild!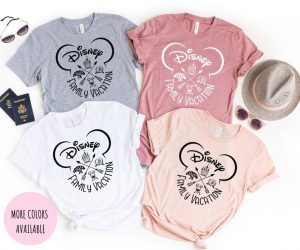 Thanksgiving Disney Family Shirts
A trip to Disneyland or Disney World is truly something to be thankful for. It's a place that spreads so much joy and creates so many wonderful memories. After all, that's why it's the happiest place on earth! Showcasing the warm colors of beautiful fall leaves, these Thanksgiving Disney Family Shirts are the perfect way to remind you and your family members to be thankful for all of your blessings. So don these shirts, grab a famous theme park turkey leg, and get into the Thanksgiving spirit!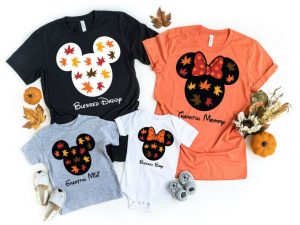 Best Day Ever Disney Family Shirts
Everyone has something a little bit different going through their minds during the day at a Disney park. While a little girl might be thinking, "This is the BEST DAY EVER," her mom might be thinking "This is the most expensive day ever." And then of course, there's the hyped, mentally prepared parent who's thinking, "Let's do this," and the child who's just always on the lookout for the must-eat Disney snacks, like cookies and cream funnel cake and the Arendelle aqua cone. These funny family Disney shirts make sure everyone knows how you're truly feeling on the inside.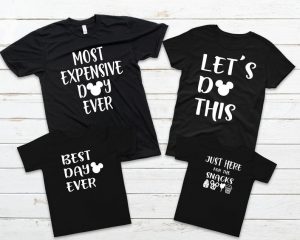 Fourth of July Disney Family Shirts
Who says you can't be Disney-themed AND patriotic? If you're headed to Disney for Fourth of July weekend, these Fourth of July Disney Family Shirts are a great idea. So not only will you and your family members be decked out in red, white, and blue, but so will the Mickeys and Minnies on your shirts!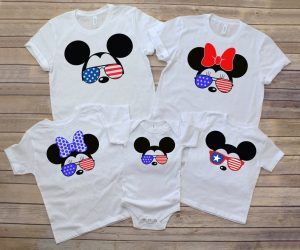 2019 Disney Family Vacation Shirts
Another classic family Disney shirt is one that proudly displays the year of your family's trip to the parks. For many families, a Disney trip is a once-in-a-lifetime opportunity. Because the experience is so special, many of these families decide to buy something to commemorate it, like this 2019 Disney Family Vacation Shirt. It's not only a great item to wear at the park but also a great way to remember that magical trip later.
If you're traveling to Disney with an extra-large group of family members – say, for a family reunion – these shirts become even more special. Every time you see your date-marked shirt, you'll forever remember the time that you and fifteen other family members got to ride Big Thunder Mountain together.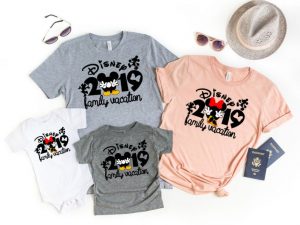 Disney Christmas Shirts
Heading to the Disney parks at the end of the year for the holidays? We already know that the park will be decked out in spectacular decorations, twinkling lights, and basically every holiday-themed thing you can imagine. You've got to step up and make your family Disney shirts as festive as possible too! These bestselling Disney Christmas Shirts have every Christmas-y thing you could think of from reindeer to presents to wreaths to a Mickey-shaped ornament! And there are so many more holiday spirit-filled Disney Christmas shirts to choose from!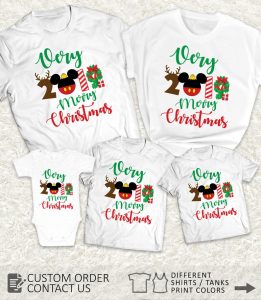 Spoiled and Broke Disney Family Shirts
Let's be real. A trip to Disney is very expensive. Between the tickets, the food, the accommodation, the parking, and all of the optional bits of happiness, like the ears, the Disney family shirts, and the autograph books, you'll end up becoming more than a little concerned about the balance of your bank account. But your little ones won't have a clue!
That's why the Spoiled and Broke Disney Family Shirts are absolutely perfect. These funny family Disney shirts capture this hilarious contrast in two simple words. While the parents have spent all of their money at Disney, the kids are spoiled little bundles of joy.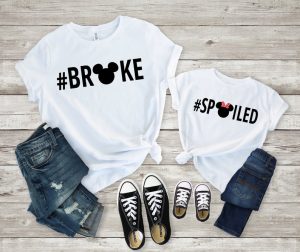 Toy Story Squad Goals Shirt
With this Toy Story Squad Goals Shirt, you and your family will be the coolest squad in the entire park. Showcasing the silhouettes of all of your favorite Toy Story characters, including Buzz, Woody, Jessie, Rex, Mr. Potato Head, and even one of the iconic aliens from the claw machine, this shirt is packed with Toy Story spirit. Now just imagine you and your squad cruising through Toy Story Mania and getting fantastically high scores while wearing these amazing shirts. Honestly, could you get any cooler? Not really.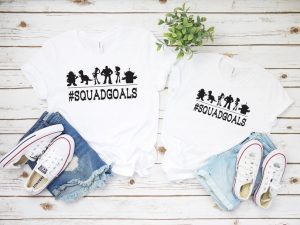 Disney B-Day Squad Shirts
So you're headed to the park for a family member's birthday? It sounds like another reason to explore family shirt ideas for Disney! And these personalized Disney shirts are perfect! While not every shirt has to be customized, you CAN customize the birthday boy or girl's t-shirt or onesie to include his or her name. So purchase these amazing Disney B-Day Squad Shirts and flaunt them during your Disney birthday celebration!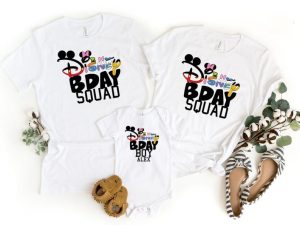 Disney Halloween Castle Shirts
There's a holiday right around the corner: Halloween! And what do we know about trips to Disney on holidays? Disney family shirts are a fantastic idea! While there are quite a few Disney Halloween shirts available, these Disney Halloween Castle Shirts are a little less spooky and a little more kid-friendly. You still get the essence of Halloween with the bats, spider webs, and witches' hats, but you can still make a hard pass on Mickey and Minnie faces with creepy skull-inspired smiles.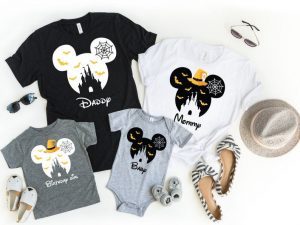 Pirates of the Caribbean Disney Family Shirts
If you and your family love Pirates of the Caribbean, consider these custom Disney shirts for your trips to the Disney parks. With Mickey silhouettes complete with eye patches and swords, what more could you ask for? Many Disney lovers even take these Pirates of the Caribbean Disney Family Shirts out to sea – just like Captain Jack Sparrow would – on a Disney Cruise.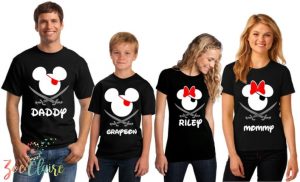 Disney Trip Shirts
These Disney Trip Shirts have everything Disney-related that you could want: a silhouette of Mickey Mouse ears, the iconic Disney font, a bunch of your favorite Disney characters, an artful design, and customizable names. Basically, if you're looking for a solid t-shirt choice that everyone in the family will enjoy, this Disney family shirt idea is a solid choice.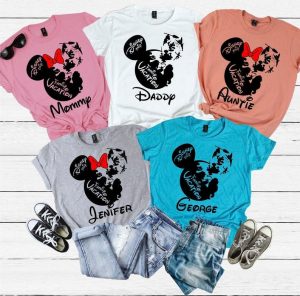 Classic Disney Shirts
Just like we started this list, we'll end on a Classic Disney Shirt. The women's shirt comes with one of Minnie's bright pink polka dot bow, whereas the men's shirts come with Mickey's red pants with yellow buttons. And don't forget to customize the shirts with your family members' names!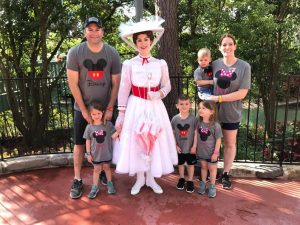 I hope you loved these unique and hilarious Disney family shirts! You can find so many more on Etsy, which is a fantastic place to shop for custom Disney products. Not only do you get to help a small business owner, but the variety is truly astonishing! Just make sure to check reviews. I have included ones with great reviews on this list, but if you decide to buy other Disney family shirts or Disney products, make sure to read them in advance!
Pin this post: