Do you want to make sure your Disney packing list has you will need before you head to the most magical place on Earth?   This article will cover everything we think you should consider in your 'what to pack for Disney World' preparation.
We are NOT in the camp that believes 'all you need is your fast passes and your sense of fun'; we know that effective packing for Disney can make a huge difference – we hate wasting vacation time searching for essential items that we have at home (which usually cost more on vacation, too!), so we think that spending a little more time planning your Disney packing list is time well spent.
This article will cover everything you need on your packing list for Disney World; we're going to pay particular attention to the things that people most often overlook/forget to pack and that could make the biggest difference in your magical vacation, as well as giving you our top tips, recommendations and ultimate Disney packing lists for you to download!
You can use this article in whatever way it suits you – you may want to download all the packing lists or maybe just specific ones that suit the nature of your vacation.   Or you may like to make notes on our recommendations and just download the overall packing list.  At the bottom of the article, we're going to go into some of our top tips and then finish off with all the Disney packing lists in one handy place for you to save to your phone !
Get a FREE printable 30/60/90 day Disney countdown by joining our private Disney Facebook Group and share your photos and ask for tips and tricks!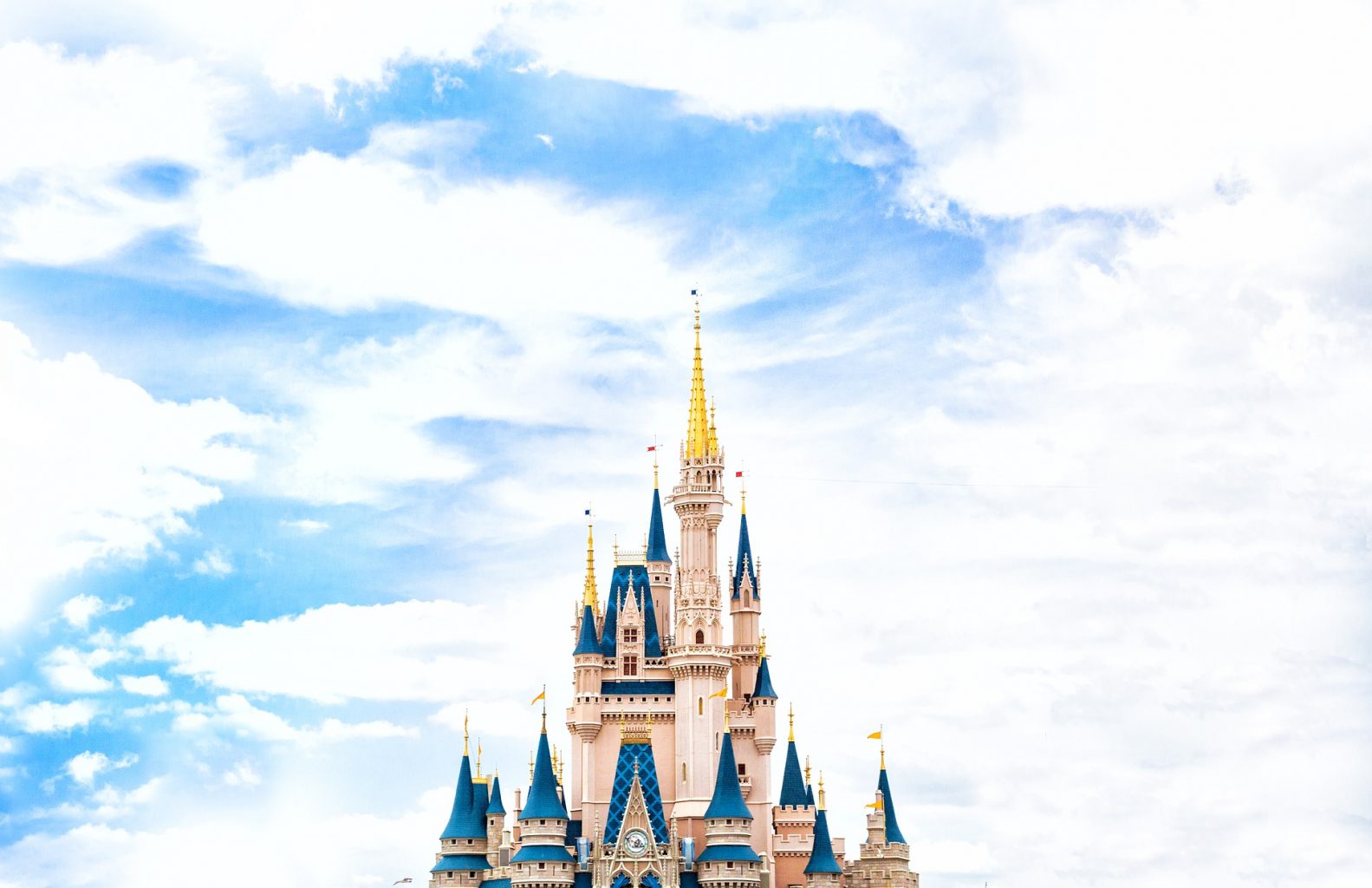 The Ultimate Disney Packing List + Free Checklist
We've seen many people forget essential items on their trips; creating your ULTIMATE packing list for Disney will mean you're not one of them!  We're NOT suggesting you bring everything on this Disney World packing list, but we do want to make sure you're prepared and know what to bring to Disney to make sure you have the very BEST vacation.   Not travelling with kids? Obviously, skip that section!
We know that packing for any vacation can be stressful, we're here to make sure you have thought about every aspect when packing for Disney and we hope this advice will serve you well in knowing what to pack for Disney World because, really, who wants to be stressed due to packing mishaps when you're at the most magical place on Earth?
You'll thank yourself later for the thought and effort you put, now, into thinking about things to pack for Disney, because it will make your trip even more magical!   Read on and, at the end, let us know if we've missed anything on the only Disney packing list you'll ever need!

What To Wear at Disney
You're going to want to think about the number of days you'll be on vacation and your typical vacation day – too many times, we've factored in too many changes of clothes each day and brought home clothes that we've not worn!
If you've got a favorite t-shirt shape or dress style, for example, that you just LOVE to wear, you might want to get extra of that item – maybe in different designs or colors – we've spent time doing laundry because we really want to wear that t-shirt again; it might have been better use of our packing list for Disney World to make an extra purchase before we went!
Do be realistic about your things to pack for Disney – is your Disney vacation the time to take extra formal wear (unless you have a special reservation!)? Or those shoes that you love but aren't comfortable in?
Think also about the time of year you're going – June- September is going to be hot and humid AND you're going to encounter rain. But you may still need a light sweater for those times that the restaurant AC is too cool.   Other times of the year, you need to factor in the need for a sweater in the evenings, or even a jacket and long trousers.   It also depends on where you come from – you'll see hardy Brits in shorts in December, but not native Floridians!
This is our clothing packing list for Disney, obviously, you'll tweak it based on your own personal style, but you're going to need:
T-shirts
We like to make sure we select a few Disney-themed t-shirts when thinking about what to bring to Disney and there are some available, which we think are lovely, without being overtly 'Disney'.
If you plan to do the 4 parks in one day challenge, you might want to get a bespoke t-shirt, but this one would also be ideal!
We've put together a whole article on cute Disney Shirts for women.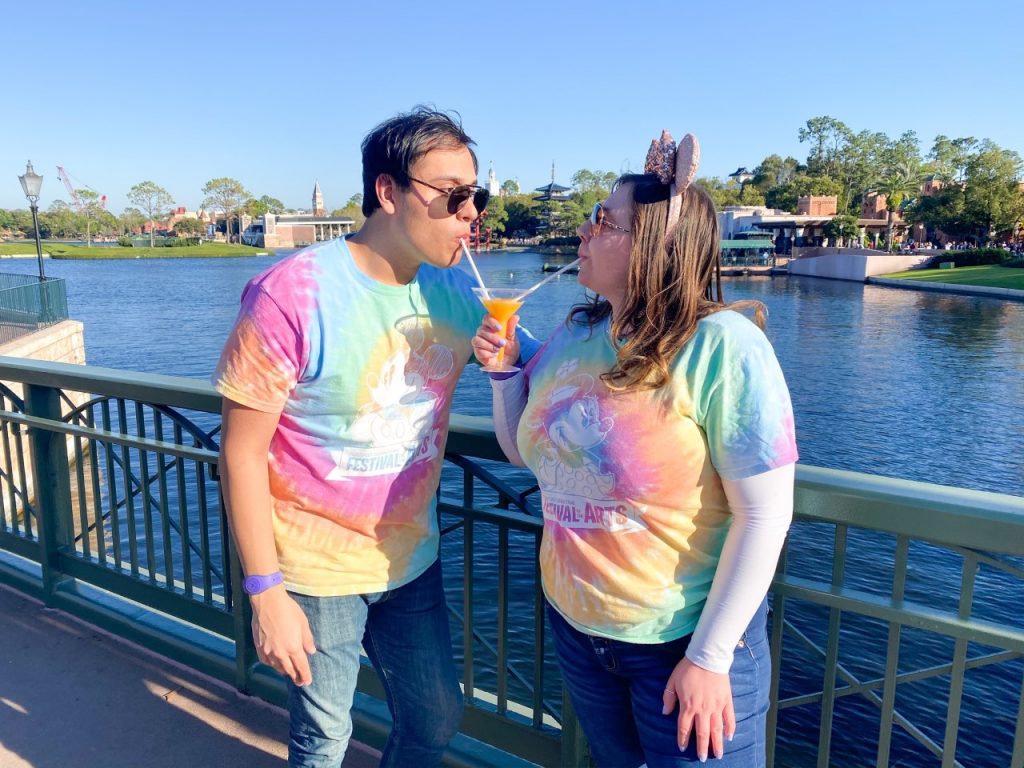 Shorts
We're huge fans of shorts on vacation but are NOT fans of shorts 'riding up' as we walk – it's uncomfortable and unflattering.   In my particular case, skinny legs would help but, I've found there are 3 types of shorts that tend not to ride up as I walk:
1) denim (or denim type);
2) cargo shorts – for men and for women;
3) Yoga shorts
Leggings
Depending on the time of year of your trip, leggings might be high up on your Disney packing list!   Legging style can be a very personal choice – length, material, etc  – and we know some people like to wear Capri length leggings under a long skirt or dress.   For a summer trip, we like this pair!
For cute Disney leggings, check this out!
Dresses
Particularly if you're like Victoria and LOVE dresses, they may be a definite must on your Disney World packing list.
We recommend lightweight dresses and particularly love Maxi dresses – once you find a style you like, you might want to get a couple of different colors! This one has pockets!
A shorter style, but just as comfortable to wear in the Florida heat (and also with pockets), available in a number of colors in this dress.
Read more in our specific article about Disney Dresses.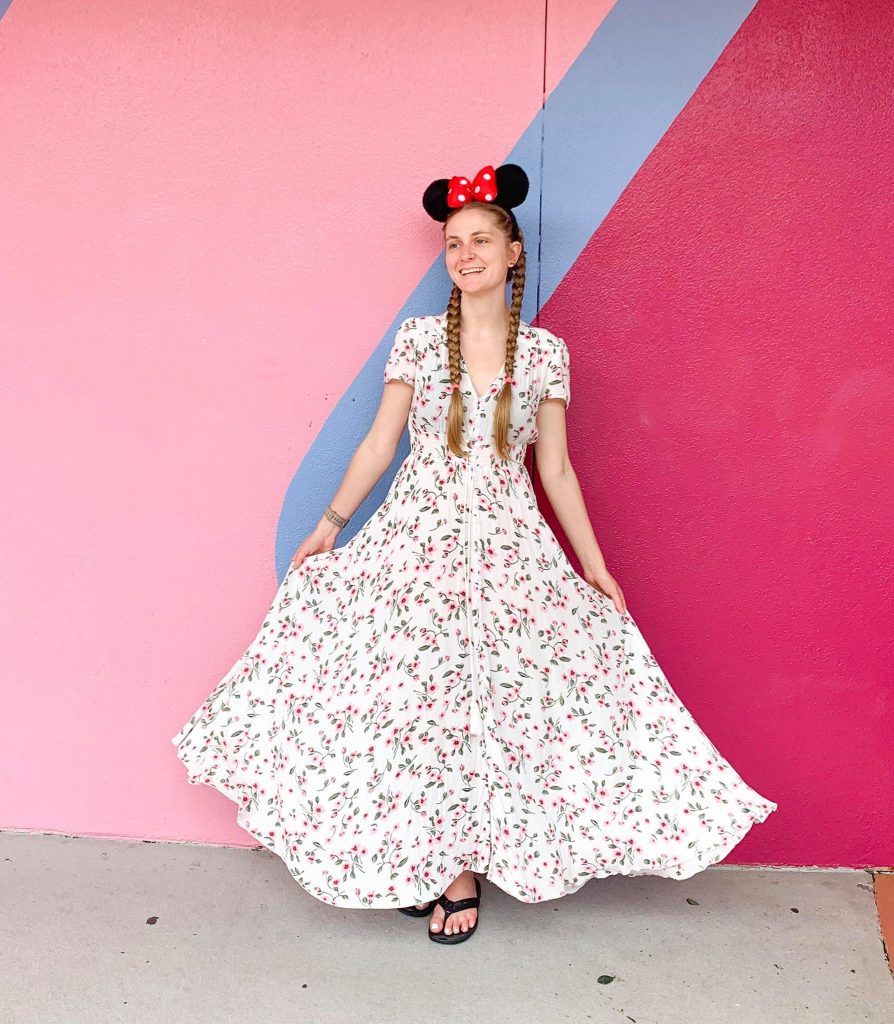 Good, comfortable shoes!
We can't emphasize comfortable enough – when packing for Disney, leave OUT those brand new shoes: make sure they're broken in, first! This is so important that we have an entire blog post devoted to the Best And Worst Shoes For Disney!
Whether you're park hopping from Epcot to Magic Kingdom to Hollywood Studios, and then to Magic Kingdom again, following up at Animal Kingdom OR just seeing all Epcot has to offer in a day, you're destined to cover a lot of steps in just one day at the parks! No matter what time of year you are visiting Disney World, adding a solid pair of walking shoes to your Disney packing list is a must. When we visit just one park for half a day, we usually clock in 8 miles!   So, proper shoes are essential when packing for Disney World.
For women, we recommend Brooks Women's Launch 4 Sneaker.  If you love sneakers, this pair of Brooks sneakers is affordable and comes in many colors.  Victoria's mom is an athlete and runs marathons and triathlons and these and the suggestions below are her go-to shoes for Disney so you know they are good quality and annual pass holder approved!  If you aren't looking to break the bank when buying the best shoes for Disney, these come in at a good price too!
If you are looking for sandals, we highly recommend Vionic Farra Sandal. Victoria originally bought them for a trip to India and fell in love with them!   They became her best shoe for Disney!   She even went back and bought a second pair in the same color just in case Vionics ever stopped making them,  because they are supportive, affordable, and perfect for Disney in the Florida heat!
For men, we suggest NIKE Men's Tanjun Sneakers.   Terrence loves his Nike sneakers and wears them to Disney and beyond quite often! He loves how lightweight they are in the summer heat of Florida and that they dry quickly when wet.   Given the price, the support these shoes provide is quite good and Nike is a great brand for the longevity of products! Don't hurt your feet or back in unsupportive shoes– make sure to add good shoes to your Disney packing list!
For kids, we don't really recommend flip flop types (even with the ankle straps) as they're too easy to trip (or be accidentally tripped) in and little knees don't cope very well with direct contact with the walkways in the park.   Instead, we suggest Skechers or Crocs as lightweight, breathable and comfortable for walking distances.  We've found both to be supportive enough for little feet without being too tight/restrictive of movement.   As tempting as it can be to get new shoes for vacation, make sure your kids have really walked in their shoes before adding them to your Disney World packing list!
Underwear
When making our packing list for Disney, we add extra underwear as we are lovers of a daily, afternoon swim and like fresh underwear afterward!
Swimwear
We make sure we have at least 2 pieces of swimwear each because we're not fans of putting on damp swimwear and have found that (unless you have a private balcony or villa) they're usually not dry for the next day!
As fair-skinned types, we are particular fans of rash vests, like this one, to help protect our shoulders from the sun.
Accessories
Belts
Hairbands & accessories
Hats/visors – you may want to consider hats with an SPF for additional protection – we've found girls with longer hair often aren't keen on hats because the hair makes their head hot – we think this hat is an excellent way around the issue!
Jewelry
Scarves
Watches
Sunglasses w/strap
A light jumper/hoodie
There are not many times of year that you definitely won't need something warmer for the evenings or to protect you from the strongest of AC blasts!  We've found this is particularly true for kids, so maybe pack an extra hoodie for them.   This is really one of those items, for us, where we'd rather have it and not need it, than need it and not have it.
Of course, depending on the time of year you're visiting, when you're packing for Disney, you may need several jumpers and even jackets/scarves.   Do read up on Florida temperatures/seasons and make sure you're prepared – what can be quite pleasant in the daytime can get really chilly in the evenings – we're sure you'll want to make the most of your park time, so make sure you're not going to be too cold to do so! We have some great tips for visiting in Winter and what to wear then.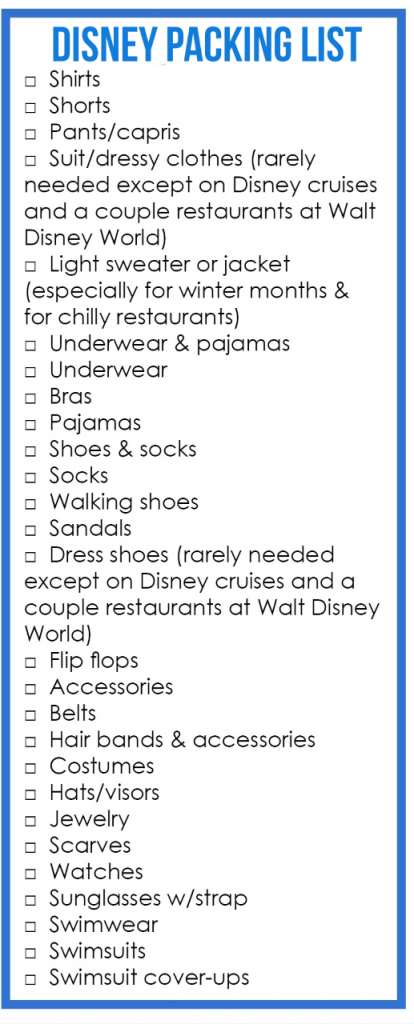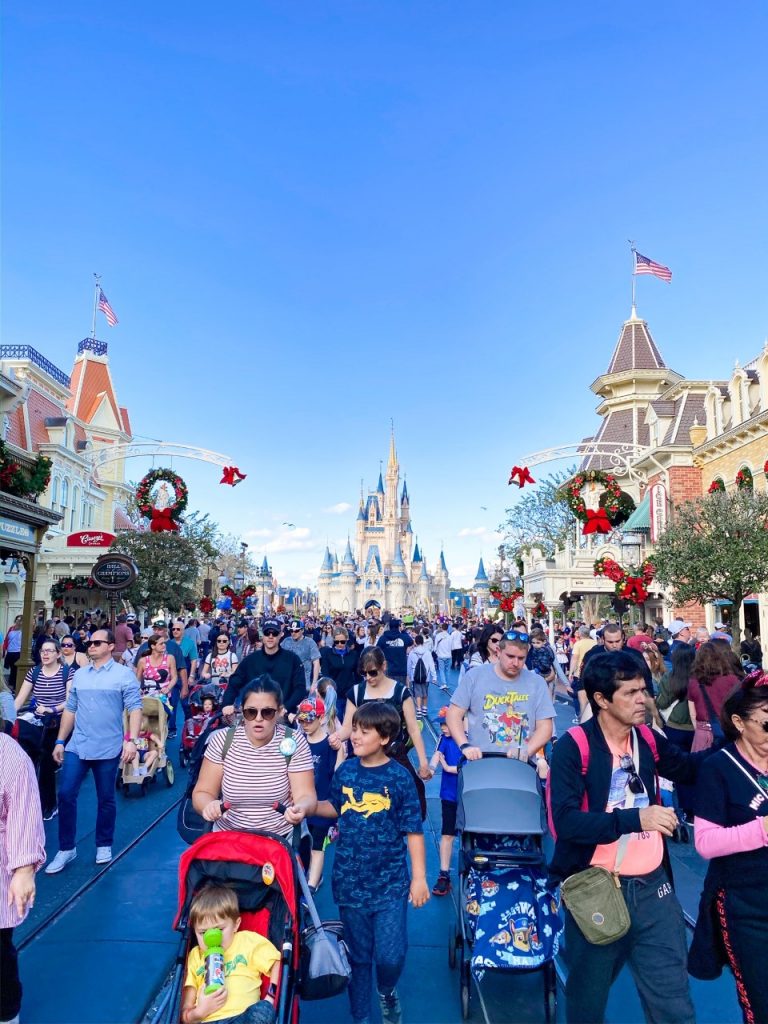 Disney Packing List for Kids
Our list is based largely on the needs of infants and younger kids (you may also want to read Disney with Toddlers to help you prepare for your trip).   You may not need to take all of these items, but it may be a handy reminder to check that your accommodation will have a Pack N Play, for example.
It can be really tempting to take too much for your kids, but you also want to avoid forgetting something you later wish you'd taken!   Whilst our advice for clothing was to not be tempted to overpack, we definitely recommend additional t-shirts for children, particularly under 8's.  Those Mickey bar ice creams have a habit of making their way onto shirts.
Some resort pools are fine with you taking pool toys/noodles and of course, although all Disney pools have free life vests available, your kids may have their own preferences for swim aids.  If that's the case, you should definitely remember it as one of those things to pack for Disney.  Honestly, when we've been to a water park with adventurous water babies who aren't swimmers (or strong swimmers), the life vests available are excellent for supporting kids in the water.
If your little ones are really into dressing up, taking some costumes with you will save you a LOT of money.  People make a huge fuss of kids dressed up as Disney characters, but the price of the costumes at Disney will make your eyes water!   I wouldn't usually take my kid into a park in a costume without having a t-shirt and shorts in my bag for them if they decided to take it off, but I have many happy memories (and great photos!) of my kids when they were little, dressed up and meeting characters.
You will also want to consider whether you add your stroller to your Disney packing list.   You know your kids and some kids are happy to walk, others are really not.  A LOT of walking takes place on Disney vacations and we've heard many parents losing it with their kids because their kids are tired, hot, and complaining about their feet – no one wants that stress on vacation, so rules are out of the window, here!   My oldest was 5 and happy to walk around Disney in March heat; my youngest would NOT have coped the same and we'd have all had a better time if she was in a stroller.   You can totally rent strollers in Disney and we recommend this for older kids.
When thinking about what to bring to Disney for kids, for those kids who still like to be carried, we highly recommend a Hippychick hip seat.  Ideal for when smaller kids don't want to sit in their strollers or when you're waiting in line for a ride or character meet and need to leave the stroller, this seat certainly saved my back on many occasions!   We note that the price of this seat has gone up since we bought ours and other, cheaper makes are available, but this is the only one we can endorse from personal experience – feel free to shop around and check out reviews!
For more tips like this, you may want to read our article on Disney with toddlers.
Bottles
Baby food – don't rely on being able to get your baby's preferred food when you arrive; you will save yourself stress and time to bring what you need. Don't forget snacks, too!
Sippy cups
Plastic pool cups w/top & straw
Portable highchair
Bibs
Diapers – don't worry if you run out in the park, though, the Baby Care Centers are excellent and will give you enough to get through your day!
Swim diapers – these are so much more expensive if you buy them in hotel/resort shops
Baby wipes
Diaper bag – having all your changing accessories in one place is super helpful
Pacifiers – more than one. You may also find it helpful to bring a chain or leash to clip to your baby – this saved many stressful trips for us!
Pack N Play
Stroller
Car seat – we recommend taking your own – most airlines will put it on the hold for no cost – rather than hiring one; you know how yours has been handled and it will be familiar to your baby, too.
Baby monitor
Blanket/toy – for children of all ages!
Board games
Handheld games
Car window shades
Kids ID tags – we've heard of parents writing their cell number in sharpie on the inside of their kids' arms and applying liquid band-aid over the top; doesn't wipe off and can't fall off!
Outlet covers
Autograph books and pens – you can buy them in advance; make your own (we've found the characters really love these!) or even take a white t-shirt and sharpie and ask characters to sign that for you.   We love taking a wide photo mat to a character meal, for example, and getting the characters to sign it – then we frame our favorite photo from that meal with the photo mat to make an extra special memento that gets seen a lot more than autograph books get looked at!
Along the same line as the kid's ID tags, we also recommend you take a photo of your kid(s) each time you go into the park, so if they do get lost you not only have a quick guide to be able to describe what they're wearing, you can show to Cast Members as well.  When we're driving to the parks, we like to do this with our kids in front of the row/section of the car park we're in!
A note on Disney with under 1's
If your infant is formula fed and still has daytime bottles, you will want to make sure you take your own brand of formula, too.  Most brands have pre-made cartons, but this is an expensive way of feeding your baby and, if you're flying, you'll find this a heavy, space-inefficient item to transport (we would also be filled with worry that they would burst and cover our clothes, as well as leaving us without a formula!).
We found a simple solution – to put sterile water into our bottles and then dispense the right amount of powder into a container like this.
This meant we could just pop 3 bottles into our bag along with our formula-filled container and be set for the day.   We did see some people asking for boiled water at food locations and also other people using the Baby Care Centers to make up their water.  Our infant was quite happy drinking room temperature formula and so it was easier for us to just have the water in the bottles to make up the milk when she was ready to eat and not have to wait for boiled water to cool.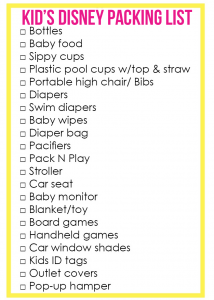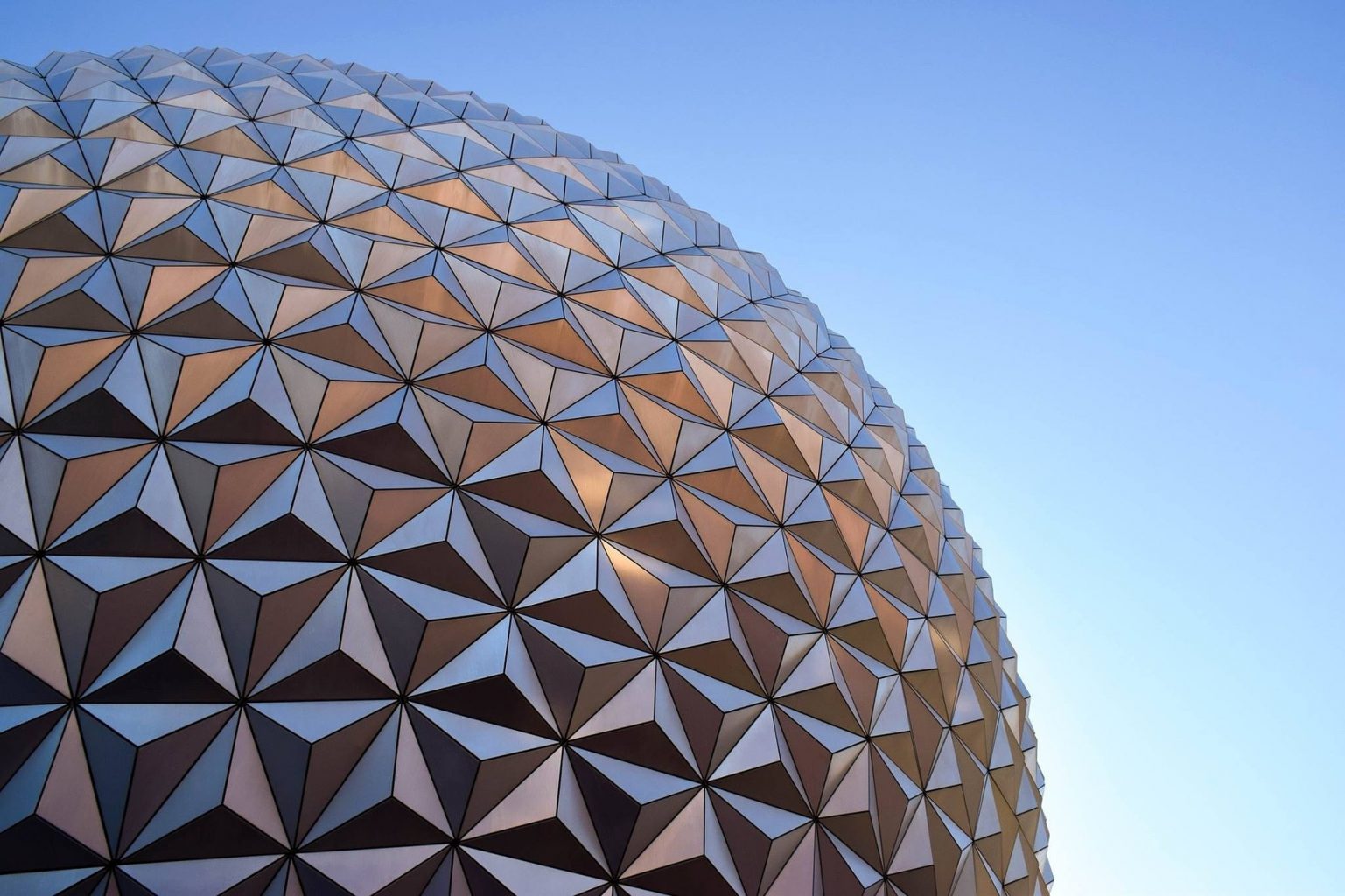 Essential Toiletries
Toiletries are definitely on our Disney packing list section: 'we don't want to be buying these on vacation'!  We would rather get our preferred brand of toiletries at home, when we have time to browse and select (and maybe even take advantage of in-store offers) than waste our precious vacation time trying to find something we've forgotten.
It also gives us a little cheerful glee to think that using up our shampoo and conditioner while we're on vacation means we won't be bringing it home – leaving some extra space in our suitcases for vacation purchases!
Traveling with kids is, we've found, generally NOT the time to try them on a brand-new type of toothpaste – familiar is often best for many kids!  We know you won't plan on letting anyone get a sunburn, but a soothing/cooling aftersun lotion or gel is still a useful addition to your Disney packing list for minor accidents and to soothe those little after-sun tingles.
Toothbrush; Toothpaste; Floss
Shower gel
Liquid hand soap (if you need it – there's only bar soap in WDW hotel rooms)
Shampoo; Hair conditioner
Deodorant
Contacts/glasses
Contact lens solution & case
Sunscreen and aftersun – different SPF factors to suit the different members of your party.  Make sure it's water-resistant and make sure you take plenty!  My family is pale – we like Banana Boat and take SPF 50 and 30!
Body glide  – we highly recommend this for people who find their skin rubs (maybe against other skin or against a piece of clothing).  This is the ultimate anti-chafe solution and there's now a 'for her' version, too.   As far as we can tell, the main difference is that the 'for her' version also has moisturizing properties.   Both are vegan-approved and child-safe.   Say goodbye to chafing on holiday!
Lip balm w/sunscreen – Sun Bum is a great one!
Face wash and lotion
Body lotion
Makeup & Make-up remover
Nail polish & Nail polish remover
Q-Tips
Tampons/pads
Foot spray & Foot powder
Razors & Shaving cream
Tweezers
Nail clippers & Nail file
Hairbrush/comb
Hair gel/mousse/spray
Blow dryer/straighteners/curling irons (if you're traveling internationally, don't forget your adapters, too!)
Perfume/aftershave
Kleenex
Kids' shampoo
Kids' toothbrushes and toothpaste
Kids' bath soap
Kids' hairbrush/comb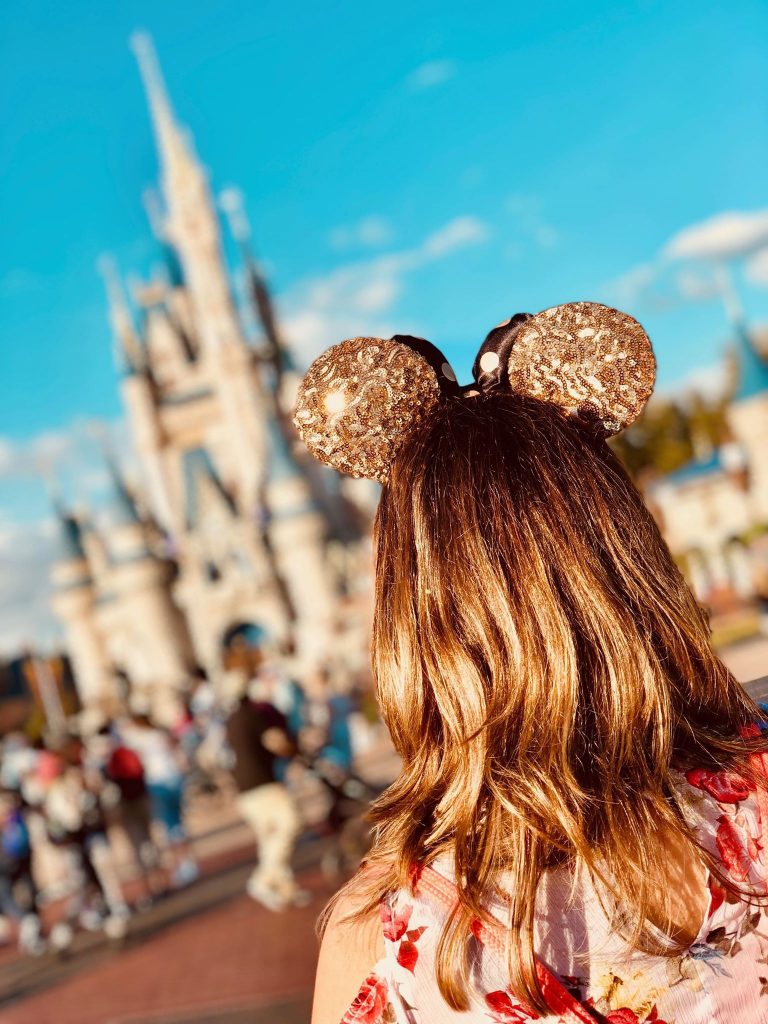 First-Aid and Medicine for Disney
These things may not be what you first think about when wondering what to bring to Disney, but first aid and medicine is high up on our Disney packing list.
As with toiletries, they're things we don't want to be spending time trying to find while we're on vacation.   Also, it's quite likely that if you do need them, having them to hand will help get your Disney vacation back on track much more quickly than having to go find the items you want, anyway.
For small amounts of First Aid items or medications, don't forget that the First Aid Care Centers in the parks are excellent.   Operated by clinicians, they've been able to identify for our family an allergic reaction after a nasty bug bite and treat with antihistamines and ice wraps – meaning we could stay in the park and enjoy our day when we would most certainly have needed to leave otherwise.
Prescription medications
Moleskin (for blisters)
Band-Aids
Antibiotic ointment
Anti-itch gel/spray
Aloe vera
Antacids (and Immodium)
Birth control (or other prophylactic)
Pain medicine (like Tylenol, Advil, etc.)
Kids pain medicine (you may also want to consider taking some Cool Gel head sheets, just in case; these can be very soothing for young kids)
Motion sickness remedies
Midol
Sinus/allergy medicine
Eyedrops
Vitamins/Echinacea
Cough drops
Bug repellent – our favorite is Off and they also have a DEET free formula * we've also had some success taking Vitamin B12 supplements instead of using repellent – I normally get bitten a LOT, so am happy to go the extra mile to avoid being bitten!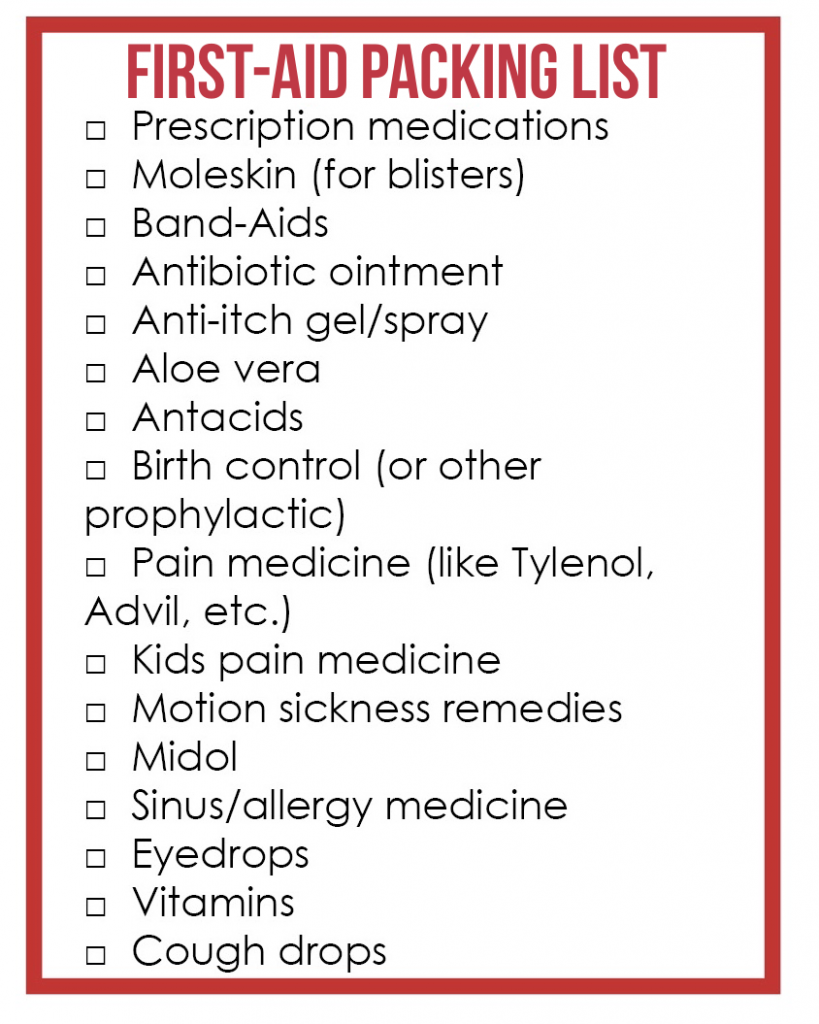 Food And Kitchen Essentials for Disney
Now, these aren't necessarily all things you want to put on your Disney World packing list, but it is important to know that you absolutely can take food into Disney and it's a great way to save some money.
Whether it's packing lunches and/or snacks to take into the park, or preparing food to eat in your hotel room, this list covers everything you may need.
We particularly recommend, when thinking about what to bring to Disney, juice boxes and powdered drink mix, because staying hydrated in the Florida heat is really important.   Small juice boxes (or pouches) aren't very heavy, don't take up too much space, and provide a refreshing (and healthy) alternative to sodas.   Not everyone likes the taste of the non-bottled water (cups of water are available for free at all quick-service locations), so powdered drink mix can make this more palatable and help keep the hydration up.
Naturally, unless you're driving to Disney, you won't be able to take most of these things with you, so we recommend you consider getting a grocery delivery at Disney.
Bottled water
Coffee
Teabags
Sugar/sweetener
Nondairy creamer
Instant soup mix
Cocoa packets
Juice boxes
Microwave popcorn
Granola bars
Chips/pretzels
Crackers
Fruit snacks
Small cereal boxes
Pop-Tarts
Peanut butter
Travel salt & pepper; pre-measured seasonings
Dish soap and scrubber/sponge
Paper plates
Plastic utensils or a biodegradable alternative
Disposable cups
Ziploc bags
Trash bags
Paper towels/napkins
Water filtering pitcher
Reusable straws
Coffee maker and filters (it's noteworthy that Moderate and Deluxe Disney resort rooms all have coffee machines; in Value Resorts, only the Family suites in the Art of Animation and the All-Stars Music Resorts)
Corkscrew and Wine stopper
Gum (not sold at WDW)
Some snacks your kids may love are either hard to find at Disney, super expensive at Disney, or non-existent there. If your family loves Goldfish, Cheerios, or Cheez-its, you might want to consider bringing your own or ordering them to get delivered. Also, if your family is a Pepsi family and not a Coke family, plan accordingly – Disney Parks and Resorts only sell Coke products.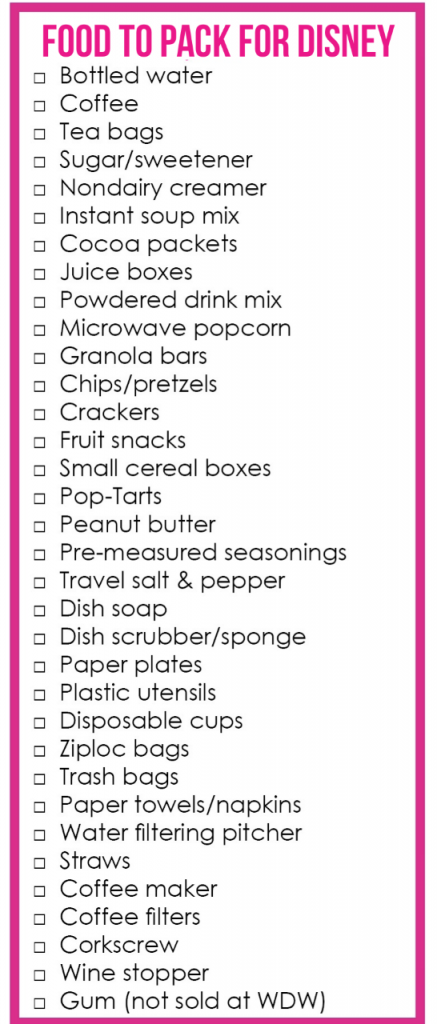 Disney Park Touring Bag Packing List
Some days, we make it our mission to travel into the parks as lightly as possible (perhaps because we know we're going to spend a morning getting soaked on the water rides before heading back to the hotel!) but these days are the exception rather than the rule!
We know that being well prepared for a day in the park – particularly if we have a mission and a plan – is going to help us have a hassle-free and more enjoyable day. First, you are going to want to choose the Best Backpack For Disney World!
Don't feel that you need to take everything that's on this list every time you go into the park, but we've created this comprehensive list and, we feel, it has everything you may need.  Obviously, if you have young kids, you'll need to take your diaper bag, food, and extra drinks, pacifiers, etc for them. If you want our full list of what to bring, we have an entire article on What To Bring In Your Disney Park Bag!
And if you have a dining plan, you may not need to take snacks with you, although if traveling with smaller children, we'd take some snacks with us because our kids liked to 'graze' when they were small.   Even when we're on the Disney Dining Plan, we still take a very small insulated back with juice pouches and water bottles to the park, though, because we feel it's a bit of a waste to use our snack credits on drinks!
Have you wondered whether the Disney Dining plan is worth it?  Everything you need to know is covered in our full, in-depth article.
Guidebooks (or print off your touring plans to take up less room)
Park maps
Camera
Cell phones (don't forget to download our Genie+/Lightning Lane suggestions to your phone!)
External battery charger and cords
Lanyard for room key/tickets
Sunglasses w/straps
Snacks
Autograph book
1 towel (block the sun, save a spot at the parade, clean off a seat)
Pain medicine
Bottles of water
Walkie talkies (for non-American visitors and poor cell signal)
Rain ponchos or umbrella
Handheld fan to keep cool while waiting
Moleskin
Sunscreen
Lip balm w/sunscreen
Insect repellent
Kleenex
Antibacterial hand gel/sanitizer and wet wipes
Hats/visors
Large Ziploc for wet clothes
Dry change of clothes for kids
Glow sticks and necklaces
Pennies for pressing
Pins for trading
Playing cards or handheld games
Kids ID tags
Small bottles of bubbles (to do while waiting)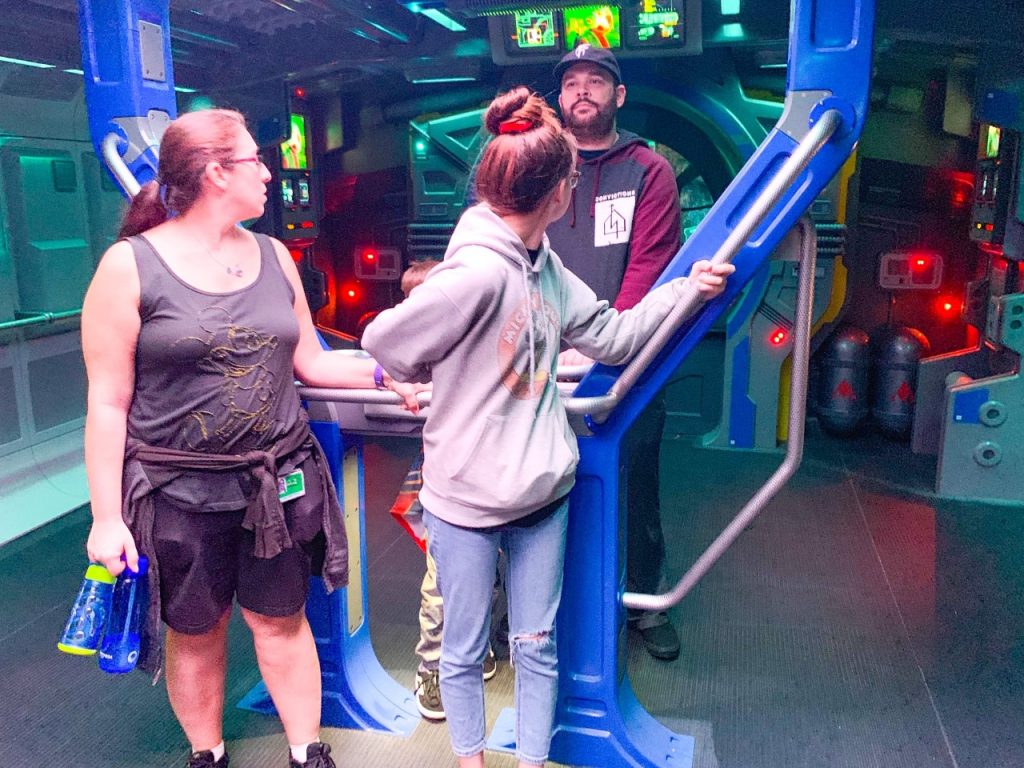 Disney Water Park Packing List
As with other park visits, on some days we do 'water park packing lite' – if we're staying onsite, with a Dining plan and just doing a water park visit in the morning, we'll happily rock up with sunscreen, magic bands, water shoes, a few drinks and our swimwear under our clothes (with clean underwear in our bag to avoid soggy clothes at home time!).  We grab some towels, hit the slides and the pools (can you say lazy river?!); we hardly spend any time chilling or sitting down and, when we're done touring the park, we grab quick-service lunch on our way out.
That said, the water parks have so much more to offer and can be a great destination for the whole day, but you'll want to be better prepared so you're not left wanting OR spending your hard-earned money on things you could easily have brought if they were on your Disney packing list!   When spending the day, be sure to stake out a good spot with some loungers and, if you can find it, some shade!   Whatever you're doing, you'll need to remember to reapply sunscreen often!
If you have smaller kids, they're probably going to want to spend time at Ketchakiddee Creek (Typhoon Lagoon) or Tike's Peak (Blizzard Beach) and bigger kids are going to love the Ski Patrol Training Camp.   Don't forget, kids are going to be spending a lot of time out of the water and will need careful protection from the sun to shield them from rays reflecting off the water: we love swim suit sets like this for toddlers (similar ones for girls and boys) to double up on the sun protection!
Water park tickets
Drivers license/ID for each adult
Cash/credit card
Waterproof/underwater camera
Cell phones
Lanyard for room key/tickets
Sunglasses w/straps
Water bottle w/strap
Collapsible cooler
Snacks
Bathing suits
Beach towels – if you're a Disney resort guest, you can get towels from the water parks without having to pay, you just need to provide your Magic band and let them know how many towels you need.
Earplugs
Goggles
Plastic pool cups w/top & straw
Beach bag – we try to make sure our beach bag has at least one zippered pocket for our valuables and things we don't want to lose or get wet.   This one has a cooler compartment underneath the bag part, so may be a great addition to your Disney packing list!
Kids ID tags
Floatation toys
Water toys
Books/magazines
Mister fan & extra batteries
Pain medicine (like Tylenol or Advil)
Sunscreen
Lip balm w/sunscreen
Insect repellent
Kleenex
Antibacterial hand gel
Wet wipes
Hats/visors
Swim diapers – diaper age children must wear these and while you can buy them on-site, the prices are extortionate and you'll be glad you had them on your Disney packing list!
Waterproof watch
Waterproof case
Water shoes/flip flops – we recommend water shoes that you're not going to worry about losing on a slide (although you'll have to carry them down Summit Plummet, if you're brave enough!) and that you just wear around the park.  We love this type – they protect our feet from the hot walkways and also from the rough bottom of the pool – we hate grazing the tops and soles of our feet as we go around the lazy river!
Large Ziplocs for wet clothes
Dry change of clothes for kids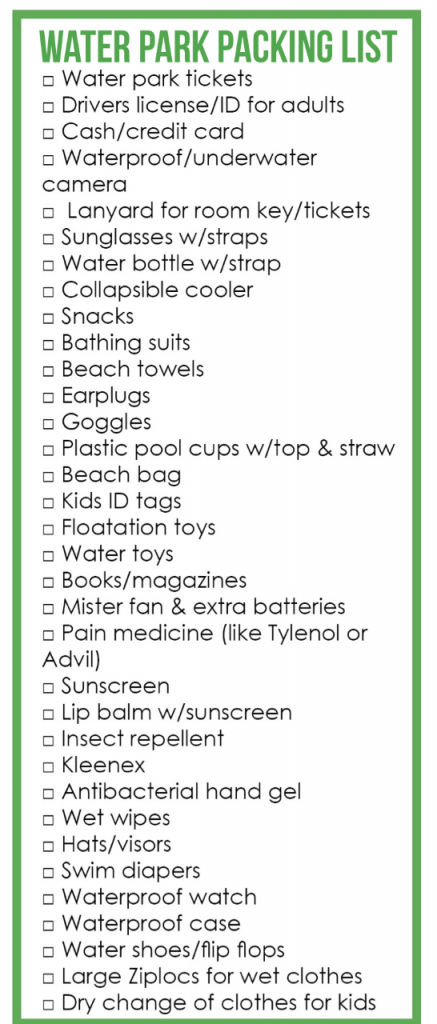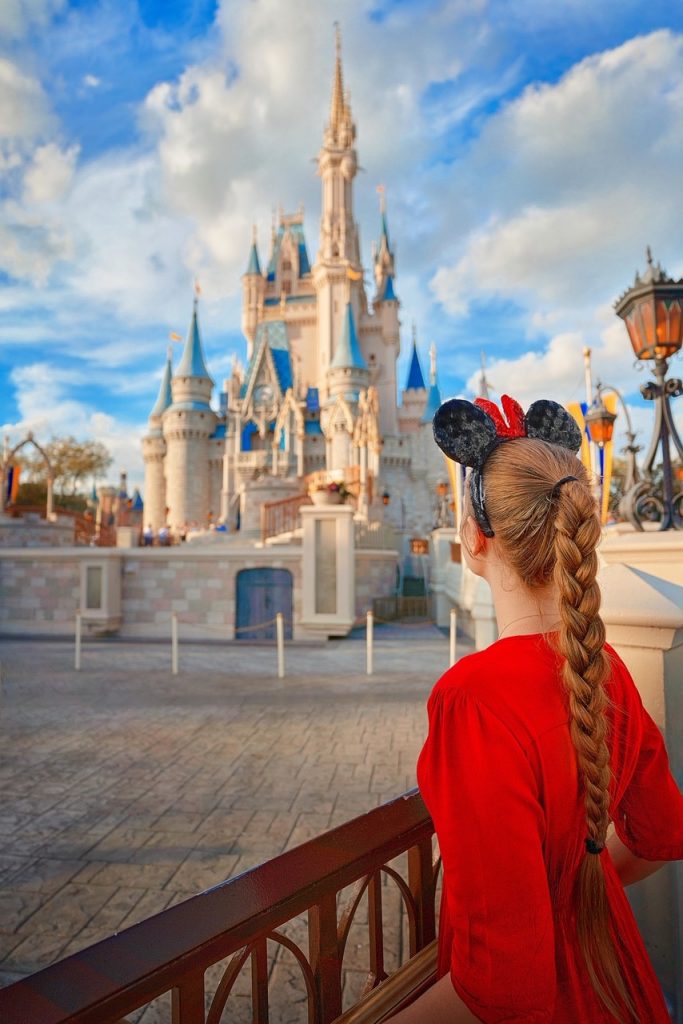 Travel Documents To Pack For Disney
This section might be one of those 'goes without saying, but it's probably the most important list; things you can't replace; go without or buy locally!  If you're an international visitor, passports should be top of this list!
With regards to activities/meals/trips – if you've booked it, you'll want to take confirmation with you!  It's fine to rely on emails, but we've found that sometimes when you need it most, you don't have coverage or you can't locate the confirmation that you need.  For peace of mind, we take a broad approach and either print out our confirmation reference numbers or write them in a notebook, as well as taking screenshots on our phone and saving to a specific folder.
Hotel confirmation
Rental car confirmation
Boarding passes
Cash/credit cards
Dollar bills for tips & tolls
Drivers license/IDs
Notepad/notebook
Envelopes for Mousekeeping Tips
Insurance cards
Guidebooks
Membership cards (AAA, DVC)
Theme park tickets
Addresses for postcards
Pens
Stamps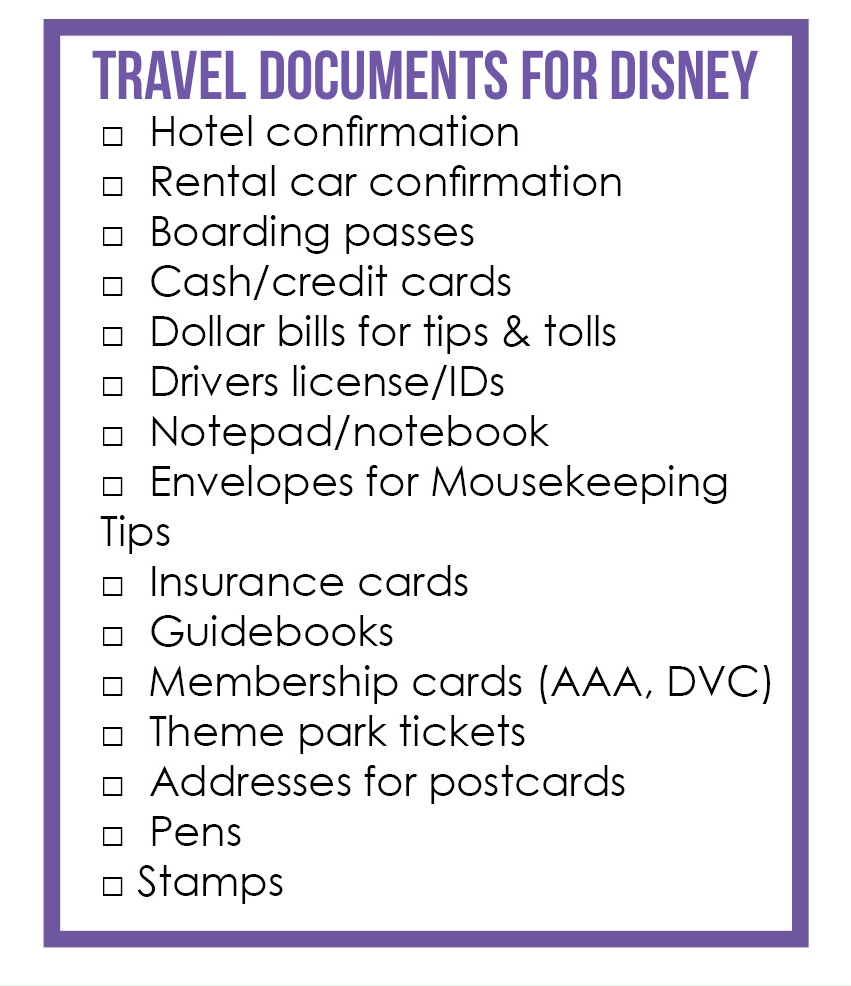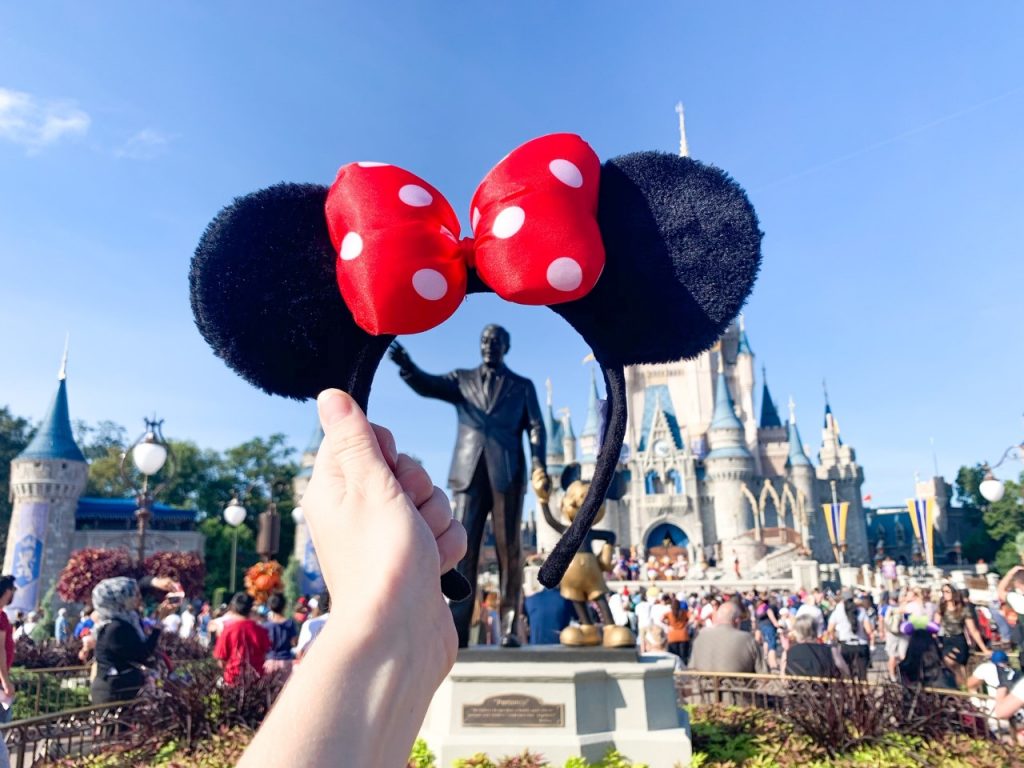 Packing For Road Trips/Flights
Whether you're flying or driving, you'll want to prepare for the journey to make it more comfortable and pass more pleasantly!   Yes, there are many of these items that you can get on your journey, but you may not find exactly what you're looking for and the substitution may cost you significantly more money.
Everything on this list may not be essential, but they'll help you have a stress-free journey, particularly if you're traveling with kids!  The simple addition of a trash bag to a road trip with us makes such a difference in helping to keep the car tidy enough not to raise the stress levels!
Obviously, the length of your journey may dictate that some of these aren't necessary, or if you're traveling by plane with a short journey to your airport, they may not be feasible.   But they're all worthy of some consideration, to help you make your 'travel' Disney packing list as complete as it needs to be for your journey.
Maps/directions/GPS
Proof of auto insurance
Guidebooks
Flashlight
Paper towels
Wet wipes
Cooler
Trash bags
Umbrella
Snacks; Drinks
Pillows; Blankets
Portable DVD player' Movies
Travel games
New toys
MagicBands or park tickets
Drivers license/ID for each adult
Cash/credit card
Membership cards (AAA, DVC)
Meal confirmation #s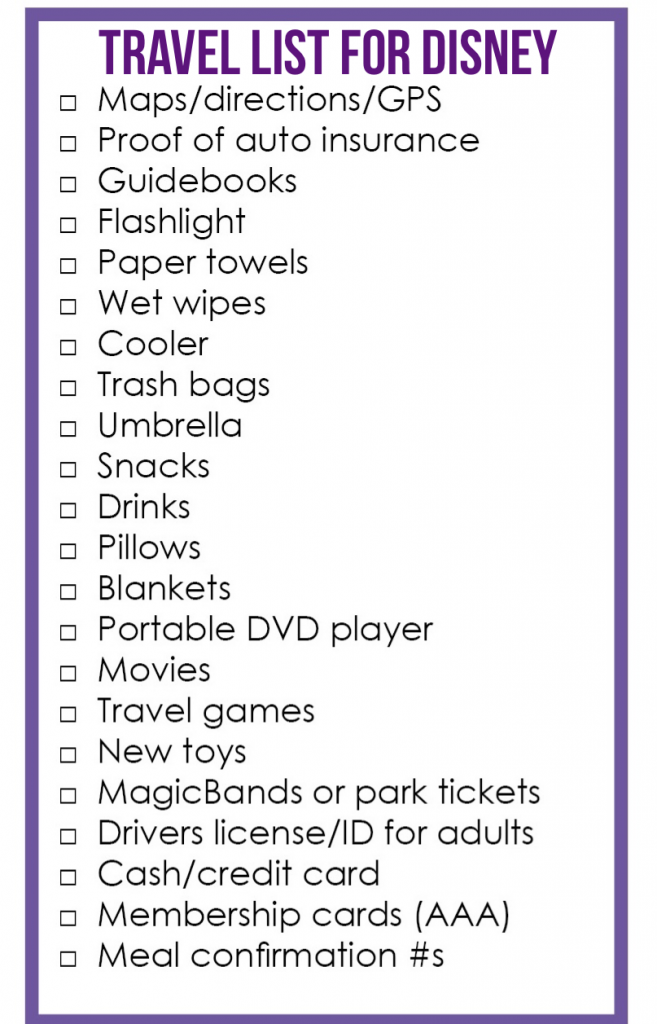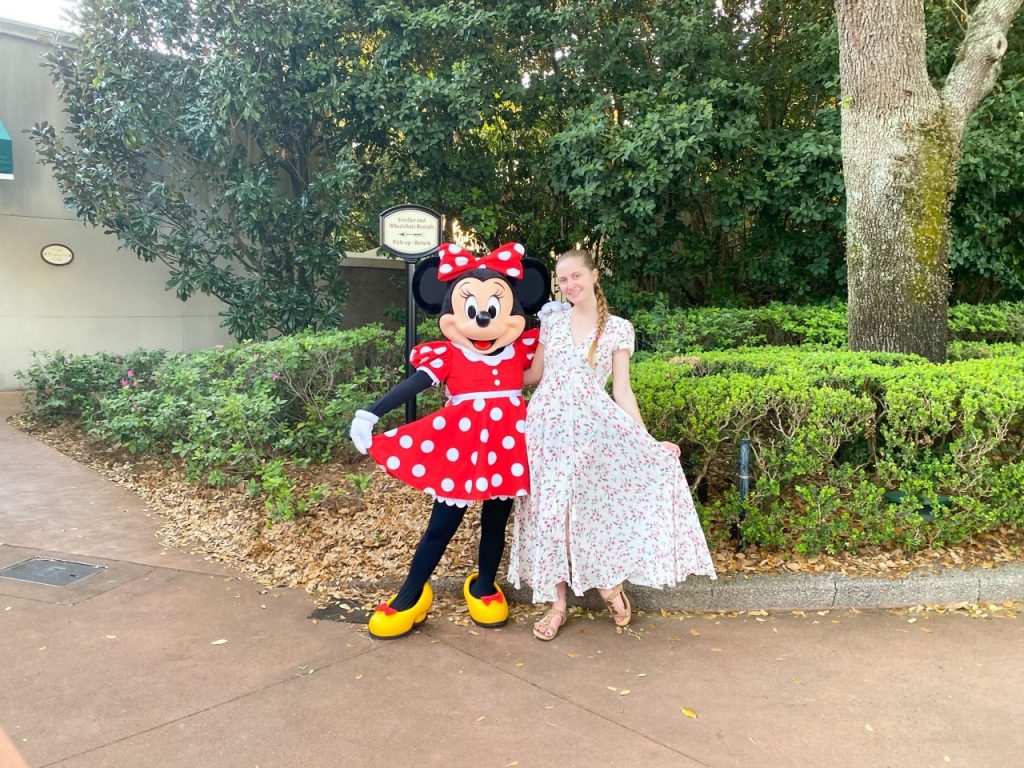 Miscellaneous Items for Disney
Our final list is the miscellaneous list – some of these items may appear on other lists, but you may have decided, for example, you don't need a Water Park Disney packing list, because water parks aren't on your itinerary – but that doesn't mean that a beach bag isn't necessary for you if you're going to be camping out by your resort pool!
We've included some of the items that are now on our forever Disney packing list, accumulated over many trips away, and are items which we'd never have dreamt of taking in the 'early days'; some of the particularly unusual items have helped us have a more magical, stress-free vacation (who'd have thought a pop-up laundry hamper would have made me happy?!  Sharing a Disney room with a few kids, it's now forever on my 'what to bring to Disney' list!).
Batteries
Cameras (w/memory cards)
Disposable cameras for kids
Cell phone w/charger
Power strip – although some of the refurbished rooms have a lot more power sockets, we've found a power strip is a really helpful way of making sure everything is charged when you want it to be!
iPod & ear buds/headphones
Laptop & charger
External battery charger (read below for our top recommendations)
Umbrella
Waist bag/day pack – we particularly like this crossbody sling bag as an alternative to a traditional rucksack.  It may not be big enough for everything you want to take into the park, depending on your party size and make-up.
Lanyard for room key/tickets
Beach bag
Collapsible cooler
Large Ziploc bags
Sound machine for hotel
Sewing kit
First aid kit
Safety pins
Clothespins (to hang wet items and to help close gaps in curtains) – we've found large ones really useful if we're hanging over balconies!
Over-the-door shoe organizer (to keep hotel room organized)
Earplugs
Insect repellent
Antibacterial hand gel
Wet wipes
Stain wipes/stick (we like these – they're small enough to pop one in the day bag, great when you have a child who seems to get chocolate on EVERY piece of clothing they wear, even when they haven't eaten chocolate!!)
Wrinkle release spray
Pillows
Workout stuff
Water sports bottle
Waterproof case
Night light; Pen flashlights
Pennies & quarters for pressing
Pins for trading – you may not want to spend your vacation savings on brand new pins to trade, but if you collect them during the year or have a collection of 'less-loved' pins, bringing these will give you a head start on pin trading.  Read more about pin trading.
Books/magazines/Playing cards/Games/Frisbees
Kindle/iPad
Eyeglass repair kit
Small scissors and a small screwdriver (useful when opening toys purchased at Disney World)
Reusable straws – there are many on the market, but we highly recommend you make sure you get a cleaning brush with whatever you purchase.  Our personal favorites, and entirely environmentally friendly, are bamboo straws.
Pop-up hamper – if you're sharing a hotel room, you'll thank us for putting this on your Disney packing list to help you keep your laundry out of the way!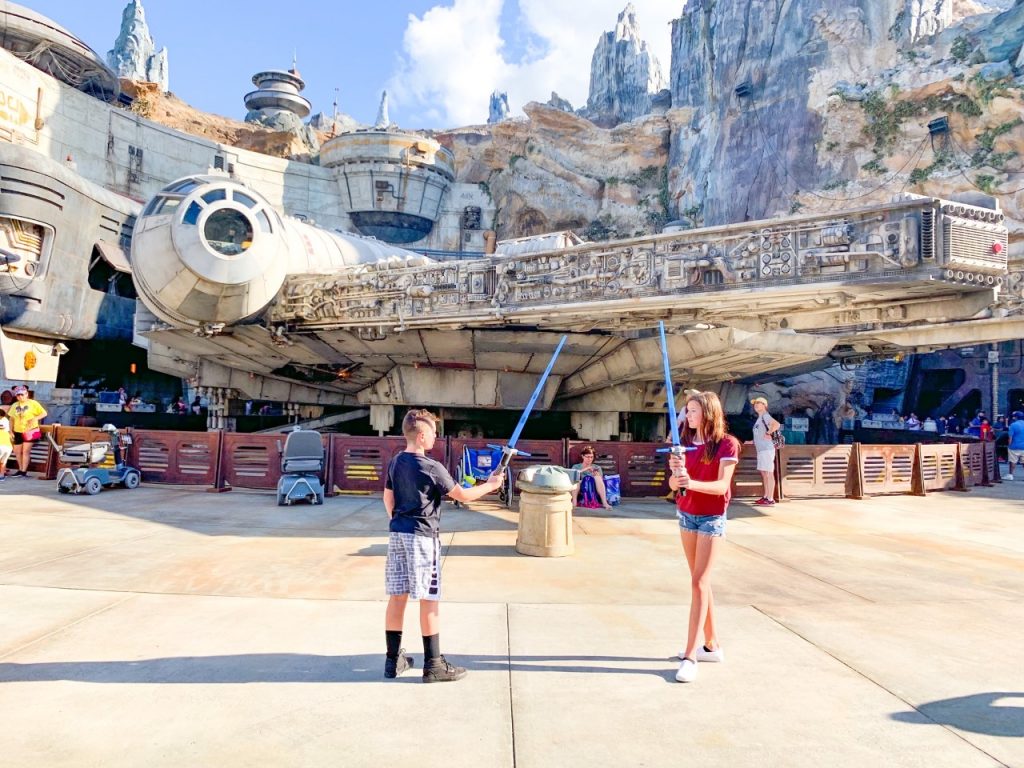 What To Avoid Packing for Disney
Hopefully, it goes without saying, but you can absolutely use your discretion with our lists – if you know it's not relevant for you, then, of course, you should omit it.
It may be on your normal vacation list, but you could leave selfie sticks off your Disney packing list as they are not permitted in any Disney parks.
Unless you're going on a cruise, you need not bring formal wear to Disney.  Obviously, you should check out the dress code for any signature reservations you have, but the majority do not require formal dress.
Whilst costumes are fine for kids unless you're going to Mickey's Not So Scary Halloween Party, grown-ups, you need to leave your costumes at home!  Guests over 14 are not permitted to dress up as Disney characters other than at this event.  You can, however, Disneybound!
Useful Disney World Packing Tips
Use packing cubes
We are fans of packing cubes – they don't have to be particularly expensive but we've found them to be very effective in organizing your packing (and repacking).   When packing to go on vacation, we place several days' of clothes in each cube and have found that clothing items get creased less – they stay the way they're folded when you pack them.
We make sure that the packing cubes are spread evenly across the suitcases so if one gets lost/delayed, we all still have clothes in the other suitcase (hoping they don't all go missing!).
Weigh your bags if flying
There is little worse than having to repack your suitcases as you're trying to check them in (except, perhaps, having to pay excesses because your bags are all overweight).
We suggest you consider getting a portable scale and take it with you – eliminate all of the worries and have a stress-free trip to the airport.
Leave space for what you buy
Even if you don't have much on your vacation 'shopping' list, we're confident you'll buy stuff that you want to bring home.   We like to make sure we have a room by making sure we don't overpack our suitcases on the outbound journey.  We have been known to take an extra case and spread all of our luggage between those bags – all of them underweight, so we know we have extra room on the way home.
Pack a Poncho to save space
This is one of the biggest things people forget on their Disney packing list!  Evening thunderstorms are a DAILY occurrence during the summer season!  Adding a poncho to your Disney packing list instead of a travel umbrella will help you save space, and it will help you stay dry when necessary.
But pay attention to what kind of poncho you are purchasing when considering what to wear at Disney: you don't want a poncho that is cheap and will rip easily! Often, storms in Florida don't last long, but having the means to stay dry is something you will thank yourself for later.
Save Money and buy a misting fan in advance
Personal misting fans can be a lifesaver at Disney! Between the crowds and the sweltering sun, misting fans are great as they are lightweight and portable. Many of them can be charged with USB cords now, and their battery life will last you throughout your adventure-packed day!  Make sure to invest in a misting fan and add it to your Disney packing list – it will save you from the heat!  You can, of course, buy them at Disney, but you're going to spend a lot more money than you need to, which is why it's one of the great things to bring to Disney.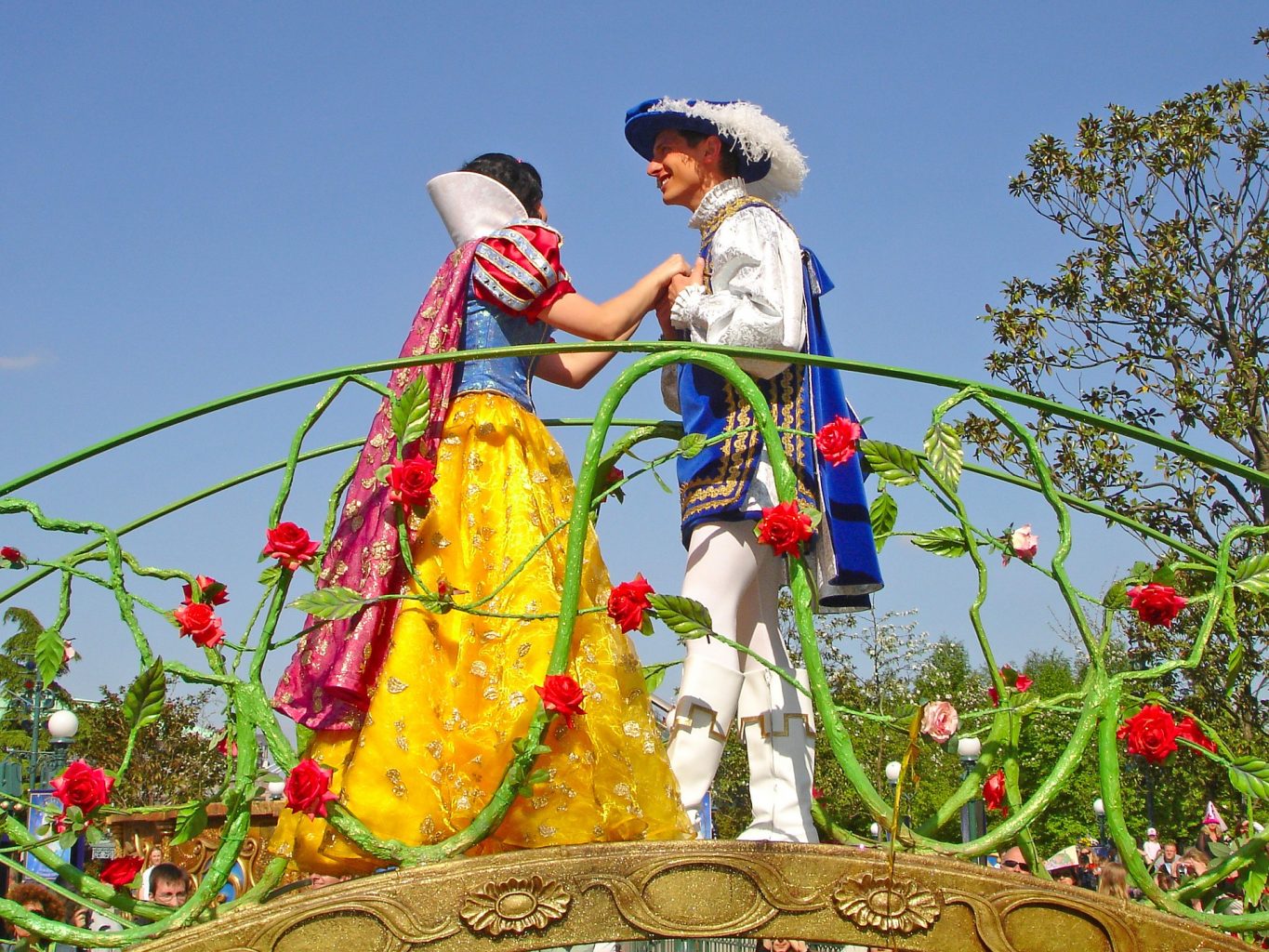 Bring A Mobile Flash Drive and Extra SD Cards
With the quality of smartphone cameras increasing, it's no longer necessary to bring a camera on all of your traveling adventures, but you do not want to risk losing your memories via smartphone– and trust us, it happens!  A portable smartphone flash drive is a small storage device that you can connect to your smartphone and then safely and easily download the photos onto another device.  We recommend the IDiskk 3.0 12GB as it is a certified device and means you don't need to rely on a fast and secure connection to save your memories.
There is no doubt about it: Disney World is truly magical. From castles to princesses and all the adventures in-between, it is a gorgeous theme park full of life sights, so you'll probably be taking a lot of photos – be sure to add additional memory cards to your list as well!
Bring a Portable power bank
Portable power banks are a must for keeping our phone charged whilst traveling and we recommend the Anker Powercore 1000 and use it during all of our travels. While it is a little more expensive, it has great quality and should be added to your Disney packing list if you'd like to keep your phone alive and usable during your travels! It is literally what we bring to Disney each and every visit!
Make sure you bring a Daypack
Between cameras, jackets, possible swimsuits, phone chargers, and water bottles, there is a lot to carry around with you at Disney World– and you haven't even purchased your souvenirs yet! Daypacks can make your day at the parks easier, as you have something to carry all of your things in.
Consider a reusable water bottle
You're in the sun. All the time. There is no way to avoid it! Disney, and Orlando in general, is fantastic for getting a tan, but with that exposure, you must add a reusable water bottle to your Disney packing list. While cups of water are free in restaurants and at most concession stands, you'll often find yourself thirsty at the most inconvenient parts of the day– and trust us when we say purchasing a bottle of water every time you get thirsty can add up quickly!
Make sure your phone case is sturdy
We've seen it happen– the dropped phone. The waterlogged phone. The cracked screen. It happens at Disney more often than you think. Between water rides and the hard ground of the parks, Disney can be a dangerous place for an unprotected phone. Make sure to invest in a good phone case for when packing for Disney– it might save you some possible heartache!
Masks, Hand Sanitizer, Sanitizing Wipes
During the current global situation, masks are required indoors at Disney. Don't forget to bring several masks for each person for the duration of your trip. Everyone over the age of 2 is required to wear one, and it's nice to have several in your bag to swap out if you get sweaty, one breaks, or you lose one. We have recommendations and tips for masks in the park here.
You also should bring plenty of hand sanitizer and sanitizing wipes. These are things we brought with us to the parks before this situation started, and they are even more important now. Bring several with you so you can clean your hands after getting off a ride, and so that you can wipe down any questionable surfaces – especially those that children will use, like highchairs.
Disney Gear/Ears/Clothing from Previous Trips
If you've visited Disney World or Disneyland before you may have some ears, hats, accessories, and clothing from previous trips. Bring them with you! You don't need to buy a pair of ears on every trip, especially if you already have a favorite pair. This can save a lot of money on souvenirs and keep little ones from bringing home tons of new ears, hats, and bags every time you go.
Ears and Spirit Jerseys are classic, regardless of when you got them or what year they are from. Bringing them back with you on different trips makes sure you get your money's worth out of them, and you'll save yourself a little money in the long run.
This also includes MagicBands! They stay active for a while after purchase and can be used on multiple trips. You can check whether they are active or not on the My Disney Experience app or under your account on the Disney World website. It might be worth reusing these, especially if you have fun or special ones!
Toiletries Tips!
Even though we have already mentioned making sure you have all your toiletries in your luggage, we have a few more tips for you! It's important to make sure you bring shampoo and conditioner if you have curly/coily/dry hair, as well as hair styling products for certain hair types. The shampoo and conditioner that Disney supplies isn't kind to these types of hair and can be very drying. You also want to be sure you have what you need to make sure your hair is going to look good if you're taking lots of family photos!
It's also a good idea to make sure that you are bringing cosmetics/skincare items that keep you on your normal routine. It's easy to leave these at home and not worry about these things on vacation, but you don't want to deal with breakouts or extreme dryness because you left your normal skincare at home. And you definitely don't want to run to Sephora at Disney Springs and pay a lot of money to fix something that could have been prevented!
Other Items to Not Forget on Your Disney Packing List
Planning your Disney packing list doesn't have to be as stressful as it sounds. By following these simple tips, you will be well on your way to packing like a pro for Disney World. These items are often forgotten or overlooked by travelers, but they can save your vacation from heartache if added to your bags when packing for Disney.
Of course, Disney, and Orlando in general have stores in which you can buy things you may have forgotten, but the stores may or may not be open, have exactly what you need, and may cost a pretty penny!   Do yourself a favor and make sure you add these things to your Disney packing list today!
What's your opinion?  Have we missed anything?   Have you used any of our recommendations and love the products?   Leave us a comment, below, to let us know what you think.  As always, we're very happy to answer any questions you may have!  Thanks for reading!