If you are planning to visit Disney in winter, you've come to the right place! Going during December, January, and February are completely different than any other time of year at Disney World, and we are here to help you plan the perfect winter Disney trip.
The crowds are smaller, the air is cooler, and the parks are decorated so beautifully in winter so it's a great time to go. But what to do while you're there? And how do you pack for Florida in winter? We're here to help you answer those questions and so many more, so let's get on to the tips!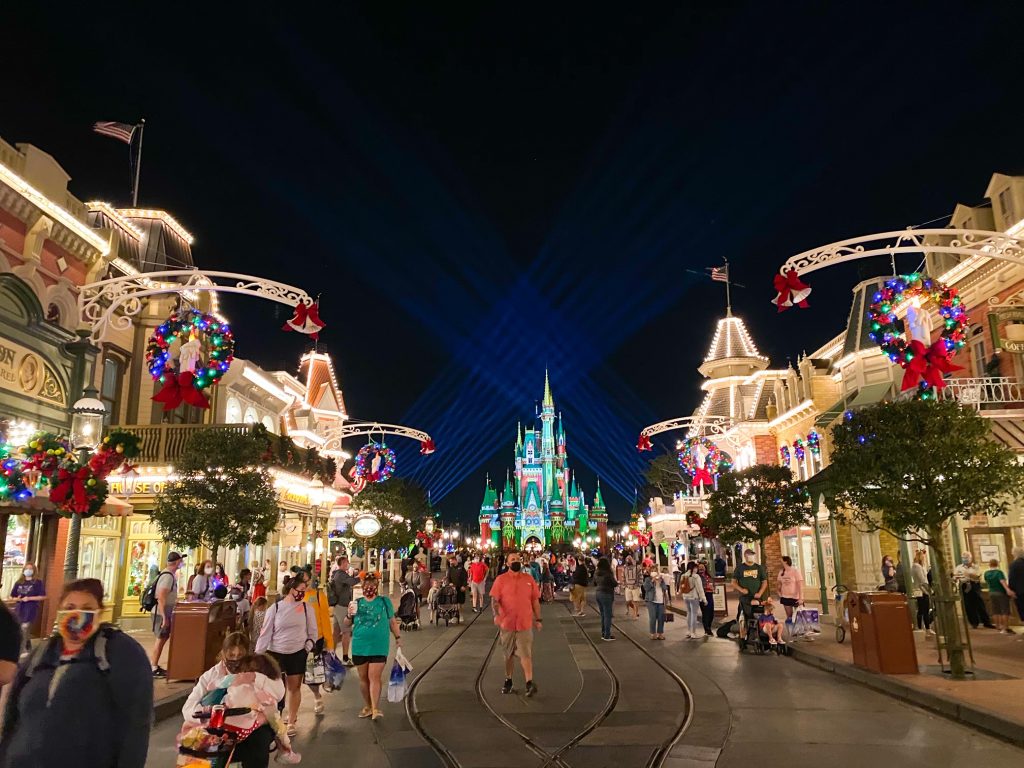 What to Wear for Disney in Winter
Since Florida weather can vary a lot in winter, it's best to be prepared for some hot days and even a cold snap or two. We love dressing in layers for Florida winters, and we have found some adorable Disney clothing to wear next time you visit Disney in the "colder" months.
Minnie Mouse All-Over Print Leggings
In cooler months, leggings may be one of the most comfortable things you can wear in the parks. They are stretchy, cozy, and not as hot to wear as jeans or sweatpants. And these leggings with a large, all-over Minnie Mouse print for women are too cute to pass up! You can throw on a t-shirt or sweatshirt with these leggings, and you'll be comfortable and warm enough all day long in the park!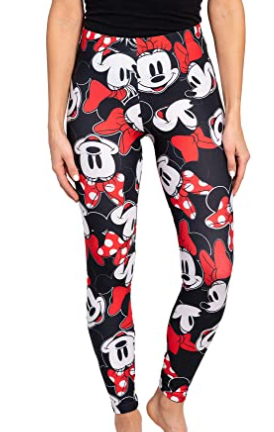 Mickey Mouse Classic Sweatshirt
If you're looking for the perfect sweatshirt to throw over an outfit on a cool morning, or when it starts to get cold at night, this sweatshirt is it. A small Mickey Mouse is printed on the front, and it's got just a classic, clean style. This would be great for men or women, and you could even match your group that you're traveling with! It even comes in several colors, making this a great choice to wear for Florida winters.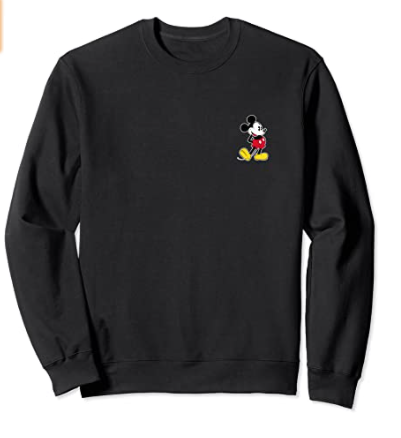 Mickey and Minnie Christmas Tee
If your Disney trip is planned during December, why not get a little festive and wear this Mickey and Minnie Christmas t-shirt? This adorable shirt has Mickey and Minnie dressed in their holiday best, surrounded by trees, wreaths, and holiday decor – and all of it is shaped like Mickey's head. This shirt comes in sizes for men, women, and children, making it another great choice for families to wear!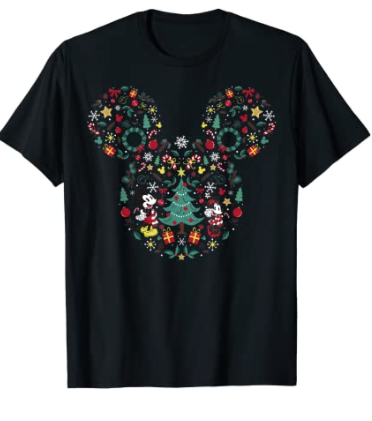 Best Tips for Visiting Disney in Winter
After multiple trips during the winter months of December, January, and February, we've done all of the special events, tried the food, and seen the decorations. Thanks to that, we've compiled our list of the 10 best tips for visiting Disney in winter, and we think these will set you up to have a great winter Disney World trip!
Dress in Layers
Mornings may start off cold during the winter months in Florida, but it could get to almost 80 degrees by mid-afternoon. Throwing on a cardigan or sweatshirt in the morning over your t-shirt will help keep you warm when you need it, and you can always toss it around your waist or into a backpack once it warms up. You may need it again when the sun sets because the nights get pretty cold too!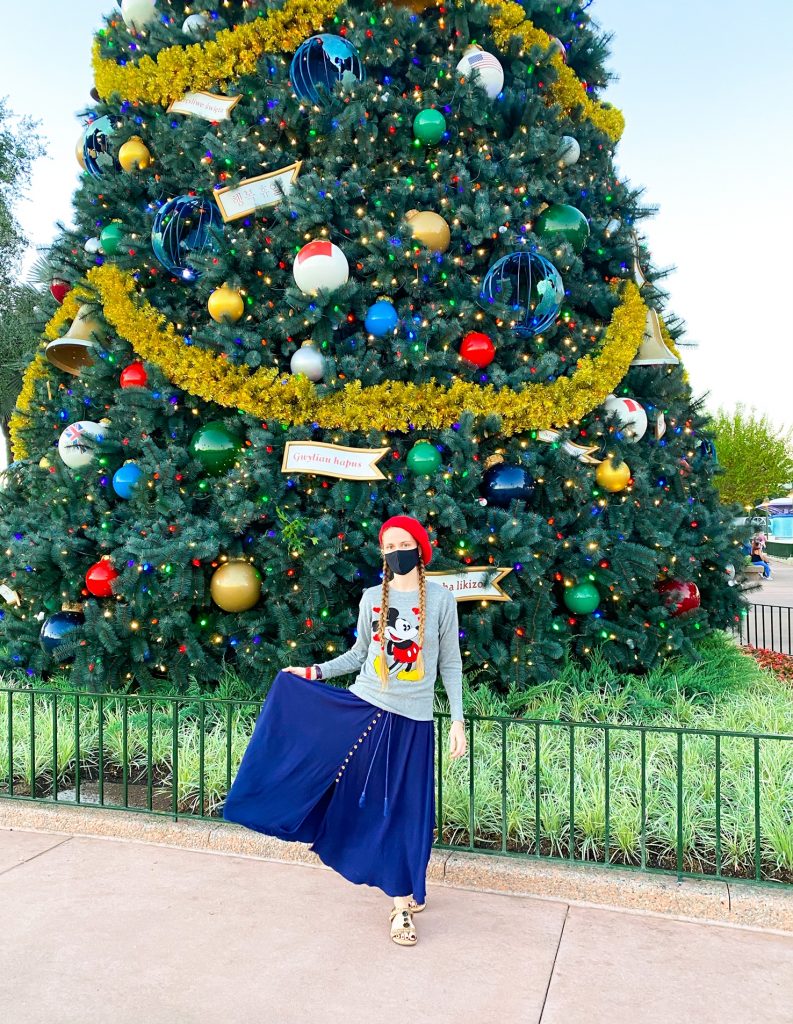 It Can Get Cold!
Even though it's Florida, it can get colder than most people think! The average high during the winter months is in the high 60'sF and low 70'sF, but nights, mornings, and even some days can get as low as 40F! This being said, you will never need a heavy winter coat, snow boots, or gloves while visiting Florida during the winter, and it will most likely be warmer than where you are visiting from!
You Can Still Go Swimming
Just because it's winter doesn't mean you shouldn't pack your bathing suit when visiting Disney. For one reason, it can still get quite warm. You may have 80F days where you'll want to hop in the pool and relax. The other reason is because most Disney World resorts heat their pools! If you're staying on site at a Disney resort, then the pools will be heated to around 80F, and you can certainly enjoy the pools year-round.
If you're looking for the best pools at Disney, we certainly have our favorites – and you don't want to miss them!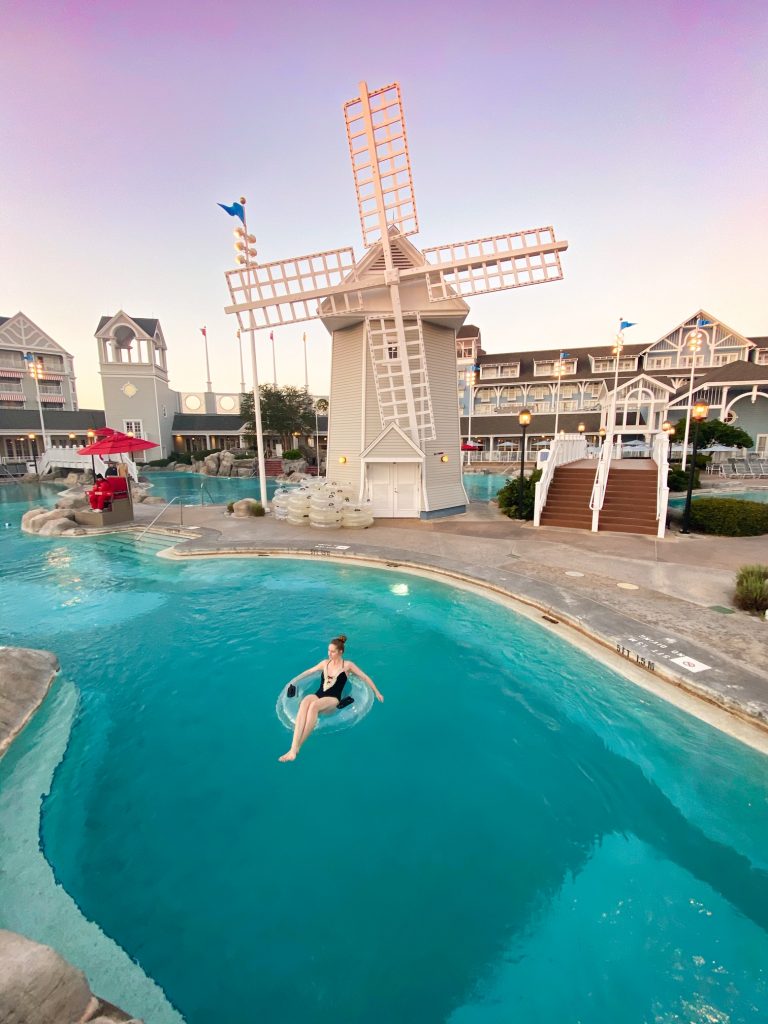 Be Prepared for Crowds in December
The winter months are notoriously less crowded than other times of the year at Disney World, but December is the exception. Christmas and holiday celebrations bring the crowds to Disney World, with many families choosing to celebrate at the parks. All 4 of the parks have special decorations, food, and offerings for the holidays, so while they're fun to see and take part in, be aware that the crowds will be a little heavier the entire month of December leading up to New Year's.
Tips for Visiting in January
If you plan on visiting during January, there are a few things to consider. One, January is the coldest of the winter months in Florida. If your trip is in January, then you will probably need a lightweight coat, pants, and cardigans or sweatshirts.
Also, be aware that the Martin Luther King Jr. holiday weekend can get very busy. Unlike most of January, this weekend will see high crowd levels. This is because any time locals are off for three-day weekends and the kids are out of school for a holiday, crowds pick up at Disney World. If possible, try picking another week in January.
Hours May Vary
Based off what month you're visiting, Disney World may have very different operating hours. December will have longer hours to accommodate the crowds, and to allow more guests to take part in the holiday festivities. January and February will have shorter hours on most days since the crowd levels are lower and Disney doesn't need the longer days.
Also, be aware that during January and February a lot of popular rides do go down for seasonal refurbishment. Most water rides, like Kali River Rapids, go down for cleaning and refurbishment this time of year. Disney World will also close one of their two water parks in order to do massive cleanings and refurbishments as well.
Festival of the Arts
If you're planning a trip to Disney in winter for January or February, then you will get to experience the EPCOT International Festival of the Arts. This is an amazing festival, and is seriously underrated. The food is delicious, fun, and innovative, as well as you have the opportunity to take home awesome art created by both Disney and local artists.
This festival is absolutely worth the trip, and although it isn't as large as the other EPCOT festivals, that doesn't mean it should be skipped. If you visit during January or February, make sure you spend at least one day at the festival watching the artists, enjoying the food, and the relaxed festival atmosphere.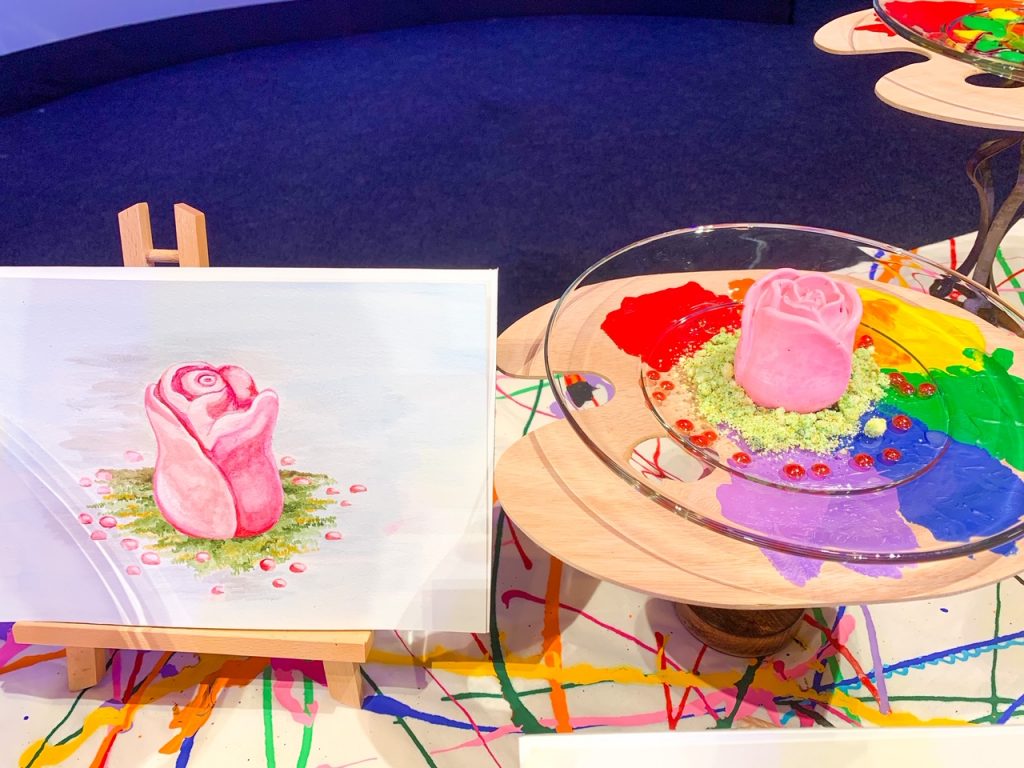 Try the Seasonal Offerings
If visiting during the winter months, make sure you try the seasonal and winter offerings for food and drink. During December all 4 parks will have food and drinks for the holidays, especially at the EPCOT International Festival of the Holidays – do the cookie stroll and try the holiday booths!
There will be lots of new and limited food and drink offerings during the winter months, and some will be tied to holidays and some to the festivals. You'll find lots of cookies, gingerbread flavored items, and peppermint flavored items – all the classic winter flavors. Don't miss out on any of these, as you may not ever get the chance to try them again.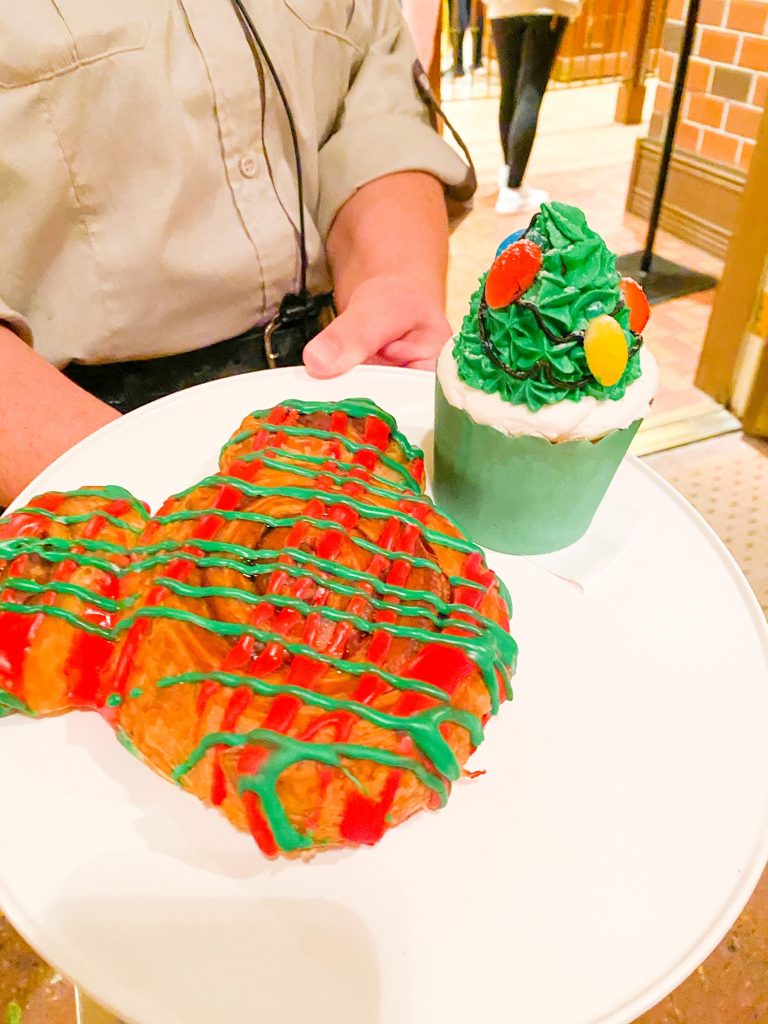 Catch the Characters in Winter Outifts
During the winter months, the characters will also be decked out in winter garb just like the parks. Mickey Mouse and the rest of the Fab 5 (Santa Goofy, anyone?) tend to be dressed in holiday outfits, and the princesses will be in their winter dresses as well. Take advantage of cavalcades, parades, and character meet-and-greets in order to catch everyone in their cute and cozy winter gear!
The princesses are extra beautiful during winter, and we think you can't miss them! Belle's velvet holiday dress is stunning, and Elsa and Anna are equally as gorgeous in their sparkly winter dresses.
Make Time to Visit the Resorts
When it comes to winter and holiday decor at Disney World, it isn't kept to just the 4 parks. All of the Disney World Resort hotels decorate for the holidays and you don't want to miss them.
The gingerbread houses are probably the most popular resort decorations during the winter season at Disney, and you'll actually be able to find gingerbread houses, carousels, towns, and lots of gingerbread to eat! Typically the Grand Floridian has the largest and most ornate display, and Disney's Beach Club Resort, Disney's Boardwalk Resort, Disney's Contemporary Resort, and Disney's Wilderness Lodge also put on gingerbread displays that also need to be seen.
If gingerbread isn't your thing and you're more of a Christmas tree lover, then you're in luck! Many of the resorts have over the top Christmas trees, with the Contemporary and Wilderness Lodge having some of the tallest trees at Disney World. Each tree is themed to the resort it's in, and these are absolutely stunning!
There's lots to see at the resorts during the holidays and winter, and we have some other favorites you don't want to miss!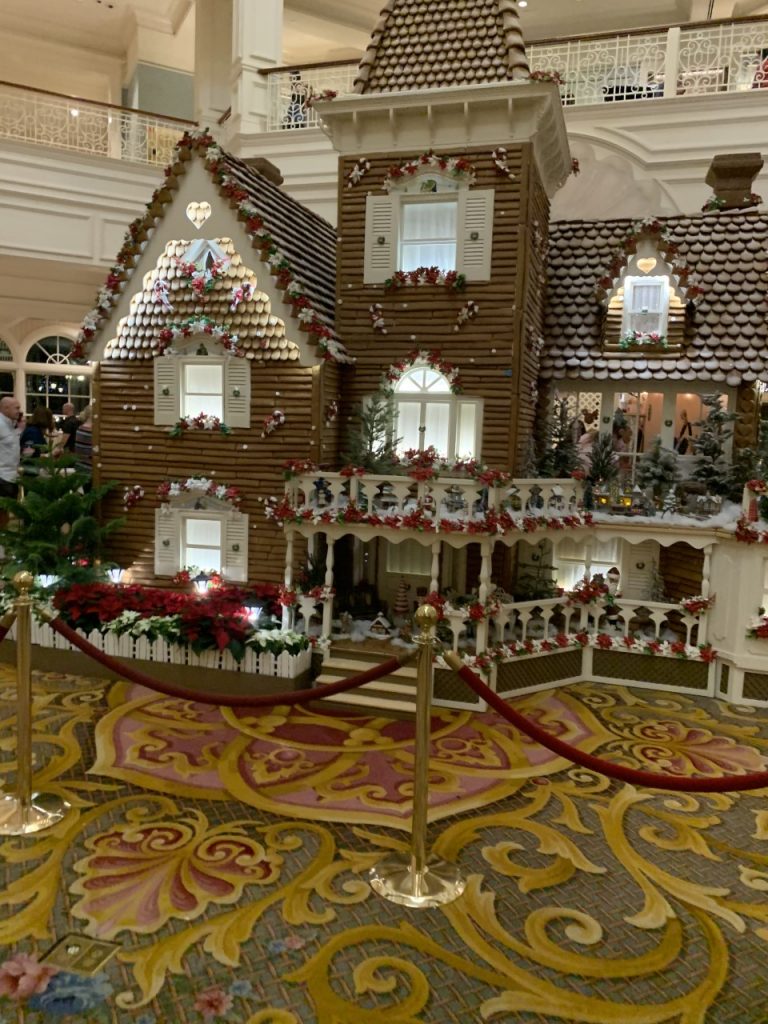 Going to Disney in winter is one of our favorite times to go, and we think you'll feel the same way after visiting. We hope that after reading our tips you are ready to plan your next trip to Disney in winter now, and you feel prepared to see, eat, and do all the seasonal things they offer! Don't miss out on the festivals, the decorations, and all the seasonal food and drinks.
So make sure you check that weather forecast before you go, be prepared for cool nights and warm days, and don't leave your bathing suit at home! Have you been to Disney World during the winter months before? Or are you eager to go now? Let us know in the comments!