Happy Halloween everyone! We have finally arrived at the best time of the year at Disney World – the holidays! Starting with Halloween (which really begins in August at Disney) and ending with the New Year, Disney World is a constant celebration of different holidays. It's even crazier now with the 50th anniversary this year!
The first event of the holidays is Disney's After Hours Boo Bash. In the past, there was Mickey's Not So Scary Halloween Party. Now they have the new Boo Bash event. So you're probably wondering, "is Boo Bash at Disney World worth it"? We're here to help answer those questions!
We will go over pricing, what to expect, characters, dates, entertainment, and much more! Whether you already have tickets or you're wondering if you should try to get last minute tickets, we have the answers to your questions!
What Is Disney World's Boo Bash?
Disney After Hours Boo Bash is a new separate ticketed event that started this year at Magic Kingdom. If you have ever been to Mickey's Not So Scary Halloween Party and a Disney After Hours Event, it's basically the two events smushed into one. However, it does lean more towards being an After Hours Event than the Halloween Party.
You do not need a park ticket to get into the Disney Boo Bash. Since it is a separate ticketed event, you only need that event ticket to attend. The only reason you would need a park ticket for the day is if you want to visit another park or Magic Kingdom before the party starts.
Any guest who is at Magic Kingdom before the party, but does not have a Boo Bash ticket once the party starts will be asked to leave. They can always try to purchase a ticket for the event that night if there are any available.
Boo Bash only happens on select Tuesday, Friday, and Sunday nights from August to the end of October. The times are either 9:30 p.m. to 12:30 a.m. or 9 p.m. to 12 a.m. depending on the date. (Note that at the time of writing this, the dates with all the 9:30 times have already passed, so it's only the 9 p.m. time from now on).
Even though the party starts at 9, guests with a Boo Bash ticket will be able to enter the park as early as 7 p.m. This gives you 2 extra hours in the park before the party even starts!
A great perk of attending Boo Bash is that everyone can dress up in their favorite costume, young or old! There are some rules though, so make sure to check the Disney costume guidelines before you go.
Even though Disney's After Hours Boo Bash isn't as grand as Mickey's Not So Scary Halloween Party, there is still plenty to do and see. There is trick-or-treating all around the park for all ages, characters in their best Halloween costumes, cavalcades, treats, and more!
The bad news is that every date for the Boo Bash is currently sold out online. There is some hope though! Some events have extra tickets for purchase the day of, even though it is technically sold out. I was able to go to the Transportation and Ticket Center on a Friday in September and purchase Boo Bash tickets for that night. Unfortunately, we cannot guarantee that Disney will be selling extra tickets the day of for each party, but it doesn't hurt to try if you really want to go!
The earlier you try to purchase tickets in the day, the better chance you might have of scoring. Also, the closer it gets to Halloween, the harder it is to buy tickets. Halloween was the first date to sell out, and it will also be the busiest.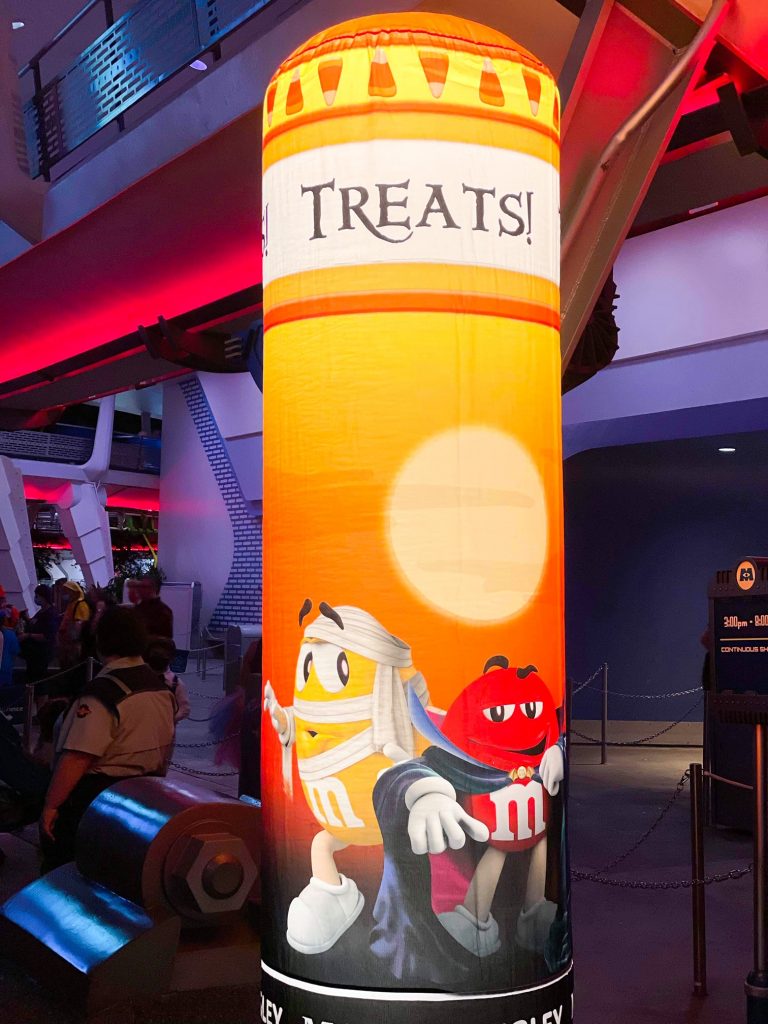 What Are The 2021 Dates For Disney After Hours Boo Bash?
As we mentioned earlier, Disney Boo Bash only occurs on select Tuesdays, Fridays and Sundays from August to October. Since certain event dates have already occurred, I'll only include the dates that haven't happened yet. Visit the Disney website for all the dates of Boo Bash.
The following After Hours Boo Bash events in 2021 take place from 9 p.m. to 12 a.m.:
Tuesday, October 5
Friday, October 8
Sunday, October 10
Tuesday, October 12
Friday, October 15
Sunday, October 17
Tuesday, October 19
Friday, October 22
Sunday, October 24
Tuesday, October 26
Friday, October 29
Sunday, October 31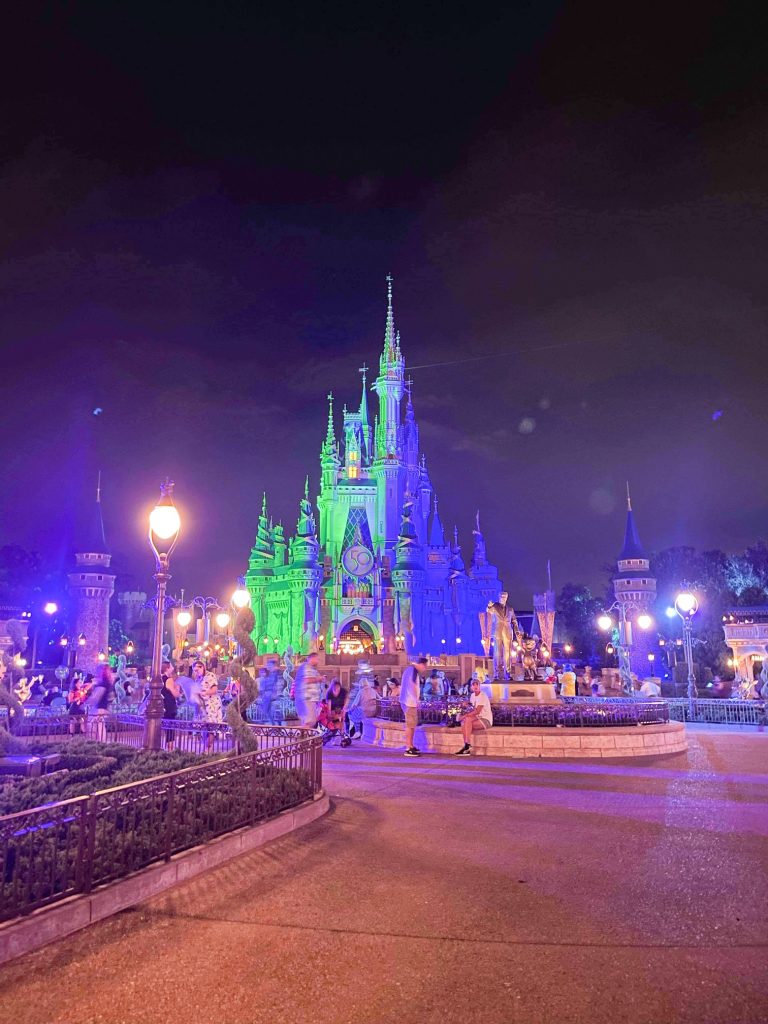 What Are The Prices For Disney Boo Bash?
We're not going to lie to you, the Disney Boo Bash tickets come at a hefty price. The price is $129 to $199 per adult or child depending on the date. The cheapest dates were in August and September.
For October, you're looking at spending $159 to $169 per ticket. This doesn't include Halloween, which is the most expensive at $199 per ticket. Halloween most likely won't have more tickets available for purchase the day of (but hey, it never hurts to try).
These prices are crazy compared to what Mickey's Not So Scary Halloween Party prices used to be. The most expensive ticket for MNSSHP was around $135, which is close to the cheapest ticket price for Disney Boo Bash. That is totally insane!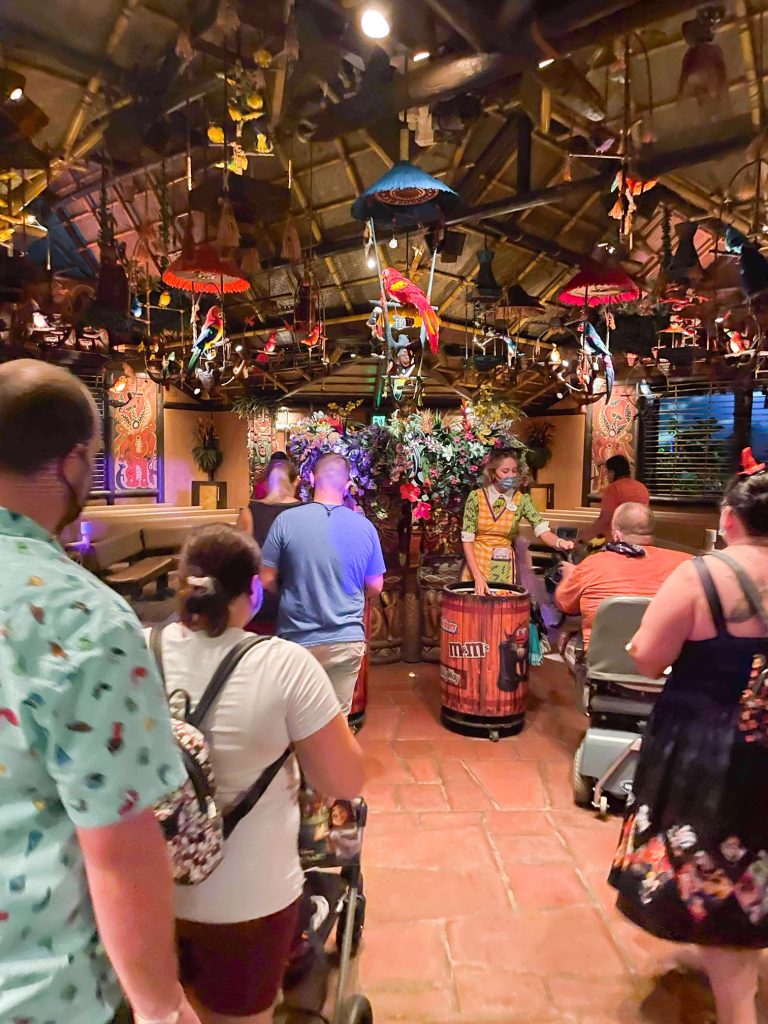 Getting Your Boo Bash Wristband
If you arrive at 7 p.m. or later, you will have a wristband put on you as soon as you enter the park. If you will already be in Magic Kingdom before 7, you will need to get a wristband between 7 and 9 p.m. to prove that you are there for the event. Once 9 p.m. hits, cast members will start to kick out any guest without a wristband.
There are a couple of places where you can get your wristband from inside the park. The first location is right outside Tortuga Tavern in Adventureland. The second wristband location is directly across from Monster, Inc. Laugh Floor.
To prove that you have tickets to the Disney After Hours Boo Bash, you will have to scan your magic band or park ticket. If you buy the tickets the day of the party, a cast member will give you physical tickets for just the Boo Bash event at the time of purchase. You will then use these tickets to get into the park.
Once you have a wristband on, you will no longer need to scan your magic band or ticket to prove that you are there for the event.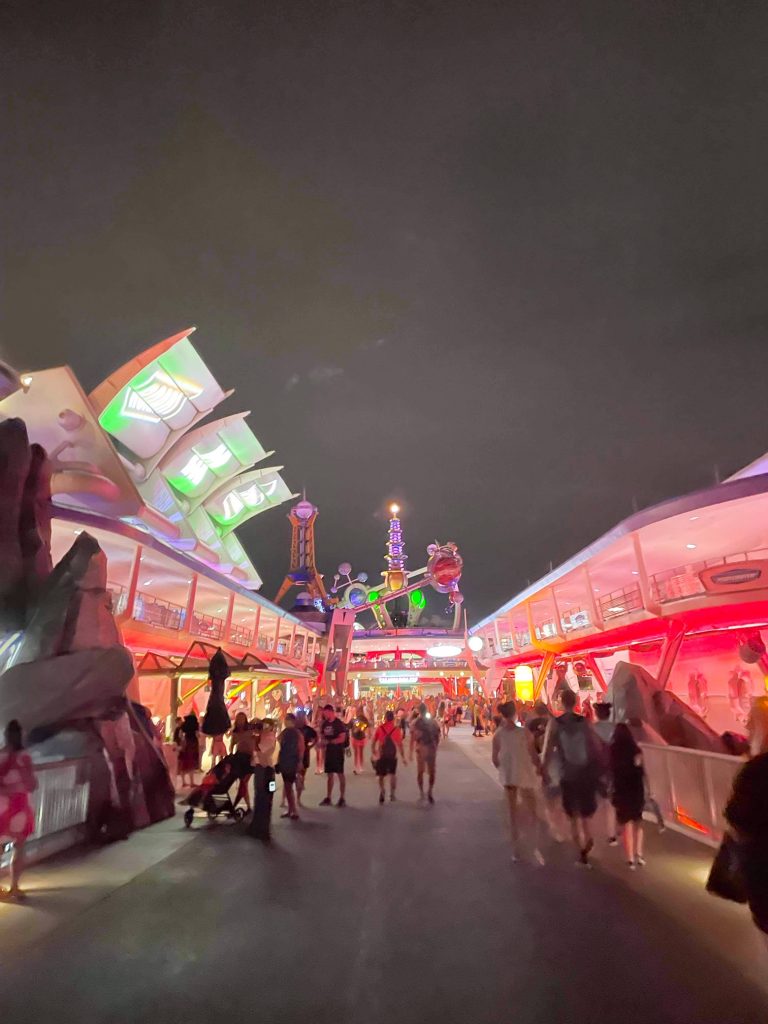 Trick-or-Treating at Boo Bash
There are trick-or-treat locations all throughout Magic Kingdom. Pick up a Disney Boo Bash map as soon as you enter the park to see exactly where each treat location is. Also grab a trick-or-treating bag from a cast member or bring your own!
Some attractions will be closed due to being turned into a treat location. Here is a list of all the trick-or-treat locations:
Enchanted Tiki Room (closed during the event)
Pecos Bill Tall Tale Inn and Cafe
Ariel's Grotto
Pinocchio Village Haus
Pete's Silly Sideshow
Cosmic Ray's Starlight Cafe
Monsters, Inc. Laugh Floor (closed but they have a constant show occurring that you can sit and watch)
If you need allergy friendly treats, ask for a blue allergy-friendly specific trick-or-treat bag. When you stop at treat locations, this alerts cast members to give you a treat token instead of the candy. These tokens can be used to redeem allergy-friendly treats at the redemption spot in Liberty Square Guest Services.
Last but not least, don't forget to say trick-or-treat at each treat location to get your candy!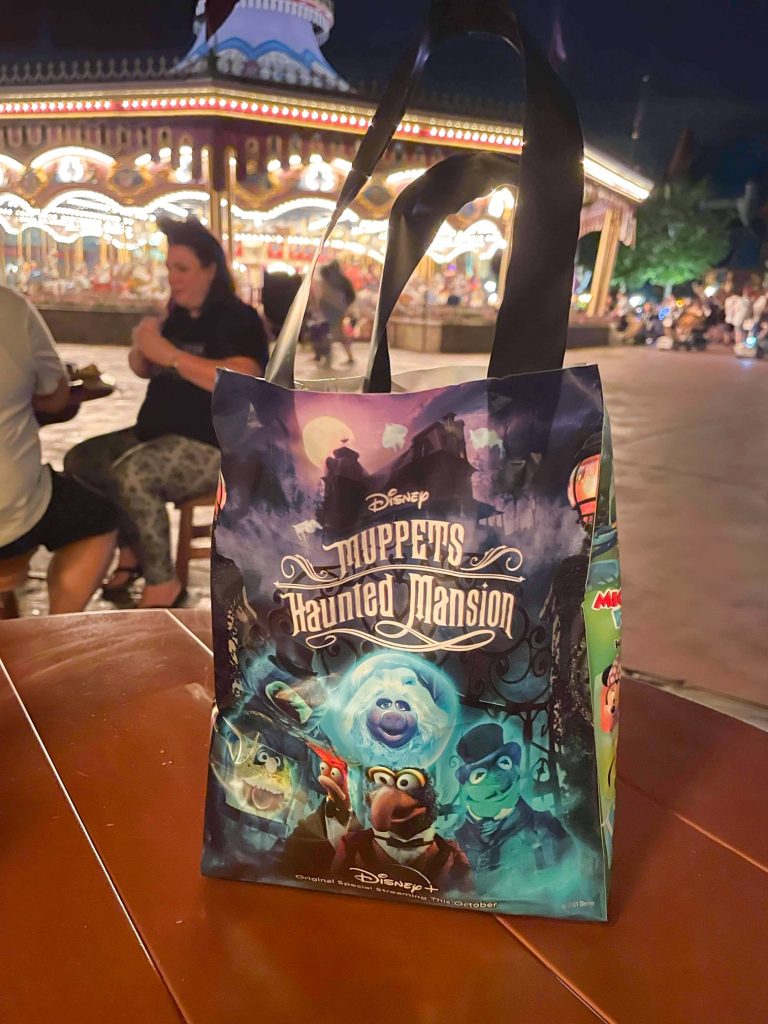 Special Entertainment At Disney's Boo Bash
Disney Boo Bash isn't all about the candy! There is also some special entertainment to enjoy during the event.
The first entertainment you'll see (even though it isn't for the event) is the firework show! Non-event guests and event guests will be able to watch this show right before the park closes. The firework show time for the night we were there was at 8:45 p.m., but check the times before your event date to ensure you don't miss it!
The original firework show was Happily Ever After. However, by the next party date, the new firework show will be performing! The Disney Enchantment firework show began on October 1, and the first time they will be shown at Boo Bash is on October 5.
If you need to let off some steam during the event, head over to the DJ Dance Party. It begins at 9:30 p.m. and goes until 12:30 a.m. over in Tomorrowland at the Rockettower Plaza Stage. Dance the night away to some groovy music!
If dancing isn't your thing, how about signing? No one is going to make you sing, but you can listen to the Cadaver Dans Barbershop Quartet performing spooky songs in Frontierland near the Country Bear Jamboree. They will be out to sing at 9:40, 10:20, 11:05, and 12:10.
There will also be Boo Bash specific cavalcades during the event. Think of these as mini parades with one float. They will all start in Frontierland and end on Main Street. There are two different times for each cavalcade to give guests some flexibility.
Mickey's Happy Halloween Cavalcade showcases Mickey and his friends in their best Halloween costumes. The times for this cavalcade are 9:55 p.m. and 11:25 p.m.
Next is the Disney's Villains Halloween Cavalcade which includes Jafar, the Evil Queen, Bowler Hat Guy, Dr. Facilier, and the Queen of Hearts. The times are 10:30 p.m. and 11:45 p.m.
After that is Jack's Nightmare Cavalcade with the characters from Nightmare Before Christmas. The characters on this float are Jack Skellington, Sally, and Oogie Boogie. The times are 10:40 p.m. and 11:55 p.m.
Lastly is Maleficent's Fiery Prowl with the dragon version of Maleficent. Watch out, she breathes fire! The times are 10:50 p.m. and 12:05 a.m.
As you can see, each round of cavalcades is 10 minutes apart, so you can stay in one area to watch all the cavalcades back to back.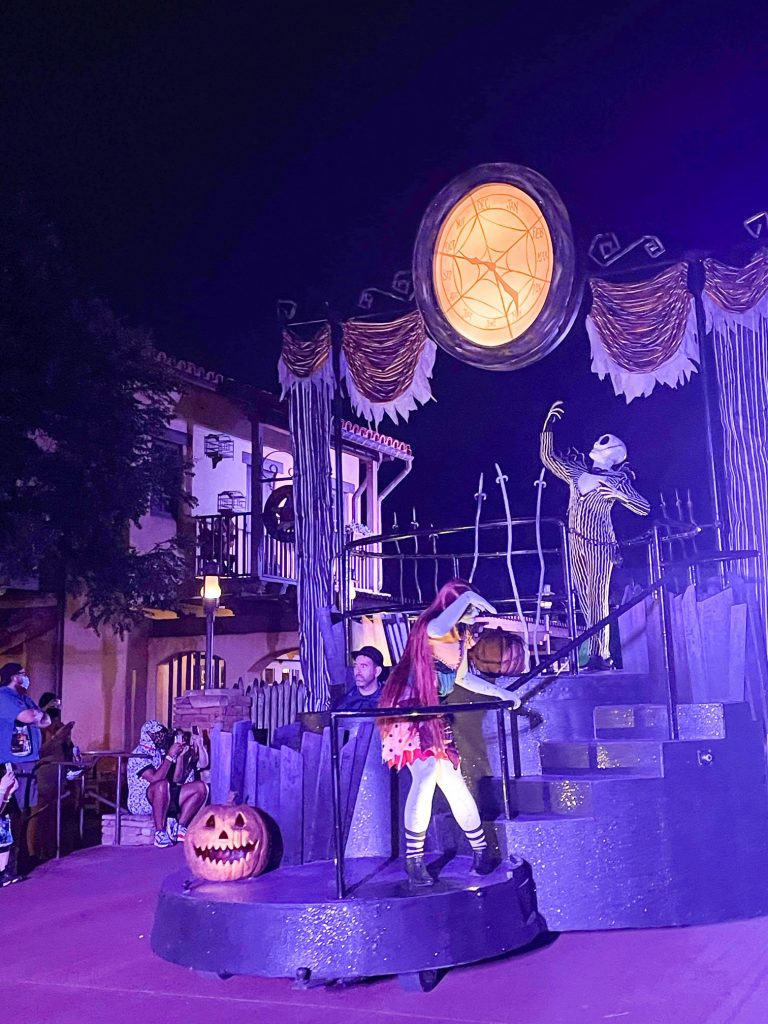 Dining Options For Disney's After Hours Boo Bash
To be completely honest with you, there isn't a whole lot in terms of dining when it comes to Disney Boo Bash. There are free snacks and places to buy seasonal snacks, but there aren't really any places open with full meal options during the event from 9 to 12.
We recommend eating before you get to Boo Bash, or from 7 to 9 p.m. while restaurants are still open at Magic Kingdom.
Included Food Options
One of the easiest ways to justify the price of Disney Boo Bash is all the free snacks you can get! Besides the free candy during trick-or-treating, there are also several places you can get free snacks.
Any outdoor vending cart that is open during the event will be handing out free popcorn, drinks, and ice cream novelties. This includes the oh so famous Mickey Bars!
If you want to make back some of the money you spent for Boo Bash, eat as many free snacks as you can! Or even grab a couple of sodas right before you leave to stash in your hotel fridge.
This was one of our favorite features of the event, but if you don't like any of these snacks then it might not be worth it to you.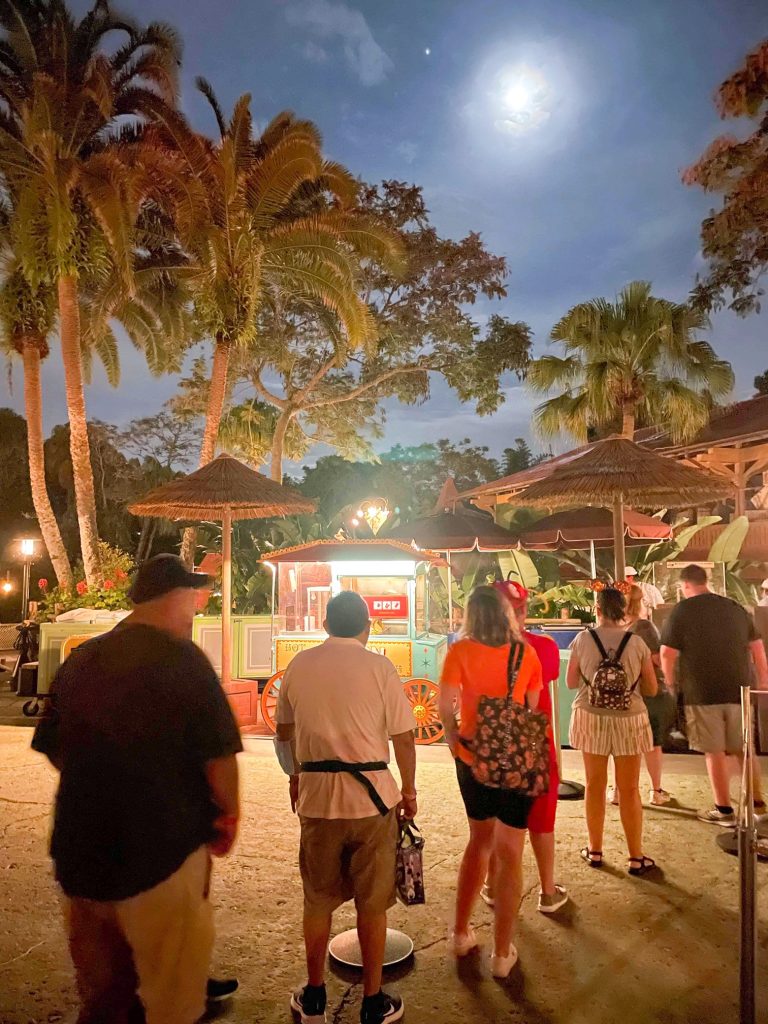 Seasonal Snacks For Purchase
If you're in the mood for something a little more themed, try some of the seasonal snacks that you can purchase throughout Magic Kingdom. You will only be able to get these snacks while attending Boo Bash.
The Mickey Cinnamon Roll at Main Street Bakery is the only snack at Boo Bash that is offered during the event but is also available for purchase during normal hours. It's basically just a regular Mickey shaped cinnamon roll with an orange drizzle. This snack is $6.49.
You can find the Maleficent Churro at the Main Street USA Snack Cart. It is described as "a churro covered in chocolate cookie crumbles, drizzled with purple icing topped with green and purple sprinkles". You can get this treat for $7.
You can find both of these next two drinks at the Golden Outpost in Frontierland. It's the Apple Ginger Dale Frozen Drink and the Mocha Chocolate Chip Frozen Drink. The Apple Ginger Dale is described as "frozen apple cider mixed with ginger ale and topped with whipped cream and a chopped Twix bar". This drink is $5.99.
The Mocha Chocolate Chip is described as "a frozen mocha topped with whipped cream, chocolate chips, and a sugar acorn". This drink also costs $5.99.
My favorite snack of the night was the Foolish Mortal Funnel Cake at Sleepy Hollow in Liberty Square. This is both because I love Haunted Mansion, and it was delicious! It's a funnel cake "topped with chocolate cookie crumbles, purple vanilla ice cream, caramel drizzle, and M&Ms". Can you say sugar rush?! You can get this treat for $7.99.
The Prince John Sucker Frozen Drink can be purchased at Auntie Gravity's in Tomorrowland. It's a "tart green apple-lemonade slushy topped with whipped cream and a ring pop". This drink is $5.99.
The last seasonal snack available is the Five Dozen Egg Frozen Drink. It can be found at Storybook Treats in Fantasyland. This is a "frozen custard with brown sugar topped with whipped cream and a cinnamon stick". It tasted like a snickerdoodle cookie and it was pretty thick like a custard. Fair warning: it's very sweet but delicious. It costs $5.99.
There aren't as many options at Boo Bash as there was in the past at MNSSHP, but there are some pretty good contenders.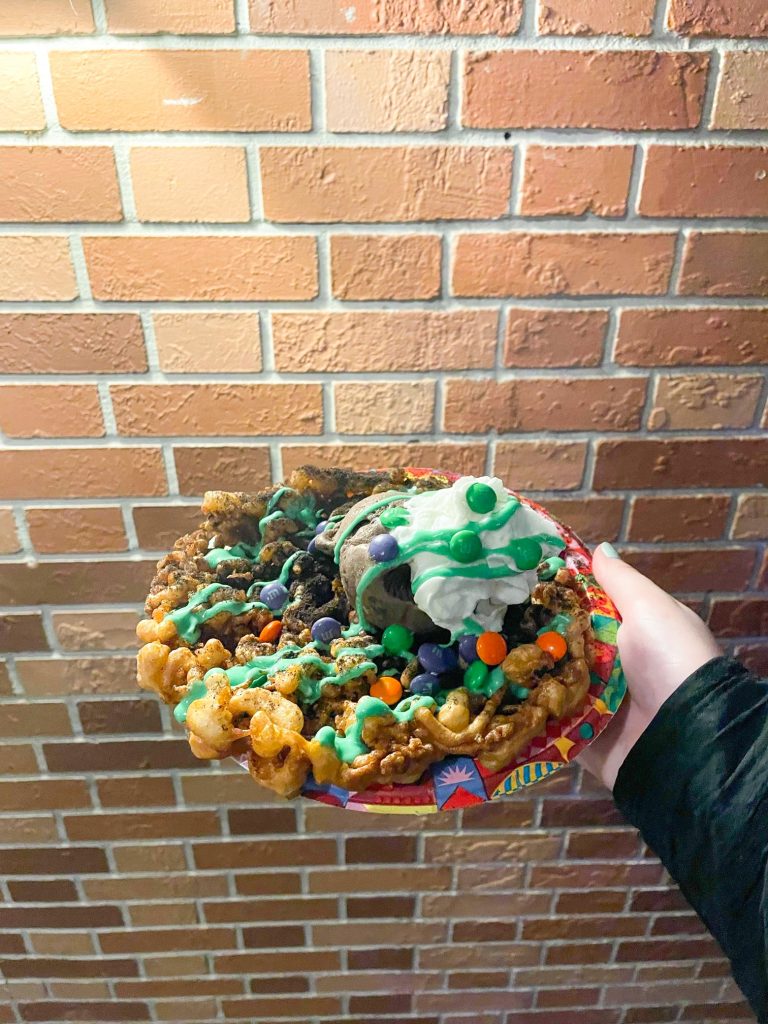 Magic Kingdom Restaurants That Remain Open
Unfortunately, there are not a whole lot of dining options once Disney Boo Bash begins at 9. The only quick service restaurants open are the ones with special seasonal snacks (except for Joffrey's in Tomorrowland because that is also open during the event).
None of the table service restaurants are open during Boo Bash either. If you really want to dine at a table service restaurant before the event officially begins, you can make a reservation during the 7-9 window.
We don't recommend doing this unless you were already in Magic Kingdom during the day. If you eat at a table service restaurant during this time, you won't be able to ride as many attractions and/or you might miss the fireworks.
If you want to eat in the park before the event starts, try eating at one of the quick service restaurants while they are all still open. This will be much quicker than eating at a table service location.
The quick service restaurants that remain open to sell their seasonal treats will also have their normal menu as well. For example, Sleepy Hollow was still selling their corn dog, so there is still some opportunity for food around the park.
List of the Quick Service Locations that will remain open:
Main Street Bakery
Sleepy Hollow
Golden Oak Outpost
Storybook Treats
Auntie Gravity's
Joffrey's
Characters You Can See At Boo Bash Disney
There are a select number of characters you will be able to see at Disney Boo Bash. You can only look and take pictures from afar. You will not be able to meet them up close or get any autographs.
Even though you only get to see them from a distance, some of the characters are wearing really cute costumes. The characters you will see in Halloween costumes are:
Crystal Palace
Winnie the Pooh as a bee
Piglet as a butterfly
Tiger as a pirate
Eeyore as a clown
Across from Pirates of the Caribbean
Near Country Bear Jamboree
Chip as a pirate
Dale as a vampire
Characters that are not dressed in a Halloween costume are:
Foulfellow and Gideon at Pinocchio Village Haus
Madame Carlotta, Madame Renatta, and Broome the Butler in front of Haunted Mansion
This does not include the characters you will get to see during the cavalcades.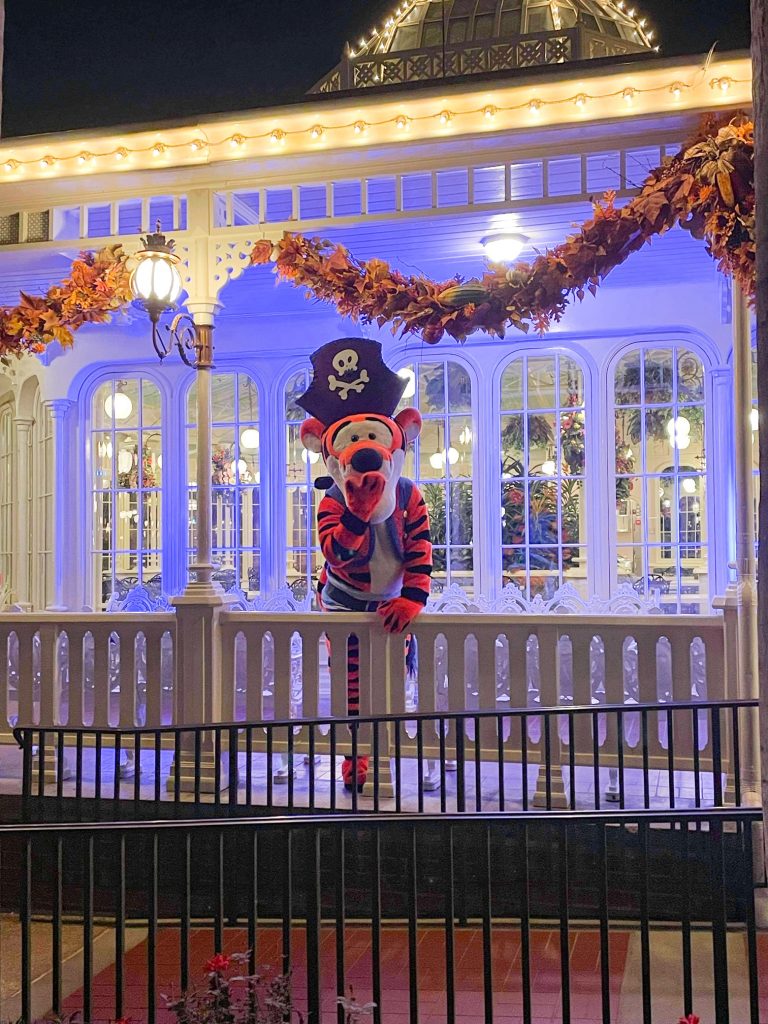 PhotoPass Opportunities At Boo Bash
A really fun feature at Disney Boo Bash is the PhotoPass Magic Shots. There will be PhotoPass photographers around the park to take regular photos, but there will also be photographers who can do Magic Shots.
During a Magic Shot, the photographer will have you stand in a certain location and strike a certain pose. Once the photo is uploaded to your PhotoPass photo collection, you will see your picture with graphics added to it. A regular and popular Magic Shot during the day is to have Tinker Bell standing in your hands!
At this event, there will be Magic Shots that you can only get at Boo Bash. We highly recommend taking advantage of this if you have a Memory Maker.
The locations with Magic Shots at Boo Bash are:
Right outside the Hall of Presidents in Liberty Square
Main Street in front of the castle by Casey's Corner
In Town Square by the flagpole
Behind Prince Charming's Carousel near the bathroom in Fantasyland
Outside Columbia Harbour House and across from Haunted Mansion in Liberty Square
All you will need to take a PhotoPass picture is your Magic Band or a park ticket for the photographer to scan. Then the photos will be uploaded to your My Disney Experience.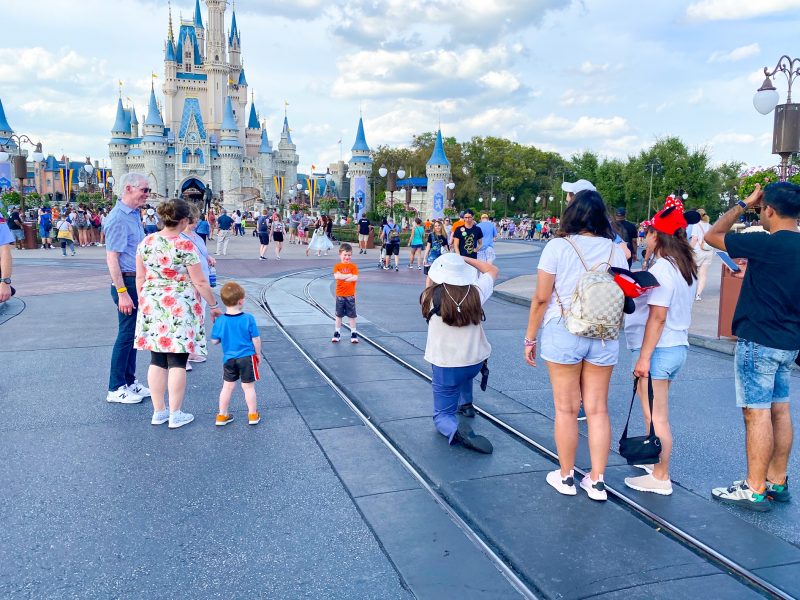 Rides That Will Be Open During Disney Boo Bash
Unfortunately, not all of the Magic Kingdom attractions will be open during the event. Some are closed because they have been turned into a treat location and some are just closed in general. However, the majority of things are open! You really aren't missing out on much.
These are the rides that will be open during Boo Bash:
Tomorrowland
Astro Orbiter
PeopleMover
Tomorrowland Speedway
Fantasyland
Mad Tea Party
Seven Dwarfs Mine Train
Dumbo the Flying Elephant
The Barnstormer
Under the Sea – Journey of the Little Mermaid
Prince Charming Regal Carrousel
"it's a small world"
Peter Pan's Flight
Liberty Square
Frontierland
Country Bear Jamboree
Big Thunder Mountain Railroad
Adventureland
Pirates of the Caribbean
Magic Carpets of Aladdin
Jungle Cruise
Swiss Family Treehouse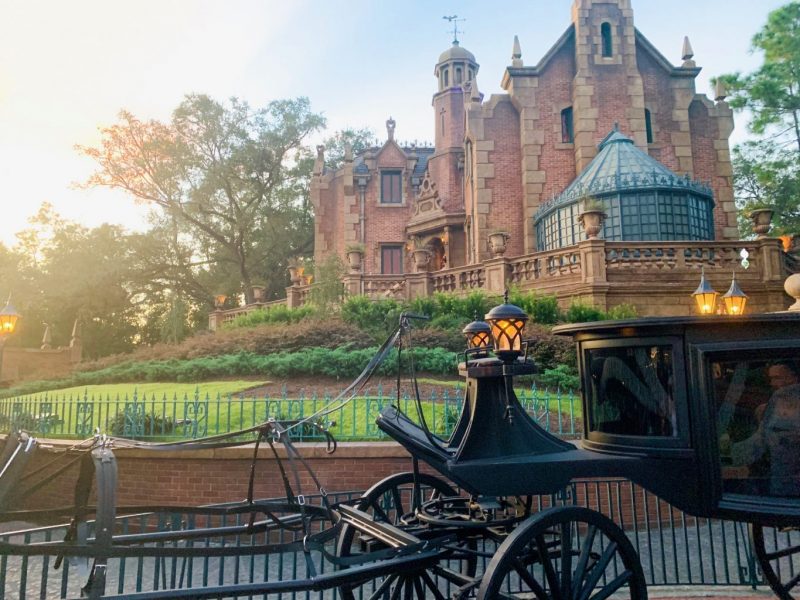 Boo Bash Halloween Party Park Touring Strategy
It can be helpful to go in with a plan for any Disney event. I'm going to tell you my touring strategy for Boo Bash. We were able to get everything done and still have time for rides. You do not have to follow this plan but it's just a suggestion that we found to work.
We got there right at 7 p.m. when they were letting the Boo Bash ticket holders into the park. It didn't take too long to get through the line. As soon as you scan your ticket, you get your wristband, a Boo Bash event guide, and a trick-or-treating bag from cast members.
We knew the Boo Bash event wasn't going to officially start until 9 p.m., so we had 2 hours to kill. During these 2 hours, we ate some food at Pinocchio Village Haus (so we could watch the "it's a small world" boats through the window), and spent some time riding attractions.
We personally decided not to watch the fireworks, and rode some more rides instead. I'm a sucker for Big Thunder Mountain Railroad at night, especially if you can ride it while the fireworks go off. However, if you really want to watch the fireworks, this is the perfect time to do so.
As soon as the firework show has ended, cast members will begin to herd non-event guests out of the park. Just make sure you have your wristband on so you can prove you are there for Boo Bash!
Right before 9 p.m., we got in line for our first treat location. We started in Adventureland because we knew that we wanted to end in Frontierland for the second round of the cavalcades. Then we made our way through each treat location from Adventureland to Frontierland to Tomorrowland and then through Fantasyland. We were able to even go through some lines twice.
While making our way around the park to trick-or-treat, we would stop at outdoor vending carts for free snacks and some quick-service locations for the special Boo Bash treats. Along the way you will also see characters at their respective locations.
During your tour around the park, you could also stop to ride any more attractions that you wanted to. The waits will be significantly shorter, so this is a great time to do so.
Once we got to Frontierland, we waited for the cavalcades across from Pecos Bill. We love being at the beginning of the cavalcades, but you are more than welcome to watch them from wherever you prefer!
In between each cavalcade, we would run back into Pecos Bill for another round of trick-or-treating. You have 10 minutes between each cavalcade, so it's very easy to get more candy or even grab a free snack.
The last cavalcade was at 12:05 a.m., so right after that ended we were ready to go home.
I really enjoyed our park touring strategy because we were never in a rush anywhere. We were able to take our time walking through Magic Kingdom and really embrace our surroundings. One of my favorite parts of Boo Bash was just taking a break to eat a snack and people-watch to see all the fantastic costumes. This could even be turned into a fun game to try to guess what other people are dressed as!
You definitely will not need to rush around the park to get everything done. Take your time and just enjoy the event!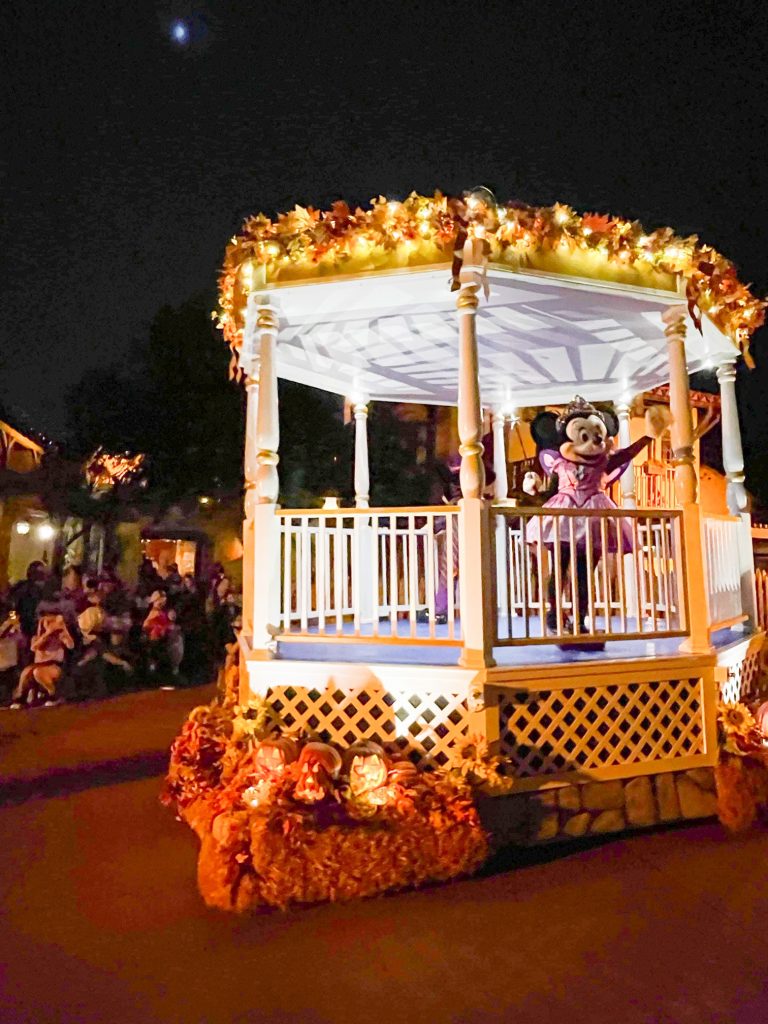 Who Should Attend Boo Bash?
We personally believe that you should attend Boo Bash if you have never been to Mickey's Not So Scary Halloween Party. This is because you don't really know what you're missing out on, and you have nothing in the past to compare the Boo Bash to.
That's not to say you shouldn't go if you have been to MNSSHP, but be prepared to be disappointed if you are expecting the same features as the past Halloween Party.
We also think you should attend if you really just want to enjoy trick-or-treating, free snacks and the ambiance of Magic Kingdom after hours. Magic Kingdom is so much fun at night, especially when it isn't as crowded as it is during the day time.
We had a great time just walking around, eating food and seeing everyone's great costumes! As long as you don't expect all the bells and whistles of the Halloween Party from the past, we believe you can still have fun at Boo Bash.
Also if you are bringing your kids to Boo Bash, they will definitely have fun just trick-or-treating and getting to dress up! The money can be worth it to see the huge grin on your child's face.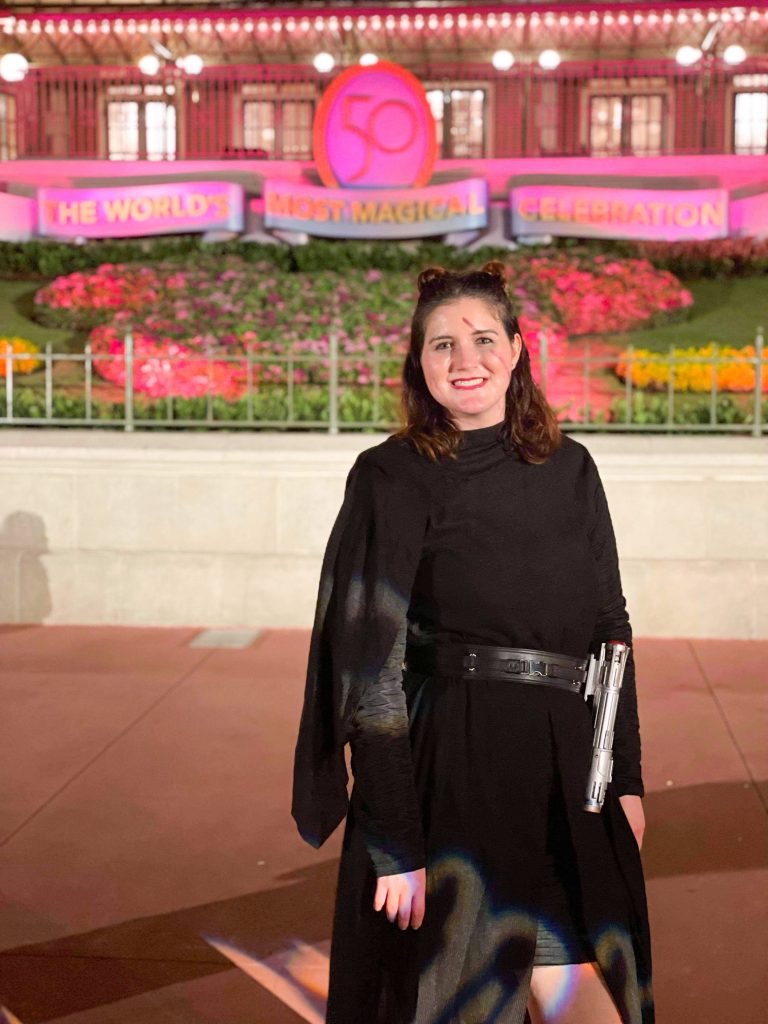 Who Should Skip Boo Bash at Disney?
You should definitely skip Disney Boo Bash if you are expecting the same level as Mickey's Not So Scary Halloween Party because Boo Bash is only a fraction of what the old Halloween Party used to be.
If you want to be entertained constantly from the start of the event to the end, we don't recommend going. There wasn't a whole lot to do, so you have to be fine just enjoying what you are given.
One of my biggest disappointments was that there was no special merchandise exclusive to Boo Bash, and there were no ride overlays like in the past. Every year, MNSSHP would come out with special merch that you could only get during the party. Boo Bash will be selling the Halloween merch that anyone can get throughout the day at the park.
I really enjoyed the ride overlays from past Halloween parties. Disney added live actors to Pirates of the Caribbean, made Space Mountain completely dark, and much more. All the rides stayed exactly the same this year at Boo Bash.
If you are expecting to get special Boo Bash merch or fun ride overlays, we don't recommend going because you won't get these things.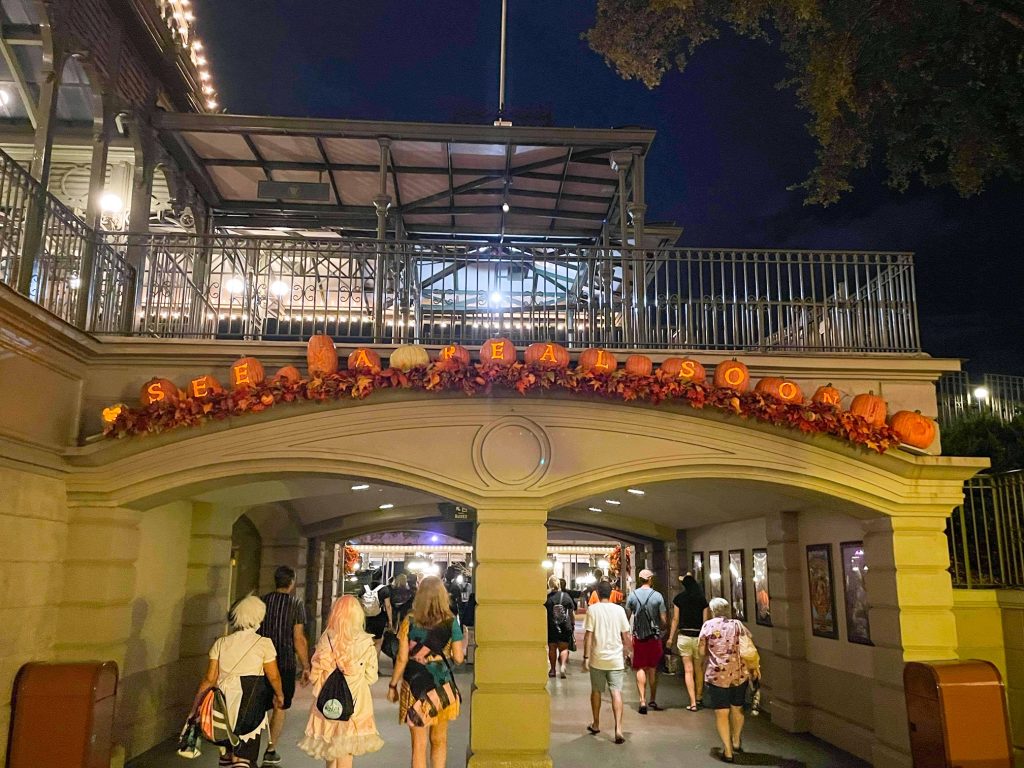 Overall Disney's After Hours Boo Bash was fun, but I wouldn't necessarily say it was worth the money. You have to be fine with receiving way less while paying more than the original Halloween Party price. I had a fun time when I went, but I probably wouldn't go again.