Have you been scouring the internet for the official Magic Kingdom map? Look no further! This guide includes the official Magic Kingdom map, as well as instructions on how to use the interactive Magic Kingdom map on the My Disney Experience app and tips for visiting the park!
If you've ever been to a Disney park, you know that there's so much to see and do. There are tons of rides, shops, restaurants, characters, and shows that are all worthy of your time and attention. In other words, having a map at any Disney park is vital. And just imagine trying to manage all of these things to do while in the most popular Walt Disney World park: Magic Kingdom. That's why using an official Magic Kingdom map is essential to having a wonderful day in the park.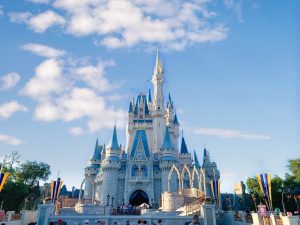 The Official Magic Kingdom Map + Tips For Your Visit
Understanding Magic Kingdom Lands
There are six lands in Magic Kingdom: Main Street USA, Tomorrowland, Fantasyland, Liberty Square, Adventureland, and Frontierland. Each land houses all of the rides and attractions at Magic Kingdom!
Main Street, USA is home to tons of entertainment options. Meet the jolly residents of Main Street, listen to the Main Street Philharmonic, watch the Disney Festival of Fantasy Parade, and dance along with the Move It! Shake It! Dance & Play It! Street Party. It is also home to some Magic Kingdom Quick Service options!
Tomorrowland aims to provide a glimpse of the wonders of the future. Basically, you'll get a lot of monster-related and space-related activities. Take part in the Monsters, Inc. Laugh Floor or Stitch's Great Escape to get your dose of Disney's friendly monsters.
As for the space part of Tomorrowland, head to Space Mountain, Astro Orbiter, and Buzz Lightyear's Space Ranger Spin. You can even continue the space theme into a meal at Cosmic Ray's Starlight Café!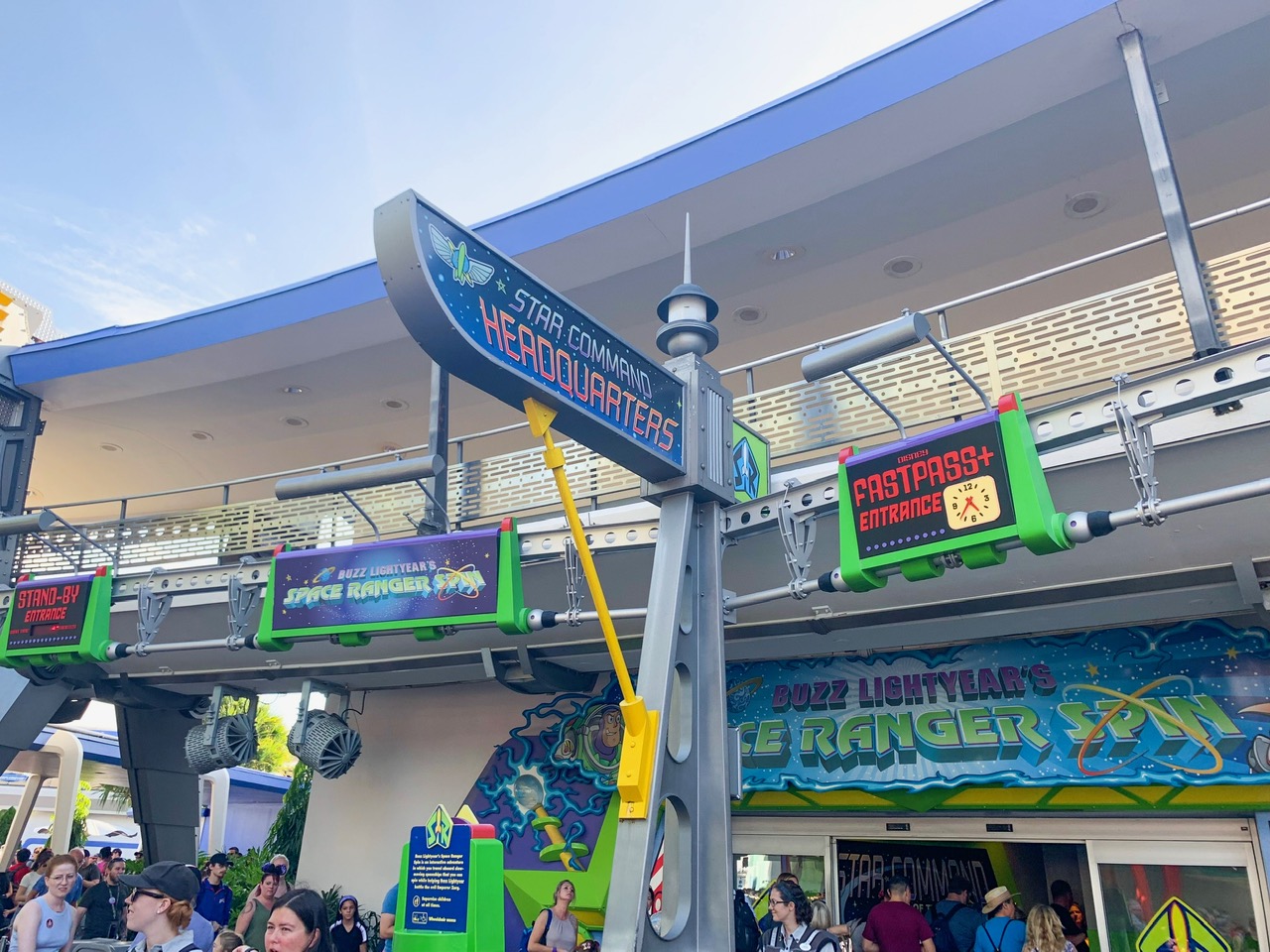 If you continue around the circle, Fantasyland is up next. This Magic Kingdom land is filled with rides and restaurants inspired by everyone's favorite Disney animated movies. Ride Peter Pan's Flight, spin around in a beautiful teacup at the Mad Tea Party, and get the thrill of a lifetime on the Seven Dwarfs Mine Train. As for dining, stop by Cinderella's Royal Table, the Be Our Guest Restaurant, or The Friar's Nook.
Liberty Square is the smallest of all of the Magic Kingdom lands. That said, be sure to stop by the Haunted Mansion! And don't forget to grab something to eat either from the quick service option, Sleepy Hollow, or the table service option, Liberty Tree Tavern.
Although Adventureland is also quite small, it has so much to do! Ride on the Jungle Cruise and embark on an adventure on the Pirates of the Caribbean ride. Grab some delicious dishes from Asia, Africa, and South America from Jungle Navigation Co. Ltd. Skipper Canteen, one of the best Magic Kingdom restaurants. You will finish off your meal with an iconic dole whip from Aloha Isle.
From Adventureland, it's not a far walk to Frontierland. In addition to being home to arguably the best quick service restaurant in Magic Kingdom, Pecos Bill Tall Tale Inn and Cafe, Frontierland is also where quite a few fantastic rides are located, such as Big Thunder Mountain Railroad.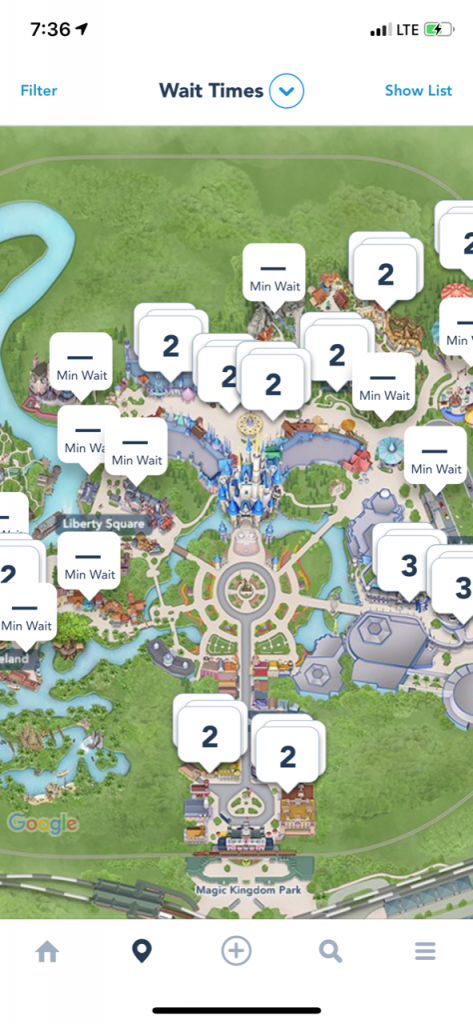 The Official Magic Kingdom Map
This is the official Magic Kingdom map from the Walt Disney World website, so you know that it's accurate. It is free to download to take with you on your trip! I recommend downloading it and saving it to the photos on your phone, so it'll always be accessible. If hard copies of maps are easier for you, no problem! Print it out before you head to Magic Kingdom, and you'll be all set! This way, you can see it next to you and can even write over it and fill things in! 
**CLICK HERE TO DOWNLOAD THE OFFICIAL MAGIC KINGDOM MAP**
If you want the most updated map of Magic Kingdom on the Walt Disney World Resort website, pick "Magic Kingdom" as the theme park under "Parks & Tickets." Then, on the left-hand side under the main picture, there will be the option to "Download Printable Map." This works if you want to see a specific map for a specific park event. Otherwise, the Magic Kingdom map linked here will be perfect for your use!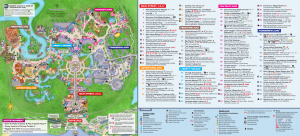 Interactive Map Of Magic Kingdom On My Disney Experience
My personal Disney map preference is to use the My Disney Experience App. Once you open it, the first thing that will pop up under the Walt Disney World is an interactive map of Walt Disney World. Tap on this map!
Then, use your hands to "zoom out" to see the entire Walt Disney World Resort property. Then scroll around until you find "Magic Kingdom" and you will have a fantastic Magic Kingdom map right at your fingertips. This map is even better than the PDF above, because it is interactive and frequently updated!
You can "pinch" the map of Magic Kingdom to zoom in and see specific attractions in the park that you are searching for. At the top of this "map" section, there is even a drop down which is set to "wait times" but you can click it and change it to anything that you would like!
This is where you want to keep track of wait times and when to return for your Magic Kingdom Fastpass windows!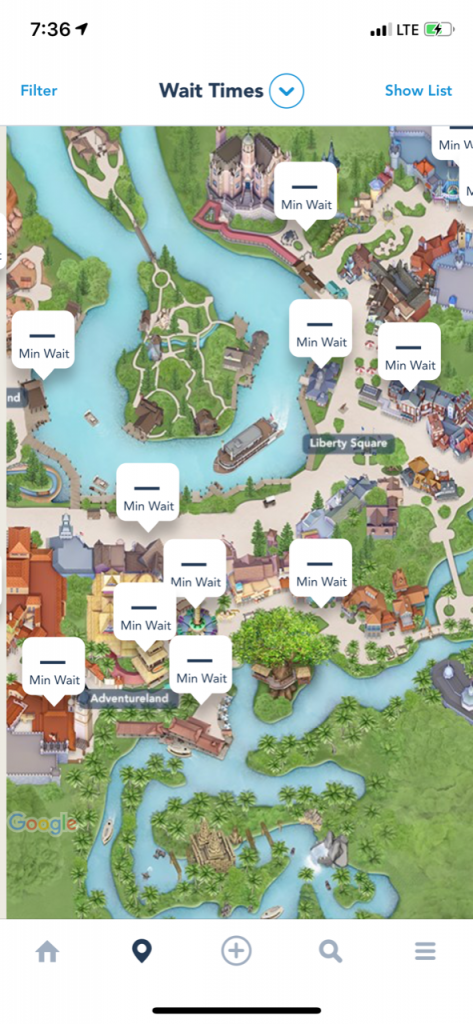 Quick Tips For Visiting Magic Kingdom 
Pick Your FastPass Wisely
Understanding how to wisely use FastPasses at Magic Kingdom can dramatically change the number of rides that you'll be able to experience in one day. While you may be tempted to use your FastPasses to skip the line at the Mad Tea Party and get to spinning ASAP, there are tons of better ways to use your FastPasses at Magic Kingdom. Save it for the Seven Dwarfs Mine Trai, or Space Mountain.
Wear A Good Pair Of Walking Shoes
Magic Kingdom alone covers 107 acres of land! That's a ton of walking! If you decide to walk around the park all day in a pair of flip-flops, you'll be miserable by the end of the day. Bottom line: don't forget to add a good pair of walking shoes to your Disney packing list.
Book Dining Reservations In Advance
If you're looking to eat at one of the table service restaurants in Magic Kingdom, you have to make a reservation in advance. Jungle Navigation Co. LTD Skipper Canteen, the Be Our Guest Restaurant, Cinderella's Royal Table, and Crystal Palace are often fully booked. That basically means that the only restaurants left that are worth your time are the Magic Kingdom quick service restaurants. So if you're hoping to get off of your feet for a couple of hours and enjoy some fine dining, remember to make a reservation before your day in the park!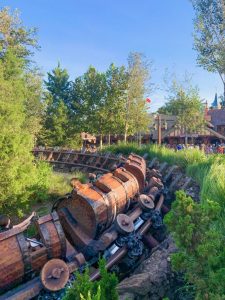 If you're hoping to visit the most popular Walt Disney World park, Magic Kingdom is the one you're looking for. Be prepared with the official Magic Kingdom map both printed and on the My Disney Experience app. Study it and understand what you are getting into! You will have a fantastic time and the environment at Magic Kingdom really is a joy to walk around and experience. Please let me know if you have any questions regarding this Magic Kingdom map and I will answer in the comments!