Are you looking for information on a Disney scooter rental? Well, you have come to the right post! We provide all of the information you need to know about how to rent wheelchairs or electric convenience vehicles (ECV) at Disney World as well as third-party rentals. We even shared our best tips to help you decide which type of rental is right for you.
If you are not a passholder or frequent visitor to the Disney Parks, you may not have any idea how the process works to rent a Disney scooter or wheelchair. You have three main options — rent at the Disney Parks, rent from Disney's featured provider, or rent from another offsite company. Depending on where and how long you are staying, it may be best to rent offsite rather than at the parks.
Get a FREE printable 30/60/90 day Disney countdown by joining our private Disney Facebook Group and share your photos and ask for tips and tricks!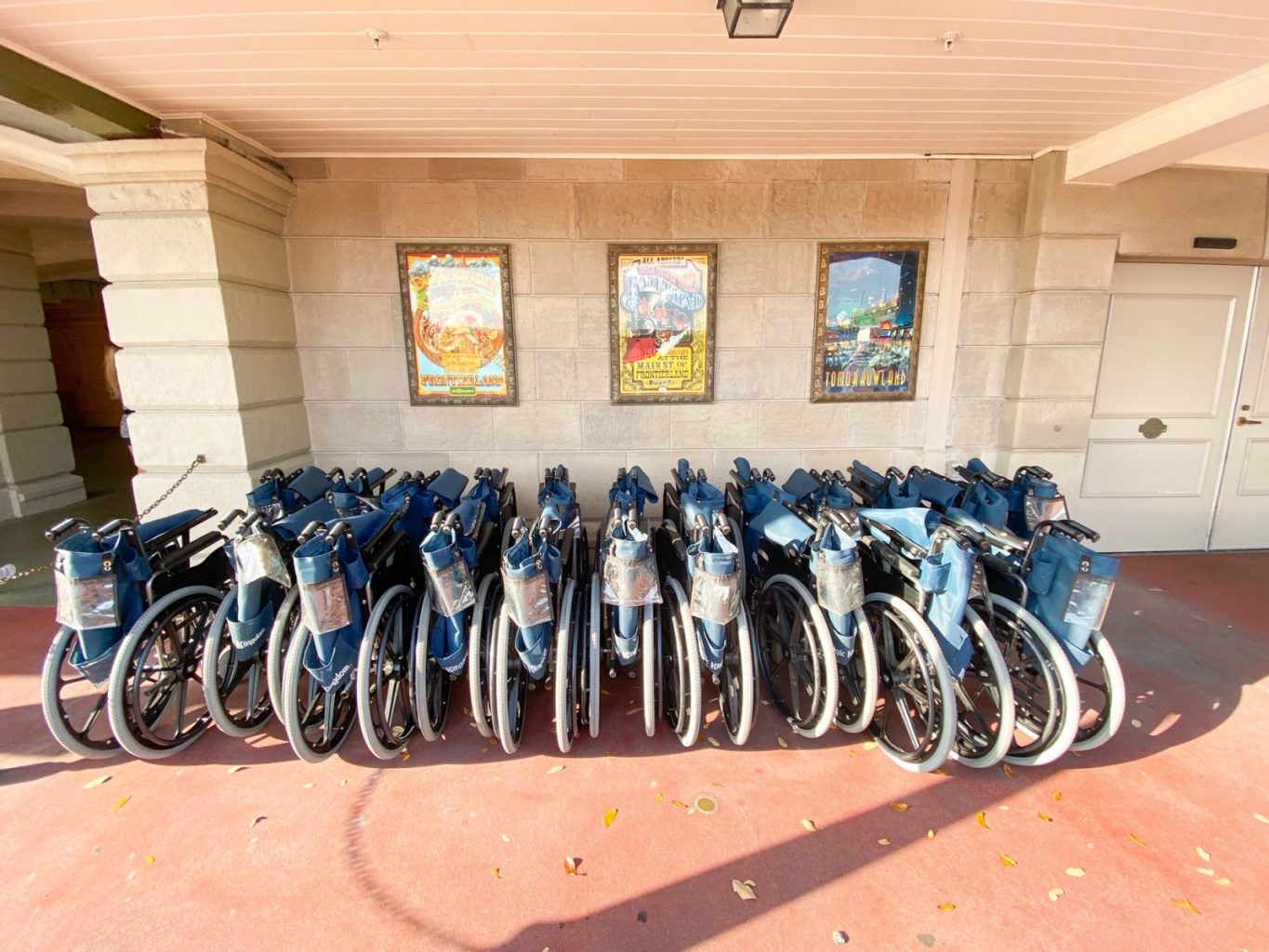 How To Rent Wheelchairs And Scooters At Disney
Where Are the Disney Scooter And Wheelchair Rental Services?
Disney scooter and wheelchair rental services are located at each park and at Disney Springs. Renting wheelchairs and scooters (ECVs) at Disney World are on a first-come, first-service basis. Disney Wheelchairs and scooters cannot be removed from their respective location. This means that if you visit multiple parks on the same day, you have to hope there is a rental available when you arrive at the second park.
You will receive a voucher when you are park hopping with a wheelchair or scooter. When you turn in your rental as you leave one park, they will hand you the voucher. When you arrive at the next park, you show your Disney scooter rental or wheelchair voucher to the rental counter there. If you plan to leave and come back to the same park on the same say, it can be held until you return.
Quantities of both wheelchairs and scooters are limited. This means you usually need to arrive early if you want to rent one. If you want a Disney World wheelchair rental, you will need to rent from the following locations:
Magic Kingdom Park: Mickey's Gift Station and the Wheelchair rentals at the entrance of Magic Kingdom
Epcot: At Epcot Main Entrance and International Gateway
Disney's Hollywood Studios: Oscar's Super Service
Disney's Animal Kingdom Theme Park: Garden Gate Gifts
Disney's Blizzard Beach Water Park: Beach Haus
Disney's Typhoon Lagoon Water Park: Singapore Sal's
Disney Springs: Sundries
When searching for ECV rentals at Disney World, you can see the locations ahead of time on the Disney World Guest Services page. Disney World scooter rentals are available at the following locations:
Magic Kingdom Park: To the right at the entrance at the wheelchair shop
Epcot: At Epcot Main Entrance and International Gateway
Disney's Hollywood Studios: Oscar's Super Service
Disney's Animal Kingdom Theme Park: Garden Gate Gifts
Disney's Blizzard Beach Water Park: Beach Haus
Disney's Typhoon Lagoon Water Park: Singapore Sal's
Disney Springs: Sundries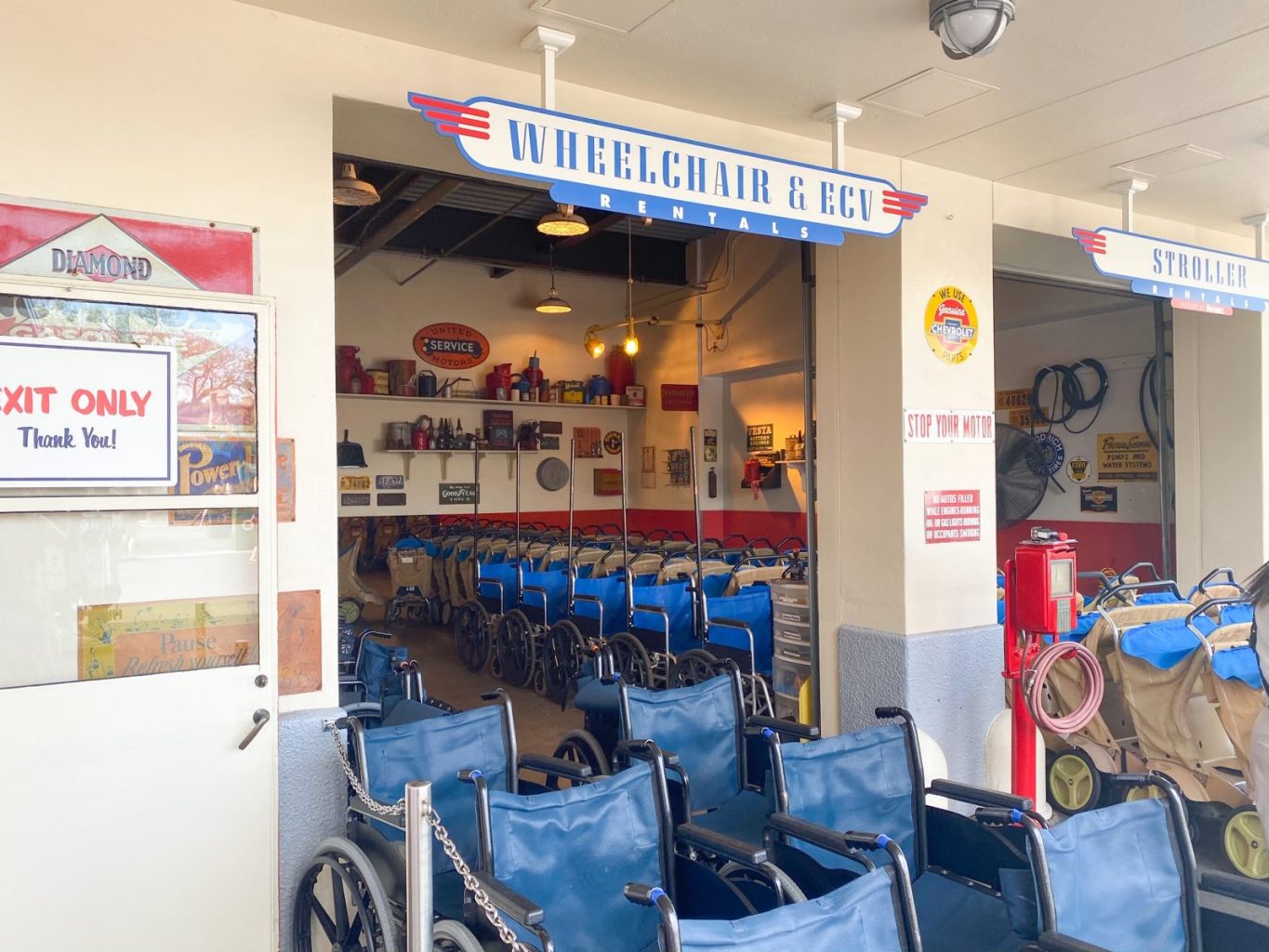 How Much Is A Disney Scooter Rental?
Currently, a Disney World scooter rental at the theme parks will run you $50 a day, with a refundable $20 deposit. If you want to rent one at the water parks or Disney Springs, the deposit rises to $100. The daily price is the same. Disney offers no discount or length of stay rental available for ECVs.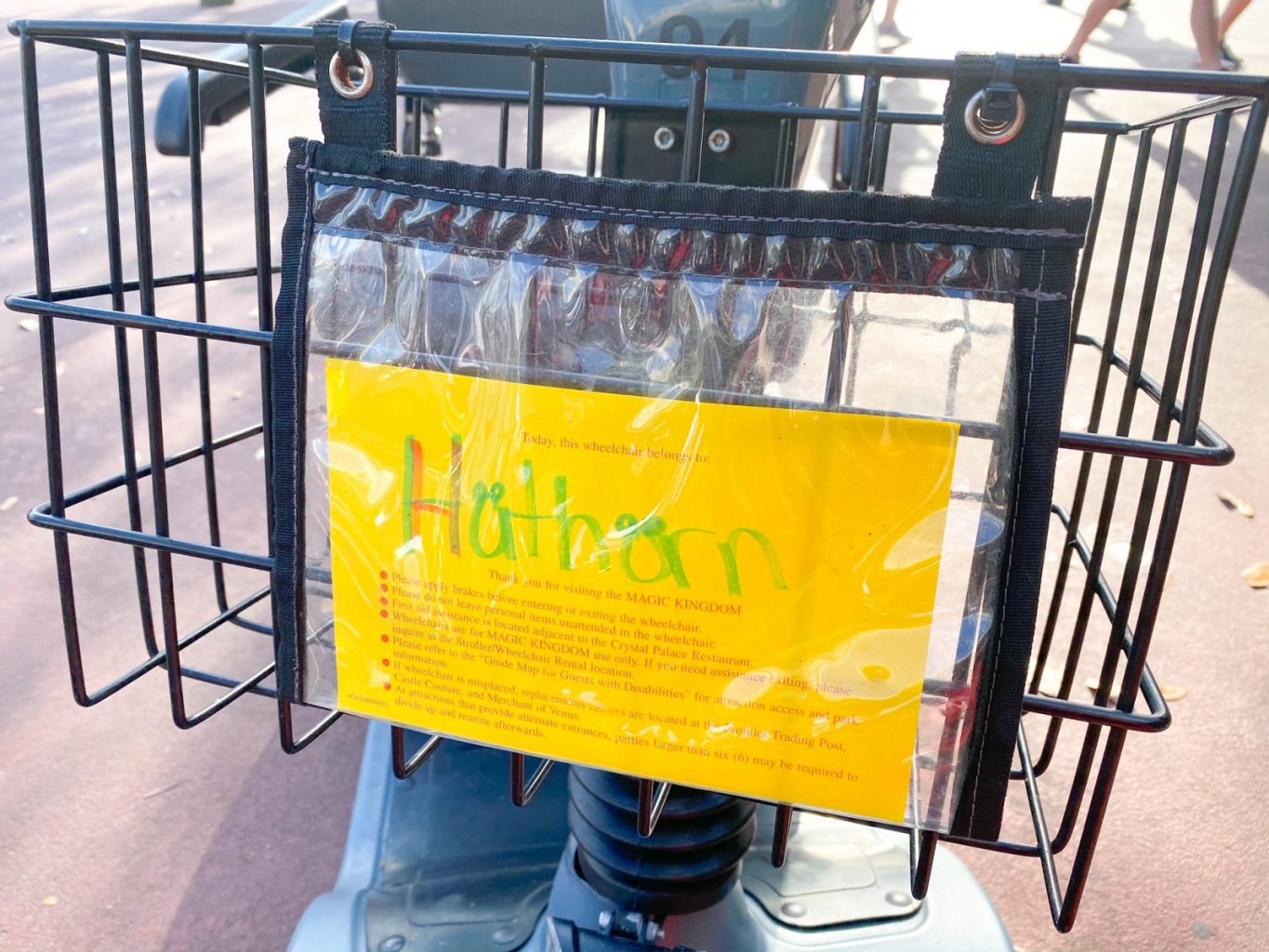 How Much Is A Disney Wheelchair Rental?
Currently, a Disney World wheelchair rental is $12 daily at the theme parks. If you want to rent one for multiple days, the price drops to $10 a day. To rent a Disney wheelchair at a water park or at Disney Springs, you will need to pay a refundable $100 deposit.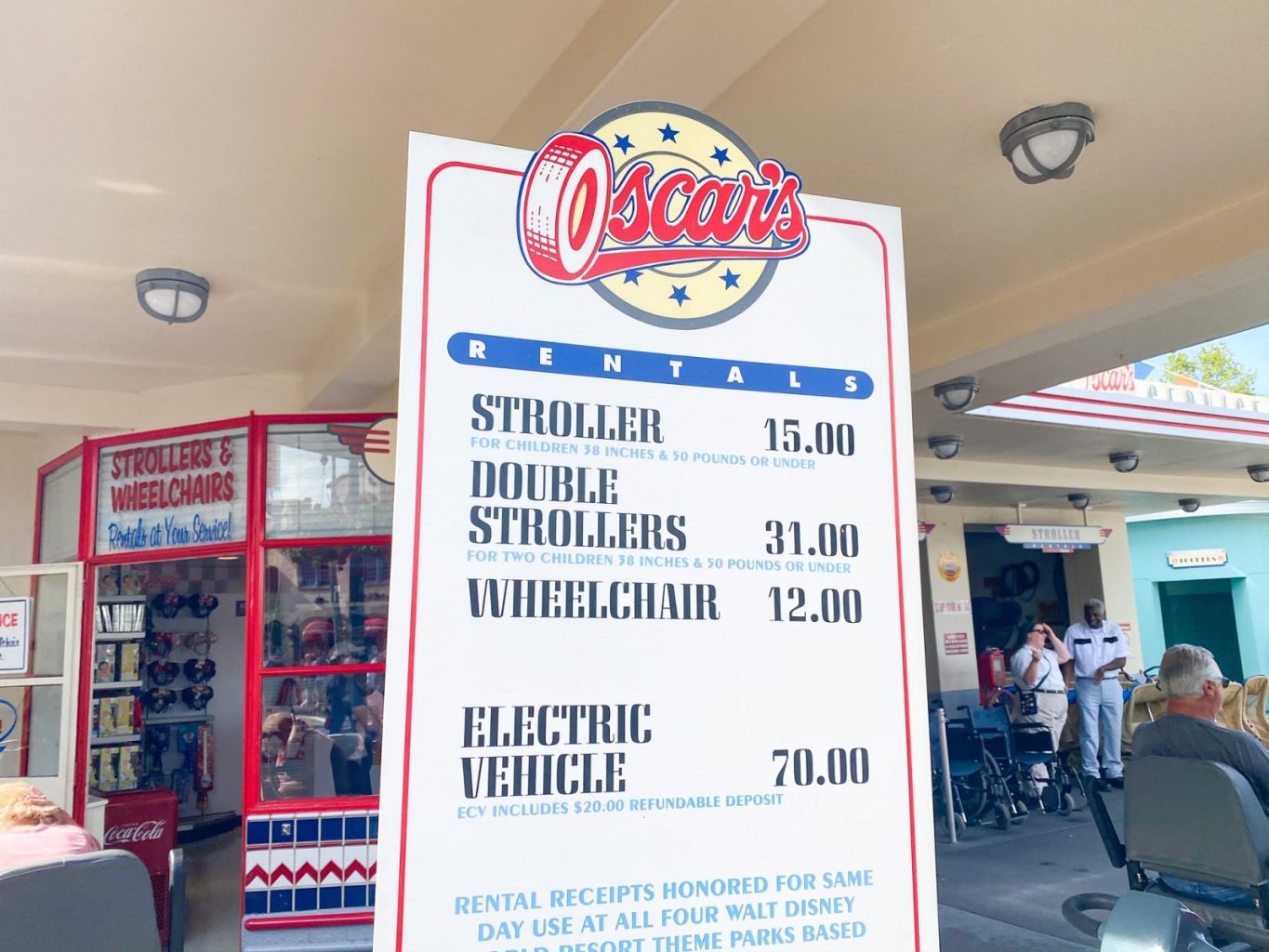 Off-Site Wheelchair And Scooter Rental Services
When you opt to rent off-site, you can choose from different models and styles. Some companies offer accessories that can be bundled in your rental as well. If you're visiting the parks for longer than a week, off-site companies may be a better value. Look for length-of-stay discounts here.
If you opt for offsite rentals, you may want to start by looking at Disney's Featured Provider. This is beneficial as you can drop a rental off at the front desk of a Disney resort. You do not need to be present to drop off or pick up your Disney wheelchair rental or ECV.
Other companies that are not featured vendors will need to make arrangements with you to drop off the wheelchair, ECV, or scooter directly to the company. Disney modified its Disney Featured Provider program in 2019. As of October 1, 2019, only ScooterBug is the featured provider for resort guests.
Previously, other Featured Providers included Buena Vista Scooter Rentals, Apple Scooter, and Best Price Scooters and Strollers. If you rent through these companies, you can still arrange to drop off and pick up, but you will need to be present for "meet and greet."
Disney's Featured Provider — ScooterBug
ScooterBug will deliver your rental right to your Disney hotel. If you are staying offsite, ScooterBug also delivers to over 200 resorts in Orlando. They offer three different ECV options, including one that fits into most trunks. You can compare the features of each one on their website. Daily rates start at $50 for the resort lite ECV.
For wheelchair rentals, ScooterBug offers five different options. They range from a pediatric wheelchair up to a 24 inch extra wide. Rates start at $40 and go up to $55 per day. ScooterBug allows one-day rentals. The longer you rent though, the cheaper it becomes.
Buena Vista Scooter Rentals
Buena Vista Scooter Rentals offer a 20% discount for pickups in Orlando. The longer you rent, the cheaper the price becomes. Rentals require a two-day minimum reservation. Two- to six-day rentals are one price, and then they start dropping for various intervals. Deliveries to Disney area hotels and resorts are free, while some other properties may have a delivery fee.
They have five different scooters, including the Maxima Scooter that can hold up to 500 lbs. The portable scooter starts at $31 per day, and the Maxima Scooter is $41. Choose from four different wheelchairs, with the heaviest capacity one holding up to 400 lbs. Wheelchairs have a two-day minimum rental. The manual wheelchairs are $20 a day while the padded and cushioned ones are $30 a day.
Apple Scooter Rentals
Apple Scooter is located near Disney World and offers two scooters and one type of wheelchair. They also offer free delivery and pickup to resorts in the Disney area. You must rent for two or more days. Prices for the scooters are $65 for two days and the wheelchair is $45 for two days. The price starts to drop for each additional day you rent.
Best Price Scooters and Strollers
Choose from three scooters, two different sized wheelchairs, and a powerchair rental at Best Price Mobility Rentals. Unlike some other rental companies, Best Price Mobility Rentals offers one-day rentals. The longer you rent, the more you save. Scooter rentals range between $30 and $40 a day, and wheelchairs are $35 to $40. The powerchair rental is $45 per day. Like the other offsite rental companies, Best Price Mobility will deliver the scooter or wheelchair to your Disney hotel.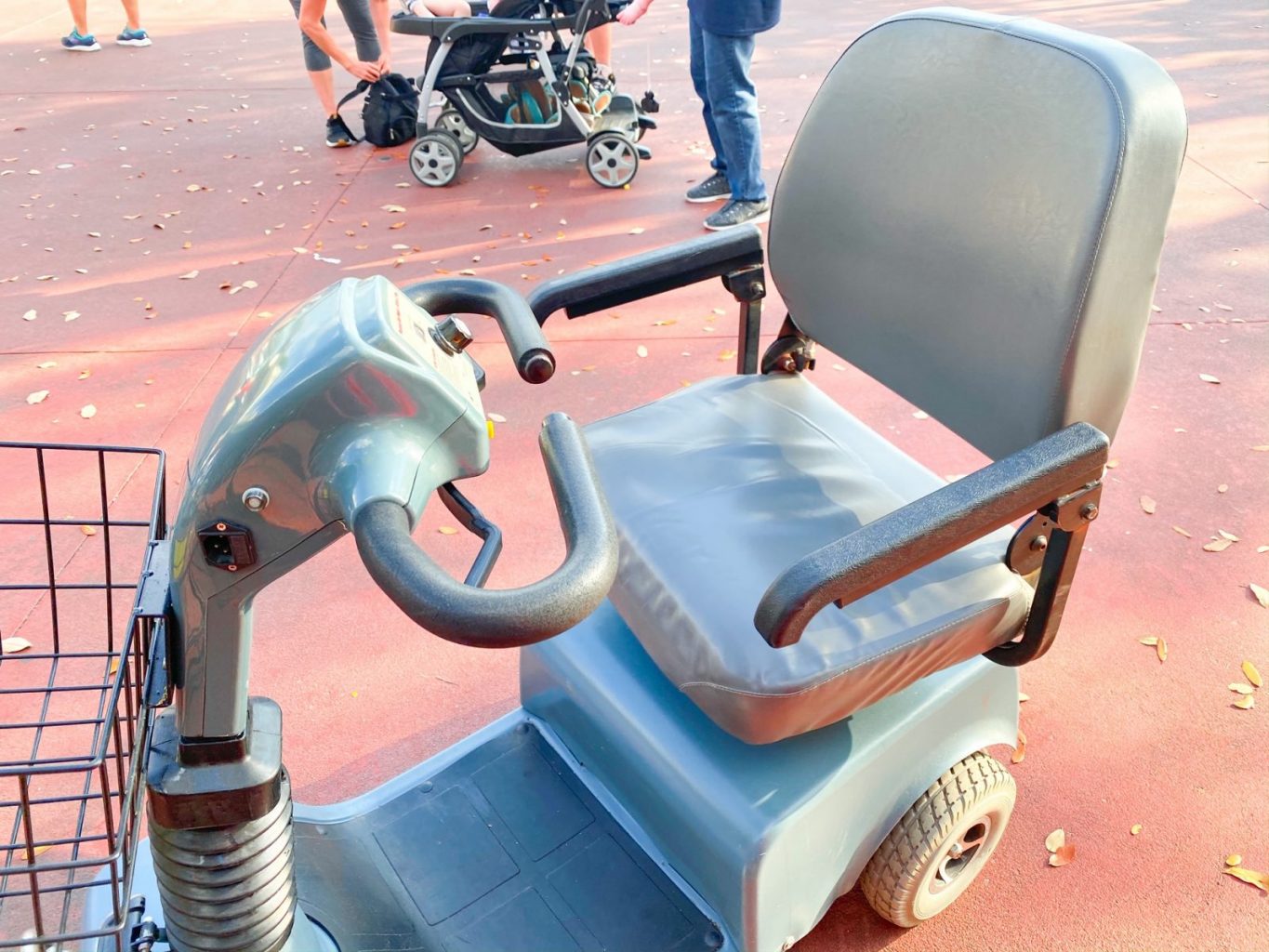 Using Disney Transportation With Wheelchairs and Scooters
The Walt Disney World Resort buses do accommodate wheelchairs and ECVs. It is better if you note that in your reservation so they can plan ahead. The transportation boats also can accommodate ECVs and wheelchairs. If you luck out, there may only be one or two other ECVs ahead of you to load.
While Disney transportation can facilitate both wheelchairs and scooters, you may find yourself in a long queue to board during peak times. Also, staying late at the parks could mean you have more scooters and wheelchairs that need to be loaded.
Be sure your ECV is turned to a slow speed when you are loading and unloading. Try not to be nervous about driving it on or off. You can look for the safety neutral level that is found under the seat. This will enable you to disable the drive wheels. Someone can then push the scooter manually on or off the Disney World transportation vehicle.
Learning how to back up is also advisable if you are new to riding on a scooter. There are some transportation options that are narrow, like the monorail. Cast members can place a ramp for guests to board and disembark, but backing off the ramp requires technique. You want to practice backing up in a slow, straight line before you tackle the monitor in an EVC.
Using Wheelchairs And Scooters In Disney Parks
If you are concerned about using a wheelchair or scooter at Disney to get around, the parks are well-equipped to handle both. Most attractions are set up to be as accessible as possible. However, you may find a few attractions here and there that are not easily accessible if you are in a wheelchair or ECV.
Disney World has attractions categorized so those with mobility disabilities can better understand which attractions to avoid. The main categories are:
Must transfer from wheelchair/ECV to ride vehicle
Must transfer from ECV to a wheelchair
Must transfer from ECV to a wheelchair, and from wheelchair to ride vehicle
Disney designed a few attractions that allow you to stay in your wheelchair or ECV. Many of these attractions include theater-style shows. For a full rundown of all of the attraction categories and mobility options, visit Disney World's page on Mobility Disabilities.
The other thing to keep in mind with a Disney scooter rental is that you want to keep it on slow at all times. For those not used to riding one, it can feel overwhelming to suddenly be navigating crowds.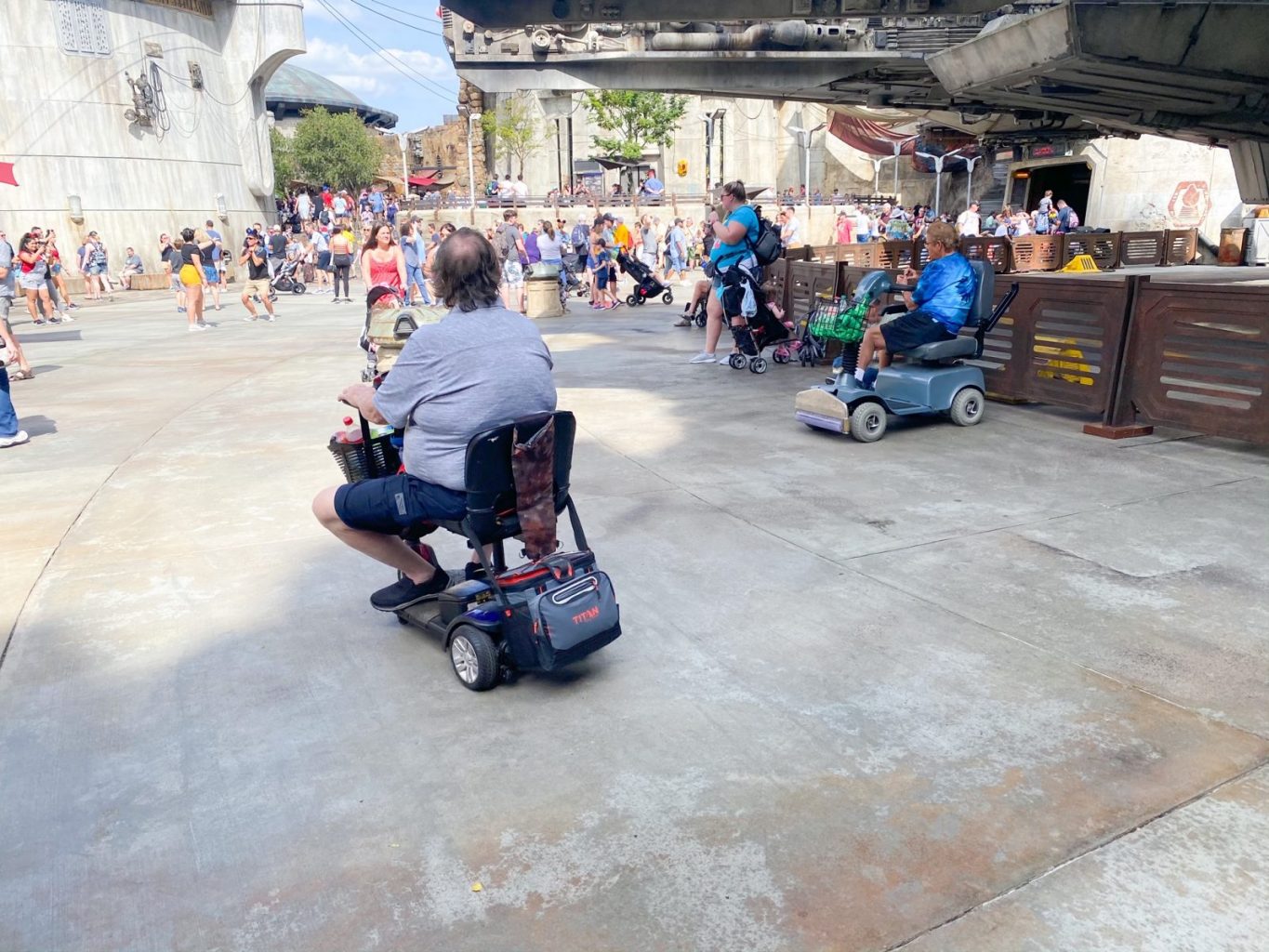 Tips For Preparing To Use A Scooter At Disney
To make your experience a little easier, here are some tips for preparing to use a scooter or wheelchair at Disney.
1 — When you book a rental through an outside company, you now have the freedom to use it anywhere else you go. This means not just at Disney. This is helpful if you plan to go to Universal Studios or other nearby attractions or restaurants,
2 — You are assured of having a rental when you use the featured company, which is not always the case if Disney World runs out.
3 — If you need a wheelchair or scooter that has specific features, like disassembly so the vehicle can handler a larger person, renting from an outside company makes more sense.
4 — ECVs at Disney can only hold up to 450 pounds. Wheelchairs can hold up to 350 pounds. If you weigh more than that, you will need to rent from an outside company or bring your own.
5 — If you plan to bring your own, it must fall in the approved size range. The maximum size allowed is 32" x 52".
6 — If you only need a scooter or wheelchair inside the parks, it might be easier to rent one onsite. Otherwise, you are forced to wait for the handicapped accessible transport. Not to mention getting it in and out of your own vehicle.
7 — Disney World is huge. You will be walking miles. Is it hard for you to walk long distances? It might make more sense to rent outside the parks.
8 — If you are renting an ECV for the first time, be sure to start off with a slow speed when getting on or off any transportation at Disney World.
9 — ECVs can cause injuries to you and those around you. Try to practice as much as possible before braving the crowds in Disney. You do not want to crash into someone or something.
10 — When riding in an ECV, anticipate people darting in front of you at any given second.
11 — Plan your day accordingly. Do not try to take on too much in one day as you will not get to as many attractions as you might think.
12 — While Disney World offers length of stay rentals on wheelchairs, they may not be available during peak periods.
13 — Even if you rent a wheelchair at one Disney Park and have a rental receipt, they may be out when you visit another park.
14 — In an ECV, take out your key when you stop. This will not only save your battery life, but it can keep you from jerking forward if the gas is accidentally touched.
15 — Do not immediately panic if you get off a ride and your wheelchair is not where you left it. Sometimes cast members have to move strollers and wheelchairs around while you are on the attraction. Ask first to find out what happened to it.
Renting a wheelchair or ECV onsite or through another company is a very individualized choice. There is no one decision that fits everyone. The best choice for your Disney vacation will not necessarily be the best for another family. The main objective is to ensure that you have a wheelchair or scooter for whoever needs it. Do not be afraid to ask for assistance when you are in the parks.
For more information on renting wheelchairs and scooters, be sure to search posts and ask questions in our Disney Trippers Facebook group. We are happy to answer any questions you have!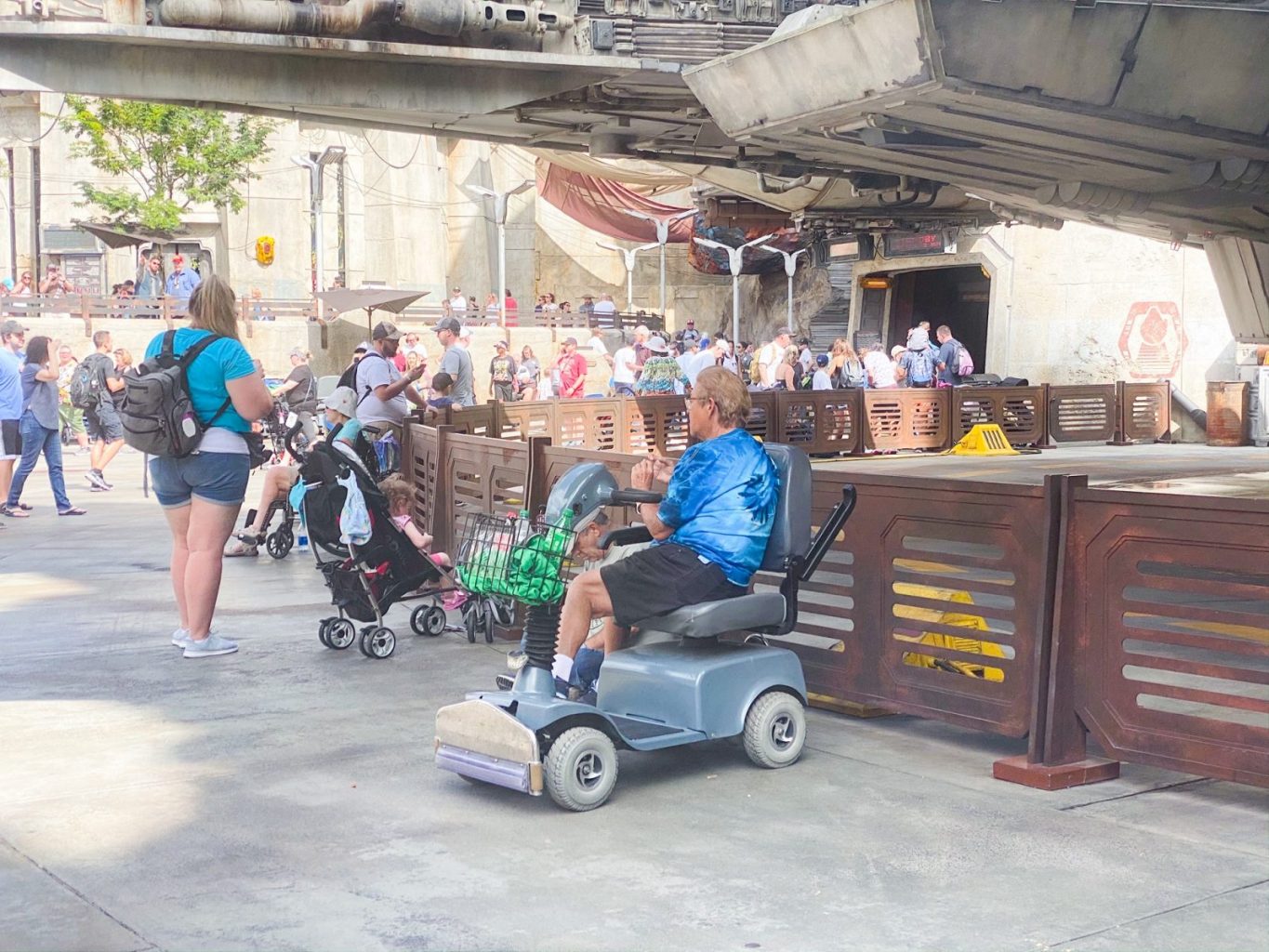 Planning your Walt Disney World vacation? Discover Where To Eat At Disney World by reading our restaurant reviews and suggestions. Next, check out our Disney World Crowd Calendar to see the best time of year to go to Disney and our other Disney Trip Planning Tools including Every Official Map At Walt Disney World to use when planning your trip! Finally, find out What To Wear And Pack For Disney World so that you are perfectly prepared!