When you are going to Disney World with your SO (aka significant other), don't miss out on the many romantic things to do at Disney World! I think Disney World is one of the most romantic places on earth, but it is not just about proposals and honeymoons. Disney World has so many romantic things to do for any couple, no matter your interests or budget!
While Disney World is romantic any time you visit, the perfect adventure is celebrating your anniversary at Disney. We have celebrated our anniversary at Disney World almost every year and while some activities might not for be for everyone, there are plenty of romantic activities to pick from. Here are 14 wildly romantic things to do at Disney World!
Get a FREE printable 30/60/90 day Disney countdown by joining our private Disney Facebook Group and share your photos and ask for tips and tricks.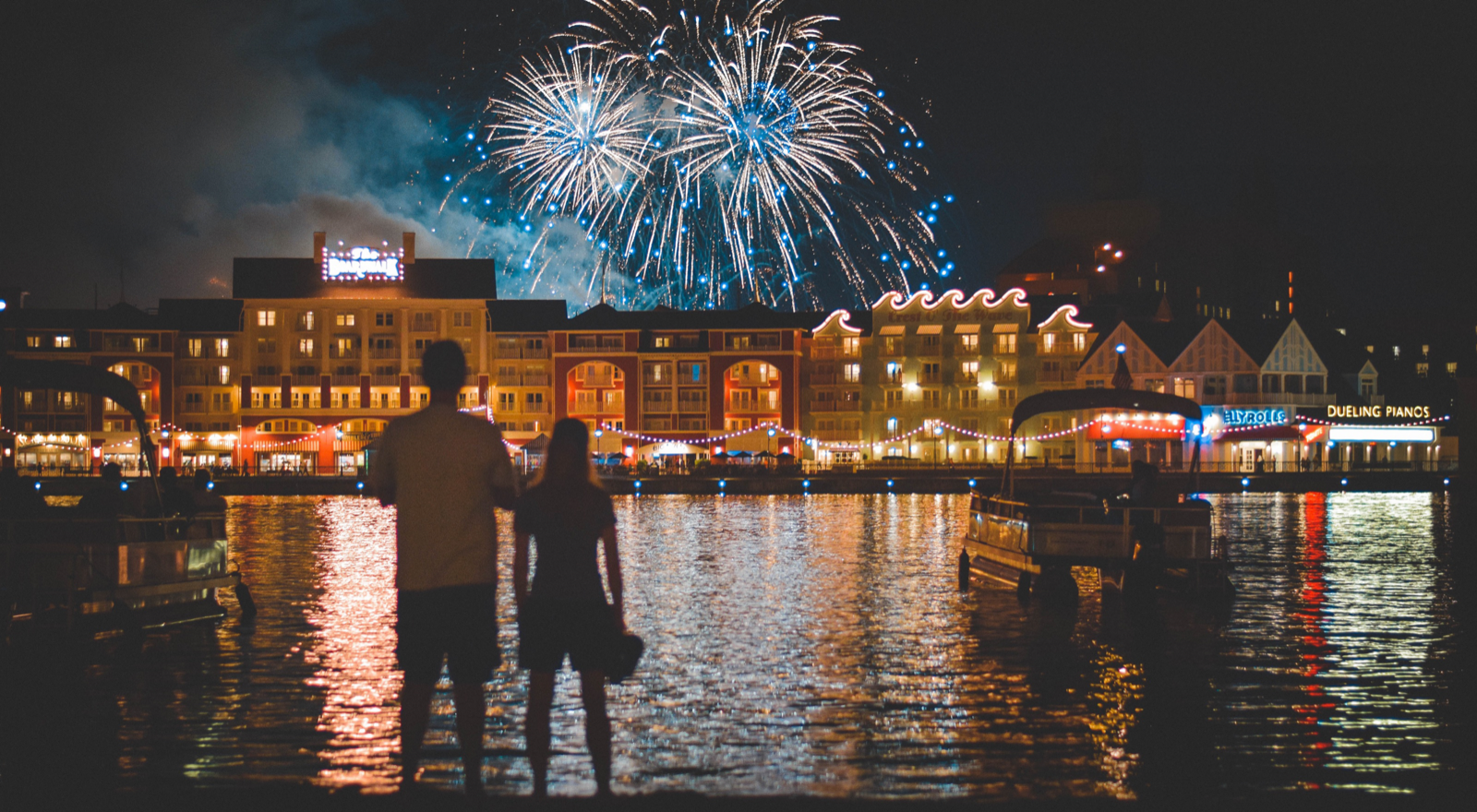 14 Wildly Romantic Things To Do At Disney World
Dine at Victoria and Alberts
Victoria and Alberts is the fanciest, and one of the best, restaurants at Disney World. Located in the Grand Floridian Resort and Spa, Victoria and Alberts is a Five Diamond Award winning restaurant and is a really romantic spot. This is also one of the best splurges at Disney World and rightfully so, this romantic meal will run you $250 per person plus $150 per person for the wine pairings.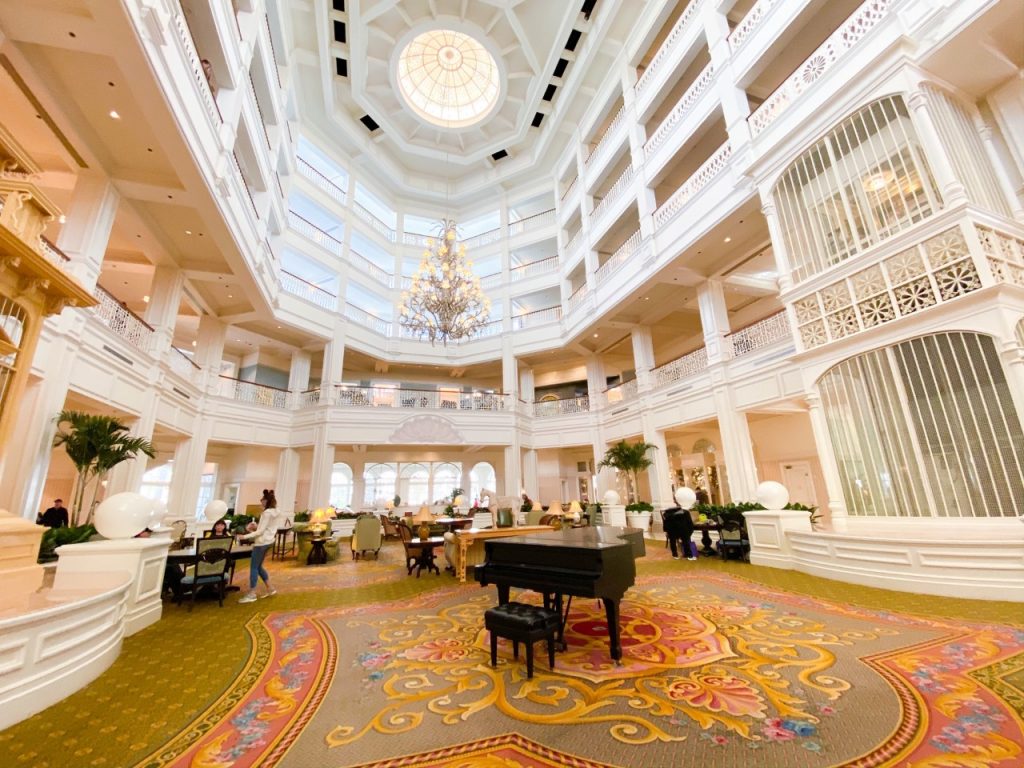 Victoria and Alberts is one of the most romantic things to do at Disney World because the restaurant is beautiful, it is located in the most romantic hotel, and what is more romantic than a really amazing meal?! Be sure to book this well in advance. It is not easy to get a reservation at Victoria and Alberts, but I promise it is worth it.
I recommend this wildly romantic activity at Disney World for all foodie couples and any couple looking to slow down and indulge during your visit!
Dine in the Sky
Thanks to the monorail, Disney World has a really unique experience that is also really romantic – Dine Around the Highway in the Sky! Using the monorail, this foodie adventure will take you on a four course tour of the Contemporary, Polynesian, and Grand Floridian. Dress up with your SO (you got the term now right?) and jump on the monorail for a romantic night on the "town."
You will start off at the Contemporary for drinks before you head over to the Polynesian and Grand Floridian and you will end up back at the Contemporary for dessert and fireworks from the top! If you are a foodie couple, but don't want to splurge on the big ticket at Victoria and Alberts this is a great romantic activity at Disney World option for you.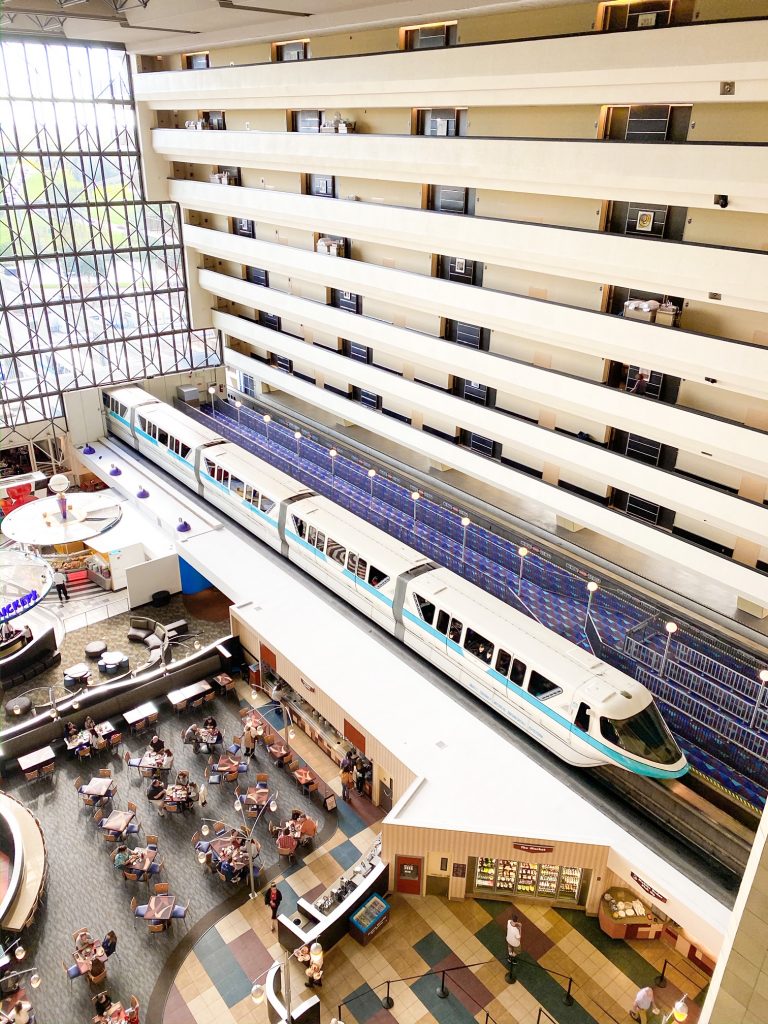 If you don't want to be limited by the schedule for the formal Dine Around the Highway in the Sky, or it just doesn't work for your schedule, you can do this as a self-guided tour. Just be sure to book your reservations in advance!
Go Wine Tasting Around the World
Epcot is the only place you can travel the world without a passport or plane ticket. It is also the most romantic park in Disney World! Wander the streets of Paris, snuggle up in Italy, and most importantly, go wine tasting around the whole world! Drinking around the world is a pretty well known Epcot World Showcase activity, and by far one of the best things to do in Epcot, but to add a romantic spin on this favorite – go wine tasting around the world!
This romantic thing to do at Disney World is for the adults – as you must be 21+ to participate. Start off in either Canada or Mexico and make your way around the world wine tasting with your bae. Each country has various wine options, or wine adjacent options (think sake), and what is more romantic than wine tasting!?
A great way to do this on a budget is to get the Disney Dining Plan as you can use your beverage credits for alcoholic drinks. You can also use your snack credits along the way so you can put a bit more than wine in your stomach. Be sure to stop at some of the most romantic places in Disney World for a coast, a pic, and a kiss – Paris under the Eiffel Tower, Italy in front of the Trevi Fountain, the gardens in China, and under the stars in Mexico!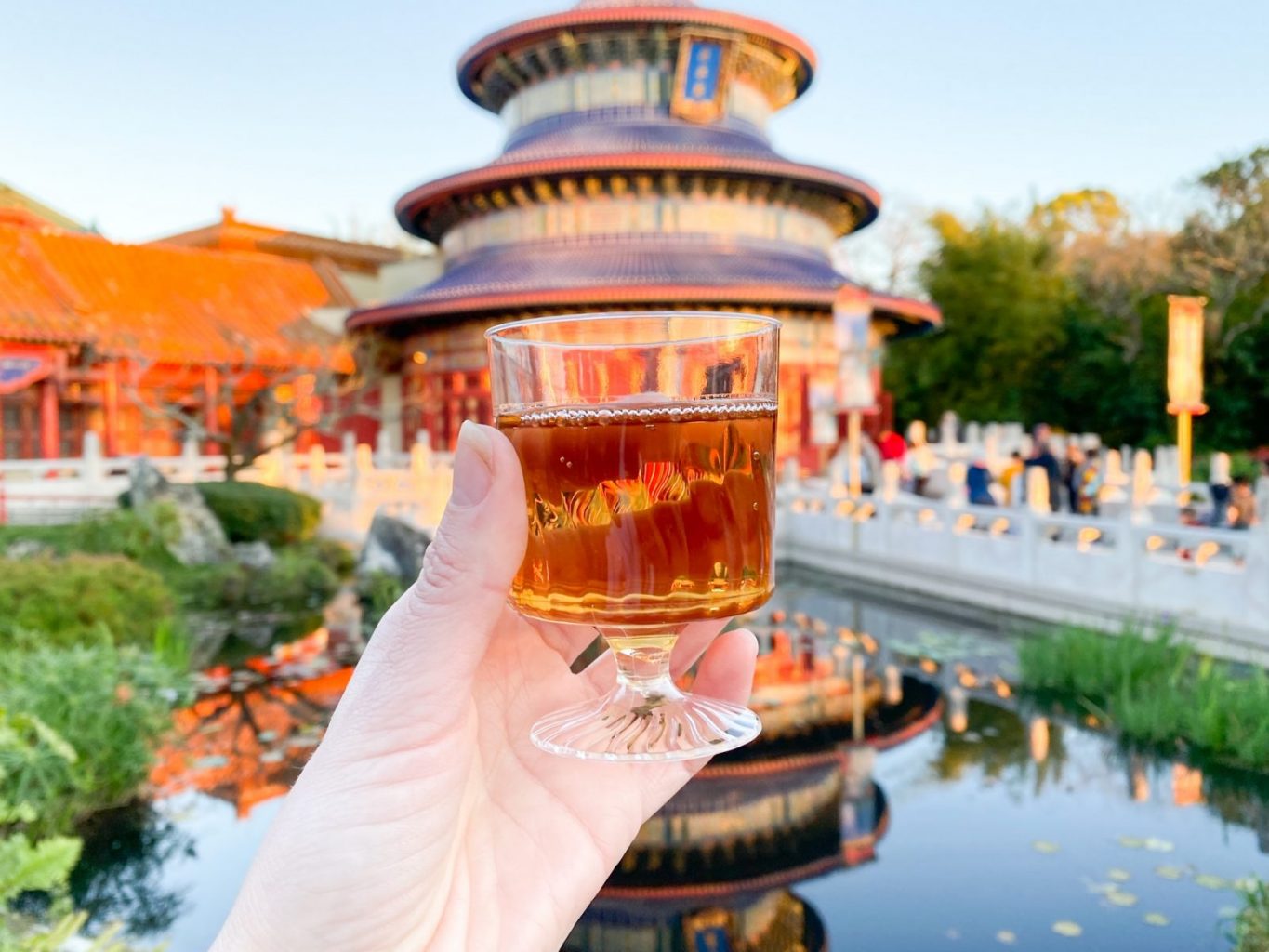 Have a Spa Day
One of the most romantic things to do at Disney World is also a great splurge – have a spa day! Disney World is home to six five star spas, all located at Disney resorts – especially those that are the best resorts for adults! After busy park days, and a whole lot of time on feet, a great romantic treat is to slow down for a couples massage and relaxing spa day!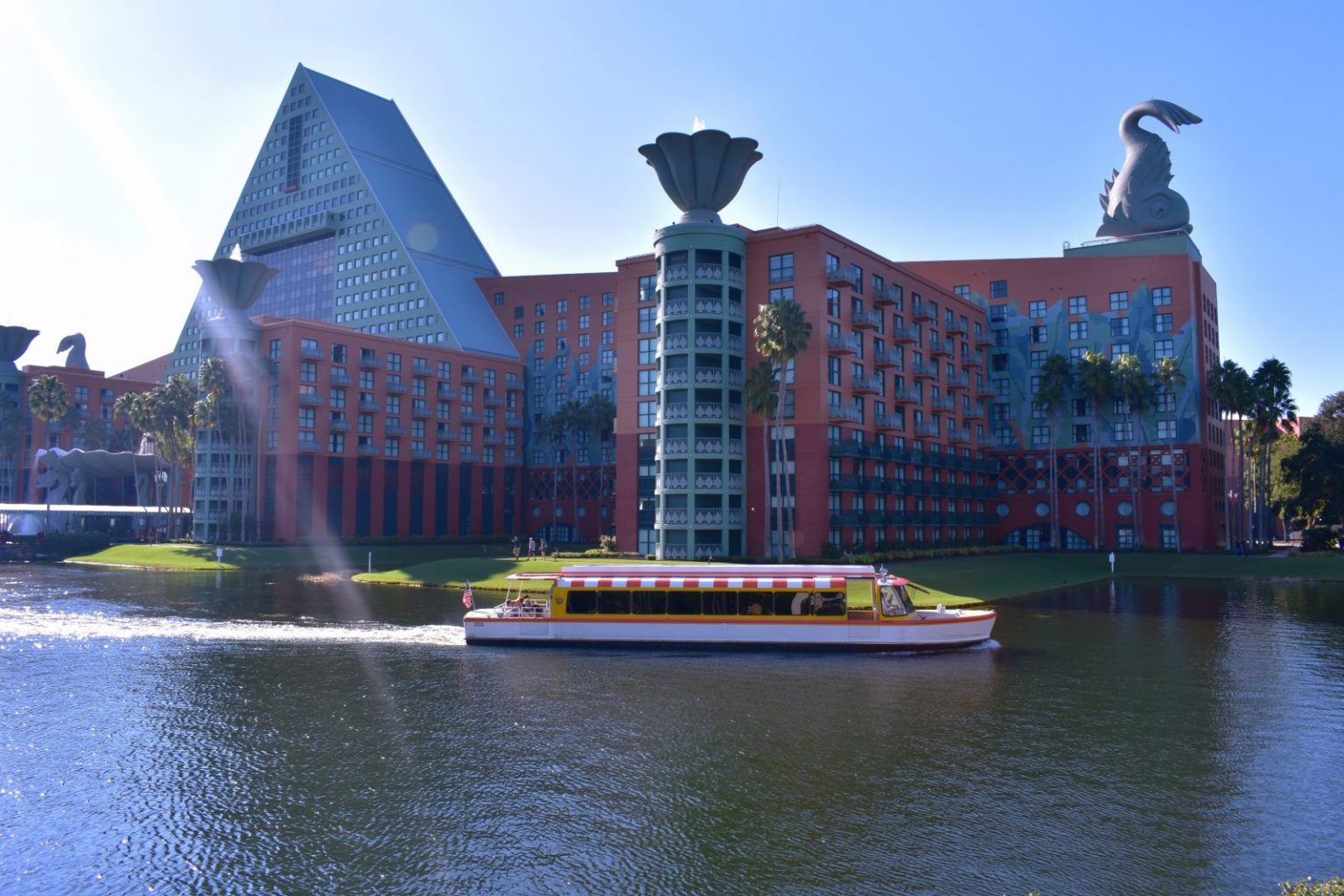 You can find Disney spas at the Dolphin Hotel, Grand Floridian Resort and Spa, Saratoga Springs, Yacht Club, Coronado Springs, and Animal Kingdom Lodge! I highly recommend a couples massage, but you can also have a relaxing facial, sauna and soak, or get your hair and nails done for a night out around Walt Disney World.
Be sure to book this romantic activity at Disney World in advance and plan to splurge a bit because there is definitely a "Disney mark up." Let the staff know when you book if you are celebrating a special event, such as an anniversary of honeymoon, and they will make it even more romantic for you!
Go to a Romantic Dinner in Disney Springs
Disney Springs, formerly known as Downtown Disney, is home to so many amazing restaurants! Many of the table service restaurants at Disney Springs are also super romantic places at Disney World! I am looking at you Maria and Enzo's Ristorante, Enzo's Hideaway, Morimoto Asia, and Paddlefish.
Reservations for table service restaurants at Disney Springs are a must, especially if you have your heart set on a specific one. Disney Springs has become a really romantic place in Disney World to wander a night so have a romantic evening with a romantic dinner, stroll around Disney Springs, and check out the live music or light show after your meal.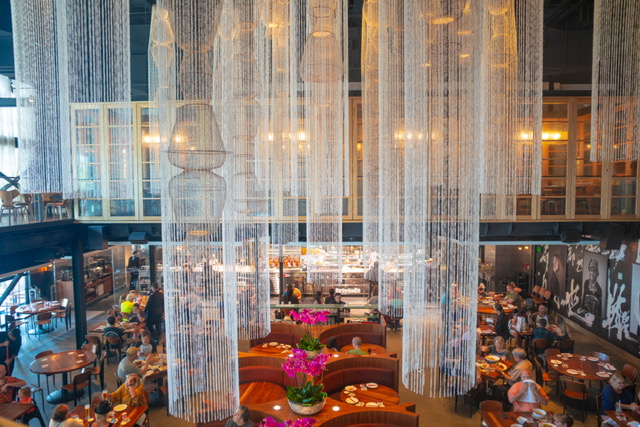 Go to a Fancy Dinner (and Dancing!) on the Boardwalk
Disney's Boardwalk seems to always take a backseat to Disney Springs, but I am not sure why. Disney's Boardwalk is always romantic! Even a stroll around the Boardwalk with the beautiful lights, views of the Boardwalk Resort, Beach Club, and Yacht Club, and fireworks views makes for a super romantic evening at Disney World!
If you want to up the romance one evening, have a fancy dinner on the Boardwalk – I highly recommend the Flying Fish – and head over to the Atlantic Dance Hall to dance the night away! If you want to catch the fireworks, just head outside anywhere on the Boardwalk and you can see the Epcot show. I also recommend a quick stop at a carnival game before dinner so you can win a prize for your SO!
Disney's Boardwalk gives you all of the best parts of a date night in just one place and, of course, with so much Disney romance and magic! I think the Disney Boardwalk is one of the most romantic places at Disney World so even if you don't want to sit down for a meal or don't love to dance, be sure to at least take a romantic stroll after a day at Epcot!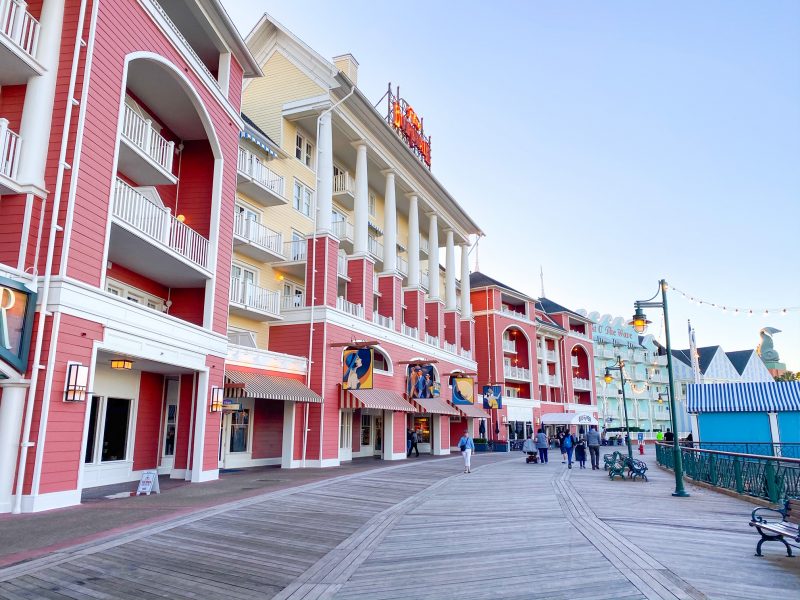 Take a Fireworks Cruise
Looking for the perfect romantic evening after a busy park day? Jump onboard a fireworks cruise and snuggle up with your loved one and enjoy the show! You can watch the Happily Ever After and Epcot Forever fireworks shows from the water and they are even more beautiful and romantic with these views.
There are private charter cruises and for that price tag you get the boat, a private captain, snacks, and soft drinks. You can add on private dining for an additional amount. You can also do a non-private cruise if that is more up your alley (or in line with your budget) and there are two to pick from – Ferrytale Fireworks Dessert Cruise and Pirates and Pals Fireworks Adventure! Both are great choices and super romantic activities at Disney World!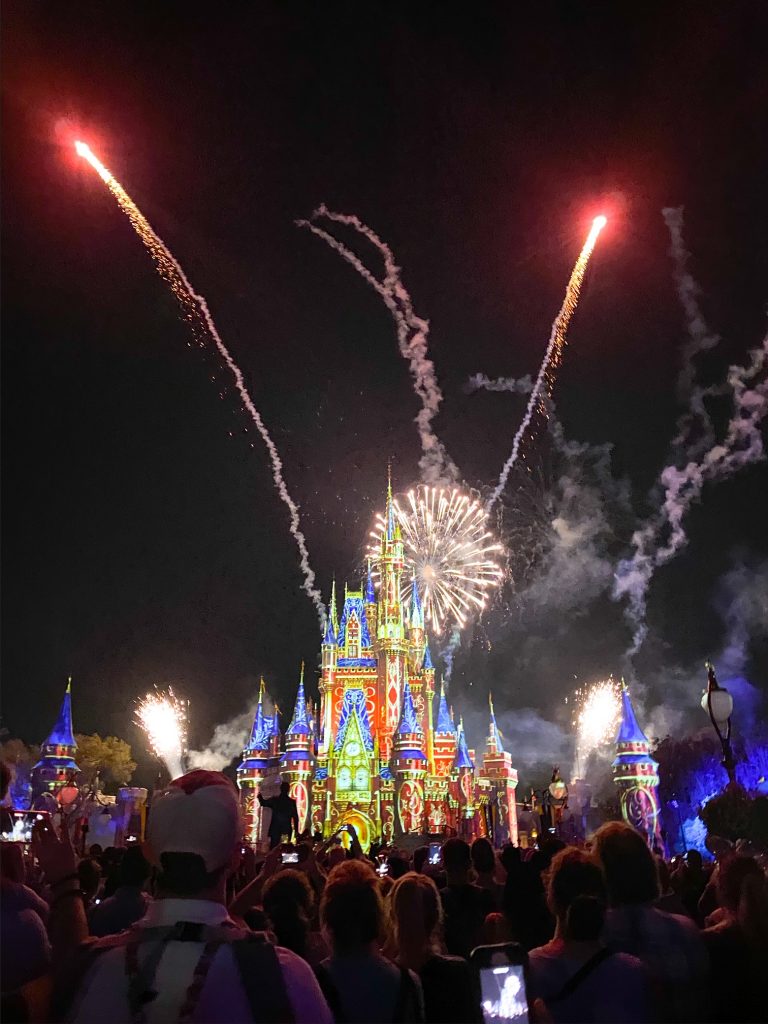 Attend a Dessert Party
Disney World is home to several dessert parties – these are just what they sound like, parties full of desserts! These parties occur in the evening under the stars and fireworks, making them a super romantic thing to do at Disney World.
While the Disney dessert parties can change; here is a list of all of the current dessert parties at Disney World parks (and transportation center):
Keep in mind that while usually Magic Kingdom is very limited in alcohol service, you can purchase beer and wine at the Magic Kingdom dessert parties. Attendance at the Disney dessert parties requires an extra ticket, on top of the park ticket, and you will need advance reservations. Stand under the stars, wrap your arms around your SO, enjoy a sweet treat, and watch the fireworks! What could be more romantic at Disney World?!
Kiss Under the Castle
This romantic activity at Disney World will cost you nothing more than your Magic Kingdom park ticket. While it might seem obvious, I am adding to my list anyway! Take your other half and head over to Cinderella's Castle and have a big kiss under the castle! Bonus points if you have your castle kiss at night when the castle is all lit up and sparkly!
Be sure to grab a picture too! You can always hand your cell phone to a cast member or photographer and request a picture so you don't even need Memory Maker to get this great shot.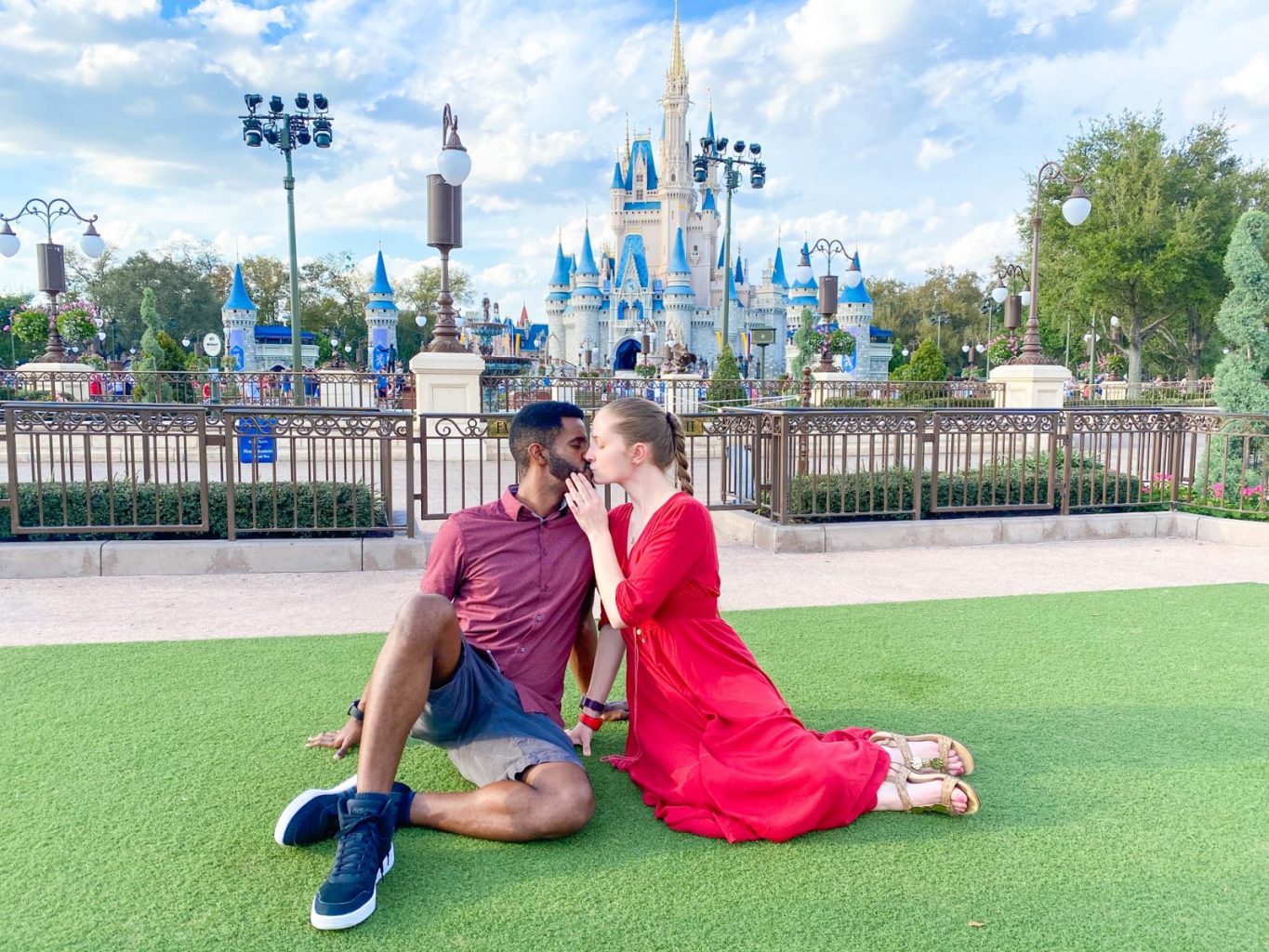 Check Out an Outdoor Dive In Movie
So many of the Disney World resorts offer outdoor and dive in movies – both are super romantic activities at Disney World. They are also free for Disney World hotel guests!
Disney's Resorts offers Movies Under the Stars – dive in movies throughout the week at the various resorts and resort pools! When you check in at Disney World resort be sure to ask for a movie schedule so you can see what movies are playing and when/where during your stay.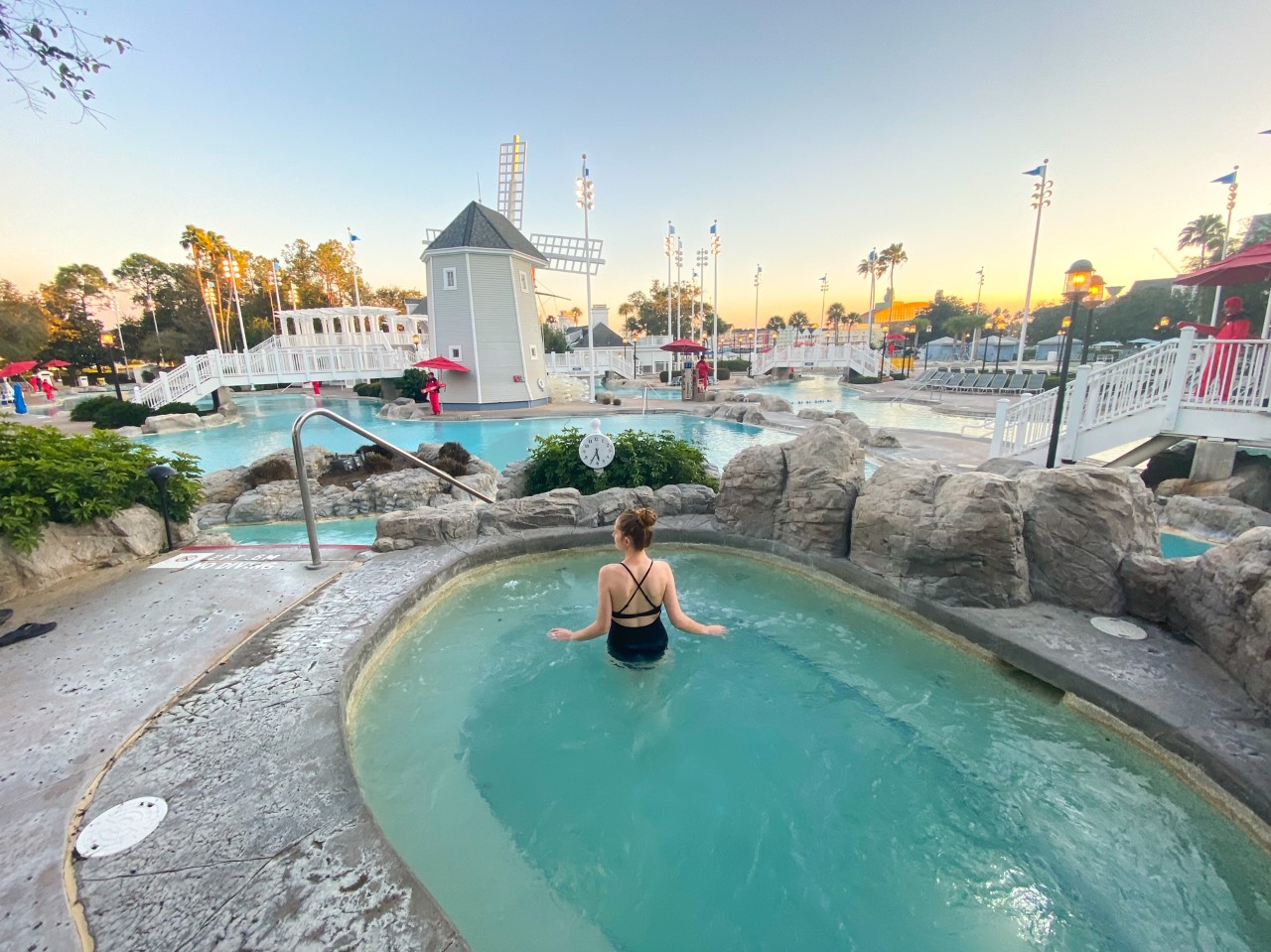 If you are traveling during the chilly winter months, grab a throw blanket from your room (be sure to bring it back) and snuggle up on a lounge or outdoor couch to watch. If the weather is warmer, dive right into the pool and check out a movie with your perfect person! This is the most romantic way to watch a movie especially when you are at Disney World.
Pick Up Love Buttons
This wildly romantic activity at Disney will cost you nothing and requires no planning! Be sure you stop by one of the customer service locations, or ask at a shop or your hotel, for matching love buttons! Disney World used to have a wedding button and an anniversary button, but now they have one (gender neutral and all inclusive!) love button!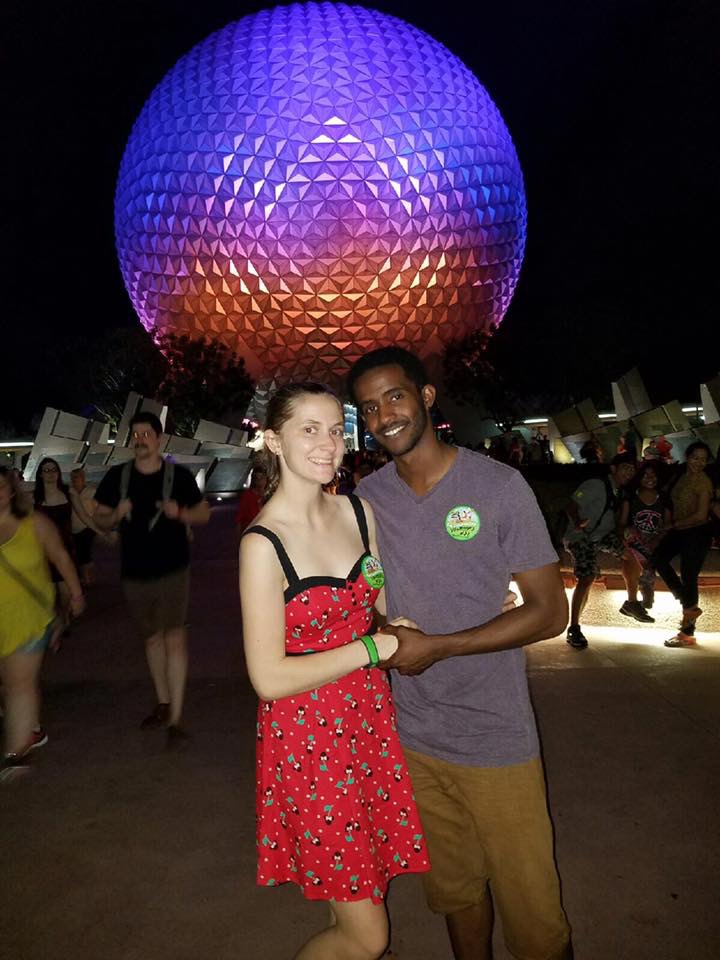 These are totally free and you can have a Cast Member write in your anniversary or special event. We pick up our button every year and always get our anniversary written on it. I love that they use "ears" instead of "years" and these are some of my favorite Disney souvenirs. Be sure to wear your button with your lover and show off that love and romance!
Play Dress Up
This romantic thing to do at Disney World is probably not what you are thinking, but no judgment here. One of the most romantic things to do at Disney World is to dress up as a couple! If you are being really adventurous, you can go all out and participate in Disney Bounding. If that seems like a bit too much, you can go with the matching shirts and accessories!
One of my favorite things in the Tokyo Disney parks are the amazing matching couple outfits. While we love our couple tee shirts, or family shirts, the guests at Tokyo Disney have taken this up a notch and you will see couples with matching outfits – shoes, pants, tops, hats, jackets, and bags! This makes for some amazing couple photos and it is so cute!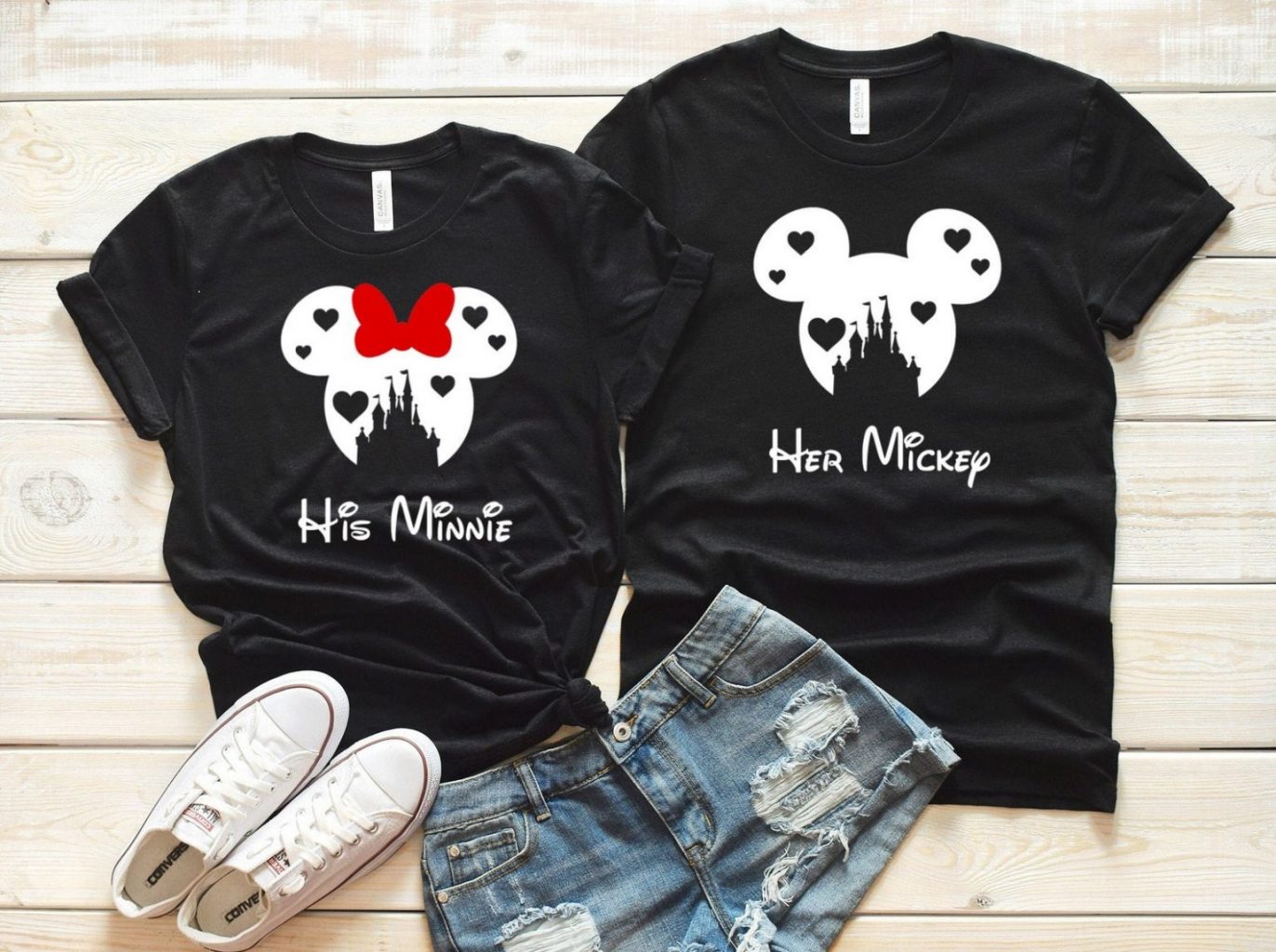 When you go to Disney World you are throwing away being an adult, I mean that is kind of the whole point, so don't be shy. Dress up with your SO and do something you probably don't do in the outside world – throw on those matching outfits and have a romantic day running around the parks!
Stay at a Deluxe Hotel and Take Advantage of the Amenities
Pools, spas, beaches, and hot tubs, oh my! Deluxe resorts are some of the most romantic places at Disney World and staying at one is definitely one of the most romantic things you can do. While is it definitely a splurge, if you can swing it, I highly recommend staying at Deluxe resort – so romantic already – and then taking advantage of all you are paying for!
Grab a cabana by the pool, or just enjoy the stunning pools at the Deluxe resorts – by far the best at Disney World. Relax in the hot tub in the evening with your partner and walk the beaches at sunset!
Be sure to check out my list of the best, and worst, Deluxe resorts! While every Deluxe resort has a lot to offer – stilt houses, beaches, massive pools, and VIP service, some are more romantic than others.
You don't need to drop a whole bunch of money to stay at these resorts either, you can purchase Disney Vacation Club points to stay and save big! Staying at Deluxe resort, and taking full advantage, is one of the most romantic things to do at Disney World.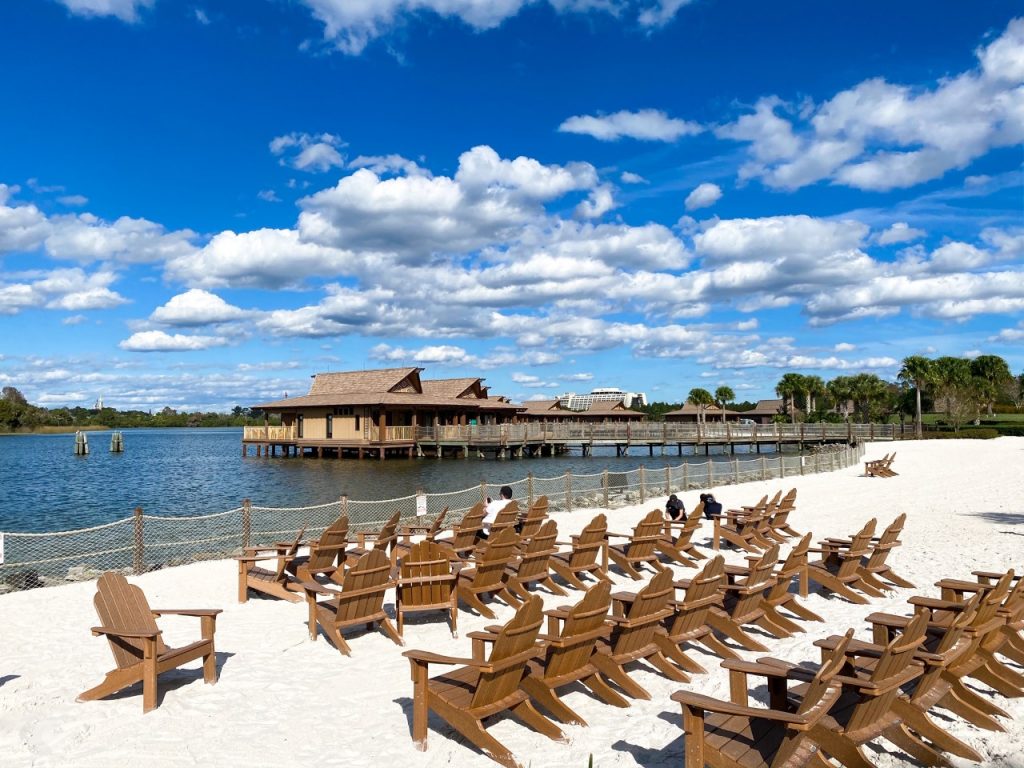 Do a Photo Shoot
Last, but certainly not least, of the most romantic things to do at Disney World – a Disney photo shoot! Now when I say do a Disney photo shoot, I do not mean hire a photographer and take pictures at your resort, which you can most definitely do, but I mean go all in the parks! Be sure to add on a Memory Maker to your tickets, get dressed and dolled up, and take lots of fun couple pics!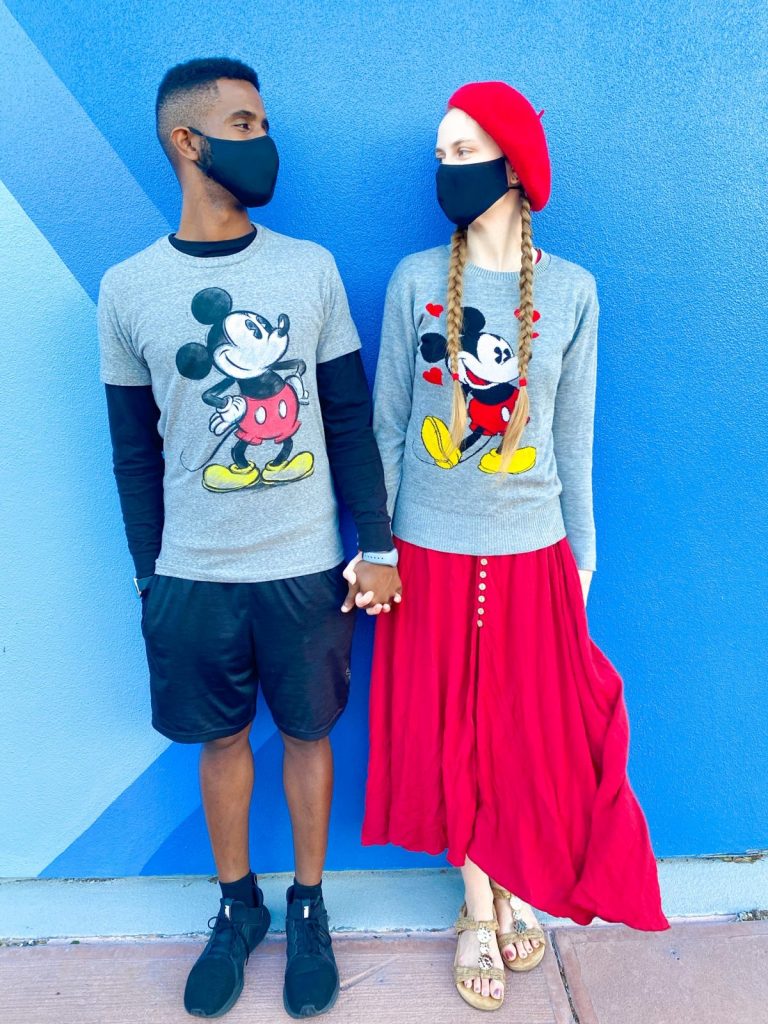 There are so many great photos spots around Disney World and so many can be super romantic spots in Disney World. If you have Memory Maker, you can have Disney photographers take lots of pics and so many poses all around the parks and even at Disney Resorts, the Disney Boardwalk, and Disney Springs. You can also ask Cast Members to help you out and take some great pictures with your cell even when there is no stationed photographer.
These pictures not only make great holiday cards, or announcement cards, but they are great way to memorialize your trip, and love, forever! So throw on your favorite outfits and go take some kissing, dipping, and cute pictures at all of the romantic places at Disney World.
I hope my list of the 14 wildly romantic things to do at Disney World inspired you to make your next Disney World visit a bit more romantic! What are your favorite romantic things to do at Disney World?! Drop your ideas in Comments!