Staying at a Walt Disney World resort is always magical, and the EPCOT hotels are no exception! These hotels are close to one of the best Disney World parks, give lots of choices when it comes to Disney transportation, and the dining at these hotels is hard to beat!
But how do you know which of the EPCOT hotels is right for you and your family? And how do you know which one to avoid?
You follow along with us, of course! Here we have collected all the details on the EPCOT hotels, and have compiled a list of the best ones for your next Disney vacation.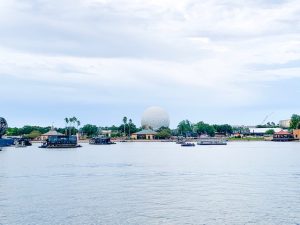 What are the EPCOT Hotels at Disney?
There are seven hotels near EPCOT that are either within walking distance of EPCOT, or less than two Skyliner stops away. These are all convenient to the park, to Disney's BoardWalk, and to each other. Most of these are Deluxe Resorts, but there is one Moderate Resort in the mix.
Staying at one of these resorts will put you very close to the action, and gives you access to some of the best dining at both EPCOT and the hotels. These 7 hotels are:
Disney's Beach Club Resort
Disney's Yacht Club Resort
Disney's BoardWalk Inn
Disney's Caribbean Beach Resort
Walt Disney World Swan Resort
Walt Disney World Dolphin Resort
Disney's Riviera Resort
Are the Hotels Near EPCOT Worth It?
ABSOLUTELY! These are some of the best hotels in all of Walt Disney World Resort, and give you so many perks. Here at Disney Trippers, we recommend these hotels above the other Disney resorts.
The EPCOT hotels are some of the most beautiful and best themed in Disney World, without sacrificing elegance and comfort. These hotels are not overtly "Disney," and sometimes that can be a blessing. After spending all day in the parks, it can be nice to go back to a fancier hotel that allows you to feel like you're on a vacation.
One of the reasons we highly recommend these hotels are that you are not only close to EPCOT, but you are also close to Hollywood Studios! These hotels are either within walking distance, or just a short boat or Skyliner ride away.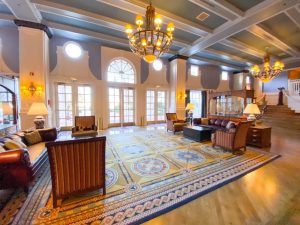 What Perks Do You Get Staying at EPCOT Hotels?
All amazing Disney amenities aside, these hotels near EPCOT also give you a list of other exclusive perks. Like we mentioned earlier, these hotels all have great transportation options. You can take Disney buses, walk to parks, take boats, or take the Disney Skyliner.
Being able to not only walk to EPCOT and Hollywood Studios is honestly the best perk! You're able to walk to a park for a quick bite to eat, or leave EPCOT and head to one of the amazing resort restaurants –  and you'll be there in minutes!
Speaking of the great restaurants – these EPCOT hotels have some of the best and highly rated restaurants at Disney World. Staying at one of these hotels gives you quick access and close proximity to 6 other hotels with great dining options from grab-and-go up to signature dining. You won't run out of great places to dine at any of these hotels!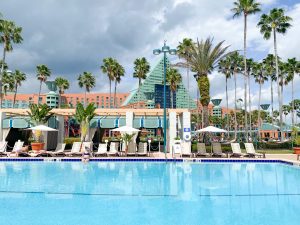 Best EPCOT Hotels
When choosing the best EPCOT hotel for your family, think about what activities your family enjoy and what's most important on your trip. Some of these hotels have better pools than others, some have better restaurants. You can choose the fanciest and newest Disney resort, or you can choose a charming iconic hotel.
Disney's Beach Club Resort
Inspired by New England charm and comfort, Disney's Beach Club Resort is a great choice when it comes to the EPCOT hotels. This is a Deluxe Resort and offers an elegant experience that never feels too stuffy or snooty. This is our number one pick when it comes to choosing a hotel near EPCOT.
Staying here allows your family to escape from the craziness of the parks and revel in the calm charm of this hotel. You can look out on Crescent Lake, head over to the BoardWalk for some fun, or walk to EPCOT in literally 2 minutes!
One of the things Beach Club is known for is the pool – but just calling it a pool doesn't do it justice. Stormalong Bay is a 3-acre waterpark complete with a lazy river and a shipwrecked boat! You can't beat the size of this pool, and all the fun that can be had here. Waterslides, whirlpool spas, and the lazy river are fun for the whole family.
Disney's Beach Club Resort is also synonymous with it's most popular dining option: Beaches & Cream Soda Shop! This is a don't miss 50's-style diner experience for your next trip. Chow down on burgers and fries, some of the best ice cream in Disney World, and see if your family can take on the Kitchen Sink Challenge – 8 scoops of ice cream, every topping, and a whole can of whipped cream!
Check rates here on hotels.com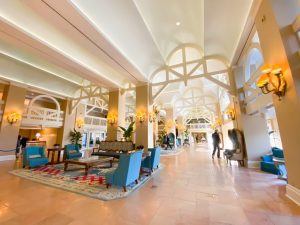 Disney's Yacht Club Resort
Disney's Yacht Club Resort is the more elegant, swanky sister of Beach Club. It has a more nautical theme and overall feels more posh and fancy than Beach Club. The lobby is designed to make you feel like you are in the hull of a ship, and there are classic nautical touches everywhere.
Yacht Club is a great choice for one of the EPCOT hotels because it shares amenities with Beach Club, as well as you get the perks of being so close to two parks. EPCOT is a short walk away, Hollywood Studios is only a boat ride away, and you're able to either walk or ride over to Disney's BoardWalk.
Since this hotel shares amenities with Beach Club, you'll get to enjoy the AMAZING Stormalong Bay waterpark while staying at Yacht Club too. You'll also be able to walk over at eat at both Beach Club restaurants, Beaches & Cream Soda Shop, and Cape May Café.
BUT you may want to just stay and eat at the Yacht Club if you're staying there. The food here – much like the resort itself – is much fancier and upscale than its sister. There are three restaurants at Yacht Club that can't be missed: Ale & Compass Restaurant, Yachtsman Steakhouse, and Crew's Cup Lounge.
Ale & Compass is a casual table service restaurant that serves New England classics like lobster rolls, clambakes, and pot pies. Yachtsman Steakhouse is a signature dining experience that offers some of the best steaks on Disney property. And lastly, Crew's Cup Lounge is the casual lounge for Yachtsman where you can order their menu in a more relaxed atmosphere.
Check rates here on hotels.com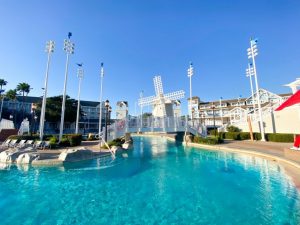 Walt Disney World Swan Hotel
The Walt Disney World Swan is located in between Crescent Lake and Hollywood Studios – making it just a short boat ride away from EPCOT. The décor here is inspired by the Renaissance and European elegance, and the iconic twin swans on the top of the hotel can be seen from all around Walt Disney World.
This is also one of the best Orlando Hotels With Shuttles To Disney World!
Even though this hotel is owned by Marriott, you still receive several Disney perks staying here like early FastPass selections, use of Disney transportation, and Extra Magic Hours. The customer service here still feels very "Disney," as does the numerous amenities. Unfortunately, you do not receive MagicBands here.
The Swan is considered a Deluxe resort and has fancy restaurants and a unique tropical pool complete with waterfalls to match. And while this Deluxe resort has all these upscale offerings, the price doesn't match! The Swan is often a fraction of the price of the Disney-owned hotels in this area and can be a great way to have an amazing Disney stay on a budget.
Check rates here on hotels.com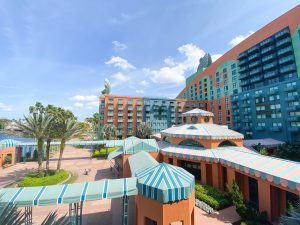 Walt Disney World Dolphin Hotel
The sister hotel to the Swan is the Dolphin and is complete with twin iconic dolphins on the roof. This hotel is inspired by the tropical beauty of Florida and offers similar amenities as its sister hotel and they're shared between the two.
Here you will be able to enjoy the proximity of both EPCOT and Hollywood Studios and the Disney BoardWalk. Everything is just a short boat ride away, and staying here will allow you to take advantage of two parks and lots of great restaurants.
Just like the Swan, the Dolphin is owned and operated by Marriott. You'll get the perks of staying at a Disney hotel without the cost of a Disney Deluxe resort.
Disney's BoardWalk Inn
Across Crescent Lake from Yacht and Beach Club is the BoardWalk Inn. This is also a Deluxe resort and offers many of the same amenities that both Yacht and Beach Club do – including close proximity and access to those hotels and their restaurants.
Disney's BoardWalk Inn is inspired by Coney Island and Atlantic City and feels more casual and whimsical than its neighbors across the lake. This can be a great choice when it comes to the EPCOT hotels because of the close proximity to EPCOT and Hollywood Studios, but also because you can take full advantage of the BoardWalk by just walking out of your hotel room.
The BoardWalk offers great places to grab a bite to eat or an adult beverage, like the ESPN Club, AbracadaBar, and Ample Hills Creamery. You can dance the night away at Atlantic Dance Hall, or listen to great music at JellyRolls – a dueling piano bar!
While the BoardWalk Inn is a wonderful resort and puts you close to both EPCOT and Hollywood Studios, we do think that both Yacht Club and Beach Club are better choices for similar prices. The Swan and Dolphin may also be better choices than the BoardWalk Inn because of the prices, especially if you don't mind giving up the "Disney" feel of a hotel. For even more information, check out our guide to Disney's BoardWalk Inn!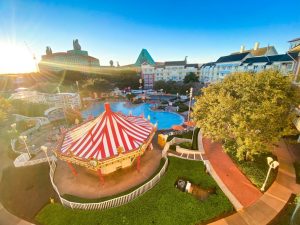 Disney's Riviera Resort
Disney's newest and swankiest hotel is the Riviera Resort. The Riviera Resort is inspired by the elegance and charm of the European Riviera and is definitely one of the more posh of the Deluxe resorts.
When it comes to the EPCOT hotels, this is a great choice. The rooms and hotel are beautifully designed, the restaurants offer some unique and delicious dining experiences, and a rooftop restaurant can't be beaten!
Disney's Riviera Resort may not be within walking distance to EPCOT, but it's just a short Skyliner trip away. The access to the Skyliner makes staying here a great option, and you'll be able to enjoy all the amenities of this amazing resort but you'll be able to take the Skyliner to two parks and several other hotels!
Even this hotel is unbelievably beautiful, it's hard to pass up the latest and greatest, the price point is a bit higher than the others on this list. While we do recommend this hotel for the experience and accessibility to the Skyliner, the other Deluxe EPCOT hotels may be better choices because they are closer in proximity to both to EPCOT and Hollywood Studios, as well as the prices will be cheaper at those hotels as well.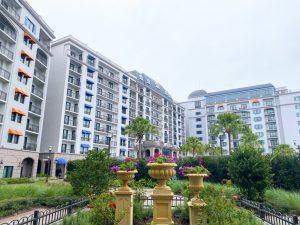 Worst EPCOT Hotels
Disney's Caribbean Beach Resort
Caribbean Beach Resort is a Moderate resort inspired by the islands in the Caribbean. It's brightly colored, uniquely themed, and offers five different sections of rooms. It's also accessible to two Skyliner stations – its own and the one at Riviera Resort.
While this is a much better-priced hotel in comparison to the Deluxe resorts, Caribbean Beach doesn't offer anything unique or special. Not to mention, the hotel is huge! This can be a very difficult hotel to get around and can be hard to navigate for those with mobility issues or small children.
The dining at Caribbean Beach is very good though, both Sebastian's Bistro and Centertown Market offer some exclusive meals and dining experiences. Centertown Market is a quick-service market offering food inspired by the islands of the Caribbean, while Sebastian's Bistro is a casual table service restaurant serving up a different take on surf and turf.
While there isn't anything "wrong" with Caribbean Beach, it just doesn't compare to the other 6 EPCOT hotels. The others are closer to both EPCOT and Hollywood Studios and offer better amenities and restaurants for only a little bit more money.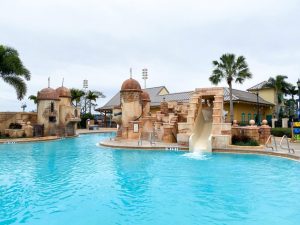 When choosing to stay at a Disney World resort, we recommend taking a look at one of these EPCOT hotels. You can't beat being so close to EPCOT – some within just steps! The six we listed as the best put you close to two parks and offer everything you could want at a hotel. The comfort and theming of these hotels can be beaten, and each offers their own elegance and charm.
Being close to EPCOT can make your next trip a little bit easier, and you'll be able to spend less time on transportation and more time in the park! Take our recommendations, and whether you stay at Beach Club or any of the others, we know these hotels will make your stay worth it!