Disney resorts and dining are two wonderful things, and the Grand Floridian restaurants are a great combination of them! The Grand Floridian Resort is an amazing resort to stay at AND to eat at! So, whether you're staying at the Grand Floridian and want to enjoy a meal without having to go anywhere, or you want to enjoy it's gorgeous landscape and Victorian-style buildings, there's a dining option for you! But, with so many Grand Floridian restaurants, how do you know which one(s) to pick?
I've got you covered! Grand Floridian is one of my top favorite resorts because of how pretty it is and, to me, it's the best romantic resort on property. It's also home to THE BEST restaurant at all of Disney World! I highly recommend a meal at Grand Floridian, but be sure to know the ins and outs of each restaurant so you can make the best pick for your trip.
Get a FREE printable 30/60/90 day Disney countdown by joining our private Disney Facebook Group and share your photos and ask for tips and tricks!

8 Best (And Worst!) Grand Floridian Restaurants
There are eight restaurants at Disney's Grand Floridian Resort, and, despite the fact that they're all under the magical Victoria vibes of this resort, they're all VERY different. So keep in mind that while we have them ranked here, the main focus is on what each restaurant is and why we love it!
I think that the Grand Floridian has a little bit of something for everyone. It definitely hits the mark for those who want something higher end or enjoy feeling fancy, but don't let that lose your focus! It's also got great options for the more casual types. So, with that being said, here's the low down on our favorites and which ones will be the best pick for your trip!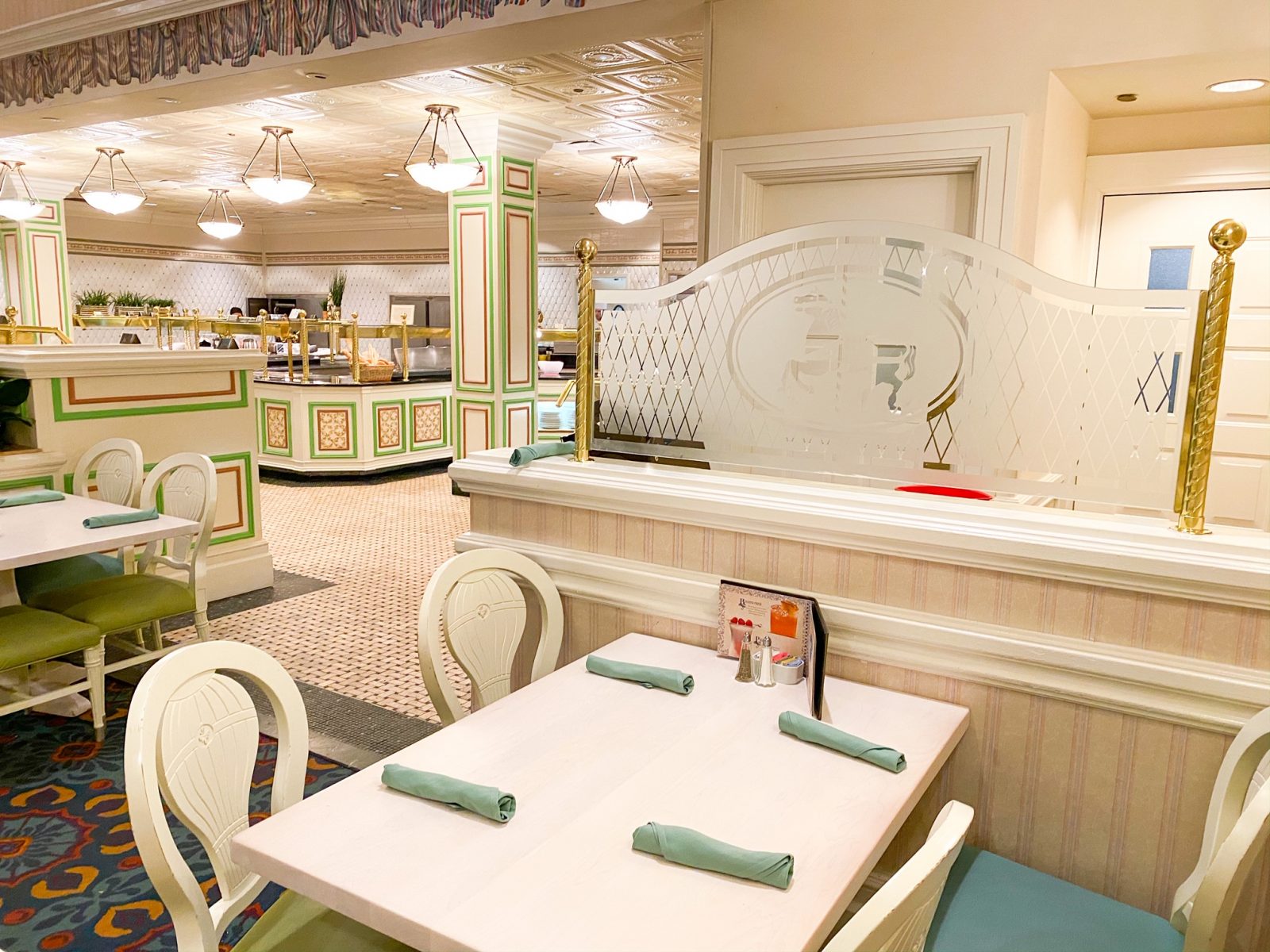 The Best
Obviously Victoria and Albert's wins for being the absolute best of the best at Disney World, but there's more to it than that! If you're not into Michelin star dining or not ready to shell out the big bucks, then just knowing that Victoria and Albert's is the best isn't going to get you very far! Be sure to read our thoughts for each restaurant to help you decide what will be BEST for YOU!
Victoria & Albert's
Victoria & Albert's is the BEST restaurant at Disney World, hands down. The setting of the restaurant is perfectly in-keeping with the Victorian feel of the Grand Floridian Resort, and the food is just as beautiful as the restaurant is! Victoria & Albert's is an award-winning restaurant, and Disney's crown jewel of dining.
Victoria & Albert's is broken down into three areas: the dining room, the Queen Victoria room, and the chef's table. The main dining room has only 14 tables, so you're guaranteed a quiet experience and top-notch service. The staff at Victoria & Albert's are specially trained for fine dining experiences!
The chef's table is exactly what it sounds like! This experience includes a meal up to 11 COURSES with a view of the kitchen and the chance to have conversations with the chef and sommelier throughout this experience. The chef's table is probably the most popular choice for Victoria & Albert's because of this magical experience, and there's only ONE chef's table!
Finally, the Queen Victoria room is a separate room with only two tables (four people per table) to give a very private dining experience. Dining in this room gets you a special version of the chef's menu, and you get to learn about the chef and sommelier's processes for selecting and pairing options for your meal.
With menu items like Japanese beef, Alaskan King Crab, and caviar, Victoria & Albert's is perfect for those with a pallet for the finer things! If that's you, be sure to plan ahead! With such few tables, and only one seating per night, Victoria & Albert's is booked MONTHS in advance. You can book dining six months in advance and if you want to go to this restaurant, you'll likely need to book right at that six month mark.
For more on Victoria & Albert's, check out our post on Disney's best restaurants!

Narcoossee's
Looking for a more laid back meal but still love nice food? Or maybe you want a meal with a view? Narcoossee's is right on the water of Seven Seas Lagoon, and you can catch Magic Kingdom's fireworks from here in the evening! In terms of food, this Grand Floridian restaurant leans on the New England vibe and presents a great seafood menu.
Lobster lovers, pay attention! Narcoossee's menu features not only an excellent lobster bisque, but also steamed Maine lobster AND cold water lobster tails poached in butter. Lobster is really the main event here, but Narcoossee's whole menu is a delight for seafood fans. Not into lobster? The salmon and scallops are delicious!
But don't worry! If you're not into seafood but someone in your party is, this is still a great option! I am big on seafood, but I've gone with people who aren't, and they had great things to say about the tofu and the filet mignon. Definitely not the best restaurant for vegetarians, but there are a few meat-free options!
Narcoossee's is a much easier Grand Floridian restaurant to nab a reservation for, but I recommend planning ahead so you can get one close to the fireworks time! You can enjoy the water view from the windows throughout the restaurant, or you can venture outside to get a better view. This is a really beautiful and romantic place to see the show!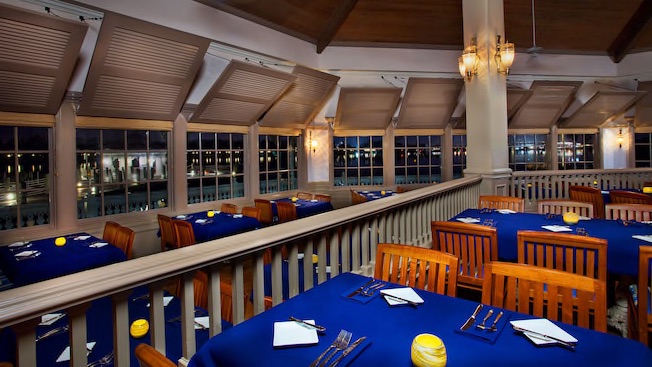 1900 Park Fare
1900 Park Fare is the character dining Grand Floridian restaurant! A character dining experience means that Disney characters are in the restaurant and make the rounds meeting and taking photos with guests at each table. If you are looking for character dining, 1900 Park Fare is a great option!
One of the great things about this Grand Floridian restaurant is the characters! Yes, a lot of restaurants have them, but what I love about 1900 Park Fare is the variety in characters. This is a great place to meet some of the more rare characters (like Mary Poppins, Lady Tremaine, and the Mad Hatter), AND you'll get to meet different characters based on what meal you're there for!
Of course, characters are great, but we're not going to a restaurant and not talking about the food! 1900 Park Fare has a buffet for each meal and options to satisfy everyone! The breakfast is my personal favorite (because who doesn't love breakfast food?) because of the omelets and eggs Benedict. However, whichever meal you choose, be sure to get the iconic strawberry soup! It sounds weird, but with whipped cream on top, this is the perfect berries and cream dish!
1900 Park Fare has a great variety of American favorites: made-to-order omelets, pancakes, French toast, and even biscuits and gravy and cheesy grits for breakfast; soups, pastas, seafood, chicken, and beef, and different salad options for dinner! Buffet options means you get to really enjoy whatever tickles your fancy, and there are definitely options here for young and old and those with dietary restrictions as well.
For more about 1900 Park Fare, check out our post on character dining! If you are on the Disney Dining Plan, it is a great way to use up your credits!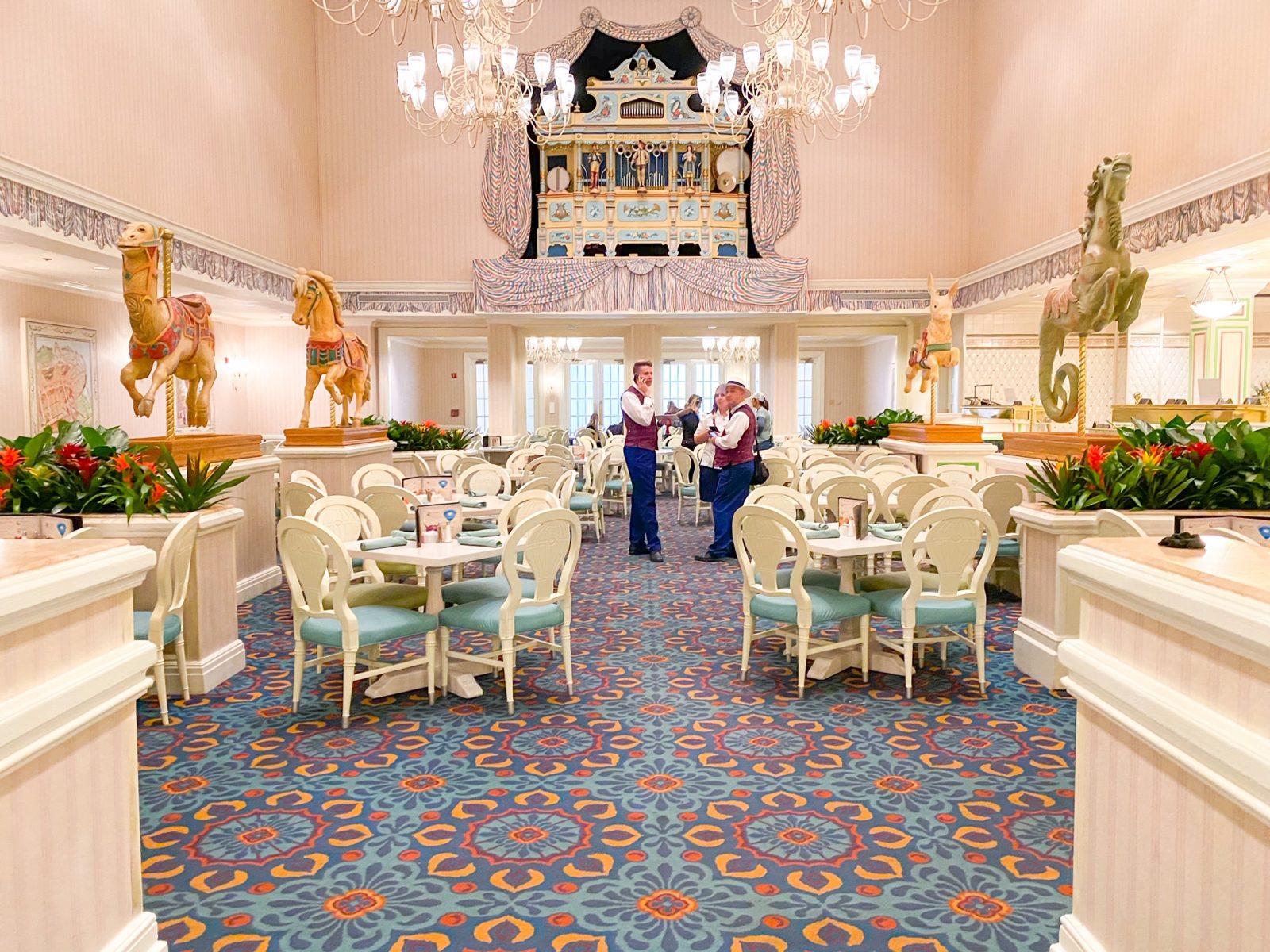 Grand Floridian Cafe
Okay, Grand Floridian Cafe is at the tippy top of my favorite breakfasts not just among Grand Floridian restaurants, but all around Disney! Anyone who knows me knows I LOVE eggs benedict, but I don't eat ham, so I'm always looking for twists on this classic. Grand Floridian Cafe totally delivers! They even have a FLIGHT of the different benedicts!
Eggs benedict not your thing? The breakfast menu has loads of other tasty options! Classic Mickey waffles are, of course, on the menu! There's also some great salad options! Looking ahead to lunch and dinner, the Grand Floridian Cafe is currently one of very few restaurants on property where you can find an Impossible burger.
That's actually one of the great things about this Grand Floridian restaurant in particular: it's great for meat-free folks! Aside from salads and Impossible burgers, you can also find a delicious veggie pasta and loads of delicious appetizers and desserts. Disney is working to be much more diverse in their meat-free/plant-based menu items, and the Grand Floridian Cafe is a great example of this.
Aside from delicious food (can you tell where my priorities are?), the Grand Floridian Cafe is always a fan favorite restaurant because of its service! The Grand Floridian already has amazing service that makes you feel like you've reached celebrity status, and this restaurant is a great example of that. Everyone is so friendly here, and the service is so fast! Perhaps this is in part because it's a less busy option- with the Grand Floridian restaurants noted above, this one gets a little less attention from guests.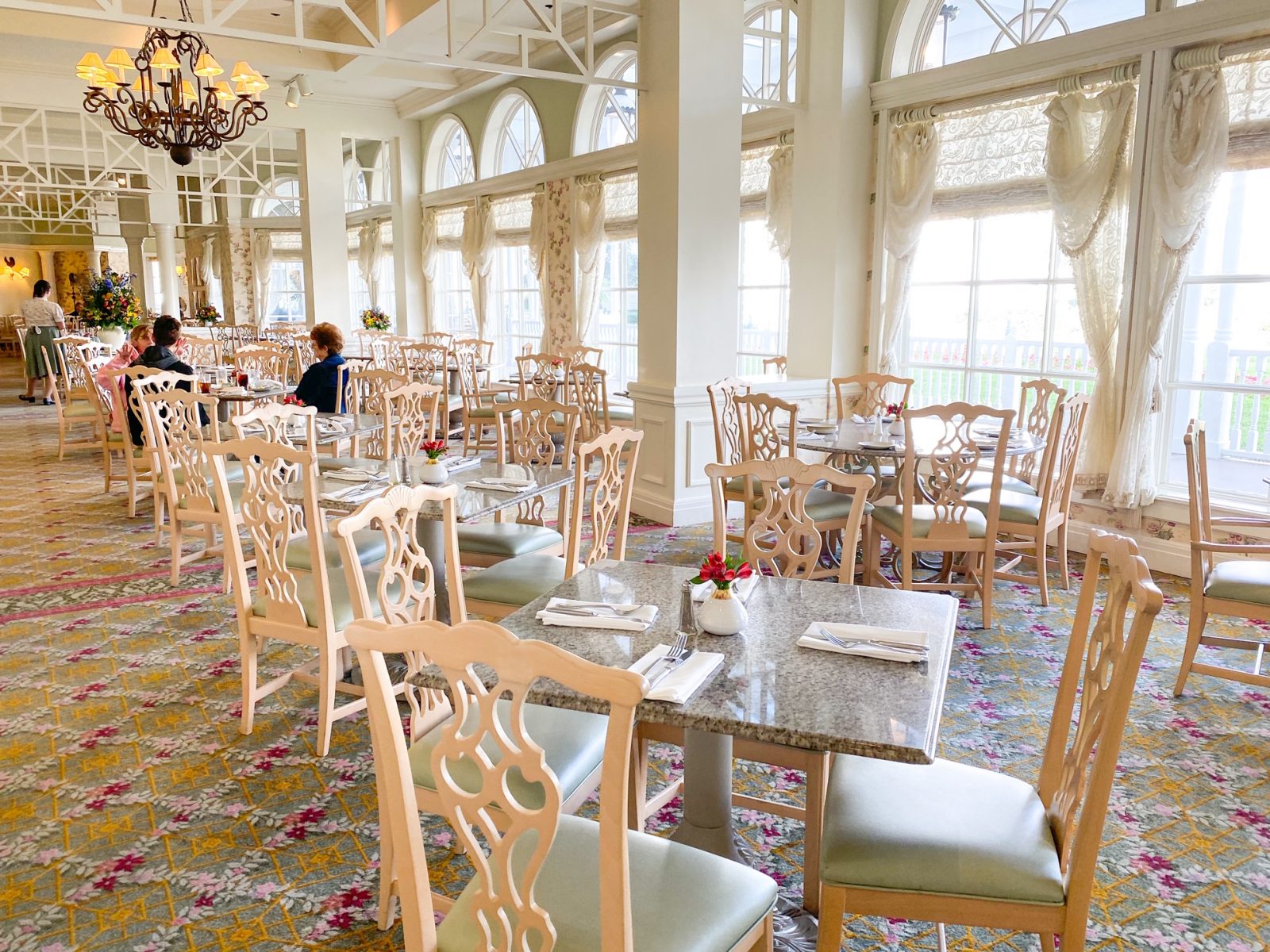 Garden View Tea Room
The Garden View Tea Room is notably different from the other Grand Floridian restaurants. That's because it's exactly what it sounds like! This charming Victorian style tea room isn't really a restaurant. They serve tea! Is that too obvious? Well, they also serve delicious scones, sandwiches, and other British treats that pair well with tea.
The Garden View Tea Room is a really cute place for little princess, they have a princess tea party! It's quite pricey (about $230 per child, plus $100 for accompanying adults) but it is a great way to celebrate a special occasion. Guests of the princess tea party experience music, dancing, and storytelling, a selection of treats for both kids AND parents, some quality time with a princess, and a rather big goodie bag!
Not looking for princess tea parties? Don't worry, the Garden View Tea Room is still a great place for adults who like tea! All the tea in this experience is by Twinings, and you can choose to either experience a traditional afternoon tea OR a Twinings tea tasting experience. These are great ways to bring a touch of relaxing elegance to your vacation!
Enchanted Rose
The Enchanted Rose is a new Grand Floridian restaurant option though, again, it's not quite a restaurant. As the name suggests, this is a Beauty and the Beast inspired location, which is a bit different for the Grand Floridian, usually considered home to Cinderella and Sleeping Beauty. The theme works well, though, because this location is stunning and so elegant.
Enchanted Rose is considered a lounge, so it has a great bar and a small plates menu to accompany the drinks. With four unique seating areas, this is definitely a great place to check out. However, because of the lounge setting, this is not a place for the whole family. They do have mocktails (alcohol-free) for guests of all ages, but I don't think kids would have as much fun here as at other Grand Floridian restaurants.
For those adults who want to check out the Enchanted Rose, you're in for a treat! The drinks have whole stories behind them, and the entire food menu was made to compliment the drinks perfectly. The food is AMAZING, with fancier options like crab and caviar, but even truffle fries for my fellow potato enthusiasts! The drink menu is equally wonderful, with a huge array of specialty cocktails and even a great wine AND beer list. Something for everyone here!
For more on the Enchanted Rose lounge, check out our post on Disney for adults!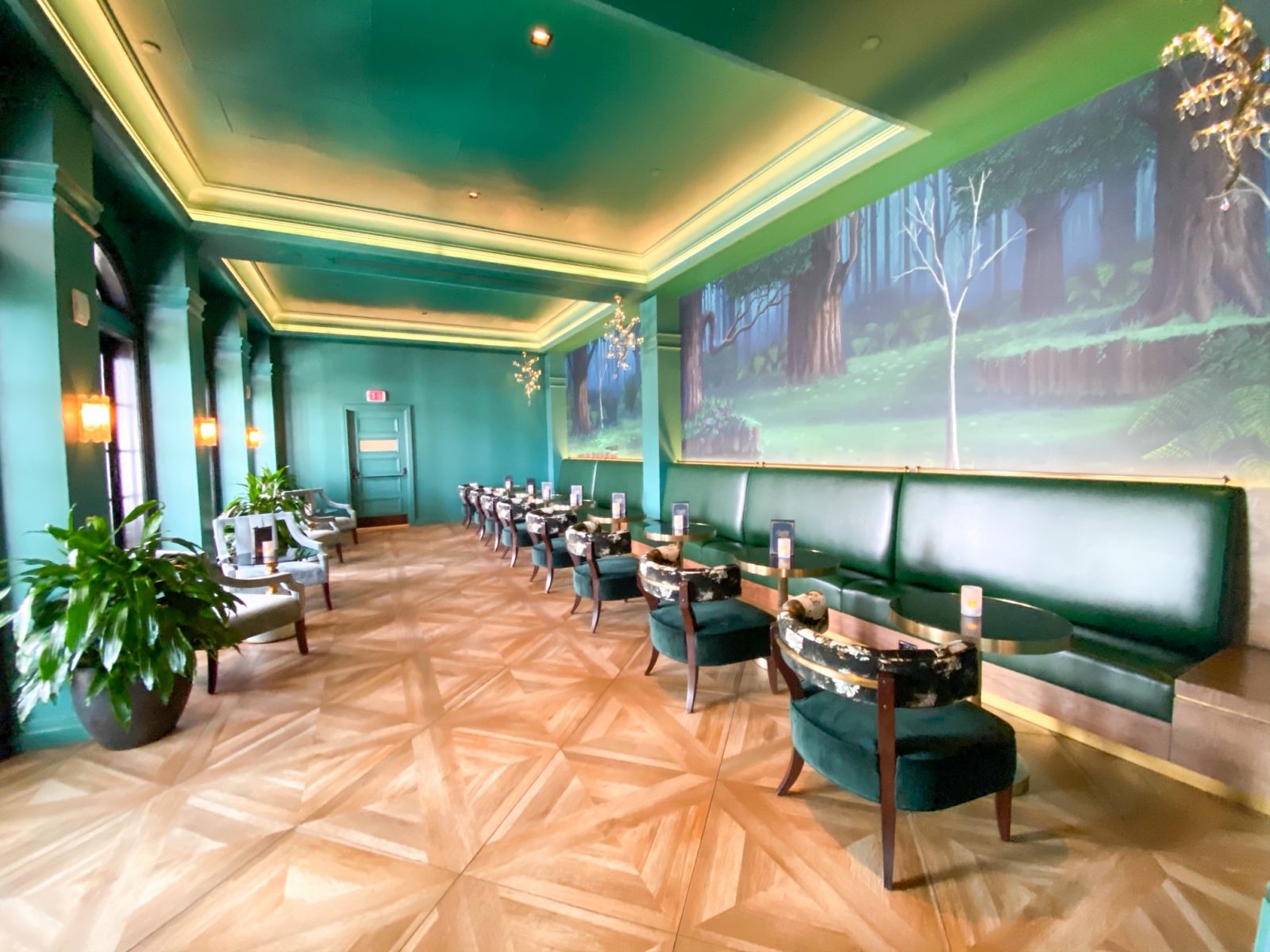 The Worst
It's always hard to say something is the worst at Disney (at least for me!). So, take this with a grain of salt. Even the Happiest Place on Earth has some things that just aren't as good as others, especially when everything else is SO GOOD. Sometimes the worst of something means "avoid at all costs" and sometimes it just means there's probably a better option! So where does that leave the Grand Floridian restaurant rankings?
Citricos
Citricos is not a bad restaurant by any means, but it's up against some stiff competition in the Grand Floridian! This is a Mediterranean style restaurant overlooking the resort's beautiful greenery. It is a beautiful restaurant, with an open kitchen that lets you see some of the behind-the-scenes action for yourself!
Citricos is considered "signature dining" by Disney's standards, and it's pricing definitely reflects that. Signature restaurants are always more pricey options than other restaurants, but they make up for it in quality of food and service, as well as ambience. Citricos does provide a lovely ambience, and excellent service in keeping with Disney's signature dining expectations.
The food is where most people falter with Citricos. Most guests who dine here don't feel the need to do so more than once, and while the general consensus is that the food is good, it's also not usually something to write about home about. They stand strong in the seafood and meat categories, but their appetizers are hit-or-miss. Almost everything at Citricos is good, but for those looking for a signature dining experience, there are definitely better options to choose.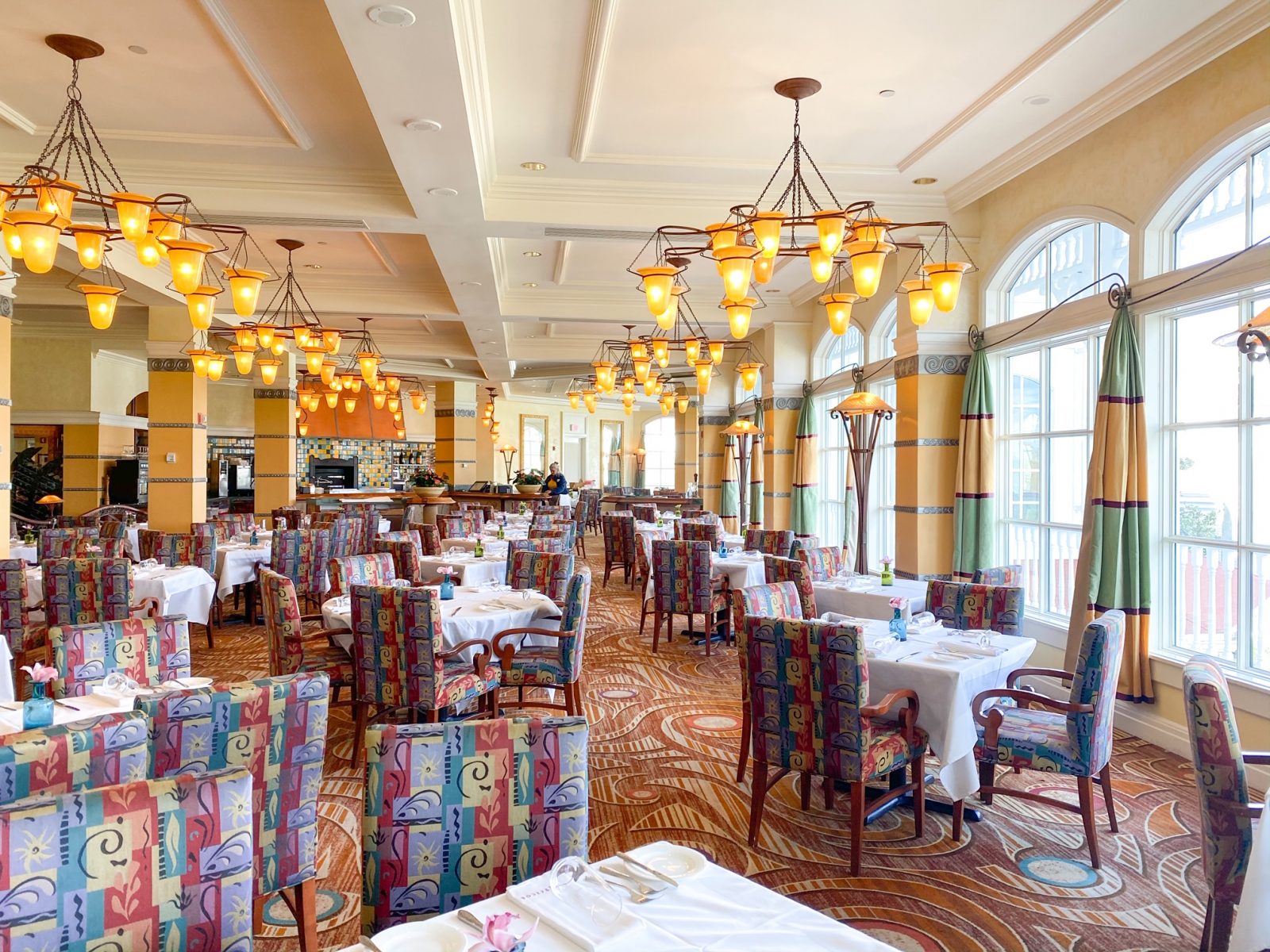 That's it, all of Grand Floridian's restaurants! I hope this has helped you decide which restaurants you want to make some reservations for during your trip- I know how daunting all those decisions can be! Enjoy and happy eating!
Pin this post: