If you're looking for the best list of Disney desserts you've come to the right place! This list has some of the best Disney desserts that you cannot go without on your next Disney World vacation. No meal at Disney is complete without one of these amazing desserts, and some of them are great to grab as a snack too!
We've compiled a list of Disney desserts with something for everyone – there's chocolate, ice cream, fruity, and refreshing desserts all on this list. You can't go wrong choosing one of these as the end to a great Disney meal or day. Or even grabbing one at any time throughout the day – it is vacation after all!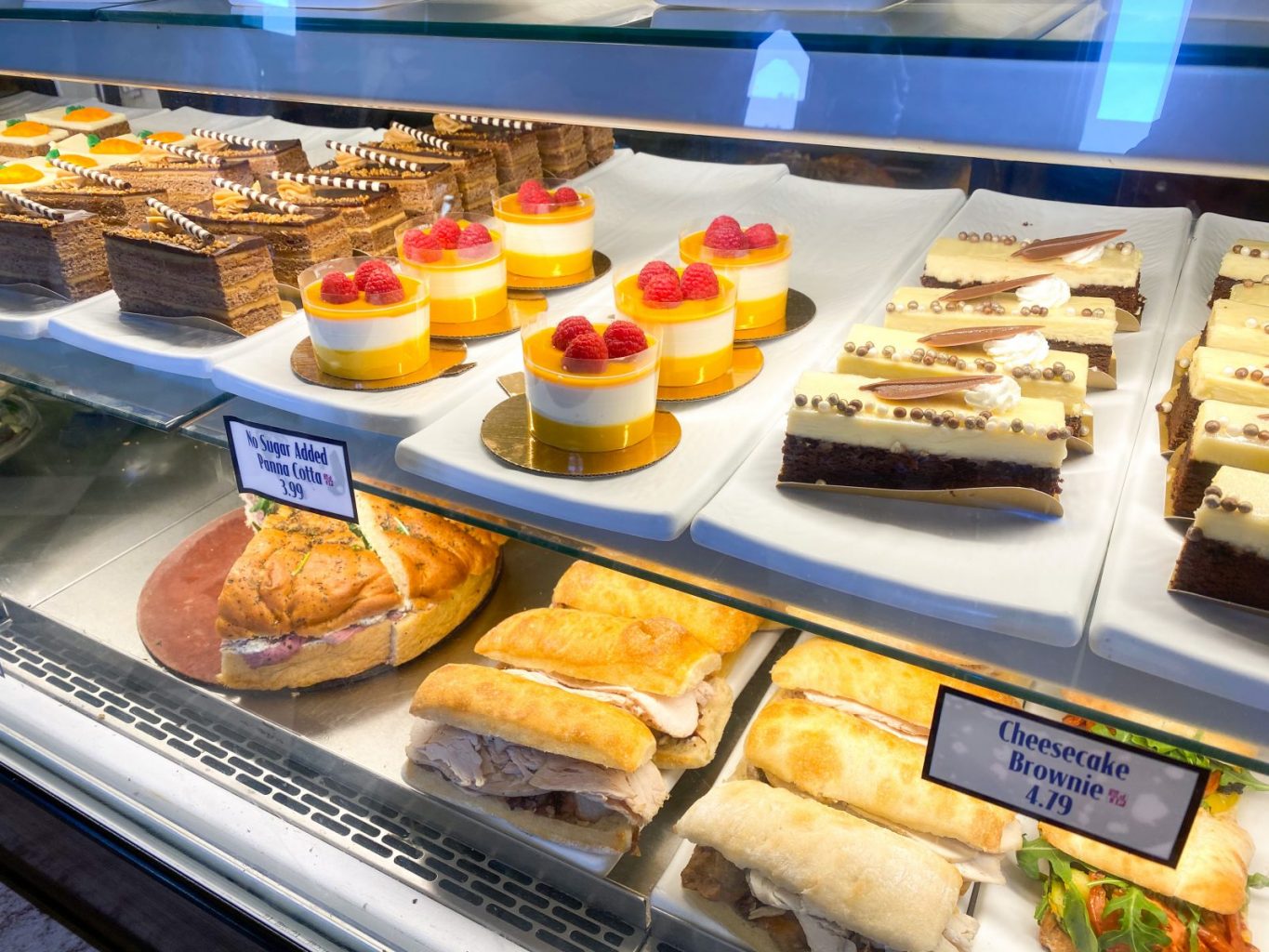 Cheshire Cat Tail
The Cheshire Café in the Magic Kingdom is right across from the teacups and Cosmic Ray's Starlight Café. This small little booth carries one of the yummiest treats in Disney World – the Cheshire Cat Tail. This is a flaky chocolate-filled croissant that has been decorated with drizzles of purple and pink icing, making it look like the iconic tail of the mischievous Cheshire cat.
Flaky and decadent, this is especially good when it's a little warm and the chocolate is melty inside. We think it's one of the best Disney desserts to grab after a meal at the Magic Kingdom, but it makes for a great quick breakfast too!
Dole Whip
Dole Whip may be one of the most iconic Disney desserts, if not the most iconic, and it's a must have on your Disney trip. This soft serve pineapple treat is creamy, refreshing, and delicious. It tastes like a tropical vacation, and is perfect for cooling down on a hot Florida day.
These can be found in several places in Disney World, most notably Aloha Isle in the Magic Kingdom and Pineapple Lanai at the Polynesian Resort. We also think you should snag the seasonal Dole Whip flavors whenever you come across them too! Disney has put out lemon, raspberry, key lime, and mango in the past and these shouldn't be skipped either!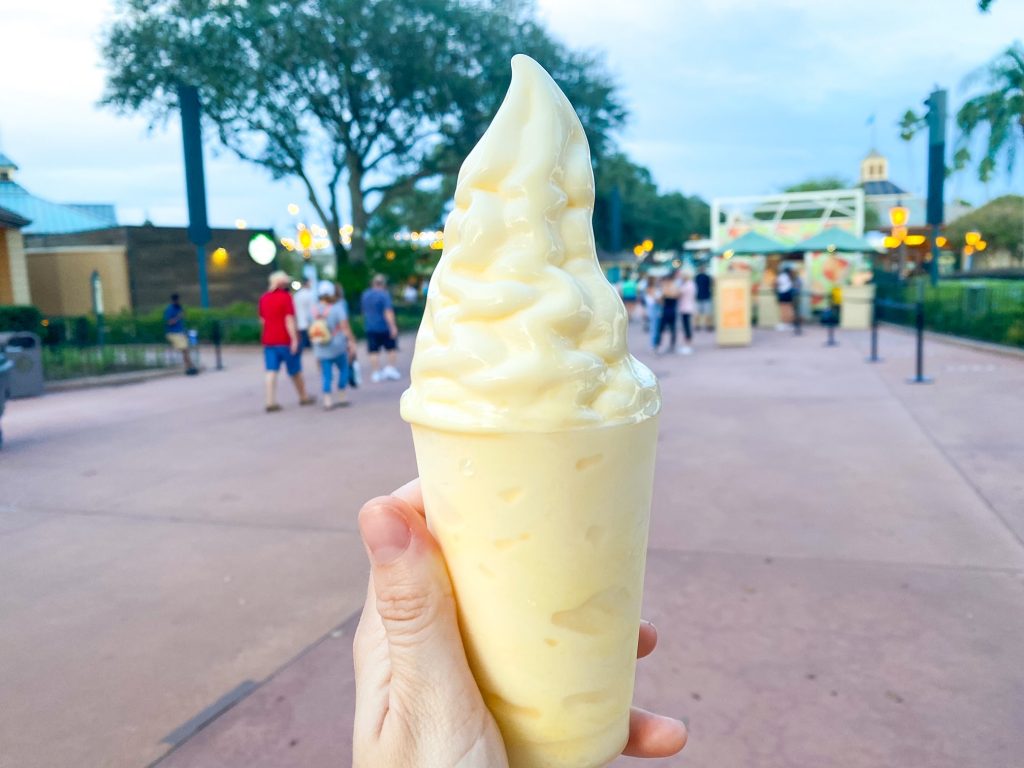 Chocolate Cake at Satu'li Canteen
Satu'li Canteen in the land of Pandora at Animal Kingdom is a great place to grab a bite to eat, and their interesting and delicious desserts make it somewhere that can't be missed. The chocolate cake on their menu looks like an exquisite out of this world dessert – and it is!
This dessert has a crunchy cookie base topped with chocolate mousse and a banana cream. The dessert is finished with a light lemon syrup and Goji berries. The combination of dark chocolate and banana is a classic, and this dessert is definitely a decadent treat!
Cookies and Cream Mickey Cupcake
This yummy Disney dessert can be found in a couple of places around Disney World, typically at Main Street Confectionary in Magic Kingdom and Goofy's Candy Kitchen at Disney Springs. Like most Disney cupcakes, this is certainly one you don't want to skip!
The Cookies and Cream Mickey cupcake has a rich, chocolate cupcake topped with cookies and cream buttercream. And, of course, finished off with two chocolate sandwich cookie Mickey ears. Not only is this cupcake adorable, but it's perfect for those who love chocolate sandwich cookies and super sweet desserts!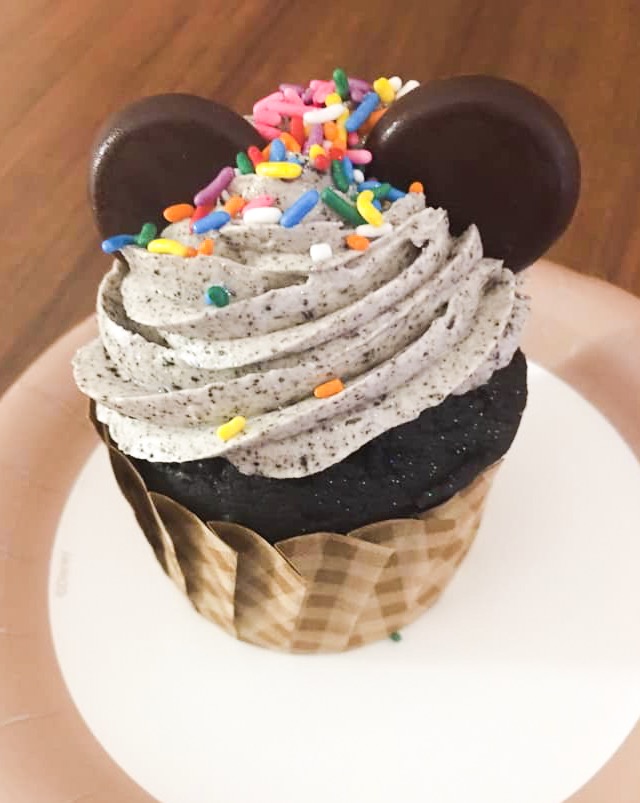 Fresh Fruit Waffle Sandwich
Sleepy Hollow in Magic Kingdom cranks out some of the yummiest treats and is known for their waffles, and this Disney dessert isn't any different! The Fresh Fruit Waffle Sandwich at Sleepy Hollow is an amazing choice for your next dessert.
They spread chocolate-hazelnut spread onto a warm, freshly made waffle and then they top it with fresh fruit. The combination of fresh berries, gooey chocolate-hazelnut spread, and warm waffle make for a truly decadent dessert – and is great for sharing! This dessert is rich and delicious, and is the perfect end to any meal.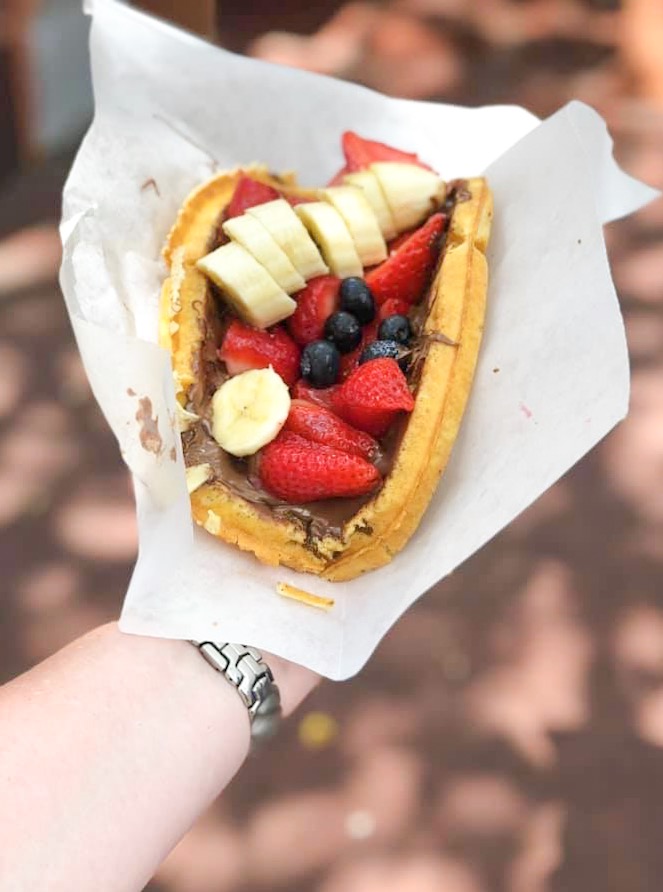 'Ohana Bread Pudding
This Disney dessert is another iconic one, and can be found at the 'Ohana Restaurant at Disney's Polynesian Resort. At the end of an all-you-care-to-eat meal, this warm, delicious dessert is brought to your table and you HAVE to find room for it!
The warm bread pudding is thick and spongy, the perfect bread pudding consistency. It's topped with bananas and caramel sauce, and, of course, served with vanilla ice cream. The fresh bananas and caramel sauce are the perfect accompaniment for this Disney dessert, and really make this a can't miss on our list.
Salted Caramel Cupcake
Karamell-Küche in the Germany pavilion at EPCOT is a store you have to stop in on your next Disney trip, not only because they feature goodies by Werther's Original Caramel, but also because they have one of the best cupcakes on Disney World property. The Salted Caramel Cupcake is a great mix of sweet and salty, and perfect for those who love a less sugary sweet dessert.
The cupcake itself is dark chocolate, and not only has salted caramel buttercream piped on top, but also piped into the center of the cupcake for even more salted caramel goodness. Finally, the cupcake is drizzled with a caramel sauce. This is a decadent cupcake, but isn't too rich and definitely one you have to grab on your next trip!
Tarte au Chocolat
If you're looking for another great dessert at EPCOT, look no further than Chefs de France in the France pavilion. Chefs de France has amazing food, and is a great choice for lunch or dinner. The perfect finish to a meal here is definitely the Tarte au Chocolat.
This is a rich chocolate tart, plated with Valrhona Chocolates and – wait for it – even more chocolate, but in the form of a sauce drizzled on to the plate. If you're a chocolate lover, this decadent dessert is for you! It's chocolate on chocolate and is the perfect ending to a French meal – especially when paired with a nice cappuccino!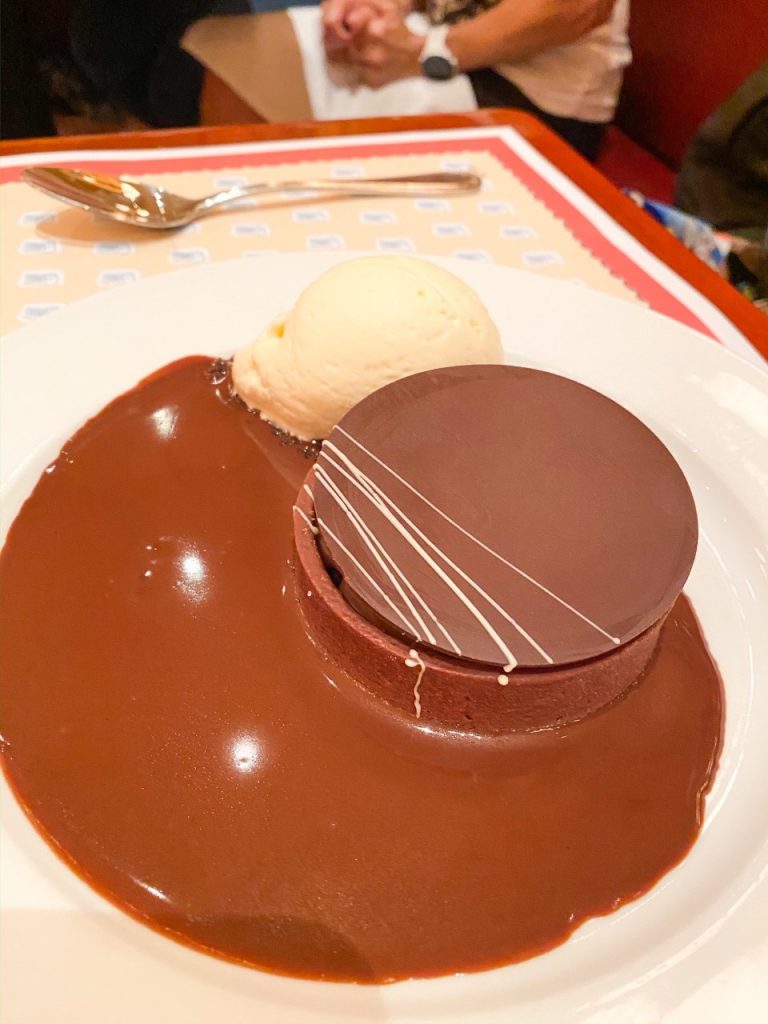 Cookies 'n' Cream Mousse Cup
Sunshine Seasons in EPCOT is a great place to grab a bite to eat, and they have been known to carry some killer desserts in the dessert case over the years. This mousse cup is no different! It's a rich, chocolatey mousse layered with chocolate cookie sandwich crumbles.
The best part about this dessert though? It's plant-based! You can't tell at all by eating it, which makes it an even better choice for a Disney dessert. This delicious chocolatey dessert is great for anyone, but especially those with dietary restrictions or those on plant-based diets.
Berry Shortcake
It may seem like a lot of these are EPCOT desserts, and honestly, it's because some of the best desserts are found there – like this one! The Berry Shortcake at Garden Grill in EPCOT is a very refreshing choice for a Disney dessert, and is a light ending to what can sometimes be a heavy dinner.
The light spongey cake is topped with fresh strawberries and blueberries, covered in berry sauce, and, of course, topped with tons of whipped cream! This is a shareable dessert, and just like the other food at Sunshine Seasons, you can get multiple servings! You don't want to miss this light, delicious, fresh dessert next time you're at EPCOT.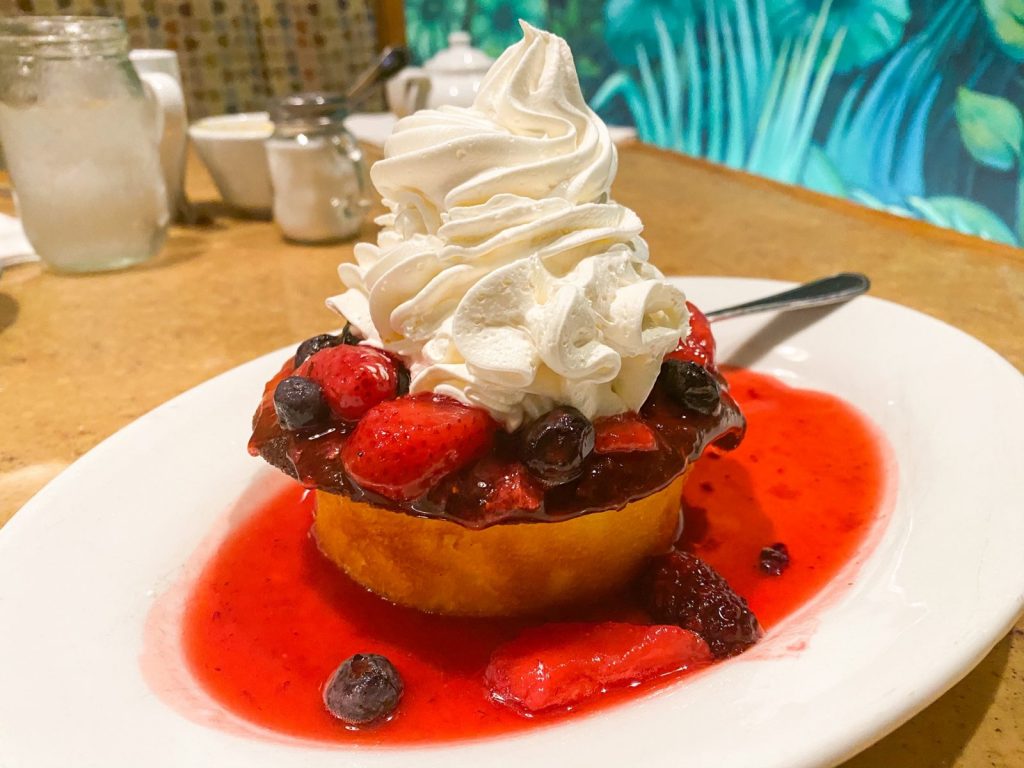 Brownie A La Mode
We know Beaches & Cream Soda Shop is famous for their Kitchen Sink dessert, but that's not the Disney dessert we are here to talk about. No, we are going to talk about their epic Brownie A La Mode.
This dessert starts with a thick, chewy, fudgy brownie – the BEST kind of brownie – and is then topped with the classics. Hot fudge syrup/caramel/peanut butter syrup, vanilla ice cream, whipped cream, sprinkles, and a cherry finish off this decadent dessert. It's rich and delicious, a well-done classic dessert. It's absolutely shareable as well – but we don't blame you if you don't want to share this one!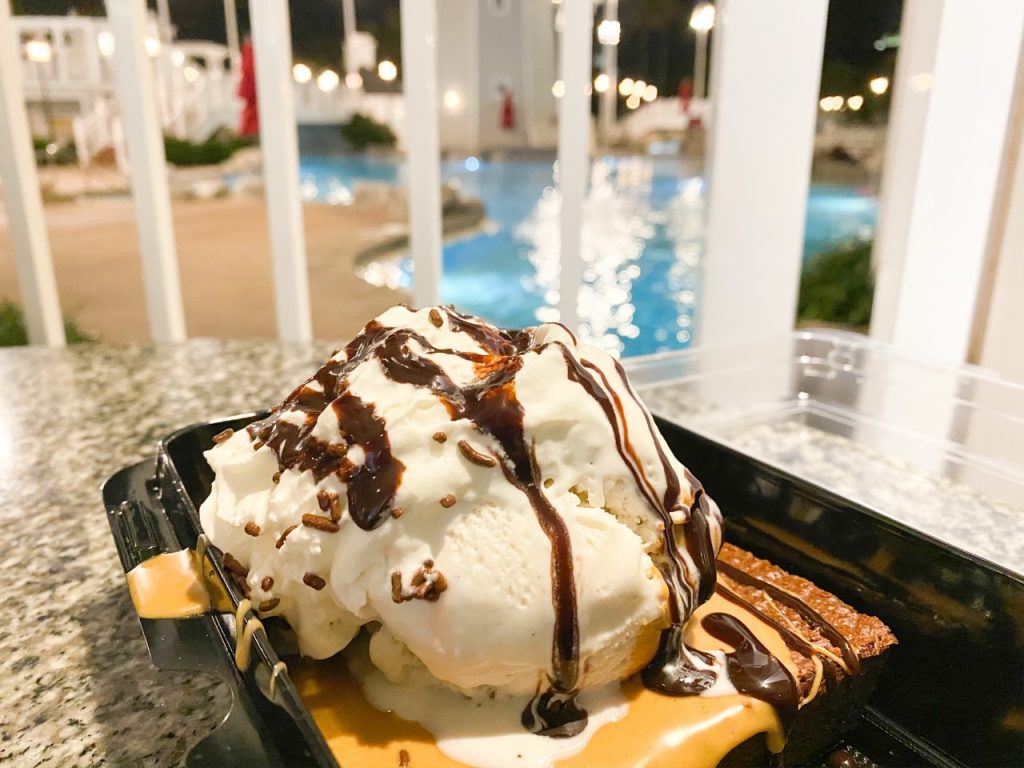 Vegan Cookie Sandwich
We know it can be hard for those of you with dietary restrictions or on a plant-based diets to find delicious Disney desserts. Thanks to Erin McKenna's Bakery NYC at Disney Springs these can be a little easier to find. This adorable little bakery sells all kinds of vegan and gluten-free treats, but there is one standout we recommend whether you're vegan or not.
The Vegan Cookie Sandwich is a great dessert if you're looking for something that won't weigh you down. The traditional cookie sandwich here is chocolate chip cookie filled with vanilla frosting, but you may also find double chocolate, ginger, or oat raisin cookies offered as well. These cookie sandwiches don't taste plant-based, and will make cookie lovers rejoice!
Ooey Gooey Toffee Cake
At the end of your meal at Liberty Tree Tavern in Magic Kingdom, your server will bring out a cast iron skillet filled with one of the most decadent Disney desserts we've had – the Ooey Gooey Toffee Cake. This dessert is rich, delicious, and honestly one of the reasons to eat at Liberty Tree Tavern.
On the bottom of this dessert is a spongey cake filled with chocolate bits, and then it's topped with a variety of toppings: toffee bar bits, chocolate sauce, caramel sauce, whipped cream, and vanilla ice cream. This is a dessert made for sharing since it is so decadent, and it's also one you can ask for seconds of – if you have the room!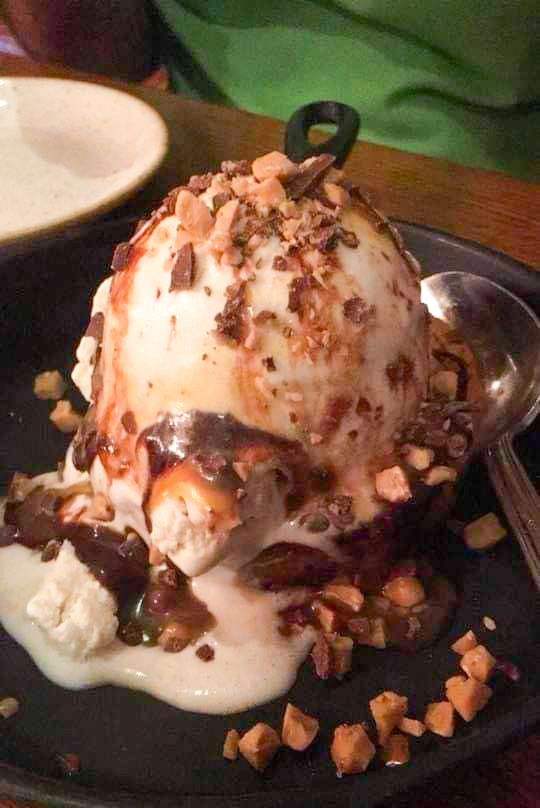 House-Made Sci-Fi Candy Bar
Dining at Sci-Fi Dine-In Theater at Hollywood Studios is an experience, and we think it's a great place to grab a meal and relax while in the parks. The food here is good, but the standout on the menu is this dessert: the candy bar.
This dessert looks like an upscale candy bar when brought to your car (your table), and is plated with whipped cream, fresh strawberries, and caramel syrup. The candy bar itself is covered in chocolate ganache and filled with cookies and cream mousse. This is rich, yummy, and will make you wish all candy bars tasted this good! This is one you can't miss when dining in Hollywood Studios.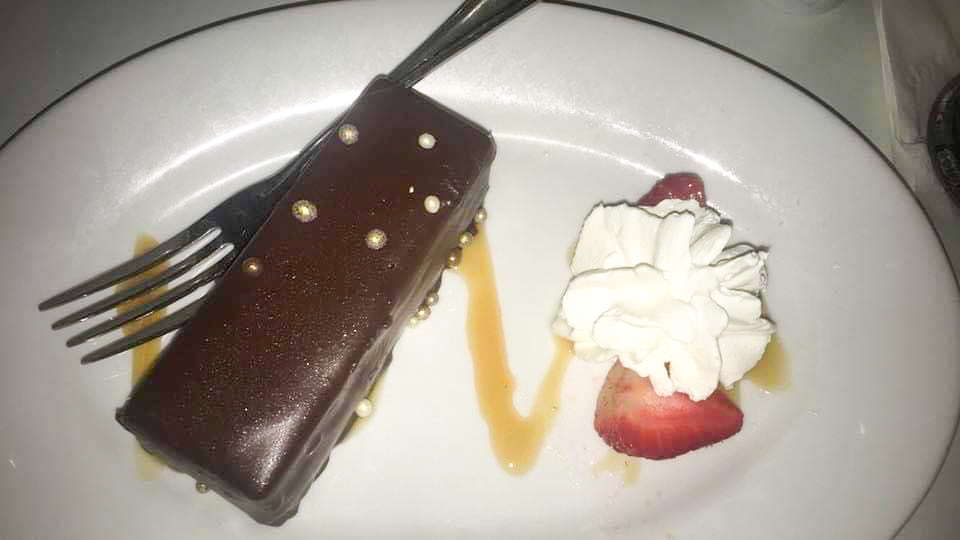 Kakigori
If you're looking for a lighter, more refreshing Disney dessert instead of something heavy, then this dessert is for you! Found in the Japan pavilion in EPCOT, the Kabuki Cafe serves up the perfect dessert for hot weather: Kakigori.
Kakigori is traditional Japanese shaved ice, packed into a huge cup. You can choose from Rainbow, Strawberry, Melon, Cherry, Tangerine, or Blue Raspberry syrups to top it. Admittedly, Rainbow is the prettiest and THE BEST. You can make your shaved ice dessert a little more extravagant by adding the Sweet Milk Topping, which makes the dessert creamier and sweeter.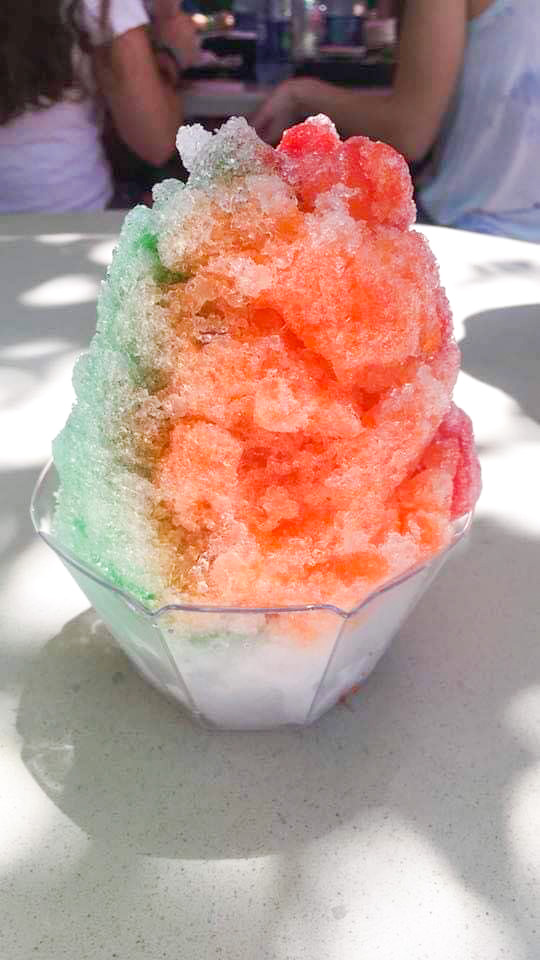 Grapefruit Cake
The Hollywood Brown Derby is iconic both in Hollywood and in Hollywood Studios. They created the Cobb salad, and also a dessert that is a must-have if you're looking for a refreshing, classic Disney dessert: the Grapefruit Cake.
This vanilla sponge cake is light and airy, and has been soaked with grapefruit syrup. The cake is layered with grapefruit cheesecake and grapefruit jam, making this dessert a little sour and a little sweet. If you love citrus desserts and love grapefruit, then this cake is for you! It's a light cake, with a bright, unique taste. Fun fact: you can sometimes get this on a trio of desserts over at Mama Melrose's too!
Giant Cookies
If you're looking for an easy to grab Disney dessert, or snack, while walking around Disney World, we suggest you snag one of these giant chocolate chip cookies. These can be found at a lot of the bakeries in the parks, but Goofy's Candy Kitchen in Disney Springs is a consistent place to find these.
These cookies are MASSIVE and may not seem like they would be a great choice for dessert, but looks are deceiving here. These are soft, chewy cookies filled with chocolate chips and often dipped in chocolate as well! They make for a great dessert, and you can share one of these with several people since they are so dang big!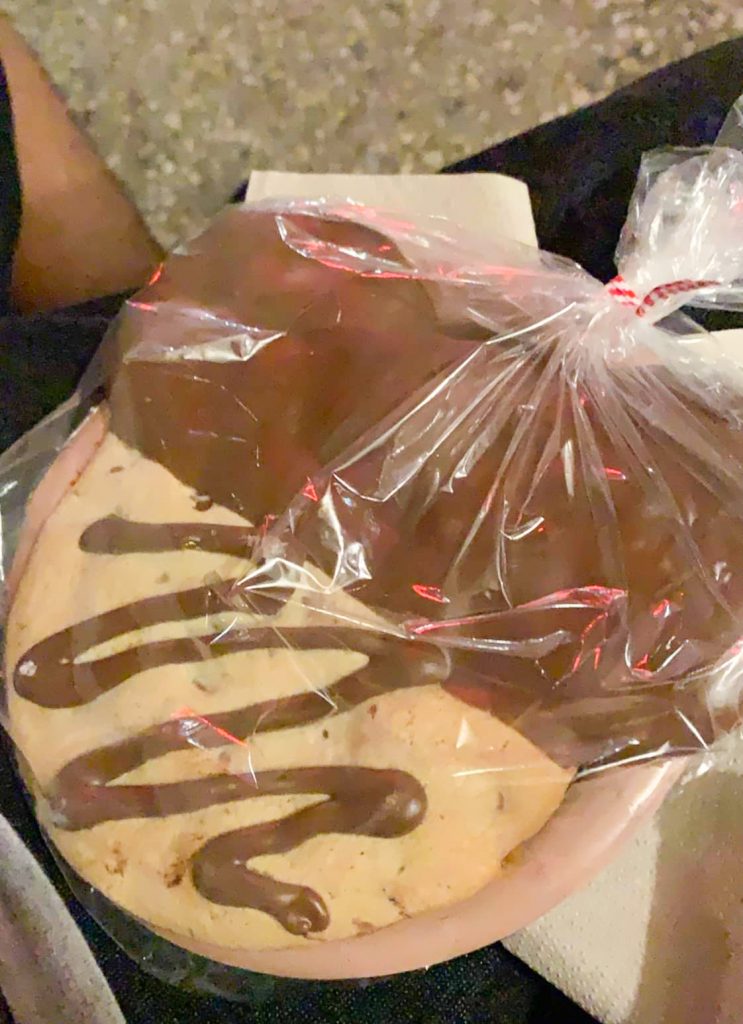 Seasonal Cupcakes
We know we have already mentioned a few cupcakes on this list, but it would be remiss not to mention the seasonal cupcakes that show up to celebrate different events or "themes" that Disney World loves to do. Some notable ones we've tried have been for Animal Kingdom's 2oth anniversary, Hollywood Studios' 30th anniversary, and the Briar Rose/Rose Gold theme.
Often times these are found at the Starbucks locations and resorts, and Pop Century Resort has one of the best bakery cases, and almost always has a seasonal, themed cupcake. They are moist, delicious, and fulfill the need for a sweet treat. Plus, these are limited and it's a great way to try something different on every trip to Disney World!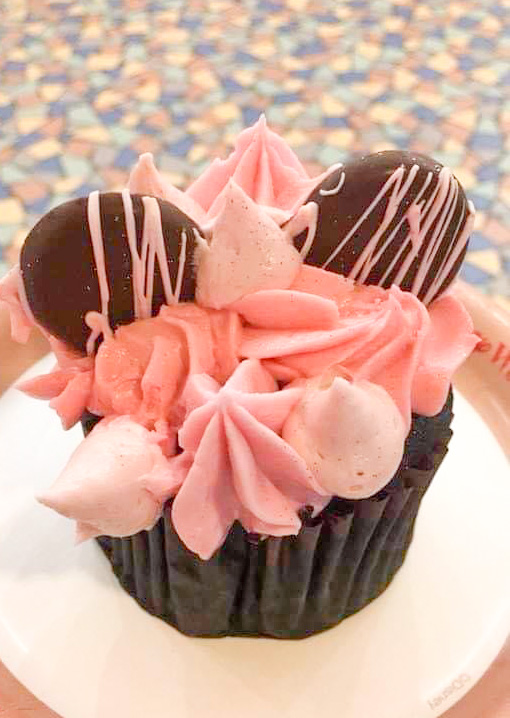 Cookie Dough
The food trucks at Disney Springs offer some pretty awesome treats, and the Cookie Dough & Everything Sweet Truck is no different. This food truck has some fun Disney desserts, and who doesn't want to eat cookie dough for dessert?
One of the best things on the menu is the Springs Candy Taco. This is a waffle cone taco shell filled with bright blue monster cookie dough, and topped like a sundae with chocolate sauce, whipped cream, sprinkles, and a cherry. We think kids and kids at heart will love this fun little dessert, and it's a great one to grab while walking around Disney Springs at night.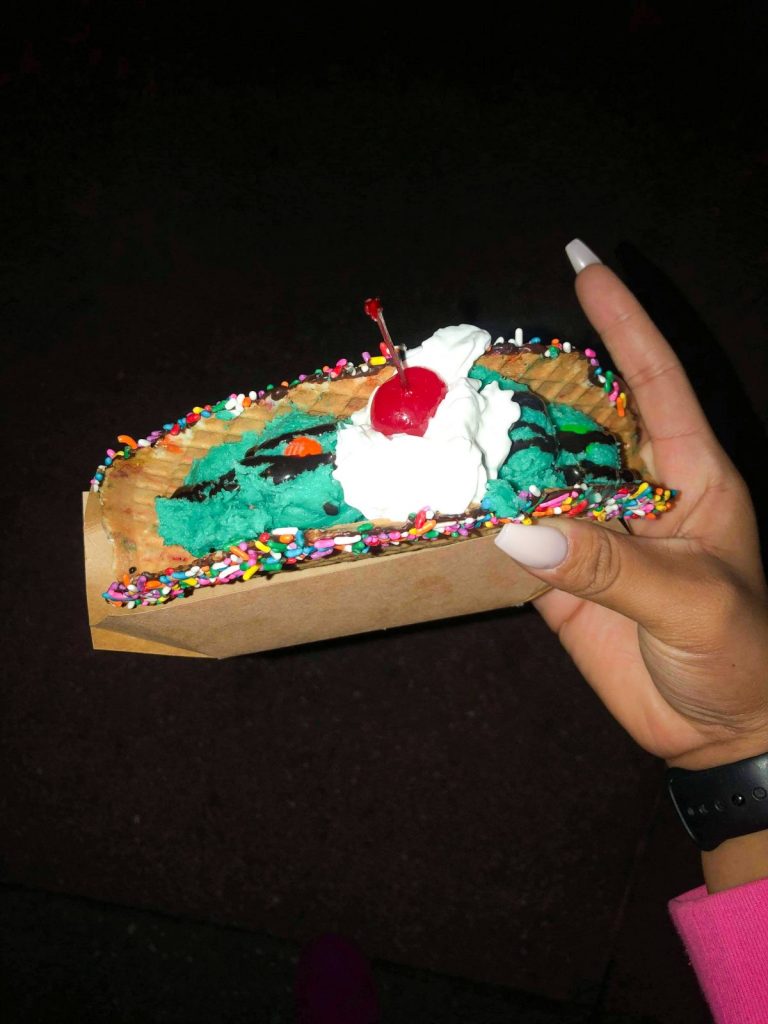 Gideon's Cookies
The newest addition to Disney Springs, Gideon's Bakehouse serves some epic cookies. Their chocolate chip cookie has a cult following and this bakery had a long awaited opening.
Now that it's open, we suggest stopping by and grabbing one of these half pound chocolate cookies, or really any of their cookies. There's even a Coffee Cake Cookie exclusive to Disney Springs! While there, get a Peanut Butter Cold Brew to wash down your cookies, another Gideon's creation.
Bonus: Festival Desserts
If you happen to be in Disney World during one of the EPCOT food festivals, check out the desserts at the booths! There are so many different Disney desserts to choose from during these festivals, and you have the ability to try desserts from all over the world. We've had German apple strudel, Belgian waffles with berries, maple bourbon cheesecake, and the list goes on.
You don't want to skip dessert during these festivals, and you should try to branch out and try things you normally wouldn't!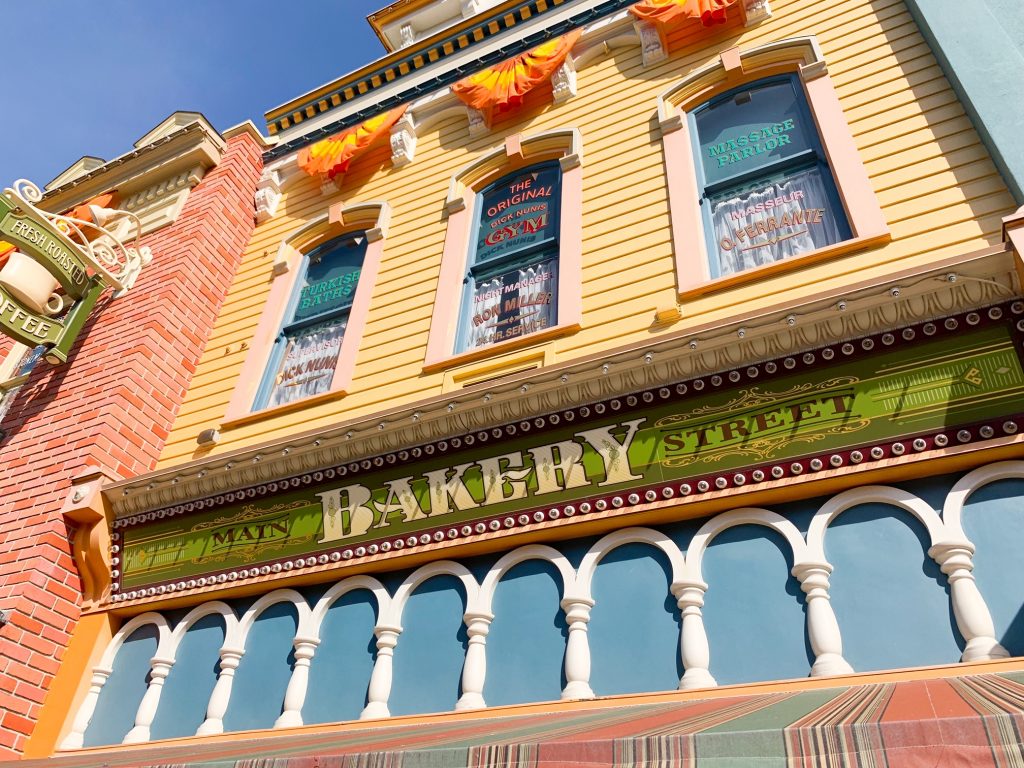 We hope that some of your favorites are on our list, and we hope that maybe you have found some new Disney desserts to try on your next trip as well! We think you'll love these cakes, cookies, and refreshing desserts, and we know we had a blast trying them all! And if you're looking for even more Disney treats, check out our list of the best Disney snacks!
What's your favorite Disney dessert? Let us know in the comments!