Disney's Yacht Club opened back on November 5, 1990. Its sister location is the Beach Club located right next to it. The Yacht Club is a beautifully themed resort with nautical and beach themes. We are going to tell you everything you need to know about this wonderful resort in our Ultimate Disney Yacht Club Review + Insider Tips!
There are so many great aspects to this resort such as its location, pools, transportation options, and amenities. If you are thinking about staying at the Yacht Club, read on to find out if this resort is a good fit for you!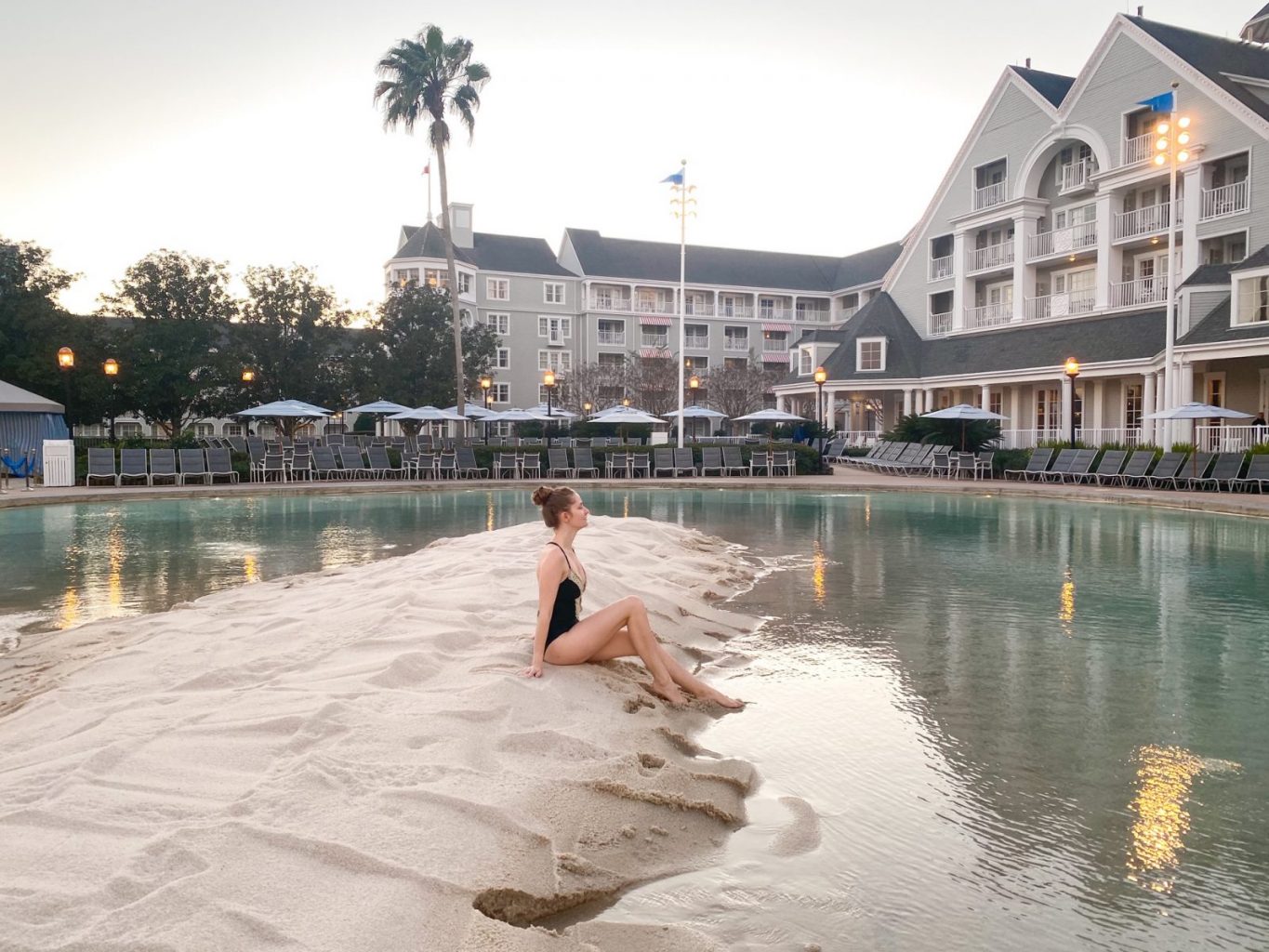 Where Is The Yacht Club At Disney Located?
One of the best reasons to stay at Disney's Yacht Club is the fantastic location! This resort is within walking distance to Epcot and Hollywood Studios. There are also several different transportation options to all of the parks, Disney Springs, and the water parks.
The Yacht Club is directly next to the Beach Club, and they share the pool. Now you not only have access to all of the Yacht Club's restaurants and amenities, but you also have access to the Beach Club's!
The Yacht and Beach Club are right across the water from Disney's Boardwalk Resort. It is a short walk away to enjoy everything the Boardwalk has to offer! There are some fun restaurants, bars, and shops to explore there.
The Yacht Club is also very close to the Swan and Dolphin Hotels. There is a pathway to take you right over to these hotels for some extra fun as well!
Not only are there other resorts within walking distance of the Yacht Club, but there are also resorts that are a quick Skyliner trip away! Taking the Skyliner from Epcot's International Gateway, you can visit Disney's Riviera Resort, Caribbean Beach Resort, Pop Century, and Art of Animation!
Disney's Yacht Club is in a very prime location with quick access to two of the parks and multiple resorts!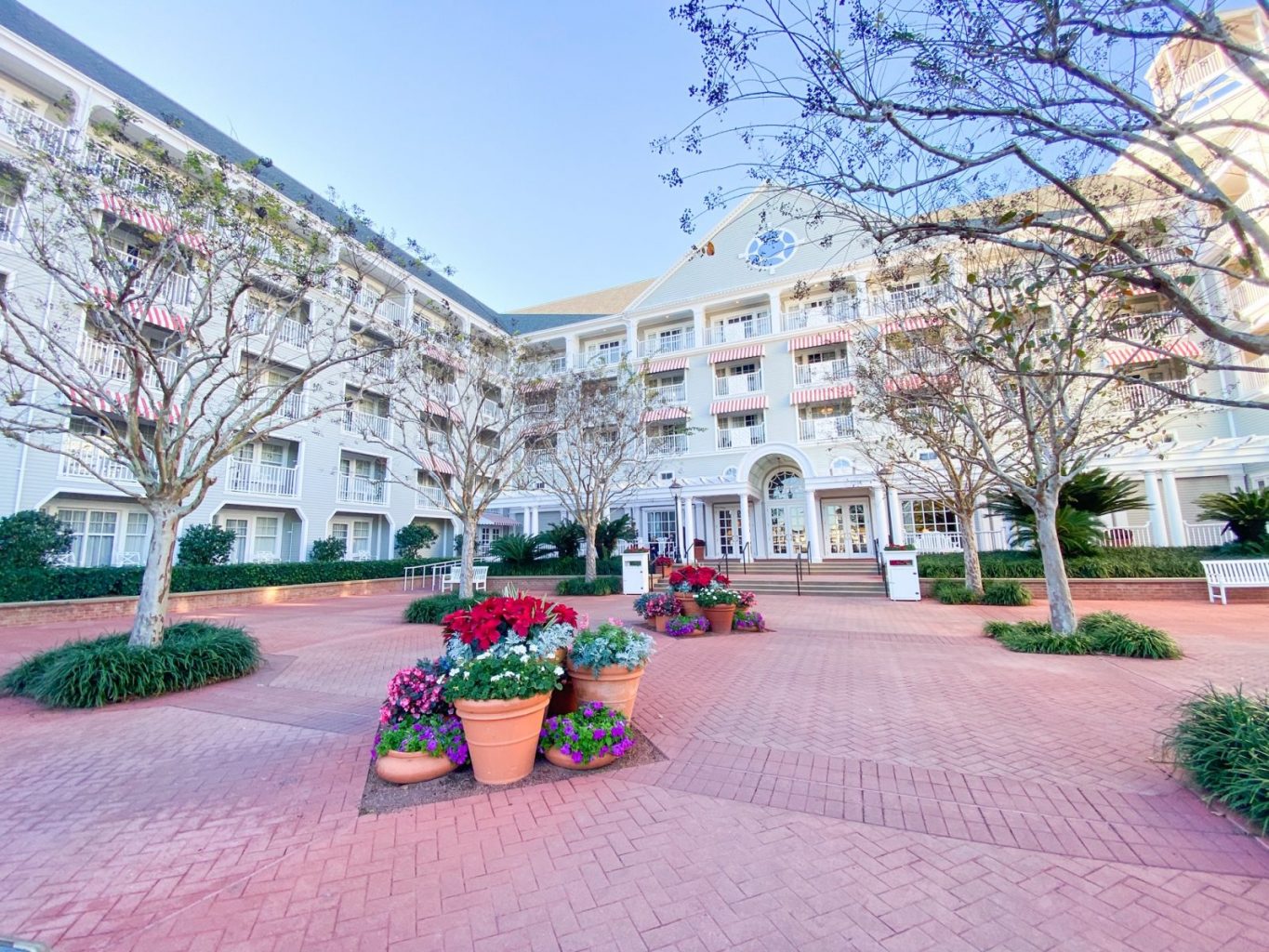 Checking in to The Yacht Club At Disney
Checking into the Yacht Club is extremely easy, and it doesn't even require you to visit the front desk! The day of your reservation, you can check in to the resort from the My Disney Experience app. The app will let you know when your room is ready and what your room number will be! If you have magic bands or even your phone, you can head straight to your room and unlock the door.
Of course, you can always go the old school route and check-in at the front desk. All the cast members at Disney's Yacht Club are extremely friendly and accommodating! A great tip to keep in mind is you can always see if there are any upgrades available for your room. We were able to get a free upgrade from a standard view to a water view!
The lobby is also absolutely amazing here. It has a very adventurous and nautical theme to it. You can find everything you need right in this area, such as the restaurant, lounge, bell services, and the front desk.
Right outside the backside of the lobby, there is a boardwalk that will lead you to the boat transportation to Epcot and Hollywood Studios.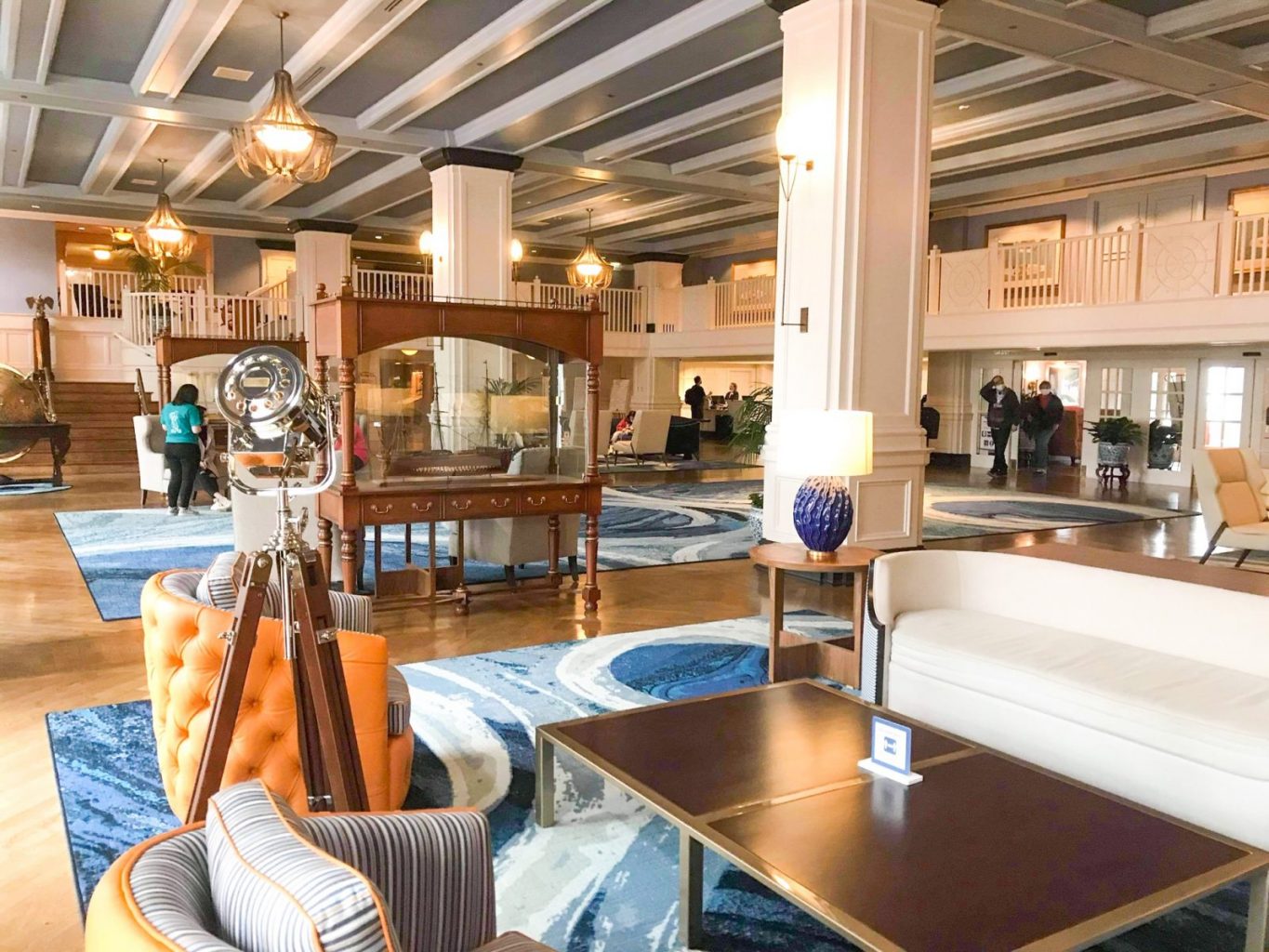 Transportation Options From The Yacht Club
We love all of the transportation options the Yacht Club has to offer, and we're sure you will too! As mentioned before, there are walking paths to Epcot and Hollywood Studios. The Epcot walking path is very short and will get you to the International Gateway in about 5 – 10 minutes. The entrance at International Gateway is on the back side of Epcot by World Showcase.
The walking path to Hollywood Studios is a little bit longer than the Epcot one. This one can take 20 minutes or more. However, there is boat transportation to Hollywood Studios if you don't want to walk! You can find boat transportation right behind the lobby that will take you to Epcot or Hollywood Studios.
If you don't want to walk or take the boat to Hollywood Studios, you can always take the Skyliner! There is a Skyliner location right outside International Gateway that will take you first to Disney's Riviera Resort, and then to the Skyliner central hub at Caribbean Beach Resort. From here you will get off the Skyliner and get in line for a different Skyliner track to take you to Hollywood Studios.
So there are so many options to get to Epcot and Hollywood Studios, but what about the other parks? Disney has bus transportation from the Yacht Club to Magic Kingdom, Animal Kingdom, Disney Spring, and the water parks.
If you plan on spending a lot of time at either Epcot or Hollywood Studios, the Yacht Club is one of the best resorts to stay at.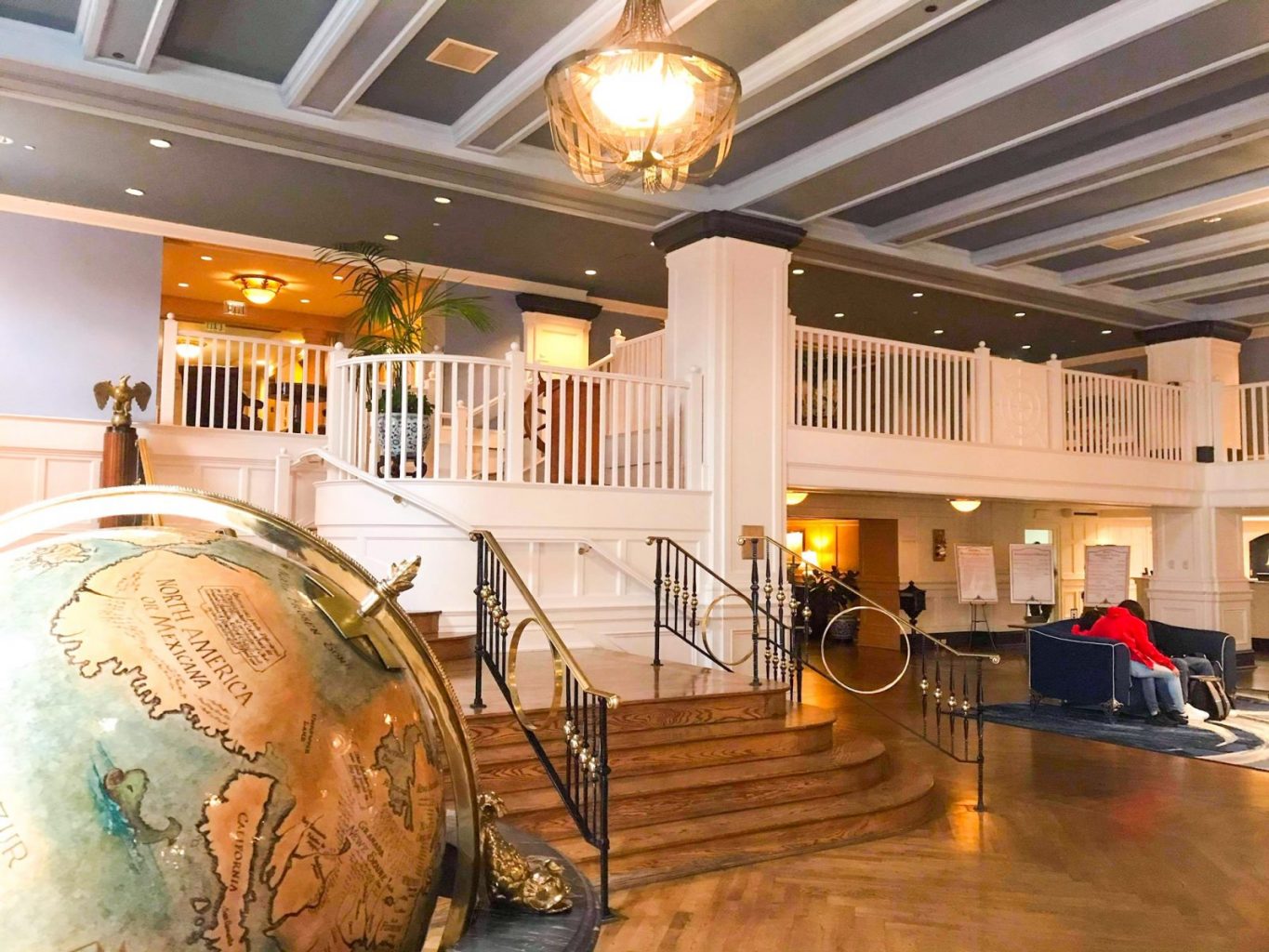 Disney Yacht Club Room Review
There are several different room options at the Yacht Club. There is Standard View, Water View, Garden or Woods View, and 2 Bedroom Suites. All of the view rooms also have club level options.
I was able to stay in a Water View room. The room was absolutely delightful! It had a nautical theme to match the rest of the resort, and it was quite spacious. The room had two queen beds and a pull out couch, so it was able to sleep up to 5 guests. We only had 4 guests in our room, but I could imagine the pull out bed might make the room feel a little more cramped.
The room had large closets with space to hang clothes, and a big sink and bathroom area with two sinks. The shower had a sliding glass door, which I prefer over a curtain.
I really liked that this room had wood flooring compared to carpet. It added to the nautical theme very well. The room also had a balcony that looked over the back entrance of the lobby and the water. Overall, the room was very nice, and I thoroughly enjoyed its set up!
Yacht Club rooms average in price anywhere between $400 to over $3000 per night depending on what room you stay in and what time of the year you visit.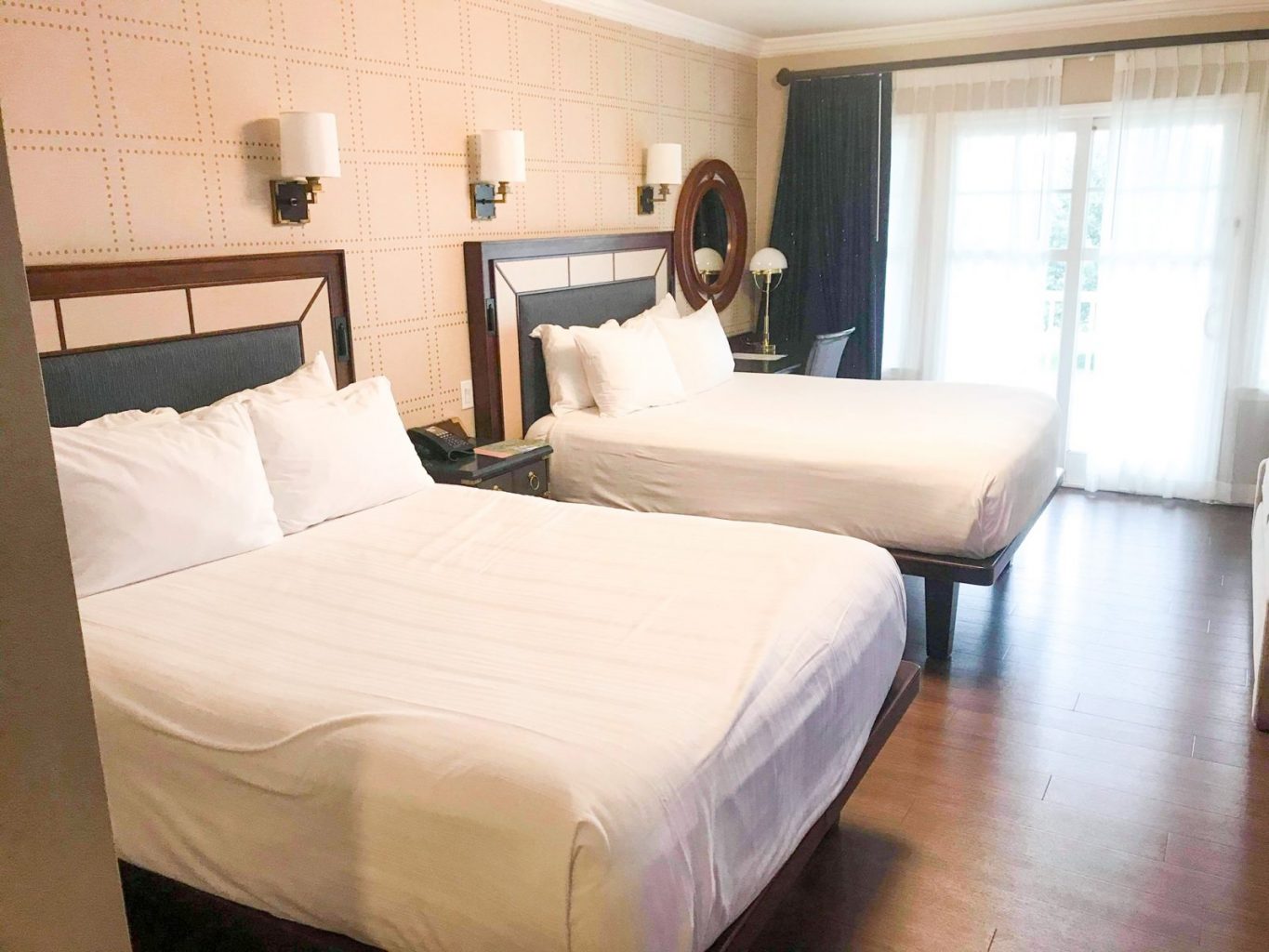 Dining Options At The Yacht Club
There are some really great and delicious dining options at the Yacht Club. This resort has two restaurants, two lounges, a quick service restaurant, a restaurant located in between the Yacht and Beach Club, and a pool bar.
The two restaurants at the Yacht Club are Ale & Compass and Yachtsman Steakhouse. Yachtsman Steakhouse is currently temporarily unavailable, but Ale & Compass is open for breakfast and dinner. This restaurant follows the nautical theme with a relaxing atmosphere and some delicious coastal eats.
The Ale & Compass Lounge is located adjacent to the restaurant. Here, you can order off the lounge menu and even the restaurant menu. This lounge can fill up quickly at night though, so make sure to grab a seat early if you want to eat or drink here.
The other lounge, Crew's Cup Lounge, is right next to Yachtsman Steakhouse and is also temporarily unavailable. We hope that the lounge and restaurant will open soon!
The quick service location shares a spot with the Yacht Club's gift shop. When you enter the Market at Ale & Compass, on the right is the gift shop and on the left is the quick service restaurant. They serve coffee, sandwiches, pastries, and more. This is a great place to stop for a quick bite to eat to or from the parks!
Beaches and Cream Soda Shop is the hidden gem of the Yacht and Beach Club Resorts! This restaurant is located in between the two resorts and serves some wonderful food! They are open for lunch and dinner and they serve sandwiches and burgers. My favorite is their Grilled Cheese sandwich, its delicious!
However, save room for the best part of this restaurant. The ice cream! They have shakes, floats, and sundaes! You can't go wrong with whatever you choose. If you're feeling really brave though, try the Kitchen Sink sundae. This sundae is meant for 4 or more people, and includes every topping and a whole can of whipped cream! I have attempted it twice, and I still haven't been able to finish it. Maybe you can!
Hurricane Hanna's Grill is the pool bar located right next to Stormalong Bay. They have a few food items and some refreshing drinks.
If you've tried everything at the Yacht Club and want something different, head over to the Beach Club! Here you can find even more restaurants and tasty eats!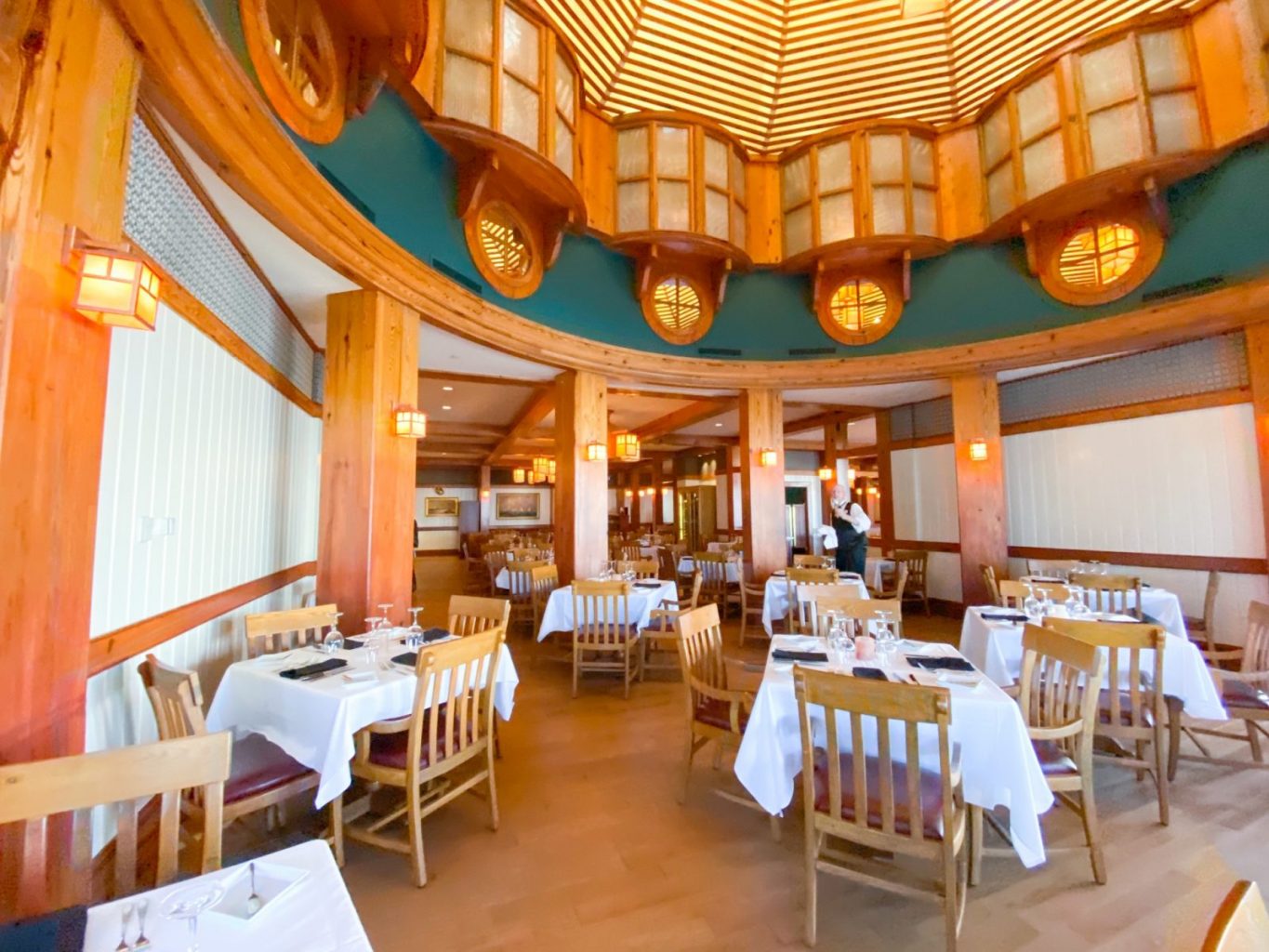 Yacht Club Swimming Pools
The Yacht and Beach Club have hands down the best swimming pools on Disney World property. It's considered more of a small water park than swimming pools because it's so large!
Stormalong Bay is 3 acres of refreshing fun! It includes a large sand bottomed pool and a lazy river. There are waterfalls, a volleyball net in the pool, and a water slide.
This water slide is no joke. You climb a large shipwrecked ship all the way to the top and then slide down this long and exciting slide! Stormalong Bay even has a "beach" area with sand to play with! After all that fun, go relax in one of 3 whirlpool spas.
Right by the entrance to the water slide is a small kid play area with a mini water slide. This is a great introduction to the big slide for nervous kids!
Don't need all the excitement of Stormalong Bay? There are also 3 leisure pools at the Yacht and Beach Club for guests to enjoy.
If you plan on staying at the Yacht Club, you must plan a resort day into your schedule! Make some time for this awesome mini water park and relax away from the parks! You won't regret it.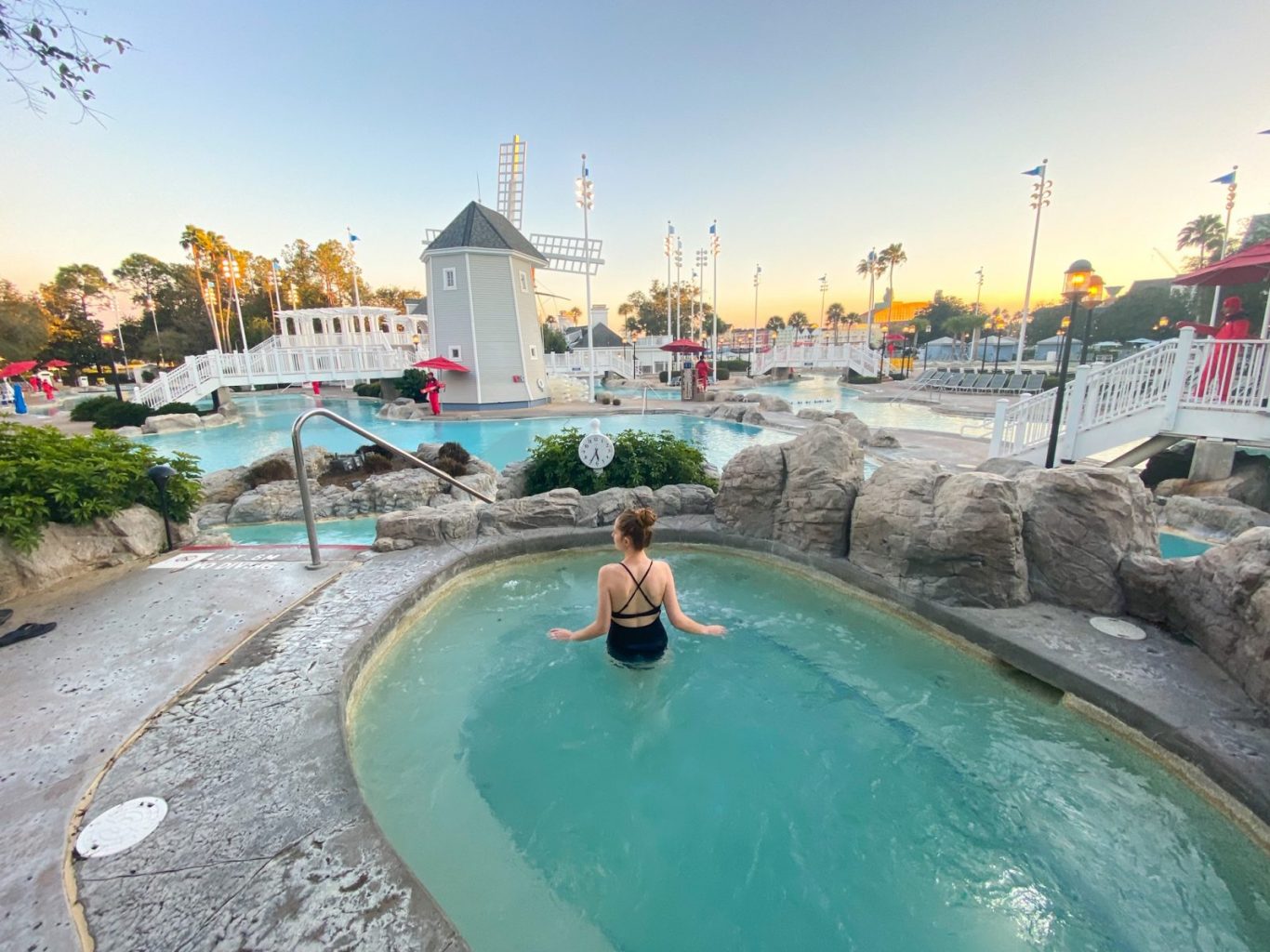 Amenities At The Yacht Club Resort
There are so many fun amenities and things to do at Disney's Yacht Club. When it comes to activities, there are fishing excursions, a tennis court, a sand volleyball court, jogging trails, motorized boat rentals, an arcade, and a fitness center. Just ask the front desk if you'd like to book a fishing excursion or rent a boat to go out on the water!
The Yacht Club even has a spa! Ship Shape Massage Salon is a full service spa that can do massages, facials, hairstyling, and nails. We all need a relaxing day every once and awhile! Why not enjoy the spa on your day off from the parks?
The resort also has campfire activities, movies under the stars, and a Pirate Adventure Cruise (which is unfortunately temporarily unavailable at the moment). The Yacht Club is within walking distance of the Fantasia Gardens & Fairways Miniature Golf. Go show off your mini golf skills at this adorably themed course!
This resort really has a lot of fun things for you and your family to enjoy! You will definitely want to take a day away from the parks to enjoy this amazing resort!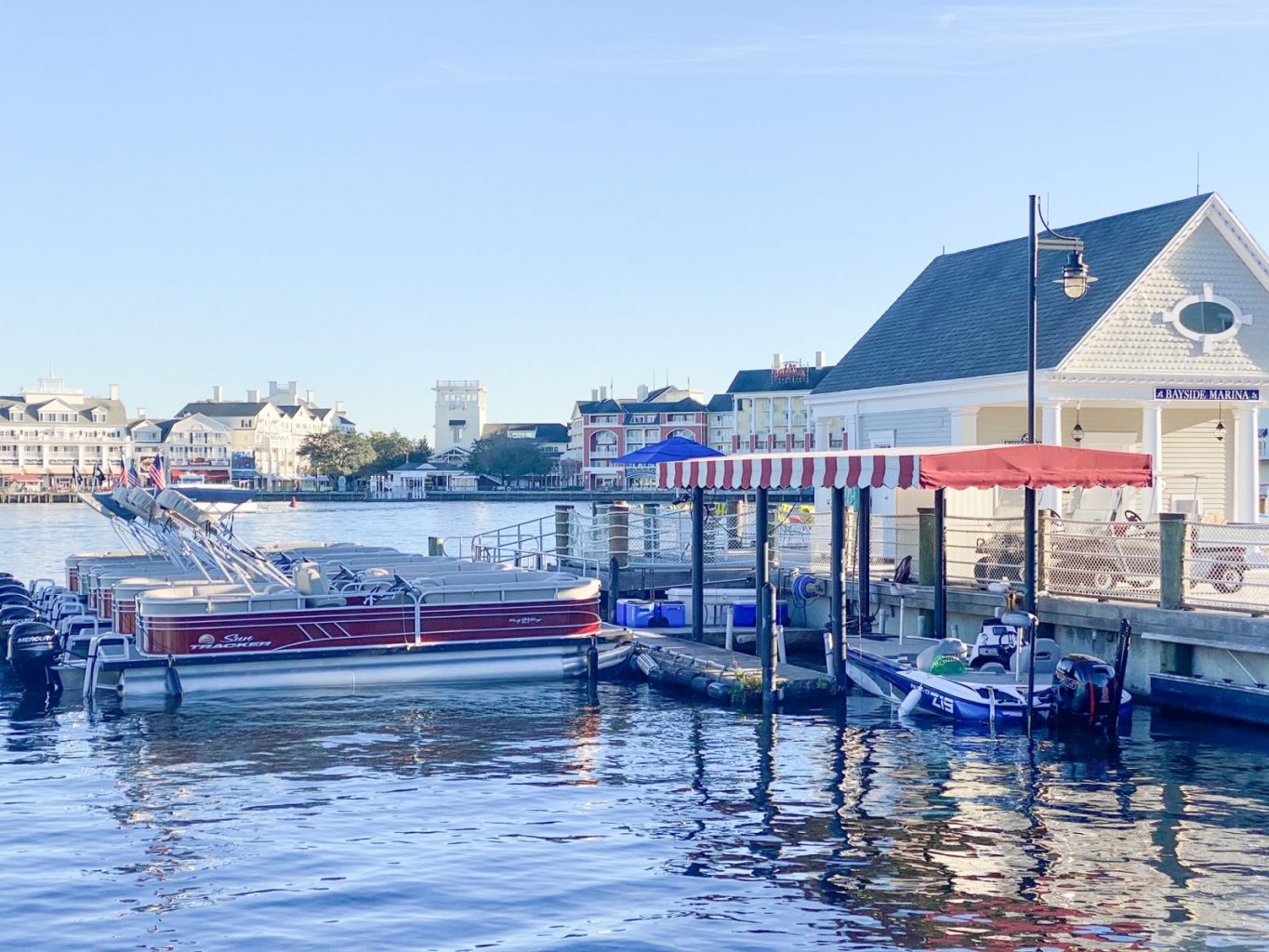 Overall Thoughts On Disney's Yacht Club Resort
We at Disney Trippers absolutely love Disney's Yacht Club Resort. The whole place is incredibly peaceful and beautiful. It has the perfect mix of being family friendly and adult friendly with lots of things to do. So whether you're traveling with a bunch of adults or your kids, everyone will enjoy it!
Most everything is in super close distance to this resort. The only time you will have to take the bus is to Magic Kingdom, Animal Kingdom, Disney Spring, or the water parks. The other parks and some resorts are really easy to get to, making this a top notch location for a resort.
If you have a day off from the parks, make sure to enjoy all of the amenities the Yacht Club has to offer. You could spend a whole day just having fun at the resort! You definitely don't want to miss out on this place!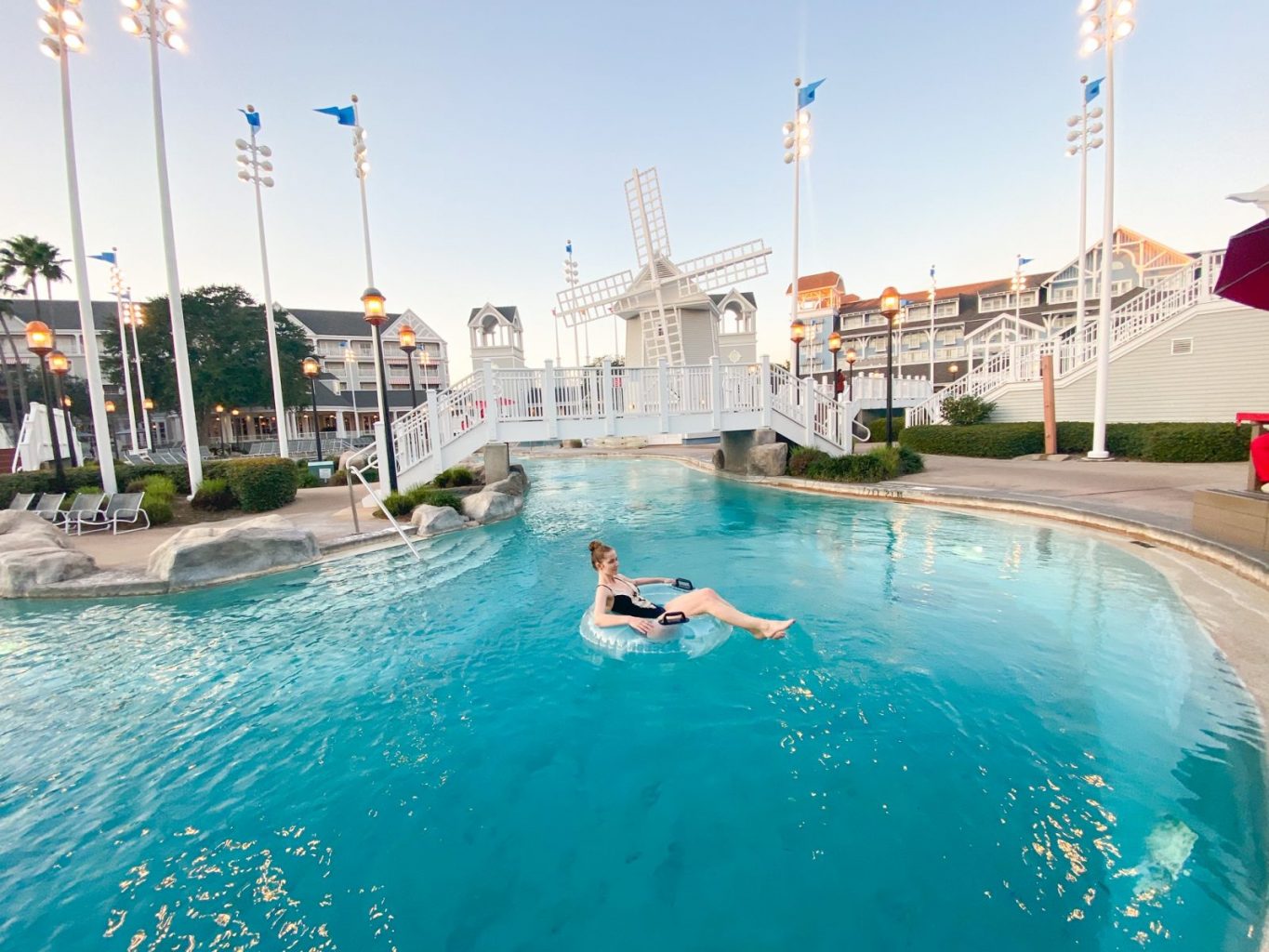 Have you ever stayed at Disney's Yacht Club Resort? If so, did you enjoy it as much as we do? What do you liked to do while staying there? We want to hear your opinions on this Disney resort!