Do you love spending time at Disney Water Parks? Have you ever wondered which is better: Blizzard Beach or Typhoon Lagoon? Look no further, we're going to break it all down so you know what's in store at the water parks at Disney so you can plan a magical water park trip for you and your party!
Blizzard Beach vs Typhoon Lagoon is a hot topic and we're going to go through everything you need to know to decide which Disney water park is best for you! Maybe you don't need to make a choice and are planning to go to both of the Disney water parks: this article will prepare you, so you know what to expect and can make the most of your time at the Disney World water parks!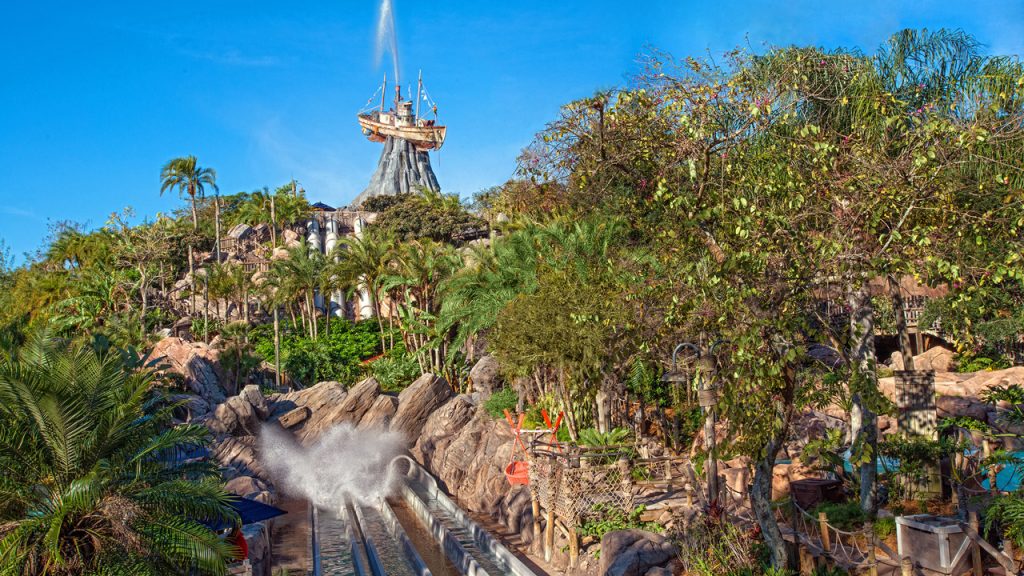 The Ultimate Guide to Disney Water Parks
What Are The Disney Water Parks?
As you might expect the Disney World water parks are huge; appeal to all ages and are brilliantly themed!
Typhoon Lagoon is the older of the two water parks at Disney with the centrepiece shrimp boat "Miss Tilly" stranded on the top of Mount Mayday. Blizzard Beach is the newer Disney water park and is based around the time that a freak snowstorm arrived in Florida and the first ski resort was built.
Both Disney water parks are fantastic: we're going to look at them both, in depth, side by side so you can decide which your winner is in the great Typhoon Lagoon vs Blizzard Beach debate!
One of the first things to note is that both Disney water parks have free parking – you don't often hear free when it comes to Disney, so be sure to plan to make the most of this!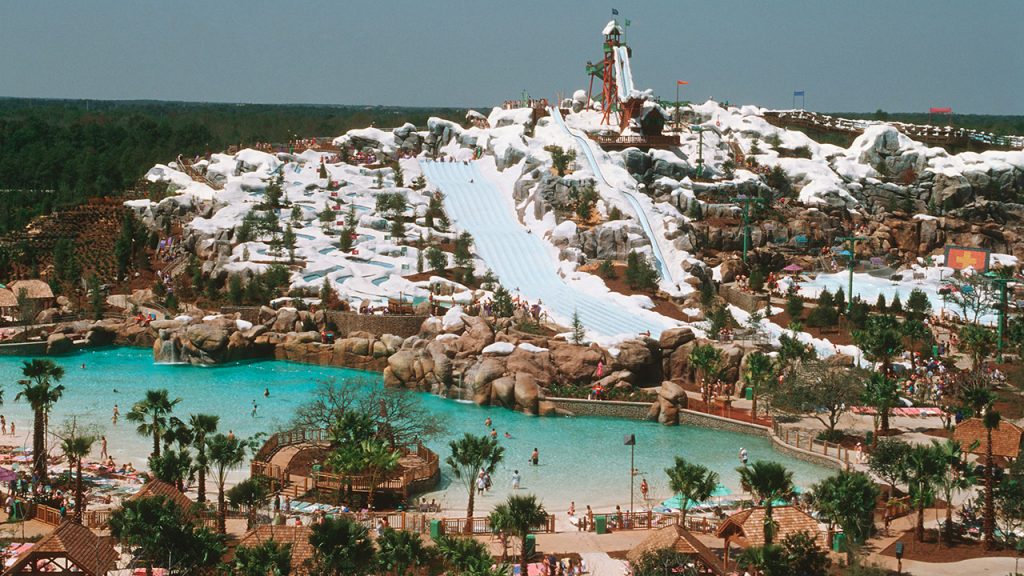 Maps of the Disney Water Parks
We're going to compare rides, lazy rivers and pools later on, but both of the water parks at Disney have a similar number of attractions and are a similar size, but their layouts are different and it's surprisingly easy to become disorientated in each of them!
We recommend you familiarise yourself a little with the Blizzard Beach or Typhoon Lagoon map before you go (or both, if you plan to visit both of the Disney World water parks!) as one Disney water park is very different to the other.
You can download all of the Disney maps, including the maps of the Disney Water Parks in our article, here.
Typhoon Lagoon Map
Typhoon Lagoon is one of the most unique waterparks in the world and is the most visited water park in North America. It has an amazing surf pool and a water roller coaster – very different from Blizzard Beach, this Disney water park has unique theming and a completely different range of attractions and food.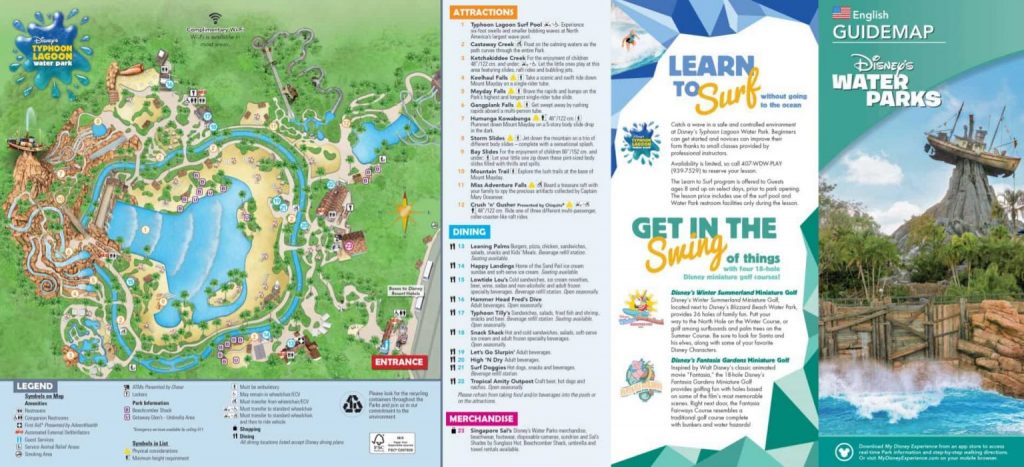 Blizzard Beach Map
Blizzard Beach is the second most visited water park in North America, after Typhoon Lagoon! It is hugely fun and the map gives you a great idea of how to plan your day – there really is something for everyone at this Disney water park. Blizzard Beach is centred around Mount Gushmore and there are three slopes – green, purple and red – designed to help guests navigate around the park.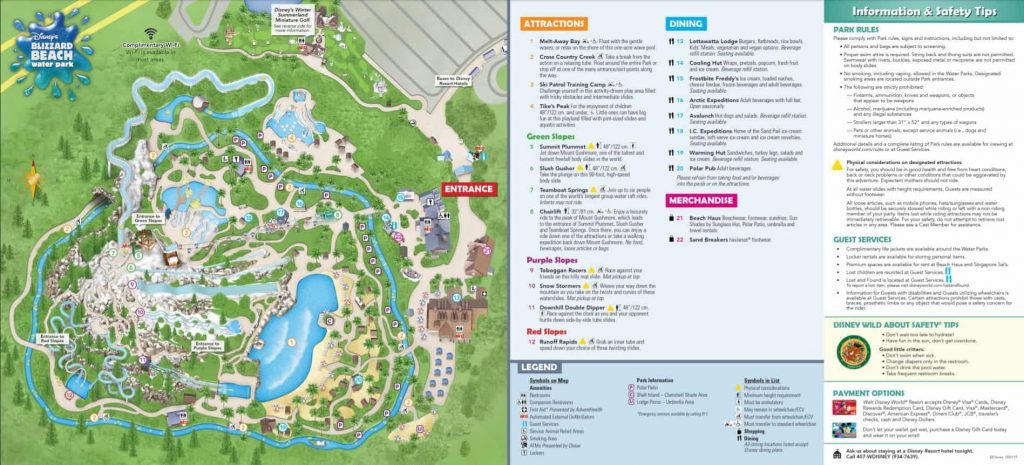 Best Time To Visit The Waterparks At Disney
The Disney water parks are open daily from 10am to 5pm. Occasionally, at the weekend they will stay open until 6pm. During peak season, weekends can get really busy with everyone wanting to escape the crowds and cool down, but we're going to tell you shortly how to avoid the lines and give you our tips to really enjoy the water parks.
If you're a Disney water park lover, keep an eye open for special after hours events, which could let you go on all the rides without waiting in line at all and having some great fun!
If you're able to plan your visit accordingly, Disney World water parks tend to be less crowded earlier in the week (Monday- Wednesday); weekends are busier, as are school vacations and, it probably goes without saying, holidays can be pretty busy, too. However, it can still be worth a trip to one of the Disney water parks, so read on to find out how to reduce waiting in lines.
Each winter, one of the Disney World water parks will be closed for refurbishment, so the question of Blizzard Beach vs Typhoon Lagoon may not be one that you have to consider. Check the schedules before you go – generally, from late October to late March, either
Blizzard Beach or Typhoon Lagoon
will be closed. Disney usually switches around, so one will close first one winter and second the next (so people who vacation, say, every February get to try both parks).
If you're wondering whether it's worth a visit to Disney water parks in the winter, be assured that the pools are heated (to 82 degrees). You may feel cooler on slides and when moving between pools, but we have been happily in the water while the lifeguards are wrapped up! However, if the temperatures get too low, they will close the water parks at Disney.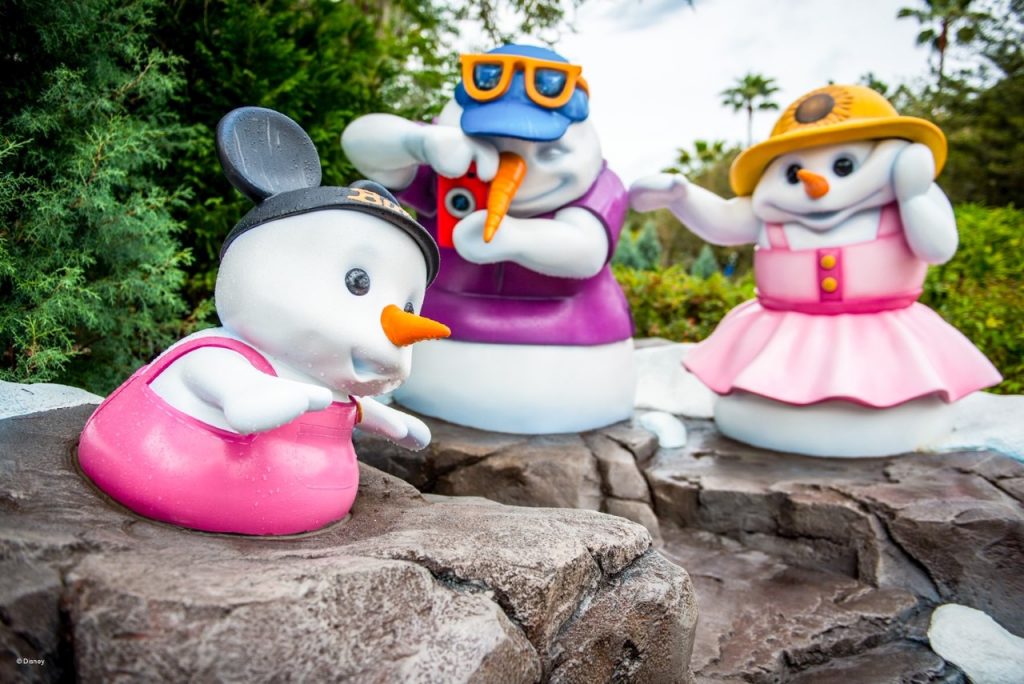 Buying Disney Water Park Tickets
Disney water park tickets (including tax) when bought at the gate are $73.50 for guests over 10 years old. Disney water park tickets are valid for Blizzard Beach or Typhoon Lagoon and there's nothing to stop you visiting both in one day, if you want to experience both to lend your weight to the Blizzard Beach vs Typhoon Lagoon debate!
If you consider a Park Hopper Plus ticket, it will give you a certain number of visits (based on the number of days in your park hopper) to the Disney water parks (in addition to the mini golf and other listed attractions). For example, a 4-day park hopper is valid for 8 days from your chosen start date for 4 days in the theme park (with hopping in between parks, if you wish).
A 4-day hopper plus gives you exactly this, with 4 'plus visits'. The Disney water parks are included as 'plus visits'.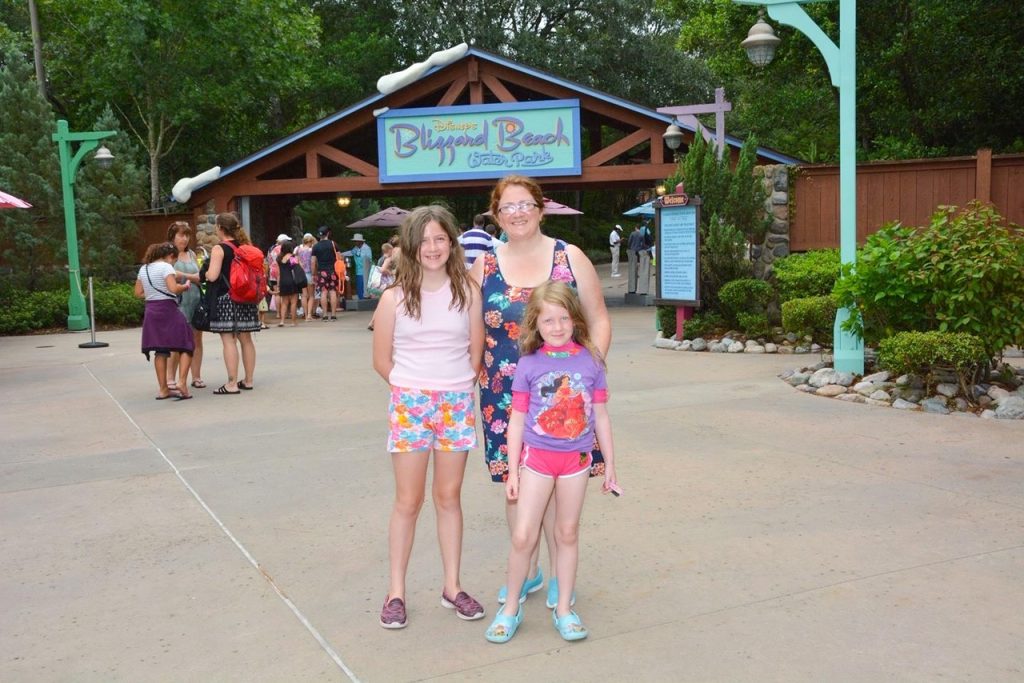 What To Pack For The Waterpark
Some days we do 'water park packing lite' – if we're staying onsite, with a Dining plan and just doing a morning Disney water park visit, we'll happily rock up with sunscreen, magic bands, water shoes, a few drinks and our swimwear. We grab some towels, hit the slides and the pools (can you say lazy river?!); we hardly spend any time chilling or sitting down and, when we're done we grab quick service lunch on our way out.
That said, the water parks have so much more to offer and can be a great destination for the whole day, but whether you're visiting Blizzard Beach or Typhoon Lagoon, you'll want to be better prepared so you're not left wanting OR spending your hard earned money on things you could easily have brought with you! Whatever you're doing, you'll need to remember to reapply sunscreen often!
Don't forget, kids are going to be spending a lot of time out of water and will need careful protection from the sun to shield them from rays reflecting off the water: we love swim suit sets like this for toddlers (similar ones for girls and boys) to double up on the sun protection!
Kids who wear diapers must wear swim diapers.
Disney's website has a note about Swim attire for use in the water parks: Swimwear with rivets, buckles or exposed metal is not permitted on the water attractions. Wetsuits are not permitted on body slides. One-piece swimsuits are recommended on the more thrilling waterslides, like the Summit Plummet attraction.
For our other packing lists, read the Only Disney Packing List you will ever need.
Disney water park tickets
Drivers license/ID for each adult
Cash/credit card
Waterproof/underwater camera
Cell phones
Lanyard for room key/tickets
Sunglasses w/straps
Water bottle w/strap
Collapsible cooler
Snacks
Bathing suits
Beach towels – if you're a Disney resort guest, you can get towels from the water parks without having to pay, you just need to provide your Magic band and let them know how many towels you need.
Earplugs
Goggles
Plastic pool cups w/top & straw
Beach bag – we try to make sure our beach bag has at least one zippered pocket for our valuables and things we don't want to lose or get wet. This one has a cooler compartment underneath the bag part, so may be a great addition to your Disney packing list!
Kids ID tags
Floatation toys
Water toys
Books/magazines
Mister fan & extra batteries
Pain medicine (like Tylenol or Advil)
Sunscreen
Lip balm w/sunscreen
Insect repellent
Kleenex
Antibacterial hand gel
Wet wipes
Hats/visors
Swim diapers – diaper age children must wear these and while you can buy them on site, the prices are extortionate and you'll be glad you had them on your Disney packing list!
Waterproof watch
Waterproof case
Water shoes/flip flops – we recommend water shoes that you're not going to worry about losing on a slide (although you'll have to carry them down Summit Plummet, if you're brave enough!) and that you just wear around the park. We love this type – they protect our feet from the hot walkways and also from the rough bottom of the pool – we hate grazing the tops and soles of our feet as we go around the lazy river!
Large Ziplocs for wet clothes
Dry change of clothes for kids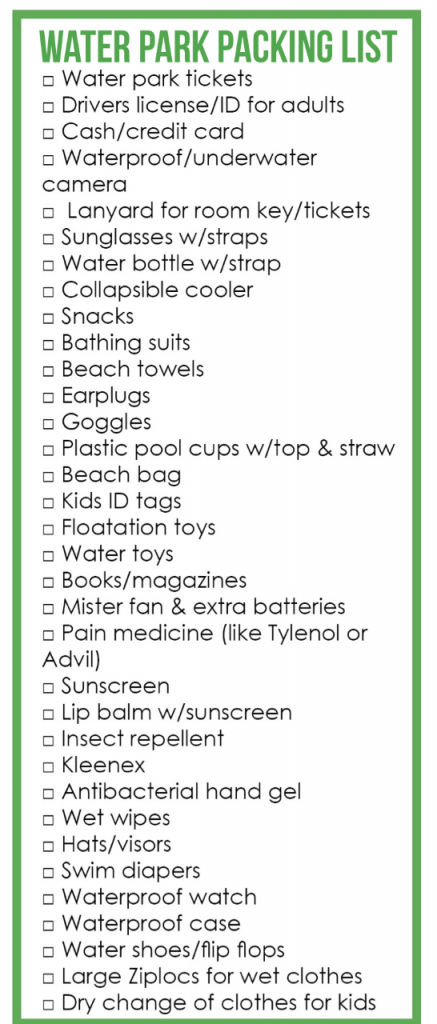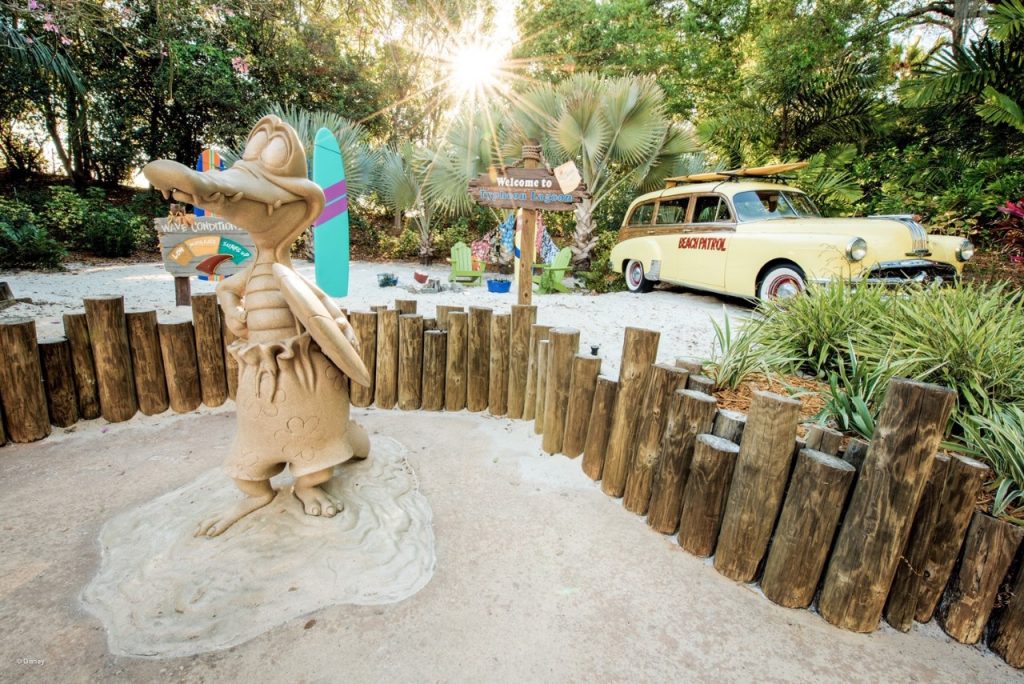 How To Reduce Wait Times At The Disney Water Parks
You can't use FastPass+ at either Disney water park (but if you want to read more about FastPass+, look no further than
this guide
) and there isn't rope drop in the same way as the Parks (which you'll read about in the
Touring Plans
strategies), but there are a few things you can do to cut down on time spent waiting in lines in Blizzard Beach or Typhoon Lagoon.
Getting to the park 30 minutes before opening will mean you can get changed; get your towels; lockers and anything else you may need from the shops and be ready for the first ride as soon as the park opens. You should head for any thrill rides you want to do first, as this is generally where the lines build.
If there is an afternoon storm and you're asked to leave the water, wait it out for a bit – many people will leave the water park at this point and you may be able to take advantage of rides with far fewer people. The water has to stay empty for 30 minutes after the last lightning bolt is seen, but this could be the time when you want to grab some refreshments, rather than leaving.
Many people suggest arriving to the Disney water parks in the afternoon, particularly in the summer, because many local guests with Annual Passes visit in the morning but leave before lunch. After 2pm is best.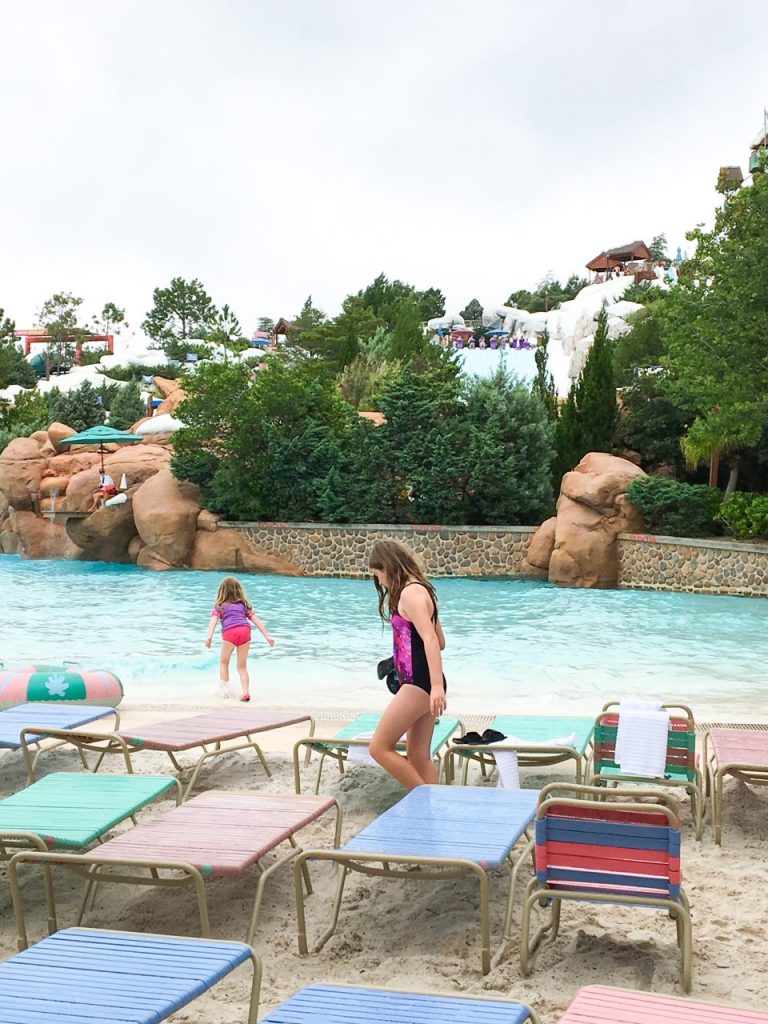 Blizzard Beach Vs Typhoon Lagoon
Honestly, both of these Disney World water parks are well worth a visit. They are unique with typical, great quality Disney theming – Typhoon Lagoon with it's lush, tropical feel and Blizzard Beach with it's detailed ski resort features.
In fact, if you were to push us to claim a winner on the theming, out of Typhoon Lagoon vs Blizzard Beach, our call would have to be Blizzard Beach for the sheer fun! If, though, you're not fans of garishness, or kitsch, then Typhoon Lagoon may be more your cup of tea!
BUT we're not going to tell you which Disney water park you should visit – as we've said, we think they're both worthy of some of your vacation time. We are going to break down the water park features into categories and give you the low down on each, to help you make your decision about whether your winning park is Blizzard Beach or Typhoon Lagoon.
In some sections, there are clear winners in the Typhoon Lagoon vs Blizzard Beach competition in terms of popularity, but once we've give you a little more detail, you may decide that the popular choice isn't going to be the right choice for your party.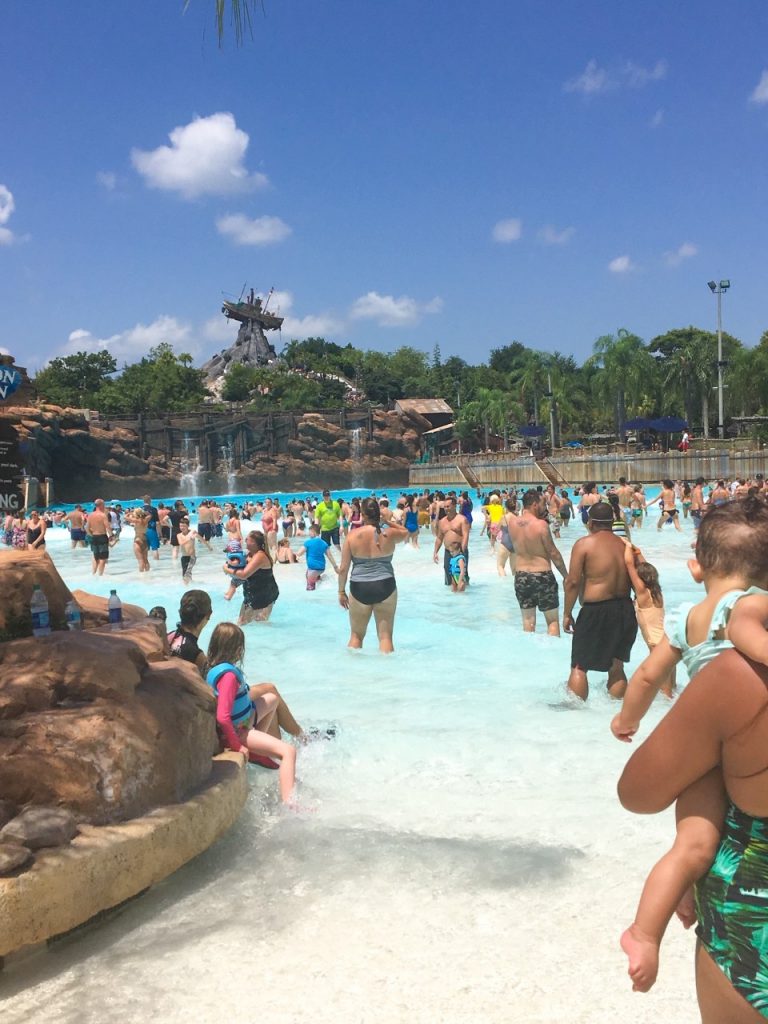 Best Disney Water Park For Kids
If you have smaller kids, they're going to LOVE time at the Disney water parks and are probably going to want to spend time at Ketchakiddee Creek (Typhoon Lagoon) or Tike's Peak (Blizzard Beach). Depending on the age of your kids, as well as their water confidence, they may prefer one or other of the Disney World water parks.
As with all Disney parks, you don't need to buy Disney water park tickets for under 3's.
This section is less Blizzard Beach vs Typhoon Lagoon, and more about helping you understand which Disney water park will meet your kids' needs best. Do also think about your water confidence, too. If you're happy in the water, you're more likely to be comfortable letting your kids try the more adventurous aspects of the Disney water parks.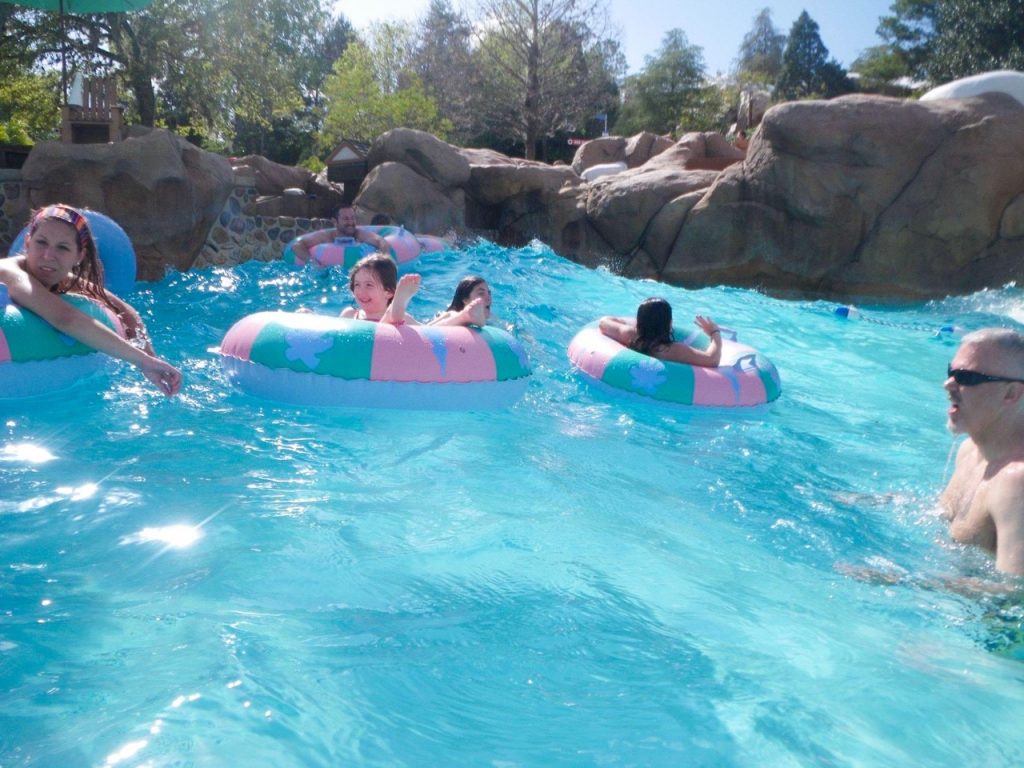 Blizzard Beach for kids
There are 2 areas for kids at Blizzard Beach: Ski Patrol Training Camp and Tike's Peak.
Ski Patrol Training Camp is geared towards older kids – the water here is deep (over 6 foot), so your kids need to be able to swim or wearing life vests. There's a floating iceberg course; a zip line for kids under 60 inches tall (which ends, as you probably guessed, with them dropping into a pool!).
In addition, there's also some inner tube slides and smaller waterslides – which they may enjoy as a build up to the bigger ones; to 'test' whether they enjoy slides or even as well as the bigger slides. I took my 8 year old, who was very water confident – she loved the Training Camp; it's slides (which she enjoyed doing with her 3 year old sister) AND some of the bigger slides Blizzard Beach has to offer.
Tike's Peak has some great kid sized slides; 'bubble fountains'; pop up water jets and cool ice-animal theming. There's a lovely, shallow area – too shallow to be called a pool – with zero entry, so can be enjoyed by even the really little ones. Tike's Peak is aimed at kids under 48 inches tall; but that doesn't mean they can't enjoy other parts of this Disney water park, but these are the areas that are exclusively for youngsters!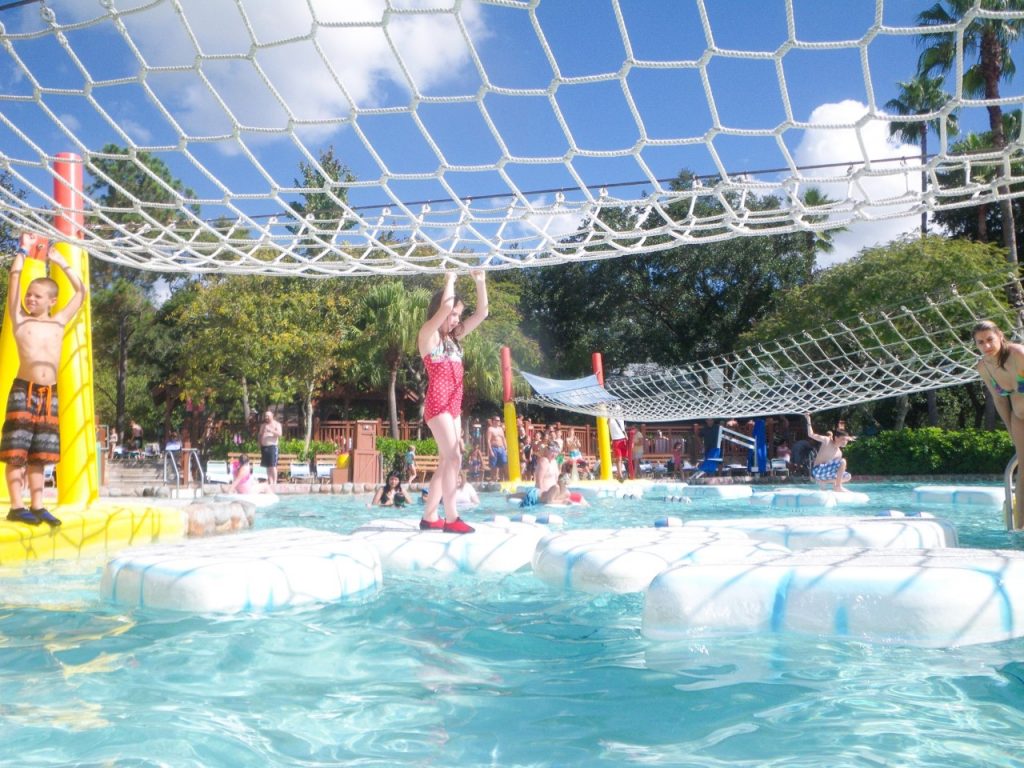 Typhoon Lagoon for kids
Typhoon Lagoon has Ketchakiddee Creek, this area has some small slides; a mini rapids run (with tube rings) and a fun play area with waterfalls; fountains; crawl tubes etc. Just the other side of the bridge from Ketchakiddee Creek are Bay Slides – for those under 60 inches only – these are gentle slides for kiddies.
When thinking about Typhoon Lagoon vs Blizzard Beach for kids, I would say that there are great features for kids in both these Disney water parks, but that your personal choice may well need to take into account your kids' (and maybe your) water confidence. Some kids love to be in the water, but hate to 'fall in' – Ski Patrol training camp may be less fun for them.
In all honesty, I don't have a favorite Disney water park for kids – my daughter felt completely overwhelmed aged 6 by the Wave pool in Typhoon Lagoon, which was a shocker to me! She preferred the family rides at Typhoon Lagoon but other aspects of Blizzard Beach. I do know other people's kids have a clear preference, but – for kids – I'm not going to claim a clear winner from Typhoon Lagoon vs Blizzard Beach!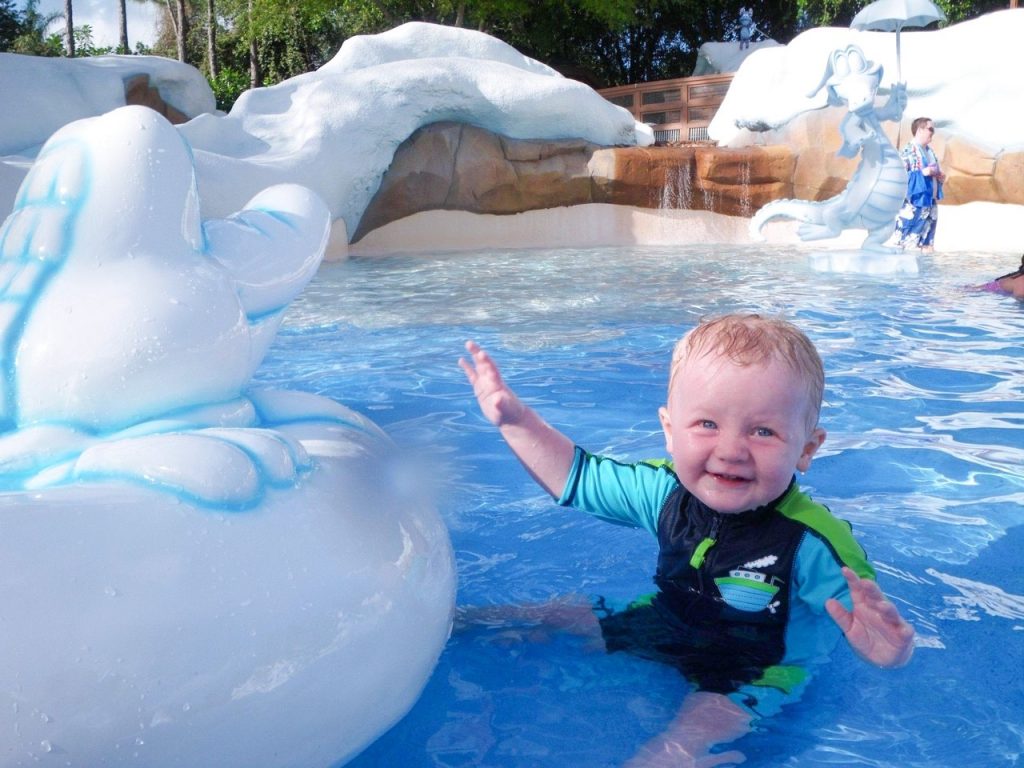 Best Water Park At Disney For Thrill Rides
There are more thrill rides for the daring guest at Blizzard Beach, compared to Typhoon Lagoon, but we're going to cover them all to let you make your own decision.
Of course, our perceptions of what makes a thrill ride differs – what might be a tame ride for someone is totally a thrill ride for someone else. There's no judgement, here, there's several I wouldn't dream of doing!
Thrill rides at Blizzard Beach
When you think of Disney World water parks, a couple of iconic attractions probably come to mind, and the first that comes to our mind is the showstopping slide at Blizzard Beach: Summit Plummet. Showstopping or heartstopping?! Well, this is one that I wouldn't ride, but my 10 year old did and loved it!
Summit Plummet has a 12 storey drop and has you achieving incredible speeds which will be documented by the stop clock at the bottom. If you're wearing watershoes, you will need to take them off for this slide. This ride has a 48 inch minimum height requirement.
Slush Gusher is a less intense variation of Summit Plummet – designed to have the appearance of the luge it's not as steep, not as fast and has several dips. Expect to get splashed on this ride! Slush Gusher also has a 48 inch height requirement.
Snow Stormers feature (for me) on the thrill rides because it's not necessarily a family ride – it's one person at a time down one of 3 flume type slides -none of them enclosed. It's also not a tube ride (more on tube rides next). What makes this thrilling is the fact that you ride the slide face first on a mat. Disney water parks provide the mats, they have 2 hand holds at the front and the mat loops over on itself – from the side, the mat and hand hold looks like a 'D'. This is plenty of fun and without a height restriction!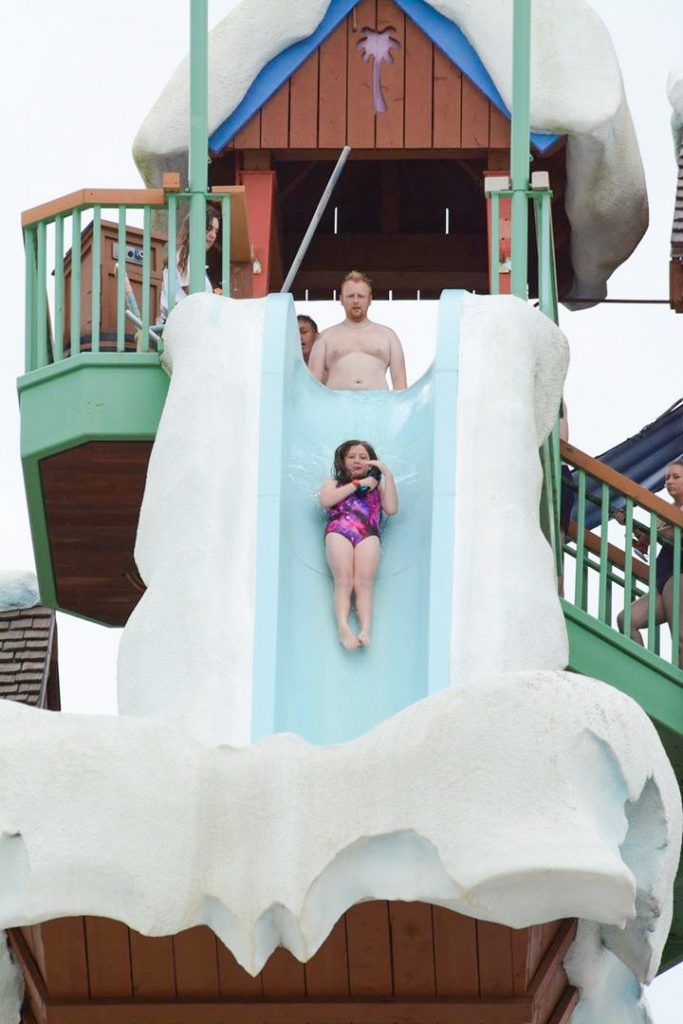 Thrill rides at Typhoon Lagoon
The wonderful sounding Humunga Kowabunga has three enclosed tubes/flumes and sends guests down 5 storeys in just a few seconds: it is the most intense ride at Typhoon Lagoon! The minimum height requirement for Humunga Kowabunga is 48inches.
Storm slides consists of 3 slides that are like more traditional flumes – semi enclosed for most of the ride (some parts fully enclosed), there are some twists and turns before depositing riders into the pool at the bottom. At the top of Storm Slides, the rider can determine how quickly they 'launch' themselves and therefore control (slightly and at the start) how quickly they go down the slide. You can sit or lie down on these slides. There's no height requirement for Storm Slides.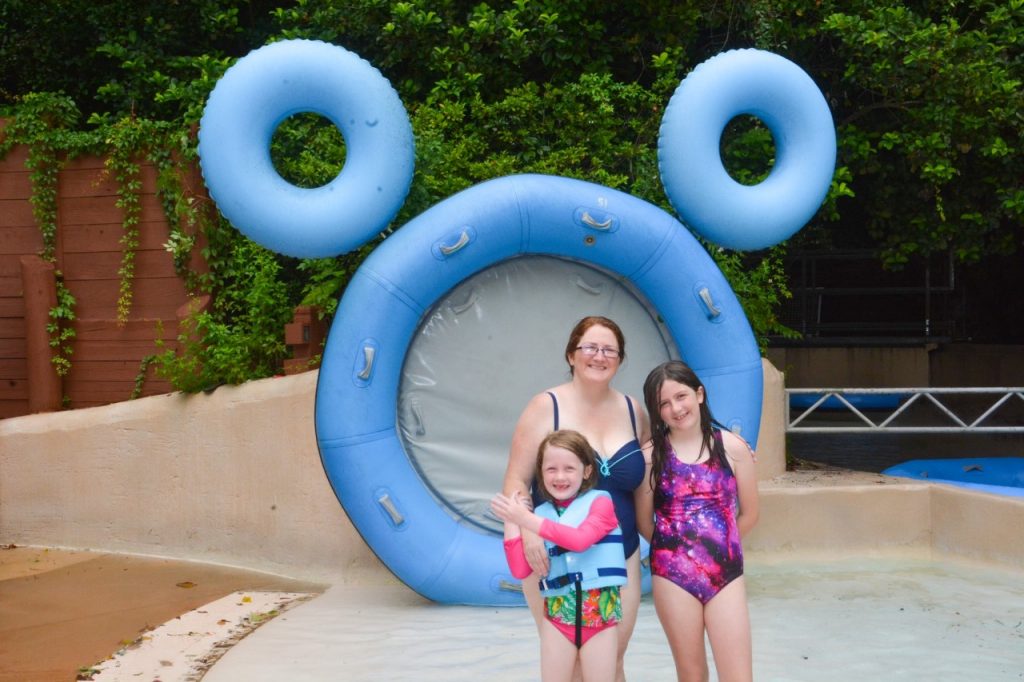 Best Disney Water Park Wave Pool
In the Typhoon Lagoon vs Blizzard Beach debate, when it comes to wave pools, Typhoon Lagoon is a clear winner. BUT that doesn't necessarily mean that it's the best wave pool for your party and we're going to explain why.
Wave Pool at Blizzard Beach
Melt-Away Bay is a one acre pool at the bottom of Mount Gushmore and is fed by the constantly melting snow from the mountain, which is what causes the waves. If you want a relaxing experience, you can get into a tube and just bob about on the waves. Staying away from the source of the waves will help you have a more gentle experience, if that's what you're after.
Tubes aren't necessary, however, people can and do swim among the waves and this can be great fun – but it's a lot less relaxing than the tube option.
The protective floor coating means that you should be wary of bashing or scraping your knees on the ground – easily done when you're drifting around in the shallows.
Wave pool at Typhoon Lagoon
If Melt-Away Bay is all about relaxation, Typhoon Lagoon's Surf Pool couldn't be more different! Watching the waves is impressive – the surf pool It is one of the most thrilling (not to mention largest) wave pool in the world. Every 90 seconds, huge waves that reach up to 6ft move through the pool – normally accompanied by excited screams from guests in the water!
Plenty of people body surf the waves, but just as many stand waiting in the shallows for the waves to reach them. The waves still have a lot of power when they reach the 'beach' and can knock small kids off their feet (and take larger ones by surprise!).
Don't forget, the floor of this pool has the same abrasive coating which can be very sore if you're being pushed around or knocked off your feet by the waves. Not something to stop you from having fun in this amazing Surf pool, but just to be aware of.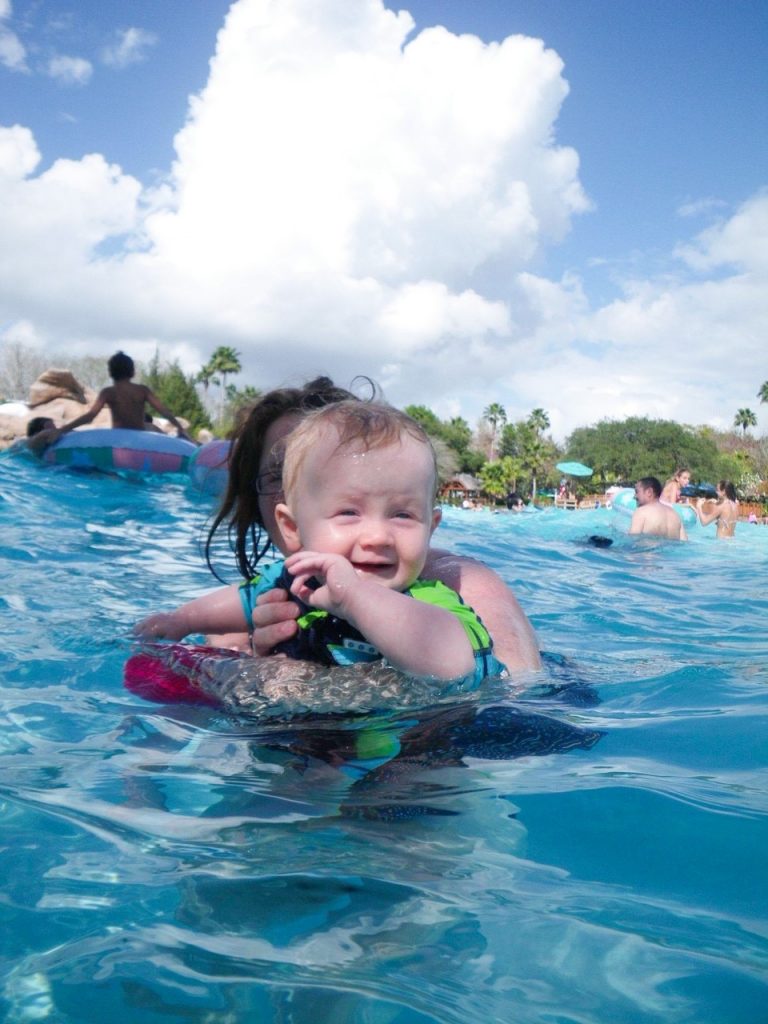 Best Inner Tube Rides At Blizzard Beach and Typhoon Lagoon
What we mean by an inner tube is the inflatable ring you travel down the slide on. We love that many of the rides at Disney water parks have inner tubes – sometimes the joins in the slides can hurt as you travel over them at speed, but the inner tube just removes that ouch factor.
Inner tubes can also be great for the less water confident as your 'landing' is usually not quite as dramatic. Reader caution: inner tube rides don't guarantee that you'll stay in the tube when you exit the ride, but watch for a while and you'll see which ones you may need to be prepared to get wet(ter) on!
If you don't sit on an inflatable ring for the ride, then it's not in this section!
Tube rides at Blizzard Beach
Downhill Double Dipper is a pair of side by side water slides – the tubes that you go on for this ride don't have a bottom, they're just like the ones in the lazy river! You're held back at the start by a platform which drops and the 2 riders race, side by side. At the bottom, there's a pair of digital stopclocks so you can see who won the race! The idea on this ride is mimicking a downhill ski race. Riders must be 48inches to ride and riders are one per tube.
Runoff rapids is another one with no height requirement and is a ride of a really good duration. There are 3 slides – 2 open and one enclosed; one rider per tube and they generally follow the same route as each other. We prefer the open ones – the enclosed one became quite claustrophobic due to the length of the ride, but thrill seekers may really enjoy not being able to see what's coming next!
Tube rides at Typhoon Lagoon
Crush'n'Gusher seems as much of a coaster as it is a slide! You and another rider sit one in front of the other and head down these semi-enclosed slides – there are lots of uphill climbs and sudden drops. There 3 slides in total – 2 require 2 riders; one is appropriate for single riders. Riders must be at least 48inches.
Keelhaul Falls is a fun ride – not too scary and fast and lasts a good length of time, too (much longer than some of the other rides!). There's no height requirement for Keelhaul Falls.
Mayday Falls is similar to Keelhaul Falls, but with a slightly more substantial tube with a little backrest. This one is faster and more splashy than Keelhaul Falls – riders will get thrown around and splashed much more (with, usually, a slightly less graceful exit into the pool!). As with Keelhall Falls, there's no height restriction.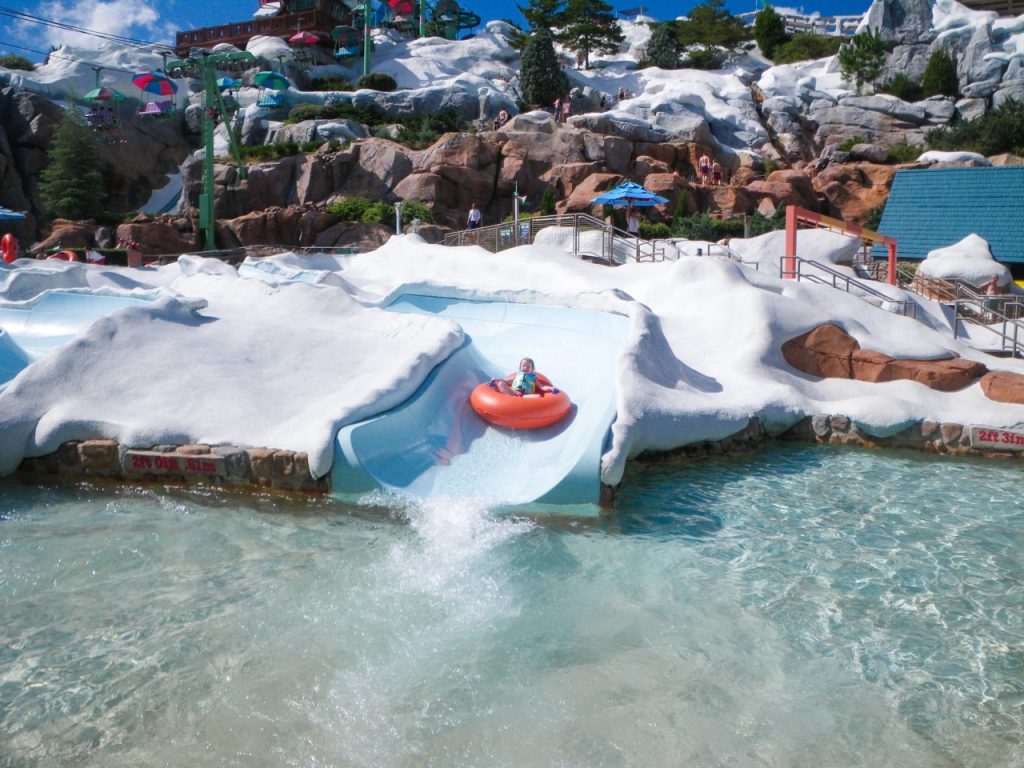 Best Family Rides At Typhoon Lagoon Vs Blizzard Beach
Although many of the other slides and rides could be family friendly, the ones we've listed here are ones that you can enjoy as a group. We LOVE not having to worry about who goes first, who goes last to make sure the kids are all safe and happy. Riding with them is loads of fun and you get to experience the rides with them, rather than just before/after.
Family rides at Blizzard Beach
Teamboat Springs is a raft ride that up to 6 people can ride in (if there are less than 3 of you, they may combine you with another party). It's a 12ooft long ride which you access either by steps or by the same chairlift that takes you to Summit Plummet (worth noting that the minimum height for the chairlift is 32inches).
This really is a family ride – suitable for (almost) all ages – my youngest first rode it when she was 11 months old and loved it! Obviously, for the little ones, a responsible adult is required to put an arm around and hold them, but the Cast Members had no worries or raised eyebrows when we presented ourselves to ride.
It is a LOT of fun and I particularly love that the whole family can ride it together. It is fast, but enjoyable!
Next I'm listing Toboggan Racers – this may be a controversial choice and it may not suit your family – but for me it doesn't meet the 'thrill' ride status, although it is lots of fun! This is an 8 track toboggan run – each rider has a mat (same as Snow Stormers) and is a straight 'course' – no bends, no twists, just some dips (relatively gentle ones) – which you ride head first. We rode it as a family and the Cast Members had a lot of fun letting the little ones have a bit of a head start (because the heavier adults will normally travel much faster!).
Family rides at Typhoon Lagoon
Miss Adventure Falls is the newest of the 'raft' rides at Typhoon Lagoon and is for 2-4 people. You get in the raft just after the previous riders exited it and get taken to the top on a conveyor belt, where you can enjoy the theming of the ride and the scenery of some of the rest of the park.
Gangplank Falls is, like Miss Adventure Falls, a raft ride for up to 4 people. Where it's slightly different to Teamboat Springs and Miss Adventure falls is that it seems to be 'sitting' (floating) on more water which bounces and flows like rapids down the slide.
Both are really enjoyable but we definitely think Miss Adventure Falls has the edge!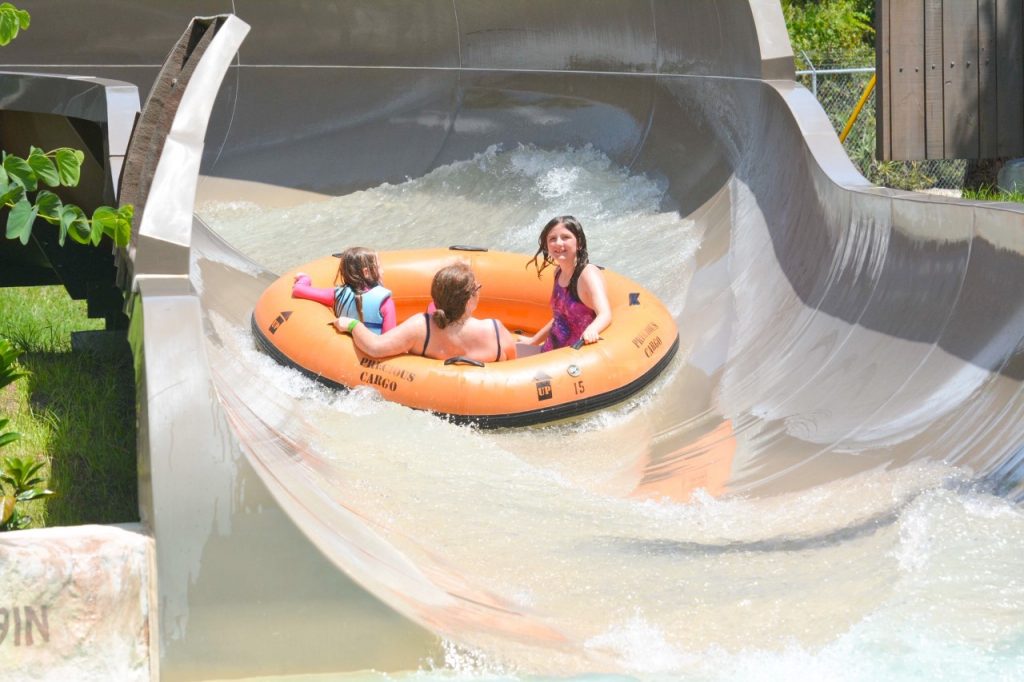 Best Lazy River At The Disney Water Parks
We LOVE a lazy river, do you? Disney water parks has some of the best lazy rivers we've ever experienced and we've found them a great way to get around the park (OK, maybe not the quickest!) when you want to explore a different area.
Most of the time, you do this in inner tubes (single or double) but often the kids (and sometimes the grown up kids!) love to bounce around 'by foot' – as with the wave pools, be aware of knee scrapes (usually only a problem for the grown up kids!).
Lazy River at Blizzard Beach
Cross Country Creek is a great way to relax and enjoy the snowy theming of this Disney water park with more colourful characters! There are caves (watch out for the icy water falling from above) which can provide a nice respite from the sun and some other frosty surprises along the way, to keep up with the theming of this Disney water park.
Lazy River at Typhoon Lagoon
The Castaway Creek, like Cross Country Creek, winds around the whole of Typhoon Lagoon in a continuous loop of over 2000 ft.. It provides tranquillity as guests float through the beautifully landscaped vegetation. For a continuous loop of relaxation and sun-catching, you'd have to go a long way to beat Castaway Creek!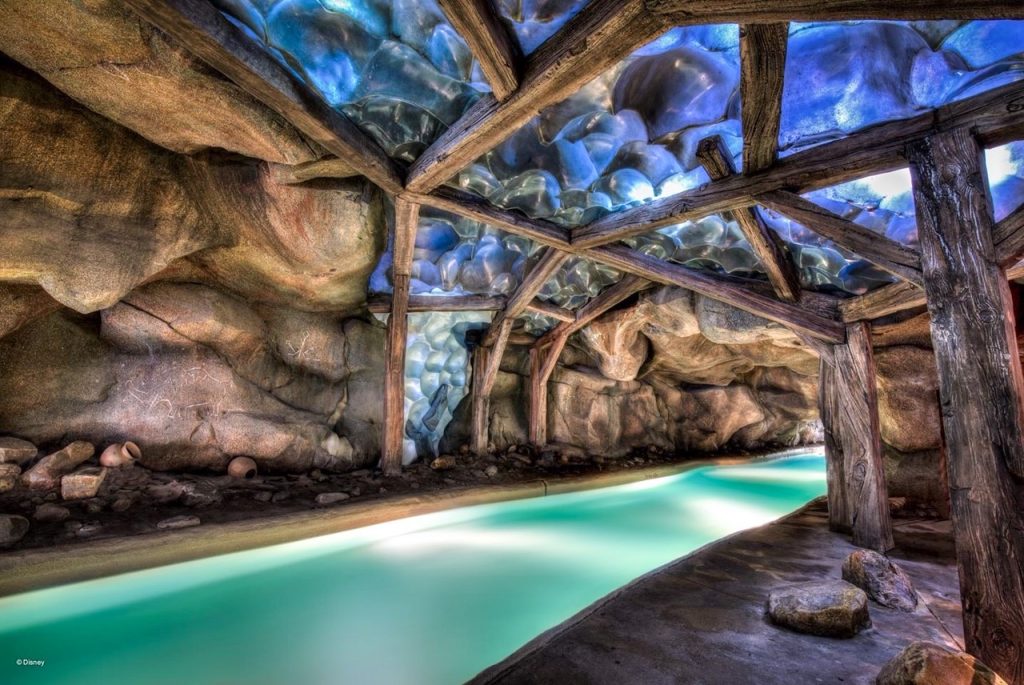 Food At The Disney Water Parks
There is, as you'd expect, a broad range of food, drink and snack options at the Disney water parks – some people don't rate the quality of the food: while the quality of food is not among the standout quick service offerings at Disney, we think that they stand up well to the average quick service quality, with some surprisingly different options.
It's not all burgers and hot dogs, which we find refreshing, particularly for water parks. In terms of Blizzard Beach vs Typhoon Lagoon, Blizzard Beach wins in terms of number of locations, but there are plenty of offerings at both.
Food at Blizzard Beach
There are 7 counter service food locations at Blizzard Beach
Lottawatta Lodge has a diverse menu with a really pleasing range of plant-based options.

Warming Hut mainly sells salads, sandwiches and wraps
Avalunch has a relatively small menu with hot dogs and sandwiches
Cooling Hut has a relatively small menu with sandwiches, snacks and frozen treats
Frostbite Freddy's Frozen Freshments has a very small menu with nachos, quesadillas and a swirl cone
I.C. Expeditions serves floats, sundaes and frozen treats – including the Sand Pail (read on to Typhoon Lagoon to find out more!)
Finally, there's a small hut selling Mini Donuts
There's a bar called
Arctic Expeditions and Polar Pub
; all of the other food services (apart from I.C. Expeditions and the Mini Donut hut) also sell alcoholic beverages, although some locations' offerings are limited to beer and sangria.
Frostbite Freddy's, I.C. Expeditions and Mini Donuts do not accept the Dining Plan.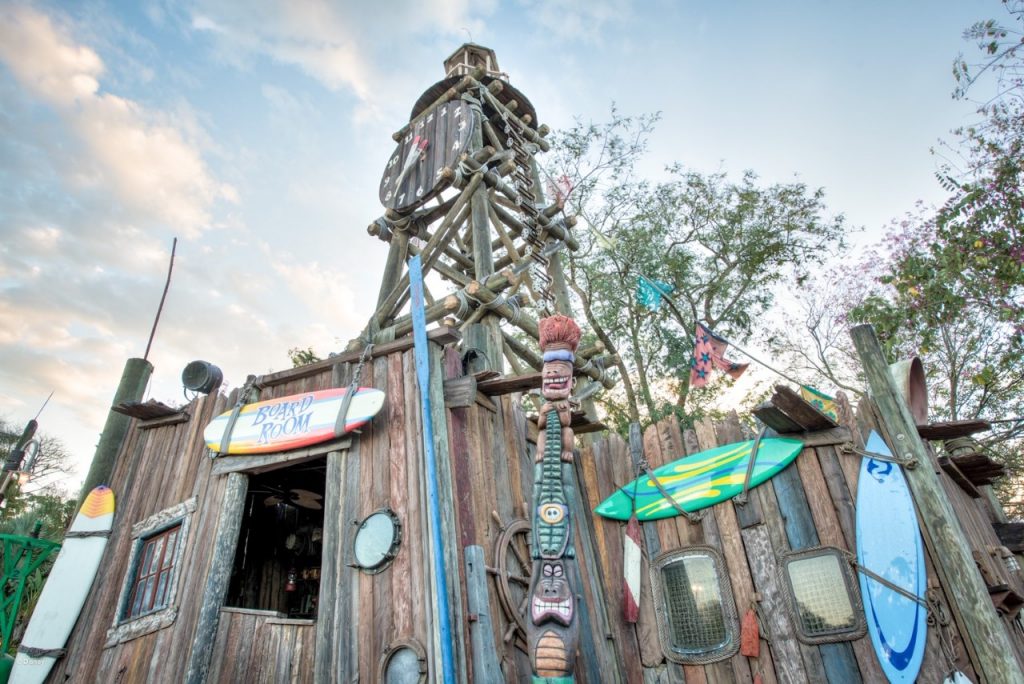 Food at Typhoon Lagoon
There are 5 counter service food locations at Typhoon Lagoon – fans of the dole whip will be delighted to know you can get dole whip at this Disney water park:
Leaning Palms has a diverse menu with an island feel (with also pizzas, hot dog and a simple kids' menu).
Typhoon Tilly's has on its menu some traditional fishy favorites – sandwich, tacos, basket – as well as a few other items and corn dogs featuring on the kids menu.
Snack Shack is – as the name suggests – a snack location with dips, sandwiches and salads. It also has the Sand Pail on the dessert menu (read on!)
Happy Landing's has ice creams and this is the place to check out the Sand Pail – Chocolate and Vanilla Soft-serve Ice Cream, Waffle Cone Pieces, Oreo Cookie Pieces, Sprinkles, Hot Fudge, Caramel Sauce, Whipped Cream and a Cherry – the thing kids will love about this is that it's served in a Sand Pail with a shovel to eat it with!
Lowtide Lou's has a small menu of sandwiches and wraps
* Happy Landings does not accept the Dining Plan – the other locations do, but not for all items (like the Sand Pail at the Snack Shack, for example).
There's also a bar called Let's Go Slurpin'; all of the food services apart from Happy Landings also sell alcoholic beverages – most locations offer a range of cocktails.
Food in both parks
If you're on a Dining plan, you can use your Quick Service and snack credits at all of the locations in both Disney water parks. There are no table service locations in either of the water parks at Disney. Read more about the
Quick Service dining plan
and how to decide if the
Disney Dining Plan
is for you.
You could also save a ton of money by bringing in a collapsible cooler (see above – packing list section) and bring your own snacks and drinks. Even if you don't bring a packed lunch (you're on vacation, right?!) and grab a meal or a few ice creams, you are still going to save money.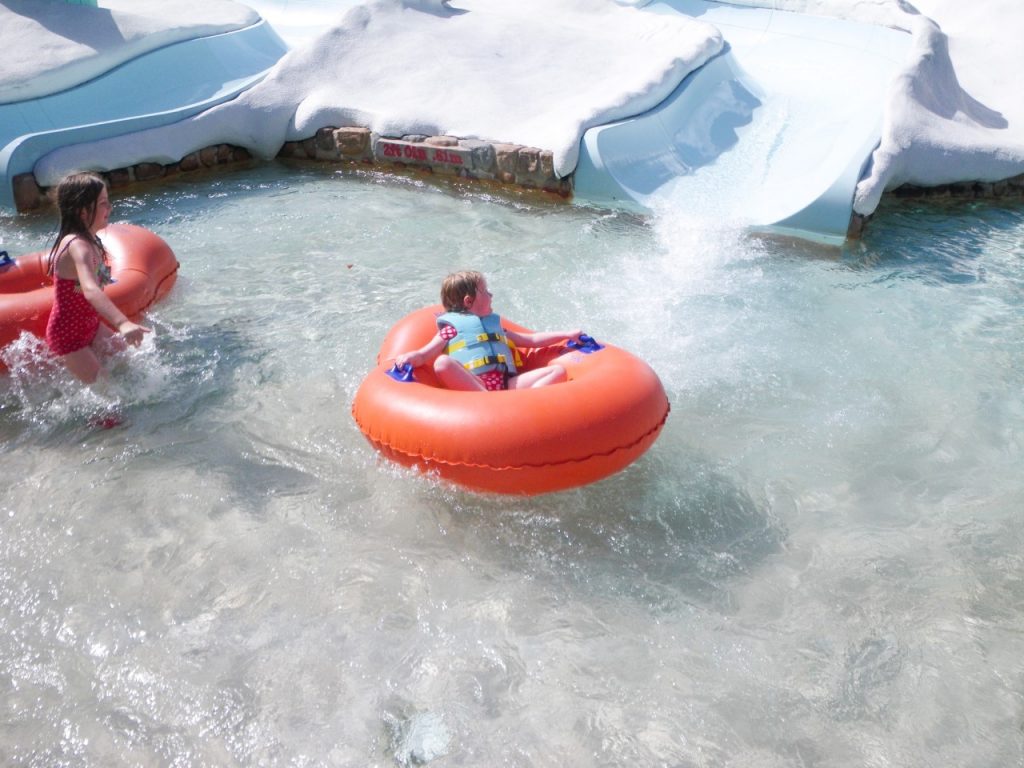 Which Is Better Blizzard Beach Vs Typhoon Lagoon
In all honesty, I think they're both great and have happy family memories of both Disney water parks. I prefer the raft rides at Typhoon Lagoon, but the wave pool at Blizzard Beach – I know I'm in the minority there, but it just illustrates how much personal experience and preferences really do differ.
I prefer the kids' areas at Blizzard Beach, but I know many people prefer Ketchakiddee Creek at Typhoon Lagoon – my kids were always water confident at each visit and Blizzard Beach just gave them more to do and kept them happier, for longer!
We really hope that this article has illustrated the best of both Disney water parks and helped you prepare for your trip – whether you decide to visit Blizzard Beach or Typhoon Lagoon, we know you'll have a great time.
If you can, you should honestly visit both, but depending on the time of year you visit, you may not have the choice and therefore we also hope that we've shown you the best that each park offers, so you will have a magical time if you don't have the difficult decision to make.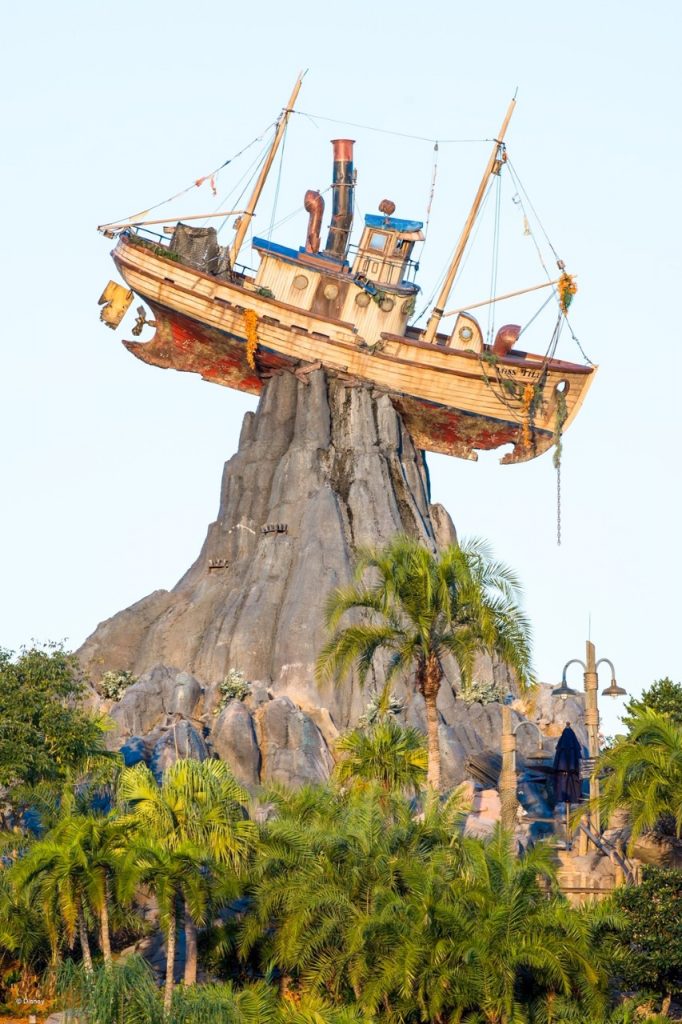 Quick Tips For Visiting The Disney Water Parks
PhotoPass – do take advantage of the PhotoPass photographers, if you can. Also be aware that there are photographers stationed near the end of some of the rides – Miss Adventure Falls and Summit Plummet – to help you get great 'action' shots.
Lazy river tubes – if there aren't any tubes available at your entry point, you can either wait, or – our tip – is to hop along to the next entry/exit point. Some of these are much quieter than others and often have a stack of tubes waiting for you to grab.
Annual Refurbishment – remember to check the schedule when you start planning your trip, to avoid disappointment. If you're travelling between April and October, you should find both Disney water parks open.
Rainstorms – they're frequent, particularly in the summer. If you can, wait it out because you'll very often notice a much quieter water park afterwards. We love the idea of having a Disney water park almost to ourselves (it won't be, but if can feel like it if lots of guests have 'abandoned ship'!
Staking out your spot – the shaded areas go early in the morning, but also you need to find something to make 'your' area stand out – a distinctive towel or wrap for your lounger would be ideal to make sure you can always relocate your stuff when visiting the Disney water parks
First Aid – Both Disney water parks, as you might expect, have First Aid centers which are, like the main parks, staffed by nurses and equipped to offer over the counter medications, bandages and basic health advice. They are wonderful and could help you enjoy your stay for longer when a minor ailment would otherwise have you leaving the park.
Footwear – in case you missed it in the packing section, do take waterproof shoes to the water parks at Disney. The walkways can get very hot (and there are a lot of steps to climb to Teamboat Springs!) but also the rough surface in the pools and lazy river can be painful on the soles of your feet.
Sunblock – remember that the sun can burn you through the water and the rays also reflect off the water surface – reapply your suncream, often.
Secure your glasses – you don't want to lose your sunglasses in the Surf pool or your regular glasses going down one of the slides – in fact, anything you're taking into the water, like your underwater camera – consider securing to yourself with a strap.
Consider a locker – lockers are $10 or $15 depending on the size. Think about what you're taking with you; it may well be safest to get a locker. Honestly, I've never got a locker at a Disney Water park- I tend to travel light with my magic band and cellphone – I don't take wallet or other valuables with me. I may have been lucky, I know plenty of people who choose not to use lockers, but it would be entirely at your own risk.
We hope you've enjoyed our Ultimate Guide to the Disney Water Parks and that you now great insight and some helpful tips to help you plan your next trip to a Disney water park.
Which is your favorite in the Typhoon Lagoon vs Blizzard Beach debate?

Have we missed anything?

We'd love it if you left us a comment to share your thoughts and preferences. As always, we're happy to answer any questions you may have. Thanks for reading!