Have you ever thought about visiting Disney with toddlers?  Are you worried about all the things you need to think about to make sure everyone has a great trip?  Look no further, we've thought of everything and this guide will help you plan your trip so everyone in your party has a great time! Young children and yourself included!
Some people argue that you shouldn't visit Disney World with toddlers because they won't be able to remember the vacation at such a young age.  They may be right, but what we can tell you, for sure, is that your toddler will have an amazing time and your trip will give YOU some of the best memories of their childhood. We're going to talk you through how to go to Disney World with a toddler, AND still have fun!
How To Visit Disney With Toddlers And Still Have Fun!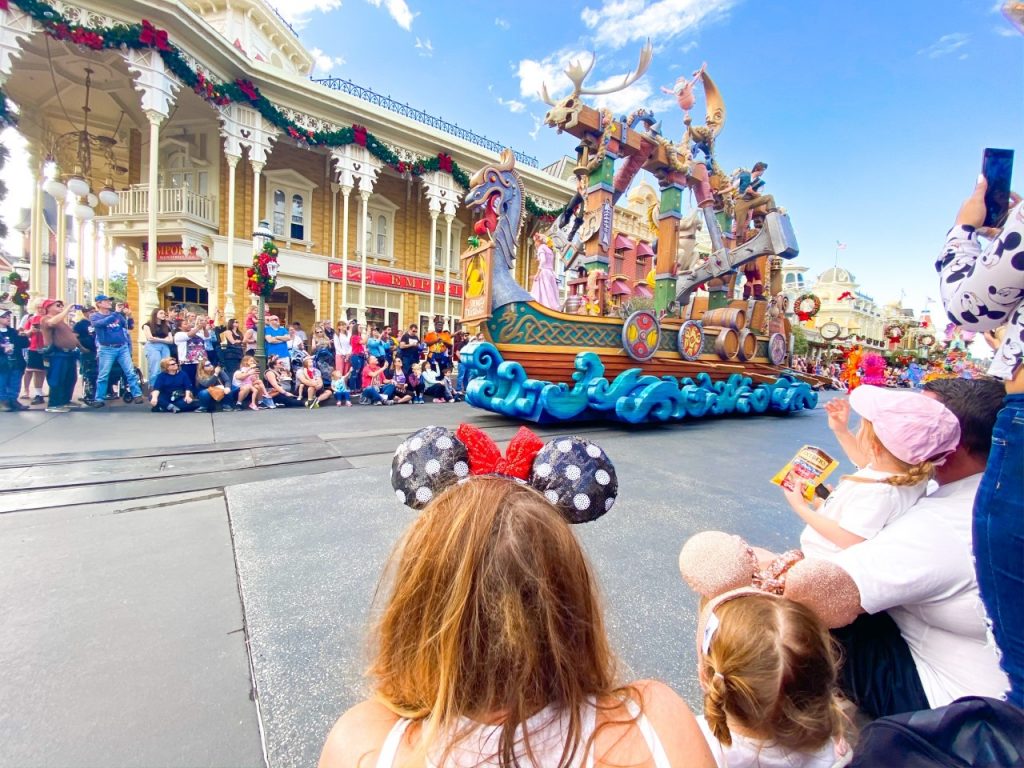 Understand That Kids Under 3 Don't Pay For Tickets
One of the huge perks of vacationing at Disney World with a toddler is that they DON'T need a park ticket to enter any of the theme parks.  As long as they are 2 at the time of check in they won't be required to purchase a ticket! This even counts if they turn 3 during your vacation! What a wonderful way to celebrate your babies birthday– and for free too!
This also means that any FastPasses you have, your toddlers can use as well! As long as they meet the minimum height requirements of the ride, of course! Disney is on the bucket list for many families, and now is a great time to go! What makes it better? Under 3 is perfect time to enjoy Disney with toddlers!  There are also huge benefits when it comes to dining for your toddlers at Disney, so read on…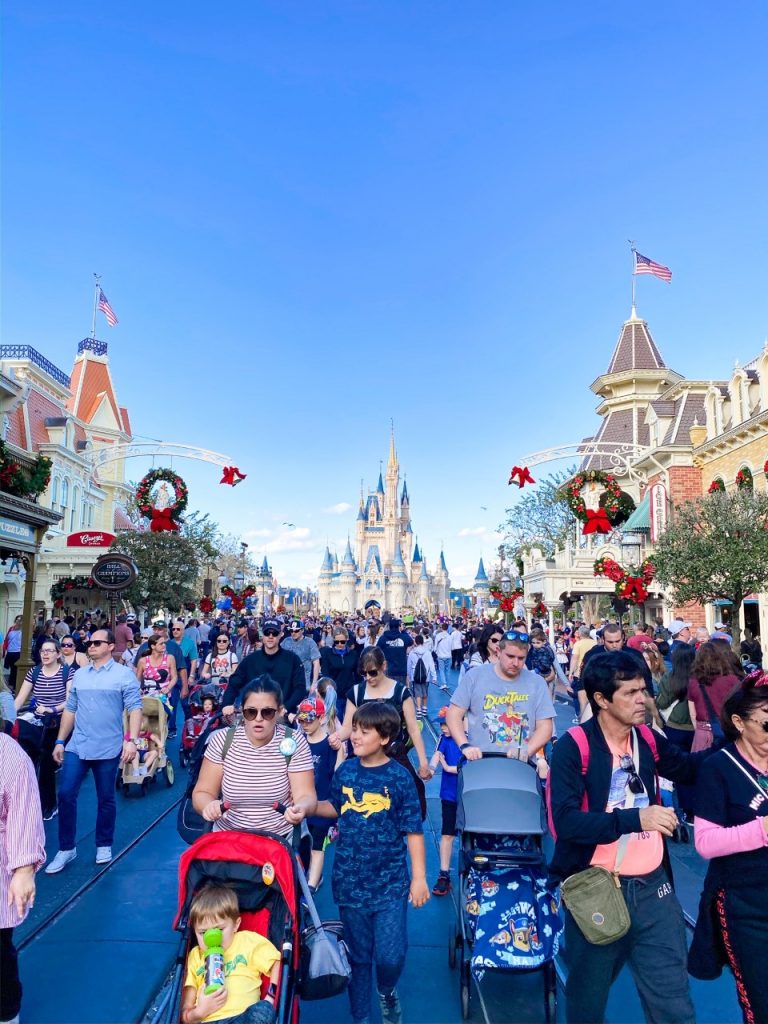 When to visit Disney World with a Toddler
When deciding WHEN to take your trip with toddlers at Disney World, you'll want to bear in mind a number of things to help you.  If you can travel outside of school vacations, the crowds will be more bearable AND you'll find cheaper accommodations, too.  Check our crowd calendar to see if you can fit your trip into a less crowded time of year.
The other main factor in our planning is the heat.  We've (sadly) see many toddlers having a tantrum, with their parents joining in… and we blame the heat! How can you blame the babies and young children when it's over 90 degrees and they're sweating! We get miserable too!
And have you heard of the terrible twos?  Imagine Disney World with a 2 year old who is hot, tired and over-excited.  What a combination. If you can avoid the hottest and most humid times of the year (June to August), we recommend you do so.
However, if you're stuck to specific times of year, when it's hot and crowded, you can still visit Disney with a toddler and have a great time…. just read on!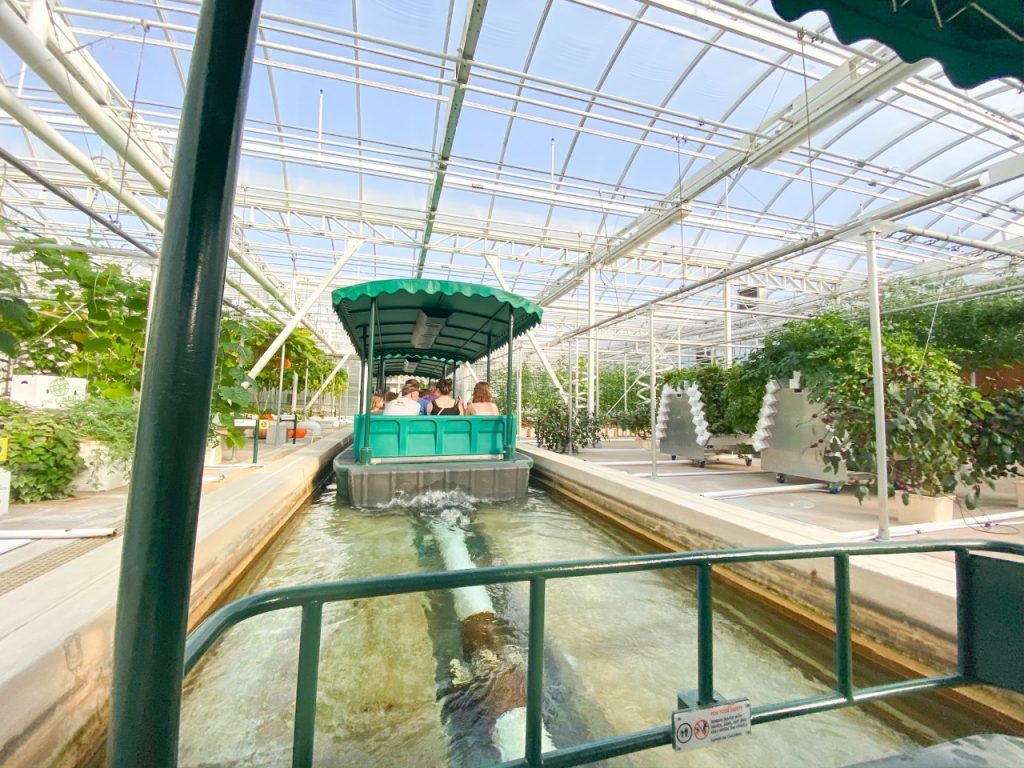 Getting Your Toddler Prepared For Disney
You'll probably want to involve your toddler in pre-Disney discussions, so they can start to get excited, but want to do this in a way that doesn't end up with daily pleas of 'are we going, yet?'.
We recommend talking to your babies about Disney World, showing them the rides, resorts etc, before you tell them you're going. That way, they can learn more about it and get excited about a vacation, but without knowing that you are definitely going.
Another great way of managing this is the hypothetical question "if we were going, which ride do you think would be fun?". Or you can ask them "if we were to ever visit Disney World, which character do you think you'd like to meet?".   
You can even get them involved in the pre-vacation 'planning' by reading Disney books to them or watching movies together! This gets them super familiar and excited, which is a win-win for Disney with babies! We even have the 15 best movies to watch before your trip on another article!
Remember time is a concept hard to grasp for most toddlers (mine used to plan for her birthday party months in advance but then would ask every day, "Is it my birthday yet?"), so you will probably want to tell them not much longer than a month beforehand. This way you can count down together, too. We love to do countdowns!
If this is of interest to you: Get a FREE printable 30/60/90 day Disney countdown by joining our private Disney Facebook Group and share your photos and ask for tips and tricks! 
I've seen films where people do 'surprise' reveals at the airport (or the day before they go) and I honestly don't recommend that with toddlers. I once took my toddler to Disneyland Paris and didn't reveal until we were at the gate where we were going. Her reaction was underwhelming and she would have been far more excited if she had had the opportunity to let her excitement build, a little! Let your children celebrate with you! But if you do a surprise, check out our tips on revealing a surprise Disney Trip!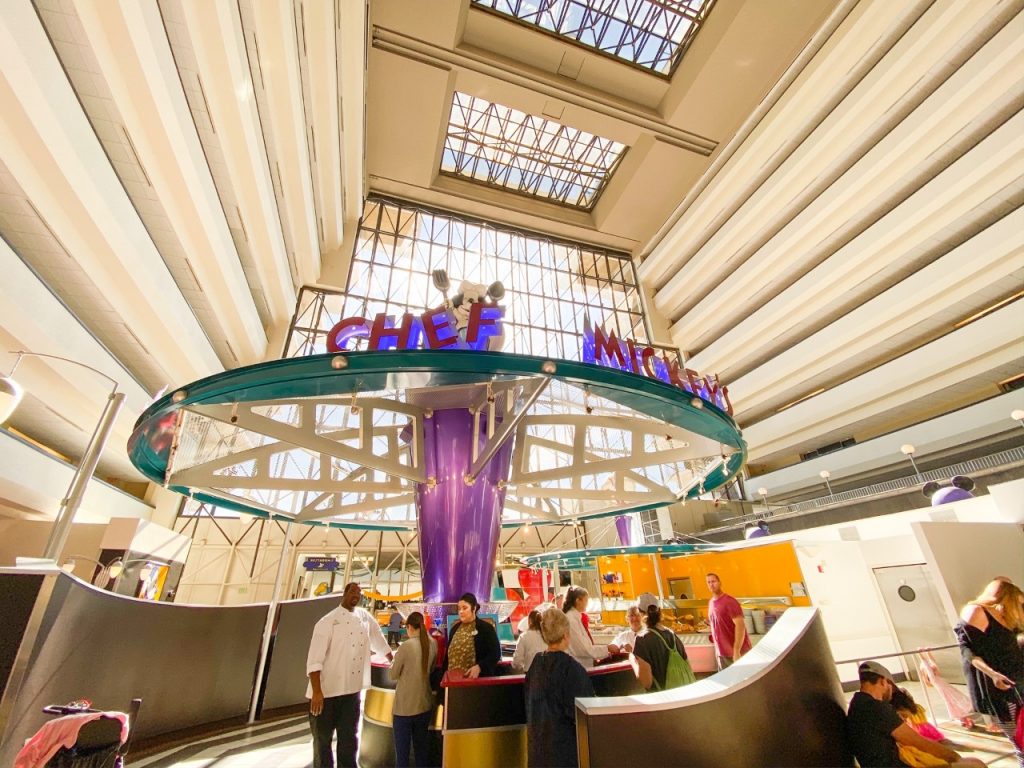 Tips for Visiting Disney with Toddlers or Babies
Consider staying at a Disney Resort. We talk more about this later, and we know it is a splurge, but some of the benefits are priceless, like Extra Magic Hours and no need for a rental car!
Don't over schedule your days. Everyone needs a break. You won't be able to do everything!
Consider adding the Park Hopper option. If you are staying for a few days, you can pick your must-do attractions and have great flexibility. A change of pace can be good for Disney with toddlers!
Book Dining Reservations ASAP. You can always cancel later, but get those in advance! Once they are sold out, they are gone!
Consider a stroller and when you are visiting! We will talk about both of these options later on in this article.
Consider which park, and which park areas, are best for your toddlers! It is probably best to stay in areas where they are most comfortable, and were you feel the safest with them. This includes rides too! Don't do Disney with a toddler if you are going to try to get them on Tower of Terror!
Accommodate your Toddler's needs. Disney with babies and young children can never be predictable. Be flexible and kind: adjust to their needs and your own!
Take advantage of Genie Plus, Lightning Lanes, and more. Cut down wait times. Book and purchase what was once FastPasses in advance!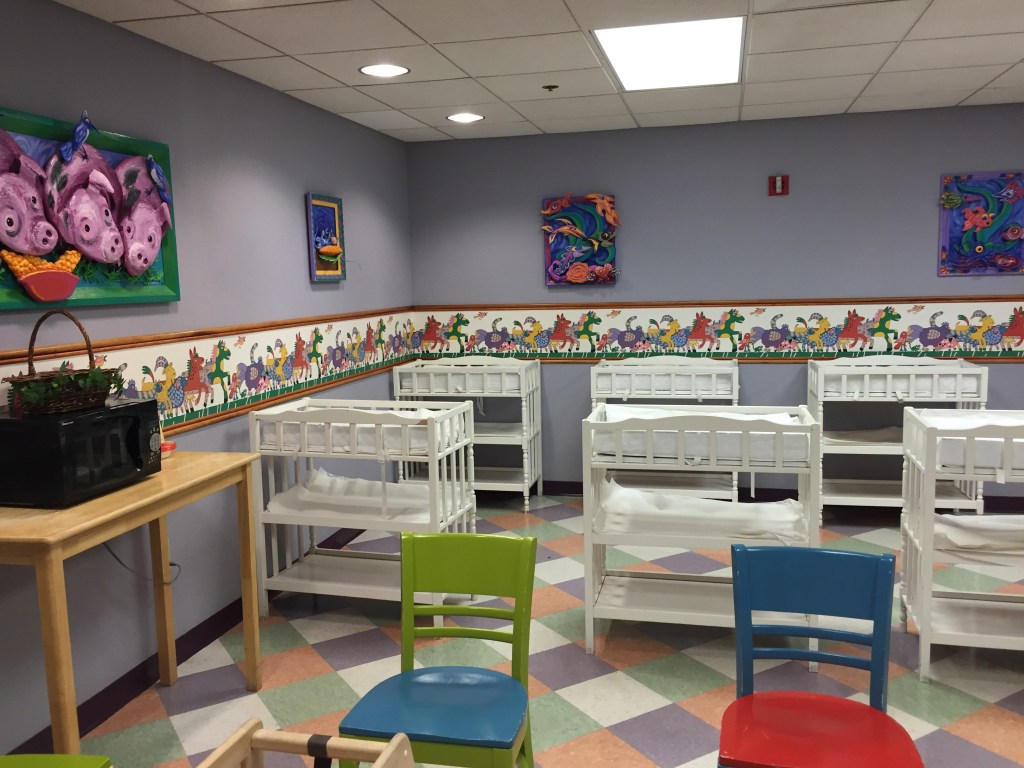 Getting to Disney with toddlers
If you'll be flying to Disney with your toddler, remember the impact of pressure on little ears during the flight! If they use a pacifier, remember to take it so they have something to suck on take off/landing (and to soothe them in between!). Taking their usual type of 'sippy cup' may also help.  We take a couple of sachets of Tylenol in case their ears do get sore.
Remember to also take plenty of things to keep them amused. This can depend on the length of your journey. This may include some toys; some coloring/sticker books or even some of their favorite programs downloaded onto a tablet (remember toddler friendly headphones!). But don't forget: you may not want to carry all of these things around Disney with toddlers, so try to pack light too!
If you are flying, and staying at a Disney resort, you'll be pleased to know you don't need a car seat for the Magical Express! This makes things a bit easier for you and your toddler!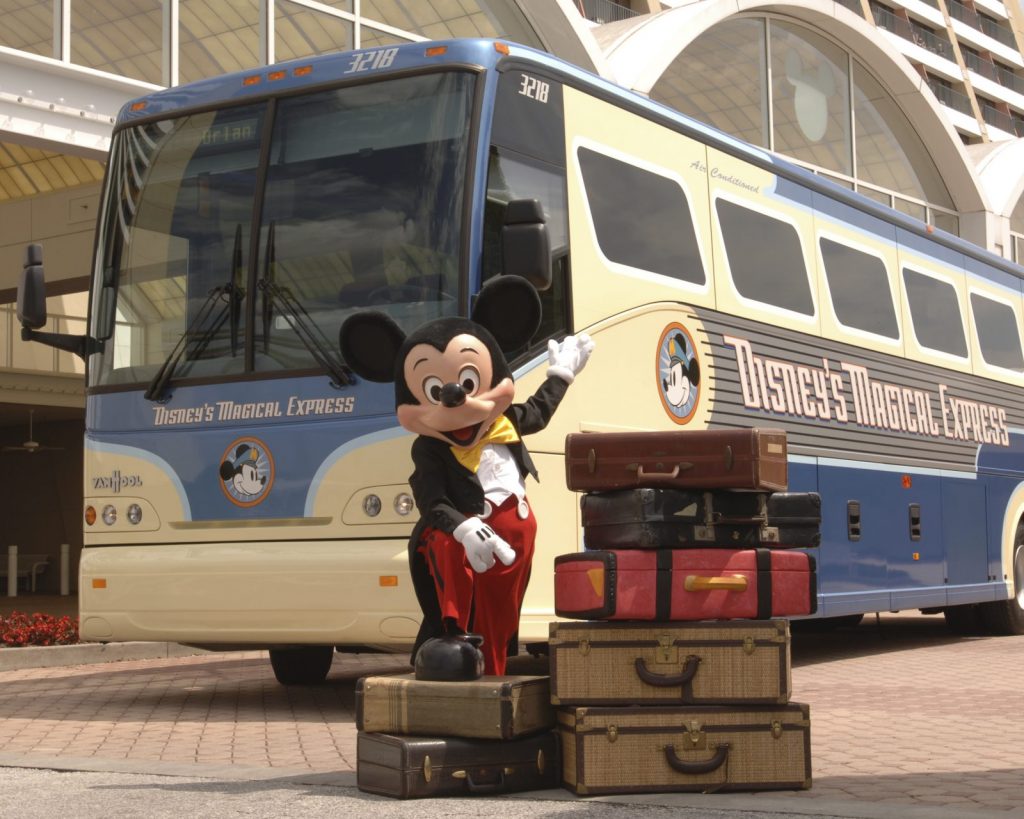 Best Deluxe Resorts At Disney For Toddlers
Staying in Disney World with toddlers has a lot of benefits.  One of the best things, in our experience, is being close enough to the parks to return to the hotel for a cool-off, afternoon nap, or splash in the pool.  For this reason, our Top Picks for a Deluxe resort Disney World with a 2 year old, are all in easy reach of the parks and all have great facilities and pool areas.
It is worth bearing in mind that, although Disney won't guarantee the availability of a crib (as opposed to a Pack 'n Play), the Deluxe resorts are really the only ones with rooms big enough for a crib in addition to the beds in the bedroom. These are all things to consider when traveling to Disney with young children!
Disney's Beach Club Resort
Beach Club is our top pick for visiting Disney with toddlers for many reasons, the top ones being: you're so close to Epcot and Hollywood Studios that you can WALK there!   You can also take a boat or step onto the Skyliner.  Being a Deluxe resort, there's a dedicated bus (you won't stop at other pick-ups) that will take you to the Magic Kingdom and Animal Kingdom parks.  
The Beach Club is brightly themed with a great appeal to the younger guest. AND you're an easy walk from many great food options, including the wonderful BoardWalk.   
The Beach Club is home to the BEST pool on Disney property.   Closer to a water park than a pool, Stormalong Bay is the ideal place to bring your toddlers to cool.  With a zero entry area, you can have peace of mind that your toddler can splash in safety.   Unlike any other Disney pool, there's also a sandy beach which we're sure your toddler will LOVE to play in! Beating the heat is important, so check out our article on how to Beat the Heat incase you need more ideas too!
If your toddler is still in diapers, they must wear swim diapers or plastic pants at any Disney Resort pool (or water park).  You can buy swim diapers in the Disney Resort shops, but sizes may be limited. We recommend taking your own.   
You can also take water toys into Stormalong Bay, like pool noodles, which may help your toddler enjoy a trip around the lazy river with you.  All Disney Resort pools have life vests for free use by smaller guests, including an infant and small child size.  Guests not staying at Beach Club, or its sister resort, Yacht Club, may not use Stormalong Bay.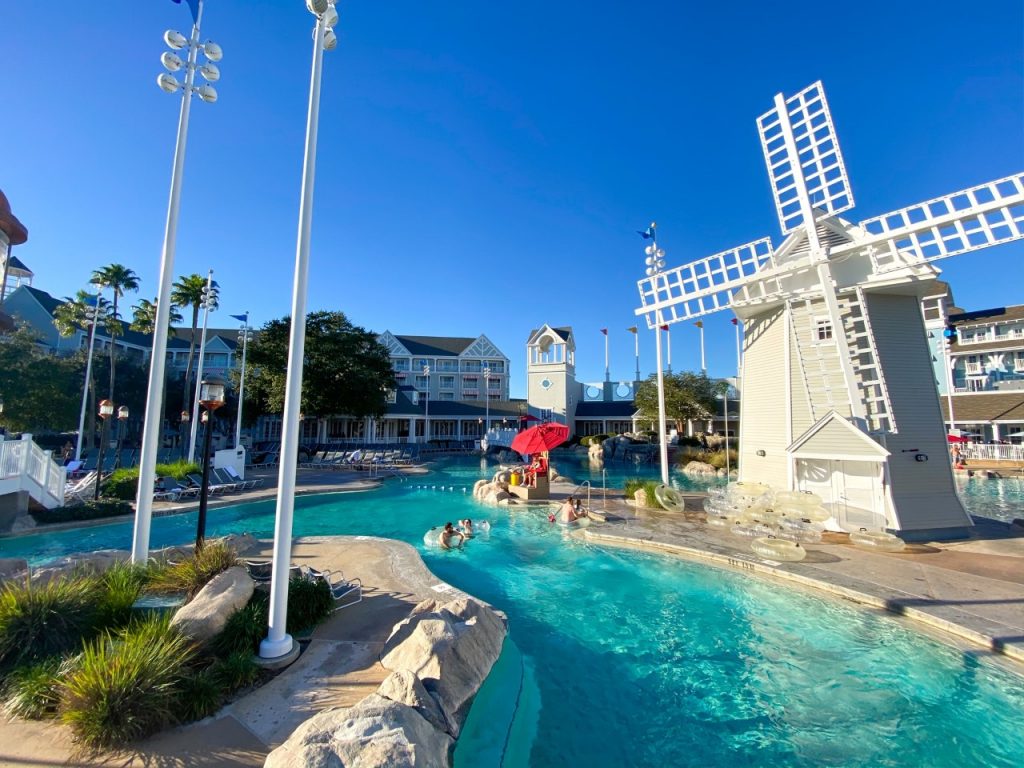 Disney's BoardWalk Inn
Sharing the benefits of Beach Club in terms of proximity, staying at BoardWalk Inn gives you the same easy access to the Disney parks. We think that being able to walk to the park, or hop on a boat, is SO much nicer than always taking the bus! It makes Disney with young children SO much easier! Plus, you don't have to pay for parking!
The BoardWalk is brightly colored and, at night, is beautifully illuminated and will definitely appeal to toddlers.  The BoardWalk hosts many brilliant food options. You won't have to walk far to find something that appeals to you and your toddler.
The pool area is circus themed and guaranteed to catch the attention of your toddlers!  We think the clown themed slide is really cute, and it only adds to your trip to Disney with babies! What fun memories.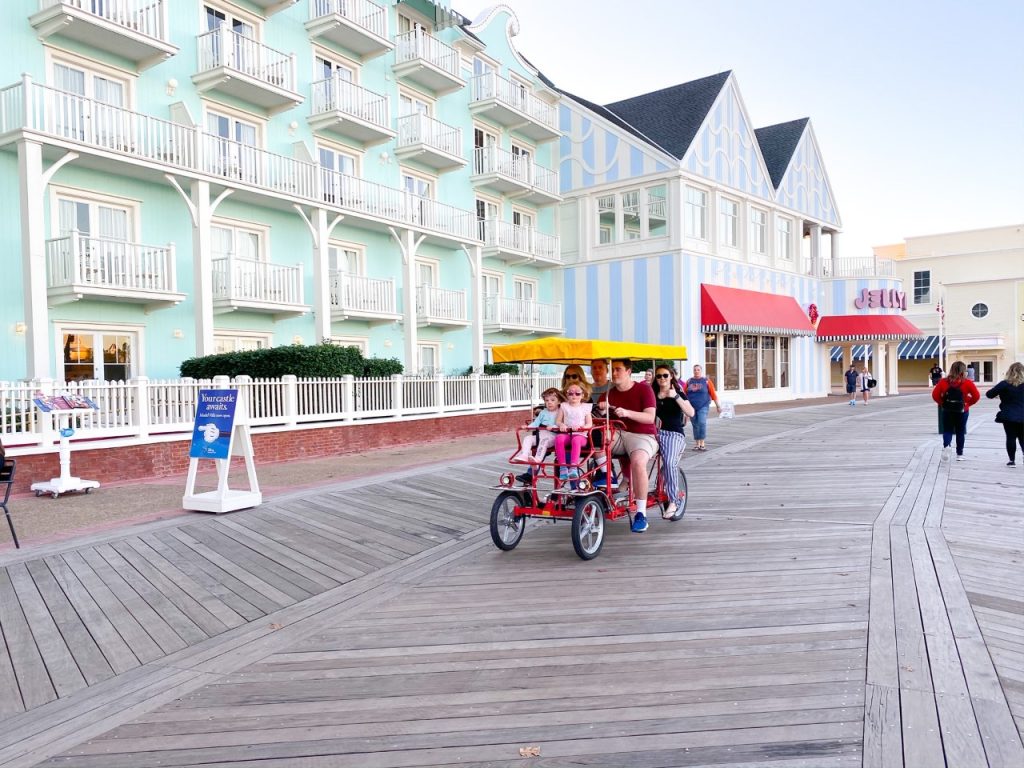 Disney's Contemporary Resort
The Contemporary Resort is the ONLY resort from which you can walk to or from Magic Kingdom. It's also one stop away on the Monorail.   Taking the monorail from the Contemporary with toddlers couldn't be easier – it literally runs through the hotel!  Maybe adults will be more fascinated by this than toddlers, but we think it's really cool and certainly makes getting to and from Magic Kingdom a breeze!
There are great (if a little loud!) food options at the Contemporary and it's super easy to visit the other monorail resorts (Disney's Grand Floridian Resort and Spa and Disney's Polynesian Village Resort) which also have great dining options.  Some of the rooms at the Contemporary Resort look out over Magic Kingdom, so you could see the fireworks from your room.  The other monorail resorts have beaches that you can watch the fireworks from!
You can also get a monorail to the Transportation and Ticket Center and, from there, get a different monorail to Epcot. There is also a great pool area at this resort, but it doesn't have any particular theming, unlike our other top picks!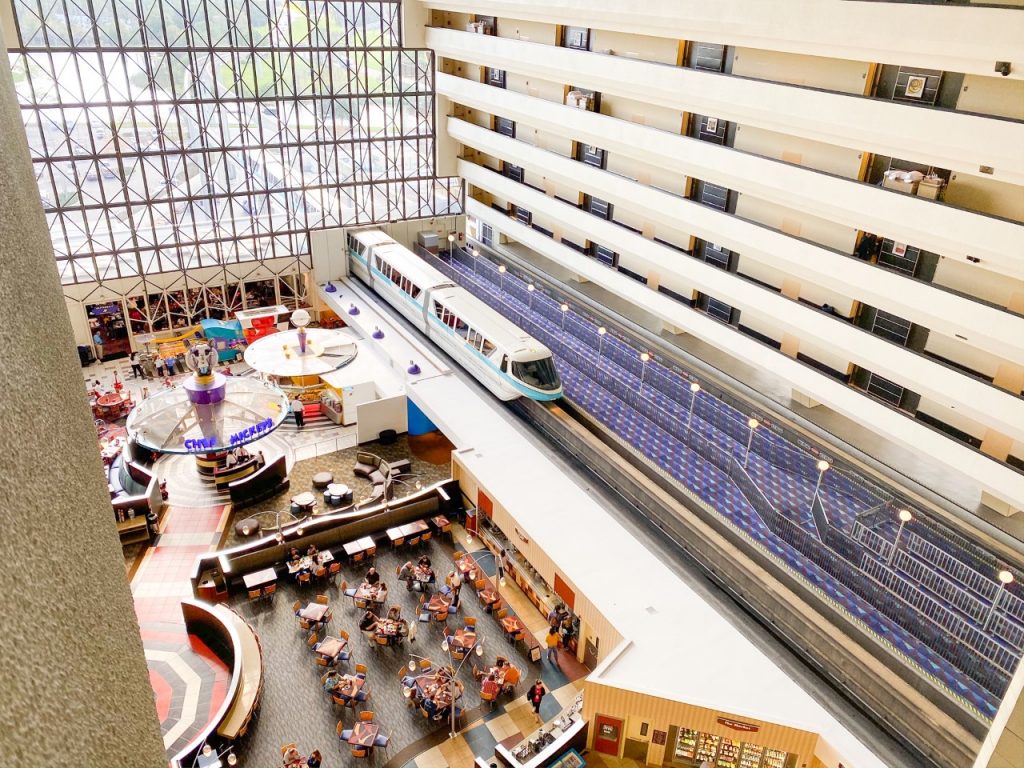 You can read more about any of these resorts in 16 Best (and Worst) Disney Resorts for kids.
A final word about Deluxe Disney Resorts
If you're looking for something a little different, and want to explore how you can save LOTS of money, particularly if you're travelling in less busy times, read up on renting DVC points at Deluxe Resorts.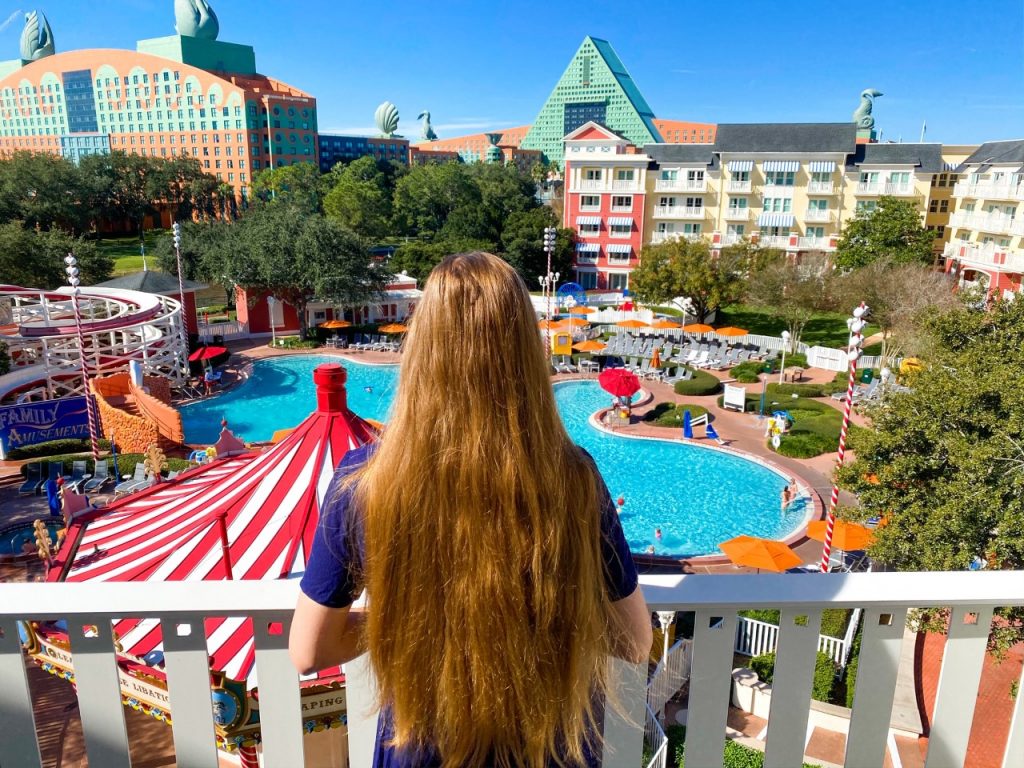 Best Moderate Resorts At Disney For Toddlers
We have 2, very different picks, for you:
Disney's Port Orleans Resort – French Quarter
Colorful and bright, with a great fun swimming pool, Port Orleans French Quarter is the smallest Moderate resort and easy to get around with your toddler. Although you'll need to use the bus to get to all of the parks, there's only one bus stop in this resort, which should make it easier when waiting for a bus with your toddler.
If you want to go to Disney Springs, you can get the boat from Port Orleans French Quarter, which is a really nice change of pace and which you might enjoy with your toddler. This way you can enjoy Disney with your toddler, as well as Disney Springs too! And who doesn't love shopping, food and even the Bippity Bobbidi Boutique?!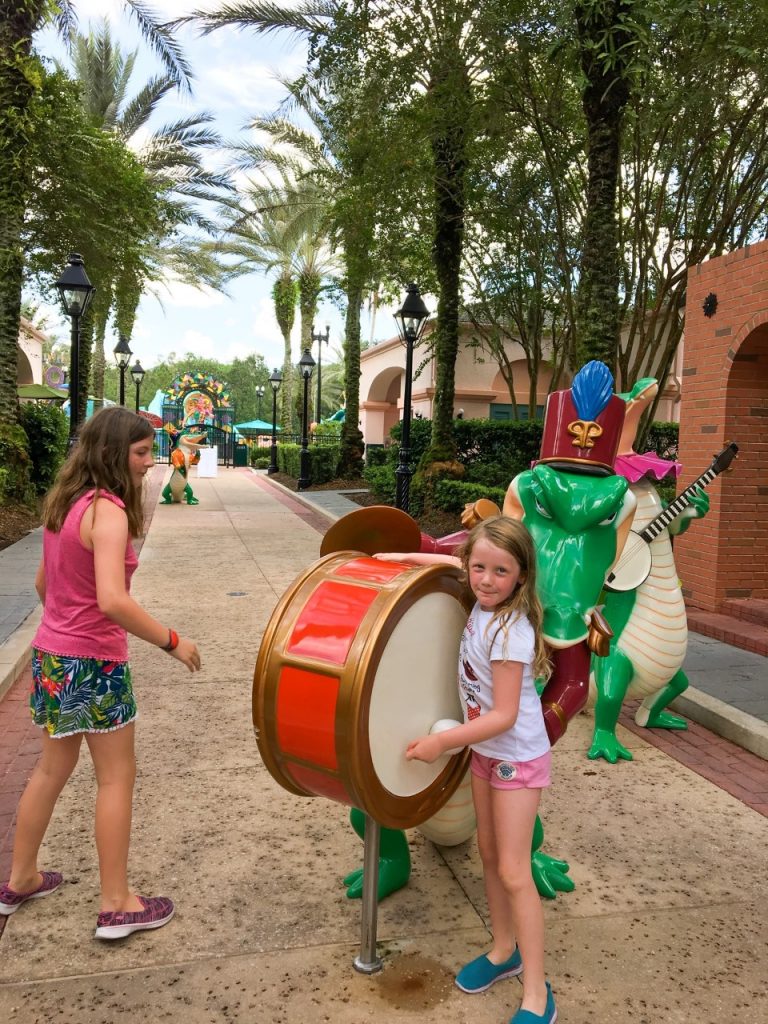 The Cabins at Disney's Fort Wilderness Resort
Compared with the small Port Orleans French Quarter, there's the huge Fort Wilderness resort!   You'll possibly need to take the bus to get around the resort itself (or hire a golf buggy, which we think is super fun!). The Cabins are fully equipped and ideal for enjoying some peace and quiet, whilst on vacation at Disney World!
You'll be able to get a boat to Magic Kingdom, where you can get the monorail to Epcot.  Otherwise, there's buses to all the parks. These cabins, overall, are great for access to the park but make Disney with toddlers easier because you have more privacy, and space! Which, after a crowded day in the park, you may need!
Read more about both of these resorts in 16 Best (and Worst) Disney Resorts for Kids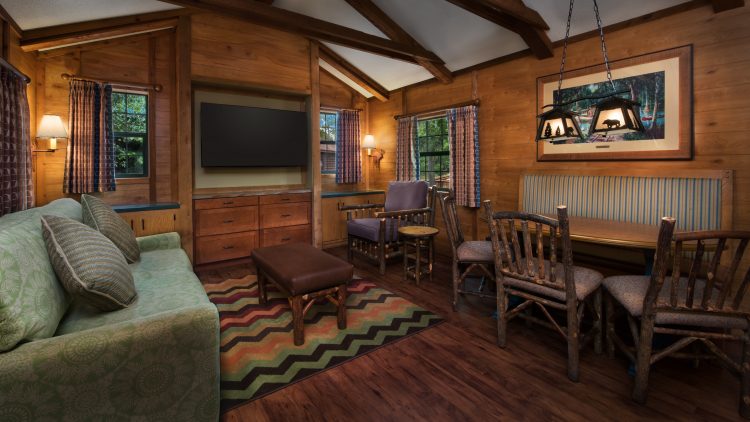 Best Value Resort At Disney For Toddlers
Disney's Art of Animation Resort
The Art of Animation Resort is our top pick for staying in a value resort at Disney with toddlers.  The colorful, bold theming will delight your toddler and they'll love to spot characters from some of their favorite movies. Finding Nemo at the splash pad, anyone?
Ideally located near the Skyliner station, you can take the Skyliner to Epcot and Hollywood Studios.  The rooms sizes at Art of Animation are also generous. Most of the rooms are family suites, so you should have no trouble with a pack 'n play, if you need one.
Read more about this resort in 16 Best (and Worst) Disney Resorts for Kids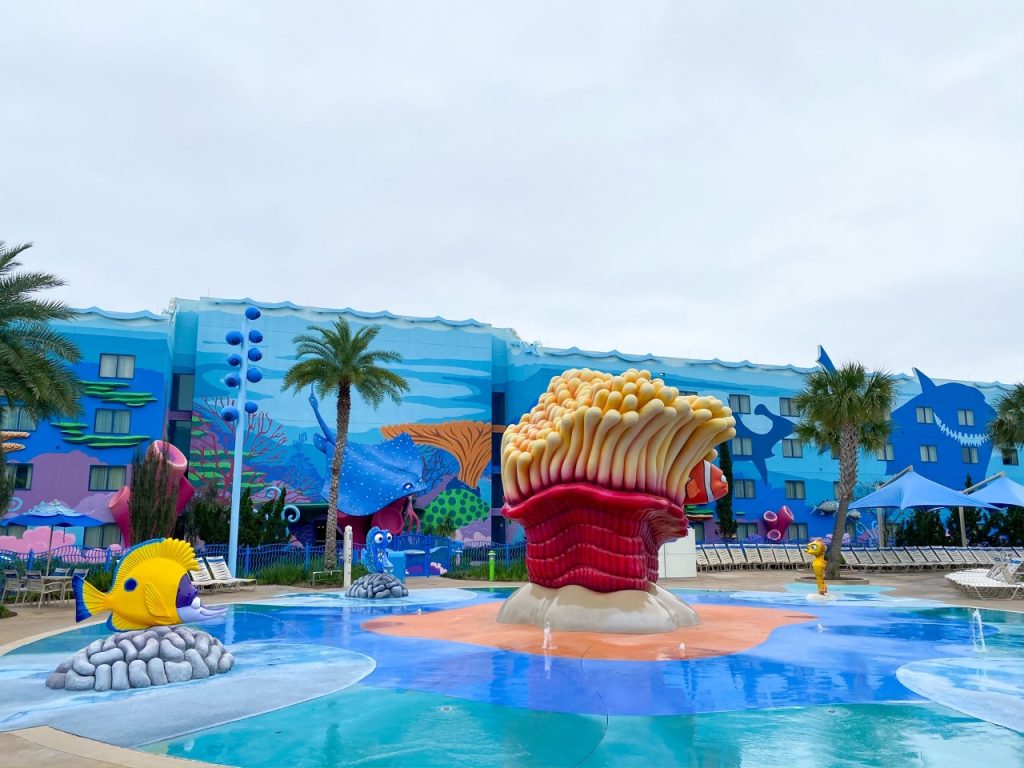 The offsite option
If you're visiting Disney World for a longer period, you have a larger family, or perhaps you know your toddler needs their own room and routine, you could consider staying offsite! At a villa!  There are so many villa type and location options, it would fill a whole different article, but you may want to bear in mind a few factors, before choosing to stay offsite:
You'll need a car
Every day you visit a Disney park, you'll need to pay the current parking fee. Factor in that some parks have a long trek from the parking lot to the park entrance – at Magic Kingdom you need to get from the Parking lot to the Transportation and Ticketing Center and, from there, take a ferry or monorail to the park entrance.
There are trams to help you get to the park entrance, but you will need to fold any strollers before boarding and one of my toddlers found the noise of the trams quite scary.
Planning breaks from the parks
If you're staying at a Disney resort, you're really not more than a short bus journey away from your resort, which means you can decide when your toddler (and you) need a change of scene.  It also means you're only a short trip from being back in the park when you're ready to return.  Staying offsite can make this revival process a LOT longer. Staying even 3 miles from Disney World can be a 20 minute car journey, and that's just to the parking lot.
My kids are older now, so they don't need to rest as much. For my upcoming trip, I've planned a week in a Disney resort and a week at a villa – best of both worlds for us and only one week of car hire/driving/parking charges for me!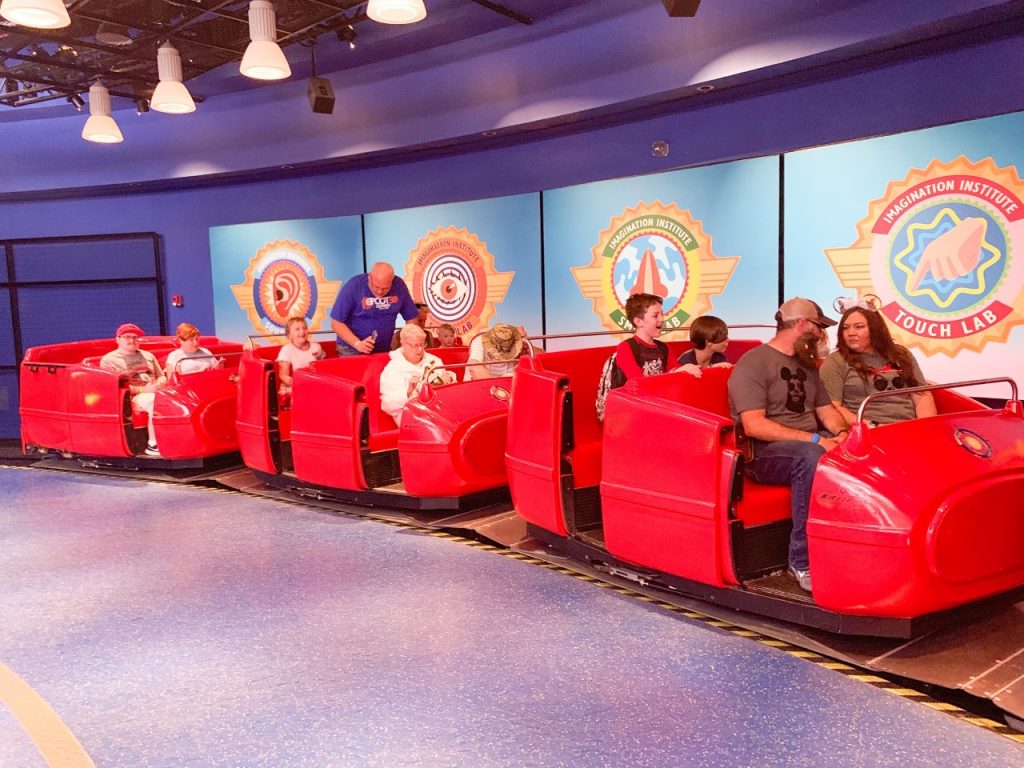 Transport suggestions
For a full guide, read Exactly how to use Disney World transportation.
The Disney World transportation network consists of a range of transportation options, including buses, monorails, boats, and more!  Sometimes, your toddler will LOVE these so much that getting to the park can become one of the highlights of their day! Other times, getting to Disney with toddlers can be stressful. So be prepared!
Disney World buses will take you from almost any resort to any park (or Disney Springs).  If you're using a stroller (read below), you will need to collapse and fold your stroller, which means your toddler needs to get out. 
If you're using the monorail, skyliner or (many kinds of) ferry – you can just walk on with your toddler in their stroller. This is great if they're napping and you don't want to get them out or wake them!
You can get really creative with transportation between resorts and parks. You can even get the monorail from a Magic Kingdom resort to Epcot and then the Skyliner from the International Gateway entrance to Epcot over to Hollywood Studios! The easy access and multiple options make traveling Disney with babies simpler!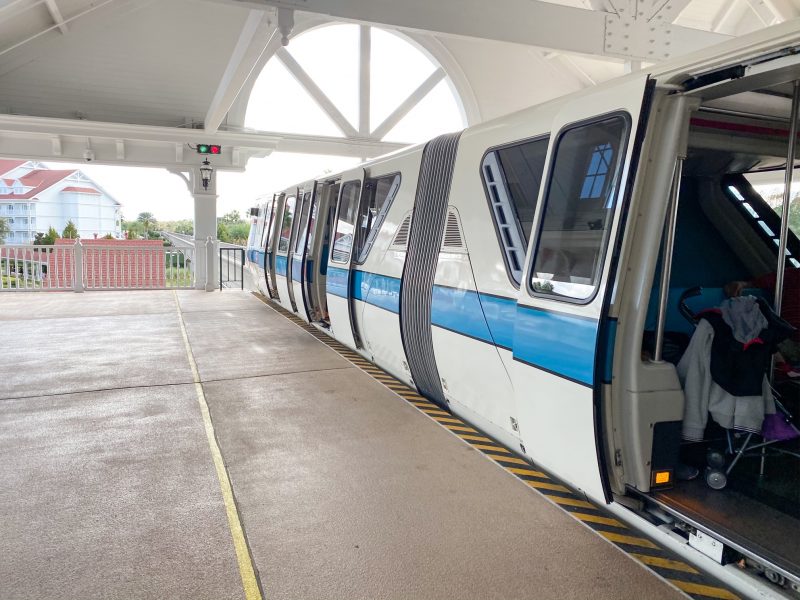 Consider How Well Your Toddler Can Walk
All toddlers are different: some will ride happily in baby carriers; on Mom or Dad's shoulders and many are happy to walk some of the time, too.  You know your toddler, so you are in the best position to decide, but we hope our insight will help you with some extra tips for doing Disney with toddlers while still having fun.
Disney World is crowded, depending on the time of year.  A toddler who is determined to walk is a force to be reckoned with, so whilst you'll absolutely want them to be independent and walk some, you may want to pick more secluded areas. This way they don't get separated from you and you don't have to worry about their safety.   
We actually found a great time for them to 'toddle' was while the rest of the party staked out a spot for the parades, one of our little ones loved to toddle backwards and forwards along the parade route. Here are more tips on Walking at Disney!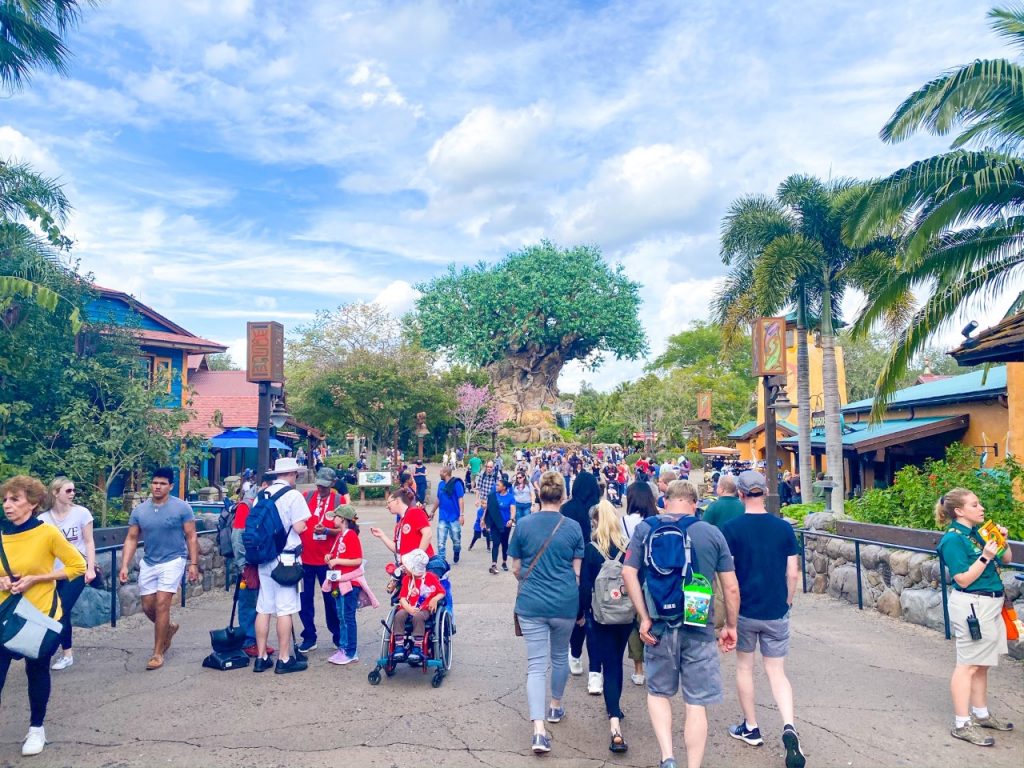 Consider the Heat
Depending when you're traveling, heat can be a major factor in everything!  A toddler who's normally happy to be carried may feel so hot and sticky that they don't want to share your heat!  
We're going to talk about strollers next, but they need to be left at the entrance (or exit) to rides.  Some lines for rides are really long, so your toddler will need to walk, or you will need to carry them.   
If you know your toddler will want to be carried, you may want to consider a 'Hippychick' style seat – it's a belt with velcro strap that I wore around my waist and which had a nice 'seat' for my toddler to sit on (the 'seat' was polystyrene, so it was light).  It spread my toddler's weight around my hips which was a nice break for my back. This also meant I didn't need to hold on so tight with my arms! We were both a little cooler this way, as I didn't need to hug her so tightly to me!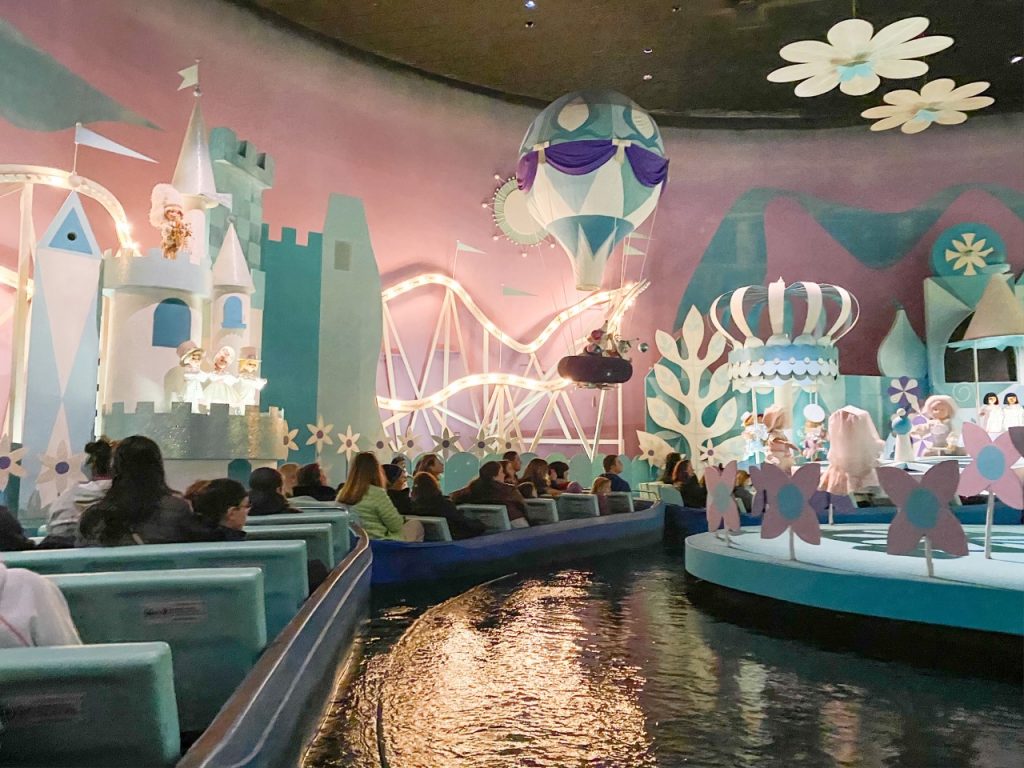 Strollers at Disney World
Do I need a stroller?
In our opinion, when visiting Disney World with toddlers, you absolutely DO need a stroller.  Even if you're used to walking with or carrying your toddler, please don't underestimate how far you'll walk in a Disney park (even getting around the resort and transportation, you'll walk more steps than you thought you would!).  Factor in the heat and a hot/tired toddler, strollers can save you!
We see many children over 5 in strollers at Disney, so we definitely recommend you don't plan a trip to Disney with toddlers without a stroller.  Most types of strollers have space for you to put your bags/snacks/diapers etc, so you don't have to carry them. Just don't do what we did and load up the stroller so much it tipped back as soon as the toddler hopped out! For more on the Best Disney Stroller option, check out our article on the Best Disney Stroller Options!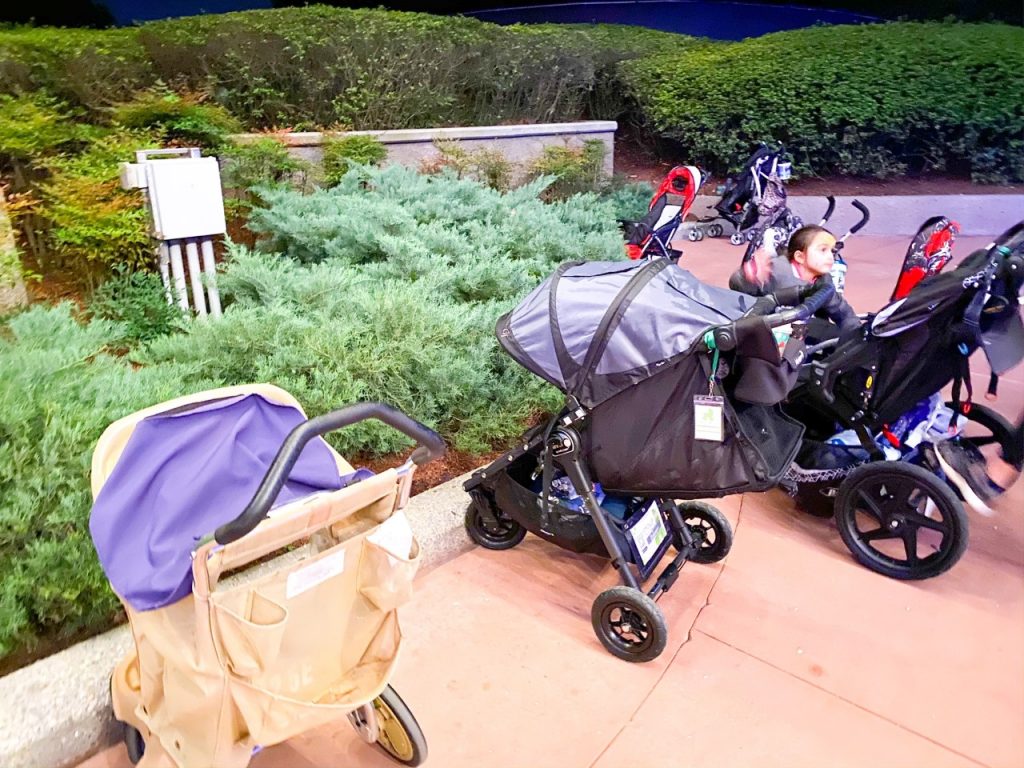 Renting a stroller
You can absolutely rent your stroller from all of the Disney Parks, but there are a few things to remember – they are hard plastic; don't recline (my kids loved to recline when napping in their stroller as toddlers!) and you can't take them out of the park (so you'll have to remove your napping toddler as you leave!). We don't recommend Disney strollers for toddlers.
There are many rental companies available and they will deliver to your Disney resort (or villa).  We've used Kingdom Strollers in the past and found the quality and cleanliness of the equipment was great. Their prices were good and the service odeal too!
Disney Resorts have recently stopped allowing the rental companies to leave equipment for you to collect, so you'll need to arrange a time when you can meet them yourself.  The rental companies are really accommodating and want to help you get to the best start on your magical trip to Disney with your toddlers! Again, make sure to consider what type of strollers you want to use! It can make all the difference in your trip!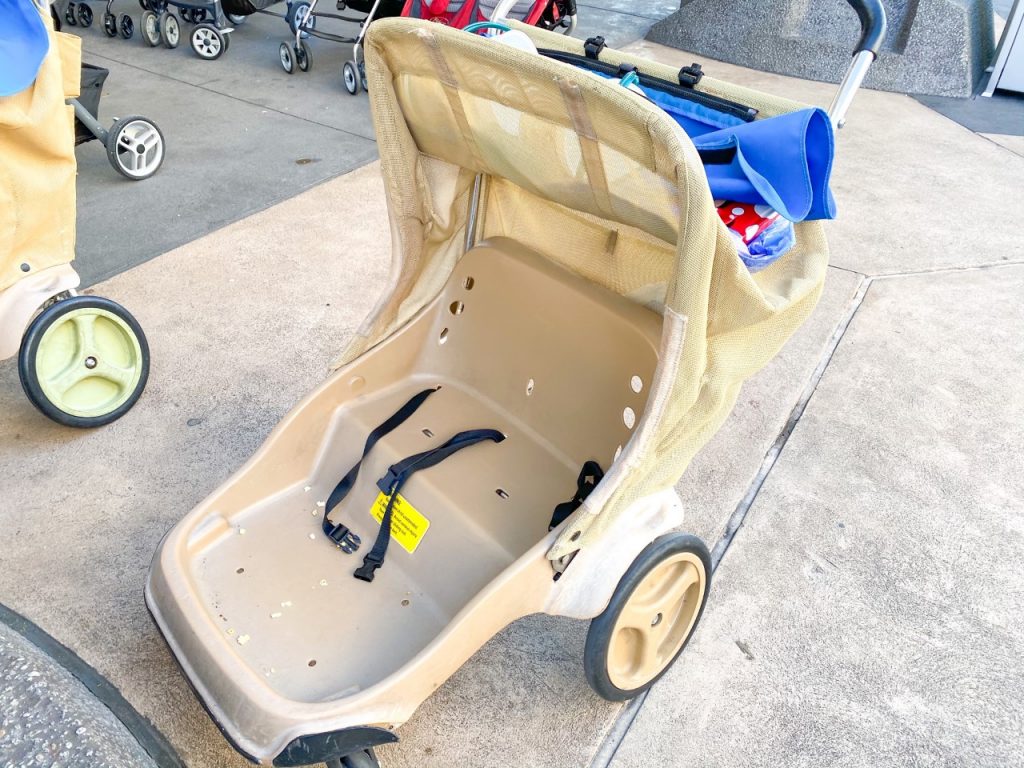 Bringing your own stroller
You can, of course, bring your own stroller to Disney World.  Many people do this, particularly International travelers, whose airlines will take the stroller off them at the gate. If you're an international traveler too, you don't charge for placing them in the hold. What a win-win! You'll already be familiar with your stroller and confident in folding it, and the familiarity may help your toddler adjust to the unfamiliar.
When you get in line for a ride, you'll need to leave your stroller in the 'stroller parking area' near that ride. Cast Members move these around all the time to keep the area safe, so you may want to add something colorful to your stroller so you can easily identify which one is yours!   
Trust me, trying to find your own, black stroller (after it's been moved) among another 100 black strollers is NOT going to add to your Disney fun!  Add a colorful scarf to the handles and you'll be glad you did!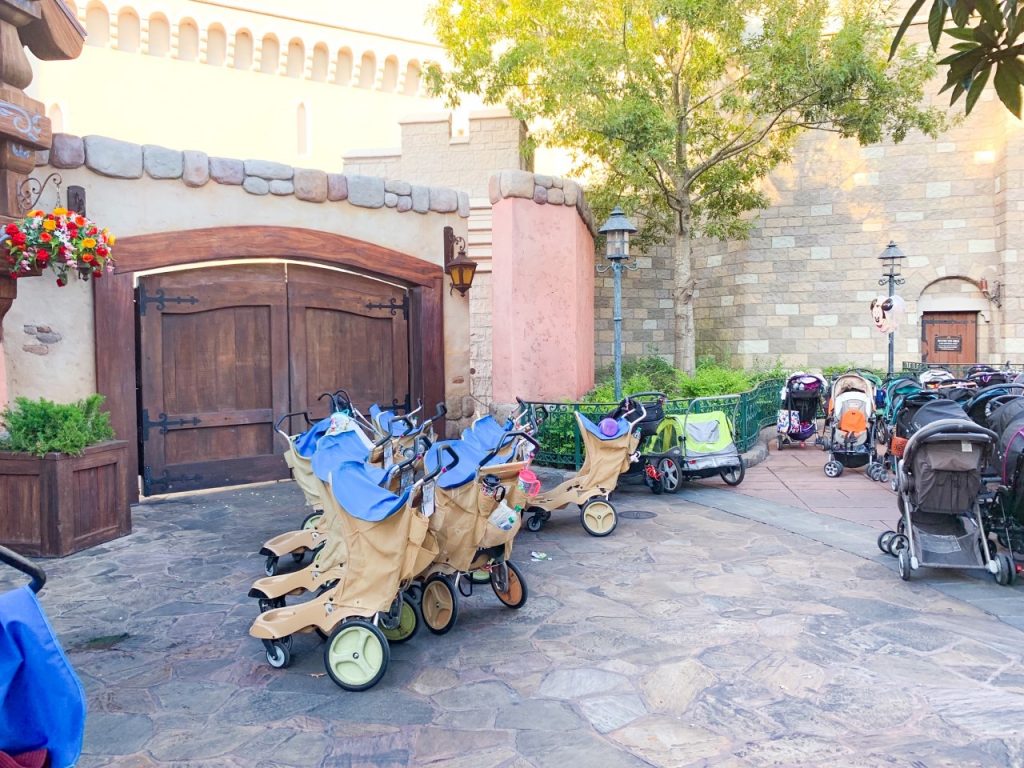 Best Rides for toddlers at Disney World
There are so many great rides at Disney World for toddlers, we've picked some that are perfect for the whole family: they're easy-going and fun. There are no scary elements and are good fun for everyone. These are a safe bet for anyone of any age to go on and none of them have any height requirements. 
Peter Pan's Flight. Location: Magic Kingdom
Kilimanjaro Safaris. Location: Animal Kingdom
It's A Small World. Location: Magic Kingdom
Journey of the Little Mermaid. Location: Magic Kingdom
Buzz Lightyear's Space Ranger Spin. Location: Magic Kingdom
Na'vi River Journey. Location: Animal Kingdom
Journey into the Imagination with Figment. Location: Epcot
Dumbo the Flying Elephant. Location: Magic Kingdom
Tomorrowland People Mover. Location: Magic Kingdom
Prince Charming Regal Carousel. Location: Magic Kingdom
The Seas with Nemo and Friends. Location: Epcot
The Magic Carpets of Aladdin. Location: Magic Kingdom
Frozen Ever After at Epcot, is, we think, a safe bet, but you should be aware before you ride that there is a short (unexpected) drop at the end of the boat journey, so you may want to consider it for your toddler. And for more on the best Disney rides, check out our article on the 20 Best Disney Rides for Babies and Toddlers!
There are plenty of other rides at Disney World for toddlers, which your toddler might LOVE, but that aren't necessarily a safe bet. Pirates of the Caribbean is a good example – no height requirement, but some toddlers may not like the darkness of the line experience, before they even get to the ride.
My kids were both tall as toddlers, but just because they DO meet the height requirement, doesn't mean they should ride! It's Tough to be a Bug at Animal Kingdom, is a prime example.  No height requirement, but many toddlers, and children, have found it to be quite scary and we've seen many being escorted out of the experience.
However, both my kids as toddlers LOVED Big Thunder Mountain Railroad, which has the same height requirement. One of my children, as a toddler, couldn't get enough of Splash Mountain – also 40″ height requirement – and, 6 years later, still rates it as THE best ride in Disney World! – whereas the other only started to enjoy it once she got to 10!
The best advice is, you know your toddler, research the rides beforehand so you know what to expect and, if you're unsure about a ride, leave it until later in the trip when you'll have had a chance to see their reaction to the 'safe bets'.
Read here for our full run down of Best Rides at Disney World
Even if your toddler doesn't want to try many, there's still plenty for them to enjoy at Disney World!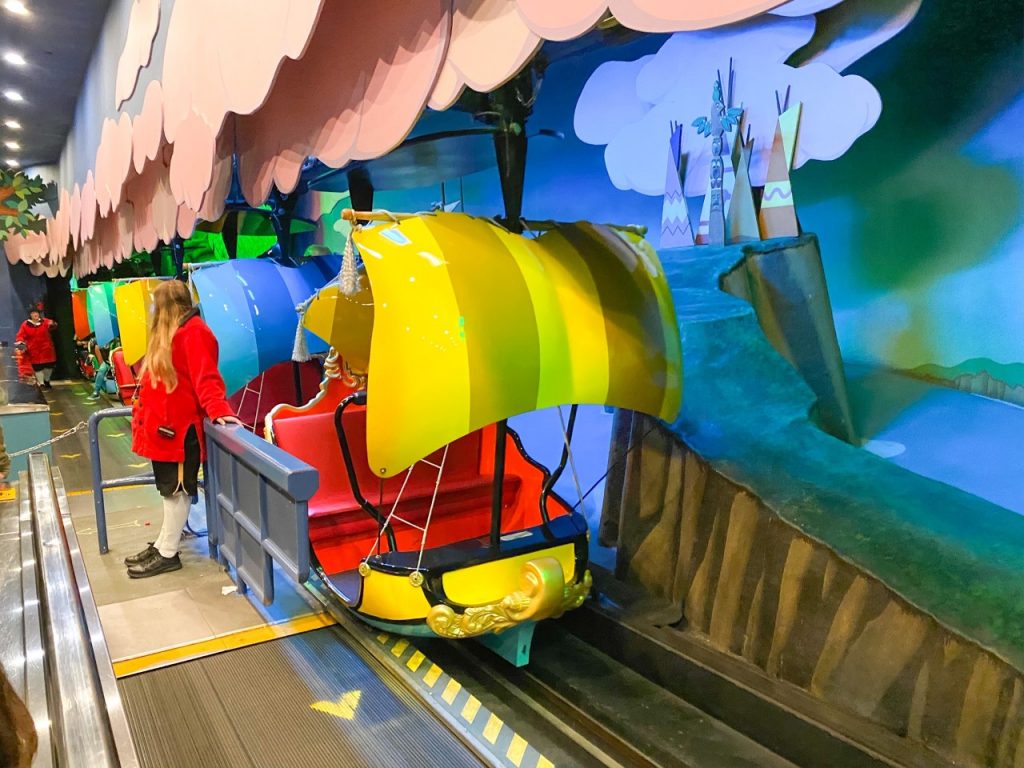 Best attractions for toddlers at Disney World
There's more than just rides at Disney World for toddlers! There's a really great selection of attractions.   Some are interactive, others are shows, that your toddler and our whole family, will enjoy together.  Remember, this trip isn't solely Disney with young children– you're there too! So enjoy it! Obviously, if none of your party loves Disney Junior or Cars, for example, you may choose to skip those. You know your group best!
These are our top picks, none of which have height requirements.
Mickey's Philharmagic. Location: Magic Kingdom
Turtle Talk with Crush. Location: Epcot 
Beauty and the Beast Live on Stage.  Location:  Hollywood Studios
Enchanted Tales with Belle. Location: Magic Kingdom
Disney Junior Dance Party.  Location:  Hollywood Studios
Finding Nemo – The Musical.  Location: Animal Kingdom
Festival of the Lion King.  Location: Animal Kingdom
 For the First Time in Forever – A Frozen Sing-Along Celebration.  Location: Hollywood Studios
Monsters Inc Laugh Floor.  Location: Magic Kingdom
Lightning McQueen's Racing Academy.  Location: Hollywood Studios
Overall, many people still argue on what is the best age to take your child to Disney. We have an article on this, but this is your call! And we hope this review is helping you decide! You know best if you can handle Disney with babies!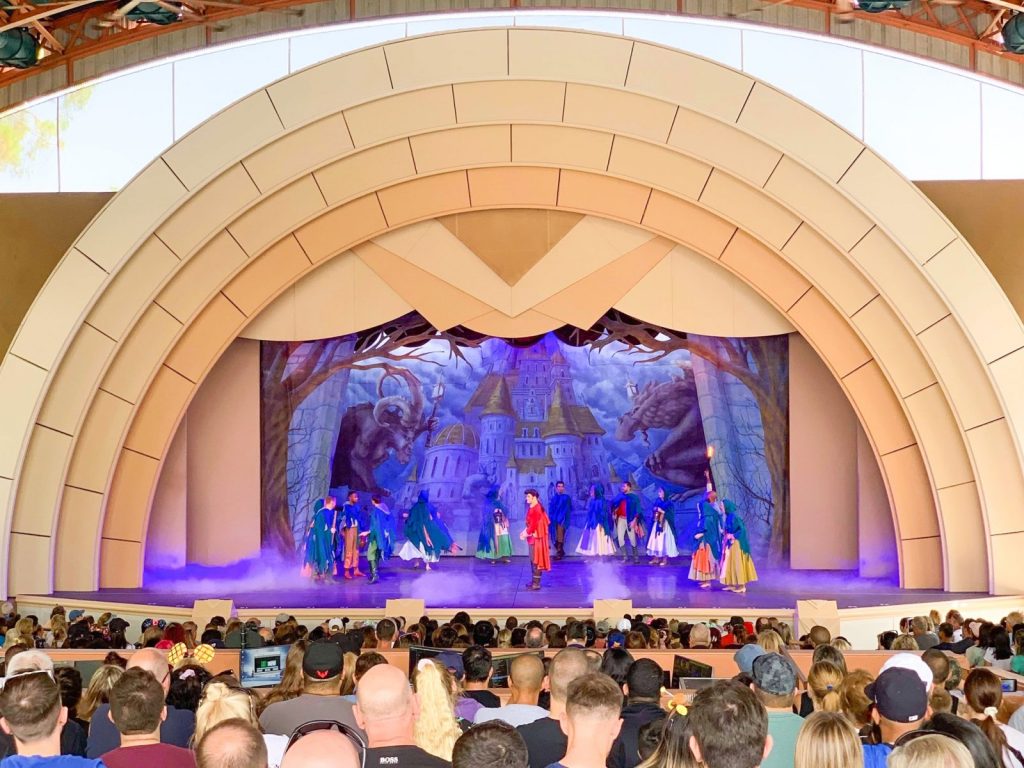 Rider Switch
What is Rider Switch?
If your toddler doesn't meet the height requirement for a ride, or simply doesn't want to ride, that doesn't necessarily mean the rest of the party can't. Many rides have 'Rider Switch'.
One adult can wait with the toddler (or non-riding kids) while the rest of the party enjoys the attraction. When the other adult returns, they can supervise the non-riders, and the waiting adult can board the attraction without having to wait in the regular line again! It is a great exchange method, and also makes sure you can enjoy Disney even with young children and babies! For more information, look at our article on Rider Switch!
How to use Rider Switch
Ask the Cast Member at the beginning of the line if Rider Switch is offered at that attraction.  When you're at the attraction, take your whole party through the line. Make sure to tell the greeting Cast Member you'd like to use 'Rider Switch'.   
One adult and the non-riders will be issued a Ride Switch entitlement and asked to wait in a designated area (usually outside of the attraction) while the other party ride the attraction.  After riding, the guest(s) who has just ridden finds the waiters and takes over supervising the non-riders.
The other adult then enters and boards the attraction without waiting in line. If you have other kids with you, who want to ride again, you can usually take up to 2 with you, so they can ride a second time! Such a win win, and one of the many magical Disney with toddlers moments!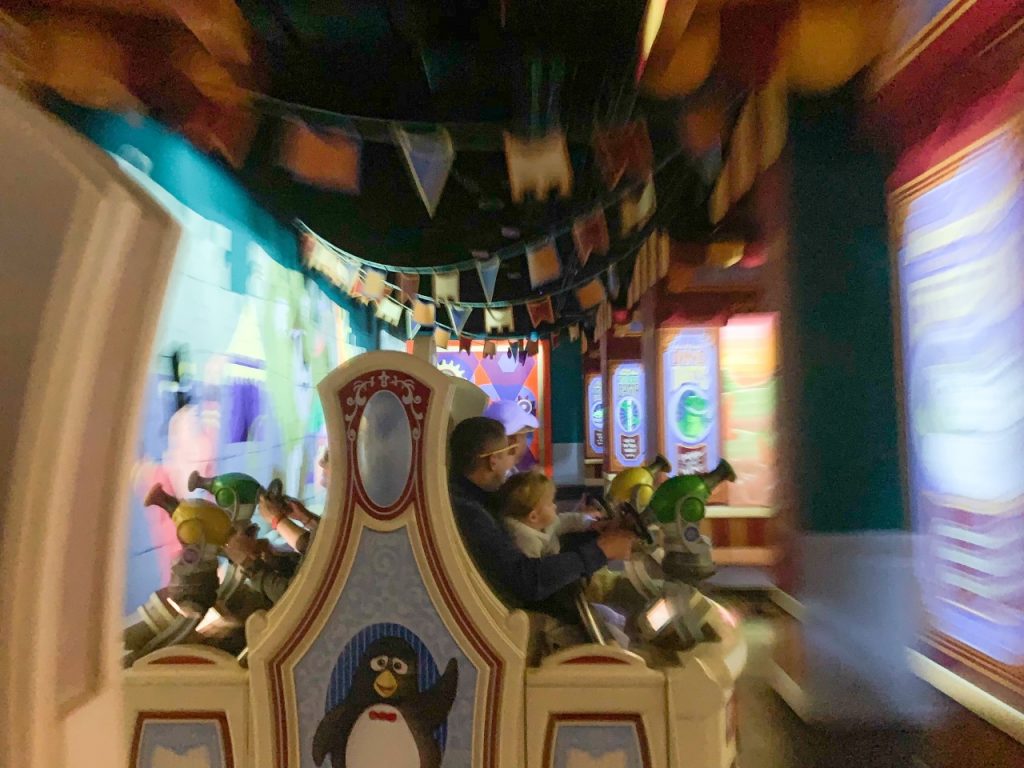 Dining with your toddlers at Disney World
Because toddlers under 3 don't need a ticket, they can't get a Dining Plan, but that's OK because you have 3 options:
Pay for anything you want them to have, out of pocket
Bring snacks you know they'll like into the park – you can give these to your toddler while you eat
Ask for an extra plate; they can share from your plate
If you're dining at a buffet, they can have their own plate and eat what they want – you won't be asked to pay for them. This is particularly helpful for picky eaters, because if they won't eat something, you can get something else!
Although you may not be paying for your toddler to dine, you DO need to count them in to your party when you're making your reservation!
Disney has just announced a NEW Dining plan – Disney Dining Plan Plus – which we think might really help families doing Disney with toddlers. This plan gives 2 meal credits per day (plus the 2 snacks and refillable cup, like the other plans) but these credits can be used in either Quick Service or Table Service restaurants. So you could have 2 buffets a day, if you wanted to, which would be ideal if your toddler(s) have a good appetite.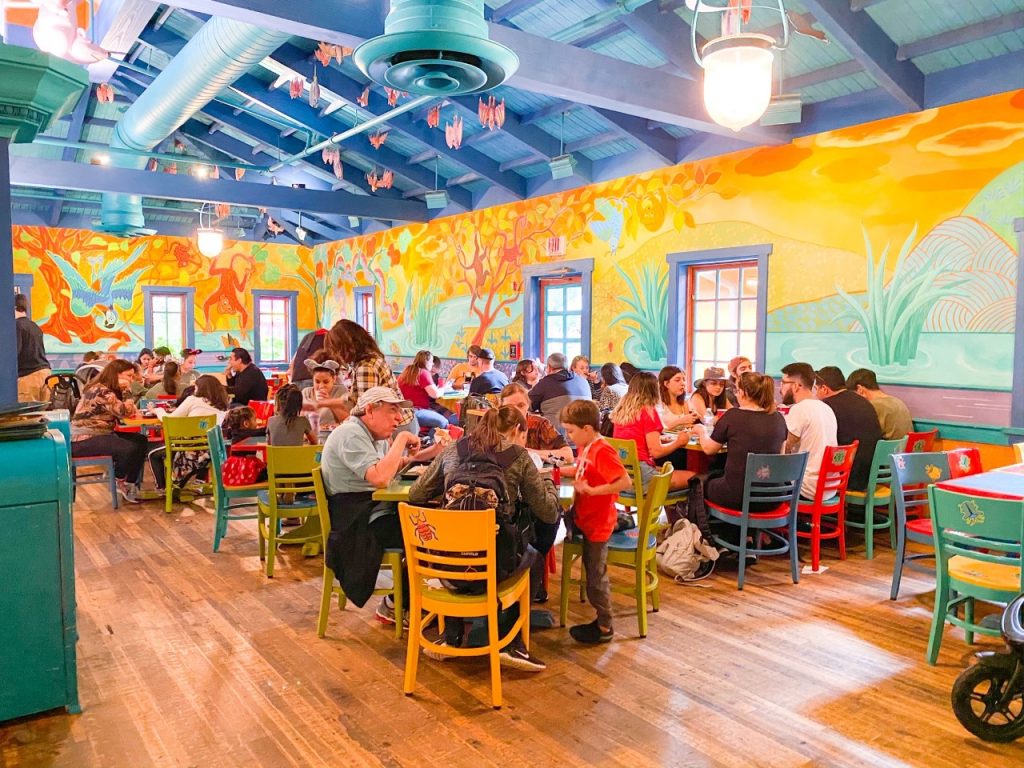 Where to eat with toddlers at Disney World
There are so many great options for you to dine with your toddlers at Disney World, we could make this list VERY long (but we won't!). If you want to explore a greater range of restaurants, read our article: 33 Best (and Worst) Disney World Restaurants.
For this article, we're going to give you our top pick for Dining at Disney with toddlers in three categories:
1. Best Character Restaurants
Crystal Palace, Magic Kingdom
Serving breakfast, lunch and dinner, in an all you care to eat buffet (so under 3's eat for free), this restaurant is popular with toddlers because you have special guests coming to your table.  Pooh, Tigger, Eeyore and Piglet will take it in turns to come around and meet with you and your toddlers (but do keep an eye open for them so you don't miss them when you pop to the buffet!).  This is usually a great opportunity to get some great photos, without waiting in a character meet and greet line!
Every so often, the characters do a 'Friendship Parade' around the restaurant and get the children to join in!  Our kids learned to love Mickey waffles, here! For more on Disney Character Dining, check out our article on the best and worst Disney Character Dining Locations too!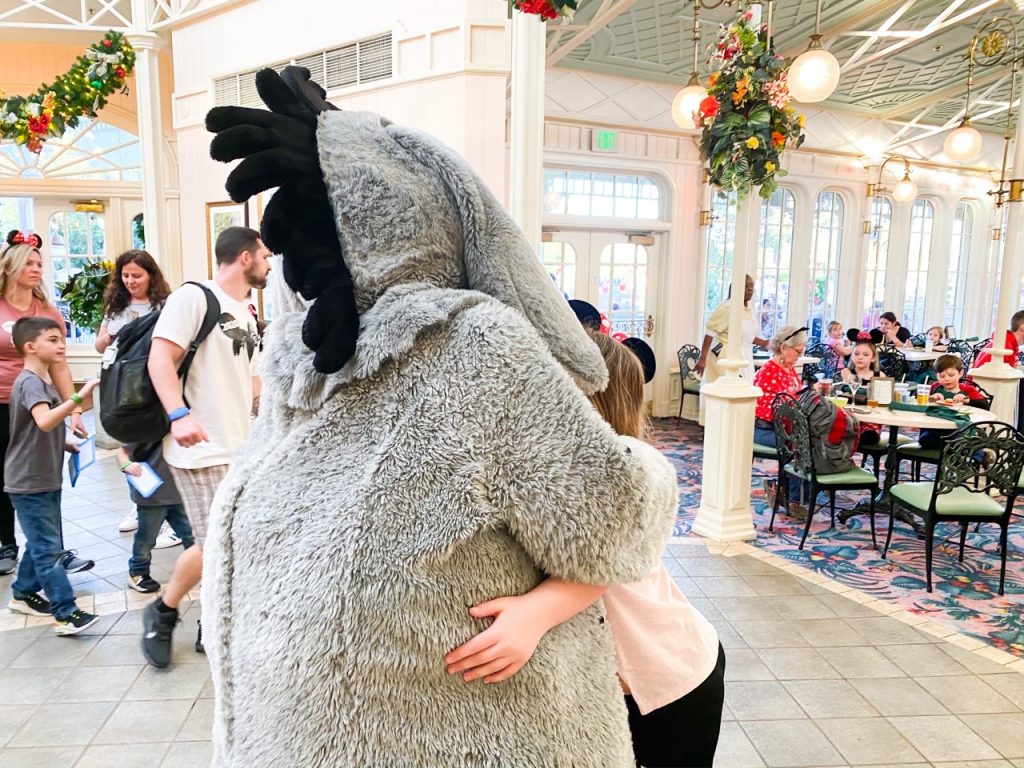 Garden Grill, Epcot
All you care to eat, served family style. Here your server brings your meal to your table and you ask for more of whatever you like! This unique restaurant revolves (very slowly!) and you get to see into the Living with the Land ride (in fact, at lunch and dinner, they serve food grown on site!).  You'll be visited by Farmer Mickey; Pluto; Chip and Dale – because you don't have to get up to get your food, you won't have to worry about timing your trips to the buffet so you don't miss them!
Under 3's would eat free, here, but you need to tip slightly differently than you would at a buffet, because of the different service. See our article on Tipping at Disney, for more information.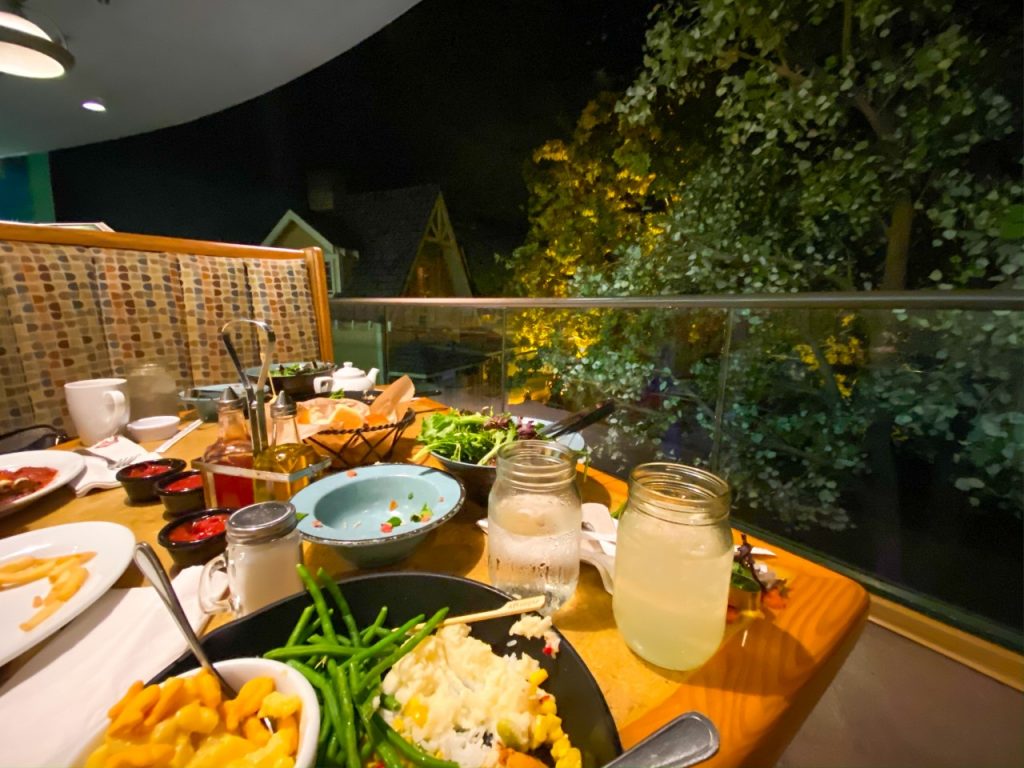 2. Best Table Service Restaurants
Ohana, Polynesian Village Resort
This one is an all you care to eat restaurant, but with no characters. The food comes highly recommended and is also brought to your table.  It includes noodles, stir fried veggies and chicken, shrimp and steak all (separately) on huge skewers, served at your table.  There's also entertainment in the evening which allows the kiddies to get up and move around the restaurant. Perhaps this is not so great for very little toddlers, but fine for bigger ones or ones with older siblings. Your decision!
Coral Reef Restaurant, Epcot
This is not an all you care to eat restaurant, so your under 3's will need to share from your plate, but the portion size is great and the Coral Reef serves a good variety of food. We love that the 'windows' look into the fish tank and you can watch the fish swim about as you dine – we reckon most toddlers will find this quite interesting, too.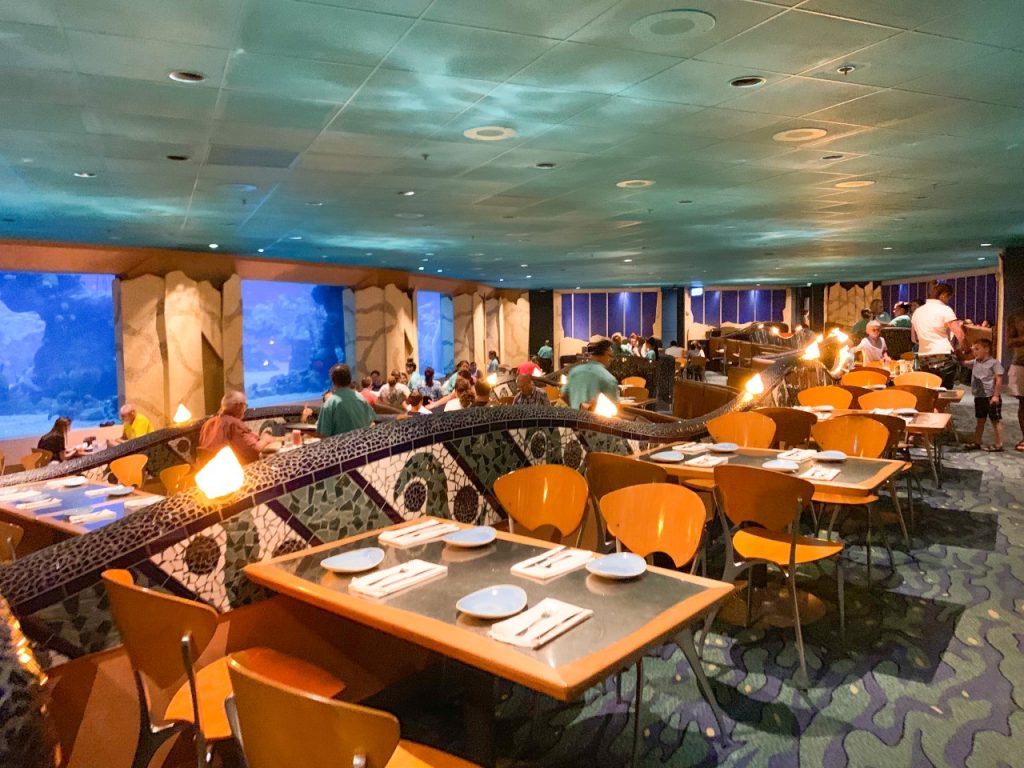 3. Best Quick Service Restaurants
Cosmic Ray's Starlight Cafe, Magic Kingdom
When you need a break in Magic Kingdom, Cosmic Ray's is in the heart of the park. It has a great range of kid-familiar food, if you're ordering especially for them, and with big portion size (if you're sharing).
There's also a fixings bar and, while your toddler may not like the fixings, you can give them some of your (plain) cheeseburger and then go and make it your own with the fixings (or am I alone in hating always having the boring food because my kid is sharing with me?!) For more on the best Magic Kingdom Quick Service Food, check here!
Landscape of Flavors, Art of Animation
This is actually more of a food court, than a single restaurant, because you have a number of counters to order/collect your food from, but a single pay point.  You'll definitely be able to find something to suit your whole party here, and the food is of consistently good quality.
If you're on the dining plan, you can also pool your credits, here, and use 2 adult Quick Service credits to get a large pizza, salad and breadsticks. It makes eating at Disney with toddlers so much easier! Especially when you have options, multiple counters, and steady flow so you're not standing or sitting or waiting forever!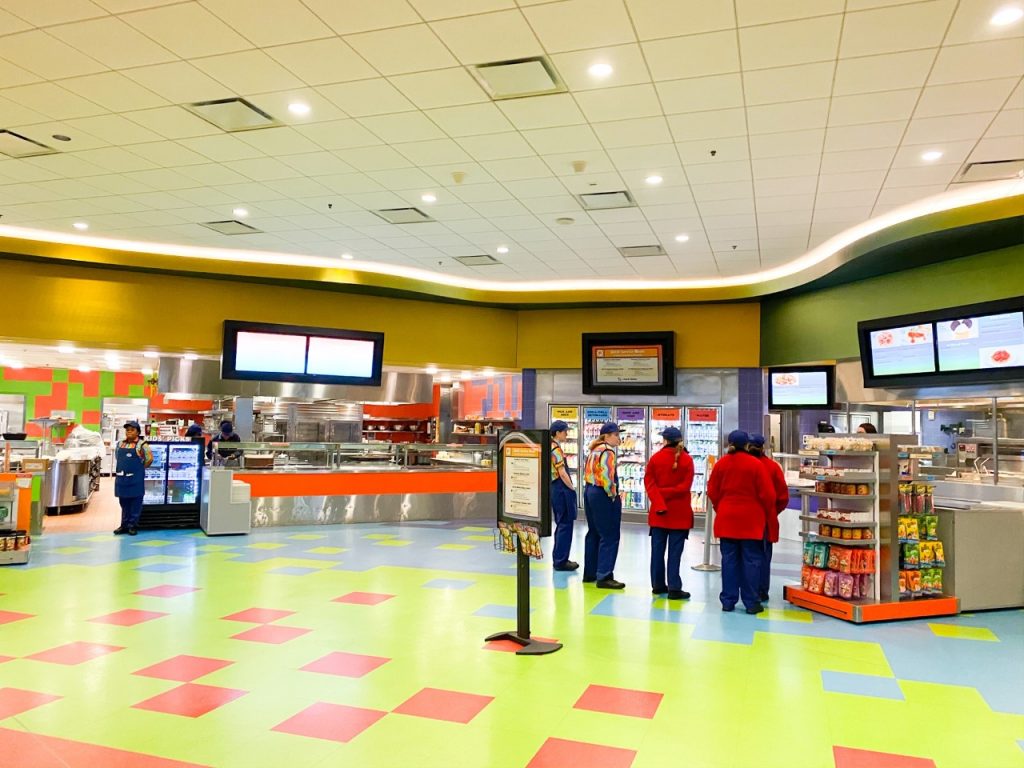 Meeting Characters with toddlers at Disney World
I clearly remember, 10 years ago, the first time my (then) toddler set eyes on Minnie Mouse.  I will remember the little squeal of delight and dance of joy she gave forever!   However, I know not every toddler is the same and I've seen some encounters with characters which left the toddler (and parents) in distress.  You want to avoid this, if you can, so we've got some tips for you.
Disney separate their character types into fur characters and face characters.  Face characters are the look-alikes, the ones who portray human (or human like) characters.   There are some exceptions like Captain Hook, Mr Smee and Lilo, for example. They are human characters but appear, in Disney World, as fur characters.
Most toddlers won't have an issue with face characters.  Meeting fur characters are where the issues normally arise.  Some preparation can help, but won't automatically erase any issues when your toddler meets Mickey for the first time, even if Mickey is their absolute favorite.
Before you go, you could show them some pictures online or even YouTube videos of character meets, your toddler may appreciate from this that the characters are much larger than the other kids. But just know that meet and greets and character breakfasts can go a bit wrong if your young children get a bit scared.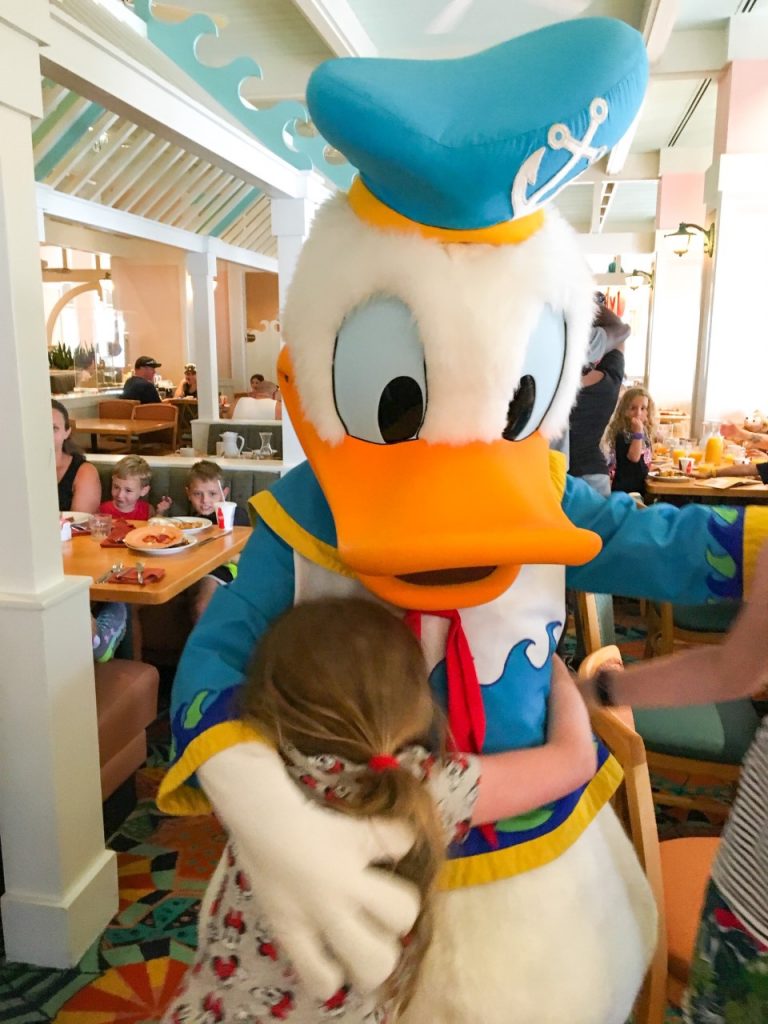 First meetings
When you get to Disney, ease your toddler into experiencing characters. Let them see the character from a distance for their first time: the parades are a great opportunity for this!   
There are also some character meet and greets where you can see the characters from the end of the line (for example: Pete's Silly Sideshow at Magic Kingdom and Animation Courtyard at Hollywood Studios). If you do this, your toddler can see what's coming up. Seeing from far away can help them warm up (or duck out of the line if they change their mind!).   
You can see which characters you could choose to meet from My Disney Experience, or get a list of character meet and greets from Guest Services in each park.   For more on Disney Experience, check here!
Disney characters are great at helping toddlers gaining confidence; they seem to know when to try a game (peek a boo, for example) or when to back off entirely.
Try not to be disappointed if your toddler has a melt down when meeting a character. Stay calm and let them walk away! You can try again later in the day or the next day.   It's really important not to force them to have a photo or cuddle a character if they're not happy. It certainly won't help later experiences.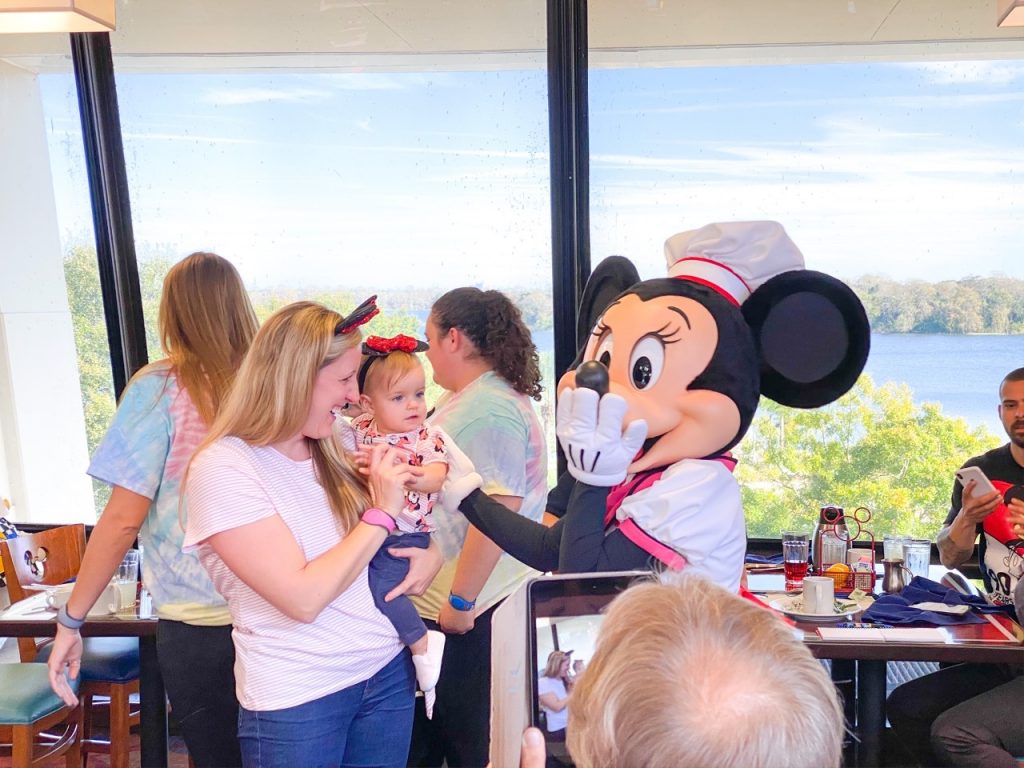 Eating with characters
Character dining (read more about it here) can give you some magical opportunities for interactions and photos with your toddler (I remember one daughter 'bouncing' with Tigger and the other dancing with Donald, as toddlers!).
I recommend you try meeting the characters outside of a meal experience, first.  It really wouldn't give you a nice dining experience if your toddler is distressed throughout because they can't cope with the characters.   
Do go ahead and make reservations for whichever meals you think they'd like, but consider leaving the character meals until you've been there for a day or 2, leaving you the option to cancel without charge if you feel that would be the best option. And again, check out our ranks of the best and worst character dining locations so you get the best of the best!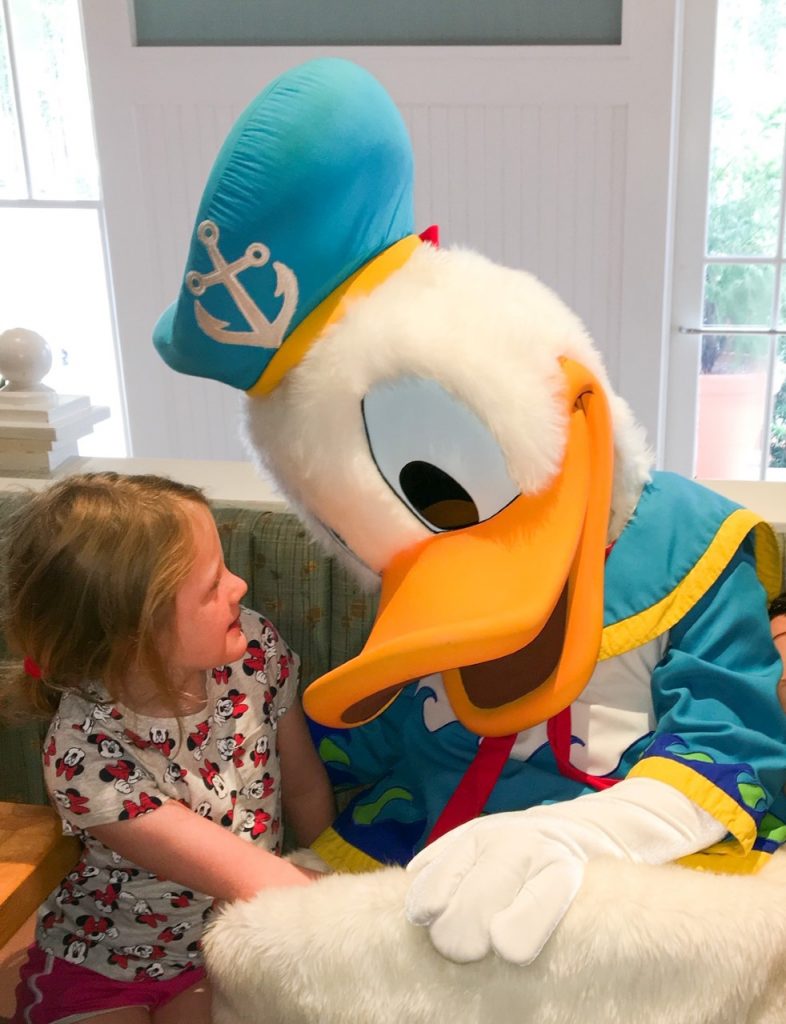 Baby Care Centers
Every park has a Baby Care Center, and they're not just for babies!  These locations are perfect for a quiet and cool place to rest. They can do wonders for your toddlers (not to mention you and your older children!).   
Each Baby Care Center is equipped with rest rooms; great changing tables; a private nursing area with rocking chairs.  You can heat up food, give snacks or even chill out and watch a movie here.  
There's also a shop in each Baby Care Center selling sunscreen, diapers, wipes and over the counter medicine etc. It is so helpful!
All of the Baby Care Centers are next to the First Aid office and we've found the Cast Members there to be helpful and knowledgeable.  If you need a dose (or 2) of Tylenol (for example) because you've left it in your resort, they'll give you that for free.   We've also had them offer antihistamine cream and ice packs when one of our kids got bitten by a bug. They really do give a great (and free) service. Here is their locations!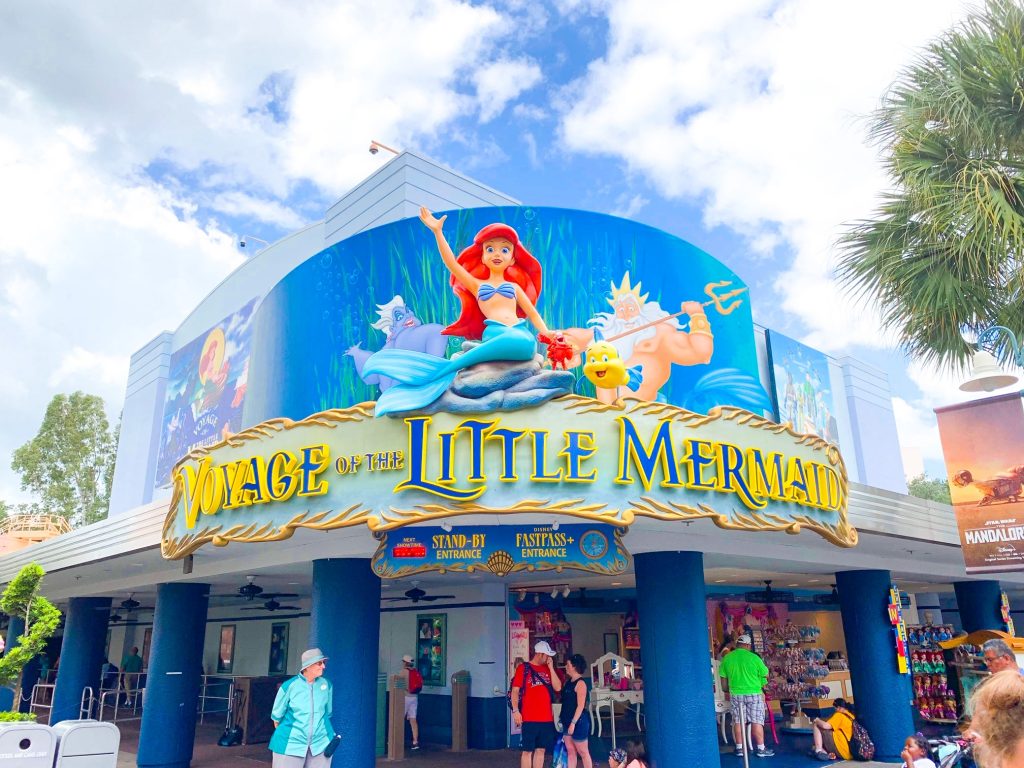 Visiting Disney with your toddler in costume
Some toddlers LOVE to dress up as their favorite character, or even just wear a t-shirt with Mickey or Minnie on. It can be really fun and your toddler may get some extra special interaction if they meet that character.
Disney pricing is expensive, though, so you may want to consider buying these before you travel as they're likely to be MUCH cheaper in your local grocery store. We actually have a cool list of good Disney costumes for Adults and Kids— just remember, as an adult you can't wear a costume!
One trip, I took several of my toddler's Disney Princess dresses and she wore them every day and LOVED it. Other guests and Cast Members would greet her 'Hello Princess' and she was tickled pink!
An extra special treat would be to buy a new costume before you go and keep it hidden, so you can 'buy' them a treat while on vacation, without paying Disney prices!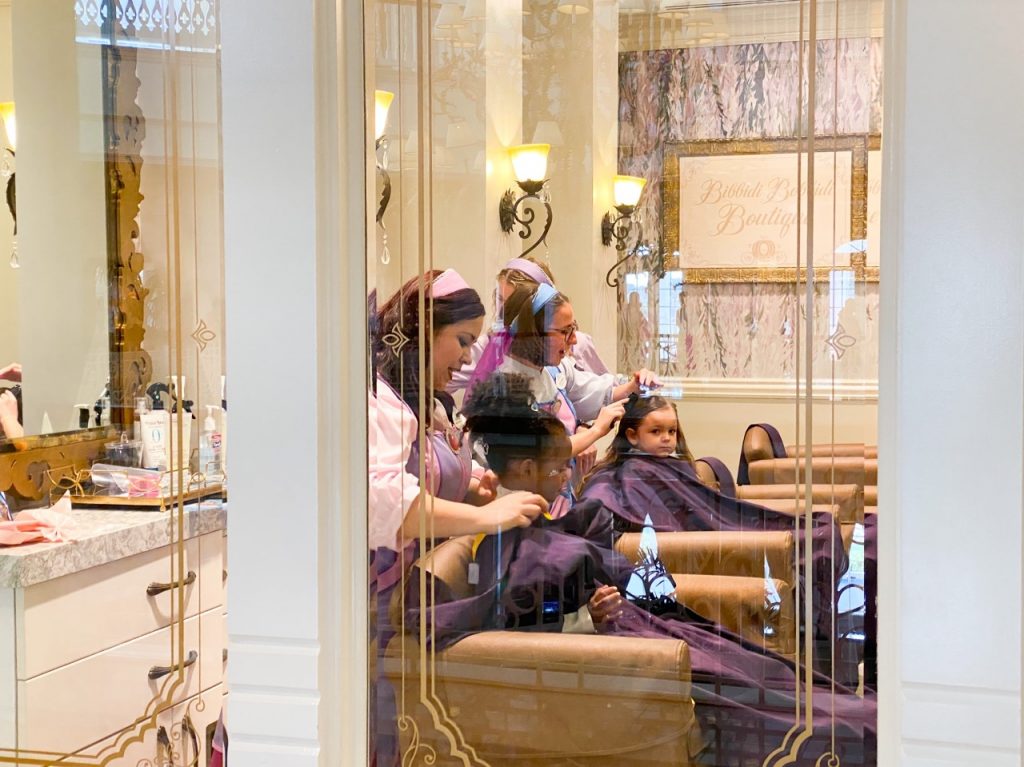 Packing suggestions
You'll definitely want to bring favorite comfort items from home; your toddler's favorite toy, animal or blanket could make all the difference to keeping things calm or helping soothe them to sleep.  I've even brought sheets from home with me, freshly laundered so the smell is familiar. 
If you feel the pack 'n play isn't going to be something your toddler sleeps in, you can request a full size crib in some of the larger Disney resorts (although that request should be made at the time of booking, it's not guaranteed). You could also ask for bed rails for one of the full size beds in advance or at check in. 
If you know you'll need a crib, or find the pack 'n play isn't getting your toddler the sleep they need when you get there, you could consider renting one – Kingdom Strollers also rent cribs.
If you want to save money, and time, take diapers and swim diapers with you.  Sure, you can get them in all Disney resorts but the range will be limited (and the price high!).  If you have a tried and tested sunscreen, take that. Remember you'll need plenty of it (waterproof) in the Florida Sun.
For swimwear, I am a huge fan of high SPF swim suits (or t-shirt and short set). They give extra protection for that soft skin and gives you peace of mind.  If you can, take 2 sets of swimwear: no toddler likes to put on damp swimmers!
If your toddler uses a pacifier, make sure you take it (and a spare, would be helpful!).  Any medicines your toddler uses are a must and it's really advisable to take some simple, over the counter medications in case your toddler gets sick.  Disney World with a toddler who has a temperature is no fun, but a dose of Tylenol could make all the difference!
Research the time of year – Florida has fabulous weather in many months, but there are also months where the daytime temperature is really warm and the evenings may require an extra layer.   Consider a small blanket for your toddler if in a stroller. For more on what to pack, consider our packing list!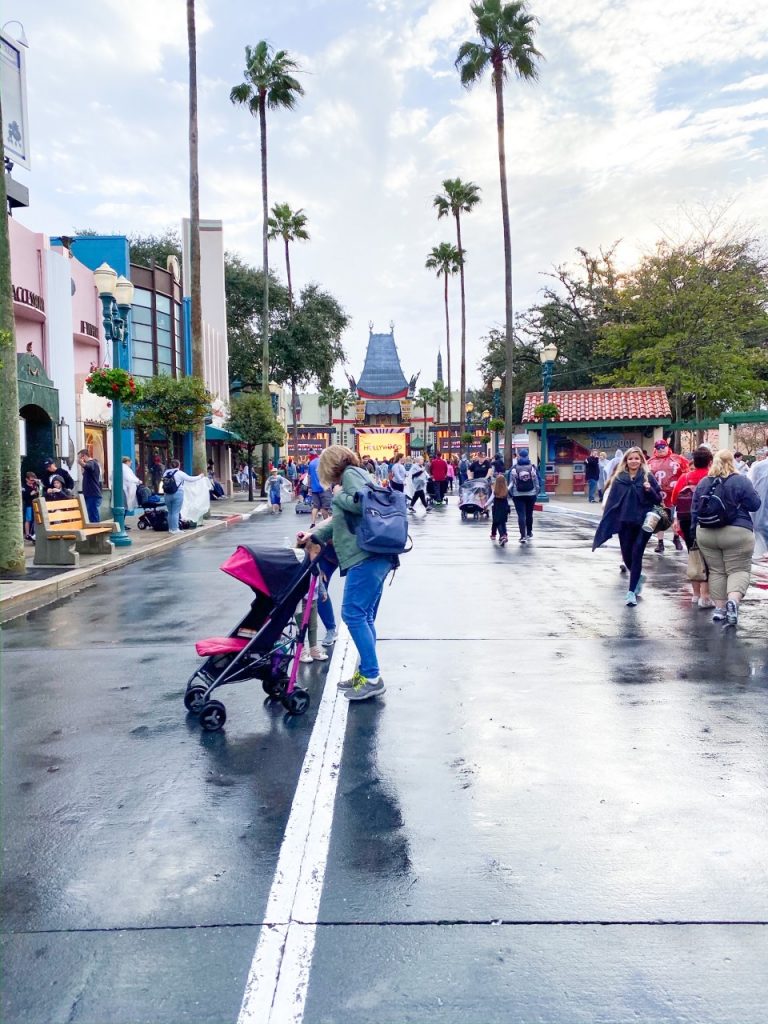 Keeping the fun in your Disney with toddlers trip
Before you go
We know how much a trip to Disney costs, even if you're not paying for a ticket for your 2 year old at Disney World, it's not a cheap vacation, but accept before you go that you won't be able to see everything. You just won't; so you shouldn't try.  Sit down and work out your 'must do's' when you create your plan; anything else is a bonus. And Budgeting also might be your friend!
While you're there
Make sure your toddler (and you) stay hydrated. Take a lightweight piece of clothing into the park to use as an extra barrier from the sun. Most canopies on strollers won't keep the sun out of their eyes at all times of the day! And if you use the canopy, it can get HOT inside the stroller!!
Having a plan is great, but sticking to your plan at all costs, is not!   Sometimes, especially when traveling with a toddler, even the best plan isn't going to work.  We all know Disney with young children will be an adventure in itself. So knowing when to find somewhere with AC; having a drink or a snack or just go back to the resort for a rest will help you avoid all sorts of tantrums.  We think it's better to leave the park for a rest; head back to your resort and revive yourselves rather than try to stick at it for too long and ending up with the whole family frazzled with jangled nerves!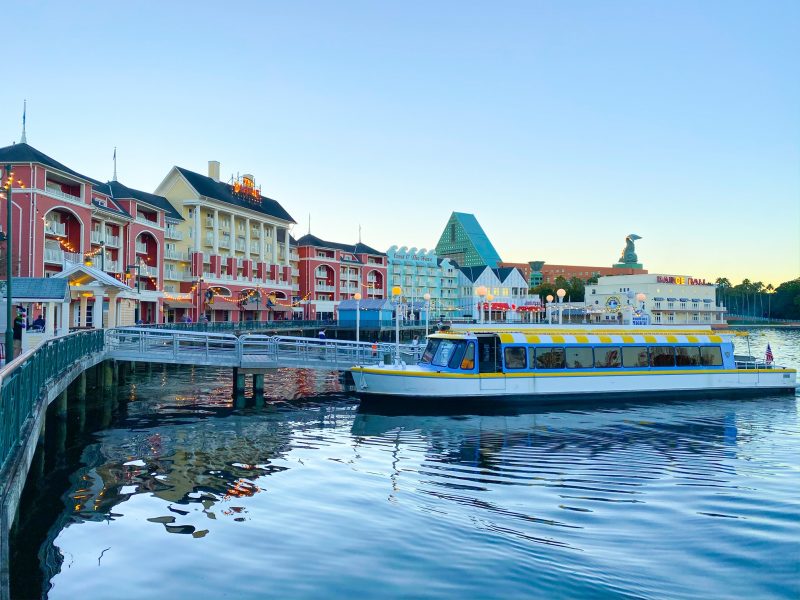 Memory Maker
You're going to the most Magical place in the world and you're taking your toddler – don't forget to take photos!  You'll want to try and capture as many moments as possible, but don't forget to be IN the photos, too!  We highly recommend you consider including in your budget Memory Maker. We even have an article about Memory Maker too!
Memory Maker is the way of enjoying unlimited digital images taken by Disney's PhotoPass photographers around the parks.  Often there are PhotoPass photographers at character meet and greets and they're also in other iconic places (in front of the castle, for example) so you can get pictures of the whole family. 
The photographers are brilliant and will snap away even if your toddler isn't feeling cooperative.  They'll often also take photos with your own camera, if you ask them. Read more about it here. Make sure to capture all of the memories at Disney with your babies!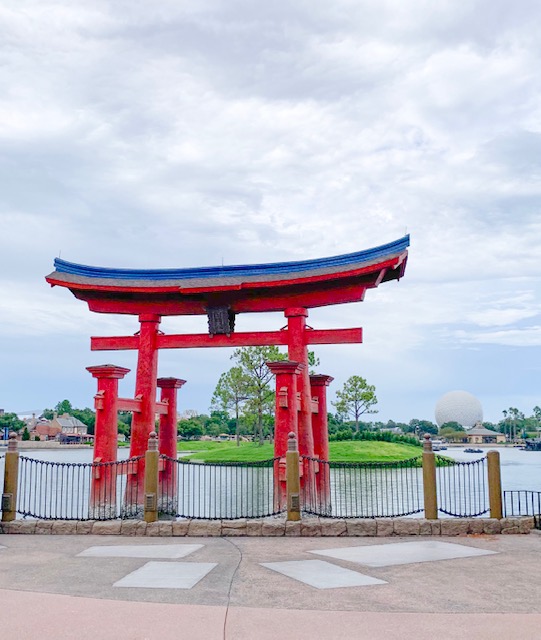 We think Disney World with a toddler is magical and we will treasure our memories at Disney with our toddlers forever! Do you have any questions we've not answered? Leave a comment and we'll get back to you!
Have you been to Disney with toddlers? Do you have any suggestions that you think we've missed? We'd love to hear them!
Pin this post: