Are you looking for the best beaches near Disney World? Then look no further! We know that visiting the beach is a great way to spend any vacation day, and you can't beat the beach in sunny, hot Florida. And visiting the beach during your Disney vacation can help you relax and unwind from the hustle and bustle of the parks.
So which beaches near Disney should you visit? And which ones are the closest? We've done the work for you, and we've chosen the ten closest beaches to visit on your trip! There are some on the Gulf Coast, the Atlantic Ocean, and you can choose from popular, exciting beaches or some that are better for relaxing and exploring.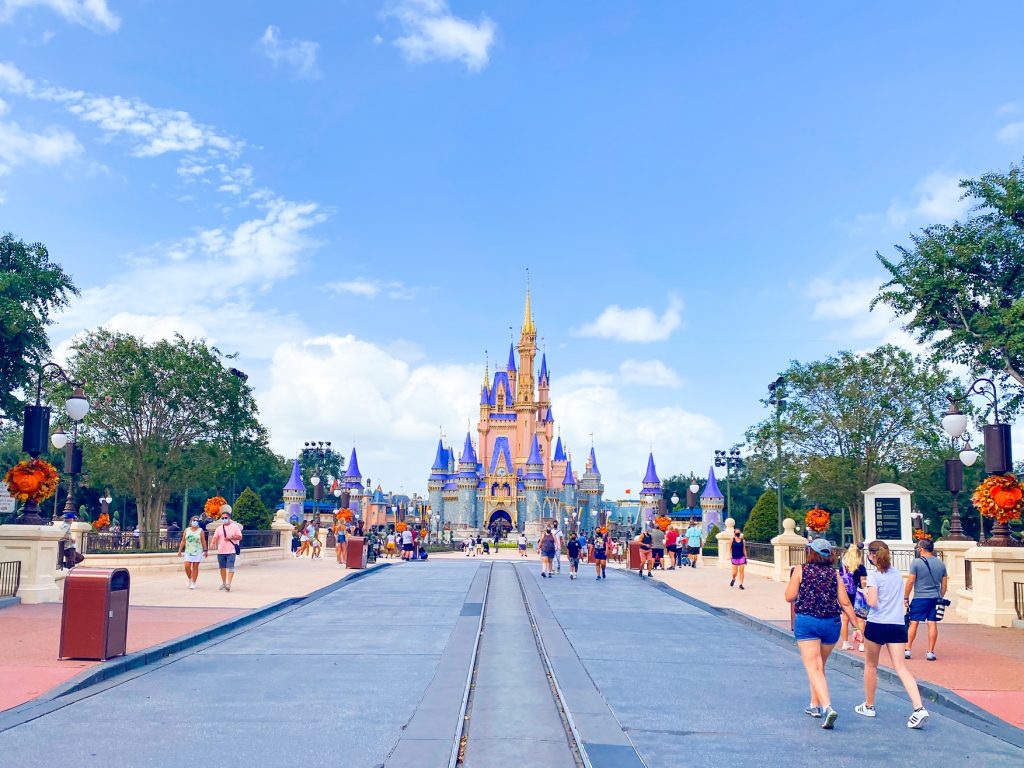 Does Disney World have Beaches?
No! Unfortunately, Disney World doesn't have any beaches because it's completely inland. Thankfully, there are several beaches not too far from Disney World, and you can be on a white sand beach in just over an hour.
The Atlantic Coast is about an hour away from Disney World, and the Gulf Coast is just an hour and a half away. With beaches on both coasts being so close, you'll be able to take a day trip to any of these beaches during your Disney vacation!
How Far from Disney is the Closest Beach?
The closest beach to Disney World is Cocoa Beach. Cocoa Beach is about 70 minutes away from Disney World and will be the closest choice for a day trip when visiting Disney World. This is probably the easiest beach to get to from Disney, since it is the closest and it's on the Atlantic Ocean.
Best Disney Beaches You Should Visit
When it comes to finding the perfect beach to visit while staying at Disney World, we narrowed our list of favorites down to ten beaches that are anywhere from 70 minutes to just about two hours away. All of these are close enough to do a day trip to, and close enough to not take a lot of time away from your Disney trip! Visiting one of these is a great way to spend you Disney rest day too!
It gets very hot in Florida, so don't forget your water and sunscreen when visiting the beaches just like when visiting the parks. And just like relaxing at a Disney pool or water park, visiting a Florida beach is great for beating the heat!
Cocoa Beach
We will start with Cocoa Beach since it's the closest of the beaches near Disney World at just over an hour away. Cocoa Beach is a city in Brevard County, close to both Kennedy Space Center and Cape Canaveral Air Force Station. It's a 70-minute drive from Disney World and is just 65 miles away. Cocoa Beach is located on the Atlantic Ocean and is a very popular beach for tourists and locals alike.
Don't miss visiting the pier while here and taking advantage of the white sand beach for swimming, relaxing, and surfing. And speaking of surfing, Cocoa Beach is home to the largest surf shop in the world – the 52,000 feet Ron Jon Surf Shop.
This is a great beach for water sports, party boats, wind sailing, and so much more! There's so much to do besides enjoying the white sands and blue water. Plus, the proximity to both the airport and Disney World makes this the perfect beach for a quick escape during your vacation.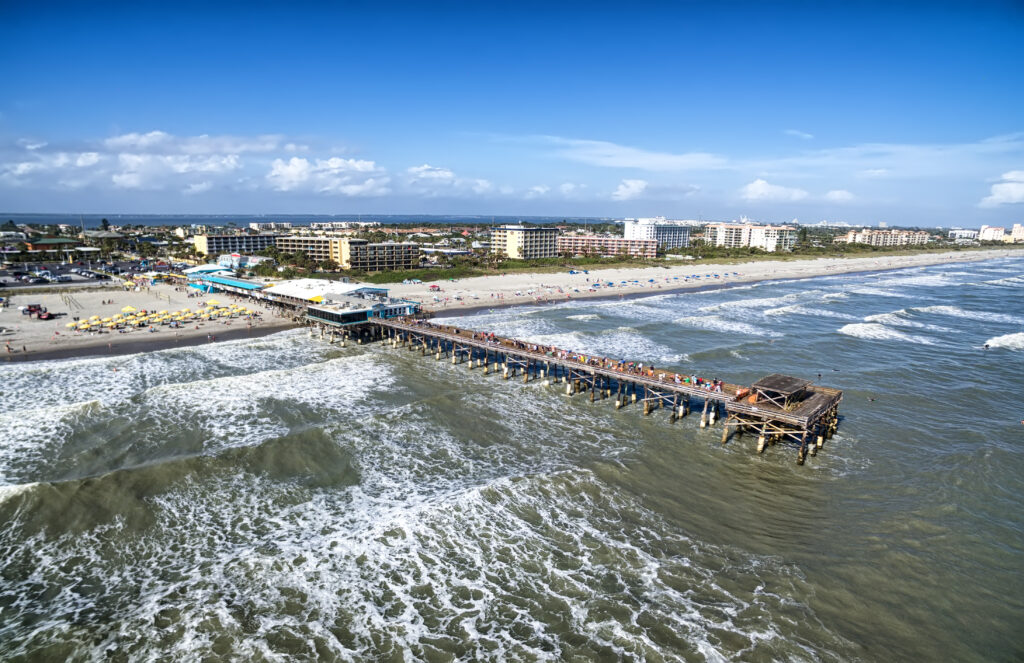 Daytona Beach
Another one of Florida's famous beaches is Daytona Beach. Considered "The World's Most Famous Beach," Daytona Beach is also one of the closest beaches near Disney World. In just over 70 minutes – or miles northeast of Disney World – you can have your toes in white sand or in the Atlantic Ocean.
This beach is very popular for Spring Break of course, and it's also very busy for Bike Week, the Daytona 500, and for those interested in seeing the sea turtles laying eggs and venturing out into the ocean. Daytona Beach is unique because it is one of the beaches you can drive on, as well as it's probably one of the more touristy beaches on our list.
While here, visit the beach, the Daytona International Speedway, and the boardwalk and pier. You also don't want to miss the Museum of Art and Science to learn a little on your vacation.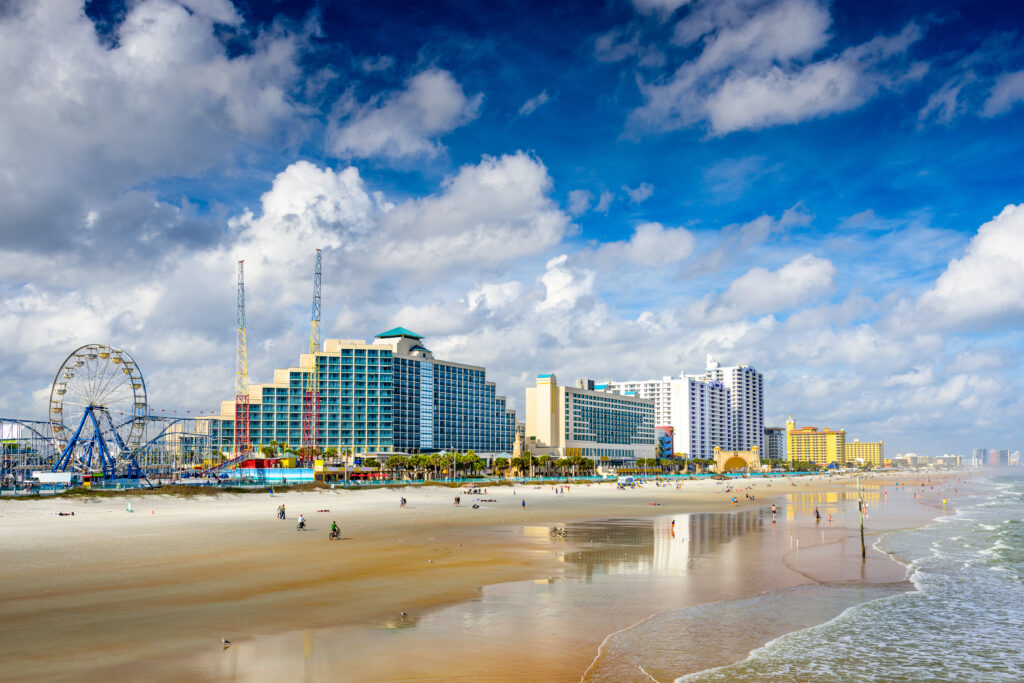 St. Pete Beach
An hour and 40-minute drive will get you to St. Pete Beach in St. Petersburg on the Gulf Coast. This gorgeous beach is of the closest of the gulf beaches near Disney World, located on the barrier island. You'll love the emerald-green water, white sands, and you don't want to miss the iconic pink hotel known as the Don CeSar.
St. Pete Beach is a resort city, with lots of hotels, boutiques, and restaurants to visit while spending the day there. They have 10 public beach walkways, so there's numerous areas to access the beach from. This beach is great for those looking to rent a beach cabana and relax, but there's no shortage of water sports and bars for those looking for a little excitement too!
Kayaking and canoeing are very popular, but so are some of the more exciting water sports! You can parasail, go speed boating, and even go wind surfing at this beautiful beach.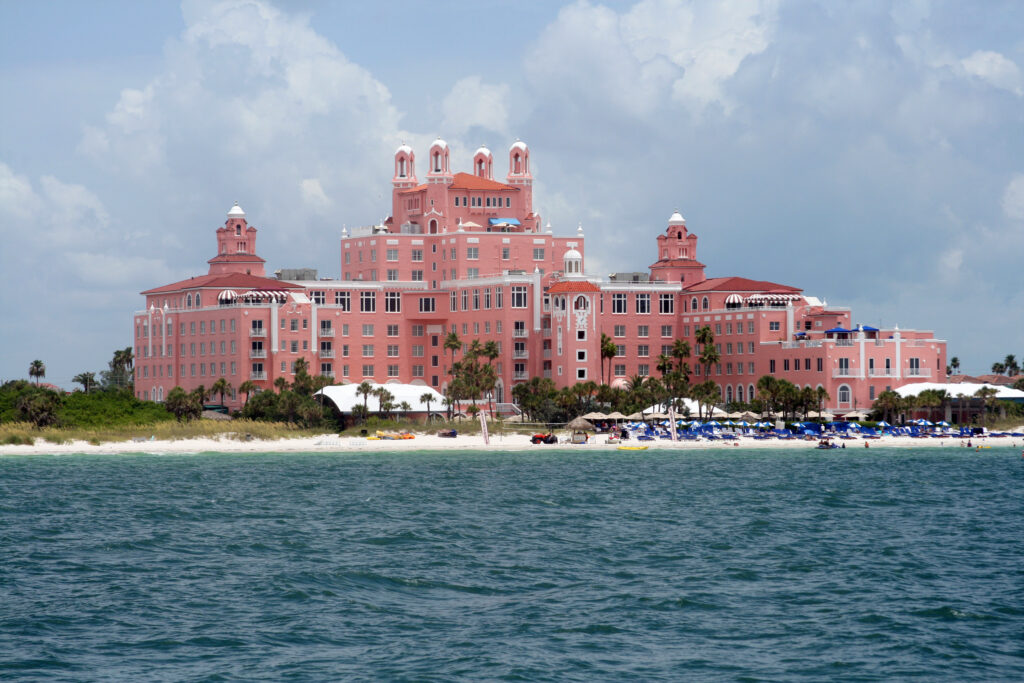 Clearwater Beach
Located on the Gulf Coast, Clearwater Beach is another one of our favorite beaches near Disney World. It's just an hour and 45 minutes west of Disney. Clearwater is a wonderful beach for a day trip while visiting Disney World, and you won't regret it!
Clearwater Beach is actually one of the best beaches in the nation! It was voted #1 by TripAdvisor, Dr. Beach, USA Today, and Forbes and it's easy to see why. There are calm waves, deep emerald green water, and powdery soft white sand – the city even rakes the sand to keep it soft! This is the sand you'll want to have your toes in.
This is the perfect beach to lay on, relax, and sink in the Florida sun. The sand is easy to brush off because it's so soft. You'll also enjoy the watersports, snorkeling, and great restaurants and shops.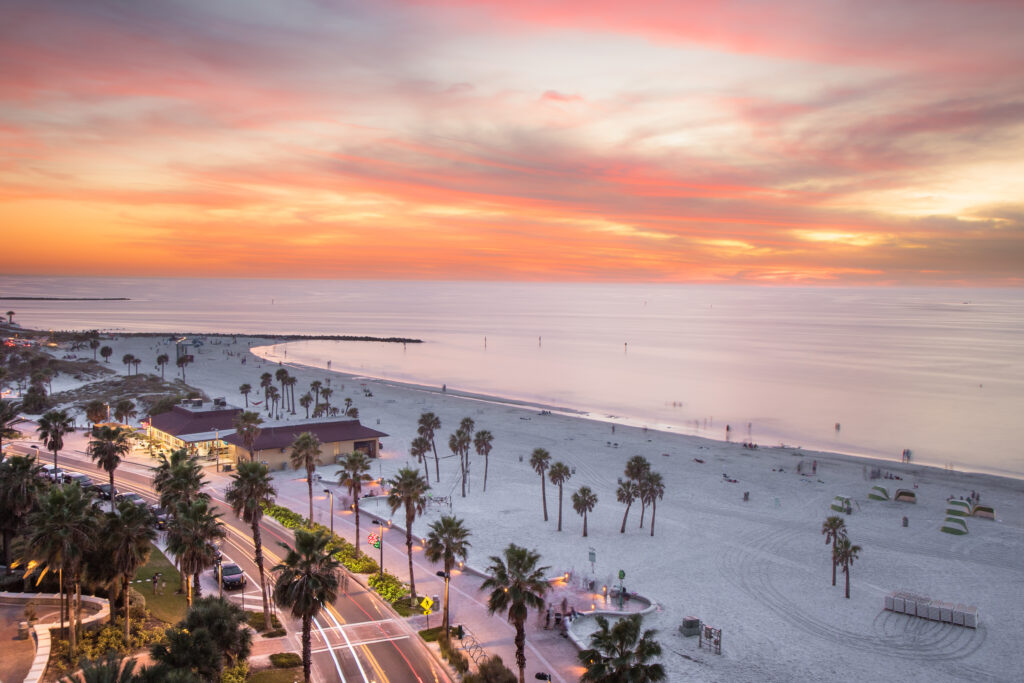 New Smyrna Beach
Popular with locals, New Smyrna Beach is located just south of Daytona on the Atlantic coast and is only about an hour and 15 minutes away from Disney World. If you're looking for a laid-back beach to visit, this is one of the calmest beaches near Disney World.
New Smyrna Beach is a calm, uncrowded hidden gem and you'll enjoy the relaxing vacation vibes this beach has to offer. The golden-hued sands are gorgeous, and this beach is great for families, surfing, and is even dog-friendly!
While visiting New Smyrna Beach, be sure to check out Flagler Avenue – here you'll find great places to eat, shop, and mingle with the locals. New Smyrna has a wonderful small-town feel, and the personality of the town is pretty funky. The boutiques and community are full of local art, and you'll enjoy your trip down Flagler.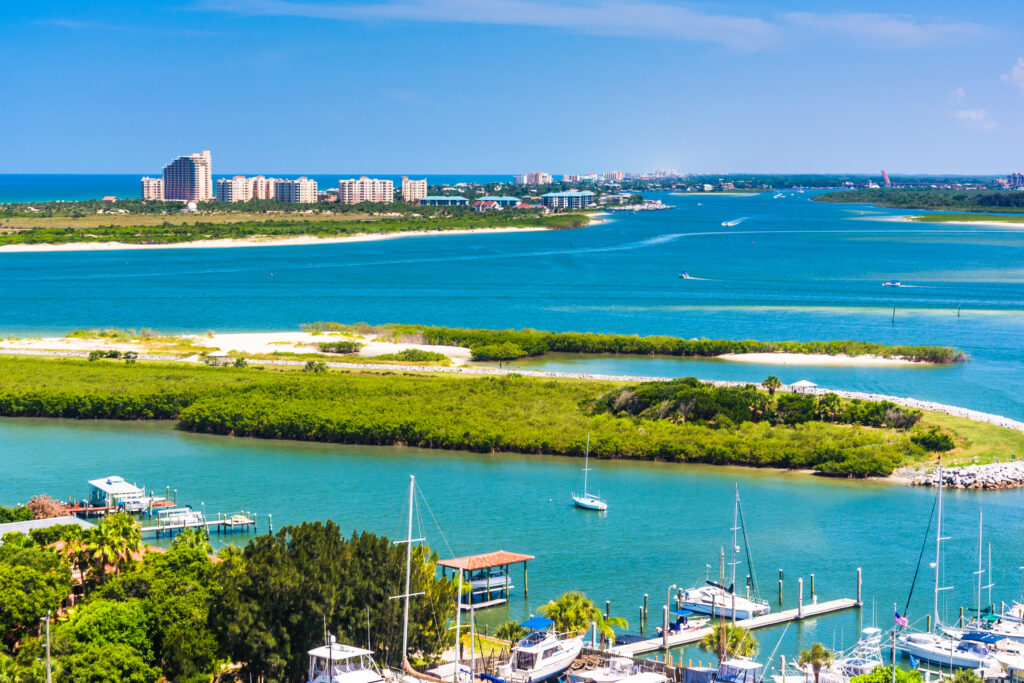 Canaveral National Seashore
Located between New Smyrna and Titusville on the barrier island, Canaveral National Seashore is just over an hour from Disney World. This is another one of the Atlantic coast beaches near Disney World and is a great place to unwind – this is the ultimate nature beach.
Canaveral National Seashore is wonderful for those looking to explore nature, and there's no shortage of endangered species to observe – sea turtles, manatees, alligators, birds, and over 1000 species of plants populate the island. The Scrub Ridge Trail is a great place to explore, and you don't want to miss out seeing the wetlands and ponds.
If you visit the beaches here, you'll find calm, warm waters and great spots for fishing. There is a fee for visiting here, but the park pass gives you access to both the trails and beaches.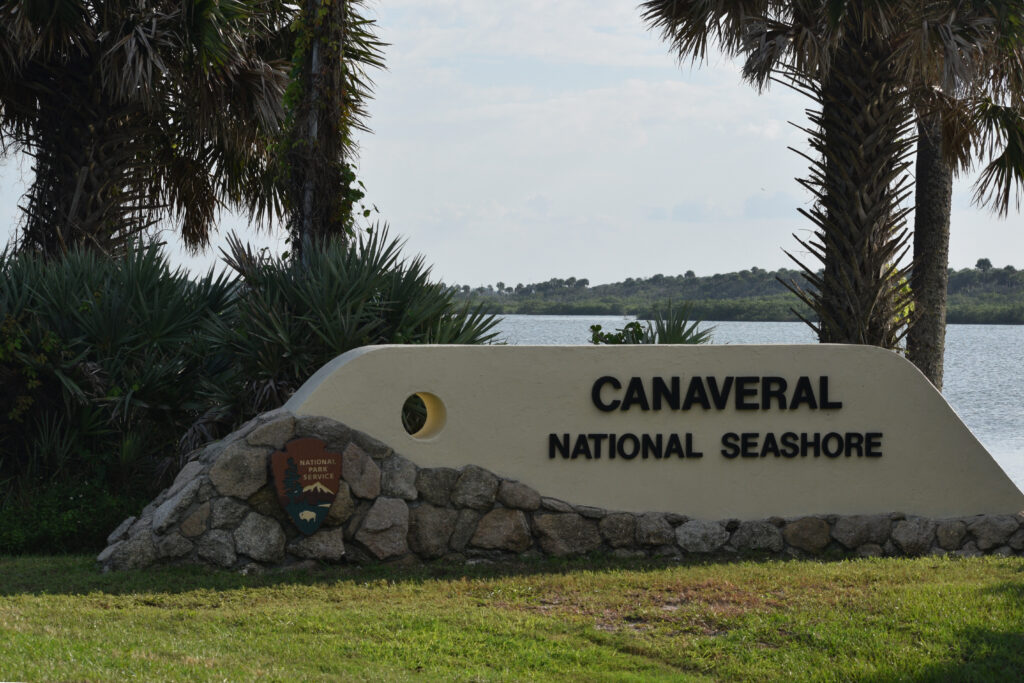 Vero Beach
Over a hundred miles southwest of Disney World, you'll be able to get to Vero Beach on the Atlantic Ocean in about an hour and 40 minutes. It's in an area called Treasure Coast and is in between Daytona Beach and Palm Beach. This is one of the closest beaches near Disney World for a day trip, and here you'll find 26 miles of coastline to enjoy.
This small seaside town is a great place to visit when looking to relax go shelling. The beach is uncrowded, and you'll want to visit South Beach, Jaycee Park, and Round Island Beach Park while here.
You also will enjoy the non-beach activities to do here, since this little town is full of culture and art. Don't miss the Vero Beach Museum of Art, the McKee Botanical Gardens, and Riverside Theatre.
And if you can't get enough of Disney even on your rest days, consider visiting or even staying at Disney's Vero Beach Resort – it's a Disney Vacation Club Resort located at Vero Beach!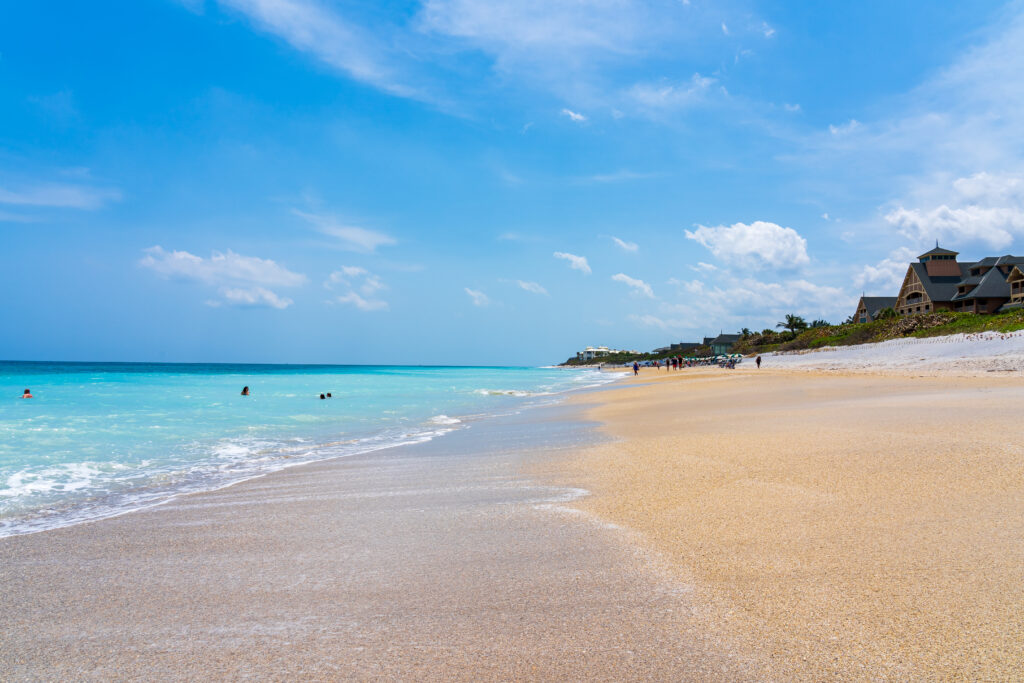 Madeira Beach
Located on the Gulf Coast, you can reach Madeira Beach in about an hour and 40 minutes. This is just west of St. Pete, and is known as "Mad Beach" to the locals, this small beach town has a lot to offer for those looking to escape the hustle and bustle of Disney.
Madeira Beach is home to an 1100-foot boardwalk village center, that has over 100 shops and restaurants to enjoy. There's 25 miles of powdery soft white sand, and calm clear water to swim in. This is one of our favorite beaches near Disney World for relaxing, and you won't regret making the drive to this little laid-back town.
The 2 miles of coastline here are gorgeous, and don't miss the stunning sunsets and soft white sands. This beach is not only beautiful, but also great for families, tubing, and shelling.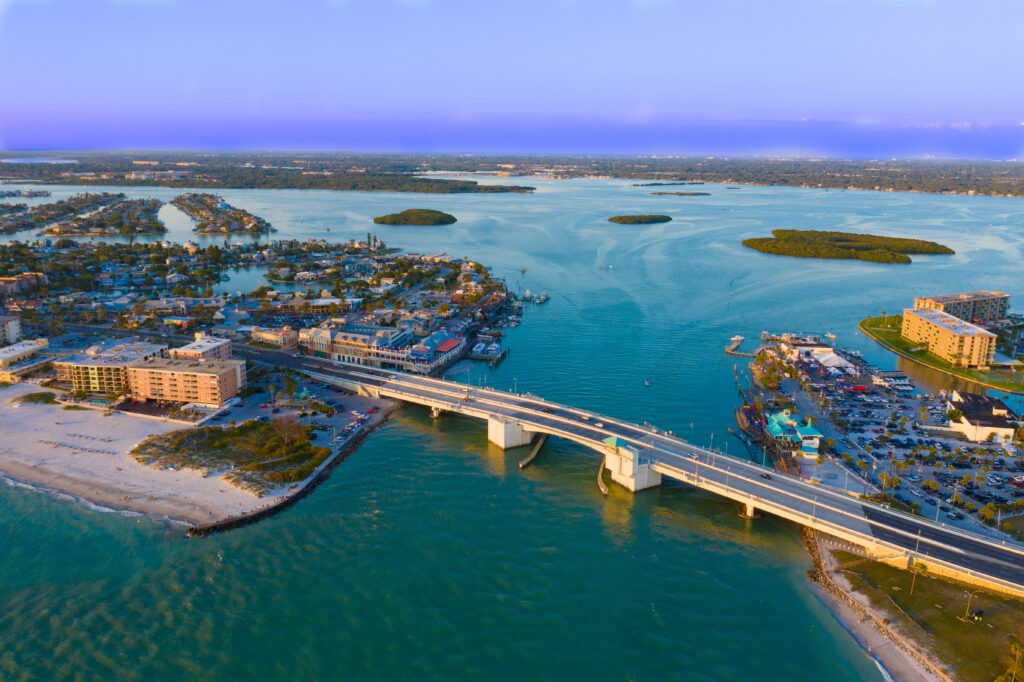 Melbourne Beach
An hour and a half southeast of Disney World, Melbourne Beach is known as the "Harbour City" by locals. There are miles of beautiful, unspoiled Atlantic beaches here, and the whole town has an old Florida feel to it. The beach is also loved by surfers because of the great waves.
This is a great beach to visit if you plan on visiting Kennedy Space Center since it's so close to that as well. Not to mention, Melbourne Beach is the second largest nesting ground for seat turtles over the summer, and a lot of people come here to catch a glimpse of them – but please be careful and be sure not to disturb their nests!
If you plan on visiting Melbourne Beach, you can park for free at Curtis Byrd Park. You'll be able to just walk right onto the beach!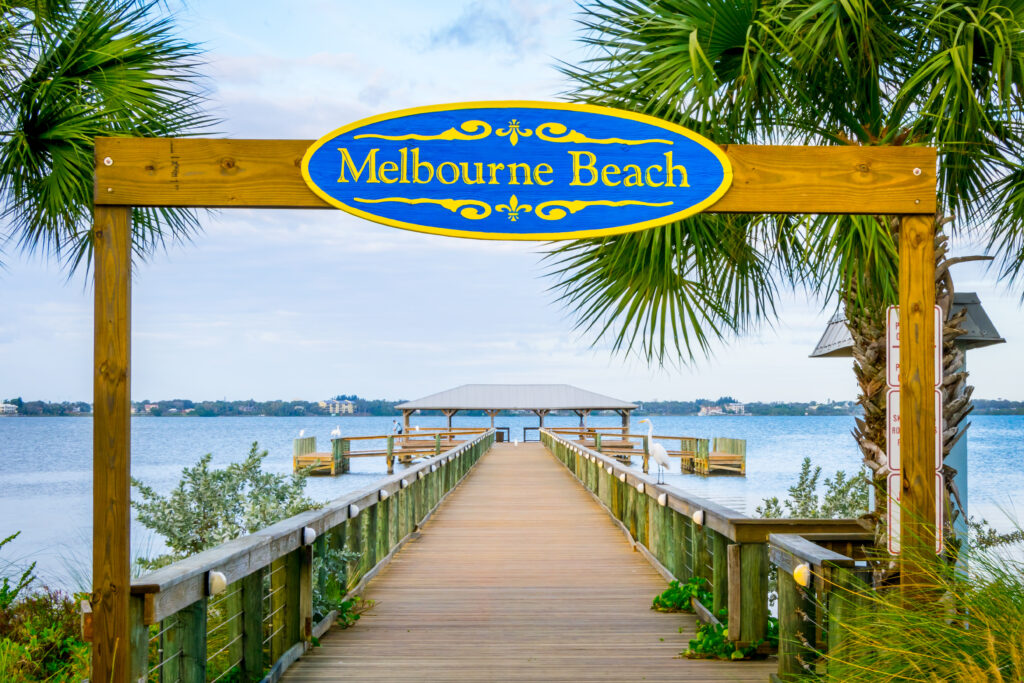 Anastasia State Park
This is the farthest of our favorite beaches near Disney World, at exactly two hours from Disney. This beach is northeast of Orlando, near St. Augustine. This state park has an $8 entrance fee per car, but it's worth it with all the park has to offer.
Anastasia State Park has tidal marshes, beaches, and nature trails to explore, and you won't run out of nature to see on this 16,000-acre preserve. This is a great state park for camping, as well as visiting the beaches. There are 4 miles of white quartz sand beaches, and they are calm, relaxing, and perfect for shelling.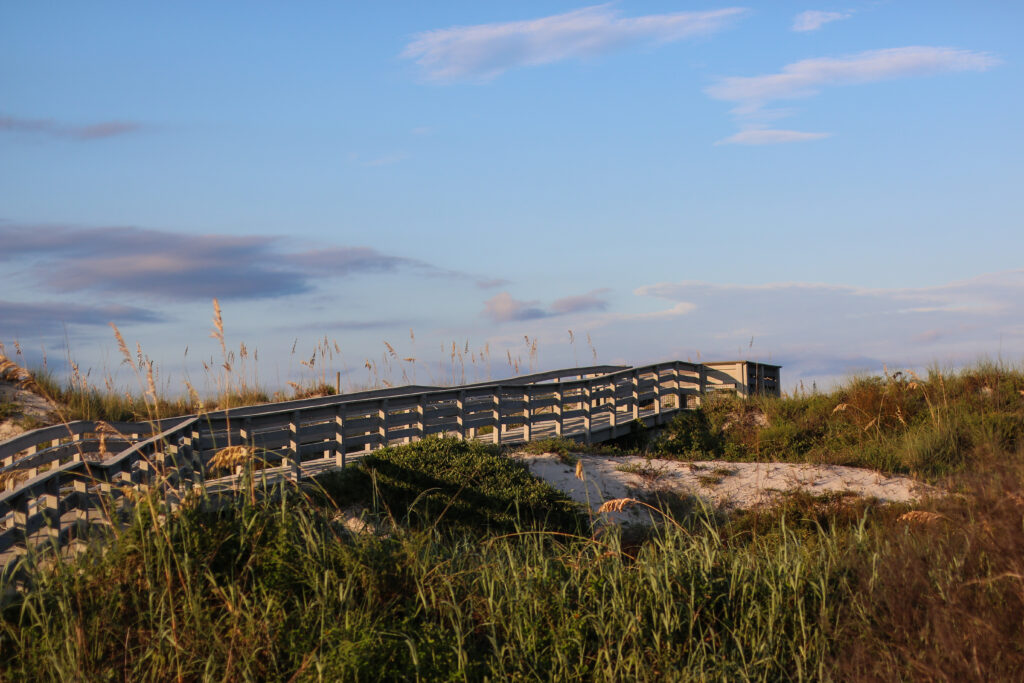 We hope that our list of beaches gives you some ideas for places to visit outside of Disney. You won't regret visiting some of Florida's famous beaches or exploring the beautiful Florida nature and wildlife while here. Make a little time for a beach day on your next Disney trip and enjoy that warm weather!
Do you plan on visiting any of these beaches near Disney World on your next trip? Or do you already have a favorite? Let us know in the comments!