Going gluten-free at Disney may seem daunting, but don't worry! We've got you covered.
When it comes to food allergies (especially the eight most common food allergies) it has become more guest friendly in terms of having your food allergies recognized and accommodated for you. Make sure to read our list of tips for managing food allergies at Disney World!
And let us tell you, going gluten-free at Disney World is easier now than it has ever been!
There are several restaurants on the property where the menus are super allergen-friendly, pending what your specific allergy is, of course!
With several members on the Disney Trippers team having a variety of food allergies (including dairy and gluten), we've eaten all over the parks and resorts, and we've had a pretty good experience.
However, you need to know how to navigate the restaurants on Disney property to know which is the right place for you.
Naturally, as we do here at Disney Trippers, we've done all the research so you don't have to! We've compiled together some of the best places to eat gluten-free at Disney World during your visit, with some options for other allergen-free meals as well.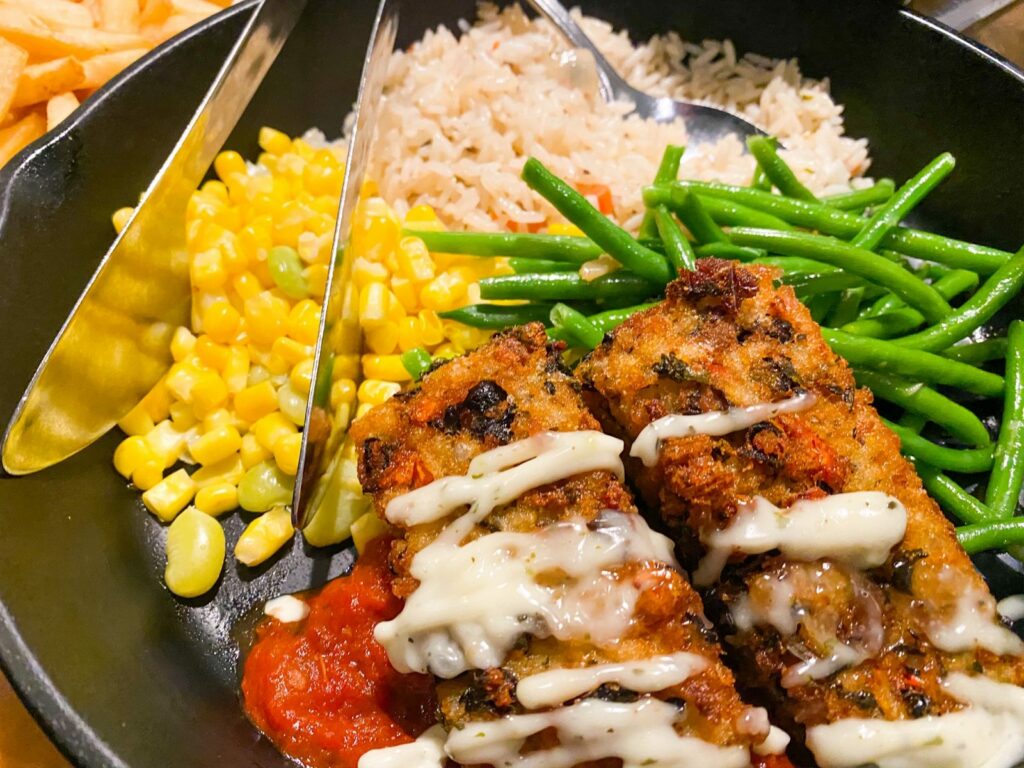 Tips for Eating Gluten-Free at Disney World
Check the Menus Before You Go
First, while it is no easier to eat gluten-free at Disney, not all restaurants on Disney property are owned by Disney. Therefore, they don't always take the same steps to prevent cross-contamination.
While many restaurants can modify your food choice, sometimes the reality is that they can't.
Having a basis for what restaurant might offer more gluten-free options may also indicate that there are more opportunities to try something new that meets your dietary needs.
You can preprogram your allergies into the MyDisneyExperience app, and it will recognize when to show you an allergen menu. This is usually found when you select the menu or a restaurant and scroll down to the bottom where it will be labeled for allergies.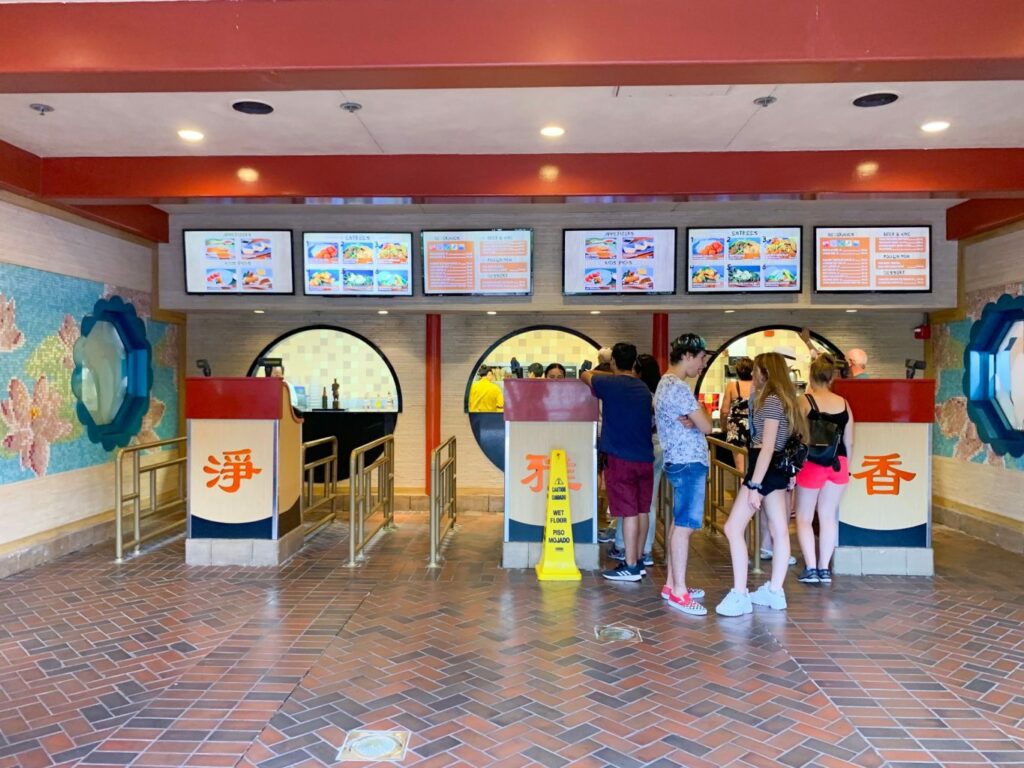 Talk to the Chef
We cannot tell you how important it is for your to talk to a chef before you order any food.
The chefs know what is going on in the kitchen, they are the experts on how food is prepared and can answer many of your food allergy questions.
For those eating gluten-free, a question you may ask is how are the french fries prepared? Sometimes they use the same oil that they prepare other items like fish or deserts, and for those with Celiac disease, this kind of cross-contamination could be deadly.
Sometimes the chef may explain that there is a separate fryer that is for gluten-free specific foods and only has potatoes/non-gluten foods without additional ingredients that go into it.
The chefs are also great at giving tips and providing alternatives. They can recommend certain foods on the menu, or offer to make you something from their off-menu background if a dish can't be changed enough to meet your needs.
We've done this nearly every time we go to a sit-down restaurant just to be on the safe side, and it is always worth speaking to the chefs directly. They've given us some great recommendations and were able to modify dishes that we didn't think they could!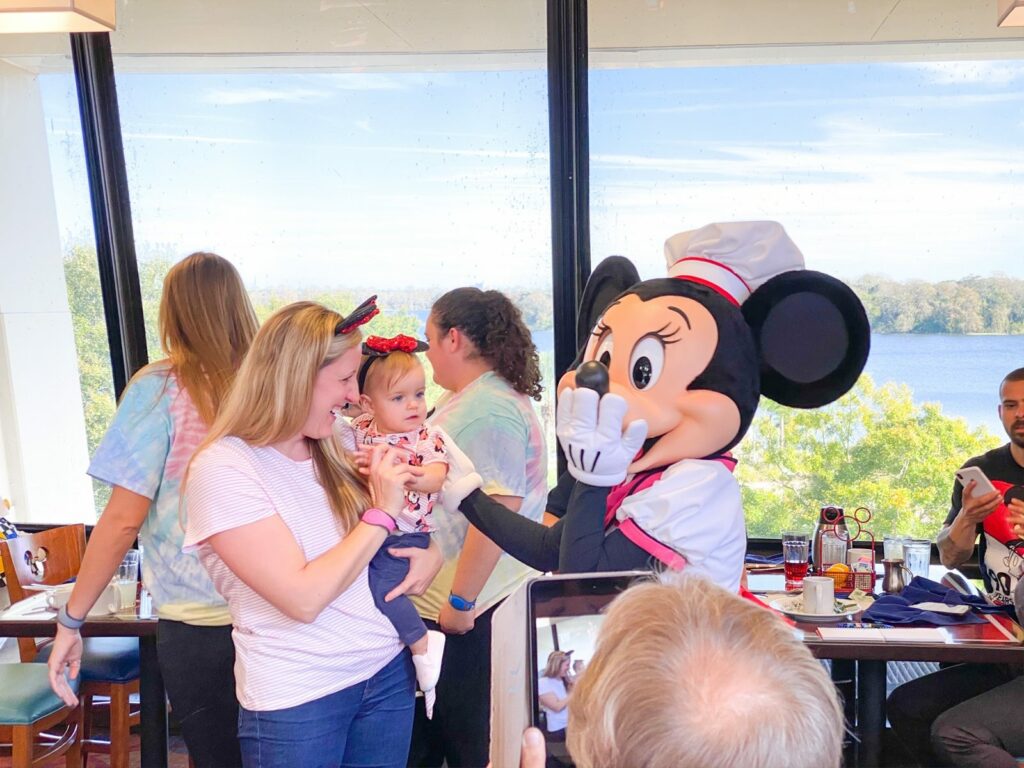 Ask for Off-Menu Items
Asking for off-menu items is not an unusual thing when it comes to serving those with a food allergy, especially if you are going gluten-free at Disney. Many of the chefs (when speaking to them) will offer to make you something off-menu if a dish cannot be modified to meet your needs.
We've been able to try some really unique food as a result, and we felt that these experiences were some of the best ones we've had.
If you have a more experienced server, they may be able to tell you what off-menu items the chefs are well-known for. However, if you feel like talking to the server isn't enough, you can talk directly to the chef who will prepare your meal.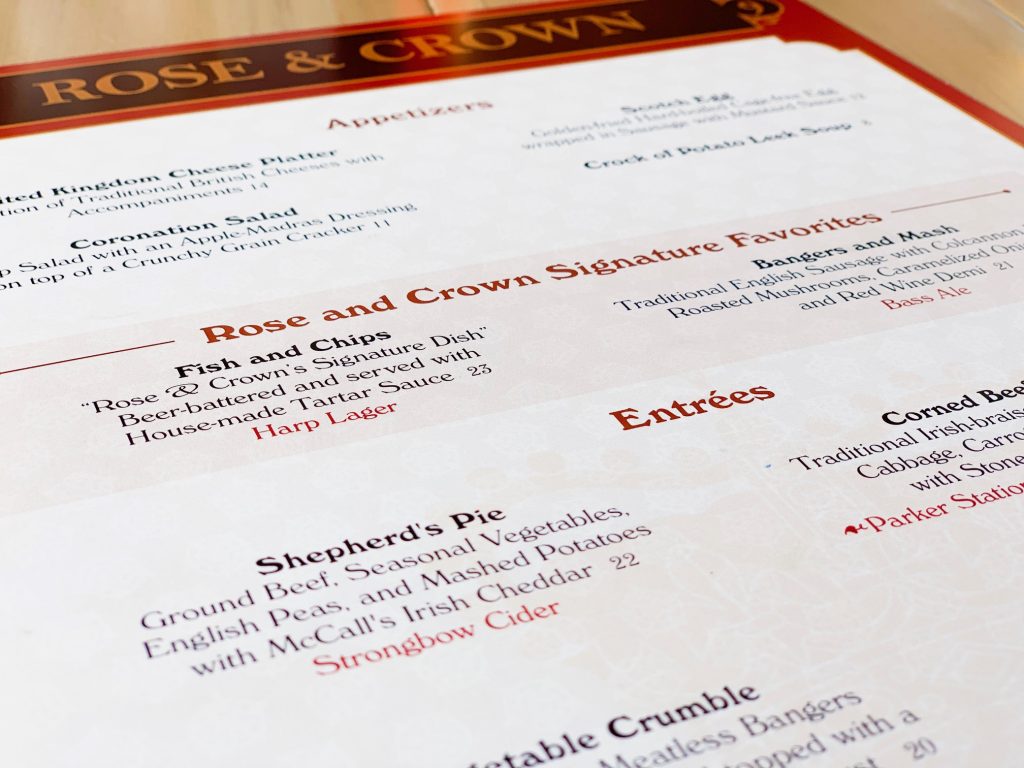 Be Your Own Advocate
Let's keep it real here. You are the only one who knows your food allergy the best as to what it is you can and cannot have. If you happened to be served something you know you cannot have, meaning you are served a meal without an allergy-stick marker, do not hesitate to send the meal back.
While the company and chefs take a lot of steps to make sure that this doesn't happen, Disney is just as human as the rest of us, and they can make mistakes. You could have a new server who isn't sure of the details of allergy-friendly procedures, or you may have someone else helping your server who is unaware of the allergies at your table.
Be sure to ask questions and verify that the food meets your allergen requirements before you order, and check your meal once it comes to the table.
Disney does its best to take food allergies seriously, which is one of the reasons why we feel comfortable and safe eating gluten-free at Disney World restaurants.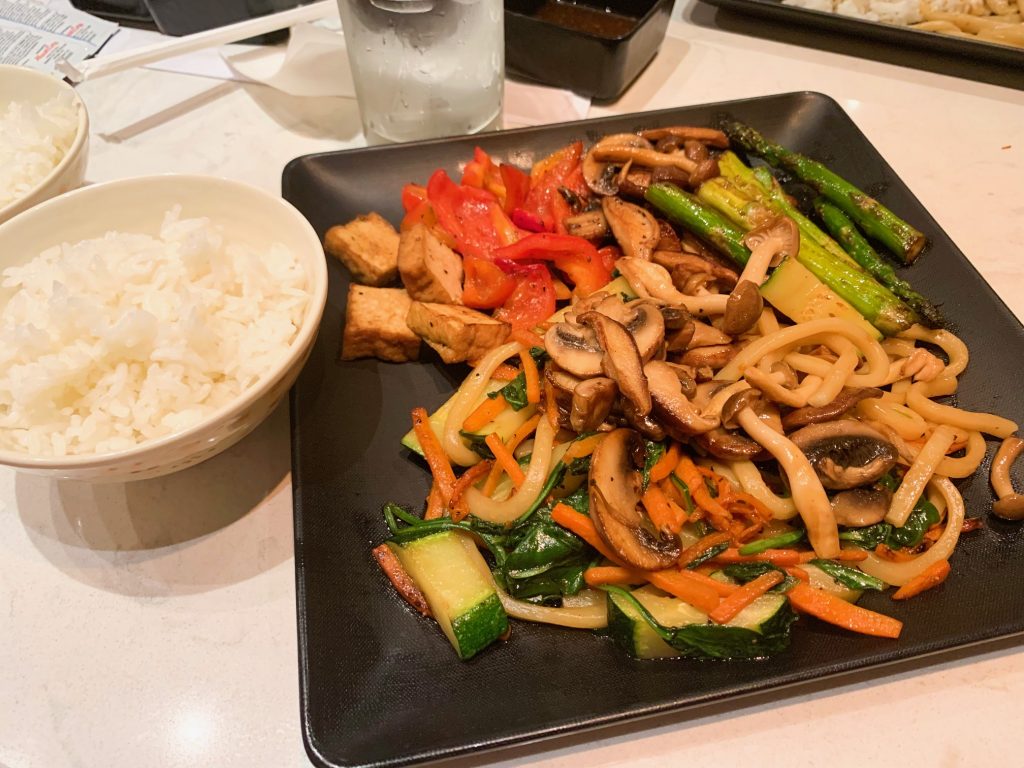 Eating Gluten-Free at Magic Kingdom
Skipper's Canteen
Skipper's Canteen is by far the Disney Trippers team's favorite place to eat gluten-free at Magic Kingdom. The regular menu is super easy to navigate, and many of the servers in this restaurant are some of the more experienced servers on Disney property.
Themed after the Jungle Cruise ride, this restaurant can be found in Adventureland and is filled with jokes and puns from the moment you walk in the door to the moment you walk back out. Even the menu items are puns, and we can't help but smile whenever we visit here.
One of our favorite meals to order here is the "Tastes Like Chicken" Because it is! dish. This is a crispy-fried chicken with a sweet-chili glaze with stir-fry vegetables and jasmine rice.
The breading for this chicken is made from corn flour rather than traditional flour and is soaked in a coconut milk bath before breading and frying in an exclusive frier. If the rice is an issue for your gluten allergy, then you can change it out for fingerling potatoes, extra veggies, or see what the chef suggests.
The bread service here is also gluten-friendly as it is a Brazillian Cheese Bread, made with cornmeal and cheddar cheese.
The chicken and bread are not the only gluten-free meals here! There are five other dishes on their main menu that are all gluten-free that you don't even have to do much modification for.
Of all the restaurants on Disney property, this one is one of our top favorites for allergen-friendly dining experiences.
Looking for a great place to grab breakfast? Then check out the best places for breakfast in Magic Kingdom!
Pecos Bill Inn and Cafe
Located in Frontierland, Pecos Bill offers a variety of gluten-free things in Disney World.
Glancing at the menu, you may have wondered if you stepped inside a tex-mex restaurant, but don't worry! Eating here at this quick service is easier than you think when navigating for a gluten-friendly meal.
On their main menu, there are six dishes that automatically come gluten-free.
There is the Pork Carnitas Rice Bowl, Chicken Nachos, and a veggie rice bowl that are all gluten-free!
We really like the Veggie Rice bowl, which is made of yellow rice, grilled peppers and onions, black beans, lettuce, tomato, and good portion size of salsa.
If you want to add meat, there are Pork Carnitas and Chicken as some of your options as well.
This restaurant also offers a gluten-free brownie and some gluten-free cookies if you are craving something sweet at the end of your meal.
Want to know a secret? Chekc out our list of hidden Magic Kingdom secrets that you can impress your party with on your next visit.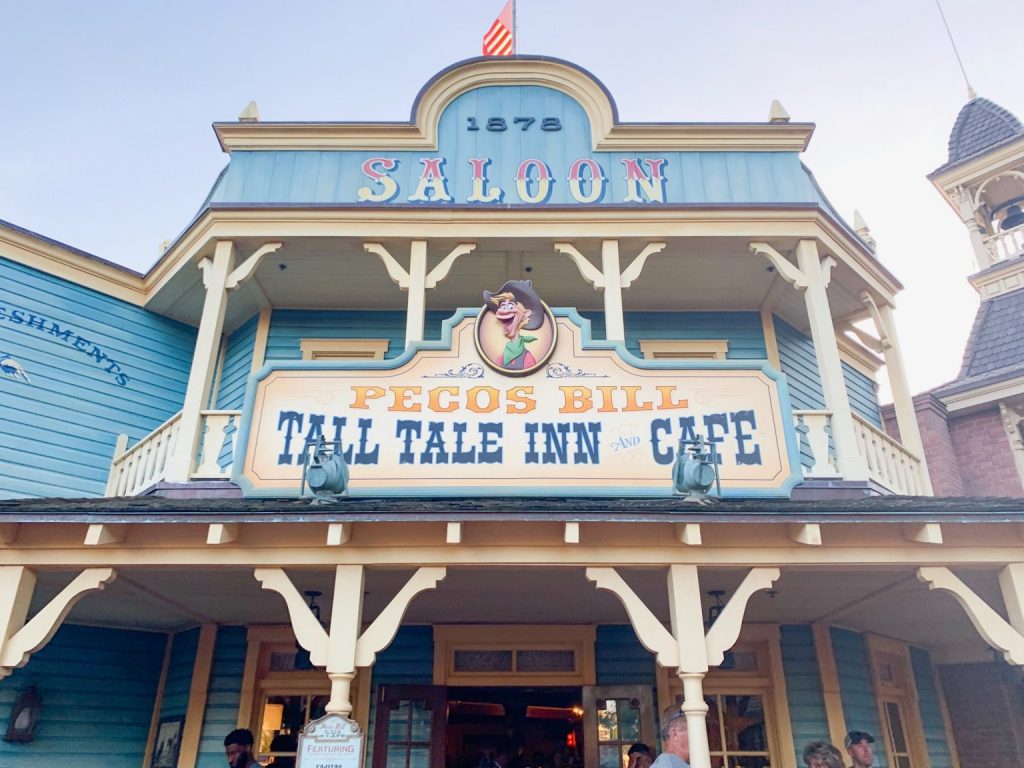 Aloha Isle
Aloha Isle is the best place to cool off in Magic Kingdom.
While not everything on the menu is allergen-friendly, the infamous traditional Dole Whip soft-serve is.
This cold treat is made from pineapple juice, frozen pineapple chunks, creamer (which can be non-dairy in certain locations), sugar, lemon juice, and salt.
For many, this treat is a must-have, and the fact that it can be allergen-friendly is a huge plus!
Looking to feed your sweettooth? Then check out some decadent Disney desserts that are available in the parks.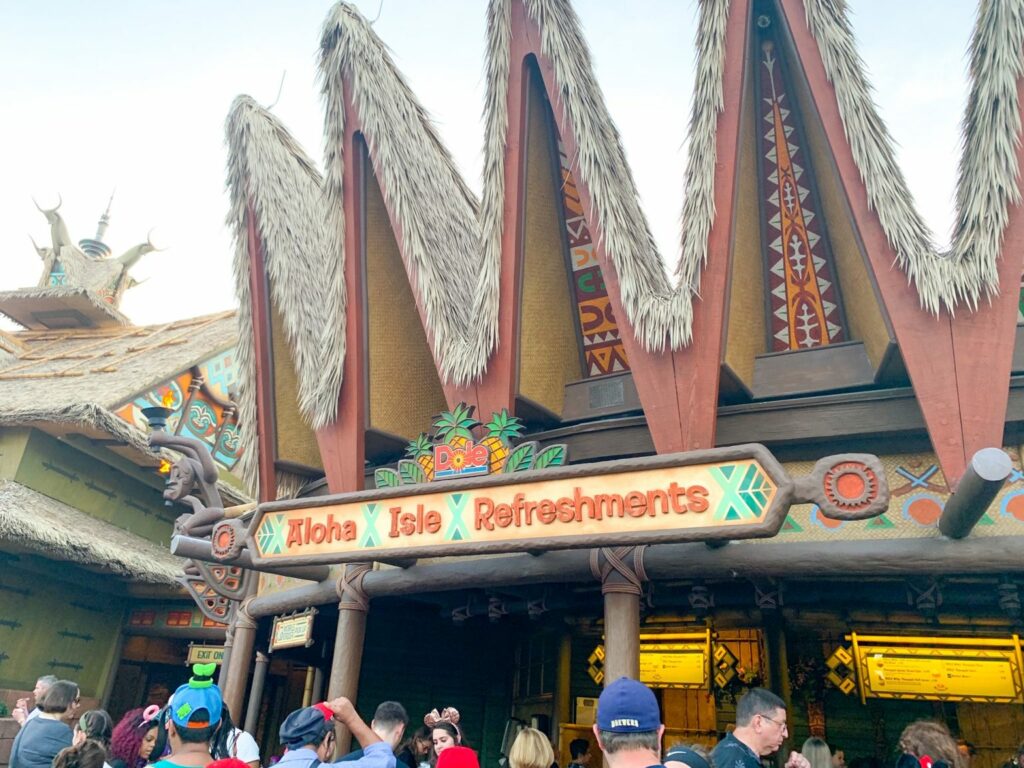 Liberty Tree Tavern
Liberty Tree Tavern is a sit-down restaurant located in Liberty Square in Magic Kingdom and is a great place to eat gluten-free at Disney.
The theming here is of the American Colonial era, on the edge of the American Revolution. Each room in this restaurant is based on different founding fathers of the United States of America, including Benjamin Franklin, George Washington, and John Adams.
The meals here are served family-style, meaning your whole party will be served from the same plate.
For those with food allergies, the chefs will often take the gluten-free food and place it on a separate serving dish from everyone else at the table, and they will tag it with an allergy stick.
The menu here will remind many Americans of Thanksgiving traditions, with oven-roasted turkey, mashed potatoes, green beans, cornbread, herb stuffing, and macaroni and cheese. There is also an Impossible Meatloaf that is offered (which was really good!) and is a great alternative for those who can't eat meat or have meat-related allergies.

Many of these items on the family platters can be swapped out for their gluten-free counterparts. However, if you are not comfortable with that, you can do a salad as a side, or ask the chef what other options they have to offer at this time.
The cool thing here is that this restaurant is also one of the "all you care to enjoy" restaurants, which means you will not leave this place hungry!
The Ultimate one day in Magic Kingdom may seem impossible, but we have the itinerary to make it possible! Check out our recommendations as to how you can make this a dream come true!
Considering adding Lightning Lane to your day? Check out our list of the best (and worst) rides to use Genie+ in Magic Kingdom!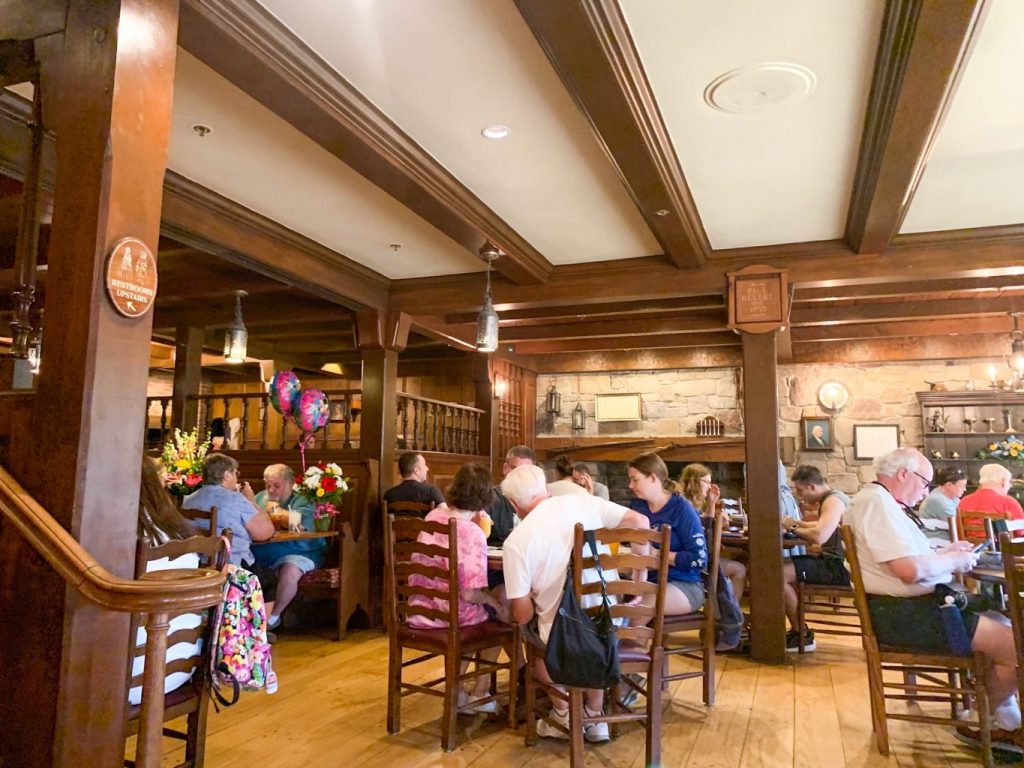 Best Gluten-Free Food at EPCOT
Garden Grill
The Garden Grill, located in EPCOT's land pavilion, is one of the best restaurants on Disney property and is one that has some of the best gluten-free food in Disney World.
This restaurant is served family-style, meaning that the servers will bring a serving platter to the table for you and your party to share. Fun fact: most of the food on your plate comes directly from the farms you tour during the Living with the Lands ride!
On the menu, there is a Grilled Beef with Chimichurri platter and a Natural Chicken platter that are going to be the easiest to modify to your needs. There is a stuffing you can change out for a gluten-free version, and you can also swap out the mac and cheese for one of the off-menu items. Make sure you talk to a chef to see what your options are at this location.
The bonus here? This restaurant is a character meet and greet! You can visit with Mickey, Pluto, Chip, and Dale while you enjoy a meal in the cool air!
Want to know more about this dining experience? Then check out our ultimate Garden Grill EPCOT review!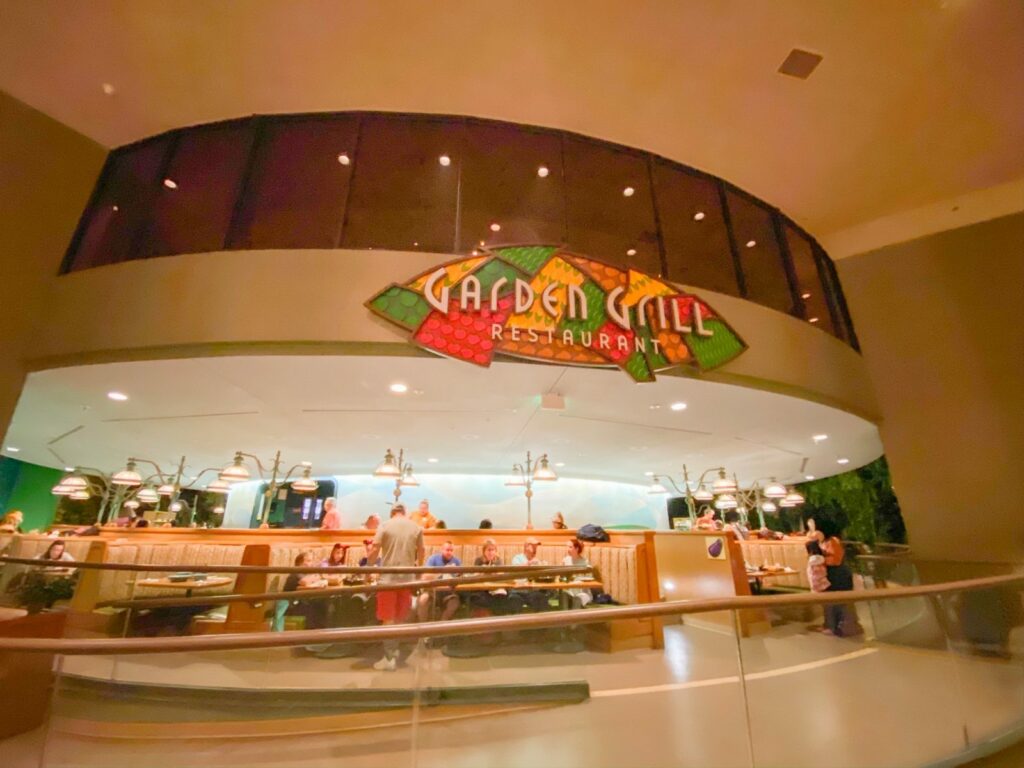 Biergarten Restaurant
Biergarten Restaurant is a buffet restaurant located in the Germany pavilion and offers lots in terms of gluten-free items at Disney world.
When we went, the server brought us a "cheat sheet" of all the foods at the buffet so we could know which foods were safe and which ones we should stay away from. The cheat sheet was easy to read, color-coordinated for the particular food allergy, and we even had a chef walk us through the entire buffet, showing us exactly what was safe to eat and what to stay away from.
Some of the gluten-free items offered are rotisserie chicken, pork tenderloin, sauerkraut (plant-based), potatoes, soups, salads, and some traditional German sausages.
The items are all labeled as you walk around the buffet, so it is easy to tell which dish is which. Plus, we also were asked if we needed a meal prepared separately due to some additional concerns.
The customer service here in terms of guests with allergies is just one of many reasons why this restaurant is on the top of our gluten-free at Disney World go-to restaurants.
If you are thinking of adding drinks or cocktails to the mix, then check out our tips for Drinking Around the World at EPCOT!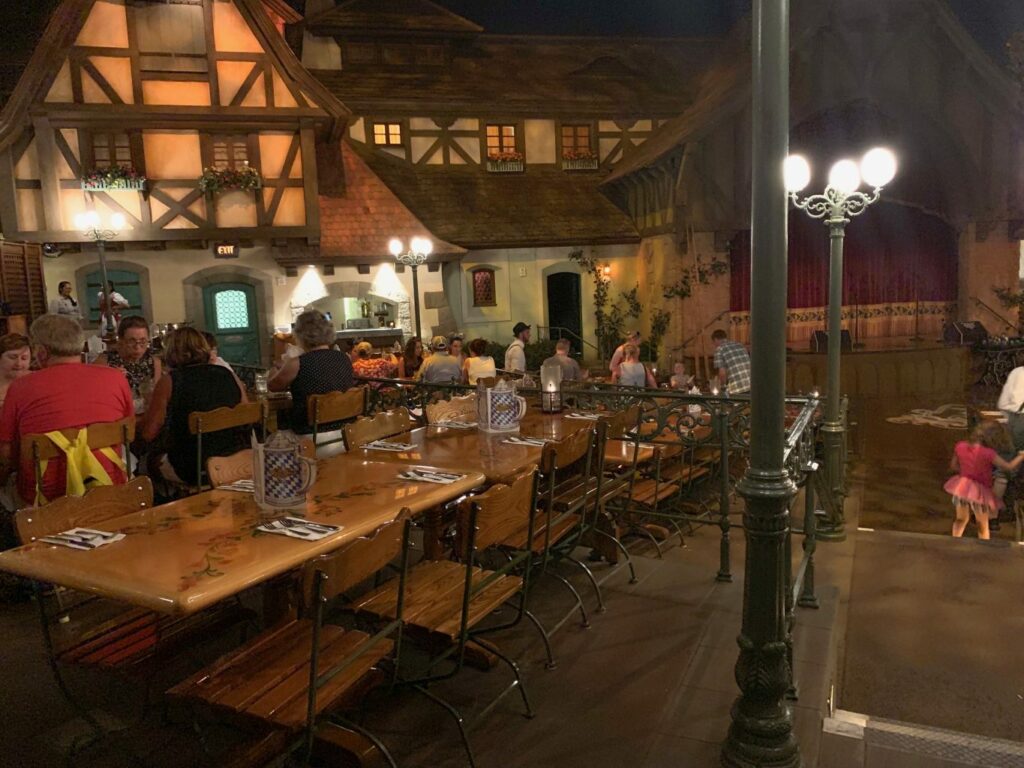 Connections Eatery
Not to be confused with Connections Cafe (which is the Starbuck on the other side of the building), Connections Eatery is EPCOT's newer quick service restaurant that has some gluten-free alternatives.
The menu consists of some pretty typical American food: burgers, pizza, and salad.
However, almost all of these dishes can be modified to be gluten-free.
One of the best burgers to try is the Mediterranean Burger, which has shredded lettuce, a delightful relish made of pickled vegetables and feta cheese, topped with Zhoug mayonnaise on a gluten-free bun (upon request). The balance of this dish was great and felt really light, leaving us with room to go try a gluten-free sorbet in Italy!
Need a water bottle to help hydrate you as you walk around the world showcase and the festivals? Check out some of the cute Disney water bottles you can take with you to show off your Disney style!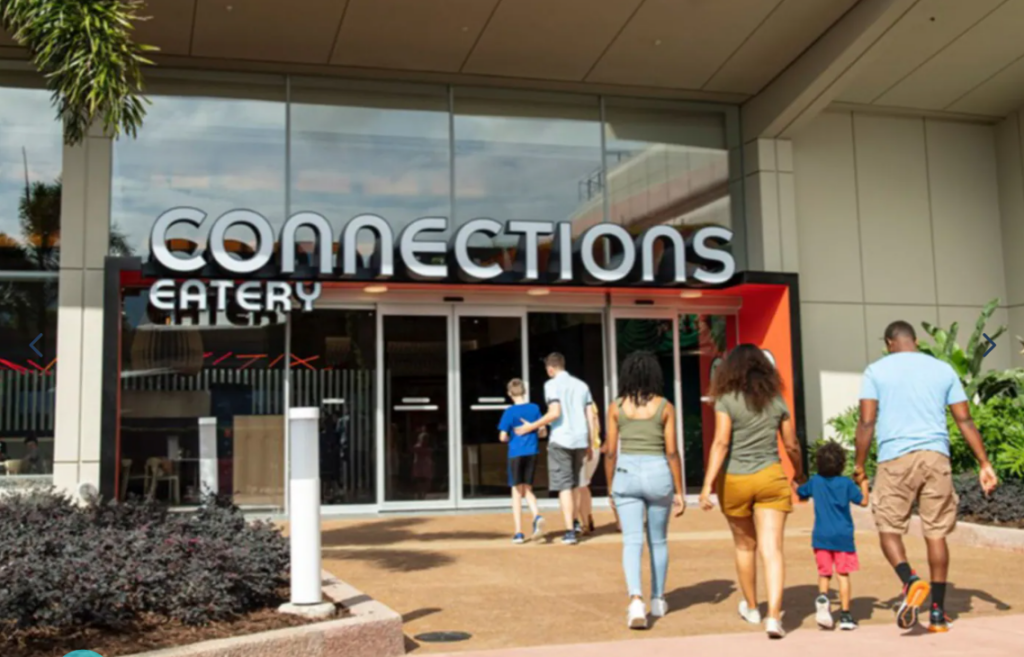 Best Gluten-Free Options at Hollywood Studios
Hollywood Brown Derby
Hollywood Brown Derby is one of the restaurants located in Hollywood Studios and is a great place to have gluten-free food at Disney.
There is a sit-down restaurant as well as an outdoor lounge here. Both have similar menu items so if you are in a rush to eat, see if the host/hostess can seat you outside instead.
The menu here is diverse in terms of gluten-free items at Disney.
There is the Free-Range Chicken Coq au Vin which is thigh confit with a red wine sauce and panfried potatoes.
There is also the Braised Short Rib, made with a vegetable succotash and truffle aioli, along with a parsnip puree.
And, of course, there is the famous Cobb Salad, which is huge and can easily be split between more than one member of your party. It includes bacon, egg, tomatoes, blue cheese, avocado, and spit-roasted turkey with their classic dressing.
Of the gluten-free restaurants at Disney, this one offers a wide variety of dishes for gluten-free/allergy-friendly entrees and appetizers!
If you are planning on a great day in Hollywood Studios, then check out out Ultimate Hollywood Studios Itinerary to help minimize your wait times and maximize your fun!
ABC Commissary
The ABC Commissary is located in the middle of Hollywood Studios. If you are not looking for it, you might actually miss this gem of an eatery.
This restaurant is a quick service and offers some of the best gluten-free foods at Disney World.
The sandwiches and burgers are some of the best quick-service ones you will find on Disney property, and tailoring them to your needs is super easy.
Most of the modifications will come with switching out the bun, as the meats and condiments are already gluten-free on their own.
One of our favorites to get it the Chicken Club Sandwich. This comes with lettuce, tomato, Avocado Ranch, Provolone cheese, and bacon on top of a marinated chicken breast. If you are dairy-free too, a great tip here is to ask for no cheese and change out the Avocado Ranch for the Vegan Ranch they keep on hand in the back. This one is also soy-free because it is an all-natural chicken breast, so there are more than just gluten-free options for this meal!
Another tip: if you are craving mac and cheese, order the kid's version that is made with the rice pasta. Again, let the cast members know about your allergies and they can make some recommendations for you, or let you speak with a chef to help make your meal great!
Eager to get on some rides after you eat? Check out our rankings for the best attractions at Hollywood Studios so you know what to add to your must-do list!
Docking Bay 7
Docking Bay 7 is the quick-service restaurant located in Hollywood Studio's Galaxy's Edge and is one of the more unique areas to get something gluten-free at Disney World.
There are several main dish items that come gluten-free, but as always, we recommend letting a cast member taking your order know about your allergies so that can be extra careful to not cross-contaminate your meal.
One of our favorite dishes is the Batuuan Beef and Crispy Topato Stir fry. This dish is made of stir-fried mushrooms and veggies, with crispy yucca, pickled onions, and a tender smoked braised beef that has a tamarind sauce.
The quality of these meals are well worth the price, and the fact that they can be tailored for your allergies makes them a great option when you are on the go and can't get a reservation elsewhere.
Looking to grab an earlier meal? Then check out the best places for breakfast in Hollywood Studios!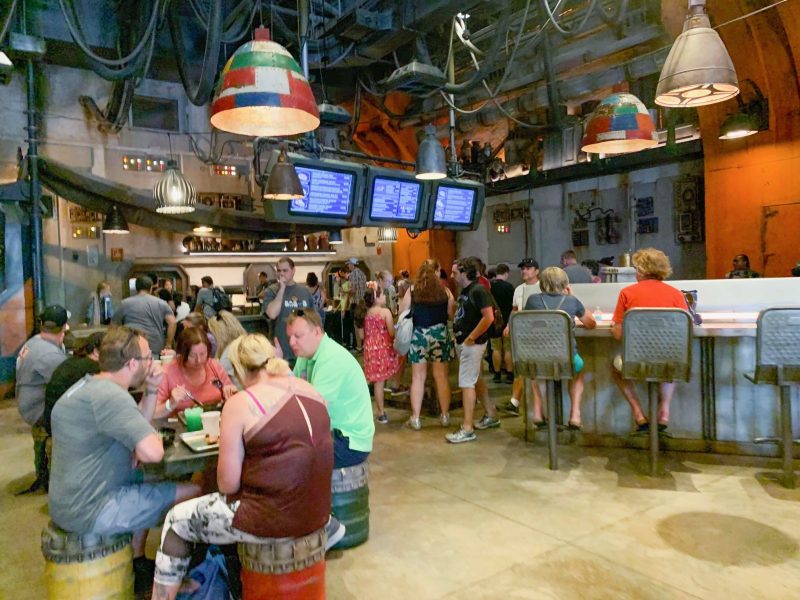 Eating Gluten-Free at Animal Kingdom
Satu'li Canteen
Located in the Pandora section of Animal Kingdom, Satu'li Canteen is a fantastic place to get a quick, light, and gluten-free meal.
While eating gluten-free in this park can be easier than the other parks, this quick service will have you fueled up and ready for your next adventure.
Our favorite dishes here have to be the customizable bowls. You have your choice of Chili-Garlic Shrimp, Chopped Wood-Grilled Chicken, or Slow-Roasted Grilled Beef. You get to choose your base and your sauce to go on the dish as well.
There is a salad base that has quinoa and fresh veggies, there is also a potato hash that has sweet potatoes and other roasted root veggies.
Here's a tip: this is another restaurant that has more vegan and vegetarian sauces, so if you have multiple allergies, just ask the cast member to swap out the sauce.
Starting your day early? Then check out the best places for breakfast in Animal Kingdom!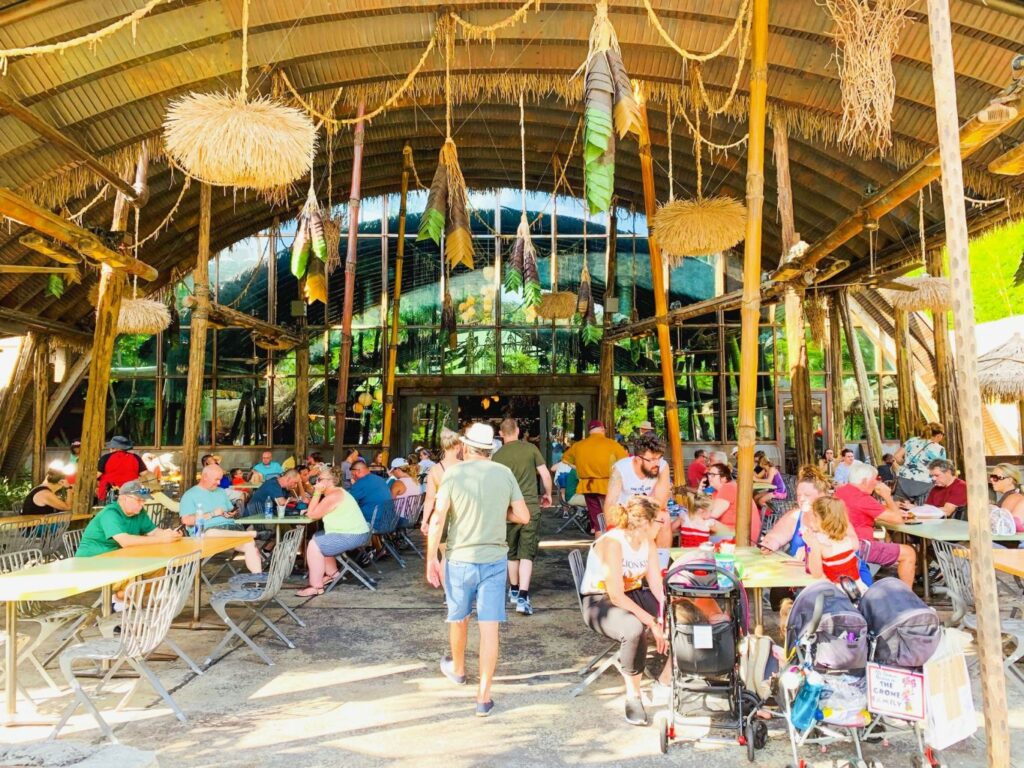 Tusker House
Tusker House is the big character meal at Animal Kingdom and is by far the most adventurous in terms of going gluten-free in Disney.
You can meet Donald, Daisy, Mickey, and Goofy at this meal, and they have some really fun interactions throughout the course of your meal.
This restaurant offers breakfast, lunch, and dinner.
Want to know more about the breakfast options at Disney? Then check out our list of
For each meal, gluten-free options are listed underneath the allergy-friendly menu. Each allergen is listed next to the meal item so you know if the dish is appropriate for your needs.
Like many character meals, this one is also served family-style so if one person in your group has an allergy, they will separate the food and then serve it to you with the allergy sticks so you know what is safe to eat.
As with any restaurant, if you are not sure how something is prepared, please ask to speak with a chef. They will work with you and answer any questions you may have about preparation, ingredients, and substitutions or alternatives.
One of our favorite gluten-free entrees is the Cape Malay Green Cury Shrimp with the Impossible Durban Curry side. The shrimp is cooked well and seasoned thoroughly. The curry has a warm kick, but if you are used to eating curry then you might not notice the little hint of heat it has.
While there is not a gluten-free dessert on the menu, you can ask the chef about the off-menu options at this location. We've been given some really amazing gluten-free chocolate cake and a fantastic raspberry sorbet before, and neither item is on the posted menu.
Curious about what show you should catch after your meal? Check out what made out list of best and worst Disney World Shows!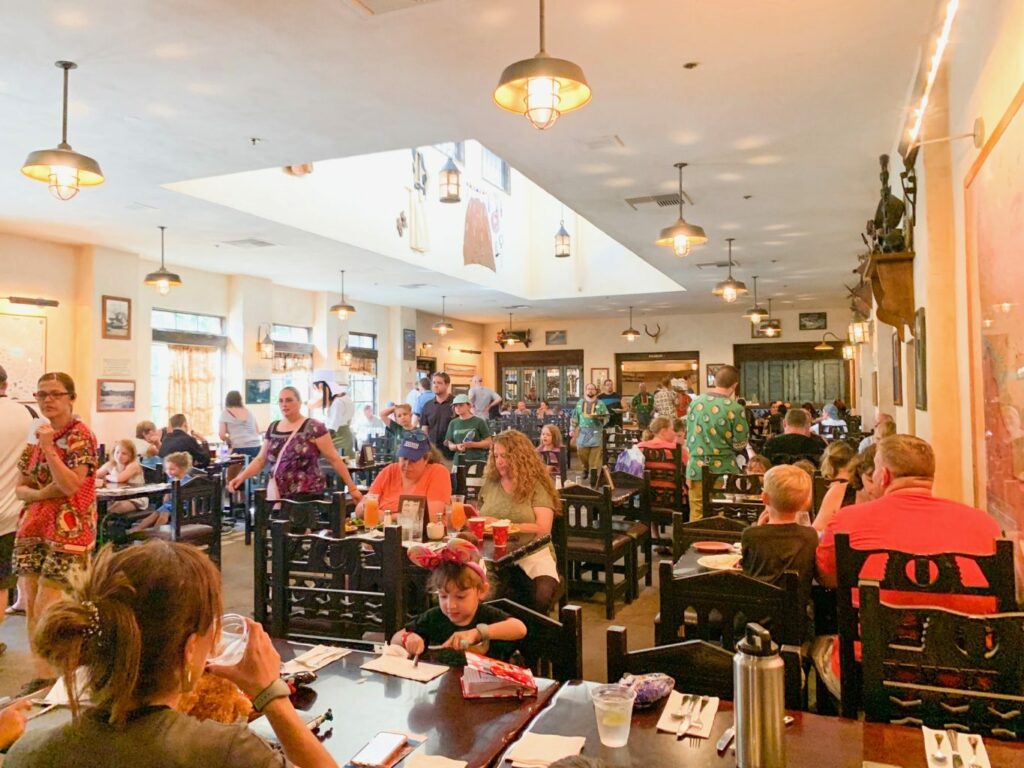 Nomad Lounge
Nomad Lounge is located right next to Tiffin's restaurant, which is a big favorite among fans of Animal Kingdom.
Nomad Lounge is known for its unique cocktails and amazing river view where you can watch the character boat parades that pass through without a giant crowd.
However, as this lounge shares a kitchen with Tiffin's, there are many items that you can order off the menu that is gluten-free.
Hands down our favorite item has to be the gluten-free churros with vanilla crema and chili-strawberry dipping sauces. It is rare to find good churros in Disney World, let alone gluten-free ones, so this had to be on our list of best places to eat gluten-free at Disney world.
We also like the Chicken Manchurian Nomad Bowl if you are looking for something a little heartier to eat. This is made with steamed rice, red cabbage kimchi, ginger scallion oil, and crimini.
If you are into cocktails, try the Snow Leopard Salvation which has vodka, pear liqueur, mint, and lime juice, or Jenn's Tattoo which has vodka, watermelon, hibiscus, and lime juice. Both are refreshing and a combination of sweet and tart, and gluten-free.
Check out some of the other experiences that made our Ultimate Animal Kingdom Itinerary so you can have the most magical time during your visit.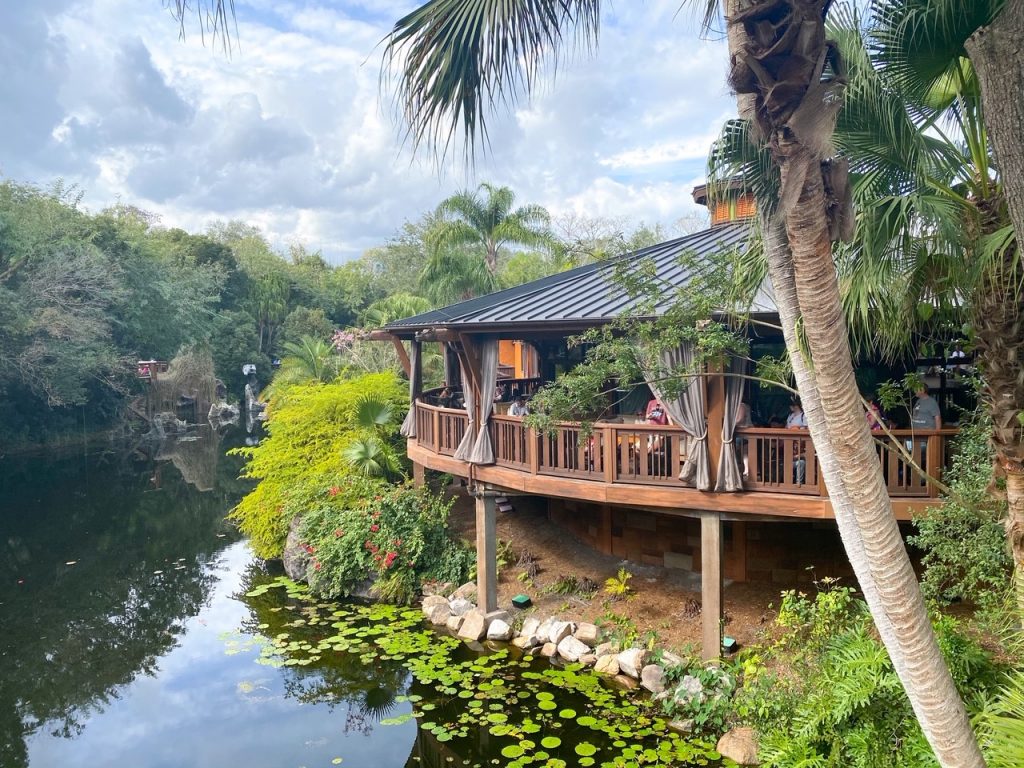 Best Places to Eat Gluten-Free at Disney Springs
Erin McKenna's Bakery NYC
Touted as "more than a bakery", Erin McKenna's Bakery NYC is one of the best places to eat gluten-free at Disney.
This bakery is one that is dedicated to making its treats gluten-free, dairy-free, and kosher! Talk about a great place to go for allergies!
The bakery has items like cookies, brownies, and donuts, in a variety of flavors that are safe for those trying to remain gluten-free.
Some of the best items on the menu to try to include the red velvet cupcakes and the carrot cake cupcakes, as sometimes the flavor combinations can be a challenge to get right when using alternative ingredients.
Another fun item to try is the cookie sandwich, which is a pretty good size and is totally shareable with other members of your party, or safe as leftovers for later.
When eating gluten-free at Disney World, or rather eating gluten-free at Disney Springs, this bakery is a must-do on your list!
Raglan Road
Raglan Road is inspired by the ways of Ireland and its culture, meaning at first glance you may think there is nothing gluten-free at Disney Springs.
However, there are more options here than you think.
The Fish and Chips here have great gluten-free options, and their Le Chicken is also gluten-free.
The Citrus Salmon salad is a favorite with some of the Disney Trippers, and for good reason. The citrus dressing is light but packed with flavor, so much so that we usually ask for extra on the side.
We highly recommend talking with a chef here rather than just your server because of how some of the items are prepared. As this restaurant is not owned by Disney, the way the kitchen works is different, meaning what may be safe at a Disney restaurant might not be here.
Has Raglan's put you in the mood to bar hop? Well, you're in lucky! We've put together a list of the best and worst Disney Springs bars that you should visit and enjoy!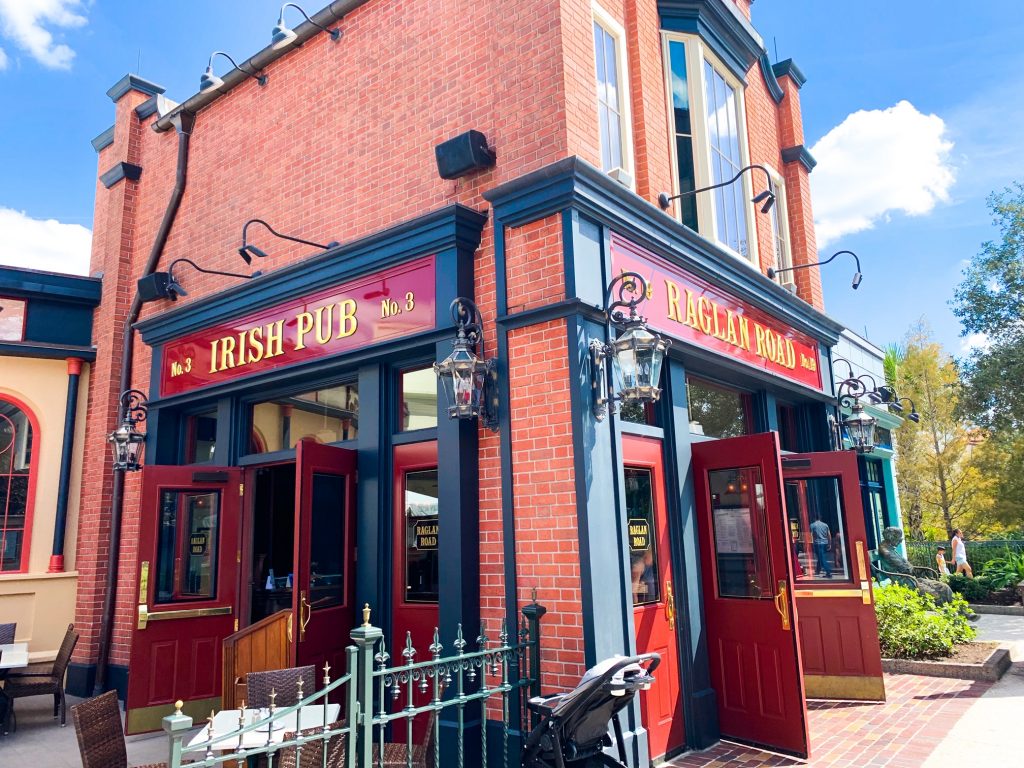 The Edison
Gluten-free at Disney can be fun, and this lounge in Disney Springs is one of them. The Edison is one of the most popular places in Disney Springs to get an adult beverage. The drink menu here is expansive!
We recommend trying the Edison (bourbon, pear brandy, lemon juice, hand-crafted cinnamon syrup) or the Bootleggers' Basil (bourbon, honey, blackberries, fresh basil, bitters) for your evening drink.
While the focus here is clearly the adult drink menu, there are some fun gluten-free items in the menu here as well.
All of the burgers can have their buns changed out for gluten-free ones, and this place has one of the best Beyond burgers in the area. The texture and the flavor will have you second-guessing if you have been served an actual meat patty by mistake.
The Grilled Salmon dish is another great gluten-free entree here, with marble roasted potatoes, braised swiss chard, and bacon topped with a Citrus herb butter. The fish is tender and flaky, and practically melts in your mouth when you take a bite.
The Spare ribs are also great. They are Dry rubbed and slow-roasted in a St. Louis style, meaning they have a spicy BBQ sauce and a fall-off-the-bone tenderness that is hard to achieve.
Looking for some fun things to do while in Disney Springs? Then check out our list of fun things to do in Disney Springs!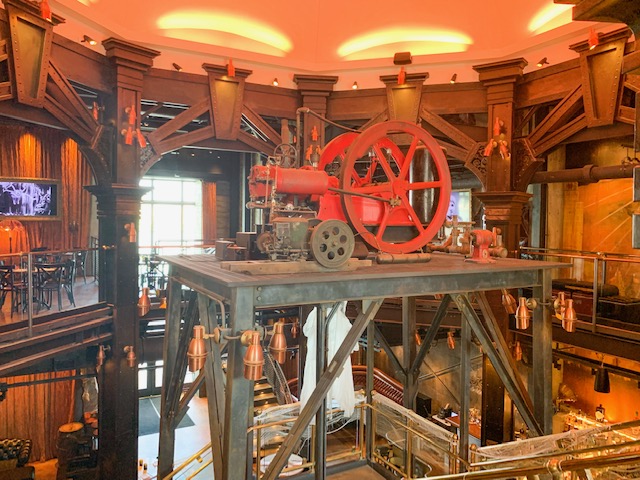 Best Gluten-Free Food at Disney Resorts
Sanaa
Sanaa is an African-inspired restaurant that is located in Disney's Animal Kingdom Lodge and is a great place to eat gluten-free at Disney.
There is a large variety of food like Allergy-friendly Naan and accompaniments. There
We recommend trying the Potjie Inspired dish. This is made with Basmati rice with one choice of meat like pork, and one choice of a side like lentil Daal. It is light, fun, and very filling!
There are some gluten-free desserts as well, like the Triple Chocolate Mousse, which is very rich but very good!
If you are traveling with a large group, consider checking out the best Disney Resorts for Large Families and Groups! You may be surprised with how much it actually costs you all for your next stay.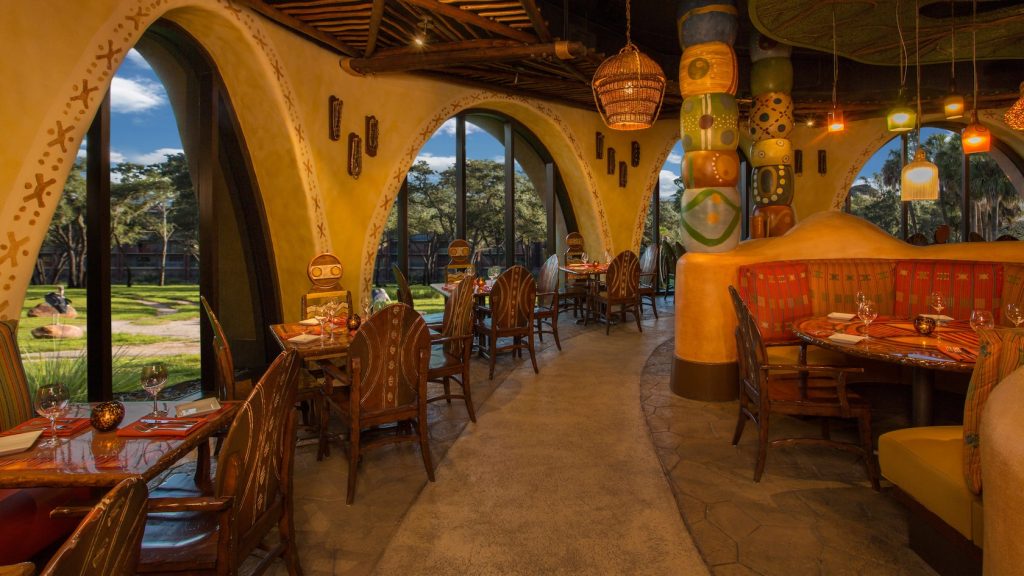 Steakhouse 71
Steakhouse 71 is one of the newer resort restaurants, and is a great place to eat gluten-free at Disney.
This restaurant is located where The Wave used to be. After the big closure, Disney began to remodel and revamp the menu at this restaurant, and now we have Steakhouse 71.
The gluten-free options here are great!
For appetizers you have Lump Crab cakes, Wedge Salad, and Caesar Salad.
For the entree, you have to try one of their steaks. We recommend the six once Top Sirloin steak or the six ounce Filet Mignon.
But if steaks are not your thing, there is Fish en Papillote which is shrimp with fried potatoes, asparagus, baby carrots, and lemon beurre blanc, among other great dishes.
For gluten-free desserts, you can get the creme brulee, otherwise, we'd pass as there are not a lot of great alternatives.
If eating at Steakhouse 71 has you in the mood to spend more time at Disney, then check out our review of David's DVC Rentals to see if this is a great choice for you!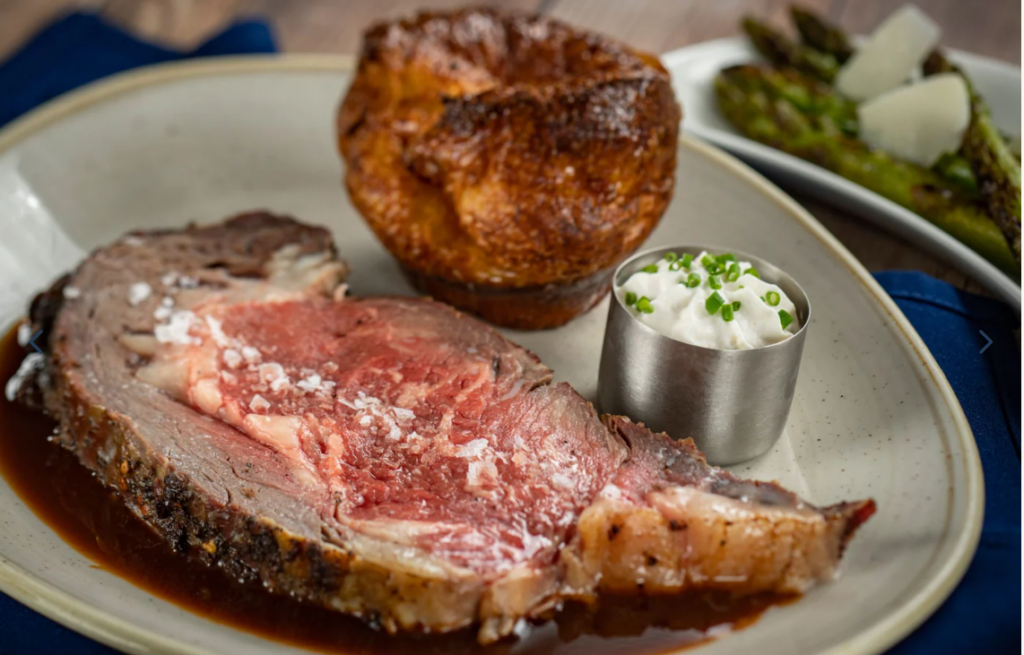 Boma
Boma, located in Disney's Animal Kingdom Lodge, is a great place to eat gluten-free at Disney.
This restaurant is a buffet and offers a wide variety of choices that are African-inspired flavors.
Much like Biergarten, this restaurant will give you an easy-to-read guide that allows you to navigate everything that is put out.
Similarly, we would recommend that you as a chef to walk you through the buffet on your first visit so you can ask questions like how a dish is prepared, what kind of cross contaminates might you encounter, as well as any off-menu items they might be able to bring out for you.
Some of the items on the buffet include Durban chicken, Senagalase Yassa-style Salmon, peanut rice, olive oil herb crusted potatoes, and oak roast pork ribs.
There are several specialty drinks on the menu here as well, both alcoholic and non-alcoholic. Most of these are gluten-free, and depending on your palate, have a great variety of sweet and tart flavors.
Now, you might be asking yourself- is this place toddler friendly? Well, you should check out some of our tips, tricks, and advice on how to visit Disney with Toddlers and still have fun!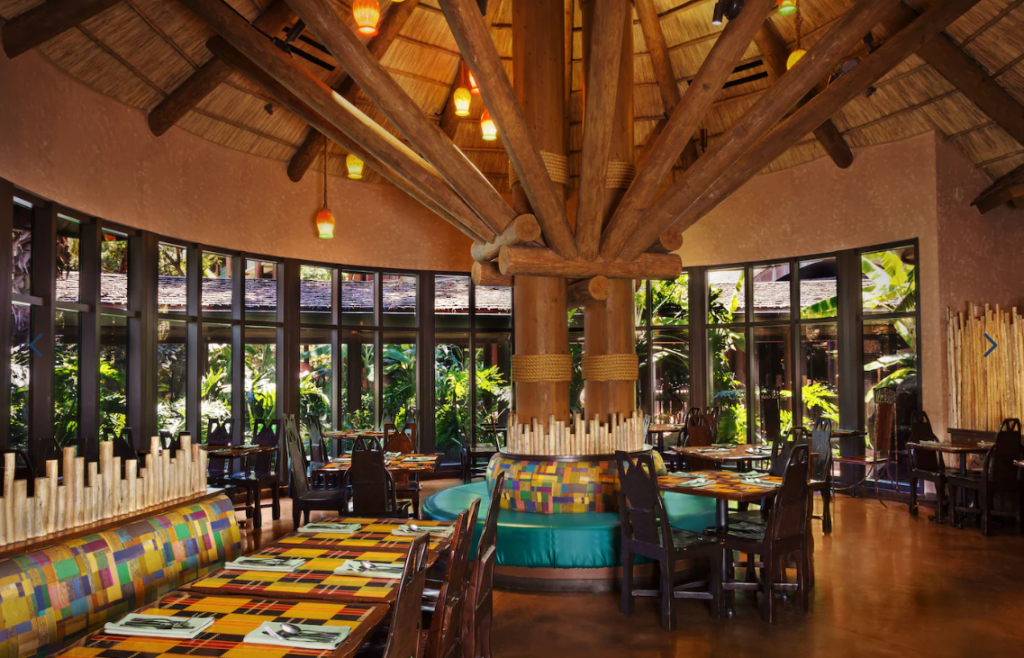 Flying Fish Cafe
Located at Disney's Boardwalk resort, Flying Fish Cafe is one of the best gluten-free restaurants at Disney.
While the exterior with neon flying fish may have you raising an eyebrow, the interior will have your jaw on the floor. Beautiful pieces of blown glass to look like fish and bubbles float along with the ceiling of the restaurant, and the soothing color palette will have you feeling both relaxed and sophisticated.
The menu here offers a lot of different fish options, like red snapper, salmon, and scallops. There is also two kinds of steak in addition to chicken that will have you taking home leftovers.
This restaurant does focus heavily on seafood, and it does a great job labeling its allergen menu in detail.
We recommend that you speak to a chef, even if you are going to order something off the allergen menu as there are some modifications to the menu they are happy to make, and there are some specialty off-menu items here as well if you can't find something to your liking.
Side note: this restaurant does have a dress code so please double check the expectations before jumping on to make a reservation.
Planning on book your next vacation to the parks? Check out our ultimate packing list to make sure that you have everything you need before you leave!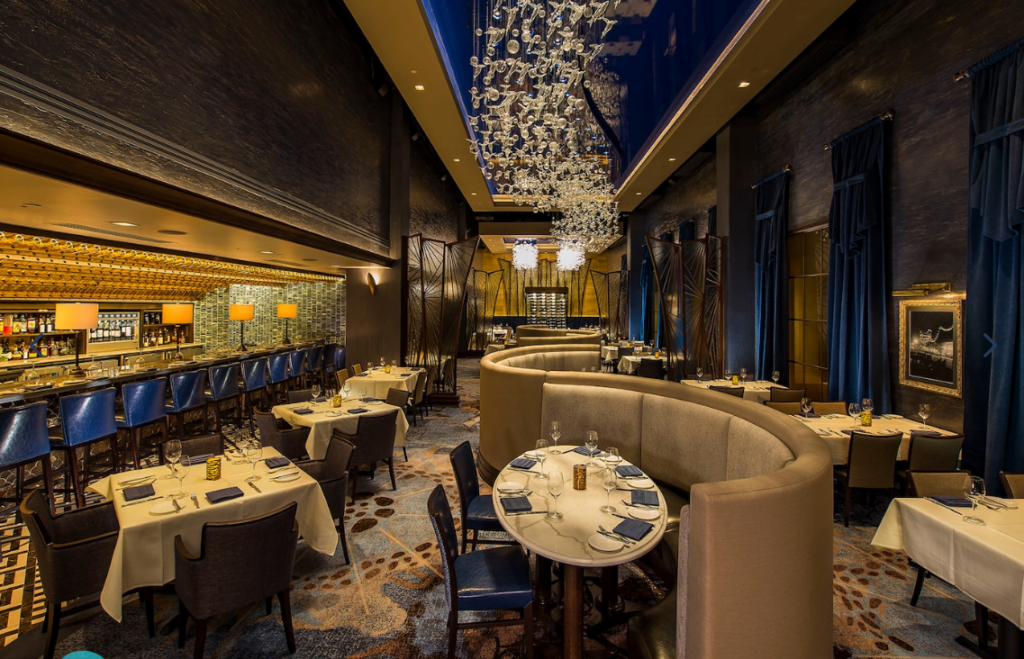 Overall, eating gluten-free at Disney World isn't hard; you just need to know how to navigate the menu and the workings of each restaurant.
There are a lot of options available to you, from the Erin McKenna Bakery NYC in Disney Springs to Skipper's Canteen in Magic Kingdom!
If you are looking for more information about when to go to the parks and when to avoid them, check out our Disney World Crowd Calendar for some insight!