Are you looking for the ULTIMATE
Animal Kingdom
itinerary?  Do you want to experience the very best things to do at Animal Kingdom without wasting time in lines?  You've come to the right place!  We've got all the information you need to plan your very own Animal Kingdom touring plan!
This is just one of our many detailed
Disney World Touring Plans!
When you are done, make sure to check out other options for any parks you may be visiting!
Whether you're spending one day in Animal Kingdom or just want to know what to do at Animal Kingdom and the best strategy to adopt to get everything you want done; we're going to help you plan an Animal Kingdom itinerary that suits your party and gets done exactly what you want to do!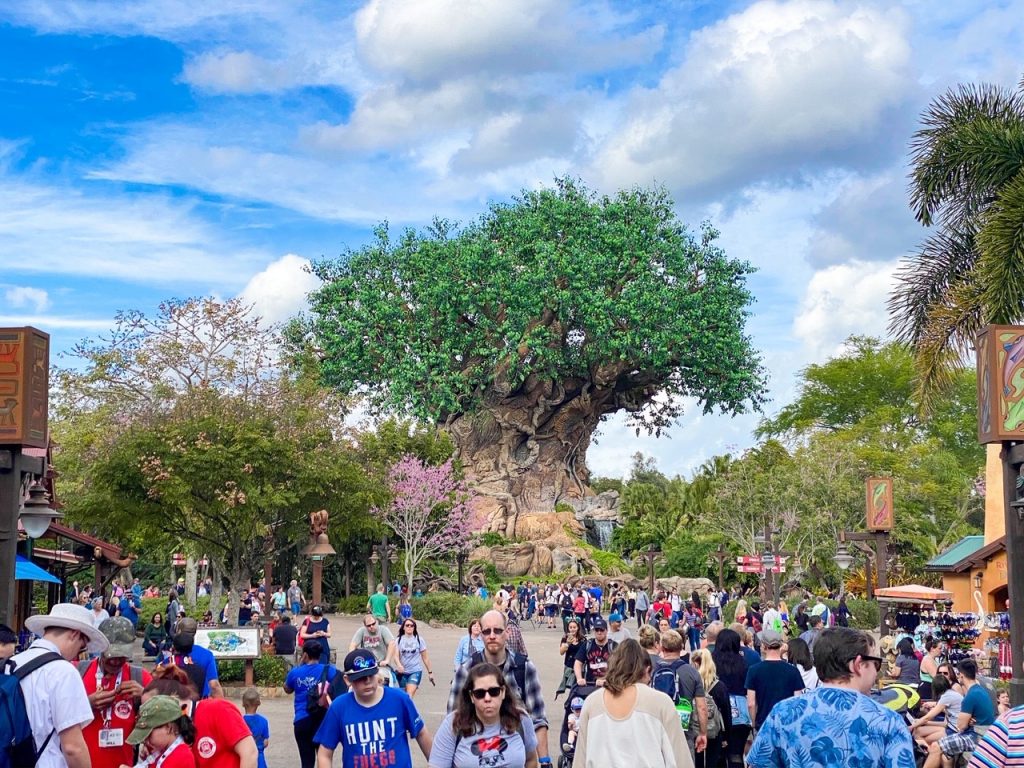 The Ultimate Animal Kingdom Itinerary (Without Lines!)
Best Time Of Year To Visit Animal Kingdom
Visiting in lower season, if you can, will certainly help you make the most of your Animal Kingdom itinerary.  Particularly since the opening of Pandora, it's such a popular park, so any benefit you can make of lower crowds is a GOOD thing!   Our
Crowd Calendar
 will help you identify the quieter times and we certainly recommend avoiding the 'red' (high crowd) times, if you're able to do so, and travel instead in the 'green' (lower crowd) times.
You should be aware that summer (particularly July and August) is the rainy season and many days see storms and rain in the afternoon.  However, if July or August are the only times you can travel and try the best things to do at Animal Kingdom, we still think that this is better than not going at all!
Regardless of when you travel, as with the other parks, weekends will be more crowded; if you can avoid planning your one day in Animal Kingdom at the weekend, this will really help you.
We're going to help you plan your Animal Kingdom itinerary to make sure the very best of the time you have there!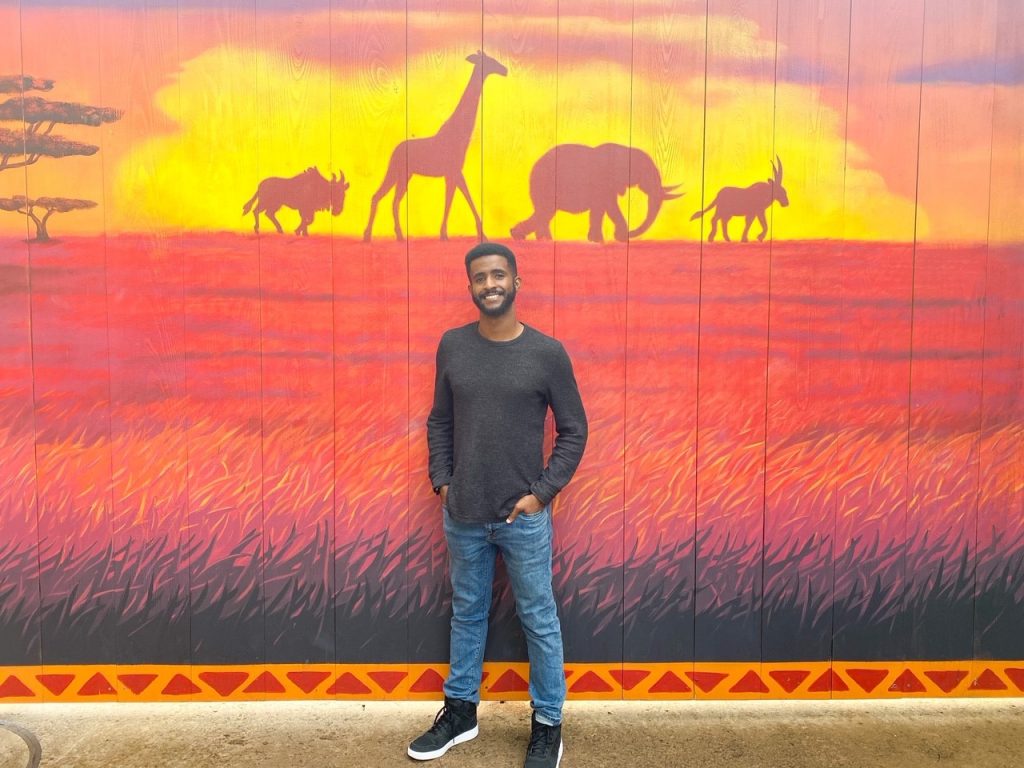 Animal Kingdom Hours
Generally, the 'core' hours are from 9am to 8pm, but you should DEFINITELY check on My Disney Experience before starting to plan your Animal Kingdom itinerary.
Like all the parks, Animal Kingdom offers Extra Magic Hours (EMH) which are just for guests of Disney resorts – they are able to access the park for an hour before park opening.   If you're staying offsite, you should avoid these mornings if you can, as this will hamper your ultimate Animal Kingdom itinerary.   If you're staying onsite, you should definitely make use of EMH for an extra hour in the park, in the morning.
Animal Kingdom also occasionally (not in summer, generally) offers  'hard ticket' parties – these are events that you need a ticket for and which you don't need separate park admission for.   This is generally limited to 'After Hours' so does not infringe on park opening hours.    When you look on My Disney Experience, this will show up as 'Special Ticketed Event'.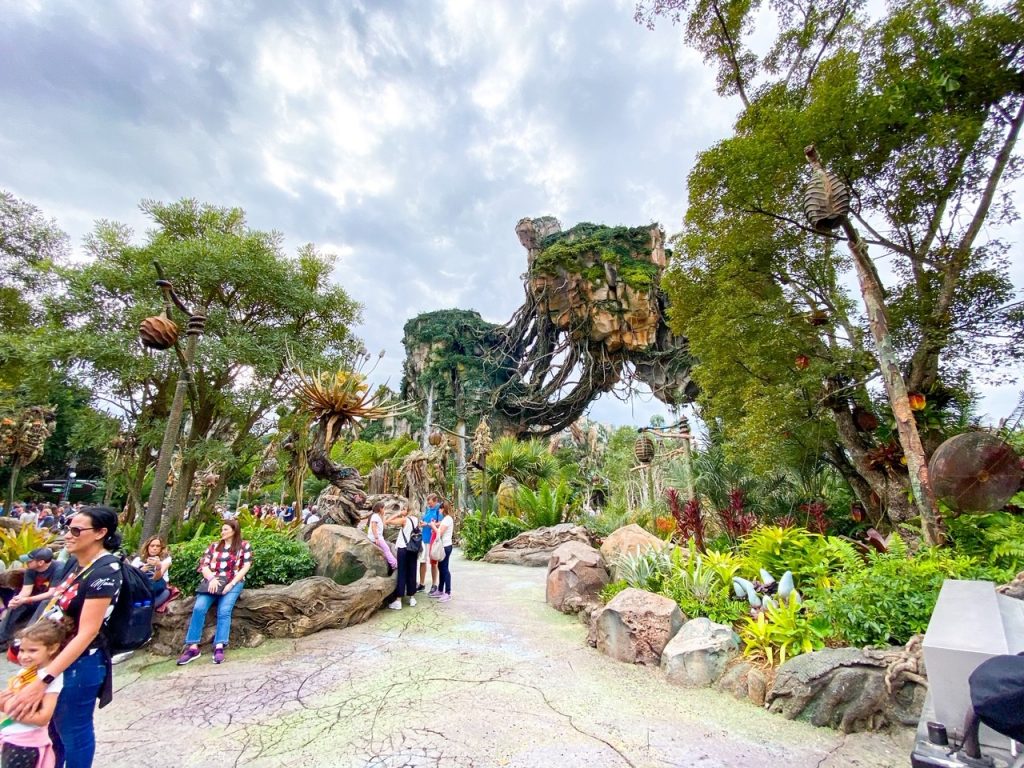 How To Use Fastpass+ At Animal Kingdom
What is Fastpass+?
Fastpass+ is the name of the free service introduced by Disney to help you save time!  It's included with your park ticket and is pre-bookable for your whole party in advance (60 days ahead if staying in a Disney resort and 30 days if staying offsite).
You save time with FastPass+ because, it allows you to enter a separate Fastpass+ line (at your selected/pre-booked time), bypassing the main line for certain rides, attractions and character meets.    You can pre-book 3 Fastpasses for attractions in the same park;  the Fastpass+ window is open for an hour and you cannot overlap windows.  So you could book a 10.45am Fastpass, but the second window won't open until 11.50.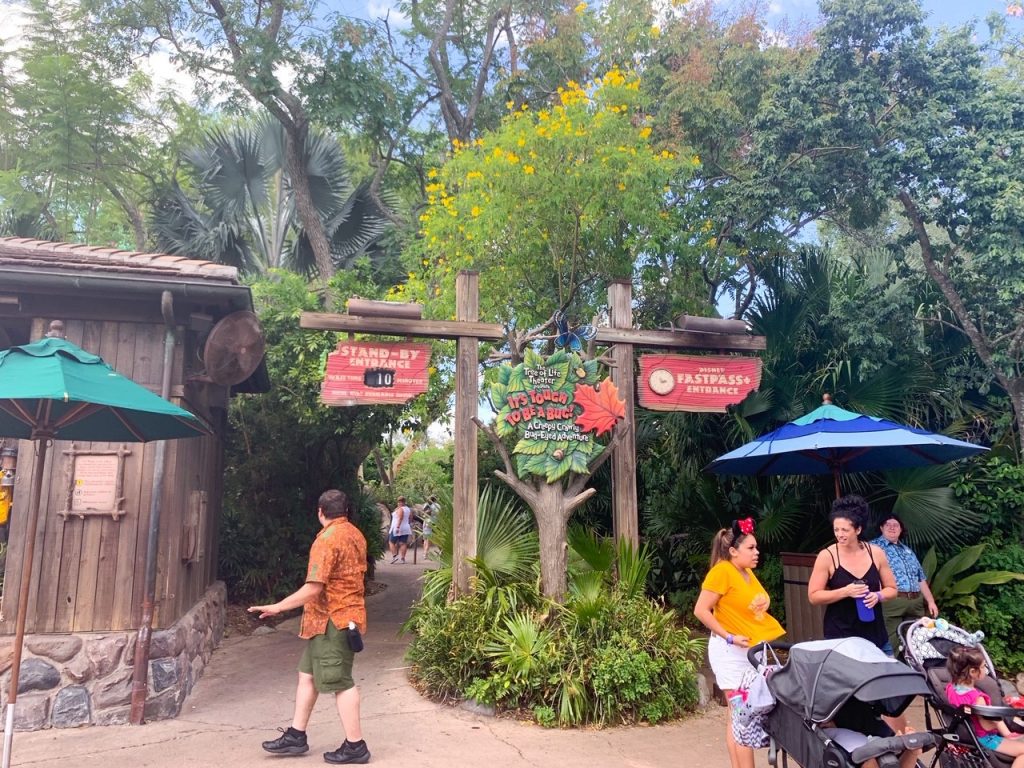 What about Fastpass+ at Animal Kingdom?
Like Epcot and Hollywood Studios, Animal Kingdom operates a Tier system for their Fastpasses, which means you need to book one Fastpass from Tier 1 rides/attractions and the other 2 from Tier 2.   Once you've used your third Fastpass, you're no longer tied to the 'tier' system (or even the same park) and can grab whichever Fastpass is available on a 'one at a time' basis.
If you weren't able to get the Fastpasses you wanted, you should use time in lines to 'tap' any Fastpass for your desired attraction, grab them and then persistently try to modify the time, until you get a time that suits you.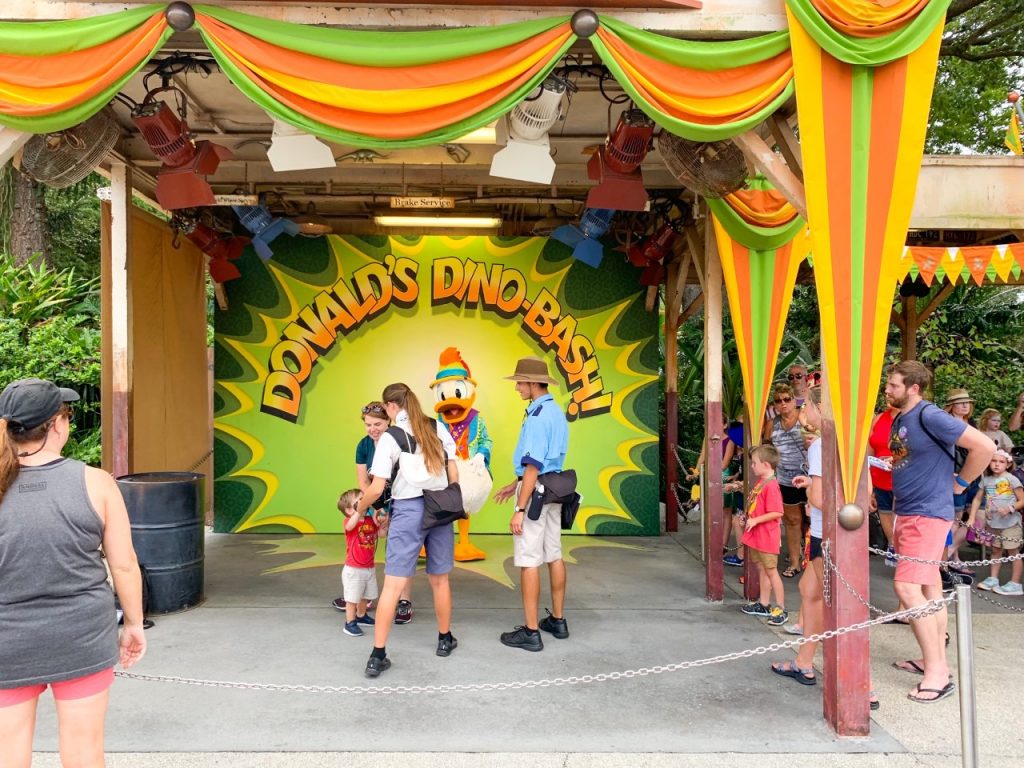 How do I book my Fastpass+?
The simplest way to book your Fastpass+ is through the My Disney Experience app.
When you arrive at your Fastpass booked attraction, look for the Fastpass+ line, tap your magic band (or ticket) at the entrance to the line and Mickey will go green.   Once you've tapped in for your third Fastpass+, you should open the My Disney Experience app on your phone and start looking for more Fastpasses – you can only book one at a time, but as soon as you tap in at the beginning of the next line, you should start looking for another Fastpass – we're not suggesting you spend loads of time looking at your phone, just time you'd be in a line, anyway.
There are good and bad options for Fastpasses and, in the next section, we're going to look specifically at the Animal Kingdom itinerary 'dos and don'ts', but we've broken down the best and worst use of Disney Fastpasses
here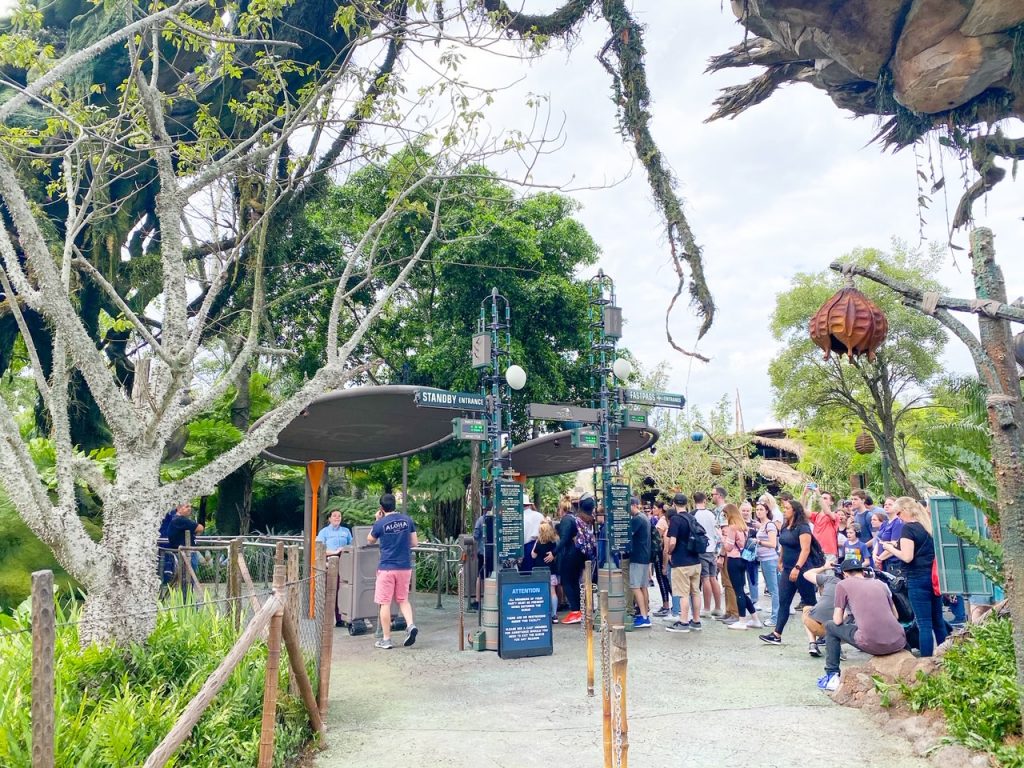 Best And Worst Animal Kingdom Fastpass Options
When selecting your Tier 1 and Tier 2 Fastpasses, there are some choices that will be an excellent use of your Fastpass and some that won't help your Animal Kingdom itinerary go as smoothly as we know you'd like it to! 
The timing of your Fastpasses is also important; if you plan to keep grabbing extra Fastpasses throughout the day (and we recommend you do), then selecting Rivers of Light – at the end of the day – will prevent you from doing this, as you won't tap into Rivers of Light until the end of the day.
If you're on the Disney Dining plan or the
Deluxe Disney Dining plan
, you can book the Rivers of Light dining package (at Tusker House or Tiffins) and get preferred seating at the show, using one of your table service credits, but we feel it's really not necessary.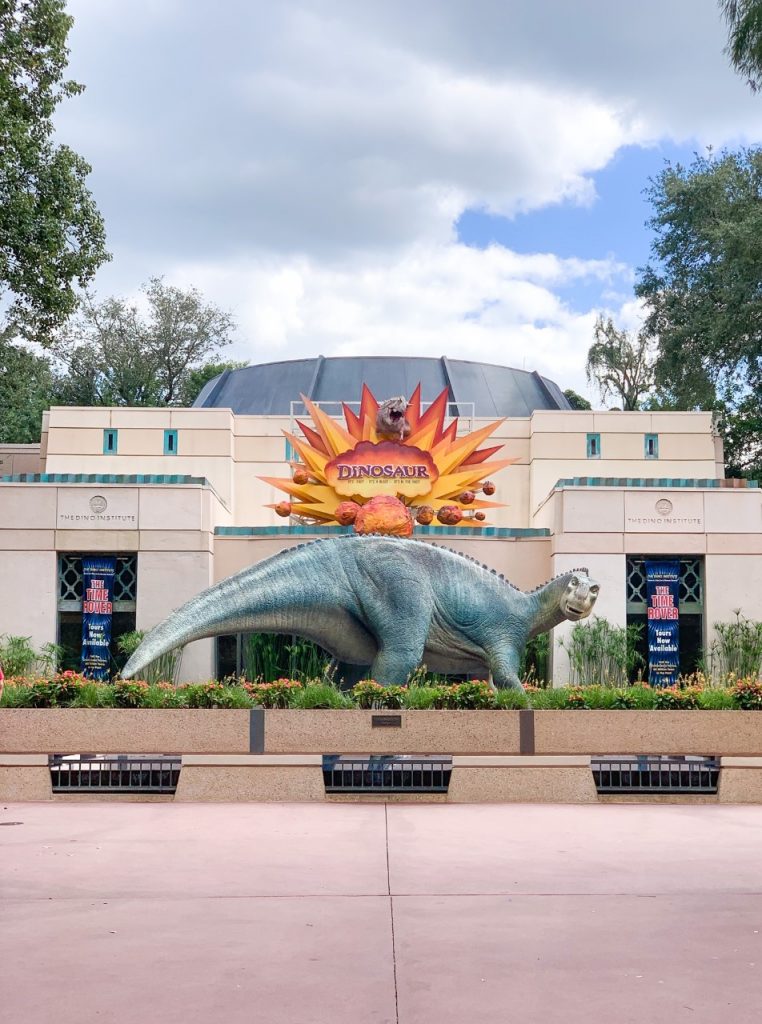 Fastpass Suggestions To Save To Your Phone
When you're in the park and looking for more Fastpasses to grab, it's worth bearing in mind the 'top priorities' and ones which you probably shouldn't worry about – feel free to save our image below to your phone, to help you make sure you do the best things to do at Animal Kingdom.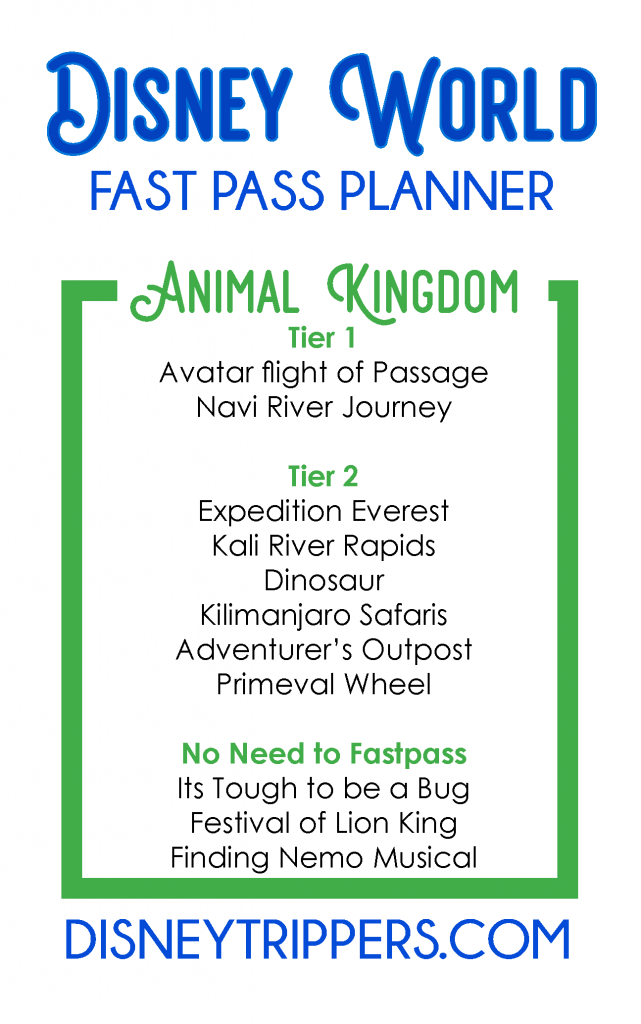 Animal Kingdom Map
There are 6 lands at Animal Kingdom:  Oasis, DinoLand USA, Asia, Africa, Discovery Island and Pandora – The World of Avatar.  Knowing what to expect before you go will help you plan the best things to do at Animal Kingdom for your party.  Having an idea of the distance; the rides you want to ride and the attractions you want to experience will help you ensure your Animal Kingdom touring plan is ideal for you!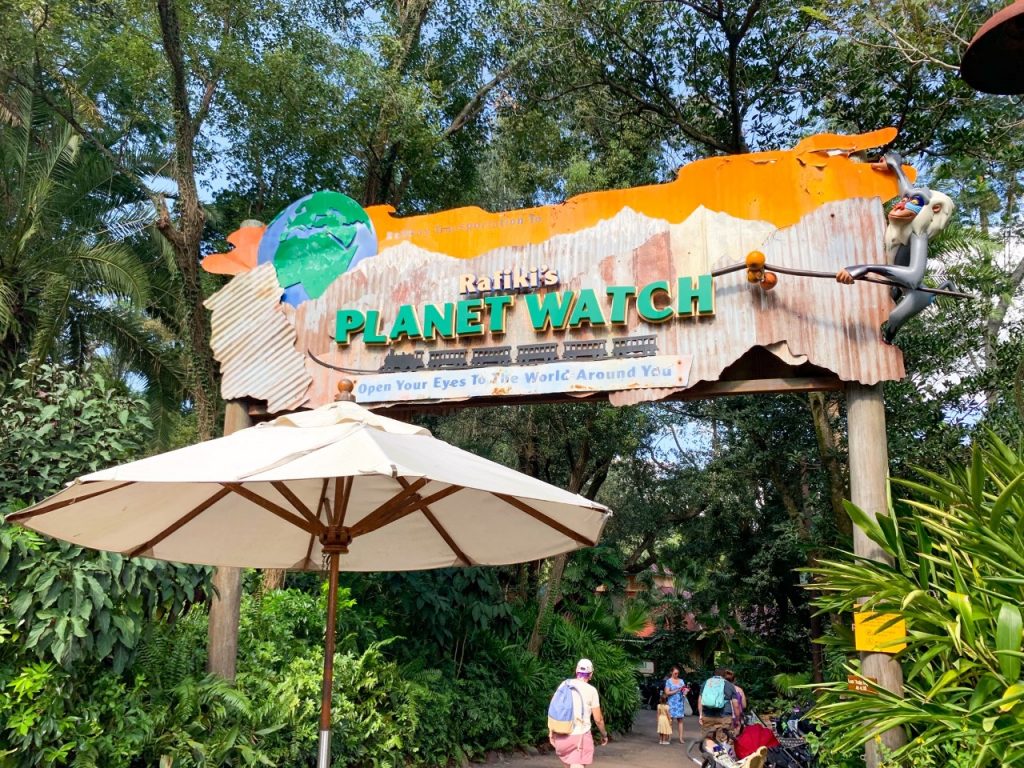 Arrival And Rope Drop At Animal Kingdom
The only way to get to Animal Kingdom is by car or by Disney bus transportation.   You can't walk there from any resort.
So, if you're driving, you'll park in the parking lot (guests of Disney World resorts don't need to pay for parking).   You can, of course, use Uber or Lyft (or Minnie Vans), which will take you to the front of the parking lot.  Otherwise, plan to get the Disney transportation and arrive up to an hour (or more!) before park opening.   They often start to let people into Animal Kingdom between 30 minutes and an hour before park opening and this head start on those who sleep in can make a HUGE difference to your Animal Kingdom touring plan.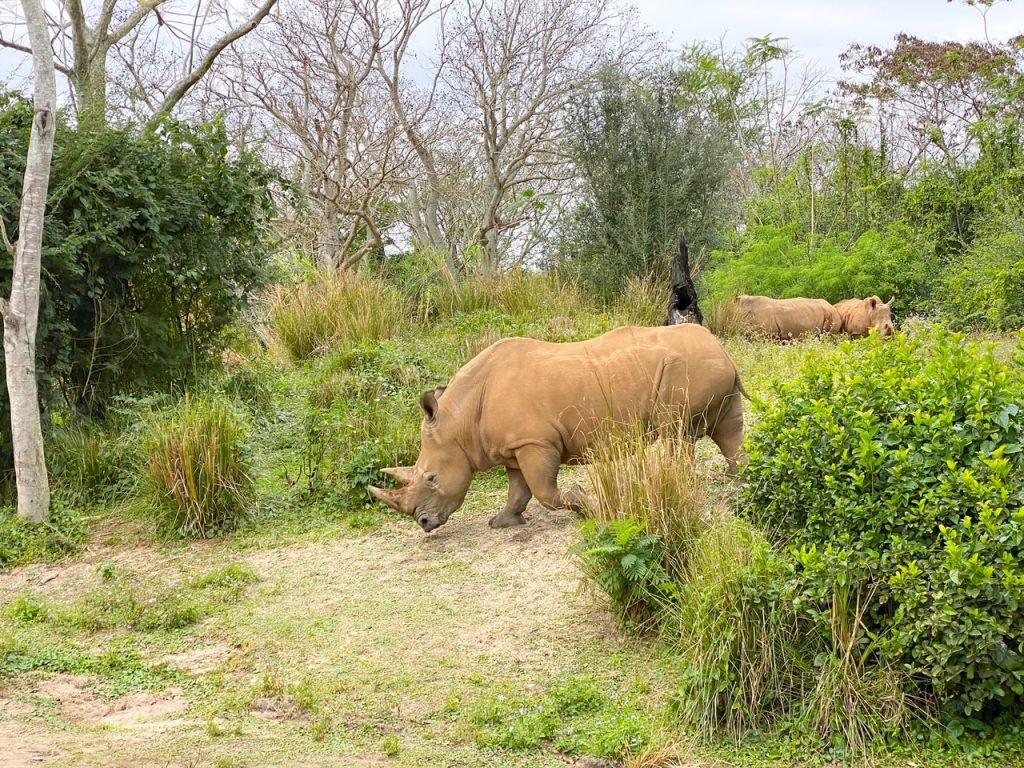 If you DON'T have a Fastpass for Flight of Passage (or maybe you do and you want to ride it twice!), then your best aim for riding without a long wait in line is to do this at rope drop.  If this is the case, we recommend being at the park an hour beforehand, so you can be ahead of the crowd.
After entering the park, you walk to the Oasis, where you will be held by ropes to the various lands.   The majority of people will be wanting to do Flight of Passage, so the largest line will probably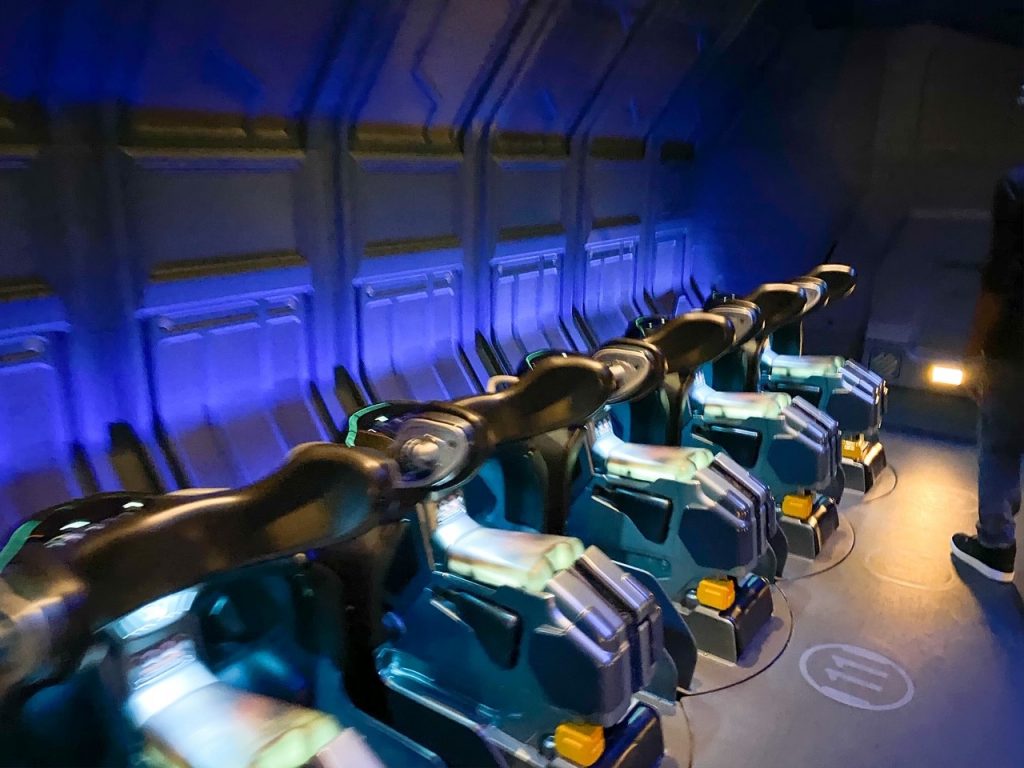 One Day Animal Kingdom Itinerary Morning Plan
We've indicated where we think you should try to plan your Fastpasses; everything else is suggested Stand-by.  See at the very bottom of this article – a Note about Lines!
The aim is to ride as much as you can in the first 2 hours after park opening.  If we've suggested a ride you don't like, or missed something you really want to see or do, of course you should make that switch, but read on in case we suggest doing it at a later time in the day.
A Note: Throughout the day as you are standing in line, make sure to constantly refresh your Fastpass+ Options to see if you can modify the time (if that would work better or you find you're ahead of schedule) or to get a sought after Fastpass you didn't secure before.   You should do this throughout the day when not riding or walking!  Constantly refresh and modify based on Fastpasses that are open near you!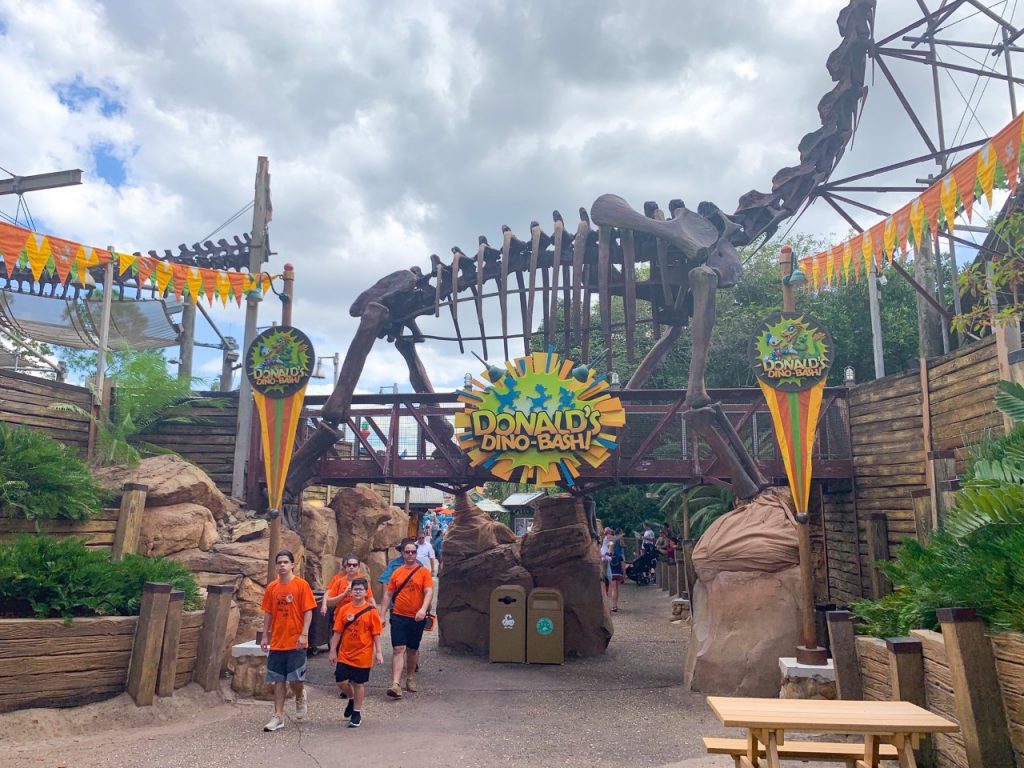 First Hour 9-10am
Stop 1: Go to Pandora and ride either Navi OR Flights Of Passage, whichever one you do NOT have a fastpass for.   If you do NOT have a fastpass for either, head to Flights Of Passage as the waits are usually longer than Navi. If you don't make it on Navi, don't worry, it isn't a long ride!  I did 2 days in Animal Kingdom and got a Fastpass for both Flights of Passage and Navi – my kids wished I'd just got 2 for Flights of Passage!
Stop 2: Head to Dinoland USA and ride Primeval Whirl
Second Hour 10-11am
Stop 1: Stay in Dinoland USA and ride Dinosaur
Stop 2: Use Fastpass for Expedition Everest in Asia  – if you don't have a Fastpass, keep trying throughout the day, or use Single Rider!  Our recommended time for Expedition Everest Fastpass is around 9.35-10.35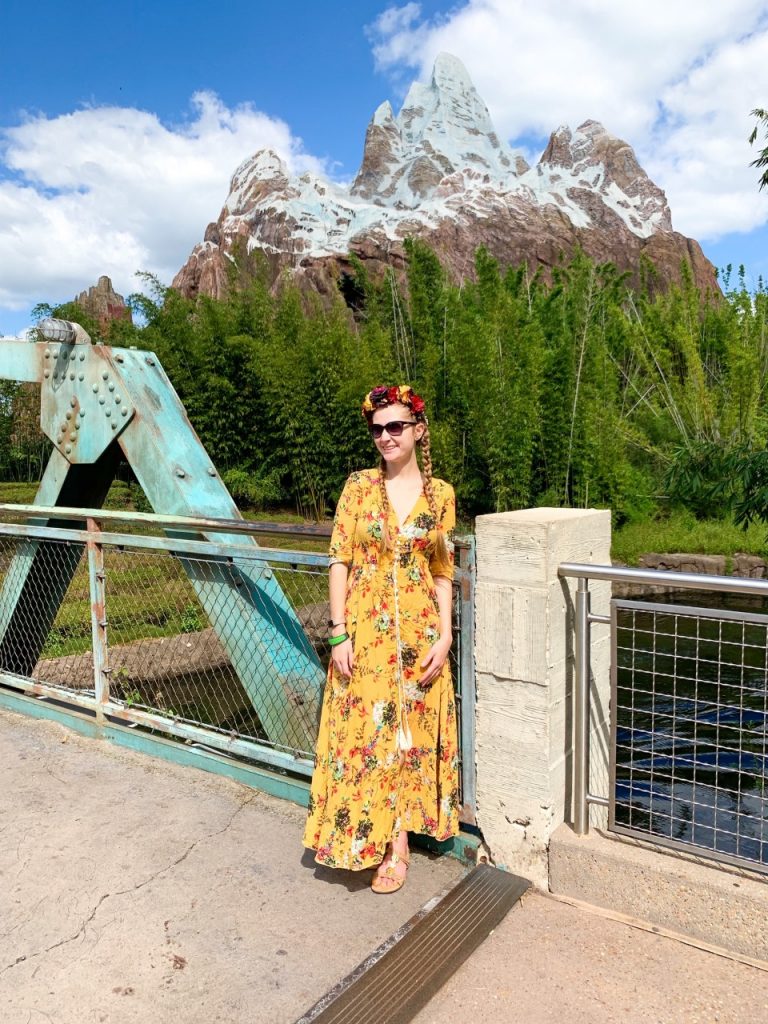 Third Hour: 11-12pm
Stop 1: Stay in Asia and ride the Kali River Rapids
Stop 2: Also in Asia, check out the Maharaja Jungle Trek
Stop 3: Stay in Asia and see:  UP! A Great Bird Adventure.  This is a 25 minute show, if the timings work better, switch this with Stop 2 and visit the Maharaja Jungle Trek after the show.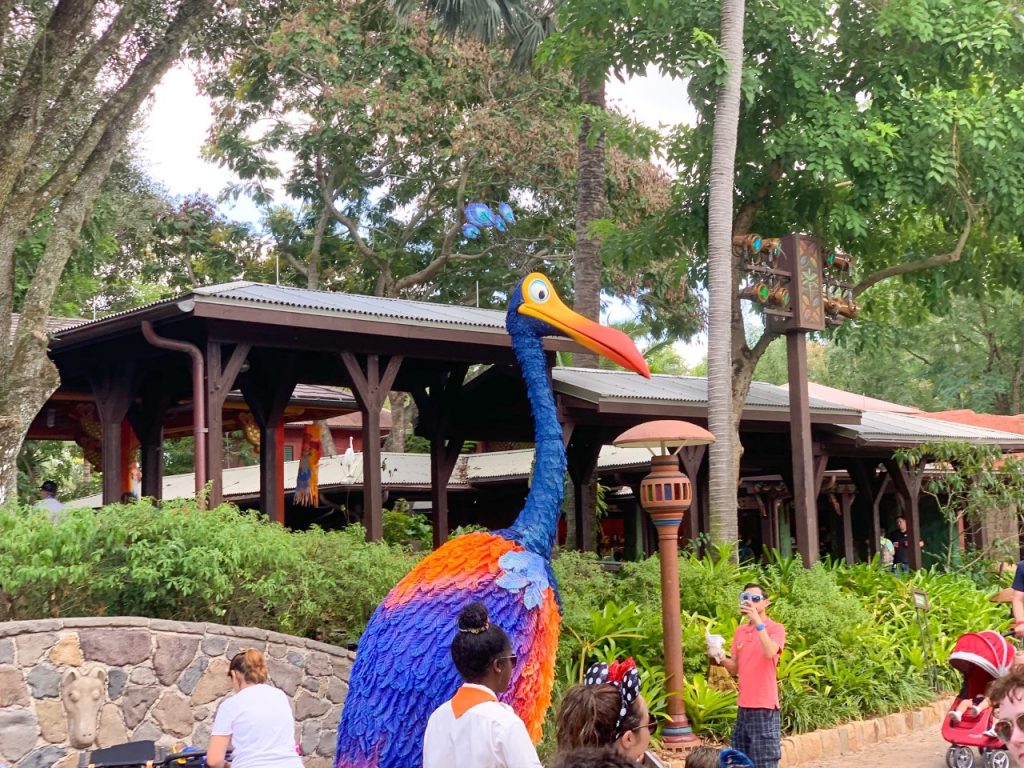 12-1pm Break: Lunch!
After a busy, fun packed morning, you're sure to need a break for your feet and some refreshments!   As you're in Asia already, we highly recommend Yak and Yeti Local Food Cafes to get your lunch from.   We also love Satu'li Canteen in Pandora, too.    You should also read our list of top picks Quick Service locations (and not so top picks!) here.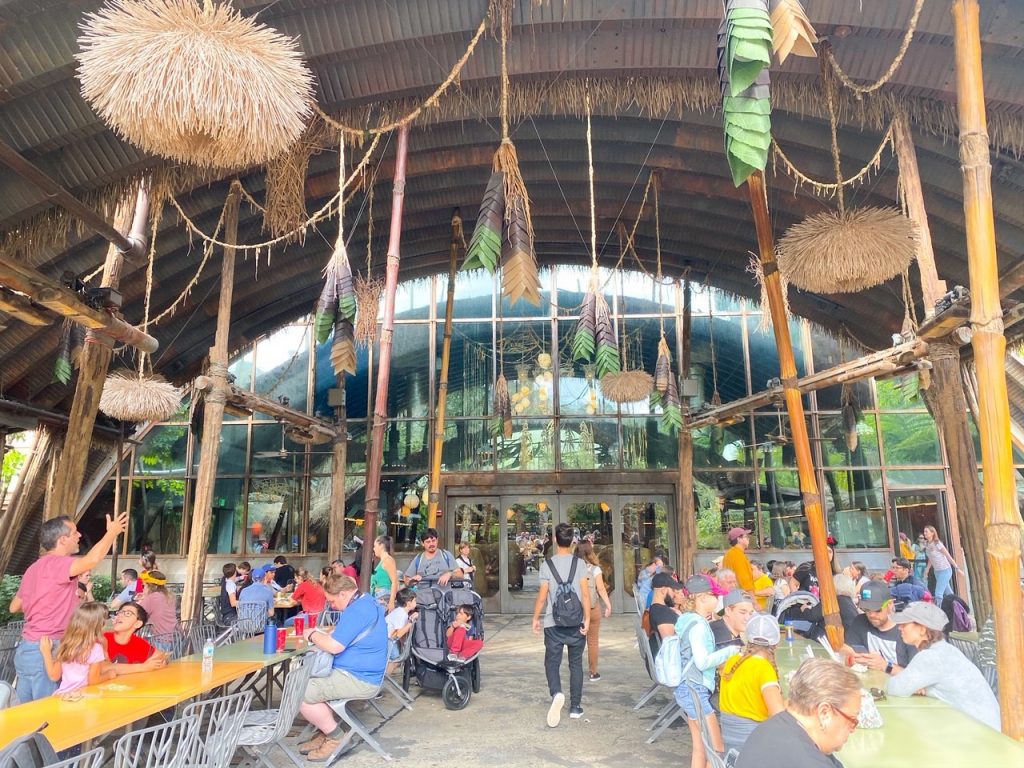 One Day Animal Kingdom Itinerary Afternoon Plan
Early Afternoon:
Stop 1: Use Fastpass for Kiliminjaro Safaris in Africa (we recommend you getting your Fastpass time for 12.15-1.15, if you're committed to the schedule)
Stop 2: Also in Africa, visit the Gorilla Falls Exploration Trail
Stop 3: We recommend taking the train out, from Africa, to Rafiki's Planet Watch and spending some time in Conservation Station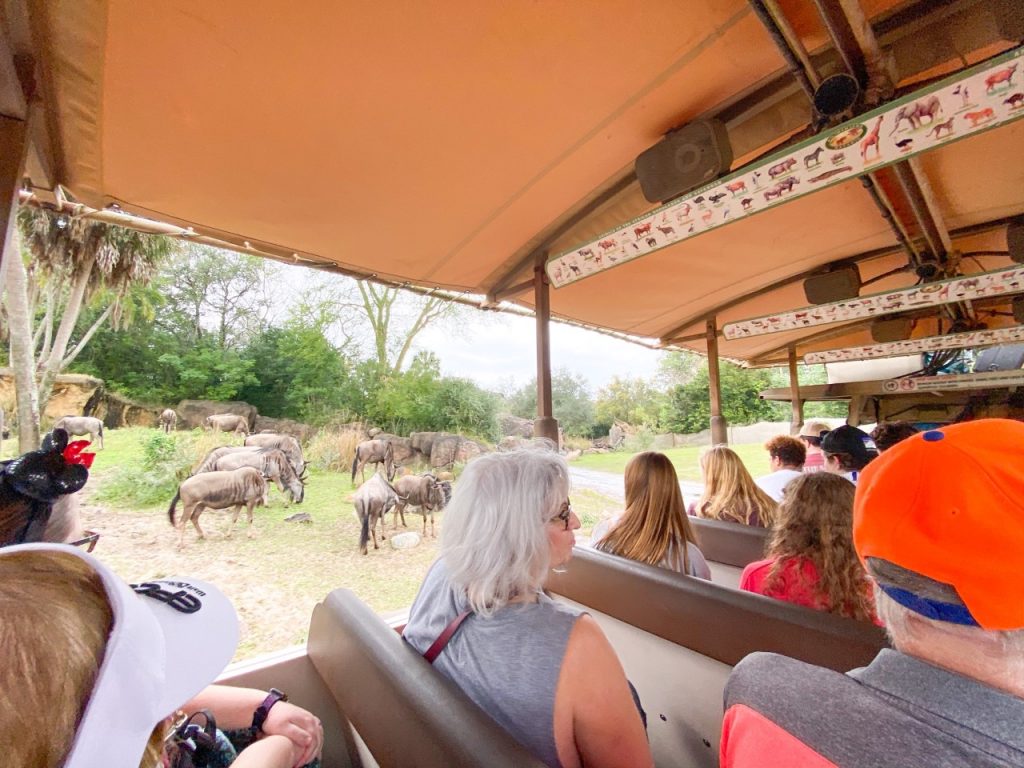 Mid- Afternoon:
Stop 1:  Watch Festival Of The Lion King, a 30 minute , highly recommended show, in Africa  (if the time of the show/your Fastpass works better, you may wish to switch Stop 1 and 2 around for this period)
Stop 2: 
Use
Fastpass
To Ride Either Flights Of Passage or Navi whichever you skipped  – we recommend a time of around 1.30-2.30.   As soon as you tap into line, 
try and get a Fastpass for a ride you skipped (or loved!) earlier in the day!  We often ride Expedition Everest/Dinosaur/even see Rivers of Light!
Stop 3: See It's Tough To Be A Bug at Discovery Island.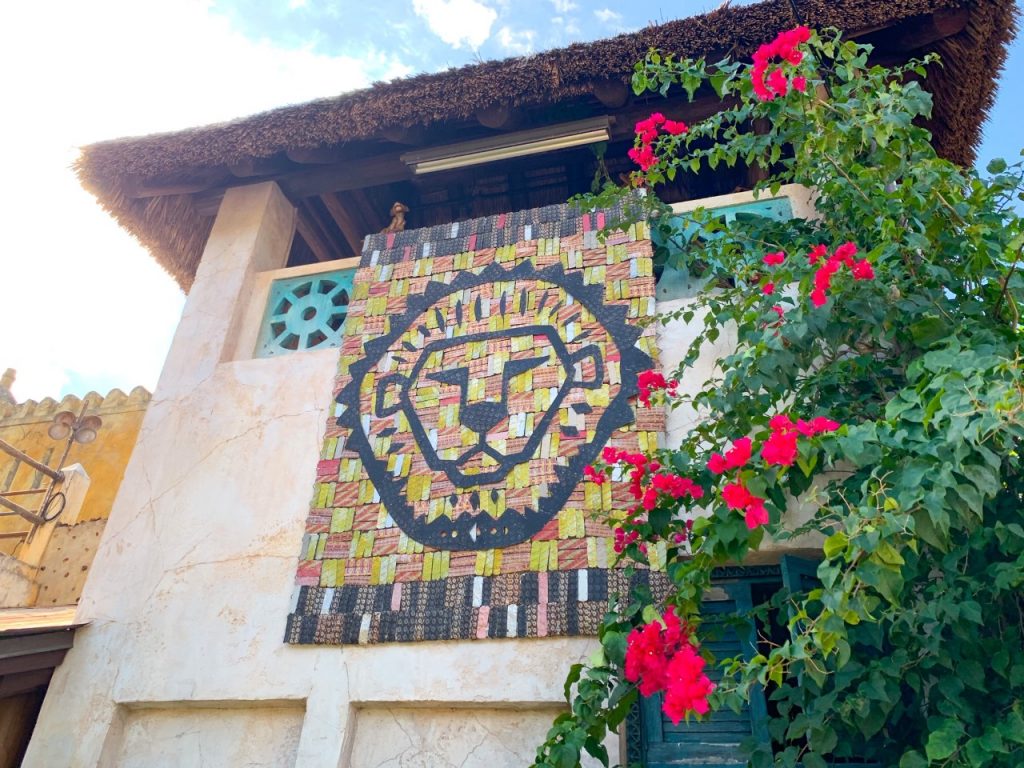 Rest Of The Afternoon:
This is a time for you to take things at your own pace, but we recommend you consider the following:
Finding Nemo – The Musical, a 40 minute show in Dinoland USA – excellent opportunity to have some shade, rest your feet and enjoy this great show!
Triceratop Spin
Explore Animal Areas You Missed
Exploring the theming of the different lands and taking in any 'street' entertainment there may be
If you're unsure what else Animal Kingdom may have to offer, check out our 'don't miss' article,
here.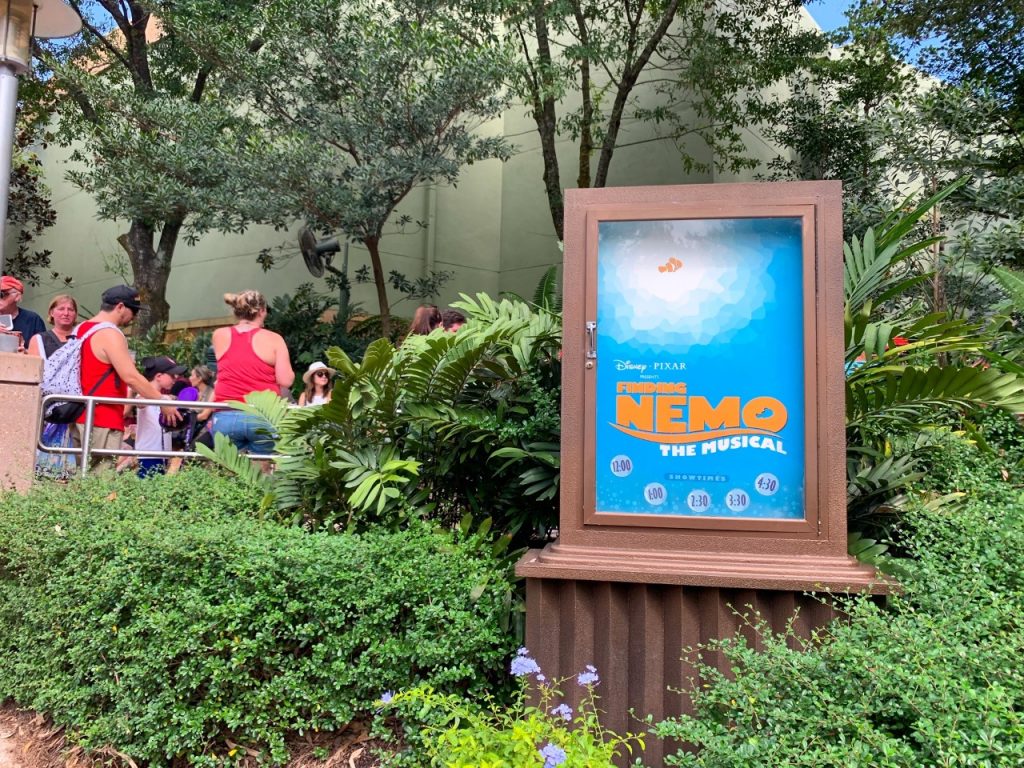 Dinner At Animal Kingdom
You may be happy to eat at another great Quick Service location again, for dinner, or you may be craving the opportunity to rest and be waited on for a while.   There are several excellent choices for table service dining that you could slot into your Animal Kingdom itinerary – Tusker House is a top quality buffet (and also character dining!) and we also highly recommend Yak and Yeti in Asia (the restaurant, which is separate to the Quick Service location) or Tiffins in Discovery Island.   Check out our
full list of recommendations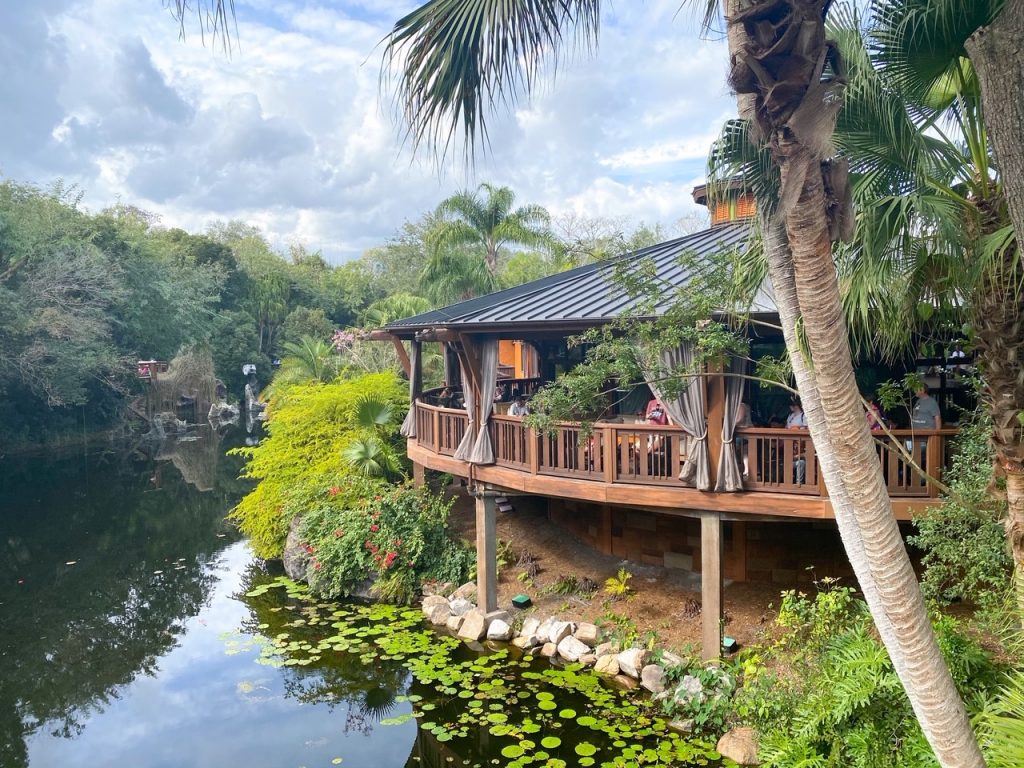 Evening at Animal Kingdom
Depending on your energy levels and how much more you want to do, you have several great options for the evening.
You can watch the Tree of Life Awakenings from Discovery Island.  It occurs every 10 minutes from dusk to park closing.
Watch Rivers Of Light – a 20 minute show, located in Asia, check My Disney Experience for times; usually close to park closing
Get In Line For Any Ride You Missed Because Of Long Lines – as long as you are in a line at park closing, you are generally permitted to ride it.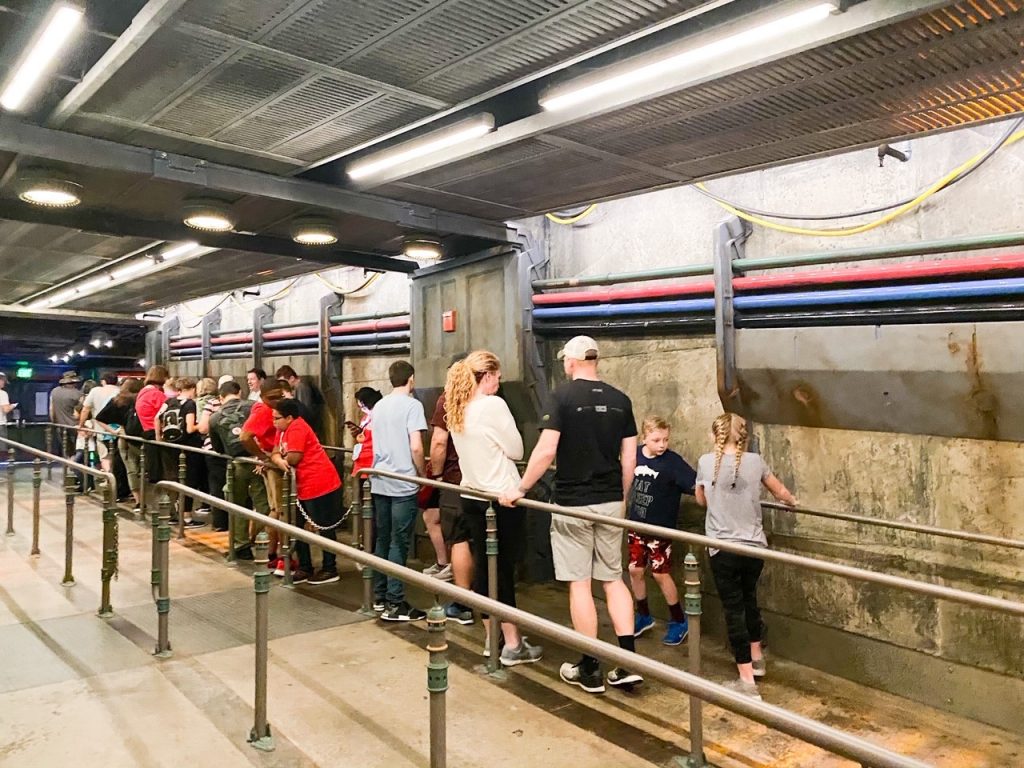 A Note About Lines: If you come to any ride on this itinerary early in the morning and it has a VERY long wait, SKIP IT! Do not waste 120 minutes, especially in the early morning, on rides!  If you MUST do it, modify this itinerary and rush there first, right at rope drop. If you don't make it to other priority rides, try and tap/grab for Fastpass throughout the day and if nothing else, make it be one of your last rides of the night
We hope you enjoyed reading our Ultimate Animal Kingdom Itinerary.   Have you used a similar Animal Kingdom touring plan?   We'd love to hear any comments you have about what worked for you!   As always, we're happy to answer any questions you may have.   Thank you for reading!